Ilkley Harriers news archive 2009
Membership Renewal Reminder
Thank you to everyone who has already paid their subs for 2009/10. If you haven't paid yet please can you return the renewal form with the appropriate payment a.s.a.p. I shall be at the club on Tuesday evening or they can be posted to the address that is on the renewal form. If you have any questions or are not going to renew your membership then please contact me on mship@ilkleyharriers.org.uk. Thank you, Emma O'Looney
Christmas dates, Club sessions
Mon - no circuit training now until 4th Jan (no session tonight 21 Dec)
Tue - normal 7pm Club night 22 Dec and 29 Dec, but no 'Ewan's late session' now until 5 Jan
Wed - last track this week session 23 Dec, recommencing 6 Jan
Thu - both Pete/Neil and Jane's sessions recommence 7 Jan
Sat - no Boxing Day occurrence of the very early 'hard run' or 9.30 'family runs'
The Stoop, Sun 20 Dec
With deep unbroken snow on the ground, icy patches, and bands of snow coming across, the course was simplified to 'out to The Stoop and back'. Ilkley results ...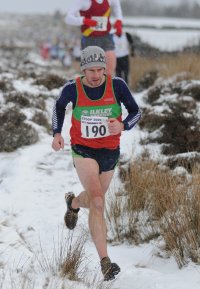 1    30.50  Rob Hope, P&B
5    33.23  Tom Adams
15   34.56  Ben Stevens
25   36.36  Jamie Hutchinson
30   36.59  Ian Rowbotham   1st V50
64   41.08  Victoria Stevens 3rd lady
67   41.18  Ed Brougham
74   41.33  Paddy Hagan
117  45.12  Kate Archer
137  47.15  Catherine Gibbons
148  50.11  Bob Payne
173  59.50  Jim Towers
175  60.56  Vince Gibbons
180  68.07  Mary Gibbons
183  72.12  Lyn Eden - official sweeper
  

Photos and more on woodentops.org.uk
Christmas Relays, Tue 15th December
Numerous shepherds, angels, Santas, elves and wizards took to the streets for this evening of festive fun. There was even a Mary and a Joseph. Special thanks to Amanda Parnaby who did a great deal of shopping, heating, transporting and serving, in order to providing the runners with mulled wine and mince pies. She was ably assisted by Sue Lugton. The event has raised £70 for Cancer Research UK so far. Further donations welcome at Club Night on Tuesday 22 December ...
Calderdale Way Relay, Sun 13 Dec
Results from the Halifax Harriers web site:
| POS | Team | Leg1 | | Leg2 | | Leg 3 | | Leg 4 | | Leg 5 | | Leg 6 | |
| --- | --- | --- | --- | --- | --- | --- | --- | --- | --- | --- | --- | --- | --- |
| 21 | Ilkley Harriers | Steve Turland | | Dave Wilby | | Nick Pearce | | Jim Ryder | | Duncan Cooper | | Paul O'Looney | |
| | | Jamie Hutchinson | | Tom Adams | | Mike Baldwin | | Jonathan Whittaker | | Ian Rowbotham | | Mark Mon-Williams | |
| | | 1:23:12 | (19) | 1:00:07 | (7) | 0:43:04 | (21) | 1:18:02 | (27) | 1:08:20 | (39) | 1:22:40 | (50) |
| | | 1:23:12 | (19) | 2:23:19 | (12) | 3:06:23 | (15) | 4:24:25 | (15) | 5:32:45 | (16) | 6:55:25 | (21) |
| 41 | Ilkley Harriers Ladies | Helene Whittaker | | Kelly Harrison | | Catherine Gibbons | | Andrea Priestley | | Alison Eagle | | Alison Bennett | |
| | | Sally Malir | | Heather Dawe | | Jenny Dybeck | | Tracey Greenway | | Nicki Jacquiery | | Diane Hagger | |
| | | 1:37:56 | (73) | 1:14:21 | (49) | 0:48:40 | (54) | 1:19:03 | (34) | 1:06:54 | (28) | 1:22:41 | (51) |
| | | 1:37:56 | (73) | 2:52:17 | (62) | 3:40:57 | (55) | 5:00:00 | (46) | 6:06:54 | (44) | 7:29:35 | (41) |
| 94 | Ilkley Harriers Mixed | Jo Prowse | | Amanda Newham | | Joyce Marshall | | John Coates | | Sue Morley | | Paul Stephens | |
| | | Laurie Prowse | | Sarah Fuller | | Jo Foster | | Kevin Gooch | | Eric Morley | | David Brown | |
| | | 2:09:18 | (110) | 1:31:08 | (105) | 0:51:57 | (71) | 1:37:58 | (89) | 1:28:18 | (98) | 1:18:30 | (32) |
| | | 2:09:18 | (110) | 3:40:26 | (108) | 4:32:23 | (102) | 6:10:21 | (97) | 7:38:39 | (99) | 8:57:09 | (94) |
117 teams ran
From Dave Wilby ... Firstly a big thank you to Mike Baldwin & Dave Brown for stepping in to the teams late in the day, and a HUGE thank you to Kevin Gooch for stepping in very very late in the (Satur)day. The Calderdale Relay is notorious for being a captain's nightmare, and after initially looking promising, this one maintained its deserved reputation with comfortable ease!!!!
On top of selection duties, I once again had the dubious honour of running with club whippet Tom Adams. He's been top of the Harriers pile all season, and now that some bright spark has talked him in to the weekly track sessions, expect to see straws being drawn amongst the rest of us next year when the relays come around. We took on leg 2 together this year, and as we set off we had a few pairs within chasing distance ahead of us. A steady start was required on the long drag up to the reservoir to avoid me blowing up, and then a leg stretch across the moors. As I approached Stoodley Pike, Tom was just packing up his breakfast hamper and enjoying the last drags of his first cigar, but like a true pro he was ready to go as soon as I arrived. We passed 3 teams on the descent to take our early tally to 5 and then belted along the long stretches of track, road & fields which follow, with no other teams in sight ahead of us. I took advantage of the mandatory 'walk' through the stables to draw my first proper breath of the race, and then we were off again, plummeting steeply down in to Todmorden. As we approached the last long climb, we could see the pair from Abbey Runners ahead of us and decided that a scorched pair of lungs were a worthwhile price to pay for local honour. Tom had a club record in his sights, my vision was starting to blur, but we worked hard up that endless bloody climb and arrived high above the town with a good gap behind us. Finally, with a sub 1hr time within reach, all we had to do was switch off our brains for the last mile, and let gravity do its thing. Down the road, down a lovely grassy track and then in to the woods, a great way to finish a fantastic leg. Time of 60:07 (so close!!), a club record by over 4 minutes and 7th fastest overall for the leg. Tom cycled back to the start of the leg, I staggered, stumbled and finally collapsed against the car, and awaited the return of my legs!!
From Alison Eagle ...Firstly congratulations to all the Ladies who stoically remained fit and available from the selection of the race to the day (sorry reserves but a big thankyou for offering your services and I am sorry you did not get a run - know Paul is looking for Pennine Bridleway pairings).
Despite a little sightseeing Leg 1 ladies Sally and Helene got us off to a solid start; despite being hindered by a calf problem, Kelly and partner Heather kept us in contention, in 3rd place I think. The youngsters on leg 3 Jenny and Catherine had a good leg to set Andrea and Tracey off in 3rd on Leg 4. Having kept upto date by text Nicki and I were not expecting to be off in the mass start. Bingley Ladies came through looking strong about 12 muinutes in front of the mass start. We were pushing to the front of the mass start when at the back, at the changeover, I saw a red vest, a waving baton and Andrea's voice - not again I thought (the last time Nicki and I did this leg we had about a minute in front of the mass start, 2 years ago the Ilkley ladies had about 30secs, this was even closer!). I pushed back, panic on my face, Nicki wondering what on earth I was doing.
"Let me through" I yelled and eventually met Morgan, passing me the baton from Andrea.
"Out the way" I shouted, and the runners parted as Nicki joined me, we set off in a lung bursting start, Cries of "Go for it Ilkley" rang in our ears as the mass start were set off seconds later.
The pace slowed a little but determined to let no ladies teams pass us we worked hard, only having 3 teams overtake (and we got 1 back as well as passing others). Nicki pulled me up the hills, the route was full of wonderful mud - just our cup of tea and we managed to retain the 2nd place Andrea and Tracey had got us into with a superb run, an Ilkley Ladies record for Leg 4, I think. We even managed to gain back a couple of minutes on Bingley.
A good leg 6 by Di and Alison, starting in the mass start, saw us secure 2nd place, consolidating a great performance from all on the day.
Well done to all, hopefully the Mixed Ladies had good runs. Thanks to Morgan for following us round with the campervan, just the job for keeping warm at Wainstalls and then producing a brew at the end of the leg. Took me ages to get the mud off my legs in the bath later - a sign of a good fell race!!
From Paul Stephens ... Over the stile, through the gate, along the road, betwen the houses, up the steps and through the field; past Sainsburys, along the canal, up through the wood, down the cobbles, but where were we? Was it Shelf or Southowram, Bailiff Bridge or Brookfoot, Thornhill, Norwood Green, Brighouse or somewhere on the Calder? Whatever, the weather was good for running, and we didn't get lost. David (Brown) and I set off in the mass start and kept with people all the way. David had agreed to run at the last minute, and he's a little faster than I am. He also clearly had a target in mind. I would have been happy to equal last year's time. David was more ambitious, paced it well, and succeeded in pulling me along. I hadn't anything left at the end to overtake the 2 teams just in front, but we did post a respectable time. A good day out and thanks to Andrew Bennet for the taxi service.
From Sarah Fuller ... Just want to give my "relay virgin's" perspective on the Calderdale way experience ... Once I'd got over the shock at being in the team I was really looking forward to taking part in my first club relay. We did a reccie the week before so were (reasonably) confident with the route although a bit worried about the amount of tarmac in it (us fell runners are a bit wary of the hard flat stuff!). I was disappointed to come down with a bit of a cold in the week before but felt ok in training runs so was determined to run. The team atmosphere at the start of the leg was awesome with Dave and Lee and Heather and Kelly also lining up for leg 2 as well as a number of other familiar faces. We set off in the mass start and held a steady pace in the main pack up to the top of the first loooooonnng climb to the reservoir. We then took off across the muddy bits (hoorah!) to Stoodley pike, a fast, furious and muddy decent saw us pick off quite a few teams so we were really chuffed and going well - for us! Bit of a route mistake but nothing major and we held a steady pace for the next few miles across the tarmac and trails to the stables but not quite quick enough to hold off the teams we passed on the muddy stuff - (note to self - do some more road running and speed training for next year!). Then a well appreciated walk through the stables, another nice quick decent this time on trails and roads, avoid getting run over in the centre of Tod and then onto the final grim climb, which surprisingly wasnÕt as bad as it felt in the reccie (hoorah for jelly babies) - although we did have to wait rather annoyingly at the railway crossing for a train to pass! And then fast and muddy down into the finish. Amanda and I were well matched and well chuffed to have finished in about 1.30 without getting too lost! I just want to say thanks to Alison / Dave for giving us the chance to take part - I enjoyed every minute of the experience and wouldn't hesitate to volunteer again (should the club be desperate enough!). Well done to everyone ...
Langdale 10k, Sun 13 Dec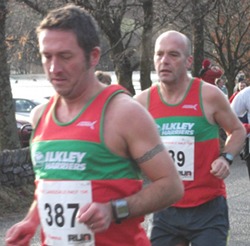 Andy Wiggans reports ...Now so popular they need to run it twice, the Langdale Christmas Pudding 10k was run on both Saturday and Sunday to enable even more people to experience the breathtaking beauty and leg-sapping undulations of the Great Langdale valley in the Lakes. Vic Verecondi, Richard Hinsley and I made the trip for the Sunday race, and were rewarded with clear(ish) skies (Vic was slightly chagrined as they "weren't as blue" as last time he was there) and chilly temperatures, perfect for running. The fields were still brilliantly white from the overnight frost, as the sun makes little impact on the valley floor this time of year, and there were a few slippy bits on the road, being gritted as we arrived.
We were away bang on time, with a significant proportion of runners sporting festive costume, and several more kitted out for some kind of arctic ski race with several layers of fleecy things from head to toe. Now Hinsley and I may to the stouter end of the BMI scale, but we don't believe that anyone intending to actually perambulate at anything above walking pace needs to wear that much stuff in the UK whatever the weather, so readers will be pleased to hear that all three of us, even the Antipodean, ran in shorts and vests. And in Vic's case, gloves, presumably in case the opportunity to make a snowman presented itself at any point. We also saw a certain T. Lonergan looking fit and stylish in the vest of Sale Harriers - "Ey ups" were duly exchanged.
I set off from reasonably near the front, having got snarled up in the melee here before, and was surprised to find myself looking at not very many people disappearing off up the road in front. One of them had to stop because his balls fell off (they were Christmas decorations, in case anyone was thinking "blimey, it really was cold!"), and I soon settled down with a group of three or four guys of a similar pace. The race goes along the valley road, but it does, as mentioned, undulate a bit, so the pace was hardly constant. However I found myself racing a couple of blokes, one of whom I now know to be an employee of one of the sponsors, the Langdale Hotel. As we went past Wainwrights, a pub owned by said establishment, this young lad accelerated to about 4 min mile pace and left us for dead - it was only when I saw the large crowd of (largely female) co-employees cheering him on I realised I had become an unwitting participant in some sort of hospitality industry mating ritual and he wanted to look good in front of someone in the group of supporters. I also noticed, however, that he was wearing those daft socks that don't really look like you're wearing socks, and as I am a man who holds certain principles involving comedy footwear, he could not be allowed to beat me.
Fortunately a combination of his 400m of high-speed showing off and a convenient upward undulation left him a bit pooped, so I and another runner wearing more traditional hosiery, passed him on the hill. I also managed to hold off the proper-sock wearer by a few seconds over the last couple of km and came in with 9th place in 37:52, a time and placing that I'm right pleased with given the lumpiness of the course.
After the finish I wandered down to watch my clubmates finish, and was looking expectantly up the road when a very chuffed looking Richard Hinsley appeared from behind me, already finished and grinning idiotically. 24th in a stonkingly good sub-40 time of 39:41. I know we'll have to stop being nice about how well he's doing considering how little running he's done eventually, but this is a bloke that's gone from struggling to run 3 miles in under half an hour to sub-40 10k in 10 months - lots of hard work and a great deal of good advice from a Mr Wolfenden (and proper socks).
Vic came in looking cool and relaxed, having run 46:14 to be 108th. We all agreed that this is a terrific race to put on the list, and as there's a team prize one that Ilkley would have a good chance of winning. There's another two races in April (17th/18th I think) so anyone not doing London should consider it.
There were 379 finishers and the winner was Steve Littler from Wesham in 32:51.
Leeds Hyde Park 5k, Sat 12 Dec
Justin Phillips was 9th in 17.56. The event was bolstered by 200 folk in Santa outfits ... www.parkrun.org.uk/leeds
Harrier of the Month, November
Nominations were:


Emma O'Looney - Abbey Dash PB
Richard Reeve - Abbey Dash PB
Geoff Howard - 3 club records in a month: 5k, 10k & 10 miles & set the second fastest time in the UK this year for his age group
Jenny Dybeck - 1st Harriers lady in CRXC
Jane Bryant - CRXC results
Helen Horton - PB half marathon and Abbey Dash
Henry Heavisides - race results
David Westhead - new member and a Dad from the Saturday morning 'family' runs with the kids, 3rd Harrier at WYXC 2 and 1st Harrier at WYXC 3
Malcolm Pickering, our XC Captain leading by example with great results at both PECO (3rd Harrier) and WYXC 3 (2nd Harrier) and WYXC 2 (5th Harrier)
Steve Turland - 1st Harrier at Thirsk in 61.29 (fastest Harrier 10m this year HH tells me) and strong runs on the fells too, 1st Harrier at Rivock, 3rd Harrier at Withins
The HoM awards went to Steve Turland, and Richard Reeve. Congratulations to them, they will receive technical running shirts from HoM sponsor UP & RUNNING.
A special award for Outstanding Performance was made to Geoff Howard.
Bolton by Bowland fell race, Sun 6 Dec
Jamie Hutchinson reports ... A very respectable start time of 11.30am and we headed out into the quagmires around Bolton by Bowland. As usual I set off at a good pace but soon found the going tough and feared to lose my shoes in the never ending mud. The only real climb came within the first few miles and then followed sections on road, tracks (mud) and fields (quagmires) Š more of an extreme cross country race. Good to see a few other Harriers there. The race was won by I.Holmes in 47.30, harriers were:

16th Jamie Hutchinson 55.50
41st Nick Pearce      61.44
72nd Norman Bush      66.40
89th Kate Archer      70.32
 
164 ran & trudged round.


Complete Runner XC #4, Guiseley, Sun 6 Dec
Results from Complete Runner

Men
39  39.00  Tom Adams
56  40.22  Jim Ryder
77  41.51  David Westhead
82  42.06  Mark Iley
86  42.16  Malcolm Pickering
155 51.48  Eric Morley
163 56.29  Jim Towers
164 56.32  Bob Payne

Women  11th team
43  23.09  Catherine Gibbons
47  23.17  Sally Malir
78  26.16  Sue Morley
80  26.35  Jo Prowse
91  29.31  Emma Payne
92  30.00  Bernie Gibbons
95  33.03  Lyn Eden

Plenty of good junior results  on th day incl. 1st U11 Girls team


This was the final race in the Complete Runner XC League, and notable overall results are ...

Lyn Eden, 1st L60-64
Jenny Dybeck, 2nd L17-19
Diane Haggar, 2nd L45-49
Malcolm Pickering, 2nd 55-59
Jo Prowse, 3rd L55-59
Catherine Gibbons, 4th L17-19
Bernie Gibbons, 4th L55-59
Sue Morley, 5th L50-54

1st U11 Girls team
4th Womens team 
4th U13 Boys team
6th U13 Girls team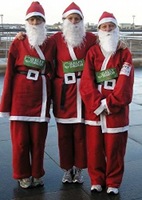 Liverpool Santa Dash 5K, Sun 6 Dec
From Jacqui Weston ... the watches went out of the window for this race, it was pure fun. It was a surreal moment walking to the start surrounded by Santas all dressed in red and blue outfits (blue for the hardcore Everton supporters) for the start of the world record breaking Santa Dash in Liverpool with 9,997 other Santas.
To be honest we couldn't really tell you what the course was like as we were laughing so much. We stopped a couple of times to take pictures and soak up the atmosphere, although Emma felt that if we had got a wiggle on we would have won! A bit of wishful thinking but we would certainly have finished quicker.
So the results for Emma O'Looney, Jacqui Weston & Sue Bickerdike were 3PB's for 5K run in a very hot and rain soaked Santa suit with hat and beard - 29:00
Luton Marathon, Sun 6 Dec
Jeff Paget reports ... the torrential rain at 9am gave way to broken cloud at 10am for the start of the Luton Marathon and it stayed rain free, if very breezy, for the duration of the race. This was my first race as a Vet 55 and I was racing with/against my 29 year old son, Tom, who runs with Otley. Having gone off rather too quickly I ground out the last few miles and finished 38th overall in 3.08.10 which earned me 1st Vet 55. Tom finished 97th in 3.19.57 so I re-established supremacy in the family pecking order! I think that there were 493 finishers.
This is a new Ilkley Harriers age group record, knocking 2 minutes off Peter Shields' London 2004 time, and the best men's time this year.
Guys 10M, Garstang, Sun 6 Dec
Paul Sugden reports ... after travelling in solid rain from Ilkley I was nearly tempted to just sit this race out and watch from the ferris wheel. However just ten minutes before the race it stopped raining. On a flat course the only problems were the wind which kept blowing throughout and the two massive puddles we had to run through at 7 miles. It was a well organised run and definitely PB course as I came in 3m15s better than previous attempt at Bradford in 1:24:55. Jann finished 4th Lv40 in 1:14:09. Now it's time to eat the prize of Lancashire cheese!

1   8:52 Antony Ford  M Sale Harriers Ac
141 1:14:09 Jann Smith
245 1:24:55 Paul Sugden

PEXO XC, Sat 5 Dec
Henry Heavisides reports ... despite the fixture clash with the Complete Runner tomorrow, there was a really strong team at today's PECO race. The conditions were quite challenging with a bit of everything, mud, hills, mud, woods, mud, road, mud, track, mud & fields with a lot of mud as well. Dave Wilby led us home with a fine 3rd place, we must have scored quite well in both the overall mens & the mens vets team race.

3   Dave Wilby
7   Ian Rowbotham
9   Steve Turland
15  Justin Phillips
27  Dave Cummings
29  Paul O'Looney
30  Henry Heavisides
44  Ed Brougham
46  Paul Stephens
54  Paddy Hagan
82  Ian Marshall
96  Paul Wood
104 Andy Jackson
126 Graham Stead
133 Vic Verecondi
134 Don MacRae

Ladies
10 Diane Haggar
60 Louise Jackson
61 Alison Ricci

Juniors
16 children ran in the 1 mile and 2 mile races

Endurance Life Gower Coastal Marathon, Sat 5 Dec
Adrian Hall (the 'Southern', or 'original', Adrian Hall) reports ... starting from Llangennith in Gower, the "marathon" took in 28 miles of the Gower peninsula including Llanmadoc, Oxwich Bay, Port Eynon Bay and Rhossilli. A very picturesque course with 1500 m of ascent. Finished 13th of 169 in 4 hours 27 mins.
Park Run, Manchester, Sat 5 Dec
Rob Cunningham reports ... Did the Park Run 5k event at Platt Fields Park in South Manchester today and was probably not the most popular as when in 2nd place around the 4k mark I lost sight of the lead runner and went completely the wrong way, taking a couple of people following me off course too. Oh well it's a run and not a race.....obviously. Ended up 3rd in 20:50
Rudolph's Romp, Sat 5 Dec
Amanda Parnaby reports ... 24 mile off road around the southern end of the Yorkshire Wolds taking in part of the Wolds Way, starting and finishing at Brantington between Hull and Market Weighton. As expected, it was very wet underfoot which meant it was difficult keeping your feet in some places. At least the overnight rain cleared to leave a lovely day. Organised by the LDWA with over 400 runners and walkers taking part. Finished in 5 hours 51 minutes.
Thirsk 10, Sun 29 Nov
Henry reports ... it was very wet for the Thirsk 10 mile race, with parts of the course flooded over ankle deep, fortunately the wind wasn't as strong as had been forecasted. Despite the conditions, it was still a fast race, with the winner running 48:32. There wasn't a great turnout of Ilkley Harriers, only 5 of us made the trip. Steve Turland ran 1:01:29, which is the fastest 10 mile time by an Ilkley runner this year. I was pleased with my time of 1:03:01 (4th M50), which is my fastest 10 mile race for many years. Geoff Howard finished in 1:12:47, he was only a minute or so behind me after 7 miles, so not sure if he had a problem near the end, nevertheless he was still 1st M65. Other Ilkley runners were John Coates in 1:18:35 & Nick Arthur in 1:24:47.
Results from ukresults.net:

98   61.29  Steve Turland
122  63.01  Henry Heavisides  4th V50
381  72.47  Geoffrey Howard   1st V65
570  78.35  John Coates
697  84.47  Nick Arthur


Photos on Thirsk & S Harriers' web site.
David Staff Memorial fell race, Sun 29 Nov

64  45.58  Graham Breeze
112 52.49  Sue Morley
116 53.29  Jim Towers
129 56.33  Eric Morley
144 66.47  Lyn Eden

Abbey Dash, Sun 22 Nov
Henry Heavisides reports ... there were some excellent performances at the Abbey Dash today, despite the blustery conditions. There were at least 8 of us from Ilkley Harriers faster than 38 minutes, which must be some kind of club record (in recent times, ed). Quite a few PBs were set, it's certainly a fast course, if not the most scenic.
Jamie Hutchinson was our quickest runner, followed by Jonathan Sinclair & Richard Reeve (Richard must have been one of the leading M50s). I ran with David Brown, taking advantage of our Wednesday track sessions to try to run at an even pace. We were slightly quicker for the first half than the second half, but we were both very pleased with our times, David setting a PB, and I ran my fastest 10k since 1983 (Thanks to Peter & Andy for organising the sessions at Carnegie).
One of the good things about the out & back course is seeing all of the other runners before and after the turn, It was impressive to see all of the Ilkley vests, we certainly had a good turnout of runners.
Geoff Howard set a new Club record, and there are many changes to the road rankings here.
Photos on sportcam.net
Results from race +

1    29.13  Jonny Mellor, Liverpool Harriers 
104  35.53  Jamie Hutchinson
158  36.53  Richard Reeve       PB
169  37.08  Jonathan Sinclair
193  37.32  Stephen Coy         PB 90s
194  37.32  Andy Wiggans        PB
201  37.43  Paul O'Looney       PB
215  37.53  Henry Heavisides
216  37.55  David Brown
232  38.16  Stuart Pitches
274  38.57  Geoffrey Howard     1st V65
295  39.14  Rob Cunningham      PB
407  40.28  Richard Hinsley     PB
464  40.58  Sean Murphy
488  41.07  Rachel Wolfenden    PB 2 mins
491  41.09  Andrew Merrick      PB 1 min
505  41.16  Nigel Tapper        PB
513  40.58  Julian Carter       PB  
516  41.22  Jane Bryant         PB 1 min
688  42.49  Alison Bennett
739  43.10  Paddy Hagan
762  43.21  Vic Verecondi
764  43.22  Keith Wood
765  43.22  Helen Horton        PB
776  43.25  Peter Shields       5th V60
806  43.34  Jane Mccarthy
848  43.51  Adam Bennett        PB 3 mins
969  44.28  Jann Smith          PB
1194 45.38  Nick Errington
1264 45.56  John Pickering
1377 46.27  Rebecca Stapleton
1400 46.33  Eric Hawthorn
1520 47.06  Sharon Meadows
1590 47.24  Nick Mellor
1670 47.45  Sue Bickerdike
2272 50.02  Paul Sugden         PB 2m15s
2489 50.55  Bob Payne
2760 52.00  Fiona Schneider
2847 52.21  Emma O'Looney       PB
2849 52.22  Alison Stretton
2901 52.33  Kevin Wardale
2904 52.34  James Pickersgill
2908 52.34  Sheena Pickersgill
3025 53.05  Andrew Bennett      PB 61s
3113 53.29  Janet Bairstow
3467 55.04  Colin Lugton
3573 55.33  Louise Jackson
4161 58.08  Greg Wright
5586 69.52  Brian Sweet

Chip times and positions


Have I missed anyone? This is the final counter in the IH League. And please let me know of any PBs.
Andy Wiggan adds ... No need for a lengthy report on this race - it's flat, it's fast and (this year) it's over-crowded at the start. They do, however manage to get about 6,000 people (they kept banging on about 8,000, but there's only 5900 finishers on the results - so unless there's a wandering band of 2,000 people somewhere in Burley wearing vests and looking confused I think they were over-egging it a bit). Must admit to a degree of grumpiness this year as they were so regimented about where you could walk, where you could get to the start and where you could warm up that I was under-warmed up and decidedly under-toileted by the time we started. They were talking about having 10,000 next year but they're going to have to have more "facilities" and a better layout to allow people to warm up by running as opposed to some kind of immobile aerobic jerks more suited to the village hall. It was won by a country mile by Jonny Mellor from Liverpool Harriers in 29:13 (all times and positions are chip).
Loads of Harriers there so I'll just mention a couple of outstanding runs - Geoff Howard with 1st M65 (274th overall) and Richard Reeve who shot past at about 3k like his bottom was on fire and didn't appear to slow down at all to run what I assume's a PB of 36:53. It shows how high the standard is at Abbey Dash these days that Richard was a relatively lowly 5th M50 (158th overall) with a time that'd have won his category at most races. Others to mention briefly were Steve Coy who caught me just too close to the line to allow me to respond (I wonder whether we should have some agreed etiquette, such as shouting "Ilkley coming through!!!" to give the dopier runners amongst us time to speed up a bit) to run a big PB to be 193rd overall. I had the same time (told you it was close) for my 7th PB of the year and was 194th. Steve had also overtaken Paul O'Looney late on, who ran yet another PB. Richard "Dick Dastardly" Hinsley played a similar trick on Sean Murphy and caught him near the end to be 407th in another PB of 40:28, and Sean was 464th in 40:58. Jamie Hutchinson was the first Harrier home in 35:53 in 104th. There were oodles of other Harriers, so I'll leave someone more technically literate to extract them from the RaceAhead website and list them all - but I think it's a credit to the standard of the club that we had 10 runners under 38 minutes today.
Stephen Coy adds ... PB by 90 seconds, pretty even paced throughout, thanks to having Henry and Dave Brown just behind me the first 5k with a bleeping Garmin .... I had a perfectly timed finishing kick to pip Andy W for the first time after trailing him in triathlons this year, although officially I guess I did not beat him as we had equal times!
Rivock Edge fell race, Sun 22 Nov

1   53.02  Lewis Banton, Clowne Roadrunners
4   54.48  Steve Turland
5   55.36  Jim Ryder
7   56.12  Ralph Tench
29  63.03  Toni Melechi
33  63.32  Paul Stephens
69  68.40  Ian Marshall
71  69.06  Kate Archer
77  71.17  John Hayes
82  71.47  Val Kerr
96  75.36  Sue Morley
103 77.21  Diane Kitchen
104 77.39  Sophie Brown
107 79.44  Sarah Fuller
114 92.42  Keith Wood
115 92.46  Sue Bickerdike
117 97.14  Lyn Eden


Suzanne B and Keith Wood 'did the double' of Abbey Dash and Rivock edge!
Photos on David Brett's site ...
Complete Runner XC, Wakefield, Sat 21 Nov
Provisional results from the Complete Runner XC page....

Men
49  35.26  David Westhead
76  37.07  Malcolm Pickering
86  38.01  Mark Iley
138 43.56  Peter Shields    1st V60
151 47.27  Eric Morley

Ladies  5th team
17  20.48  Jenny Dybeck
37  22.05  Diane Haggar
38  22.09  Alison Bennett
43  22.51  Sally Malir
68  25.08  Sue Morley
73  25.59  Caroline Bell 
84  31.28  Lyn Eden

There were 11 juniors running.


Harriers vs. Cyclists, Sat 21 Nov
Simon Bailey (runner) beat Rob Jebbb (cyclist) and after that it was a pretty even mix. Results from Bingley Harriers

5   36.46  Tom Adams
40  44.23  Duncan Cooper
41  44.23  Nick Pearce
49  45.30  Dave Wilby (on a bike!)
52  45.50  Bob Hamilton
67  48.17  Graham Breeze
76  50.05  Michael Waterhouse
94  54.06  Amanda Newham


Tour of Pendle, Sat 21 Nov
Steve Weston reports ... with a focus on the 3 Peaks the Tour of Pendle looks like an attractive pre-training tester. Thankfully the threatened deluge never arrived and there was just a bit of mizzle in the latter half although the wind was a bit fierce at times.
The aim: to finish; The stategy; steady away with a bit of effort at times to make sure I had somebody to follow and was never in danger of having to navigate. 320 runners set of from a congested Barley and trogged up a bridleway to the top of Pendle, then across to Nick of Pendle in what seemed like a very short time. Then down to the reservoir and back up Ogden Clough before retracing our step over Pendleton Moor.....so far so good.......there then followed a series of three descents followed near vertical climbs that required navigating on all fours.......by the last climb the wheels had very nearly come off and I was glad to see the Trig point for the last time. Ian Rowbotham was his usual speedy self, despite talk of using it as a training run the red mist came down over Alistair Barlow after the first climb and he finished in a respectable 3.25, I was glad to finish in just over 4 hrs. Full results on the FRA website eventually.
Junior XC, Sat 21 Nov
374 Primary School children ran in the Wharfedale Primary Schools XC League race at Ben Rhydding today, results on the Junior pages.
Predictor Run, Tue 17 Nov
This was a great success - many thanks to Richard Gray. Details and results on the Forum thread.
Barnsley 10k, Sun 15 Nov
Jacqui Weston reports .. the Barnsley 10K was a very enjoyable run but not for the faint hearted, we were pleased that we had done the Big Dipper on Tuesday! There were 3 extremely steep hills, with one cheekily over a mile long followed by a further steep hill straight away with no time to recover. So if you are looking for an alternative to the Abbey Dash we can recommend the lovely atmosphere, the beautiful scenery, but perhaps not the hills!

441  50.16  Natalie Curtis
702  57.25  Jacqui Weston


Whinlatter Duathlon, Sun 15 Nov
Jamie Hutchinson writes ... More duathlon fun – this time near Keswick in Whinlatter forest. A tough 5k/15k bike/ 5k run. I hadn't realised how tough the run course was and nearly blew a gasket on the climb. The bike was way beyond my ability to move at speed throughout, losing quite a few places, falling off, swearing!, losing my chain. Then a 2nd 5k ensued and went well until I lost my way along with a few others, but fortunately didn't seem to lose much time overall. I finished 14th overall out of 145. The event was won in 1h43.12 by R.Lightfoot.
Leeds Hyde Park 5k, Sat 14 Nov
Dave Wilby was 9th in 18.10 in today's event www.parkrun.org.uk/leeds
Burley Bridge Hike, Sat 14 Nov
From Emma Payne ... Amanda Parnaby and I completed the Burley Bridge Hike on Saturday. A 21 Mile Walk, with 2669 ft of climb, around Rombalds Moor taking in Cow & Calf Rocks, Swastika Stone, Windgate Nick, Leeds & Liverpool Canal and returning via Hawksworth Moor and Burley. The Walk is in aid of funds for a pedestrian bridge over the River Wharfe at Greenholme Farm, Burley in Wharfedale. Amanda and I ran round in 5hrs 9mins.
Nick Mellor adds ... I finished 48th in 4.06 closely followed in the same time (53rd) by Graham Breeze. Joint winners (I think) were Paul Hart (Dumfries) and Panos Aristotelus (Valley Striders) in 2.53
Colomba Chemo Classic (bike), Sat 14 Nov
Andy Wiggans reports ... The Colomba Chemo Classic is a 62 mile lump-fest in the northern dales to raise money for Cancer Research, the brainchild of 19 year old Rob Knibbs who's now in remission from Hodgkin's Lymphoma. Several top pros including Ben Swift and Geraint Thomas were riding to give it a bit of star quality. A bit late in the year for a cyclo-sportive, but a terrific cause meant that Andrew "The Herb" Herbert and I trekked up to Richmond to ride the event, ignoring the threat of the predicted gales and rain. Actually we thought very hard about not bothering, but we'd paid our money, and there was every chance that our mates from down the A59 (or the "Harrogate Ladies Bicycling Society" as they shall be henceforth known after they all bottled it) wouldn't show up.
The weather was actually dry for the first 40 miles, but the wind was shall we say "interesting". I've only ridden up the back side of Park Rash once before and that was into the teeth of a howling gale and torrential rain - removing the rain from the equation made it marginally more pleasant but no easier - it's nowhere near as steep as the Kettlewell side but it's six miles long and keeps a sting in the tail. After a worrying 1 in 3 descent into Kettlewell it was a wind assisted climb through Cray and back down to Thoralby for a cracking food stop with tomato soup, coffee, apple pie and other assorted goodies. The (so we thought) last big climb of the day was Grinton Moor, which is just very long without ever getting too steep. After a scary descent, involving wheel-locking hairpins and gravel skids, we hit Reeth, where there there were two signs - to the right "easy route", to the left "hard route". I'm proud to say as Ilkley Harriers and confirmed idiots we didn't even pause to think and went left, laughing in the face of the supposedly "hard" route.
Whoops... There then followed a mile and a half of eyeballs-out, bottom gear grind - it was never too steep to ride up (although there were a fair selection of people walking), but it just went on and on and on - my computer showed that I was actually cycling at less than 4mph at one point! We were following the Altura sponsored team up this hill, and I'm sure they were regretting their full size chainsets as they weaved all over the road to try to keep some momentum. Once we were over the top of this there was only another 15% hill to overcome before two miles of glorious descent back into Richmond for a well-deserved pork pie, baked spud and beans (all included in the entry fee).
An excellent event, if a little tough in the conditions, and well worth the trip up north - recommended.
PECO XC #1, Golden Acre Park, Sun 8 Nov
Nick Richardson reports ... There was a good turnout of Harriers for the first of this season's PECO XC races at Golden Acre Park on Sunday morning. Despite the recent rain, conditions under foot were pretty good, and although there were some muddy bits, there wasn't too much slipping and sliding. The course, which gently undulates, has a bit of something for everyone as it meanders through the park. As is usual for an XC race, the first ¼ mile felt like a sprint as runners jockeyed for positions on the tight corners, but as the field stretched out the pace settled down to a more manageable/less painful level. There were some great Harriers performances so we should have got off to a decent start in the League.
Read Sue Bickerdike's humorous account here
David Brett was out taking photos, which are on www.photos-dsb.co.uk
Dave and Eileen Woodhead's photos are on www.woodentops.org.uk.uk
Official and team results are up on on Abbey Runners' PECO page...

Men 2nd team, 2nd Vets team
5   Jamie Hutchinson
10  Nick Richardson
20  Malcolm Pickering
23  Richard Reeve
35  Henry Heavisides
45  Dave Cummings
58  Ed Broughton
60  Paul Stephens
65  Paddy Hagan
87  Ian Marshall
95  Paul Wood
107 Andy Jackson
110 Eric Morley
119 Vic Verecondi
131 Don McRae
140 Paul Sugden
149 Andrew Bennett

Women  3rd team, 1st Vets team
5   Sally Malir
11  Alison Bennett
19  Jo Prowse
40  Sue Bickerdike
43  Sue Morley
48  Diane Kitchen
64  Bernie Gibbons
77  Alison Ricci
79  Louise Jackson
93  Sally Pickering
108 Amanda Parnaby


There were 22 Ilkley juniors racing earlier - more.
Cop Hill Fell Race, Meltham, Sun 8 Nov
Lyn Eden reports ... incorporating YVAA Fell Racing Championship. 7 miles, 900ft of climb from Meltham Community Centre. Cold day but the rain held off. Bit of everything, track, trail, fell and fields, with plenty of mud in places.

Jim Towers  62.52
Lyn Eden    744.14  1st O/60, YVAA V60 Champion

Lancaster Half, Sun 8 Nov
Andy Wiggans reports ... "Flat as a pancake - cycle track by the river out to Halton, guaranteed PB material." - so said the ever confident Mr Wiggans, sure of the course for the Lancaster Half marathon.
Imagine my surprise, then, when we turned right after the Millenium Bridge over the Lune and started to head off into Tiger Country down towards Glasson Dock! Fellow Harriers Paul O'Looney, Sean Murphy and Richard Hinsley were very understanding about my geographical miscalculation (but it did used to go down the cycle track lads, honest!).
Anyway - I wasn't expecting great things from this race as a combination of work, comedy bikey/runny events (I believe they're called "multi-sport" - but whatever they are they have short runs in them) and a recent calf strain meant that my long run discipline has rather gone to pot since the summer. I was going to be happy to get round without my calf muscle detaching itself from the bone. I decided to stick with Paul to begin with, but after 4 fairly swift miles it was clear from my heart rate that unless he slowed down dramatically we weren't going to be together at the finish. I let him go, and concentrated on being pleased my leg didn't hurt and how I was going to explain to the lads that this "PB course" had now gone muddy, puddly and generally a bit cross country-esque.
We turned off the muddy cycle track near Cockerham, with me now fully convinced that I was going to blow up horribly at some point, and the slow draggy hill up to Lancaster Golf Club pretty much put the tin lid on things. I was now miling a good 30 seconds slower than I had been, so when I saw the 300yds of flooded lane we had to paddle through I was quite glad of the excuse. I hit 10 miles in just over 63mins, but I knew that the last 5k would be tough - the last few miles are a reverse of the start, and I was now 40 seconds a mile slower than on the way out - however the fast start meant a reasonable time would be achievable. I hit the track with a Halifax Harrier closing in from behind and put in a spurt to finish ahead of him and with the watch on 1:24:20 - in the event a couple of minutes outside my PB but the second quickest half I've run - and reassuringly I know exactly why I struggled so much at the end - simple, honest-to-goodness mileage.
Paul was looking debonair and chilled, having run 1:21:55 for a big PB. Sean came in with 1:30:55, a little pooped (but take a Top Tip, Murph - being out on the lash til 3:30am on the Friday does not lead to good distance running on a Sunday!), and Richard ran 1:35:35 - his first half-marathon and therefore a PB.
In the end the lads were all quite nice about me giving them duff information about the course (particularly in light of how muddy they were) - but I really, really PROMISE the Brass Monkey's a quick one!!

1 Nick Leigh - Altrincham & District:  1:12:19
32  Paul O'Looney   1:21:56 (PB)
49  Andy Wiggans    1:24:17
102 Sean Murphy     1:30:57
160 Richard Hinsley 1:35:32 (PB)

666 finishers (woooooo....) 


Some photos on www.sportsunday.co.uk
Shepherds Skyline fell race, Sat 7 Nov
Results from Tod Harriers, where there are some photos too ...

1   42.07  Graham Pearce, P&B
25  50.04  Jim Ryder
29  50.20  Ian Rowbotham
67  55.28  Duncan Cooper
81  56.46  Bob Hamilton
96  58.13  Kelly Harrison
127 61.04  Tony Melechi
160 64.03  Kay Pearce
207 70.35  Sarah Fuller
257 98.48  Lyn Eden


More photos on www.sportsunday.co.uk
Leeds Hyde Park Run, Sat 7 Nov
Henry Heavisides reports ... Richard Reeve & I went to Leeds this morning to run the weekly 5k time trial. The conditions were good preparation for tomorrow's Peco cross country at Golden Acre Park with plenty of mud & soggy leaves on the course. Richard was 18th in 18:35 & I was 22nd in 18:56. There were 236 runners this week, showing the increasing popularity of this event. The winner was Elliot Jackson of New Marske Harriers in 16:57
Primary Schools XC, Sat 7 Nov
Over 400 Primary School children, including many Harriers' kids and granddchildren, ran in the XC organised by Westville House School at Ilkley Rugby Club, the 2nd event in the Wharfedale Primary Schools XC League
5k Time Trial, Tue 3 Nov
From Henry Heavisides 37 people took part in the 5k time trial around the Rupert Road circuit. Conditions weren't ideal for fast times, but there were still some good performances, with many people beating their estimates. We will run another time trial in the New Year so you can monitor your improvement.

1.  Nick Richardson 18:04
2.  Justin Phillips 18:28
3.  Richard Reeve 18:51
4.  Julian Carter 20:16
5.  Rob Cunningham 20:21
6.  Dave Cummings 20:26
7.  Rachel Wolfenden 20:41
8.  Jane Bryant 20:49
9.  Richard Shelton 20:53
10. Ed Brougham 20:57
11. Paul Stephens 21:20
12. Mike Bryant 21:29
13. Keith Wood 22:15
14. Nick Brindle 22:29
15. Jann Smith 22:45
16. Andy Bewell 22:51
17. Paul Wood 23:21
18. Val Kerr 23:24
19. Sharon Meadows 24:31
20. Sue Bickerdike 24:48
21. Ros Frost 24:51
22. Andy Kitchen 24:52
23. Natalie Curtis 24:57
24. Gaynor Coy 25:02
25. Don MacRea 25:11
26. Paul Sugden 25:26
27. Lynne Donohue 26:13
28. Andrew Bennett 26:35
29. Emma O'Looney 27:08
30. Sara Allen 27:18
31. Emily Kerr 27:54
32. Antonio Cardinali 27:57
33. Jacqui Weston 28:01
34. Mark Kerr 28:42
35. Jayne Fort 29:11
36. Colin Lugton 30:14
37. Caroline Dobson 33:49


I've decided to include the results from the time trial in the 2009 Road Race Rankings (I'll update them shortly), as even though it wasn't an official race, some of the times were quick enough to be in the top 10 5k times for the year.
Thanks to all of the helpers: Neil Chapman (timekeeper), Geoff Howard (marshalling), Pete Shields & Andrew Sheldon (finish area).
NYCM, Sun 1 Nov
Fiona Schneider reports from the Big Apple ... what do sons give their mother for a 50th birthday present ? A place in the New York City Marathon, of course!
To get a place was an amazing achievement and gave the family a trip to NY. It was a fantastic race and this year the start had been staggered in three waves with 10 pens in each wave. This gave the better runners a much freer course and less congestion all round. It should have been possible to reach a personal best, but New York has dragging low level rises which for a Harrier preferring steep shorter bursts took some hard graft not to get ground down. A named shirt ensured that before some of the crowd had finished "FIONA", the next group had taken up the cry. Some asked where Shrek was, but the Americans know how to encourage .."You're looking good ...looking strong .' This cry just accompanied me around the city, well at least for my better moments,Sometimes it needed to be "Keep it going ' and a Gospel choir, bagpipes or band to spur us all on. It certainly worked! Mile 16 was time for a hug from the family at the bridge onto Manhattan. So excited was I that I failed to look as I rejoined the crowd and was promptly flattened by an on coming fellow runner. A gasp from runners and family, cut lip, grazed finger, knee and bashed nose were just not going to stop me and in a watery eye daze there was nothing to do but get up and go. The Bronx and Harlem added variety and great music until my worst part slogging up 5th Avenue for 2 miles plus of gentle dreary gradient before hitting Central Park. What a crowd...thank them I made it ..PB? I missed it by 31 seconds. Just have to try again!
4:25:56 398th LV50 out of 1274
Haworth Mudman, Sun 1 Nov
From Jamie Hutchinson ... This year's event lived up to its name – pretty much everything was thrown at all those who ventured out on Sunday morning.
First off it's a 5km run out onto Penistone hill and back. I had a decent enough run coming into T1 in about 5th – but with a few relayers ahead of me.
The bike course is 20k around the moors, with a bit of everything…I was amazed that I managed to cycle through numerous ponds, streams and lakes and never coming off. I did however suffer from my chain coming off a few times when I least needed it! Into T2 and quick transition I was quickly onto the chap in front of me and had a quick 3k run..nearly taking another guy on the run in. I finished in just under two hours and 3rd overall.
The race was won by Paul Drinkwater in 1.53.33. Other Harriers out were ... 22nd Charles Oxtoby 2.21.21, 26th John Tate 2.26.40 AND Amanda Newham who came 3rd in the ladies in 2.30.07.
I think the event should be renamed the Haworth MADman!
Guy Fawkes 10, Sun 1 Nov
From www.ukresults.net ...

196  1h19.20 Peter Shields
450  1h31.41 Christopher Brown
518  1h34.31 Ian Hargreaves
594  1h40.41 Adele Mitchell


Complete Runner West Yorkshire League XC, Sun 1 Nov
Results from the race at Boddington Hall are up here.

Ladies  5th team
13   23.23  Jenny Dybeck
37   24.52  Diane Haggar
43   25.02  Catherine Gibbons
46   25.04  Alison Bennett
47   25.07  Jane Bryant
53   26.16  Sally Malir
64   26.54  Jo Prowse
79   28.22  Sue Morley
88   31.24  Emma Payne
90   31.35  Bernie Gibbons
94   35.35  Lyn Eden

Men   9th team
25   30.44  Tom Adams
62   32.56  Jim Ryder
64   32.57  David Westhead
93   34.10  Nick Richardson
103  34.36  Malcom Pickering
118  35.23  Mark Iley
146  36.41  Steve Weston
154  37.12  Geoff Howard
164  37.53  Dave Cummings
209  43.02  Eric Morley
215  44.22  Jim Towers
  

The juniors were well represented, with 22 running and the U11 Girls team winning their team prize.
---