Ilkley Harriers news archive 2009
Harrier of the Month, October
Nominations were:


Justin Phillips for Royal Parks Half Marathon, PB 5 mins;
Helene and Jonathan Whitaker 1st mixed pair OMM Long Score;
Graham Arthur for completing the highest no. of Scottish Classic Hill Races this year (of anyone in the UK; 10 out of 11 and each one a major challenge) and taking the V60 title for the second consecutive year.
Jann Smith 1st LV40 Warrington Half, 1st lady Bradford 5;
Helene Whitaker race results incl Wasdale;
Jim Ryder for race results.
The HoM awards went to Graham Arthur, and Helene Whitaker. Congratulations to them, they will receive technical running shirts from HoM sponsor UP & RUNNING.
Great Whernside fell race, Sat 31 Oct
Lyn reports .... the slog up is worth the brilliant descent. And, to the dismay of of all the punters who bet that I would be last, I wasn't. Maybe Pete and Neil's training is beginning to show effects, after all I can now hop halfway across the field! To everyone out there, the Great Whernside is the most fantastic fell race with a hard ascent, but the descent is ten times more wonderful than Lothersdale, [and I really think Lothersdale is something ethereal, from Arthur's time]. So that makes Great Whernside just something more wonderful to experience.
From Jez ... I have to agree with Lyn, what a fantastic race this is ! Perfect weather, beautiful location & plenty of Harriers on show. Although I don't think Ian was working hard enough on the ascent. As he cruised past me, he said "well done" ! I had trouble breathing, let alone talking. Mind you, I did manage to fly past Ian Holmes after about 1/4 of a mile. He was only watching for some unknown reason. And I beat Ted Mason. He pulled out injured, I believe. I did sub 40 mins, so reasonably pleased. A great time from Jim who also made the top 20 in a very competitive field. Well done to all Harriers.
Also the Yorkshire Championships, with Tracey Greenway winning a Bronze medal. Preliminary results ...

19   36.44  Jim Ryder
22   37.00  Ian Rowbotham
41   39.01  Jez Hellawell
50   39.36  Tracey Greenway
51   39.40  Jonathan Whitaker
60   40.50  Bob Hamilton
72   41.46  Norman Bush
100  45.03  Graham Breeze
151  51.52  Sophie Brown
152  51.53  Sue Morley
166  66.44  Lyn Eden 


Withins Skyline, Sun 25 Oct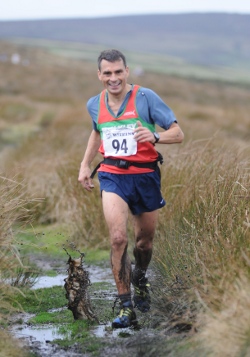 A very muddy 7 miles over the Bronte Moors, as the photos on woodentops.org.uk show.
Provisional results ...

1   45.04  Tom Addison, Helm Hill
8   47.31  Chris Gale
19  50.03  Jim Ryder
26  50.25  Steve Turland
32  51.46  Ian Rowbotham
52  53.03  Martin Archer
67  55.26  Nick Pearce
116 59.59  Paul Stephens
130 60.49  Diane Haggar 2nd L40
163 63.45  Graham Breeze
166 64.06  Chris Oxlade
186 66.43  Keith Wood
191 67.10  John Pickering
192 67.15  Val Kerr
228 72.25  Sue Bickerdike
232 74.16  Sue Morley
233 75.57  Eric Morley
259 99.32  Lyn Eden

There were 6 juniors in the junior Curly Wurly Rat Runs


Read Sue's report here.
Lyn adds ... I fell into every peat bog to the extent that I approached every one with trepidation. In fact, to the amusement of my neighbours I had to hose myself down in the garden before entering the house, and am still scrubbing peat from my arms, legs and face. Basically, it was great fun, and to think that women pay to be covered with mud. Worth every penny of the £3 entry fee. My bonus was that Dave Woodhead gave us [Jim, Sue, Eric and me] a Rat Run goody bag each.
OMM, 24-25 Oct
A number of Harriers competed in the Original Mountain Marathon (formerly known as the KIMM), two days of navigational running over mountainous terrain and carrying all equipment for an overnight camp. You can see the results here, it's tricky picking out t'Harriers so if I've missed any then SHOUT ...

Elite
23  13h41.13   Dave Wilby & Adrian Hall
27  13h55.15   Heather Dawe & Andrea Priestley  1st ladies pair

A
48  14h02.33   Holly Williamson + 1
 
B
22   9h52.37   Mark & Rebecca Mon-Williams
45  10h34.12   Joyce & Ian Marshall
50  10h42.11   Peter Jones & Sophie Brown

C
12  7h57.43    Peter & Chloe Haines  2nd Mixed pair
119 10h05      Lou Cartledge + 1

Long Score
6   670 points Jonathan & Helene Whitaker  1st Mixed pair

Medium Score
187 309 points Kelly Harrison & Amanda Newham


Race you to the Summit, Sat 24 Oct
Lyn Eden reports ... from the Summit Inn, Nr Littleborough, 4 miles, 800ft of climb. Weather gales and driving rain. Brilliant run from the Summit Inn to the White House Inn, touch the wall and back. Superb run that gives everyone everything we want in weather we do not want.

49  39.31  Graham Breeze
77  54.22  Lyn Eden


Leeds Hyde Park 5k, Sat 24 Oct
Geoff Howard was 29th in 19.48 in today's event www.parkrun.org.uk/leeds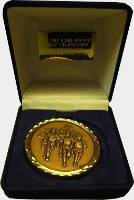 FRA Relays, Sun 18 Oct
Or 'The UKA Fell & Hill Running Relay Championship', at Ennerdale. Ilkley fielded 4 teams in this event, the ladies teams being particularly badly affected by injury and illness and substitutes being swapped in right up to the 11th hour! The races were made much harder by unexpected low visibility, and all the legs required navigational skills in the clag. Results later, but our Lady V40 team won bronze medals - well done to them!!
Some photos on Picasa.
Shirley reports ... Coming in as a last minute reserve to the Lady Vets team and probably not having run a fell race in the last 5 years I would just like to say thanks to my partner Jo Foster (who was drafted even later than me) for a fantastic run on the hills yesterday. As we waited at the start I have to admit to being totally terrified at the prospect of going out in the worsening conditions. After being a little cautious to checkpoint 1 while I was still getting used to the map scale we nailed the rest of the course (with a little luck at checkpoint 5). In the later part of the course pairs we had thought were behind passed us going back to checkpoints, so clearly other clubs were not finding it so easy out there. I was totally relieved to finish and many thanks to Jo for running at my pace, supporting me and keeping me going to the end. There was one point on our way to checkpoint 4 when we were climbing, the rain was lashing it down, it was windy and we had to put cagoules on. I couldn't see a thing through my granny glasses and it was difficult to read the map but I knew we were on an accurate compass bearing. It was a magical moment when we eventually reached the fence and were able to follow it up to the summit. Ilkley fielded 4 teams which is ambitious but not impossible for a club of our size. So well done to Emma and Dave for organising the teams - I appreciate the last week has been a total nightmare for them with the amount of changes made. Finally and most importantly well done to everyone who ran yesterday because it was a great day out.
Morgan adds ... The men's vets, by virtue of steady running and navigating, came home a very creditable 48th out of the 149 starting teams in the 2009 edition of the FRA Relays in a wet, misty and occasionally windy location on the north west fringe of the Lake District. Paul got us off to a very decent start having to compete with those who like to get their quick men and women off on the first leg. As the weather deteriorated, Nick and Geoff ran a classy leg over testing ground to improve our position by 17 places. Eddie and I made no mistakes on the navigation leg (which for once was exactly that) while others were going round in circles. It was noticeable how few other teams we saw after leaving CP 1. Billed at 5.7 miles, it was clearly closer to 7.5 with all the twists and turns. Another 9 places gained. Roy rounded things off nicely by sneaking us into the top 50. A job well done.
A Man of Steel Award to Eddie. After running 50 miles on Saturday, he dragged his weary bones out of bed for a 7.00 am start, faced a 3 hour drive in a slow-moving campervan which felt like an ice box for the first hour and a half, all to plough round a testing navigation leg in crappy weather. Not surprisingly, he took an earlier lift home with the Valley Striders contingent. The stuff of legends and an honour to run with you mate.
Results from SPORTident...

21 Ilkley Harriers AC Open 4:09:23
Lee Morley 45:29    
Jim Ryder, Chris Gale 1:10:34   
Steve Turland, Stuart Pitches  1:22:16   
Dave Wilby 51:04

48 Ilkley Harriers AC M40  4:38:34
Paul O'Looney 50:19  
Geoff Howard, Nick Pearce 1:17:30  
Eddie Winslow, Morgan Williams 1:36:52  
Roy Ruddle 53:53 

71 Ilkley Harriers AC L 4:52:59
Holly Williamson 54:41   
Tracey Greenway, Sally Malir 1:31:05   
Kelly Harrison, Heather Dawe 1:29:04   Fastest on leg 
Alison Eagle 58:09

118 Ilkley Harriers AC L40 6:05:48 
Rachael Gooch 1:07:48   
Diane Haggar,  Alison Weston 1:37:33
Jo Foster, Shirley Wood 2:04:13  
Joyce Marshall 1:16:14


Bronte Way, Sun 18 Oct
From Val Kerr.....Classic point to point fell race in Bronte country, 8 M 1150' from Wycoller over the moors to Haworth. Well organised, lovely course, great conditions.

J1   Willy Smith / Jorge Thomas  K&C  53.23
107  Val Kerr     78.25
130  Eric Morley  84.17
135  Sue Morley   85.08
138  Liz Price    87.03
 
167 finishers


Palma Half Marathon, Sun 18 Oct
Thanks to the miracles of t'interweb, the results were back home almost before the runners! ...

1:33:44  Phil Hirst
1:33:49  Nigel Tapper
1:36:29  Jane Bryant
1:37:01  Andrew Merrick
1:40:10  Helen Horton
1:41:00  Vic Verecondi
1:42:04  Keith Wood
1:44:36  Sue Bickerdike
2:02:29  Jacqui Weston


Amsterdam Half Marathon, Sun 18 Oct
John Marshall reports... The half marathon was one of a number of events on a perfect day for running, the main event being the full marathon. The flat was challenging having spent three years in Yorkshire! My time - 1:48:44
Bradford 10, Sun 18 Oct
Andy Wiggans reports ... the competing delights of seeing Vic ask bemused Catalans "where's the dunny, mate?" shortly before the Palma Half and the concentrated pain-fest of the British Fell Relay championships proved irresistible to a lot of Harriers, so red and green vests were in less evidence than one might have expected at Bradford's inaugural "Run Bradford" event. A 2 1/2 mile junior race, a 5 mile (ish - of which more later) "fun run" and a 10 mile road race were on offer. It's a practice run for the marathon they're going to have next year, where the course will consist of five 5 mile loops based around Centenary Square, heading out to 5 of Bradford's parks. The mathematically gifted amongst you will have worked out that the 10 mile race to day was two of the loops, visiting Lister Park and Bowling Park. A minor design flaw with Bradford is that they decided to put it in a dip, so this means that there will invariably be lumps to run up, and so it proved.
The first loop saw us out along the road towards Shipley, before a lovely bit of back and forth in the park past the amazing buildings in there. A cruel circumnavigation of Valley Parade meant a quick loss of height then an immediate stiff climb back up, then we were quickly back in the square. Inordinately quickly if you thought this was half way, but a combination of a Garmin and a knowledge that I don't run 5 miles in 28 minutes suggested it's a few hundred yards short of that. The second loop was less scenic (unless you take your holidays on industrial estates) and very twisty - as well as being uphill for the best part of 3 miles. Slightly depressingly my watch kept telling me my pace had slowed by a good 30 seconds a mile, but it seemed to be affecting everyone else similarly as I didn't get passed on this section, and even caught a couple of guys up. The summit of the climb is in Bowling Park at 7 1/2 miles and then it's a fast run back, unfortunately past many of the same industrial units, to the finish.
As my PB was set earlier this year at Otley I was hoping for something quicker, and in the end I was very pleased to come in 18th overall with 62:27 (a PB by 1:43) on the chip time, and to get my second prize ever with 3rd M45.
There were other Harriers there, and some great performances - notably Jann Smith, who felt poorly after starting the 10m race so decided against the delights of loop 2 and finished after the Lister Park loop to amazingly win the ladies race in 33:41. Also top running from Richard Reeve who was 25th overall, 2nd M50 in 63:55 (another PB) and Karen Lambe who was 193rd overall in 80:55 and took the prize for 3rd F35. Also to be mentioned in dispatches is Richard Hinsley who broke the 70min barrier for the first time to come 64th overall in 69:44.
Full 10m results as far as I could find:

1st   Ian "who else?" Fisher  52:50 (and so quick that the Special Constables 
      following him on their bicycles got tired out and stopped!)
18th  Andy Wiggans 62:27 PB 3rd M45
25th  Richard Reeve 63:55 PB 2nd M50
64th  Richard Hinsley 69:44 PB
193rd Karen Lambe 80:55 3rd H35
210th Christopher Brown 82:30
316th Paul Sugden 88:04
319th Fiona Schneider 88:34
425th Emma O'Looney 95:55

There were 548 finishers in the 10m race.

Jann was the only Harrier I could find on the 5m results.
Jann Smith 33.41 1st Lady  PB  


Fiona adds ... This was a great race with hills for interest. For me, this and the Bradford 10k beat the Leeds runs ( Abbey Dash/Half marathon ). They are well marshalled, closed roads and escape to good parks. You also get to see parts of Bradford that are unfamilar and we had small children loving the high fives. If I've interpreted the results correctly, I was second LV50 ( what , me ?!) out of 12 of us .
Richmond 10k, Sun 18 Oct
Rebecca Stapleton finished 201st out of 461 runners and was the 31st female over the line in a time of 49.51
Abingdon Marathon, Sun 18 Oct
Pete Bedwell reports ... It's been a long time since I've posted a race result, over 4 months of very limited running (longest 7 miles) apart from a 2.06 GNR due to a disc pad problem, still not sorted so was not really expecting even to finish the Abingdon marathon. A really well organised, superbly marshalled fast 2 loop course saw my PB last year. This year was pleasantly suprised to be able to jog round without stopping in 4.34.26, 640 out of 706 , never thought I'd be happy with a PW , who said you had to train to run a marathon ?? If you are looking for a UK marathon with PB potential it has to be this one ! Hopefully will be fully recovered by next year for a lot better time!
Round Rotherham 50, Sat 17 Oct
Eddie Winslow reports ... This race has traditionally been held in December and for the past few years the weather could be summarised as foul. This year, they have moved it to October and runners mad enough to take the challenge of 50 miles were at least able to do so in ideal running conditions – overcast and dry meant the temperature was cool without being cold. Even the legendary ploughed fields in the second half were firm to the footfall.
3 Harriers were there. I finished in 25th place in a time of 8h40m. Sharon Meadows was well placed (Sharon confirmed later "81st in a time of 10h32m, but I am still pleased as it took me over 13 hours last year".)
Amanda Parnaby finished in 12h43m
Complete Runner XC, Sun 11 Oct
Sunday saw the first race in the top-class Complete Runner XC League.
Dave Woodhead's photos, Eileen Woodhead's photos, and photos from Adam at Halifax on flickr, here.

Ladies race, 4th team
5   18.07  Sally Morley
11  18.48  Jenny Dybeck
29  19.40  Sally Malir
35  20.02  Catherine Gibbons
39  20.07  Diane Haggar
40  20.14  Jane Bryant
47  20.22  Alison Bennett
70  21.42  Jo Prowse
83  22.42  Sue Morley
95  25.17  Bernie Gibbons
97  25.40  Emma Payne
99  26.45  Sally Pickering

Men's race, 12th team
17  32.06  Tom Adams
69  35.05  Nick Richardson
72  35.27  Jim Ryder
85  35.58  David Westhead
105 36.52  Malcolm Pickering
150 39.38  Dave Cummings
171 42.12  Peter Shields
186 45.42  Eric Morley

Juniors
23 ran in various races
Great results for the U11 girls


Royal Parks Half Marathon, London, Sun 11 Oct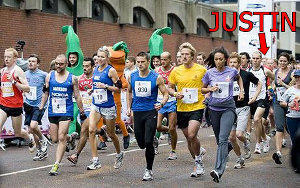 Justin Phillips reports ... A stunning route for this well organised event in its 2nd year with an emphasis on environmental sustainability and mass participation. The course winds its way around Hyde Park before passing Lizzy's house (Buckingham Palace), Gordon's office (Houses of Parliament) and a big ferris wheel (London Eye). Regrettably I was too busy trying to suck in air to notice any of the surroundings. The route is very supporter friendly which is a fantastic motivator and in addition to my own entourage there were four or five shouts of "come on Ilkley" as I plodded round.
For anyone looking to do 13.1 miles first time this event is a contender to the Great North Run whilst the sense of occasion and route makes it superior to the Leeds Half.
I couldn't possibly have gone any faster at this moment in time so am pleased to have knocked 5 minutes off my P.B in the same week as Ash and I secured places in the Tokyo Marathon. So, if you fancy some long weekend training runs this winter, please get in touch...

1st   1:09:31  Paolo Sandali    
34th  1:21:33  Justin Phillips  PB   
10,006 ran


Pentland Skyline, Sun 11 Oct
Graham Arthur was 99th and 1st V60 in 3:40:56, from 170 finishers. (SHR results) Graham has run the most Scottish Long Classics run this year, 10 out of 11, and is 1st V60 in the Classics series (results)
Evil Sheriff Duathlon, Sherwood Pines, Sun 11 Oct
Jamie H reports ... I ventured down to Sherwood Forest for a duathlon organised by Pacesetter events. The race started with a 6k run round the forest and a combination of tracks and trails and a few undulations. I ran fairly hard to come into T1 in around 6th position. A 18k cycle followed the same route as the run for 3 laps, which after lap one became particularly tricky as we started the lap the slower cyclists. I moved up a places coming into T2 in 5th. I super transition and I moved up a place into 4th and maintained this for the 3k run. I finished in 1.13.15 and fourth place. The race was won by Mark Botteley from Spalding Tri in 1.11.23, there were 149 finishers.
Beefy's Nab, Oxenhope, Sun 11 Oct
3 miles, 650ft of climb, on a perfect sunny day, with a chill in the air. Lovely race with a bit of everything.

Lyn Eden   47.23


Saw two other Ilkley vests, results soon on www.kcac.co.uk
Wasdale, Sat 10 Oct
From Morgan .... Wasdale; home to England's highest mountain, its deepest lake and it biggest liar. Home also to a fine show where the local community gathers together in celebration of their rural traditions. And home to one of the true greats of fell running, Joss Naylor. Joss was out and about, signing copies of the new biography about him by Keith Richardson. Keith was there too.
It is also home to a real classic fell race; 2,400 feet of climb in 1 1/4 miles. Brutal and steep. Grass initially, then rock and scree and a summit plateau which can be tricky to fathom in the mist.
At the eighth time of asking, I finally produced a good run in the final BOFRA Championship race of the year. The climb seemed never-ending, and we were soon up into the mist, but a good rhythm was established and I cruised past 3 or 4 people who have been beating me all year in these short races. Those Dales races don't have enough climb to really get stuck into, but this was different!
Having been aware enough to pick some waymarks, I had a good descent. It's no coincidence that the top section was rough, rocky and littered with scree. I will remember for years the amazing view of Wasdale below, seen down an impossibly steep gradient, having shot down a few hundred feet of scree, and crashed through the mist ceiling; I suddenly remembered why I love running in the mountains so much.
I lost my footing on the steepest grass section lower down and did a good 50 yards on my ar*e, overtaking another runner who was making reasonable headway on his feet. Ted Mason, the winner, did most of this section that way according to the spectators.
A quick sluice down in Mosedale Back after the finish then I had to hightail it for the Bob Graham Club Dinner in the magic bus.

1   37.18  Ted Mason, Wharfedale Harriers	
20  50.17  Morgan Williams
	

Wharfedale Primary Schools XC, Sat 10 Oct
Over 470 primary school children ran at Ghyll Royd School's XC race on Saturday, part of the Wharfedale Primary Schools XC League set up by Ilkley Harriers (more on that on the Junior Pages).
Langdale Horseshoe fell race, Sat 10 Oct
Helene Whitaker was 2nd lady in this 14m/4000' counter in the English Champs (well, she did set the course record back in '92 ...). Results c/o Dave Wilby ...

45  Dave Wilby - 2:31:27
77  Lee Morley - 2:41:26
83  Helene Whittaker - 2:42:45 (2nd lady (1st, LV40))
85  Jonathan Whittaker - 2:43:30
95  Steve Turland - 2:45::32
169 Holly Williamson - 3:02:54 (14th lady)
171 Kelly Harrison - 3:04:07 (15th lady)
172 Heather Dawe - 3:05:15 (16th lady)
179 Alison Eagle - 3:10:27 (18th lady, 2nd LV45))
222 Alison Weston - 3:19:22 (30th lady, 6th LV40))
280 Graham Breeze - 3:54:00

309 finishers

Ilkley Harriers ladies were 2nd team 


Leeds Hyde Park 5k, Sat 10 Oct
John Marshall was 63rd in 23:27 - www.parkrun.org.uk/leeds
Committee Meeting, Tue 6 Oct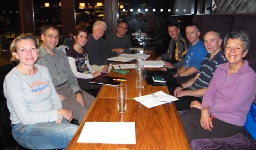 The first meeting of the new Committee was at 8.30pm in the bar at ILT&SC. Any member of Ilkley Harriers is welcome to come along to meetings, and on this occasion we had three non-committee members participating but a larger social group nearby maybe slightly daunted by the ferocious activity of the first meeting (it will get easier!)
Here are the minutes of that meeting. They are very open, but some of the points and actions raised in them will be followed up by further news and explanation on the web site or in the newsletter. If you have any questions or issues please do talk to any Committee member or better still come to the next Committee meeting.
The next Committee meeting will be on Tue 3 Nov and there will be an Agenda available the week before. If you are unable to make the meeting and have something to contribute, or if you have a nomination for Harrier of the Month - someone whose athletic performance or contribution to the Club in October should be celebrated - then please contact Paul or any Committee member - see list in previous news item.
Ian Hodgson Mountain Relay, Sun 4 Oct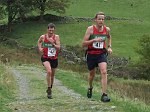 Dave Wilby reports for the men's team ... After an illness & injury stricken build up to the event, the men's team all came good on the day, and produced one of the club's best ever finishes in this prestigious event. Leading the team off on the 1st leg were Chris Gale & Rowbo, both doing the event for the first time. They acquitted themselves brilliantly on what is always a leg heavily loaded with strong pairs, and after less than 70 minutes were into Kirkstone Pass in 23rd place. Steve Turland & Lee Morley had been trusted with the key 2nd leg, which provides some tough but beautiful running over to High Street, before a long and lightning quick drop into Hartsop. They certainly stood up to the task, despite both starting the week with injury worries, and not only pulled the team up to 16th place, but clocked the 13th fastest time for their leg in just over 66 minutes. Next up on the short but sharp leg 3 were Eddie & Jim, both of whom had been ill throughout the week, but they showed little sign of it as they ran a strong leg to bring the team home almost where they started, in 17th place, in just under 45 minutes. Finally, as captain I'd drawn the short straw and had to try and tame the club's champion racing whippet, Tom Adams. We gave it everything we had, or rather I did, and Tom cantered along looking fresh and unruffled. At the end we'd clocked the 8th fastest time for our leg, and pulled the team up to 12th overall in a time of 1:14.
A great effort all round by the guys, and a good team atmosphere throughout with plenty of support, and everyone keen to do well for each other. After a season in which we've increased our presence in the Championship races, and gained some good results, it was pleasing to see the men's side reaching our potential in this race, and putting in a strong performance. Check out the new Club records here.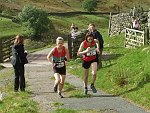 Emma Barclay adds ... The Ladies had the usual battle with Dark Peak but unfortunately Dark Peak got the better of us and beat us on the day, resulting in us getting 2nd position overall. As usual we put up a good fight and made it very exciting for spectators (not so good for our nerves!). Everyone gave 110% and we certainly flew the flag for Ilkley Harriers. The Ian Hodgson Relay is a very prestigious event and it has to be remembered that all quality teams enter this event, Ambleside, Holmfirth and Keswick were all behind us.
The Stars of the Day were young Jenny (age 17) and Sally Morley who got the fastest Leg 3 time (it was worth breaking nails for). Andrea has already got her eye on Jenny, to run with her in future years (everyone has to take their turn)!
Well done everyone, a great performance.
See Terry Lonergan's photos of the race here
Results from SportIdent

12  Ilkley's men  4:15:40
Ian Rowbotham, Chris Gale      1:09:36 
Steve Turland, Lee Morley      1:06:37 
Jim Ryder, Eddie Winslow         44:44
Tom Adams, Dave Wilby          1:14:43

35  Ilkley Ladies   2nd ladies team  4:49:59
Alison Eagle, Helen Ilsley     1:18:24 
Emma Barclay, Helene Whitaker  1:16:18 
Jenny Dybeck, Sally Morley       44:02
Andrea Priestley, Heather Dawe 1:31:15


Harewood 10 mile Trail Race, Sun 4 Oct
Results on Valley Striders web site, photos on David Brett's web site.

1    52.49  Andrew Pearson, Longwood H
42   68.35  Richard Reeve
83   71.42  Kevin Gooch
88   71.59  Sally Malir   1st F45
94   72.39  Neil Chapman
95   72.42  Duncan Cooper
127  75.38  Diane Haggar  2nd F45
129  75.46  Mike Baldwin
222  81.47  Catherine Gibbons
277  85.34  Val Kerr
328  88.06  John Marshall
340  88.44  Rachael Gooch
385  92.22  Bob Payne
390  93.17  Martin Wright
401  94.11  Bernie Gibbons
549 112.43  Amanda Parnaby


This was a counter in the Harriers Running League.
New Balance English Half Marathon, Warrington, Sun 4 Oct
Jann Smith reports ... my first half marathon in my first year of running. This is a new big event race. 2000 people ran. Sarah Jarvis was there running for England in an England V Scotland championship..England won! The course was dubbed flat but the first half was a gradual uphill. Nice, scenic rural route through Cheshire villages and finshed nicely with a lap of a running track in front of a grandstand. Well organised, and would recommend it to PB hunters!!

168  1h37.03  Jann Smith   PB  1st F40!
774  1h55.38  Paul Sugden


Great Abington 10k, Sun 4 Oct
Geoff Howard reports ...The flatlands of Cambridgeshire were quite a change from uphill only racing. However on a beautiful day with a little breeze I managed 39m 47s and 1st v60. Although missed off the results' list, my daughter Caroline, in her first come-back race after babies, was 5th lady in about 42m 30s (husband timing).
Helwith Bridge Duathlon, Sun 4 Oct
Andy Wiggans reports ... Spurred on by promises of several Ilkley Harriers intending to do this race, I dragged my "now retired from multi-sport events" carcass over to Helwith Bridge for this run-bike-run duathlon for a last blast of competitive shoe changing and sunglass wearing.
In the event there wasn't a single Harrier to be seen, but once I was there I thought I might as well see how it went. The weather was fab, and despite hearing people banging on about "that b**y hill" I assumed there couldn't be anything that would phase a Big Dipper afficionado, so off I trotted. There was a larger field than is usual with 108 competitors, which is a good sign for an event like this.
The run goes up-tiddly-up-up, then down-diddly-own-down over a moor road to Little Stainforth, then returns along the main Settle to Ribblehead road. 4 miles, and I was reasonably pleased to be in 16th place after the first run in 25:11. The bike is a 23 mile circuit of Ingelborough, going via Ribblehead, Ingleton, Clapham and Austwick. I was passed by a few people on the climb up to Ribblehead, but passed a similar number myself, so probably held my position, taking 1:11:29 for 23rd place on the bike, which having roundly abused myself for having a rubbish bike leg is quite a surprise, particularly as at least 4 of the people ahead of me in the bike were riding suspiciously close together for quite some distance (like 7 miles...) for a non-drafting race.
I was hoping that I'd at least hold my place on the second circuit of the same run, and true to form there were a number of pooped triathletes out there, so I managed to reel in a few. I'm actually pretty chuffed with 26:09 for the second 4m, which is averaging 6:32m per mile over a lumpy course with a fair few miles in my legs. I eventually crossed the line in a pleasing 2:02:49 - 11th place, 2nd M45. The race was won by Richard Howarth from Leeds Bradford Tri in 1:54:43.
Whilst I'm still officially a retired triathlete, I think I might do a few more duathlons over the winter. Certainly well worth a blast for any Harriers who like a bit of bike riding to complement their running.
But I still refuse to run in sunglasses. I mean - I'm not an "Australian"...
Brussels half marathon, Sun 4 Oct
From Henry Heavisides ... Today's Brussels half marathon was breezy and the undulating route takes in all the sights of the city, finishing in the Grand Place, but it's not the quickest course. I was 2 minutes faster than last year in 1:28:34, to finish in 137th place out of 4367 runners and 2nd M50. The winner was Guy Fays in 1:12:18.
Malham Relay, Sun 4 Oct
Lyn Eden reports on this ... BOFRA race, 1.75miles, 300ft of climb. A fun event from The Lister's Arms, Malham. Teams drawn from a hat ensuring that each team had a female, male, and junior plus A N other making teams of 4. No official times taken but runners from Ilkley included Nick Pearce, Norman Bush and Lyn Eden. Really enjoyed the run on a lovely sunny day. Complete run could be viewed from the pub.
Grin n Bear It, Sat 3 Oct
Nick Mellor reports ... Quite an appropriate title for this 15.5 mile/1950' race though at times I was grimacing rather than grinning trying to walk let alone run into 60-70 mph winds. Registration was at Crow Edge Community Centre (hut) from where we were bused to start at Langsett Reservoir. I soon realised why there are no flowers in the gardens round there as we headed up Mickledon Edge towards 1st Check Point. Luckily(if that's the word) wind was blowing us into hill (literally) rather than towards valley. Quite a few comic moments when I thought I was running but not moving forwards, at least that's how it felt. Event was organised by Woodhead Mountain Rescue who manned check points and somehow remained cheerful in those conditions. A hardy bunch. Route then headed over Harden Moss and Langsett Moor to Woodhead pass, then around Winscar Reservoir before passing through Hade Edge to finish near registration hut. Good thing was that a 23 mile walk had started 2 hours ahead of us and followed our route for last part so there were always people ahead. Route would have been quite runnable on a better day as no horrific climbs. Race was won by Andy Beanland in 2.14, no idea of my finish position (near the back) but staggered round in about 3.45. Relied on somebody's navigation at end who prompltly took us about half a mile off course. Just been told that password to view photos is "pain" says it all really.
Autumn Leaves fell race, Sat 3 Oct
Lyn Eden reports ...from Diggle, Saddleworth, 8.5miles with 1700 ft of climb. Horrendous winds, gale force at times couldn't run against it, had to walk. 74.04secs, 1st lady vet 0/60
---