Ilkley Harriers news archive 2009
Harrier of the Month, May
Nominations were:
Andy Wiggans - 5 PBs in May at various distances - Rothwell 10k, Leeds 1/2marathon, and at each 5k in John Carr Series
Rachel and Brian Websdale - Organization of Junior Ilkley Trail Race
Ian Hargreaves - for fitting own time in Leeds 1/2 marathon to encourage and assist a fellow IH achieve a PB
Fiona Jordan - 300m Hurdles Gold medal in Yorkshire Champs
Tom Adams - 2nd at Kildwick Fell race and Winner of Ilkley Trail Race
Richard Reeve - Great runs in HRL Thirsk race and Leeds 1/2 marathon
Lee Morley - John Carr 5k PB
Sally Morley - John Carr 5k PB
Emma Barclay - Fairfield Horseshoe
The HoM awards went to Andy Wiggans and Tom Adams. Congratulations to them both, they will receive technical running shirts from HoM sponsor UP & RUNNING.
Jo Prowse will receive the Outstanding Achievement award for setting a new LV55 5K Club Record 22:55
Halifax 5k, Sun 31 May
Jo Prowse ran her first race back for 14 months and came first lady vet55 at the Halifax 5k and ran 22 mins 55 secs. This is a new club record.
Coniston Gullies fell race, Sun 31 May
Morgan reports ... I haven't run a fell race since September last year. Having been under the weather for what feels like months, I wanted to remind myself what a fell race was all about. There was no better race to chose than Coniston Gullies; one of those races that every fell runner should do in their racing careers.
The race is 1 mile (maybe) and 900 feet so that's 900 feet of climb in half a mile. And yes, it goes up one gully, across a bit then down another gully. It's very steep, up and down, and the descent gully is interrupted with patches of scree which have worn over the years making some parts of the descent really quite exciting.
Rowbo was up for it (racing monster at the moment) and so was Jenny Dybeck, looking to follow up on her excellent second place at the first BOFRA Championship race a few weeks ago at Sedbergh. The 2 Williams children came along for the ride.
Dave Cummings was there too, with young Jack Cummings running in the under 12s.
It was very hot, so much sweat was shed on the climb. Having had some breathing problems recently, I was happy not to expire on the way up and to reach the turn about 20 yards behind Dave and a smidge in front of Jenny. No sign of Rowbo, I think he was nearly at the finish.
The descent was as manic as forecast and Dave pulled well away from me going down. Bouncing boulders from above were a particular feature of the descent, but no blood was spilt.
A quick prize giving, followed by ice creams all round then back to the Consiton Sports and Social Club where we had parked for a dip in the river and a quick drink before the trip back home.
A great day out and Jenny took another 2nd place. Not bad for a young 'un.
Results from www.bofra.co.uk:

17   17.56  Ian Rowbotham
35   20.41  Dave Cummings
41   21.45  Morgan Williams
44   22.06  Jenny Dybeck     2nd lady

Plus 3 Harriers in the junior races


Slioch Horseshoe hill race, Sat 30 May
From Graham Arthur Third race in the Scottish Long Classics series, and another survival exercise (after Jura) – this time to make it to the finish without dying of heat exhaustion. There was no shortage of streams to douse yourself from, but the heat and a distinct shortage of oxygen soon turned legs into jelly. Saturdays's Edinburgh-based newspaper, "The Scotsman", has the headline "The Costa del Kinlochewe as Scots bask in 26C heatwave" And that was Friday – Saturday was rather hotter.
What a nice surprise to see another Ilkley vest: Heather Dawe and Aidan popped up for the weekend to join in with this lovely social occasion. Heather will also vouch for the penury of the four mile "run" in to the finish, all at sea level. Results from the SHR site:

1   2:10:23    Brian Marshall               
28  3:02:17    Graham Arthur               
32  3:04:54    Heather Dawe                
51 runners.


Duddon Valley fell race, Sat 30 May
Emma Payne reports ... A small but select group of Harriers competed in the Duddon Valley Fell races on Saturday 30th May. The long route covers 18 miles and 6000 ft of climb taking in the delights of Harter fell, Hardknott, Little Stand, Swirl How, Dow Crag, White Pike and Caw.

22nd Jonathan Whitaker, 3:34:04
63rd Dave Tait (Dark Peak) 3:55:49


The short route covers 11miles and 3000ft of climb taking in Dow Crag, White Pike and Caw.

24 Jim Towers, 2:19:34
40 Sue Morley, 2:48:11
48 Emma Payne, 3:24:50
48 Sharon Fuller, 3:24:50
50 Lyn Eden, 3:41:39

Ilkley Ladies (Sue, Emma and Sharon) won 1st place ladies team in the short race.
Austwick Amble, Mon 25 May
John Coates was 60th in 76:15
Ilkley Trail Race, Sun 24 May
A super turnout of 46 Harriers with Tom Adams winning the race! Thanks to the many Harriers who helped on the day.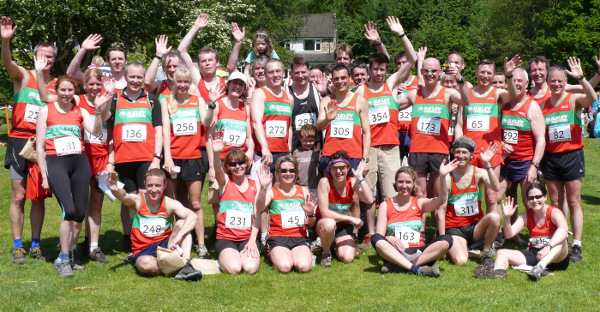 1    42.18  Tom Adams
14   46.10  Jim Ryder
15   46.36  Nick Richardson
18   46.51  Ian Rowbotham
21   47.29  Jonathan Sinclair
30   48.56  John Atkinson
37   49.54  Kevin Gooch
41   50.15  Eddie Irving
44   50.37  Richard Reeve
48   50.53  Dave Jepson
52   51.10  Dave Cummings
58   51.35  Duncan Cooper
76   53.26  Dave Lewis
79   53.43  Henry Heavisides
92   54.27  Rachel Wolfenden
93   54.30  Alison Eagle
98   55.04  Norman Bush
104  55.21  Nigel Tapper
107  55.31  Diane Haggar
114  56.04  Alison Bennett
122  57.15  John Woodward
129  57.29  Neil Chapman
138  57.53  Val Kerr
141  58.07  Helen Horton
142  58.12  Keith Wood
149  58.53  Michael Waterhouse
158  59.14  Jann Smith
168  60.38  John Pickering
169  60.41  Eric Hawthorn
182  61.59  Andrew Jackson
193  62.55  John Marshall
206  63.53  Rachael Gooch
207  63.56  Colin Lugton
222  65.00  Sharon Meadows
230  65.42  Roberto Payne
233  65.58  Gaenor Coy
238  66.30  Alison Stretton
241  66.36  Donald Macrae
243  66.59  Sophie Brown
247  67.44  Paul Sugden 
251  68.07  Jane Guillard
254  68.23  James Pickersgill
256  68.28  Fiona Schneider
262  69.00  Sheena Pickersgill
293  73.04  Andrew Bennett
294  73.39  Mark Kerr


Full results and photos on the Trail Race page.
This was a counter in the Ilkley Harriers Running League.
Helvellyn fell race, Sun 24 May
Chris Gale was 46th in 2h10:13
Badger Stone Relays, Sat 23 May
Ewan Welsh reports ... A select six teams turned up for the Badger Stone Relays. Can't rightly remember the results (even though there were only six teams). I think first team consisted of Alex (bar of chocolate for quickest leg of the day) and John Sinclair plus Lawrence, 4th team consisted of Steve 'long route down' Weston, Mike Baldwin and Ewan Welsh, Morgan and his hordes were there as well and came away with the first 'family' team. There were junior races as well.

Complete results from David Hird ...

1   Skipley A.C  58:31   
    Alex Sinclair 18:59, Lawrence Basham 19:31, Jonathan Sinclair 20:01
2   Valley Fellrunners   61:14    
    Anthony Fryer 19:17, Matt Allen 21:13,  Eirik Stangnes 20:44
3   `Wat Ever'  63:08   
    Jonathan Gibson 22:21, Andrew Robertshaw 19:14, Marcus Rae 21:33.
4   Baldwins Bounders  67:52  
    Steve Weston 22:48, Mike Baldwin 22:40, Ewan Welsh 22:24
5   Igs Storms         69:46  
    Bradley Chapman 23:26, Jack Cummings 22:57, Bradley Chapman 23:23
6   B`aht Atters       70:36  
    Josh Crane 24:15, Alison Eagle 22:48, Morgan Williams 23:33
	
U9's
1   Charles Smith    3:58
2   Cameron Reilly   4:32
3   Logan Hargreaves-Madhas 4:36
4   Georgia Gray     4:40
5   Shona Hastings   4:50
6   Max Shaw         5:30
7   Lana Melechi     6:01

U12's
1   Tomas Szajdzicki  6:17
2   Jack Cummings     6:50
3   Lewis Gray        7:03
4   Tom Bennett       7:06
5   Tilly Melechi     DNF


See David Hird's photos on Picasa
Isle of Jura fell race, Sat 23 May
Graham Arthur reports ... The conditions were the worst for many years, with low cloud, strong winds, rain and low temperatures. Most people got more or less lost at some stage. Even Ian Holmes, who won it for about the sixth time, took the leading group on walkabouts for about fifteen minutes, and was about half an hour down on his usual time. So Helene's and Jonathan's time should be seen in this context. Helene was even ahead of Angela Mudge at one point, due to the latter's slight navigational error. Personally, I became totally and seriously lost on leg 2, wandering back and forth, up and down through the mist on a silent hillside for what seemed like half an hour. I was certain of being timed out at the next checkpoint, but pressed on upwards anyway, and made it with about ten seconds to spare. When the marshals came into sight through the mist about twenty metres away they were shouting to sprint for it, or be timed out. The rest, as has been reported, was a survival exercise, with very little chance of seeing anyone ahead, let alone the trods through the heather and screes. I used and was grateful for the full obligatory waterproof gear.
Helene was second lady after Angela Mudge. Jonathan was fifth V40. I was second V60 (9 entered, don't know how many started, 3 finished). So we all won a prize!
182 started, a remarkable 151 finished, and everyone was accounted for.

14  4h31.36  Jonathan Whitaker
15  4h31.36  Helene Whitaker   2nd lady, 1st LV40
125 6h09.32  Graham Arthur 

Apperley Bridge Canter, Thu 21 May
New member Andrew Jackson reports ... Very Wet & Muddy in places. I did a PB in 52:17 finishing 154th, but this was only my 2nd 10k trail race!

27  42.46  Dave Jepson
101 48.55  Angela Srivastava
154 52.17  Andrew Jackson 


Read Dave Jepson's report here.
Kildwick fell race, Wed 20 May
Diane Haggar reports ... Continuing my low key approach to racing, Sam and I meandered along to Kildwick. We were so laid back we managed to miss the junior races, so Sam (an U14) ran as an U16 in the senior race. He aquitted himself well, down the field but 7th U16 behind a talented pack of Juniors that headed the race and gave Tom Adams a real run for his money. Tom took 2nd place, just 2 seconds behind young Jonathan Bradshaw from Wharfedale. Although I could not catch my Sam I managed to fend off a strong finishing John Coates.

1st Jonathan Bradshaw. Wharfedale (U16) 26:02
2nd Tom Adams 26:04
18th Ian Rowbotham (2nd V50) 29:30
28th Dave Cummings (2nd V45) 31:35
29th Mike Baldwin (3rd V50) 31:38
63rd Sam Haggar (U16) 35:24
64th Diane Haggar (2nd LV45) 35:39
65th John Coates 35:40
74th Jim Towers 36:31 (2nd V55)
98th Sue Morley 39:13 (1st LV50)
 
Plus a host of Ilkley juniors in their races.


HDSRL #2, Wetherby, Wed 20 May
Results from www.harrogate-league.org.uk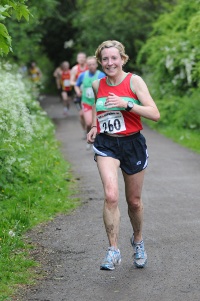 1    30.15  IAN FISHER, OTLEY AC
19   33.45  STEVE WESTON
23   33.56  STEVE TURLAND
30   34.34  NICK RICHARDSON
41   35.01  PAUL O'LOONEY
43   35.07  JOHN ATKINSON
45   35.10  DAVID BROWN
57   35.57  KEVIN GOOCH
97   37.59  ANDREW SHELDON
106  38.49  JANE BRYANT
128  40.20  KEITH WOOD
133  40.35  CAROLINE BELL
146  41.25  JANN SMITH
150  41.44  JEFF PAGET    *
151  41.46  RICHARD JOEL  *
154  41.52  PAUL STEPHENS *
165  42.23  VAL KERR
184  43.49  KAREN LAMBE
187  44.02  JOHN MARSHALL
193  45.07  PAUL SUGDEN
198  45.24  ERIC MONTEIRO
206  46.40  DONALD MACRAE
210  46.50  ANDY WOLFENDEN
216  47.45  ROBERT PAYNE
218  47.52  SHEENA PICKERSGILL
234  49.00  ADELE MITCHELL
239  49.31  EMMA O'LOONEY
244  49.58  MARGOT DALE
249  50.14  FIONA SCHNEIDER
269  53.42  DAVID MILLSON
276  57.20  JO GRAY
277  57.36  HEATHER DUKE

* late start


This was a counter in the Ilkley Harriers Running League.
John Carr #3, Wed 20 May
Henry Heavisides says ... Ilkley Harriers were well represented in the prizes for the John Carr series. Sally Morley(F35), Jenny Dybeck (FJ), Brit Tate (FY) & Pete Shields (M60) all won their age categories, I was second in the M50s and Sue Bickerdike and Alison Bennett also won prizes (apologies if I've missed anyone!).
For race 3 there were some really good performances, Lawrence Basham & Lee Morley (running his first ever 5k) were very close for 1st Ilkley Harrier to finish. Andy Wiggans did another good run and Sally Morley, Stephen Coy, Dave Jepson & myself all finished within a few seconds of each other....a frantic last 200 metres saw us overtaking each other several times. I was pleased to record another PB
Results from St. Bedes AC web site:

1    15.16  James Walsh, Leeds City
32   17.06  Lee Morley
33   17.14  Lawrence Basham
42   17.54  Andy Wiggans             PB
56   18.13  Sally Morley
57   18.14  Dave Jepson
59   18.15  Stephen Coy
60   18.16  Henry Heavisides
72   18.37  Mark Iley
75   18.43  Simon Chapman
91   19.23  Brit Tate
94   19.32  Jenny Dybeck
108  19.50  Neil Chapman
123  20.19  Alison Bennett
133  20.53  Peter Shields
139  21.08  Adam Bennett
149  21.21  Edward Bickerdike
154  21.43  Peter Bedwell
156  21.51  Christopher Brown
170  22.34  Nick Mellor
176  22.46  Sue Bickerdike
186  23.23  Gaenor Coy
189  23.25  Clare Smith
198  23.54  Ian Hargreaves
226  24.51  Tom Bennett
227  24.51  Bradley Chapman
242  25.26  Sue Stevens
246  25.35  Colin Lugton
249  25.49  Andrew Bennett


This was a counter in the Ilkley Harriers Running League.
Etape du Dales, Sun 17 May
From www.etapedudales.co.uk, 111 hilly cycling miles around the Dales ...

77   7h02:41  Silver  Richard Malir
146  7h28:02  Silver  Bob Hamilton
153  7h29:27  Silver  Alistair Barlow
326  8h12.46  Bronze  Steve Weston

From Heather ... I rode around with my brother in just over seven and a half hours. A grand day out if a little windy!
Etape Caledonia, Sun 17 May
As long bike events seem to be in vogue with Harriers at the moment, Andrew "The Herb" Herbert and I, along with 3 mates from Knaresborough/Harrogate (the posh lads) drove up to Pitlochry on Saturday to take part in the UK's only closed road sportive, the Etape Caledonia. At quarter to seven on Sunday morning 3,495 other people were also there, looking anxiously at the greying skies as we set off from the main street. Having said we'd try to stick together, as you'd expect that was the last we saw of each other. I shot up the road trying to catch one of the lads, who apparently I passed within 200m of the start, but quickly realised I'd missed him. Once it became obvious I was on my own (as much as you can be surrounded by three and a half thousand people on bikes) I set about finding a chain gang to latch onto. After about 10 miles I hooked onto a group of about 10 guys travelling about my pace and stuck with them to the foot of the only real climb, Schiehallion, at about 45 miles.
This was the point that, as has been widely reported, some disgruntled local, annoyed at having the roads closed for three or four hours once a year in exchange for half a million quid into the local economy and about the same into cancer research, decided to scatter the road with tacks. It was carnage - dozens and dozens of cyclists changing tubes, spread all the way up the 5 mile climb. Unbelievably I managed to get through without a single puncture, which meant that I got over the top of the climb before they stopped the event and managed to complete the course. I was pleased to get round the 81 miles in 4 hrs 10 minutes, averaging about 19.5mph - the placing is irrelevant really, but because of the delays to most people I ended up 66th out of 2,700 finishers - but of course there were probably several hundred cyclists stuck out on the course who would've been in front of me in normal circumstances. The winner was Veli-Matti Raikkonen in 3:44.
The Herb wasn't so lucky, puncturing three times, and having already given one of his spare tubes to one of our mates had to wait 40 minutes to beg one. He also got held up for an hour at the top of the climb. He came in in 6:08 in 1770th place - but you can take at least an hour and three quarters off that for delays.
This is a really well organised ride, and it's such a shame it was ruined (and could have been far worse had someone punctured at 45mph on the descent) by the actions of one selfish NIMBY protester (most of whom appear to be English "white settlers" as they're known in the area). Entries have opened for next year at www.etapecaledonia.co.uk, and I reckon that everyone should support this and show them that we won't let them ruin a great event.
Windermere Marathon, Sun 17 May
Fiona Schneider reports ... a constantly undulating course with some steep climbs. Good for all those bored with the standard marathons. Could that be why I had a PW? Lunch was chocolate Kendal mint cake and water which served the purpose well. We were fortunate the rain held off until my last 3 miles and then it just poured. Time 4.46.27, 13th in my brand new age category of my F50...what a celebration. To donate to Brathay outdoor centre click here
Great Manchester Run, Sun 17 May
Kevin Wardale finished 3438th (out of 33,000) in 48.11
Fairfield Horseshoe, Sat 16 May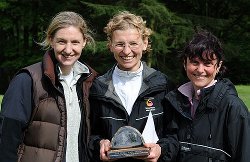 From Lee Morley ... a great day out on Saturday, where for the most part the weather held off and we had perfect conditions. First Harrier home was Hector Haines who had a good strong run. Emma was first lady with Helen second, Laura Martin (Otley) spoiled Ilkey's clear sweep in third with Alison fourth giving Ilkley ladies the team prize. Looked like a battle was had with first five ladies coming in on the 1hr 47min mark. A late prizegiving with few runners left was well supported by the Ilkley contingent, whose ladies seemed to pick up all the prizes.
Morgan adds ... 291 runners started and 289 finished the Fairfield Horseshoe, one of the classic Lakes medium category races on a blustery day with a real mix of weather. It was cold, windy and misty on top. There were plenty of cagoules and long tights visible amongst the finishers.
Watching and supporting duties again for me, with the children in tow, but we shot up to Heron Pike to watch the runners on the long climb to Fairfield and managed to get back nicely in time to see Rob Jebb of Bingley win comfortably by over 4 minutes from Morgan Donnelly of Borrowdale and Karl Gray of Calder Valley.
Hector Haines and Lee Morley were prominent in the leading men, and held their positions well, but the best sight of the run out was 4 Ilkley ladies well up in the ladies race, over whom one could have thrown the proverbial blanket.
Whilst you would have thought 9 miles would have separated them a bit (and rumour has it that some odd lines of descent nearly did the job for them), the spectators at the finish must have been impressed to see 4 Ilkley ladies finishing in the top 5 in the ladies race and all within 47 seconds of each other (see below!) Congratulations to Emma Barclay on another fine win. Helen Ilsley is returning to form, moving from third to second on the run in (which as those who have run Fairfield will know only too well, does go on a bit). Alison Eagle forced her way past Holly Williamson along the same stretch.
The ladies swept up at the prize-giving which was sadly only sparsely attended. Nice (free) flapjack at the finish and a (not free) restoring cup of tea and a slice of cake at the Rydal Hall tea room afterwards.
Steve Barclay's photos here.
Results from www.amblesideac.org.uk

1    1h16.01    Robb Jebb
7    1h26.13    Hector Haines
14   1h32.48    Lee Morley
79   1h47.11    Emma Barclay       1st lady/1st LV40
80   1h47.18    Roy Ruddle
82   1h47.32    Helen Ilsley       2nd lady
87   1h47.51    Alison Eagle       4th lady/3rd LV40/1st LV45
88   1h47.58    Holly Williamson   5th lady
95   1h49.10    Geoffrey Howard
156  1h58       Alison Weston
222  2h08.16    Chloe Haines
235  2h15.51    Jim Towers
289 completed


Old Counties Tops, Sat 16 May
From Stuart Pitches ... Saturday saw me competing with fellow Ilkley Harrier Brian Melia in the Old County Tops Fell Race. At 34 miles and 3400m of climbing it's a seriously long Lakeland Fell race and definitely blurs the boundary between a fell race and a day out in the mountains. The race starts at the New Dungeon Gill in Langdale and then goes to Helvellyn (top of Westmorland), Scafell Pike (Cumberland), Coniston Old Man (Lancashire) and then back to NDG.
The Weather was very changeable but generally rubbish at the start and improved as the day progressed. The weather, terrain and distance meant you needed a lot more gear than the 3 peaks last month. The good advice (from Nicky, Morgan and Alison) is to take it steady to Cockley Beck (20 something miles and 2 peaks done) and then if you can push on from there. We followed this plan as the over optimism of those around us began to show. We were midfield (out of 70ish) at Grisedale Tarn, 18th at Angle Tarn but 9th at the finish in a time of 8 hours 41 minutes. 8th was within our grasp except for my navigational error on Coniston Old Man where a lack of concentration and a bit of lovely sun lead to me leading us down to Goat's hause and than back up.
A great race run with very little hype or ceremony where Arthur the organiser shakes your hand and hands you, your hard earned shirt at the finish. If you are good enough to win a category you get a tea mug as well!
One last thing that I wouldn't be without is my bag of chocolate coated coffee beans (legal stimulants) and jelly babies. I was in a bit of a hole coming off Coniston Old Man so I had a big handful of choc covered coffee beans followed 10 minutes later by a big handful of jelly babies. Another 5 minutes and we were back in business.
All in all a fantastic race that I would recommend to anyone. Full results on www.fellrunner.org.uk
Open 5+ - Keswick, Sat 16 May
From Dave Wilby ... Saturday saw the first ever running of an Open5+ by the Open Adventure crew, and was the first counter in this year's Endurance Series, with the 12 hour & 24 hour events to come in the summer! Run along the lines of the usual Open 5 events which many of you have done before, but with an added sense of of adventure and 'trouser filler' moments usually associated with the longer races. The major difference was a mass start which was in Whinlatter Forest on the bikes, and competitors had to race along fire roads and the southern loop of the new man made singletrack, before collecting control descriptions & values, and heading off on a 'score' basis.
I was racing with regular sidekick Adrian Hall as Team Moosey & Dibber Boy (don't ask!) and we opted to get the majority of the mountain biking out of the way first. After descending out of Grizedale we covered some great trails around Borrowdale via Ashness Bridge, Watendlath & the fantastic swooping trail along the foot of Catbells, back to a transition area in Stair village. From here we were out on the run down the Newlands Valley, before a climb over Cat Bells and back down in to Borrowdale. This is where a lot of the 'fun' was as we negotiated checkpoints based in a mine tunnel, and at the top of a 9ft wall at an outdoor centre; but the real challenge was the one situated 200m off shore on an island in Derwent Water. With all equipment having to be carried for the full run section, we didn't have the luxury of a wet suit or a kayak so it was a case of stripping down to our minimalist lycra cycling shorts (steady girls!!) and taking the plunge. We'd opted to do this one at the end of the run as we'd guessed that our leg and brain capacity would be severely reduced after 10 minutes of swimming in 13 degree water. We weren't far wrong either and we shivered and shook our way back to the transition area for the final twist. Out once again on the bikes, we headed up to the lower slopes of Barrow/Causey Pike, for a timed out section of canyoning/ghyll scrambling. Negotiating a number of rock slides, chutes, pools, rapids and jumps, we made it to the bottom in one piece, and then had 9 minutes in which to get back to the finish in the centre of Keswick. Hammering back we got there 7 minutes late which fortunately didn't affect our overall position, and were elated to find we'd finished 4th Male Pair, which sets us up nicely for the series. A really great event, fantastic fun and the usual high standard of organisation you expect from James & Lisa Thurlow. One of my favourite events of the year so far, and there's still another 36 hours of fun to come!!
Goatfell hill race, Sat 16 May
Ewan Welsh ventured up to the Isle of Arran and ran in the Goatfell hill race. 8 miles and 2900ft, straight up and down, managed to reach the top and return in one piece, finished in 41st place out of 86 in a time of 1h48
Meanwood Valley Trail, Sat 16 May
Results from Valley Striders web site:

1   43.13  Joshua Whitehead, Leeds City
8   45.32  Jamie Hutchinson
60  54.25  Sally Malir
124 60.44  Angela Srivastava
331 86.13  Amanda Parnaby


Keswick Tri, Sat 16 May
From Heather Dawe ... a great course and the weather just about held off. I was first lady in 2:26. As Dave W has already mentioned, Derwent Water was cold!
John Carr #2, Wed 13 May
Results from St. Bedes AC:

1    15.39  Aidan Johnson, Bingley
27   17.22  Lawrence Basham
28   17.25  Steve Weston  
39   17.55  Andy Wiggans  PB
45   18.11  Sally Morley  PB
50   18.21  Mark Iley
56   18.49  Henry Heavisides
58   18.52  Dave Jepson
76   19.30  John Tate
80   19.37  Neil Chapman
91   20.06  Brit Tate
94   20.10  Jenny Dybeck
101  20.24  Alison Bennett
107  20.37  Keith Wood
111  20.43  Adam Bennett   PB
116  20.53  Ed Bickerdike  PB
119  20.59  Pete Shields
128  21.24  Jann Smith     PB
133  21.31  Pete Bedwell   PB
140  21.45  Angela Srivastava
157  22.23  Bradley Chapman
160  22.28  Simon Chapman
164  22.34  Nick Mellor
175  23.14  Sue Bickerdike
178  23.23  Gaenor Coy     PB
203  24.43  Tom Bennett    PB
221  25.23  Andrew Bennett PB
230  25.56  Sue Stevens


Jack Bloor races, Tue 12 May
Senior results from www.jackbloor.co.uk

1    41.33  Graham Pearce, P&B
10   43.58  Lee Morley
17   45.02  Steve Turland
19   45.14  Jamie Hutchinson
21   45.27  Dave Wilby
24   45.34  Jim Ryder
28   46.17  Ian Rowbotham
34   46.40  Adrian Hall
39   47.15  Ralph Tench
44   47.45  Malcolm Pickering
46   47.51  Brian Melia
64   50.35  Mike Baldwin
67   50.51  Heather Dawe
72   51.06  Duncan Cooper
77   51.29  Emma Barclay
79   51.35  Jenny Dybeck
80   51.37  P Sowsden?
88   52.20  Kevin Gooch
93   53.09  Paddy Hagan
94   53.10  Dave Taylor
97   53.30  Paul Stephens
99   53.42  Alison Weston
100  53.43  Dave Cummings
103  54.16  Michael Waterhouse
111  54.52  Bob Wightman
116  55.29  Chris Oxlade
122  56.31  Ian Marshall
138  58.15  Alison Bennett
150  59.53  Sue? Booth
167  61.41  Rob King
171  61.54  Keith Wood
177  62.53  Sophie Brown
180  63.11  Amanda Newham
183  63.40  Sue Morley
186  64.07  Rachael Gooch
189  64.11  Bob Payne
191  64.45  Sarah Fuller
195  65.20  Vic Verecondi
196  65.21  John Pickering
197  65.22  Rachel Hagan
206  68.17  Lindsey King
212  71.15  Andrew Bennett
217  71.53  Alison Stretton
227  83.30  Steve? Weston

There were many excellent runs from junior Harriers too.
Fellsman, 9-10 May
Congratulations to Neil Smith who completed the 47th Fellsman Hike. 61m/11,0000' over the Dales, in 16h30mins. Nicky Jaquiery completed it in 21h40mins, results and details on www.fellsman.org.uk
Buttermere Sailbeck, Sun 10 May
Diane Haggar reports ... I had my first venture into AM fell racing at Buttermere. Thankfully the torrential rain cleared for the start and conditions were really good. I set off cautiously and was just pleased to finish in a modest 2 hours 28 ish and 140th.
Fred Whitton, Sun 10 May
A few Harriers take cross training to the limits, with events like the Fred Whitton Challenge, a 112 mile sportive ride around the Lake District. Bob Hamilton did this in 7h19
Leeds Half Marathon, Sun 10 May
Andy Wiggans reports ... Just back from Leeds Half marathon on the most perfect day for running – about 10º, no wind and free of precipitation. Lots and lots of red and green vests in evidence, one of which clad the lengthy frame of Nick Richardson, who led the Ilkley contingent home with a chip time of 1:21:49 and 50th place. Because Nick's so tall I was just about able to keep him in sight all the way round whilst never actually getting close enough to catch him – however I must admit to being enormously chuffed with 53rd place in 1:22:03, giving me my third PB (by 2:15) in 7 days – time to do some bike riding methinks, as I'm at risk of taking this all a bit too seriously. Next home and another PB with 1:23:31 was Richard Reeve in 69th place. Richard and I both appear to have inadvertently found ourselves in the prizes, as he was 3rd M50 and I was 3rd M45. It was a good day for Harriers in the prizes - Jane Bryant was 3rd F40 with 257th place in 1:33:05, and Pete Shields was 2nd M60 with 1:34:57 and 314th overall. The next PB was Paul O'Looney in 1:24:00 in 74th. The other PBs I'm definitely aware of was Sean Murphy with 1:31:10, with 2 minutes off his best in 212th place, and Paul Sugden running 1:52:31 in his first half marathon – another great effort.
The full Harriers results from www.racelive.co.uk (and sure there's more PBs, so apologies for those I've missed/got wrong) were:
Colin Lugton adds ... Ideal weather conditions helped runners achieve some fast times in Sunday's Leeds 1/2 Marathon, with the winner smashing last year's winning time by 90 seconds. Meanwhile, all four Ilkley Harriers who ran in last year's event improved their own times by even greater margins – Janet Bairstow (9mins), Paul Stephens (8mins), Colin Lugton (4mins), and Sean Murphy (2mins). Harriers were well represented in the prize categories. A brilliant run by Pete Shields gave him second place in the MV60 category, whilst great runs earned third places for Jane Bryant FV40, Andy Wiggans MV45, And Richard Reeve MV50. Paul Sugden's consistent training showed through in his first ½ marathon as he turned on the pace, overtaking me at the 8 miles marker, and cruised to the finish.
This was a well organised event with clear mile markers, plenty of drinks and first aid stations, the all important toilet facilities, together with road closures and excellent marshalling. Oh, yes, I almost forgot, a goody bag including a medal and another Tee shirt for all finishers. Overall 21 Harriers took part to earn points for the IH Running League, whilst Sue Bickerdike competed in the Corporate Challenge. Some excellent runs and I suspect several PBs, but I don't have the details.

Gun positions, chip times
1     1.07.45     Andrew Pearson (Longwood)
19    1.18.04     Sue Harrison (Leamington)
50    1.21.49     Nick Richardson
53    1.22.03     Andy Wiggans   3rd V45   PB
69    1.23.31     Richard Reeve  3rd V50   PB
74    1.24.00     Paul O'Looney            PB
120   1.26.47     John Atkinson
177   1.29.35     Paul Stephens
212   1.31.10     Sean Murphy
257   1.33.05     Jane Bryant   3rd FV40   PB 2 mins
314   1.34.57     Pete Shields  2nd V60
536   1.39.57     Angela Strivastava
691   1.41.13     John Brown
814   1.42.21     Graham Corbett
1108  1.47.02     Nick Mellor
1407  1.52.31     Paul Sugden
1489  1.54.03     Colin Lugton
1516  1.55.56     Fiona Schneider          PB
1750  1.56.47     David Cockshott
1874  2.00.05     Ian Hargreaves
1878  2.00.17     Jacqui Weston            PB 12 mins!
1979  2.00.46     Janet Bairstow
2071  2.03.47     Emma O'Looney 
2875 Finishers


This was a counter in the Ilkley Harriers Running League
Mytholmroyd Fell Race, Sun 10 May
Helen Ilsley was 2nd lady and 37th overall in 59:00, 93 ran.
Endurance Life Exmoor Coastal Marathon, Sat 9 May
From the Southern Adrian Hall ... This race series was new to me and always involves concurrent "marathon", "half-marathon" and "10k" courses although it appears that the distances covered are normally 1 – 2 miles longer than the title suggests. Each of the event categories started from the Hunters Inn at Parracombe and took place over a wide variety of terrain including uplands, wooded combes, woodlands and dramatic cliff-top trails and some short sections through the towns of Lynton and Lynmouth. Billed by the organisers as the most challenging of the series of 7 events, the "marathon" stretched over 27 miles and incorporated 2500 m of ascent along a marked route which some found difficult to follow. The events were relatively well-organised, however, last minute changes to kit lists and a chaotic finish area (with no actual finish line) left a few areas for improvement before next year. The drinks stations were well-manned and provided water, squash and jelly sweets. A free meal was also provided at the finish if you were patient enough to queue up for it. A free T-shirt and bland dog tag-style medal were provided at the finish although the novelty of the latter wasn't appreciated by all.
Having not completed one of these events before I set off slowly with the aim of finishing what Runner's World had described as a "gruelling" event in about 5h 30m. After a comfortable run using pacing and nutrition tips given to me by Eddie Winslow after his LDWA 100 miler (Eddie – many thanks!) I was shocked to have finished 7th in 4h25.29 All in all, a pleasant undulating run in the sunshine.
Pendle Cloughs fell race, Sat 9 May
Results from Wharfedale Harriers:

7   2h28:54  Ian Rowbotham
46  3h35:00  Sophie Brown


Pinhaw moor fell race, Fri 8 May
Jim Towers reports on ... 5 miles/700ft of climb. Straight up and down fell race, mixture of road, track and open moorland, all runnable, a nice little race.

Jim Towers  42 mins 43 secs
Sue Morley  46 mins 04 secs
Lyn Eden    58 mins 07 secs.

Harrogate Road League, Thu 7 May
The first race in the Harrogate District Sumnmer Race League, at Thirsk, had a good turnout of Harriers, but as far as team results went it would be safe to say we made a 'steady' start. There were some sterling individual performances though, with Jane Bryant well placed and Kevin Gooch leading the Supervets ...
full results on www.harrogate-league.org.uk.

1   25.16 IAN FISHER, OTLEY
14  28.26 JAMIE HUTCHINSON
23  29.07 STEVE TURLAND
28  29.24 RICHARD REEVE
39  29.56 JOHN LUMBUS
41  30.01 DAVID BROWN
43  30.04 MARK ILEY
49  30.23 PAUL O'LOONEY
51  30.34 HENRY HEAVISIDES
75  31.13 DAVE JEPSON
84  31.39 KEVIN GOOCH
89  31.48 SIMON CHAPMAN
91  31.52 ANDREW SHELDON
101 32.12 PAUL STEPHENS
104 32.18 NEIL CHAPMAN
116 33.09 JANE BRYANT
121 33.26 ALISON BENNETT
140 34.46 KEITH WOOD
164 35.54 JOYCE MARSHALL
172 36.29 VAL KERR
189 37.22 JOHN MARSHALL
208 38.51 CLARE SMITH
216 39.24 COLIN LUGTON
235 40.31 EMMA PAYNE
238 40.39 ROBERT PAYNE
246 41.29 DONALD MACRAE
248 41.39 LOUISE CARTLEDGE
254 42.04 MARGOT DALE
255 42.05 ANDREW BENNETT
262 42.59 ADELE MITCHELL
290 46.26 DAVID MILLSON
293 47.17 MANDY CHAPMAN


This was a counter in the Ilkley Harriers Running League
Lothersdale Fell Race, Wed 6 May
Malcolm Pickering reports ... A great turnout of 12 Ilkley juniors toed the line at the Lothersdale fell race. In the U/8 Logan Hargreaves-Madhas was 1st 3:45, and Evie Malir 1st girl, 4:48
In the U/10 race Charles Smith was 1st in 5:15, Sarah Pickering 4th overall and 1st girl, 5:56; Tassy Heslop 7th 6:21, James Pickering 11th, 6:37 and Jemima Elgood 15th 6:53
In the U/12's Jack Cummings was 4th in 14:22, Elizabeth Westhead 6th overall and 1st girl 15:37, Grace Malir 10th 17:06, and Anna Pickering 13th 21:45
With the U/14's running in the senior race, Sam Haggar ran a storming race finishing 62nd overall, 3rd in his age group in 32:59
Clare Smith has sent in senior results ...

11  27:28  Ian Rowbotham	
21  28:42  Jonathan Whitaker	
22  28:45  Helen Whitaker	
28  29:55  Mike Baldwin	
36  30:24  Emma Barclay	
38  30:32  Neil Smith	
53  31:59  Norman Bush	
56  32:10  Bob Weightman	
61  32:46  Sally Malir	
62  32:59  Sam Hagger	
65  33:14  Jim Towers	
66  33:18  Dianne Hagger	
97  37:09  Sue Morley	
117 47:52  Lynn Eden	


Flower Scar fell race, Wed 6 May
Roy Ruddle says ... 4 miles, 1400 feet. Beautiful race - short, steep and very runnable. Go do it next year!

1st Alex Whittem 30.34 
22nd Roy Ruddle 37.03

102 ran

John Carr 5k, Race #1, Wed 6 May
Henry Heavisides reports ... The John Carr 5k series at Esholt are fast and furious races around the scenic sewage works, it's a fast course, despite an uphill 4th kilometre (1st & 5th are downhill). There were lots of Ilkley Harriers at the first race, using it as a warm up for the Harrogate League race at Thirsk, a warm down from the 10k at Rothwell or preparation for the 3rd race, which is a counter in the Harriers league. It was great to see many junior Harriers running.
Steve Weston was first Ilkley runner to finish. There were many very good performances, Sally Morley was much faster than last year in 18:26, Kevin Gooch ran his first ever 5k race on the road and there were some really good times from the juniors.
I managed to do 18:36, which was 15 seconds better than my best time from last year, so I'm quite pleased with that. It's a PB for a 5k race, although I have run faster for half of a 10k, so not sure if it really counts.
Andy Wiggans adds ... a fast, slightly smelly whizz round the sewage works last night, now including a short offroad section. Lots of red and green vests in evidence - my 18:18 was my second PB of the week following Rothwell on Monday, 55 seconds off my previous 5k best. Lawrence B was there too and ran a PB of 17 point something although I can't find him on the results. Interestingly at the finish I found myself following the same bloke from Valley Striders across the line that I failed to catch on Monday at Rothwell - either a strange coincidence or I have the world's fastest stalker...
From Sue B, a very proud mummy ... Just a little note from me to say that whilst I posted a PW for this race (I blame the 3 Peaks and all that long run training) Edward posted a PB, although technically, as this was his first 5K race, this was a given. But, he has beaten my PB for a 5K, so, I am no longer the fastest Bickerdike. I still reckon I'd have him over 26.2m though ...
Results from St. Bedes AC:

1    15.14  Chris Birchall, Leeds City
27   17.20  Lawrence Basham   PB
37   17.46  Steve Weston
52   18.18  Andy Wiggans      PB
56   18.26  Sally Morley
58   18.29  Mark Iley
62   18.36  Henry Heavisides  PB
79   19.04  Dave Jepson
81   19.07  Simon Chapman
83   19.10  Kevin Gooch
112  20.07  Jenny Dybeck
116  20.16  John Tate
123  20.30  Brit Tate
125  20.33  Neil Chapman
142  21.06  Peter Shields
154  21.33  Adam Bennett
156  21.34  Angela Srivastava
158  21.40  Ed Bickerdike
165  21.49  Pete Bedwell
204  23.11  Sue Bickerdike
216  23.41  Gaenor Coy
221  23.49  Bradley Chapman
228  24.08  Ian Hargreaves
241  24.58  Tom Bennett
242  24.59  Alison Bennett
258  25.54  Andrew Bennett
262  26.08  Sue Stevens


Bunny Relays, Tue 5 May
Quite a few Harriers were running in horrible conditions. The Pearces were 1st family team, the 'Stormers' first BU16 team.
Photos and full results on woodentops.org.uk

9  36.03  PLUCKY PEARCE PACERS        FAMILY   
GRAHAM PEARCE 2 10.25, KAY PEARCE 5 13.02, NICK PEARCE 12.36 

29 41.47  B'AHT 'ATTERS               FAMILY   
JOSH CRANE 26 13.06, ALISON EAGLE 23 13.52, MORGAN WILLIAMS 14.49 

31 42.07  ILKLEY GRAM. STORMERS       BU16     
SAM HAGGAR 34 13.53, SAM WOOD 30 14.03 BRADLEY CHAPMAN 14.11

36 43.31  CHEEKY BOYS                 BU14     
CHARLIE LOWRIE 31 13.37, LOGAN HARGREAVES-MADHAS 40 16.03 CHARLES SMITH 13.51 

38 44.04  THE SWIFTS                  BU14     
ELLIOT DOWLEY 37 13.59, MARCUS SWIFT 36 14.22 GEORGE HERBERT 15.43 

40 44.14  CADENCE                     MIXED    
ADAM BENNETT 29 13.25, PATRICK GIBBONS 27 14.04 BERNIE GIBBONS 16.45 

41 44.17  FLOPSY, MOPSY & COTTON TAIL FAMILY   
AL POWELL 11 11.47, SIMA GOLDSMITH 39 17.31, SOPHIE BROWN 14.59 

42 44.28  HAIR BEAR BUNCH                      
JON TINDALL 38 13.59, CHRIS DEWHIRST 34 14.15, JOSEPH TINDALL 16.13 

52 48.07  RAINBOW BEATLES             BU14     
BEN CHEETHAM 48 14.59, GREG SMITH 55 17.43, WILL GILES 15.25 


Rothwell 10k, Mon 4 May
Andy Wiggans reports ... good performances from Harriers:

42  35:11  Lee Morley 
65  36:14  Lawrence Basham 
75  36:32  Justin Phillips 
86  37:16  Sally Morley (2 F35) 
107 38:02  Andy Wiggans  (PB)
237 42:27  Pete Shields 
246 42:46  Vic Verecondi (PB)
252 42:52  Terry Lonergan  
415 47:32  Nick Mellor  
650 54:48  Andrew Bennett  
660 55:15  Pat Lonergan

796 finished. The race was won by Andrew Pearson from Longwood Harriers in 30:35.
More on Andy's forum thread.
Coiners fell race, Mon 4 May
7miles/1100ft Ian Rowbotham reports ... Cragg Vale is a peaceful Pennine valley, once the site of a Norman deer park, later in the Middle Ages the centre of a thriving iron smelting industry and centuries later, during the Industrial Revolution, home to around a dozen cotton mills. It runs off the Calder Valley from the village of Mytholmroyd, near Hebden Bridge, and climbs steadily up the hillside to the moors atop Blackstone Edge, where one of England's most dramatic Roman roads can still be seen, majestic amidst the heather.
In the second half of the 18th century, Cragg Vale was an isolated and lonely place that few outside the immediate area had heard of - and yet the name became infamous throughout England for the operations of a notorious gang of counterfeiters known as the Cragg Vale Coiners. So damaging were their activities that it was said they came close to wrecking the currency of Britain. At this time the inhabitants of the valley operated a dual economy, eking out a bare subsistence living by weaving cloth in their little cottages and lonely farms and also keeping a few animals to produce milk, butter and eggs to keep themselves and their families alive. Some men sold their labour on farms and in mills and quarries, working in appalling conditions and incredibly long hours. A gang of them got together and determined to improve their lot by counterfeiting gold coins. Their leader was a man known as "King David" Hartley, who lived at a medieval farmhouse in Cragg Vale called Bell House. The gang operated with the connivance of local publicans, who were needed to take genuine gold coins out of circulation.
The coins were clipped or filed, so that some of the gold was sheared off, and a new edge was then milled back onto them. The effect was to make the gold coins marginally smaller but unnoticeable to the naked eye. The clippings were carefully accumulated and melted down to produce new blank coins, which then had new "head" and "tail" faces stamped onto them with metal dies which had been engraved by skilled craftsmen. A heavy hammer was used to punch the engravings onto the faces of the coins, which were then given to the publicans to casually pass back into circulation.
Named after these activities is a fell race which on Monday also included a set of well organised English Championship Juniors races. In the senior race Ian Rowbotham reports " amongst dramatic sets of showers the senior race started with a steep sloped wooded section onto old tracks that then led gently up in increasingly tiring gentle slopes to Stoodley Pike. Local runners must run round this a few times each year as a lot of races seem to pass by this sticking monument. Beware this is not half way. A rough section leads to woodland plantation and after a few miles it starts to get booby as emerging into fields most of the field ended up to their waists. Gently down and some long contouring pack horse routes there was a fast grassy decent to the finish. A fast course with good organisation together with a drink with Keighley and Craven in the Wagon and Horses up above Oxenhope meant David Tait (1st vet 60) and I returned home having had another grand day out. You always get more than a fell race at a fell race.
Senior Race (129)
1st Chris Smale Unattached 47:51
17th Ian Rowbotham Ilkley 53:03 1st vet 50
Kirkbymoorside 10k, Sun 3 May
From Jez Hellewell ... What a fantastic little race this is! Equally as enjoyable as last year & seemed just as tough as I remember, especially that 1st mile climb up to Gillamoor & Fadmoor. Delighted to have recorded a P.B of 39.54, my 1st sub 40 min for a 10k & a placing of 23rd. Arthur Wilson finished 135th in 46.52, well done & apologies for not spotting you. I did look out for fellow Harriers! I implore all Harriers to give this tough little course a crack next year.
Keswick Half Marathon, Sun 3 May
Janet Grace reports ... There were about 500 runners in this year's field and the weather was kind to us - mostly sunny and not too windy. The men's race was won in 1:12:30 ... I was a little way behind, finishing 321st in 1h55:25, but I took some comfort in having run slightly faster than I did in the Coniston 14 in March. I didn't see any other Harriers this year, but I would recommend the Keswick half marathon to anyone who fancies a very scenic and "undulating" road race.
Great Hameldon Hill race, Sun 3 May
Jim Towers reports ... From the Peel Park Pub in Accrington, six miles, 1100foot of climb. Lovely little fell race. Part of the Pendle and Burnley Grand Prix Race Series. Sunny start with a hailstorm halfway round, but a thoroughly enjoyable run.

Jim Towers  54:27
Sue Morley  57:55
Lyn Eden    74:37

Next race in the Pendle & Burnley Grand Prix series is on Friday 8 May, Pinhaw Moor, 5 miles, 700ft climb, 7pm, registration at Earby Cricket Club. Another nice little fell race. Anyone who has run the Lothersdale Fell Race which is on Wed 6 May, it's the same summit but from the opposite site, [Yes, from Lancashire]. Both races well worth doing. As a bonus for Pinhaw, fish and chips from Kelbrook fish and chip shop after the race are a must.
Stuc a'Chroin, Sat 2 May
Graham Arthur reports ... Three Ilkley vests were sported at this first Scottish AL (14 miles, 5000 feet) of the season, which was also a British and SHR Championship counter. The weather was kind with sun most of the time, and only a very few wintry showers. The terrain was real hill race country; apart from the initial forestry track, the rest was steep heather, rocks, peat and normal bogs, and tussocks. Great! And lots of up and down. Pretty tough going on the whole. Lots of big names at the top: results at www.shr.uk.com

1    Jon Duncan        M     2:05:19
138  Holly Williamson  F     2:58:52    13th F
171  Graham Arthur     MV60  3:09:46    8th MV60
187  Alison Eagle      FV    3:13:36    7th FV
318 finished.


Alison Eagle's report ... As I hit the forest track for the last 2 miles of this race I came to 2 conclusions: firstly wearing Swoops for a Scottish hill race was a serious mistake (my recent foot problem had made me go for comfort); and secondly only completing 1 training session/race over 2 hours since January (Anniversary Waltz 3 weeks earlier) was not good preparation for 14 miles/500ft! My inability to descend in Swoops however did leave with something left to chase down the track and catch the legendary Wendy Dodds!
I had been warned that Stuc 'Chroin would be tough and after heavy rains the week before the Scottish hills would be at their best (worse?)! The race begins with 2 miles up hill on the same forest track you follow down at the end of the race, then into the forest and up hill onto the fell via a steep slippery slope. I did not know then how I would yearn to be back on that track, on terra firma! Contouring along the fell side, in and out of the bogs until you descend into the bottom of a valley ready for a steep climb. This was basically a vertical climb in a line, through the heather, using the fence and fence post to pull you up. A couple of drops down broke the endless climb until we reached the top. Felt I was climbing well, having a little battle with Graham - he overtaking me on the downs and I overtaking on the ups. From the top we hit the real down, straight down and I realised my big mistake in choice of footwear! I slid virtually the whole way, breaking my descent speed by hanging onto the heather. In the distance I could see figures as far as the eye could see on their way to the furthest checkpoint of Stuc a'Chroin itself. Ups, downs, rock, mud, slowly I got nearer to that final outward point. At this point I should say a huge thank you to the many marshalls (and I mean many) who constantly gave out water, jelly babies and encouragement - they were so supportive and appeared not only at checkpoints but inbetween as well! The front runners past me on their return journey from the Stuc (good I thought that meant I was getting there), shouting encouragement to those I knew helped keep me going. Holly passed me looking in good form. As I hit the top of Stuc I was greeted by a hail storm so ignored the offer of more water, jbs and even chocolate at the checkpoint, and set off for the return leg. Unfortunately this meant more downhill. Graham managed to sneak past me (well fly past looking good in fact) and I never saw him again until the end (- amazing run after his Three Peaks last week). I then began my battle with Wendy Dodds, all the way back. Was feeling not too bad until we hit the final hill, the one I had struggled to come down early on and lack of training hit me, after 2.5 hours - my legs just did not want to work! Eventually to more encouragement from the marshall, still handing out water and jbs, I got to the top and the long slog back to the forst via contouring bogs, spending a fair bit of time not on my feet but rolling on my side.
Morgan Williams' support, as at the 3P, was much appreciated. Hope he is back running again soon.
Coniston fell race, Sat 2 May
Sarah Fuller reports ... A few Harriers were in Coniston to enjoy the good weather that always seems to bless this race! This was my first Lakeland fell race (last year) – I naively thought it would seem easier this year! The course (9 miles, 3,500 ft accent) is stunning – a long never-ending slog up Wetherlam followed by some nice ridge running to the bottom of the 'prison band' on swirl how. My legs suffered on this next section and having not raced for 6 months I was starting to wonder if this was a good choice for first race back! The top of swirl how brought some relief and some lovely high level running (or in my case painful shuffling) along to the old man summit. The decent in this race is always a matter of take your brain out and hurl yourself down the mountain (which some folk do far more effectively and some with spectacular consequences) – its steep and unforgiving but kind of fun. I went a bit off route and took a (thankfully small and unseen!) tumble but managed to gain a few places I had lost on Swirl how. A fast run in then to the village to finish 12 minutes faster than last year so pleased with that! Heather Dawe ran a blinder also taking 10 minutes off her best time to come in second lady in 1.33. Dave Wilby was first Harrier home. It's alright this fell running lark ...!!
Emma Payne has sent results from the fell race website.

1    1.09.41  Ian Holmes        (Bingley)            
18   1.22.08  Dave Wilby                               
31   1.25.33  Jonathan Whitaker                      
53   1.29.37  Ralph Tench                              
71   1.33.09  Kirsten Bailey     (Bingley)            
73   1.33.24  Heather Dawe   (Second Lady)
216  1.56.45  John Coates                              
224  2.01.03  Amanda Newman                       
232  2.03.38  Sarah Fuller                               
283  2.44.04  Emma Payne   
                           
Ilkley Harriers ladies won the team prize


---