Ilkley Harriers news archive 2009
Harrier of the Month, April
The Committee has decided that from now on "Runner of the Month" will be known as "Harrier of the Month".
Harriers of the Month for April are Nick Richardson for excellent race times and leading training groups, and Ian Rowbotham for Three Peaks and 1st V50 @ Bunny Runs. Congratulations to them both, they will receive technical running shirts from HoM sponsor UP & RUNNING.
Other nominations were:
Val Kerr - FV50 Bunny run success
Sally Malir - London Marathon and Guiseley Gallop success
Neil Chapman - Commitment to coaching
Lee Morley - Anniversary Waltz
Tom Adams - fell success, and
Clare Smith, whose tale deserves telling (sorry for any embarassment Clare!) ... "Clare .. decided last September to attempt the 3 Peaks this year, and embarked on a 6 month programme specifically for the 3 Peaks. She entered a series of progressively longer fell races to build up her speed and strength, and was very dedicated with her training. It looked like it had all fallen apart when she suffered from a stress fracture of her metatarsal just 6 weeks before the race, and had to have a plaster cast on her foot/ankle for 4 weeks. However she never lost hope, and spent half an hour on the turbo trainer every day to maintain aerobic fitness and strength in her quads, and also swam 3 or 4 times each week. 10 days before the race the pot came off, and she began running again, gradually getting some flexibility and strength back into her ankle. She decided to run the race for the experience, expecting to get timed out at Ribblehead, but managed to get through with 7 minutes to spare. She was then able to continue and finished in just over 5 hours."
The Special Achievement Award has been given to Geoff Howard for achieving a new MV65 record in the Wakefield 10K, and to Christine Matthews for her LV55 club record in the St Annes 10 mile road race.
Dick Hudsons, Wed 29 April
Lee Morley was 2nd runner, and Heather Dawe 1st lady (29th) followed by Jenny Dybeck 3rd lady (39th), in this race from the lower Tarn, to Dick Hudsons, and back to the White Wells Car Park 'any way you like'. There were plenty of other Harriers out, results here and a good report on www.wharfedaleharriers.org.uk

 4  48.09  Jack Smith, Wharfedale  1st runner
 5  48.28  Lee Morley
12  53.58  Malcolm Pickering
15  54.59  George Stevens
20  56.42  Richard Reeve
21  57.02  Brian Melia
22  57.04  Neil Smith
24  57.27  David Schneider
25  57.39  Mike Baldwin
26  58.00  Dave Cummings
28  58.14  Paul Stephens
29  58.16  Heather Dawe  1st lady
24  59.34  Chris Oxlade
39  60.41  Jenny Dybeck
40  60.44  Paddy Hagan
43  61.18  Alison Weston
51  64.44  Mick Waterhouse
53  65.03  John Hayes
60  68.38  Jim Towers
64  69.18  Andy Webster
67  72.59  Rachel Hagan
69  81.33  Mark Kerr
70  90.07  Claire Macina

Bunny Run #4, Tue 28 April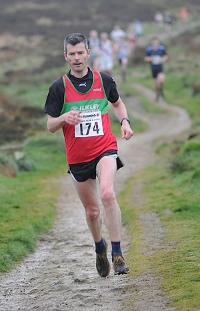 Not so many runners at the final Bunny Run, maybe down to the drizzly weather, maybe 3 Peaks and London took their toll. In the overall series results (best 3 races) Val Kerr was 1st FV50; Ian Rowbotham 1st Vet 50; Lee Morley 10th man; Sally Morley 4th lady and 1st LV35; Sam Haggar and Logan Hargreaves-Madhas well up in the U14's

1    15.26  WILLY SMITH
16   16.36  LEE MORLEY
44   18.34  RICHARD JOEL
52   19.05  SALLY MORLEY
87   20.59  SAM HAGGAR
91   21.05  BRADLEY CHAPMAN
111  21.51  CHARLES SMITH
114  21.57  VAL KERR
116  22.14  ELLIOT DOWLEY
144  23.27  SAM WOOD
164  24.41  BOB PAYNE
165  24.43  LOGAN HARGREAVES-MADHAS


Results, photos, and info on next Tuesday's Bunny Relay on woodentops.org.uk
London Marathon, Sun 26 April
From the London Marathon results ...

   84  3h06:48  Sally Malir  15th W40
 1938  3h14:17  Steve Weston
 3342  3h27:52  Andrew Shinn
  956  3h43:09  Diane Kitchen
 6081  3h47:26  Simon Chapman
 7519  3h55:32  Dave Taylor
11461  4h16:50  Pete Bedwell 

Kinder Downfall, Sun 26 April
Sharon Fuller reports ... 10 miles 2500 feet height, from Hayfield in the Peaks. Emma Payne and Sharon Fuller completed the race together in 2hrs 10 minutes and a few seconds (time to be confirmed).
Three Peaks fell race, Sat 25 April
Clare Smith says ... I just wanted to say a really big 'Thank you' to all the wonderful Harriers supporters who came to cheer on the runners at the 3 Peaks race. I was really grateful for all the encouragement, drinks and offers of jelly babies I received during what was, for me, a challenging event. Your support was really appreciated!
Rowbo's second MV50 position deserves noting especially as he was only a minute or so behind the legendary Jackie Winn - a terrific result.
Read Sue B's report in the forum thread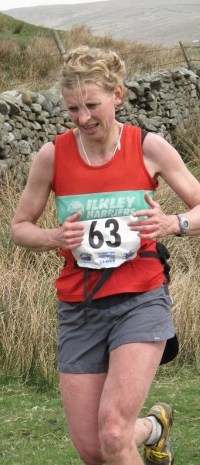 Results from Sportident....

1   2h54:53  Rob Jebb, Bingley
13  3h22:47  Tom Adams
34  3h34:50  Ian Rowbotham  2nd V50
64  3h44:42  Jamie Hutchinson
91  3h52:56  Jonathan Sinclair
99  3h54:04  Steve Turland
101 3h54:13  Stuart Pitches
102 3h54:20  Emma Barclay  3rd lady, 1st LV40
115 3h57:26  Brian Melia
164 4h06:40  Chris Gale
170 4h07:11  Mike Baldwin
177 4h07:48  Heather Dawe
181 4h08:13  Duncan Cooper
197 4h10:29  Paul Sowden
213 4h13:29  Eddie Winslow
245 4h17:55  Neil Smith
271 4h22:54  Graham Arthur 2nd V60
436 4h48:48  Russell Thomas
482 4h53:57  Alison Weston
486 4h54:20  Nigel Tapper
533 5h04:37  Clare Smith
543 5h06:37  Sue Bickerdike
563 5h13:49  Peter Sibley
577 5h20:08  Keith Wood
602 5h31:40  Sophie Brown



Hyde Park 5k, Sat 25 April
From Henry Heavisides ...An easier option today than the Three Peaks was the Hyde Park 5k in Leeds. This was my second run in this weekly event improving my time to 19:18, finishing 13th out of 196 runners, the winner was Gabriel Lowry of Leeds Met University AC in 17:37.
Bunny #3, Tue 21 April
Congratulations to Tom Adams, 2nd only Ian Holmes at tonight's Bunny Run! Full results and photos etc. on www.woodentops.org.uk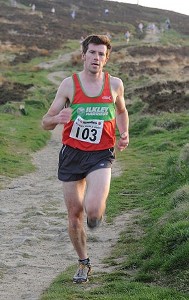 1    15.10  IAN HOLMES  BINGLEY
2    15.27  TOM ADAMS   
16   16.31  LEE MORLEY
34   17.43  JIM RYDER
35   17.44  GEORGE STEVENS
40   17.53  IAN ROWBOTHAM  1ST V50
56   18.34  SEAN MURPHY
64   18.57  SALLY MORLEY   1ST LV35, RECORD
113  20.51  BOB WIGHTMAN
115  20.57  CHARLES SMITH
119  21.07  JOSH CRANE
125  21.19  ALISON EAGLE
127  21.22  BRADLEY CHAPMAN
134  21.38  SAM HAGGAR
137  21.49  VAL KERR    1ST lv50
142  22.00  ELLIOT DOWLEY
170  23.02  SUE MORLEY 
182  23.28  AMANDA NEWHAM
186  23.35  SOPHIE BROWN
229  27.05  MARK KERR
235  27.59  LOGAN HARGREAVES-MADHAS


Skipton Tri, Sun 19 April
Jamie Hutchinson reports ... my first tri of the season; 400m pool swim, 20k bike and 5k run. The bike course was altered slightly at the end to take account of some road works. I made a solid start to the season but my swim let me down again! Quite a few Harriers there.
The mens event was won in 57.42!
Harriers results:

14  Tim Ashelford    1.06.46
33  Jamie Hutchinson 1.11.34
49  Ralph Tench      1.14.28
72  John Tate        1.17.48
102 John Coy         1.20.34
314 Kevin Wardle     1.38.41
367 men competed

The womens event was won in 1.16.12 with Jann Smith coming 45th in 1.33.13 and Janet Bairstow 96th in 1.50.08
Well done to all !
iRoc, 18-19 April
Dave Wilby reports ... This weekend in Weardale, Inov-8 hosted the inaugural iROC (Run, Orienteer, Cycle) event. Consisting of 6 races which could be cherry picked or done as a series, the challenges on hand were an 8 mile fell race, a 6 mile straight line orienteering event, a 1 hour score orienteering event, a night MTB time trial, and a 4 mile night fell race on the Saturday, and a 4 hour MTB enduro on the Sunday. All events started from, and also looped back through, the event centre at an old cement works before working their way up through a former quarry (which made for some very interesting technical running & riding), and out on to some fabulous moorland, part of an SSIS unused for racing before.
In my wisdom I opted for the 'Grand-Slam', all 6 events and a weekend of pain and suffering, and more than my fair share of fun, sunshine, great company and jelly babies. Heather Dawe was part of the planning team and was responsible for putting on 2 fantastic MTB courses, well done to her.
Overall, the event was a great success, and everyone I spoke to seemed to have had a great time. If you fancy one or more of the events, I would encourage you to keep an eye out for this one next year as it really was a brilliant event, amongst a very friendly bunch of like-minded folk. It was also very spectator friendly, and there was entertainment on the Saturday night from local bands so take the family along.
For the record, I was 10th overall in the series which was won by in-form fell runner Morgan Donnelly, showing his versatility. Heather competed in the 8 mile fell race and finished 3rd female, before her planning duties took over the weekend. All details can be found at www.iroc-race.com, and full results should be up soon.
Geelong Half Marathon, Sun 19 April
Vic V reports ... After two weeks of visiting family and friends, camping in the bush, enjoying fantastic pools, lovely cycling, hitting the surf, Melbourne cafes, going to the MCG to watch some Australian Rules ie having good Australian fun the final day of the trip arrived... So what does one do... Enter a half marathon... The course was quite flat with a few small undulations and considered a fairly fast course. It was set in The Barwon valley... The run was on a bitumen track alongside the river and through some bushland... The noise of a variety of local waterbirds was always to be heard during the race... Anyway I ran a very good time considering I haven't trained properly for the event (1 hour, 40 min and 55 sec)... Afterwards all competitors enjoyed a sausage sizzle, heaps of fresh fruit and good coffee... Well this evening I'll be sitting on a jet bound for Manchester in a much better mood having done the race... It is nice to have done such a race in my hometown..
Hawkshead Lakeland Trail Race, Sat 18 April
Ewan Welsh reports ... Enjoyed a lovely sunny day in Hawkshead (and some fish and chips later on that evening in Ambleside) in the Lakes on Saturday, even managed to get myself organised to run the Puma Lakeland trail race, my first race since October, took it easy at the start and worked into it, and to be honest, I felt ok, so there you go.
15k was the distance, only it was a reported 250m longer this year, whereas last year it was also 15k! Anyway matters not a jot as this is a thoroughly excellent well organised race, course is varied, includes quite a few steep (specifically the one from approx 10k to 13k) long climbs, descents where you need to keep "an eye oot" and some tidy tracks not to mention the views, if you take the time to look, which I did.
Total of 560 finishers. Race was won by John Heneghan of P&B in a time of 58:09. Ilkley Runners (looking through the results, apologies if I missed anyone):

40  1h16:29 Jez Hellewell
115 1h23:11 Ewan Welsh
184 1h28:59 John Woodward 


Jerry adds ... had a fantastic day up in Hawkshead on Saturday doing the 15k Trail Race. Just managed to squeeze in to the top 40 (40th !). It was a lot tougher than I had imagined with just over 2500 feet of climbing, but my training on the moors with the Junior Harriers on Saturday mornings proved invaluabl! Ewan Welsh did a great time of 1.23:11 secs and John Woodward in 1.28:59 secs. Well done fellow Harriers, it was great to see other club vests on what was a fantastic day out.
The Woldsman, Sat 18 April
Amanda Parnaby reports ... 50 miles from Driffield Showfield around the Wolds and finishing back at Driffield. A different route from last time I took part and there seemed to be a few more hills but still included some picturesque Wolds villages. A chilly start but turned into a lovely day. The event was organised by the East Yorkshire branch of the LDWA. Finished in 12 hrs 59 mins.
Bunny Run 2, Tue 14 April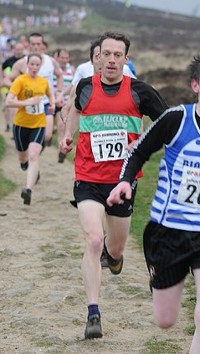 Another good turnout of Harriers enjoying this fun midweek race. Full results, photos, and details of next Tuesday's race at woodentops.org.uk

1    15.02  IAN HOLMES, BINGLEY
5    16.16  TOM ADAMS
27   17.44  DAVID WILBY
28   17.44  JIM RYDER
31   17.51  IAN ROWBOTHAM
46   18.44  SEAN MURPHY
67   19.45  NEIL SMITH
76   20.12  JOSH CRANE
83   20.29  KELLY HARRISON
93   20.47  BEN SWINTON
99   20.54  ALISON EAGLE
102  21.01  ADAM SWINTON
107  21.05  BRADLEY CHAPMAN
114  21.18  DAVID CUMMINGS
117  21.27  JACK CUMMINGS
129  22.11  VAL KERR      1ST LV50
130  22.13  JIM TOWERS
132  22.16  ELLIOTT DOWLEY
157  23.22  SUE MORLEY
164  23.38  GEORGIA MALIR
173  23.57  SOPHIE BROWN
174  24.05  ERIC MORLEY
175  24.08  AMANDA NEWHAM
182  24.5   BOB PAYNE
191  25.24  GRACE MALIR
204  26.31  LOGAN HARGREAVES-MADHAS
218  27.25  MARK KERR
226  28.31  CLAIRE MACINA

Anniversary Waltz, Sun 12 April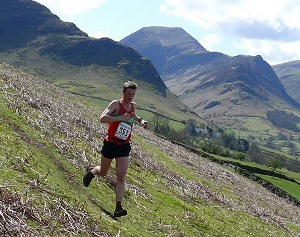 Results from www.fellrunner.org.uk

1   1h35:58  Morgan Donnelly, Borrowdale
14  1h49:12  Lee Morley
28  1h53:24  Dave Wilby
39  1h55:34  Steve Turland
116 2h08:50  Emma Barclay
128 2h10.32  Holly Williamson
143 2h13:33  Mike Baldwin
209 2h20:41  Alison Weston
234 2h24:35  Alison Eagle
309 2h33:00  Chris Oxlade
380 2h45:36  John Pickering
468 3h34:27  Sharon Fuller


Photos on woodentops.org.uk
Guiseley Gallop, Sun 12 April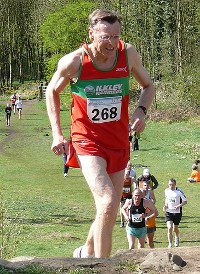 Colin Lugton reports ... Nick Richardson and Sally Malir led home the Ilkley Harriers squad of 11 male and 10 female members in the 14th Guiseley Gallop, which was run in ideal weather conditions on Sunday. The 6 miles multi terrain course from Guiseley took us down through Springs Wood, past the Esholt water treatment works, followed by a long flat stretch along the tow path of the Leeds Liverpool Canal, before some welcome road back to the Woolpack at Esholt, then uphill to Jerrison Wood, and finally along the track to Springs Wood, to finish near the Westside Retail Park.
There were excellent performances by Sally Malir (1st LV40, and 4th female), and Bernie Gibbons (1st LV55). Great runs by Nigel Tapper and Keith Wood, who took full advantage of this yearís drier conditions and shaved one and two minutes, respectively, off last yearís times. Jean Sullivan displayed her previous cross-country race skill after returning from maternity leave. Another steady run from Sue Lugton who was nursing a calf injury.
Some great support along this varied route with welcome encouragement up the many difficult climbs (another participant described it as like fell running). However, donít be lulled into a false sense of security, this is a demanding course with tree roots, cobbled setts, styles, and low tree branches at head and other obstacles at head and waist heights. There were no free tea shirts or healthy freebie bags today, but a welcome bottle of Guiseley Gallop beer or a small bottle of wine for every finisher.

1    35.36   Steven Neal (P & B)
16   39.07   Sarah Turnstall (Kendal)
40   42.24   Nick Richardson
41   42.37   John Atkinson
56   44.08   Sally Malir 1st LV40
58   44.17   Neil Smith
122  48.00   Nigel Tapper
126  48.30   Rachel Wolfenden
137  48.50   Catherine Gibbons
142  49.00   Keith Wood
144  49.07   Pete Shields
181  51.41   Caroline Bell
224  54.02   Anthony Swanepoel
234  54.32   Jean Sullivan
242  55.13   Colin Lugton
257  55.53   Andrew Jackson
272  57.10   Bernie Gibbons 1st LV55
281  57.24   John Marshall
327  60.57   Vince Gibbons
345  62.57   Claire Macina
354  63.26   Jacqui Weston
367  64.25   Mary Gibbons
407  71.23   Sue Lugton
428 finishers

Salford 10k, Sun 12 April
Jane Bryant reports ... I travelled to Manchester for the second time in a week for the salford 10k road race. It is a flat 2 lap course that attracted over 500 runners (mainly from t'other side of t'hills). A fine day found me getting round on a new PB of 42.32
1 31.13 Ian Grime, Newham & Essex Beagles 205 42.32 Jane Bryant PB 29 secs, 3rd LV40
Hyde Park 5k, Sat 11 April
Henry Heavisides reports ... The Hyde Park 5k Time Trial in Leeds takes place every Saturday at 9am. There are similar events in other parts of the country. It's free to enter, you just have to register in advance. The course isn't the fastest, on paths in the park with sharp turns & undulating, but it's well organised & attracts over 100 runners most weeks, mostly fun runners. The course record set a couple of weeks ago is 15:18, so it does attract some fast club runners. Today was my first participation, finishing 6th out of 105 runners in 19:29, the winner was Gwilym Thomas of Valley Striders in 17:53.
Geelong AC Midweek Meet, Wed 8 April
From Vic V ... Enjoying a couple of weeks in Australia catching up with family and friends... As I have a entered a half marathon here on the 19th I thought I'd better meet up with a few locals and do a bit of running talk... It ended up with myself entering a competitive meeting with the Geelong AC at the local track... There were three events to compete in.. A 400m, 3000m and 100m...
Anyway I paid my $3.00 for the privilege and warmed up in the Andy Wolfenden tried and trusted way... That is about 5 laps jog, a few leg flips, some fast feet and of course the compulsory 8x100m strides... I was set to race but fearful of how it would all end up... Could I fly the Ilkley Harriers flag in Australia with pride???
I drew lane 6 in the first of the three 400m heats... There was to be no final (thankfully)... The best time of the three events would be the winner... Never having run this distance competitively for about 30 years I thought to myself I'll just do what Cathy Freeman did in Sydney 2000 ie run flat out... My other tactic was to chase down a fearfully fit looking female competitor in Lane 8... This worked to perfection and I passed this very fast woman with 30 metres to go and WON!!!!! (time 1 min 05.84 sec)... Now that must be some club record... Fantastic!!!!!
Now Mr Wolfenden I have finally, finally found my forte, 400m races... No need for pace judgement, just go flat out... I did have a nervous wait as the other two heats were completed... In the end I had the best time all round by 0.54 of a second and was declared winner... Not bad I thought to myself..
The 3000m race was much harder and far more competitive.. Never having ran this distance in a race I was in a dilemma as to what to do... I just took off following the first three who were very very fast... This tactic didn't last very long (about 200m)... I then thought to just hang onto 4th spot... So I ran at my own pace by myself... Unfortunately I was passed by two others in the last lap and a half... Anyway I did quite okay coming 6th in a time of 12 min 8 sec... A Geelong local Jackson Beach won in a time of 9 min 37 sec... Pretty quick I think...
I didn't do the 100m feeling if I pushed myself flat out I'd damage something... The night finished up pleasantly with tea, coffee and cakes afterwards and good chat about the upcoming half...
Bunny Run #1, Tue 7 April
A host of Harriers (more runners than any other club) enjoyed Bunny Run 1! Photos, video, and full results on woodentops.org.uk, and IH League update here.

1    14.41  JORGE THOMAS  P&B  RECORD
15   16.59  LEE MORLEY
22   17.35  BEN STEVENS
36   18.18  IAN ROWBOTHAM
47   18.53  MARK ILEY
58   19.18  SALLY MORLEY   LV35 RECORD
64   19.32  DUNCAN COOPER
75   20.10  SEAN MURPHY
76   20.13  NEIL SMITH
85   20.43  RICHARD REEVE
93   21.03  HENRY HEAVISIDES
102  21.30  DAVE CUMMINGS
103  21.32  BEN SWINTON
104  21.33  ADAM SWINTON
105  21.38  KELLY HARRISON
107  21.43  DIANE HAGGAR
108  21.46  ELLIOT D0WLEY
118  22.02  VICTORIA STEVENS
124  22.14  KEITH WOOD
126  22.16  BRADLEY CHAPMAN
132  22.30  JACK CUMMINGS
135  22.33  SAM HAGGAR
140  22.42  HELEN HORTON
144  22.50  VAL KERR          1st V50
145  22.52  JIM TOWERS
152  23.07  NIGEL TAPPER
159  23.25  SAM WOOD
166  23.42  JANN SMITH
181  24.21  SUE MORLEY
187  24.38  GEORGIA MALIR
188  24.40  SOPHIE BROWN
190  24.43  LOGAN HARGREAVES-MADHAS
200  25.13  SUE BICKERDIKE
203  25.25  ROBERT PAYNE
212  26.03  GAENOR COY
215  26.09  JOHN MARSHALL
218  26.24  PAUL SUGDEN
220  26.41  EMMA PAYNE
228  27.03  DON MACRAE
236  27.38  FIONA SCHNEIDER
238  27.43  EMMA O'LOONEY
240  27.55  SUE STEVENS
268  31.45  LYN EDEN
Gisborough Moors, Sun 5 April
Lawrence Basham reports ... 12.5 miles and 2600 feet of climb, runnable on moorland and forest tracks and paths. Some great views on the way due to the clear skies above. It starts from Guisborough Rugby Club and takes in the "summits" of Gisborough Moor, Easby Moor, Roseberry Topping and Highcliffe Nab. I finished 10th in 90 mins 52.
Wakefield 10k, Sun 5 April
Justin Phillips reports ... An undulating out and back course with chip timing. Not much to look at in the way of scenery but a large field enjoyed the sunshine and raised plenty of cash for charity. The sole entrant of the wheelchair race had the dubious honour of finishing first...and last in his race.

1   31:25  Andrew Pearson. Longwood Harriers
28  36:44  Justin Phillips
74  39:19  Geoff Howard
1,182 ran
Congratulations to Geoff Howard on a new club V65 record.
Baildon Boundary Way, Sun 5 April
Nigel Tapper reports ... 18 Harriers took part in this multi terrain, popular off-road half and with perfect conditions under foot and in the air, it was a fantastic day for racing. Me and my merry bunch arrived in plenty of time at the Baildon RUFC and indulged in a tasty pre race cuppa. Mr Wood managed somehow to obtain a cup that seemed to contain both tea and coffee, but that didn't appear to hinder his run! It's a considerable hike to the start line for this run giving plenty of time for banter en route in the sunshine. Thanks to Sally and Emma who, on the start line, persuaded myself and Keith that we'd bake if we didn't remove our Helle sub-layer. I for one was very glad I took their advice as the race sets off at a blistering pace! Heading generally down hill (on part of the Rombalds stride route) we were well marshalled into Esholt village and on to a section of the Guiseley Gallop. At the 3 mile mark I managed a fall just after one of the steeplechase obstacles that abound in the area, but with the adrenalin flowing I didn't notice any damage until well after the race was over. The route has it's technical sections with much high knee lifting required through rutted and rooted woods, various stiles, gates and narrow bridges etc before you are spued out onto the calm of the Canal tow-path for several miles of flat torture at speed. The exit from the path was changed this year but it was no easier as runners slowed in the breathless air on the climb up Shipley Glen onto the moor. At the top was a welcome light breeze and a trog across mostly dry moor paths before the descent and then final ascent back to the rugby club. Can I say a big welcome back to racing to Vince Gibbons who showed his true grit by stepping into the fold after daughter Mary was unable to compete on the day. Well done Vince. Think I saw most Harriers in the finish field post race and a few of us enjoyed the tasty fodder provided in the club afterwards. We were pleased to see Sally, Emma and Pange take the team prize for the ladies and Sally 3rd lady. Jolly good morning out!

1   1:19:04  Ian Nixon, P & B
18  1:28:02  Karen Pickles, Pudsey Pacers

31  1:32:04  Nick Richardson
36  1:33:05  Jez Hellewell
45  1:35:05  Sally Malir   3rd F35
51  1:38:00  Emma Barclay  4th F35
95  1:45:03  Nigel Tapper
108 1:47:00  Peter Shields 4th M60
112 1:47:05  Angela Srivastava
114 1:48:02  Elizabeth McCann
139 1:52:00  Andy Wilson 
180 1:56:01  Keith Wood 
192 1:57:02  Sue Bickerdike 
243 2:07:01  Juliet Muirhead 
257 2:09:04  Jane Guillard 
278 2:14:00  Andy Sarah 
286 2:15:00  Alison Stretton 
298 2:17:03  Emma Payne 
306 2:18:04  Bernie Gibbons 
340 2:32:04  Vince Gibbons 

Northern Road Relays, Sun 5 April
Jane Bryant reports ... An intrepid 6 ladies set out to take on the North's best in the 6 stage Northern Road relays. We managed to find it without a sat nav and put up the tent all without assistance! We then went on to run 6 glorious legs of 2.4m in the sunshine. It was a great venue around 2 parks with an interesting hill at about 1.5m. Everyone had a good run and the team came 24/40. Of course no girls' day out could be complete without a bit of retail at the end!!
Although there are a lot of speedy people there, there is a full range of ages and abilites and it was a good team day out, so next year don't be shy let's get 2 teams.
A big thank-you to Terry who presented us with specially printed T. shirts for the day (photo's to follow) and to Gaenor who had to put the wine away on sat night due to a late call up (next year, Joan).

        Alison Bennett     (29) 15:59
        Catherine Gibbons  (28) 16:05
        Gaenor Coy         (33) 19:40
        Christine Matthews (34) 19:06
        Jane Bryant        (31) 16:30
        Sally Morley       (24) 14:37

Blubberhouses 25, Sun 5 April
Amanda P reports ... glorious weather, lovely route and fine food in event organised by LDWA. Finished in 5 hrs 38 mins.
Bob Wightman adds ... In addition to Amanda, I would appear to be the only other Harrier representative at this LDWA event. A lovely day with just a slight breeze to keep you cool though the sun did get to me towards the end. Mostly on good paths or tracks, the route was staged in the opposite direction to previous years and this made it much more runnable with only the climb to Beamsley Beacon at around 15 miles proving a bit steep. With the recent dry weather it was possible to get nearly all the way round dryshod, unfortunately there were a couple of recalcitrant wet patches on the descent from Round Hill. Despite blowing up close to the last checkpoint, I managed to do a jog/walk mix to the end (the downhills were worst) and finished in 4hrs 26mins. All very well organised by the Nidderdale group of the LDWA with three refreshment points this would be a good introduction to longer trail events. The run/walk is to be held annually after a change of organiser.
Pendle fell race, Sat 4 April
Alison Weston reports Tom Adams was 3rd in 33.56, Lee Morley 11th in 35.52, Alison Weston 46.14; Jim Towers 52.39; Sue Morley 2nd LV50 in 54.39; and Lyn Eden 71.53
There are some photos on woodentops.org.uk
Slieve Bearnagh, NI - British Fell Championship Race, Sat 4 April
From Alison Eagle ... After a bad start to the weekend with delays to flights due to fog, the organisers of the British Championship Ireland race once again came up trumps with a cracking race and great hospitality.
As usual the wind and rain cleared for the race and the sun shone through for a lot of the race. Slieve Bearnagh is a classic fell race of 4 miles with 2,660ft of ascent (and descent). You set off up the fell to the first top of Slieve Meelberg, run down the other side, up the second hill of Slieve Bearnagh, round the rocks at the top in very cold windy condtions, and down the other side. Climb up the side of the Mourne Wall to the top of the third hill, Slieve Meelmore and then descend down to the finish, across the stream where you started. No real paths or road, brilliant. It is a hard race with a bit of every fell terrain, the first up and down is over peaty conditions, fairly wet after the rain. The second climb is fairly vertical pulling yourself up the heather, the descent is rocky, steep and for those who are are not natural decenders more than a little scary. The final climb is up the rocks, virtually in single file, the wall good for helping to pull yourself up as your legs tire. The finale is a very fast runable descent over litlle rocks, heather and grass, with suprise sections of peaty bog just as you head to the welcoming finish. Your legs buckle under the sudden softness (ask Graham Pearce, who ended up with 4 stitches in his leg as he tumbled with the finish in sight!)
Recovering from a sore foot still and not as fit as I would like to be (this being my kind of race, with lots of varying terrain and no tramac in sight) I found the going hard at times, especially up the wet peaty terrain with not enough training in my legs. I welcomed the descent down similar terrain though as I overtook a number of better climbers and was grateful to see the support of my wonderful husband at the end of descent. However that was the scene of my downfall, literally! Glancing at him I missed one of the many rocks, caught my toe and went flying forwards. As is the nature of all fell runners, I bounced up, shouted at Morgan rather grumpily and began the near vertical ascent, with blood dripping from my finger. The ascent was hard work with only being able to pull myself up the heather with one hand. Injuries were sonn forgotten as the descent down the steep rocky terrain needed full concentration, plus lots of painful sliding down the larger rocks as you ignored the zig-zag path. I was pleased to see Morgan again at the bottom of this final ascent, quick drink as I ascended and this time a yell of thanks as I chucked the bottle back to him. The top was a welcome sight and I set of with my last reserves down the more runable terrin, into strong winds to the finish. May thanks to the St Johns Ambulance Service (or the Irish equivalent) who patched me and many others up.
The presentations were back in Newcastle and as usually were a little delayed, but a drop of the black stuff helped the wait go quicker. Results were:

Winner: Rob Hope  (P&B)- 40.35 (both he and his brother Danny in 2nd broke the record)
16th - Graham Pearce (2nd Claim) - 44.40
51st - Ladies winner - Pippa Jackson (Keswick) - 49.55
136 - Dave Tait (2nd Claim) - 58.66
147 - Holly Williamson - 59.47 (18th Lady)
169 - Alison Eagle - 1.03.00 (23rd Lady, 3rd Vet45)

---