Ilkley Harriers news archive 2009
Runner of the Month, February
Nominations were:
Paul Wood for organising the fell race,
Emma Barclay for Rombalds Stride,
Margot Dale for Yorks vets XC silver medal and 1st V60 at the YV Grand Prix at Horsforth,
Liz Price for a 3min PB for half maratho,n
Andrew Bennett for repeatedly racing and breaking PB's.
Emma Barclay and Margot Dale were voted ROM and will receive technical running shirts from ROM sponsor UP & RUNNING.
Noon Stone fell race, Sat 28 Feb
Heather Dawe reports ... The Noonstone fell race was good fun on Saturday. Boggy as ever, particularly the middle bit. Thanks to Mike Baldwin who gave me a few words of encouragement with about a mile to go ie. he caught me up ;o) to help me keep a 2nd lady finishing position as 3rd lady (Holly Williams from K&C) was hot on his heels.
Results from Tod Harriers web site:

76   90.39  Heather Dawe  2nd lady
81   91.07  Mike Baldwin
136  97.51  Norman Bush
216 117.38  Sophie Brown

Some good photos on the Woodentops web site.
Myrtle Meander, Sat 28 Feb
Amanda Parnaby meandered 24 miles from Bingley visiting Egypt, World's End, Queensbury and Haworth. Finished in 6 hrs 16 mins
Pocklington Snake Lane 10, Sun 22 Feb
With 60 Harriers running and another 40-50 helping in our fell race, this road race normally popular with Harriers had, we think, just 'lonely' Nick Mellor, 451st in 83.47
Ilkley Moor fell race, Sun 22 Feb
THANK YOU to the many Ilkley Harriers who helped with the Junior and Senior races. Everything went pretty smoothly thanks to all the helpers on the day. We had a record field of 390 finishers in the Senior race and the atmosphere was really great! There are some great photos of the senior race and full results and video on the race page.
The Junior races were very popular, with 160 children running and four new records set. More on the junior pages.
There was an impressive number of Harriers running too. The ladies took the team prize (3,5,6) and the men did pretty well - although Pudsey took the team prize this year we had 4 men in the top 20 and comfortably beat Bingley's team.

1	36.33	Ian Holmes
4	38.56	Graham Pearce     P&B
8	40.16	Tom Adams
13	42.15	Steve Turland
18	42.33	Dave Wilby
19	42.47	Lee Morley
23	42.57	Jamie Hutchinson
27	43.28	Chris Gale
38	44.27	Lawrence Basham
40	44.29	Ralph Tench
45	45.03	Jim Ryder
47	45.14	Ian Rowbotham
64	46.41	Jonathan Sinclair
70	47.33	Paul O'Looney
80	48.02	Richard Joel
88	48.22	Jonathan Whitaker
94	48.54	Helene Whitaker
96	49.10	Alistair Barlow
100	49.20	Heather Dawe
116	50.14	Emma Barclay
117	50.15	Mike Baldwin
120	50.24	Paul Sowden
122	50.44	Arthur Reilly
129	51.13	John Hawes
133	51.25	Duncan Cooper
147	52.17	Paul Stephens
151	52.21	Alison Weston
158	52.55	Neil Smith
161	53.07	Helen Ilsley
166	53.26	Marlon Frost
168	53.36	Norman Bush
180	54.15	Geoffrey Howard
195	55.39	Paddy Hagan
201	55.53	Chris Oxlade
209	56.21	Richard Reeve
217	56.49	Alison Bennett
232	58.00	Kay Pearce
255	58.58	Angela Srivastava
263	59.25	Michael Waterhouse
270	59.41	Forrest Hamilton
271	59.41	Bob Hamilton
285	60.59	Dave Tait      Dark Peak
286	61.01	Kelly Harrison
292	61.16	Val Kerr
293	61.19	Sue Booth
294	61.20	Henry Heavisides
296	61.29	Eric Hawthorn
308	62.10	Amanda Newham
325	63.41	Jim Towers      NVRR
339	65.18	Bob Payne
350	67.11	Ian Hunter
352	67.28	Rachel Hagan
355	68.59	Andrew Jackson
370	71.59	Andrew Bennett
374	74.47	Sharon Fuller
376	75.33	Fiona Schneider
378	77.09	Rachel Websdale
382	80.04	Vic Verecondi
389	86.49	Lyn Eden        NVRR
390	91.00	Amanda Parnaby



Village Bakery Half, Sun 15 Feb
Thanks to Terry for spotting this Wrexham Half Marathon result ...

250  100.07   Christine Matthews  1st W55 and 5th UK best 2009
336  107.44   Liz Price           7th W40            

Liversedge Half, Sun 15 Feb
From Sally Malir ... on Sunday the 15th February I did The Liversedge Half. I had been warned that this was a very hilly course, definitely not one for a PB. The rumours were true! But do you know what?..... I really enjoyed it!!! I decided to have a steady run, keeping to my marathon pace and try to get under 1.30. The race went to plan, I felt comfortable all the way round, and was able to easily do a 2 mile warm down at the end. I took in some of the sights of my next race, The Spen 20 another of my favourites, and was 4th lady 40th overall. I will return to do this well organised race again.

1    77.57 David Allinson 
     79.51 Tracey Morris 1st lady
40   89.05 Sally Malir  4th lady 
248 112.34 Simon Chapman 
436 ran

Yorkshire Vets XC, Sun 15 Feb
Pete Shields wrote ... The Yorkshire Vets X/C Champs were held at York racecourse this afternoon and in horse racing parlance the going was deemed heavy!
Ilkley's racing stable were not going to be put off by the conditions and lined up with 420 other athletes to chase the medals. 17 athletes eventually toed the line after illness, injury and important appointments reduced our numbers by 3.
First off were the ladies and males 50+. The females runing 5k and the males carrying on to run 10k. Ian Rowbotham and Sally Morley went with the leaders from the gun, Ian keeping second place for a long period of the race. Sally running a very gutsy race always keeping in contention with the second and third places, behind them Alison Bennett and Amanda Oddie packed well in the first ten. Margot Dale was having her own battle further back in the field chasing the over 65 title against mutli title and record holder Kath Robertshaw from Otley. The rest of the Ilkley men's team were packing well. Kevin Gooch was chasing an over 55 medal while Jeff Paget, not long back from injury looked back to his old form, Paul Stephens kept in close contention as did Henry Heaviside, Graham Arthur our only male v60 and Neil Chapman. The men's finishing positions of 6,35,41,53,59 and 61 gained them bronze medal in the overall points competition and 5th in the 3 to score event, this was a super result for the club and shows what strength we have in depth.
The ladies event became equally as exciting again with close packing rewards were gained. Sally, Alison and Amanda won silver medal in the 35-44 team age category. Individually, Sally was a very creditable 4th overall in the ladies race, which was won by Sarah Jarvis of Bingley, Amanda won the bronze medal in the over 40 category this after suffering with illness throughout the day. Alison won the bronze medal in the over 45 category. Margot after that tense battle won the silver medal for the over 65 category.
In the men's 35-49 age group we had Lee Morley, Jim Ryder and Neil Smith running. All three ran their 10k course strongly in a really competetive race finishing in the top third of their field.
This was a great club effort that puts us at the forefront of vets' running in Yorkshire. It was fabulous to see the determination of all the Ilkley Harriers today and one the club can hopefully build on.
Barcelona half marathon, Sun 8 Feb
From Jamie Hutchinson ... For a while I've been looking for a warmer race to break up the Winter and thought I'd give Barcelona a try along with a workmate who runs for Leeds City. Conditions were almost perfect with dry, sunny conditions with a cooling breeze - daytime temperatures of around 14C! The race started from one of the parks in the city centre and took in la ramblas and other sights. A fast flattish course starting with a loop of the west side of the city centre before bringing you back through the start at 10k for a loop of the east side of the city. Not running more than 5 miles or so I wasn't in the best of condition but a very pleasing weekend all the same, my Leeds City mate fared better finishing 10th in 70.52!

1. Alex Kirui 62.25!
133 Jamie Hutchinson 81.34
Approx 4000 runners

Winter Hill, Sun 8 Feb
Steve Turland reports ... 11m, 2700ft. Two Harriers made the trip across to red rose country for this year's Winter Hill race. Aptly named, as the usual bogs and tussocks were replaced by ice, snow and lots of frozen tussocks - although with sunny conditions it made for a great day out. A very competitive race at the sharp end with Simon Bailey leading in the 170 field with a new course record of 1hr 30. For the Harriers we had:
 
12  1h45  Steve Turland    
67  2h05  Alison Weston  (6th lady and 1st Lady Vet)

Winter Warmer 10k, Blackburn Sun 8 Feb
From Lee Morley ... A trip back to Lancashire this morning for Sal and I for a first attempt at a 10k. On a surprisingly hilly course Sal's legs held up very well though to finish strongly in 39:59, on target, on what I imagine is quite a tough course.

1   32:09  Chris Hart (Blackburn Harriers)          
24  37:34  Lee Morley      PB
51  39:59  Sally Morley    PB

Rombalds Stride, Sat 7 Feb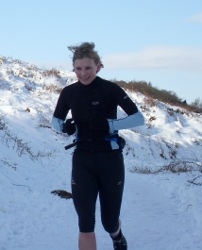 Colin Lugton reports ... First Male and Female runners among the more than 20 Harriers who took part in the 3rd Harriers League 2009 event, organised by the 15th Airedale Scout Group who provided a new route this year for the 486 starters of the well established 23 mile "challenge" event from St. Oswald's Junior School, Guiseley. After a week of snow and sub zero temperatures, this was set to be an interesting day with fantastic views of some of the best scenery in Airedale and Wharfedale, and 1000 metres of ascent. We were not disappointed, although times were generally 20 to 30 minutes slower than 2008. After crossing the A65, we encountered an early treacherous ice covered road, before the route passed through Springs Wood, and in front of Esholt's iconic village pub, the Woolpack. The snow covered paths climbed up over Baildon Moor, before crossing Rombalds Moor via the twelve Apostles, the Trig Stone at the highest point, 402m, and on to the transmitter masts at Whetstone Gate, followed by a descent from the Buck Stone outcrop to Pipers Crag. Then a flattish section past the Swastika Stone, with views over Ilkley, before another ascent to White Wells, and higher up above the Cow and Calf, along part of the Ebor Way and down to Burley Woodhead, through Menston and a sting in the tail took everyone up over Otley Chevin, before the final stretch down into Guiseley. A memorable and enjoyable day.

1   3h13:56   Graham Pearce P&B
10  3h29:47   Emma Barclay 1st Lady
19  3h43:30   Dave Wilby
29  3h50:20   Neil Smith
34  3h54:37   Jonathan Sinclair
42  4h05:02   Paul Stephens
49  4h07:59   Andy Shinn
54  4h10:19   Pange Srivastava
56  4h11:10   Nigel Tapper
70  4h13:39   Graham Arthur
71  4h15.49   Russel Thomas
74  4h18:00   Sue Bickerdike
75  4h18:00   Dave Taylor
80  4h18:30   Clare Smith
85  4h20:46   Keith Wood
87  4h23:21   Pete Shields
88  4h24:02   Pete Bedwell
89  4h24:31   Andrew Merrick
94  4h27:27   Neil Chapman
119 4h41:07   Joyce Marshall
149 4h56:10   Ian Hunter
188 5h26:14   Emma Payne
195 5h36:09   Bob Payne
226 6h05:26   Amanda Parnaby
256 6h26:35   Rob King
257 6h38:25   Colin Lugton
263 6h43:04   Elizabeth McCann
409 9h05:26   Andrew Bennett

461 finishers

Have we missed anyone? This is a Harriers League counter, so please let Paul know if you are in this 4MB word file and not in the list above or in the latest League calcs here...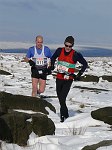 Wadsworth Trog
From Jo Foster... 3 intrepid Harriers ventured over to Calderdale on Saturday to take part in the Wadsworth Trog and Half Trog. Lured by the offer of a post race cafe in Hebden Bridge I found myself enjoying the sunshine in a magical winter wonderland. Jim Ryder ran in the 9 mile Half Trog and finished 7th and 2nd vet 40 in 1.40.30 - good enough to win a bottle of wine which made my supporter duties even more worthwhile! The race was won by Lee Athersmith. Stuart Pitches and Brian Melia did the 20 mile Full Trog, which was also made tougher by the snow. Stuart finshed 51st in 4.08.52 and Brian was 54th in 4.11.28. Rob Jebb won the race.
WY Schools XC, Sat 7 Feb
Di Haggar reports that Jebby Dybeck ran a thrilling race to take the Senior Girls title. There were 9 Junior Harriers running - full report on the Junior Pages
Dewsbury 10k, Sun 1 Feb
Colin Lugton reports ... A great turn out by 18 Harriers for a chilly 9am start to a good race, over a flat course for some fast times, but not a scenic route. This was a well organised event, with excellent marshalling and lots of changing facilities in the sports centre. Plenty of parking (pay & display, but free on Sundays). A super fast online results service (www.tdl.ltd.uk).

1    30.26  Matthew Bowser (Lincoln)
94   38.16  Paul O'Looney            PB 3m6s
122  39.19  Richard Reeve
126  39.21  Kevin Gooch              PB 8s
152  39.57  Henry Heavisides 
178  40.35  Alison Bennett  3rd F45 
202  41.12  Philip Judd
490  47.09  Caroline Bell
500  47.33  Nick Mellor
528  48.18  Clare Smith              PB 4s
535  48.28  John Marshall
538  48.33  David Cockshott
585  49.36  Colin Lugton
674  52.01  Gaenor Coy
685  52.17  Paul Sugden              PB 16s
707  52.54  Fiona Schneider
728  53.36  Emma O'Looney
742  54.06  Andrew Bennett           PB 14s
869  61.19  Sue Lugton
931 Finishers


Report from Henry Heavisides ... It was a very cold & breezy morning in Dewsbury, nevertheless it's a fast course so we soon got warmed up once the race started. I was quite pleased with my 39:57 chip time (same time as at Ribble Valley a few weeks ago), having not done much running recently due to injury.
2009 Running League results from this and the Splash here.
Alsager 5, Sun 1 Feb
Terry Lonergan reports ... Run this year for the 24th time the ALSAGER 5 has always had a reputation for attracting a high quality field from all over the country, producing very fast times. This year was no different as teams from Belgrave, Bristol, Coventry, plus most of the leading northern clubs again featured in a field of 1056 competing on the traffic free roads of this village midway between Crewe and Stoke. Most aspects of the race were fine, easy parking, showers, t-shirt etc except that for a field of this size the start proved too narrow. Twice in the first 100 metres we were brought to a standstill to avoid fallen runners cowering like unseated jockeys in a steeplechase.
I couldn't quite match the pace of the winner ... 23.35!!. Managed an age group qualifying ranking time. All in all, too short, too fast, too cold, too soon but nevertheless a good tempo session.

279   Terry Lonergan  34.10


Paul adds ... This sets a club V60 record, I believe.
YVAA GP #1, Sun 1 Feb
Jamie H reports ... After Pete's encouragement to try the Yorkshire Vets events I thought I'd give it a whirl, especially as the first event was in Horsforth. A great little event, similar to PECO cross country races, with something for everyone. The course was approximately 5 miles starting in a parklands, and included a fair smattering of muddy tracks and also a fair amount of tarmac. Further events throughout the year see www.yvaa.org for further details. Results:

1 Sean Cotter Leeds City 29.42
2 Paul Stevenson P&B     30.00
3 Jamie Hutchinson       30.12


And in the women's race, Margot Dale was 1st in her category in 50.00
---