Got some Harriers news? Send it to news@ilkleyharriers.org.uk for these pages and the Ilkley Gazette sports report. Thanks!
Ilkley Harriers AGM, Tue 30 Sep
A zippy AGM, with all the Constitution changes approved and a new Committee elected. The new Committee is Andy Wolfenden (Chair), Morgan Williams (Vice Chair), Eddie Winslow (Treasurer), Pete Shields, Dave Wilby, Caroline Wilson (Ebert), Diane Kitchen, Jacqui Weston, Alison Bennett, Christine Matthews, Colin Lugton, Sheena Pickersgill, and Margot Dale. The post of Secretary was unfilled, but subsequently Sue Bickerdike has volunteered, subject to ratification at next week's committeee meeting. There is still one committee place unfilled - anyone interested, contact Andy Wolfenden. Alison Weston continues as Ladies Fell Captain with Dave Wilby taking over for the Men, Diane Kitchen is Ladies XC Captain and Pete Shields leads the men through the mud. In the bar afterwards (always a dangerous place) Jane Bryant was persuaded to take on Ladies Road Captain, but we are still looking for a men's road racing Captain. Welcome to all the new members and thank you to all the retiring members.
Trail des Aiguilles Rouges, Sun 28 Sep
Morgan Williams reports on ... the Trail des Aiguilles Rouges, Chamonix, 58 kms and 4,000 metres.
I was 234 out of 458 in 11 hours and 39 minutes. Amongst others, I was beaten by the remarkable Dawa Sherpa who clocked a scarcely imaginable 6 hours 47 minutes, beating last years's winner, Vincent Delebarre, by 31 minutes!
Thanks to Emma and Steve Barclay for taking some time out of their day to see me stagger past in the later stages of the race. As one of a very small number of Brits, it was immensely cheering to have some support on the way round, even if I was grumpy as hell and didn't show any appreciation for their efforts at the time.
Click here for Morgan's full report on this quite epic experience.
Some photos of the route (but no runners!) here.
RAB Mountain Marathon, 27-28 Sep
From Steve Turland ... Entered my first mountain marathon at the weekend, which was held in the hills around and to the north of Skiddaw/Blencathra. Was a great setting and quite remote (for the Lakes) and also lucky with the weather in near perfect conditions. Course was a score event with 6hrs on day1 and 5hrs on day2 with an hour longer on each day for the Elite class but over the same course. Of the 215 who started all but 28 opted for the slightly shorter course (including me). Took a while to get used to the extra weight of the pack but after an exhausting 6hrs 15 mins (the extra 15 mins cost me 45 points!) I finished day1 in 3rd place overall. Legs were tired on day2, and despite visiting a checkpoint that didn't exist, only lost 1 place and finished the event 4th place overall. Feeling a bit trashed today but thoroughly enjoyed it and will be back for more!!
From new member Sarah Fuller ... I took part in the RAB mountain marathon this weekend - my first race as a member of Ilkley Harriers. This was the second running of this 'dark and white' event and it took place in the area north of Skiddaw and Blencathra in the Lakes. A few hundred competitors enjoyed perfect conditions and a superbly organised event. The format is a traditional mountain marathon score event with a long score (7 hours and 6 hours) for the elite and a medium score (6 hours and 5 hours) for the rest of us. Some competed solo but I ran with a friend from chepstow harriers (ellen hughes). We had a fantastic run the first day enjoying suberb views, easy navigation (thanks to the weather) and some good luck with our route choice. The terrain was testing in places but also some amazing high level running. Everything fell into place on day 1 and we arrived at the overnight camp to find we were in first place in our category, an entirely unexpected result. Pressure was on then for day 2, we had a 30 point lead but had to ensure an error free day and another good route to hold our position. Fortunately the weather remained kind and another enjoyable but slightly more painful run saw us home early and first ladies team with 485 points. To say I was pleased (and suprised!) is the biggest understatement of the year and even more so as the man from RAB produced some great prizes. I dont know if any other harriers took part as I dont really know anyone yet but if they did I hope they enjoyed it as much as I did. This would be a great choice for anyone thinking of doing their first mountain marathon and experts alike. I'll be back next year for sure.
Horsforth 10k, Sun 28 Sep

125	0:44:40	LEGGE, Nicholas	Male 35
222	0:48:23	GIBBONS, Catherine	
300	0:52:36	GIBBONS, Bernadette


Ilkley Tri, Sun 28 Sep
Alison E has sent some photos, here. Results from Dave Wilby:

1.   Jonty Bright - 56.02 (Leeds & Bradford Tri)
10.  Ralph Tench - 1:01:05
11.  Lawrence Basham - 1:01:57
22.  The Doubtfuls (Team) - 1:04:58
25.  Kelly Harrison - 1:05:06 (1st Lady)
27.  Jigsaw (Team) - 1:05:34
49.  Mark Iley - 1:08:46
50.  Stephen Coy - 1:09:01
65.  David Brown - 1.11.44
103. Paul Wood - 1:14:44  (It wasn't me!  LBT must have put someone else in my place!  Paul)
113. Janet Grace - 1.15.47
122. Nigel Tapper - 1.16.41
133. Keith Wood - 1.17.47
150. Tom Crane - 1.19.49
167. Alison Bennett - 1.22.14
188. Sue Bickerdike - 1.24.48
205. Anna Nolan - 1.27.28 


From Ralph Tench ... I was first local male (for the fourth time). Perhaps more interesting, although not a time PB it was the first time in three years I have raced 'clean' i.e. not been pulled up for breaking a triathlon regulation and incurring a time penalty (past offences have been: helmet violation, number violation and nudity. So for me that was a result! It shows even as we get older we can still learn. However it does demonstrate why I stick to the simpler, less rule bound art of running ...
More objectively the day was superb for riding and running with bright clear weather (could indeed have used the lido for the swim). The atmosphere was lively and local participation and involvement was as usually very high - and my son William and friends enjoyed the power of wearing marshal tops and handing out the free energy drinks to finishers on the line.
www.lbt.org.uk
Wycoller Hoof - race and cakes, Sun 28 Sep
From Bob Wightman ... The second running (walking?) of this LDWA event round the trails above Colne, Wycoller and Widdop. Two distances, a 17 mile short loop and the full monty at 26 miles. The planned closure of the road past Widdop reservoir was put back a week so that this event could take place. The organiser had been quite worried that not enough people would turn out.
An 8am start means rising at some unearthly hour. Come 8 o'clock and the event is begun with "well you can set off now if you want, I'll see you later". After nearly two hours we are approaching Widdop road there are two runners well ahead with my group of four next, one of whom is doing the short version . Having climbed over Widdop road, a long traverse gains the track over Gorple Gate, then comes the unknown bit - head south for two miles to Higher Hoof Stones. Fortunately the recent dry weather has eased things but we are still going up to our knees in peat bogs. A quite nasty descent down to a checkpoint at Hurstwood then the sun came out and the three of us managed to miss the next self-clip checkpoint. This takes it out of us and we stagger into the last checkpoint to stock up on food.
The last couple of miles lead easily enough to a steep descent down to Colne Water which caused me to drop off the other two. One final climb and back to the cricket club in 5hrs 59mins and fourth place. The winner had taken 5hrs 22 - a bit slower than the predicted 4hrs!!
The actual distance turned out to be closer to 28 miles than the advertised 26. What was really odd for me was not being in the middle of the pack following loads of people. May even do it again next year now that I know where to go...
Ron Hill's 70th Birthday 5k, Littleborough, Thu 25 Sep
From Terry Lonergan ... It's very rare to be travelling to a race and hear a preview interview on RADIO 5 LIVE. But passing late through Todmorden only 45 minutes before race start at 6.45 on this Thursday night RON HILL was interviewed live from event H.Q. the Falcon Inn in the town centre. The 1969 European Marathon champion and National Cross Country champion (1966 and 1968) inevitably referred to his 44 year training streak and having raced in 100 different countries and said that he thought nearly 600 runners would be turning out to mark his 70th birthday. Runners from all over the north plus a few friends from abroad; ranging from 6 year old Isaac Wilkinson of Clayton (Garry's son) who ran 32.08 to Louise Gilchrist (Valley Striders) who ran 24.58 as a vet 75!
BBC TV were present to film the event; their cameraman choosing to record the start by standing 5 yards in front of the field in the middle of the road! A precarious position with 466 runners approaching head on in a narrow side road. Once onto the main A58 there was some breathing space on this 5k course commonly used by organiser Andy O'Sullivan but to reach Hollingsworth Lake we "bottlenecked" through an underpass and then had to negotiate a set of steps! Mindful of Starbeck there was no way I was going to bound up them! The course climbs up to and around the lake before descending to the finish. All finishers received a mug listing Ron's achievements; a nice souvenir of the evening.
On a personal note I had mixed feelings on the night. Ron and his Bolton club mate, Mike Freary, had hero status as senior Lancashire runners when we were youths in the 60s so it was great to be able to have a quick word with him before the start, shake his hand and wish him well and thankful to be fit and well enough to still compete at a reasonable level alongside athletes over half my age. On the other hand the night served to remind a lot of us senior vets. of our own "maturity" and how a P.B. nowadays only means ... a pint of best!
For the record, Ilkley trail race winner, Steve Vernon, shared first place (with unnamed mates) in 15.27 with Elle Baker (Stockport) first lady in 18.11
99th  Terry Lonergan   20.10    6th M55  
466 Ran


Harrogate Trail Races, Sun 21 Sep
Vince Gibbons reports ... Catherine Gibbons was second lady at the inaugural Harrogate Trail 10k, pipped to top spot by a mere 2 seconds:

17  Catherine Gibbons  45.58
51  Bernadette Gibbons 56.18


Kirkstall Trail Race, Sun 21 Sep
Jamie Hutchinson reports on ... the inaugural Kirkstall trail race, replacing the 10k race. Starting with a loop of the Abbey we then set off up the valley along the road, towpaths to Rodley before turning around for more of the same. A flat course made it a bit of a fast one - I could have done with a few more hills! Tim Midgeley won in 40.12 and I was a bit off the pace finishing in 5th place in 41.12 - 170 people ran on what felt like the last day of Summer!
The Three Shires fell race, Sat 20 Sep
Ian Rowbotham reports ... a still dry day that became warmer and sunny in Little Langdale Lake District made for a memorable run. A day that nearly didn't happen due to a flooded soft field. Parking was moved to a spectacular slate quarry 20 min walk from the start.
A "Lakeland Long Clasic" this race went 1,500 ft straight up Wetherlam along to Swirl How Kirkstone Pass and curved back to the start with two more climbs and steep descent. Navigation on the summits in mist was required in the first half. Then the clouds disappeared and out came the sunshine.
Underfoot the most dangerous spot was a random sharp edged boulder field covered in braken and obviously damp ground that was nothing new in the Lakes. The weather is having many effects. I have not seen so many cuts, bruises and blood after a fell race.
David Tait won a vet 60 prize and Morgan picked up a prize of an exotic box of fruit which we helped him carry back to the car. We were pleased that he resisted the temptation to break into it on the way home as a refusal of such kindness would only have caused offence.
Generous prize giving and full day out, mug and sandwich plus marshall cover, rescue, kit tents and drinks for £6, why are other races so expensive?
If you're tempted to find out more about the area we are so lucky to be in and perhaps race have a word with one of the fell runners. I certainly appreciate it more as a result of the experiences and would be happy to be of assistance.
Heather Dawe adds ... It must have been a wet summer as even Lakeland rocks have aquired a layer of slippy green slime and the ground is more sodden than usual...
The organisers of the Three Shires race pulled off a blinder to overcome the significant car parking issues caused by soggy fields to ensure the 25th anniversary race went ahead. Me and 320 runners were extremely grateful as this is one of the best fell races in the calendar (a personal opinion but one that quite a few people share).
Anyway, the nice weather finally seems to have arrived, it was claggy up top but very pleasant conditions for a fell race.
Morgan Williams, Ian Rowbo, Dave Tait, Sarah and Peter Haines were out and having as much fun in the slidey conditions as me no doubt. Dave got 2nd V60, I got a PB and was 5th lady and Morgan got a big box of fruit.
And from Morgan ... A final hard run out for me before the Trail des Aiguilles Rouges in Chamonix on 28 September. A lovely walk in from Hodge Close Quarry and time to chat with my old Ambleside mates before the start. Steady start with all other Harriers in front of me, but got going between Wetherlam and Swirl How and had a great race between there and Blea Tarn. Nearly killed myself just before the bracken covered boulder section. Sliding head first on my front towards a steep drop was terrifying but then just plain painful (and bloody) after a clump of something allowed me to stop my fall. That slowed me down a bit and the final climb was a bit of a trial. Couldn't catch Heather who was going very strongly but sneaked past Pete Haines coming off the fell. Clocked 2.36 which was a PB by 9 minutes and finished in 100th position out of around 330. Great to see my old chum Selwyn Wright, the main race organiser, finally getting to run the race in its 25th year; biggest cheer of the day for him when he came in. Ian, I have saved the amazingly hard mango for you, but you'll need to get in quick; a wife and 4 children eat an awful lot of fruit!

28   Ian Rowbotham      2.16.23
90   Dave Tait (DPFR)   2.33.24 (2nd MV60)
95   Heather Dawe       2.34.54 (5th lady)
100  Morgan Williams    2.36.02
102  Peter Haines       2.36.33
180  Sarah Haines       2.50.25


In Pendle's Shadow, Sat 20 Sep
From Clare Smith ... Betty and I ventured forth on our own for the first time on an LDWA event, choosing the longer (20 miles) of the two courses as training for the forthcoming OMM. We were blessed with what I think must have been the best weather for weeks and enjoyed a spectacular view from the top of Pendle in the early morning, having set off from Barley with a group of about 30 or so walkers and runners. These events seem to attract a really friendly group of people and we were rarely without someone with whom to discuss the route/the weather etc.
I found it particularly difficult to follow the written description, map read and run all at the same time, especially when also trying to negotiate bogs. (That's the excuse I gave Neil for being slow anyway). However, we came in 4th (Betty was 1st dog) and each received a certificate for our efforts.
I'd be happy to have the company of a fellow runner on another similar event if anyone's game...
Lantern Pike fell race, Sat 20 Sep
From Amanda Newham ... I took part in the Lantern Fell race (5 mile) last saturday. A hot run up onto the hill using trails. the mud was dry and the sun beat down on the 300 competitors. The fastest time being 36 minutes. the down hill section was great and all cheered on entering the Little Hayfield show arena.
Training Changes
Pete's Thursday session will move down from the moor to the grass at ILT&SC, starting 18th September. And the much-loved "circuit training for runners" is back! Starting 15th September. Details on the Training page.
Great Langdale Marathon, and Half Marathon, Sun 14 Sep
From Ewan Welsh ... To continue my return the racing scene I decided to visit the Lakes at the weekend to attempt my first 1/2 marathon in over 4 years. There's no better way to spend some time in the Lakes by running over the beautiful smooth tarmac around Great Langdale. The race itself start and finishes at Great Langdale, following an anti-clockwise direction (it's usually ran in a clockwise direction, they changed it this year), which meant after the first mile you start the long climb out of the valley, that set the pattern for the remainder of the race, you ran up a steep hill for a bit, then ran down a steep hill for a bit and so on, apart from about 7 miles to 10 miles, that was just uphill, I started in a conservative manner, and finished in a conservative manner, only with cramp.
Time was 1.49, substantially slower than previous 1/2's, however out of the 500 runners only 17 were under the 1.30, I was 158th, 24th (of 65) V40. Now I have a baseline for this race I think I may make it an annual event in my races to do annually list.
Enough about me though, Elaine Cossins ran the full marathon (two laps) in 4.15, 46th overall (out of 100) 7th overall female and 4th F40, given the nature of the course and, as I'm led to believe, that was her first marathon, that's an excellent result, not just the time but that fact that there are only 100 runners spread out on the second lap on quiet country lanes with a few handfuls of passers by, wondering why there are some sweaty runners going past with a number on their vests.
Burnsall fell race, Sun 14 Sep
From Steve Weston ... Picking Jacqui and Sam G up after a training run found me at Burnsall for the fell races. !.5 m up and down not my favourite sort of race but why not? Very boggy on the drop after the cairn, I had to laugh as Dave T passed me shouting " what the F*** have I let myself in for here!" Ted Mason and Alastair Dunn are neck and neck as the championship enters its final stage.
1 Ian Holmes 14.10 Bingley
2 Ted Mason 14.14 Wharfedale
3 Alastair Dunn 14.21 Helm Hill
16 Iain Gibbons 16.48 (Wharfedale)
31 Dave Cummings 19.08
38 Dave Tait 20.28 (Dark Peak)
39 Steve Weston 20.56

Good performance from Jenny Dybeck who was 4th LU17. Full results on bofra.co.uk
Wetherby 10k, Sun 14 Sep
From Stephen Coy ... The Wetherby 10k is based at the racecourse with around a third of the course trail and the rest road and is part of the Black Sheep Series. It is not the fastest course but it is certainly not the slowest with only a few undulations to contend with.
Being at the racecourse means it is easy to park and there is plenty of entertainment to keep the children happy. The event starts with the mini marathon which anyone can do and our eldest, Dominic, decided he wanted to give it a go. The mini marathon was a 1.8 mile road/trail/xc with all sorts of ages taking part. Dominic managed a fantastic time of 16:11 (9 min miling for a 6 year old!!) which was just outside the top 50 in a field of 127. He was buzzing afterwards and he is definitely one to watch for the future.
So after that performance we had to deliver in the main event and despite it being quite hot (not helped by the 2pm start) we both managed to get a PB despite various niggles over the past few weeks (and months ... in fact all year for me).
The only other Harriers there were Catherine and Bernie G with Bernie hoping to get a last minute entry which unfortunately was not possible as the 600 limit had been hit a week earlier. Hope to see more Harriers there next year.


1       32.06 Gary Dunn
40      39.15 Stephen Coy       PB
145     46.22 Catherine Gibbons
265     51.37 Gaenor Coy        PB

Robin Hood Half Marathon, Sun 14 Sep
New Ilkley Harriers, Emma and Paul O'Looney, completed the Robin Hood Marathon in Nottingham on Sunday 14th September. This was Emma's first half-marathon, and as she has only been running since March this year, she put in a fantastic effort to finish in a tad over two hours in 2:00:36, just ahead of Paul.
Although not the best course for getting a PB, it is a scenic route through closed roads and paths through the nicest parts of Nottingham. It is well supported and organised, and today even blessed by some sunshine!
Mileta 10k Spenborough, Sun 14 Sep
From Henry Heavisides ... This race was quite hilly, with a tough 2 mile uphill section, followed by a sharp descent including a muddy track, starting & finishing on the running track. I think that I was the only Ilkley Harrier taking part. This was my first race for a couple of months following injury & holidays, so I was reasonably pleased with my time of 42.24, 29th lace and 3rd M50. The race was also the Yorkshire Vets 10k champs. Every runner received a fleece hat & scarf at the finish, fortunately it was quite mild, so they weren't required on the day.
Settle Loop Tough Trail 9.5m, 1,500ft, Sun 14 Sep
Steve Turland reports ... Tom wins again!! Tom Adams continues his impressive form winning the inaugural Settle Loop trail race. A well organised event over fast and very runnable terrain, with a good turnout of over 70 runners. Likely to become a very popular race in years to come with its attraction to both road and fell runners alike. Following his PB at last weeks Leeds half, Justin Phillips had another great run, turning in a fast time. Results were:

1   Tom Adams       1:00:46
7   Steve Turland   1:05:53
12  Justin Phillips 1:09:54
42  Alison Weston   1:19:46
49  Bob Wightman    1:21:20


Tom's winning streak comes just at the right time for the forthcoming fell relays - Ian Hodgson (Sun 5th Oct - Lakes) and British Fell Relays (Sun 19th Oct - North Wales). All you fast boys/vets (you know who you are!), make sure you reply to Bob Hamilton. If we can get all of our best runners turning out we should have great teams in both the Open and the Vets.
Yorkshireman, Sun 14 Sep
Sarah Jarvis reports... having raced a fair bit on the roads in recent months we thought we'd give the off-road scene a go this weekend and try to enjoy those views that everyone raves about. This is the longest 'half marathon' I've ever done; not far off 15 miles by the Garmins bleeping around me and definitely the muddiest. The weather was sunny and cool, so near perfect conditions for this lollipop route from Howarth, taking in moorland and some lovely views I hear; if you've perfected the art of bog-trotting and looking where you're going, that is.
It was great to see the club so well represented with some fine runs despite a few route mishaps following some mischievous signage in the final stage of the race. I spotted 10 other Harriers (including Andrew Wilson who strangely isn't appearing in the initial results) in the "Half" amongst the 251 finishers (in between working my way through the mountains of home baked cakes awaiting us at the finish). This was a really well organised race and a good turnout for the club. 4 Harriers finished in the first 12 and our Ladies enjoyed a plethora of prizes; finishing 1-2-3 and therefore also scooping the team prize.

Half
1   1:38:14 Karl Gray - Calder Valley 
6   1:52:32 Sarah Jarvis  (1st Lady)
7   1:53:07 Ben Stevens
11  1:57:05 Jonathan Sinclair
12  1:58:16 Marc Teasey
28  2:07:14 Sally Malir (2nd Lady, 1st LV40)
33  2:07:57 Duncan Cooper
43  2:13:39 Amanda Oddie (3rd lady, 2nd LV40)
90  2:30:43 Nigel Tapper
93  2:31:44 Sue Bickerdike
181 3:00:47 Sue Stevens
	
Full Solo Marathon
1   3:24:10	Richard Pattinson - Pudsey and Bramley)
105 6:06:33	Amanda Parnaby


Full results on www.kcac.co.uk...
Read Sue's report here.
Hodder Valley Show Race, Sat 13 Sep
Jim Ryder reports ... Norman Bush and I completed the Hodder Valley Show Race in Bowland on Saturday - 5m, 1650ft. A great little race at a really good country show. Worth the trip. Two tough climbs with boggy fields in between - lovely. Results not out yet, but Jim was about 17th and Norman well up.
Great Westmorland Trail Race, Sat 13 Sep
Lawrence Basham reports ... this was the inaugral running of the event, organised by Howgill Harriers. For the majority of the race it was wide grassy trails that took us through some spectacular scenery. Every competitor received sandwiches, cakes and biscuits in the village hall afterwards. The organiser requests we all return next year with only one friend as they don't want this one to become too popular!
Race won by Charlie Pass (Wesham) 46.22, 6th Lawrence Basham 50.34, 102 finished.
Helvellyn Triathlon, Sun 7 Sep
Dave Wilby reports ... I spotted 4 Harriers at this one, Jamie Hutchinson & Heather Dawe returning after doing battle with the course in previous years, myself & Kelly Harrison making our debuts. Despite doing other triathlons through the summer, this was the one which myself & Kelly had been most looking forward to through the year, and excitement was high on the start line. Poor weather for the previous few days meant that despite the good conditions on the day, the swim course had been shortened slightly due to the low water temperature in Ullswater, and the run would turn around at Red Tarn rather than visiting the summit of Helvellyn. In the event, the changes did little to detract from what is a great course, attracting a lot of spectators as well as 500+ entrants.
The swim was a fairly 'out and back' affair but a decent swell made it interesting, and let's face it, swims don't get much more scenic than Ullswater. The bike was 38 miles over Matterdale End, down the A66 and along past Thirlmere and then from Ambleside up the Struggle to Kirkstone Pass and back down to Glenridding. The top of the Struggle was lined with spectators and provided a fantastic atmosphere, almost like a mini Tour de France stage. The revised run was about 7 miles up to the Hole in the Wall below Striding Edge, along to Red Tarn and then back down the main track in to Glenridding. For anyone who thinks it sounds interesting, I can't recommend it highly enough and entries for next year open in November!
www.trihard.co.uk web site
Paddy Hagan adds ... Wow! Just seen Dave Wilby's entry. How on earth do they do it? The shortened course removed the pressure of meeting my target time of 5 hrs (vs 5:08 last year and 5:13 before that) and I came in in 4:19:01 (259th out of 407 listed). However, assuming the equivalent ranking last year I would have come in in 4 hrs 59 mins and 59 seconds, which is good enough for me and excellent news as it means I never ever ever have to swim in Ullswater again. Seriously, it is a great event and the organisers did well to run it in tricky conditions. Although the shorter run didn't play to the fell runners in some respects, the descent was a little harder and this seemed to fox some of the triathlon purists.

23  3:30:41  Dave Wilby
31  3:34:11  Jamie Hutchinson
81  3:50:24  Heather Dawe (2nd lady)
163 4:05:09  Kelly Harrison (8th lady)
259 4:19:01  Paddy Hagan

Bradley fell race, Sun 7 Sep
Despite the wet conditions the fell races went ahead with record fields. Reports and more on www.bofra.co.uk

1   25.41  Tom Adams
28  34.07  Catherine Gibbons  2nd lady
38  36.36  Bob Wightman
48  40.44  Bernie Gibbons

U17 race
13  32.36  Patrick Gibbons
14  32.33  Fiona Jordan

U12
18   8.42  James Pickering
22   8.58  Sarah Pickering  3rd girl
32  11.25  Anna Pickering

U9
2    3.11  Charles Smith

Middlesex and Open 10k, Sun 7 Sep
From Marc Teasey... A weekend in London gave us the chance to have a go at a fast, flat 10k in Victoria Park, Hackney. As a County Championships race we knew it would be a competitive field and hoped this would push us to good performances - we weren't disappointed. Sarah continued her blistering form and put some southern noses out of joint with her third race win in a row, with yet another big PB to add to her growing list this year, and with a time that also knocks 30 seconds off the Ilkley Ladies' 10k record that has stood for over 6 years. I also felt strong on this very pleasant 3-lapper and, after a couple of months of mildly disappointing performances, was delighted with a time that was only a few seconds outside my own PB. 242 ran.

(1.  31.37   Richard Hope - Victoria Park Harriers and Tower Hamlets AC)
27.  36.34   Sarah Jarvis (1st Lady, PB, club record)  		
42.  38.06   Marc Teasey (4th V40)

Rufford 10k, Sun 7 Sep
From Terry Lonergan .. Having missed the Fleetwood Half due to a gardening injury (!) I was quite keen to fit in a race this weekend. It's always tempting to "leave it another week" maintaining training levels, but doing an event, whether 100% or not, to surely the best way to evaluate how your training has gone since last time out. If we wait until we feel 100% we would never race at all!
The majority of members are well aware of John Schofield's site, www.ukresults.net, as a good source of race information but this RUFFORD 10K in West Lancashire I actually sourced on a rival site, www.race-results.co.uk. Featuring a flat, potentially fast course on quite country lanes it sounded like a good "small and friendly" event.
So it proved. Easy to park, easy to enter on the day (£6) with speedily printed results and a very quick prize presentation. (But those who only race so they can enjoy the tea and cakes etc after ... please note ... no refreshments available in the school!). The only draw back of small fields being that runners can become isolated and end up running a time trial. At no point was I in with a group moving at the pace required. A pace made more difficult to monitor as mile markings were still being used in this metric event! The race organisers have promised they will consider going updating to metric in 2009!
The evaluation? Well, 6 recent track sessions over at Nelson saw a better pace (6.41) for this 10k today than the Arncliffe 4 last month but disappointingly a finishing time 30 seconds outside the M55 Athletics Data Standard ... see www.athleticsdata.com. Consolation was to finish 1st M55 in what may well be the last 10k (114th) before moving soon up to M60.
Paul Sankey of Liverpool R.C. won the event in a modest time of 33.12. Vicky Bryant of Wigan was 1st lady in 39.26
42nd  41.30  Terry Lonergan (1st  M55
83 Ran

Leeds Half, Sun 7 Sep
From Pete Bedwell ... quick report from the Leeds Half, spotted a couple of Harriers in the crowd which was quite a big crowd to be honest but run round on my own. Was aiming for 1.45-1.50 as a build up to the Abingdon marathon in October so was quite pleased with 1.45.03 on what is a fairly undulating half marathon. I've only ever run faster at the pancake flat Brass Monkey and was only 2.22 off a new PB so was happy with that. Feels like it's all uphill for the first 6-7 miles but you do have the bonus of a few downhill bits to make up for it. Didn't seem to have the overcrowding that I experienced last year and the water stations and organisation seemed spot on.
Was happy with the fact my legs felt pretty comfortable all the way round, sub 8 min miling for the last 3 miles along Kirkstall Road and even managed a bit of a sprint finish to pick off half a dozen runners at the end. My Garmin reckoned I'd done 6.30 min miling for the last 0.11 miles and I could have easily carried on for a bit further. Probably means I didn't try hard enough but I was only ever going to treat it as a build up to Abinbgdon so hopefully may be reporting a new PB to Sue in October.
No doubt won't get many League points as there are too many elite runners at the sharp end but at least it'll give me a few more.
Results from Pete Bedwell ...

1    1.09.14  Ian Fisher
83   1.26.31  Justin Phillips
101  1.27.30  David Brown
104  1.27.41  Steven Weston 
149  1.30.40  Kevin Gooch  4th MV55
200  1.33.24  Sean Murphy
335  1.37.26  Paul Stephens 
646  1.44.16  Dave Taylor 
698  1.45.04  Pete Bedwell
874  1.48.02  Rob Willis
1051 1.51.16  Karen Lambe
1252 1.54.47  Sheena Pickersgill
1408 1.57.21  Bridget Doherty 
1442 1.57.51  Emma Payne
1466 1.58.12  Colin Lugton
1521 1.59.02  Ian Balfour 
1882 2.05.46  David Cowyn
2042 2.09.23  Janet Bairstow
2161 2.12.09  Colette Jones
Total finishers 2782


Steve Weston adds ... Despite the forecast and the pre-race shower it turned out to be good day for the Leeds Half. It was muggy at the start but by the time the race had got to the ring road the sun had come out and it had warmed up. I was glad I decided to wear just my vest and the wet sponges were very welcome for the second half of the race! Unfortunately the water ran out leaving runners with Gatorade .... which is not everbod's preference .... something the organisers will have to correct next year. The 5000+ runners more than vindicated the council's decision (after some prompting) to reinstate the race after it was cancelled earlier in the year.
Full results on www.racelive.co.uk.
Ilkley Harriers Running League update here.
WMMR 2008, Sat 6 Sep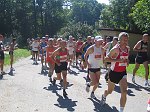 Congratulations to Geoff Howard, 5th V60 and part of the Gold medal winning English team at the World Masters Mountain Running Championships! Alison Eagle was 6th W45 and first counter in the English team that came second to the Czechs in the W45 race, Dave Tait 14th V60, Eddie Irving 31st M50, Bob Hamilton 52nd M50, ...
Geoff writes ... Running experience apart, the WMMR was as much about what went on "off the pitch" as on it. This included the hazards of driving through the Prague rush hour and then 200k mostly in the dark to the remote rural east of the Czech Republic (Kralicky, population 290)in anything from four to seven hours depending upon whether your driver: ignored road closure signs; understood any road signs; or fancied a diversion into Poland. The railwayman who took the safe navigational option of going by train realised that he had faired no better when he noticed that the Kralicky he had arrived at was in the middle of a plain without a mountain in sight.
Neither was arrival at a hotel any guarantee of immunity from bizarre experiences whether it be: "no separate room for the lady"; being locked out and having to sleep on the floor of another hotel; being locked in and having to climb out of the widow in order to leave early enough to catch a plane home; adapting to meal waiting times of up to two hours; or "get you home" buses that stopped running hours before the official post-race entertainment finished (tap dancers, clowning gymnasts, a transvestite band, a Czech Elvis - you name it).
However, overridingly, it was inspiring and humbling to witness just how magnificently an isolated valley community (think of Littondale) managed to put on a event to IAAF standards over 10k of rugged mountainside for 1,236 runners plus friends etc. (including a plethora of backup activities) with such efficiency, good humour and courtesy. The courses were generally regarded as good but very challenging especially as the races were run under a blistering midday sun at 30+C - (but to help us feel at home it threw it down on the last evening). A tough act for Croatia to follow next year.
Vitruvian Triathlon, Rutland Water, Sat 6 Sep
Janet Grace reports ... This was my first outing at a half-ironman event (1900m swim, 85km bike and 21km run) and the main focus of my first triathlon season. The swim was two laps in Rutland Water - luckily the weather was good and there was only a mild swell. Then on to the bike - training in the Dales was more than enough preparation for the infamous "Rutland Ripple", but the enthusiastic crowds at the top were still very welcome. I had a terrible run - don't know if this was because I'd swallowed too much lake water or whether I just overdid it on the bike. But overall I was very pleased with my finish time of 6 hours 14 minutes. The Vitruvian is an enjoyable, well-organised event - and I definitely intend to return next year to try to improve on my time. My switch to triathlon was prompted by an injury, but it's a great challenge and I'd recommend it to anyone ... although I am looking forward to getting back down to the club on Tuesdays rather than swimming round a gravel pit in Otley!
Ben Nevis, Sat 6 Sep
Stephen Turland reports ... on Ben Nevis, 10m, 4400ft
I first climbed Ben Nevis as a child, and remember at the time finding it unbelievable that people actually raced up and down this mountain. So here I was, several years later, huddled on the start line about to do the very same. The bagpipers stopped, all went quiet and 450 runners set off up the Ben. What a great occasion.
The first mile was fast and flat along the road to get to the climb, and then it was up, up and up some more and then after that, some more up. Finally reached the summit in 1hr17, but the best was to come. A fast, hair-raising descent across loose boulders, scree and more. I picked up quite a few places on the way down and finished 64th in 1hr 55.
This year's race had the added edge of being one of the Sky Runner World Series so also had a few international athletes (with long socks and odd haircuts). Race was won by Agusti Roc (Spain) who narrowly beat Rob Jebb on the final run in. Course record was never under threat which is an unbelievable 1hr 25 set in 1984. Ladies race won by Angela Mudge.
I was the only Harrier at this year's race but entries for next year open in January. Will send a reminder nearer the time.
Ilkley Incline, Wed 3 Sep
We had a record turnout of 71 runners at this year's race, including 30 Harriers. There was a quality field, but no records broken. Ilkley's men showed strength in depth to take the team prize (4,6,9,12) with a big improvement by Tom Adams; and the ladies won the team prize easily, led in by U18 Jenny Dybeck who improved on last year's result by nearly a minute, to take the prize marrow for 1st lady overall. Thanks to Geoff Howard and his many helpers on the night. Full results and photos on the Incline page.
There was also a record field, of 18 teams, in the Junior Sprint Relays that preceded the Incline. More on these in the Junior Pages.
Runner of the Month for August
Ilkley Harriers Runner of the Month for August is Tom Adams for race results. Also nominated were Sarah Jarvis, Holly Williamson and Sheena Pickersgill. Well done to all!
Alice's Run, Sun 31 Aug
Steve Weston reports ... A misty Calder Valley greeted the runners and walkers for the 3rd Alices' run. Alices run is a 10K run in aid of Epilepsy action in memory of a placement worker who died in 2005. The race itself runs along (and up and down) the Calder Valley from Mytholmroyd to Hebden Bridge and back. This was billed on the RW website as a non-hilly run but post race analysis revealed there to be more than 1300 ft of climbing! Almost inevitably all hopes of a sub -40 PB were dashed; I came in 11th at 41.38 the winner came in at 36.39 (but I don't know who it was). An interesting race over a challenging course that I would recommend - unless you wanted to do a PB. Full results at www.epilepsy.org.uk/involved/alicesrun.html
Staveley Stampede, Sun 31 Aug
From Stephen Coy ... the village of Staveley, just North of Knaresborough, played host to the inaugural 10 mile road/trail race on organised by the musttriharder team.
Both Gaenor and I decided it would be a good warm up for the Great North Run in a month's time. Despite a few niggles we were ready to go and the civilised 11am start certainly helped. However, within the first few hundred metres a (obviously sleepy or stupid) marshal sent the whole field the wrong direction and following quick thinking by the organisers we did an extra loop to get us back on track.
However this was unknown to the majority of the field and from the moment I hit the 1 mile marker in 15 minutes I thought something was wrong and assumed they had the markers in the wrong position, however that was never the case and I and the rest of the field plodded on passing the mile markers wondering what had happened and when the end was going to arrive.
Mentally this was the toughest run I had done as it turned out we had done an extra 1.4 miles making it 11.4 miler, throw in me rolling over on my recently recovered ankle at about the 4 mile mark whilst going through fields plus a marshal (we think the same one who sent everyone in the wrong direction) who stopped Gaenor to allow traffic to pass and another stop for an out of control marshal's dog she had an even more interesting day. However, with a children's fun run and a BBQ and cakes at the end it was a good day out and recommended if they sort out the marshals for next year.
At 11.4 miles it is a PB everyone is unlikely to break in a hurry.
Harriers wise we saw one other, John, in the field of 150, results below ...

1    66:11   Nigel Thompson, Lytham St. Annes
10   78:14   Stephen Coy
50   92:06   John Coates
107 108:02   Gaenor Coy

Dufton Fell Race, 5m/1200ft, Sat 30 Aug
From Dave Wilby ... The village of Dufton in the North Pennines played host to the final round of the British & English fell running championships on Saturday. A new course conjured up especially for the championships, it represented something slightly different from the usual up and down blast of the shorter races, and was a very enjoyable course. An initial 'lap of the field' followed by a 'stream' crossing and then out across fields gradually climbing to the shoulder of Dufton Pike, a loop on good tracks around the back of the Pike and then a sharp ascent to the summit and descent followed by a re-tracing of steps across the initial fields.
The unique 'benefit' of employing kids as marshalls was demonstrated for the races, as the initial stream crossing was turned in to something resembling the Krypton Factor due to the homemade dams put in place downstream.
Not too many Red & Green vests out for this one but Alison Eagle put in a strong performance to claim individual championship points.

Ladies:
1. Natalie White (Bingley) - 35:56
25. Alison Eagle - 41:28 (4th FV45)
35. Kelly Harrison - 43:14
46. Pange Srivastava - 45:02 (3rd FV40)

Men:
1. John Heneghan (P&B) - 28:55
34. Graham Pearce (P&B) - 32:55
57. Dave Wilby - 34:50
91. Jim Ryder - 37:22
121. Dave Tait (Dark Peak) - 39:23 (3rd V60)
150. Morgan Williams - 42:27 

Pendleton fell race, Sat 30 Aug
Lawrence Basham was 26th in 42.27 over 5 miles 1500', race won by T Addison 36.43
Blackshaw Head Fete Fell Race, Sat 30 Aug
A last minute decision to race this weekend resulted in a trip to Hebden Bridge. Up on the tops over looking Stoodley pike was a classic small Pennine village show at Blackshaw Head. The show field was water logged. Burgers and sausages were being cooked in the grave yard next to the produce tent. Race registration was moved due to fields being too wet into a kindly persons home. The double garage served well as a race base and facilities. How generous, thanks for clearly all the hard work that had gone in. An undulating route through field and lanes and open moorland saw a competative race. Especially, when the first ten which I was in, took a large detour to explore more of the moor than was necessary. A true test of temperament ensued as positions between first and ten covered only a minute or so. The result were posted quickly. Sticky labels rule. On them this was the first race that all entires were marked as being NOT LOCAL in capitals as well as local!
RESULTS:

1  43.04  Greg Elwell, Halifax Harriers
6  43.59  Ian Rowbotham

Nell Bank Win Lottery, Sat 30 Aug
Congratulations to our friends at the Nell Bank Centre on Denton Rd. who won a nice lottery award last night. And thankyou to all the Harriers who helped them to achieve that by voting! This is a great local cause: as well as providing outdoor courses for many local school children, the Centre has been very supportive of Ilkley Harriers; we have used it as the venue for WYXC and Sport Direct XC senior races, and we use it several times a year for junior XC activities.
Reeth show, Wed 27 Aug
We see from www.bofra.co.uk that Jennny Dybeck was 3rd U17 lady in 20.21, and Odin Hargreaves 18th U12 in 11.26
Kilnsey Crag Race, Tue 26 Aug
Val Kerr reports ... There is only one word to describe the scene at Kilnsey Show on Tuesday - clarty. I have never seen so much mud in one place in my life. The best place to be was up on the fell where conditions were slippery but relatively firm underfoot. For many years I have stood and watched other runners tackle the Kilnsey Crag race and this year, with the confidence of Pete's Thursday night sessions under my belt, I decided it was now or never and I'd give it a go. There were only six ladies in the race and before we'd even left the showground most of us were relatively near the back of the field. Through the stream, up across the very slippy scree slope, and a power walk up the fell found me on the top, overtaking several male competitors on the way up, with just the downhill section to go. This was more tricky as it was considerably treacherous in places, particularly down the chimney where several fell rescue marshalls were stationed in strategic places to pick up runners as they lost their footing and slid ungainly downhill. The run into the showground was easy after that, particularly as bales of straw had been laid down over the mud to provide more firm footing for the runners leaving and entering the showground. Having counted the female competitors before the race I was convinced that I was third lady only to find that I had miscounted and was actually fourth. Nevertheless, I thoroughly enjoyed the race and now wish that I had done it years ago. Thanks Pete for giving me the confidence to try these fell races, I am starting to get hooked!
Results from www.bofra.co.uk:
26 11.33 Norman Bush
38 13.08 Dave Tait
41 14.18 Val Kerr
56 ran

U17 girls
1  12.51 Fiona Jordan

U14 boys
14  Odin Hargreaves
Hebden Sports fell race, Mon 25 Aug
Diane Haggar reports ... A number of Harriers turned out for what is always a delightful family day out at Hebden. Unfortunately the fell races were delayed due to serious accident involving a young girl in the wheelbarrow race. When the fell events got going the drizzle started and this clearly threw the results system into a soggy chaos (please check out the organisers' results on the BOFRA site and you'll see what I mean!). Tom Adams continued the impressive form he showed at Burnall two days earlier, to WIN the race. Dave Wilby was 9th and Kelly Harrison 3rd lady (although the results show otherwise). In the U14 boys Sam Haggar was 5th and Odin Hargreaves 9th.
Fleetwood Half Marathon, Sun 24 August
From Marc Teasey... A tale of mixed fortunes, after Sarah persuaded me to have a go at my first half-marathon AND to return to the Lancashire coast, scene of two difficult race experiences already for me this year thanks to the adverse elements. Sure enough, the coastal wind (which I now formally title 'the Dementor') was lying in wait again and it relentlessly sucked the life out of my legs with at least 7 miles of the course into the headwind and on punishing concrete sea-front pavement. I faded badly in the second half and hopes of a sub-85 minute debut disappeared. However, the wind was pretty indiscriminate, which meant that others suffered as well and so I still finished 22nd in a field of well over 300. Nevertheless, that is DEFINITELY it now - I'm never racing again in Fleetwood, Blackpool, Morecambe or St. Annes!
In contrast, the conditions and course made Sarah's run all the more remarkable and I'll struggle to do justice to her superb performance today in this brief report. She knocked well over 5 minutes off her PB set earlier this year and in doing so finished first Lady by nearly 3 minutes in a strong field, breaking the long-standing club record by 42 seconds and producing a time that is the fastest half-marathon for the year by any woman or man in the club and that puts her 14th in the UK rankings for her age group. Not only that but she finished an impressive 8th overall on the day. The Lancashire ladies are getting sick of the sight of her.

(1. Steve Littler - Wesham Road Runners 71.19)
8. Sarah Jarvis  		81.08 (1st Lady, club record, PB)
22.  Marc Teasey 		86.05 

Burnsall 10, Sat 23 Aug

1    53.26  Ian Fisher, Otley AC
18   65.05  Nick Richardson
39   68.36  Mark Iley
45   70.13  Kevin Gooch
51   71.02  Neil Chapman
60   73.57  Pete Shields
62   74.06  Duncan Cooper (League update later)
64   74.30  Alison Bennett
79   77.56  Diane Haggar 
81   78.41  Nigel Tapper
83   78.53  Keith Wood
84   78.58  Kay Pearce
101  84.48  Val Kerr
106  86.12  Sue Bickerdike
112  89.59  Emma Payne
114  93.16  Greg Wright
5th Men's Team, 2nd Ladies' Team

After this race, Diane has kept her lead in the Harriers League, whilst Pete's double act means that he is still King of the road!
Read Sue's epic report here.
Burnsall Feast fell race, Sat 23 Aug

4   15.30  Tom Adams
12  16.44  Jamie Hutchinson
36  19.03  Bob Hamilton
42  19.40  Richard Joel
45  19.52  Justin Phillips
83  22.51  Ewan Welsh
87  23.31  Pete Shields
103 28.11  Andrew Bennett
4th team

Some great photos from the Woodentops here.
Malham fell race, Sat 23 Aug
From Steve Weston ...I was hoping to be the first Harrier home but unfortunately Ian Rowbotham turned up to scupper those plans! Harry Coates of Skipton AC was first male and I came 14th in 22.53.......which was a better performance than Twiglet and Princess Fiona in the sheepshowing (5 and 6 out of 6!).
Ian Rowbotham adds ... A projected 3 pm start sailed by as the various junior age groups had a race out and back over increasing distances. Our warm up kept geting longer untill at 4:30 we were set off from the show ring. Only 1.5 hrs warm up which should be long enough for Pete! A steam crossing step climb and dip back down set the scene for the last climb. Then back the same way with steep grassy descents, stream crossing and bail of hay climb leading to a show ring finish 8th. Note for next year there is a entertaining auction of cakes, biscuits etc from the produce tent. Regrets the huge green dinosaur was not picked up for our children for £1.40. Note also a 4 hour mountain bike O by Chevin folk earlier in the day from the show which looked corking. Whats next?
Great Wilderness Challenge, Sat 23 Aug
Graham Arthur reports ... This was the third time I have participated in this 25-mile, 3000' run through the spectacular "Great Wilderness" from Dundonnel to Poolewe in the NW Highlands. It is mainly on good hill tracks, with just 3 miles of rough going, so times are relatively quick. Results are at GWC results; I was first V60 (and V50), 14th out of 46 starters. The winner was Alec Keith, who sacrificed the Ochil 2000s, and is now third in the Scottish Longs champs. Claire Gordon, Glenshee winner, was first lady.
The field is limited to about fifty. Any previous participant who has raised at least £125 sponsorship gets first shout in the entry list. When the event was started, about 20 years ago, it quickly became too popular to handle, so the only reference to it you see nowadays is in the SHR calendar. Other distances are available!
I know everyone is "charitied out" these days, but just in case there is anyone in Ilkley Harriers who would like to donate to the good causes for which this event was initially created – Highland Hospice and a small number of childrens' cancer and other charities, I would be most appreciative. Last year the event raised £204,000, all of which goes to the recipients. There are no middle men. (Just middle runners).
1st Esholt Bash Trail Race, Wed 20 Aug
Jamie Hutchinson reports ... Skyrac organised the inaugural Esholt Bash 10K Trail Race. The race, which was based on a two lap circuit of Esholt Woods, was only conceived a month or so ago and so little could be done in the way of publicity but local runners turned out in force despite the gloomy, drizzly, August evening weather.
A total of 47 runners finished the course which, with its combination of track, mud and tree roots, is deceptively difficult.
A great little race with a bit of everything !

1   Jamie Hutchinson (Ilkley) 39.00
2   Quentin Lewis (Baildon) 40.32
3   Paul Mitchel V40 (Bingley) 41.16
4   Jason Hemsley (Wharfedale) 41.46
5   Shane Green V40 (P&B) 42.16
6   Jim Ryder V40 (Ilkley) 42.20
14  Dave Tait V60 (Dark Peak) 48.02
36  Alison Stretton V40 (Ilkley) 59.12
Allerthorpe Triathlon, Sun 17 Aug
Dave Wilby reports ... Kelly Harrison and myself ventured over to Allerthorpe nr York on Sunday to take on our 2nd Olympic distance triathlon (1500m swim, 40k bike, 10k run). We thought we might have to do battle with the weather as well as the course, but as it turned out the gods were smiling on us and the race took place in calm and at times sunny conditions, perfect for racing.
The swim was a 2 lap affair with a short 10 metre run between laps, the bike was a pancake flat tour around quiet country lanes, and the run was largely along the canal towpath, in fact, I think the hilliest part of the course may have been the clambering in and out of the lake between laps!!
Overall a great event, very well organised, pleasant scenery in relatively traffic free surroundings, and a cracking bacon butty afterwards at the catering van, what more could you want?
Final times were:

1. Jim Creswell (winner) 19:56 swim, 58:34 bike, 39:51 run, 1:58:21 overall
15. Caroline Graham-Browne (1st lady) 21:33 swim, 1:05:10 bike, 44:28 run, 2:11:11 overall
36. Dave Wilby 26:14 swim, 1:10:26 bike, 41:55 run, 2:18:35 overall
65. Kelly Harrison 29:06 swim, 1:10:03 bike, 48:44 run, 2:27:53 overall
140 finishers
Sedbergh Hills, Sun 17 Aug
Geoff Howard reports ... Four harriers ran in the 14m 6,000' Sedbergh Hills fell race. A classic if ever there was one. Some heavy showers but not too long in otherwise good but quite slippy conditions.

1.  Darren Kay Horwich 2. 23.30
27  Dave Tait Dark Peak 2.41.40  (1st v.60)
56  Geoff Howard 2.53.27
92  Heather Dawe 3.03.31 (3rd L)
153 Pange Srivastava 3.32.07
approx 206 ran
Sierre Zinal, Sun 10 Aug
Roy Ruddle reports ... 31km 2200m climb 800m descent. What a fantastic race this is - lots of steep, narrow footpaths (I'd expected the alpine norm of track/road) and absolutely immaculate weather this year. Sierre-Zinal must be one of the truely great mountain races in the world. Due to work, Sebastian and injury I'm not as fit as usual but managed to squeeze into the top half (402nd of 992; in 4:10:15), mainly because I overtook 73 runners on the 700m descent into Zinal, even though I was twice hit by cramp and had to stop for a while to stretch my legs!
Askern 10, Sun 10 Aug
Terry Lonergan spotted these results ...

33   63.09  Jeff Paget  PB   4th M50
188  79.12  Helen Shew  PB
379 ran                             

Jeff reports ... It was quite a competitive field with runners from across the country and local runners competing for the South Yorks Open 10 mile championship and the Yorkshire Veterans 10 mile championship. I came in 33rd out of 379 finishers in a time of 63.09, which was a PB for me, but not quite fast enough to get me in the prizes as I was 4th Vet 50.
Bingley Show Trail Race, Sun 10 Aug
Dan Goodey was 6th in 18.31
Wensleydale Tri, Sun 10 Aug
Jamie Hutchinson reports ... Seemed more like an October day when I arrived at Semer Water for the Wensleydale full cheese tri (1900m swim, 42m bike, 12 mile run)
We were greeted by car park and T1 at the end of Semer water under 6ft of water and waves you could surf on!! Thankfully the race referee and organisers agreed to cut the swim short to 400m. Set started a day of extremes - battled through the 400m swim, taking on a few lungfulls of water and riding the waves. Into T1 (the roadside) and changed into a fleece top (wise move) and then 42m of bike fun - headwinds, driving rain and cool conditions. The course takes in plenty of hills and was a real test. Back in Hawes and T2 and now feeling pretty battered I set off on the 12 mile run, six up Great Shunner and back down again. The first few miles were really hard and needed gels and jelly babies to see me through. After about 3 or 4 miles I started to pick up and felt better, by the time I reached the turn at the summit I knew I'd cracked it and headed down at a good pace. I was ok until I reached a stile, with about a mile to go, and the dreaded cramp !!, put in the last effort to finish in 4 hours 27 mins 58 seconds.
By virtue of the leaders (top three or four) going the wrong way on the bike my effort put me in third in the individual standings out of about 90. The event was won by M Cain in 4.11.19, 2nd G Huxley in 4.25.04.
Next stop Helvellyn - which will, I'm sure? be easier!?
Glenshee 9, Sun 10 Aug
Graham Arthur reports ... The inaugural Glenshee 9 hill race, AL, 21 miles, 6000 feet. A good turnout, with most of the top Scottish men and ladies appearing – and not even a championship. Won by a very on form Andy Symonds (Carnegie), with the next two places close behind. First lady was Claire Gordon.
It turned out longer and tougher than the plateau-like, rolling east Cairngorm terrain might suggest, with some long gruelling sections of boggy grass and heather. Some vicious quartzite scree appeared for good measure. Times looked to be about the same as Jura or Arrochar, i.e. about a quarter of an hour longer than Borrowdale. Even in clear visibility, navigation was problematic, with one faintly rounded distant 'Munro' (9 of them on the course) looking very much like another. Results will appear on the SHR website in due course, which also has a link to the Scottish Long Classics competition, of which this race is a part. But, first V60 always seems to get a good round of applause in these Scottish longs, which is just faintly embarrassing, as the field is generally rather smaller than you get in the English races. Faces do become more familiar more quickly though, and the atmosphere is as friendly as anywhere. Although the results show only 59 finishing, 72 runners started: a surprisingly high attrition rate.
Arncliffe Fete 4, Sat 9 Aug
Terry Lonergan reports ... the incessant rain throughout the morning (which continued throughout the day) meant it was unlikely that race organizer Mike Critchley, a former international marathon runner, was going to attract a large on the day entry field to this attractive Dales village. Weather aside, despite Arncliffe's location there were few runners from Ilkley, Otley or Bingley. A shame because this is a great low key event covering virtually traffic free country lanes in a very beautiful part of the world at a distance which is within everyone's capabilites. Another advantage, being a Saturday race of only 4 miles means that you can still do a long run on Sunday!
So just 52 toed the line for the 1.30 start with RAF man Lee Athersmith flying along the undulating lanes to Hawkswick and back in 21.15.
I was quite pleased with 6.46 mileing in 21st place (3rd M55). A very welcome return to racing having suffered a setback on the steps of Starbeck back in May.
21 Terry Lonergan 27.05 (3RD M55)
52 RAN
Steel Fell, Wed 6th Aug
FRom Brian Melia ... After rumours at the Borrowdale fell that there would be a mid-week race on Steel Fell and only 3 miles! and since we were on holiday in Portinscale and Dave Wilby and Kelly Harrison were triathlon training in Coniston three Ilkley Harriers turned up at Gavin Blands' field at the bottom of Thirlmere. It was a great event running up to Steel fells' summit at 547m.. The climb up was fine if steep, but there was poor visibility on top and the grass was wet for the descent so care needed to be taken.
A great event with a friendly atomosphere recommended holiday running. Results:

1st Rob Jebb  20.50
13  Dave Wilby     25.13
45  Brian Melia    31.18
54  Kelly Harrison 34.03
Wagon and Horses 10 mile, Sun 3 Aug
Marc Teasey reports ... After a couple of months of shorter, sharper races and with my first ever half-marathon now only a few weeks away (gulp) we needed to find a 10-miler to help build endurance. So it was that Sarah and I made the lovely trip over to Lancaster for a good workout on what times from previous years seemed to suggest was a slowish course. A strong headwind on the way out, humid conditions (and what seems to have been a slightly long course according to both of our Garmins) provided a good test and we were pleased with our runs and positions. Sarah won the Ladies' race by nearly 3 minutes with a new LV35 club record time, while I was delighted to finish 20th overall (out of over 200 runners).
(1   Steve Littler - Wesham Road Runners 53.41)
15  Sarah Jarvis  63.01 (1st Lady, LV35 club record)
20  Marc Teasey   64.18 (4th MV40)


Hellifield Gala races, Sat 2 Aug
Results from Geoff Howard below.

U18 & Senior 3.5m 800'
1  Joe Mercer Skipton 23.46
1  Lady Mary Wilkinson Bingley 26.39
17 Geoff Howard 29.48r (1st v.60)
25 Jenny Dybeck 30.32 (3rd L, 1st u.18 & Yorkshire Champion)
63 ran

u.10
16 Logan Hargreaves-Madhas 6.07
22 ran

u.12 1.5m 300'
19 Odin Hargreavea-Madhas 11.21
25 ran

u.16 3m 600'
15 Fiona Jordan 23.20 (3rd Girl & Yorkshire Champion)

Borrowdale, Sat 2nd Aug
Steve Turland reports ... A field of 461 started the 17m 6,500ft Borrowdale race on Saturday which was an English and British championship counter. Heavy rain beforehand meant that conditions were wet and slippery underfoot, and there was just enough clag to make route finding off the tops a bit more interesting with several runners going astray - even at the sharp end of the race. Dave Wilby led home the harriers contingent with another strong run. Results were:
1      Simon Booth (Borrowdale)     2.49.50
31     Graham Pearce (P&B)          3.22.43
35     Janet McIver (Dark Peak)     3.25.34
61     Dave Wilby                   3.36.03
108    Steve Turland                3.45.37
137    Dave Tait (Dark Peak)        3.58.38
167    Ian Rowbotham                4.06.36
204    Holly Williamson             4.16.42
249    Brian Melia                  4.32.05
266    Alison Weston                4.36.12
285    Graham Arthur                4.38.55

Pendle Pedal, Sat 2 Aug
From Jo Foster ... Not able to do Borrowdale as still injured I focused my attentions on the Pendle Pedal Cyclosportive on Sunday. Advertised as 160 km it was somewhat of a shock when my cycle computer passed the 100 mile mark and we were still climbing yet more hills with the finish nowhere in site! It was a fantastic route taking in the best of the Forest of Bowland and Pendle Hill area and after one very heavy rain shower early on it turned out to be a sunny day with stunning views and some of the hardest hills I've experienced since the Etape du Dales. 170 km later (or 105 miles in old money) I rolled over the finish line in a total time of 8 hours 9 mins and 51 secs. I was 4th lady finsher, although one of them is listed as Jonny! Mike Rhodes was also out and did another superb ride to finish in 7.10.39. (46th fastest time). I would definitely recommend this event to anyone who fancies a long day out in the hills on a bicycle.
Runner of the Month for July
Ilkley Harriers Runner of the Month for July is Kelly Harrison for her outstanding performance in a number of races over the last month. Well done Kelly!
Also nominated for some great results and runs were:
Holly Williamson
Lee Morley
Eddie Winslow
Dave Wilby
Jenny Dybeck
Ryedale Rumble, Sun 27 July
Jamie Hutchinson reports ... a rather hot day for a long bike ride - the Ryedale Rumble - 188km round the NY moors taking in Boltby Bank, Blakey Ridge & Rosedale Chimney. I can conclude that you really did need your granny gear ring - which I failed to fit thinking it can't be that hard !! Boltby bank was nearly impossible at a very much straight and at em hill, no chances for rest unlike Blakey and Rosedale - I wasn't going to be beaten on any of them and took great encouragement from seasoned cyclists pushing uphill and sliding around in their shoes. We had three refuelling stops which were very much needed and came with every high energy food you could need and copious amounts of water. Gold standard was under 7hours 45 - by the 3rd refuel I'd resigned myself to missing this. However another cyclist evenly paced with me suggested we drag each other in and he suggested I could still make gold (great!?). So came the last hour at a pace when everyone else seemed to be free wheeling in - but we did it!! I finished in 7 hours 40 ish - time to spare! A great event - as hard as anything I've done, big climbs and plenty of 'little ones', recommended for all !!
Round Hill, Sun 27 July
Geoff Howard reports these results ...

1  Paul Stevenson P&B 57.48
6  Lee Morley 1.01.50
12 Dave Tait DFR 1.06.04 1st v60
17 Geoff Howard 1.07.55 
24 Mike Baldwin 1.11.50
33 Kelly Harrison 1.16.38 1st Lady
64 Kay Pearce 1.26.42
88 Andrew Bennett 1.50.05
More on www.otleyac.co.uk
Hatfield Sprint Triathlon, Sun 27 July
Tim Ashelford reports ... I did the Hatfield Sprint Tri on sunday. 750m lake swim, 20k bike & 5 k run. I came 4th overall & 2nd V40 in a time of 64 mins 56 seconds. 9.38 swim/37.43 bike & 17.35 run. I was in the lead until the start of the run, then a fellow veteran, Leeds Bradford Tri Club member & ex GB mountain runner Rik Findlow shot past me - . He did 15.28 for the 5 k, including transition and went on to win overall.
Ben Rinnes 5 Tops, Sat 26 July
From Graham Arthur ... Last year, torrential rain and near blizzards; this year, almost unbearable heat. Dry stony downhills induced many heel blisters. In my case, the St Andrew's Ambulance man was very helpful, but said it was beyond their scope, as the skin flapped around. Hope it's better for next weekend (Borrowdale). Out and back, so you pass the leaders on their way down from Ben Rinnes. Very interesting and large adjustments in positions were seen as the heat took its toll on many runners, including the leaders, and huge gaps were wiped out and reversed. It all depended on who could keep going best in the heat.
1   Sean Bolland          2:08:02             Bowland
31  Jacqui Higginbottom   2:46:55             Carnethy (1st lady)
36  Graham Arthur         2:52:31             Ilkley (1st V60)
67 finished
Scottish Long Champs positions can be followed on this link.
The Moors the Merrier, Sat 26 July
From Amanda Parnaby ... Organised by Calderdale LDWA, 26 miles with 4,800 ft of climbing, starting from Mytholmroyd. A tough route and a very hot day, finished in 8hrs 15 mins.
Kentmere Horseshoe, Sun 20 July
Geoff Howard reports ... almost perfect conditions for the Kentmere Horseshoe 11.9m 3,300ft classic fell race. In a field of just under 400, Harriers results in this fourth English Championship counter were:

1   John Henegan  P&B 1.26.17
8   Graham Pearce P&B 1.32.06
61  Steve Turland     1.44.27
65  Dave Wilby        1.45.13
67  Lee Morley        1.45.20
110 Dave Tait Dk Peak 1.51.13
144 Geoff Howard      1.56.12
186 Emma Barclay      2.00.38
202 Holly Williamson  2.02.16
210 Brian Melia       2.03.47
227 Sally Malir       2.05.51
262 Alison Weston     2.10.49
279 Kelly Harrison    2.12.52
Dave Wilby adds ... It was a close run thing for the honour of being first Ilkley vest back in this classic Lakeland Horseshoe race, which was run in excellent conditions. In the end it was Steve Turland who took the win, showing myself and Lee a clean pair of heels on the final soggy descent to come in almost a minute clear, and I think claim a pb by about 3 minutes. Special mention also to Holly who stormed round to collect her share of championship points, and show that those Mountain Marathons are really paying off.
Lochcarron Highland Games, Sat 19 July
From Graham Arthur ... I was 1st veteran in 26:10, the winner was local lad Andrew Liston (a member of Fife AC) in 19:30 only 15 seconds behind Colin Donelly's 1992 record.
A Foot in Two Dales, Sat 19 July
Eddie Winslow reports on another event from the ultra end of the Harriers distance range...
Neil Smith and I went out for another long run this weekend, covering a mere 50 miles in the "A foot in two dales" ultra. It's amazing how quickly your concept of distance changes. I did my first 50 miler in December and was quite nervous about it. After four ultras since (one of them a 100 miler in May), 50 miles now just seems like a long day out.
Starting from Harmby in Wensleydale, this event goes to Castle Bolton, over into Swaledale, up to Muker then over Great Shunner Fell, before returning down Wensleydale.
This event didn't have a sting in the tail. Instead the sting was all in the first half mile where our bare legs were sent down a narrow, nettle lined footpath. After that it was a pleasant mix of footpaths and country roads. The threat of very bad weather never quite materialised. Instead, an overcast, cool day was interspersed with a couple of short squalls. Consequently times were quicker than in previous years and we were home earlier than anticipated.
Winner 8h44m
Eddie Winslow 5th 9h17m
Neil Smith 6th 9h30m
130 starters
Ingleborough Fell, Sat 19 July

28  57.28 Jonathan Sinclair
52  60.25 Richard Joel
66  62.14 Mike Baldwin
71  63.06 Norman Bush
89  64.24 Sally Morley
168 71.59 Angela Srivastava
199 76.19 Eric Morley

Washburn Valley Relay, Fri 18 Jul
Ilkley fielded at least five teams in this race organised by Otley AC - results on their web site.
Harrogate Road League Handicap race, and League Presentation, Tue 15 Aug
There was a great turnout of 39 Harriers at the Handicap race. Patrick Gibbbons picked up a shield for 3rd place, but just to show there was no bias in the handicapping Harriers were spread throughout the field:

Pos  Time   Finish
3    49.54  8:27:54  PATRICK GIBBONS
6    46.49  8:28:49  ADAM BENNETT
10   52.32  8:29:32  DONALD MACRAE
19   43.06  8:30:06  KEITH WOOD
28   36.34  8:30:34  NICK RICHARDSON
31   57.39  8:30:39  DAVID MILLSON
32   47.42  8:30:42  MARY GIBBONS
35   38.46  8:30:46  DAVE JEPSON
38   39.53  8:30:53  SIMON CHAPMAN
50   54.08  8:31:08  ANDREW BENNETT
60   37.12  8:31:12  STEVE WESTON
62   44.12  8:31:12  VIC VERECONDI
63   61.43  8:31:13  AMANDA PARNABY
68   38.16  8:31:16  JEFF PAGET
69   49.18  8:31:18  BERNIE GIBBONS
71   40.21  8:31:21  DIANE HAGGAR
73   45.24  8:31:24  SUE BICKERDIKE
74   52.25  8:31:25  PAUL SUGDEN
75   63.25  8:31:25  SUE LUGTON
76   49.26  8:31:26  COLIN LUGTON
89   38.33  8:31:33  KEVIN GOOCH
97   45.43  8:31:43  GRAHAM STEAD
101  51.47  8:31:47  DAVID COMYN
115  38.55  8:31:55  JOHN ATKINSON
128  40.05  8:32:05  NEIL CHAPMAN
134  41.10  8:32:10  PAUL STEPHENS
138  43.15  8:32:15  CAROLINE BELL
140  48.16  8:32:16  CHRIS MATTHEWS
141  48.17  8:32:17  CAROLINE EBERT
149  39.27  8:32:27  AMANDA ODDIE
153  53.32  8:32:32  ANN STEAD
162  44.55  8:32:55  CATHERINE GIBBONS
164  51.59  8:32:59  ADELE MITCHELL
166  47.04  8:33:04  ELAINE COSSINS
167  43.05  8:33:05  JOHN TATE
172  57.17  8:33:17  MANDY CHAPMAN
174  41.20  8:33:20  ALISON BENNETT
194  67.30  8:35:30  BRIAN SWEET
195  50.56  8:35:56  MATTHEW RUTTER

In the League Presentation afterwards, Ilkley won shields for 1st Ladies Team (for the 9th year in a row), 1st Lady Vets Team (7th year in a row), 1st LV40 Amanda Oddie, and 1st LV50 Christine Matthews. Catherine Gibbons was 1st LU18
Full results, pictures, etc. on www.harrogate-league.org.uk
Holme Moss, Sun 13 July

17  2h56:08 Ian Rowbotham
72  3h44.32 Nicky Jacquiery


Eccup 10, Sun 13 July
Nick Richardson reports ... Conditions were near perfect for this popular race round the lanes of north Leeds.

1   Steven neiil P&B
32  64.01 Nick Richardson
81  68.42 Sally Malir
112 71.09 Pete Shields
216 78.45 Graham Corbett
229 79.25 Jane Bryant
279 82.04 Elaine Cossins
341 86.33 Bernie Gibbons
508 99.12 Jacqueline Weston


Wasdale Fell Race, Sat 12 July - 21 miles and 9000'
From Morgan Williams ... Wasdale; the very name is enough to send shudders through the average fell runner. As Jon Broxap puts it in his notes to the Pete Bland Sports race map: "Deepest lake. highest mountain, biggest liar and hardest fell race-that's Wasdale. Wordsworth once said that every fellrunner should do Wasdale at least once, or something like that!"
I last did Wasdale way back in 1985 just a few weeks before my successful Bob Graham attempt and it was the furthest I had ever run up to that moment. It was a hideous day (just like my BG day thus getting me in the mood!) and a serious navigational error in the latter stages took me somewhere I didn't want to be, and the remedial action was long and painful!
The weather this year was good by comparison; cool, some showers forecast, quite breezy and with the temperature at 900 metres at 5 degrees C. Vest weather then!
Lining up on the start line were the Taitmeister (just warming up for Kentmere presumably), Eddie Winslow (getting more miles in for his winter BG), Brian Melia (just warming down from his summer BG) and yours truly, just getting in another super-long to remind me of how much I enjoy them! 147 started from 175 pre-entries.
Wanting to run rucksac free for once, the plan was to be met by Alison at Greendale and then again at Sty Head, so I set off armed only with a small bottle of fluid and a piece of flapjack. Things were going very nicely to Greendale; a steady pace (it's fatal to go too quickly over the initial miles), cool temperatures and a bit of chat with fellow runners. No sign of my fellow Harriers; they were all in front of me.
At Greendale I managed to miss Alison! I couldn't see her anywhere and a few minutes of searching simply resulted in a whole bunch of people I had passed on the descent from Whin Rigg getting in front of me! She was there, helping Joss and Mary Naylor dish out drinks, so who knows why I didn't see her. So I found myself climbing Seatallan with an empty bottle and no food for the next 9-10 miles! Slightly cross with my own ineptitude, I filled the bottle from the first available stream (water was not in short supply after the last week of rainy weather), attacked the climb with vigour to ensure I pased all those who had got by at Greendale and, feeling good, decided the best plan was to try and get to Sty Head as soon as I could to meet my supplies there. I couldn't miss her twice surely!
I caught up with Brian on the descent of Seatallan and, when I explained my food problem to him, he graciously shared his food with me and handed over a small jam-filled hot cross bun; a life-saver as it turned out. Half of this went down on the climb towards Scoat Fell and the other half on the climb up Great Gable.
Brian caught me briefly on the run past the Pots of Ashness but as things got steeper, the thousands of feet of climbing in his legs started to bite back. By Pillar, I could tell things were going well. I was mixed up with runners who I normally never see in fell races and was feeling strong and relaxed with no navigation or route-finding issues to deal with.
Suffice to say I did locate Alison at Sty Head to refuel, and headed off to what is arguably the toughest finish to any long race in the UK. Broxap again: "The next bit from Styhead to the finish is what makes Wasdale the hardest of the longs. In Ennerdale the last 6 miles are mostly downhill on grass and if you were doing Borrowdale or Duddon, you'd be finished by now, but at Wasdale it's uphill for what seems like an age follwed by a leg wobbling descent to the finish."
I was continuing to catch people partcularly across the rough section to Scafell Pike and then bumbled my way down to the finish, quads shrieking in protest.
Another great day out in Lakeland. A personal best time by 55 minutes and my 3rd super-long PB of the year. The men's race was won by Pete Vale of Mercia Fell Runners in 3.57. (Billy Bland's record stands at 3.25! Untouchable?) The ladies record was dismantled by Jackie Lee and Janet McIver who took 7 minutes off the old mark, finishing together in 4.12.
Results gleaned on the day (approximate, because the formal results have not appeared yet) were:

39  Dave Tait         5h05:54     (1st V60)
40  Eddie Winslow     5h06:07     (PB by 30 minutes)
58  Morgan Williams   5h20:38     (PB by 55 minutes)
97  Brian Melia       5h51:33     (Delayed by loss of hot cross bun and administering first aid 
                                  to a fellow runner on Great Gable!)
125 finished
Ripon Triathlon, Sat 12 July
From Janet Grace ... This was my first race of 2008 and it was great to be back. The Ripon triathlon is a 1500m swim, 44km bike and 10k run. I'm quite a slow swimmer, but that does mean that I get to spend the rest of the race overtaking people. I finished in 3:01:44 which I was very pleased with (suffering today though). Adele Mitchell was just a couple of minutes behind me (347th in 3:06:29) and Tim Ashelford won his age group in 2:11:47 ... I'm sure there were other Harriers out there too (Jamie Hutchinson 43rd in 2:21:17; Dave Wilby 99th in 2:30:21; Kelly Harrison 211th in 2:43:12) on what turned out to be a surprisingly warm afternoon.
NY Moors Mountain Bike Orienteering, Sat 12 July
From Steve Turland ... I know its not running, but I did a mountain bike orienteering event on the NY Moors at the weekend. A 4 hour score event starting from Helmsley, this was the 6th event in the NYMBO league and also a counter in the National League. After all the rain in the last few weeks conditions were very wet, and unless you knew the area it was a bit of a lottery as to which trails were rideable and which were swamps. I managed to keep my navigation together (for once) and finished 3rd overall and 2nd in the vets class.
I've done quite a few of these events in the last couple of years and thoroughly enjoyed them every time. Great cross training for fell running (hills, navigation, route choice, mud etc) and good practice for the Open 5 type events. There are still another 6 events remaining this year. If anyone is interested in doing something a bit different, then the following link has more details: www.nymbo.org.uk.
Harden Hard'un, Sat 12 July
From Amanda Parnaby ... 27 miles from Harden. Underfoot conditions were same as last year i.e very wet but the weather was kind . Finished in 6 hrs 54 mins. Another enjoyable event organised by LDWA.
Runner of the Month for June
Ilkley Harriers Runner of the Month for June is Brian Melia
The nominations were:
Brian Melia for the Bob Graham Round (in atrocious weather!)
Di Haggar for racing achievements (lots of!)
Jenny Dybeck for Blackstone Edge
Angela Priestley for the Bob Graham Round
Stirton, Wed 9 July
Holly Williamson reports ... A not so lovely evening for the Stirton Fell Race, rain, mist and mud all the way, but thoroughly enjoyable none the less (it even included a free bottle of beer as you came over the finish line!).
Results from kcac.co.uk

Lee Morley: 40:20 (9th)
Mike Baldwin: 45:52 (34th)
Jenny Dybeck: 46:20 (4th lady)
Dave Tait: 46:26
Holly Williamson: 48:00 (6th lady)
Norman Bush: 48:35
John Woodward: 53:13
Steve Barclay: 56:18
Keith Wood: 56:38
John Tindal: 56:43
Raj Hargreaves: 59:12

There were also lots of junior harriers with good results too.
Stoodley Pike, Tue 8 July
From Jim Ryder ... Two Harriers dodged the showers and completed the Stoodley Pike Fell Race, Tuesday 8th July. In a field of 216 runners, Jim Ryder was 26th in 22.19 and Paul Davidson 37th in 23.03. The race was won by Danny Hope (P&B) in 18.55. The ladies winner was Anne Johnson (Calder) in 24.20.
Wharfedale TTT, 4-6 July
Results from Steve Turland ...

Overall Results
Men
1   Ian Holmes         Bingley              
4   Dave  Wilby        Ilkley                   

Ladies
1   Kelly  Harrison    Ilkley                  

Race 1 Uphill road race, 2.5m/950'
1   Ian Holmes         Bingley           17.37
8   Dave Wilby         Ilkley            20.18
19  Kelly  Harrison    Ilkley            24.51

Race 2, Fell 12.5m / 3000' climb
1   Ian  Holmes          Bingley         1.33.33
5   Dave  Wilby          Ilkley          1.36.45
6   Steve  Turland       Ilkley          1.36.52
8   Ben  Stevens         Ilkley          1.37.35
11  Jamie  Hutchinson    Ilkley          1.46.22
20  Kelly  Harrison      Ilkley          2.01.57
42  Norman  Bush         Ilkley          2.20.58
52  Sue  Stevens         Ilkley          2.48.51
58  Emma  Payne          Ilkley          3.27.53
60  Amanda  Parnaby      Ilkley          3.36.43

Race 3 Fell 1.5 miles / 500' climb
1       Ian Holmes           Bingley     12.55
5       Dave Wilby           Ilkley      14.40
15      Kelly Harrison       Ilkley      17.30
19      Michael Waterhouse   Ilkley      19.05
Skiddaw, Sun 6 July
Diane Hagar reports ... I was the only first claim Harrier who turned out for this one although I did spot Graham Pearce and Dave Tait. I'm definitely a novice at this sort of race and with the summit swathed in cloud I was a little apprehensive. Determined to follow somebody (anybody!) all the way, I made a cautious start but surprised myself by coming in third lady.

1st  Jon Duncan (Warrior)  1.06.07
7th  Graham Pearce (P&B)   1.12.51
48th Dave Tait (Dark Peak) 1.28.51 2nd V60 - I think.
54th Jackie Casey (Barrow) 1.29.42 1st lady and V50
74th Diane Haggar          1.33.22 3rd lady, 1st V40

Ace Race Elite (Dirty Weekend), 5-6 July
Adrian Hall reports ... At the dirty weekend event incorporating the Polaris and the Ace Race and a trail run as well! Based at Traquair House and using the wonderful local biking and running areas, as well as St Marys Loch for the kayaking, plus the local river. The ace involved 8 hours of score navigation MTB, running and kayaking on the loch on Saturday day. Then back out again at 10pm for night orienteering and night MTB orienteering. Which was interesting. The standard race then cycled back to event centre for sleep. The elite race then ran a few km, kayaked 6 or 7 km down the river, ran a few more km, then back on to the MTB for a night time ride up to and along the ridge following the Southern Upland Way and descent back to Traquair – in the dark and clouds –eventually arrived back at 3:45am. Back up at 8am for briefing and out for another 6 hours of MTB and a bit of foot orienteering – with a relatively complicated points structure – a spine of mandatory controls to follow with extra score type points to be had off to the side. Heather Dawe and partner (can't remember name) had another great race and took second place on the Elite race (I think) and not very far behind the winners Morgan Donnelly and Steve Birkinshaw I survived (racing with a Lithuanian chap from London) – not sure of placing – were 5th mens team after first day, but had a good overnight race, but a terrible Sunday race after a tactical error and misunderstanding in the required controls – partner also took a full on over the handlebars crash on one of the singletrack sections. Luckily he came through relatively unscathed, unlike some of his bike components. We were also just too tired to complete it all, and limped back to the finish with time to spare. Too much MTB for me, I'm a runner... J I guess results will be up on www.aceraces.com at some point.
From Heather Dawe ... I raced the Elite Ace Race with John Houlihan and won the mixed category. Adrian Hall also did the Elite Ace Race; his longest adventure race so far I think and did very well in what was a long event of around 20 hours - six of which were overnight.
Saunders Lakeland Mountain Marathon, 5-6 July
From Alison Weston.... Holly and I had a great 2 days in the SLMM. Lots of opportunities to practise bearings, route choice etc. as most of weekend was in rain and mist. Silly mistakes (mainly mine) costs us a bit of time on day1. Holly was brilliant at navigating and very fit! I discovered I'm a bit softie really - couldn't face putting wet clothes on again for start of day 2 and insisted on taking plenty of pasta and pudding for over-night camp. Holly said she'd never had so much food and drink on a mountain marathon before!! Pange Srivastava and partner Sophie Brown did really well on Carrock fell class - 21/84 and 2nd ladies team.
From Kevin and Rachael ... The cut and thrust of a mountain marathon - or what life is really like. Started out as usual panic buying at Pete Bland's. We'd looked at the forecast and seen the severe weather warning for persistent rain and wind. Rachael decided to buy a better cag and I thought it would be handy to get a compass (as I'd left mine in my bum bag at home). Managed to get to the start just in time pen and map at the ready. Go! Pick up control list. Mark up. What with? Lost my pen between the start and the mark up area. Had to wait for Rachael to mark her map up first so I could borrow her pen. 20 mins down and we hadn't gone anywhere! Found first 2 controls OK but weather was bad. I was ahead but Rachael was close behind when I got to stream for control 3. Control was a bit higher up so went up to dib. Turned round, where was she? 20mins later Rachael turned up to meet me at the control shivering. She'd been chasing some other guy in 3/4 leggings and an OMM sack halfway to Keswick! Still talking we moved on only to get cragfast going to the next control. Eventually got through the day but we were out for nearly 8 hrs. Overnight camp was cosy in our 1977 vintage Saunders tent. Ended up being a bit of a swap shop. Got an egg from friends camped next door in return for a space blanket so they didn't get soaked from condensation in their single skin KIMM tent. Gave half our ginger cake to Alison and Holly cos we were full. At some point Rachael discovered looking down at her plastic bag covered feet that she'd been running in odd Inov8 shoes. Left foot trail, right foot fell. Uppers look the same so it's a simple enough mistake isn't it. We decided that the best course of action for day 2 was for her to hop on her left foot on the tracks and hop on her right foot down the steep grassy banks. Next morning after porridge put on wet clothes from the day before, lovely. Shelved the hopping idea. Actually had quite a good day. Messed about at one control in the mist but otherwise improved on our 1st day position by the time we finished. It had been a good running course. Dreamed of what we could have done if only...Roll on the OMM.
Paul Stephens reports ... Completed my 5th or 6th Saunders coming 29th out of 122 in the Carrock. it's either too hot on the Saunders or wet and windy. And I always find it hard - tougher than the KIMM. I'd not run since the Garforth HDRRL because of a right knee problem. The physio probably thought I shouldn't run, but advised taking some poles if I did. So there I was waving my poles round on the descents. It slowed us a little, but I did get round. The right knee's fine. But the left one..... Camped near Holly and Alison. Was that really washing-up I saw?
From Clare Smith ... As is usual on these events, by noon on the first day I began to question my sanity at even starting, particularly as, for some reason, we had entered a higher class than we had previously attempted. I was suffering from a stinking cold and Neil had woken at 5am in a cold sweat. However, the childcare had been arranged well in advance and these events are our form of a romantic weekend away(!!!)so there was no option but to soldier on. The course took us on an extensive tour of the Helvellyn range with plenty of steep climbs and descents (as my muscles are now reminding me). After visiting the Dodds, we were nearly blown off Helvellyn Lower Man. We headed south to Seat Sandal and Grizedale Tarn then ventured north via the Hole-in-the-Wall (at the top of a seemingly never-ending wall!) and Glenridding to the mid-way camp at Downthwaitehead. Sadly, it wasn't a particularly good evening for socialising as the showers came down heavily and without warning. Neither could we dry any of our sodden clothes, but at least we had made the right choice in taking the more robust of our lightweight tents and the pot noodle tasted great! Several paracetamol and ibuprofen later, and after a balloon-popping night, we set off again for another day in the mountains, this time skirting Hartside and Stang. There was a killer climb west of Catstycam (which I undertook on all fours) then a visit to Sticks Pass and Great Dodd before a very steep, wet and slippery descent back to the finish at St John's in the Vale. Under the circumstances,our aim had just been to complete the course, so we were quite pleased with our overall position of 32nd out of 45 teams which started the Bowfell class. At the finish, we were given details of the RAB mountain marathon in the Peak District on the weekend of 27th/28th September - looks like a promising event (see www.darkandwhite.co.uk).
Rachel Websdale writes.... Back in the winter when we decided to run the Saunders rather than enter the previously enjoyed mountain biking Polaris, we envisaged two days on the Hellvelyn hills, fine summer weather, breathtaking views, taking a well earned beer outside our newly purchased lightweight tent at the midway camp ...perfect.
All started well on the saturday, we greeted fellow harriers in the obligatory mile long queue for the portaloo. The start was a tough up hill but spirits were high and the weather was fresh and then the rain came and for the next 7 hours we limped along in the howling wind and lashing rain with very little visability. A particular high point was Bryan commenting that he wished he hadn't left his good waterproof jacket at home and his £9.99 Yeomans cagoule was not remotely waterproof and he was at this stage wet through and frozen to the bone.Did this constitute grounds for divorce I thought?
We made a pact that if it was still raining at check point 6 we would walk in to Glenridding and sure enough as we tucked into our peanut butter sandwiches the heavens opened. That was that the weather had simply got the better of us.Surfice to say that Glenridding was teaming with wet, bewildered Saunders entrants aimlessly trying to get back to the base camp. Top tips for anyone entering a mountain marathon, always check out a local taxi number, have change for the phone box (remember those!) and have enough cash for a taxi (£30 from Glenridding to St Johns in the Vale !)
And the moral of this story being ... the Lake District is not full of large expanses of water due to lack of rain!
P.S. Anyone wishing to buy a lightweight 2 man tent , unused , you know who to contact !
From Rachel Hagan ... Well, I guess you should hear how Ange and I got on, woeful though it is! Things didn't start well when we left one map in the portaloo before we had even started, but luckily had time to retrieve it (on that occasion...). For some unaccountable reason we had entered the Carrock Fell course, thinking that it sounded about the same as the OMM C class. So when we dutifully plotted our course and saw where it was taking us, we weren't too concerned (BIG mistake!). Started OK, and found the first 5 controls without a problem, although we seemed to have to do an awful lot of climbing and steep descents to get to them, but number 6 proved almost impossible to locate. Whose idea was it to position a control on a knoll among at least 100 knolls, all of which we visited during the hour spent searching as the mist and rain battered down on us? There were at least 4 other pairs similarly frustrated at this point, so it was a busy hillside! Finally located the dastardly control, but by now we were both physically and mentally shattered. I think our brains must have ceased to function properly, because we thought it would be a good idea to climb a precipitous spine up to the top of Helvellyn (Striding Edge, eat your heart out!), which we'd already visited earlier in the day, then descend via Swirral Edge to get the next checkpoint. So much for the 1100m of climbing on the print-out!! By that point it was 7.15pm and we'd moreorless had enough; when yet another thunderstorm broke over our heads, with yet another hill and two more controls to get before the midway camp, we voted with our feet and headed down for the village of Dockray. There, we found a charming pub, with - joy of joys - a vacant twin room, hot food still being served, and a well-earned bottle of wine. The event organizers (who also happened to be living it up in the pub, guys!) tried to persuade us to go back and start the next day, but frankly the thought of a comfy bed and full-English took priority and we made the most of a bit of luxury. In the end, we were out on those fells for 12 hours on Day 1. Can't walk today and have vowed a) to buy an altimeter before the next event and b) to go for the easiest course next year! Guess I won't dare to wear my Harriers vest for a while yet!
Some results from the SLMM web site...
Holly Williamson and Alison Weston, 23/39 and 2nd ladies team in Bowfell class
Clare & Neil Smith 32/39 in Bowfell
Kevin and Rachael Gooch 46/80 in Kirkfell class
Pange Srivastava and partner 21/84 in Carrock fell class - and 2nd ladies team
Paul Stephens 29/84 in Carrock Fell
Lou Cartledge 77/84 in Carrock Fell
Any more?
Murder Mile, Thu 3 July
From Paddy Hagan ... Results now in for Murder Mile in Silsden on 3 July. Exactly one mile (checked by car afterwards) up, up and up from Silsden golf club to top of Lightbank Lane. All road so not sure why it's on the BOFRA calandar but good fun and loads of juniors in the field of 164. The start was a bit like the grand national with fallen bodies to negotiate - staying on two feet was the major objective. Hazards continued up the hill as runners more used to a 50m dash also showed a great ability to stop dead with no warning to catch breath before screaming past again. Rose and I went up together, along with Anna Sinclair until she pulled away with the end more or less in sight. We were all rewarded at the top with a bucket load of sweets, and back at the bottom again with a cheeky pint from the conveniently open Silsdsen golf club bar.

1st     Jonathan Bradshaw (Wharfedale) 7:23 (U 17)
34th    Anna Sinclair (2nd G U14)       10:36
41st    Rose Hagan (1st G U12)          11:00
42nd    Paddy Hagan                     11:00
67th    Logan Hargreaves (U9)           12:20 

Danefield Relays, Wed 2 July
A very pleasant summer's evening on the Chevin saw plenty of Harriers out supporting this popular event. York Acorn won the overall prize courtesy of a lightening fast last leg from course record holder Andy Hilton. Myself, Jim Ryder & Lee Morley were first Harriers team home in 4th place overall, and not far behind were the gazelles of the orienteering fraternity Jack Wood, George & Ben Stevens. Ilkley ladies took top honours and after securing English Championship points on Saturday, Jenny Dybeck followed up superbly by blazing round the course in the 2nd quickest ladies time of the night to secure the title, following great work from an on-form Kelly Harrison and Pange Srivistava.
There were loads of other Harriers out, apologies for not giving them a mention, I was too busy worrying about what time the food was being served at the Cheerful Chilli to check the results properly, but well done everyone, another great show by the club.
An anonymous member of the Old Codgers team would like to point out that our combined age was approximately 190.
Cragg Vale fell race, Tue 1 July
From Sally Malir ... After both feeling as though we hadn't had a great run on Saturday Emma Barclay and myself travelled back to the Calder valley to do the Cragg Vale Fell Race. It was a very hot and humid start and luckily there was a downpour towards the end of the race which cooled us off but made the finishing descent a bit dodgy. Records were broken in both male and female categories, Mary Wilkinson (Bingley) was first lady in 31.11. John Brown (Salford) was first man in 26.27. Emma was 3rd lady in 35.07 and I was 5th lady in 36.01. We both had a good fast run and were pleased with our efforts. A great little race!
HRL#5, Hudswell, Tue 1 July
Well done, Ilkley! A good-sized party made it to the far North for this final counter in the HRL season. The Ilkley Ladies and Lady vets teams took the overall lead, so we will have some silverware at the Presentation on 15th July. (Can the current guardians of these 2 trophies let Paul know where they are asap?) And the Vets haven't done badly, 3rd overall. The Grand Finale on Tuesday 15th is a Handicap Race on the lovely course at Ripon - keep an eye on harrogate-league.org.uk for your start time!
This was a counter in the Ilkley Harriers Running League too. Pete is King of the Road, but Diane is still Top of the League - well done to her. Calcs on the League Page...

1	26.22	GARY DUNN, THIRSK
22	31.01	JOHN LUMBUS
23	31.05	STEVE TURLAND
29	31.38	IAN ROWBOTHAM
30	31.53	STEVE WESTON
37	32.23	KEVIN GOOCH
40	32.28	AMANDA ODDIE
41	32.34	JEFF PAGET
56	33.26	NEIL CHAPMAN
57	33.29	HENRY HEAVISIDES
66	33.51	SALLY MORLEY
79	34.54	DIANE HAGGAR
86	35.11	SIMON CHAPMAN
91	35.17	PETER SHIELDS
93	35.20	NIGEL TAPPER
94	35.30	CAROLINE BELL
108	36.26	PHIL HIRST
125	37.11	KEITH WOOD
131	38.11	REBECCA STAPLETON
134	38.15	VIC VERECONDI
138	38.24	PETE BEDWELL
140	38.31	ELAINE COSSINS
145	38.52	SUE BICKERDIKE
168	40.37	CAROLINE EBERT
170	40.40	CHRIS MATTHEWS
172	40.47	COLIN LUGTON
175	41.00	EMMA PAYNE
183	42.05	ADAM BENNETT
204	46.04	PAUL SUGDEN
208	46.40	PATRICK GIBBONS
229	52.20	DAVID MILLSON
232	53.00	AMANDA PARNABY
233	53.25	SUE LUGTON
237	55.47	BRIAN SWEET


Cragg Vale fell race, Tue 1 July
From Sally Malir ... After both feeling as though we hadn't had a great run on Saturday Emma Barclay and myself travelled back to the Calder valley to do the Cragg Vale Fell Race. It was a very hot and humid start and luckily there was a downpour towards the end of the race which cooled us off but made the finishing descent a bit dodgy. Records were broken in both male and female categories, Mary Wilkinson (Bingley) was first lady in 31.11. John Brown (Salford) was first man in 26.27. Emma was 3rd lady in 35.07 and I was 5th lady in 36.01. We both had a good fast run and were pleased with our efforts. A great little race!