2008
Auld Lang Syne, Wed 31 Dec
From Bernie Gibbons Over 500 hardy souls turned out in freezing fog on Penistone Hill, Howarth, to see out the old year in this traditional festive event. All seemed oblivious to the dangers of hypothermia. As I left the car (wearing shorts, of course) the outside temperature on the moor read minus 6 degrees! Assorted fairies, elves, Santas, Batman, Daleks and more conventionally attired fell runners were summoned to the start in the time-honored Highland way by lone piper Calum Carslaw of Ilkley Harriers.
The finish was an unforgettable sight as the runners scrambled down from Top Withins across frost covered moorland and emerged from the freezing fog with icicles hanging from their hair, welcomed home by the bagpipes.
It was heartening to see so many Ilkley Harriers in action. Not an event for wimps.
The results 'ceremony' in the packed Old Sun Inn afterwards was a superb start to New Year celebrations.
Vic adds ... I thought the Auld Lang Syne Fell race up there at Howarth was absolutely fabulous... When I arrived there and observed the outside temperature being minus 7, I thought to myself blow the contract this is worth a call back to Australia.. My brother back home had just returned from the beach and was enjoying 30 degree warmth.. He stated you all must be crazy.. I suppose there is an element of truth in that...
Anyway I thought to myself all the way through the race you cannot buy this atmosphere.. Priceless I'd say... Whinging and moaning at Shirley and co whilst getting the number, (my hands were so cold I couldn't fill in the form quick enough), everybody freezing at the start, the piper, the freezing little stream, the mist, the frosty scenery, the entire run, coffee and biscuits afterwards, everything about it was great..
Although I am not a keen fell runner I am most pleased I attended and just 'had a go'... A great way to bring in the new year... It is a Yorkshire experience I am glad to have been part of and will remember for a long long time...
Thanks to all who made this possible...

1   38.57  Andi Jones  Salford  record
13  43.40  Tom Adams
22  44.53  Jamie Hutchinson
39  46.09  Ben Stevens
71  48.00  Steve Turland
80  48.20  Lawrence Basham
86  48.40  Jonathan Sinclair
116 50.00  Sabine Hauswirth  3rd lady
132 50.54  Richard Joel
145 51.50  Paul O'Looney
164 53.00  Sally Malir
174 53.30  Bob Hamilton
300 59.42  Kay Pearce
328 60.46  Pange Srivastava
334 61.07  John Coates
337 61.16  Michael Waterhouse
364 62.13  Jon Tindall
386 63.06  Bob Wightman
401 63.40  Catherine Gibbons
411 64.26  Pete Bedwell
440 66.21  Ian Hunter
446 67.03  Keith Wood
452 67.26  Sue Stevens
457 67.47  Sue Bickerdike
472 68.43  Bernie Gibbons
475 68.52  Vic Verecondi
491 70.16  Mary Gibbons
499 71.31  Elaine Cossins
501 71.51  Sophie Brown
510 73.14  Sue Stevens
529 77.29  Jemma Basham
547 83.07  Ann Stead
Ilkley ladies won the team prize.


Photos and more on woodentops.org.uk
Ribble Valley 10k, Sun 28 Dec
Henry Heavisides reports ... It was a bright sunny day in Clitheroe for the Ribble Valley 10k. I was expecting a flat course for this event which has a reputation for fast times, however, it was surprisingly undulating. There was a good turnout of Ilkley Harriers, being the last counting event in this year's league. Kevin Gooch was defending his lead in the league (up to the start of the Christmas events), this was actually his first ever 10k. At the finish, most runners seemed pleased with their times, with a few mentions of PBs. I think that Mark Iley was first Ilkley Harrier home, followed by David Brown, Amanda Oddie & Kevin Gooch, these 3 were very close together throughout the race. Amongst the runners that I spoke to at the end, Jane Bryant, Vic Verecondi, Mike Bryant, Keith Wood, Adam & Andrew Bennett were all happy with how they had run. As for me, I finished in 39:58, under 40 minutes for the first time since 1984, so I was very happy with that.
From Alison B ... Following on from completing the Chevin Chase over 3 mins faster than previously; Andrew ran his socks off today and knocked 1 min 20 off his 10K time with a new PB 54:20. This was also Adam's first 10K. His target was to be "under an hour" but typically he didn't see the large digital clock visible for the last 300 metres at the end, so he will be pleased with his time.
Results from UKResults.net
 
1    29.55  Ben Lindsey, Aldershot 
163  38:45  Mark Iley
182  39:24  David Brown
183  39:24  Amanda Oddie
190  39:29  Kevin Gooch  PB
205  39:57  Henry Heavisides
218  40:17  Neil Chapman
302  42:33  Alison Bennett
321  42:59  Terry Lonergan
350  43:46  Jane Bryant
357  43:50  Catherine Gibbons  PB
363  43:55  Vic Verecondi
367  44:02  Peter Shields
445  46:02  Keith Wood
469  46:51  Adam Bennett   PB
480  47:09  Mike Bryant
624  51:05  Bernie Gibbons
674  52:33  Paul Sugden    PB
724  54:20  Andrew Bennett PB
796  58:37  Vince Gibbons

889 finishers


Chevin Chase, Fri 26 Dec
We have some photos from Graham Arthur here; and Dave & Eileen Woodhead here.
More photos and results on Aire Centre Pacers site ...

1    37.19  Alistair Brownlee  Bingley
4    40.55  Graham Pearce  P&B
6    41.19  Jamie Hutchinson
12   42.49  Ben Stevens
18   43.38  Tim Ashelford  LBT
24   44.56  Dave Wilby
31   45.21  Stuart Pitches
40   46.18  Steve Turland
55   47.34  Jack Wood
66   48.08  Paul O'Looney
93   49.10  Bob Hamilton
98   49.35  Sally Malir
101  49.40  Daniel Ibbotson
108  49.56  Nik Legge
130  50.39  Richard Reeve
139  50.55  Neil Smith
149  51.20  Neil Chapman
152  51.26  Dave Tait  Dark Peak
161  51.53  Simon Chapman
195  53.16  Alison Weston
205  53.31  Pete Shields
211  53.37  Kay Pearce
217  53.54  Nigel Tapper
226  54.21  Catherine Gibbons  PB
235  54.46  Keith Wood
250  55.18  Duncan Cooper
262  55.41  Russell Thomas
330  58.05  Val Kerr
342  58.33  Anthony Swanepoel
358  59.22  Peter Sibley
386  60.29  Peter Bedwell
397  60.56  Clare Smith
398  60.58  Jon Tindall
412  61.30  Sue Bickerdike
416  61.34  Julie Harvey
429  61.57  Juliet Muirhead
435  62.14  Jim Towers   Nidd Valley
474  63.06  Bernie Gibbons
502  63.36  Amanda Newham
503  63.36  Paul Nolan
504  63.37  Colin Lugton
512  63.54  Graham Stead
539  65.04  Dave Ibbotson
561  66.07  Mary Gibbons
597  67.58  Sophie Brown
603  68.21  Andrew Bennett
615  69.14  Sue Stevens
618  69.30  Alison Stretton
629  69.50  Emma Payne
635  70.02  Jeanette Thomas
651  70.38  Emma O'Looney
701  73.59  Greg Wright
729  75.48  Bob Payne
738  76.27  Ann Stead
757  77.56  Amanda Parnaby
773  79.17  Lyn Eden  Nidd Valley
782  80.36  Andy Sarah

833 finishers


Have I missed anyone? I'll soon be using these results for the Running League calcs ...
Well Done, Ilkley Harriers!
From the Telegraph and Argus web site ... "

We honour our top athletes of 2008
Team of the Year
Ilkley Ladies have developed into one of the country's strongest teams. They won their first national in the Vets cross-country relays at Mansfield and followed up by recently winning the Calderdale Way off-road relay. Individual women achieved fine performances, personal bests and club records, including Alison Bennett's 39min 55sec to be first F45 home in the Abbey Dash 10k.
Coach of the Year
Shirley Wood, from Ilkley Juniors, has developed a vibrant junior section and organised valuable work within the community. She has set up the Wharfedale Primary Schools Cross-Country League, which attracts over 500 children.
"
This is in addition to the club being a finalist in track and road in the regional awards made by England Athletics, and winning their award for Best Junior Club - info below.
Tuesday Extra Session from 6th Jan
From Ewan Welsh ... This is to let you know of an additional Tues session starting at 7.30pm, meeting point will be the post box at the top of Stourton Rd, the road to ILT&SC. This is to cater for those who, due to family and work commitments, find the 7pm start time too early but would still like to train with other club members on Tuesday night.
The sessions will be based on a variety of pre-defined efforts, such as mile reps, 1K reps, hill efforts, time trials etc.
For Jan, sessions will be....
Tues 6th Jan : Pyramid Hill Session (Curly Hill)
Tues 13th Jan : 1k repeats (Rupert Road) : 8 * 1K (2 sets of 4)
Tues 20th Jan : Fartlek session, accumulating in about 25 minutes of effort
Tues 27th Jan : Long Hill Reps (Queens Drive)
Please note that you are more than welcome to apply the degree of effort and number of efforts at your own discretion, however from past experience I've found the best approach is to set the benchmark for which to work around.
NB the 7pm main club session, meeting in ILT&SC bar at 7pm, is unaffected. This is where club news, results, etc. will be read out as normal.
The Stoop, Sun 21 Dec
A reasonable turnout of Harriers at this short (5m) but muddy fell race. Ilkley's trio of Sabine Hauswirth, Emma Barclay, and Sally Malir convincingly won the ladies' team prize (1st, 3rd and 4th). Ben Stevens had a top 10 placing.

1   32.11 Rob Hope  P&B
4   34.53 Graham Pearce  P&B
8   36.41 Ben Stevens
54  40.35 Jon Sinclair
61  40.59 Sabine Hauswirth
83  42.40 Bob Hamilton
90  43.04 Emma Barclay
93  43.20 Neil Smith
97  43.47 Dave Tait   Dark Peak
102 44.27 Sally Malir
142 46.28 Alison Weston
157 47.26 Richard Hargreaves
189 49.37 Andrew Wilson
191 49.46 John Coates
195 49.55 Val Kerr
206 50.33 Clare Smith
209 50.40 Nigel Tapper
223 52.09 Jim Towers  Nidd Valley
224 52.18 Pete Bedwell
237 53.43 Di Kitchen
238 53.48 Sue Bickerdike
240 54.18 Ian Hunter
255 56.54 Sophie Brown
260 58.54 Sue Stevens
271 62.01 Emma Payne
290 73.15 Rachel Websdale
292 73.35 Lyn Eden  Nidd Valley
293 finished


Read about Sue's exploits here.
Photos and more on woodentops.org.uk
PECO XC, Golden Acre Park, Sat 20 Dec
From Henry Heavisides This was my first cross country race since 1968. On that occasion I finished in last place. This time I finished 75th, I'm not sure how many runners there were in the race, but I know there were some slower than me today. There was a great turnout of Ilkley runners in the junior race, with about half of the field wearing red & green vests. In the senior race there were a few of us from Ilkley, I guess others were preparing for the many different races over the Christmas period. Jamie Hutchinson finished close to the front for the men & I believe that Sabine Hauswirth won the Ladies race. Nick Richardson was pleased to be racing again after his injuries. Not sure how we did in the team event, but I think that we just about had enough runners to make a team. I certainly enjoyed running in the mud & hopefully won't leave it another 40 years before I do another one.
Results from Abbey's PECO pages ....

5   Jamie Hutchinson
23  Richard Joel
24  Malcolm Pickering
28  Dave Cummins
30  Nick Richardson
40  Nick Pearce
75  Henry Heavisides
99  Jim Towers
107 Paul Wood
129 Don McRae
138 Bob Payne
5th team, 3rd vets team

1   Sabine Hauswirth
6   Alison Eagle
23  Di Kitchen
77  Shirley Wood
86  Lyn Eden
92  Amanda Parnaby
5th team, 3rd lady vets team


Eddie Winslow's Mid Winter Bob Graham Round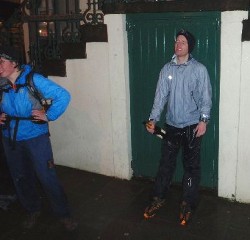 Eddie Winslow completed his mid-winter Bob Graham Round in 23h56:39!
From Eddie ... "I'd like to thank everyone for their help and support on my Bob Graham Round. The conditions were challenging and the whole team effort was needed to make the round a success. Thank you everyone and I promise here, publicly, that I will never do that again."
From Steve Turland ... After a 10pm (Friday) start Eddie completed leg 1 in 3hr45, 15 mins up on schedule and looking strong. Rain had cleared and snow/ice all but washed away. But winds still very strong, taking you off your feet on the summits.
From Nicky Jaquiery ... A legendary achievement, Eddie! As one of the supporters on leg 2, with winds like you'd never believe, I can appreciate how difficult it was just to complete leg 2, let alone go onto to do legs 3,4 and 5. I for one wouldn't have missed it! Thanks Eddie for enabling me to share in your success and the fantastic comaraderie. As Ken said, what are you planning for your 41st birthday!?
A few words from Morgan Williams, who is Secretary of The Bob Graham 24 Hour Club, to put Eddie's achievement into context. Since 1960, over 1,400 people have completed Bob Graham Rounds in under 24 hours. Over 100 of these people are women.
When I did the BG back in 1985, I became member number 371. The success rate was steady in those days at 33% of those attempting the Round. 2/3rds failed but almost all of them came back for another go. Now the success/failure ratio is closer to 50/50. With more leisure time on our hands than previous generations, more contenders are finding the time to do the necessary training, bolstered by a year round choice of long and ultra endurance events that the pioneers of the 1960s would find hard to believe.
Interest in Winter Rounds began in the late 1970s. There were many attempts by the very hardest of the hard men in the fell running and mountaineering communities, all unsuccessful, until the first Winter Round was completed by Selwyn Wright and John Brockbank, friends of mine from Ambleside AC, on 14 December 1986. A substantial majority of successful Winter contenders have completed a Summer Round before embarking on a Winter Round.
Winter Bob Graham Rounds are a rarity and a very special achievement both for those who complete them and for those who lend a hand on the way round.
Eddie has joined a very select group of athletes who have shown that they have the physical and mental strength to take on the BG in winter, when daylight is at its absolute minimum and when conditions can be thoroughly unsettling (that's a nice way of saying life-threatening).
He becomes the 18th member of a very exclusive group and one of a very small group of athletes (probably the third only) who have made a mid-winter BG their first.
There's a thread on this with some input from Eddie on the FRA Forum - here.
Bob Graham 24 Hour Club web site
Christmas Fun Relays, Tue 16 Dec
Bernie Gibbons writes ... There was a big turnout for this annual festive event. For one day in the year times don't matter: all the prizes were for fancy dress costumes.
The Christmas goodies went to the teams with a theme:
The Snowmen (Slow men): Adam Bennet, Sue Lugton, Colin Lugton and Caroline Ebert-Wilson
The Ilkley Moor Shepherds: Josh Crane, Morgan Williams, Alison Eagle and Pete Shields
Individual prizes were awarded to ...
The Best Dressed Elf: Victoria Stevens
and
The Sweetest Fairy in Town: Kevin Gooch
£60 has been raised for Cancer Research UK so far. It's not too late to donate to this good cause. The collection box will be on hand again at ILT&SC on Club Night next Tuesday. A big thank you to all those who worked so hard to make everything run smoothly. Amanda Parnaby, Mandy Chapman and Barbara Bullock provided the mulled wine and mince pies. Norman Blackburn and Geoff Howard were the marshals. Ros Blackburn had the tricky task of judging the costumes. Many thanks to all. It was great fun.
Calderdale Way Relay
Results are up! www.halifaxharriers.co.uk
	
1 Salford Harriers A            6:01:33	
Billy Martin        John Brown        Dave Townsend     Andi Jones          Rob Hughes          James Houghes	
Phil West           Billy Barns       James Jackson     Jonny Gilby         Phil Leybourne      P Bangani	
1:17:48 (5)         0:56:18 (1)       0:39:56 (7)       1:06:08 (2)         0:55:15 (3)         1:06:08 (2)
1:17:48 (5)         2:14:06 (1)       2:54:02 (2)       4:00:10 (1)         4:55:25 (1)         6:01:33 (1)

18 Ilkley Harriers A            7:01:51
Lawrence Basham     Paul O'Looney     Steve Weston      Dave Wilby          Eddie Windslow      Tom Adams	
Jonathan Sinclair   Duncan Cooper     Justin Phillips   Steve Turland       Nick Pearce         Jamie Hutchinson	
1:25:56 (19)        1:13:45 (41)      0:48:08 (38)      1:18:17 (23)        1:05:59 (21)        1:09:46* (7)
1:25:56 (19)        2:39:41 (24)      3:27:49 (27)      4:46:06 (20)        5:52:05 (20)        7:01:51 (18)

32 Ilkley Harriers B Ladies     7:26:21*	
Alison Eagle        Emma Barclay      Helen Ilsley      Andrea Priestley    Sally Morley        Alison Bennett	
Nicky Jacquery      Sally Malir       Jenny Dybeck      Heather Dawe        Sabine Hauswirth    Amanda Oddie	
1:36:51 (51)        1:12:31 (34)      0:46:36 (32)      1:21:58 (34)        1:04:43 (14)        1:23:42 (47)
1:36:51 (51)        2:49:22 (41)      3:35:58 (40)      4:57:56 (36)        6:02:39 (31)        7:26:21 (32)

39  Bingley Harriers Ladies A    7:36:55

76  Ilkley Harriers C Mixed      8:28:32	
Joyce Marshall      Morgan Williams    Diane Kitchen     Alison Weston      Clare Smith         Peter Shields	
Pange Srivastava    John Coates        Val Kerr          Kevin Gooch        Neil Smith          Paul Stevens	
1:54:22 (92)        1:22:58 (78)       0:57:12 (87)      1:31:58 (62)       1:16:21 (68)        1:25:41 (58)
1:54:22 (92)        3:17:20 (83)       4:14:32 (84)      5:46:30 (79)       7:02:51 (77)        8:28:32 (76)

* club record


Leg 1: From Lawrence B ...John Sinclair stepped into the team on Friday night to run the first part of this years Calderdale. The race start had changed this year making it a slightly longer leg than previous years. The starter opted for a 'surprise' command of go and sent the 100 teams scrambling up the first embankment like gladiators attempting the 'travelator'. We settled in midfield and ran steadily along the narrow path through the woods as other teams around us wasted energy pushing and shoving to establish position. Experience of this leg tells me that the race starts properly in the 2nd half of the 10 or so miles. We kept calm and let quite a few teams pass as we crossed Norland Moor and down into Ripponden. Half way through the leg and we started to reel in teams that had set off too enthusiastically. 2 or 3 as we went through Soyland Town and another couple on the climb out of the woods at Mill Bank. With a couple of miles to go, although it was misty, there was a line of 5 or 6 teams stretching ahead of us, it was pretty much all downhill to the changeover and John was looking frisky! By the road at Cragg Vale we had passed all of them and sprinted to the finish to pass the baton. A good team effort, thoroughly enjoyed by us both.
Leg 2: Report from Duncan C .. This was Paul and my first relay with the Harriers so, not wanting to let anyone down, we arrived ridiculously early. After trying to keep warm for an hour Lawrence and John suddenly appeared and we were off up the climb to Stoodley Pike. The mist on Withens Reservoir made for impressive views with some teams coming quickly past us but slowing the higher we got. Paul was definitely running the stronger of the two of us although I managed to redeem myself slightly charging down Stoodley Pike and along to Mankinholes. We then had the welcome and surreal experience of being made to walk through the stable yard whilst twenty or so bemused horses eyed us up. Just outside the farm Paul noticed a baton on the floor and we both ran past wondering how on earth you could drop it and not notice. A few minutes later an annoyed single runner came back past us scouring the ground. We let him know where it was but didn't see him again until the finish. From there on in we held our own. The last couple of miles up and over Todmorden Edge are a bit of a blur. Paul kept me going before the last rapid descent through Buckley Wood. This was worth the trip in itself; six inches of thick mulch to get your feet into making a rapid descent possible. Emma and Sally finished shortly afterwards with the women's team in first place at that point. Great effort by everyone.
Leg 3: from Steve W - A fantastic event to be involved in...neither of us realised the scale of the event until we got to Todmorden and we realised that Ilkley A were team 114 (117 teams x 12 runners per team). The excitement at the changeover was palpable as everbybody peered up the track to see if their team was next to come in. Justin offered to take the baton as we sped off down the hill and along the Burnley road. Usefully the recce had taught us not to go off to early on what is a truly lung busting climb. Thankfully at the top there was not too much ice so we managed to come off without any falls. A reasonably well matched pair (Justin was kind to me) and a very enjoyable leg (although I was glad we had the short one!). I can see I shall have to up my game to get a place next year.
Leg 4/5: Great to see Steve Turland and Dave Wilby come in to Wainstalls ahead of local club Harrogate, Steve looking strong and Dave a bit Wobbly. Eddie Winslow and Nick Pearce took off on leg 5. Once again, Ilkley were the only ladies team (Andrea P and Heather Dawe this year) to beat the Wainstalls mass start - just! Sabine and Sally shot off ahead of the chasing pack and did a very good 64mins on leg 5 - missing the leg 6 mass start by just a few minutes. A good strong finish from Alison W and Kevin G on leg 4 for the mixed team: Neil and Clare had started in the pack of 150 or so runners in the mass start - all racing for the first stile!
From Clare ... what can I say about leg 5 except that it was extremely MUDDY! During my recces of this leg, the ground had been considerably firmer (although it had been icy in parts) but Saturday's rain changed all that. It wasn't pleasant to start from Wainstalls with so many others fighting for one small path, multiple stiles, gates, footbridges etc. but the field soon thinned out and we were pleased to pull up a modest 2 places for the team. We were really pleased to have been given the chance to participate in this great event- thank you!
Leg 6: Well done to everyone who ran - especially the ladies. Tom Adams & I ran the glory leg - leg 6 from Shelf to Elland. We managed to get off with only a few minutes to spare before the mass start at 2pm. Fantastic start, taking a team almost straught away, going mainly downhill for the first few miles, with Tom asking me a couple of times if we were going too fast!! As usual I'd messed about with my shoes before the start and still hadn't managed to get them firmly attached, I realised this when I mud surfed along a field and had to use my rear as a brake! No damage we continued on and took in the delights of Brighouse before back into the woods and we gradually reeled in another team. It was then pretty much downhill before the final stretch along the main road and into the finish. We both agreed that we'd paced it well, with never much of a gap between us (I think Tom was being kind!) Not sure of position as yet but we managed just under 70 minutes.
(Tom and Jamie's run set a new club record for the leg. The ladies also beat last year's record time!)
From Pete Shields ... Waiting at Shelf is always a trial, it is always cold and you never get the transfer time right inevitably being there an hour to an hour and half early. However, the bonus is the real feel of the Calderdale Way rightly said to be the best trail relay in the country. The excitement builds as the teams come through slowly at first with minutes seperating them then a quickening and anticipation as to when you will go. All the big names from the fell running world appear at this leg to enjoy the buzz and shout their teams on. Jamie and Tom would be the first to go from the Ilkley teams and the tension could be felt when waiting around with them, both looked very confident. Nick and Eddie appeared and like two elastic bands Tom and Jamie propelled themselves down the track. Alison, Amanda, Paul and Pete gradually accepting the fact they were going to be in the bun fight of the mass start. A quick call from the starter and the rest of the Calderdale field set off in chase of the Ilkley boys. Amanda and Alison were unsure of their positions, the Bingley girls, Natalie White and Victoria Wilkinson were also in the bun fight as were Holmfirth and Calder ladies. The cavalry charge to the first style saw the Bingley girls take a firm grip of the leg. However, Alison and Amanda kept their heads and made good progress in the bunch, Peter and Paul keeping close order. As the leg progressed the girls got away from their other contenders but were never going to get near the Bingley team. Peter and Paul kept the girls in sight and could see them slowly moving through the field. Having lost sight of them at Brighouse it came as a surprise and worry to find Alison stopped talking to a gentleman, asked what was wrong we heard toilet stop as we sped past. This was at the start of the two significant climbs of this leg. Paul got his second wind here and drew away from Peter. Nearing the top of the first climb Amanda appeared at Peter's shoulder looking very strong. A difficult descent was followed by the second long climb Peter kept in front of Amanda as they slowly pulled the Holmfirth and Calder teams back, they had taken the advantage at Ilkley's toilet stop. Nearing the top of this climb Alison Bennett took the initative on a narrow part of the track and bundled by Amanda and Peter and even more aggresively by the Holmfirth girls, Amanda took her cue and followed leaving Peter treading water a little. The pair then set off after Paul and the Calder girls going from strength to strength passing both with what looked from a distance consumate ease, great to spectate! The rest is history, as they say, a long downhill section consolidated their positions and also gave Peter the opportunity to get back to Paul. A great run in from both teams saw the ladies get 47th position and 1st womens team and Peter and Paul bringing the mixed team home in 76th position. It was difficult to say who had won the womens race Bingleys strong last leg made them look favourites but our man on the spot Andrew Bennett had done some timing, that linked to Sally Morleys phone call to Amanda confirmed to me we had won but it took 24hrs to confirm this. We never saw Tom and Jamie but looking at their time and position shows what a magnificent leg they ran. If you have never done this race get your name down for next year - it's got everything.
Great Langdale Christmas Pudding 10k, Sat 13 Dec
Lawrence Basham reports ... Jemma and I took the offer of two free entries to this race in one of the most beautiful parts of the country. (Thankyou Bryan and Rachel) An out and back course meant we got to wave at each other as we passed, I was in 4th at that point but the last couple of hills on this undulating course took their toll and I dropped to 6th in the last km. Jemma ran a near perfect negative split and was overtaking runners in lumps as she powered her way through the last km.

6th   Lawrence Basham  36.29
287th Jemma Basham     56.02
457 Finishers 


Vic Vereconi adds ... this event is done 2 days ... One race on Saturday and one race on Sunday... I did the Sunday one..
The Great Langdale 10k is one of my favourite events of the year as it is in a lovely picturesque setting... Anyway a couple of Australian friends from London (Beth and Nerissa) joined me this weekend to have a go and enjoy the atmosphere... They were far tougher than me camping out in the wilds the night before at a place called Bridgewater (I think)... I simply drove from the comforts of home..
Anyway I ran like a star up to 5km doing a fine split of 21min 31sec at that point.. I thought I was up for a good time but the constant undulations took their toll up to 7km.. I then just staggered over the next couple of kilometres only doing well in the final kilometre (a flat part)...
Great day out anyway..

Times:
1st  male     Ben Abdelnoor    34.43
1st  female   Rebecca Robinson 34.50
 
85   Vic Verecondi     45.20
 
Must mention Australian mates
371 Nerissa Brownlea 1:01:55
372 Beth Little      1:01:56


Round Rotherham, Sat 13 Dec
Amanda P reports ... I entered this 50 mile event last year and it rained heavily for most of the day. I decided to enter again this year, the theory being that the conditions were bound to be better - how wrong I was as this year it rained heavily all day. Conditions were very wet underfoot, especially the ploughed fields and the ford that was in flood. I finished in 13 hours 45 mins, complete with a big blister.
Despite the weather, it was an enjoyable and well organised event. Perhaps next year it might not rain !!.
FLM 2009
From Mme Secretary, Sue B ...
the 5 club places have gone to .... Pete Bedwell, Simon Chapman, Dave Taylor, Steve Weston, and Rob Wills.
Good Luck to you all!
Runner of the Month, November
Nominations were:
Vic Verecondi - pb at Thirsk 10m, and Amsterdam half
Justin Philips - pb at Abbey Dash and Thirsk 10m
Sarah Jarvis - Northern Champion and sub 60min 10m
Jane Bryant - pb at Abbey Dash and Amsterdam half
Richard Gray - service to club organising the predictor run
And the winners were - Sarah Jarvis and Richard Gray who will receive technical running shirts from our sponsor UP & RUNNING.
The Outstanding Achievement Award was given to Christine Mathews for breaking the club LV55 and LV50 record at 10m (Bampton to Carlisle).
Complete Runner XC #4, Sun 7 Dec
From Pete Shields ... today was the last race of the four race Complete Runner West Yorkshire X/C League. There were results to calculate for the overall positions and also for today's run held on a very good course at Wakefield.
Today's race saw 9 senior ladies and 6 senior men compete and try to consolidate results from the previous fixtures and they certainly did not let the club down. The camaraderie that has been shown throughout this series has been wonderful and no more so than today where support on the course, before and after the races continued. The ladies results for today were 2nd Sarah Jarvis 19.19 1st W35, 15 Sally Morley 21.28 3rd W35, 23 Amanda Oddie 21.44 1st W40, 25 Alison Bennett 21.50 1st W45, 34 Sally Malir 22.30 3rd W40, 40 Catherine Gibbons 23.08 4th JW (another great result) 77 Amanda Newman 27.41 9th W40, 79 Bernadette Gibbons 28.05 5th W50. Unfortunately, Caroline Bell pulled a muscle during the race and had to retire after looking really strong. This gave the ladies 4th team on the day and 3rd in the series overall. This concludes a wonderful set of results For Ilkley ladies and further adds to their growing reputation throughout the country.
The men just got a team out and one has to praise them for that, well done. Today's results were, 64th Lawrence Basham 36.45 13th M35, 81st Mark Iley 38.10 19th M40, 107th Mark Teasey 39.18 19th M40, 113rd Kevin Gooch 39.30 1st M55, 157 Peter Shields 43.23 4th M60, 187 Phil Chapell 48.48 31st M40. This gave the men's team 14th place which in such a high powered league is very commendable.
In the U17 Girls, Jenny Dybeck was 6th in 16:35; and as usual there was great representation from the Ilkley juniors.
The presentation for the overall league placings was for myself who has contested this league for near on 30 years and Ilkley Harriers a significant occasion: the ladies team were in a tie break with Holmfirth Harriers and Scunthorpe and by some equation or other we were given third place, magnificent and it shows our depth because other than the team out today there were many others throughout the series who contributed to this result well done.
Individually Sarah Jarvis was overall W35 Champ and as was noted could also have been Open Champ but for the complex rules within this League, a truly fantastic effort. The W40 Gold went to Amanda Oddie a fantastic athlete who truly deserves the medal with Sally Malir taking the Bronze after a great string of results. The W45 Gold went to Alison Bennett strongly backed up by a Bronze from Alison Eagle. The men also had a great series and for all who took part well done. They also had some medals to celebrate Kevin Gooch took the Gold in the M55 with a great series of results in a really competitve age group, I'm not sure if this is not the first time we have had such a winner at Ilkley. In the M60 Peter Shields got the Silver medal.
The junior results will be reported in depth elsewhere, but we should give a cheer for our U11 Girls' team who won the series!
It goes without saying this has been one of Ilkley Harriers best series of results in such a premier league, well done, let's all get to the Peco races (Golden Acre Park Saturday 20th).
After the highs of presentation I was brought down to earth by the news that Sarah Jarvis and Mark Teasey will be leaving us to join Bingley Harriers, one can procrastinate on their decisions, but I will just reflect on the significant contribution they made while they were here and I'm sure we all wish them well for the future, good luck.
Bolton by Bowland, Sun 7 Dec
116 runners took part in yesterday's Bolton by Bowland race held in cold and icy conditions, 8m with around 800ft climb. Steve Turland 14th in 54:24 and Dave Tait (2nd V60) 41st in 58:29
Guys 10, Sun 7 Dec
From John Marshall... 242 runners took part in this PB friendly 10 mile Lancashire course - 1st male was Simon Mills of Sale Harriers in 52.24, 1st female was Caroline Betmead of Blackpool, Wyre and Fylde in 61.38. There was no snow west of the Pennines, nevertheless conditions underfoot were extremely slippery. I finished in 83.06, an identical result to last week at Thirsk with a similar 2nd half collapse. - I need to bank some long Sunday runs before attempting this distance again!
Open 5, Staveley, Sun 7 Dec
Some good Harriers results: Heather Dawe won the Female Solo class; Sue Booth was in the 4th Female pair; Tim Ashelford was in the 10th Male Pair; and in the Mixed Pairs Eddie Winslow was in the 1st team, Victoria and Ben Stevens were 6th pair, and Dave and Joanna Taylor 17th pair.
Membership Renewal
From Eddie Winslow ... Several members have not renewed their membership yet. Renewal notices were issued with the October newsletter and should be returned before the end of 2008. The mailing list for the January newsletter will be prepared early in the New Year and if you have not renewed by the time that the list is prepared you will not be on it. If you have any questions then please contact the Membership Secretary, Eddie Winslow, details in the newsletter or use the membership email link mship@ilkleyharriers.org.uk
Free Beer
Help Ilkley Harriers earn £500 whilst having fun serving beer at the Ilkley Beer Festival. More ...
FLM 2009
From Mme Secretary, Sue B ...
Latest, 4 Dec - 1 place left - e-mail me before Tuesday 9th 5pm
I have just received 5 club entries for the Flora London Marathon 2009. Anyone wishing to apply for a club place must do so by Tuesday 2nd Dec. Applications will be considered at the Committee Meeting on 3rd Dec. The public draw (if there are more than 5 valid applications) will be on Tuesday 9th Dec.
The criteria for applying are -

You must be a fully paid up member of IH (if you haven't paid your subs please do so NOW!)
You must have applied for a place through the FLM Ballot, and been rejected.
You must be able to provide evidence of applying ie your rejection slip.
All requests for a place must go through the Secretary (that'll be me then...........)
A draw of requests received will take place and the draw decision is final.
If insufficient requests from ballot-rejectees is received (which rarely happens), then the places will be open to other club members.
If you are a non-ballot-rejectee then please also put in your request as above.
Good Luck.
Christmas Fun Relays
Tue 16 Dec. Full details on the Social Page. Get your entries in!
Thirsk 10 (incorporating Northern Championships), Sun 30 Nov
Marc T reports: Congratulations first of all to our new Northern Champion, Sarah Jarvis - (Tracey Morris had entered on the day and so was exempt from race and championship prizes, as only pre-entrants were eligible) - Sarah finished just over a minute behind her (in a PB by three and half minutes), leading in the rest of a quality women's field and thus picking up the Northern Champions title and first lady prize. Her time puts her 3rd in the UK rankings for 10 miles for V35 age group, and 12th in the overall UK rankings. A host of other PBs for club members followed in perfect conditions on a lovely rural course - Justin ran a stormer in what we think is his first ever 10 mile race, I surprised myself by knocking nearly a minute off my own PB, and Vic was delighted to knock nearly 2 minutes off his PB. In spite of coming back from recent injury Jeff Paget still ran a few seconds faster than last year, and Neil was delighted to also run a couple of minutes faster than he'd expected given current form and injury niggles all year. There may have been other PBs that I'm not aware of, as didn't get a chance to see all of the Harriers there.
This race is really well organised and on a great course - pretty flat but undulating and rural enough to keep it interesting. I'd highly recommend it for next year, when it will again be hosting the Northern Championships.

1    Stephen Hepples (Loftus and Whitby) 50:31
21   Tracey Morris (Valley Striders)     57.45
34   Sarah Jarvis     59:03 (2nd Lady, PB, club record)
62   Justin Phillips  61:18 (PB)
80   Marc Teasey      62:09 (PB)
110  Jeff Paget       63:40
171  Neil Chapman     66:43
316  Vic Verecondi    73:04 (PB)
348  Paul Buckle      74:06
396  Helen Shew       76:14
568  John Marshall    83:42
849 finished.

XC
Results from last week's PECO race are up on Abbey Runners site and below.
From Pete Shields ... we need to start thinking about the Yorkshire and Northern X/C Champs. The Yorkshire X/C take place at Rotherham on Saturday the 10th January and the Northerns are at St Helens on the 24th January. It goes without saying we need support for both these events and with our results in the two X/C competitions we are in at the moment could look at competing in them with confidence.
Abbey Dash, Sun 23 Nov
Marc T reports ... Alison Bennett ran 39'55" at the Abbey Dash today - this is a new Harriers' LV45 club record for 10k, breaking her own record set nearly 2 years ago by 6 seconds.
Jamie's story ... I made it around the Dash, but my chip didn't (coming off at the 5k mark) and so currently I'm a dnf! I set off at the head of the field and after a super fast first k (3 mins) slowed and was passed by quite a number. I settled into my pace and got to 5k in about 17.15. Great encouragement on the way back into Leeds from fellow Harriers saw me complete in 34.42 and about 70th overall - a PB by about one minute. (Time and place confirmed 11 Dec)

1     Matt Janes        29.30 (Bedford AC)
25    Helen Clitheroe   32.12 (Preston Harriers)

72    Jamie Hutchinson  34.42	
128   Stuart Pitches    36.26
150   Justin Phillips   36.56
265   Dave Jepson       38.51
269   Geoff Howard      38.56 (4th MV60)
273   Richard Reeve     39.02 (10th MV50)
274   Stephen Coy       39.03
327   Alison Bennett    39.55 (1st LV45 and new LV45 club record)
444   Peter Shields     41.19 (5th MV60)
447   Nik Legge         41.32  
636   Jane Bryant       43.01 (7th LV40)  PB
648   Andy Webster      43.06
743   Keith Wood        43.46
953   Caroline Bell     45.03
1184  Sue Bickerdike    46.21
1194  David Cockshott   46.24
1305  Karen Lambe       47.01
1352  Nick Mellor       47.11
1466  John Marshall     47.47
2088  Colin Lugton      50.39
2281  Gaenor Coy        51.41
2298  Jean Sullivan     51.45
2377  Alison Stretton   52.11
2507  Emma O'Looney     52.49
2720  Janet Bairstow    53.58
4135  Sue Lugton        62.21 (6th LV60)
4347  Ann Pearson       64.41 (7th LV60)
4652  Brian Sweet       68.53 (3rd MV75)
4952 finished.


Rivock Edge fell race, Sun 23 Nov
Results from www.kcac.co.uk, including a few who dashed from Leeds (above) to Silsden for 7.2 miles of fun on the fells after the Abbey Dash! A very organised race organiser even sent us the results, including this "this is the third year that the race has been run and organised by Keighley Explorer Scouts. Numbers entering this year were slightly up on last year's. .. icy conditions on Rivock Edge, but with good running conditions underfoot. The winning time 50.20 by Owen Beilby of Wharfedale - a new course record. First woman home was Karen Pickles of Pudsey Pacers in 57.35"

44   62.17  Dave Tait Dark Peak 1st V60
52   64.13  Paul Stephens
78   70.07  Pange Srivastava
80   70.31  Nigel Tapper
81   70.53  John Hayes
101  78.24  Ian Hunter
102  78.36  Keith Wood
104  79.10  Sue Bickerdike


Read about Sue's Dodgy Double here.
Primary Schools XC, Sat 22 Nov
Ilkley Harriers staged a XC event for Primary Schools at the Nell Bank Centre, with over 300 youngsters running. Thanks to the many helpers and marshals who helped make this a success. Results and photos on the junior pages.
Harriers versus Cyclists, Sat 22 Nov
From Lee Morley ... A few Harriers popped over the hill for what was I heard was a low key event, Bingleys Harriers versus Cyclists. Low key it may be, but it certainly had quality, Rob Jebb on his bike won with Alistair Brownlee just under two minutes behind. Another fantastic run by Tom in 4th (3rd runner). Myself having not run for 3 months due to injury thought I'd have a ride, I'll do that tomorrow (spent half the time carrying!!).

4    Tom Adams          37:12
18   Chris Gale         39:32
53   Nick Pearce        44:58
61   Dave Tait          46:11
63   Lee Morley(cyc)    46:21
116  Bryan Websdale     52:50
164  Rachel Websdale  1:11:14


Results Harrier vs Cyclists 2008
Predictor Run, Tue 18th Nov
| | | | | |
| --- | --- | --- | --- | --- |
| | | Predicted | Actual | Difference (s) |
| 1 | David Brown | 38.00 | 37.58 | 2 |
| 2 | Amanda Parnaby | 61.00 | 60.56 | 4 |
| 3 | Phil Judd | 38.31 | 38.25 | 6 |
| 4 | Alison Weston | 40.58 | 40.51 | 7 |
| 5 | Sue Bickerdike | 44.44 | 44.53 | 9 |
| 6= | Jenny Dybeck | 40.00 | 39.47 | 13 |
| 6= | Sue Lugton | 62.00 | 61.47 | 13 |
| 6= | Emma O'Looney | 56.53 | 56.40 | 13 |
| 9 | Jane Guillard | 52.00 | 51.45 | 15 |
| 10 | Ian Hargreave | 52.30 | 52.11 | 19 |
| 11 | Heather Duke | 56.00 | 55.38 | 22 |
| 12 | John Brown | 49.21 | 48.58 | 23 |
| 13 | Elaine Ibbotson | 56.00 | 55.35 | 25 |
| 14 | Simon Chapman | 39.00 | 38.33 | 27 |
| 15 | Paul Stephens | 43.22 | 43.50 | 28 |
| 16 | Jeff Padget | 38.11 | 37.42 | 29 |
| 17 | Vic Verecondi | 42.00 | 42.35 | 35 |
| 18 | Colin Lugton | 48.00 | 47.17 | 43 |
| 19 | Alex Lewis | 49.49 | 49.05 | 44 |
| 20 | Karen Lambe | 53.00 | 52.12 | 48 |
| 21 | Kevin Gooch | 38.00 | 38.56 | 56 |
| 22 | Arthur Wilson | 43.07 | 42.09 | 58 |
| 23= | Liz Price | 50.35 | 49.30 | 65 |
| 23= | Nigel Tapper | 42.00 | 40.55 | 65 |
| 25 | Chris Matthews | 50.36 | 49.30 | 66 |
| 26 | Eric Monterro | 50.00 | 51.11 | 71 |
| 27 | Alison Bennett | 40.25 | 39.01 | 84 |
| 28 | Andrew Webster | 40.00 | 41.25 | 85 |
| 29 | Keith Wood | 41.30 | 42.56 | 86 |
| 30 | Elaine Cossins | 45.00 | 46.41 | 101 |
| 31 | Sharon Fuller | 56.00 | 57.49 | 109 |
| 32= | Chris Oxley | 43.30 | 41.40 | 110 |
| 32= | Jane Bryant | 43.20 | 41.30 | 110 |
| 34= | Richard Reeve | 42.00 | 40.09 | 111 |
| 34= | Amanda Newham | 52.00 | 50.09 | 111 |
| 36 | Gaynor Coy | 50.00 | 51.59 | 119 |
| 37 | Peter Shields | 41.53 | 39.50 | 123 |
| 38 | Cherie Wright | 58.01 | 55.55 | 126 |
| 39 | Andrew Sheldon | 44.00 | 41.49 | 131 |
| 40 | Janet Bairstow | 53.00 | 55.29 | 149 |
| 41 | Andy Wilson | 42.02 | 44.41 | 159 |
| 42 | Helen Horton | 47.20 | 44.40 | 160 |
| 43 | Kay Pearce | 44.10 | 41.05 | 185 |
| 44 | Antonio Cardionale | 48.00 | 51.19 | 199 |
| 45 | Paul Sugden | 48.00 | 51.35 | 215 |
| 46 | Don McRea | 55.00 | 51.07 | 233 |
| 47 | Steve Weston | 40.00 | 36.05 | 235 |
| 48 | John Marshall | 51.22 | 46.50 | 272 |
| 49 | Nick Legge | 47.30 | 39.00 | 510 |
| 50 | Andrew Bennett | 54.00 | 39.01 | 899 |
| | Dave Wilby | . | 37.42 | |
| | D Jackson | . | 37.49 | |
| | Julie "Hot Legs" Harvey | . | 43.17 | |
| | Mike "Big Boy" Bryant | . | 44.44 | |
PECO XC, Nell Bank, Sun 16 Nov
From Pete Shields ... well done to the host of juniors who ran the very arduous fields, what a wealth of young talent we have at the club. For the senior event we engaged a lifeguard for one part of the course because of the water but he was not called on. From observations we should have done very well in both the men's and women's event. Well done to all that answered the call. Of course the race would not have taken place without a really tremendous effort from the helpers, so many we can't mention them all.
The registration team worked miracles in getting everyone signed on, it must have been a record for the league. The marshals and those that put the course together did a fantastic job and were congratulated by many of the teams for its design, although a couple are suffering with trench foot. The catering team provided a wealth of food for all competitors and support, talk about loaves and fishes feeding the five thousand, they certainly exceeded that, really well done. The photographs of the event are tremendous and I'm sure will be enjoyed by all that were there. Well done once again Ilkley, we've set the mark again, let's all be at the next one!
We have some photos of the race on the race page.
Senior results included Tom Adams and Jamie Hutchinson in the top 5 and Sabine Hauswirth 1st lady and we think Alison B 2nd lady.
In the inaugural junior race, there were 16 Junior Ilkley Harriers running - more ...
Results are up on
Abbey Runners site
. Good team results for Ilkley - Men are 2nd to Abbey, Ladies are winning with a good lead over Horsforth, Male Vets are equal 1st with Horsforth, Lady Vets are leading with Horsforth 2nd.

Men 
3  Tom Adams
4  Jamie Hutchinson
20 Dave Wilby
25 Justin Phillips
26 Malcolme Pickering
32 Arthur Reilly
34 Richard Joel
43 Geoff Howard
44 Nick Pearce
45 Kevin Gooch
48 Dave Cummins
63 Nick Legge
67 Richard Reeve
80 Ian Marshall
93 Nigel Tapper
100 Tim Ratcliff
112 Phil Hurst
113 Chris Oxlade
122 Keith Wood
127 Phil Chappel
136 Graham Stead
156 Don McRae
157 Andrew Bennet
163 Bob Payne
165 Antonio Cardinale

Women
1  Sabine Hauswirth
2  Alison Bennet
6  Sally Malir
7  Alison Eagle
10 Diane Haggar
12 Catherine Gibbons
17 Joyce Marshall
33 Amanda Newham


British & Irish Masters International XC, Swansea, Sat 15 Nov
Sarah Jarvis reports...With butterflies in our tummies and our lucky pants packed in our bags, Alison and I shared the long journey down to Swansea to the 'Team England' hotel for a good night's sleep before the big race on Saturday. Soon after arrival, with the visit to pick up our team kit came the news that Alison had been promoted from the reserves to the full England V45 team. Fantastic news and an international debut it was to be for us both!
Pulling on our new, shiny England vests we made the most of what breakfast we could stomach before venturing to the race centre, Singleton Park. The morning involved much hovering in the drizzle waiting for our team photo and a warm up around the undulating and already quite muddy course. Flashbacks to Nunroyd Park were already putting me on edge...
After lots of nail biting and nervous jogging about we lined up for the start, with our elbows out and our longest spikes at the ready, determined to put any Northern Irish, Scot, Welsh or Eire lady firmly behind us. The crowd was pleasingly loud and supportive through the 3 lap/6k course, though the mud took its toll on my quickly tiring legs and thoughts of catching the leading lady faded in the last kilometre as she showed her mountain running strength. Alison started well, her race experience shining through and maintained a good pace before working her way through the field. She finished with a healthy sprint up the muddy hill finish to place 9th V45.
The day was an experience not to be missed and was made all the more special by the support and TLC of our very own personal England coaches, Andrew B and Marc T. Their chauffeuring, coat-holding, patience through (my) tantrums, shouts of encouragement round the course and warm hugs at the finish were gratefully received and will not be forgotten. Thanks too for all the texts and messages of encouragement and support from Ilkley folk.
Individual results below but team results to follow:

V35 Results (19 ran)
1  24:09  Donna Mahon (EIRE)		
2  24:18  Sarah Jarvis (ENGLAND)

V45 Results (19 ran)
1  24:26  Jane Clarke (ENGLAND)	
9  26:46  Alison Bennett (ENGLAND)


Update from Sarah ... Alison won a team gold medal for V45's. I won the individual silver medal and a gold team medal for V35's. It looks like the England ladies swept the tables!
Bampton to Carlisle 10 mile road race, Sat 15 Nov
Andy Wolfenden reports ... Christine Matthews did 1hr 17mins 15sec, 1st lady vet o/55.
Stats expert Marc confirms ... this smashes our previous club record not only for LV55 BUT for LV50 too!! Wow - what a great run - puts Chris 32nd in the UK rankings for her age group for 10 miles.
Tour of Pendle, Sat 15 Nov
From Alison Weston ... It was unusually good weather for the Tour of Pendle on Saturday but it was still really hard - or at least it was for me! 16.8 miles and 4830ft of climbing. Graham Pearce had a fantastic day and won the race (equal 1st) and Dave Tait was 1st V60 in 2:59:59. Emma had a brilliant run to come second female in just over 3 hours and Nicki Jacquiery 3rd LV40 (in 3hrs16). Roy Ruddle eased round 42nd in 3:01:20 and I came in somewhat later in 3hr 31. Emma, Nicki and I came back with a lovely shield and plenty of wine for 1st female team. It's the first time Ilkley ladies have won this shield so we will have to make it the first of many now!!
Complete Runner XC, Wetherby, Sat 15 Nov

Women
11  Amanda Oddie
23  Sally Morley
31  Alison Eagle
36  Sally Malir
60  Jane Bryant
88  Amanda Newham
90  Emma Payne
4th team

Men
76  Mark Iley
94  Steve Weston
124 Kevin Gooch
incomplete team

U17 Girls
5  Jenny Dybeck


There were over 20 juniors running for the club - more ...
She's a Reet Champion
Morgan advises ... the Yorkshire Vets Grand Prix results are now out, after the Cop Hill race (below) results were considered, and Ilkley results include:

LV45  1st  Alison Eagle
M60   5th  Peter Shields



Three Tops fell race, Sun 9 Nov
Read Sue B's report here.

86 102:58  Andy Wilson	
89 103:42  Nigel Tapper	
91 104:30  Keith Wood
96 107:05  Sue Bickerdike	
99 113:26  Ian Hunter	(in only his 2nd ever fell race)

Shepherds Skyline, Sat 8 Nov
Results from www.todharriers.co.uk

1   42.31  Ian Holmes
19  49.15  Chris Gale
42  51.08  Dave Wilby
97  56.49  Paul O'Looney
101 57.04  Duncan Cooper
104 57.08  Bob Hamilton
105 57.09  Ian Rowbotham
116 57.38  Kevin Gooch
241 66.30  Val Kerr
245 66.57  Michael Waterhouse
295 70.38  Sarah Fuller
359 90.00  Sharon Fuller

362 finishers


The above results are provisional, but based on them we've drafted out an update to the Harriers Running League tables.
Burley Bridge Hike, Sat 8 Nov
From Clare Smith .. I lay in bed this morning, listening to the rain, and wondered if we were to have another OMM experience today. However, the rain had eased by the time we set off at 8am from Ben Rhydding Methodist Church and I only felt the odd drop virtually all the way round. Whilst the weather was not inclement, the underfoot conditions were a little trying. I could have done with fell shoes over most of the moor, but there is a 3 mile stretch along the canal towpath and there are various other sections on road, so I opted for trail shoes and just slipped about a lot in places. At one point, I was up to my hip in bog, but a chivalrous gent helped me out (it wasn't Neil, I hasten to add- he was about 1/2 a mile ahead, wondering what was taking me so long. He did keep waiting for me, though, and opened gates for me too, so I can't complain). The route heads onto the moor, past the tarn and up to the Swastika Stone then to Windgate Nick. From there it's south across the moor to Riddlesden Golf Course ('beware of flying golf balls'), east along the canal to Micklethwaite then up and over the moor again to Twelve Apostles, via Stocks Hill to Burley then west to Clevedon House and back down to Ben Rhydding. The winning time was 2 hrs 39 mins (I think) and we were 35th and 36th. I was 2nd lady in 3 hrs 47 mins and was pleased to beat my target of sub 4 hours. Amanda Parnaby also ran, as I think did Dave Tait. Any other Harriers?
Amanda advises ... my time was 5 hours.
PUMA 'Dirty Double weekend', 1-2 Nov
Report from Alison Weston ... I took part in the 'Dirty Double' race at the weekend - 2 Trail races in the Lakes. 15k around Helvellyn area on the Saturday and 12.5k around Ullswater on the Sunday. The weather was great both days and the second day included a boat trip across the lake from which we ran back to the start. A very friendly event and well organised.
Day 1 5th lady (2nd lady vet 40) - 1hr 13
Day 2 5th lady (2nd lady vet 40) - ~1hr 10
Yorkshire Vets Fell Championship - Cop Hill, Meltham - Sun 2 Nov
From Alison Eagle ... If you think there was mud last weekend at the WYXC at Guiseley you should have been at Meltham's AC Cop Hill Fell race, incorporating the Yorkshire Vets Fell Championship. 7miles, 900ft, a 2 lap course visiting the small peak of Cop Hill - perhaps more of a cross country course than a fell race but made much tougher by the muddy conditions. Two sections of total leg sucking mud, the sort where the harder you work the more you sink, on each lap were interspersed by bits of road, small uphills, moorland and brief contouring. Just one real but very short descent off the top much to Morgan's disappointment! The weather was the usual uninviting wind and piercing cold for that part of the world but suprisingly proved rather warm when fighting through the mud and up very slippy paths, I do not know how those I saw in road shoes made it up at all! The race was won by Karl Gray, Calder Valley in and the Ladies by an impressive performance by Helen Berry, Holmfirth - 29th overall. Alison Eagle was 2nd Lady, 1st Lady vet and LV45 Yorkshire Vets Champion, 60th overall, 62.09 and actually enjoyed all that mud! Morgan Williams after a steady start, finally got going after 50 minutes, began wheeling in runners and finished 68th in 63.47
Guy Fawkes 10, Sun 2nd Nov
Marc T reports: A return to one of the first ever races I ever did (three years ago) proved how time dulls the memory, as hill after hill unfolded beneath my wearying legs and the hordes continued to stream past me (why am I so rubbish downhill?) after I started too fast - another half a mile and young Kevin would have caught me at the end! I remembered three hills - there were at least 103, each at least 5 miles long. 814 runners completed one of the toughest 10-mile courses around and, although I didn't hang about for the prize-giving, I'm pretty sure that our ladies will have won the team prize with a fantastic grouping of 6th, 7th and 8th, to add to Alison's individual age-group prize. The men's winning time was awesome, given the hills, wind and sections of trail! The race had the best goody bags I've ever had and everyone got a great long-sleeved training top - look out for all of the matching Harriers on Tuesday night.

(1.  Darren Bilton, Leeds City	52.59)
(7.  Tracey Morris, Valley Striders	60.12)
41.  Jonathan Sinclair  65.58
68.  Marc Teasey        68.12
70.  Kevin Gooch        68.27
78.  Sally Malir        69.16 (2nd LV40)
79.  Amanda Oddie       69.18 (3rd LV40)
103. Neil Chapman       70.53
112. Alison Bennett     71.17 (1st LV45)
158. Peter Shields      73.13 (3rd MV60)
217. John Woodward      76.13
228. Nigel Tapper       76.51
275. Catherine Gibbons  79.36
307. Timothy Ratcliffe  80.51
353. Val Kerr           82.40
472. Juliet Muirhead    87.28
503. Bernadette Gibbons 89.24
735. Adele Mitchell    103.34


This was a counter in the Harriers Running League.
Great Whernside, Sun 2 Nov
Geoff H reports ... Great Whernside is obviously good country for older men (and women) as, in good conditions, vet. 40's Ian Holmes and Helene Whitaker were 1st in 33m and 39.54 respectively. Chris, Ian and Dave were amongst the prizes.
Ian Rowbotham adds ... it was great to see Chris Gale running off into the distance on Ian Holmes shoulder - photographic evidence on Flickr. Cold rainy and damp conditions improved as the race started. We were straight into a relatively steep climb that went straight up and back down the same route. So there were no problems finding the route back. The route covered lovely countryside which included one of the racers' own farmland. Towards the top the ground became frozen in parts. There were reports of snow on the top of Buckden Pike that morning. Kettlewell was the start and finish point and there was a generous prize giving at the local pub.

1  Ian Holmes     33.00 Bingley V40
9  Chris Gale     37.43
14 Ian Rowbotham  38.29 1st v.45
24 Dave Tait      40.50 1st v.60 (Dark Peak)
32 Geoff Howard   42.34
42 Adrian Dixon   45.07 (Reservoir Runner)
45 Richard Reeve  45.45 (1st prize for result symmetry)
74 Sarah Fuller   52.44
87 Chris Jamieson 60.40 
89 ran


Rainforest 10k, Finsbury Park, London, Sun 2 Nov
Vic Verecondi reports ... Spent a quick weekend in London so I thought I'd do a 10k whilst there. Anyway managed a time of 46.43. Which wasn't too bad as the course was constantly undulating, not steeply I must admit but a couple of flattish bits would've be nice. Must say that about the last 700 metres was on grass which made things slightly difficult, being a true road runner. Not only my time was hindered but my shoes and calves accumulated small amounts of mud which I didn't like I must admit!!!
Open 5, Blanchland, Sun 2 Nov
Sue Booth reports ... Had a great day out at the Open 5 at Blanchland, Northumberland, yesterday. The beauty of these events is that you often end up riding and running in places you wouldn't normally go – and yesterday was no exception. A very cold day (it was 1.5 degrees in the car when we arrived), the rain held off (no flooded car this time!), and we had an excellent day out in beautiful countryside – with a scattering of snow on the hills across the valley. Although it was very, very muddy, and hard going, the cycling was great fun and on really good tracks (or at least they would have been if they weren't covered in 3 to 4 inches of thick gloopy mud – but that just added to the fun!). The run, on the other hand, wasn't so good; probably the least enjoyable run ever for me on an Open5 (possibly because on the route we took which was half on road!). There didn't seem to be many other Harriers there, although I did spot Eddie Winslow (1st mixed pairs with 555 points). Louise Hanley (Leeds and Bradford Tri) and I came 1st in female pairs with 450 points.
Dave & Jo Taylor add: We took part in our 4th Open 5 race on Sunday based around Blanchland in the North Pennines. Lovely weather with snow on the tops. Eddie Winslow and Julia Baron won our mixed pairs class. We were 13th mixed pair out of 30 teams. Another great day out, with the usual friendly atmosphere!
Haworth Mudman, Sun 2 Nov
Jamie Hutchinson reports ... after a slowish run over 5k taking us around Penistone Hill it was back into Haworth and onto the bike for 20k - I seemed to struggle on the bike and slipped a few places. The final 3k run I was flying (a bit too late) and posted one of the fastest splits. A couple of the leaders had bike trouble which helped increase my placing to 5th overall, in 1hr 50, out of about 70 - Andy Peace won it in a little over 1 hour 40.
Dunnerdale, Sat 1 Nov
Heather Dawe reports ... I had a trip over to the Lakes on Saturday for the Dunnerdale fell race, a cracking five miles in the south west Lakes. I think I was the only Harrier out in a field of about 250 runners. The race was won by Rob Hope and Natalie White in 38:49 and 46:52 respectively. I was 3rd lady in 49:43 (a PB by over 4 minutes :o) ).
Venice Marathon, Sun 26 Oct
Graham Corbett reports ... I finished in 3hours 52 mins and 27 seconds – about 6 mins down on my pb but quite happy given the very warm weather over there on the day. The last 1k or so was over 14 of the canal bridges and the finish line was just after passing St Marks Square- not a bad way to finish any marathon!
Complete Runner XC #2, Guiseley, Sun 26 Oct
From Pete Shields ... From the tropics of Otley, Ilkley's 12 ladies and 10 male x/country runners faced a more autumal reality at Nunroyd Park, Guiseley today. Although the rain kept away throughout the individual races the course was a quagmire with not an inch of easy running anywhere, in fact some runners put an extra mile on their distance looking for good ground.
However, it did not stop the teams from some really epic performances. The ladies got 1st team in the senior event totalling 54 points from 2nd placed Leeds 94 and Holmfirths 97. Without sounding like an x factor judge this is a fantastic result for our club and deserves the plaudits it should receive. Sarah Jarvis led the team in with 3rd place and first lady 35 in 22:12. Amanda Oddie was 9th 1st lady 40 in 22:53, Alison Bennett was 19th and second lady 45 in 23:48, Sally Malir was 27th and 2nd lady 40 in 24:11, Catherine Gibbons had a fabulous result coming 29th and 4th junior lady in 24:16, Alison Eagle was 35th 3rd lady 45 in 24:32, Angela Srivastura was 55th in 25:52, Alison Weston was 59th in 26:23, Caroline Bell was 64th in 26:51, Diane Haggar was 75th in 27:46, Diane Kitchen was 76th in 27:50, Emma Payne was 99th in 31:10.
The senior men came 11th in their competition and one has to remember this is one of the premier x/country leagues in the country. So this result in such high company shows our commitment to the event and what can be achieved. James Wood-Robertson was 43rd in 48:20, Lawrence Basham was 54th in 49:05, Mark Iley was 98th in 52:50, Justin Philips was 108th in 53:31, Dave Cummings was 117th in 53:58, Steve Weston was 122 in 54:20, Marc Teasey was 137th in 55:16, Neil Chapman was 163rd in 57:35, Pete Shields was 180th and 2nd male 60 in 60:12, and Brian Websdale in his first ever x/country race and a real baptism of fire, was 212th in 65:05.
A big thank you from all the Ilkley runners to the fabulous support they received all around the course, even though the mud was thick it was a great day.
There were strong junior results too (more here). And, just like the Senior Ladies, the U11 Girls won their race and fielded 3 complete teams.
Withins fell race, Sun 26 Oct
Harriers seen out included Jim Ryder, Ian Rowbotham, Malcolm Pickering, Dave Tait - results from www.woodentops.org.uk:

16  52.11  Jim Ryder
19  52.59  Ian Rowbotham
31  56.28  Malcolm Pickering
49  58.11  Dave Tait  1st Vet60


OMM, Sat 25 Oct
From Clare Smith ... it looks like the OMM made national news this year! Neil and I have just returned home safely, having started out on the Medium Score event at 10am on Saturday, along with Sue Booth and Helena Deaney whose car had been flooded by a metre of water. The conditions were the worst we have experienced in the 6 times we've taken part in the event but it was still a great surprise when we were told by another team whilst battling our way to the overnight camp that the competition had been cancelled and we were to return to the start! When we arrived there we had to wade through hip-deep water on the road to get back to our car which had been parked in a (now very boggy) field so we knew there was no hope of getting out for some time, hence we overnighted in the car in much the same way as we would have done in the tent: Pocket Rocket to heat water for the pot noodles etc! By this morning, however, the waters had subsided and we were pushed out of the field by some very kind fellow competitors. Yesterday's rain was relentless and the strong winds made conditions treacherous. We understand that there have been several casualties, and we too could easily have been blown off a mountainside. Fortunately we had heeded the organisers' advice and had plenty of warm/wet weather provisions with us. We look forward to a more successful event next year! (Now I just need to run off all those Jelly Babies!)
From Paddy & Rachel Hagan ... Well this will certainly be one to remember. We opted for the "short score" course this year, attracted by the option of missing any number of check points without being disqualified. Map in hand we set ourselves what we thought was a modest course and made for the hills. Little did we know by then that our average speed would be severely cut by spending half our time falling over or walking backwards as we battled against wind and rain. It was clear by our first checkpoint, however, that we would only make it round in time by not bothering with any checkpoint that appeared remotely tricky. Miraculously, our route through Wasdale Head and over to Buttermere via Black Sail (missing out a juicy 40 pointer which would have cost more in time to find) had us near the end with our 5 hour deadline target more or less intact, with just one small river crossing to go...which is where it could all have gone very pear shaped. The "small river" was more of a fast flowing river delta and we were soon up practically up to our waists in strong current, Rachel lost balance, and had it not been for the rescuing hand of another competitor we could both have been making a personal appearance on the News at Ten (possibly in non-speaking roles). Subsequent events were all a little surreal: racing to the final dibber only to be told it was all off and we should head for the start; struggling up to the top of Honister Pass in atrocious conditions (had the Apocalpyse come early?); cadging a bus rammed full of competitors back down again after hearing that Borrowdale was a floodzone; listening to headline news about the event on our pocket radio and knowing the panic this would cause back home; the night in a barn - just Rachel, me and 500 plus others; and a second attempt at Honister Pass and Borrowdale (this time successful) in the morning. Team effort and a little luck saw our car miraculously escape from a boggy field and home we went. The sun was shining now - what a shame we weren't out in it tackling day 2. On the other hand, we could both do with improving our river crossing skills...
Dave Wilby adds ... Light drizzle and a gentle breeze on the tops were the story of the day for this years OMM!
No, not really. I was competing with Adrian Hall and heavy rain throughout the day and a strong wind slowed things down considerably for most, with particularly strong gusts of wind on the high tops around Bowfell and the Gables making mobility near impossible at times. Generally a tough, but truly great day for testing your mountaincraft, which is one of the stated aims of the event. Conditions underfoot were a touch on the soggy side but generally manageable, except for anyone encountering water crossings. Even stream crossings required considerable care, and we were lucky to be around a number of other teams when we encountered the worst of them, and worked together to get back safely. The highlight of the day was fighting our way across a footbridge in to Buttermere which was submerged under a raging torrent. Oh the fun you can have on the hills. Disappointed that day 2 was cancelled, but full credit to the organisers for taking the difficult decision. The key I think was the effect of the weather on road access, particularly to the event centre. We completed day 1 of the Elite course, but opted for a night in a Keswick cottage complete with beer and curry, rather than a night on the floor of a Buttermere cow shed.
From Kevin Gooch ... As Rachael is currently injured I paired up with Ken Jaquiery for the Long Score. Quite a baptism for Ken's first MM event. Set off in strong winds on Saturday morning 9.10 and by 9.20 the rain came. Torrential. Wind got steadily stronger throughout the day. This has to be one of the most exciting and memorable days I have had on the mountain. Great care needed on all the river crossings and we kept as low as possible sticking to passes rather than tops when we needed to cross into another valley. We managed to collect 155pts and finished within a minute of our alloted 6hrs (shortened from 7hrs due to conditions). Don't believe anything you read or hear in the media. The conditions were atrocious but the event was not a disaster zone. Reports were coming in of 1700 people stranded on the mountain when the event centre had already accounted for all but 44 pairs. In such events you expect and are equipped for severe weather conditions and the eventuality of having to spend a night on the mountain. Great event, long live the OMM.
From Ralph Tench ... Not much else to add to Harriers' reviews of the storm and the tea cups. My partner (John Hayes) and I completed day one of the medium score and were in the process of putting our tent up ready for day two when word went round that the event was cancelled and we were then sent 'like lambs to the slaughter' as our friend from Honister puts it, back over to Borrowdale from Buttermere. We did end up back at base camp (Seathwaite) but like Clare and Neil unable to move until the Sunday so didn't get the pleasure of Dave's curry. Some highlights: 1. seeing some Ilkley friends with their two children (aged 12 and 9) smiling at us as they came up to the top of Honister (from the less windy Seatoller side). They were heading for the hostel at Honister before on the Sunday completing their walking trip to Black Sail and back to Keswick. They were wet, smiling and had an exhilarating time watching the defeated army of OMMers heading back. Surprisingly the hostel at Honister they told me even had spare beds which no-one took. 2. My partner John also managed to get a bit of our side of the story across in Monday's Independent. 3. I was home in time to see my daughter Anna and her friends/Harriers team run in the cross county at Guiseley.
Amsterdam or Bust!
Sue B reports ... Many moons ago, 17 hardy souls took the decision to make the trek across the water for the Amsterdam Marathon. Our motley crew was made up of hard-and -fast runners, runners who didn't really care, and those that thought that a weekend in Amsterdam might be a jolly wheeze and a fantastic excuse to get the grand-parents (or husbands!) to look after the kids for the weekend. So it transpired that the Amsterdam trip was born. We joined with major intentions, sub 3.30's, sub 1.40's, just a finish, shopping. We arrived with various excuses.....and left very tired. It was fun. For the record
Full marathon
Nigel Tapper    3:40:55
Dave Brown      3:42:23
Keith Wood      3:47:19
Ros Frost       5:03:49

Half marathon:
Vic Verecondi   1:40:02
Jane Bryant     1:40:55
Sue Bickerdike  1:41:23
Julie Harvey    1:44:19
Helen Horton    1:48:19


And to the non-runners, those that made it more than just a running weekend we had -
Jez and Anna - we all wanted to be you!
Jacqui - huge big hurrah to you - cycling above and beyond the call of duty, and retauranteur extraordinaire.
Sandra and Brian - breakfast next time?
Maria and Susan - Where's the next next bar? We'll go! Where's Sat Nav?
And of course, who could forget Sat Nav?
Bridlington Half, Sun 19 Oct
From Helen Shew ... I ran the Bridlington Half marathon on 19th October - another PB for me - 1.44.26
Abingdon Marathon, Sun 19 Oct
Pete Bedwell reports ... a very flat, fast 2 lap course round Abingdon in perfect running conditions, cool and very little wind. Won by Steven Neill in 2.32.25 I managed 3.54.39 a new PB by 2.23 and came 394th, out of 647 finishers , 39th V50 out of 59. Was on track for around 3.45 until calf cramps slowed me down considerably from mile 18 onwards but still well pleased with my first PB for a while. More in the next newsletter ...
FRA Relays, Sun 19 Oct
Dave Wilby reports ... Cool and breezy conditions in the Clwydian Hills for this years British FRA Relays Championships, but dry throughout which made for a great occasion. Start & Finish for each leg was based on a long, long grassy hill which was just runnable on the ascent, and lightening quick on the descent. For spectators it meant they could stand in one place and see every single runner going past so well done to the course planners.
Results in brief are below, detailed report to follow in the next newsletter, but CONGRATULATIONS TO THE GIRLS!!! After great success in recent years, they pulled another performance out of the top drawer and claimed 3rd spot in the ladies competition, holding off Calder Valley by just 9 seconds. I'd also like to add that everyone in each of the 3 teams did the Ilkley vest proud, there were some great performances and to top it all off, everyone had a great day out in a fantastic little corner of Wales.

27th - IH Men:
Leg 1: James Wood-Robertson - 48.23 (38th)
Leg 2: Steve Turland & Jim Ryder - 1.22.50 (37th on leg, team into 34th)
Leg 3: Eddie Winslow & Chris Gale - 1.15.11 (49th on leg, team into 38th)
Leg 4: Tom Adams - 45.47 (11th on leg, team in to 27th)

66th - IH Ladies (3rd ladies team):
Leg 1: Alison Weston - 55.50 (94th)
Leg 2: Alison Eagle & Emma Barclay - 1.32.42 (68th on leg, team into 77th)
Leg 3: Heather Dawe & Kelly Harrison - 1.14.59 (46th on leg, team into 68th)
Leg 4: Holly Williamson - 54.55 (60th on leg, team into 66th)

78th IH Vets
Leg 1: Bob Hamilton - 52.12 (68th)
Leg 2: Kevin Gooch & Richard Reeve - 1.41.23 (98th on leg, team into 90th)
Leg 3: Morgan Williams & Ian Marshall - 1.23.50 (75th on leg, team into 77th)
Leg 4: Nick Pearce - 58.37 (78th on leg, team into 78th)



Well done to everyone once again. We had some seasoned competitors out there who knew what it takes to do well, but we also had some runners who were new to competing in team relays, so hopefully this will inspire a few more of you to get out training over the winter, and to put your names forward for the relays coming up towards the end of this year, and early next year.
Welsh FRA site
Rylstone fell race, Sun 19 Oct
Well done to Jenny Dybeck, 2nd U17 girl at this final race in the BOFRA Champs.
Green Drive Lytham 5 mile, Sun 19 Oct
Tery Lonergan reports ... returned to the Fylde coast for this flat, virtually traffic free GREEN DRIVE LYTHAM 5 mile road race, hosted by Lytham Road Runners.
Incorporating the Lancashire championships, a quality field of 377 assembled for the race won by Anthony Ford of Blackpool in an excellent time of 24.10 despite the strong winds which prevailed. (A time beaten by only 6 UK runners in 2008; testimony to the design of the fast course).
Managed solid even pace 6.30 mileing up to 4 miles when gradually last week's vets' 10 miler served warnings signs to my delicate old hamstrings to ease off a touch! Punishment for racing on consecutive weekends at my age, but nevertheless inside target time of 33 mins.
76  Terry Lonergan   32.41   MV55 4TH         377 RAN


Great Cumbrian Run, Sun 19 Oct
Dave Taylor ran the New Balance Great Cumbrian Run on Sunday 19th October. This half-marathon starts from Carlisle Castle and has a stadium finish taking in pretty countryside and villages over a gently undulating course. There was friendly support throughout and also plenty to occupy family including a fun run which took place during the main event. The course has been changed since problems last year and is no longer out and back but a pleasant loop. There seem to have been plenty of PBs posted, including by Dave, who ran in 1:38:01 coming 40th M40 or 230th overall out of 1424 entrants. This was 6 minutes off his previous best.
Runners of the Month, September
The Committee has decided that there will be 2 Runners of the Month as from September, because of the growth in size of the Club.
The Ilkley Harriers Runners of the Month for September are ...
Geoff Howard for his personal run and team gold at the World Masters in the Czech Republic; and
Pete Shields for his continuing overall contribution to the Club, particularly his coaching.
Also nominated were Kelly Harrison (Ilkley Tri result), Ralph Tench (Ilkley Tri result), and Sarah Jarvis.
These and previous winners are on the Runners of the Month page.
New sponsor for Runner of the Month

Up & Running, with 28 running shops including Harrogate, Headingley, Leeds, and York, has kindly agreed to sponsor our Runner of the Month awards. Award winners will receive a technical running shirt or other similar prizes. Thanks to outgoing committee member Holly Williamson for helping to arrange this.
Special Performance Award
In addition to the Runners of the Month Awards, the Committee decided that a special award should be made to Sarah Jarvis in recognition of her being selected to represent England in the V35 team respectively at the British and Irish Cross Country International meeting in Swansea on November 15th. - this will take the form of help with travel assistance.
Scottish Long Classics Championships 2008
From Graham Arthur ... The results and final positions have been announced: SHR news item and results.
The SHR (Scottish Hill Runners) Long Classics series was inaugurated this year in an attempt to increase interest in and awareness of the long hill races. It has certainly been successful in this endeavour. As well as including some favourite old classics such as Jura, the Two Breweries and the Pentland Skyline, the last two years have seen the inauguration of three new races – Slioch Horseshoe, Ochils 2000s and Glenshee 9 – and a revival of the great Arrochar Alps. Nine races in all.
Over the year I have got to know quite a few of the regular participants, and it has been a fantastic experience. I did seven of the races, missing Stuc a'Chroin because of a family wedding, and the Ochils as it clashed with the Great Wilderness Challenge. No one managed all nine, though one man did eight, and three completed seven. You had to complete at least four of the nine races for a final ranking.
For me, it was a nervous final Pentland, as it was highly possible for my nearest challenger for the V60 category, who had only done three races, to get past on the home straight, if he was running as well as he has been this year, and I had a bad day. In the event, my pacing, drinks and nutrition were spot on, I did not get lost even once, and the new X-talon 212s were just the perfect all-round shoe. The 25th annual prize-giving and SHR 'do' will be at Crianlarich on Nov 1st, and the Arthur family are staying for the celebrations and ceilidh.
Most commonly heard comment: 'You're a long way from Ilkley!' No one has ever said 'Where is Ilkley?'
For some reason which I cannot fathom, the term 'hill racing' now seems more natural than 'fell racing'.
Graham was 1st Vet 60 - well done Graham!
Lakeland Classics
Morgan Williams was 54th overall in this series that promotes the very long Lake District fell races. Results
Complete Runner West Yorkshire XC, Otley, Sun 12 Oct
Pete Shields reports ... on a very tough and demanding course in near tropical conditions 14 lady Harriers and 9 males competed in the first Complete Runner West Yorkshire x/c event at Otley. The ladies finished third in the team event taking the scalps of such luminaries as Leeds City and Holmfirth. Individually and following on from the great run she had last week Sarah Jarvis came second in 20.22 after a great fight with Elizabeth Adams of the York/Knavesmire team, the two of them gave everything as they to and fro'd with the lead in the second lap. Sally Morley came 24th in 22.49, Alison Bennett was 37th in 23.28, Catherine Gibbons having a fantastic run as 3rd junior lady came 45th in 23.53, Emma Barclay 47th in 23.57, Sally Malir 48th in 24.01, Alison Eagle 49th in 24.08, Kelly Harrison 54th in 24.21, Angela Srivastura 59th in 24.41, Dianne Haggar 65th in 25.06, Alison Weston 66th in 25.08, Val Kerr 69th in 25.24, Jane Bryant 77th in 25.51, Caroline Bell 82nd in 26.13, Dianne Kitchen 97 in 27.44.
These are a set of really great results especially when you think Kelly Harrison was racing in the Lakes on Saturday and Alison Eagle, Di Haggar and Alison Bennett ran earlier in the day in the Yorkshire Vets Road Relays. The men also equipped themselves ably over 3 laps of the same course. Placed 16th team even after myself and Justin Phillips were down as Idle (the club not our disposition I might add)! Lawrence Basham 70th in 36.11, Ian Rowbotham 77th (another lakeland racer yesterday) in 36.44, Jim Ryder 79 in 37.01, Justin Phillips 93rd in 37.53, Kevin Gooch (1st V55) 124 in 39.04, Steve Weston 127 in 39.21, Dave Cummings 161 in 41.23, Peter Shields 172 in 42.21, Neil Chapman 176 in 42.50.
Another set of great results that bode well for the rest of the winter season.
The strong results were repeated in the junior section, from Jenny Dybek's 3rd place in U17, to the U11 Girls' team win, with many other fabulous results in between - more details on the junior pages.
Some photos of the senior races from Dave & Eileen Woodhead: Dave's, Eileen's.
This was a counter in the Ilkley Harriers Running League - Sally Malir leads the XC rankings but Diane H still has the overall lead!
Yorkshire Vets Relays, Sun 12 Oct
From Pete Shields ... One lady and three men's teams competed for medals at the Yorkshire Vets Road Relay champs held at Esholt today. The ladies V45 team came away with the silver medal following great runs from Alison Eagle, Di Haggar and Alison Bennett, their times completed on a 2.5 mile circuit were 16.37, 17.23 and 15.40 giving them a convincing second place and Alison's run was second fastest lady on the day.
The men's teams all came close to medal finishes Eddie Irvine 14.08 (second fastest male V50 on the day) Henry Heaviside 15.50 and Geoff Paget 15.03, ran very strongly. The other V50 team of Neil Chapman, Paul Stephens and Arthur Reilly, following some early morning changes ran a very creditable 47.23. The male V40 team were also just out of the medals Tim Ashelford, John Atkinson, Dave Jepson and Mark Iley pushed themselves extremely hard to record a time for the four legs of 59.45.
There were certainly some organisational mix ups re the recording of teams and their times etc. Ilkley Ladies were initially deemed not to have fielded a full team to which I had to make several e-mail challenges to have the decisions reversed. There is still at the time of writing some confusion re our first V50 finishers position, my recording gave them the bronze medal. I am challenging this result to which the organisers are looking into.
Recordings aside this was a good day for the club and all involved, including support from Andy Wolfenden and Marc Teasey. We all enjoyed the atmosphere and competition relays always provide.
Kirby Overblow 10k Trail Race, Sun 12 Oct
From Ian Marshall ... I think I was the only representative of Ilkley Harriers at this local race with a field of around 50 runners. Unlike a typical fell race where everyone is keen to toe the line, no-one seemed to want to lead off, so I found myself on the front row and 5th out of the school field. Pauline Munro led off strongly and finished 3rd overall in 44.34. By the time we reached the edge of the village and off the road onto paths and fields I was down to 10th. A pleasant circuit out to Sicklinghall and back followed, mostly off road. The race was won by Mark Wain in 41.57 and I was 11th in 48.55.
Pentland Skyline, Sun 12 Oct
From Graham Arthur ... Cool, windy, quite sunny and fast terrain for the most part. This is a classic long hill race on the south edge of Edinburgh. A mere 16 miles, but 6200' of climbing spread out over about 14 summits make for an interesting and varied race, with none of the immense gruelling ascents of so many routes. Scenery is pretty good, too, as you will be tired by now of me saying whenever I go out. A record start line of 172 runners next to the Hillend ski centre; a compulsory single file stile after the first 100m of ascent, a single file track up the hill, then miles and miles of unrestricted running (or, er, walking). Ilkley clinched the first V60, and thus the Scottish Long Classics (pensioner division). More about that later. This was the last of nine Scottish ALs to count.
Veterans 10 Mile road race, Lytham St Annes, Sun 12 Oct
Terry Lonergan reports ... as an asthmatic, unable to cope with the pungent aromas of Esholt sewage works (Yorkshire Road Relays) the alternative of a flat road race in fresher air on the Fylde coast at St.Annes On Sea was attractive. Incorporating the Northern Veterans club championships, the high quality field experienced just a light breeze for a change at this venue and this provided excellent relief from the unseasonably high temperatures. The sun had broken through on cue at 11 a.m. as the assembled runners set out on an out and back, somewhat convoluted sand strewn course with excellent sea views.
Paul Freary (MV40), was first male in 54.51, somewhat bemused to win just £5 for his victory. Fiona Matheson (who deadheated with Amanda Oddie in the 2006 Horwich 5k) ran 59.29 as a FV45 in 9th. place, taking her to the top of the UK rankings!
Me? Consistent mileing enabled overtaking right through to the line; but 66.49 was good enough for only 4th. MV55 with 2 MV60s (63.33 and 64.41 also in front!)

32  Terry Lonergan  66.49  (4th MV55)


Langdale Horseshoe, Sat 11 Oct
Heather Dawe reports ... the last of the Lakeland Classics, this race is justifiably popular as it traverses a great area with fantastic scenery.
Ian Rowbo was out sightseeing "Which hill is that then?" he asked as we ran through to Angle Tarn. "Esk Pike" was my grunted reply (trying to breathe and talk is difficult at times).
Ian was 58th in 2:42, I was 5th lady in 2:55 and Dave Tait 2nd V60 (I think) in 2:56. Mike Baldwin ran 3:04 and Paul O'Loony 3:28
Primary Schools XC, Sat 11 Oct
This year's Wharfedale Primary Schools XC League, supported by Ilkley Harriers, got off to a great start at Ghyll Royd School's races when over 500 children competed in races from Reception age to Year 6. More on the Junior Pages.
Ilkley Athletes selected to represent England
Sarah Jarvis and Alison Bennett have earned England vests following their excellent performances this year, which culminated in their strong runs and victory at the British Masters Cross Country relays last weekend. They have now been selected to represent England in the V35 and V45 (Alison as a reserve) teams respectively at the British and Irish Cross Country International meeting in Swansea on November 15th.
Update 9th Oct: rush out and get yourself a copy of this week's Athletics Weekly which has the headline "Ilkley take top honours" referring to our BMCC win. Sneak preview (with thanks to AW for permission) here.
GNR, Sun 5 Oct
From Pete Bedwell ... Just to let you know how I got on at the Great North Run, my 9th on the trot ! Was actually using it as a final race pace run before the Abingdon marathon in 2 weeks time so was aiming for around 8.30 min miling. My preparation was not ideal, plenty of dad's dancing at Teenage Cancer Trust Charity Ball last night followed by 4 hours sleep, a 2 hour drive and standing around for 3 hours waiting to set off was perhaps not the best build up !!
The actual running conditions were perfect, glorious sun but cool meant that you never got too hot and also for a change not soaked to the skin in torrential rain or blown backwards by strong winds. I'd forgotten just how undulating this course is so my splits varied between 8.15 and 8.51 although I couldn't resist an 8 min mile burst along the sea front and a bit of 7 min miling sprint to the line for the last 0.1 miles. Ended up 1.51.50, 7689 th and just about spot on 8.30 planned pace. Legs felt fairly ok but don't think I could have kept that up for another 13.1 miles though. Hopefully a proper taper and a good nights sleep in accomodation only a few miles from the start will mean I have a realistic chance of getting that elusive 3.45 at the Abingdon and at least getting a new PB under that damm 3.57 (3.57.02, 3.57.44 & 3.57.44 being my sub 4 hour FLM marathon times).
Did look out for other Harriers but somehow managed to miss them in the sparse crowds !! know Nick Mellor and David Cockshott ran, dave did 1.43.21 but can't seem to find Nick's time although he did mention he did around 1.49
From Steve and Gaenor Coy ... Great weather, great atmosphere, our first GNR and we both got PBs despite the most people we have ever seen in one place

Name               Time       Posn	
Stephen Coy        1:28:35     508	
Tim Ratcliffe      1:38:40    2234
Christine Matthews 1:40:14    2670   1st LV55
David Cockshott    1:43:21    3715	
David Eastwood     1:46:52    5230	
Brenda Ogden       1:49:31    6491	
Nicholas Mellor    1:49:38    6541	
Juliet Muirhead    1:50:26    6959	
Peter Bedwell      1:51:50    7689	
Gaenor Coy         1:56:30   10508	
Donald Macrae      2:04:30   15593	
Samantha Gibbons   2:06:30   16837	
Moira Conlon       2:27:55   27856	
Alan Gowans        2:52:33   33918
	

Harewood Trail 10, Sun 5th October
From Val Kerr .... Lovely weather and a great course although very slippery over the fields and huge puddles on the path around Eccup reservoir.

108 Ian Marshall       75.45
146 Ewen Welsh         78.56
184 Anthony Swanepoel  81.45
189 Val Kerr           82.01 4th LV45
220 Catherine Gibbons  83.55 (her 1st 10 mile race)
321 Bernie Gibbons     90.39
390 David Comyn        98.12
455 Adele Mitchell    106.12  
(505 finished)


Bronte Way, Sun 5 Oct
From Graham Arthur ... There were a few refugees from the Ian Hodgson on the buses from Haworth to the start. It was a glorious day, glorious scenery and an enjoyable run. I had to stop for about a minute with a tachycardia, an occasional problem with runners (and the populace at large, for that matter), which is always annoying in a race, but would have collected the V60 prize if my name had been read out correctly! I've only just realised. There was a leg break, or something similar, involving a helicopter rescue (see the photos). It was certainly very slippery indeed in places, particularly the wooden styles. This was a trial for my new X-Talon 212s, but no advertising allowed here.
Bob's photos here.

Results from the Keighley & Craven website:

14   61.57  Jim Ryder
58   71.58  Bryan Websdale
64   72.44  Graham Arthur
158 102.36  Rachel Websdale


Helwith Bridge Duathlon, Sun 5 Oct
Jamie Hutchinson reports ... a glorious day to be in the Dales for the Helwith Bridge Duathlon, a 3.8mile run 23 mile bike and another 3.8m run. I set off with the leaders, around an undulating course and arrived in T1 in 3rd place. Onto the bike and around the base of Ingleborough taking in Horton, viaduct, Ingleton, Clapham & Austwick. We started into a headwind and the fast run soon took its toll as i lost a few places, arriving in T2 70 minutes later and feeling a bit worse for wear. The final 3.8m run was a matter of grin and bear it. I finished in 7th in 2hrs 4mins - the race was won by Rich Hunt in 1hour 50 mins, 60 ran.
Liverpool 10k, Sun 5 Oct
Liz Price ran the Liverpool 10k in 50.38 (pb) winner was John Cole 31.28
Brussels half Marathon, Sun 5 Oct
Henry Heavisides reports ... I took the opportunity to visit my daughter in Brussels to run the Brussels Half Marathon. There was a full marathon as well as the half. The weather was cold, wet & windy and the course surprisingly undulating. The finish was in the impressive Grand Place and we took in most of the well known sights of the city, as well as a tour of the suburbs. I was quite pleased to be only 22 seconds slower than my target time of 1:30, finishing 172nd out of 3037 finishers (7th M50), the winner did 1:08:41. I was particularly pleased to run my last 5k faster than my 1st 5k. Whilst I didn't do a PB, it was my best half marathon time since 1985. There weren't any other runners from Ilkley, but I did see several Otley AC vests and got a few shouts of 'Come on Ilkley' from the crowd!
1st Guy Fans, Belgium 1:08:41
172nd Henry Heavisides: 1:30:22
3037 finishers
Ilkley Harriers Club of the Year, Sat 4 Oct
England Athletics Yorkshire & Humberside hosted their second Regional Awards Evening the Headingley Experience in Leeds on Saturday evening, 4th October. Ilkley Harriers was a finalist in two categories: Off Track (road, XC, and fell) Club of the Year, and Junior Club of the Year. Ilkley Harriers won the Junior Club of the Year award.
This and the item below were covered by Telegraph and Argus.
Ilkley Ladies Vets are British Champions!, Sat 4 Oct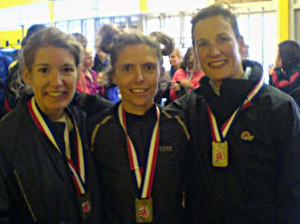 From Marc Teasey... It was my great privilege to witness a historic day in the fortunes of our modest club, as three of our finest lady vets produced outstanding runs and a superb team performance to finish first ladies' team and win GOLD in the LV35 category at the British Masters' Cross Country Relays in Mansfield today, Saturday 4th October. Timings and full results are not yet up, so the following times are taken from my own watch and are provisional. In an age category ten years below her own, the evergreen Alison Bennett led off and her experience and determination showed on the 2-lap 4k course. An evenly-paced run saw her hold position on the first lap and then start to move through the field to bring the team in 5th in a time of around 16.55. It is worth noting that had Alison been running in her own age category of LV45 she would have come in 1st, such was the quality of her run. With a glint in her eye, Amanda Oddie set off on the second leg in hot pursuit and within the first lap had already caught the two runners who had started about a minute in front of her. With the team up to 3rd but with the leaders still out of sight it was now a matter of trying to close the gap to give Sarah Jarvis something to run at - Amanda dug in for the second lap and a storming final kilometre saw her take another 20 seconds out of the leaders and at the handover it was apparent she had run her socks off with a hugely impressive time of 15.55 and a gap of now only about a minute to the front two. Third place at least now seemed assured, especially as we knew that Sarah is in great form, although it seemed rather optimistic to expect her to improve position further by making up the 1 minute gap over a relatively short course, especially as teams traditionally put their fastest runners on the final leg. However, by the end of the first lap she had narrowed the gap to just over 30 seconds and looked like she was running superbly - we had to calm our nerves as we started to dare to think the impossible - but had she gone out too fast? The race disappeared into the trees for a few minutes and Sarah answered our question with an emphatic 'no' as she emerged out of the woods at the top of the final hill in the lead and with 400 metres to go. With the finish line in sight she pulled away and finished about 20 seconds clear in what we believe was the second fastest time of the day (by only 4 seconds) in a staggering 14.59! What a race and what a day for the club. One of the most exciting races I've ever seen - and with a happy ending. We've all just about calmed down now.
Update 9th Oct: rush out and get yourself a copy of this week's Athletics Weekly which has the headline "Ilkley take top honours" referring to our BMCC win. Sneak preview (with thanks to AW for permission) here.
Autumn Leaves fell race, Sat 4 Oct
From Amanda Newham ... I ran on behalf of the club at the Autumn Leaves fell race at Diggle in the deep valleys of Saddleworth moor. A very blustery event which caried me round the 6 miles but pushed me back on the last 2. I was lucky no rain. So on the 8 miles I came 80th/110 and 2nd in v40 group.