Got some Harriers news? Send it to news@ilkleyharriers.org.uk and it will be forwarded both to Paul for these pages and to the people who do the Ilkley Gazette sports report. Thanks!
Humber Half Marathon, Sun 129 June
Helen Shew ran in Humber half-marathon on 29th June and ran pb of 1h49.22
Osterfelder Berglauf, Sun 29 June
Roy Ruddle reports ... Just done my first alpine race - bit a baptism by fire with the heat, sun + up up up hill! Anyway it was thoroughly enjoyable: 62nd in about 1h40 in the Osterfelder Berglauf, in Garmisch (southern Germany). 11.9 km and 1297 climb, and a 200+ field.
Cross and Marathon du Mont Blanc, 28 and 29 June
From Morgan ... Driving 900 miles to run in one of Europe's premier mountain races wasn't a brilliant idea but needs must! The weather in Chamonix was HOT! 30 degrees C during the day. The Cross (usually half marathon distance) was extended this year from its recent length of 21 kms to the "old" length of 23 kms with an 8.30 am start. With over 1200 pre-entries, this is probably the biggest race I have ever participated in save for Sport Aid/Jane Tomlinson and the like so I was not sure how the myriad bodies would impact on progress. Even with the early start it was oppresively hot from the off, even in the forests which make up much of the first part of the race. The drink stations were a blessing but however much went in, it didn't feel like enough! The final 7 miles or so is all uphill and much of it exposed to the terrifying heat on stony dusty tracks. The final section from La Flegere to Plan Praz at 2000 metres was a real trial and the final zig-zags nothing short of purgatorial. God I hate running in really hot weather. Alison appeared at various points to encourage me onwards and upwards which was a great help as the cable car to Plan Praz from Chamonix is under repair and meant there were no spectators on what is usually a crowded final section of the race who provide real encouragement. My target time of 3 hours went out of the window early (unknown to me at the time) when the leaders took most of the field for an unnecessary extra loop in the forest in the early part of the race putting perhaps 1.5 kms onto the race distance! No Brits at the front, that explains it! I finished 155 out of 1001 finishers in 3.03.29, 36th MV40! The winner clocked 2.08. A mate of Heather Dawe's called Anna Frost won the ladies race in 8th place overall in around 2.10! Wow!! (Heather was here also tuning up for an adventure race later in the year).
From Alison ... Having set off from home with a heavy cold I was not even sure whether or not I would be fit for the Marathon on the Sunday. Feeling a little better and boosted by watching the Cross I felt I had a least to give it a go! A start time of 7am meant an alarm call of 5.15am, cozy in my sleeping bag I was not sure it was however such a good idea. There was plenty of movement on the campsite with several other marathon runners getting in their early breakfasts. Encouraged by Morgan I got myself ready and found myself with over 1,000 others on the start line in the centre of Chamonix. A Mexican wave later we found ourselves off along the roads out of town. The first part of the course follows the Cross, without the extra loop of the forest! At the first water station I felt ok, the temperature was rising and Morgan was there cheering me on. Just past there the marathon leaves the Cross route and continues up the valley through woods and paths to Vallorcine. Morgan appeared just before here giving me my last chance of calling it a day before the major uphill climb of the route. Despite the temperature now into the 30s I felt not too bad so on I went. The climb of over 1,000m however began to take its toll with the breathing and I knew that my chances of completing the whole marathon and being able to enjoy the rest of out 2 weeks hols in the Alps in any real shape were not on. So I relaxed and decided to enjoy the rest of the course to where Morgan would be waiting for a lift back to the campsite. Another climb followed, up rocky paths and I began to overtake a few ladies. The descent was most enjoyable like rocky paths in the Lakes, then on zigzags down to Tres Le Champs, and Morgan. I knew it was time to quit there, (having done the Cross twice before I knew what to experience for the rest of the race from there and it is a continous hard slog to the end!) with the heat still rising and my head throbbing, funnily enough though, my legs felt ok. 5 hours later and just beginning to feel human again I reflected back on the race. Sad not to have finished but pleased with what I did, mind you this does mean I have some unfinished business!!
Blackstone Edge, Sat 28 June
From Geoff Howard ... a short race counter in both the British and English Fell Championships. A challenging course and a great run by Jenny Dybeck with the following results:

Men's Race:
1 Rob Hope Bingley 27.09
27 Graham Pearce P&B 29.44
55 Dave Wilby 32.01
101 Jim Ryder 34.50
114 Dave Tait Dark Peak 35.21 (3rd v60)
129 Richard Joel 36.15
155 Geoff Howard 38.14

Ladies Race:
1 Lady Angela Mudge Carnethy 29.44
28 Emma Barclay 38.10 (4th Lv40)
30 Jenny Dybeck 38.38 (2nd Lu23)
44 Sally Malir 40.52
45 Kelly Harrison 40.59
50 Angela Srivastra 42.04

Another Bob Graham Round, Sat 28 June
From Mark Priestley ... Just a quick note to let you know that Andrea Priestley completed the Bob Graham Round on Saturday 28th. She initially set off as a pacer for Dave Scott (Ochil) for the first 2 legs, but felt good and decided to carry on. Other pacers took her bag and she completed with Dave. The conditions were bad (thick clag, wind and wet rock) and they lost the best part of two hours on the Helvellyn and Scafell ranges through navigation problems. Things looked to be touch and go at Honister, but the two runners ran a strong last leg, finishing the five mile road section in 37 minutes, and completing the round in 23hrs 42 minutes.
Arrochar Alps hill race, Sat 28 June
From Graham Arthur ... Beginning of the organiserís report: A hardy bunch, including most of the top Scotland based, male hill runners, turned out for this race expecting poor weather again this year, which in the end wasnít as bad as predicted. In a faster time than last year Tom Owens (Shettleston) and Simon Peachey (Carnethy) ran in together ...
Simon Peachey (Slioch winner) and Tom Owens (second in the Three Peaks) were joint winners in a "gentlemanís draw", as Simon had done most of the navigation, and it would have been, well, ungentlemanly for Tom to sprint past at the end.
There are many significant navigational options on this race, and in spite of having done it twice, plus several reccies, I am still not sure of the best route for all sections. Most peopleís times are about the same as their Jura times, it is about the same length on the hill and the same amount of ascent.
It would probably be of little interest to the fell runners in the club that one of the sponsors of this race, Fyne Ales (superb local real ale), provide too much free ale after the race even for us to drink all up. This very accessible venue is just half an hourís drive north of Glasgow.

1=  Simon Peachey     3:27:18
1=  Tom Owens         3:27:18
3   Stuart Whitlie    3:36:31
24  Ellen Homewood    5:04:57 (1st lady)
25  Graham Arthur     5:05:23 (1st MV60)
41 started, 37 finished.  Cat. AL, 13 miles, c. 8000 feet.
Eldwick and Gilstead Gala Fell Race, Sat 28 June
From Sue B ... A few Harriers made the trip over to Eldwick for this, a cheeky little 3-miler, which takes in part of the Baildon Boundary Way route, peaking at the Baildon Moor trig point and then returning via roughly the same route. For a Gala Fell race it was well supported, and had plenty to keep the non-runners entertained. We had:

6th   Ben Stevens     19.10
43rd  Di Haggar       23.29	1st Lady (but got 1st V40 prize)
51st  Peter Cossins   24.46	A fab run for his first time out 
57th  Sam Haggar      25.18	2nd U14
63rd  Keith Wood      27.00
64th  Sue Bickerdike  27.02	3rd Lady
68th  Sue Stevens     29.04
Ilkley Ladies won the team prize.
The less said about the unchivalrous sprint to the finish the better...........
Mob Match, Beamsley, Wed 25 June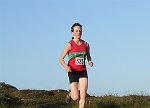 From Ian Rowbotham ... Then rain clouds parted to leave us with picturesque views of the rolling dales around Addingham. In the Mob Match once again captain Bob had mobilised a large crowd of Ilkley Vets. From The Swan public house we filled through the counting gate and were ready to go. A short road route leads to the attractive bouncy suspension bridge across the full river Wharfe. This gives an odd dead leg feel when crossing. You can see the bounce but can feel it. Into the fields, a climb up to Beamsley Beacon takes us up through wood land then out onto open fell side. Approaching the top from the South the race for home was on.
Not all of us were sure how to get back to the finish. Going out there is a flagged course. Coming back it's up to your own choice. The last two years I have come back various routes none of which were ideal! I was not the best person to advise my wife Jane. I did my best but it was not until too late that I learnt the fastest route involves a plunge down a sunken 3 foot wide gulley cut from rock. Many parts of this were still spread randomly on the ground. It made a little worse by the nettles and brambles tugging at us on the way past at leg chest and head height. The sides of this unique path being much higher than head height. Sorry Jane.
Thanks to Bob Hamilton and all those who marshalled and saw us safely round the route. The prize giving in the pub was excellent, giving many the opportunity to swap stories about route choices. If you want to know the right route try it! I am still not convineced I have it right.
Read Sue B's report here.
From Paddy H ... Has this ever happened before? I had race number 48 and came 48th in 48 minutes dead (and felt it too)!
Mob Match results
On the night, Ilkley beat Wharfedale because we fielded more runners (one of the aims of this competition was to get the 2 clubs to field lots of runners in these local races). Wharfedale's 25 runners scored 2144.6 points. Ilkley fielded 27 runners, and the highest 26 Ilkley runners' points totalled 2173.31
In all four races, Ilkley totalled 5384.97 points to Wharfedale's 5025.45 points, so Ilkley win the team event!
The individual results, based on a runner's best 3 results (but kudos to the runners who made all 4 races!) are attached

here. Well done to the top 5 runners who will receive a prize!
Race results from www.wharfedaleharriers.org.uk:

1   37:00	Ted Mason, Wharfedale
4   39:37	Lee Morley
7   39:59	Ben Stevens
11  40:55	Ian Rowbotham
18  42:06	Ralph Tench
21  43:11	Chris Gale
37  46:07	Steve Weston
38  46:19	Alison Bennett 2nd lady
39  46:30	Neil Smith
40  46:35	Jenny Dybeck   3rd lady
41  47:04	Richard Reeve
46  47:51	Duncan Cooper
48  48:00	Paddy Hagen
54  49:44	Diane Hagger
58  50:24	Chris Oxlade
65  52:12	Val Kerr
66  52:15	Cloe Haines
69  54:04	Keith Wood
72  54:17	Michael Waterhouse
73  54:24	Kelly Harrison
77  54:49	Graham Stead
78  54:51	Sue Bickerdike
83  57:56	Elaine Cossins
86  60:00	Sue Stevens
87  61:11	Rachael Hagan
88  61:12	Angela Sturgeon
92  64:57	Anne Stead
93  65:41	Andrew Bennett


Leeds 10k - Jane Tomlinsonís Run For All, Sun 22 June
Report from Colin Lugton ... the Leeds 10k is Jane Tomlinsonís main legacy event. It is part of Janeís Appeal, which was established by the late Jane Tomlinson, who fought her illness so valiantly, and has raised nearly £2m for childrenís and cancer charities. It was appropriate that before the race, Janeís widower Mike, instead of asking for a minute's silence asked for an applause in memory of Jane, and everyone around me responding with a resounding 2 minutes applause of clapping and cheering. The vast numbers of fun runners and fund raisers contributed magnificently to the fantastic atmosphere of the occasion.
The event was well organised with plenty of drink stations, excellent marshals and road closures. My only criticism was the misunderstanding of the slower participants at the time markers at the three different coloured starts which resulted in faster runners merging with slower participants. As the City centre course is winding and crowded, this is not a race for a P.B. and proving athletic prowess, but donít worry about your time as this is one to be enjoyed in memory of Jane Tomlinsonís inspiration to us all, and an example of what can be achieved by someone who is dedicated to a cause. Simply, Do it!
Results (in Chip order) from www.funforall.com

1     30.47   Ayle Margessa                       
10    36.45   Roman Gesse  (1st Lady)
261   45.51   Morgan Williams        
559   48.48   Jann Smith                 
575   48.54   Anthony Swanepoel  
876   51.05   John Marshall             
1016  52.02   Colin Lugton              
1057  52.14   Emma Payne              
1367  54.00   Margot Dale (3rd LV60)
1673  55.21   Fiona Schneider         
1913  56.30   Adele Mitchell           
2530  59.22   Elizabeth McAndrew 
4474  67.49   Sue Lugton                
4766  69.13   Brian Sweet               
4911  69.59   Christine Reilly          
5362  72.15   Samantha Gibbons
7430 finishers 

Another Bob Graham Round!
Heather Dawe reports ... Brian Melia completed the Bob Graham last night! He did it in 22:43, an absolutely fantasic achievement given the truly grim conditions from Dunmail onwards.
Read Brian's report and see the photos here.
Horwich Carnival NoEAA 5k Road Race, Sun 22 June
Marc Teasey reports... 90 minutes after the Masters race (see below) and on the same course, Sally Morley stepped forward to run as the sole Harrier in the Open 5k race. Having provided welcome support to us all (together with the rest of the Morley clan) in the Vets race earlier, we were all glad to be able to return the favour, especially as the winds had picked up even further. In such a high class field (twenty women ran under 19 minutes, and the winning time was 16'28") Sally did brilliantly to pace herself to 21st place just 3 seconds outside her PB with a time of 19'03". Indeed I should note that three of us DEFINITELY saw the race clock showing 18'59" as she crossed the line (which WOULD have been a PB), but sadly the official results didn't reflect this. I'm sure it has left her hungry for another go!
British Masters 5k Road Race Championships, Sun 22 June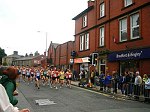 Marc Teasey reports... Six ageing Harriers made their way over to Horwich for the BMAF 5k Champs ('Masters' sounds so much more elegant than 'Veterans', doesn't it...). The elements had been saving up their puff for a big blow-out across the country today, which took a bit of pressure off worrying about times. The freakish winds even intensified during the race, and impossibly seemed to remain in our faces on two sides of this triangular 3-lap course (including, typically, up the steepest hill). Still, it was the same for everyone, and those amongst us with a greater BMI probably benefited as we powered our way incisively through the gales (at least that's how I like to imagine I looked to the impressed spectators) - makes a change to be grateful for being heavier for once.
The four training partners were all within a few seconds of each other throughout the race and I was delighted with my first ever experience of being first Harrier home in a very pleasing time only a few seconds outside my PB, given the conditions. Just two seconds behind, Mark put in his customary sprint finish to pip the ever improving Amanda (who had a great run to finish 4th Lady, and 3rd LV40, earning herself a medal) on the line, while Sarah hobbled in shortly afterwards having aggravated a hamstring problem that she's had for a few weeks now and which pulled her up to a complete stop with just 400 metres to go! At the time she was sitting on my shoulder (not literally) and lying in 4th place overall in the Ladies' race (and second LV35) - after a brief frustrated retreat into the spectators she gathered her thoughts and then bravely jogged home after realising that she needed to finish to contribute points in the Ladies' club team race. This turned out to be a great decision, as Alison also ran strongly to finish 4th in her age category, pipping Henry on the line, which gave our Ladies team second position in the LV35 team competition, about 3 cumulative minutes behind a victorious Salford trio - a tremendous result for the club on the road. Not only did our ladies finish as second team, but individually they all finished 4th or higher in their respective age groups in a British Championships! Us men did less well in our Vets age categories, as the high quality field put our respectable times into perspective. Still, not bad for us all to finish in the top 25 of a British Champs.

(1	 15.43 Gerry O'Neill (MV40), Salford Harriers)
(39	17.24 Rachel Jones (LV35) 1st Lady, Salford Harriers)
65	18.23 Marc Teasey (17th MV40)
66	18.25 Mark Iley (21st V45)
67	18.27 Amanda Oddie (3rd LV40)
102	19.21 Sarah Jarvis (4th LV35)
107	19.30 Alison Bennett (4th LV45)
108	19.33 Henry Heavisides (17th MV50)

Settle Hills race, Sun 22 June
From Geoff Howard ... a wet and airy, but very enjoyable, experience for all competitors in the Settle Hills Fell Race around Attermire Scar on Sunday with the following outcome:

1 Sean Bolland Bowland 53.12
1 Lady Aly Raw Bingley 63.42

11 Jim Ryder      59.27
25 Mike Baldwin   63.40
35 Geoff Howard   65.20
52 Norman Bush    69.49
53 Steve Weston   70.10
65 Kelly Harrison 74.29
83 Vic Verecondi  92.42

Freckleton Half, Sun 22 June
From Pete Bedwell ... Had a bit of windy fun at the Freckelton half on Sunday 22nd, apparently Blackpool was the windiest place in the UK and luckily itís right next door to Freckleton. This is the longest running half marathon in the UK and itís not hard to see why extremely well organized, loads of supportive marshalls, local support, great prizes and a fair at the start/finish. however although this is the 5th time Iíve run it , my course PB is only 1.50 as it always seems to be either red hot (30C one year) or itís the day after Iíd raced a 10k.
This year I was a bit concerned with gusts of wind at 65 mph however the start was a pleasant surprise, with the wind behind me I was holding back to run the first mile in 7.30 minutes. Unfortunately it didnít last, we then headed out into the country, a very nice scenic if undulating route but now the wind was either blowing you sidewardís or directly into your face making it hard work to maintain 8.30 min miling at times, it felt like you were running into a wall.
At 10 miles you turned a corner and started the long straight grind back to the finish, thank goodness the wind was behind me , however by then my legs were so trashed that I was working hard to keep my pace around the 8.10 min miling mark. One positive was that since the halfway point only 3 runners had come past me and Iíd managed to reel in 15+ as their legs started to fade. The sting in the tail was that you turned and headed straight back into the wind for the last mile, ouch, I was working to my limit to maintain 8.30 min miling however I was still overtaking a few people and for the last desperate dash to the line managed to finally overtake a young lass whoíd overtaken me at mile 5 and Iíd battled with all the way round.
I was pleasantly pleased with my time, 1.48.15, maybe 6 minutes off my Brass Monkey PB but still a course PB by almost 2 minutes in far from perfect conditions. This gave me 215th out of 496 finishers and 17th out of 38 in the MV50, rather unusually for me in the top 50%. The raced was won by Ben Fish of Blackburn Harriers in 1.12.34
The goody bag was a very useful kit bag which will certainly get some use, one for the diary for next year, hopefully in calmer conditions
Great Lakes Run, Sat 21 June
Heather Dawe reports ... Steve Turland and I raced the inaugral 'Great Lakes Run'. Starting in Great Langdale we went to Bowfell, Esk Pike, Great End, Scafell Pike, Scafell, Slight Side and then crossed upper Eskdale to head up Blisco and off back to Langdale. Horrible conditions and a testing course, the race was won by Simon Booth and Helene Whitaker. I was third lady in 4:05 and Steve finished in 4:10.
Buckden fell race, Sat 21 June
Report, photos, and results on www.wharfedaleharriers.org.uk

1   35.08  Gary Devine, P&B
8   38.39  Lee Morley
13  39.25  Chris Gale
25  41.27  Ben Stevens
30  41.57  Ian Rowbotham
65  46.06  Norman Bush
72  47.29  Kevin Gooch
76  48.24  George Stevens
88  49.48  Dave Taylor
90  50.02  Ian Marshall
91  50.10  Duncan Cooper
124 57.31  Diane Haggar
126 58.10  Nigel Tapper
132 61.40  Keith Wood
136 66.52  Emma Payne
Diane's result took her to overall 1st place in the Ilkley Harriers Running League.
Club Records
From Marc Teasey ... while I was still feeling enthused about the relays following last weekend's successful Millennium Way, I compiled the club records for both the Millennium Way and the Calderdale Way (although I've only had the records for the latter going back to 2000 so I don't know if there were any quicker times before this). Thought it would be nice for the club to have these in the public domain - they do seem to motivate and inspire people when the competitions come round. See them on our Club Records page.
Jubilee Handicap, Thu 19 June
Vic Verecondi reports ... It was a typical track Thursday session evening last night. I was to do my track session with Andy Wolfenden and a few other Ilkley Harrier diehards. My son Luca was to have his usual training session with the Keighley and Craven Juniors. As Andy wasn't in attendance last night I decided to do something different. I was kindly invited to do a 5km time trial with some senior members of the Keighley club. Luca was running with other juniors. The course was a little toughie. The route being a 300 foot climb on road up to Jubilee Tower from Greenhead School and back. Basically 2.5km upwards, turn around 2.5km back down. It was great fun as everybody took off at different intervals. Anyway my time was 22.34. I was delighted to see that Luca (11 years of age) obtained a time of 23.02. He wasn't far behind and has much better pace judgement that I have. Thanks very much to those at Keighley and Craven AC who made me very welcome. It was a most enjoyable evening.
Weets fell race, Wed 18 June
Report, photos, and results on www.wharfedaleharriers.org.uk

10  42.22 Lee Morley
20  45.09 Ian Rowbotham
35  48.01 Mike Baldwin

Yorkshire Vets Grand Prix, Race 5- Meanwood Tue 17 June
From Alison Eagle ... Less than a week after the last YCGP race, Pete and I were back, this time joined by Morgan. Feeling a little tired after our long race at the weekend and having struggled even to run twice round Ben Rhydding fields the day before I was a little apprehensive. The good news was this was another course with no roads involved, a series of tracks through the woods and round fields, much kinder on sore feet. The race started and Pete shot off for the lap of the field before entering the woods, and I did not see him again until the finish. A more sedentary start for Morgan and I but gradually we got into the groove and I slowly worked my way up the field, finding myself 1st Lady as we set off for the last lap! I managed to keep the legs going and kept my placing, pleased with my first overall win in any Grand Prix race I've done! Pete had a great race 34th overall in 30.20 and 2nd V60, taking some good scalps in his category; my time was 31.31 (got a feeling the 5miles it was advertised as was not quite correct). Morgan was 48th in 32.27 and was clearly missing the long Lakeland races, finishing saying what a horrible short flat course!
Overall in the series Pete and I are both in the top 5, with one race less than those in front. We just need to make sure we fit the 7 in to challenge for the final top 3 places. Unfortunatley for me the next one I can do is Knavesmire in York and not a hill to be found on the course- help!!
Harrogate Road League #4, Garforth, Tue 17 June
38 Harriers in this race. We were 2nd team on the night in the main team and vet competitions - good results. But our ladies and lady vets teams let Harrogate take the limelight this week - we will need the big guns to outshoot Harrogate at the next race at Swaledale on 1 July if we are to retain these titles - details, with full results, on www.harrogate-league.org.uk

1   30.56 JON ORANGE, RZH
9   33.08 JAMES WOOD-ROBERTSON
14  34.22 DAVE WILBY
17  34.37 PAUL DAVIDSON
23  35.07 JOHN LUMBUS
26  35.29 STEVE WESTON
27  35.31 STEVE TURLAND
34  36.11 NICK RICHARDSON
41  36.47 DAVID BROWN
52  37.40 JOHN ATKINSON
54  37.44 NEIL CHAPMAN
55  37.45 IAN ROWBOTHAM
60  37.56 ALISON BENNETT
62  38.18 SIMON CHAPMAN
86  40.10 PAUL STEPHENS
87  40.11 PHIL HIRST
107 41.07 NIGEL TAPPER
121 42.40 CAROLINE BELL
122 42.50 VIC VERECONDI
124 43.06 CATHERINE GIBBONS
127 43.21 REBECCA STAPLETON
134 43.38 KEITH WOOD
150 45.24 CHRIS MATTHEWS
156 45.55 CAROLINE EBERT
158 45.57 CAROLINE WOOD-ROBERTSON
167 46.22 DIANE KITCHEN
170 46.56 ALEX LEWIS
175 47.28 MATTHEW RUTTER
176 47.34 BERNIE GIBBONS
184 48.19 ADAM BENNETT
185 48.20 SHEENA PICKERSGILL
188 48.24 COLIN LUGTON
199 50.34 ANN STEAD
202 50.48 PAUL SUGDEN
214 53.19 ANDREW BENNETT
216 53.49 MANDY CHAPMAN
226 55.46 HEATHER DUKE
231 58.31 AMANDA PARNABY
237 64.10 BRIAN SWEET
Bradford Millennium Way Relay, Sun 15 June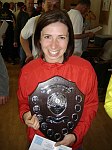 Marc Teasey reports... The recent dry weather and then cool conditions on the day provided perfect running conditions for the forty two teams who lined up bright and early at Bingley running club. As well as entering our customary men's Open team, we charted new territory this year by entering not just one but two Mixed teams. Other clubs had similar ideas, with no less than eleven Mixed teams being entered, as opposed to the meagre five the previous year - it was clear that it was going to be competitive! The day turned out to be an overwhelming success for the club, as our continued improving quality and depth sent records tumbling left, right and centre.
Well done to the Men's Open team, who not only set a new club record for the overall time (comfortably dipping under the magic 6 hour mark for the first time) but in doing so broke the club leg records on EVERY SINGLE LEG. A particular thanks to the reserves who stepped up the plate as injury and illness took its usual toll as race day approached, and especially Mark Iley who got the dreaded call at 8pm on Saturday night!
Mixed Team 1 should also have a very special mention, taking the lead right from the start and never looking back, winning their category by well over half an hour and breaking the competition Category records (for all clubs!) for Leg 4, Leg 5 and for the overall finishing time.
It was fantastic to also get a second mixed team out and special mention should go to Sue and Keith, who I'm sure will be quietly satisfied to have beaten the Harriers Mixed team 1 on their leg. I hope the first-timers amongst the teams enjoyed the experience and will be back for more! The smiles and camaraderie were a joy to see throughout the teams, and it was lovely to see so many Harriers at the handovers and then making the effort to come down to the finish at Bingley to cheer the teams in and stay for the prize giving.
It probably goes without saying that the overall winners were Pudsey and Bramley, in a frightening time of 5hrs31:22
Ilkley Harrier's Men's Team - 3rd in 5h56:40, which is not only club record by a MASSIVE 17 minutes, but also the highest position we've ever finished in this competition.
Leg 1 - Dave Wilby + Jonathan Sinclair: 79.47 (5th fastest leg on the day and a new Harriers leg record)
Leg 2 - Mark Iley + Nick Richardson: 75.12 (4th fastest leg and also a new Harriers leg record by over 3 minutes, bringing the team in 6th)
Leg 3 - Andy Shinn + Richard Joel: 60.29 (5th fastest leg, and yet another Harriers leg record, team position held at 6th)
Leg 4 - Lee Morley + Adrian Hall: 66.42 (these boys did some serious damage with the 2nd fastest leg on the day, moving the team up to 3rd and knocking a whopping 7 minutes off the club record for the leg)
Leg 5 - James Wood-Robertson + Ben Stevens: 74.30 (5th fastest leg and yes, breaking their own leg record for the previous year, holding position to finish the team in third, only 41 secs behind Keighley and Craven.
Mixed Team 1 - First Mixed team and 11th overall in 6h41:41. Not only is this a club record for the Mixed Team Category (we've never entered a Mixed team before, so it was bound to be!) but it was also a new competition record for this category by a huge 16 minutes, (record previously held by Valley Striders).
Leg 1 - Amanda Oddie + David Brown: 86.52 (1st Mixed team and 12th overall with a new club category record)
Leg 2 - Alison Bennett + Henry Heavisides: 85.05 (fastest Mixed team, 15th fastest overall team, holding team position at 12th overall, and another club category record)
Leg 3 - Joyce Marshall + Dave Jepson: 72.13 (2nd fastest Mixed team, 18th fastest overall team and still leading mixed team, moving to 14th in the overall competition)
Leg 4 - Sally Morley + Phil Judd: 74.54 (a storming run as fastest Mixed team, 8th fastest overall team and pulling a place back to 13th overall. Not only was this a club category record but it was also a competition record for leg 4 for Mixed teams by 6 minutes (previously held by Keighley and Craven, which has stood since 2002))
Leg 5 - Sarah Jarvis + Marc Teasey: 82.37 (fastest Mixed team, 8th fastest overall team, finishing as winning Mixed Team and pulling two places back to finish 11th team in overall competition. Again a new club record AND a competition record for Leg 5 for Mixed teams by 4 minutes (previously held by Valley Striders))
Mixed Team 2 - 5th Mixed Team and 24th Overall in 7h36:37
Leg 1 - Sue Booth + Richard Reeve: 101.15 (6th Mixed team, 29th Overall)
Leg 2 - Pange Srivastava + Ian Marshall: 87.32 (3rd Mixed team on the leg, 19th fastest overall moving up to 4th mixed team and 22nd overall)
Leg 3 - Sue Bickerdike + Keith Wood: 71.24 (Fastest mixed team on the leg and 15th fastest overall, keeping mixed team position as 4th and up to 20th in overall competition, and new club category record for the leg)
Leg 4 - Joan Matthews + John Coates: 94.46 (7th mixed team on the leg and 31st fastest overall, holding on to 4th mixed team overall and moving to 23rd overall)
Leg 5 - Clare Smith + Neil Smith: 101.40 (8th mixed team on the leg and 33rd fastest overall, finishing as 5th mixed team and 24th overall).
Castle Howard 10k, Sun 15 June
From Geoff H ...Three Harriers ran the Castle Howard 10.45k on a day that was climatologically interesting if not climbertologically so. Huge black clouds covered their lordships' thousand acres periodically and the temperature plunged by a good ten degrees every time they did so. However most of the two lap, track with some country lane, gently undulating and very pleasant course, was run in very warm conditions. Sponsored by a local PTA the organisation was exemplary and the prizes were very generous - a good family day venue with cafe and adventure playground near the start. Being a namesake held no sway with the hard nosed organisers and any attempt to obtain an entry fee discount was doomed as soon as it contemplated. However an enjoyable race was had by all with an excellent winner's time (for such an unusual distance).

1   Simon Cook    34.42 York Acorn
45  Geoff Howard  43.51 (1st v.60)
184 Liz Price     54.30
235 June Howard   57.53 (without whom I wouldn't have known about the race)
298 Jacqui Weston 61.45
399 finishers
Kettlewell fell race, Sun 15 June
Results from www.bofra.co.uk ...

37  17.26  Norman Bush
U17
25  15.11  Jenny Dybeck  4th girl

Plus several junior Harriers

Cleveland Short Course Triathlon, Sun 15 June
Tim Ashelford reports ... Stuart Pitches & I did the Cleveland Short Course Triathlon yesterday. A 6.30am start was compensated by catching Richard Malir out doing some secret training on the A65........
The race, based at Ellerton in North Yorkshire, comprised a 800m open water swim, a 27k bike & 7.5 k run.
Stuart was 11th in 1.33.07 & I was 4th (& first v40) in 1.31.01. Full results are here: www.clevelandtriathlon.co.uk
The River Rothay Watershed Challenge - 23 miles and 9000', Sat 14 June
From Morgan Williams ... Alison and I took part in what was billed as a special one-off race to help celebrate the 25th anniversary of Ambleside AC. I was a member back in the 1980s. The race could be run solo, in pairs or as a relay in teams, with handovers at the road crossing points. The entry form asked the question ďAre you tough enoughĒ and the answer was, some were and some werenít! This bruising, rollercoaster of a race started and finished at Brathay Hall outside Ambleside and called at Loughrigg, Silver Howe, Sergeant Man, Calf Crag, Steel Fell, Dunmail Raise, Seat Sandal, Fairfield, Hart Crag, Dove Crag, Red Screes, Kirkstone Pass, St Ravenís Edge, Wansfell and Wansfell Pike (yes, 15 checkpoints in all and all but 2 on top of mountains). No dibbers, a staggered start any time between 9.30 and 11.00 am and no checkpoint marshals other than at Dunmail and Kirkstone gave it a low key feel (it was like going back 25 years), as Ambleside members past and present and a number of other faces gathered to enjoy a long day out on the Watershed. The forecasted showers largely kept away and the day was warm and clear; perhaps too warm in the latter stages. We had a steady start and on the run out to Silver Howe were caught by the legendary Helene Diamantides (another former Ambleside member) who had started 5 minutes behind us and with whom we chatted on the long climb to Sergeant Man. Shortly before the top she gently pressed the accelerator, wanting to catch the runners in front to have a chat with them, and we were left behind! With the interval start, it was largely a question of applying ourselves to the task of pressing on without too many other competitors to work off. We werenít caught by any other runners after HD passed us early on. The section from Dunmail to Kirkstone contains 3 big climbs and closes with the steep descent of Red Screes and left quite a few folk distressed enough to pull out and not having to face the sting in the tail that was the final section back to Ambleside. The dry weather gave ground that was very hard underfoot and the feet were taking another pounding. Oh for some bog! (On arriving at Kirkstone, we were told that Helene had gone to the pub. On the way down Red Screes her phone had rung. It was a friend she hadnít seen for 15 years. Having had a fantastic day up to that point, she decided to ask her to come up to Kirkstone so they could have lunch and catch up. She was waiting for us at the finish!) Mentally, it would have been a mistake to consider this race all over at Kirkstone. The ground over St Ravenís Edge and the Wansfells is complex and undulating, frustratingly so, and there are quite a few miles left at that point. A time for full concentration. The roads through Ambleside out to Brathay Hall were a trial in the heat, but soon enough we trotted in to the finish in 6 hours 14 minutes and 28 seconds. The race was won by Phil Clark of Kendal in 5 hours 17 minutes. We were 4th overall, 2nd team and 1st mixed team. Great after race food followed by a wonderful shower and the evening 25th anniversary celebrations which started with Rob Jebb, fresh from his victory at Durisdeer, presenting the prizes outside the Hall overlooking Windermere. A great day out; shame the rest of you missed it!.
Yorkshire Vets Grand Prix, Race 4 - Pudsey Wed 11 June
From Alison Eagle ... Pete Shields and I travelled over to Pudsey for the 5th race of the Vets Grand Prix series (10 races with 7 to count). A new route, which cut out all the road part (yiphee!!), through the woods in the Fulneck valley. The up and down 4.75 miles course on dry paths, with a steep hill to finish suited me! I was pleased with my 2nd place overall and 1st LV45 in 36.85, with Pete just behind (the steep hill not as much to his liking) in 37.09, in 51st place overall in the mens race, 4th V60.
Otley 10, Wed 11 June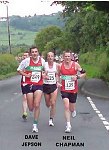 From Colin Lugton ... Otley 10 is the nearest local event for a road race of the traditional 10 miles distance. Starting from outside Otley Town Hall, the course heads in an easterly direction towards Pool to cross the River Wharfe and immediately another left turn towards Leathley with some very pleasant countryside. However, it is not for the faint hearted, as this is a challenging course with a long hill up to Leathley Grange, before descending to Lindley Bridge and then another hill up to Farnley, before returning to Otley. Overall a good course which is well marshalled and with mile markers. Not a very large Harriers contingent, as it was the day after the mob match against Bingley, which counted in the Harriers Running League.
Results from www.otleyac.co.uk

1   52:01  Darran Bilton, Leeds City
12  58:54  Jamie Hutchinson
54  68:23  Neil Chapman
58  68:38  Sally Malir  1st LV40
68  70:20  Dave Jepson
84  71:41  Simon Chapman
135 76:22  Kay Pearce
190 80:59  Brenda Ogden   
220 85.02  Juliet Muirhead
250 89.29  Bernie Gibbons
260 91.27  Colin Lugton
266 93.14  David Comyn
300 finishers

Bingley St Ives Trail Race and Mob Match Ilkley vs Bingley, Tue 10 June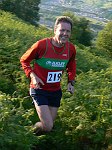 Cap'n Bob says ... many thanks to all those members who rallied to the call and turned out for the Mob Match v Bingley Harriers. It was a great sight to see the red and green of Ilkley out-numbering the blue and white stripes of our neighbours on their home turf. We had a total of 40 members running and even before the calculations were done, it looked like a resounding victory for Ilkley - testimony to our great team spirit. Mind you, if this becomes an annual event then I think we can expect a stiffer contest next time around. It looked like everybody enjoyed the course, albeit a slightly longer one than was expected (please don't blame me for that!), and the social afterwards. Finally, a special mention for new members Jan Smith and Emma O'Looney, for whom I believe this was their first race.
Jenny D adds ... I really enjoyed the Bingley mob match on Thursday, it's a great social event for everyone if you're willing to run further than expected! We had a brilliant turnout, with the added bonus of the BBQ at the end, and it was all for a good cause. Well done to all who raced, and let's hope for a repeat next year!
We now have the results of the Mob Match! The runner's result relative to the winner is scaled for age and gender (not quite the same factors as in our League, as we used the published age classes rather than date of birth). Bingley's 30 runners totalled 2568 points. Ilkley's 40 runners totalled 3387 points, and Ilkley's best 30 scores totalled 2612 points. Ilkley have beaten Bingley!
From Mary Green, race organiser (and Bingley Harrier!) Congratulations to all the Ilkley Harriers who made the journey to Bingley for the St Ives Trail race and Mob Run on 10th June. Well done. A deserved victory..on this occasion ! watch yer backs next year !
And thanks for your support. The event raised £550 for the riding for the dissabled and £150 for the care home on refreshments. The RDA will be buying some new hats and taking riders to regional competitions, and the care home are saving for their annual residents holiday in Benidorm.
Thanks again.

Bingley St Ives Trail Race Results with Mob Match points

1	34.25	Robin Lawrence, Bingley
6	36.54	Ian Rowbotham
12	39.15	Brian Melia
15	40.16	Bob Hamilton
19	40.59	George Stevens
20	41.00	Paul Stephens
24	41.31	Dave Jepson
26	41.51	Graham Arthur
29	42.02	Mike Baldwin
33	42.24	Henry Heavisides
34	42.34	Jenny Dybeck      2nd lady
38	43.25	Neil Smith
39	43.32	Richard Reeve
41	44.05	Dave Taylor
43	44.21	John Tate
45	44.30	Angela Srivastava
46	44.31	Keith Wood
49	44.37	Morgan Williams
50	44.38	Peter Shields
51	44.42	Andrew Wilson
57	45.03	Alison Eagle
59	45.15	Chris Oxlade
62	45.26	Kelly Harrison
67	46.08	Sue Bickerdike
70	46.44	Nigel Tapper
72	48.12	Helen Horton
74	48.25	Graham Stead
77	49.00	Vic Verecondi
80	49.33	Jan Smith
81	50.15	Paul Wood
83	51.07	John Brown
84	51.11	Clare Smith
89	52.11	Emma Payne
94	53.41	Sheena Pickersgill
96	54.09	Emma O'Looney
97	54.48	Ann Stead
98	54.55	Susan Stevens
102	56.56	Paul Sugden
105	59.35	Fiona Schneider
107	60.19	David Millson
108	60.27	Jacqui Weston
111	65.14	Amanda Parnaby

The race was also a counter in the Ilkley Harriers Running League. Nigel Tapper has zoomed into the lead in the XC/Trail category, and Sally is being chased in the overall competition by Capn' Bob and Sue Bickerdike! The competition is hotting up now!
Harewood Chase, Sun 8 June
10km Mixed terrain

Women's race
65  Fiona Schneider   56.15
112 Ann Pearson       64.56

Men's race
24  Jack Wood         39.41
44  David Schneider   43.11
102 Vic Verecondi     48.57
103 Nigel Tapper      48.58

White Rose Classic Cyclosportive, Sun 8 June
Report from Bob H ... it seems that more and more Harriers are getting bitten by the bug and having a go at a cyclosportive. These challenge events seem to be doing for road cycling what the marathon did for running some 20 odd years ago. The White Rose Classic starts and finishes in Otley and comprises three routes, the longest of which takes in Norwood Edge, Greenhow, Grassington, Buckden, Fleet Moss, Hawes, Garsdale Head, Dentdale, Ribblehead, Horton, Stainforth, Malham, Hetton, Thorpe, Burnsall before finally returning over Langbar - the killer punch. 116 miles and a supposed 12,500ft of climb. For the third year running the event was blessed with perfect weather and we all enjoyed a totally fantastic day out. A superb route with superb organisation throughout.
Richard Malir was the star performer and it may come as a surprise to some to find out that Sally's other half is quite an athlete in his own right. Richard got a gold standard time, and I'm pleased to say that I finally sneaked one too, by a couple of minutes, despite the ravages of cramp at Malham. Times for members that I know about are:

Richard Malir     7.11.55
Bob Hamilton      7.21.58
Tim Ashelford     8.10.11
Stuart Pitches    8.10.28
I saw Tom Adams afterwards who said he finished in around 7.40, but didn't appear in the official results.
Completing the 80 mile route were

Charles Oxtoby   5.24.22
Tim Bull         5.26.25
Thanks to Pete Shields who kept popping up all over the course and giving us a good cheer. Judging by his enthusiasm I'm expecting him to be riding next year! Yes Pete?
More on Bob's blog.
LAMM, 7-8 June
From Jo Foster ... 8 intrepid Harriers headed up to Glenfinnan in the Highlands to complete in this year's Lowe Alpine Mountain Marathon. Jim Ryder and I had never done one before so we had the distinct advantage of not knowing what we were letting ourselves in for!
We entered the C course along with another 134 pairs, including Rachael and Kevin Gooch. We were delighted to find ourselves in 15th place at the end of day 1. This meant we were in the chasing start on day 2 which kept our competitive instincts going. Never having done a second day we suffered towards the end of day 2 with very painful feet and were passed by several teams. But we were really pleased to finish 19th team out of 100 finishers in a total time of 11.32.34.
Kevin and Rachael finished 45th in 13.11.31.
Nicky and Holly were in the B class and finished 45th (2nd ladies) in 15.15.39.
Dan Goody and Phil Jones entered the elite course and survived! The results are not yet up but I can confirm that they finished - a fantastic effort!
It has definitely whetted our appetites for another but first I need to recover from the bumps, bruises and midge bites and be able to walk again, let alone run!
Morecambe 10K, Sun 8 June
Andrew Bennett reports ...Blue sky,hot sun,sandy beaches (imported surely?) and the newly restored urban splashed art deco Midland Hotel - what more could you want out of a trip to the seaside? Well a deckchair would have been the sensible choice on yet another scorching day for this 10K. Last year several runners collapsed in the heat but fortunately this time two extra water stops were added to the course. Nevertheless with little shade and even less breeze it was tough going. I was pleased to do better than last year and Alison had a good run coming in third lady and unusually for an open race third FV45.

36   Alison  40:02
227  Andrew  58:59

Tan Hill Duathlon, Sat 7 June
Jamie Hutchinson reports... I made the trip to the top of the Dales for the Tan Hill Duathlon; 5k run 24mile bike 10k run
Not suprisingly only about 30 hardy souls made the venture. The first run of 5k started along a track and then a grassy descent down the hill and onto a road to then climb back up to the top. I was soon in the lead group following the runner for the Helm Hill team (easy way to do du's or tri's). I closed in on him on the climb back up Tan Hill but didn't catch him. Entering T1 I was quickly onto the bike on a rapid start to the bike leg, downhill for several kms. I was passed by 3 guys but managed to keep a couple in my sights. On crossing a ford (not for the faint hearted) I came across last year's winner who had taken a fall - thoroughly wet and scuffed. Several 1:4 climbs followed and the grind from Keld back up to Tan Hill was particularly enjoyable!. Still with 10k to go I felt pretty good and set off down a boggy path after a chap about 200 yds in front of me. I passed him and then hit a track and turned back towards Tan Hill, coming across another road with about 4k to go - all up hill. After 2 hours 35 mins I crossed the finish line in 2nd and probably a minute or so down on 1st placed Ashley Norie from Planet X. If you like hills, water hazards and kamakazee sheep then I would recommend it.
Pen-y-ghent fell race, Sat 7 June
From Emma Payne ... 5.9miles, 1650 ft of climbing. This year it was also the Yorkshire Championships. A few Harriers out I finished in around 1hr 20mins. Full results on the Settle Harriers website.
Morgan adds ... A bit too fast for me after recent super-long races and a bit too short; it takes me about 5 miles to warm up at the moment! A lovely warm day though encouraged these thoughts to be put to the back of the mind! As the sweat poured off me on the climb, I managed to keep Alison in sight and was encouraged to catch and pass what looked like a too fast starting Mike Baldwin. The road section to finish did its usual job on my legs (caused them to stop working) and Mike sneaked past on the run in to the finish. After recent endeavours, I was pleased to still have the wife in view at the end! Alison finished 5th lady and 1st FV40 which was a great effort.
A relatively poor turnout generally meant that the Ladies Yorkshire Fell Championship was there for the taking. It was won by Calder Valley and Bingley took the Menís title.

1   46.26 Ian Holmes, Bingley
5   47.56 Graham Pearce, P&B
26  54.12 Lee Morley
35  55.31 Ian Rowbotham
38  55.43 Dave Wilby
50  57.38 Dave Tait, Dark Peak (1st v.60)
79  61.25 Geoff Howard
97  63.06 Alison Eagle (1st v.40)
103 63.48 Mike Baldwin
104 63.49 Morgan Williams
136 69.30 Kay Pearce
190 80.48 Emma Payne
213 finished

Some photos on woodentops.org.uk
Wharfedale Half Marathon, Sat 7 June
From Diane Haggar ... three Harriers turned out for this trail cum fell affair around the Grassington area. The forcast hot weather thankfully did not materialise and conditions were near perfect. The race was won by Richard Pattinson of P&B in 1-28.11 with our own Jon Sinclair in 8th in 1.40.56. Sally Malir took first lady and 16th overall in 1.48.20 which was a new course record by nearly 5 minutes. She had dutifully followed the flagged course when most of those behind (myself included) followed the runner in front and took a short cut. I recall a similar problem at the same point last time I did this race.
I had only been looking for a pleasant training run in the Dales but after a steady start became locked in battle with Karen Chown of Skipton. We ran together as 3rd/4th lady for much of the way and overhauled the second lady. I went for broke on the descent off Threshfield Moor but she got me back 400m from the line. However I was extremely pleased to be 3rd lady and 19th overall, 1st LV45 and my time of 1-49.59 knocked 24 mins off my previous time over this course. Nick Richardson chased Sally home in the half to take 17th in 1-48-36. Amanda Parnaby completed the Full Marathon in 6-28.25
Harrogate Road League #3, Thirsk, Thu 5 June
A good turnout of Harriers for the race. We are doing "OK" in most of the team competitions and the Lady and Lady Vets are, as in previous years, going for glory. The next race is on a new course hosted by Leeds Bradford Tri Club (don't panic, no swimming or cycling is required!) on Tue 17 June - details, with full result and pictures from past races, on www.harrogate-league.org.uk

1   24.34	DARREN BILTON, SWALEDALE
38  30.28	JOHN LUMBUS
43  30.43	SARAH JARVIS
44  30.44	MARK ILEY
49  31.06	MARC TEASEY
53  31.13	IAN ROWBOTHAM
57  31.28	DAVID BROWN
64  32.00	AMANDA ODDIE
69  32.22	DAVE JEPSON
71  32.26	ALISON BENNETT
72  32.27	NEIL CHAPMAN
76  32.36	SALLY MORLEY
85  33.05	PHILIP JUDD
93  33.26	SIMON CHAPMAN
102 33.52	PETER SHIELDS
105 33.57	PHIL HIRST
119 34.38	JOHN TATE
127 34.58	NIGEL TAPPER
134 35.11	JENNY DYBECK
144 35.44	JANE BRYANT
151 36.04	ROB WILLS
163 36.45	REBECCA STAPLETON
174 37.24	KEITH WOOD
182 37.54	ELAINE COSSINS
183 37.55	MATTHEW RUTTER
193 38.33	CHRIS MATTHEWS
204 39.17	EMMA PAYNE
207 39.25	LIZ PRICE
225 41.33	SHEENA PICKERSGILL
234 42.59	PAUL SUGDEN
259 45.00	ANDREW BENNETT
263 45.53	DONALD MACRAE
266 46.46	DAVID MILLSON
281 52.34	BRIAN SWEET
283 53.28	AMANDA PARNABY

Full Bronte, Thu 5 June
John Marshall was 164th in 43.21
Chevin fell race, Wed 4 June
This was a counter in the Ilkley Harriers Running League, Dave Tait leads the fell category after 3 races, but Sally still leads overall. See www.skyrac.org.uk for a report and full results, Pete B's report here and on Bob's blog.

1  Andy Peace (Bingley) 18.10
8  Jamie Hutchinson     18.49
12 Lee Morley           19.28
13 Chris Gale           19.33
18 Dave Wilby           20.04
23 Jim Ryder            20.31
29 Bob Hamilton         21.25 1st V50
37 Dave Tait            22.26 1st V60
42 Dave Cummings        22.57
43 Mike Baldwin         23.02
45 Norman Bush          23.09
47 Emma Barclay         23.18
48 Simon Chapman        23.21
49 Kevin Gooch          23.26
70 Dave Taylor          24.21
76 Alison Weston        24.51
79 Kelly Harrison       25.07
84 Angela Srivastava    25.42
91 Nigel Tapper         26.10
93 Keith Wood           26.20
98 Peter Bedwell        26.41
102 Sue Bickerdike      26.54
115 Emma Payne          29.29
119 Sue Stevens         31.06
129 Antonio Cardinale   39.28
130 Amanda Parnaby      39.33

Runner of the Month for May
Ilkley Harriers Runner of the Month for May is Heather Dawe for her Bob Graham Round (we'll overlook the fact that it was completed in the early hours of 1 June!) which topped off a superb month of fell and adventure racing for her.
There were also a number of other nominations, all of whom deserve a special mention:
Alison Eagle and Morgan Williams for their race results;
Eddie Winslow and Neil Smith, both for their 100 miler;
Jeff Paget for a superb result in the White Peak marathon; and
Alison Bennett for "breaking a club record every time she puts her running shoes on"!
Bob Graham Success, Sun 1 June
Heather Dawe reports ...I have just completed the Bob Graham Round. Starting at 4am Saturday morning and finishing 1:56 this morning. Conditions were fantastic, it was really hot going through Langdale but I really should not be complaining about what was a beautiful day from start to finish.
I went anticlockwise. I was supported by Dave Wilby and Brian Melia on leg 1 with Brian carrying on through leg 2 with Steve Brock. Steve Birkenshaw showed me his secrets on leg 3, Rupert Kempley and Rich Allen on leg 4 and Shane Ohly and Chez Frost on the final leg. Everyone was brilliant and I am very grateful for their help. Aidan was a fantastic support and somehow managed to break his toe during the day! I have no breakages to report but some rather huge blisters on my feet that slowed me down, particuarly over leg 4.
I am now going to put my feet up for a while!
Yorkshire Vets Grand Prix Race 3, Sun 1 June
From Morgan Williams ... The glorious weather of the Saturday vanished without trace and was replaced with persistent and quite heavy rain. Only 2 Harriers made the trip to the outskirts of Wakefield, together with 1 supporter with damaged feet from Duddon the day before!
This GP race has always had good weather in the past, so doubtless a number of the runners were rather taken aback when the course deteriorated into a mud-bath. There is a long trek from race HQ to the start/finish. Donít try this in sandals when it is chucking it down; talk about dirty feet!
Pete Shields was 43rd in the Menís race in 37.47 and just out of the V60 prizes, but doing his overall points total no harm. Alison Eagle worked hard to pick off runners who had either started too quickly or became bogged down and finished 2nd lady in 38.07 and took the FV45 prize and maximum points in her category.
Duddon fell race, Sat 31 May
From Morgan Williams ... Duddon seems to have shrunk. The FRA calendar now suggests 18 miles and 6000'. The traditional figures were 20 miles and 7000' and I'm sure that moving the start hasn't shortened the race by 2 miles and 1000'! Last year it was a Championship race and enough people must have enjoyed themselves to come back again as 246 runners lined up in what I felt were hot conditions. Last year, by early June, many of us had adjusted to hot weather after the fabulous April and early May. Not so this year I fear.
As far as I could see, only 4 Harriers toed the line for the first of the Lakes Super-long races. It was hard graft all day. Last year, it was warm too, but there was cloud cover in the second half of the race. No such luck this year and the heat seemed to increase as the race went on. The decision to use a small sack with a Platypus and hose was easily made. My equilibrium was rather disturbed by discovering that my fell shoes were in the boot but my orthotics were still in Ilkley. In rather a gamble, I persuaded Pete Bland to "lend" me a set of insoles from a pair of Innov8s on the promise that I send him a brand new set in the post this week. The shoes felt fine at the start but as the race wore on, the extra space in them became apparent in a number of different ways, all bad!
One of the beauties of the Sportident timing system is that you can compare splits between years quickly. So after the event I discovered that the hot weather had slowed me down in the first half of the race, but that I had clawed some time back in the second half, despite feeling the 37 miles of the OCTs still in the legs. Still, no cramp this year and I felt loads better.
I was keen to break 4 hours but the hot weather put paid to that. In the end I couldn't match last years time and that slid by by 4 minutes. Still, with others reporting times up to 20 minutes slower, perhaps that was a decent enough result. A good run from Dave Tait and a step on the road back to form for Nicky and Holly. (I think I spotted Kelly Harrison who must have been doing the "short" race but didn't see her afterwards.)
Times and positions were:


1   Simon Booth	Borrowdale  2.52.31
60  Dave Tait	DPFR        3.46.29		3rd MV60
122 Morgan Williams         4.12.58
148 Nicky Jacquiery         4.26.13	
150 Holly Williamson        4.26.45

Of the 246 who started, only 228 finished. 

Slioch Horseshoe, Sat 31 May
From Graham Arthur AL in "the most beautiful scenery of any hill race" in the NW highlands. Inaugural race, third counter in this yearís Scottish Long Classics (Jura was the second). Some of Scotlandís top hill runners turned out, including Simon Peachey, Alec Keith and Brian Marshall. Very fine weather, too hot for running in fact. Bless the marshals with their big bottles of water.

1  2:02:09 Simon Peachey, Carnethy           
20 2:42:56 Graham Arthur
39 finished. I think some got lost on the way down. Whoíd of thought it.
Lancaster 5k series
From Alison B ... This was the first in a series of 5 x 5K races to be held early on Saturday evenings over the summer. A flat, fast course so a good race to try if you are in the area.

Alison Bennett  19:03
Andrew  Bennett 26:25

RBK Manchester Sale 5 Miler, Mon 26 May
Terry Lonergan reports ... Second visit of the month to Wythenshawe Park in South Manchester for another Sale Harriers event. A small but quality field sped around a couple of laps of the track before exiting for the rest of the flat course, in and around the park in sunny but windy conditions, which would detract from finishing times.
With the previous dayís trail race responsibilities behind him (but no doubt still occupying his thoughts rather than todayís race!), Marc Teasey started cautiously and had the pleasure of going through the field without being overtaken at all until the last few metres when he graciously gave way to a more mature runner. He averaged just over 6.10 for the 5 miles coming in 38th of 128 recording another P.B. for the year.

38th  Marc Teasey 30.53  6th M40
Ilkley Trail Race, Sun 25 May
Congratulations to the Ilkley Harriers organisers and helpers in successfully resurrecting this race.
And well done to the Ilkley Harriers who finished 1st men's team and 1st ladies' teams!
This was a counter in the Harriers Running League - results here.

Ilkley Trail Race Results
More on Bob's blog.
Edinburgh Marathon, Sun 25 May
From Ian Balfour ... I was delighted to complete the Edinburgh marathon this year in 4 hours 17 minutes. That's 20 minutes faster than 4 years ago, and not too bad for an old codger of 57. (I was hoping for 4.30 but thought it could take 5 hours!)
Edinburgh is a fabulous city for a marathon. The course starts near the east end of Prices Street and takes you along the East Lothian coast and back to finish in front of the grandstand at Musselburgh Racecourse. I would recommend this flat course for anyone doing their first marathon or looking for a PB. The were 11,000 runners this year including the Hairy Haggis Relay challenge so you don't get lonely.
I put in lots of training for this and tried to follow the Edinburgh Marathon 'beginners' running schedule. I built up my weekend runs gradually over three months. The longest run was 17 miles from Grassington to Ilkley on the Dales Way. I wanted to run a 20 miler but felt that I was already reaching my limit. The main problem with long distance training runs is you don't get enough fluids. There are plenty of water and energy drink stations on the marathon. For me the energy drinks were essential to keep me running and avoid cramping.
My running has improved greatly since I joined the Harriers last September so a big thanks to Bernie and her group for dragging me up the hills.
Fiona Schneider reports ... a PB 4:25:45. There is space on this course, fresh sea breezes (strong this year) and good crowds, finishing in a stadium. A very good day out.
Yoredale 100 24th- 25th May
From Eddie Winslow ... Neil Smith and I both completed this LDWA 100 Challenge event (100 miles, not 100k) in the Yorkshire Dales this weekend, Neil in a time of 26h15m and me in 26h30m.
The circular route took us from Skipton to Malham, then Settle and onto Ingleton, over Ingleborough to Horton-in-Ribblesdale, over to Hawes, down Wensleydale to Bainbridge, over to Buckden and along the length of Wharfedale to Addingham before returning to Skipton.
After that Iím going to have a rest for a week.
Isle of Jura fell race, Sat 24 May
Heather Dawe reports ... A few Harriers made the trip over to the Isle of Jura for the fell race this weekend. Aidan and I fulfilled an ambition by kayaking over from the mainland. Dave Wilby, Kelly Harrison, Ralph (the dog) and Graham Arthur arrived at the distillery at Craighouse by cycling from the ferry. Ralph ran alongside Dave and Kelly.
The weather was stunning and it has to be one of the very best weekends away I've had for quite some time. The race was won by Rob Jebb and Angela Mudge, who had a fantastic run to finish 7th overall, breaking her own record by five minutes. Dave had a good run to finish in 4:01. He was a bit disappointed not to dip under 4 hours as it meant he would have got a coveted sub-4 hour whiskey tumbler. He'll just have to come back next year, no hardship there. Graham ran in under 5 hours and I did 5:10. I suffered a bit with a dodgy tummy so I resigned myself to having a steadier day out, enjoying the marvellous scenery. Fell running doesn't get much better.
Read Graham's full report here.

32  4h01:21  Dave Wilby
93  4h57:50  Graham Arthur
107 5h09:54  Heather Dawe

Dave adds ... At 16m and 7500ft of ascent, the Isle of Jura race covers 7 separate summits and represents one of the tougher races in the fell running calendar. The epic journey to get there is rewarded by a fantastic race weekend, superb atmosphere and cameraderie, and a camping spot almost on the white sandy beach, perfect!! 3 Harriers made the trip up for this one. Graham Arthur put in a fantastic performance in the V60's to finish in the prizes and achieve his personal target of a sub 5-hour time, what a superb achievement. Heather Dawe was feeling pretty unwell almost from the start, but a finish time of just over 5 hours showed characteristic determination, and demonstrated the toughness she'll need for her upcoming BG attempt. I was aiming for a sub 4-hour time in order to pick up one of the much coveted whiskey glasses, but had no idea how realistic that might be, after 2 weeks off sick following my last race. A sensible pace from the start meant that I was right on track for almost the whole way, gradually passing the quicker starters while still feeling reasonably strong. A tumble coming off summit 6 left me with what turned out to be a nicely broken thumb, but it only served to distract me from the increasing complaining from my legs. Hitting the last 3 miles of road to the finish, I needed to average 8 minute miles but could only manage 8.5 so missed out by a narrow margin on my target. Having said that, I was chuffed to bits with my time, and the whole trip was one of the best race weekends I've had. Our dog is still whinging that none of the reputed 5000 deer on the island made an appearance, although he did help one or 2 runners descend a bit more quickly than they might otherwise have done down the last hill so it wasn't a complete loss!!
Badgerstone Relay, Sat 24 May
From Bob Hamilton ... We didn't tempt too many members out for this great little event, but the usual stalwarts were out in support and all seemed to enjoy the craic. Lots of ad hoc teams were created, Rowbo not giving me any option to get out of running myself (cheers mate!), Lee Athersmith being summoned from Skipton by Roger Ingham to make up the incomplete Ilkley Juniors team. It was all undertaken in tremendous spirit and I think we'll definitely be sticking to this midge-free Saturday format in future. Everyone seemed to relish the low-key atmosphere and being adopted to help out on the spot! Thanks to all who did their bit.
For the record, Pudsey and Bramley won the main race in 48.50, with Graham Pearce running the fastest leg of the day in 15.52, quite high on the all-time list I would imagine, in the very fast conditions. My team (with Ralph Tench and Malcolm Pickering) finished in 4th place in 57.17. The Barclays were the first family team, 6th in 62.06, although this was contested by team Williams-Eagle-Crane (7th in 63.28) on the grounds that Emma ran two legs. If Morgan's family name was, say, Albatross, I'd have been more inclined to have ruled in his favour. He at least left with a PB to his name - which couldn't go unmentioned!
Harrier's times from Wharfedale Harriers site:

Ian Rowbotham       17.57
Ralph Tench         18.37
Bob Hamilton        19.13
Malcolm Pickering   19.27
Mike Baldwin        19.41
Emma Barclay (1)    20.10
Emma Barclay (3)    20.23
Morgan Williams     20.28
Alison Eagle        21.07
Josh Crane          21.53
Angela Srivastava   23.03
Adam Bennett        24.20
Patrick Gibbons     25.34 
HRL #2, Starbeck, Thu 22 May
It was great to see many of the Harriers who helped organise our own HRL race a few weeks ago out racing at Nidd Valley's event. The lady and lady vets teams had good wins on the night, taking the overall lead. Results and photos on www.harrogate-league.org.uk.

1   29.15 JON ORANGE (RZH)
27  33.26 JUSTIN PHILLIPS
28  33.29 IAN ROWBOTHAM
37  33.52 MARC TEASEY
41  34.06 JOHN LUMBUS
46  34.15 DAVID BROWN
47  34.21 DAVE CUMMINGS
48  34.33 AMANDA ODDIE (2ND LADY)
64  35.35 DAVE JEPSON
66  35.44 NEIL CHAPMAN
75  36.25 PAUL STEPHENS
76  36.31 ALISON BENNETT
83  36.39 DIANE HAGGAR
90  37.07 SIMON CHAPMAN
102 38.03 PHIL HIRST
122 39.09 JOHN COATES
132 39.50 CATHERINE GIBBONS
133 39.53 SARAH JARVIS
138 40.10 JANE BRYANT
142 40.15 NIGEL TAPPER
146 40.27 TERRY LONERGAN
149 40.36 KEITH WOOD
153 40.56 REBECCA STAPLETON
154 41.05 SUE BICKERDIKE
156 41.09 GRAHAM STEAD
191 43.22 EMMA PAYNE
192 43.41 CAROLINE EBERT
194 43.55 LIZ PRICE
200 44.04 CHRIS MATTHEWS
205 44.35 STEWART TAYLOR
217 45.33 BERNIE GIBBONS
222 46.10 SHEENA PICKERSGILL
226 46.49 ADELE MITCHELL
227 46.49 DAVID COMYN
228 46.54 PAUL SUGDEN
239 48.12 ANN STEAD
254 49.31 BOB PAYNE
259 50.11 ANDREW BENNETT
263 50.40 PAT LONERGAN
264 50.49 AMY BATESON
267 52.15 MANDY CHAPMAN
277 55.14 HEATHER DUKE
284 57.20 AMANDA PARNABY
285 57.33 BRIAN SWEET

Kildwick fell race, Wed 21 May
Results from www.kcac.co.uk ...

8   26.43 Jamie Hutchinson
29  30.16 Dave Cummings
43  31.34 Mike Baldwin
44  31.35 Emma Barclay
54  34.03 Kay Pearce
71  36.29 Val Kerr
Plus a dozen juniors

John Carr #3, Wed 21 May
Congratulations to Sally Morley, 1st lady over the 3 John Carr races, Sally Malir 1st LV40, Sue Bickerdike 6th LV35, Alison Bennett 2nd LV45, Simon Chapman 12th man, Stephen Coy 4th V35 and Mark Iley 6th, Henry Heavisides 6th V50 and Neil Chapman 8th.
Alison Bennett smashed the club LV40 and LV45 records for the 3rd time in 3 weeks!
Official results on St Bedes site.

1   15.51  Nick Hooker, Leeds
38  18.11  Mark Iley
41  18.22  Stephen Coy
42  18.24  Ralph Tench
58  18.53  Henry Heavisides
63  18.58  Alison Bennett
69  19.06  Sally Morley
75  19.14  Neil Chapman
86  19.35  Sally Malir
100 19.57  Simon Chapman
110 20.14  Nigel Tapper
142 21.19  Keith Wood
157 21.59  Pete Bedwell
174 22.39  Adam Bennett
182 22.55  Sue Bickerdike
240 26.11  Andrew Bennett

Etape du Dales, Sun 18 May
Bob H reports on this mega-long cycle challenge ... some really great performances from members swapping disciplines and riding the Etape du Dales yesterday: Don't see much of Richard nor Mike running these days, but it looks like they've found their niche!

131  Bob Hamilton  7.08.52
165  Richard Malir 7.19.50
166  Mike Rhodes   7.20.19
375  Jim Ryder     8.15.15
451  Jo Foster     8.38.31

More on Bob's blog.
Jo - with very sore knees! adds ... Just to say thank you to those out supporting the Etape yesterday. It was great to have Pete driving past on the first hill shouting words of encouragement, Mike's warm gloves at Tan Hill restored some feeling into my hands and Sally did a great job of unpeeling bananas for me. Even Bob shouted words of encouragement as he zoomed past! It was tough - especially when you're not really a cyclist! - but the scenery was amazing and some great fast descents made up for some of the pain of those hills! One thing worth noting was that the top three riders all came form a fell running background!
Open 5, Sun 18 May
From Adrian Hall ... Held in Broughton in Furness, great day out on the hills, lovely running, sunshine, good biking. Heather Dawe and partner won Ladies pairs for Team Inov8, Eddie Winslow well placed for TeamAccelerate (I think). Great to get out for my first Open5, despite my relative lack of MTB experience. I was running pairs with Jamie Kirk, my neighbour, posted a reasonable score.
Navigation went well, running leg good. Quite funny to see teams shooting past, missing the control and then having to catch you up again Ė the saying of itís no good running fast if itís in the wrong direction certainly applies on these events. Injury slowed us down a little, plus a possibly poor choice of controls for the biking, but thereís always next time to get better.
Well organised event thought, and great atmosphere. Results on openadventure.com
From Heather Dawe ... On Sunday it was the Open5 from Broughton Mills in and over the beautiful Dunnerdale fells in the south west Lakes. I was racing with Anna Frost, a kiwi who was 4th in the Three Peaks so very hard work to keep up with when running!!! We had a fun day out and finished 1st ladies team despite at least three major nav errors by me. Eddie Winslow and Sue Booth were also racing and were 5th in the mixed pairs and 2nd in the female pairs respectively.
Jo Taylor adds ... Dave & Jo Taylor also competed in the Open5 at Broughton mixed pairs, having a very enjoyable day, although our results are getting worse!
Moel Eilio fell race, Sat 17 May
Terry reports ... All credit to the two Harriers who journeyed through to Wales for the MOEL EILIO fell race. 2nd counter in the 2008 FRA British championship. The 8m/3000í event from Llanberis in North Wales was won by Nick Swinburn of Northumberland fell runners (59.01) beating Rob Hope, Rob Jebb and Ian Holmes. Angela Mudge was first lady in 36th place IN 68.23. 255 finished; 142 were over 40! Just two harriers then plus 2nd claimer Dave Tait 108th in 77.35

128  80.57  Emma Barclay (4th LV40)
172  87.16  Graham Arthur

Second-claimer Graham Pearce was 19th in 64:43 for P&B; and Dave Tait was 1st Vet 60, 108th in 77:35 for Dark Peak
Keswick Mountain Festival Triathlon, Sat 17 May
From Heather Dawe ... I raced the inaugral Keswick Mountain Festival Triathlon on Saturday. After a poor swim (750m in Derwent Water), I caught up my good friend Cheryl (Chez) Frost on the bike (an undulating and very picturesque 22 miles) who had two minutes on me after the swim. We came into the second transition neck and neck. Onto the run (6 miles, a flat bit alongside the lake and then an up and down over Walla Crag) where Chez got ahead. Chez kept the lead, she won and I was second in 2:28, a reversal of the Helvellyn tri last year where I just pipped her on the line so it's one all now :o)
Fairfield Horseshoe, Sat 17 May
Emma Payne reports ... I completed the Fairfield horseshoe race on Saturday, 9 miles 3000ft of climbing. I managed to get round in the poor visibility by running with a 69 year old local runner! All I can say about my performance is that I am managing to get round at the back of the field. No results yet but my time was around 2hrs 38mins. I spotted Holly and another Harrierís shirt in the distance! Also newly racing for us was Lee Morley who made the fatal mistake of following Neil Armitage from P&B to Ambleside rather than the finish at RydalÖ.. Even thought you could see the carís parked at Rydal as you descended ...
From Holly ... I have just found the results from Fairfield this Saturday:

Lee Morley: 100.05
Holly Williamson: 115.46
John Coates: 127.41
Emma Payne: 158.39
It was a lovely day for the race with a good bit of mist on the summits to make things a bit more interesting. Congratulations to Emma, whose parting words to me were that she would be the last to finish, but she was certainly not last by a long way. I was quite happy with my result as it was exactly the same as my time last year and I have been battling with bad Achilles for the last few months. Annoyingly on home ground, I made a mistake on the descent and ended up following a couple of CFR runners down a rock face instead of taking my faster route round it, one day I will learn to stop following the person in front, especially when I know where I am going!
Old Counties Tops Race, Sat 17 May
Morgan Williams reports ... A record pre-entry of 75 teams and a record 63 teams (pairs) set off at 8.00 am on Saturday for this Lakes super-super long race (37 miles and 10,000'). The weather was much improved over last year. Alison Eagle and I were at the sharp end of the mixed team race slugging it out with a much younger pairing. Their younger legs finally got the better of us on the last section over the Conistons and back to the New Dungeon Ghyll but we were chuffed to come in second mixed pair and 20th overall in 8.56.17 (we think) losing the great prize by 12 minutes.
Roy Ruddle was also running with one of his chums from MDC in North Wales. Roy took a bad tumble, just before the Wythburn car park checkpoint (about 11 miles) and wrecked both knees, blood everywhere. He finished of course, but a little while after us. Confirmed results still awaited. A full report will follow at some point.
Meanwood Valley Trail, Sat 17 May
From Sue B ... A fair turnout of Harriers for this race. A standalone event in its own right, but also the final in the Airedale Triple Trail series which comprises the Guiseley Gallop, Baildon Boundary Way and the MVT.

Race Winner	Jon Holt  41.35
6   Jamie Hutchinson  43.42
26  Nick Richardson   48.58
40  Sally Malir       51.48 2nd Lady
62  Pete Shields      53.21 1st V60
82  Geoffrey Baggeley 55.48	
95  John Woodward     56.58
111 Catherine Gibbons 57.54
161 Keith Wood        62.24
164 Sue Bickerdike    62.49
176 Juliet Muirhead   63.30
202 Bernie Gibbons    65.52
255 Paul Sugden       71.34
258 Sue Stevens       71.44
300 Amanda Parnaby    83.20

For the Juniors we saw:
Ben Cheetham  - 6.13, 4th in the 9-10 race.
Hanna and Tassie Heslop both coming in at 6.59, 3rd and 4th respectively in the 9-10 race.
Eileen Gibbons 14.38, 4th in the 13-14 race

Ilkley swept the board (almost!) on the triple trail event:
We had:
Sally Malir        1st LV35 
Jamie Hutchinson   1st Male (by less than 30s over the three events!!!!)
Bernie Gibbons     1st LV45

White Peak Marathon, Sat 17 May
Jeff Paget reports ... I completed The White Peak Marathon in Derbyshire on Saturday. This is a scenic trail race along disued railway tracks. Essentially you climb very gradually for 20 miles and drop back down by way of 3 steep descents and finish with a mile along a canal bank. It was my first ever marathon and I found it very hard from about 18 miles, especially as the man in front was out of sight and I never look behind so I ran the last 8 miles alone. There are very few spectators and a limited number of access points to the trails, so the the support of my family who appeared at various points along the route was vital. There were 197 finishers and I came in 8th overall and 2nd Vet 50 in 3hours 2 minutes and 34 seconds. I was very pleased and know that I couldn't have gone any faster. My calves cramped once I stopped and I was unable to get up for at least 30 minutes. When I did both calves and one thigh cramped, so I am sure that I ran to my limit and beyond. The satisfaction has already overtaken the pain and I would like to run a city marathon within the next year, maybe London?
John Carr #2, Wed 14 May
Another great run from Alison Bennett, taking the LV45 club record again and this time the LV40 record too!
Official results on St Bedes site.

1   15.50  Mark Metcalfe, York Acorn
42  18.11  Stephen Coy
46  18.20  Mark Iley
65  18.51  Henry Heavisides
72  19.00  Sally Morley
75  19.04  Alison Bennett
81  19.20  Simon Chapman
99  19.39  Sally Malir
113 20.02  Pete Shields
120 20.14  Neil Chapman
131 20.36  Nigel Tapper
150 21.05  Keith Wood
161 21.30  Alexander Woodward
162 21.30  John Woodward
168 21.35  Joshua Crane
176 21.46  Alison Eagle
186 22.15  Pete Bedwell
195 22.34  Sue Bickerdike
255 25.54  Andrew Bennett
283 27.46  Jo Taylor

From Jo ... Although the slowest of the Harriers taking part in the John Carr 2, I would like to report that my time of 27:46 beat my previous 5km personal best set at John Carr 1 last year by nearly a minute - 28:38 last year (and 28:41 last week!).
Jack Bloor Races, Tue 13 May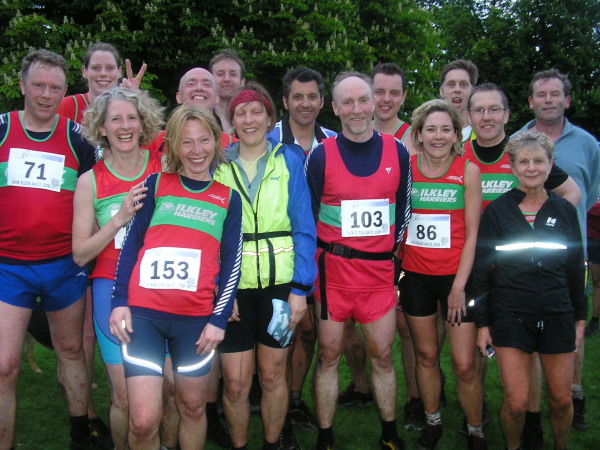 A good turnout of Harriers, some of them in Sue's photo. This was the third counter in the Mob Match vs. Wharfedale Harriers (

details). Wharfedale fielded 14 runners, amassing 1150.82 points. Ilkley's top 15 runners totalled 1357.12 points. So adding these to the cumulative points from Dick Hudsons, Ilkley lead with 3211.66 points to Wharfedale's 2880.85
There is just one race left in the Mob Match now, Wharfedale's Beamsley Beacon race on 25 June.
Official race results from www.jackbloor.co.uk:

3   41.27	Graham Pearce P&B
6   42.02	Tom Adams
12  43.18	Jamie Hutchinson
13  43.41	Lee Morley
15  43.52	Chris Gale
24  45.18	Ian Rowbotham
30  45.43	Ralp Tench
31  45.53	Adrian Hall
34  46.51	Lawrence Basham
36  46.54	Jim Ryder
41  47.07	Stuart Pitches
48  48.27	Dan Goodey
49  48.29	Dave Cummings
51  48.56	Justin Phillips
54  49.08	Bob Hamilton
58  50.27	Sarah Haines
62  51.10	Neil Smith
65  51.15	Mike Baldwin
68  51.43	Paul Stephens
73  52.11	Jenny Dybeck
85  53.47	D Cooper         ??
87  53.52	Chris Oxlade
88  54.01	Heather Dawe
96  55.09	Graham Arthur
100 55.51	Richard Reeve
101 55.55	Brenda Ogden
104 56.59	Dave Taylor
107 57.19	Jo Foster
111 57.47	Val Kerr
117 58.16	Tony Thornley
118 58.19	Chloe Haines
132 59.38	Andy Webster
134 60.57	Keith Wood
143 62.13	Ian Hunter
151 63.15	Kelly Harrison
153 63.18	Di Kitchen
159 64.03	Vic Verecondi
160 64.06	Sue Bickerdike
162 64.13	Nigel Tapper
165 65.49	Rob King
166 66.57	Juliet Muirhead
167 67.29	Graham Stead Otley
172 68.51	Bernie Gibbons
173 68.58	Sheena Pickersgill
181 73.33	Anne Stead
183 74.30	Bob Payne
186 87.37	Antonio Cardinale Otley

Beaverbrooks 10k Blackpool, Sun 11 May
Marc Teasey reports ... Optimistic thoughts of more PBs were dashed by the heat for this out and back course along the front at Blackpool - with times out of the window it became about racing and who would be last to melt. Sarah was first Harrier home in a great time of 38.04 for the conditions, again second lady and beaten only by the mightily impressive Czech Anna Pitchrtova, winner of the recent 3 Peaks race and World Mountain Running Champion. I wilted like a weedy lettuce in the heat and dragged myself over the line over a minute behind Sarah, with Amanda only 20 seconds behind me and gaining! The only one of us not to suffer was 'Mr Asbestos' Terry Lonergan, who continues to improve on recent times and was back on the verge of breaking 40 minutes. Us "youngsters" are going to have to start watching our backs. This was a large race, billed as a 'fun run', and with over 3000 runners we were delighted to all finish in the top 70. The timings at the finish appear to have all been rounded to the nearest 15 seconds after the first 30 finished (!) so other than Sarah our race times are taken from our watches.

(1  Jonathan Prowse  31.05)
29  Sarah Jarvis     38.04 (2nd Lady)
45  Marc Teasey      39.11
62  Amanda Oddie     39.32 (5th Lady)
66  Terry Lonergan   40.01
Golden Ball 5k Lancaster, Sun 11 May
From Andrew Bennett ... This race starts and finishes at the ĎGolden Ballí pub at the side of the Lune Estuary between Lancaster and Morecambe. I imagined a flat course winding around the pleasant lanes which eventually lead to Sunderland Point; I imagine that would have been much better than the actual course we ran. Running alongside the busy Heysham road on a very hot day at least provided some breeze from the speeding traffic but I was struggling in the heat and with a couple of hills my hopes of improving on last Wednesdayís John Carr time soon faded. Alison fared better after being doubtful about entering this race at all.

1  Eddie Simpson, Dallam V40 15.17
5  Rebecca Robinson,  Kendal 16.36
31 Alison Bennett            19.44
95 Andrew Bennett            29.31

Other Lancaster races coming up this summer include: Morecambe 10k, the Wagon and Horses 10m, the Cross Bay half marathon and a series of Saturday evening 5ks.
Driffield triathlon, Sun 11 May
Jamie Hutchinson reports on this sprint distance tri: 400m swim, 20k bike, 5k run
After my last tri at Skipton, and losing feeling in my feet, I was looking forward to a warm weather tri. After a bit of a stop/start swim, I hit the bike leg with a vengeance and finished with a strong run. As I didn't have a watch!(doh) and the timing chip didnt work?!, not sure of my splits. Finished in 60 mins and 50 seconds, putting me 17th overall out of 167.

1st M.Cook        57.18
17th J.Hutchinson 60.50
38th Timothy Bull 65.47
Race For Life, Sun 11 May
Becky Stapleton ran the race for life at Broughton. The 3.1 mile race took her 21min 30secs and came 4th overall! Over 2000 women took part!
Great Student 5k Run, Sat 10 May
Mark Iley reports ... I took part in the Great Student 5k Run at Leeds Met Beckett Park site on Saturday being roped in to take part in a sideline competition called "how well does your business run?" I and another colleague from Yorkshire Bank ran in the race and scooped the trophy and Champagne on offer. There was not much competion though, maybe next year we could get more business entrants from our "swelling ranks" at the Club.
A very hot and humid day, and the course covered a vast array of terrain including tarmac roads, grass in the park, through woods as well as a small section of the running track and many many tight corners too! I'm making excuses for my slowish time really! (17 secs slower than my John Carr 5k). All in all, a good local event but run under the Great Run banner, and the great Brendan Foster started the race off.

1   Rory Fraser    15.24
10  Sarah Tunstall 17.45   1st Lady
24  Mark Iley      18.56
211 Emma Payne     23.40

Emma Payne adds ... You might all be wondering why us hard working folk are entering student runs but the event is actually open to anyone! I of course had to enter given I am employed by Leeds Met University. A very hot 5k course with a lot of road and a little bit of trail.
Lothersdale Fell race, Wed 7 May
From Bob Wightman ... Competing with the Esholt 5k was this fine local race to the top of Pinhaw and back.
A slightly different course this year (read between the lines of the thread on the FRA forums!) with the final descent down along the Pennine Way into the village being swapped for a return via the outward section. This means a steep climb and final descent in the last 800m or so.
Photos at picasaweb.google.com/BobEWightman/LothersdaleFellRace2008

1 Gary Devine P & B 00:23:51 V40
10 Ian Rowbotham Ilkley 00:26:46 V45
23 Dave Cumins Ilkley 00:28:37 V40
24 Dave Tait Dark Peak 00:28:47 V60
34 Steve Weston Ilkley 00:30:00

In the Under 8s
1  Robbie Johnson Wharfe 00:03:30
8  Logan Hargreaves Ilkley 00:04:12
11 Milly Willis Jones Ilkley 00:04:42

In the Under 10s
1  Ben Cheetham Ilkley 00:05:25
4  Tassy Heslop Ilkley 00:06:08
8  Emily Sturgeon Ilkley 00:07:30
9  Nadia Fewless-Jones Ilkley 00:07:34

Under 12's
1  James Hall Bingley 00:08:10
3  Harry Maslen Ilkley 00:08:53
6  Jack Cummings Ilkley 00:10:04
10 Hannah Heslop Ilkley 00:12:39
John Carr #1, Wed 7 May
Yorkshire Champs and the 1st counter in the Running League. Alison Bennett is leading the road rankings, with Sally Malir and Di Haggar leading the overall standings.

Click for tables here.
From Marc Teasey ... congratulations to both Peter Shields and to Alison Bennett for breaking their own club records for 5k for their respective categories at the first John Carr race this week. Peter knocked 17 secs off the time set last year, impressively bringing the MV60 record down to below the magic 20 mins with a time of 19'55" - more to come from the great man later in the series? Not to be outdone, Alison B knocked a stonking 22 secs off the LV45 record she'd set last year, with a new time of 19'20". Well done both. The road records keep tumbling - a sign of the increasing strength at the club.
Official results on St Bedes site.

11  16.33 James Wood-Robertson
23  17.04 Jamie Hutchinson
60  18.29 Stephen Coy
61  18.30 Ralph Tench
65  18.39 Mark Iley
93  19.20 Alison Bennett
94  19.21 Henry Heavisides
98  19.30 Simon Chapman
103 19.37 Sally Morley
118 19.54 Sally Malir
119 19.55 Pete Shields
129 20.03 Diane Haggar
136 20.12 Emma Barclay
156 20.39 Dave Taylor
162 20.44 Nigel Tapper
168 20.57 Josh Crane
169 20.57 Neil Chapman
174 21.02 Alison Eagle
209 22.14 Keith Wood
210 22.16 Pete Bedwell
221 22.38 Sue Bickerdike
244 23.26 Sam Haggar
304 26.57 Andrew Bennett
322 28.41 Jo Taylor

HRL race, Tue 6 May
Patting yourself on the back is never very comfortable, so I shall take off my Ilkley Harriers hat and put on my Harrogate Road League Secretary hat to say "well done Ilkley on a great race!". There was a record HRL field of 325 runners, and the earth shook as they thundered off from the start (was that Sheena P jostling with the leaders on the first corner!). The race was well organised, well-marshalled, well-able to deal with the number of runners. The finish was lovely, with the runners cheering in their team-mates before ambling over to the Rugby Club for the splendid feast laid on by Harriers members. Putting so much into the organisation, with some people saving themselves for other races too at a very busy time, meant that we were a little behind in the team results - so let's catch up at Starbeck on 22 May. The ladies team competition is the closest I've ever seen it, with Ilkley, Harrogate, and Otley separated by less than 1 point!
Full results and photos on www.harrogate-league.org.uk.

20	29.32	JUSTIN PHILLIPS
44	31.15	STEVE WESTON
48	31.37	JEFF PAGET
49	31.38	DAVID BROWN
54	31.53	AMANDA ODDIE
57	31.58	DAVE CUMMINGS
66	32.43	PAUL STEPHENS
73	33.02	DAVE JEPSON
83	33.22	ALISON BENNETT
90	33.44	SIMON CHAPMAN
101	34.23	PHIL HIRST
110	34.42	CAROLINE BELL
114	34.52	CATHERINE GIBBONS
115	34.53	NEIL CHAPMAN
121	35.11	ROB WILLS
134	35.49	JOHN WOODWARD
136	35.59	VIC VERECONDI
139	36.09	ANDY WEBSTER
142	36.21	JANE BRYANT
149	36.54	KEITH WOOD
164	37.45	SUE BICKERDIKE
165	37.55	HELEN HORTON
172	38.19	MATTHEW RUTTER
173	38.29	DIANE KITCHEN
185	39.02	KAREN LAMBE
192	39.33	LIZ PRICE
194	39.39	CAROLINE WOOD-ROBERTSON
197	39.46	ALEX LEWIS
205	40.03	ANNA NOLAN
206	40.06	MARY GIBBONS
208	40.09	REBECCA STAPLETON
214	40.23	CHRIS MATTHEWS
216	40.38	GAENOR COY
217	40.41	STEWART TAYLOR
228	41.24	ADELE MITCHELL
230	41.35	COLIN LUGTON
231	41.35	SHEENA PICKERSGILL
237	42.00	JANE GUILLARD
244	42.25	BERNIE GIBBONS
255	42.50	IAN WHITE
263	43.43	PATRICK GIBBONS
264	43.48	PAUL SUGDEN
265	43.48	DAVID COMYN
273	44.20	ANN STEAD
289	45.44	ANDREW BENNETT
295	46.09	AMY BATESON
299	46.48	JANET BAIRSTOW
305	47.57	DAVID MILLSON
308	48.25	JACQUI WESTON
319	51.27	BRIAN SWEET


Reebok Manchester May Day 5k, Mon 5 May
From Marc Teasey... As a sharpener for a 10k in Blackpool next weekend, three Harriers made the journey over to Manchester this morning for a 5k on a flat course round the Wythenshawe area. The warm weather and section of muddy trail didn't prevent two more PBs and yet another prize for Sarah, with Terry also delighted to break the 20 minute mark after a period of injury and illness. 5ks are tough - but thankfully the pain doesn't last too long....

1   Matt Barnes, Altrincham 15.10
24  Sarah Jarvis    18.12 (PB, 3rd Lady)
28  Marc Teasey     18.19 (PB, 3rd MV40)
48  Terry Lonergan  19.50 (4th MV55)

Hannover Marathon, Sat 3 May
Fiona Schneider reports ... I reached a personal best of 1:57:32 in the Hannover half marathon on Sunday. It was hot and David Schneider made the 10k run in 41.28 Hannover offers flights from Newcastle by the race sponsor TUI fly who organise a package with a hotel. There is the chance to run 10k, half marathon, marathon, or inline skate 10k or nordic walk 10k all on the same morning. Entries for 2009 are open, now! It is flat, well organised and well supported. IH keenies would do very well in the rankings . www.hannover-marathon.com
Bluebell 10, Sun 4 May
From Jamie Hutchinson ...
Results from Bluebell trail race, 10 mile race from Greetland near Halifax.
I ran this trail race with a bit of everything; pleasant woodland trails, tracks, tarmac and that 'hill' (Troopers lane). Chatting at the start with Nigel, Keith & Sue we convinced ourselves that the hill wouldn't be too much of a challenge for hardened Ilkley Harriers ! Wrong - the hill came at about 4 miles and was about as tough an uphill as it gets. The rest of the course was undulating until the last mile or so on tarmac and tow path before the river crossing and the finish. I ran reasonably well, not quite firing on all cylinders, I lost a few places in the last few miles to come in 10th in 69.22.
Placings were....
Nigel adds ... 10.3 Mile road and woodland trail race through beautiful bluebell woods in the heart of Yorkshire. A race of true Yorkshire grit with a sharp ascent at the 4 mile mark. Four intrepid Harriers made the trip to Greetland for this Runners World favourite of trail races and in near perfect conditions with a fine drizzle to help with the cooling, the 2700 feet of climb wasn't as tough as it could have been. Excellent event and well organised with an unusual river crossing to finish. Put it on your list for next year.

1   Karl Gray        1h01.36
10  Jamie Hutchinson 1h09.22
146 Nigel Tapper     1h32.26
208 Sue Bickerdike   1h40.47
209 Keith Wood       1h40.48
 
373 ran
Sue Bickerdike's report

here.
Coniston fell race, Sat 3 May
From Alison Weston ... Four Harriers travelled to Coniston in the Lake District on Saturday for the fell race up Wetherlam and Coniston Old Man (9 miles, 3,000 ft ascent). A steep climb up and even steeper descent. The weather was much better than expected with great views at the top (for those who looked!). Dave Tait was 70th and 1st over 60 in a splendid time of 1hr 31, myself 138th in 1hr 40, John Coates 292nd in 2hr01 and Phil Chappell 317th in 2hr08. Phil has only been training again for 2 weeks so was thrilled to complete such a good race.
Namibia Challenge
From Elizabeth McCann ... Just a note to thank those people who sponsored me in the above Challenge in aid of the Prince's Trust. Our team have managed to raise in the region of £25,000. We managed to complete the Challenge which included 4 days of trekking, running, cycling and abseiling in temperatures of 40 degrees C. www.justgiving.com/blmnamibiachallenge
Runner of the Month for April
Ilkley Harriers Runner of the Month for April is Sally Malir for her fantastic run at Blackpool. Congrats to Sally and a Complete Runner t-shirt is on the way. Also nominated were Sarah Jarvis, Tom Adams, Graham Arthur, Emma Barclay, Dave Cummings and James Wood-Robertson. Well done to all and happy running for May.
Bunny Relays, Tue 29 April
From Clare Smith ... The rain held off and several Harriers teamed up with family and friends for this fun event. The first lap (with 'Egg stage') was 2.5 miles and the other two laps each 2 miles long. It was a novelty for me to run whilst carrying a raw egg, painted blue, as a baton with the fear of incurring a minute's penalty if the egg was broken in transit! My 10 year old son ran his lap quicker than I did so that's a sign of things to come, I fear.
Blackpool Marathon, Sun 27 April
From Richard Malir ... Congratulations to all those who completed the Peaks on Saturday and just maybe they provided some inspiration for Sally Malir today. While spectating in Horton Sally was taken to task over why she was not running. Well perhaps the answer lies in some 6 months of consistent and structured hard work that culminated in the Blackpool Marathon today. Sally (a previous winner of the event in 2006) only managed second lady but ...get this... in a time of 2:58:18 - a PB by some 12 minutes and therefore an upgrade of the club record by the same margain. Conditions were perfect and everything went smoothly which helps. However maybe it isn't 6 months effort that pays dividends but more so the last three years - getting the training right (with much help from Terry and support from lots of friends), getting to know the event and her own capabilities within it, getting the pre-race routines sorted, the taper, the nutrition, even the parking and the sports beans (not a euphemism for anything dodgy).
PS, Terry advises this time ranks her 7th in U.K. in her age group at the moment for 2008
Sheffield Half Marathon, Sun 27 April
From Stephen Coy ... After the sun of Saturday the temperature stayed high but there was a light drizzle for the duration of the race which provided good running conditions. As this was only my second half marathon I was happy with the time despite being only 23 seconds outside 1hr 30 as it was 20 mins faster than my previous attempt at this distance at Leeds last year!! Kids enjoyed the 3k fun run and put in good performances for a 6 and 4 year old (along with mum and buggy), future Harriers in the making. Did not see any other Harriers (despite Philip being only 20s in front of me at the end) but looking through the results looks like there were 3 of us who made the journey out of the total of over 4500 participants

1    Zak Kihara, Birchfld  1:05.12
295  Philip Judd           1:30.03
313  Stephen Coy           1:30.23
955  Nick Errington        1:40.38

Three Peaks, Sat 26 Apr
Some photos of Harriers by Mr. Moosehead's mum here. Quite a few Harriers in the results here.
From Cap'n Bob The well-oiled machinery of the Three Peaks Race got 754 competitors under way at dead on the scheduled 10 o'clock. It was some spectacle to be running through the little Dales village of Horton-in-Ribblesdale amidst so many hundreds of runners. I was happy that I was in the right place in the field, feeling that I wanted to go just a little faster, but also knowing that I probably shouldn't. The climb up to the summit of Penyghent passed very quickly, but recognising a lot of the runners around me suggested that I was more or less in the right place. I suppose I should have worked out some appropriate splits, but I've never been that scientific about racing. I prefer to go by instinct. There are quite a few ups and downs along the route to Ribblehead and I settled into conservation of energy mode, trying to run at a pace that was comfortable, happy to let people overtake me. Hitting the short road section, a mile and a bit before the viaduct, I began to realise that my legs were already quite fatigued, much more so than I had expected at this stage. I hoped it was just the road, for I always struggle running on tarmac these days. The hard surface seems to sap all the energy from my legs. The roads are definitely for cycling on, not running! It was here that Brian Melia came past me, looking strong and much more comfortable than me.
Lots of support at Ribblehead, with the inimitable Roger Ingham providing commentary for the many spectators, and it is always fun to be recognised and get a special mention! My numbered drink bottle was put in my hand, I waved to a few friends, and I went through the checkpoint so quickly, relieved to be back on the fell, that it wasn't until the top of Whernside that I realised that I had forgotten to dib. The thought that I might get disqualified didn't really worry me. Although I had a reasonably good climb of the second peak, getting ahead of Brian, a few twinges of cramp had been felt and it was dawning on me that this might now be more a battle of survival than a race. And that's how it proved. What was I thinking? Did I really believe I could race this off so little training?
On the steep section of the descent off Whernside I began to experience a weird feeling of disconnection from my legs. It felt like I was no longer in full control of them. Brian came back past, then Jim Ryder (who I thought would have been ahead of me), stopping for a brief chat, then Roy Ruddle looking very focussed. Through the Hill Inn checkpoint, remembering to dib this time, a look at the watch revealed that sub 4 hours was no longer on. With that objective now gone, the main thing was to try and enjoy as much as possible the rest of the day, and soak up the amazing atmosphere. I felt much happier climbing than descending. I was reasonably strong on the final approach to the summit of Ingleborough, but as soon as I started to descend I lost control of the legs again. All the people I had just overtaken (including Dave Tait) came streaming back past and the cramp set in with a vengeance. From there it was a fight all the way back to the finish. Every time I raised the pace above a jog, the cramp crept back into the muscles. On the rougher sections of limestone pavement I had to stop completely a few times, as both calves went into spasm. I last ran this race 21 years ago, on a very warm day, and I had flashbacks to the same experience then. Perhaps that is why it has taken me so long to run again. The results tell me that I dropped from 284th to 350th position on the run down into Horton, 66 people overtaking me in those last 4 miles or so, including many fellow Harriers: Alison Eagle, going very strongly, Heather Dawe, and then, just before the finish, a very determined looking Graham Arthur who had clearly had a great and very well paced race..
It was great to see the sight of the tented village from the hillside above Horton, and, most of all, Penyghent as a backdrop in the distance. It meant that I could take great satisfaction from having got around in one piece, realising just how big a challenge this truly is. What had I been thinking indeed to believe I could race this without putting in the hard miles in preparation. In retrospect I think I got the pacing more or less right. I wanted to give myself a chance of breaking 4 hours - which I did - but it wasn't to be. I have to go fairly hard on the hills because my descending is so poor these days. I think I would have struggled on those last few miles even if I'd run more conservatively on Penyghent. In the end, it was simply a great day out, and a fantastic event to have been a part of. Finally, I can report that my legs have not been as wrecked as this in many, many a year. Cycling just doesn't prepare you for this!
PS On behalf of all who ran, let me offer thanks to all those fellow Harriers out on the course supporting. It was fantastic to see so many familiar faces popping up all over the place, offering words of encouragement. It truly did help lift the spirits. I hope you all had a great day out too. And our results ...

192    Dave Wilby       3:54:32
197    Emma Barclay     3:55:15
254    Brian Melia      4:02:36
256    Roy Ruddle       4:02:58
279    James Ryder      4:07:23
290    Alison Eagle     4:09:21
336    Heather Dawe     4:16:04
345    Dan Goodey       4:17:17
346    Graham Arthur    4:17:50
350    Bob Hamilton     4:18:21
375    Morgan Williams  4:22:42
385    Alison Weston    4:24:21
386    Geoffrey Howard  4:24:28
441    Mike Baldwin     4:31:16
444    Peter Shields    4:32:20
491    Phil Atkinson    4:40:12
502    Bryan Websdale   4:41:14
516    Peter Sibley     4:42:55
581    Jo Foster        4:55:08
612    Ken Jaquiery     5:02:01
667    Helena Deeney    5:24:35
670    Rachel Hagan     5:25:40 

Wray Scarecrow 10k, Sat 26 April
From Andrew Bennett ... With views of Ingleborough from this undulating course I managed to spectate the Three Peaks whilst also participating in an event myself. This example of multi-tasking so phased the organizers that I was recorded in the results as Alison Bennett. Never mind, as my 61:27 was nearly 3 minutes slower than last year I'll let that stand!
Dick Hudsons, Wed 23 April
From Capn' Bob ... A record turnout of 62 runners on what felt like the first true evening of summer. Shorts weather at last ... at least for the start of the race. It got decidedly cold by the time the last few runners returned just before nightfall. A great response from the club saw over 20 runners compete in the challenge against Wharfedale who themselves got a lot more runners out than in the last event. I'm anticipating a much closer call this time around.
First back in 42.57 was Graham Pearce who applied a little creativity and used his road bike! The proper winner of the race was Ian Nixon in 48.18 who ran the legs off Mark Horrocks on the final descent down the track. Next home was Jamie Hutchinson in 48.59, who seems to be getting stronger and stronger with every race. Two more fine performances for the club were seen from new member Stuart Pitches and Chris Gale, finishing 9th and 10th respectively in 52.20 and 52.28. I look forward to seeing more of these guys out on the fells this summer.
The club performance of the night, however, came from young Jenny Dybeck, first lady home overall in a time of 60.26 and beating Alison Bennett into 2nd place. I can remember running with Jenny on the moor when she was just ten years old, in the days when she was one of my little Wharfedale Juniors, and it has been staggering to watch her development since then. The frightening thing is that it doesn't seem very long ago at all. And what a great thing for the club that this new talent is now coming through on the senior stage.
Full results of the race on Wharfedale Harriers site.
The race was part of our 'Mob Match' challenge, Ilkley Harriers vs. Wharfedale Harriers (

details).
Wharfedale turned out 14 runners, totalling 1227.84 points. Ilkey's 1st 15 runners totalled 1182.01 points. So Wharfedale win on the day. Carrying forward the points from Ilkley Moor (info), Ilkley just lead the series with 1854.54 points to Wharfedale's 1730.03. The next instalment is at the Jack Bloor Races on 13 May - see you there!
Bunny 4, Tue 22 April
Tom Adams had his best placing yet, 3rd. Results and photos on woodentops.org.uk.

3   16.14 Tom Adams
34  18.59 Mark Iley
38  19.12 Bob Hamilton
46  19.31 John Atkinson
52  19.57 Simon Chapman
65  20.20 Neil Smith
75  20.37 Josh Crane
101 22.03 Ben Cheetham
134 23.14 Val Kerr
164 24.44 Bradley Chapman
165 24.22 Neil Chapman
167 27.36 Bob Payne
197 28.50 Logan Hargreaves

Overall in the Bunny Series, Tom Adams was 5th man, Dave Tait was 1st Vet60, Josh Crane was 7th U14, Catherine Gibbons was 13th lady, and Val Kerr was 3rd LV40.
So, who's up fo the Bunny Relays next week?
Rothwell 10k, Sun 20 April
From Marc Teasey...Although the Harriers' turnout was strangely depleted (only 9/19 Ilkley pre-entrants turned up for this popular and over-subscribed race - presumably due to a sudden outbreak of injury, illness and family commitments in the Ilkley area), there was still real quality in our club performances and a raft of PBs amongst the select band. First Harrier home was James, with an impressive demolition of his own PB by a minute and with the second-fastest Harriers' time in recent years over 10k. Continuing her meteoric rise in form was Sarah, knocking nearly another minute off her PB with a blistering time that was agonisingly just one second outside our long-standing club record that has stood for 6 years - just a matter of time now, surely... I recovered from a disastrously fast start (going through the first two miles in 11'16", whereas the last 2 miles took 12'45" - the story tells itself!) to hang on for a painful PB by 40 secs. Amanda continues her return to the form of previous years with another 30 secs off the time that she posted at the Abbey Dash in December. Great race performance by Steve, new to the racing scene, with a great 10k Harriers' debut just outside the magic 40 minutes - no prizes for guessing what his next target will be! Special mention also to Jane, who knocked 30 secs off her PB in spite of being hampered by a recent cold. Also coming back to form are Neil and Peter, both pleased with their improvements after many, many months of illnesses and injuries. Welcome back to racing to Pat, who surprised herself with an encouraging time after minimal training this year - I'm hereby recording that she has found renewed motivation and has promised to join us for track sessions... Thanks also to Terry, who had to miss the race due to a chest infection but nevertheless stood out in the cold at the 9k point to give much needed encouragement as we were flagging.

(1.  Steven Neill - Pudsey and Bramley 31.39)
13.  James Wood-Robertson  34.13 (PB)
51.  Sarah Jarvis          37.05 (PB, 2nd Lady)
76.  Marc Teasey           38.00 (PB)
98.  Amanda Oddie          38.55 (3rd LV40)
102. Neil Chapman          39.08
123. Steven Weston         40.15
141. Peter Shields         40.57
259. Jane Bryant           45.26 (PB)
500. Pat Lonergan          54.05

Skipton Triathlon, Sun 20 April
Jamie Hutchinson reports ... 400m swim, 20k bike & 5k run. My third attempt at Skipton tri and quicker than previous years managed 68.33 but still over two minutes down on that man !... Tim Ashelford. Conditions were fine, although bit windy on the bike leg. A new run course made for better running than previous years. All in all a good start to the season but looking forward to the more testing challenges Ripon, Wensleydale etc.
From Steve Coy ... I took part in my first Tri at Skipton and it was an event of ups and downs. I had a reasonable swim (above expectations) and set off feeling good on the bike. Unfortunately however at the beginning of the bike ride lady luck deserted me and I got a puncture (about 10 mins in). Devastated I resigned myself that my race was over. However after waiting with a steward after 25-30 mins a guy whose wife was competing pulled up. He offered to put the bike on the roof, which was great, but then asked if I would like to borrow a rear wheel. Seeing a possibility of completing my first tri I accepted and thanked him. Yippee, I was off and completed the cycle puncture free and did a sub 19 mins run and completed my first triathlon in 1hr 49 (but with a 30 mins enforced rest). Hopefully I will have better luck next time and be better prepared.
Theo's 10k, Sun 20 April
From John Atkinson: A two lap course around Graves Park Sheffield, run on grass and footpaths. Won by Thomas Bailey in 36.09. I finished 24th in 42.37, a total of 640 completed the race.
This is a very well organised event using chip timing system. The results were up on the race website by the time I returned home.
Anniversary Waltz, Sat 19 April
From Emma Payne ... I did the Anniversary Waltz on Saturday, 11.5miles, 3600ft of climbing. A classic horseshoe race in the Lake Districtís Newlands Valley. Checkpoints on Robinson, Hindscarth, Dalehead, I Spy and Cat Bells. A clear day made the navigation problem free but high winds made it tough. I finished around the 3hrs 8mins mark. No results yet but there were a few others Harriers in attendance.
From www.anniversarywaltz.co.uk:

182  2h13:58  Heather Dawe
251  2h22:59  Dave Taylor
406  3h08:40  Emma Payne

Bunny Run 3, Tue 15 April
A pretty wet bunny run!

6   16.52 Tom Adams
21  18.17 Ben Stevens
31  18.47 George Stevens
84  21.30 Simon Chapman
87  21.42 Ian Marshall
104 22.21 Morgan Williams
129 23.07 Pange Srivastava
146 23.45 Catherine Gibbons
152 24.02 Bradley Chapman
154 24.04 Neil Chapman
176 25.21 Emma Payne
202 26.37 Ed Battye
212 28.11 Sue Stevens
220 28.38 Bob Payne
224 29.11 Sheena Pickersgill
227 29.50 Eileen Gibbons
228 29.53 Bernie Gibbons
231 30.42 Logan Hargreaves-Madhas

Full results and photos on woodentops.org.uk. Come and join the fun at Bunny 4 on 22 April!
London Marathon, Sun 13 April
From Pete Bedwell ... Went into this with very little long distance training due to a long standing heel problem that Iíve only just managed to mostly sort in the last month so was not aiming for any PB. Set off at a steady pace with a couple of friends deciding to treat it as a very long and colourful training run and actually had my most enjoyable FLM ever. After the initial crowd at the start was getting a bit worried about the heat until a nice cold downpour at around 8 miles and another one at the end cooled us all down. Jogged round in 4.08.56 and felt great at the end, managing to encourage the girl I was running with to a 3 minute PB. Saw the Massai warriors who got a loudest cheer and enjoyed the sprint to the line for a change as my legs were fine. Gives me a bit of an incentive to make next years FLM (no 9 !) a proper assault on my marathon PB which is still stuck at a rather slow 3.57.02 !!
Results from results-2008.london-marathon.co.uk ...

position  pl.age name                   age  time 
1818      356    SHINN, ANDREW D        M30  3:09:56 
407       89     AKEROYD, SUZANNE       W40  3:29:05 
5274      1049   COCKSHOTT, DAVID L     M40  3:37:27 
699       9      MATTHEWS, CHRISTINE    W55  3:38:09 
777       96     KITCHEN, DIANE B       W45  3:40:24 
7899      232    RATCLIFFE, TIMOTHY H   M55  3:52:29 
1775      327    PRICE, ELIZABETH M     W40  3:58:30 
10730     798    MELLOR, NICHOLAS       M50  4:05:41 
11327     840    BEDWELL, PETER R       M50  4:08:56 
11542     2029   CAMP, ANTHONY          M30  4:10:13 

Calderdale Hike, Sat 12 April
From Eddie Winslow ... Muddy conditions with plenty of snow on the higher parts of this 38 mile route around the Calder valley from Sowerby Bridge.

Eddie Winslow 7h15m
Neil Smith 8h20m (I think)

Fell fixture changes
The Badgerstone Relays scheduled for this Saturday 12th April are postponed to Saturday May 24th, 12 noon.
The White Wells race scheduled for Saturday 17 May is cancelled, though the junior races will be held at 11am, before the Badgerstone Relays on Saturday May 24th.
Bunny 2, Tue 8 April

6   16.32 Tom Adams
21  17.49 Ben Stevens
31  18.36 George Stevens
41  18.58 Mark Iley
48  19.14 John Atkinson
49  19.18 Dave Cummings
59  19.36 Bob Hamilton
64  19.58 Simon Chapman
91  20.56 Neil Smith
99  21:02 Alison Bennett
109 21:18 Morgan Williams
110 21:19 Josh Crane
112 21.31 Catherine Gibbons
126 22.03 Ben Rowley
129 22.07 Patrick Gibbons
134 22.12 Adam Bennett
145 22.31 Phil Hirst
161 23:06 Bradley Chapman
162 23:07 Neil Chapman
168 23:26 Val Kerr
189 24:30 Emma Payne
228 27:17 Sheena Pickersgill
230 27:49 Sue Stevens
232 28:04 Bob Payne
236 28:26 Andrew Bennett
237 28.28 Eileen Gibbons
238 28:29 Bernie Gibbons
249 29:47 Ann Stead
260 32.02 Odin Hargreaves-Madhas
261 32.07 Logan Hargreaves-Madhas

Full results and photos on woodentops.org.uk
Baildon Boundary Way, Sun 6 April
From Jamie Hutchinson ... cool but sunny conditions welcomed the runners of this year's race. I had last done it in 2005 and suffered so was out to better myself.
The race was won by Richard Pattinson of P&B in 1.21.19, with Jamie Noon just behind him then came a procession of 3rd, 4th, 5th & myself in 6th in 1.25.20 (nearly ten minutes quicker than my 2005 time). Followed by a good turnout of Harriers;

6th   Jamie Hutchinson  1.25.20
24th  Jon Sinclair      1.33.50
35th  Richard Joel      1.36.12
48th  Sally Malir       1.38.44
76th  Pete Shields      1.43.55 1st MV60
165th Angela Srivastava 1.56.43
183rd Sue Bickerdike    1.58.54
193rd Keith Wood        2.00.29
197th Brenda Ogden      2.00.52
270th Mary Gibbons      2.13.57
271st Bernie Gibbons    2.13.59


Northern Road Relays, Sun 6 April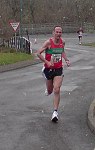 From Marc Teasey ... Twelve good men and true braved the unseasonably arctic conditions at Catterick in only our second ever appearance in this prestigious event. The challenge was on to try and get into the top 25 in order to qualify for the National Finals in Birmingham. Unfortunately we hadn't reckoned on such a large and high quality entry field and from fairly early on it was apparent that this was going to be a tough challenge. However, our strength in depth showed as we began to climb up the placings, having the comfort of consistent quality right throughout the team. In the end it wasn't quite enough - if we could have extended the race by about three more legs then we would have probably made it!! Great spirit and banter was evident amongst the team - the adversity of the elements (snow, sleet, rain, hail, wind, sub-zero temperatures) bound the team closer together - there was much cuddling on the back seat of the coach and a little bit of snuggling in the team tent. My enduring memory will be of Nick arriving back at the end of his leg having apparently been 'slimed' by some other-worldly forces, such were the miraculous amounts of snot adorning his normally adonis-like features - he'd run so hard that he'd clearly lost control of all of his bodily functions....
Provisional results are as follows (taking into account Salford's subsequent disqualification):

Leg Distance Name                     Time   Overall position
1    5.5 miles  James Wood-Robertson  32:39   43
2    3 miles    Chris Gale            17:43   44
3    3 miles    Ralph Tench           18:42   44
4    5.5 miles  Paul Davidson         32:13   41
5    3 miles    John Atkinson         18:15   40
6    3 miles    David Brown           18:44   39
7    5.5 miles  Nick Richardson       33:55   39
8    3 miles    Jeff Paget            18:34   38
9    3 miles    Mark Iley             18:32   36
10   5.5 miles  Dave Wilby            32:49   34
11   3 miles    Justin Phillips       18:02   33
12   3 miles    Bob Hamilton          19:34   31 

Well done and thank you to everyone who turned out to represent and to support the club. Roll on next year!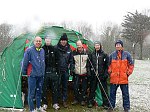 From Sarah Jarvis ... It was with real excitement and pride that our Ilkley ladies shared the coach journey to Catterick, travelling to run, along with our 14 finest men (including Marc and Terry of course!), to pitch our running talents against the finest female runners in the North. The team comprised of some experienced racers and very new members; Sally Morley making a particularly impressive debut with the club and certainly a runner to watch this Summer. The team were committed to the task despite the developing wintry conditions in the later legs. Very big thanks to Helen Shew and Elaine Cossins who offered much needed support at the hand over and provided excellent cheering, coat holding and coffee queuing services during freezing, damp conditions. But special thanks to our Ilkley ladies who turned out to run the six legs. We ran incredibly well, missing out on a top ten position by only a couple of minutes and beating our previous record of 18th position by placing 16th overall this year out of the 35 teams on the start line. The enthusiasm and determination on the coach journey home gives me confidence that there's more to come from the Ilkley Ladies road team...

Team Total Time: 1:58:10 (6 x 3 Miles)
  
Leg 1 Sarah Jarvis   (11) 18:05
Leg 2 Amanda Oddie   (10) 18:52
Leg 3 Alison Bennett (14) 19:45
Leg 4 Sally Morley   (13) 19:42
Leg 5 Diane Haggar   (12) 20:05
Leg 6 Joanne Prowse  (16) 21:41

Lancaster Three Bridges 10K, Sun 6 April
Andrew Bennett reports ... as with last yearís race the skies were blue over Lancaster, the only difference being about 20 degrees Celsius. This race traces some of the route I used to walk to school as a nine year old so that was my excuse for breaking into a similar pace from time to time. Nevertheless the conditions and the flat course (apart from the steps up to Lancaster Aqueduct) contributed to a PB of 55.41. Thatís the odd thing about this running lark - a time that would have some hanging up their running shoes and I left the finishing line looking like the cat that got the cream!
Coniston 14, Sat 5 April
Elaine Cossins reports ... It was with a certain degree of trepidation that we set out this morning at half past eight what with hail, sleet and snow all forecast so I went prepared with as many layers as possible. Soon the rain and cloud cleared and we were treated to some amazing views of the 3 Peaks including a snow-covered Pen-Y-Ghent, the Howgills and then the Lakes themselves.
It was still decidedly wintry when I was queuing up for the essential toilet visit to the portacabins in the field along with about 50 other shivering souls. However the weather proved extremely fickle and one mile into the race the wind had dropped, the sun was out and I was over-heating......... A quick roadside stop and removal of woolly hat, gloves and outer layer and I was off again and we were treated to some stunning views of Coniston and the surrounding fells.
The organisers are right when they say it is extremely well organised, everything was very clearly marked including diversions around cattle grids, it is undulating (but just like the terrain around here in the Dales) and it is a beautiful setting for a road race, especially when you are running along the other side of the lake on the return leg and you can hear the waves lapping on one side and becks running on the other.
I didn't see any other Ilkley vests but at least one other runner was spotted in the photo gallery in the school afterwards where everyone fell gratefully on sandwiches, cakes and hot drinks as by this stage the wind had got up and the sun wasn't quite so warm..........
I managed a PB of 1hour 50 minutes and so would thoroughly recommend it to anyone and will hopefully be back next year in the right layers of gear!
STOP PRESS ... have just checked the results the other Harrier was Sean Murphy in 1hr 43, I am down as Peter Cossins but it was me honest. My time is taken from my Garmin as it was 5 mins after the official start before I got over the start line.
Mourne Peaks Race, Sat 5 April
Morgan Williams reports on the Bristish Fell Championship Race 1 - 12.5 miles and 6,200'.
You could tell from looking at the map and plotting the checkpoints that this was going to be a brutal, roller-coaster ride of a race. 11 checkpoints in all, one on a dam wall and the other 10 on top of mountains! In between some terrain that is peculiarly Irish and which you see no-where else in the UK.
The forecast suggested that it would be snowing late on the Saturday, with cool temperatures and a stiff breeze for earlier in the day. We might just escape the worst of the weather but would for sure be chilly and blown about a fair bit.
The course is newly created and replaces the old Spelga Skyline race which will be familiar to a number of Harriers. I never did that course so cannot compare the 2. The new course is though a serious test of mountain running skills and would be a nasty proposition in anything other than good visibility.
A nearly new pair of Inov8s chewed a 2p bit sized hole out of my instep at Edale and gave me variety of other blisters so I did not train at all in the week before the race. It was only on Friday morning before we left for N Ireland, when I tested my feet in 2 pairs of shoes on the Moor, that I had any inkling that I would be able to run at all. I packed the Swoops in preference to the trail shoes, knowing that neither was really up to the job of a Championship ďlongĒ.
4 Harriers toed the line on a chilly, raw Saturday morning; alongside myself and Alison Eagle were Emma Barclay and Graham Arthur, all I suspect with some degree of trepidation for what was to follow. Steve Barclay was on support duty towards the end of the race, perhaps to pick up the bits of what might be left of us by then! A number of sections of the race made a particular impression on me. (The OS of N Ireland 1:25,000 sheet of the Mournes does not tell you much and hides a great deal; as a map it is less than adequate.) The descent from Doan to the Ben Crom dam wall had a section of boggy, heathery, boulder-strewn traverse the like of which only the Mournes provide, enlivened further by huge, spiky gorse bushes, which was particularly trying in Swoops. The climb out of the dam to Slieve Lamanghan was long, boggy, rough and very steep, a combination one rarely meets and the final major climb up the back of Slieve Commedagh reduced me and others (I could easily see those below through my legs) to hands and feet to make upward progress. As a final sting in the tail, the traverse from the final checkpoint of Lukeís Mountain back to the finish was rough, bottomlessly boggy and peppered with more gorse bushes to add to the fun.
I found it brutal, as expected. There were Championship performances from those at the front. P&B edged out Borrowdale in the menís team race and it was Graham Pearce that made the difference. Well done to them.
Thanks to Steve Barclay for the cheery chat and the extra water just before checkpoint 10.
Results:

1    Rob Hope, P&B           2.10.00
23   Angela Mudge, Carnethy  2.27.12 (1st lady)
28   Graham Pearce, P&B      2.29.24
128  Morgan Williams         3.14.00
139  Alison Eagle            3.20.01
149  Graham Arthur           3.27.02

Emma Barclay was obliged to retire at the Ben Crom dam checkpoint having suffered a twisted knee on the descent that I give special mention to above. She couldnít have been further from the finish but was given a lift back by the checkpoint marshal.
192 finished what I can only describe as a serious and searching test of character!
Peco Cross Country Presentation Evening, Fri 4 April
Alison Bennett reports ... Ilkley scooped a number of trophies at Friday eveningís presentation. The mensí open team finished in second place with James Wood-Robertson achieving an individual 2nd place award in the open category. Jamie Hutchinson was first MV35 and Dave Taite 2nd MV60.
The ladies open team and vets team were 2nd overall and I was 1st LV45.
Bob and Emma Payne and Andrew Bennett received goody bags for completing all 5 races in the series.
Bunny Run #1, Tue 1 April
From Pete Bedwell ... a bit of a race report for my first ever Bunny Run. Itís a measure of the popularity of the Woodhead races that around 300 people young and old turned out for a midweek fell race. The cold wind was soon forgotten when we started, I greatly enjoyed the undulating muddy course, well perhaps I enjoyed the downs more than the ups, but it was definitely loads of fun. Having been restricted by a heel problem for almost a year, now mostly sorted I was not expecting much and was of course well to the back of the field but still managed a bit of a sprint down to the finish to overtake a couple of runners who had breezed past me on the uphill bit. There were plenty of Harriers about gaining league points, Sean Murphy, Sue Bickerdyke, Emma Payne, Jamie Hutchinson, Alison Eagle to name but a few, the race was won by Andi Jones in 16.05 with Ian holmes 2nd in 16.15, nearly a minute and a half down on last years time, perhaps a reflection of the muddy conditions. I was happy enough with my 25.02 and a few more points in the bag although not sure if I ought to be doing the next one as Iím supposed to be tapering for the FLM !
Full results and photos on woodentops.org.uk. This was a counter in the Harriers League and there have been some developments ...

1   16.05  Andi Jones, Salford
5   17.14  Tom Adams
9   17.31  Graham Pearce
10  17.39  Jamie Hutchinson
16  18.32  Paul Davidson
18  18.35  Ben Stevens
19  18.47  Nick Richardson
27  19.28  Mark Iley
30  19.37  George Stevens
39  20.16  Dave Tait DPFR (1st V60)
42  20.25  Dave Cummings
52  20.54  Sean Murphy
63  21.27  Paul Stephens
70  21.43  Neil Smith
74  21.53  Alison Eagle
88  22.17  Diane Haggar
94  22.30  Josh Crane
100 22.47  Catherine Gibbons
118 23.35  Victoria Stevens
121 23.40  Phil Hirst
146 24.32  Val Kerr
154 25.03  Pete Bedwell
158 25.09  Sam Haggar
171 25.48  Clare Smith
180 26.30  Sue Bickerdike
193 27.17  Emma Payne
228 31.19  Eileen Gibbons
229 31.22  Bernie Gibbons
233 32.20  Odin Hargreaves-Madhas

Runner of the Month for March
Ilkley Harriers Runner of the Month for March goes to Alison Weston for her huge efforts to make the Dales Way Relay such a fantastic day for the club. Alison will be receiving her Complete Runner t-shirt very soon!
Also nominated were:
Sarah Jarvis - race results
Amanda Parnaby - long-distance runs and commitment to training
Brian Melia - Edale
Jeff Paget - race results