Got some Harriers news? Send it to news@ilkleyharriers.org.uk and it will be forwarded both to Paul for these pages and to Lawrence and Jemma Basham for the Ilkley Gazette sports report. Thanks!
Wakefield Hospice 10k, Sun 30 March
Marc Teasey reports.... A slight calf strain saved me from the pain of a surprisingly undulating 10k road race on a (yet another) windy day, so I wasn't too disappointed to be relegated to the role of cheerer and clothes holder on the day. Five Harriers were fit enough to toe the line and a special mention should go to David Cummings, who was taking part in his first ever road race - not only was he still smiling by the end, but he managed on his debut to break the magic 40-minute marker, a very impressive run in these conditions. Sarah was first Harrier home and continues to go from strength to strength with yet another PB by nearly a minute, achieving a 4th place in a high quality ladies' race.

(1. Dominic Bannister - Shaftesbury Barnet    30.51)
62   Sarah Jarvis   37.53  (PB, 4th Lady)
116  Neil Chapman   39.52
119  David Cummings 39.53  (PB)
236  Simon Chapman  42.54
301  Nick Errington 44.47
Stokesley Duathlon, Sun 30 Mar
From Jamie Hutchinson ... 5k run, 30k cycle, 5k run. One for the cyclists I think! After a steady first 5k hit the bike leg and enjoyed? cycling straight into a head wind. Two laps and 30k completed on the bike then another steady 5k and finished in 1h 46mins and 44th. The event was won in 90 minutes.
Arkendale 10k, Sun 30 Mar
From Jeff Paget .. Arkendale is a small village between Knaresborough and Boroughbridge and this was only the second year that this mixed terrain race has been held. There were 320 runners and it was won by Tim Midgely of Bingley Harriers in 34.42. I was 13th and 2nd Vet 50 in 39.31 (only 8 seconds and one place behind the first Vet 50 – my wife reassured me that "he didn't look 50, he looked much younger than me, in fact he was actually quite good looking". He might be a nice bloke, but I didn't like him!) This was a very friendly event that starts and finishes on a farm and is a rural run along roads, tracks and across fields. Barbecued burgers and home made cakes available at the finish.
Edale Skyline, Sun 30 Mar
From Morgan Williams ... 21 miles, 4800'
Even though it was only a year since a number of us struggled round this course in freezing conditions in the 2007 English Fell Championship, time had done much to heal the wounds of that day. I had forgotten what a brute of a race this is! The hardest English long outside the Lakes they say. I am not going to argue! This year we could see where we were going (indeed for much of the race the sun shone), but it was almost as windy as last year though not as cold. Those who started wrapped up well were shedding layers all the way round. Lloyd Taggart from Dark Peak won again but his time was identical to his 2007 winning time.
The race doesn't really start until the 14 mile mark at Mam Nick. Before that, you face a variety of challenges underfoot and have to do a good proportion of the ascent. The vast majority of this is runnable, perhaps too much so, a bit like a severe, hilly cross-country race and the temptation is to get cracking, particularly with a timed cut-off point at Mam Nick.. It is best to try and do the first section on auto-pilot, saving yourself for the extensive sting in the tail. After Mam Nick, things get more interesting (?!) with the long slog out to Brown Knoll with its unfathomable peat bogs, which simply grind what is left of your strength out of you, leaving you on your last legs for the short climb out of Jacob's Ladder and the rim round the Kinder plateau before the drop off Ringing Roger back to civilization.
Harriers were few on the ground. An excellent run from Brian Melia who finished 79th and took at least 12 minutes off his 2007 time. I was determined to break 4 hours this time and a big mental effort round the plateau saw me back in 3.58 and 6 minutes quicker than 2007.
Dan Goodey's efforts in the Manx MM must have caught up with him. I drew level with him just after Brown Knoll and my presence spurred him on to keep with me for the next couple of miles, after which he drifted away as I pursued the 4 hour target.
Nicky Jacquiery damaged a calf muscle on the road section through Hope village and struggled on to Mam Nick to retire there and wait for husband Ken, who did the decent thing and retired too. He did say that he hadn't been enjoying himself much. Were any of us you might ask? Of course we were!
Results:

1   Lloyd Taggart, DPFR  2.46.41
41  Judith Jepson, DPFR  3.32.11 (1st lady)
79  Brian Melia          3.48.24
100 Morgan Williams      3.58.24
129 Dan Goodey           4.08.09

287 started, 258 finished

Midgley Moor, Sat 29 Mar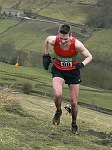 From Paul Davidson ... Midgley Moor, AS 5 miles.
Category A fell races are hard. Even the short ones. The defining feature of this one was the knee length heather that a habit of reappearing at points when most in need of a runnable surface. Apparently, the worst of it could have been avoided through shrewd route finding. But I just did what I always do and followed the figure in front which at one point resulted in a horrible feeling of déjà vu as my guy about 20metres ahead stopped, turned round to me and gave a shrug of the shoulders. Was this to be a repeat of Guiseley Gallop? No, it was a brief moment of doubt and he carried on through the heather to thankfully join up with a path that led home.
I'm not sure of the results but I finished outside the chocolates!
Guiseley Gallop, Sun 23 Mar
Results from www.ukresults.net

1   Ian Fisher, Otley  32:01
7   John Atkinson      37:54  1st M45
14  Bob Hamilton       38:39  2nd M50
19  Richard Joel       39:04 
30  Tom Adams          39:55 
39  Nick Richardson    40:31 
43  Sally Malir        41:08 1st L40
59  Simon Chapman      41:40 1st Junior man
61  Jamie Hutchinson   41:47 
63  Kevin Gooch M55    41:52 2nd M55
65  Paul Davidson      42:02 
67  Neil Chapman M50   42:19 
98  Peter Shields      44:05 2nd M60
100 Diane Hagger       44:09 1st L45
156 Catherine Gibbons  47:36 2nd Junior lady
180 Nigel Tapper       49:16 
214 Keith Wood         51:07 
258 Anthony Swanepoel  53:04 
262 Mary Gibbons       53:16 
263 Alex Lewis         53:26 
272 Bernadette Gibbons 53:56 2nd L50
282 Sheena Pickersgill 54:14 
283 Adele Mitchell     54:17 
288 Donald Macrae      54:55 
321 David Comyn        57:09
This was an Ilkley Harriers Running League counter - Sally Malir is still Top of the Charts, well done to her. Full tables here.
Bob sets the record straight ... Much as though it would be nice to let people think that I gave the likes of Jamie, Tom, Nick and Paul a truly good pasting in the Guiseley Gallop, I can only dream on in that respect! I'm a little flattered by being placed 14th, although the revised course was a vast improvement on the standard, rather boring one, and suited me far better. For reasons that were never made clear, the organisers changed the course to a delightful 2 lap circuit, mostly in the woods, using some great little tracks that I'd not run on before. It was nice and muddy too! A genuine cross-country race. I'm not sure exactly what happened, but I suspect that some kids moved a sign, and the group chasing Ian Fisher took a wrong turn up a dead end. It was a shame for all concerned, but after the initial annoyance had worn off, most agreed it was still a great morning to be out running with a liberal dusting of snow around, blue skies, and surprisingly mild. I'd love to think that they'd use this course again, but I fear that's rather unlikely in the circumstances.
Paul's note: from what I understand some people will lose potential League points because of this mixup but no-one will gain. So I will do the League calcs. The next counter in the League is next week's Bunny Run (fell) followed by John Carr (road) then our very own Trail Race.
Manx Mountain Marathon, Sat 22 Mar
On Saturday 22nd March Phil Jones and I ran in the Manx Mountain Marathon on the Isle of Man. This is a point to point, starting in the North East at Ramsey and running down the spine of the island to Port Erin in the south. A distance of 31.5 miles with 8000ft of ascent.
Saturday morning saw clear skies, the wind was brisk and cold but conditions for the race had turned out far better than anticipated. We started alongside 120 or so others as we ran along the seafront before heading up North Barrule (565m). This slog was rewarded with an incredible view from the top and a grassy ridge run to Snaefell (621m), the islands highest peak. The route then continues up and down over the hills which run south east towards the small town of St Johns where we were joined by runners doing the Half Manx. The race continues up and down over what seems like every hill on the island, South Barrule being the most significant, eventually the south east coast path is reached and the short sharp sting in the tail of Bradda Hill is tackled before running into the finish in the picturesque Port Erin.
This is a fantastic event, a tough but very runnable route, terrific scenery and great support from marshals and spectators.

1st – Paul Thompson (Clayton le Moors) – 4.42.17

42nd – Dan Goodey – 6.42.44

77th – Phil Jones – 7.37.03
Fiendsdale, Sat 22 March
From Dave Tait ... Very cold but clear in the Bowland Hills for the Fiendsdale Race, 7.5ml, 2500ft. Steep climbs and descents with rough moorland, with a stinging blizzard shower part way round.
Ian Rowbotham - 21st - 1.18.19
Dave Tait - 41st - 1.21.59
133 ran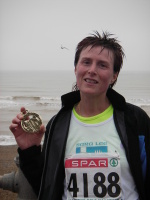 Hastings Half, Sun 16 Mar
Helen Shew entered the 24th Hastings half marathon and got a time of 1hr 54mins.
ILT&SC building work
The refurbishment of the cafe-bar starts on 18th March. We should be OK for using the bar meeting area on Tuesday but watch this space for news ...
Spen 20, Sun 16 Mar
From Sally Malir ... although it was cool and windy conditions were described as tropical for the Spen 20. (If you remember I finished looking like a snow man two years ago !) This is a very hilly 20 miles, not a PB course, but the two Ilkley Ladies that competed today both reached the dizzy heights of PB's!!!! Sally Malir was 1st lady, equal 22nd overall, and Yorkshire 20 mile champion, in 2.18.20. Di Kitchen was 4th LV45 in 2.48.54. The race was won by Karl Gray-Stainland, in 1.55.00
A very well organised race with a friendly atmosphere.
A big thank you to Hugh Pearson- Otley AC, (if he's reading this), for helping me round this course for a second time.
Ultrafit St. Annes 10 mile road race, Sun 16 March
Marc Teasey reports... A seemingly constant and sapping headwind put paid to any thoughts of personal bests on this exposed route along the sea front, resulting in slower times and panting, knackered finishers. On a calm day this is definitely an extremely fast course, if you like absolutely pancake-flat road races (although some suggestion from all of our Garmins that the route is slightly long!). Still an extremely successful day for the club, with 50% of our members in the prizes. Well done to Sarah for an extremely impressive race win, and equally well done to Pete who dipped well under the target of sub-70 mins that he'd set himself on his continued return to fitness, picking up the 3rd V60 prize as reward. Thanks also to Terry and Pat for their much-needed support and encouragement amidst the sand dunes.

(1. Eddie Simpson - Dallam Running Club   54.26)
34. Sarah Jarvis   63.41 (1st Lady)
42. Marc Teasey  64.27
63. Neil Chapman  66.39
91. Peter Shields  69.33 (3rd MV60)
Windmills Whizz, Sat 15 Mar
From Jamie H ... Windmills Whizz 6m fell/trail race around Ogden Resevoir. I ventured out for this fell/trail race, only other Ilkley Harrier was Paul Davidson. Paul had a cracking run finishing fifth in 41.01, with me only marginally ahead in 3rd and 40.43. The race was won by Chris Smale from Todmorden in 39.20 and 66 ran. Extensive prizes - seems like everyone at the presentation got a prize, even some who didnt run!!
Wuthering Hike, Sat 15 Mar
From Eddie Winslow ... Weather for the Howarth Hobble was overcast and cool – just right when you've got 32 miles and 5700 feet of climb to get through. Ilkley representation that I know of:

1   4h06:43
48  5h18:42 Eddie Winslow
135 6h18:14 Bob Wightman
228 7h57:02 Amanda Parnaby
259 finishers

Nell Bank Primary Schools Relays, Sat 15 Mar
Thanks to the many Harriers who helped organise the relays today, 72 teams ran, 20% up on last year. More on the Junior Pages.
International News
From Ken & Nicky in New Zealand ... Having read the reports from last Saturday Ken says you're all running in the wrong country as we did a race on the same day and the weather was fantastic (too hot)! We ran the Motatapu Icebreaker mountain marathon in South Island New Zealand, which goes from Lake Wanaka through the mountains to Arrowtown, a small town near Queenstown- 42.2kms. The route passes through two high country stations and is opened up for one day in the year to allow runners and mountain bikers to compete in the event. It attracts competitors from all over NZ and overseas and this year there were 600 runners and 2,500 cyclists taking part. Nicky was 107th overall in 4hrs 13mins and Ken ran his very first marathon in 4hrs 29mins (157th overall). A fantastic race but the terrain wasn't as wet and boggy as we're used to; nothing like a good Lakeland fell race!
Peco Sport Direct XC, Sun 9 Mar
Alison Bennett reports ... The wet start to the day in Ilkley was a bit daunting for the last race in the series Peco (Sport Direct) Cross Country. However, the skies cleared for the start of the race at Immanuel College, Thackley and it remained bright and sunny throughout. The course began with a lap of the playing field before heading off down a track towards the woods. Those who didn't put in a sprint start found themselves queuing at a stile before careering down on some muddy paths through the woods and out onto the canal towpath for about a mile. After crossing the canal we headed back on the opposite side through more woods before climbing back to the finish in the College's playing field.
Nick Richardson was the first Harrier with John Atkinson and David Cummings battling for position on the return section of woods. They were followed by a bunch of vets, Paul Stephens, Neil Chapman and Peter Shields whose positions roughly reflected their age categories. John Coates and Don McCrae also ran well to make a contribution to the overall team position. Bob Payne, Richard Gray and Andrew Bennett packed in well to bring the team home.
As ever the ladies enjoyed the mud with Clare Smith and Elaine Cossins completing their first cross country season.
Results as follows


10   Nick Richardson
24   John Atkinson
28   David Cummings
54   Paul Stephens
56   Neil Chapman
61   Peter Shields
92   John Coates
117  Don McCrae
121  Bob Payne
124  Richard Gray
126  Andrew Bennett
 
5    Alison Bennett
20   Clare Smith
29   Emma Payne
32   Joy Gray
36   Elaine Cossins
56   Amanda Parnaby

Thank you to everyone who has run in these races over the season. The presentation evening is to be held at the Faversham, Leeds on Friday 4th April, please see Alison B for free tickets.
East Hull 20, Sun 9 Mar
From Jeff Pajet ... I was the sole Harrier to make the trek to Hull this year for this 20 miler. I was a bit apprehensive, never having run this far before, but the weather was glorious, if rather windy in the second half of the race and I was pleased to finish in 2 hours 14 minutes and 19 seconds, by my watch, although I think the official time was slightly less. This earned me second Vet 50 and 32nd overall out of about 350 runners. The first 2 runners finished in under 1 hour 50, the first time that has been done on this course since last century.
Open 5, Sun 9 March
From Heather Dawe ... Eddie Winslow, Dave Wilby and I all raced the Open5 over in Pateley Bridge on Sunday. Dave and Eddie both competed in the male pairs (with different partners), scoring 425 (4th) and 380 (13th) respectively (I believe Eddie's team mates legs fell off on the bike). I raced in the female solo and scored 435, and finished first in the category. It was a cracking event with great mountain biking, running and a tricky micro navigation stage around Guisecliff woods (the orienteers amongst us were very happy!). Full report here.
Sue Booth adds ... I also did the Open 5 on Sunday. Lots of road riding, some very steep hills and very muddy tracks, great day out – and very lucky with the weather. Finished first in the female pairs with 350 points.
And from Jo Taylor ... Dave & Jo Taylor enjoyed their second Open 5 running in the Mixed Pairs – we came in 15th with 315 points
Fancy some navigation practice - there is local orienteering event on Sun 16 March with courses for runners - details here (MS Word).
Paul has a FREE TICKET for any Ilkley Harrier who has not done an Open 5 before.
Black Combe, Sat 8 Mar
Geoff Howard reports ... Black Combe Fell Race, the first English Championship counting fell race of the year, produced plenty of drama of more than one kind. Those of us who had driven up from Yorkshire in persistent rain were delighted to find some sun and broken cloud with dry and mild but breezy conditions at the start. However out of the fields and onto the first of two very big ascents the wind rapidly became an increasingly dominant factor. Many heads must have been well down because fifteen competitors were disqualified for missing the electronic tagging at one or other checkpoint (including several top runners). There were also nine retirements and the final descent was one long battle against a fusilade of hailstones. But great runs by Dave Wilby, Graham Pearce (P&B) 17th in 1.18.39, and second claim Dave Tait, Dark Peak (108 and 2nd v60 in 1.29.10).

1   (Rob Jebb Bingley 1.07.54)
22  Dave Wilby        1.18.59
49  (Natalie White Bingley 1st Lady 1.22.0)
66  Jim Ryder       1.24.09
97  Ian Rowbotham   1.27.20
143 Emma Barclay    1.34.01 (5thL40)
148 Geoff Howard    1.34.51 (4th v60)
166 Alison Eagle    1.38.11 (4th L40)
179 Heather Dawe    1.39.01
186 Morgan Williams 1.40.26
218 Alison Weston   1.47.15
238 Jo Foster       1.51.14
252 Graham Arthur   1.55.58
ret Steve Turland
318 starters

Jo Foster adds ... Of 319 starters 294 people finished in a race that seemed like the toughest 8 miles I've ever run. Not having been doing much running lately I very soon remembered how tough fell races really are as we headed up the first hill and my calves were screaming within the first quarter of an hour. I definitely paid the price of being a slower runner as I'm convinced we got the worst weather! As the leading runners were tucking into their pie and peas in the village hall some of us were on the summit in horizontal hail fearing the onset of iminent hypothermia, wishing we hadn't gone for the shorts but the tights after all! Fearing I would lose my contact lenses if I kept both eyes open it was an interesting start to the descent! And very surreal to then descend into calm sunshine at the finish. Anyway I will be back - hopefully fitter and on a sunny day as, I'm told, the views are spectacular!
From Morgan ... Being well short of racing this year, I had no expectations of much at Black Combe. It was an eventful afternoon though as the weather conditions took their toll, even over 8 1/2 miles. A number of the front runners missed checkpoint 2, chosing instead to go to checkpoint 6 close by, allegedly including Graham Pearce! With too many training miles in the legs, a steady start was all I could manage though I did manage to run the whole of the long drag to checkpoint 2 bar the last 50 yards or so. The leaders were all over the place. I was passed by Jim Davies of Borrowdale between checks 3 and 4 and am pretty sure that Ricky Lightfoot (Ellenborough) and Danny Hope (P&B) passed us on the long climb from 5 to 6. All those would normally be in the top 20! I was pleased to catch up the wife by checkpoint 5, just before starting the killer climb up to checkpoint 6. I noticed her trying to shelter behind me from the howling wind and rain but it was no use apparently; I'm not large enough to be of any use as a wind deflector! We rashly followed a local off the last checkpoint who, in traditional style, soon led us off course into steep and dangerous ground, it needing a nasty contour above very steep slopes to get back to the descent route. While contouring, both ankles started to roll about like drunken sailors in my PB Ultra Extremes, and the wife ran off into the tempest, leaving me howling at the wind in frustration like King Lear with 2 dodgy ankles! I had to sit down for a short while to restore ankle equilibrium. Finally back on the right route but both ankles were turning over every 5 paces or so (yes those ligaments ache like hell today) and the run in was a bit of a nightmare! All a bit of a shame really, felt like 5 minutes lost messing around but I did enjoy the pie, peas and pickled onions and plenty of hot tea which like most, I was more than ready to demolish.
English Schools XC, Sat 8 Mar
Jenny Dybeck was 159th out of 342 Intermediate Girls in 15:84, helping the West Yorkshire team to 9th place out of 44. In the Senior Girls race, with 309 runners, Catherine Gibbons was 228th in 19:16 and Eleanor Kitchen was 203rd in 18:54, helping West Yorks to 21st team out of 38
Dentdale, Sat 8 Mar
From Fiona Schneider ... Thank you to all of you who filled us in about this race.
For the first 3 miles , I thought the BBC had the forecast for heavy rain all day wrong. The clouds said otherwise . The course was changed to avoid the flooded lower loop and so we did 2 laps of the easterly loop heading to Dent station. On the first lap there were plenty of floods on the road which meant wet socks before the first mile. There was a stretch on the first lap that was at my ankles, by the second lap it was at my knees. It rained and rained and blew a gale. The folk of Dent had a wonderful sandwich and cake bag waiting and pots of tea that did not run out. Perhaps next year I shall order spring sunshine. It is a lovely run ...really !

David Schneider   1.46.44
Terry Lonergan    1.55.16
John Marshall     2.03.43
Fiona Schneider   2.20.03
Apologies if I have missed anyone 

Runner of the Month
Runner of the Month for February was a dead heat between Sally Malir and Sarah Jarvis - Sarah for her PB and club record at Snake Lane; and Sally for performances at the North West Half Marathon, where she won her age group with a time that puts her 10th in the UK, as well as a win at the Rombalds Stride. Thanks as ever to Terry and Complete Runner for sponsoring ROM and providing the much-coveted t-shirts.
Also nominated were:
Sheena Pickersgill for continual improvement (and braving her first fell race!)
Dave Cummings for improvement
Amanda Parnaby for her endurance events and contribution to the club
Andrew Bennett for general improvement and performance at XC
Sarah Jarvis and Marc Teasey for contribution to the club
We also had a number of nominations for Alison Weston (Dales Way Relay) but that was on March 1 so we'll bank those for next time.
Thanks for your nominations and please take the opportunity to nominate next month - contact any committee member.
Trollers Trot, Sun 2 Mar
Eddie Winslow reports ... A clear, cold morning in the Dales for this year's Trollers Trot (24 miles). A strong headwind made for tired legs a challenging final four miles up the Wharfe valley. Harriers times that I know of were:

Eddie Winslow 3h35
Andy Shinn    3h46
Neil Smith    3h50
Bob Hamilton  4h15

Dales Way Relay, Sat 1 Mar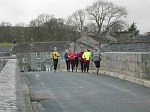 From Alison Weston ... A fantastic day was had by all as 33 Ilkley Harriers participated in running the Dales Way from Bowness to Ilkley as a relay. Dave Wilby and Dan Goodey set of at 5.00am from the shores of Lake Windermere and 13 hours 48 minutes later Kelly Harrison, Adrian Hall, Rob King and others finished at the Old Bridge. A great day and we raised at least £150 for the Gemma King Memorial Fund.
Full report here.
Noon Stone fell race, Sat 1 Mar
9M/2300' Paul Davidson was 59th in 90:29
Liverpool Half Marathon, Sat 1 Mar
Elizabeth Price and Christine Matthews returned to their native ground for the Liverpool Half Marathon last Sunday. Blackburn's Ben Fish was overall winner in 68 min.exactly. Rotheram's Jennie Blizzard won the women's event in 75.51.
Liz recorded 1hr.51.05 and Chris 1hr.38.55 an improvement on her PB for the distance.
Ilkley Moor fell race, Sun 24 Feb
What a super day, never mind the weather! Second-claim Harrier Graham Pearce, for P&B, made up for not being able to win the "first local" (now first Harrier) trophy by winning the race outright for the first time. Fantastic, Graham! Emma Barclay was 2nd lady, with Ilkley ladies winning the team prize. And Ilkley's men shone today to take the team prize for the 1st time in memory (ever?). In total we had 36 runners, plus several 2nd-claimers, in the senior race, and even more people helping.
A HUGE thankyou to all the people who marshalled, put up tents, manned the Start and Finish, and helped in any way today.
Results and photos are here.
A record 170 juniors ran - results on the Junior pages.
The Mob Match series against Wharfedale got off to a rather slow start as many Wharfedale Harriers were Kendal Winter League-ing, but a challenge is a challenge ... so we calculated individuals' points based on their time relative to the winner and adjusted by factors for age and gender. The results are below. For the individual competition, points will accumulate throughout the season with your best 4 scores counting and prizes for the top scorers: in the teame event all races will count. At this race Wharfedale had fewer runners and scored 502.19 points from their 6 runners; under the agreed rules Ilkley were allowed to count 1 more runner and scored 672.53 points. A bit of a disappointing start, but there will be a much stronger Wharfedale Challenge at White Wells on 23 April! More info on the Mob Match

here.
STOP PRESS: Apologies to Andrew Bennett, missed him - 73.19 got him 60.78 points.
Snake Lane 10, Sun 24 Feb
Marc Teasey reports on ... a very successful Harriers trip over to Pocklington for this popular (always full!) 10-mile race yielded no less than 4 PBs and a new Ladies club record, with both of our ladies in the (substantial) prizes. This in spite of a windy course, although it had thankfully subsided a little in comparison with previous days. First Harrier home was Nick R., knocking over a minute off his PB, a sign of even greater things to come after a frustrating injury lay-off. Sarah knocked over 2 minutes off the PB time she'd set at Thirsk just 3 months previously with a tremendous new club record (the structured training is paying dividends). I was similarly delighted to take 1.5 minutes off my PB (also from Thirsk). Not to be outdone, David Brown knocked over 2 minutes off his own 10-mile PB - hopefully he will forgive me for the cheeky little sprint finish that I put in and which caught him off-guard with 400m to go. John continues his return from injury with a very pleasing time that is only 1.5 minutes outside his own PB, while Amanda overcame 2 weeks of sporadic illness and a cricked neck to claim a fantastic 6th place overall with a time that was only 47 seconds outside her PB. Nick M. continued his excellent preparation for the London Marathon with a time 2 mins faster than the previous year, which bodes well for him achieving his target time at FLM.

(1  Stephen Hepples, Loftus and Whitby AC, 50.37)
38  Nick Richardson 60.23 (PB)
59  Sarah Jarvis    62.30 (PB, new club record, 2nd Lady)
63  Marc Teasey     63.03 (PB)
64  David Brown     63.09 (PB)
79  John Atkinson   64.00
99  Amanda Oddie    65.15 (6th Lady and 1st LV40)
279 Nick Mellor     75.09

Great NW Half Marathon, Sun 24 Feb
Terry Lonergan reports on ... the 18th GREAT NORTH WEST HALF MARATHON BLACKPOOL
You can imagine the telephone conversation. "You'll have to cancel your race. We're going to try to refloat that ship, the Riverdance ,that ran aground the other week."
You can just see the resulting headlines. Race organiser lynched by angry mod of over a thousand runners!
Well they didn't cancel but they did make the event 3 laps instead of 2! At least we didn't have to face the strong coastal winds for too long. The winds did mean however that many runners, running too close to the sea wall were treated to an unwelcome mid race shower! 5 Ilkley Harriers (of 1186) journeyed through to Blackpool for the event. In a field where only 20 broke 80 minutes, Andy Shinn showed he was perhaps happier on the flatter seaside course, recording a time nearly 6 minutes faster than his Liversedge ½. Again showing great promise. The "pocket rocket", Sally Malir, was next in, running an excellent 85.55 to win her age group and register a top 10 UK time for 2008. 4th Lady overall. Having quite a month after her Rombalds Stride victory. She will be back on the promenade later in April for the marathon. Terry Lonergan, running a 3rd half in 5 weeks, (98th) had to be content with 90.52 in the circumstances for 4th in the M55s. Again 5 minutes faster than Liversedge. Also turning in solid performances in the difficult conditions were Graham Corbett and John Marshall.

44   Andy Shinn      1:22.51
84   Sally Malir     1:25.55
153  Terry Lonergan  1:30.52
452  Graham Corbett  1:43.52
625  John Marshall   1:49.46

Myrtle Meander, Sat 23 Feb
As we set off for Bingley this morning, I had two areas of concern: 1) that I had not run this distance for some time and 2) that, as far as we are aware, my dog Betty has never run 24 miles in one go before. However, the weather was more clement that we had anticipated and there was a friendly crowd at the start (including Amanda Parnaby). The run is organised by, and starts from, Myrtle School, and the food both during and after the event were of a much higher standard than I have previously experienced at similar events. I can't say the same for the written description of the route, and Neil cursed on more than one occasion as we had to backtrack when we went awry. It was noticed that some regular participants in this long-standing event seemed to stray from the prescribed route, taking their own short cuts between check points. Although I started to flag from about 19 miles, I managed to shuffle to the finish at 24 miles, and was apparently first lady, with Betty looking frisky to the end and coming in as 1st dog! It's a good job I'm only sweeping the under 8's race on the moor tomorrow!
Clare, Neil and Betty Smith.
Amanda Parnaby did this in 5h55
Peco Sport Direct XC, Danefield, Sun 17 Feb
From Alison Bennett ... A bright and sunny day saw a Hoard of Harriers at this local cross country event. The ladies had 14 runners with 6 of those in the top ten places. The men had 31 runners with 6 in the top 20.
Provisional results:

2   Amanda Oddie
3   Sarah Jarvis
6   Alison Eagle
7   Elizabeth McCann
8   Diane Haggar
10  Heather Dawe
13  Alison Bennett         32:24
17  Jo-Anne Prowse
30  Sue Bickerdike
36  Caroline Wood-Robertson
44  Emma Payne
49  Clare Smith
75  Fiona Schnieder
90  Amanda Parnaby
 
2   Lee Athersmith
7   Tom Adams
8   Jamie Hutchinson
13  James Wood-Robertson
17  Steve Turland
18  Nick Richardson
21  Ian Rowbotham
27  John Atkinson
29  Justin Phillips
31  Marc Teasey
34  Richard Joel
45  Arthur Riley
47  Dave Tait
49  Dave Cummings
50  Dan Goodey
64  Paul Stephens
65  Neil Chapman
76  Peter Shields
87  Neil Smith
89  Morgan Williams
99  John Coates
102 Nigel Tapper
111 Graham Stead
114 Keith Wood
122 Vic Verocondi
123 Tim Bellwood
132 Pete Bedwell
141 Laurie Prowse
149 Bob Payne
150 Andrew Bennett
152 Antonio Cardinale

Note from Paul: we cannot use this as a League counter as no-one recorded times. It would not be fair to use personally recorded times.
Castleton Beacon fell race, Sun 17 Feb
From Alison Weston ... Glorious day on Sunday for the Castleton Beacon race in the North Yorkshire Moors. Very runnable route (unfortunately for me!) on beautiful moorland around Castleton. Winning time 55 mins and mine about 73 mins. Nice pub at finish.
Muddy Woody 6, Sun 17 Feb
From Dave Wilby ... Kelly and I abandoned our local race in the PECO series, and instead opted for a weekend in cider country. Having just about resisted the temptation of the local scrumpy, we successfully made it to the start line of the Muddy Woody 6 (or 6.8 to be more accurate), near Hereford. It was definitely woody, with lots of twisting, rooty singletrack type running on offer, but the advertised mud failed to appear after overnight temperatures of minus 6. The heavy frost meant conditions were quicker than previous years but the frozen ruts made things treacherous in places. We weren't spared the stream crossings either and one in particular, a 20m wade through knee deep icy water left me soaked from the neck down after narrowly avoiding a head long plunge. At least it meant overheating wasn't on the cards, but it did take another 2 miles to get my legs going again.
All in all a fantastic race, extremely friendly by any standards, and great food afterwards.
I finished 10th from 350 entrants, and Kelly hit a very welcome return to form with a fantastic run to finish 3rd lady from 96 entrants. She walked away with one of the much coveted hand carved trophies on offer, and in the process also grabbed the household bragging rights.
Liversedge Half Marathon, Sun 10 Feb
Terry Lonergan reports ... Blizzards, gales, sludge under foot, freezing temperatures, pan flat course. OK get that sentence out of your mind and think the opposite.
Bright sunshine brought the shades out of the mothballs, a cooling breeze prevented overheating and a field of 423 ensured the race was always competitive.
Yes, you'll compete if you ever run this one; but the severity of the course will ensure you won't compete well…. relatively. Of course, there are PBs ….if the race is your first half marathon. Of course there are good runs. Andy Shinn started with great determination and ran excellently to finish 30th overall in 88.48 and could well be heading towards the club's fastest marathon time if all goes well up to London. Terry Lonergan was within seconds of Andy's time three weeks prior at the Brass Monkey but was content to log this race up as the 97th "half marathon notch on the bedpost", finishing 7 minutes behind in 95.51 for 68th and 2nd M55. Phil Judd shadowed him determinedly, running his second half marathon, again on the way to a spring marathon, in 96.18 for 74th position. John Coates ran in later in 327th in 2:16.02 followed by Colette Jones 358th in 2:12.22. Both again using the race as an arduous challenge with other later events in mind. In summary, an event you run as a stepping stone to a later more "significant" goal on road or even fell.

30   Andu Shinn         88.48
68   Terry Lonergan     95.51     2nd M55
74   Phil Judd          96.18
327  John Coates       126.02
358  Colette Jones     132.22
423 ran.   Won by James Kovacs (Salford Harriers) 73.14

Winter Hill, Sun 10 Feb
Steve Turland reports on ... Winter Hill, 11m 2,750ft
An excellent day out over in Lancashire for Winter Hill. Weather was great, actually felt like spring - a far cry from last week's Rombalds. A tough course over demanding terrain with plenty of hills and fast descents. Rob Hope lead in a 170 strong field in a new course record. Meanwhile, Ian and I were having our own private race with only a few metres between us for most of the race, but he finally secured victory, pulling away on the final climb. However, this seemed to spur us both on, and we were both fairly pleased with our final placings. Mark also ran a strong race considering this was his training run to get some extra miles in the legs. Final positions were:

11th  Ian Rowbotham  1:47:48  2nd V45
14th  Steve Turland  1:48:30  3rd V40
57th  Mark Iley      2:01:32

Winter Warmer 10k, Blackburn, Sun 10 Feb
Vic Verecondi's Maths lesson:
Perfect sunny day
+ Lovely setting
+ One long big hill
+ Long undulating bit
+ One short steepish hill (again)
+ Flat finish
+ Reasonable time (181st in 48:51)
= Very nice morning thankyou very much.
ps Won by Ben Fish (Blackburn Harriers) in 31:29
Wadsworth Trog, and Half, Sat 9 Feb
From Jamie Hutchinson ... I ran the Wadsworth Half Trog today in glorious conditions, hard to believe conditions were so different a week ago for those hardy souls doing the Rombalds. I ran well and got myself in contention for a top five finish, then my shoes disintegrated with about 3 to go. After stopping to try some running repairs I managed to finish in 81:15 and 9th overall.
Ilkley Harriers 2nd claim member Lee Athersmith won in 69.57 (new record).
Pennine Bridleway Relay, Sun 3 Feb
From Jamie Hutchinson ... Pennine Bridleway 75k start/finish at Waterfoot nr Rawntenstall
Well the weather held, although really cool, all in all good conditions for this time of year.
Tom Adams & I ran leg 5 for the mixed team put together by Lawrence. I'd done a recce a few weeks before and this came in handy directing other teams as well as finding our own way. We both ran well taking two teams within the first ten mins, we then had a tussle with another team as we climbed over the moors - but then pulled away. Descending down into Waterfoot we came to the road crossing to see the team in front and another in front of them going the wrong way - too far away to redirect we sped on to the finish. We took four teams finishing in 69 minutes.
Well done to everyone - hope you all enjoyed your legs! Thanks to Lawrence for organising the team.
Marc Teasey adds ... Official results now up and great news is that our mixed team won their category (and by a big margin), also finishing a hugely pleasing 22/75 overall. Indeed, our time was nearly 11 minutes quicker than our Open team last year. On Leg 2 Sarah and I had a good run and picked up about 5 places in the first 3 miles, all on the long hills, which was pleasing for us "road runners", and then held our position, also narrowing the gap on a group of teams a little way ahead of us. However, we were caught with about 4 miles to go by 2 ladies' teams having a titanic battle - we stayed with them and watched for about a mile and then Dark Peak eventually pulled away from Calder Valley with some impressive flat speed. My Garmin showed our leg was just short of 13 miles rather than the advertised 12.5, so very pleased with our respectable time, especially given the high winds and some muddiness underfoot. Although long, it is a really nice leg, with varied and interesting terrain but generally all very runnable
Full results available from: www.penninebridlewayrelay.co.uk

Leg 1 - Diane Haggar/Amanda Oddie    1.11.42 (31st on leg and overall)
Leg 2 - Marc Teasey/Sarah Jarvis     1.40.26   2.52.08 (24th fastest on leg, pulling up to 27th overall)
Leg 3 - Paul Davidson/John Atkinson  1.06.37   3.58.45 (18th fastest on leg, gaining another 5 places and up to 22nd)
Leg 4 - Emma Barclay/Jo Foster         50.07   4.48.52 (41st on leg, down to 26th overall)
Leg 5 - Jamie Hutchinson/Tom Adams   1.09.06   5.57.58 (a stunning 11th fastest on leg and putting us back up to finish 22nd, and first mixed team!)"

Yorkshire Vets Grand Prix, Sun 3 Feb
This was the start of the Yorkshire Vets 2008 Grand Prix, a series of 10 off road races taking place throughout the year. The vets events are open to all males and females over the age of 35. For further info check the web-site at www.yvaa.org.

Women
6   37:14 Alison Eagle
36  47:06 Ann Stead

Men
28  32:46 Timothy Bull
51  36:06 Neil Chapman
71  38:18 Pete Shields

Mickleden Straddle, Sun 3 Feb
Nicky Jaquiery reports ... Ken and I went over to Langsett, north Peak to compete in the Mickleden Straddle fell race (13.8m/1980'). A highly recommended race for those of you who have never done it, despite the strong wind - good route (some snow on the tops), great views and superb food at the finish! The winner was Lloyd Taggert, Dark Peak - 1:39. First lady was Judith Jepson, Dark Peak - 2.10. I was 2nd lady - 2.21 and Ken ran it in 2.40.
Dewsbury 10k, Sun 3 Feb
Tim Ashelford reports ... I did the Dewsbury 10k today. Normally a quick course, but windy weather slowed us all down. I did 35.39 (36th & 2nd MV40). Other results:

152 Stephen Coy      39.57
372 Robert Wills     44.57
812 Fiona Schneider  55.09
860 Greg Wright      56.21
928 Jacqui Weston    58.42

Rombalds Stride, Sat 2 Feb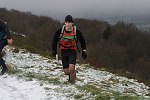 Quite a few Harriers out in this, as usual, and it was a Harriers Running League counter. Slippery conditions meant that times were well down. Results later, but we have a few photos in the meanwhile ...
Sue Bickerdike's report ... Rombalds proved indeed to be a Winter Challenge this year! It's always going to be tough - 23 miles over our local moors, with killer hills and long relentless drags, bogs, streams and stiles, tarmac, farms, the list goes on, however, this year we had the added spectacle of every sort of weather you could ever meet! I know it's February but I only race in the sunshine……….
Those who were there will have their own tale to tell, all punctuated by snow flurries and bog disasters, but my over-riding memory is talking to Dave Wilby at the end, comparing snow stories and being very depressed that though we encountered the same snow, he was in the Chevin and I was just leaving the Pancake Stone…………oh to be that fast!
Just for the record - ate 3 cakes on the way round, managed to stay bog-free til the very last drop through the fields and finished with Nigel in 4h 18 - not quite a personal worst, but neither a personal best!
Harriers seen - Sally Malir - 1st lady, Alisons Weston and Eagle, Amanda Parnaby, Pete Bedwell, Nigel Tapper, Dave Wilby, Keith Wood, Neil Capman, Pete Shields, Elizabeth Mccann, Morgan Williams, Dan Goodey, Ashley Hardwell, Anna Liuba, Pete Sibley, Emma Payne, Bob Payne, Graham Pearce - second claim, Chris Porritt - serving tea, Roy Ruddle (20th in 3h13), Dave Taylor (4h7mins), Steve Turland.
Pete Bedwell's report ... A complete contrast from my first running last year but just as much fun. The wind wasn't too bad even over the top of the moors and luckily the snow held off until I was running past White Wells so navigation wasn't a problem. The slippery running conditions certainly slowed me down from last year, 4.40.13 over 20 minutes slower but it felt harder. Stangely enough although my legs felt pretty much ok afterwards, the toenails on both big toes were very definitely not ok, black and pretty painfull ! reckon it was caused by having to brake a lot more than normal going downhill, a bit of a necessity if you didn't want to take a nasty tumble. There again it did mean it was quite frozen over the tops, only broke through the ice a couple of times so not as muddy as it could have been.
Hats off to the volunteers at the trig points and the very much appreciated refreshment tents, the cakes and hot drinks were most welcome and I reckon they all deserve medals for being so cheerful in pretty cold conditions.
One of these days I promise I'll try and run it a bit quicker, this year though was just a great experience, some of the snowy views from the tops were pretty impressive, and a few more points in the bag.
Morgan's report ... Badly bruised ribs on New Year's Eve fighting with the children (yes, I should know better) took nearly 3 weeks out of January's training schedule. A resurgence of the winter cold the weekend before the Stride didn't help either, so this was only ever going to be part of the training for endeavours later in the year. The weather was pretty kind in the circumstances but slowed me down a good deal, particularly downhill. Lots of ice on the crossing of Ilkley Moor. I heard Chappers hit the deck just before Lanshaw Lad with a right thump, but as he was being tended by the Chairman all was in order and I wasn't detained by medical duties! Having promised faithfully to run with the wife, we did manage to stay togetherish for most of the way. I had my usual low spot crossing from Menston to the Chevin and she started to sneak away from me, but I fought back with jelly babies, Percy Pigs and an unspeakable fruit bar that refused to slip down. The sight of, and encouragement from, Richard Grey and cohorts on the Chevin was most appreciated and put some life back into weary legs. Finished 20 minutes slower than last year in 3.49.53 and about half a minute behind Alison. I still feel more knackered after this one than many much tougher races; bar the initial climb up the Chevin, the hills are all runnable thus giving no recovery on the climbs. Can't wait for something steeper and rougher!

1   2h48:04 Mark Bendall
4   2h51:05 Graham Pearce
11  2h59:35 Steve Turland
14  3h07:07 Ian Rowbotham
15  3h07:26 Dave Wilby
18  3h13:07 Sally Malir 1st lady
20  3h13:43 Roy Ruddle
38  3h28:38 Dan Goodey
53  3h38:02 Kevin Gooch
54  3h40:43 Alison Weston
65  3h45:34 Paul Stephens
72  3h49:30 Alison Eagle
74  3h50:01 Morgan Williams
79  3h53:24 Bob Wightman
87  3h55:19 Pete Shields
88  3h55:19 Neil Chapman
97  3h59:11 Elizabeth McCann
100 4h01L28 Phil Jones  is that the right one?
112 4h07:35 Dave Taylor
114 4h08:00 Mike Baldwin
131 4h18:03 Sue Bickerdike
132 4h18:03 Nigel Tapper
145 4h22:05 Keith Wood
161 4h28:52 Ashley Hardwell
162 4h28:52 Anna Luiba
176 4h40:57 Pete Bedwell
254 5h36:12 Bob Payne
268 5h43:10 Amanda Parnaby
302 6h17:58 Bryan Websdale

Any more?

Running League update here.
Bradford Schools XC, Sat 2 Feb
From Terry Lonergan ... congratulations to our young female members (having competed for Bradford Schools) who, awaiting confirmation, will represent West Yorkshire Schools in the English Schools championships in Sefton Park, Liverpool on March 8th.
Jenny Dybeck, 4th in Intermnediate Girls
Ekeanor Kitchen, 6th in Senior Girls
Catherine Gibbons, 7th in Senior Girls
Desert Challenge
Elizabeth McCann is crosing the Namibia Desert in April to raise money for the Prince's Trust. There's more information in the newsletter. To sponsor her, go to www.justgiving.com/blmnamibiachallenge.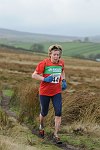 Runner of the Month
January's Runner of the Month was Jenny Dybeck for her excellent results in her x/country races particularly the Yorkshire and Northern Champs. Alongside her schoolmate Catherine Gibbons, Jenny has shown a great application to her training since moving up from the junior ranks. This application is now bearing fruit with tremendous performances in the above competitions plus further fine results in the schools leagues where I believe we not only have Jenny going to the English schools x/country champs in Liverpool but Catherine and our second claim member Eleanor Kitchen, well done and good luck to all three. Others nominated for the ROM award were Jim Ryder and Alison Eagle. Jim loves to run off road and is a great supporter of the club in fell and x/country competitions. His support of Ilkley Harriers and performances into the New Year led to his nomination. Similarly Alison is a great supporter of the club and thrives running off road her performances into the New Year and coaching duties led to her nomination.
Stanbury Splash, Sun 27 Jan
Graham Pearce, in Pudsey colors, finished a very impressive 2nd place behind Ian Holmes. Steve Turland was first Harrier home, followed by Dave Tait in Dark Peak colors. Bob Hamilton's cycle over to Penistone must have been a good warm-up as he was next (bet he ate his malt loaf on the way home).

1   44:30 Ian Holmes  Bingley
2   46:17 Graham Pearce
25  52:02 Steve Turland
40  54:07 Dave Tait (taking Geoff's 2007 V60 record)
51  55:13 Bob Hamilton
52  55:15 Richard Joel
65  56:45 Dan Goodey
72  57:25 Sally Malir 1st FV40
126 61:23 Alison Weston
140 62:15 Diane Haggar
146 63:03 Elizabeth McCann
170 64:51 Bob Wightman
207 68:50 Val Kerr
228 71:15 Peter Bedwell
233 71:58 Graham Stead
262 78:18 Emma Payne
Ilkley ladies were 1st team

This was the first counter in the 2008 Ilkley Harriers Running League - points here.
Full results and more on www.woodentops.org.uk.
Ferriby 10 mile, Sun 27 Jan
Neil Chapman reports ... Pete Shields and myself made our annual pilgrimage over to North Ferriby near Hull today to tackle one of the oldest ten mile races in the country.
Predominantly uphill for the first five miles into a strong wind, meant that Brendan Fosters record of 47 minutes was not in danger from any of the 435 runners, and certainly not from ourselves. Considering the conditions and my current level of fitness I was pleased with my 36th place (4th V50) in 65.34. Pete was taking it a bit easier than normal (I know that's hard to believe), testing a hamstring injury he had picked up, so not much training in the last fortnight. He came through without any problems and still finished 136th (4th V60) in 73.55.
It is a bit of a distance to travel, but I highly recommend this race, as even though it is certainly not a flat course it is still possible to achieve some good times.
Open 5, Sun 27 Jan
From Dave Taylor ... Dave and Jo Taylor made their way to Dalby Forest for the Open5 Run/Bike orienteering event. The weather was perfect and made for a most enjoyable, if very hard, day out. We opted to run first (2hrs) and bike second (2hrs58) coming home with 2 minutes to spare! With it being our first try at this type of event, we were pleased to come 3rd in the mixed vet40 category.
Additional results from : Heather Dawe won the solo female class and Kelly Harrison was 7th; Nicky Jaquiery and Jo Foster were 3rd female pair and Sue Booth was in the 4th female pair; in the male solo class Jamie Hutchinson was 13th and Dave Wilby 19th; in male pairs, Eddie Winslow was in the 2nd team, and Jim Ryder and Ken Jaquiery were 21st.
The next race is at Pately Bridge on 9th March - Open Adventure web site
Northern XC Champs, Sat 26 Jan
Diane Haggar was our first senior lady, 131st in 34:30 over the 8km course at Roundhey Park, with Diane Kitchen 199th in 37:24. Over the 12k men's course, Jim Ryder was 221st in 46:59, Dave Wilby 276th in 48:36, Justin Phillips 355th in 50:15, and Mark Iley 367th in 50:28
13 juniors ran, with runners in every category 13-17 and complete teams in the U13 categories. More on the Junior Pages.
Results from Northern Athletics
Report from Diane Haggar ... A small band of Harriers made the short trip to Roundhay Park to brave the elements in the Northern Cross Country Championships. The wind was such that the club tent was a non starter. However we arrived to find that the organisers had banned all tents, including the event marquees. The event resembled a refugee camp as runners, officials, and retailers all set up bases in the open. Some primevil instinct took over as each club bagged a tree, we proudly tied our Ilkley banner to ours, and huddled around it. Despite the recent rains the course was incredibly dry and fast (no excuses for slow times!).
Sadly we didn't complete teams and were very disappointed at the turn out. We had great turn outs in the West Yorks League before Xmas, next year let's follow it up in the Yorks and Northern Champs. Despite the quality at the "sharp end" they are also great participation events and a chance to line up with some top names.
Brass Monkey, Sun 20 Jan
Sue Bickerdike reports ... The Brass Monkey as its name implies is usually a freezing cold wet affair, but lures the crowds for its pb potential, and its quality sweatshirt! It was with this in mind that numerous Harriers entered way back in the dark days of the postal strike. Various cunning plans were afoot to defy Postman Pat and those with York contacts generally managed to get an entry, some without realising it which meant that there were various late number changes (all above board I hasten to add!).
As I rose this morning and started my usual race preparations (none), all I could think about was the howling gale blowing through the cat-flap. Although a pb course, it is fairly exposed and the wind, the ever prevalent curse of the road runner, could play a huge factor. Still, I gaily jumped into the waiting car along with Keith, Nigel and Rob, expecting the usual discourse - excuses, predicted times etc, only to find that talk of Friday's shenanigans at the presentation evening were top of the conversation list. Blushes over we proceeded to York.
This has to go down as the poshest race HQ known to man. A plethora of toilets, nice tea and coffee, a quality selection of cakes - and all with a view overlooking York Racecourse. We were so enamoured with the surroundings that we left it a tad late to get back to the car and change into race gear. Several tubs of Vaseline later we ran to the start, legs heavy - Nigel declared his heavy with glycogen, mine were just heavy, Rob couldn't comment as he was still applying the Vaseline! Got there just in time, but couldn't fit into the corral - York is renowned for its bottle neck start! The gun went and we were off.
I had a little too enthusiastic a start, which I regretted from mile 3 (must choose my i-pod tracks more carefully in future!). The course thankfully only blew us backwards at the very end, and it was nice to see an extra water stop to when I had run it previously (perfect excuse to have a legitimate walk…..). Had the usual personal battles, but won the most important one - a Richard Gray style time prediction, only this time the loser was to buy the first round. Needless to say the loser just happened to forget his wallet, so not only didn't buy the first round but got a free lunch at a very nice pub in Tadcaster on the way home to boot!!
Results from ukresults.net

58   81:16 Jonathan Sinclair
110  86:30 Sarah Jarvis
111  86:30 Neil Chapman
150  88:54 Terry Lonergan
247  94:42 Simon Chapman
292  96:45 Nigel Tapper
305  97:12 Alison Bennett
333  98:46 Steve Wood
389 101:00 Alison Weston
453 104:00 Rob Wills
461 104:17 Keith Wood
474 104:49 Sue Bickerdike
492 105:48 Nick Mellor
917 132:15 Amanda Parnaby

Kinder Trial, Sun 20 Jan
Dave Tait reports ... Three of us shared the travelling to Hayfield for the Kinder Trial. This is a navigational event, with checkpoints around the western side of Kinder Scout. Lots of rain and clag around, and very wet underfoot. Everyone helps with finding the more obscure controls, the trick is to find the correct people to follow who have the local knowledge. Superb refreshments afterwards - soup, rolls and unlimited supplies of cake and biscuits. Someone measured it as just over 11miles.

20th 2.14.30  Dave Tait             
32nd 2.21.49  Ian Rowbotham  
41st 2.27.03  Dave Wilby         

The Ilkley Harriers Awards Evening, Friday 18th January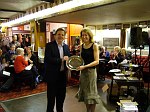 The star-spangled event of the year! There was a good turnout of members for the presentations, a Pie & Peas supper, and the chance for a good chat. Nigel's band 'Clear' did a great set, with lots of people on the dance floor. See Brian's photos here.
The total raised for Cancer Research UK as a result of The Christmas Fun Relays was exactly £70. Thanks to those who contributed at The Awards Evening.
Ilkley Harriers Awards for 2007
As usual there were many nominees and the commmittee had a tough time deciding on the winners, with so many people excelling in so many areas.
| Award | Winner | Other nominees |
| --- | --- | --- |
| Best Runner, Male | Geoff Howard | Lawrence Basham, Jamie Hutchinson, Graham Pearce |
| Best Runner, Female | Alison Bennett | Emma Barclay, Sarah Jarvis, Heather Dawe, Elizabeth McCann, Andrea Priestley |
| Most Improved Runner, Male | James Wood-Robertson | Dan Goodey, Don McRae, Dave Wilby, Will Plastow, John Coates, Dave Brown, David Cummings |
| Most Improved Runner, Female | Christine Matthews | Holly Williamson, Sheena Pickersgill, Catherine Gibbons, Sarah Jarvis, Elizabeth McCann, Elaine Cossins, Di Haggar |
| Best Endurance Runner, Male | Dave Wilby | Nigel Tapper, Eddie Winslow, Morgan Williams, Dan Goodey |
| Best Endurance Runner, Female | Sally Malir | Heather Dawe, Christine Matthews, Amanda Parnaby |
| Best Runner, Under 20, Male | Ben Stevens | Simon Chapman, Will Plastow |
| Best Runner, Under 20, Female | Catherine Gibbons | |
| Contribution to the club, Male | Neil Chapman | Pete Shields, Paul Wood, Marc Teasey |
| Contribution to the club, Female | Shirley Wood | Bernie Gibbons, Alison Bennett |
| Captains' Award, Male | Marc Teasey | n/a |
| Captains' Award, Female | Sarah Jarvis & Bernie Gibbons | n/a |
We should have some photos here soon.
Ilkley Harriers Running League 2007
Prizes were presented to the Top 3:
Overall:Geoff Howard, Jamie Hutchinson, Pete Bedwell
Road: Alison Bennett, Pete Shields, John Atkinson
Fell: Jamie Hutchinson, Graham Pearce, Geoff Howard
Trail/XC: Geoff Howard, Malcolm Pickering, Will Plastow
(The 2008 League kicks off with the Stanbury Splash next weekend. More info.)
Yorkshire Vets XC, Sun 13 Jan
From Pete Shields If this had been a national hunt horse race it would have been cancelled because the underfoot conditions would have seriously compromised the horses' safety. Not so for the 23 Harriers who wallowed through the 5k and 10k course with consumate ease. Medals were taken by Dave Tait 2nd V60, Emma Barclay 2nd W40, Alison Bennett 2nd W45, Alison Eagle 3rd W45, The ladies 45 team were 1st and crowned Yorkshire Champs and the ladies 35-44 team won the silver medal in their category.
Although underfoot conditions were not perfect, the event was well organised and held with a fabulous atmosphere, the Ilkley tent was a real meeting place for the whole event well done to the medal winners and all who competed.
Full results from www.yvaa.org:

Women Over 35 & Men Over 70
6   23:51 Alison Bennett     2nd 45+
7   23:57 Alison Eagle       3rd 45+
10  24:13 Amanda Oddie
12  24:23 Emma Barclay       2nd 35-44
15  24:46 Diane Haggar
30  26:46 Joanne Prowse
40  27:58 Val Kerr
45  28:22 Bridget Doherty
60  29:47 Clare Smith
Ladies 35-44 team 2nd: Amanda, Emma, Clare
Ladies 45+ team 1st: Alison B, Alison E, Diane

Men 35-49
40   37:37 Jim Ryder
54   38:52 Steve Turland
63   39:30 Richard Joel
71   40:20 Ralph Tench
83   41:35 David Brown
111  46:01 Dave Taylor 
121  49:30 Phil Chappell
6th team 40-49 Jim, Richard, Ralph, David

Men 50-69
19  38:48 Nick Pearce
22  39:21 Dave Tait   2nd 60-69
34  40:12 Jeff Paget
35  40:18 Geoff Howard
53  42:15 Neil Chapman
60  43:05 Pete Shields
7th team 50-69 Nick, Jeff, Neil
3rd team 60-69 Dave, Geoff, Pete



PECO XC #3, Sun 13 Jan
Lawrence reports on ... the 3rd in the 5 race series: 20 Harriers answered the various rallying calls this week. Good performances by our fastest men should have put us close to being in contention at the top of the premier league.

2nd Graham Pearce
4th Tom Adams
8th Jamie Hutchinson
10th James Wood Robertson
18th Dave Wilby
25th Nick Richardson
26th Justin Phillips
36th Marc Teasey
38th John Atkinson
85th Graham Stead
105th Don Macrae
106th Richard Gray
112th Bob Payne
117th Andrew Bennett
 
Ladies
21st Kelly Harrison
25th Caroline Wood Robertson
33rd Emma Payne
54th Ann Stead
60th Amanda Parnaby
Full results on Abbey Runners site.
Final 2 races in the league are Feb 17th Danefield, Otley and March 9th Eccleshill.
Clay Bank East, Sun 13 Jan
Graham Arthur reports on ... a Dave Parry N Yorks Moors series race, 5.8 mi 870 ft, 13 Jan 2008: 1st V65: Norman Bush who beat 1st V60: Graham Arthur.
We didn't see any other Ilkley vests. No rain, windy, muddy. Times in due course.
Pennine 10k, Sun 6 Jan
Report from Terry Lonergan .. having driven past the venue for this race the day before on the way to the Yorks. Cross Country Champs. (Well done, Jim, Alison, Di and Bernie!) I knew that the course would be challenging. So it proved with a long haul from 5k to 7.5 k. Not a PB course then, but a good low key event, well organised by Halifax Harriers. An early start (9.30!) means you can be back home having done a done a 3 mile "cool down" by 11.30, provided you don't stay for the fruit cakes, home made biscuits or even chip butties!
2 Harriers made the 50 minute journey to Brighouse for the race on this cold but bright morning. 291 were up for the challenge, in a race won by IAN FISHER in 31.49

48th  Terry Lonergan   42:38   (3rd M55) (112th and slowest ever 10k!)( (Is it 'cos i 's  olde and grey!)
236th Colette Jones   56.53

Yorkshire Cross-Country Championships, Huddersfield, Sat 5 Jan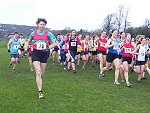 Alison E reports ... Do not know whether it was the bad start to the day, post Christmas/New Year Blues or the effects of the nasty bugs going round that accounted for the very small number of Harriers that turned out for the Yorkshire X- Country Championships at Huddersfield. The day however turned out to be fine, with a mixture of bouts of sunshine and a strong headwind in places. Neither men nor ladies managed a team, with just Jim Ryder out for the men, finishing 86th in 43:56 (though I'm sure I spotted Ian Rowbotham out there as well) Alison Eagle led the ladies home for Ilkley, (suffering from a little too much excess at Christmas I think!) in 26:47 for 45th place, Diane Haggar was next 54th in 27:17 and Bernie Gibbons 95th in 32:31. The event was well organised (Josh says the bacon sandwiches were great), though the initial part of each lap zig-zagging up and down in front of the spectators was a little tortuous! Thanks to Terry Lonergan, the Woodentops and our juniors who supported us with lots of words of encouragement. The highlight of the day was however wonderful perfomances from our U/17 girls Jenny Dybeck and Catherine Gibbons, despite tough competition Jenny was 8th (and we think may be on the edge of a Yorkshire place) and Catherine 11th. The U/13 boys/girls also put in good performances in strong fields, see their results on the Junior pages. Thanks to those who helped struggle to put the Harriers tent up and down, especially the juniors though it did feel rather underused today!
Results on NoEAA
Ovenden fell race, Sat 5 Jan
From Jo Foster ... A strong wind and very wet conditions underfoot made it a tough 8 miles but the sun was out and the excellent chip butties afterwards made for a good day out. Emma finished 43rd, 3rd lady and 1st LV40 in 74.15. Jo was 75th in 82.01. 2nd claim member Dave Tait was also out running in his Dark Peak vest and having a great run to come in as 1st V60 in 33rd position.
The Hebden, Sat 5 Jan
From Steve Turland ... a really well organised LDWA event to kick off the new year. The Hebden is a 22 mile circular route from Mytholmroyd up/down/around Calderdale with around 3,000ft of climb. A good turnout attracting 100 or so runners in addition to the 200 walkers. Finished second in 3hr 43.