Auld Lang Syne, Sat 31 Dec
A large field of runners and a quality field at that - most age records were broken and Alistair Brownlee won in 39:07
Ilkley Harriers picking up their final Harriers Running League 2007 points were:

15  44:06  Graham Pearce
40  47:34  Jamie Hutchinson
66  49:41  Steve Turland
91  51:29  Nick Pearce
131 53:28  Emma Barclay
147 54:20  Sally Malir
149 54:31  Ian Marshall
151 54:43  Dan Goodey
160 55:30  Norman Bush
197 56:55  Heather Dawe
222 58:05  Graham Arthur
230 58:31  Alison Weston
239 59:06  Dave Taylor
248 59:25  Pange Srivastava
264 60:08  Charles Oxtoby
284 61:03  Diane Haggar
317 62:43  Keith Wood
351 65:19  John Coates
384 67:59  Pete Bedwell
415 70:45  Emma Payne
420 71:17  Andy Kitchen
436 73:07  Bob Payne
Ilkley ladies won the team prize.
The quality of Alsitair's win is reflected in the rather low points that people typically got. Sorry! Results here.
Full results and photos on www.woodentops.org.uk
Ribble 10k, Sun 30 Dec
Marc Teasey reports ...The local round of illnesses and viruses decimated the Harriers ranks for our usually well-attended trip across to one of the fastest 10k courses around. Clearly the Wharfe Valley has been a hotbed of infection in recent weeks! Even many that did make it to the starting line were still decidedly under the weather and the various PB attempts were sensibly put on the back burner until 2008. Nevertheless there were still 18 of us there and there were some starring performances – pick of the bunch was Chris Matthews, who overcame some frustrating months of injury to claim the V55 prize in a gradual return to her previous form. Great to see Neil Chapman record his best 10k time for many months after a year of health problems – I think he surprised even himself! Similarly, Chairman Pete continues a return to form, knocking 40 seconds off his Abbey Dash time from only 4 weeks ago. Diane Haggar made a welcome return to road racing after suffering injury since the springtime with an impressive PB for her as a Vet! Nick Pearce did his first road race for ages and came through unscathed, judging by the photographic evidence that he also raced at Auld Lang Syne the next day. Well done all – roll on 2008.

1    Antony Ford         29:51 (Blackpool, Wyre and Fylde)    
137  Nick Pearce         38:18
167  Neil Chapman        39.01
168  Marc Teasey         39:10
173  Sarah Jarvis        39:24
219  Amanda Oddie        40:57
233  Geoffrey Howard     41:16
244  Diane Haggar        41:33
254  Peter Shields       41:50
307  Philip Hirst        43:21
364  Catherine Gibbons   44:51
439  Christine Matthews  47:16 New Club LV55 record
446  John Marshall       47:27
454  Vic Verecondi       47:33
473  Andrew Wolfenden    47:46
552  Bernadette Gibbons  49:58
564  Liz Price           50:25
746  Andrew Bennett      58:12
801  Andrew Webster      63:54
842 finishers
Hot Toddy, Sun 30 Dec
Diane Kitchen was our sole representative, 197th in 42:50
Jolly Holly Jog, Sun 30 Dec

108  46:10  John Coates
228  52:37  Don Macrae

The Train Run, Fri 28 Dec
From Richard Gray ... Following a flurry of late phone calls with a variety of excuses -- tired legs, a bad cold and I've got my days mixed up, nine of us boarded the train at Weeton station. After both an external and internal inspection of the Hornbeam public loos we were on our way and to the surprise of all Bernie Six Bellies Conner set the early pace until we reached the valley bottom after which things steadied up a bit. The underfoot conditions were much slippier than the last time I'd run these paths ( last Sunday ) however notwithstanding this the mud didn't appear to slow Nic. Pearce nor his daughter Kate or in fact detract from the enjoyment of the run as a whole. Without giving a step by step account of the run I note that by the time we reached North Rigton a few of us were feeling the strain of running into the face of a strong westerly wind, subsequently following a brief discussion Andy Sarah made the democratic decision that we'd leave Almscliff Crag for another day which clearly made Adele Mitchell and Keith Wood very happy as they upped the pace across the fields to Huby and back to the station. After a quick shower, tea and a bacon sandwich ( in front of a log fire as promised ) Andy Sarah forced us to go to the Hunters Inn to drink beer and where we were joined by leader of the gang Vince Gibbons + John Mc Namara also Peter Sibley and wife. Oh happy days!
Lancaster Festive 4K Fun Run, Thu 27 Dec
From Andrew Bennett ... The Bennetts joined friends and relatives in this short and hilly 4K fun run, in a downpour, last Thursday. Adam and Tom were pleased with their much improved times from previous years. The race was won by Ewan Mulloch of Bath in 11:20 and first lady was L&M's young Hannah Bateson 13:11

25  Alison 14:42
49  Adam   16:27
77  Tom    19:14
102 Andrew 20:59
130 ran

Chevin Chase, Boxing Day
Results from Aire Centre Pacers ...

1   38:20 Alistair Brownlee
12  43:12 Jamie Hutchinson
21  44:08 Tim Ashelford
26  44:27 Ben Stevens
30  45:30 Lawrence Basham
39  46:37 Steve Turland
48  47:09 Ralph Tench
64  48:04 Mark Iley
72  48:22 Nick Pearce
74  48:26 Bob Hamilton
75  48:27 Dave Wilby
77  48:30 Stephen Coy
83  48:54 Dave Tait
102 50:00 Sally Malir
110 50:30 Neil Chapman
116 50:35 George Stevens
158 52:11 Michael Hopkinson
161 52:17 Elizabeth McCann
176 52:56 Simon Chapman
184 53:16 Pete Shields
205 54:20 Richard Reeve
230 55:13 Catherine Gibbons
236 55:25 Charles Oxtoby
242 55:35 John Coates
254 55:57 Dave Taylor
260 56:16 Nigel Tapper
266 56:37 Anthony Swanepoel
268 56:40 Victoria Stevens
383 61:07 Bernie Gibbons
402 61:58 Keith Wood
418 62:39 John Marshall
420 62:41 Emma Payne
435 63:15 Mary Gibbons
447 63:45 Sue Bickerdike
477 64:53 Pete Bedwell
492 65:30 John Woodward
552 68:25 Sheena Pickersgill
559 68:37 Richard Gray
560 68:38 Andy Sarah
577 69:26 Bob Payne
650 72:48 Adele Mitchell
651 72:56 John Macnamara
690 74:58 Amanda Parnaby
727 77:11 Helen Cook
755 78:49 Ann Pearson
814 finishers

Ilkley Harriers League calcs soon (let Paul know if anyone has been missed above) ...
Ackworth XC, Sun 23 Dec
From Lawrence Basham ... A merry band of Harriers enjoyed some fantastic weather, great racing and jovial banter at Ackworth today. Highlights were the stream crossing, free mince pies and the lovely sunshine. Notable results were Jamie Hutchinson 5th, Lee Athersmith 6th (welcome to the club), Dave Tait 39th (not bad for a V60!), Steve Coy 40th, Alison Bennett 3rd and Emma Payne 30th. Welcome back to racing to Cap'n Bob Hamilton, highlight of the day was watching the sprint finish between him and Dave Wilby, it was shoulder to shoulder and Bob nearly ended up in the stream! Well done to everyone who turned up and ran for the team, next race is Jan 13th at John Smeaton...details here..... This date clashes with the Yorkshire Vets championships, we may be missing a few stalwarts so all members are encouraged to try out these friendly races. Results:

5th Jamie Hutchinson
6th Lee Athersmith
12th James Wood Robertson
13th Ben Stevens
16th Lawrence Basham
39th Dave Tait
40th Steve Coy
41st Dave Wilby
42nd Bob Hamilton
75th Morgan Williams
79th Peter Shields
116th Bob Payne
131st Andrew Bennett
 
Ladies
 
3rd Alison Bennett
7th Alison Eagle
30th Emma Payne
36th Claire Smith
72nd Amanda Parnaby

Christmas Fun Relays, Tue 18 Dec
From Bernie Gibons ... Ilkley Harriers annual festive event attracted 72 fun runners in 18 teams of four including the very fast Team Stevens (Sue, Victoria, George and Ben, all home for Christmas). Standards of fancy dress were impressive. The stars of the evening were fairies Will Plastow and Paddy Gibbons who looked gorgeous in their frilly white skirts! Prizes for fancy dress were also awarded to Elaine Cossins (Santa), Jenny Dybeck (Pantomime Cat), Nigel Tapper (Elf) and John McNamara (Jester).
Special thanks to Pauline Watts, Amanda Parnaby and Mandy Chapman for buying and preparing the refreshments and to Amanda Parnaby and Jane Bryant who fuelled the runners with mulled wine and mince pies on the night.
If you've not already done so, don't forget to give your entry fee (£1 per runner) to Bernie Gibbons. The event has raised £55 so far for Cancer Research UK. Further contributions are welcome up to the Awards Evening (January 18). Many thanks to everyone for your generosity.
Mortimer Forest, Sun 16 Dec
From Graham Arthur .. A delightfully interesting, runnable and scenic run in the Shropshire hills, 10mi, 1700', BM
1 C. Wilson 65:48
32 P. Webster 77:25 (1st lady)
71 D. Wilde 84:11 (1st MV60)
110 G. Arthur 89:51 (3rd MV60)
347 finishers, 22 of whom were MV60
The Stoop, Sun 16 Dec
Where were all the Harriers? Christmas shopping? A tough race, with frozen ground, ice, and biting cold replacing the usual mud. Results and pictures on www.woodentops.org.uk

12  34:16 Jamie Hutchinson
24  35:33 Ian Rowbotham
25  35:42 Ben Stevens
58  37:57 John Atkinson
71  38.57 Dave Tait
98  41:25 Ian Marshall
134 43:50 Diane Haggar 6th lady
138 44:12 Victoria Stevens
181 47:22 Val Kerr
209 55:49 Ann Stead

Our ladies took the team prize.
London Marathon Draw, Tue 11 Dec
From Debbie Rosen ... The draw for London Marathon entries will take place at 7pm this Tuesday, before the normal club announcements. I have 7 names who have been rejected from the main ballot, so priority goes to these people. We'll draw 4 names and 2 reserves in case of injury etc.
Calderdale Way Relay, Sun 9 Dec
Ilkley's Ladies were 2nd team to Bingley, with our Vets team just behind and the Open team got a top 20 place ...
Results from www.halifaxharriers.co.uk/HalifaxraceResults.htm:

The winners were Horwich in 5:53:36
The leading ladies team, Bingley, was 34th overall in 7h21:23

18 Ilkley Harriers  Adrian Hall     Lawrence Basham   Jamie Hutchinson  Dave Wilby         Mark Iley         Steve Turland 	
                    James Wood-     Tom Adams         Will Plastow      Jim Ryder          Justin Phillips   Ralph Tench
                    Robertson 
                    1:20:46 (24)    1:14:37 (38)      42:06 (13)        1:13:58 (12)       1:07:57 (40)      1:14:26 (20)
                    1:20:46 (24)    2:35:23 (27)      3:17:29 (22)      4:31:27 (18)       5:39:24 (19)      6:53:50 (18)

39 Ladies           Emma Barclay    Alison Eagle      Jo Foster         Andrea Priestley   Pange Srivastava  Alison Bennett
                    Sally Malir     Nicki Jacquiery   Holly Williams    Helen Ilsey        Joyce Marshall    Sarah Jarvis
                    1:28:38 (52)    1:13:06 (33)      48:37 (49)        1:28:24 (49)       1:07:41(37)       1:20:36 (46)
                    1:28:38 (52)    2:41:44 (38)      3:30:21(39)       4:58:45 (44)       6:06:26(43)       7:27:02 (39)
					
40 Vets             Marc Teasey    Graham Arthur      Phil Atkinson     Nick Pearce        Morgan Williams   Peter Shields
                    John Atkinson  Ian Marshall       Paul Stephens     Geoff Howard       Bob Wightman      Neil Chapman
                    1:27:08 (47)   1:18:45 (58)       47:05 (38)        1:22:21 (31)       1:08:32 (42)      1:23:50 (53)
                    1:27:08 (47)   2:45:53 (52)       3:32:58 (42)      4:55:19 (39)       6:03:51 (39)      7:27:41 (40)

Leg 1 Report from Marc: John's worries about not being able to keep up due to his recent long lay-off with injury proved unfounded, as he dragged me round the tough first leg panting in his wake (thank goodness I got the end of that sentence the right way round). The steep climb right at the start was a rude awakening for the bleary-eyed hordes at 8am (Leg 1 runners should definitely get some kind of award for having to get up at 5am) and I knew immediately it was going to be hard when I saw John's determination to try and keep our Open team in view. Our cause wasn't helped by my wrong choice of shoe, as I slid around in my trail shoes in the energy-sapping mud over the moors and through the fields - I thought wistfully of my fell shoes waiting in the boot of my car at the finish of our leg and of the delicious irony...ah, how I chuckled to myself... At least the steep, slippery, cobbled descents provided a welcome adrenaline buzz as we demonstrated the concept of 'momentum' (neither of us being exactly petite) coupled with the rare sport of downhill ice-skating. Overall we had a solid if unspectacular run, pretty much holding our position from the first mile onwards. Retrospectively a thoroughly enjoyable experience, made better by having a great, supportive running partner and a tremendous team spirit.
Leg 2 Report from Ian: Graham and I soon found that our strengths lay in different places, not having had the chance to run together before the day. Graham said he would have liked a bungee rope for me to pull him up the hills, while suffice to say that he left me standing on the descent from Stoodley Pike as I idly chatted with one of the summit marshals. He had passed 3 bewildered teams and was in Mankinholes before I knew it. This called for swift acceleration along London Road (a dirt track submerged in an inch of water for those who do not know it) splashing as many competing teams as possible, to catch Graham by the Top Brink Inn. Then Ministry of Silly Walks through the stable yard to make the girls from Wharfedale giggle and a more team like descent into Todmorden. By this point we were roughly maintaining position, having been passed by Alison and Nicki early on at Withens Gate. The bungee rope would have come in handy on the last tough climb past Dobroyd Castle as team after team seemed to overhaul us. Time for some reminiscences with a friendly Keighley and Craven runner who was also shouting encouragement to his partner before Graham and I got a few places back on the last spectacular descent into Centre Vale Park.
Graham adds: "After the leg I made my way back on foot via the towpath, Mankinholes and Withens Gate, joining the outward route there. Very pleasant – and quiet!". I grabbed a welcome shower at the Sports Centre and was then whisked off to the start of Leg 5 by Morgan to watch the race unfold. This event is great for camaraderie and a chance to meet and make friends from other clubs, no matter at what level you compete.
Leg 3 Report from Phil: I recc'ed leg 3 on the Friday prior to the race, so both Paul Stephens and I had an idea as to the both conditions and the route. By far the shortest leg of the race but no less painful and testing than the other legs. We had plenty of company on race day as we set off with a few teams both in front and behind but fortunately avoiding the dreaded Mass start.The weather was 100 times better than the day I recc'ed but was as wet underfoot as most will have experienced. Plenty of mud throughout. Paul and I were evenly matched as a pair, and I think overtook maybe 5 or 6 teams (maybe more as haven't yet seen any leg results) and were overtaken by 1. A very long steep start to the leg which is worthy of any fell race, but the remainder is a leg draining cross country run, albeit through or should I say along streams. The short finish up the road to Blackshaw Head is not particularly steep, but is a torturous finish to a tough leg. All finished off with an enjoyable jog back to Todmorden for the car. Both Paul and myself would like to pass on our thanks to Capt'n Bob for his efforts
Leg 5 Report from Morgan: It looked as though the bad weather was about to close in during leg 4 with some nasty showers around at Wainstalls. It never materialised though and didn't have the impact on the leg that Bob and I had been hoping; really nasty weather to slow the fitter and faster teams down! We had a steady run, perhaps too steady, but Bob needed some "encouragement" up the steeper hills which I was happy to give! We were passed by 2 teams en route (Pudsey Vets and Preston) but snuck past 1 ourselves.The underfoot conditions were pretty grim; plenty of standing water and some awesome muddy sections that were shoe threatening and tested lacing integrity. Geoff and Nick having squeezed past our ladies, we were happy to get to Shelf still in front of them, though not by much. Bob was grumbling about feeling sick; I told him he'd feel sicker if they caught us up and he responded as you would expect of a member of the Bob Graham club; by shuffling that little bit quicker.We were both a bit short of recent races so were content enough with our effort.
Ladies' Team report from Alison E .. The weather forecast fortunately was wrong and Sunday at Cragg Vale, the start of Leg 2, at 8.30am, turned out to be fine and even warm. Hurriedly I changed into shorts and a lightweight thermal, queuing for one of the two portaloos took most of the time prior to the first Leg 1 runners arriving. Nicki and I cheered the Ilkley men, then the Ilkley Vets in and out. Bingley Ladies led in the Ladies Race as expected, most teams put 2 of their strongest runners on Leg 1. Emma and Sally led us in in 4th place and 6 minutes behind, a great effort. Leg 2 starts with about 1 mile of uphill tarmac, an horrific start for two fell runners so early in the morning, but soon we were on more familiar ground - uneven boggy terrain and a climb up to Stoodley Pike - followed by a fast descent down to a track. From the start we were able to haul teams in, including the Ilkley Vets and Keighley and Craven Ladies. As we hit the track Nicki commented 'well that's the enjoyable bit over'! As the sight of the Calder Ladies red and white stripes came into view we worked hard to catch them up and fianally got level as we walked (race rules) through the stables (not to is a 5 min penalty - though some interesting styles of walking were on view). Then as we headed down the steep hill into Todmorden thoughts were only of the steep climb out the other side, knowing once completed we would be heading home via the moor and a very muddy, leafy descent to the end of the leg. We continued to overhaul teams and were pleased to learn we had gained 14 places, made up over 2 minutes on Bingley Ladies and were in 2nd place. A courageous performance from Nicki who had spent most of the early week throwing up from the bug appearing to do the rounds. Showers at the Sportscentre, where Leg 3 starts, were well worth the £1.60. Cleaned and refreshed we set off to Leg 5, to catch up on the race and for Morgan to start his leg. A good Leg from Holly and Jo on Leg 3 saw further inroads into Bingley's lead, now less than 2 minutes. At the start of Leg 5 we waited anxiously for both the Vets and Ladies from Leg 4 to come in, hopefully before the chaotic mass start. An excellent leg from Nick and supervet Geoff saw the Vets off and the tension mounted as Bingley Ladies appeared. As the majority of the Leg 5 runners began to gather for the mass start Helen and Andrea came into view, a quick shout saw the massing runners parting, allowing Pange and Joyce through, amidst cheers from all. As they disappeared in the distance the car horn sounded and the rest set off after the girls, (it feels like hounds chasing a rabbit). It had been a valiant effort from Andrea and an underpar Helen to try and make up time on the Bingley ladies and though their time was down over 6 minutes on all their previous 3 runs over that leg, it was still a good run in hard conditions on a long leg. It was impossible now for the Leg 6 ladies and Vets not to be in the mass start, so I drove round to update the girls and wish them luck, however we knew it would be an almost impossible struggle as they were against two of not only Bingley's top runners, but also England's - Natalie White (England international) and Aly Raw, (sub 60 10 miler/English 2007 Fell medallist). As the runners diappeared into the distance from Leg 6 mass start, the Vets appeared followed by Joyce and Pange, 1st Ladies team in, having overhauled Bingley Ladies on route. It was now all down to Leg 6. As expected the Bingleys Ladies produced an excellent leg (18th overall), and won not only the leg but the race by about 6 minutes. Ilkley Ladies can be proud of their efforts and look forward to another battle next year, if we can get our strongest team out, all fit and well I am certain we could do it, we have before!
Round Rotherham Ultra Trail Race, Sat 8 Dec
Eddie Winslow reports ... Amanda Parnaby and I finished off a season of long distance challenges with the Round Rotherham Ultra Trail Race.
This was the 25th running of this event and the field was 300 strong, swelled by those hoping to gain an entry to the Tour Mont Blanc in 2008 for which this event is a recognised qualifier.
The 50 miles split neatly into two types of terrain. Initially we followed cycle paths and urban footpaths as the race route headed South along the Rotherham/Sheffield boundary through the industrial heritage (and sometimes wasteland) that is clearly ideal preparation for the Chamonix valley. At about 20 miles there was some excitement in the group I was running with at the prospect that we might see some wildlife in a couple of miles time.
Having reached the Southern limit of our travels we swung East under the M1 and into a far more rural race. From now on we followed country footpaths interspersed with the occasional village. The farmers' fields of South Yorkshire were showing the effects of the recent wet weather and proved difficult to run on as mud clung to my shoes. At about half way the forecast wet weather finally arrived but never quite managed to turn to snow – something that had been a distinct possibility when we set off.
I spent the second half of the race mostly running on my own, occasionally 'buzzed' by a relay team as they finally unwound the one hour time difference between the runner's start and the relay start. The final five miles were uncomfortable as my knees finally let me know precisely what they thought of going for an all day run. But at least I finished in the daylight. Amanda Parnaby's race started with 1.5 hours in the dark and finished 3 hours after dark.
Times were:
Eddie Winslow 8h 34m, 20th place
Neil Smith (new member this year) did 11h 32m
Amanda Parnaby 13h 35m
Together, these 3 were 11th team.
Predictor Run, Tue 4 Dec
From Richard Gray ... Here are the Predictor results from last night as prepared by Norman. It was a fantastic evening, the best we've done. I note that my trusty pal Norman's help was invaluable in ensuring the event was successful, also Seven Bellies rolled up and pitched in adding mirth to the proceedings. I'll come up with a prize and dosh it out next Tuesday.
Results

here, or in MS Excel

here.
Marsden to Edale fell race, Sun 2 Dec
From Alison Weston ... Completed a very wet and grim 21 mile Marsden to Edale race today over Black Hill, Bleaklow and Kinder. Heavy rain most of the day, deep bogs, very scary river crossings (especially in Adidas Swoop shoes!) and poor route finding made it a race to remember and just be so glad to finish. I think there were about 115 finishers and I came in 56th (3rd lady) in 4h51.
MM3, Sun 2 Dec
In a similar event, Heather Dawe was 2nd lady, 38th overall in 3h36:39, at the Dark and White Challenge event.
Thirsk 10M, Sun 2 Dec
From Geoff Howard ... A hat trick of p.b.'s at the Thirsk 10 mile road race with Jeff Paget 61st (63m 46s and 7th v.50 in a very competitive age group), Marc Teasey 72nd (64m 32s), and Sarah Jarvis 76th (64m 52s and 6th Lady). These are times are particularly commendable because of the congested start with reputedly 700 runners shoehorned into a narrow lane. Other harriers known to have competed were Geoff Howard (65m 39s and 2nd v.60, 89th overall) and Nick Mellor 370th 80m 40s. The overall winner was Ian Fisher (Otley A.C. 51m 28s). Although cold and wet with occasionally flooding there was fortunately little wind.
WYXC #4, Wakefield, Sun 2 Dec
Alison Bennett reports The ladies escaped the rain in this last race of the 2007 league and came 7th place team on the day.

19  Alison Bennett   21:22
29  Alison Eagle     22:12
33  Sally Malir      22:27
70  Bridget Doherty  26:33

In the 2007 Series Overall Positions were: 7th Sarah Jarvis and 25th Caroline Ebert; Vet 40-44 3rd Sally Malir; Vet 45-49 1st Alison Bennett, 2nd Alison Eagle, 8th Bridget Doherty; and the Ladies Team was 6th.
The mens' race had a shower or two but it didn't dampen performances. Tom Adams was the first Ilkley Harrier home and achieved a top 50 placing. It was a tight sprint finish again between, Justin Phillips and Mark Iley who squeezed out Malcolm Pickering in the final dash. These first four Ilkley Harriers along with David Cummings and Kevin Gooch all were placed in the top 100 of the field for a well placed team finish.
The men were 10th team on the day:

49  36:04 Tom Adams         
76  37:44 Mark Iley
77  37:45 Justin Phillips
79  37:49 Malcolm Pickering
95  38:58 Dave Cummings
98  39:05 Kevin Gooch
128 41:52 Neil Chapman
141 43:16 Peter Shields
143 43:40 Nigel Tapper

Overall, Ilkey had 8th team, Paul Davidson was 14th man, Tom Adams 15th, James Wood-Robertson 18th, Justin Phillips 26th; in M40-44 Jim Ryder was 8th and Dave Cummings 21st; Neil Chapman was 7th in M50-54; Mark Iley was 13th in M45-49; Malcolm Pickering was 2nd V55; and Pete Shields was 5th in M60-64
There were 14 juniors running, and a highlight of the day was the U13 Boys Team winning a Bronze medal for the series - more on the Junior Harriers pages .
Results on the Complete Runner site.
Rudolph's Romp, Sat 1 Dec
From Amanda Parnaby ... approx. 25 miles starting and finishing at Brantingham between Market Weighton and Hull, taking in part of the Wolds Way. I finished in 5hrs 44 min on a day of near perfect weather for the event.
Abbey Dash, Sun 25 Nov
A host of Harriers ran this. Read Sue's report here.
Results:

1    29:30 Ian Boneham 
94   35:15 James Wood-Robertson PB
137  36:12 Jonathan Sinclair
213  37:53 Geoff Howard  2nd V60, new club record
236  38:20 David Brown   PB
255  38:37 Richard Joel
261  38.40 Marc Teasey   PB
302  39:22 Amanda Oddie
360  40:05 Alison Bennett
394  40:29 Stephen Coy
418  40:43 Paul Stephens
475  41:19 Sean Murphy PB
498  41:30 David Schneider
558  41:54 Richard Reeve
560  41:55 Andrew Herbert
609  42:16 Andy Wiggans
625  42:24 Pete Shields
663  42:41 Andrew Wilson
677  42:45 John Woodward
746  43:18 Nigel Tapper
827  43:51 Catherine Gibbons
892  44:20 Paddy Hagan
1083 45:25 Keith Wood
1163 45:48 Sue Bickerdike
1287 46:28 Caroline Wood-Robertson PB
1296 46:32 Dave Taylor
1330 46:43 Elaine Cossins PB
1403 47:04 Pete Bedwell
1430 47:11 Nick Mellor
1675 48:22 Neil Smith
1676 48:33 Clare Smith 
1790 48:54 Bernie Gibbons
1987 49:52 Don Macrae
2022 50:02 Colin Lugton
2035 50:04 Sheena Pickersgill
2271 51:15 Fiona Schneider
2516 52:28 Bridget Doherty
3310 56:22 Andrew Bennett
3967 60:40 Sue Lugton
4295 63:49 Brian Sweet

Full results on the Help The Aged site.
Thanks to everyone who contacted me with results, but By Golly it would have been easier if the organisers had shown clubs correctly in the results! This was a Harriers League race - calcs here.
Rivock fell race, Sun 25 Nov
Harriers results were:

30  59:13 Kevin Gooch      1st V50
37  59:56 Emma Barclay     1st LV40
64  65:47 Pange Srivastava 2nd LV40
69  67:23 Chris Oxlade    
77  68:27 S Weston
78  68:52 John Coates
89  71:12 Rachael Gooch
119 97:10 Amanda Parnaby 

Open 5, Sun 25 Nov
Eddie Winslow reports there were also plenty of Harriers at the final Open 5 of the year, at Coniston:
Eddie Winslow – 535 points, 1st Mixed Pairs (series 1st)
Heather Dawe – 504 points, 1st Female Solo
Nicky Jaquiery/Jo Foster – 425 points, 3rd Female Pairs
v Steve Turland – 501 points, 9th Male Solo
Dave Wilby – 500 points, 10th Male Solo
Jamie Hutchinson – 445 points
Ken Jaquiery/Jim Ryder – 410 points
Wensleydale Wedge, Sun 18 Nov
Eddie Winslow reports ... I got my first snow of the Winter in today at the Wensleydale Wedge – 23 miles on the fells around Askrigg. With temperatures in the valley bottoms not getting above 3 degrees the conditions on the tops were always going to be challenging. Strong winds and a light covering of new snow made for slippery paths but I got round safely in a time of 3h42m for 10th place. As always, a very well organised event by the LDWA.
WYXC #3, York, Sat 17 Nov
From Alison B ... The going was good to firm at York Racecourse for the third race in the WYXC league. Sarah "odds on favourite" Jarvis led in the ladies whilst James Wood-Robertson galloped home to claim a top 50 placing, closely followed by Tom Adams. There were other exciting final sprints between the men; Mark Iley and Justin Phillips almost needed a photo finish.
Both men and ladies fielded two teams. Full results to follow.
Well done to everyone who took part – hope to see you again (and those who haven't run yet) at the final event at Wakefield on Sunday 2nd December.
Another Cross Country date for your diary – Yorkshire Vets XC – January 13th 2008 at Cliffe Castle, Keighley. This clashes with the 3rd Peco (Sport Direct) race hosted by STAC. So we will need as many runners out as possible to field vets teams at both events.
Results from the Complete Runner web site:

Ladies
1    21:14  Lindsay Curtis, Scunthorpe
16   23:03  Sarah Jarvis                               
25   23:50  Alison Bennett                            
36   24:43  Alison Eagle                              
47   25:26  Angela Srivastava                      
67   27:35  Caroline Ebert                            
77   28:27  Bridget Doherty                          
86   29:24  Bernie Gibbons                          
94   30:46  Emma Payne                             
97   32:16  Ann Stead                                  

Men
1    28:03  Alistair Brownlee, Bingley Harriers                                                 
49   32:23  James Wood-Robertson                                                               
56   32:38  Tom Adams                                                                                 
57   32:40  Paul Davidson                                                                             
62   32:55  Jim Ryder                                                                                    
83   33:45  Malcolm Pickering                                                                        
101  34:40  Mark Iley                                                                                      
102  34:40  Justin Phillips                                                                               
117  35:22  Richard Joel                                                                                 
119  35:26  Marc Teasey                                                                                
121  35:34  David Cummings                                                                          
131  36:20  Kevin O'Hara                                                                                
141  37:34  Neil Chapman                                                                               
161  39:17  Peter Shields

Calderdale!
The Calderdale Way Relay, 50 miles around Calderdale, climbing 12,000 feet, Sun 9 Dec, 6 stages run in pairs. The best relay of the year!
Ilkley Harriers has 3 teams......
Mens Open - team organiser needed, please contact Lawrence ASAP if you can organise the team this year
Ladies - Team to be organised by Nicky Jaquiery and Alison Weston, any ladies available to run this year contact Alison
Mens Vets - Veterans category is over 40, contact Bob Hamilton if you are available
A great tradition of this relay is that runners drop like flies in the weeks and days before the race, so we need lots of reserves.
Three Tops, Sun 11 Nov
Roy Ruddle reports ... 9 miles; 2000 ft, I was 16th (in 69 min + something). Norman Bush was also running, I think
Peco (Sport Direct) Cross Country, Sun 11 Nov
From Alison Bennett ... In contrast to the quagmire of 2006 the Woodkirk course this year was bone dry underfoot and anyone selecting road shoes would have made a good choice! Well done to Sarah Jarvis and James Wood-Robertson for leading in the teams:

Ladies 
1  Sarah Jarvis
4  Alison Bennett
13 Diane Kitchen
19 Elaine Cossins
39 Emma Payne
42 Margo Dale
59 Ann Stead

Men
13 James Wood-Robertson
18 Dave Wilby
21 Jamie Hutchinson
31 Dave Tait
34 Marc Teasey
51 Geoff Howard
56 Neil Chapman
82 Peter Shields
83 John Coates
105 Graham Stead
120 Don McCrae
123 Bob Payne
126 Andrew Bennett

Update from Alison B 16 Nov ... The results are now on the Abbey Runners website: our Men's team was placed 3rd in the Premier Division, and the Male Vets team was also 3rd. The Ladies were 2nd and the Lady Vets 1st. Hope to see you all at Ackworth on 23rd December.
Burley Bridge Hike, Sat 10 Nov
From Ian Marshall ... A few Harriers featured towards the front end of Burley Bridge Hike on Saturday – 21 miles anti-clockwise around (and over) Rombalds Moor, starting and finishing at Ben Rhydding and including 3 miles of canal towpath from Riddlesden to Micklethwaite.
There were 80 entries on the day bringing the total number of runners and walkers up to around 200. Shane Green was 4th in around 2:58, Eddie Winslow was 8th in 3:04 and Ian Marshall was 21st in 3:20.
Elizabeth McCann showed a big improvement on last year by completing the course in 3:22 and was first lady. Amanda Parnaby ran for Ilkley Harriers too – any others?
New York City Marathon, Sun 4 Nov
From Jane Bryant ... 5 of us took the plunge to run the streets of New York. it was a fabulous day, the weather was warm and sunny, the crowds fantastic. Although it is reportedly slower than London, we had 4 PB's in the group. The times were:
 
 Dave Brown    - 3.30 PB by 6mins
 Nigel Tapper  - 3.33 PB by 6mins (and winner of the group predictor)
 Keith Wood    - 3.47 (will do better next time!)
 Jane Bryant   - 4.09 1st marathon! (?and last)
 Jackie Weston - 3.50 PB by a massive 15 mins
A fantastic week-end, highly recommended. www.nycmarathon.org
Haworth Mudman Duathlon, Sun 4 Nov
From Heather Dawe ... Held in fine sunny conditions, the race started with a 5km multi terrain run followed by a fine 20km mountain bike ride and a 3km run to finish. It was nice and hilly, just as you thought it was time to drop back to Haworth and transition, another climb appeared.
Jamie Hutchinson won, finishing in 1:44 and I won the ladies, finishing in 1:55.
Guy Fawkes 10m, Sun 4 Nov
Alison Bennett reports ... There was a turnout of 828 runners taking part in this undulating 10 mile race. First Harrier home was Timothy Bull, Sally was the first Ilkley Harrier female and 3rd placed female, overall. The ladies were 2nd Team. There may have been others taking part but looking on the results

46   Timothy Bull   1:07:12
76   Sally Malir    1:09:57   -  3rd Lady
107  Alison Bennett 1:12:28   -  1st V45
334  Val Kerr       1:21:56
445  Helen Shew     1:26:10
538  Bernie Gibbons 1:30:03   -  PB!
567  Mary Gibbons   1:31:33
663  Adele Mitchell 1:37:40
783  Amanda Parnaby 1:47:38

Marc's pointed out that Alison's time sets a new club record.
Shepherds Skyline, Sat 3 Nov
Jim Ryder reports ... A fine day saw 235 starters at the Shepherds Skyline in Calderdale. All Ilkley runners were well placed in a high quality field. In the prizes: Emma (a comfortable first V40) and Kevin (an excellent run for 3rd V50). Paul 'came through the field' well after starting some 8 minutes (?) behind the main field! The race was won by Ian Holmes in a new course record of 39.25, with Jo Waites first lady, 48.55.
Results from Tod Harriers site

23  47.28 Jim Ryder
52  51.17 Kevin Gooch
63  52.50 Nick Pearce
70  53/26 Mike Baldwin
72  53.42 Emma Barclay
94  56.02 Paul Davidson
159 61.11 Jo Foster

Junior XC, Sat 3 Nov
Ilkley Harriers staged the second event in the Wharfedale Primary Schools XC League at Nell Bank today, with 480 children competing. A lovely day! More ...
Dublin Marathon, Mon 29 Oct
Graham Corbett completed the Dublin Marathon in a PB of 3.46.44.
Summit race, Sun 28 Oct
From Ian Marshall ... I tried a race I had never done before – at Summit between Todmorden and Littleborough. This is a short 4 mile out and back with a loop on the descent, with most of the 800ft climb up to the White House pub, whose wall you must touch – as organiser, Allan Greenwood was sure to point out. Then it's back down to the Summit pub, formerly the Gale Inn which gave its name to the original Gale Fell Race. Like the OMM, this was its 40th running.
Ben Mounsey of Calder Valley won in 28.05. I was the only Ilkley Harrier and finished 35th in 35.36. The field of over 80 runners enjoyed perfect running conditions.
OMM, 27-28 Oct
Harriers results on www.sportident.co.uk: Heather Dawe in the first Elite mixed pair and 24th overall; Adrian Hall and Dave Wilby 4th on the A, with Dan Goodey and Phil Jones 12th; Peter and Hector Haines 6th on the B; Dave & Clare Cheesewright 17th and 1st Mixed Vets, and Lou Cartledge 108th; on the Long Score Dave Taylor was 107th; and Ralph Tench was 34th and Kevin & Rachael Gooch 87th and 3rd mixed vets on the Medium Score.
Holly Williamson reports ... Lots of Harriers took part in the Original Mountain Marathon which was held in the Lowther Hills in Scotland and I am sure everyone will write in with the full stories of their own achievements. The weather was misty turning to wind and rain and not much visibility on Saturday, which then developed into horrendous wind and rain at the over night camp, judging by the sounds around our tent quite a few people had a washout. Thankfully the skies cleared on Sunday morning for a beautiful second day.
My partner Catherine Brennan and I were first ladies in the B Class (it was definitely worth carrying that strong sturdy tent!).
Dave Wilby adds ... The Lowther Hills of Scotland were the setting for the 40th running of this event, now under the banner of the OMM. Plenty of Harriers spotted about, and plenty in the prizes too so some sterling efforts all round. Surviving the overnight camp was an event in itself with driving rain and wind gusting up to 60mph!!
Heather Dawe not only completed the Elite course but along with partner Shane Ohly, waltzed off with the Mixed Pairs prize and finished well up the field. In the A class myself and Adrian Hall finished 4th and Dan Goodey and Phil Jones weren't far behind in I think 12th. Some great efforts in the B class where Holly Williamson and partner continued their successful pairing by taking home the ladies title. Disgracefully they were denied their moment of glory at the prize giving so they deserve an extra round of applause on Tuesday night. Also going well in B were Dave and Claire Cheeswright who I think were first mixed (vets, ed) team and Peter and Hector Haines who finished an excellent 6th overall. In the Medium Score class, Kevin and Rachel Gooch were 3rd Mixed Vets. No doubt there were others running so apologies to anyone who I have missed.
Adrian Hall adds ... Pleasantly surprised by my 4th place on the A with Dave Wilby - my 11th KIMM/OMM and best result so far. As always, we ran well together. Great area, good use of it from the planner, despite the restrictions of the Out of bounds. Some dubious bits of mapping - probably not updated from the original '78 map...? Day 1 was an orienteers day in the mist, cloud and rain, day 2 a runners day - a great mix. Very close race on the A for the top slots. Overnight camp, was, um, miserable. Felt sorry for the poor sods still coming off the hill in the dark, had a laugh and the silly sods in the Supairs (we were in a laser comp, which was great, even in the 70mph blasts). What a night. But the sunday was beautiful, if cold. Feet survived well in the mudclaws - unparallelled grip on the very steep descents, and a combination of heel taping and a very low loop lock lacing meant that feet are pretty much fine. Dave's toes were shot on the first day so he was having trouble descending - not good in a mountain marathon! But he soldiered on without screaming. Great event. Really good to see so many Harriers doing well in this, and the local crew from Otley/Ilkey was very well represented. I think that they've all been listed already. Well done all. Think now have to run Elite if Dave and I want to continue running together on this, so, Dave - you're dumped.... :)
Paddy and Rachel Hagan report: Delighted to come 2nd in the C class (well, one hundred and somethingth really but we were only out to beat fellow Ilkley-ites Matthew and Angela Sturgeon). Forgot to do any running on day one but ended up 2 minutes ahead, which we put down to the Sturgeons carrying a bottle of wine with them for the overnight camp. Trounced them on day 2, however, as they obviously had not shared the wine out fairly, and Rachel finally discovered her hill legs. A bit gusty overnight, but had a nice lie in because of the clocks changing.
WYXC #2, Bramley Park, Sat 27 Oct
'Preliminary' results from www.completerunner.co.uk ...

Ladies
1   18:41 Becky Plenty, York
12  20:15 Sarah Jarvis
24  21:07 Alison Benett
29  21:15 Emma Barclay
31  21:19 Alison Eagle
36  21:36 Sally Malir
67  23:27 Diane Kitchen
69  23:36 Caroline Ebert
96  26:37 Adele Mitchell
101 27:28 Emma Payne
104 28:08 Sue Stevens
4th team, and 3rd B team (14th out of 17 teams)

Men
1   30:47 Kim Critchley, Knavesmire
54  35:22 Jim Ryder
57  35:25 James Wood-Robertson
58  35:33 Paul Davidson
59  35:36 Lawrence Basham
83  36:27 Malcolm Pickering
98  37:08 Mark Iley
114 38:10 Dave Tait
117 38:15 Geoff Howard
132 39:14 Marc Teasey
183 44:27 Paul Wood
194 46:24 Pete Bedwell
198 47:14 Andy Kitchen
9th team, and 4th B team (8 B teams, 21st out of 25 teams)

Another good turnout in the extremely high quality Junior races, with great results including Will Plastow 7th U17, and a super race between Catherine Gibbons and Jenny Dybeck 6th and 7th in the ladies U17 race.
This was a Harriers League counter. SuperVet retains the lead in the XC category and is looking pretty unassailable at the top of the League now, with only 9 events - if we can tempt him to do the Abbey Dash he could set a record League score (Nick Pearce, 971 points in 2003). Bedders is in 2nd place overall, but with Abbey Dash, Chevin Chase, and Auld Lang Syne races still to count, it ain't over yet ...
Reminder that the final XC/Trail counter is the Chevin Chase for which entry forms came out the other week on www.airecentre-pacers.co.uk- the race is likely to fill up soon so get your entry in now.
Someone left a ladies watch in the club tent. Contact Paul.
Amsterdam, Sun 21 Oct
Nick Mellor reports ... Brief report on the marathon run by David Cockshott and myself - almost perfect running conditions and a very flat course, only drawback was at water stations where we were rationed to about half a cup. About 6500 finshed so not too crowded after 1km. Definitely a fast couse as first 8 to finish were under 2.08. David sped off to set a pb while I hobbled in just over the 4 hrs mark. Finish was in 1928 Olympic stadium although couldn't raise much of a sprint finish.
1. Emmanuel Mutai (Kenya) 2.06.27
2294 David Cockshott 3.39.26
3931 Nick Mellor 4.02.09
Saw Terry Lonergan approaching the finish of half marathon at impressive speed resulting in a time of 1.28.20 in 294th out of 8450.
Missed 5k race as otherwise engaged but good runs from Eddie Irving and Sally Malir (they can be seen speeding towards finish on video on results section www.amsterdammarathon.com)
24 Eddie Irving 18.47
39 Sally Malir (3rd lady) 19.59 387 Pat Lonergan 26.47 (100th lady)>br> 1324 ran
Withins Skyline, Sun 21 Oct
A super race on a glorious day, photos and full results are on www.woodentops.org.uk

55  52.50 Dan Goodey
64  53.50 Mike Baldwin
65  54.01 Kevin Gooch
88  56.59 Alison Weston
96  57.50 Morgan Williams
141 62.56 John Coates
150 64.13 Rachael Gooch
There were 9 Junior Harriers in the Quarry Runs.
Saltergate Gallows fell race, Sun 21 Oct
From Geoff Howard ... I've no idea where this race gets its name from, but standing on the start line mid Sunday morning in freezing fog it seemed chillingly appropriate. Also on the line was Jon Sage who had painstakingly shown me a map of the course explaining where the (several) potential wrong turns were. He had also told me that after several years of living on Humberside he had finally resigned from Ilkley Harriers. As Jon's membership goes back to the club's early days it is sad but inevitable that he would eventually leave and join another club near to where he now lives. His excellent performances and his cheerful presence are well remembered on Ireland trips and in many relay teams - he would still be happy to turn out if we are short and if the rules of an event permit the inclusion of a guest runner. The race of 8.9 miles and 975' was very varied, superb under foot, fast and sparsely flagged. With poor visiblity that latter factor brought even runners knowledgeable about the route to grief - Jon included who finished in 78 mins. I was fortunate enough to latch onto a series of local runners possessing "mist vision" and finished first v60 in 71 mins. As bottles of whisky were being out given out as prizes, the day brightened spectacularly and the only thoughts of mist were of the highland variety.
WYXC, Sun 14 Oct
Nick Richardson reports ... Judging by the fantastic turnout, I think that most of us, myself included, had forgotten how gruellingly hard these races are, and today's race was no exception. We had 3 full teams out in the men's race, 2 ladies' teams, plenty of juniors running, and great performances all round. Many thanks to the large numbers of Ilkley supporters, who provided plenty of much needed encouragement. Well done to all! Let's try and keep up the high turnout for the remaining 3 races. Results on Complete Runner web site .

1   0:19:32 CURTIS, Lindsay  Scunthorpe
18  0:21:18 JARVIS, Sarah
24  0:21:50 BENNETT, Alison
33  0:22:23 MALIR, Sally
44  0:22:43 SRIVASTAVA, Angela
62  0:24:15 KITCHEN, Diane
64  0:24:28 BELTON, Jan
71  0:25:19 EBERT, Caroline
72  0:25:28 DOHERTY, Bridget
78  0:26:27 GIBBONS, Mary
85  0:27:15 GIBBONS, Bernie
6th team, beating Bingley and Skipton, and a second team beat Otley who were 12th team

1    0:34:21 THOMAS, Jorge P&B
56   0:39:23 RICHARDSON, Nick
60   0:39:36 DAVIDSON, Paul
65   0:39:50 RYDER, Jim
67   0:39:57 ADAMS, Tom
86   0:40:48 WOOD-ROBERTSON, James
100  0:41:30 PICKERING, Malcolm
108  0:41:54 ILLEY, Mark
129  0:43:11 GOOCH, Kevin
130  0:43:13 CUMMINGS, David
131  0:43:15 PHILLIPS, Justin
133  0:43:23 BULL, Timothy
158  0:44:45 SMITH, Clive
173  0:46:29 CHAPMAN, Neil
209  0:51:11 TAYLOR, David
210  0:51:34 SHIELDS, Peter
211  0:51:34 WOOD, Paul
215  0:52:39 BEDWELL, Peter
217  0:53:02 KITCHEN, Andrew
8th team, 4th B team, and one of only 2 clubs to field a C team

Veterans 10M Road Race, Lytham St Annes, Sun 14 Oct
From Dave Matthews ... These Northern Veterans events are well organized and convivial socially, but you have to go prepared for competition little short of gladiatorial. Go complacent in any way and you'll end up an easy 'scalp' - the only one!
Rather paradoxically, not a particularly fast course this at St Annes despite its flat billing. All the more remarkable then such times among the 'Seniors' (sic) as (M75) 79min. (FV70) 92min. and(M65) 65min.
The race was won by Stoke based Robert Deacon 53min 50, Clayton being the first male team, with first lady Preston's Phillipa Walsh (FV 45) in 65 min. and Wesham the first female team.
David Matthews , the only Ilkley runner present, was 21st in 64min.
Bridlington Half, Sun 14 Oct
Jeff Paget reports ... I did the Bridlington Half Marathon which proved to be an undulating (hilly) course. I realized that I had gone off far too fast when I went past 2 miles still in sight of the leaders. Thereafter it was metaphorically, but unfortunately not literally, downhill. From 3 miles I felt terrible and worked my way backwards through the field to finish 58th in 89.52. I was the only Harrier to make the trip so particularly appreciated my wife, Amanda, shouting encouragement at the final "sprint" along the prom and consoling me at the end when I was wondering why I do this to myself.
Kirkby Overblow 10k, Sun 14 Oct
Amanda Parnaby recorded 1:11:27 in this 10.5k trail race.
Wharfedale Schools XC, Sat 13 Oct
Over 500 children ran today. Results on the Junior Pages
FRA Relays, Sat 13 Oct
Results from the SportIdent site.

23 Ilkley Open       Lawrence Basham  01:31:54    Graham Pearce 00:42:16  14    Eddie Winslow   01:18:00  25    Jamie Hutchinson 00:42:52  23
04:15:02             Jim Ryder        29                        7         15    Richard Joel    55       -11                     14         2

49 Ilkley Ladies     Andrea Priestley 01:36:46    Emma Barclay  00:52:52  47    Heather Dawe    01:15:34 46     Alison Eagle     00:51:49  49  
04:37:01             Helen Ilsley     42                        66        -5    Nicky Jaquiery  48        1                      65        -3
2nd ladies team to Dark Peak

And a calculated result:
37? Ilkley Vets      Ian Rowbotham    DNF         Nick Pearce  00:49:30         Morgan Williams 01:17:16        Geoff Howard     00:50:24  
                     John Atkinson                             47               Ian Marshall    53                               52

There's a great photo of the Ilkley men emerging from the clag amongst those posted by a FRA forums contributor here.
From Nick Pearce ... we'll need to piece together the vets performance at the FRA relays, which dies not appear to be included in the sportident results.
Graham and I arrived soon after the leg one runners had set off, to be told that John Atkinson had ruptured his calf on the first climb, so the vets leg A pairing of John and Ian Rowbottom had no option but to retire - I hope you're OK John.
I was allowed to start leg B "in mid field", and we were told that our times would be recorded from that point so individuals would know their leg times, although we would not count in the team placings.
I was set off just after Bev Whitfield of Bingley, and a little before Graham, so around 1hr 31min 40secs into the race. Unsuprisingly Graham zipped past me on the start of the first climb, as did a handful of other runners - I think I should have started a little further back to avoid the ignominy.
I battled with Bev all the way round leg B, most of which was in the clag and included two long steep climbs - up Parlick and a vicious ascent up Paddy's Pole, and in rather an ungentlemanly fashion finished 15 to 30 secs in front of her. She recorded a time of 50.30, so I guess I managed around 50 mins.
That would mean I handed over to our leg C runners Eddie Winslow and Ian Marshall around 2.21.40 into the race. They and Geof Howard on leg D may be able to provide details/times to piece together the whole picture.
Another great performance from our open team and the ladies, just pipped again by Dark Peak. Looking at times, that must have some battle between the ladies on leg A.
Ian Marshall adds ... I was running with Morgan (Eddie did Leg C for the Mens team with Richard Joel in a time of 1:18:00). Morgan and I managed 1:17:16. Geoff followed up with a time around 51:00, I think. We tied for 53rd on Leg C with Helm Hill and I think our overall time would be similar - around 4:30:00 and 37th place but for John's unfortunate injury.
New Feature - Road Records
Marc's all-time club records are now online here.
Ian Hodgson Relays, Sun 7 Oct
From Geoff Howard ... Having been present at this weekend's final English Championship fell race and then at the Ian Hodgson Relay, I want to acknowledge the magnificent efforts of the Ilkley Harriers Ladies teams in these events. Those members who ran in these and in previous ladies teams over the past four years have set incredibly high standards both for themselves and for others (six ran in both events this weekend and their Hodgson time was the third fastest in the event's 22 year history). That the welcoming announcement on Sunday could say "All the top fell clubs are here today: Borrowdale, Bingley, Ilkley ,,,," is entirely down to their achievements.
Results from www.sportident.co.uk tell the story ...

                                            
17 Ilkley H O       Graham Pearce    01:03:35    Lawrence Basham 01:07:24 12        Daniel Goodey  00:41:37 12    James Ryder        01:25:39 04:18:15
                    James Hutchinson 13          David Wilby     14       1         Iain Gibbons   16       0     Paul Davidson      26       -5

29 Ilkley H V       Ian Marshall     01:17:40    Geoffrey Howard 01:12:39 32        Sally Malir    00:46:39 30    Nick Pearce        01:27:35 04:44:33
                    Morgan Williams  41          Roy Ruddle      27       9         Marc Teasey    32       2     Malcolm Pickering  30       1

30 Dark Peak F.R. L Kirsty B-Jones   01:16:41    Debbie Smith    01:24:07 43        Judith Jepson  00:42:41 39    Janet McIver       01:22:29 04:45:58
                    Lynn Bland       36          Julia Nolan     48       -7        Julie Wilson   22       4     Karen Davidson     21       9

31 Ilkley H L       Alison Eagle     01:16:39    Emma Barclay    01:16:03 34        Alison Weston  00:47:42 33    Helen Ilsley       01:25:47 04:46:11
                    Heather Dave     35          Nicky Jaquiery  34        1        Holly Williamson 35     1     Andrea Priestley   27       2

Harewood 10M Trail, Sun 7 Oct
From Nick Richardson ... only a handful of Harriers out for this one ...ot really surprising given that Ian Hodgson and Selby Half Marathon were on the same day. Conditions were great. Dry underfoot and sunshine breaking through the morning mist. A lovely trail course with something for everyone. Results were as follows:

1   Darran Bilton Leeds City  52.12 (new course record)
16  Nick Richardson           63.09
38  Adrian Hall               69.03
212 Val Kerr                  85.04
221 Diane Kitchen             85.31
314 Bernadette Gibbons        92.25
382 Adele Mitchell            99.30
451 Amanda Parnaby           111.15
469 finished

There were also a number of notable performances in the junior race. Results on Valley Striders website
Selby Half Marathon, Sun 7 Oct
Dave Matthews reports ... This half marathon which replaced a widely regarded marathon event, is a favourite with club runners due to its quiet, flat two lap course. In near perfect conditions Jon Sinclair was up with the 'sharp end' from the start and held on for 14th place in 79 min. (1st MV45) Although a minute down on his previous week's GNR run exellent in view of the intervening lack of recovery time.
Terry Lonergan began steadily then pushed relentlessly through the field to finish in 89min. clearly enjoying this strategy and finishing high in an astonishingly fast MV55 section.
David Matthews managed 27th position (!st , Bus pass category - Entry Level ) in 83 min.
The race was won by Ian Fisher, Otley also taking the mens team prize.

14  Jonathon Sinclair  1:19:25 
27  David Mathews      1:23:12 
65  Terry LonerGan     1:29:59 

Burnley Fire Station 7, Sun 7 Oct
Elizabeth McCann did this road race, which involved quite a few hill climbs, and was 2nd LV35 in 48.56 (5th lady overall)
Bronte Way, Sun 7 Oct
Laurie Prowse was 117th in 90.42
Great Whernside, Sat 6 Oct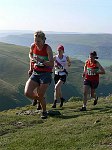 From Geoff Howard ..., results from the final 2007 English Championship fell race

Ladies:
15 Helen Ilsley    39.53
17 Emma Barclay    40.10
22 Alison Eagle    41.22
23 Heather Dawe    41.28
29 Nicky Jaquery   43.00
30 Alison Weston   43.24
34 Pange Srivastra 44.30
40 Alison Bennett  45.16
47 Jo Foster       46.28
54 Rachael Gooch   47.51
72 runners
2nd team

Men:
26 Graham Pearce   33.20
59 Ralph Tench     37.00
82 Geoff Howard    38.53
89 Kevin Gooch     39.35
174 runners