HRL #4, Thirsk, Thu 29 June
25 Harriers made it to Thirsk for a golden evening of racing. There was a ding-dong battle between Sarah Jarvis and Alison Bennett for first lady, and good results from Lawrence Basham, Jamie Hutchinson, and Bob Hamilton (on the roads!), amongst others. But we were outperformed in the main team competition by other clubs trying harder, so we really do need more people running at Esholt next week, Thursday 6th July.

14	29.36	LAWRENCE BASHAM
15	29.41	JAMIE HUTCHINSON
35	31.18	BOB HAMILTON
40	31.39	NEIL CHAPMAN
42	32.01	JOHN ATKINSON
46	32.15	SARAH JARVIS
47	32.17	ALISON BENNETT
51	32.43	JEFF PAGET
55	33.02	MARC TEASEY
65	33.45	PHIL CHAPPELL
71	34.15	DAN ROEBUCK
80	35.08	KEITH WOOD
83	35.23	ELIZABETH MCCANN
92	36.00	SIMON CHAPMAN
101	36.53	CATHERINE GIBBONS
124	38.56	JEMMA BASHAM
128	39.18	LOUISE CARTLEDGE
136	40.04	BARBARA BULLOCK
141	40.37	VINCE GIBBONS
150	42.09	BERNIE GIBBONS
164	44.12	EMMA PAYNE
167	45.08	RICHARD MIDGLEY
177	48.30	ROS LEACH
181	52.23	BRIAN SWEET
132	39.50	ANTONIO CARDINALE

Full results and photos on the HRL site.
Beamsley Beacon Fell Race, Wed 28 June
From Bob Hamilton Mark Horrocks retained the trophy he won last year, and very convincingly. Shane Green, a previous winner, had a terrific run to finish 3rd, as did Lawrence Basham in 7th place, using his local knowledge to very good effect. Pange won first lady for the second time in five days. Despite the fact that the race has been run over this course for some ten years, and despite the notice about route choice, very few people seemed to have done their homework! It would only be fair to point out that my first victory over Ian this year was a direct result of the younger man deciding to make his own way up and follow the flags down, completely opposite to the received wisdom! But a win's a win! In case anyone is wondering, I made a promise that I would retain my allegiance to Wharfedale for BOFRA races. I haven't deserted the club again!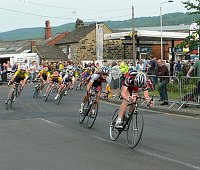 For full results click here.
Anyone who's done it will agree with Bob that this is a super local race, and maybe a Harriers Running League candidate next year. Some of us are feeling pangs of guilt for deserting on the night to go and watch the fabulous Otley town centre cycle races, where Graham Pearce and Jason Hemsley shaved their legs, oiled their bikes, jetisonned the red and green for the red and black of Ed Battye's team Crosstrax, and did battle with the best local cyclists. And at one stage Graham led the pack past the cheering spectators (photo)!
Track success, Tue 27 June
FRom Pete Shields ... On a cold Manchester evening when the cream of the country's track and field athletes competed at Longford Stadium in front of a large crowd our Alison Bennett competed in the open 800mtrs. This was Alisons first track event and only her third time running on an all weather surface, combine this with the youthful internationals she was up against the whole occasion was quite daunting for her and the support crew of husband Andrew and Pete Shields. However, Alison took it all in her stride, taking the inside lane at the start she kept in the middle of the leading group right through the bell and up to the final bend, when the final kick took place, having given her all and a bit more, she could not counter the faster sprinters but still finished strongly in a great time of 2mins 29.71 secs. This was a great learning curve for Alison, she is keen to do more, which she has already started preparing for, well done!
Helm Hill, Sun 25 June
From Iain Gibbons Helm Hill Races (BOFRA Championship) About a 4mile race with a run up Helm Hill and out to a trig point, up and down a hill bunch of times (where a few few of us got the wrong 'up' + had to double back) and then back again. A good fast race which was won by Helm Hill Runners - Alastair Dunn in just under 23mins, I was 8th in around 26mins.
Britain Conquers Mont Blanc, Sun 25 June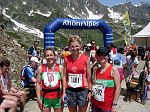 From our European Correspondent ... All the stars of the world mountain running scene were there in force, but it was the UK who ruled the slopes of the highest mountain in Western Europe.
Sunday 25th June 2006, saw temperatures soaring early in the morning. At 7am the 639 competitors gathered in the main square in Chamonix, France, in the shadows of Mont-Blanc for the full Marathon. The tough event of over 42km on high altitude mountain trails, climbing 2240m, with 1190m of descent.
Included in the line up were competitors from the four corners of the globe, including Ilkley. Endurance Athlete, Alison Weston decided to use the Marathon du Mont-Blanc as a warm down from her successful attempt of one of the UK's toughest challenges, the Bob Graham Round. True to form Alison gave a truly magnificent performance finishing in 260th overall in a fantastic time of 5hrs and 32mins, which sealed her in the top 40% of the field, and 12th Lady Vet.
As Alison crossed the line after the gruelling up hill finish at a height of 2070m she commented on the spectacular scenery throughout the race and said "…I wish I had my camera!"
The overall winner of the Marathon, was UK's Nick Sharp in a time of 3hrs & 35mins.
Meanwhile, back in the town, the Cross du Mont-Blanc was preparing to commence at 9:30am. The crowds lined the streets to witness a spectacle of colour as the starter fired his pistol to set the 891 competitors off on the 22km route including 1300m of ascent and 260m of descent. The Cross would use similar trails to the full Marathon, both ending at the ski resort, high above Chamonix, making it ideal for the spectator.
Ilkley were represented in the Cross du Mont-Blanc by fell running stalwarts Alison Eagle & Emma Barclay. Both used their European mountain running experience to good use, with Emma Barclay finishing 100th overall in a time of 2hrs & 23mins resulting as 6th Lady in a field of 190 Ladies. Alison Eagle finished 200th overall in a time of 2hrs & 37mins fulfilling a podium position of 3rd Lady Vet.
Again, the overall winner of the Cross, was another Briton, Lloyd Taggart in a record breaking time of 1hr & 47mins.
Many of the runners promised to return next year, to sample more of the fantastic atmosphere in a very special place.
Humber Bridge Half Marathon, Sun 25 June
Graham Corbett reports ... Just a note to report that I did the above race in the recorded time of 1h49:53; Alistair Bateman did it in a recorded time of 1.40.06
Eldwick & District Gala fell race, Sat 24 June
From Bob Hamilton ...This once low key gala race gets more popular every year, and for good reason, because it makes for a great afternoon out - especially if you have young kids in tow. It's long been a favourite of mine, despite the frenetic downhill start on the road. Many of the usual culprits were out, with Pange (2nd lady - not counting the amazing 12 year old girl who almost beat Jason!) and yours truly (1st V50) picking up some rather good prizes.
1 Richard Pattinson, 17.54; 7 Graham Pearce, 18.34; 11 Ben Stevens, 19.21; 12 Jason Hemsley, 19.23; 18 Ian Rowbotham, 19.46; 19 Richard Joel, 19.48; 28 Bob Hamilton, 20.37; 47 Geoff Howard, 22.34; 49 Angela Srivastava, 22.54; 51 Morgan Williams, 22.56.
Saturday runs
From Jemma ... with all the recent races training has been a bit hit and miss but we're back to it this Saturday at 9am – hope to see you down at the swimming pool car park? Keith you'll need two breakaways for breakfast, especially if you've already done Pete's session before you turn up
And, of course, there's the faster-paced "Beamsley Bash" group at 10am from the Lido (do these 2 groups ever meet, head-on, on the road??)
Burnsall to Ilkley Run Tuesday 20 June
Fancy a change from usual Tuesday night training? Join us on the bus to Burnsall leaving Ilkley at 1820 and Addingham at 1827, arriving Burnsall at 1844. Steady run (9 min mile pace) back to Ilkley. There will be at least one car at Addingham if you want to shorten your run. Bring your bus fare. More details from Bernie Gibbons.
Lowe Alpine MM 17–18 June
Ian Marshall reports ... The Lowe Alpine Mountain Marathon was run in the most northerly location in its 13 year history in the spectacular Scottish Highlands of Sutherland around (and over the top of) Ben More Assynt, with an overnight camp at the head of an isolated sea loch in Glen Coul.
Ian and Joyce Marshall collected a prize for 2nd Mixed team in the B class, with 16th overall in 13:03:33 over the 2 days. Bob Wightman and partner from Lothersdale were 30th in the A class in 15:33:02. Rachael and Kevin Gooch were 53rd in the C class and 3rd Mixed Vets in 14:51:52. Heather Dawe and partner managed 12th place in the tough Elite class on Day 1 in 9:46:34, but the tricky navigation in mist beat them on Day 2. Phil Jones and Dan Goodey were 50th in the A class in 19:08:53
Bob Wightman adds ... Five Harriers took the crooked road to the far north for this year's Lowe Alpine Mountain Marathon (LAMM) - yes I know it is for teams of two but I was forced into co-opting a partner from a rival club. The event was based at Inchnadamph (prizes for being able to pronounce it correctly - I've no idea!) about 30 miles north of Ullapool. The weather was breezy, windy on the tops, with a cloudbase at around 300m which made for "interesting" conditions underfoot, especially on the quartzite rock which has a friction rating lower than a slippery thing on a slippery slope covered in grease.
Teams were bussed to the start where checkpoint locations were handed out and we could mark up the maps. (Tip - keep the map dry as the marker pens don't work on wet laminate!). Then the fun started. The going in the glens could best be described as poor to boggy when amongst the peat hags and heathery otherwise, oh, and you could be up to your thighs in one of the river crossings. The navigation wasn't too difficult except for one or two checkpoints - boulder in a scree slope anyone? The northern part of the course consisted of peat hags, lochans and heather before a final very steep descent to the finish.
The midway camp was by a sea loch with Britain's highest waterfall as backdrop. A fresh breeze kept the midges at bay and we were woken at 0515 by a piper.
Day two was more of the same - peat hags and heather. Good work on the navigation part meant that we actually kept up with a team who were 20 places above us - or it could have been they made mistakes. Only one checkpoint out of the eight was awkward and we were soon facing our last peat hags and the last mountain control before a fast descent to a track and the finish.
Did I mention the peat hags?
Rachael and Kevin Gooch came 53rd in the C class (138 teams). - 23.6Km, 1130m & 20.4Km, 1080m in a time of 14:51:52 Joyce and Ian Marshall came 16th (second mixed team)in the B class (90 teams) 27.6Km, 1340m & 22.1Km, 1170m in a time of 13:03_33 Bob Wightman and Steve Brock (Keighley and Craven (Boo! Hiss!)) came 30th in the A class (61 teams) - 30.2Km, 1700m & 26.5Km, 1190m in a time of 15:33:02
Hagtastic!!
All that was left was the long drive to the crooked south.
Amanda Oddie is British 5K F35 Masters Champion!
Terry Lonergan reports ... After a mile of this town centre 3 lap championship race held at Horwich, Lancashire, it appeared that Amanda Oddie was out of the hunt for the medals. Significant gaps had already been created by half a dozen women at this early stage. She sped by pointing at her foot. I thought at first that her fragile ankle had given way but she then shouted that she had had a "laces problem"! Undeterred she charged on after her rivals including Sue Becconsall who had been in front of her in all of the Esholt 5k races. She caught and passed them, one by one, until with 400 metres to go only one stood between her and the top place on the podium. Fiona Matheson of Falkirk Victoria Harriers. Amanda reeled her in; forging her way through slower finishing men. The two women were accredited with the same time but the Scottish lady was judged to have just held on to first place. Putting good manners aside I asked her how old she was. "I'm a F45", she said. This meant that Amanda would take the F35 British championship gold medal. Her time of 17.47 was an improvement of 23 seconds on her best Esholt time.
Freckleton Half, Sun 18 June
Pete Bedwell makes a quick report from the 42d running of the Freckleton Half .... One of my all time favourites, lovely rural, slightly undulating route, plenty of water stations with sponges as well, enthusiastic marshalls, plenty of local support and a race commentator welcoming in virtually every finisher by name makes this great race.
A much cooler afternoon with a bit of rain meant much better running conditions and despite racing the day before I managed 1.51.05, well pleased with my time over a minute faster than last year, even managed a sprint finish to overtake a couple of runners I'd been slowly overhauling for the last mile or so. Not good enough to catch Colin Lugton though, on his first half for nearly 20 months finished in a very impressive 1.49.20
Already in the diary for next year
Kettlewell Fell Race, Sun 18 June
Iain Gibbons reports on ... Kettlewell Fell Race (BOFRA Championship)
I recently made the mistake of telling my family that I intended racing at Kettlewell after running the first leg of the Millenium Way Relay. So on my return from the morning's outing I found half the family parked outside my house ready for a jaunt up to the dales to 'see this Fell Running lark'! (that'll teach me to let bravado get in the way of common sense)
The race is pretty much an out + back, setting off across the river in the bottom of Kettlewell with a steep climb over grass land and scree with a series of plateaus (which caused a few nasty injuries) with a quick return and back across the river.
I came in 15th in just over 16mins not sure of winner but I think it was Ted Mason.
Bradford Millenium Way Relay, Sun 18 June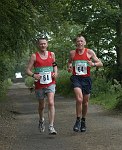 We have some pictures here of the earlier teams (all clubs, including New Zealand? and Holland?) part-way through Leg 4 - Bob and John were about 10th, with Pete and Neil not far down, and Sarah and Alison 2nd ladies team behind Bingley and just ahead of Horsforth.
Some more photos, from Neil Stevens, here.
Provisional results are on the BMW web site:

Team 1 - number 48 - 8th in 6h21:21, which is a club record by about 30 mins
Leg 1 - Iain Gibbons + Dave Jepson
Leg 2 - Eddie Winslow + Lawrence Basham
Leg 3 - Mark Iley + Jim Ryder
Leg 4 - Bob Hamilton + John Atkinson
Leg 5 - Steve Turland + Ben Stevens

Team 2 - number 64 - 17th in 6h55:55
Leg 1 - Phil Atkinson + John Smith
Leg 2 - Marc Teasey + Jeff Paget
Leg 3 - John Coates + Phil Chappell
Leg 4 - Pete Shields + Neil Chapman
Leg 5 - Nige Tapper + Keith Wood

Ladies - number 49 - 2nd to Bingley by 3m:28 - 21st overall in 7h17:29
Leg 1 - Janet Grace + Jan Belton
Leg 2 - Jemma Basham + Debbie Rosen 
Leg 3 - Angela Srivastava + Jo Foster  (ladies record)
Leg 4 - Sarah "Jelly Baby" Jarvis + Alison Bennett
Leg 5 - Alison Eagle + Alison Weston

Lawrence Basham recaps ... Starting the race at Beckfoot, Bingley for the Mens A team was Iain Gibbons and Dave Jepson. Carrying a rucksack full of maps!!, this partnership ended the leg in a time of 1hr29 mins 12 secs (16th place overall) - a solid effort considering Dave stepped in at the last minute and they had not reccied the leg. For the B team Leg 1 stalwarts Phil Atkinson and John Smith passed the baton just ahead of the A team in 15th place, in a time of 1hr28mins26 secs, rolling back the years to improve their own pbs by over 4 mins.
Setting off with red and green vests 1 place in front, Eddie and I ran hard to overtake Marc Teasey and Jeff Paget and managed to overhaul 3 other teams, lifting us to 12th position overall in a new Harriers best time of 1hr19mins33secs. Jeff and Marc kept us in sight, holding the teams 15th place in 1hr22mins26secs.
Returning from injury Jim Ryder ran Leg 3 with Mark Iley, the pair continued the teams climb up the leaderboard in a fast Harriers record time of 1hr2mins39 seconds. Up to 11th place overall. For Ilkley B Phil Chappel and John Coates powered past 2 more teams in 1hr10mins46secs finishing the leg at Silsden in 13th team overall.
Leg 4 included 'home territory' through Addingham and along Ilkley Moor, John Atkinson and Bob Hamilton set another Harriers record of 1hr13mins6secs , the training partners put the A team into 10th place at the handover onto the last leg. Pete Shields and Neil Chapman knocked over 6 mins from their 2005 time but were unable to stop 1 team passing them finishing in 14th team overall for Ilkley B.
Without a doubt the mens 'run of the day' was Leg 5 for the A team, leaving Ilkley Moor and returning to Bingley, the 11miles+ leg was hammered by Steve Turland and Ben Stevens, smashing the previous Harriers best and 3rd fastest team on leg 5. Steve and Ben reeled in 2 more teams, in 1hr16mins51secs - 8th team. For the B team - racing 'machine' Keith Wood and Nigel Tapper left Ilkley in 14th place, Nigel had an altercation with a fallen tree! and the pair lost 3 places - but a respectable time of 1hr35mins6secs. 17th team.
Well done and thanks to all runners in particular Dave Jepson, John Coates and Eddie Winslow who stepped in at the last minute.
Some of us met in Bar Tat on Sunday evening, Nigel appeared to be leading the drinking competition although Jemma managed 2 pints of water and a cup of tea!
And for the ladies, Jemm Basham adds ... I'd just like to draw attention to the fact that the ladies team for the Bradford Millenium Way broke the club record last Sunday at 7 hours 17 minutes 29!!!!!!!!!!! Debbie Rosen and I have been hyper all week as a result of that race – we absolutely loved it and did a modest 1 hour 37 for leg two which we were really pleased with (especially given when we practiced it we were chased by three dogs and a horse and finished it in over three hours). Sarah did a great job of organizing us all and thanks to those who stood in (or offered to) at the eleventh hour, we should all be really pleased with ourselves. Do you think it justifies another drinks night at Bar Tat?? Roll on the next relay!
The power of jelly babies ... I wondered what Sarah was up to as she stopped and came back for a jelly baby proferred ny a Horsforth supporter, part way through leg 4 and 6 mimutes down on Bingley Ladies. But it did the trick, as Sarah and Alison B powered past the Bingley lasses on the big climb to Wingate Nick! Paul
Buckden Pike, Sat 17 June
Bob Hamilton reports ... A very small contingent of harriers competed at the 25th running of the classic Buckden Pike Fell Race, which so often seems to fall on hot and muggy days. The stifling conditions seemed to slow most people up with the exception of Rob Jebb, who finished in a ridiculous 33:25. Ian Rowbotham wasn't slowed up too much either and any hope I had of a club contest went out of the window once he passed me on the climb. Alison Eagle was the only harrier to get amongst the prizes.
14th Ian Rowbotham, 40.22; 31st Bob Hamilton, 43.18; 45th Morgan Williams, 46.02 (PB 10s); 46th Alison Eagle, 46.08; 55th Pete Shields, 47.21
(Harriers Running League on the League Page - Pete is still top banana.)
Wheldrake 10k, Sat 17 June
From Pete Bedwell another hot day at the Wheldrake 10k although thankfully a few degrees cooler than last week's Thirsk. Still warm enough to bring me in in 47.06, happy enough with my 4th fastest 10K ever. Lawrence Basham had another stormer finishing 6th just a few seconds off a PB in 36.56 (I think) and Jemma also had a great run in the hot conditions to also finish a few seconds off her PB in 48.54. Even more impressive when you realise both Lawrence and Jemma had run in the Thirsk 10 mile on Sunday and the Otley 10 mile on Wednesday , as I did also.
Wheldrake remains my favourite 10K, well organised, good marshalls, fast rural route and a classy marble momento, will be back next year, maybe this time without too many races beforehand for another assault on my PB.
Gran Fondo bike race
From Graham Pearce ... Jason Hemsley, Dale Foster (of Otley AC), Gareth Patchett (of Spenborough AC) and I went out to Italy to compete in the 212km Gran Fondo bike race. The race passes over Castello Tesino (at 871 metres high), two "hors categorie" climbs – Passo de Manghen (at 2,047 metres high) and Passo de Rolle (at 1,970 metres high) both around 20kms long and the massive-by-English-standards-but-hardly-worth-a-mention-when-you're-talking-dolomites Croce D'Aune at 1,015 metres. In all we reckon about 4,000 metres of climbing was scaled.
An absolutely baking hot day and 1,500 competitors gave a fantastic carnival atmosphere to the experience. Rubbing shoulders with the real pros of the sport is fantastic and the chance to compete against the best (you'll notice the winner was 3rd in the 2002 Tour de France) is an opportunity us amateurs should not miss. Earlier in the week we had already climbed the Manghen so knew what was in store for us. Half way up I got a blow-out which ripped through my tyre and had to bribe a local to give me a new one; which gifted Jason the early lead in the now-regular weekly Pearce/Hemsley duel. However Jason paid the price for his early form by riding by himself along the long flat section, which gave me the chance to catch back up as I was in a group. As is customary for us we started the final climb neck and neck, playing mind games and trying to psyche one another out…never mind the other 1,498 competitors!
Final results were:

Pos     Cognome Nome    Pett    Sesso   Società Anno    Cat     PosCat  Netto Ufficiale Netto Reale     Medio   Intermedio     
1       RUMSAS  RAIMONDAS       M       		1972    MG      1       5:59:41.35      5:59:31.40      35.71   1:50:27.65     
387     PEARCE  GRAHAM  743     M               1980    A       47      8:07:03.90      8:03:34.85      26.55   2:07:22.65     
408     HEMSLEY JASON   692     M               1968    C       125     8:10:35.15      8:07:04.00      26.36   2:15:50.75     
844     FOSTER  DALE    744     M               1970    B       176     9:11:56.40      9:08:22.60      23.41   2:31:06.50     

(yes, Jason needs to work on his descending skills).
3 Peaks Challenge, 13/14 June
From John Smith ... four Harriers were involved with a national three peaks challenge on 13/14 June. Dan Goodey and Phil Jones were outdoor instructors, Emma Payne provided logistical support and John Smith was a participant. Nine teams of six led by an instructor aimed to tackle the highest mountains in Scotland (Ben Nevis 1344m), England (Scafell Pike 978m) and Wales (Snowdon 1085m) within 24 hours.
Dan and I were part of a very strong Leeds Met "A" Team who treated the challenge as a running event. The team included Ieuan Ellis, a former Wales and Great Britain international distance runner and three times winner of the Leeds Marathon; awesome uphill, and fast on the flat, Ieuan literally towed along those team members who were flagging. With that sort of support we were comfortably within the "challenge" time of 24 hours and were the first team back with 7h58 of running and 11h05 of travelling.
The Three Peaks Challenge represents a partnership between Leeds Met Carnegie and The Rugby Football League (RFL) with the aim of raising at least £10,000 towards the RFL Benevolent fund. Website link: www.leedsmet.ac.uk/3peaks
Otley 10, Wed 14 June
From Pete Bedwell ... Just a quick note about the Otley 10, the much cooler weather conditions made this a lot easier race, apart from the hills of course. Set off steady with Jemma Basham who eased ahead of me on the first hill but I managed to get gravity on my side and overtook her on the downhill section and managed to maintain my lead finishing in 1.22.48, 30 seconds faster than last year so happy with that. Jemma came in in 1.25 and Lawrence as usual was well to the front in 61 minutes. A lot of harriers out for this league counter no doubt the league placings will be changing a bit,

1   Ian Fisher Otley  52:57
9   Shane Green (P&B)59:03 
16  Lawrence Basham  61:35
17  Jamie Hutchinson 62:08
24  Steve Turland 63:16
30  Richard Joel 64:12
32  Mark Iley 64:50
38  John Atkinson 65:30
48  Dave Jepson 66:28
55  Geoff Howard  67:42 1st V60
59  Sarah Jarvis 68:16 5th lady
84  Alison Bennett 71:14 2nd LV40
85  Marc Teasey 71:22
100 Pete Shields 73:24
110 Nigel Tapper 74:06
112 John Woodward 74:11
120 Keith Wood 74:31
123 Charles Oxtoby 74:43
138 Anthony Swanepoel 76:59
165 David Wulshott 80:07 ?
167 Nick Mellor 80:23
170 Sue Bickerdike 81:02
175 John Coates 81:22
187 Pete Bedwell 82:50
194 Jemma Basham 84:57
199 Vince Gibbons 85:14
204 Colin Lugton 86:04
223 Bernie Gibbons 87:51 2nd LV50
224 Adele Errington 87:51
226 Ian Hargreaves 88:01
292 Amanda Parnaby 101:33
296 Ros Leach 103:53


Full results on www.otleyac.co.uk.
That man Pete Shields still tops the Harriers Running League after 7 races. Well done, Pete! See the full tables on the League Page.
Badgerstone Relays, Wed 14 June
Lots of Harriers teams running, lots of midges, Morgan set a PB, Paul a PW, Ilkley teams were 6th, 8th, 9th, 12th, 15th, 18th, and 22nd, with Malcolm guesting on 7th team.
Full results

here
ROM May 2006
The Ilkley Harriers Runner of the Month for May is Alison Weston - more.
Edinburgh Marathon, Sun 11 June
From Fiona Schneider ... Jonathan Sinclair a magnificent 45th (out of over 4000 runners) and 2nd V45 in 2:57:28; Andy Wilson 909th 3:47:33 after suffering hamstring problems Fiona Schneider 2442th 4:31:38 PB inspite of the heat.
Many thanks to Pete's Thursday Boot camp training
Harewood Chase, Sun 11 June
Jeff Paget reports ... A very hot morning in the beautiful grounds of Harewood House saw a small but exclusive turn out of 4 harriers for the separate men's and women's trail races. The course was undulating and hard work in the heat, but this did not deter Sarah Jarvis who finished second in the ladies race in a time of 39:34. She was followed home by Elaine Cussins in 20th place in a time if 50:49. 85 runners completed the race.
In the men's race with 93 finishers I came in 11th (1st vet 50) in 40:14 and Marc Teasey was 19th (2nd vet 35) in 42:18.
Thirsk 10, Sun 11 June
From Lawrence Basham ...Thirsk 10 mile - Temperatures pushing 30 degrees reduced this race to matter of pure survival! Runners were dropping out by mile 2 and some were seen being carried through the last mile!!
Pete Bedwell had the day's best run finishing in around 82 mins and beating his previous course best. He puts this impressive performance down to "being an old git, so not affected by the sun"??
Jemma struggled with the heat and died after mile 4, big thanks to Terry Lonergan who provided her with water and support over parts of the course, she would probably be still out there, shriveled up in a ditch, without his help!!
I finished 19th in 64.56, went ok for a couple of miles, then struggled for 8!!
Rain on Wednesday night please!!
Pete Bedwell adds .. 28C + temperatures with very little shade and vitually no wind made this one a lesson in survival. Just glad it was a fairly flat course with only a few gentle undulations, even though even these slowed me down considerably.
Haven't seen the official results yet but Lawrence Basham had a stormer, coming in the top 20 even though his time was 6 minutes off his best from the Snake Lane earlier in the year, reflecting the tough conditions. Jemma Basham started off with me but was badly affected by the heat and did well to finish in 1.30.56 (?), one of my running mates from the Valley Striders actually pulled out and got the minibus back for the last 6 miles, and that's only 3 weeks after running the White Peaks marathon so it was pretty hard out there...well it was to me anyway.
I was more than happy with my 1.21.58, again 4 minutes off my PB from the Snake lane, but still half a minute faster than my Thirsk time from 2004 and actually my second fastest ever 10 miler. A big part of that is down to Terry Lonergan who ran round virtually the whole race with me, giving me great encouragement and advice and probably knocked 3-4 minutes off the time i would have ran. I never did manage to catch that lady in the blue top Terry, but I did manage to summon a sprint finish to beat the guy who re-overtook me in the last half mile. You definitely got me past at least a dozen or so runners in the second half of the race I would normally never have caught (well it felt like that to me anyway even if it might have been only one or two) I promise I will get some proper training in for the next FLM to see if I can get a time to reflect my half marathon times.
Think I drank about 2 litres of water after the race, and the young girl with the cold water hose in the finish funnel was very welcome.

19  Lawrence Basham 64:56
127 Pete Bedwell    82:00
183 John Coates     88:05
200 Jemma Basham    90:33 

Ilkley Fun Run, Sun 11 June
Ilkley and Junior Ilkley Harriers results from www.ilkley.org included:

11 Catherine Gibbons 22.11 2nd lady
12 Jenny Dybeck 22.13
44 Bradley Chapman 26.26
74 Adam Bennett 28.54
96 Odin Hargreaves 31.03
102 Brian Sweet 31.31
103 Raj Madhas 31.41
115 Rachel Websdale 33.56
152 Lily Kitchen 37.55
160 Dennis Ackroyd 39.35
182 Logan Hargreaves 42.41
183 Lynda Hargreaves 42.45

In the 8k Middleton Trail Race, Emma Barclay was first lady, Amanda Oddie was 2nd lady, Alison Bennett 3rd lady. Di Kitchen won a prize for 1st LV45.

1  40:26 Oliphant Crawford P&B
6  44:34 Emma Barclay
7  45:01 Amanda Oddie
10 47:18 Malcom Pickering
12 47:30 David Brown
13 48:19 Alison Bennett
25 54:30 Eleanor Kitchen, Bingley
27 54:59 Bryan Websdale
35 57:36 Colin Lugton
36 57:51 Diane Kitchen
37 57:52 Jason Oddie
38 58:25 Vincent Gibbons
40 59:20 Rebecca Malby
43 59:36 Jason Thomlinson
50 63:03 Antonio Cardinale, Otley



Swaledale Marathon, Sat 10 June
Howard Allen reports ... It's been a long time since I reported in a race result but I can report that on Saturday I completed the Swaledale Marathon (24 miles and 3,500 feet of climbing) in searing heat in 6 hours 20 minutes.
Great to be back!!
Ennerdale, Sat 10 June
AL 23m/7500' this English Champs counter was run on a baking hot day. Nicky Jaquiery was there, picking up 18 Championship points.
Nicky Jaquiery adds ... There were 5 of us at Ennerdale. Kevin and Rachael Gooch ran, but didn't finish. Eddie was also there and suffering like me with the heat (& very strong winds). I'm not sure of Eddie's result as the official results haven't been released yet, but I think he was about 5 mins ahead of me. I finished in 5h37m and Ken finished in 6h37m. He was suffering badly with cramps again, but had the honour of running with Jos Naylor until Jos left him behind on the last hill! A classic Lakeland race, but extremely tough in the heat. Thanks to Jo, Alison W, Roy and Emma P for their much needed support.

123 Eddie Winslow  5h33:50
128 Nicky Jaquiery 5h37:05
207 Ken Jaquiery  6h37:52

Phil Chappell confesses all ... I managed to keep my performance at Ennerdale out of the reports (I retired with Rachael at Blackbeck Tarn) - we took a bad line and overshot a checkpoint by 10 mins - by the time we went back to it we had been timed-out and had to retire. We both could have done perhaps another hour in the heat but probabaly would have suffered badly if we'd done the whole thing. We both got back with assorted shepherds and rescue dog trainers - all very intimate lots of runners and dogs jostling for space in the back of rural 4x4's. Nearly 3 hours on the mountains in that heat represented a moderately satisfying run and I was pleased with the way my newly purchased Camelbak performed. I put it all down a good recce for next year. What still slows me down is my camel-front but I'm working on it!
Full Bronte, Thu 8 June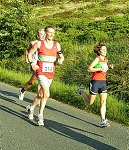 Neil Chapman reports ... There were seven Harriers out for this 5 mile road race, which also incorporates the Yorkshire Vets 5 mile championship, on an extremely hot evening, which saw a number of runners pull out of the race.
The top performance came from Amanda Oddie, continuing her run of good results, who was 2nd lady 30th overall in 31.52. I was next to finish 44th in 33.28 with Sarah Jarvis completing her second race in 3 days 48th in 33.37 and 5th lady. Marc Teasey also completing his second race in 3 days continues to improve, coming back from injury, running 62nd in 34.53. Harriers Running League leader Pete Shields, who was running his third race in 3 days, was next to finish 79th in 36.05, ahead of Keith Wood 84th 36.40 and John Coates. Keith Wood was running incognito, as he had run out of Harriers vests, completing his third race in 3 days and fourth race in 6 days, one of which was a marathon.
Full results on the K&C site
Terry Lonergan's "view from outside the pub" ... It was a hot one, like seven inches from the midday sun, they heard the whisper and the words melted everyone but they stayed so cool! (Apologies to Santana fans!) Actually they didn't stay so cool. OK, it wasn't an afternoon race but it was hot enough for Amanda Oddie to have said, "sorry, I don't need a third Yorkshire Vets title" (she had already won the 10k and 5k titles) but she didn't being made of sterner stuff! She was first F35 again, 2nd lady in 30th place of the 149 runners (31.52 ). Nor did the temperature deter Neil Chapman 44th. in 33.28 with Sarah Jarvis (5th. Lady) in his slipstream in 33.37 (48th). Marc Teasey ran solidly for 62nd place in 34.57 continuing a return to his Abbey Dash form. All, except Amanda, no doubt feeling the effects of the Richmond run on Tuesday . Just two more swigs on my lager then Pete Shields 36.05 and Keith Wood 36.40 breezed by to complete their third race in three days having run in the Harrogate League and the Chevin Fell race! Mad dogs and Ilkley Harriers go out in the evening sun and all that!
The times reflect the Full Bronte 5 course which clings to the side of Penistone Hill. Stewart McDonald of Bingley Harriers led the men in (27.20) with Amy Green of the host club Keighley and Craven 1st. lady in 30.59
So if you don't like steep hills and sharp descents this is one to avoid. However if you like a short drive to a race on a beautiful summer evening with a glass or two of your favourite beverage afterwards add this to your race calendar particularly if you qualify for the Yorkshire Vets. championships. That's all folks, it's my round.
Otley Chevin fell race, Wed 7 June
Bob Wightman's pictures here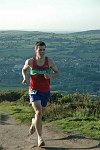 Results from Skyrac's web site are:

1 Jonathan Hare (Halifax) 18.10
5 Shane Green V40 (P&B) 19.05
6 Graham Pearce 19.07
11 Jason Hemsley (P&B) 19.43
13 Lawrence Basham 19.51
17 Jamie Hutchinson  20.10
21 Ben Stevens  20.24
25 Steve Turland 20.46
26 Robert Hamilton V50 20.49
27 Richard Joel 21.00
30 Mark Iley V40 21.17
38 John Atkinson V40 21.49
42 Emma Barclay  21.58 1st lady
44 Ian Marshall V40 22.08
53 Geoff Howard 1st V60 23.01
61 Angela Srivastava 23.42
63 Peter Shields V50 23.52
72 Graham Stead V40 (Otley) 24.40
73 Alison Weston V40 24.42
84 Keith Wood V40 25.34
93 Victoria Stevens 26.14
102 Sue Bickerdike 27.20
108 Peter Bedwell V40 28.00
109 Chris Brown V50 28.00
111 Sue Stevens V50 28.16
112 Louise Cartledge 29.25
113 Ian Hargreaves V40 29.43
114 Bob Payne V60 30.57
122 Emma Payne 32.53
131 Amanda Parnaby V50 37.49
132 Antonio Cardinale V50 (Otley) 37.50

This is a counter in the Ilkley Harriers Running League - Pete Shields is still numero uno
Harrogate Road League #3, Swaledale, Tue 6 June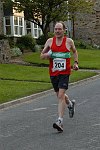 Well done to everyone who managed to get to this far-flung race at lovely Hudswell. The ladies and lady vets teams took their usual first place, but we slipped in the main team competition and have lost our overall 2nd place - let's try and win it back at Thirsk on 29 June. Full results and more photos on www.harrogate-league.org.uk

27  32.09  DAVID JEPSON
29  32.15  GEOFF HOWARD
34  32.46  SARAH JARVIS
35  32.47  NEIL CHAPMAN
42  33.21  JEFF PAGET
48  34.00  ALISON BENNETT
57  34.37  MARC TEASEY
60  34.44  PETER SHIELDS
62  34.50  DAN ROEBUCK
66  35.09  PHIL CHAPPELL
68  35.17  ELIZABETH MCCANN
70  35.21  JOHN WOODWARD
92  36.47  KEITH WOOD
98  37.35  CATHERINE GIBBONS
106 38.09  JANET GRACE
108 38.10  DIANE HAGGAR
121 39.40  COLIN LUGTON
137 41.00  DIANE KITCHEN
160 44.48  RICHARD MIDGLEY
168 47.11  EMMA PAYNE
176 50.09  ROS LEACH
178 51.13  AMANDA PARNABY
183 53.08  BRIAN SWEET

Coledale Horseshoe, Tue 6 June
From Morgan Williams ... A/M 9m/3000' Another beautiful evening for a fell race. Warm, a bit of breeze on top and perfect dry ground (if there were any damp patches I missed them). What more could a fell runner ask for?
Coledale is a classic horseshoe course. A short stretch of road out of the campsite to start, then straight into the ascent of Grisedale Pike which is the first checkpoint. Some steady downhill plus a quick contour of a bump on the ridge then down to Coledale Hause. Then a rough, steep climb up the side of Eel Crags which brings you up on to Crag Hill, checkpoint 2. A short, rocky, steep descent, a contour round Sail then a long descent right down to the base of Barrow. A few hundred last feet of climb then one of the classic descents in fell running, plenty of grass, not too steep and visible perfectly from the finish at the Braithwaite campsite. A stretch of cart track then a few hundred yards along the road to finish. Fast as hell! Simon Booth's record is a spectacular 1 hour 10 minutes for the 9 miles with 3000' of climbing.
Ashley Hardwell was doing the driving honours and we arrived about 35 minutes before start time.
After the Penyghent race I discovered the joys of blistered heels, something I have avoided over the years. I can only blame the orthotics (but I musn't blame them too much because they do allow me to run!) PBs were out of the question; too much heel pressure. I opted for the Swoops; no problem in the dry conditions.
I had a good run, climbing well and desending as fast as my rapidly deteriorating feet would allow. My heels were fine (hurrah for the Swoops) but the slightly looser fit and the orthotics had both soles screaming for relief when descending in the warm conditions (boo for the Swoops.) The ascent of Grisedale felt easier than in the past and I steadily picked up 5 extra places coming into the final check at Barrow. I ran all the way up Barrow where it was fantastic to be greeted by Alison and Josh (who had sneaked away for a couple of days camping) but, with the soles of my feet literally burning, my descent was anything but rapid.
I knew I was running well because I hadn't seen a lady all night! Where is Emma Barclay when you need both her presence and particularly unique form of vocal encouragement (usually forthcoming just after she has passed you) to spur you on to greater heights? Pride cometh before a fall of course; sure enough the first lady eased her way past me on the final descent.
Still, no grumbles about a time of 1.41.07 by my watch, a PB by 8 minutes.
I couldn't wait to get those Swoops off while waiting for Ashley to finish and for the supporters to come down from Barrow. Ashley had no idea what time he did and we had to start the journey back well before all runners had finished. In the form he claims to be in, perhaps he would rather not know!
It's a fantastic race, the weather is always excellent and the race retains an intimate atmosphere (102 runners this year). All self-respecting fell runners should put this race on their list!
Some grumble about the kit requirement and kit checks, but, hey, if anything does go wrong it will be us dead/in hospital and the organiser who is helping the authorities with their enquiries.
Shame then on the runner who arrived kitless on Barrow and collected his bum bag for the final descent to the finish. If I knew who you were or had your number, a spot of whistleblowing would be called for on the basis of you being both a fool and a cheat.

Blackpool Marathon, Sun 4 June
Richard Malir reports ... A good day was had by all! Candyfloss, fish and chips, ice cream eaten, a ferris wheel ride, oh and the missus was first lady in the 2006 Blackpool Marathon. Concerns about soaring temperatures the previous day did not prove to be a hinderance and a nagging wind was tactically overcome by the astute use of the shielding bodies of some Valley Striders. Sally was pleased to beat her Barcelona Marathon time by 1 minute clocking 3hrs 10mins today. The winning margain was never in doubt with the nearest lady several minutes behind and Sally's place in the overall race was top 30. The much appreciated support work of Terry Lonergan was present throughout as he cycled at least two marathon distances providing encouragement. Sally has clearly benefitted from Terry's guidance and the focus he has brought through what is now established as a highly successful training group.
Garburn Trail Race, Sun 4 June
Lawrence Basham reports ... I did the Garburn Trail race (20km) on Sunday, setting off from Staveley and finishing in Windermere via Garburn pass... this is an excellently well organised race, that easily lived up to its billing as 'the most scenic race in Britain'.
The kind of race that 'suits' both fell and road runner, the battle at the head of the field was won by Andy Norman in a new course record (despite a wrong turn at the start which took the leading 40 runners, me included, back towards Staveley village and probably cost 3 minutes).
The views were stunning and I am sure that the fell runners in the field appreciated the well marked course that allowed them time to take in the surroundings instead of gazing (gasping) at their maps!!
A long climb up to Garburn Pass followed by a fast rough descent had the 'tarmac fairies' groaning in their racing flats!!
I would say a race to challenge all talents, and maybe an outing for more Harriers next year?
My own talents got me 22nd place - 1h33:38 - www.trailrunning.co.uk.
Mallerstang Horseshoe, Sun 4 June
From John Smith ... I completed the Mallerstang Horseshoe and Nine Standards Yomp around Kirkby Stephen (23miles/3700'). Conditions were near perfect, dry underfoot and for the most part not too warm. I came joint 8th in a time of 3h58 out of a field of 200 or so (I must admit most of them were walkers but let's not be too pedantic). Lovely community event with routes to suit all tastes in, for me, a little run part of the world. web site
Reebok Manchester 5, Sun 4 June
Terry Lonergan's view from trackside ... Amanda Oddie notched up another F35 age group victory in the 2 lap Reebok Manchester 5 mile road race put on by Sale Harriers at Wythenshawe Park track. Covering the fast, flat course at under 6 minute mile pace she recorded a superb 29.33; good enough for 4th lady overall and 41st in a field totalling 227.
Unlike the last Esholt 5k the runners were not hampered by the heavy showers which fell before and after the event. Tomas Abyu of Salford Harriers was 1st male in 23.28 !! whilst Jenny Blizard of Rotherham set the pace for the women winning in 27.35
Coniston Gullies Fell Race, Sun 4 June
BOFRA Championships race) Iain Gibbons on his weekend's racing ... Probably the most demanding short fell race I have ever entered with a v. steep climb up one gulley up to Yew Pike (I think) on the sunny Coniston Fells and immediately back down another gulley (I had to ask a marshal to make sure the flags hadn't been moved it looked so steep!) and back to the finish.
The race was all over for me in 18:15 in 11th place with Alastair Dunn 1st in just under 16mins which I think was a new record.
Welsh 1000m Peaks Race, Sat 3 June
Roy Ruddle celebrated his birthday with 12th place overall (6th vet) in 4:57:31. A hard, predominantly uphill race from Aber on the coast to the summit of Snowdon (22 miles 8000 ft), but a beautiful sunny day.
Duddon Valley fell race, Sat 3 June
From Eddie Winslow ... Pleased to report that two Harriers made the trip over to the Duddon Valley for the first of the Lakeland Classics. With a field of around 120 for the 20m, 6000ft race it appears that the longer Lakeland races are safe for the near future at least.
Cloudless skies, a light breeze and temperatures that began in the mid teens rising to the low 20s meant that race conditions were almost ideal and fast times likely. Heather Dawe ran 4'15 which I think is a pb. I ran 3'54 which is definitely a pb, by 17 minutes.
Heather adds ... It was hot (as my very red back where I didn't put sunscreen can testify to) and I suffered a bit (I prefer wet and windy!!!) but there was a breeze on top which made things a bit more bearable. Eddie had a good run, I was 4th lady in 4:15 or so. It looks like Ennerdale is going to be even hotter :os
Wharfedale Off Road Marathon and Half, Sat 3 June
Sue Bickerdike reports ... Fourteen Harriers turned out for the Wharfedale Off-road Marathon and half marathon on Saturday, a glorious day to be out in the heart of the Dales. The pre-race preparations included mass sun-cream application and last minute map alterations, but soon we were all ready - except that is for Dave Jepson. A true roadie at heart Dave turned up expecting a jolly jaunt in the country, blissfully unaware that this was actually a fell race that not only entailed a good proportion of off-road running and hills, but also required a full kit to be carried. In the absence of a map, directions, compass, whistle, water(!) appropriate footwear and full body cover, Dave opted for the minimalist approach - ie carry nothing and hope noone notices!
The brave souls doing the full marathon set off, leaving us halfers to hang around till our start (Dave also neglected to read the actual start time of the half and was cursing missing a valuable extra 1/2hrs kip!).
The route was very picturesque, but fairly tortuous. The first very long uphill section was wiped out in a heart-breaking rapid descent followed far too quickly by an even longer and steeper ascent with more false horizons than seemed humanly possible. However, a long looping downhill finish almost made up for it! The weather was baking, and with only two water stations en route, we all got quite hot to say the least.
Some fab performances from the halfers - 16 Dave Jepson 1.59.06, 3rd V40, 22 Richard Malir 2.03.03, 4th V40, 44 Diane Haggar 2,14,07, 3rd LV40, 45 Sue Bickerdike 2.14.07, 2nd LV35, 54 Jon Tindall 2.19.56, 60 Michael Masleczko 2.23.22, 101 Ros Leach 3.05.28, 2nd LV50.
In true Harriers style we halfers made good use of the sunshine and the bar facilities at the Wharfedale Rugby club and topped up our tans as we re-hydrated (?) and awaited the return of the mad fools who did the full. Unfortunately the troops started to get restless, and so at a race time of 5 1/4hrs we had to leave before cheering any of our gallant fellow harriers home. Have heard that Keith Wood and Nigel Tapper made it back in 5.35, but as for the others, Debbie Rosen, Vince and Bernie Gibbons, Richard Midgely and Amanda Parnaby I'm not sure how they faired.
Vince adds ... Slow times in blisteringly hot conditions! Debbie Rosen 5hr 20min; Bernie Gibbons, Vince Gibbons, Keith Wood, Nigel Tapper 5hr 35min, Amanda Parnaby 5hr 45min
Richard Midgley ~ 5h25
Dave Jepson's account here.
Pen Y Ghent fell race, Sat 3 June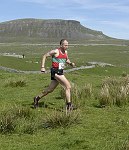 From Morgan Williams ... Fantastic weather for the race on Saturday, perhaps too warm for most. I am not prone to blisters but ended the race with corkers on each heel (or was that just my plan to get out of running Ennerdale?!)
The Harriers I spotted were Graham Pearce (who ran after biking there), Jamie Hutchinson and Bob Whiteman. For the ladies there were the 2 Emmas (Barclay and Payne) and Alison Eagle.
Jason was doing his thing for Pudsey and Bramley (also travelled up by bike), Steph was also around and vocal encouragement was provided by the Westons, Steve Barclay and the Woodheads. I saw Pange but don't think she was running.
The Gala was the usual fun and games which helped keep the kids occupied whilst the adults were away running. Fabulous tea and cakes afterwards at a reasonable price which almost made up for the pain of the race.
I didn't get any results on the day and there are none on the Settle web site yet. Graham and Jamie were well in front as was Emma B. Alison and Bob were behind me (Bob twisted an ankle on the rocky part of the descent) and Emma P finished in her own time having had to navigate without map off the final checkpoint because the route had been stripped of flags!
Sadly, there were no team prizes which deprived our ladies of recognition. I think we were the only club to finish a team.
My time was 1.03.44 which was a PB by 3 minutes or so.
Josh and Georgie did their respective races at the Junior Champs on Sunday, though Georgie's was a non-Championship fun run. The U12 champ race was delayed by half an hour (in a very warm part of the day) while the organisers insisted on presenting all the prizes for the main Garburn Trail race. All those there for the senior race then promptly went home leaving a pretty deserted "arena" for the junior Champ runners. Shame really because the courses were pretty good. Fiona Jordan was there for the Champ race but did not finish. Not sure what the problem was. I was out watching on the course so have no place/time info for Josh. Will have to wait for the FRA results service to catch up.
Only saw 1 Harrier in the senior race; Lawrence Basham had to turn in a nice sprint finish to resist pressure from behind. Interestingly, Abbey Runners treated this race as a club outing and had 26 runners. They took the mens and ladies team prizes as a result.
Coledale Horseshoe on Tuesday evening blisters permitting!
Graham Pearce adds ... As Kay and the kids are in Devon for half term, I thought I'd make best use of the weekend so Jason, Stef and I cycled up the dales to Pen-y-Ghent on Saturday. As Stef is still injured he was spectating / basking only. Pretty shocking feeling to be running on a road for a mile when it's supposed to be a fell race! And on already tired legs ... man that's painful. But great day out and great fun. Obviously very hot and running (ok walking) up the side of PG with no wind was certainly warm and tiring. Fantastic views from the top – yes managed time for a quick look at the scenery – and great support from Dave Hird (what do you think the answer was to "do you want a drink, Graham?" on the top of the steep climb!) Jamie Hutchinson was also there, as was Morgan, Emma, Pange, Bob Wightman, plus others?
Not sure about results (what really matters is having the experience, right? And we're all winners there!) But I led the Harriers home with Jamie and Jason close behind. Not sure about the victor from the now weekly Morgan vs Emma battle.

20  Graham Pearce     55.11
25  Jamie Hutchinson  56.39
35  Jason Hemsley P&B 58.42
45  Emma Barclay      60.13
64  Morgan Williams   63.45
71  Alison Eagle      65.20
101 Bob Wightman      70.07
152 Emma Payne        105.20

Rombalds Moor Fell Race, Tue 30 May
From Emma Payne ... Jamie Hutchinson (14th 21.21), Brian Melia (29th 23.53), Emma Barclay(35th 2nd lady 24.33), Angela Srivastava (48th 26.58), Bob Payne (75th 33.42) and Emma Payne (76th 33.55) competed in the Rombalds Moor Fell Race (also known as the Shortbank Olympics!), 3miles, 700ft of climb.
Yorkshire Vets Grand Prix, Sun 28 May
From Alison Eagle ... Pete Shields and I travelled to Walton, Wakefield for the next race in the Yorkshire Vets Grand Prix. A two lap course, 5.4 miles. After a 10 min or so jog to the start, the two lap course (each lap different though in a lop sided figure of 8) was all off road through woods and along the canal. On a scorching hot day it was hard work, flat with only one excuse for a hill, but Pete assures me great speed work! Pleased with the result, 3rd lady and Vet 40 in 37.13, behind Andrea Dennison and Carol Greenwood, a wonderful fell runner (although before my fell running time you just need to look at the records she still holds to see her talent). Another fell runner also seen was Gary Devine (3rd). Pete not far behind, 37.48, 4th Vet 55. This is the 5th race out of a series of 10, 6 to count - more on yvaa.org
Melmerby 10k, Sun 28 May
Vic Verecondi reflects ... There are times in one's life when you take stock and reflect. Today's race at Melmerby presented this opportunity. The Verecondis now are almost a fully fledged racing family. Young Joe (only 5) is yet to have a race but after observing the rest of his family race today he says he is keen to have a go soon.
It was great to race today in the Melmerby 10k, having missed out the past two years through injury. I do remember (in fact I have it blatantly hung on the wall) an article with the headline from "The Ilkley Gazzette" stating "Vic was the Lone Harrier etc…" in the 2003 race. With no other harrier in sight "Vic was once again the Lone Harrier etc…" The pressure was on me to fly the flag for the red and green.
Having mentioned the Verecondi racing family, the day started with Luca (9 years old) and mum Isobel participating in the 2 ¼ mile fun run. Young Luca, with his youthful enthusiasm, shot off like a Bondi tram. At this point in time I could imagine the words of one Andy Wolfenden saying "He is just like his old man, no pace judgement". Isobel wisely decided to cruise through the run. It wasn't long before Luca appeared and completed the run in 20.19 to be 9th in the 8 – 11 year old section. Isobel came 2nd in the ladies vet section with a time of 22.10. A great start for the Verecondis'. Boy was the pressure on now. Two very good results and it was my turn in the 10k event.
The race started nicely as planned and advised by "The Gov./Guru" (Andy Wolfenden). I concentrated and really took it easy over the first 4 kms. The plan was to increase the pace after the 6 km mark. Everything was going well. But as all grand plans go there is always an unknown factor. Unfortunately the wheels fell off big time at approximately 5.5 km. All of a sudden I felt as crook as ten men and had to stop for about a minute. My guts were churning. Was it nerves? Was it dodgy North Yorkshire water? Was it the British sirloin steak I had last night, barbecued Aussie style, on a Canadian designed and built barbecue washed down with a couple of glasses of French wine? Whatever it was I will never know. The plan had been shattered.
In true dogged spirit I collected myself and completed the race actually picking up pace over the last 3 kms. The motivation being the "All finishers receive medals" and not letting the other Verecondis' down not to mention the red and green being the "Lone Harrier". Anyway I was most pleased to receive my medal after a tough race. My time was 46.20 (unofficial).
We then all took off to a nearby village pub for lunch. In an interesting twist it was run by Thai people who had organised Thai curry buffet for lunch. Being a cosmopolitan family at most times we would happily have got stuck into some Thai tucker but after a race you just feel like something solid and the inevitable chips ie wholesome English pub food. So we all opted for "something" and chips and I had a pint of Fosters to wash everything down.
Anyway it is off to Tuscany tonight, which entails a drive in the Volvo to the airport. Hopefully I'll find a race in Italy to send a report from.
Ciao Vittorio Verecondi
Isle of Jura fell race, Sat 27 May
Heather Dawe reports ... Five Harriers (+ 1 Otley) headed over to Jura for the fell race on Saturday. A fantastic race in an awesome place. The weather was not brilliant - very claggy and windy at times, some challenging navigation with runners heading all over the place. I came in 4th lady in 5:03, Nicky Jaquiery 1st lady vet in 5:08, Jo Foster (8th Lady) and Jim Ryder in 5:30 and Ken Jaquiery in 5:49. We got 1st ladies team.
Nicky Jaquiery adds ... Six of us travelled up to Scotland to do the Isle of Jura fell race, described as 'a breathtaking, heart thumping, lung bursting fell race over 7 mountain summits, ascending 7,500' and covering 16 miles'. Ian Holmes won in around 3.31. Heather was the first Harrier home in 5.03.36 (4th lady), I was next in 5.08.07 (6th lady and 1st LV40), Jo and Jim ran together in 5.30.56, Ken did 5.49.11. Heather was pleased because she's been concentrating on the biking lately, Jo was chuffed because she realised that she can navigate, Ken enjoyed the race despite bad cramps (he was leading the Harrier contingent at one point!), Jim was relieved that his recent knee injury wasn't a problem and likewise, for my first race in 7 months, my knee was thankfully ok. It was a great race despite the strong winds and lack of views and we even managed to sum up the energy to go to the celeidh in the evening. It's definitely on the racing calendar for next year!
White Wells fell race Sat 27 May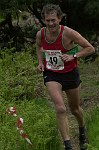 From Bob Hamilton ... A select field of just twenty runners assembled for this revised version of the White Wells Fell Race. It started on time, from the appointed place, and nobody got lost ... so, on that count at least, the day was a success. I wasn't sure how the simpler two-lap course would be received, but everyone competing certainly seemed to enjoy the route, and it was great for the spectators. Graham was obviously inspired to show off in front of his daughters to take his first senior fell race victory. Emma and Morgan enjoyed their usual close rivalry, with the better legs carrying Emma through first on the punishing final climb. The atmosphere was terrific at the finish so we'll promote it a bit more and hope to see a bigger field next year. It's honestly not as tough as it might seem. Ask Fiona, who was wearing a wonderful smile at the finish ... and picked up a prize.
| | | | | |
| --- | --- | --- | --- | --- |
| 1 | Graham Pearce | Ilkley Harriers | 29.07 | |
| 2 | Colin Moses | Bingley Harriers | 29.57 | V40 |
| 3 | Steve Bottomley | Pudsey & Bramley | 30.07 | |
| 4 | Jason Hemsley | Pudsey & Bramley | 30.18 | |
| 5 | James Mountain | Skipton AC | 30.34 | U16 |
| 6 | Mark McGoldrick | Settle Harriers | 30.56 | |
| 7 | Ian Rowbotham | Harrogate Harriers | 31.25 | V45 |
| 8 | Bob Hamilton | Ilkley Harriers | 32.21 | V50 |
| 9 | Emma Barclay | Ilkley Harriers | 34.24 | L |
| 10 | Morgan Williams | Ilkley Harriers | 34.29 | V40 |
| 11 | Nick Cunningham | Wharfedale Harriers | 36.07 | V40 |
| 12 | Neil Olderman | Trawden AC | 36.44 | V40 |
| 13 | Tamara Hird | Wharfedale Harriers | 37.51 | L |
| 14 | Tom Cunningham | Wharfedale Harriers | 38.20 | U16 |
| 15 | Angela Srivastava | Ilkley Harriers | 40.24 | L |
| 16 | Paul Sessford | U/A | 41.41 | |
| 17 | Fiona Schneider | Ilkley Harriers | 52.22 | LV40 |
| 18 | Antonio Cardinale | Otley AC | 52.22 | V55 |
| 19 | Raj Madhas | U/A | 1 lap only | |
| 20 | Lynda Hargreaves | U/A | 1 lap only | LV40 |
Some photos from Mike Baldwin here
White Lion fell races, Wed 24 May
From Bob Wightman ... Here are the Harriers results from the White Lion Fell Race - 3.75m 800ft
There were over 100 runners on a damp and rocky course. The race was won by Karl Gray (I think) in 25 minutes or so.
21 Jamie Hutchinson 28:08
43 Mike Baldwin 30:34
49 Richard Hargreaves 32:14
51 Bob Wightman 32:21
79 Bryan Websdale 35:58
There were also several Junior Harriers out running in earlier races.
Organised by K&C AC
Bob Graham Round success
Congratulations to Alison Weston who has just completed a Bob Graham Round (clockwise, in pretty challenging weather conditions, in about 23&frac12 hours), supported by many Ilkley Harriers and friends.
Some photos from Tim Shields here.
Scottish Islands Peaks Race, 19-22 May
From John Smith ... Phil Atkinson and I once again completed the Scottish Islands Peaks Race between 19 and 22 May. Some strong winds made it much more of a sailing event this year and actually a better race. We made a much better time overall and the sailors were kept amused. I even did a bit of helming myself on the slog into the wind back to Troon in force 7s on Sunday night. One boat went back to Lamlash and another gave up completely! The downside for the runners was that we were a bit debilitated by seasickness particularly on the Mull and Jura runs. We also did Mull in the dark which didn't help especially as it took us ages to find one of the checkpoints. Overall our running time was worse than last time but we made up some time on the final run on Arran where be beat our best time by over ½ hour and I think we were 16th overall. Overall we were 34th (5th in class) and our total running time of 17h54 put us 31st in the running table. The big plusses were the fact that we thrashed some Israeli paratroopers and gave a bunch of British Marines a good run for their money. Fantastic event.
Goat fell, Sun 21 May
Ewan Welsh was 42nd out of 100 in 1h43. More on the Scottish Hill Runners site.
Sedbergh Gala Fell Race, Sun 21 May
From Iain Gibbons - (BOFRA Championship race) A typical out + back race with a hard steep climb over moorland and farm tracks and a hellish fast descent. Not sure height of climb or distance unfortunately, but well supported and a cracking atmosphere.
1 Ted Mason – 22:32
10 Iain Gibbons – 25:50
Etape du Dales, Sun 21 May
Jason Hemsley reports ... I was the sole Harrier (Heather and Bob blobbed!), taking part in the Dave Rayner Fund ride, 110 miles, from Grassington, taking in Fleets Moss, Buttertubs Pass, Tan Hill, Garsdale Head, Newby Head and Halton Gill. After a glorious morning, the ride was somewhat spoiled by the torrential afternoon rain, but I managed to finish in 6-59, in 38th position, from over 600 starters. The winner arrived in 6-10, and ex Harrier Reg Haigh completed in 6-45.
Bob adds ... Cyclosportives
I was hoping to keep it under wraps, but, yes (thanks a lot Jason!), I blobbed the Etape du Dales. Much as though I love these long-distance cycling events (which allow me to rekindle the memories of the wonderful ultra-distance running events I used to do), the prospect of many hours out in torrential rain in the remotest parts of the Dales just weighed too heavily, plus I thought it about time I actually concentrated back on my running for a few weeks.
The Fred Whitton and the Etape du Dales filled up within days of entries becoming open, but for any Harrier who wants a taste of one of these cyclosportive events, there are still entries available for the White Rose Classic (www.whiteroseclassic.co.uk) which starts and finishes in Otley on June 11th. There are 50, 85 and 105 mile routes to choose from. It's all electronically timed, and from my experience so far, all these events are very well organised and have a terrific atmosphere. I can throughly recommend. I can also tell you that they are great for your uphill running fitness. I'm becoming a great believer in cross-training. For more general information, take a look at www.cyclosport.co.uk
Lordstones, Sun 21 May
Steve Turland reports ...7.2m, 2330ft, English Championship Counter. We had:

59th Dave Wilby       64:37
76th Steve Turland    65:52
99th Jamie Hutchinson 67:59
120th Mike Baldwin    69:56
149th Emma Barclay    73.33 (15th lady)
168th Kelly Harrison  75:46 (19th lady)
210th Paddy Hagen     83:31
219th Philip Chappell 84:39
The men got 11th placed team.
Yorkshire 10k, Newby Hall, Sun 21 May
Nick Richardson reports ... Tarmac, tracks, grass, mud, cattlegrids, and due to the recent rain, water crossings, meant a truly multi-terrain, but nevertheless enjoyable, course.
Only 3 harriers. Me, Dave Taylor and his wife Joanna. I ran 38:29 and finished 9th. Dave ran 44:36 to finish 53rd, and was mildly disappointed to not have beaten his Garmin virtual running partner who finished the course in 44 mins. Joanna ran 65:11 to finish 309th
Manchester 10k, Sun 21 May
From Fiona Schneider ... Fiona was 2262nd in 51:03 and David was 259th in 39:21
Old County Tops fell race, Sat 20 May
Dan Goodey reports that he and Phil Jones did this (AL 37m/10,000') in 10h21
New Saturday Morning run
From Jemma Basham The new Saturday morning run was great so anyone who's interested in joining us and having a good training run with the view to getting faster then make your way down to the swimming pool car park at 9am. Thanks to Sue, Keith, Andy W and Nigel and Nigel's relatives for the support and thanks to Terry for letting us know the exact 10 mile route.
Sue battled her way around with a bad knee and still said she'd come next week. Keith was giving out tips on getting faster so anyone who wants to get some free advice or improve their race strategy this is your opportunity. For example, do remember one of his golden rules in a race: 'Do not stop to help your fellow runner when she's up to her knees in bog and has lost her trainer'.
We finished off with a mile effort near the end and with regrouping and quite a bit of chatting we did it in 84 minutes so that's the benchmark to improve on. We'll be doing 10 miles every week but will possibly vary the route. Hope to see more people on Saturday!
HRL2, Starbeck, Thu 18 May
Another great turnout of 50+ Harriers. 2nd team, 1st ladies team, 1st lady vets team.

1   33.14  IAN FISHER Otley AC
10  36.52  GRAHAM PEARCE
13  37.21  JASON HEMSLEY
17  37.54  BEN STEVENS
19  37.58  JAMIE HUTCHINSON
20  38.02  STEVE TURLAND
21  38.06  DAVE WILBY
27  38.40  RICHARD JOEL
28  38.44  MARK ILEY
32  39.08  ADRIAN HALL
48  40.47  DAVID JEPSON
51  41.03  JOHN ATKINSON
54  41.15  ALI  WOOD
55  41.19  SARAH JARVIS 1st lady
56  41.20  NEIL CHAPMAN
62  41.56  GEOFF HOWARD
65  42.10  ALISON BENNETT
71  42.33  JEFF PAGET
76  42.52  MARC TEASEY
83  43.40  ALISON EAGLE
93  44.05  GRAHAM STEAD Otley
94  44.05  PHIL CHAPPELL
97  44.11  KEITH WOOD
98  44.17  DAN ROEBUCK
99  44.25  PETER SHIELDS
102 44.49  KELLY HARRISON
103 44.55  ELIZABETH MCCANN
105 44.58  GARY BURNS
132 47.33  JOHN COATES
133 47.36  SIMON CHAPMAN
138 48.04  CATHERINE GIBBONS
140 48.09  HELENA DEENEY
141 48.13  DIANE HAGGAR
145 48.28  JEMMA BASHAM
146 48.29  LAWRENCE BASHAM
156 49.09  JANET GRACE
158 49.31  JOHN BROWN
172 50.25  BARBARA BULLOCK
174 50.37  PETE BEDWELL
180 51.06  VINCE GIBBONS
182 51.29  VICTORIA STEVENS
187 52.18  BERNIE GIBBONS
188 52.26  IAN HARGREAVES
192 52.44  ANTONIO CARDINALE
202 53.30  LOUISE CARTLEDGE
223 56.31  RICHARD MIDGLEY
225 56.48  EMMA PAYNE
230 58.03  CHRISTINE REILLY
232 58.39  JENNIFER MASON
233 58.40  JAN EDWARDS
250 66.27  BRIAN SWEET

Full results and photos on the HRL site. And this was a counter in the Ilkley Harriers Running League - Pete's still on top!
John Carr #3, Wed 17 May
Another wicked report from Dave Jepson .. And so to Esholt-on-the-water (or should that be 'under water?') for instalment three of the JC sponsored by Rowntrees (ok, Nestlé). The starter wisely dispensed with start line homilies tonight and opted for the no messing start routine, once he had got everyone out from under cover of the nearby trees. The normal statement, "run on traffic free roads on Yorkshire Water grounds" could reasonably be abbreviated tonight with the omission of a 'grounds' and 'on traffic free roads'; and the substitution of 'in' for the second 'on'.
By far my least favourite start to a course had added interest tonight to add to the normal front of grid plodders (why, oh why, oh why...?) and speed humps, with a small lake at each of the first two bends and a veritable river down by the Childrens' Forest. Flippers might have served better than my newish Mizunos, but at least they got a good wash after last night's inaugural, and very scenic, Jeff Paget's 'stiles, gates and rickety bridges 10'.
Anyway, another good turn out of the red and green, despite many mutterings along the lines of "I sat in the car and wasn't going to run when I saw the QE2 berthing at the other side of the cricket field, but then I saw Pete Shields warming up". Mark Iley lead the Ilkley contingent tonight, breaking 18' again and Amanda ran strongly once more, both around last week's time which was good considering the need to snorkel at one or two points; I was down a bit on last week, but then I did enjoy the tour of the North of England last night; Alison B and Keith both ran well again, and Andy, Pete, Ian and John all came in with times there or thereabouts compared with race 2; special mention to John who had improved his time every week. Alison E also ran, though I didn't see her at the finish so I hope she didn't need to be rescued by the RNLI, and several of our juniors ran disconcertingly quickly - maybe they had opted for flippers and goggles.
For anyone who's never tried them it's well worth doing the whole series (or even just one). As Keith said "you get a nice green thing" if you do run all three - or at least if you buy a number for all three and run at least the last one, and there's a chocolate bar for all finishers. I haven't opened mine yet so I don't know whether it's a distress flare or, as was suggested by those in the know, a pen.
Back at the car, and after checking the outboard motor and pulling anchor, I managed to wring around a pint of water out of my new lightweight Ilkley shirt, which coupled with the teflon like characteristic that makes it impenetrable to your standard safety pin, suggests to me that we're onto something here that gardeners in the more arid parts of the SE might appreciate. I gave my old airtex vest a wry smile on my return home, and my speedos, before settling down to an evening tending my trench foot. Still, at least my trainers look like new again.
FOOTNOTE: Special mention to Keith, who, keen to further the financial stability of the Harriers tonight trialled a new away strip, in fetching dark and sky blue. Apart from the fact that his top held even more water than mine, it would appear that it also fooled our intrepid supporters Emma and Sally (who should consider themselves lucky that I didn't nick their brolly on the dash back) who cheered Alison - not far ahead of Keith - and Pete, not far behind, but ignored Keith completely. Personally I am of the view that they just didn't recognise him behind his rain splattered glasses.
Pete Bedwell adds ... just a quick report from a very wet John Carr 5K, my third run of the series and a rather disappointing 22.37, over half a minute slower than last week. Can only put it down to having my rather skid prone racing shoes on rather than my flippers !! Some of the puddles would have put the Auld Lang Syne fell race to shame but good fun nevertheless. Will hope for a better run tonight at the harrogate league
Results from St Bedes' web site ...

18  17.15  Ben Stevens
40  17.54  Mark Iley
50  18.17  Amanda Oddie     1st LV35 in the series
60  19.10  Dave Jepson      7th V40 in the series
76  19.33  Alison Bennett   2nd LV40 in the series
94  21.01  Ben Rowley
100 20.07  Keith Wood
113 20.28  Alison Eagle
117 20.33  Pete Shields     4th V55 in the sries
132 20.57  Pange Srivastava
148 21.33  Andy Wolfenden   5th V55 in the series
156 21.46  Josh Crane 
168 22.18  John Brown
177 22.44  Pete Bedwell
179 22.51  Victoria Stevens
181 22.54  Alice Munnoch    2nd FY in the series
191 23.35  Ian Hargreaves
215 24.39  Adam Bennett
217 24.40  Sue Stevens


ROM April 2006
The Ilkley Harriers Runner of the Month for April is Helen Sedgwick - more.
Ilkley Triathlon Sun 24 Sep
The race is full as at 12 May - hope you all got your entries in! There are still team entries on the LBT site.
Yorkshire Vets latest
The next Yorkshire Vets Grand Prix race is at Walton nr Wakefield on the 28th May at 11.00 am. This event is a trail race over a 5 mile distance taking in woodland and a canal tow path. Contact Peter Shields for further details and how to get there, remember the vets category starts at 35 for male and female.
Pete is also organising the teams for the Yorks Vets relay champs at Esholt on the 23rd July 11.00am, the course is very similar to the John Carr races. Teams are for over 35 and over 45 for the females 3 per team and teams for males over 35,40, 4 per team. The 50 and 60's are 3 per team. With our real quality in depth at all age groups male and female we have the ability to enter several teams and come away with some medals. This is a great event that is really well organised and one the club should support. Peter Shields has all the details and needs to enter teams by the 14th July.
Open5, Sun 14 May
From Dave Wilby ... Myself and Kelly Harrison headed up to Broughton in Furness on Sunday to take part in our first Open5 Adventure Race. This 5 hour 'score' event involves running, mountain biking and navigation and enables you to compete as an individual or in teams of two. This was our first event in the series and we had a fantastic time, we'd definitely recommend it to anyone who is thinking of having a go.
We competed in the mixed pairs and finished 15th from 24 teams, which meant we achieved our pre-race aim of not ending up last or lost.
Other Harriers seen at the event included Jamie Hutchinson (21/31 Male Solo) and Heather Dawe both flying solo, and Eddie Winslow (2nd out of 24) tackling the mixed pairs.
Ripon 10, Sun 14 May
From Vic Verecondi - After a most enjoyable Jack Bloor Fell Race last Tuesday evening it was back to the roads for the 10 mile event at Ripon. After speaking to Terry Lonergan about the race (last Tuesday) he advised me to treat it as a good solid 10 mile run. With this advice in hand I took it upon myself to average a 8 minute mile pace. The course is quite hard as the first six miles is undulating upwards. The remaining four is undulating downhill.
Not having to "bust a gut" in an effort to achieve a pb I enjoyed the scenery, keep an even stride and make the most of the drink stations. I was most pleased to achieve my target recording a time just below 1 hour and twenty minutes. So the job for the morning was well done.
From the results there were a couple of Harriers about. Harriers results (apologies if I've missed any)

120 1h18:08 John Coates
129 1h19:02 John Brown
140 1h19:45 Vic Verecondi
189 1h25:13 Ian Hargreaves

Note: Isobel Verecondi, along with a few other Embsay mums completed the 5km race for life held at Broughton Hall, Skipton today. A great effort by all. Isobel completed the 5 kms in approximately 30 minutes.
Mytholmroyd Fell Race, Sun 14 May
From Emma Payne - Emma Barclay and I competed in Mytholmroyd Fell Race, 7miles, 1350ft of climb. For clarification if you might get the Emmas confused I am the one at the back of the race and Emma Barclay is the one at the front! 2nd lady in this particular race. A Nice course for anyone that has not done it before. A long slog up with flat and down moor land running followed by an evil second climb. Very well marked and organised a must for the poor visibility on the day.

1   44.03 Karl Gray Calder Valley 
43  54.47 Emma Baclay   2nd lady
147 88.19 Emma Payne

Buttermere Sailbeck, Sun 14 May
From Phil Chappell ... I carried the flag for the Harriers at the Buttermere Sailbeck on Sunday very tough race with 4650' of ascent in 9.5 miles. I had a good steady run 117th in 2hrs 24:31 After slogging uphill so much it was great to find the course has a brilliant grassy final descent.
Derby 10k, Sun 14 May
Phil Hirst reports ... To mark his 21st birthday today and his return to running Alex Hirst ran the Derby 10k. Battling against light drizzle, a crashing hangover and little sleep he ran 40:12 finishing 115 out of 1624 runners in this well organized event starting and finishing at the Pride Park Stadium, the home of Derby County FC.
Earby fell race, Fri 12 May
From Lawrence Basham ... Iain Gibbons and I went to Earby for the Friday night Pinhaw Moor fell race - 5 miles 800' ascent - Out and back course on very runnable surfaces - grass,track and road!!
The race was won by Andy Norman (Altringham/NBLG) in a record time - I finished 27th 34.03 and Iain about 41st in 35.22
Everyone in the race (except Iain!!) wore road shoes and I think the majority of us made the right decision in a race that could be better described as a "tough" cross country, still good fun and good support from the Earby villagers.
John Carr 5k, #2, Wed 10 May
A humurous report from Dave Jepson ... A reasonable smattering of red and green tops, though fewer than I'd expected, and Sally in grey coming close to doing a "Mark Iley" at this evening's smellfest down in Esholt. If nothing else, the odour spurs you on a bit on the way out and brings you back to your senses on the return. Anyway, a warmer evening than last week, though with several Harriers still making giant strides between times, seemingly in more senses of the word than just one, and nobody going backwards (or if they had they weren't owning up to it). If only there were four races in the series Messers Woodward and Wood (no ward) would be beating me by the end, and beating Fish in about a year's time as well.
16 to 25 minutes of full belt running were made slightly more tolerable tonight by the rare sight of Fisher not leading the pack; that honour going to a disgustingly fresh faced (even AFTER he had finished) youth who Ms Bickerdike assured us had finished second in the Leeds half. I did hear said youth on the steps afterwards saying that he liked to get away quickly because he doesn't have much of a finish, bless! Clearly he doesn't spend much time hanging around at the finish watching us lesser mortals expiring our way towards the line.
The finishers I caught up with (and apologies to the rest) included Graham Pearce and Jamie, both running sub 17', Mark Iley running well, Amanda continuing her strong form, John Atkinson making a return to shorter course competition (if there's a runner with a longer stride anywhere this side of the world's tallest man I'd like to see him) and dragging me around in his wake, Alison again running well, Keith and John W both well up on last week - when it is now patently clear that they just weren't trying, and Pete Shields similarly impressive. Didn't catch Andy Wolf, but Sue satisfied herself with a trundle around during which she didn't knowingly forego the opportunity to cheer on any other Harrier she saw.
Results from St Bedes' web site:

1   14.58 James Walsh    Leeds City
20  17.06 Graham Pearce
33  17.34 Jamie Hutchinson
39  17.49 Mark Iley
49  18.09 Steve Turland
50  18.10 Amanda Oddie
64  18.45 Dave Jepson
77  19.03 John Atkinson
84  19.23 Alison Bennett
113 19.53 Keith Wood    PB!
133 20.22 John Woodward
139 20.31 Alison Eagle
147 20.42 Pete Shields
154 20.49 Kelly Harrison
158 20.58 John Coates
159 21:00 Nigel Tapper
163 21.15 Andy Wolfenden
189 22.00 Sue Bickerdike
192 22.04 Pete Bedwell
199 22.19 John Brown
200 22.21 Josh Crane    Junior Harrier
227 23.33 Alice Munnoch Junior Harrier
230 23.39 Ian Hargreaves
254 25.05 Anotonio Cardinale  Otley AC
280 26.14 Adam Bennett  Junior Harrier

This was a counter in the Harriers Running League - results here.
Jack Bloor Races, Tue 9 May
A great turnout of Harriers in a record field in the senior race. Results from the Jack Bloor site include ...

1  41.48 Karl Gray, Calder Valley	
2  41.49 Hector Haines	
8  44.04 Stefan Macina, Pudsey & Bramley	
13 44.45 Ben Stevens	
18 45.11 Jason Helmsley, Pudsey & Bramley	
24 46.07 Lawrence Basham		
26 47.05 Mike Baldwin
29 47.10 Iain Gibbons
38 48.43 Dan Goodey
39 48.48 Malcolm Pickering
40 48.52 Roy Ruddle
48 49.41 Eddie Winslow
50 49.52 Richard Joel
52 50.00 Dave Wilby
61 50.26 Ian Marshall
63 50.36 Emma Barclay 2nd lady
66 51.09 Morgan Williams PB
71 52.12 John Smith
72 52.28 Marc Teasey
73 52.37 Richard Malir
74 52.43 Bob Wightman
75 52.57 Dave Cheesewright
76 52.58 Charles Oxtuby
77 53.07 D Taylor
80 53.28 Alison Weston
82 53.40 Richard Hargreaves
83 53.41 Kelly Harrison
85 54.27 Heather Dawe
86 54.48 Ashley Hardwell
88 55.05 Ken Jaquiery
96 55.39 Joyce Marshall
99 55.42 Phil Chappell
102 55.48 Neil Chapman
103 55.49 Pange Srivastava
109 56.29 T Whitaker
113 57.06 Brian Websdale
116 57.14 Paul Wood
122 57.59 Chloe Haines
123 58.05 P Lincoln Jones
127 58.19 Eugene Doherty
132 59.17 S Newell
144 60.59 Keith Wood
147 61.43 Di Kitchen
155 62.09 Rob King
159 62.56 Clare Cheesewright
162 63.11 Victoria Stevens
175 65.56 Jemma Basham
177 66.43 Vic Verecondi
178 66.44 Sue Stevens
180 67.43 Bob Payne
181 67.40 Lindsey King
186 74.30 Rachel Websdale
193 82.15 Emma Payne
197 83.07 Antonio Cardinale

Ilkley were 2nd men's team (to P&B); 1st ladies team.
Proposed new training group
From Jemma Basham ... A few of us have been discussing setting up a new Saturday group to try and improve our speed and also meet a bit earlier. We'll be running from the swimming pool at 9 am on Saturday and will be doing the 10 mile route out to the A59 and back. We'll be running 8 minute miles hopefully and will regroup.
I'll be there this Saturday morning at 9am in the swimming pool car park and hope to see a few people there?
We thought we'd do some road running for some of the races coming up this summer but we'd like to do some off road too. A few of us would like to start training for the three peaks marathon starting in September and will be trying our best not to get timed out, so hopefully (if people turn up) we can evolve into another little group where we can spur each other on. I really hope some of you can make it!
Leeds Half Marathon, Sun 7 May
From Neil Chapman ... Only a few results, as I had to get back quickly, so do not know how Margot, Bernie, Vince and Amanda got on. Perfect damp race conditions for runners, but not so good for spectators. Nick Richardson continued his current good form finishing in a superb 81.36, which is a pb by more than 5 mins! When quizzed on his form, his tip was have three months off and buy a whippet. Both John Atkinson and myself were happy, or possibly more relieved with our times this year, after disappointing runs last year, I ran 86.27 and John finishing strongly ran 88.06. Apologies to all the other Harriers that I could not stay around to see how you did.
From Helena Deeney ... Great running conditions with my best Leeds Half so far. I completed the race in 101.41 a PB of 5 minutes.
Results from www.leeds.gov.uk/runleeds:

38   1h21:22 Jonathan Sinclair
39   1h21:26 Nick Richardson
103  1h26:27 Neil Chapman
127  1h28:00 John Atkinson
235  1h32:20 Ian Cliffe
677  1h41:41 Helena Deeney
734  1h42:32 Graham Corbett
847  1h44:21 Roddy MacDonald
1068 1h47:55 John Brown
1085 1h48:08 Debbie Rosen
1292 1h50:54 Vincent Gibbons
1377 1h52:05 Bernie Gibbons  PB 2nd FV50
1624 1h55:42 Fionna Schneider PB 3 mins
2020 2h02:18 Margot Dale
2166 2h05:00 Janet Bairstow
2338 2h08:53 Anne Briggs
2552 2h14:58 Amanda Parnaby


Sue Bickerdike had a different take on it ... "The Leeds Half Marathon - the Corporate Way"
I approached the Leeds half from a slightly different angle this year, deciding to run as part of the corporate challenge - a relay event with 7 legs of between 2 and 3.5 miles. Having spent the last three months 'training' a few of my office colleagues, we all assembled together in the cold and damp - a motley crew, composed of runners, ringers, had-beens and hopefuls, with as much variety in the clothing dept as we had in the speed dept! An added incentive to the event (other than just getting everyone round!) was that Carl, my other half dobbed out of my team at the last minute to run with his office, hence the late addition of Nigel 'the ringer' Tapper. So, the gauntlet had been well and truly thrown down. Competition started early, - the previous evening at Nigels gig Carl had been encouraging me, a little too vehemently when I look back on it, to consume vast quantities of lager, but that was OK as he was matching me pint for pint - or so I thought. It was all part of his cunning plan and I fell for it! But I too had a cunning plan! I knew that the weakest leg of my team was leg 3, the same leg that Carl was running. Nigel (leg 1) was given strict instructions to forget everything about even-paced running (he planned to continue thro to the end after his stint), and to blast from the start to hand over to me to blast up that lovely hill to try to get as much time on Carl as we could. The first corporate runner came thro and the excitement started to build, then very shortly after Nigel came thro in 5th place! I ran with Nigel for a bit, but his early effort started to take its toll so I ran on, handing to Katy on leg 3 still in a very respectable 6th place. I thought we'd built enough of a lead, but to my absolute dismay, a smack on the rear and a joyful 'Wayhey' as Carl ran past signalled defeat at only 5 miles! I knew his later runners included a sub-39min 10K-er, and a junior West Yorkshire cross-country runner, so team survival was all we had left! I continued to run on with each leg, and we came in at 1hr 55, only slightly behind our great rivals who finished in 1hr 50. The gloating was quite awesome as we all met up at the finish, but my team were all extremely proud of their efforts, and their first ever race T-shirts, and quite rightly so! It was a great event, and a fantastic way to encourage non-runners to get their first taste of competition. Unbelievably, my team all want to do it again next year! Despite his fast start, Nigel came in at 1hr 38, nearly a PB.
Just for the record the first mixed team came in at 1hr 36mins - a time that an Ilkley Harriers mixed team could surely better - maybe a fun event for next year? (Watch out Sue, one of that mixed team was an Ilkley Harrier! Paul)
Bluebell Trail, Sun 7 May
From Pete Bedwell - Quick report re the Bluebell trail this morning. Race director comfirmed it was actually 10.3 miles just before we set off. With a very steep Shooters lane at mile 4 and 3000 ft of ascent and descent it gave the legs and lungs a good workout. Quite a bit of running through twisting woodland paths superb views from the tops and a nice river crossing at the end made sure you didn't get bored.
Excellent organisation, a couple of water stations and very encouraging marshalls made for a very enjoyable race, helped by my time of 1h35.19 for 129th place, nearly 13 minutes faster than my first effort last year. One other Harrier spotted, Richard Midgley ("all I needed was a pair of flippers, for the river crossing, but it was great fun") who came in at 206th in 1h50.44. Definitely one for the diary next year.
Fred Whitton, Sun 7 May
From Bob H ... Three Harriers (to my knowledge) completed the "Fred Whitton Challenge" in the Lakes, a 110 mile circuit from Coniston taking in all the Lakeland passes (Kirkstone, Honister, Newlands, Whinlatter, Cold Fell, Hardknott and Wrynose) in conditions far better suited to cycling than fell running. Heather Dawe came back in an awesome 7h01, an achievement that can only be truly appreciated if you've done this thing and know first-hand just how hard it is. Jason Helmsley did well to finish in 7h26 after puncturing early on. I achieved my first-class time target (sub 8hrs) with 7h49 and surprised myself with what can be achieved on just inspiration, raw adrenaline and a modicum of training. Many thanks to Heather for goading me into doing the event when my head was telling me otherwise a couple of weeks ago.
Heather Dawe adds ... A few Harriers rode the Fred Whitton on Sunday, a 114 mile cycle race around all the road passes in the Lakes (plus a few more hills!). Entries for this event opened on New Year's Day and filled to capacity (600) in 3 days so it's quite a popular day out, not too surprising as it is a classic. I had a better ride than last year and came in in 7h01, a PB by over 20 minutes and first lady.
Social, Sat 6 May
From Nigel Tapper ... Many thanks to all Harriers and their friends for supporting our gig on Saturday. It was nice to see you all enjoying yourselves. My daughter said she could spot the Harriers on the dancefloor cos they were the ones not out of breath! Nice one people. The evening was made particularly jocular by one Harrier (who shall remain nameless) asking me at the interval "how often I performed"! The next day, still with an aching back, strained after humping amps and speakers about the night before, I competed in the Leeds Half Corporate Challenge Relay for Sue Bickerdike and her Leeds Uni Team. I ran Leg 1 and was pleased to handover to Sue on leg 2 in 4th place overall out of 150 teams. After Sue sped off I decided to carry on, unofficially, for the full race eventually finishing unofficially in a little over 1:38, a PB for me. I now have more backache and a strained calf from the early exersions, but had a most enjoyable day especially with the postrace antics of trying to get home - I'll leave Sue to tell you about that one. Anyway, many thanks to Sue for her organisational skills. On another note a few of us are intending to run the Milan Marathon 8th October. Flights from LBA are about £80, we thought we'd go for a 2 night stay. Let me know if you're interested in joining us.
Harrogate Road League #1, Thu 4 May
Ilkley had a good start to the League, with more runners than any other club (just!) and 2nd place in the main team competition, and the lead in both the lady and lady vets team competitions.

1	32.27	IAN FISHER         OTLEY
12	37.38	JAMIE HUTCHINSON
13	37.46	LAWRENCE BASHAM
20	38.51	NICK RICHARDSON
35	40.48	GEOFF HOWARD
36	40.55	DAVID JEPSON
46	41.44	SARAH JARVIS       1ST Lady
49	41.59	NEIL CHAPMAN
59	42.58	IAN MARSHALL
70	43.37	AMANDA ODDIE
71	43.4	MARC TEASEY
72	43.5	ALISON BENNETT
73	43.54	TERRY LONERGAN
74	44.02	PHILIP JUDD
77	44.23	MARK WILLIAMS
80	44.32	KELLY HARRISON
81	44.33	PETER SHIELDS
84	44.41	DAN ROEBUCK
85	44.47	PANGE SRIVASTAVA
86	44.53	JOYCE MARSHALL
88	45.08	ELIZABETH MCCANN
89	45.09	PHIL CHAPPELL
91	45.13	ANDY WILSON
95	45.26	KEITH WOOD
106	46.34	SIMON CHAPMAN
107	46.39	ADELE ERRINGTON
120	47.25	NIGEL TAPPER
125	47.34	CATHERINE GIBBONS
133	48.04	JEMMA BASHAM
146	48.53	PHIL HIRST
148	49.01	DIANE KITCHEN
153	49.31	JANET GRACE
161	49.52	LINDA WRIGHT
165	50.15	BARBARA BULLOCK
166	50.18	BECKY MALBY
168	50.27	JOHN BROWN
169	50.44	VINCE GIBBONS
184	52.09	BERNIE GIBBONS
193	53.11	ANTONIO CARDINALE   (OTLEY AC)
201	54.01	ADELE MITCHELL
210	54.5	RICHARD MIDGLEY
215	55.04	ROBERT PAYNE
226	57.28	CHRISTINE REILLY
230	58.39	EMMA PAYNE
237	59.12	JAN EDWARDS
238	59.18	JENNIFER MASON
247	61.38	SOPHIE WITTER
252	64.21	AMANDA PARNABY
254	66.59	BRIAN SWEET

Full results and photos on www.harrogate-league.org.uk, along with details of the next race at Starbeck, Harrogate on 18 May which is a Harriers Running League counter.
Lothersdale Hare and Hounds fell race, Wed 3 May

19 26:10 Iain Gibbons
35 28:32 Emma Barclay 2nd lady
39 28:46 Bob Wightman
40 28:52 Morgan Williams
44 29:47 Alison Eagle
46 29:56 Richard Hargreaves
47 30:03 Steve Barclay

Some fantastic junior results too, on the Junior Harriers site.
John Carr Race #1, Wed 3 May
From Pete Bedwell ... just a quick note to say there was an excellent turn out of Harriers at the first of the John Carr 5K series. A very nice evening made for quite warm conditions in this very enjoyable and fast race. I was well pleased with 22.10, second fastest 5K ever only 10 days after the FLM. John Brown was just behind in 22.31 both times by our watches, no doubt the official times will be a few seconds different due to the rather crowded start, in fact many people were turned away as the race filled up very quickly on the evening.
Looking forward to the second race next week.
Harriers results spotted on the St Bedes web site were ...

30  17.21 Ben Stevens
37  17.34 Lawrence Basham
60  18.20 Amanda Oddie
81  18.58 Dave Jepson
103 19.28 Alison Bennett
115 19.45 Elliot Dawson
123 19.55 Jo Anne ?
142 20.37 Keith Wood
157 21.01 John Woodward
165 21.10 Pete Shields
168 21.14 Adele Erington
182 21.38 Andy Wolfenden
202 22.13 Pete Bedwell
213 22.39 John Brown
222 22.50 Victoria Stevens
240 23.42 Alice Munnoch
250 24.02 Antonio Cardinale Otley AC
251 24.03 Ian Hargreaves
256 24.18 Sue Stevens
332 29.01 Joanne Taylor
 

This was a Yorkshire Vets Championships race. Next Wednesday's race is a Harriers Running League counter.
ROM March 2006
The Ilkley Harriers Runner of the Month for March is Amanda Oddie - more.
European Masters Mountain Running Champs, Sun 30 April
10k continuous uphill races:

M60 6th  56:22 Geoff Howard
M55 31st 65:22 Pete Shields
M40 48th 62:39 Morgan Williams
W40 12th 59:21 Alison Eagle 

Keswick Half Marathon, Sun 30 April
Fiona Schneider reports - 2 IH ladies enjoyed perfect weather for the 25th Keswick half marathon. Janet Grace 205th(13th Female) in 1:45:28 and Fiona Schneider 351st(54th Female) in 2:01:01
3 Peaks Fell Race, Sun 30 April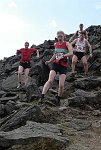 Well done to Helen Sedgwick, first lady in this year's race!
Harriers results known from the SportIdent site... 47 Dave Wilby 3h42:15; 49 Helen Sedgwick 3h43:40; 79 Mike Baldwin 3h52:51; 115 Sally Malir 3h59:59; 170 Phil Atkinson 4h18:09; 187 John Smith 4h21:36; 197 Jo Foster 4h23:19; 234 Brian Melia 4h35:33; 273 Phil Jones 4h44:14; 293 Dan Goodey 4h51:30
Ilkley Ladies (Helen, Sally, Jo) were the first ladies team, with a very good margin. And our Vet 40 team (Mike, Phil, John) was 6th.
Some pictures from Dave & Eileen Woodhead ... here
Some pictures from Abbey's Sarah Grant ... here
Rothwell 10k, Sun 30 April
Neil Chapman reports ... There was a good Harriers presence along with 700 runners at the Rothwell 10k, which was won by Julian Moorehouse from Birchfield Harriers in 29.52, with the star performances coming from our ladies.
Amanda Oddie was the first Harrier, 91st, 4th lady (1st FV35) in 38.27 (PB), followed closely by Sarah Jarvis running a pb by a few seconds to finish 117th and 9th lady in 39.18, with another excellent run from Alison Bennett who ran a pb by over a minute to finish 11th lady (3rd FV40), 122nd in 39.27. These results gave the trio the first ladies team prize.
The other Harrier's results were 103 Terry Lonergan (6th V55) in 38.47, myself 118 in 39.20, 150 Jeff Paget 40.20, 183 Marc Teasey 41.21, 198 Andy Wade 41.41, 241 Andy Wolfenden 43.32, 299 Vic Verecondi 45.12, and 522 (6th FV55) Pat Lonergan 52.21
Postscript: Apologies to Neil whose time was credited to me in the Ilkley Gazette report - the cut-and-paste demon forgot to replace the "myself" above when preparing the report, and the Gazette sports editor plugged my name in. Wish I could do 39.12 ... Paul.
This was a Yorkshire Vets Championship event. YVAA web site
Coniston fell race, Sat 29 April
From Richard Joel ... A car-full of Harriers and Aiden Smith of Otley made the trip to the Coniston Fell Race on Saturday. A lovely warm and clear day. Of the 177 finishers we had,
34 1:29:21 RICHARD JOEL 
95  1:42:37 HEATHER DAWE 
126 1:49:26 KELLY HARRISON 
151 1:59:37 PHILLIP CHAPPELL 
122 1:48:30 AIDAN SMITH 
Thanks to Phil for driving us up.
Dick Hudson's fell race, Wed 26 April
Starting by the paddling pool opp the Darwin Gardens (or did it?), running to Dick Hudson's and back, no flags, any choice of route, minimal fuss, 5.5 miles and 1000 feet of climb.
Bob Hamilton reports ... Typical Wharfedale organisation meant that the race was advertised to start from two different places, and it actually started from a third, so some initiative was required to actually compete in this race, possibly explaining the small but elite field. Many apologies to anybody who failed to find us. You can blame David Hird!
It was always my idea to provide for a race where local knowledge and good route choice would be rewarded, and a start from the lower tarn offered the unique sight of runners disappearing in totally opposite directions. In future years I think we will probably start and finish here because it seems to provide for the greatest variety of options.
The race was won by a ravishingly blonde Ted Mason in 46.38, who got away from Mark Horrocks on the descent. Best route choice - perhaps surprisingly! - seemed to have been made by Stef, who very nearly caught Jason with a great line down, and it was certainly fun to see these two distinctive figures homing in upon each other from different approaches to the finish. Ilkley provided the ladies winner in Louise Cartledge, her maiden race victory.

1  TED MASON WHARFEDALE              46.38  
2  MARK HORROCKS WHARFEDALE          47.04 V40 
3  SHANE GREEN PUDSEY & BRAMLEY      48.19 V40 
4  ANDY BLACK WHARFEDALE             49.17 V40 
5  JASON HEMSLEY PUDSEY & BRAMLEY    49.24  
6  STEFAN MACINA PUDSEY & BRAMLEY    49.28  
7  OWEN BIELBY WHARFEDALE            49.33  
8  ANDY ROBERTSHAW OTLEY AC          50.08  
9  MARK ILEY ILKLEY HARRIERS         51.04 V45 
10 SAM WADSWORTH WHARFEDALE          51.16  
11 BEN STEVENS ILKLEY HARRIERS       52.07  
12 STEVE TURLAND ILKLEY HARRIERS     53.59  
13 SHAUN CHEW WHARFEDALE             54.07  
14 DALE FOSTER OTLEY AC              54.35  
15 THOMAS SESSFORD KEIGHLEY & CRAVEN 56.00 U14 
16 DAN GOODEY ILKLEY HARRIERS        56.15  
17 JONATHAN BRADSHAW WHARFEDALE      56.30 U14 
18 EDDIE WINSLOW ILKLEY HARRIERS     58.31  
19 JAMES LIND ILKLEY HARRIERS        61.14  
20 KEVIN ROGAN WHARFEDALE            63.35 V45 
21 NEIL TAYLOR WHARFEDALE            64.50 V45 
22 PAUL SESSFORD WHARFEDALE          65.39  
23 PHIL JONES ILKLEY HARRIERS        66.42 V45 
24 TOM CUNNINGHAM WHARFEDALE         67.44 U16 
25 MANUEL CRESCIANI ILKLEY HARRIERS  74.01  
26 DAVE FERGUSON WHARFEDALE          74.33 V45 
27 LOUISE CARTLEDGE ILKLEY HARRIERS  76.07 L 
28 ROBERT PAYNE ILKLEY HARRIERS      78.50 V60 
29 EMMA PAYNE ILKLEY HARRIERS        83.02 L 
29 RACHAEL WEBSDALE ILKLEY HARRIERS  83.02 L 
31 BRIAN WEBSDALE ILKLEY HARRIERS    83.04  


The Perfect Double
Rachel and Bryan Websdale write ... The perfect double: Hawkshead trail race (15km) April 22nd and Langdale St Georges day road race (10km) April 23rd
A perfect weekend. The first Hawkshead trail race on Saturday completed by Bryan - quote " it was hillier than I thought" (strange him thinking it wouldn't be hilly, it being the lake district!). Lots of fun things to do for those looking after the kids, the obligatory beer tent (what is it about beer and runners!) kids races, storyteller and a band. Accommodation in the mode of a tent at Langdale National Trust campsite (optional!) where upon it rained all night (strange me thinking it wouldn't rain, it being the lake district!) Sunday dawned without a cloud in the sky and a little thick of head due to the hospitality of the landlord at the Old Dungeon Gill. (See previous note on runners and beer) I managed the 10k from Langdale down to Elterwater and back in the midday sun proudly wearing my Harriers vest and received many cheers of 'come on Ilkley' Two delightful races well organised and fun. Look out for them next year.
London Marathon, Sun 23 April
Provisonal results (updated 27/4) from the official site are ...

4770  Keith Wood         3:29:55 
4954  Janet Grace        3:31:02 
8373  Andy Wiggans       3:48:13 
8419  Andrew Herbert     3:48:26 
8660  David Cockshott    3:49:24 
9649  Suzanne Bickerdike 3:53:17 
11003 Pete Bedwell       3:57:44 
14299 Debbie Rosen       4:11:17 
21290 Simon O'Hara       4:39:04 

Have we missed anyone? Let us know ...
Otley's Ian Fisher was 31st overall in 2:20:38
Pete Bedwell reports ... just checked results and I managed 3.57.44, 11000 th position. 42 seconds off my PB, exactly the same time to the second from 2003 and 25 minutes faster than last year. A fine rain and no wind with slightly warm conditions meant pretty good running conditions, started off steady and managed to mostly maintain my pace throughout aprt from slowing down by 30 sec a mile for the last few miles when it got a bit tough. Usual superb organisation and apart from a few tight corners it was never too busy like the GNR. In the diary for next year !!
From Andy Wiggans ... As the results show, a good day for some Harriers, a flippin' horrible one for others – Top Tip – don't run marathons for charity if you're going to feel obliged to run even when ill-prepared and injured – I had a nightmare!
As expected missing the last 5 weeks of training and awful shin-splints meant that I was ok for 10, surviving for another 7 then in agony for the last 9. Splits of 1:37/2:11 tell the story!
Swore all the way round it's my last marathon, but within 10 minutes of finishing it had become my last injured marathon! So the ballot or a club place in future, and a deferral if the preparation's not spot on.
Now just need to get fit for Leeds Half in a fortnight…
and from Debbie Rosen ... My first ever Marathon and I was still smiling at the end! Started off slowly on everybody's advice and found I was picking up from 18 miles in, felt great running down the Mall, and finally saw the point of all those miles plodded round Ilkley in the snow and hail. Thanks to the club for the place!
.. and Sue Bickerdike says ... my first London marathon, and an event that I turned up at filled with fear and trepidation. Like Andy W I've been hindered with injury, and it's honest to say, I had no idea whether I would actually get round. Training was less than ideal, but having got a club place I knew that I had to at least try!
Met a couple of other Harriers, Keith 'the dark horse' Wood and Andy 'the walking pharmacy' Herbert at the start. It greatly calmed my nerves to see a few friendly faces, especially as I had finally met my match in the needing the loo department.
All went swimmingly - half way in a good time, feeling great, 15 miles and the first family stop - all going to plan apart from Edward refusing to let me eat my alloted Jelly Babies because to quote ' don't stop Mummy you're being overtaken and you're going to be last'. Trudged thro to 19.5, next family stop - by this time I knew if I stopped I'd never get going again so it was a fleeting grunt at the poor soaked family! Then 20 miles and it all went horribly wrong. I know this is a tale that everyone tells but how true it is. A new and hitherto unknown pain occured completely disabling my left leg. At this point it might be prudent to point out that having your name on your shirt when running well is great, but when you're struggling and everybody under the sun is shouting 'don't stop Sue - you're nearly there' and you know they're lying cos you've still got at least 4 to go is really quite disconcerting! Still, a mixture of mind-over-matter (it doesn't work by the way), picturing Pete shouting 'maintain your form' (which actually helped - he's quite scary really) and a desparate need just to beat Zoe from Blue Peter kept me going. In stark contrast to Debbies report the Mall passed me by, I valiantly tried to maintain my comedy smile and wave to the cameras, but I suspect I looked more like gollum than an actual runner!
Job done though, got my time to start with a 3, and I was still alive.
Having inherited my navigational skills from my Mum, I shouldn't have been surprised at the time it took to meet up with the flagging female family members who valiantly battled to the end. The boys had gone back to the hotel to do 'bed-swimming races' - somehow I don't think they'll be back next year! But hey - I will!
Skipton Tri, Sun 23 April
Tim Ashelford reports ... I was 3rd overall & 2nd vet 40, in 1h 1 min 05 sec, at the inaugural Skipton Triathlon today. The race was based at the new pool in Aireville Park with a 400m swim a 20k road bike & 5 k grassy run.
Jamie Hutchinson adds ... not sure of my position, apart from being a long way behind Tim!! took me 72 minutes.
And from new Harrier Fiona Schneider ... This was a great morning out in perfect conditions. We are still waiting for the web page results, but the Schneider family (David, Junior Ilkley Harrier doing the running) finished as a team with Jens (Bike) and Jonathan (swim) ( Dad and brother) in 1:28 and Fiona in 1:41 (I think) ... I hope the times will be posted out tonight then I can give you a more accurate picture. David cannot wait until next year when he will be allowed to do the whole event.
From the race web site: Anne Briggs was 28th lady in 1h33:57; Fiona Schneider 36th in 1h41:34
In the men's race Jamie was 42nd in 1h12:42
Anniversary Waltz, Sat 22 April
AM, and the second counter in both the English and the British fell championships. Results seen on Joe Lee's web site were 4th ladies' team and 23rd men's team ...

77  Jason Hemsley   1h48:18 Pudsey & Bramley
87  Dave Wilby      1h50:14
117 Graham Pearce   1h53:31
143 Helen Sedgwick  1h56:11 6th lady U35
216 Bob Hamilton    2h01:27
227 Geoff Howard    2h02:12 3rd V60
250 Richard Joel    2h04:08
257 Mike Baldwin    2h04:44
271 Emma Barclay    2h06:03 4th LV35
273 Morgan Williams 2h06:26 PB by 16 minutes
380 Heather Dawe    2h19:52 
401 Kelly Harrison  2h25:53
500 Rachael Gooch   2h36:23 3rd LV50
507 Phil Chappell   2h37:29

Morgan Williams provides some details ... With well over 700 pre-entered, this looked set to be the biggest fell race field that those of us who race only in Great Britain and Ireland would ever have seen. In the event something closer to 600 started the race (still a record?) but it was some sight to jog down the finish field towards the start and see that number of runners assembled for a happy day out in the Lakeland hills.
Congratulations to the organisers who, as they promised on the website, indeed had the car parking sorted. The extra field they had available swallowed up a huge number of cars without difficulty, registration was straightforward and the race went off only a few minutes late. The only glitch I heard about was Geoff Howard not appearing on the initial print of the results, now corrected after some lobbying directly from Geoff no doubt.
Some people love the start of the AW. I don't like it much. Something like 2.5 miles of track and road before you get anywhere near the fell and it feels more like a road race than a fell race with people flying past at high speed. Having got out of the starting field in the first 100 to give room to run, I was able to calm down a touch and let a hundred and fifty or so get out of my way!
The weather was decent enough. There was some mist on top (where did Kevin Gooch get to during the race?) and it was cool and windy at times, but the underfoot conditions were pretty good bearing in mind all the rain that has fallen.
Once out on the fells, it is a great runners course. I prefer a few more steep descents and rougher ground to slow everyone else down but the large entry did have the benefit of making it pretty competitive right down the field.
This was the longest race I had run in over 2 years so I was not surprised to feel the strain in the latter part of the race. Even though Mike Baldwin finally caught and passed me on Maiden Moor and Emma finally ran away from me on the road to the finish I was very happy with 2.06.26, a PB by 16 minutes! 579 finished the race so, unusually for a Championship race, I finished top half.
Must have something to do with all that Guinness I drank in Ireland!
Woldsman, Sat 22 April
Amanda Parnaby and Jane Cullingworth completed this 50 mile challenge in 12h and 59mins
Easter Closure, Greenhead Track
From Andy Wolfenden ... The track at Greenhead will be closed during Easter, therefore no session on Thursday 13th or 20th. We'll be back down there on Thursday 27th April.
Guiseley Gallop, Sun 16 April

17  Tim Ashelford     39:09
18  Jamie Hutchinson  39:18
30  Richard Joel      40:34
31  Nick Richardson   40:40
46  Mark Iley         41:50
52  Amanda Oddie      42:13 2nd lady
68  Sally Malir       44:00 4th lady
163 John Coates       49:43
191 Di Haggar         50:41
194 Keith Wood        50:52
197 Jan Belton        51:12
292 Antonio Cardinale 56:32
300 Bernie Gibbons    56:57
308 Vince Gibbons     57:24
347 Bob Payne         58:52
420 Rachel Websdale   63:31


Caldervale 10m race and 4m Fun Run, Fri 14 April
From Alison Bennett ... Calder where? Not quite the Calderdale relay but similarly up and down. Being born a Lancastrian, I am occasionally drawn to try a race on the other side of the Pennines. Caldervale is a small settlement close to the Bleasedale fells. The 10 mile route was described as undulating and this was not an understatement. A varied field comprised a large contingent of Wesham Road Runners (Wesham?), Darwin Dashers, Accrington Road Runners and on the run from the rest of us a solitary Inland Revenue! After a level start (unlike the fun run's) with only a slight incline I was beginning to think that this was going to be easier than expected. But after 3 miles of increasing incline I was seriously considering why I had entered this race. I was then asked by a fellow runner if I had raced the course before, he then explained there was another 2 miles of climbing with a steep bit at the end. In fact each mile marker signified another hill. Finally there was a sharp downhill and I was relieved to finish in 70:38 - 5th Lady. Very picturesque course but not one to seek out a personal best.,bre /> The race was won by Paul Miller of Horwich in 57:03 and first lady was Amy Green of Keighly & Craven 65:40. Another notable running personality was Dave Waywell V60 in 63:58
The race was preceeded by a challenging 4 mile "fun run" as in: "They'll have fun getting up these hills" which began with a steep climb from the valley bottom out of the village. After seemingly endless uphill and down dale Adam was the first Junior Ilkley Harrier back in 38th place 34:14. Tom flew in, finishing in 52nd place 37:20
Mermaid 10k, Fri 14 April
Vic Verecondi reports ... As I had been looking forward to a Good Friday 10k it was with a saddened heart I received the information that the Salford 10k was to have an altered course. Apparently there were some roadworks (or somesuch) which had changed the course (part of it being on a track). Not only this, it was an unmeasured course of approximately 10k.
Well I thought, how can this be a ridgey didge, fair dinkum race??? Not totally on road but also not measured to the exact millimetre. As any true road runner knows this is quite unacceptable.
In desperation on Thursday night I searched the internet for a road race, preferably 10k. Within minutes I found the Mermaid 10k at New Marske along the east coast in Cleveland. A quick phone call yielded a positive response. There were numbers available on the day. My spirits heightened quickly.
The course was advertised as fast and flat. A good time was possible I thought. The first couple of kilometres were in a housing estate with virtually the rest of the 10k along the bracing seafront. Before the race a couple of locals I was chatting to informed me that once you hit the seafront it can get a bit breezy.
Anyway the race started with the first couple of kilometres being fine. Then once on the seafront I thought a cyclone from the Gulf of Carpenteria had hit the area. So much for a bit breezy. It was quite a struggle and wasn't going to be a fast time. Anyway I completed the race 94th in 45:27
We rounded off the day with a bit of local culture, at the Smugglers Centre in Saltburn, playing 2p slot machines on the pier and a hearty pub lunch. For the record the winner was Mike Burrett of Leeds City in 33:42. Would be a definite pb course without the breeze.
Kinder Downfall, Sat 9 April
114 Heather Dawe 1h33:32
Meanwood Trail, Sat 8 April
Geoff Howard gathered the following results ...

Juniors
1 mile
11 Odin Hargreaves-Madhas 9th B9-10 8:33;
21 Edward Bickerdike 8th B7-8 9:12;
25 Ellie Bickerdike 10th G9-10 10:12;
38 Logan Hargreaves-Madhas 4th B7-8 13:10;
2 mile
12 Catherine Gibbons 1st G15-16 14:24;
19 Patrick Gibbons 1st B13-14 16:48

Seniors
6   Shane Green 45:56;
10  Jason Hemsley 47:04;
14  Jamie Hutchinson 47:41;
17  Nick Richardson 48:12;
22  Tim Ashelford 48:54;
23  Ben Stevens 49:06;
33  Bob Hamilton 3rd v50 50:44;
39  Lawrence Basham 51:19;
52  Geoff Howard 1st v60 52:35;
89  Pange Srivastava 58:00;
135 Brian Websdale 61:33;
143 Keith Wood 62:08;
144 Jon Tindall 62:18;
147 Barbara Bullock 62:30 1st LV55;
177 Victoria Stevens 65:32;
184 Becky Malby 66:20;
215 Bernie Gibbons 69:05;
229 Jemma Basham 70:38;
248 Sue Stevens 72:03;
264 Antonio Cardinale 73:41;
278 Anne Briggs 76:42;
304 Rachel Websdale 80:53;
314 Amanda Parnaby 82:43

More on the Valley Striders web site
Ackworth Half Marathon, Sun 2 April
Pete Bedwell reports ... myself and John Brown were the only Ilkley Harriers at this one. A very well marshalled and organised half marathon which was more than a bit undulating. None of the hills were 'walking steep', there just seemed to be a lot of steady grinds with not a lot of downhill as often seems to be the case. The weather was perfect, cool and not too windy and only a bit of drizzle at the end.
I was well pleased with my 3rd fastest half ever in 1h47.36 (21 seconds slower than my garmin time), 393 out of 700 finishers with John Brown coming in 474th in 1h54.29, 474th.
Baildon Boundary Way, Sun 2 April
Sue (I'm so chuffed) Bickerdike reports ... At least we had good weather………! Conditions underfoot at the Baildon Boundary Way could at best be described as a quagmire, with the result being a delayed start as competitors tried (pointlessly really) to get to the start clean and in one piece! A sort of treading water motion was needed to keep above the really sticky stuff as we lined up for what we all knew was going to be a slippery affair. However, given the rain and hail that the last few days have thrown at us the conditions were unsurprising, if not welcome. Numerous waterproof discussions continued right up to the gun, but fortunately the weather held and we were treated to a dry, if blustery run weatherwise, but an energy sapping mudbath for virtually the entire route. For those using it as a training run for London, not so good, for those who enjoy the challenge of tree-routes submerged by brown stuff of unknown consistency or depth probably fantastic! We had some very good results despite this:-
Apologies for omissions but I was cold and tired!

1st Ladies Team Angela Strivastava (Pange), Jan Belton and ME!!!!!!!!!
2nd LV35        Pange
1st LV55        Barbara Bullock

9   Shane Green        1:29:50
11  Steve Turland      1:30:51
13  Lawrence Basham    1:31:48
64  Phil Atkinson      1:46:11
79  John Smith         1:49:37
101 Angela Strivastava 1:52:46 2nd LV35 + 1st Ladies team
126 Nigel Tapper       1:57:03
136 Jan  Belton        1:57:57  1st Ladies team
142 Keith Wood         1:59:08
147 Sue Bickerdike     2:00:16  1st Ladies team
160 Barbara Bullock    2:02:08  1st LV55
167 Anthony Swanepoel  2:03:21
208 Rebecca Malby      2:10:15
237 Bernie Gibbons     2:14:14
240 Jemma Basham       2:15:09
241 Antonio Cardinale  2:15:13
263 Adele Mitchel      2:20:14
274 Bob Payne          2:22:54
281 Richard Midgeley   2:24:38
290 Andy Sarah         2:26:08
299 Emma Payne         2:28:27

Steve Turland adds ... rain held off for the race, but conditions very heavy underfoot. With a field of 350, the first 400m dash through 8 inches of mud was very entertaining!
Full results on the Baildon Runners site
Blubberhouses 25m Sun 2 April
Amanda Parnaby reports that she completed this in 6h6m; while Alison Weston was 1st lady in 4 hours 5m.
Fountains Abbey 10k, Sat 1 April
From Fiona Schneider - Just to let you know that WILL??? fom Leeds came 3rd in the Tesco fountains abbey 10km on saturday and David ( schneider) came 6th. There was no official timing but David was round in 41 min ....as a brand new Harrier member I came in 53:41 It was a really nice run, road, off road grass, a good mix (OK it was a slow field compared with Harrier stuff!) Don't know if other harriers were there .. we all wore our uniform Cancer Research t shirts..
link
Coniston 14, Sat 1 April
Andy Wiggans reports ... Spookily, there was a break in the monsoon just long enough to allow the runners in the Coniston 14 road race to get round without drowning. The 'mixed' weather led to an even longer than usual debate about the length of sleeves, gloves, hats etc. Vic fortunately decided to ditch his waders and stylish (well, stylish to an Aussie, anyway) "Drizabone" cattle rancher's waxed coat just before the start, preferring to run in a red and green ensemble and a split leg short.
This was a first time for several of the Harriers competing, including me, although South Cumbria being my home patch the roads were all very familiar. Being an unusual distance (13.92 miles according to my GPS jobby), this race round Coniston Water promised a PB for most of us, mainly on the grounds that we've never run it before.
I've been attempting to out-hypochondriac that master of the art, Andrew Herbert recently, and have therefore not run for over two weeks with a very sore shin – so it was without great hope that I lined up with several other Harriers, all moaning about the fact we were out of form/fitness or training for something else.
Anyway, off we trotted along with some 1356 runners, up the incline towards Torver and down to the bottom of the lake. Being such a masterful judge of pacing, I shot off about 30 seconds a mile faster than I intended, and never saw anyone again. Andrew and Vic Verecondi set off together, but ended up separated by a few minutes. Suzanne Akeroyd was also in amongst us somewhere, using the race as a pre-London warm-up..
The route is undulating – nothing terribly steep, but the hills keep on coming, and there's a real sting in the tail (well, sort of a sting in the lower back really, as you've still got a couple of miles to go) just past Brockhole at about 12 miles.
The race was won by Wesham's Steve Littler in 1:18:14. I managed to maintain my quicker than intended pace most of the way, and come in 145th in a time of 1:39:14 – my shin held up most of the way round, but I'm really suffering for it today, so this could be the world's longest taper for London!
Can't find Suzanne on the results, but she was next home in 1:44:odd (1:44:10). Andrew also surprised himself with a comfortable 1:47:28 in 306th place. Tim Whitaker was next in 356th in 1:49:10, and Diane Kitchen close behind in 365th in 1:49:28 – a great effort as she's not run that distance on roads for 17 years. Janet Grace was 438th in 1:52:13, followed by Vic in 527th place with a time of 1:55:26. Graham Corbett was 541st in 1:55:45 and John Coates was 580th in 1:57:01. Jeff Paget ensured that all Harriers were under the two hour mark with 1:58:33 to give him 641st place.
This is a great race, with the added benefit of being on a Saturday, meaning that the Verecondis, Herberts and Wigganses, along with multiple children were able to sample the delights of the local area's food and drink emporia without the guilt of having to refuse that eleventh pint because we're running the next day. Definitely recommended – but get in early cos it gets full!
Slieve Bearnagh, Sat 1 April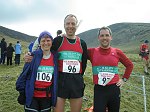 AS 5M/2700' Three Ilkley Harriers travelled to Northern Ireland for the first race in the British Fell Championships. What a great race - a grinding climb, helter skelter descent, hands on knees climb, breakneck descent, another 600' climb, and a final long downhill grassy run to the finish. Fantastic scenery, and not a few pints of Guinness. Morgan Williams was 123rd in 59:22; Alison Eagle was 2nd Lady Vet, 138th overall in 62:23; and Paul Wood was 190th in 76:06 Jason Hemsley, running for P&B, was 93rd in 55:48
NIMRA's site
Pendle fell race, Sat 1 April
Emma Payne reports ... Emma Barclay, Richard Hargraves and myself did the Pendle Fell Race on Saturday 1st April. Not the best race or conditions to make my fell running comeback and I certainly did not remember the second vertical climb! Conditions underfoot were very wet and the high winds made it very difficult. Emma was 3rd lady and Richard had a good run.

1   Andy Peace    Bingley             34:29
28  Shane Green   Pudsey and Bramley  40:13
63  Emma Barclay                      44:47
108 Richard Hargraves                 50:04
177 Emma Payne                        73:28

News Jun-Oct
|
News Jan-Mar
NB:
you may need to refresh this page, depending on your web browser settings, to get the latest news updates.