London Marathon 2004
Ilkley Harriers has 3 "club places" in the

London Marathon. If you would like one of these places, contact Norman Blackburn, or any committee member, ASAP.
Christmas Training
Formal sessions are ...
Mon 22 Dec - NO circuit training
Tue 23 Dec - Tuesday night run 7pm, in festive dress!, 7pm as normal from ILTSC
Thu 25 Dec - NO sessions
Sun 28 Dec - normal Sunday runs?
Mon 29 Dec - NO circuit training
Tue 30 Dec - normal Tuesday night training, ILT&SC
Thu 1 Jan - no sessions
Sun 4 Jan - normal Sunday runs?
Mon 5 Jan - circuit training resumes, Ilkley Grammar gym, 7pm
Tue 6 Jan - normal Tuesday night training, ILT&SC
Wed 7 Jan - 6pm, new track session at Carnegie College
Thu 8 Jan - Pete's sessions on the grass at ILT&SC resume, 7pm
See the Training Page
Auld Lang Syne fell race, Wed 31 Dec 2003
BM 6m/900' The last counter in the Ilkley Harriers Running League 2003 Results are ... 1 Ian Holmes 34:01 (a new record, in racing flats!); 18 Stefan Macina (P&B) 38:53; 22 Graham Pearce 39:45; 26 Jason Hemsley (P&B) 40:43; 48 Nick Pearce 42:35 (2nd V50); 76 Mike Baldwin 43:51; 131 Norman Bush 47:49; 138 Sally Malir 48:17 2nd lady; 164 Bob Wightman 50:06; 251 Geoff Howard 56:09; 272 Keith Wood 57:02

Andy Sumner's Harriers photos.

Jolly Holly Jog, Sun 28 Dec 2003
Vince and Bernie Gibbons ran in the multi-terrain 10k race at Ripon: 102 Vincent Gibbons 47.16; 165 Bernadette Gibbons 52.34
The 10k race was preceded by a 1.5 mile fun run. Vince reports on this ...
Sharp Intake of Cold Air for Young Ilkley Harriers
After a gasping start for Ilkley Junior Harriers, Mary Gibbons claimed the prize for third placed female in a 74 strong field at the Jolly Holly Jog Fun Run.
Six Ilkley Harriers travelled to Ripon for the seasonal event, organised by Ripon Runners, on Sunday 28 December.
Finding the start proved to be the toughest task of the day. There was no provision for advance entries and the Ilkley athletes arrived at the venue with just minutes to spare. Numbers were still being pinned onto vests as the starting gun was fired!
It was a cold start as the Ilkley runners, deprived of a warm-up, gulped down freezing air and chased off after the pack on the frosty course over one and a half miles. Nevertheless, the entire Ilkley contingent finished strongly.
Brothers Simon and Bradley Chapman came in close together. Simon was placed 23rd with a time of 13 min 38 sec, just ahead of Bradley, Ilkley's youngest runner in the Christmas race, 24th in 13 min 40 sec.
Ilkley results:16 Mary Gibbons, 11minutes 57 seconds; 17 Patrick Gibbons, 12 min 02 sec; 18 Catherine Gibbons, 12 min 07 sec; 23 Simon Chapman 13 min 38 sec; 24 Bradley Chapman, 13 min 40 sec; 44 Eileen Gibbons, 16 min 30 sec.

Mandy's Harriers photos.
Clitheroe 10k, Sun 28 Dec 2003
Neil Chapman reports ... Ten Harriers out, with 550 other runners, for the Clitheroe 10k (Ribble Valley 10k) , on a lovely sunny and at times blustery day. First Harrier in was Terry Lonergan in 38:26 (69), followed closely by myself 38:38 (73), Dave Jepson 38:48 (79) and Geoff Howard 39:06 (86). Alison Bennett was our only lady out, running well to finish in 42:35 and 11th lady overall. Keith Wood ran 43:51 (211) only two days after completing the Chevin Chase, with brother Andy Webster hot on his heels in 43:57 (218). One less pint of Christmas cheer for Andy the night before and the positions could well have been reversed. Not far behind was the group led by John Woodward 44:21 (226), Andy Wolfenden 44:49 (234) and Vic Verecondi 46:08 (282).
Chevin Chase, Boxing Day 2003
Plenty of Harriers were racing off their Christmas plenty, and plenty more were supporting. The race was won by Ian Fisher in 38:20. 7 Jason Hemsley (P&B) 42:29; 9 Tim Ashelford (L&BT) 43:30; 38 Dominic O'Hooley 46:39; 42 Nick Pearce 46:50; 48 Jim Ryder 47:23; 63 Mark Iley 48:13; 74 Neil Chapman 48:54; 92 Jamie Hutchinson 49:54; 107 Ian Marshall 50:21; 133 Mike Baldwin 51:35; 138 Sally Malir 51:52; 162 Rob Pawson 52:57; 205 Jo Foster 54:47; 206 John Woodward 54:49; 303 Joyce Marshall 58:09; 312 Dave Ibbotson 58:30; 324 Vickie Wright 58:51; 340 Keith Wood 59:29; 352 Vince Gibbons 59:50; 393 Jean Uniacke 61:05; 398 Richard Gray 61:13; 447 Richard Midgley 63:03; 466 Rebecca O'Hooley 63:27; 536 Bernadette Gibbons 66:01; 609 Andy Sarah 68:59; 686 Bernie Connor 71:45; 697 Andrew Wright 72:15; 704 Emma Payne (Otley) 72:57; 723 Amanda Parnaby 73:50
Apparently, Chevin Chase was Neil Chapman's 50th race of the year.
Results and some photos on

Aire Centre Pacers web site.
The Stoop fell race, Sun 21 Dec 2003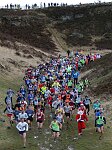 5m, 800', biting cold winds, ice cold mud, snow on top, and Dave Woodhead shouting at you. A perfect day out for some. Rob Hope won in 28:57. 2nd claim Harriers Jason Hemsley and Stefan Macina were 7th in 31:30 and 10th in 31:46 - if they ran for us we'd let them wear more than just a vest on top, but then maybe they wouldn't run as fast (or have to). First Harrier was Graham Pearce 14th in 32:37; then 45 Nick Pearce 35:33; 56 Jamie Hutchinson 37:02; 79 Helen Sedgwick 39:07 and 4th lady; 80 Alison Eagle 39:16 5th lady; 84 Ian Marshall 39:39; 101 Dennis Ackroyd 40:57; 104 Neil Chapman 41:11; 108 Morgan Williams 41:50; 172 Joyce Marshall 47:36; 186 Shirley Wood 49:54; and 223 Chris Porritt 57:11
Before the senior race, the juniors were out in force ... see the Junior Pages.
The next Dave Woodhead Bronte production is the Auld Lang Syne on New Years Eve

Harriers photos.

Junior Harriers photos.
---
Calderdale Way Relay, Sun 14 Dec 2003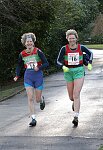 50 miles, 6000', 12 runners. This is a favorite event of many Harriers, and this year we thought we'd try something a little different and entered two quality mixed teams. For perhaps the first time, there were no changes in the team from the original selection to race day - thanks everyone!
Team A were 1st mixed team and 24th overall in 7h13:41:
| | | |
| --- | --- | --- |
| Mark Iley and Jim Ryder | 81:47 | 20th |
| Emma Barclay and Sally Malir | 76:19 | 27th overall |
| Alison Bennett and Cath Wolfenden | 44:41 | 27th |
| Andrea Priestley and Graham Pearce | 78:30 | 26th |
| Geoff Howard and Alison Eagle | 62:45 | 21st |
| Nick Pearce and Jon Sage | 89.39 | 24th |
Team B weren't far behind! 39th and 3rd mixed team we believe, in 7h49:59.
| | | |
| --- | --- | --- |
| Mike Baldwin and Adrian Hall | 86:19 | 34th |
| Nicky Kime and Jo Foster | 76:25 | 33rd overall |
| Di Kitchen and Bridget Doherty | 51:19 | 40th |
| Ashley Hardwell and Ian Marshall | 84:13 | 38th |
| Joyce Marshall and Anna Liuba | 70:41 | 39th |
| Neil Chapman and Morgan Williams | 101:02 | 39th |

Harriers photos.
Full results on the

Halifax Harriers web site
Stockport 10M road race, Sun 14 Dec 2003
Andy Wolfenden reports ... Just Terry Lonergan and myself made the trip for this one. I thought Cheshire was flat until today's race, although I should have been suspicious when Terry advised me at the start to "just say to yourself 'big-dipper' ". Terry was pleased with his 64.53, 59th overall and 6th vet 50; and over 3 minutes quicker than last year. I was happy with my 73.44. 186th overall and 8th vet 55 . Over 600 ran.
Harriers handicap race, Tue 9 Dec 2003

Click here for results (92 KB Excel file)
ROM November 2003
The Ilkley Harriers Runner of the Month for November is Geoff Howard.

details
.
---
SDXC #2, Nell Bank, Sun 7 Dec 2003
Thanks to the many Ilkley Harriers who helped this race go so smoothly. Nell Bank was a great venue, the course tough but enjoyed by most, and the weather superb!
Results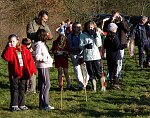 This was a counter in the Ilkley Harriers Running League - Ilkley Harriers times were specially recorded by Peter Cooke and his helpers (right). The race was won in 28:24; we had Stefan Macina 30:03; 13 Jim Ryder 30:43; 25 Jamie Hutchinson 32:20; 28 Jonathan Sage 32:57; 31 Andy Wade 33:02; 46 Ewan Welsh 34:12; 47 Ian Marshall 34:12; 49 Neil Chapman 34:14; 55 Jeff Paget 34:37; 66 Dennis Ackroyd 33:59; 75 Eugene Doherty 36:59; 78 Keith Wood 37:29; 94 Andy Kitchen 39:30; 101 Vic Verecondi 40:17. In the ladies competition (in the same race) we had 2 Alison Bennett 33:37; 5 Helen Sedgwick 35:22; 8 Sally Malir 36:25; 11 Clare Cheesewright 38:12; 13 Di Kitchen 38:19; 21 Bridget Doherty 39:31; 29 Elizabeth McCann 41:33; 39 Shirley Wood 42:36; 40 Sue Bickerdike 42:40; 44 Lindsey King 43:04; 48 Bernie Gibbons 44:07; 52 Chris Porritt 46:10.
Ilkley were first ladies team. 4th men's team; 2nd lady vets' team; and 6th vets' team.

Harriers photos.

More Harriers photos, from Andy Sumner.
Nene Valley 10M, Sun 7 Dec 2003
Geoff and Caroline Howard did this 10 mile road race "down South": Geoff was 39th and 2nd O55 in 61:43 and Caroline was 107th and 9th lady in 68:35
Marsden to Edale Trog, Sun 7 Dec 2003
In this long distance fell race. Ashley Hardwell ran 4h01 and Graham Weston 4h40
Rudolph Run, Sat 6 Dec 2003
In another long distance race, over 23M, Richard Midgley was 56th out of 370 in 4h14
---
Video evening Tuesday 2 December
Northern & National XC Championships video evening.
If you haven't already added your name to the ever growing lists of members keen to do the above championships, do not delay!.... Entries (via Phil Chappell) for the Northern close Dec. 10th. Clubs must enter the Northern to run the National at Roundhay Park, Leeds.
To whet your appetite for the National why not stay after training this coming Tuesday and see videos of past Nationals..... the event you have to run at least once in your life! Learn what it what like to be in the Charge of the Light Brigade!
Rivock Edge fell race, Sun 30 Nov 2003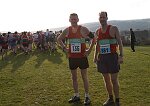 BM, 10M/1150'
Race time minus 10 minutes, and ... "... they're at Valley Drive."
Neil Chapman and Mark Iley were racing against time to get to the fell race after racing in the Abbey Dash, to complete an amazing (double) double - scoring in two Harriers Running League events in the same day! (Perhaps when The Statistician calculates their League points he should include not only an X factor (age/gender adjustment) but also a WHY factor?) Our heroes arrived in the nick of time, only to nearly miss the start while posing for our photo - sorry, lads.
The field was smaller than in some years, but those who didn't make the race missed out - it was a glorious day for running, and the new improved course was favorably received and well-marshalled.
Harriers scored some great results: 3rd Graham Pearce 68:18; 6th Nick Pearce 72:19 (1st V50); 7th Geoff Howard 73:44; 8 Dave Cheesewright 74:52; 12 Mike Baldwin 75:48; 25 Eddie Winslow 79:41; 28 Mark Iley 80:39; 36 Ashley Hardwell 83:23; 37 Phil Chappell 84:02; 44 Dennis Ackroyd 84:51; 49 Neil Chapman 87:06; 50 Norman Blackburn 87:10; 57 Joyce Marshall 91:51; 62 Rachael Gooch 93:48 1st LV50; 63 Clare Cheesewright 94:17; 67 Graham Weston 98:10; 71 Bridget Doherty 101:34; 72 Shirley Wood 101:37; 73 Chris Porritt 111:06
Second-claim Harrier Jason Hemsley won the race in 65:50; Stefan Macina was 4th in 69:59; and Kirstin Bailey was 40th and first lady in 84:19
Full results on the

K&C web site

Harriers photos.
Abbey Dash 10km, Sun 30 Nov 2003
Another Harriers Running League event, won in 29:24 We had 140 Mark Iley 37:40; 143 Neil Chapman 37:43 (PB); 191 Dave Jepson 38:41 (PB); 424 Keith Wood 42:30; 518 Andrew Webster 43:33; 580 John Woodward 44:16; 1034 Sue Bickerdike 48:46 (PB); 1109 Rob Whiting 49:24; 1935 Amanda Parnaby 58:11; and running together 2433 Susi Leach 73:35 and 2435 Teresa Whittle finishing 74:11
Full results on the

Abbey Runners' web site
WYXC #3, Sat 29 Nov 2003
We had a low turnout of Harriers at the third race in the League, at Huddersfield (2 big races the next day?) The race was on a windswept hillsiode location with driving rain and hail - but our Harriers were not discouraged! In the men's race we had 83 Jamie Hitchinson 39:16; 91 Terry Lonergan 40:10 and 103 Phil Chappell 41:22 - good packing.
For the ladies, we had 10 Alison Bennett 21:29; and 19 Cath Wolfenden 22:25.
Full results on the

Complete Runner web site
---
Sport Direct XC #1, Idle, Sun 23 Nov 2003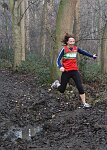 23 Harriers enjoyed the first race in the League, on a sharp, sunny day, round a 4.5 mile course that had "something for everyone" - thanks Eccleshill.
We had: 8 Graham Pearce 29:01; 10 Jim Ryder 29:20; 18 Nick Pearce 29:25; 27 Jamie Hutchinson 31:27; 34 Terry Lonergan 32:03; 39 Neil Chapman 32:11; 41 Phil Chappell 32:35; 57 Jeff Paget 34:25; 64 Norman Blackburn 35:01; 65 Morgan Williams 35:11; 67 Keith Wood 35:30; 89 Peter Cooke 37:15; 126 Vic Verecondi 43:36.
For the ladies (in the same race) we had 3 Alison Bennett 33:00; 5 Cath Wolfenden 34:35; 7 Jo Foster 35:15; 15 Di Kitchen 38:37; 23 Bridget Doherty 40:02; 27 Elizabeth McCann 41:00; 35 Suzanne Bickerdike (flying through the air, right) 41:18; 37 Shirley Wood 42:30; 59 Chris Porritt 48:10; 66 Amanda Parnaby 49:30
NB the race times are the ones we recorded - we don't think offcial times will be available. If you think we've got your time wrong please let us know, as this race will be a counter in the Harriers Running League 2003 (the race was won in 27:11). (But don't do the calculations yet, Andy!)
Provisional team results ... our men's team were 3rd with 234 points (Abbey 169, Rothwell 215), the ladies first! with 30 points (Horsforth 36, Kirkstall 54).
A reminder that the next race in this League is our own, at Nell Bank on Sun 7 December. There will be races for juniors too - details here.

Harriers photos.
---
Roundhay Park, Sun 16 Nov 2003
In the 5 mile race Neil Chapman was first Harrier in 31:36, with Jean Uniacke hot on his heels finishing 6th Lady in 31:40. Richard Midgley ran 39:38 for his second race of the morning, having done the 3 mile race an hour earlier in 22:02
Preston 10 mile, Sun 16 Nov 2003
Andy Wolfenden reports ... 3 Harriers turned out for this race, a flat fast 10 mile 2 lapper on the Ribble estuary. The weather was perfect for racing and we had a great time, even if Keith did cut it a bit fine; only just making it to the start with 5 seconds to spare. Results: 199 Keith Wood 73:04; 210 Andy Wolfenden 74:06; 225 Andy Webster 74:51 - a PB by 5 minutes (Keighley track work paying off)
Tour of Pendle, Sat 15 Nov 2003
Geoff Howard reports ... Good visibility and favourable wind direction made for a good 17 mile 4250 feet event over Pendle which gentlefolk might describe as challenging: Jon Sage 21st in 2hrs 44m 11s; self 34th in 2hrs 52m 56s
---
ROM October 2003
The Booths Ilkley Harriers Runner of the Month for October is Dave Cheesewright.

click here for details
.
Kelbrook fell race, Sun 9 Nov 2003
Neil Chapman reports ... Five Junior Harriors tackled Kelbrook for the first time on Sunday morning on a perfect day for racing. All the Juniors enjoyed a well organised event with some stiff competition. Alice Munnoch was 19th (10th girl) in the U/14 race over 1.5m in 21:08. In the U/12 race over 1.25m the results were, Harriet Middlebrough 24th (7th girl) in 16:07, Annabel Smith 27th (9th girl) in 16:57, Bradley Chapman 28th (19th boy) in 16:58 and Kieran Roebuck 29th (20th boy) in 18:29. All the children did well as they were all competing against older and more experienced runners. A special mention for Kieran, who could have run in the much shorter under nine race and would have probably won a prize, but chose to run in the U/12 race. Also well done to Annabel's brother Oliver who came second in the U/9s and he is only six years old. A Junior Harrier for the future.
Only seniors in the 3.5 mile race were Neil Chapman who ran 30:25 and 2nd claim Harrier Stefan Macina who ran a lot faster, after cycling over from Silsden!
Burley Bridge Hike, Sat 8 Nov 2003
Richard Midgley ran the 21 miles from Burley Bridge to Rombalds Moor (via the scenic route!) in 3h55, for 23rd place. But the star of the show was Linda Wright, 2nd lady, in 4h04. Andrew Wright ran 4h11 and Amanda Parnaby 4h54

LDWA W Yorks Group web site
---
Derwentwater 10, Sun 2 Nov 2003
Andy Wolfenden was 171st in 76:29
Snowdon Marathon, Sun 2 Nov 2003
Suzanne Akeroyd ran this in 3h52
Dovedale Dash, Sun 2 Nov 2003
Roy Ruddle was 95th (out of 1015) in 34:30 in this 4.75 mile race with 500' of climb.
Shepherds Skyline fell race, Sun 2 Nov 2003
BM 6.25M/1150' Mike Baldwin was 28th in 49:40; Ashley Hardwell 106th in 58:31. Second-claim Harrier Stefan Macina was 13th in 46:41
Guy Fawkes 10, Sun 2 Nov 2003
30 Geoff Howard 66:25; 38 Neil Chapman 67:29; 159 Rob Pawson? 77:04; 290 Linda Wright 83:43; 421 Bernie Gibbons 91:04; 506 Andrew Wright 97:37; 571 Amanda Parnaby 107:39

Nidd Valley Road Runners web site
WYXC #2, Sun 2 Nov 2003
We had full Harriers teams at this muddy but enjoyable race at Nunroyd Park. Informal results are: 75 Jim Ryder 36:03; 101 Billy Kerr 37:22; 117 Terry Lonergan 38:19; 141 Phil Chappell 40:04; 157 Neil Chapman 41:12(in his 2nd race of the day!); 189 Andy Kitchen 45:17 - 17th team
For the ladies, we had 19 Alison Bennett 26:43; 29 Sally Malir 27:52; 41 Di Kitchen 29:34; 44 Bridget Doherty 30:17 - 7th team.
Ruth Kitchen was the first Junior Ilkley Harrier to run in a WYXC League race, finishing 38th on her 3km course in 15:37

Harriers photos from Andy Sumner.
Full results on the

Complete Runner web site
Jane Leather in Lakelands Classics 2003
Graham Breeze writes ...The annual Lakeland Classics Trophy is based on a series of long Lakeland fell races of up to 23 miles in length including up to 9000 feet of climb. The series was conceived by Skyrac Chairman Graham Breeze and FRA Statistician Brian Martin and they sponsor the Trophy to raise the profile and ensure the survival of the most arduous fell races in the FRA Calendar.
Fewer than 40 runners completed the series in 2002 and 2003 and in both years only two were women. Outright winners of the mounted slate trophies in 2003 were giants in the world of fellrunning: Rob Jebb (Bingley) who has also won the 2003 British Fell Championship was the male winner and the prodigious Wendy Dodds (Clayton), although a Vet 50, again won the women's prize. Ambleside won the team prize.
Of local interest was that an Ilkley Harrier has taken the women's runner-up prize in both 2002 and 2003 with Alison Weston and Jane Leather respectively.
Last week Jane was presented with her limited edition Bentham Pottery "Lakeland Classics 2003" mug to recognise her success.
---
English Fell Champs update
Just seen on the FRA web site: Alison is 4th Lady Vet (missing 3rd by just 1 point!); Nick 5th Vet 50 (and 33rd Vet 40!); Ladies team 3rd; Men's Vet 40 team 6th - just some of the great Ilkley Harriers results.
See our summary of the season.
Dublin Marathon, Mon 27 Oct 2003
Richard Midgley ran "across the Irish Sea" (as the song goes) in 3h48
KIMM, Sat/Sun 25/6 Oct 2003
We had two mixed teams in the 'B' class of this year's Karrimor International Mountain Marathon, the original 2-day adventure race. Dave and Clare Cheesewright were the first mixed pair, and a fantastic 7th overall, in 12h35:49; Joyce and Ian Marshall were 36th overall in 14h28:14
Results, photos, etc. on

the KIMM web site.
Holmfirth 15, Sun 26 Oct 2003
We had two runners in this tough road race, which has a sting in its tail with a stiff climb in the final miles. Neil Chapman was 36th in 1h35:41; Vince Gibbons was 124th in 1h56:59
Withins fell races, Sat 25 October 2003
First off we had the junior races, and we were well represented by the Junior Ilkley Harriers. In the U8 race, Sam Wood beat his record of last year by 1 second in 2:44, but was just beaten into 2nd place. We had the first girl U8, Emily Middlebrough, 6th overall in 3:21; then 7 Oliver Smith 3:22; 8 Max Greaves 3:23; and 15 Drew Hanson 4:12. In the U10 race we had 21 Harriet Middlebrough 8:45 (2nd girl U10); 28 Poppy Liuba-Carmichael 9:06; 34 Bradley Chapman 9:49; 36 Jack Hanson 9:53; 38 Annabel Smith 10:03 (5th girl U10) and 41st Keiran Roebuck 10:13. These were all good results against experienced competition.

Junior Harriers photos.
In the senior race, the Withins Skyline BM 7m/1000', we had 16 Graham Pearce 48:11 (a great result); 29 Nick Pearce 49:34 (2nd Vet 50); 32 Jim Ryder 50:55; 37 Mike Baldwin 51:14; 56 Geoff Howard 53:38; 77 Ashley Hardwell 56:35; 88 Sally Malir 58:10 (5th lady); 100 Ewan Welsh 59:14 (injured); 101 Jo Foster 59:17 (6th lady); 110 Graham Weston 61:04; 121 Keith Wood 64:44; and 136 Andy Webster 68:19
Second-claim Harriers Jason Hemsley and Stefan Macina were at the sharp end of the race - 6th in 45:13 and 14th in 47:48

Harriers photos from Andy Sumner.
Screes fell race, Sat 25 Oct 2003
AS 5m/1560' In typical Rain District weather (should have run at Withins, it was lovely ...) Alison Eagle was 24th and 2nd lady in 53:54; Morgan Williams was 33rd in 57:20
---
FRA Relay, Sat 18 Oct 2003
Geoff Howard reports ..., A great day out in Shropshire. Pretty cold early on but warm for the later runners. Well organised enjoyable event won by P&B including Jason in 3.38.36. Ilkley Harriers were some way behind, 38th in 4.58.57. Mark Priestley 43 in 60.51; Andrea Priestley & Nick Pearce 32 in 1.21.59; Ian Marshall & Geoff Howard 39 in 1.41.05; Mark Iley 38 in 55.06.
---
Nike Bowerman Van, Tue 14 Oct 2003
The Nike Bowerman van came to our Tuesday night session. 18 Harriers had their gait analysed by running on a treadmill while their foot strike was videoed. (The majority of us were neutral - quite unusual.) And some benefitted from "test driving" Nike shoes on their Tuesday night run. It was a success, and there seemed to be more people who wanted a go, so maybe we'll do it again in a few months? Thanks to Stephen Millard for bringing the Van along.
ROM September 2003
The Booths Ilkley Harriers Runner of the Month for September is Roy Ruddle.

click here for details
.
Harewood 10 & Hop, Sun 12 Oct 2003
The 10 mile Trail race was won by Ian Fisher in 56.57 - we had:

6   Tim Ashelford   62:02;
20  Neil Chapman    66:05;
50  Ewan Welsh      69:31;
224 Vincent Gibbons 81:28;
248 Linda Wright    83:33;
433 Amanda Parnaby 107:43.

In the Harewood Hop (2 miles) some of the Junior Ilkley Harriers also had good runs: Simon Chapman was 5th in his age group; Mary Gibbons 6th; Bradley Chapman 9th; and Annabel Smith 6th - well done to all of them!.
Results on the

Valley Striders web site.
Langdale Horseshoe fell race, Sat 11 Oct 2003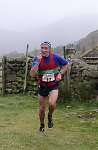 AL 14m/4000' This was the final counter in the English Fell Championships, and there was a great turnout of Harriers. Our ladies did more than enough to hold our third Ladies team position in the Fell Championship. BRILLIANT!
We had 58 Nick Pearce 2h39:16; 64 Dave Cheesewright 2h42:58; 87 Eddie Winslow 2h47:44; 88 Geoff Howard 2h47:56; 95 Alison Eagle 2h51:26 (6th lady, and 2nd lady Vet); 107 Mike Baldwin 2h54:22; 109 Jon Sage 2h55:00; 146 Morgan Williams 3h04:55; 165 Mark Iley 3h11:13; 176 Jo Foster 3h15:58 (12th lady); 178 Jane Leather 3h16:08 (14th lady); 185 Peter Sibley 3h16:59; 230 Phil Chappell 3h25:41; 296 Joyce Marshall 3h39:05 (40th lady); 320 Clare Cheesewright 3h53:22 (44th lady); 321 Rachael Gooch 3h53:27 (45th lady); 329 Dave Ibbotson 4h04:01; Kevin Gooch. Dave I and Clare had both stopped to help Emma who was injured.

Graham's Harriers photos.
Full results on the

SportIdent web site.
WYXC, Halifax, Sat 11 Oct 2003
This was the first race in this year's West Yorkshire Cross Country League. In the Ladies race we had 22 Alison Bennett 22:06; 26 Cath Wolfenden 22:33; 44 Di Kitchen 24:35. And for the men 92 Jamie Hutchinson 39:10; 109 Terry Lonergan 40:03; 132 Neil Chapman 41:23; 171 Andy Kitchen 46:03.
Full results on the

Complete Runner web site
---
Ian Hodgson Fell Relay, Sun 5 Oct 2003
On a superb sunny day three Harriers teams enjoyed this challenging fell relay, the Vets' team leading them all the way through. On Leg 1, Nick Pearce and Jon Sage ran the 7.5M /2800' from Brotherswater, over St Sunday Crag and down to Patterdale, in 84:16 and 32nd place. They were just 2 places and 32s ahead of the Open team pairing of Graham Pearce and Jim Ryder. Andrea Priestley and Alison Eagle came in 2nd ladies team in 88:55, a great start for the team.
For the Vets, Mark Priestley and Ian Marshall know Leg 2 well, and ran the 4.5M/1000' via Angle Tarn in 45:23, opening up the lead slightly on Morgan Williams and Peter Sibley with their 46:14. For the ladies, Jo Foster and Clare Cheesewright held our 2nd ladies team place with a strong run in 48:50
On the third leg, 7.5m with 2600' of ascent via High Street, experienced Vet Geoff Howard and Ashley Hardwell had another good run in 84:01. Neil Chapman and Roy Ruddle also had a solid performance with 86:20, losing just a little more ground to our Vets. On this long leg the mighty Keswick Ladies team fielded its trump card, and Louise Sharp and Angela Brand-Parker made huge gains to overtake our ladies and challenge the lead, this despite a solid 92:31 from our ladies Sally Malir and Emma Barclay.
On the final leg, 4.4M/2000', there was great excitement as our Vets team of Mike Baldwin and Dave Cheesewright climbed strongly up Red Screes to finally overhaul local rivals Otley. They finished in 57:53 to give our Vets team a creditable 25th place overall in 4h31:35. Our Open team finished in 37th place overall in 4h50:49, Phil Atkinson and Phil Chappell having run 73:30. And our ladies team had a good last leg with Joyce Marshall and Helen Sedgwick running 76:32 to bring them home in 5h06:48 for 46th place overall (over 60 teams started) and 4th Ladies team.
Well done to all the runners, and thanks to the many Harriers supporters out on the fells.

Harriers photos
Full results are on the

SportIdent web site
Horsforth 10km, Sun 5 Oct 2003
In this local road race we had good results from ... 68 Ken Souyave 38.51; 77 Jamie Hutchinson 39.19 (new member); 84 Terry Lonergan 39.55; 161 Cath Wolfenden 42.57; and 325 Linda Wright 48.16
This was also a counter in the Ilkley Harriers Running League, the race being won by Leeds' Greg Hull in 32:11

Full results on Horsforth's web site
Skipton XC, Sat 4 Oct 2003
A big local event, with races for all age categories and quality fields in all of them. The day started with the Under-11 girls running 1 mile around the Aireville School fields. Some of the new Junior Ilkley Harriers ran in this race. Fiona Jordan ran a well-paced race working her way through the field for a very creditable 2nd place in 8:52. Emily Kerr was 11th in 10:03, and Harriet Middlebrough 18th in 10:59 to make a complete team for us in this event for the first time.
Jack Hanson represented us in the U11 boys race, finishing 22nd in 11:16. And in the U15 boys race over 3.7km, Simon Chapman was up against some very classy runners but he ran impressively and managed a sprint finish too, for 43rd place in 24:56.
In the afternoon, it was the turn of the adults, and this was a counter in the Ilkley Harriers Running League. The Ladies race was won by Skipton AC's Anne Buckley in 32:23; Alison Bennett was 11th in 35:40; and Di Kitchen 17th in 39:57. The men's race was won by Bingley's Matthew Watson in 36:20: we had Mark Iley 26th in 43:20; Neil Chapman 37th in 47:41; Keith Wood 49th in 53:25; and Andy Kitchen 50th in 54:09.
News 2004
|
News Jul-Sep