Stokesley Duathlon, Sun 28 Sep 2003
6m run / 23m bike / 3m run
Tim Ashelford was 10th in 1hr50min, Graham Pearce 22nd in 1hr55min
Three Peaks Cyclo Cross, Sun 28 Sep 2003
Isn't it hard enough running it, without dragging a bike up the hills? Stefan Macina was 58th in 3h41:02, despite a puncture.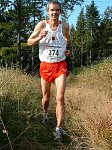 WMRA-World Masters Sat 27 Sep 2003
Ilkley Harrier Nick Pearce was the 3rd English runner in the M50 race at the WMRA-Masters (Veterans) World Mountain Running Championships in the Black Forest, Germany.

1  Albert Rungger  ITA  46:29
30 Harry Jarrett   ENG  51:50
32 Jackie Winn     ENG  51:59
35 Nick Pearce     ENG  52:22
121 finished

Nick reports ... A great event 800 plus runners from 22 countries, and I was pleased with my run - ahead of both the other England selected runners in my 50-55 age group, and quicker than one of England's 45-50 runners too. Must be Pete's training schedule.
A very competitive event. England's only medal was Dave Neill's third in the 45-50 group. Robin Bryson second in the 40-45 category, and Bill Gauld of Scotland was first in the over 70, yes, over 70 category in an incredible 1hr 55secs.
Next year the championships are in northern Italy at the end of August. I'd better start training now.

Official results and lots of other info on the World Masters web site

Nick's photos
Scafell Fell Race, Sat 27 Sep 2003
AS 4.5m/3000' Phil Chappell ran this as part of his Ian Hodgson build-up, 38th in 1h23
St Gemma's Hospice 5M, Sat 27 Sep 2003
Amanda Parnaby ran 39:03 in this new race, in Roundhay Park.
---
ROM August 2003
The Booths Ilkley Harriers Runner of the Month for August is Nick Pearce.

click here for details
.
Great North Run, Sun 21 Sep 2003
215 Mark Iley 1h22:29; 6284 Vince Gibbons 1h54:19; 10554 Bernie Gibbons 2h03:26; 10795 Suzanne Bickerdike 2h03:59; Heather Duke 2h07; 22451 Amanda Parnaby 2h30:29. Not bad out of 47,000 runners.

Official results from greatrun.org
Ilkley Triathlon, Sun 21 Sep 2003
Another good turnout of Harriers at our local Tri, a great day out organised by LBT Tri Club. There were lots of Harriers racing, and a great turnout of Harriers supporting too.

                              Swim  Bike  Run
                              500m   9M    3M  
 6  Jason Hemsley      59:11  9:45/30:25/19:01
 7  Graham Pearce      60:44  9:39/29:50/21:15
 12 Jim Ryder          62:13 10:11/31:22/20:40
 25 Mike Baldwin       66:40 11:50/33:20/21:30
 79 Paul Wood          72:40 12:30/37:10/23:00
 89 Clare Cheesewright 74:04 12:00/37:43/24:21 3rd LV40
 98 Neil Chapman       75:16 14:07/40:07/21:02
123 Di Kitchen         78:47 11:54/40:29/26:24
184 Janet Hebbert      97:25 13:51/51:10/32:24
195 finished


Harriers photos, with thanks to Jo Foster

Results on LBT web site
World Mountain Running Trophy, Sun 21 Sep 2003
Mark Priestley reports ... A quick note to let you know how Andrea got on in Alaska - she was 13th in a time of 43.06. The race was won by New Zealand's Melissa Moon in about 39 minutes. The Scots did well: Angela Mudge (2nd); Tracey Brindley (3rd) and Lynne Wilson (18th) - and they took the team prize. The English team was 6th with Ann Buckley (22nd), Natalie White (30th) and Louise Sharp (33rd). Apparently the course was slippery with some snow - not so good for racing flats, but great for Walsh studs. Andrea said she made about 10 places on the descent, but did not climb too well. The men's race hasn't happened yet, and the course may be changed to a flatter cross-country style course if the snow freezes overnight. This won't suit the Brits.

Results link
Three Shires fell race, Sat 20 Sep 2003
AL 12m/4000' The race was won in 1h55, with 210 starters. First Harrier was Jim Ryder 67th in 2h26; then Morgan Williams 2h45; Nicky Kime 2h49; Jo Foster 2h55; and Dave Ibbotson 3h12
Long distance success in Wales, 20-21 Sep 2003
Roy Ruddle reports ... a quick note to say I successfully completed the South Wales "Brecon Beacons" Traverse at the w/e, some 80 miles and 18,000 ft of ascent over all 31 of the 2000 peaks down there. 22 hrs 34 mins and the first time (we think) it's been done east to west (the record for going the other way is about 15 hrs, courtesy of Mark Hartell).
---
Yorkshireman off-Road Marathon, Sun 14 Sep 2003
CL, 26.3m/3000' Dominic O'Hooley was 13th in 4h04:56; Bob Wightman was 41st in 5h7:10. Rebecca O'Hooley was 31st and 5th lady in 2h25:20 in the Off-Road Half Marathon

Results on the K & C web site
Nottingham Robin Hood Marathon, Sun 14 Sep 2003
Richard Midgley was 346th in 4h01:23 in extremely warm conditions.
Briscoes Brewery fell race, Sat 13 Sep 2003
3½m/900' Neil Chapman reports ... I did 25:08 before drinking the beer, 26:21 after. Quite a good turn out of Harriers as I understand there were only 43 runners.

Pos Name               Cat  Run    Drink Total
                            time   time  time

 1  Phil Sheard    P&B      19.36  0.46  20.22
 4  Graham Pearce           21.56  0.25  22.21  
    (1st local, and fastest pint!)
10  Mike Baldwin       M40  23.28  0.31  23.59
18  Neil Chapman       M45  25.08  1.13  26.21
20  Phil Chappell           25.25  1.07  26.32
25  Morgan Williams         27.14  0.58  28.12
26  Keith Wood         M40  27.48  1.12  29.00


Valley Striders web site
Ace Races XXX Challenge, Sat-Sun 13-14 Sep 2003
Eddie Winslow led a team to 9th place in this continuous 30 hour combination of mountain running/trekking, mountain biking, canoeing and some rope work, commencing at 0800 Saturday and continuing through to early Sunday afternoon in the windy and wet Dumfries forest park.

Ace Races web site
---
Kirkstall 10k, Sun 7 Sep 2003
We had ... 35 Neil Chapman 39:11; 123 Andy Wolfenden 45:54; and 186 Linda Wright 49:37 ran in this tough local road race.

Organising club Kirkstall Harriers
Glasgow Half Marathon, Sun 7 Sep 2003
AKA Great Scottish Run. Margot Dale was 2260th in 2h02:09
Bradley fell race, Sun 7 Sep 2003
3.5m/850' Morgan Williams was 18th in 32:50
Ben Nevis fell race, Sat 6 Sep 2003
AM 10m/4400' Ilkley Harrier Ian Johnson limped home bloody and bruised in 2h31, 264th place after a bad fall near the top.

Organising club Lochaber AC
Grisedale Horseshoe fell race, Sat 6 Sep 2003
AM 10m/5000' Geoff Howard was 55th in 2h27:25; Jane Leather 71st in 2h33:32
---
Track training restarts, Thu Sep 2003
Andy Wolfenden's Thursday track session at Greenhead School, Keighley, is back by popular demand. Details on the Training page.
Ilkley Incline, Wed 3 Sep 2003
The second running of this race was a good night for Harriers. In the relaxed, friendly atmosphere 31 racers dashed up the newly extended course (allegedly last year's course was some 250m short after scallywags moved the finish markers!). Improvements this year included ¼, ½ and ¾ mile markers. And mercifully there were fewer midges. Thanks to this year's sponsor, The Bicycle Shop, Skipton, for their generous support.
This year the races were preceded by Junior Sprint Relays, with some 40 children racing round the ½ mile circuit. Again this was a great success. And it was the first official outing of the Junior Ilkley Harriers.

Click here for results and photos
Leeds Country Way Relay, Sun 31 Aug 2003
Our mixed team were 22nd overall, out of 35, in 9h03:05 for the 60-odd miles of the Leeds Country Way. Andy Wolfenden and Richard Gray got us off to a good start on the first leg, 23rd in 1h35:03; handing over to John Bullock and Victoria Wright who ran the next leg in 1h44:41 (30th fastest, keeping us in 28th place overall); the team organiser Ken Souyave and Dave Ibbotson ran the third leg in a storming 1h24:08 - 15th fastest, bringing us up to 24th; Neil Chapman managed to keep up with Nick Pearce on the 4th leg, they were 11th fastest team on the leg in 1h23:02, overtaking 6 other teams in the process before handing over to Andy Sarah and Norman Blackburn who, despite a fall were 26th on the leg in 1h31, 19th overall; and finally Amanda Parnaby and Liz McCann brought our team home in 1h25:11 for 33rd place on the 6th leg.

Click for full results from the organiser, Kippax Harriers (MS Excel file, 163KB)
Pheonix Long-O, Sat/Sun 30/31 Aug 2003
Shirley Wood was 3rd on the 'D' course at this long orienteering event on The Cheviots.
Kerridge 10k, Sun 31 Aug 2003
Ian Johnson ran this race "down south" - 31st in 39:21 from 451 finishers.
---
Hebden Gala fell race, Mon 25 Aug 2003
Neil Chapman ran 15:20; Bernie Connor 18:40
Lomonds of Fife hill race, Sun 24 Aug 2003
Andrea Priestley was 14th overall and 1st lady in this 9m/2200' fell race - her 78:28 just 40s outside the 15 year old record and 10 minutes clear of 2nd lady.
Burnsall Feast 10 mile road race, Sat 23 Aug 2003
This was won by Otley's Ian Fisher in 54:11; Billy Kerr was 16th in 63:23; Neil Chapman 23rd in 66:37; and Ewan Welsh 33rd in 67:52 - giving Ilkley 4th team prize
Burnsall Feast Classic fell race, Sat 23 Aug 2003
AS 1.5m/900' The race was won by P&B's Rob Hope in 13.51; Ilkley had 16th Nick Pearce 17.47 1st Vet50; 38th Morgan Williams 20.32; 45th Dennis Ackroyd 21.43 - giving us 7th team
In the Ladies' race, won Sara Hodgson in 19.14, Alison Crane was 2nd (1st V40) in 19.23
Chipping Show fell race, Sat 23 Aug 2003
AM 8m/200' 1st D.Hope P&B 1h06:18; 31st Geoff Howard 1h21:45 (4th O.50); field 96.
Brecon Beacons fell race, Sat 16 Aug 2003
AL 19m/4500' Nick Pearce was 2nd Vet-50 (34th overall) in 3h06. This was the final race in the British Fell Championships and we believe Nick's run was good enough to move him up to 4th position overall.
Gargrave Show fell race, Sat 16 Aug 2003
Norman Bush was 21st in 27:41, 2nd-claim Harrier Jason Hemsley was 2nd in 23:31
---
English Fell Champs, update, 12 Aug 2003
English Fell Champs update on the FRA site - see our summary - Ilkley Ladies hold 3rd team, male Vets 6th
The results for the British Fell Champs are on the FRA web site. Although we haven't been pursuing this as a club this year, there have been individual successes: Nick Pearce 4th in V50; Norman Bush 10th in V60; Andrea 19th in the Ladies (having run just one race!); Emma Barclay 29th (2 races); Alison Crane 36th and 15th Lady Vet 40 after 3 races; and Helen Sedgwick 44th (1 race).
Round Hill fell race, Sun 10 Aug 2003
Ian Marshall reports ... In the inaugural Round Hill race, 9 miles and 1125ft.the weather broke just in time to make the conditions a little cooler.The organiser Andy Robertshaw (Otley AC) was first home in 56.16. Second claim Harrier Jason Hemsley was 3rd in 57.07. Ian Marshall was 18th in 70.47, Dennis Ackroyd 21st (72.31) and Joyce Marshall was 30th and 2nd Lady Vet in 76.17.
Askern 10, Sun 10 Aug 2003
Terry Lonergan ran the Askern 10, and reports ... As if high humidity and high temperatures were not to have to contend with, competitors at the ASKERN 10 MILE ROAD RACE near Doncaster had also to cope with strong winds bringing in the changing weather. The event is in the flat and fast and just over an hour's drive. Despite this it would appear I was Harriers' only participant, consolidating last week's run with a timing of 68.10
Elloughton 10k, Sun 10 Aug 2003
In "red hot" conditions, and from an entry of 500+, Neil Chapman came 39th in 40:48 in KUHAC's race.
Arncliffe Gala fell races, Sat 9 Aug 2003
AS 1.8m/443' We had: 8 Mike Baldwin 13:06; 13 Norman Bush 13:56; and 28 Morgan Williams 15:06
Radcliffe Trail Race, Sat 9 Aug 2003
Over 6.5 miles, Richard Gray was 71st in 49:04
Andrea and Nick to run in World Champs 2003
After placing 2nd V50 in the Keswick 10km selection race at the weekend, Nick Pearce will be competing for GB in the World Masters Mountain Running Championships in the Black Forest in September.
And on the basis of outstanding recent form, Andrea Priestley has been selected to run in the World Mountain Running Championships in Alaska in September.

WMRA web site
Ilkley Harriers AGM, Wed 24 Sep 2003
Notice:The 17th Annual General Meeting of Ilkley Harriers AC will be held on Wednesday 24th September, from 20:00h, at Ilkley Lawn Tennis & Squash Club. All members are encouraged to attend. Please forward motions for consideration by 1st September, to Geoff Howard or Peter Cooke. All nominations should be on the forms posted on the club noticeboard at ILT&SC
ROM July 2003
After a "3-way-tie" the award of Booths Ilkley Harriers Runner of the Month for July is to be shared between Alison Crane, Jason Hemsley, and Stefan Macina.

click here for details
.
Running League update
Latest positions, review, and remaining events ...

click here for details
.
---
Harrogate 10k, Sun 3 Aug 2003
Neil Chapman reports ... Today's race was in very warm conditions. First Harrier was Ian Johnson with a great run - 73rd in 38:33. 2nd Harrier was Ken Souyave who had a very good run too, 78th in 38:46 followed by me 124th in 40:59; 411 Garry Keenan 49:12; then Amanda Parnaby and Mandy Chapman had a close battle to finish 614th 57:31 and 615th 57:32 respectively, with Heather Duke finishing 654th in 59:22, followed by Brian Sweet 686th in 61:18.

Full results on Harrogate Harriers web site
Sale 10, Sun 3 Aug 2003
Terry Lonergan made a return to his old club of the 60's, Sale Harriers, for this very flat 4-lap(!) course. In pleasantly warm and still early morning conditions he ran 66:18 after starting cautiously.
Latrigg fell race, Sun 3 Aug 2003
AS, 3m/950' Ian Holmes won in 18.52; Jill Cooke was 57th in 34.19 "Very steep, very hot and better flagging required but good fun". Rob Jebb was first to the summit in 12 minutes despite running Borrowdale the day before.
Borrowdale fell race, Sat 2 Aug 2003
AL, 17m/6500' Ashley Hardwell was first Harrier home 116th in 4h35:14; then 117th Jim Ryder 4h36:03; and Jane Leather 4h46:52

Borrowdale web site
Biarritz-Bayonne 12k, Wed 30 July 2003
Dave Ibbotson was premier anglais in 61:48 in 35° temperatures in "Le foulet du Festure". The race started on le promenade, and finished with a glass of Pernot! The race was won by Lionel Patriaco in 39:47
Scottish Orienteering, 27 July - 2 Aug 2003
A few Ilkey Harriers are also orienteers, running for the local O club Airienteers, and were competing at the 6 day international event in the challenging and varied forests near the Moray Firth. Top honours went to Tony Thornley, 3rd in his V55 class. Shirley Wood was 12th in her class, Joyce Marshall 18th in hers, and Ian Marshall 40th in his. Paul Wood was also there (but never quite where he should have been). Young Sam Wood won the "White" class on 3 days, and was 2nd on another day, showing us all how it should be done!

Harriers photos

Full results in mind-boggling detail
---
Holme Moss Fell race, Sun 27 July 2003
Jo Foster reports ... A good turnout of Ilkley Harriers ran the Holme Moss Fell Race. 16 miles long with 4,000 ft of ascent this English Championship counter was not for the faint-hearted but the rain held off and almost perfect running conditions prevailed. Bingley's Rob Jebb won in 2h11:26; Dave Cheesewright was the first Harrier back in 2h37:56 for a good 45th place. Nick Pearce followed in 49th in 2h42:20 (2nd V50); then 71 Roy Ruddle, about 2h51:52 and 92 Mark Iley 2h58:16. Alison Crane was first Ilkley lady back in about 3h00:55 for an excellent 9th place in the ladies field (3rd lady Vet 40, and 100th overall). Followed by 132 Sally Malir 3h11:43 16th lady and Jo Foster 3h18:46 149th and 19th lady, they were 3rd ladies team on the day (and, we calculate, we just keep our 3rd ladies team place in the Championship). 157 Morgan Williams 3h22:36; 183 Neil Chapman 3h31:03; 201 Phil Chappell 3h38:12 and 212 Susie Jollie 3h48:32 completed the Ilkley line-up.
Second-claim Harriers Stefan Macina and Jason Hemsley, running for P&B, were 17th and 18th in 2h25:09 and 2h25:27 respectively.
This was also a counter in the Ilkley Harriers Running League.
12 Aug - English Fell Champs update on the FRA site - see our summary - Ilkley Ladies hold 3rd team, male Vets 6th
Meanwhile, in deepest Cornwall, Keith Wood found a local 10k race and ran 46 minutes in hot weather.
Davos Alpine marathon, Switzerland, 26 Jul 2003
Andrea Priestley ran this 42km race with 2000 metres of ascent - all above 1500m, going up to 2600m. There was a high class field, including 2 Ethiopians and Swiss, German, Mexican and British internationals. Andrea ran well, despite the higher altitude to come 6th.

1. Worku Tsige 82 ETHIOPIA 3:36.36,1 
2. Reiber Carolina 73 Zürich 3:38.43,4 
3. Abosa Emebet 74 ETHIOPIA 3:57.07,1 
4. Hasell Lucy 78 GB-London 3:57.19,5 
5. Spiess Eroica 63 Davos Dorf 3:58.26,2 
6. Priestley Andrea 65 GB-Stirling 4:08.02,0 
7. Nüssli Nina 79 Zürich 4:18.14,4 
8. Wertli Beatrice 76 Bern 4:22.56,9 
9. Elsener Daniela 64 Leuggern 4:24.47,3 . 
10. Steinmann Vroni 56 Hausen am Albis 4:24.49,2 
11. Laurent Daniela 62 Näfels 4:27.08,0 
12. Bustillos Virginia 76 MEXICO 4:30.44,1 
13. Hunter-Rowe Carolyn 64 GB-Bolton 4:31.12,2


Full results, pictures, etc.
---
Widdop Fell Race, Wed 23 July 2003
BM, 7m/1200' Ian Marshall competed at rainswept Widdop and finished 38th in 66:47. The winner was George Erhardt of Todmorden beating the 1996 record time by 10 seconds in 48:12
---
Capricorn, 19-20 July 2003
At the Capricorn two day long orienteering event, Ian Marshal was 19th on the 'B' course – 7h20:42 over the two days; and Joyce Marshal was 24th and 3rd lady in 7h46:19. Shirley Wood ran day 1 of the 'C' class in 3h53.

Full results at www.joelee.co.uk
Kentmere Horseshoe fell race, Sun 20 July 2003
AM 11/9m/3300' Nick Pearce was 16th and 2nd Vet 50 in 1h48:38, just one place ahead of Andrea Priestley who in 1h48:47 was first lady. James Lind was 58th in 1h59:38. The race was won by Bingley's Rob Jebb, who had also won Ingleborough the day before.
Eccup 10M, Sun 20 July 2003
Three Harriers did the Eccup 10 mile road race in warm conditions and pleasant scenery: 27 Neil Chapman 66:08; 113 Vince Gibbons 78:08; 287 Amanda Parnaby 99:11
Ingleborough fell race, Sat 19 July 2003
Clear and bright conditions and firm ground provided runners with opportunities for fast times in this classic 'up & back' AM fell race. The 7 Mile/2000' race was completed by several Harriers including Norman Bush who set a new Vet-60 course record of 62:03 in 94th place; 77th Ian Johnson 60:29; 86 Helen Sedgwick 61:28; 170 David Ibbotson 70:59 and 227 Vic Verocondi 85:29. Vic completing having made his fell runing debut in Stirton on Wednesday coped well with the longer tougher course and high calibre field.

Click for full results from the organiser (MS Excel file)

Photos at www.visiblelight.co.uk
Kinniside Two Tops, Sat 19 July 2003
AS 3m/900' A little, friendly race at a Lakeland show near Ennerdale where 95% of the field seemed to be from Cumberland Fell Runners. 1 Alan Bowness (CFR) 23.27; 30 Peter Cooke 33.44; 44 finishers
SPORTident Scottish 4000s Duathlon, Sat 19 July 2003
Roy Ruddle successfully completed this in 15:23:47 (18th). Jonathan Whitaker won in 12:08:47. The race takes in all nine 4000ers, linking the Ben Nevis group with the Cairngorms via a 60 mile bike ride. "Hardest race I've ever done, by far!"

www.scottish4000.org
---
HRL Handicap Race, Wed 16 July 2003
We had 12 Harriers at the finale of the Harrogate and District Summer Road Race League, the handicap race. This was a lovely undulating course over 9.2km of parkland (Studley Royal), heath, and a little road. The day's heat had cooled off a litle to make for pleasant running. And there was the thrill of the handicap chase. Three Harriers finished ahead of the scratch runner, Ian Fisher: 29th Brian Sweet 58:16; 33rd Phil Chappell 39:27; and 35th Mark Iley 35:34. Then we had 60th Sally Malir 39:16; 66 Alison Bennett 39:54; 69 Richard Midgley 46:35; 71 Neil Chapman 37:38; 84 Ian Marshall 40:57; 90 Suzanne Bickerdike 49:00; 91 Amanda Parnaby 56:20; 93 Jane Bryant 47:44; 94 Mike Bryant 48:14.
At the League Prize Presentation after, Ilkley Harriers were well represented:
First Team
First Ladies Team
First Lady Vets Team
Champion Lady - Sally Malir
Champion Lady Vet-40 - Alison Bennett
Champion Vet-50 - Nick Pearce
Additionally, our Men's Vets Team were 2nd, to Harrogate H. & A.C.

Harriers photos (more on the HRL site, below)

Full results, League rankings, and more photos on the HRL web site
Stirton fell race, Wed 16 July 2003
BS, 5.5m/800' We had: 21st Mike Baldwin 48:28; 29 Alison Crane 50:53 (3rd lady); 44 Dennis Ackroyd 53:58; 51 Peter Sibley 56:15; 53 Keith Wood 56:28; 57 Dave Ibbotson 57:20; 75 Vic Verecondi 64:28
Running for P & B, second-claim Harriers Stefan Macina and Jason Hemsley were 5th and 6th in 42:25 and 43:07 respectively.

Results on K & C's web site
---
Washburn Valley Relays, Fri 11 July 2003
Otley AC organised this year's relay, with 6 teams from 3 clubs. The relay was in a cloverleaf style, with legs of 3-4 miles, based at Swinsty Moor car park.
Ilkley's first team was led off by Angela Srivastava 27:58; then Phil Atkinson 26:36; Ian Marshall 23:21; Ken Souyave 36; and Clive Smith 26:00. The second team was led off by Amanda Parnaby 33:32; then Bernie Connor 35:38; Shirley Wood 28:40; Paul Wood 23:05; and Keith Wood 30:55
Thirsk HRL, Wed 9 July 2003
We've done it! Ilkley's men responded fabulously to the rallying call and won the last race in this year's League, and with it the League! Thank you to everyone who travelled to Thirsk.
Many got there just in time, after battling through Yorkshire Show traffic. But all that was forgotten once the race started for two laps of Thirsk. Nick Pearce was unlucky to collide with a traffic bollard, but limped on to just hold on to his place in the V50 rankings. We had more or less our 'A' team of men out on the night, with 10 in the top 40 and others just outside that. By quirks of fate, we only had 3 ladies out, but they ran well to minimise our losses, and as they were all vets we had another good Lady vets team performance. The male Vets were 3rd team on the night against strong competition, and their consistency gives them 2nd place overall in the League.
The Handicap Race is next Wednesday July 16th at Ripon, and the social afterwards includes the prizegiving where we'll be picking up some silver-ware - let's have a good turnout for that.

Harriers photos (more on the HRL site, below)

Results and more photos on the HRL web site
Beamsley Beacon Fell Race, Wed 9 July 2003
Ilkley Harriers in this local fell race were: 9 Mike Baldwin 45.00; 14 James Lind 46.42; 18 Iain Mann 48.21; 21 Ashley Hardwell 48.51;30 Jo Foster 53.30
Click for full Beamsley results from Bob Hamilton
---
ROM June 2003
Billy Kerr is the Booths Ilkley Harriers Runner of the Month,

click here for details.
Skipton 10k, Sun 6 July 2003
Quite a few Harriers racing here - 23rd Andy Wade 36:47; 39 Neil Chapman 38:22; 47 Dave Jepson 38:59 PB; 81 Andy Wiggans 41:36; 87 Bob Wightman 42:00; 139 Keith Wood 45:14; 151 Vic Verecondi 46:31 PB; 153 Vince Gibbons 46:34 PB; 202 Bernie Gibbons 51:27

Harriers photos (Photos by Neil and Mandy Chapman)

Results on UKRoadRaces.net
Skiddaw fell race, Sun 6 July 2003
AM 9m/2700', Ilkley Harriers were well represented at this English and British Championships counter.
The star performance must be that of Alison Crane - 12th lady, 5th Lady Vet, and ahead of many of our men in 183rd place with 86:55. There was a great ladies team performance - Emma Barclay was 13th in 87:53; Helen Sedgwick 14th in 88:00; Alison Weston 92:49; Nicky Kime 94:05; Joyce Marshall 97:55; and Jo Foster 98:58 - we had 3rd ladies team on the day and this bodes well for the team event in the Championships. Such is the club's strength in depth that we had two teams in the top 10 - our second three were 7th ladies team.
The men were well represented too, with: 99 Nick Pearce 78:31; 136 Jim Ryder 82:03; 145 Mark Iley 83:07; 186 Mike Baldwin 87:17; 188 Norman Bush 97:32; 209 Ian Marshall 89:18; 233 Iain Mann 91:51; 237 Morgan Williams 92:14; and 270 Phil Chappell 95:24
20 July English Fell Champs update on the FRA site - see our summary - Ilkley Ladies now 3rd Team
Full results on

Keswick AC's web site
Scarborough Triathlon, Sun 6 July 2003
Tim Ashelford was 4th, with a 15000m sea swim, 40k bike & 10k run in 2h5:16
---
Danefield Relays, Wed 2 July 2003
We had 6th team, 1st and 2nd ladies teams, 2nd lady Vets team, and fastest lady on the night. Great results!
Team
Leg One
Leg Two
Leg Three
Team Results
Ilkley 1
Mark Iley 20.31
Billy 19.59
Jim 20.24
6th, 60.54
Ilkley 2
Ian Marshall 21.43
Dave C 21.31
Mike B 21.57
12th. 65:11
Ladies A
Alison W 22.42
Nicky 22.41
Helen 22.24
14th, 67:47
1st ladies
Ladies Vets
Alison B 22.05
Joyce 24.21
Alison C 22.38
21st, 69:04
2nd ladies
1st lady vets
Ilkley V40
Ashley 23.26
Keith 24.15
Neil C. 22.27
24th, 70:08
Ilkley Men
Morgan 23.05
Dave I 24.58
Phil C 22.31
26th, 70:34
Ladies B
Jo 24.51
Panj 26.45
Claire C 24.51
35th, 76:27
Ilkley Juniors
Mary G 33.37
Simon 34.20
James W. 26.56
41st. 94:52
Results on the Fellandale web site
News Oct-Dec
|
News Apr-June