Settle Hills fell race, Sun 29 June 2003
AM 7m/1500'. In scorching weather, Nick Pearce was 14th overall and 1st Vet 50 in 58:16; Dennis Ackroyd was 65th in 70 minutes. Jason was 8th, Stefan 20th (after going wrong - from 5th place). Won by Greg Hull in 50:10
Eldwick Gala fell race, Sat 28 June 2003
BS 3m/300' Billy Kerr was 6th and first V40 in 19:18. Jim Ryder was 8th in 19:22; Ashley Hardwell 36th in 22:51; while Jason was 4th in 18:40.

Results etc. on the Bingley web site
Chester Triathlon, Sun 29 June 2003
Tim Ashelford was 14th, with a 15000m sea swim, 40k bike & 10k run in 2h6:24
Otley 10M, Wed 25 June 2003
Billy Kerr was first Harrier, first Vet 45, and is the Yorkshire Vets Champion V45, with 23rd place in 61:23. Nick Pearce was 34th, 2nd V50 and took runner up in the Yorkshire vets V50 championship in 63:40. There were many other good times on a scorching evening: 53 Dominic O'Hooley 65:05; 79 Neil Chapman 68:05; 93 Dave Jepson 69:11; 95 Ewan Welsh 69:18; 109 Sally Malir 70:40; 119 Peter Murray 72:38; 121 Rob Pawson 72:41; 144 Anthony Swanepoel 75:12; 177 Andy Wolfenden 78:15; 186 Rebecca O'Hooley 79:11; 240 Linda Wright 84:32
This was a counter in the Ilkley Harriers Running League, the race was won by Holmfirth Harriers' Dave Watson in 53:27

Results on the Otley AC web site

More Otley 10 on the GBServe web site
---
Harewood Trail, Sun 22 June 2003
Bingley Harriers' Harewood Trail race over 10km was another event in the Ilkley Harriers Running League.
Picking up points were 5th Tim Ashelford 33:58; 9th Billy Kerr 35:54; 23 Neil Chapman 38:55; 28 Dave Jepson 39:41; 37 Peter Murray 41:12; and 98th Brian Sweet 60:55. For the ladies we had 18 Angela Srivastava 47:19; 26 Liz McCann 50:01; and 39 Amanda Parnaby 56:05
Ilkley Harriers won the team prize in the men's race.
The race was won by Scarborough's Rickie Wilson in 32:47
Buckden Pike fell race, Sat 21 June 2003
Ian Holmes won this local race in 33:37, over 4m/1500': for the Harriers we had 17 Nick Pearce 39:55 (3rd Vet); 21 Jim Ryder 41:40; 38 Morgan Williams 47:23; 45 Phil Chappell 49:00; 52 Jo Foster 51:15 - Jo was 3rd lady. Second-claim Harriers were 8 Jason Hemsley 37:36 and 12 Stefan Macina 38:09
---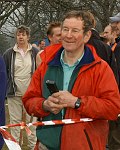 Phil Dean
We have the sad news that Phil Dean died on June 18. Phil was a long-term supporter and friend of Ilkley Harriers and was a previous Club Captain. Phil's support of local running was extensive and he will be missed by many - he has been a Secretary of the Harrogate and District Road Race League and also a member of Otley AC and Bingley Harriers AC.
There was a funeral service for Phil at Rawdon Crematorium on 27 June attended by many of Phil's friends. Donations to the British Heart Foundation c/o H. Eaton and Sons, Ashlands Rd., Ilkley.
---
Cow & Calf fell race, Wed 18 June 2003
A friendly local race, over a new 7 mile (?) course. Harriers were well in attendance, with Jim 4th man, Alison 1st lady, Nick first Vet50, and lots of other good results.

Click here for full results from Bob Hamilton

Photos - Harriers and others
---
Millennium Way Relay, Sun 15 June 2003
Ilkley fielded a men's and a ladies team in the second running of this relay around the 47 hilly miles of Bradford's Millenium Way.
At 8am, Dennis Ackroyd and Phil Atkinson set off for the men from Bingley, with Alison Bennett and Bridget Doherty racing for the Ladies team over 10.5 miles and 1500' of climb to Oxenhope. Our men ran 1h34:12, the ladies 1h47:07
Barbara Bullock and new member Liz McCann; and Iain Mann with Phil Chappell ran leg 2, 9 miles with 1200' of climb to Laycock, in 1h45:45 and 1h26:16
Richard Gray and Keith Wood, and Angela Srivastava and Suzanne Bickerdike had the 8.5 mile leg with 700' of climb to Silsden, running 1h15:06 and 1h122:16
Then Morgan Williams and Neil Chapman set off in the heat of the midday sun towards Addingham and Ilkley Moor, 8.5 miles and 1300' away, running this leg in 1h21:12. Jo Foster and Joyce Marshall started in the 12:30 mass start, but got away from the pack by Addingham and finished in 1h26:29
Ian Marshall and Jeff Paget had the "glory leg" from Ilkley to the finish in Bingley 10.5 miles hence, and were chased hard by Alisons Weston and Crane who ran the leg in 1h31:50 compared to the men's 1h31:27
Ilkley retained the trophy for First Ladies Team that they won last year - the results show that we had a real-ding-dong battle with Keighley and Craven ladies. And our men were 8th teams overall, out of 23 teams from far and wide.
Thanks to all those who ran, and to Amanda Parnaby for organising (and reorganising) the teams.

Harriers photos

Relay details and results on the St Bedes AC web site

See last year's report
Edinburgh Marathon, Sun 15 June 2003
Tim Whitaker ran his first Marathon at Edinburgh, with a good time of 3h50:14 for 630th place
LAMM, 14-15 June 2003
Ashley Hardwell and Anna Liuba were 49th team on the B course of the Lowe Alpine Mountain Marathon, running for 14h08 over the 2 days, with a lighweight overnight camp, at Spittal of Glenshee. Nicky Kime was 46th on the 'C' in 11h33.

Details, results, photos on the LAMM web site
---
HRL #4, Otley, Thu 12 June 2003
Another great race - a sunny evening, a great course, and 33 Harriers were a recipe for 2nd team to Otley on the night (taking us into the lead overall!!), 2nd Vets team, 3rd Elite team (against fantastic opposition), good wins in the Ladies and Lady Vets, Alison Bennett first lady.

Harriers photos (more on the HRL site, below)

Otley results and more photos on the HRL web site
Badger Stone Relays, Wed 11 June 2003
Ilkley fielded 8 teams. Emma Barclay, Alison Crane (20.29) and Sally Malir were 1st ladies' team; Kirstin Bailey, Jo Foster, and Clare Cheesewright 2nd ladies team; and Alison Weston (21.06), Angela Strivastava, and Anna Liuba were 3rd ladies team! And Amanda Parnaby was guesting for a Fellandale team.
Pudsey and Bramley had the first men's team; Graham Pearce, Jim Ryder, and Stefan Macina were 4th. Other Ilkley teams included Norman Bush, Ken Souyave, and Nick Pearce making up a "Super Vets" team.

Click here for full results from Bob Hamilton
ROM May 2003
Tim Ashelford is the Booths Ilkley Harriers Runner of the Month,

click here for details.
---
Round Table Trail Race, Sun 8 June 2003
Sunday was a day for running through the woods in the inaugrual Middleton Trail Race particularly for Ilkley Harriers Alison Bennett who came first lady, 11th overall in 41:24; Adrian Hall 5th in about 38:00; Nicky Kime 14th in 41:36; Barbara Bullock 34th in 47:37; and Andy Kitchen 36th in 48:48 - 13 year old Eleanor Kitchen was first lady in the Ilkley Fun Run.

Harriers photos, by Brian Sweet

Click for results on ilkley.org
Wharfedale Off Road Marathon, Sun 8 June 2003
Linda Wright was first over 40 and Amanda Parnaby was first over 45 in the Wharfedale Off Road Marathon with Neil Chapman and Andrew Wright also competing.
Pen-y-ghent fell race, Sat 7 June 2003
Geoff Goward reports ... Saturday was a day at the races for 22 Ilkley Harriers. Not at Epsom for the Derby but more importantly at a picturesquely sunny Horton-in-Ribblesdale Gala for a British, English and Yorkshire Championships 5.5 mile fell race up and down Pen-y-ghent. In accordance with tradition it was "ladies first" and the Ilkley team had a marvellous result claiming 3rd place. In a field of 85 Trisha Brindley of Carnethy in Scotland was 1st (54:32); Emma Barclay came in 13th (61:39); Jane Leather 23 (64:11); Alison Crane 24 (64:20); Alison Weston 28 (66:37); Joyce Marshall 45 (70:39); Jo Foster 48 (72:06) and Susie Jollie (82:38).
In a menís field of 421 Mark Roberts (Borrowdale) won in 44:30 but Ilkley dominated the middle order with Nick Pearce 104 and 5th over 50 (55:08); Geoff Howard 109 (55:26); an injured Billy Kerr 143 (56:57); Mark Iley 152 (57:33); Jim Ryder 154 (57:41); Jonathon Sage 203 (60:26); James Lind 228 (61:41); Ian Johnson 253 (63:11); Norman Bush 262 (63:58); Ewan Welsh 266 (64:20); Phil Chappell 267 (64:25); Iain Mann 275 (64:37); Ian Marshall 289 (65:42); Morgan Williams 293 (66:12); Keith Wood 389 (76:18).
16 June - English Championship points have appeared on the FRA web site. See our summary - Ilkley Ladies now 4th Team, MV40 6th, MV50 8th.

Harriers photos, by Mike Baldwin
Chevin Chase fell race, Wed 4 June 2003
AS 3.5m/900'
From our Skyrac correspondent, Graham Breeze ... Skyrac joke ruefully that it always rains on their race although at least in 2003 the showers held off until after the race was over. Event co-ordinators Neil & Sue Clayton were thereby rewarded with a 25% increase in entries with 113 runners completing the 3 miles run to the top of the Chevin and back.

First lady to Surprise View was Helen Sedgwick with a lead of around 10 seconds which she hung on to to finish in 23.45 ahead of Rachel Mackie (Holmfirth) in 23.55
As in 2002 second-claim Harrier Jason Hemsley added to his third place prize by hanging onto the benefit of his LS21 postcode winning the First Local Prize for the fourth consecutive year and shared in the team prize (Pudsey). Other local winners were Nick Pearce, who was First Over 50, and Norman Bush who was First Over 60.
1 Robin Lawrence (Bingley) 18.36; 3 Jason Hemsley (P&B) 18.46; 8 Stefan Macina (P&B) 19.45; 12 Graham Pearce 20.14; 19 Nick Pearce 21.00; 38 Norman Bush 23.16; 48 Helen Sedgwick 23.45; 51 Ian Marshall 23.58; 79 Keith Wood 26.12; 98 Angela Strivastava 28.06; 112 Amanda Parnaby 33.26
---
Thirsk 10M, Sun 1 June 2003
At Thirsk, on reportedly the hottest day of the year, Billy Kerr was 16th in 61:00; Nick Pearce 23rd in 63:05; Dave Jepson 67th in 69:27; Cath Wolfenden 118th (8th lady) in 74:46 - all performed well
This was another a Harriers Running League event - the race was won by Leeds' Darren Bilton in 51:48

Results on Thirsk's web site
Mallerstang & 9 Standards Yomp, Sun 1 June 2003
BL 23m/3700' Norman Blackburn ran in this long fell race, finishing in 4h18
White Wells fell race, Sat 31 May 2003
As 3.5m/1100' Several Ilkley Harriers braved the very hot weather at the weekend to compete in the White Wells Fell Race. The result of the ladies fell race was a clean sweep in the first four positions Emma Barclay (18th overall in 36:15); Alison Crane (20th overall in 37:46); Alison Weston (23rd overall in 39:01) and Jo Foster (25th overall in 43:53) respectively.
In the menís race second claim Harriers Stefan Macina and Jason Hemsley claimed first (29:36) and second (30:01) places. Graham Pearce was fourth 31:58 with Jim Ryder 8th 33:16; Mark Iley 9th 33:16; James Lind 13th 34:12; Steve Barclay 19th 37:35; Morgan Williams 22nd 38:15; and Phil Chappell 24th 41:43 also running well.
Prospective Junior Harriers Joshua Crane (2nd under-10 in 5:04) and Thomas Crane (5th under-12 in 7:56) and Jack Cheesewright (9th under-10 in 6:00) indicated a bright future for the club with their performances.

Click here for full results from Bob Hamilton

Harriers photos, by Mike Baldwin
More local fell races coming up:
Updated 11 July
Dick Hudsons, Wed 25 June 7.30pm cancelled (clashed with Otley 10), instead ...
Wharfedale Harriers will be hosting the Cow and Calf Fell Race on Wednesday June 18th, running from the Cow and Calf Hotel to Dick Hudson's pub and back. Runners are advised that the route will not be flagged so some navigational skill will be required. The race will start at 7.30pm
NB Please use the quarry (public) car park and not the Hotel's.
Beamsley Beacon, Wed 9 July 7.30pm
Register at, and start from, the Crown Inn, Addingham
---
Great Manchester Run, Mon 26 May 2003
Sue Bickerdike reports ...
"Thought I'd let you know my finish time for this - the first Great Manchester Run. 10K, thro' the centre of manchester, blistering heat (excuse) and loads of runners. My unofficial time was 52mins 14secs. Very disappointing cos I was aiming for sub 50mins, but, as it was my first official 10k race it is a PB!"
Austwick Amble, Mon 26 May 2003
BM 8m/1200' Morgan Williams ran in this fast race over limestone, 63rd in 66:27
White Rose Duathlon, Mon 26 May 2003
Tim Ashelford was 4th: run 10k 35:53; bike 45k 76:31; run 5k 20:51
Graham Pearce was 25th in 2h23:30 (38:04/82:48/22:38)
Skipton Shortbank Olympics, Sun 25 May 2003?
Mark Iley and Ian Johnson did the Fell Race (3 miles, 1200 feet) last night, which forms part of Roger Ingham's Skipton Shortbank Olympics. There were 49 runners in the Senior race - Mark was 9th (2nd Vet 40), Ian was 13th.
Melmerby 10k road race, Sun 25 May 2003
Vic Verecondi reports ...
"G'day, just a result of a race over the weekend. The lone Harrier in this race (myself) ran 48.36 (by my watch). Must report race was conducted on a nice undulating course, most picturesque, a bit of everything in the weather, plenty of drink stations and knees held up ok. All in all a relaxing Sunday morning run."
Bens of Jura fell race, Sat 24 May 2003
Ashley Hardwell, Anna Liuba, Kevin and Rachael Gooch, Alison and Graham Weston completed the unique Scottish race the Bens of Jura Fell Race - times tbc
---
HRL #3, Richmond, Thu 22 May 2003
Sadly the race had to be cancelled - an accident on the A66 resulted in all its traffic being routed along the same minor roads used by the race. Many thanks to those who travelled up there. The League will now be based on four races, so let's go all-out for team points at the next race, Otley, on Thursday 12 June.

Otley race details on the HRL web site
Scottish Islands Peaks Race, 16-19 May 2003
A band of intrepid adventurers from Ilkley Harriers competed in this sail/run race, taking in many mighty mountains such as the Paps of Jura. Rob Templeman reports:
We finished in Troon on Monday around 14.00 completely shattered but somewhat elated! Out of 52 yachts taking part we finished 42nd and this position may improve as we know some teams couldn't find the check points on the hills due to very poor weather conditions. Four people were helicoptered off Ben More on Mull by RAF Mountain rescue. A team returning from the Paps of Jura as Mike and Phil went out didn't find a single check point having spent the whole night out there! The boat continued infront of us but we know they have failed the course so we should improve on our current position. Our team was in the blue flag category of fast monohulls. However, we don't know how we have done within our category yet. Hopefully, the full results will be out fairly soon.
Update 11 June - our team was 34th out of 50+ teams! Great result!

SIPR web site
British Orienteering Championships, Sun 18 May 2003
Just to show that Ilkley Harriers excel at all sorts of running, Eddie Winslow was in the winning team in the British Orienteering Relay Championships (Medium Open class) for the local orienteering club Airienteers.
Burnsall Duathlon, Sun 18 May 2003
Tim Ashelford won in 2h01:59 - a wet, hilly & windy 9k run, 40k bike, 3k run.
Clougha Pike fell race, Sat 17 May 2003
BM 7m/1400' Alison Bennett was 1st lady in 74:07, in "horrible, pouring rain".
ROM April 2003
Clive Smith is the Booths Ilkley Harriers Runner of the Month,

click here for details.
---
Jack Bloor Races, Tue 13 May 2003
A great night of races, with lots of Harriers racing and helping. We had the first ladies team, and the 3rd men's team. Graham Pearce was 10th in 45:26; Nick Pearce 16th in 47:14 and first Vet 50; 17 Jim Ryder 47:17; 25 Mark Iley 48:30; 16 Jon Sage 48:34; 28 Mike Baldwin 49:18; 37 Mike Rhodes 50:21; 43 Dave Cheesewright 51:10; 50 James Lind 52:13; 56 Iain Mann 53:08; 59 Helen Sedgwick 53:30 4th lady; 60 Ashley Hardwell 53:32; 61 Phil Chappell 53:33; 62 Emma Barclay 53:51; 65 Tony Thornley 54:19; 66 Morgan Williams 54:23; 74 Sally Malir 54:36; 80 Geoff Howard 55:10; 81 Ian Marshall 55:10; 93 Nicky Kime 57:13; 101 Alison Bennett 57:26; 112 Joyce Marshall 58:43; 119 Tim Whitaker 59:28; 126 Jo Foster 61:10; 128 Rachael Gooch 61:31; 129 Keith Wood 61:05; 134 Graham Maud 62:48; 167 Chris Porritt 82:31 - 27 Harriers in a good field of 169 finishers. Ilkley Harriers organised the finish and also the Junior races, which were a great success with over 80 children running.

Photos

Junior race results

Junior race results (Excel)

Jack Bloor web site (official results)
Leeds Marathon, and Half, Sun 11 May 2003
Neil Chapman was the first of the Harriers in the Marathon, 24th and 1st Vet 45 in 3h07:23; ahead of Dominic O'Hooley 42nd in 3h17:06 and Mandy Parnaby 258th in 4h48:46
In the Half Marathon we had 47th Mark Iley in 1h23:28; 227 Andy Wiggans 1h34:27; 343 Anthony Swanepoel 1h38:05; 447 Keith Wood 1h41:20; 758 Vince Gibbons 1h48:41; 759 Eva Makowski 1h48:42; 771 Linda Wright 1h48:58; 1009 Andrew Wright 1h54:13; 1121 Rob Wills 1h56:42; 1131 Bernie Gibbons 1h56:58

Results from ukroadraces.net
Buttermere Sailbeck Horseshoe fell race, Sun 11 May 2003
AM 9.4m/4250' Jim Ryder was 43rd in 1h53:11; Ashley Hardwell 61st in 1h59:33; and Alison Weston 65th and 4th lady in 2h02:15
Ben Lomond fell race, Sat 10 May 2003
Andrea Priestley won the ladies race, breaking the record in the process - 79:14 we think. 9 miles, 3200ft
Tadcaster Triathlon, Sat 10 May 2003
Diane Kitchen was 3rd lady Vet 40 and 9th lady overall in 1h16:19; Simon O'Hara was 99th in 1h26:15; and Janet Hebbert was 21st lady in 1h30:19.

Tadcaster Triathlon
Alternative Thursday session, from 15 May 2003
As an alternative to Pete's interval training on the moor, Jo will be leading a "steady run" from ILT&SC each Thursday at 7pm. See the training page.
Kit, anyone?
Who wants an Ilkley Harriers t-shirt or sweatshirt. Guaranteed to make you run faster. See Dave Ibbotson who needs to measure demand.
HRL #2, Ilkley, Tue 6 May 2003
A record-equalling turnout of 62 Harriers and a fabulous event - thanks to everyone who helped, and especially to Bernie Connor for all his efforts.
Alas, we have slipped a little in the main team competition, but we're holding our place in the Ladies, Lady vets, and Vets team competitions.

Harriers photos (more on the HRL site, below)

Check out the full results on the HRL web site
---
West Nab fell race, Sun 4 May 2003
AM 6.25m/2042' Morgan Williams was 51st in 59:34, and 2nd-claim Harrier Kirstin Bailey of Bingley Harriers was 4th lady in 54:27. Proceeds from the race went to the John Taylor Foundation.
Coniston fell race, Sat 3 May 2003
AM, 9m/3500' The race was won by Wharfedale Harrier Ted Mason in 1h17. Alison Weston was 80th, and 3rd lady, in 1h37:40 (first lady was 1h33 this year); Nicky Kime ran about 1h45
Stuc a Chroin fell race, Sat 4 May 2003
AL 15m/5000, British Fell Championships counter. Nick Pearce travelled up to Scotland for this epic trog through forest and bog, with some brutal climbs on rocky ground. Nick was 72nd and 7th Vet 50 in 2h39:42. Andrea Priestley was 63rd and 2nd lady in 2h37:03 (2nd? apparently Anegela Mudge had an absolute blinder, 20th overall in 2h18:04 to beat her own record by 4m).
Letter from Oz
Seems like Vic isn't the only one doing some running in Australia - Andy Webster writes ...
Just a note from down under to confirm a result. I've been in a small town called Innisfail (North Queensland, Australia) for the past month doing work fixing tractors and bannana picking to earn some much needed travelling funds. I ran a 8km/5m run called the 'lest we forget' road race in Innisfail. This took place at various places all over Australia in rememberance of the Australian and Kiwi soldiers lost in various wars.
I came 6th out of around 30 in a time of 40.09. The heat was horrendous and as you could imagine, I wasn't feeling too fit after having 8 months off! It was a friendly race. Myself and a guy I met in the work hostel, Liam O'Brien, (formerly of Skyrac Athletics!) were almost treated like celebrities being poms!!
Junior news page
Check out the new Junior News page. As Junior Harriers gets into full swing in September, this page will be expanded, but if you've any ideas for content, or questions, then let us know by emailing to "juniors@ilkleyharriers.co.uk"

New junior news page
---
Three Peaks race, Sun 27 April 2003
Not a Championship race this year, but a classic race, and in its 49th year.
Ilkley Harriers won the ladies team prize; as Graham Breeze on the results team says ďa just reward for a club that goes from strength to strengthĒ. 19th Nick Pearce 3.38.53 2nd V50; 37th Geoff Howard 3.48.39; 52nd Mike Baldwin 3.56.04; 62 Helen Sedgwick 4.03.16 2nd lady; 73rd Mark Iley 4.09.15; 86th Sally Malir 4.16.44; 94th Ashley Hardwell 4.19.24; 108th Mike Rhodes 4.23.25; 115th Ian Johnson 4.26.00; 131st Neil Chapman 4.34.08; 139th Anna Liuba 4.38.48; 153rd Rachael Gooch 4.44.59; 164th Ewan Welsh 4.49.26 and 168th Bob Wightman 4.53.46. Second-claim Harrier Jason Hemsley (P&B) finished 2nd in 3.12.49

See Mandy's photos
Kinder Downfall fell race, Sun 27 April 2003
AM 10m/2500' - Andrea Priestley won the ladies race in 78:40
Ace Races, 26-27 April 2003
Eddie Winslow was 4th in the first of this seasons Ace Races at the weekend - run/mtb/night navigation/canoe

Ace Races web site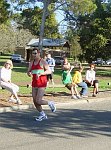 Geelong AC, April 2003
International Athlete Vic Verecondi reports that he was 17th in a Geelong Athletic Club race, racing the 4.68km in 21:04 He reports very warm conditions and tough competition.
Pete Shields
Pete Shields, FRA England Coach, has been invited to sit on the UK Athletics Committee in the "Coaching and Education" position.
---
HRL #1, Harlow Carr, Tue 22 Apr 2003
A great turnout of 54 Harriers for the first race in the Harrogate & District Summer Road Race League. We are leading the Lady and Lady vets team competition, we are leading the main team competition, 2nd in the vets, and 2nd in the Elite team competition.
F a n t a s t i c !!

Check out the full results on the HRL web site

See the Harriers photos
Bunny Run #4, Tue 22 April 2003
CS 3m/300' Chris Porritt set a new Lady Vet 60 record of 30:39, beating her Bunny Run #3 time by over a minute - and having done the Anniversary Waltz in the interim!

Photos on David Brett's web site
---
Guiseley Gallop, Sun 20 Apr 2003
Easter Sunday, and on to the Guiseley Gallop, a trail race over 10km. Amongst the runners were Billy Kerr, whose 19th place time of 39:13 was good enough to win him the prize for First Vet 40 in the Airedale Triple Trail Challenge (the other legs being the Meanwood Valley Trail and Baildon Boundary Way). We also had 13 Tim Ashelford 38:34; 22 Dominic O'Hooley 39:26; 33 Clive Smith 40:43; 37 Nick Pearce 40:57 (pipped for the Vet 50 prize by just 3 seconds, on his 50th Birthday!); 46 Ian Johnson 42;18; 51 Terry Lonergan 42:47; 57 Neil Chapman 43:25; 71 Dave Jepson 44:19; 85 Ken Souyave 45:09; 189 Keith Wood 49:45; 204 Richard Gray 50:12; 232 Eva Makowski 51:57; 265 Jane Cullingworth 53:48; 274 Sue Bickerdike 54:20; 275 Barbara Bullock 54:22; 278 Linda Wright 54:27; 288 Andrew Wright 54:53; 298 Lynn Donahue; 55:44; 303 Roger Pyle 56:05; 304 Richard Midgley 56:06; 330 Robert Wills 58:06; and 403 Amanda Parnaby 63:43. This was another a Harriers Running League event - the race was won by Martin Scaiff in 34:05

Skyrac's web site
Anniversary Waltz, Sat 19 Apr 2003
Update 5 May - results now online
AM 11.25m/3600' The second race in the English fell championships, so there was a good turnout of Harriers. We had 241 Emma Barclay and 242 Alison Weston both in 2h09:41; 283 Alison Crane 2h16:29; 319 Rachael Gooch 2h23:20; 342 Jo Foster 2h29:01; 368 Susie Jollie 2h35:06; and 407 Chris Porritt 3h13:40 in the ladies' team. For the men, we had 96 Nick Pearce 1h51:32; 119 Jon Sage 1h54:04; 124 Geoff Howard 1h54:45; 133 Jim Ryder 1h55:47; 151 Mike Baldwin 1h56:58; 163 Mark Iley 1h58:42; 216 Iain Mann 2h05:14; 289 Norman Bush 2h17:04; 313 Morgan Williams 2h22:04; and 320 Phil Chappell 2h23:22
19 Apr - The FRA have just decided how to handle the "difficult" result of the Lads Leap fell race, where the leading two runners took a wrong (shorter) route near the finish - there are no disqualifications, but the first three runners all get the points (48) that would have been allocated to the 3rd runner. 8 June - English Championship points have appeared on the FRA web site. See our summary.

Click for Anniversary Waltz home page - results with split times
Salford 10K, Fri 18 Apr 2003
Terry Lonergan was 6th M50 and 59th overall in a cracking time of 38:13
Bunny Run #3, Tue 15 April 2003
CS 3m/300' Graham Pearce is reputed to hace finished about 26th in 20:15. Can anyone confirm this? Did anyone else run?
---
Help needed!
Roy Ruddle is running the Paddy Buckley (a sort of a Welsh Bob Graham) on May 10, and Bob Wightman is doing the Bob Graham on 14/15 June. Both need support runners and other help - give them a shout if you can help - email via paul
London Marathon, Sun 13 April 2003
Updated 25 April - times on official site now adjusted.
This is the biggie, the one race that you're asked "have you done ...?" when people learn that you're a runner. For those running it, the last few months now have seen training and racing tailored towards it, colds fussed over, and plans made. And today was the day! Neil Chapman ran 3h07:36; Jane Leather 3h36:03; Richard Midgley 3h44:07;Andy Wolfenden 4h13:28; Lis and Andrew Merrick 4h39:23; Amelia Whitaker 5h24:17
Top local runner Ian Fisher was 42nd in 2h28:10

Click for www.london-marathon.co.uk, official site with results
Meanwood Valley Trail, Sat 12 April 2003
This was a Harriers Running League event, and even the race organisers commented on how many Ilkley Harriers there were! The race was won by Gosforth's Matthew Nicholson in 42:11. Mark Iley was first Harrier, 20th in 46:25; then 24 Billy Kerr 47:03; 29 Nick Pearce 47:28; 37 Clive Smith 48:32; 44 Jim Ryder in 49:10; 50 Ian Johnson 50:40; 55 Mike Baldwin 51:27; 61 Dave Jepson 51:46; 70 Ewan Welsh 52:37; 76 Iain Mann 53:06; 80 Ian Marshall 53:28; 102 Nicky Kime 55:10; 122 Keith Wood 56:49; 184 Jo Foster 60:32; 198 Richard Gray 61:33; 202 Eva Makowski 61:58; 210 Barbara Bullock 62:37; 212 Bridget Doherty 62:40; 229 Jane Cullingworth 63:53; 231 Vince Gibbons 63:58; 243 Roger Pyle 64:51; 251 Andrew Wright 65:15; 276 Bernie Gibbons 68:16; 289 Chris Porritt 70:26; and 299 Amanda Parnaby 73:53.
Second-claim Harriers also seen there were 3 Jason Hemsley 43:17 and 12 Stefan Macina 45:21.

Results on Valley Striders' site

Some photos on Crews-Inn.com site
Bunny Run #2, Tue 8 April 2003
CS 3m/300' Graham Pearce improved on the week before - 29th in 20:08; in 57th Rob Reynolds-Jones dropped places despite running faster, in 21:37; similarly for Ian Johnson in 64th place with 21:54; and in 225th place we had Chris Porritt in 32:02
EGM, Tue 8 April 2003
At the Extraordinary General Meeting at ILT&SC Ilkley Harriers voted on the proposal to include a junior section in Ilkley Harriers, and on changes to the club constitution to enable this (details are in the club newsletter, April).
The vote to agree this change was unanimous. So watch out for details of Junior Ilkley Harriers soon!
Thursday Training changes, Easter 2003
Andy Wolfenden's sessions at Keighley track have taken a break for the summer. Pete Shields' sessions on the grass at ILT&SC will move onto Ilkley Moor (meet at Wells Rd.) after Easter (i.e. on April 24th)

click here for Training page.
ROM March 2003
Jane Cullingworth is the Booths Ilkley Harriers Runner of the Month,

click here for details.
Harriers Running League, change
The Tadcaster 10 at the end of May has been cancelled. The Thirsk 10 on 1st June will replace it as a Harriers Running League event.

click here for Running League.

Click here for Thirsk's site
---
Baildon Boundary Way, Sun 6 April 2003
Billy Kerr was first local, 10th in 1h24:55; with Mark Iley close behind 13th in 1h26:05. 28th was Dominic O'Hooley in 1h31:04; then Sally Malir, who was 2nd lady, 68th in 1h37:50; 94 Julie Harvey 1h42:23; Keith Wood 1h51; 209 Richard Gray 1h54:20; then a gang of Ilkley ladies - 235 Linda Wright 1h57:44; 239 Bridget Doherty 1h58:22; 241 Eva Makowski 1h58:39; 242 Jane Cullingworth 1h58:41; 243 Barbara Bullock 1h58:42. And we had 270 Roger Pyle 2h03:11; 286 Vince Gibbons 2h05:47; 290 Andrew Wright 2h06:46; and 332 Amanda Parnaby 2h14:35

Results and photos on Baildon's site
Blubberhouses fell race, Sun 6 April 2003
Nick Pearce is often in the first few in this local 25 mile event, and he won this 21st running of the event, in 3h13
Wakefield 10k, Sun 6 April 2003
Cath Wolfenden ran a good time of 42:20 for 245th place; and Vic Verecondi's 47:24 (454th) was a PB by 2½ minutes.
Pendle fell race, Sat 5 April 2003
AS 4.5M/1500' Emma Barclay was 3rd lady in 41:17, just 23s behind Vanessa Peacock. Steve was 110th in 43:46
Bunny Run #1, Tue 1 April 2003
CS 3m/300' Graham Pearce had a good run, to finish 30th in 20:53, just ahead of Mark Iley 32nd in 20:58. 53 Rob Reynolds-Jones 22:38; 54 Ian Johnson 22:40; 170 Ashley Hardwell 28:15; 231 Claire Macina 32:51
News July-Sep
|
News Jan-Mar