EGM, Tue 8 April 2003
Ilkley Harriers are reminded that on Tuesday, 8th April there will be an Extraordinary General Meeting at ILT&SC at 8.45pm to vote on the proposal for a junior section - details are in the club newsletter.
Midgley Moor fell race, Sat 29 Mar 2003
AS 5m/1250' In an otherwise quiet weekend for racing, Geoff Howard was 26th and 2nd V50 in 46:16 As usual, Jason Hemsley and Stefan Macina, both P&B but also members of Harriers, were battling it out at the front of the race, finishing 3rd in 39:16 and 6th in 39:55 respectively. Rupert Kempley was 20th in 44:25
---
Edale Skyline, Sun 23 Mar 2003
AL 21m/4500' Rachael Gooch had a fine run in this classic race to finish 2nd lady Vet in 4h16:39 Ashley Hardwell also enjoyed a good result - 3h56:22

Results on DPFR's site
Ackworth Half Marathon, Sun 23 Mar 2003
Suzanne Akeroyd was 11th lady and 3rd LV35, a fabulous result, in 1h34:10; Karen Page and Lloyd Best finished in 1h53:25 after an injury problem
Wilmslow Half Marathon, Sun 23 Mar 2003
For Terry Lonergan, a time of 58.29 (6.30 min. per mile) in the Norton 9 on March 2nd. determined a target of 85 mins, which he achieved with 83.49 (6.23 per mile) ; 7th over-50 from 173 in this category. Clare Park ran 1h59:22 A large field of 3200 competed over a very fast rural course in pleasantly warm, almost still conditions. This is a very well organized event which can be strongly recommended as a significant "first quarter" target or pre London race.
Coniston 14, Sat 22 Mar 2003
There was a great turnout of Harriers for this 14 mile road race, with it being a Harriers Running League counter, and Andy Wolfenden organising a bus to the event. The race was won by Steve Littler in 1h15:10, leading in nearly 1500 runners. Harriers results were 29 Billy Kerr 1h26:03; 35 Nick Pearce 1h26:37; 81 Clive Smith 1h30:35; 226 Dave Jepson 1h38:19; 281 Jeff Paget 1h40:47; 307 Phil Chappell 1h41:45; 321 John Woodward 1h42:14; 351 Jane Leather 1h43:21; 553 Richard Midgley 1h49:33; 658 Andy Wolfenden 1h53:00
Second-claim Harrier Jason Hemsley had a fine run - 27th in 1h25:52

Results from ukroadraces.net
Half Tour of Pendle, Sat 22 Mar 2003
AM 9m/2250' In rather better conditions than last year, Emma Barclay had a good run - 4th lady in 1h22:39; with Norman Bush 3rd Vet60 in 1h24:07 and Alison Weston 1h30:00
---
Lads Leap fell race, Sun 16 Mar 2003
A fantastic start to the 2003 English Fell Championship. A great race, well-organised, with beautiful weather. The course was tough - 5.9 miles (up from the 5.5 advertised) with 1700' of climb.
The ladies' race was won by Matlock's Christine Howard in 56:12. Harriers positions were: 14 Emma Barclay 61:38; 29 Alison Crane 65:57; 39 Alison Weston 69:04; 50 Rachael Gooch 70:27. The ladies were 7th team.
The men's race was won by Salford's John Brown, who seemed to lead from start to finish, in 44:56. Harriers positions were: 101 Mark Iley 56:01; 107 Nick Pearce 56:21; 140 Geoff Howard 58:22; 143 Billy Kerr 58:32; 151 Jim Ryder 59:00; 193 Norman Bush 62:00; 216 Jon Sage 64:41; 250 Ian Marshall 67:44; 255 Steve Barclay 68:26; 266 Morgan Williams 69:23; and 291 Phil Chappell 72:33. The men were 16th team, 5th Vets team (we just missed out on a Vet50 team).
Second-claim Harrier Jason Hemsley was 25th in 49:58; Stefan Macina 49th in 51:49, both running for Pudsey and Bramley.
Thanks to Mark Iley and Emma Barclay for getting teams out. And a special mention for Ian Marshall who had raced for his orienteering club in an inter-club championship at nearby Yateholme that morning!
And of course all the Ilkley runners will get points for the Harriers Running League from this race.
19 Apr - The FRA have decided how to handle the "difficult" result of the Lads Leap fell race, where the leading two runners took a wrong (shorter) route near the finish - there are no disqualifications, but the first three runners all get the points (48) that would have been allocated to the 3rd runner.
27 Apr - English Championship points have appeared on the FRA web site. See our summary.

See the photos

Results on race-results.co.uk
Ashby 20, Sun 16 Mar 2003
Suzanne Akeroyd ran 2h28:25; Richard Midgley 2h44
South Leeds Stadium 5, Sun 16 Mar 2002
Lynn Donohue ran in the 5 mile road race - 217th in 41:51 - a good time in her first 5 mile road event and on a hilly course
Wuthering Hike, Sat 15 Mar 2003
Also known as the Haworth Hobble, this BL race is a stern test with its 31 miles and 4400' of climb, run in pairs. Rupert Kempley and his partner finished in under 6 hours, as did Ashley Hardwell and Anna Liuba for 2nd mixed team (just 4 mins down on the first mixed pair); and Heather Maud and her partner finished just a little later in 6h16
British Indoor Adventure Racing Champs,
Fri 14 Mar 2003
Eddie Winslow, Adrian Hall and Astrid Wheatcroft competed in the event hosted both in the NEC and outside in neighbouring woods. The three hour race was basically a confusing mixture of mountain biking, orienteering, climbing walls, zip lines, scramble nets, canoe and bike simulators, running, abseiling, erecting and collapsing a tent and a nasty obstacle called a Jacobs Ladder. They eventually finished 2nd (out of 6) in their heat but unfortunately didn't qualify as one of the fastest losers to get into the final - after 4 heats they finished mid table.
Sport Direct XC Prizegiving, Fri 14 Mar 2003
Over a dozen Harriers attended the prizegiving of the Sport Direct XC League, at Quo Vardis in Leeds. As last year, it was a great social occasion with the competing clubs enjoying the pub to themselves and cheering each others' successes. Thanks to Sport Direct for a great night out.
Ilkley's successes included:
Champion Ladies Team, Premier Division
Runners-up Lady Vets Team
Runners-up Men's Team, Premier Division
Runners-up Veteran Men's Team
Champion Lady Vet 35, Alison Bennett
Runners Up Lady Vet 55, Christine Porritt
Champion Vet 60, Norman Bush
In addition. special t-shirts were awarded to Jim Ryder and Christine Porritt for their contribution to Harriers performance in the League

See the photos
---
ROM February 2003
Graham Pearce is the Booths Ilkley Harriers Runner of the Month,

click here for details.
Circuit training Mon 10 Mar 2003
Just a reminder that this week's circuit training is outdoors at ILT&SC, not at Ilkley Grammar
East Hull 20, Sun 9 Mar 2003
Even though it was a windy day, Neil Chapman managed a PB (by one minute) for an excellent 33rd place in 2h12:52; Richard Midgley was 179th in 2h46:05; and Andy Wolfenden 199th in 2h51:47 (the race was won by Ian Fisher in 1h54:38)
Black Combe fell race, Sun 9 Mar 2003
AM, 9m/3800' Nick Pearce was 13th, and 4th Vet, in 1h23:27. Ashley Hardwell was 39th in 1h37:57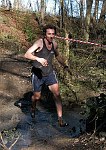 Fiendsdale fell race, Sat 8 Mar 2003
AM, 9m/2600'' In atrocious conditions for this navigational fell race, second-claim Harrier Stefan Macina came through to win in 1h30:19. Another 2nd-claim Harrier, Jason Hemsley, was 3rd in 1h30:51. Ashley Hardwell was 25th in 1h52:19; and Rachael Gooch was 3rd lady in 2h08:47 followed directly by Anna Liuba 4th lady in 2h09:03.
---
Sport Direct XC #5, Sun 2 Mar 2003
We had another good turnout, 12 men and 16 ladies out, for the final event in the 2003 Sport Direct XC League. Thanks to all the runners, and to Mandy who ran the "Ilkley creche". It was a wonderful day for XC - sunny and warm - and STAC laid on a testing course at Temple Newsam. Our ladies took the team result and the league, and our men were 2nd again to mighty Horsforth - other team results tbc
The ladies positions were: 3 Helen Sedgwick, 5 Sally Malir, 6 Alison Bennett, 8 Alison Crane 34:24, 11 Cath Wolfenden, 15 Alison Weston, 17 Joyce Marshall, 18 Clare Cheesewright, 21 Jo Foster 39:04, 27 Bridget Doherty 40:04, 31 Jane Cullingworth, 34 Shirley Wood, 38 Lynn Donohue, 49 Chris Porritt 45:05, 55 Amanda Parnaby, and 62 Jane Coupe
For the men, we had 9 Jim Ryder, 29:23, 11 Nick Pearce, 14 Mark Iley, 24 Clive Smith, 35 Eddie Winslow, 36 Neil Chapman 32:31, 37 Ian Marshall, 51 Norman Bush, 58 Phil Chappell, 83 Dennis Ackroyd, 84 Morgan Williams, and 126 Vic Verecondi 44:10 Second-claim Harriers running as guests included Jason Hemsley and Stefan Macina, both at the sharp end of the race.

See the photos
Just in, team results from the very efficient STAC ...

Menís Premier Division    Ladiesí Premier Division
1 HORSFORTH  89 pts       1 ILKLEY     22 pts
2 ILKLEY     217 pts      2 HORSFORTH  36 pts
3 ABBEY      245 pts      3 ABBEY      42 pts
4 FELLANDALE 380 pts      4 ACKWORTH   88 pts
5 ACKWORTH   401 pts      5 KIRKSTALL  108 pts
6 KIRKSTALL  641 pts        Kippax     no runners
					
Menís 1st Division	Ladiesí 1st Division
1 ROTHWELL   336 pts      1 OTLEY       145 pts
2 STAC       420 pts      2 ROTHWELL    147 pts
3 OTLEY      651 pts      3 STAC        179 pts
4 ECCLESHILL 720 pts      4 ECCLESHILL  254 pts
5 KIPPAX     727 pts      5 AIRECENTRE  297 pts
6 AIRECENTRE 980 pts        Fellandale  no runners
7 WOODKIRK   1054 pts       Woodkirk    no runners

For the record, there were 138 men and 64 ladies 
(= 202 total) in the race.

The provisional results of the Sport Direct 
Cross Country League Championship, 
again subject to checking and confirmation, 
are as follows:-

Menís Premier Division Champions:-   HORSFORTH
Menís 1st Division Champions:-       ROTHWELL
Menís Veteran Champions:-            HORSFORTH
Ladiesí Premier Division Champions:- ILKLEY
Ladiesí 1st Division Champions:-     ROTHWELL
Ladiesí Veteran Champions:-          HORSFORTH

Tadcaster Duathlon, Sun 2 Mar 2003
Tim Ashelford, running under L&B Triathlon Club colours, was 2nd overall - 10k run 34:22, 40k bike 62:38, 5k run 17:36
St. Annes 10 mile road race, Sun 2 Mar 2003
In very good conditions, Geoff Howard was 45th in 62:51 (3rd O55) and Andy Wiggans 94th in 68:58 (the winner was Neil Tattersall Pendle AC 53:33)
Norton 9, Sun 2 Mar 2003
Terry Lonergan 58:29
Box Hill fell race, Sat 1 Mar 2003
This race, in the far South, is 7.5 miles, 1800 ft. Harriers results were: 28th Jonathan Sage 60:25; 35th Ian Johnson 61:52.
Jon went on to do the Littlehampton Aquathlon the next day and was 6th - 400m swim 8:18; 5km run 19:26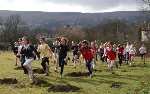 Primary Schools XC, Sat 1 Mar 2003
There were plenty of Harriers to be seen at the XC on Saturday ...
cheering on their kids. There were over 340 children in school year/gender races. Well done to All Saints school, and Sarah Haines and her helpers, for a very succesful event.


---
Sport Direct XC, #5 - This Weekend! - Details
STAC have sent the following information ...
"St.Theresaís A.C. invites your members to the final event in the 2002-2003 Sport Direct Cross Country League at 11am on Sunday 2 March 2003.
The venue will be Temple Newsam Park, Leeds. Registration from 10am will be adjacent to the Stable Block / Gift Shop, near to Temple Newsam House. Toilets are located in the same area.
There are several car parks near to the house. The main car park, nearest to the house, usually has a security attendant, and there is a charge when this facility is in operation. In addition, car parking is permitted along the top end of Temple Newsam Road (but not by the bus terminus or along Elm Walk).
The course will be in the usual area southeast of Temple Newsam House and through the fields and woods towards Bullerthorpe Lane. It will be undulating, with a mixed terrain of grass, grit tracks and woodland footpaths, plus a water jump. However, the start and finish will be further away from the house than previous races we have organised around the park.
Please note that unfortunately, we are unable to provide changing/showering facilities or refreshments after the race. This also means that there will be no forum to announce the results after the race. However, we will make every endeavour to make the team results known to you later in the day, or failing that by the Monday following."
Feb Handicap Race - results now available

Below
---
Ilkley Moor fell race, Sun 23 Feb 2003
This is Ilkley Harriers premier event. And what a f a n t a s t i c day it was. We had a great turnout of runners - 235 finishers. 23 Ilkley Harriers were running, and we enjoyed 2nd, 3rd, and 4th prizes in the ladies' race, to take the ladies team prize. There were some fine results from the men too, with Graham Pearce leading them home. Even the weather was wonderful for February, and this with the new tent and the al-fresco presentation of prizes gave the day a carnival atmosphere, almost.
The senior race was preceded by Junior races, offered for the first time. These went very well, with over 50 youngsters competing. And they too added something special to the atmosphere of the event. Winners were U17 Girl Chloe Rodham (Helmhill), U14 Boy Jack Thompson (Pendle), U14 Girl Eleanor Kitchen (Bingley), U12 Boy Marcus Bennett (Westville School), U12 Girl Emily Dent (Holmfirth), U10 Boy Roam Hamilton (Wharfedale), U10 Girl Fiona Jordan (Clevedon Sch), U8 Boy Sam Wood (Ilkley), U8 Girl Lily Kitchen (All Saints). But most juniors received something at the prizegiving, presented by Yorkshire fell champion Kirstin Bailey.
Thanks to the many Harriers who helped make this day a great success - whether marshalling, on registration, getting results out rapidly, and all those others who helped everything run so smoothly.

See the photos

Full results, historical results, etc. on the Ilkley Moor fell race pages
Long Mynd, Sat 23 Feb 2003
Further South, Mike Baldwin was 8th in the "Shropshire Valleys Weekend" - the AS Titterstone Clee race (2.5M/750') on Saturday, and the AM Long Mynd Valleys race (10.5M/4500') on Sunday.
The same day, there were Harriers running in 2 road races...
Great North West Half Marathon, Sun 23 Feb 2003
Andy Wolfenden ran 1h44:28, doing well on his London build-up.

Results from UKRoadRaces.Net
Pocklington Snake Lane 10, Sun 23 Feb 2003
Two PB's here: Dave Jepson ran 65:11, a PB by 3 minutes; and John Woodward ran 67:59 for a PB by 4 minutes. Suzanne Akeroyd also had a good run - 70:37

Results from UKResults.Net
---
Winter Hill fell race, Sun 16 Feb 2003
AM 11m/2750' Mark Iley finished 27th in 1h53:53 (only 13 minutes behind the winner).
Wadsworth Trog, Sat 15 Feb 2003
Ian Marshall reports ... Eight Harriers tackled the ďfull trogĒ Ė 20 miles, 4000ft. on Saturday under a wall to wall blue sky with frozen ground underneath and only light winds. These conditions were excellent and the mens record was broken by Rob Jebb of Bingley in 2.50.03. Harriers results as follows:-

28th Roy Ruddle      3.38.31
41st Ian Marshall    3.45.54*
61st Ashley Hardwell 3.59.46*
68th Bob Wightman    4.05.41*
73rd Jane Leather    4.09.53 4th lady
75th Anna Liuba      4.09.53 6th lady
76th Neil Chapman    4.11.42*
79th Andy Wiggans    4.16.25*
*vets


Results on Calder Valley's web page
New coaching web site
A new Athletics Coaches Association of the UK has been formed by Mike Winch and 4 of Britain's top coaches: check out

www.acauk.co.uk
ROM January 2003
Geoff Howard is the Booths Ilkley Harriers Runner of the Month,

click here for details.
Club Handicap Result, Tue 11 Feb 2003
Another succesful handicap race organised by Richard Gray. (Approx. 5.6 miles) Congratulations to our flying Chairman Geoff Howard on beating his handicap and winning a bottle of "fine wine". Many thanks to Shirley and Howard for helping out.
					
   NAME	       FINISHING	HCAP 	ACTUAL 
                    TIME		TIME		
				
1  Geoff Howard    48.01	13.30	34.31
2  Clive Smith       .13	13.30	34.43
3  Jane Cullingworth .16	2.30	45.46
4  Barbara Bullock   .20	2.30	45.50				
5  Helen Shew        .28	2.30	45.58		
6  Dave Jepson       .39	13.00	35.39	
7  Jeff Paget      49.00	11.30	37.30
8  Vic Vericondi     .15	5.30	43.45
9  Sally Malir       .21	13.00	36.21
10 Ashley Hardwell   .23	9.30	39.53
11 Morgan Williams   .30	7.30	42.00
12 Ted Mason         .33	18.00	31.33
13 Eugene Doherty    .37	11.30	38.07
14 Jason Hemsley     .39	18.00	31.39
15 Vince Gibbons     .44	6.00	43.44
16 John Coen         .55	13.00	36.55
17 Julie Harvey      .56	11.30	38.26
18 Suz. Bickerdike 50.00	3.30	46.30
19 Dave Cheesewright .14	12.30	37.44
20 John Woodward     .17	13.00	37.17				
21 John Spencer      .22	17.30	32.52
22 James Lind        .22	13.30	36.52
23 Lloyd Best        .26	11.30	38.56
24 Bridget Doherty   .34	7.30	43.04
25 Alison Weston     .42	11.00	39.42
26 Alison Crane      .50	11.00	39.50		
27 Alison Bennett  50.51	11.00	39.51
28 Cl Cheesewright 52.23	8.30	43.53
29 Neil Chapman      .34	15.30	37.04
30 Bernie Davidson   .35	2.30	50.05
31 Mandy Parnaby     .40	2.30	50.10
32 Claire Harmer     .44	2.30	50.14
33 Steve Fletcher    .47	2.30	50.17
34 Mike Rhodes       .48	15.30	37.18
35 Mike Baldwin    53.11	15.30	37.41
36 Claire Macina     .15	0.00	53.15
37 Jane Bryant     54.35	10.00	Took a wrong turn
38 Lynne Donohue   56.10	0.30	}Out for a run
39 Vickie          56.10	0.30	}
40 Phil Chappell	-	13.30	Retired

---
John's Run, Sun 9 Feb 2002
This was a very special day for many fell runners, a day to remember John Taylor and to raise money for the Foundation that was set up in his memory (see www.johntaylorfoundation.org.uk). Dave and Eileen Woodhead laid on the usual magic, a race over Bronte-land with a "rolling start" where the field was led out by John's close friends, quick-as-a-flash on-the day-results, and a great prize-giving (all prizewinners got a cabbage, amongst other things).
Enjoying all this were - 47th Graham Pearce 47:03; 89 Mike Baldwin 50:28; 151 Ian Johnson 55:15; 165 Alison Crane 56:06 (12th lady); 171 Alison Weston 56:59; 181 Ashley Hardwell 57:39; 184 Morgan Williams 57:44; 187 Paul Brennan 58:15; 193 Joyce Marshall 58:35; 227 Rachael Gooch 61:33; 235 Anna Liuba 62:21; 318 Shirley Wood 78:08; 319 Clare Macina 78:09 Second-claim Harriers included 9 Jason Hemsley 43:03; and 15 Stefan Macina 43:20.
In the junior races, Sam Wood won the U8 race in 2:47; and Lily Kitchen was 5th, and second girl, in 3:48. In the 1 mile race, Ruth Kitchen was 21st overall and 7th GU12 in 8:54; Joshua Crane was 27th overall and 5th U10 in 10:28 (running most of the race in one shoe!); Bradley Chapman was 28th overall in 10:30; Simon Chapman was 31st in 10:48; and Emily Wood was 34th overall in 11:08. In the 2 mile race for U14, Eleanor Kitchen (running for Bingley) was part of a group that ran off-course, she completed in 15:52

See the photos

Full results, raffle results, more photos on www.johntaylorfoundation.org.uk
Sport Direct XC #4, Kippax, Sun 9 Feb 2003
Many thanks to everyone who turned out to give us complete teams on the same day as an important fell race. This was the first XC for many - hope you enjoyed it! The men's team were 2nd to Horsforth, and 1st in the Vets. The Ladies were 3rd, and 1st Vets. So it's all to play for at the final event at Temple Newsam on Sun 2 March!
For the men, we had 9 Jim Ryder 31:27; 12 Nick Pearce 31:38; 14 Mark Iley 32m; 21 Geoff Howard; 27 Clive Smith; 39 Neil Chapman; 42 Eddie Winslow; 45 Phil Chappell; 49 James Lind; 57 Jeff Paget; 59 Norman Bush; 82 Lloyd Best; 104 Mike Bryant; 120 Vic Verecondi; and 121st Roger Pyle
And for the ladies we had 4th Alison Bennett 34:48; 6th Cath Wolfenden; 20 Suzanne Akeroyd; 23 Linda Wright; 24 Bridget Doherty; 26 Jane Bryant; 30 Barbara Bullock; 38 Jane Cullingworth; 39 Suzanne Bickersdike; 42 Chris Porritt; 48 Amanda Parnaby

See Jo's photos
---
Sport Direct XC, #4, Details
Sun 9 Feb, 11am prompt (register 10:00-10:45)
Kippax Leisure Centre
Parking on field next to Leisure Centre - not in Leisure Centre Car Park
5 miles as last year, undulating, testing hills (studs best but spikes OK)
Showers in Leisure Centre (requires payment)
Refreshments at the Kippax Welfare
---
Roundhay Romp 10km, Sun 2 Feb 2003
In this multi-terrain 10km race Dave Jepson ran 42:03; John Coen 43:22; John Woodward 43:29 (all in the top 30); and Vic Verecondi 51:33
Rombalds Stride, Sat 1 Feb 2003
There were over 20 Harriers in this 20+ mile event! Second-claim Harrier Jason Hemsley won it in 2h53, with Nick Pearce not too far behind in 2h56, and Andrea Priestley 1st lady, in 2h58. Dominic O'Hooley 3h11; Mark Iley 3h18; Mike Baldwin 3h22; Sally Malir 3h24 (3rd lady); Ian Marshall 3h27; Neil Chapman 3h37; Rachael Gooch 3h38; Anna Liuba 3h38; Kevin Gooch 3h41; Suzanne Akeroyd 4h14; Keith Wood 4h14; Andy Wolfenden 4h15; Richard Midgley 4h18; Linda Wright 4h26; Victoria Wright 4h26; Andrew Wright 4h33; Graham and Heather Maud 4h40; Amanda Parnaby 5h22; Jane Cullingworth 5h22

See the photos
---
Brass Monkey 1/2M, Sun 26 Jan 2003
On a windy day, Neil Chapman was 75th in 85:32; Rob Pawson about 100 minutes we believe; Richard Midgley 421st in 104:17; and Amanda Parnaby 717th in 119:55

Results from UKResults.Net
Stanbury Splash fell race, Sun 26 Jan 2003
7m/1200' BM There were quite a few Harriers at the 20th Soreen Stanbury Splash, on a wild and windy day. As this was the first race in the 2003 Harriers Running League, these hardy souls deserved every point won!
Harriers Results:

Winner Ian Holmes   47.57 (9th win in a row?)
32  Nick Pearce     56.40
37  Graham Pearce   57.53
43  Geoff Howard    58.44 (2nd o50)
58  Mike Baldwin    59.56
63  Ian Johnson     60.41
tbc Clive Smith     tbc
70  Emma Barclay    61.51 (4th Lady & 2nd Vet. Lady)
76  Norman Bush     62.55 (1st o60)
99  Ian Marshall    64.26
104 Iain Mann        66.53
125 Alison Weston   67.39 (3rd Vet Lady)
164 Rachael Gooch   72.21
184 Bridget Doherty 75.29

Geoff, Norman, Emma, Alison, Rachael and Bridget were all "in the prizes".
In the junior races Emily and Sam Wood both ran well. Sam led the field out in the under-8's race, only to lose a shoe. Luckily mum was on hand to help lace it back on, but not quick enough for Sam to regain the lead - he was 5th in 3:55 - 40s down on the winner. Emily had a much tougher race, out in the wind, and ran well to finish in 12:02 and 30th place in a good field.
After the race, Skyrac's Graham Breeze, in his capacity as co-organiser of the prestigious Lakeland Classics Trophy, presented Alison Weston with a limited edition mug to recognise her coming second lady in the 2002 series. Of the nine prizes awarded only two went to ladies and Alison is also the only runner from Yorkshire to receive an award. Well done, Alison!

See the photos
---
Woodkirk 10k, Sun 19 Jan 2003
Dave Jepson ran 41:10; John Woodward 42:49
2002 Annual Awards evening, Sat 18 Jan 2003
Ilkley Harriers Annual Awards Presentation Evening was a huge success. There a great turnout of 80 Harriers and partners for this glittering social event. An excellent curry supper at ILT&SC was followed by the presentation of awards; a raffle with prizes donated by Terry Lonergan's Complete Runner; and dancing and chatting until late. Thanks to Emma and the other organisers for a super event.

See the photos

Click here for the Running League page
---
ROM December 2002
Alison Bennett is the Booths Ilkley Harriers Runner of the Month,

click here for details.
---
Sport Direct XC#3, Sun 12 Jan 2003
There was a really great turnout of Harriers at Golden Acre Park, on a perfect XC day - blue sky, and firm ground underfoot. We reckon the results were:

Men
11	Jim Ryder	33:42
15	Mark Iley	34:21
25	Geoff Howard	35:08
30	Billy Kerr	35:39
40	Terry Lonergan	36:36
42	Mike Baldwin	36:43
44	Neil Chapman	36:49
45	Eddie Winslow	36:53
49	Ian Marshall	37:07
55	Jeff Paget	37:35
65	Norman Bush	38:28
99	Keith Wood	40:55
103	Lloyd Best	41:14
Tim Ashelford, running as a guest, was 4th in 32:10 


Ladies
2	Jean Uniacke	36:34
4	Sally Malir	37:40
5	Alison Bennett	37:52
8	Cath Wolfenden	40:26
9	Alison Crane	40:27
14	Suzanne Akeroyd 41:40
15	Alison Weston	42:17
22	Karen Page	43:33
23	Eva Makowski	44:34
32	Susie Jollie	45:57
39	Shirley Wood	47:33
52	Chris Porritt	49:54
58	Amanda Parnaby	52:37

Update 26 Jan - the ladies beat Horsforth again, to share their lead in the league. And our men were second to a mighty Horsforth team, which makes Ilkley 2nd overall. Our male Vets won comfortably on the day, making them second overall. The Lady Vets were 3rd on the day, making them 2nd to Horsforth overall.

See our photos.
Boulsworth Hill Race, Sat 11 Jan 2003
BM, 6.5m/1200' With snow underfoot, Ian Holmes won in 52:47 (his 1996 record is 45:43). Second-claim Harrier Stefan Macina was 3rd in 55:20. First Harrier was Jon Sage 20th in 60:18, with Mike Baldwin 24th in 61:29

See our photos.
West Yorks XC, #4, Sat 11 Jan 2003
Ilkley Harriers showed good bunching on this tough course over 6 miles at Greenhead School, Keighley. Results are:

84	Neil Chapman	38:19
93	Ewan Welsh	39:11
98	Keith Wood	39:39
102	Phil Chappell	40:21

---
Chevin Chase results, and other snips
Chevin results, see the

news article, updated

See Graham and Alison's photos of some 2002 events.
Pennypot and Dewsbury 10k races both cancelled.
---
Closedown for Christmas 2002 - over!
All training back to normal on Monday 6th January.
Great Nidd Valley Ringway Relay, Sun 5 Jan 2003
Well done Bernie Connor for organising six Harriers teams in this friendly relay race around the Harrogate Ringway footpath.
Our "Cheetahs" were 4th in 2h18:07 (they were 3rd, but were overtaken by Ian Fisher on the last leg. The race was won by Ripon, with Harrogate 2nd and Otley 3rd.)
The Cheetahs, with "rough" times where known, were: Emma Barclay 14, Billy Kerr 25:45, Jason Hemsley 33, Stefan Macina, and Nick Pearce.
The Panthers were 9th in 2h31:54 - Karen Page 16, Ewan Welsh 30, Mike Rhodes 36, Phil Chappell 31:40 (PB!), and Clive Smith.
The Jaguars were 15th in 2h42:33 - Jane Cullingworth 21, Paul Wood 28, Geoff Howard 40, James Lind, and Peter Cooke.
The Lions were 21st in 2h52:31 - Bernie Baldwin 22, Bernie Connor 33, Rob Reynolds-Jones 43, Matthew Lonergan, and Keith Wood.
The Tigers were 22nd in 2h52:48 - Jill Cooke 17, Richard Gray 33, Rob Pawson 46, John Woodward, and Dave Ibbotson.
And the all-female Leopards (Leopardesses?) were 31st in 3h07:10 - Shirley Wood 18:39, Amanda Parnaby 38, Victoria Wright 45, Linda Wright, and Jo Foster 47:05.
There were 37 teams. Thanks to Nidd Valley Road Runners for a great day out.

See our photos.

More at Nidd Valley RR's web site.
Yorkshire Cross-Country Championships, Sat 4 Jan 2003
Skyrac AC hosted this event at Nunroyd Park on Saturday. The ladies ran over a 6km course: Sally Malir in 26:01 and new member Suzanne Bickerdike in 35:00 in her first ever cross-country!
In the men's race over 12km, Tim Ashelford ran 41:00, and Phil Chappell and Ewan Welsh raced each other in 49:20 and 50:00 respectively.

See Andy's photos.

More at Skyrac's web site.
Ovenden fell race, Sat 4 Jan 2003
BM, 8M/1200' Geoff Howard was 33rd and 2nd Vet-55 in 71:44
IMPORTANT NOTICE - FRA SAFETY REQUIREMENTS
With effect from 1st January 2003 Rule 9 in the FRA Safety requirements is to change.
" 9 - EQUIPMENT
Competitors should arrive at races prepared to carry any or all of the following equipment :-
Windproof whole body cover.
Other body cover appropriate for the weather conditions.
Map and compass suitable for navigating the course.
Whistle.
Emergency food (long races).
These requirements constitute 'best practice' and are mandatory at all Category A Long and Medium races.
In the event of settled fine weather, confirmed by a local weather report, the organizer may decide to waive some of the above requirements at Category A Short races.
Organisers must ensure that whatever requirements they specify on the day are met by holding complete or random checks before the start of the race and at the end of the race."
So, the Race Organiser no longer has the discretion to waive any of the equipment requirements above in long and medium races. Best you make sure you take your bum bag containing the above requirements to ALL fell races.
News Apr-Jun
|
News 2002