Closedown for Christmas 2002
Although there will be lots of racing over Christmas, there won't be much training! ILT&SC will close at 6.30pm on Tuesday 24th and Tuesday 31st December - so donít turn up expecting a run!. The club will be closed on Christmas Day, Boxing Day and New Yearís Day.
There will be No Thursday training (Andy or Pete's) on Thursday 26 Dec or 2nd Jan.
The last circuit training session is on Monday 16th December and will start again on 6th January.
---
Auld Lang Syne, 31 Dec 2002
The last race of the year, and the last race in the Harriers Running League. A dozen Harriers turned out for this muddier-than-Stoop Dave Woodhead special, 6M with 900' of climb. Bingley's Ian Holmes won in 35:26. Mark Iley was 36th in 44:03; Nick Pearce 49th in 44:40; Mike Baldwin 73rd in 46:45; Emma Barclay 120th and 6th lady in 49:40; Ian Marshall 144th in 50:52; Norman Bush 145th in 50:55; Sally Malir 150th in 51:03; Dennis Ackroyd 160th in 51:41; Bob Whiteman 169th in 52:29; Morgan Williams 222nd in 55:20; and Rachael Gooch 267th in 58:34. Second-claim Harrier Kirstin Bailey was 138th in 50:41; and Sally's husband Richard Malir was 180th in 53:20.

See our photos.
---
Jolly Holly Jog 10k, Sun 29 Dec 2002
Jolly soggy, it was, but that didn't stop the 50 fun-runners and 350 or so 10k racers enjoying their run. In the 1 mile + fun run, Josh Crane was 20th in 11:09; with Sam Wood 22nd in 11:13 and Emily Wood 32nd in 13:14 - Sam and Emily both improving on last year's times.
The 10k race returned to its usual scenic course. Alison Crane was first Harrier home 86th in 46:05; then Richard Gray 132nd in 49:08; Joy Gray 173rd in 52:53; Shirley Wood 190th in 54:49; and Steve Fletcher enjoying a run with friends, finishing 250th in 61:03

Click here for results on Ripon Runners' web site.

See our photos.
Ribble Valley 10k, Sun 29 Dec 2002
Other Harriers were tackling this very classy 10k race over at Clitheroe, won in 30:40. Neil Chapman was first Harrier home 78th in 38:32; then Dave Jepson 97th in 39:16. Alison Bennett was 145th with a PB of 40:56, 9th lady and 3rd FV40 - a great result in this field. Martin Heath was 181st in 42:31; Keith Wood 201st in 43:24; Andy Wolfenden 256th in 44:52; Vic Verecondi about 49:50; and Judith Smart 359th in 49:53.

Results from ukresults.net
---
Chevin Chase, Boxing Day 2002

9 Jan 2003 - updated with official results
Mud, mud, glorious mud ... 7 miles of it, enjoyed by 850 or so runners all racing off the Christmas Pud. There was a man dressed as a Christmas present well to the fore this year (though he'd have needed Express delivery to catch Ian Fisher, who won it in 39:13), and another one toughing it out with Paul and Sally in Danefield (he went on to beat us both by a little way). Ilkley Harriers seen out there, were: 10th Tim Ashelford 42:29, 2nd-claim Harriers Jason Hemsley 7th in 42:10 and Stefan Macina 20th in 43:57; 35 Dominic O'Hooley 45:43; 65 Andy Wade 47:54; 68 Jon Sage 48:04(welcome back!); 76 Neil Chapman 48:38; Clive Smith making a return to racing with a good 96th place in 50:13; 99 Mike Baldwin 50:18; 133 Paul Wood 52:07; 136 Sally Malir 52:21 (about 7th lady?); 171 Keith Wood 54:16; 186 Jane Leather 54:40; 190 Alison Crane 54:46; 234 Rob Pawson 56:43; 262 Phil Chappell 57:54; Bernie Connor 58:30 (nearly a PB, but dog-assisted); Yemi Adeleke; 334 Andrew Wright 60:54; 366 Richard Gray 62:21; 372 Linda Wright 62:32; 399 Richard Midgley 63:49; 405 Jill Cooke 64:02 with 406 Peter Cooke 64:03; 426 David Currie 64:36; 467 Vince Gibbons 66:02; 556 David Moutrie 68:50; 567 Judith Smart 69:12; 581 Andy Sarah 69:55; 603 Amanda Parnaby 71:27; 680 Steve Fletcher 75:15; 700 Claire Macina 76:20; 701 Rebecca O'Hooley 76:23; 729 Bernie Baldwin 78:30; 742 Michelle Moutrie 69:21; and Jane Cullingworth unlucky with a sprained ankle 747th in 79:58

Click here for Aire Centre Pacers' web site - results and more photos

Click here to compare to last year.
Thanks to all the supporters, who help make this race something special.
The Stoop fell race, Sun 22 Dec 2002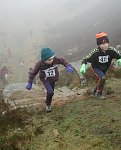 Cold, misty, boggy, ... and we love it. The Stoop fell race (BS, 5M with 800' of climb) is a perennial favourite.
Like all of Dave Woodhead's race, the senior fell race was preceded by junior races. Sam Wood raced in the under-8' race, a sprint around the quarry (but climbing the quarry face twice), and was 3rd boy in 2:30. In the longer U-10's race, Emily Wood was 6th girl under-10 in 9:43.
The main race was won by P&B's Rob Hope in 28:51, just clear of 'normal' winner of these Penistone races, Ian Holmes. This is the second-slowest winning time in the history of the event, despite the race between these 2 great athletes, which shows just how bad the conditions were.
Second-claim Harriers Jason Hemsley and Stefan Macina (both P&B) were 8th and 9th in 32:09 and 32:19 respectively. For the Harriers, Jim Ryder was 33rd in 35:40; Graham Pearce 38th in 36:19; Mike Baldwin 61st in 37:45; Neil Chapman 108th in 41:11; Sally Malir 109th, 4th lady and 1st Lady Vet 35 in 41:13; Ian Marshall 111th in 41:26; Bob Wightman 112th in 41:31; Rachael Gooch 175th in 45:28; Shirley Wood 215th in 49:25; Claire Macina 256th in 56:55; and Ros Leach 266th in 66:18

See our photos.
---
London Marathon 2003
The club has 3 places in the London Marathon on 13 April 2003. As these entries must be in by 10 January, we want to allocate places now. If you want a place then let Peter Cooke or any member of the committe know asap, and by Friday 20 December.
Update. Places were give to Andy Wolfenden, Richard Stoddart, and Jane Leather.
---
Sport Direct XC #2, Ackworth, Sun 15 Dec 2002
A loyal band of XC racers made it to distant Ackworth, to find a muddier than usual course. They were rewarded with 3rd men's team place (behind Horsforth and Ackworth) and 3rd ladies' team place (behind Horsforth and Abbey), as well as much-deserved points in the Harriers Running League. The race was won by John Mason in 28:54

 9 Andy Wade      30:47
11 Jim Ryder      30:55
14 Mark Iley      31:14
15 Nick Pearce    31:20
46 Phil Chappell  34:54
47 Ian Marshall   35:00
53 Keith Wood     35:43
65 Jeff Paget     37:10
91 Andy Wolfenden 39:21

And for the ladies
4  Alison Bennett 35:20
9  Cath Wolfenden 37:00
13 Jo Foster      40:11
20 Shirley Wood   42:32
26 Chris Porritt  44:00
34 Amanda Parnaby 47:00

A big thank you to everyone who ran - you all counted!
Click here to compare to last season's times (Feb 02).
The next race in the League is hosted by Abbey Runners on January 12th. Mark the date in your diaries ...
---
Ackworth XC details
Sport Direct XC ~ 5 miles. Sun 15 Dec 11:00. Angel Inn, Wakefield Road, Ackworth. Registration 10:00-10:45. Pie and peas in pub afterwards. More details and map on the noticeboard, or contact Shirley.
ROM November 2002
Neil Chapman is the Booths Ilkley Harriers Runner of the Month, click here for details.
---
Calderdale Way Relay, Sun 8 Dec 2002
Ilkley fielded 3 teams of 12 runners in this major fell relay - 50 miles around Halifax in 6 stages. As last year, we had a ladies team, an open team, and a mixed team. By the eve of the race we had called on nearly all our reserves as runners called in sick or injured, but such is the club's strength in depth that we still had 3 great teams.
For the men, Mike Baldwin and Geoff Howard ran the first leg, 10 miles from Copley to Cragg Vale, in 81:11, 34th out of a hundred or so teams. Dave Ibbotson and Dennis Ackroyd for the mixed team ran 94:47 minutes to finish 75th, just pipping the ladies team pair of Caroline Howard and Jean Uniacke (who had been ahead until the final stages) 95:29.
Mark Iley and Dave Cheesewright ran a strong leg 2, over Stoodley Pike and on to Todmorden, 7.5 miles in 68:41 to finish 25th overall. The ladies team of Sally Malir and Julie Harvey pulled clear of the mixed team - 46th in 75:05 to Karen Page's and Jo Foster's 72nd position in 83:19, but even though this team lost time with a nasty fall we still beat the mass start for Leg 3.
Next up was the 4.5 mile steep climb to Blackshaw Head. Graham Pearce and Roy Ruddle made short work of this, bringing the men's team in 23rd place, 42:18. Clare Cheesewright and Alison Crane ran the leg in 48:42 (59th place) to keep our ladies ahead of the Leg 4 mass start, and Linda and Victoria Wright ran well, coping with the mass start hordes setting off just minutes after them, finishing 71st in 54:31 (then running back!)
Leg 4 is one of the toughest, 10 miles with big climbs to Wainstalls. Nick Pearce and Jim Ryder ran a great leg for the men's team, bringing us in 20th in 76:44. Andrea Priestley and Emma Barclay pulled our ladies up to 3rd - 55th overall in 85:59; and Tony Thornley and Mike Rhodes ran a sound leg for the mixed team - 88:53 to bring the team into 66th place.
The 4.5 mile leg from Wainstalls to Shelf is muddy with complicated navigation, mitigating against fast times. But Pete Shields and Ian Marshall kept our men's team ahead of the mass start in 24th place, despite an injury, running 67:32
Cath Wolfenden and Alison Bennett ran a sound 72:12 for the ladies team (47th overall); and Shirley Wood and Susie Jollie brought the mixed team in in 66th place with 80:26
On then to the last leg, from Shelf via a circuitous 10 mile route to Copley and the finish. Phil Atkinson and Neil Chapman ran 91:56 for the men, giving us 26th place in 7h08:22.
Joyce Marshall and Anna Liuba brought the ladies in in 1h44:16 - despite another injury. So close was the competition that just a few minutes seperated 3rd, 4th, and 5th ladies teams. Our 8h01:43 gave us 5th, but it's great to see such close competition!
And Ashley Hardwell and Rob Pawson brought our mixed team in in 68th position 8h20:07 by running their leg in 1h38:11.
For the record, Bingley won both the Open (5h45:00) and the Ladies (41st overall in 7h30:00).

All results and timings now official! Full results on Halifax Harriers web pages.

See our photos.
Click here to compare to last year.
Stockport 10M, Sun 8 Dec 2002
Coming back after injury, Terry Lonergan tackled an extremely winding and very hilly race apprehensively and cautiously. He eventually pulled through to 97th in a field of 570 (8th V50) in a time of 68.08. Satisfactory!
---
FRA athletes at ILT&SC, 7 Dec 2002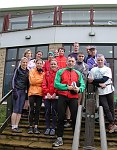 FRA Coach Peter Shields led a session at ILT&SC with some of the top fell runners attending. The day included a navigational/team-building session on Ilkley Moor, and a talk from top coach Wilf Paish - coach to many Olympic athletes.
Thanks to ILT&SC and Billy Kerr for the use of the superb facilities at the club, and to Running Bear who also helped make the day possible.

See a few photos.
---
Predictor Race, Tue 3 Dec 2002
Thanks to Richard Gray for this 9.2 km race over the "pink" "handicap" route. Clive Smith, number-smith extraordinaire, won the prize of "a bottle of fine wine" for finishing closest to his predicted time. Jason and Stefan ran fastest, finishing together in 33:04

	        Predctd	Actual	Difference
Clive Smith	38:00	37:36	0:24
Suzanne Akeroyd	44:00	44:25	0:25
Vince Gibbons	45:30	45:00	0:30
Eugene Doherty	40:00	39:19	0:41
Mark Iley	35:00	34:17	0:43
Dave Ch'wright  37:30	38:19	0:49
Ian Marshall	40:00	39:08	0:52
Claire Ch'wright43:30	42:37	0:53
Dave Jepson	38:45	37:50	0:55
Stefan Macina	34:00	33:04	0:56
Phil Chappell	39:00	37:40	1:20
Bridget Doherty	45:00	43:38	1:22
Lloyd Best	41:00	39:26	1:34
Dennis Ackroyd	39:45	38:05	1:40
Morgan Williams	45:00	43:15	1:45
Bernie Connor	48:10	46:19	1:51
Mike Baldwin	37:30	35:38	1:52
Vic Verecondi	48:30	50:30	2:00
John Woodward	40:00	37:57	2:03
Keith Wood	41:00	38:57	2:03
Nick Pearce	36:30	34:24	2:06
Margot Dale	48:00	45:41	2:19
Neil Chapman	38:00	35:40	2:20
Eva Makowski	48:00	45:35	2:25
Jane Bryant	43:40	41:13	2:27
Andy Wolfenden	43:30	40:57	2:33
Andrew Wright	46:00	43:24	2:36
Amanda Parnaby	54:00	51:00	3:00
Paul Wood	36:00	39:18	3:18
Ashley Hardwell	45:00	41:35	3:25
Karen Page	45:00	41:35	3:25
Lynne Donahue	55:00	50:35	4:25
S  Browning	53:00	48:28	4:32
Mandy Chapman	55:00	50:19	4:41
Jane Cull'worth	55:00	50:18	4:42
Sally Malir	43:00	38:00	5:00
Mike Bryant	48:00	42:21	5:39
Rupert Kempler	45:00	37:54	7:06
Jason Hemsley		33:04	 
John Spencer		33:24	
Roger Pyles		48:25	
Claire Macina		51:15	
Charlie Addy			
Christine Airey			
Emma Payne			
Helen Shaw			
Jeff Paget			
Julie Harvey
Rob Pawson
Steve Fletcher

---
Abbey Dash 10km, Sun 1 Dec 2002
A cold and wet day, but a good turnout of Harriers (this was a Running League race). The race was won by Birchfield's Michael Openshaw in 30.00, with Ian Fisher 12th in 31:01.
Harriers results were: 129 Nick Pearce 36:42; 136 Mark Iley 36:49; 188 Neil Chapman 37:45 (a PB); 275 David Jepson 39:32; 436 John Woodward 41:41; 448 Keith Wood 41:48; ? Alison Bennett 42:20 (PB); 552 Lloyd Best 43:11; 567 Martin Heath 43:21; 758 Karen Page 45:41; 765 Richard Gray 45:50; 881 Jeremy Harrison 47:06; 892 Andrew Wright 47:15; 943 Linda Wright 47:44; 1253 Vince Gibbons 50:43; 1397 Chris Airey 51:57; 1683 Steve Fletcher 55:13; 1716 Amanda Parnaby 55:44; and 1717 Mandy Chapman 55:45. 2344 finished.
Results from Race_Results.co.uk.
And it was interesting to see Ian Dalby, "Ilkley Harriers" (ex? but we'd be happy to welcome him back), 202nd in 38:01
Peterborough 10M, Sun 1 Dec 2002
Caroline Howard was fourth lady in 67:50 at a 10 mile race in Peterborough (Nene Valley League).
Lanzarote International Marathon, Sat 30 Nov 2002
In 23 degrees of heat and high winds that created sand-storm conditions (some contrast with the Abbey Dash!) Richard Midgley ran 3h53 on a 4-lap course, finishing in the dark after a 3:30 start.
---
Rivock Edge Hill Race, Sun 24 Nov 2002
AM. 10M, 1500'. A great turnout of Harriers for this local event - a hard race on a cold, misty day. The route climbs from Silsden directly to the top of Nab End. Then it traces through Wingate Nick and past the Doubler Stones. After a long, cold traverse across farmland to the trig point at Rivock Edge there was a dash back through the woods, before retracing our steps from the Doubler Stones back down to Silsden.
The race was won by K&C's Chris Loftus in 66:34 in a tight finish with Tod's George Erhardt in 66:37. Ilkley Harriers results were: 16 Mark Iley 74:13; 18 Nick Pearce 74:22, 28 Graham Pearce 77:24, 33 Geoff Howard 78:24 (1st Vet 50, by our reckoning); 40 Mike Baldwin 80:04; 44 Dave Cheesewright 80:52; 62 Mike Rhodes 83:13; 64 Paul Wood 84:29; 78 Ewan Welsh 85:51; 79 Sally Malir 86:02 (5th lady); 83 Steve Cockerham 86:27; 97 Neil Chapman 89:01; 99 Alison Crane 89:19; 110 Keith Wood 91:49; 112 David Ibbotson 92:18; 118 Anna Liuba 93:03; 119 Ashley Hardwell 93:05; 126 Rachael Gooch 95:33; 128 Graham Weston 96:42; 154 finishers.
Second-claim Harriers included 4 Jason Hemsley (P&B) 67:42 and 7 Stefan Macina (P&B) 70:50; former Harrier Helen Johnson was first lady, 25th overall in 76:36.
Full results on K&C's web site.

Click here for Harriers photos.
Thanks to all the Harriers supporters out on the course, and to Graham and Kay for the "Ilkley Harriers Post Race Facility".
The effort to keep Silsden's Hothfield Street school swimming pool open as a community pool got a healthy boost with the bulk of race profits - running to several hundred pounds - going to the Swimstart Fund. That makes it nigh on £4,000 raised by Rivock runners in the past 10 years.
---
Preston 10, Sun 17 Nov 2002
Some good results here from some of Andy's Thursday night training group: 144th Keith Wood 68:17 and 171st Martin Heath 70:22 both achieved PB's, with good results also from Andy Wolfenden himself, 220th in 73:26 and Richard Gray 235th in 74:16
Bishop's Stortford 10, Sun 17 Nov 2002
Geoff Howard and daughter Caroline took part in the 10M road race, as part of a field of 492 won in 53m 30s (a paralympics 10k gold medallist Paul Thatcher). Caroline was 12th lady of 108 in 70m 50s but actually 4th senior lady showing how good the vet ladies were (138th overall) and Geoff was 4th O.50 of 75 in 63m 45s (44th overall).
Roundhay Park 5, Sun 17 Nov 2002
Neil Chapman ran a PB of 30:29; followed by John Coen 32:16; John Woodward 32:38; Dave Jepson 32:40 and Richard Midgley 39:21
Richard had also run the earlier 3 mile race in 23 minutes. Also in this were juniors Simon Chapman in 24:37; and Bradley Chapman in 32:26 - PB's for both.
---
ROM October 2002
Jane Bryant is the Booths Ilkley Harriers Runner of the Month, click here for details.
Peter Shields, FRA Coach, November 2002
Peter Shields has been given the top coaching position in the Fell Running Association.
A year ago, Peter took on the role of FRA Mountain Running Coach, with a remit to develop the sport of mountain running amongst English endurance athletes, and develop the national team.
Now, Peter has been given the top coaching job, as Coach on the FRA Committee. He will be responsible for all aspects of coaching: from juniors to senior internationals; liaising with coaches and athletes; contributing to the general development of the sport; liaison with UK:Athletics and other bodies; and continuing his work on the international scene, with an eye on next year's World Cup in Alaska.
On top of all this, Pete will continue with his own coaching - contributing to Ilkley Harriers' coaching program; coaching local groups and individuals including Ian Fisher, Lucy Whittaker, and Simon Bailey. And we expect he'll still be competing at a high level himself too!
Sport Direct XC #1, Bramley Fall, 10 Nov 2002
Ilkley Harriers started their campaign in the Sport Direct XC League with a bang - we had 32 runners out. 32 heroes, but special mention must go to Richard Midgley who gave us a Vet-50 result despite racing over 21 miles the day before, Christine Porritt who gave us a Lady Vet 55 result despite it being her birthday, Jane Cullingworth who gave us our Lady Vet 45 result on her first attempt at XC, and all the other XC first-timers.
Horsforth Harriers gave us a great event, with a tough course. Ian Fisher won by a XC mile, in 25:06.
Horsforth Harriers gave us some great racing too: Ilkley's Men were second team to Horsforth, and Ilkley's Ladies just beat Horsforth!

Click here for lots of Harriers photos.
Harriers results (our timings) are as follows:

1  25:06 Ian Fisher Otley AC
10 28:54 Jim Ryder
14 29.14 Nick Pearce
17 29.38 Mark Iley
29 30.55 Neil Chapman
36 31.44 Paul Wood
38 32.02 Norman Bush
42 32.20 Ewan Welsh
44 32.26 Phil Chappell
49 32.38 Steve Cockerham
50 32.40 James Lind
54 33.13 John Coen
64 33.30 Keith Wood
75 34.14 Peter Murray
88 35.11 Jeff Paget
91 35.20 Phil Hirst
97 35.38 Dave Ibbotson
99 35.50 Andy Kitchen
117 39.12 Andrew Wright
134 42.20 Richard Midgley

1st lady counter was from Horsforth in 31.40

2  32.38 Sally Malir
3  32.56 Jean Uniacke
5  33.20 Alison Bennett
8  34.25 Alison Crane
15 36.22 Alison Murray
16 36.38 Victoria Wright
19 37.27 Bridget Doherty
21 37.50 Jane Bryant
22 37.57 Suzanne Akeroyd
29 39.11 Linda Wright
42 42.20 Chris Porritt
58 46.27 Jane Cullingworth

The next SDXC race is at Ackworth on Sunday December 15 - more details later
Burley Bridge Hike, Sat 9 Nov 2002
This LDWA event was 21 miles over Ilkley Moor and the local hills. Anna Liuba was first lady in 3h28; Suzanne Akeroyd 2nd lady in 3h46; then Ashley Hardwell 3h48; and Richard Midgley 4h01
---
Details: Sport Direct XC #1, Sun 10 Nov
Let's have a huge turnout for the first race in the Sport Direct League, on Sunday November 10th. Information as follows:
Venue: Bramley Fall Park, off Leeds and Bradford Road
Directions: from Ilkley: A65 to ring road; ring road to Rodley roundabout; A657 to Leeds and Bradford Road B6517; parking on Leeds and Bradford road
Registration 10:00 - 10:30, £2, race starts at 11:00
2-lap course on open grassland and woodland tracks, studs or spiked shoes recommended
FRA Do, 9 Nov 2002
See

Mark Priestley's photos of the FRA Do (remind yourself of how we did on our 2002 fell championships page).
---
Guy Fawkes 10, Sun 3 Nov 2002
Official results are: 42nd Neil Chapman 1h06:08; 90th John Woodward 1h12:28; 148th Keith Wood 1h16:21; 157th Phil Hirst 1h16:41; 160th Martin Heath 1h16:45; 166th Victoria Wright 1h17:01 (youngest runner in the race!); 261st Richard Stoddart 1h22:57; 271st Linda Wright 1h23:37; 326th Andrew Wright 1h27:56; 410th Mandy Parnaby 1h36:45; 436th Jane Cullingworth 1h41:17; and 450th Bernie Baldwin 1h46:56
Ilkley had the second ladies team.
Official results and photos on Nidd Valley Road Runners' web site
43rd Derwentwater 10, Sun 3 Nov 2002
Andy Wolfenden found this Keswick AC race whilst on holiday, and was 177th in 1h15:29 (3 minutes quicker than last year).
West Yorkshire XC, Sat 2 Nov 2002
Well done to Phil Chappell for getting a full men's team out to this, the second event in the WYXC League, at Northcliff Park, Shipley. Tim Ashelford was 38th in 30:02 - a great result in this quality field (the race was won in 26:02). Nick Pearce was 73rd in 31:54; Neil Chapman 106th in 34:32; Phil Chappell 117th in 35:37; then Steve Cockerham and Keith Wood were racing it out - 126th in 36:16 and 128th in 36:28; and Andy Kitchen was 144th in 38:27 (official results 7 Nov)
Shepherds Skyline fell race, Sat 2 Nov 2002
BM, 6.25M/1150' Geoff Howard was 50th in 54:19; Emma Barclay 61st and 6th lady in 56:24
Results on Todmorden Harriers web site
---
KIMM, Sat/Sun 26/27 Oct 2002
The Karrimor International Mountain Marathon is the grand-daddy of adventure races. Two days of running over wild terrain (this year the Cheviots); each day navigating a course that typically takes 5 hours + to complete (if you get it right); and carrying gear and food to survive the two days and the night between.
This year Harriers had 2 teams competing in the B class.
24th 9h55 Dave and Clare Cheesewright
91st 11h28 Ian and Joyce Marshall (over 200 teams)
Harrier Tim Ashelford was in a team that was 47th on the 'B' in 10h26
And Iain Mann was running in the Short Score - 178th in 10h09 after an epic Day 2.
Well done to them all!
For full results and more information see KIMM web site
Accrington 10km, Sun 27 Oct 2002
In "conditions from Hell", Martin Heath was 86th in 45:43.
Snowdonia Marathon, Sun 27 Oct 2002
This event was cancelled on the day due to dangerous weather conditions.
Dublin Marathon, Sun 27 Oct 2002
Ewan Welsh recorded a good time of 3h16 on a tough course, with a hill between 19 and 22 miles.
Holmfirth 15M, Sun 27 Oct 2002
Neil Chapman ran 1h42:07; Linda Wright 2h06:55; and Andrew Wright 2h13:15
Withins Skyline fell race, Sat 26 Oct 2002
BM 7M/1000' Mark Iley was 19th in 49:35; Graham Pearce 51:27; Nick Pearce 51:28; then Geoff Howard 56:48; Dennis Ackroyd 61:02; and Bob Wightman 111th in 61:33; and Keith Wood 61:50
In the Junior Race over 0.5 miles for 8 year olds, Bradley Chapman was 8th out of 17.
---
FRA Relays, Sat 19 Oct 2002
This year's event was held in the Langdale Valley, in perfect conditions. Ilkley fielded 3 teams - Open, Vets, and Ladies - and expected competition to be close between them.
On the first leg, 4 miles with 2000' of climb, straight up Pike-o-Blisco and back, Mark Iley led out strongly for the vets, 42nd in 43:26 (9th vets team, in distinguished company). Tracey Greenway (Ambler) for the ladies was hot on his heels, 45th overall and 3rd lady in 44:38. After a strong start, Mark Priestley for the Open team finished 69th (with over 30 top-class fell teams behind him) in 49:32.
Leg 2. Paul Wood and Dennis Ackroyd set out on the longest leg, 5.5 miles with 2500' of climb, taking in Side Pike, Lingmoor and Blea Tarn. But Helen Sedgewick was dragging Emma Barclay up the first hill fast, and overtook the vets at the top of Side Pike. Some judicious route choice brought the vets back into touch by Blea Tarn and they finished just in front of Emma and Helen, but the girls had run faster and were 69th fastest in 60:26 (with Ilkley now 5th Ladies team overall) with the vets 70th fastest in 61:00. The Open Team, Morgan Williams and James Lind, were 77th fastest on the leg in 63:38.
Next was the navigational leg, 5 miles with 1900' of ascent. Dave Cheesewright and Pete Shields set off with a small lead over our ladies, but Alison Weston and Sally Malir kept them in sight. Eddie Winslow and Adrian Hall had a cracking navigational leg, closing the gap on the other two Ilkley teams. All three teams picked up valuable places, with the Ladies handing over as 3rd ladies team overall. Eddie and Adrian were 31st on the leg in 59:20; Dave and Pete 36th and 8th fastest vets in 61:36; and Alison and Sally 44th and 2nd ladies in 63:05
Finally, there was drama on the last leg as Andrea Priestley set off just a few hundred yards behind Keswick's Louise Sharp. Ilkley's vet Nick Pearce was just a few minutes ahead too. And a few minutes later Graham Pearce for the Open team set out after them all. The race was on! 4.5 miles with 2000' of climb, round to Red Tarn then a big climb back over Pike-o-Blisco. But not even Andrea's talents could disrupt the status quo - Ilkley Ladies held onto the Bronze (48th overall, 3h38:15) after Carnethy (20th overall, 3h34;18) and Keswick (43rd overall in 3h36:25); and the Ilkley teams' finishing order was Vets (39th overall and 8th Vets team in 3h36:0) - Ladies - Open (53rd overall in 3h43:18). Nick was 22nd fastest and 7th vet on the leg in 49:58; Andrea was 23rd and 2nd lady in 50:06; and Graham was 25th in 50:48 - three great runs.
For full results see Ambleside's web site

Click here for Harriers photos.
WYXC #1, Sat 19 Oct 2002
A little closer to home, the cross country season started with the first event in the West Yorkshire Cross Country League, at York. In a quality field, Neil Chapman was 97th in 37:10; Keith Wood 122nd in 40:00; and Andy Kitchen 150th in 43:13
Rother Valley Trail Race, Sat 19 Oct 2002
Richard Gray was 98th in 45:42; Jane Bryant 118th in 47:26; and Mike Bryant 128th in 48:15
For full results see www.race-results.co.uk
---
Harewood Trail Race, Sun 13 Oct 2002
In the 10 mile race Tim Ashelford was 10th in 61.50; Neil Chapman 51st in 66.56; Anthony Swanepoel 237th in 78.48; Victoria Wright 250th in 79.21; Karen Page 268th in 80.13; new member Richard Stoddart 288th in 81.07; Linda Wright 323rd in 83.45; Andrew Wright 389th in 88.25; and Amanda Parnaby 485th in 96.49 - 10 minutes faster than last year.
In the 2 mile 'Harewood Hop' race, Simon Chapman was 42nd overall and 5th in his age class in 17.51; and Bradley Chapman was 64th overall and 7th in his age class in 19.48 - both well up amongst the 147 finishers.
Results on Valley Striders web site
Bridlington Half Marathon, Sun 13 Oct 2002
Andy Wolfenden had a good run, 185th in 1h38.27
Results on Bridlington RR's web site
Manchester Marathon, Sun 13 Oct 2002
Richard Midgley was 291st in 3h41:53
Results on race-results.co.uk
Langdale Horseshoe fell race, Sat 12 Oct 2002
By all accounts a really hard race. AL. 14 miles with 4,000' of climb, though Mike measured 5,000 on his altimeter. Wet, with low visibility, and with tough conditions underfoot, slippery rock and bogs (Jane had to be pulled from one by 2 passing runners). Roy Ruddle was 45th in 2h55; Mike Baldwin was 55th in 2h58; Bob Wightman was 143rd in 3h36:39; and Jane Leather took about 3.5 hours. Second-claim Harrier Stefan Macina had a good run - 13th in 2h35
---
ROM September 2002
Norman Bush is the Booths Ilkley Harriers Runner of the Month, click here for details.
English Fell Championships - Sun 6 Oct 2002
The FRA web site now shows the final standings - Andrea Champion, Norman 2nd Vet-60, Ilkley 3rd Ladies team, lots of other Harriers in the results -
to check out our table click here
Ian Hodgson Fell Relays, Sun 6 Oct 2002
In one of the premium fell relay events, Ilkley's men were 24th (beating all their local rivals) and our ladies were 2nd in a very competitive Ladies competition.
The sun shone all day, burning off early mist on top, and with good conditions underfoot and a superb field this provided fantastic racing.
Results, with overall positions at the end of each each leg are as follows

20 Nick and Graham Pearce             1h20.03
20 Mark Priestley and Ian Marshall      45.11
24 Mike Baldwin and Geoff Howard      1h15.19
24 Pete Shields and Dave Cheesewright 1h06.18  
24th overall 4h26.51 (Wharfedale 29th 4h36.59, Otley 38th 4h51.20)

38 (3) Andrea Priestley and Alison Weston 1h27.44
37 (1) Emma Barclay and Jane Leather        47.20
40 (2) Sally Malir and Alison Bennett     1h35.01
44 (2) Joyce Marshall and Helen Sedgwick  1h12.56
2nd in 5h03.01 to a very strong Keswick who set a new ladies 
record of 4h49:11, but beating Bingley 5h04.50, Clayton 5h15.11, 
Dark Peak 5h20.09


Click here for Ilkley photos
Click here for full results on Fellandale web site
Great North Run, Sun 6 Oct
Harriers who lined up amongst the 47,000 runners included Mark Iley, 191st with 1h21.33; Dave Ibbotson 1h44; Chris Airey 1h55.47 (a PB of 6 minutes); Karen Page and Lloyd Best 1h58.22; Vince Gibbons 1h59.14; Bernie Gibbons 2h03.25; Elaine Ibbotson 2h03.42; Margot Dale 2h04.28; Susan Kennedy 2h06.32; Steve Fletcher 2h09.41; Amanda Parnaby 2h23.12; Heather Duke 2h27.04; Jane Cullingworth 2h29.44; and Bernie Baldwin 2h32.40
All times from the official results, which seem to include the time (5 minutes or more) it took to cross the start line.
Click for news and results on onrunning.com
Skipton XC, Sat 5 Oct 2002
And at the Skipton Cross Country, Andy Wade was 28th in a quality field, with 43.19 for 9.7km (the race was won in 36.57); Bernie Connor was 68th in 60.17. In the ladies race over 7.1km Cath Wolfenden was 12th in 37.03 and Chris Porritt 21st in 45.45 - the race was won in 30:43
Adventure Racing, Oct 2002
Eddie Winslow rounded off a successful adventure racing season with 5th place in the inaugural British Adventure Racing Championships. The 230 mile, 4 day, race around North and Central Wales combined endurance mountain running, mountain biking and sea kayaking with special stages of rope work, canyoning and white water rafting. Eddie's team "Last Minute" crossed the finish line in Caernarfon Castle in a total time of 51 hours compared with the winning time of 46 hours.
More on www.sleepmonsters.com, the adventure racing web site.
---
Sport Direct XC fixtures, Wed 2 Oct 2002
The calendar was decided last night. Fixtures (with organising clubs) are:

Nov 10 - Horsforth (see above)
Dec 15 - Ackworth
Jan 12 - Abbey
Feb 09 - Kippax (note date change Nov 2002)
Mar 02 - STAC

All races are on Sundays. £2 per race. One or more of these will count in the Harriers Running League. Prizegiving on Fri Mar 14 at Quo Vardis, Leeds.
News 2003
|
News Jul-Sep