Ilkley Harriers news archive 2021
Harrogate District Summer Race League 2021
The 2021 Harrogate District Summer Race League consists of 2 "real" races and at least 5 virtual races. For any Harriers interested in participating, details can be found here.

If you entered last year and your entry was carried forward, you should have already received an email about this from RaceBest. If not, you can enter now here.
Otley 10-mile - Wed 23rd June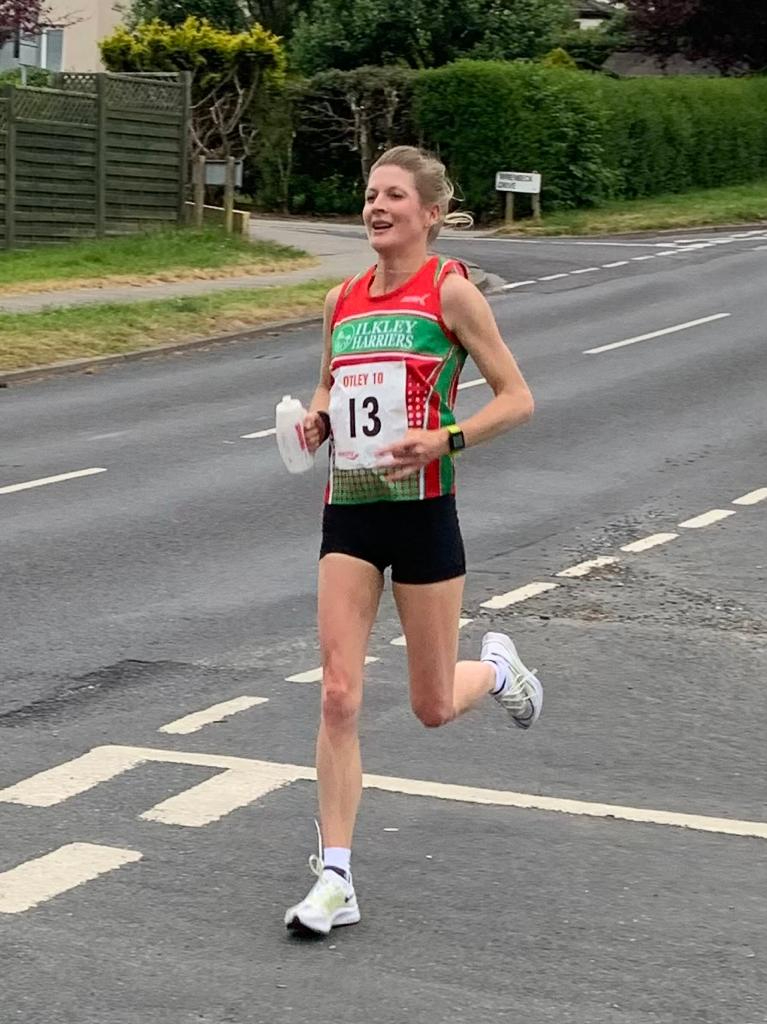 From Jean Sullivan...

Great to see the return of the Otley 10-mile road race, a long-established road race organised by Otley AC. It starts in Otley, and passes through the lovely villages of Leathley and Farnley before returning back to Otley.

It was a perfect summer's evening for racing; cloudy with a pleasant cool breeze at times!

The route is challenging but with the rewards of some great downhill sections. After a flat 3 mile start there is a gentle climb to the 'big hill', which seems to go on forever. There is a nice downhill recovery before the next big climb! All worth it for the lovely descent back down to Otley!

There was a fantastic turnout of Harriers with some excellent performances. Rob Cunningham was the 1st Harrier home followed closely by Dave Foyston. Sally Armitage was the 2nd lady home (and 1st F40), with Rachel Carter following as 3rd lady (and 2nd F45).

Definitely a race to add to your calendar! The goody bag was excellent too, containing a buff, socks, a chocolate bar, a banana and a bottle of beer!

Results: Here
The Wall - Sat 19th June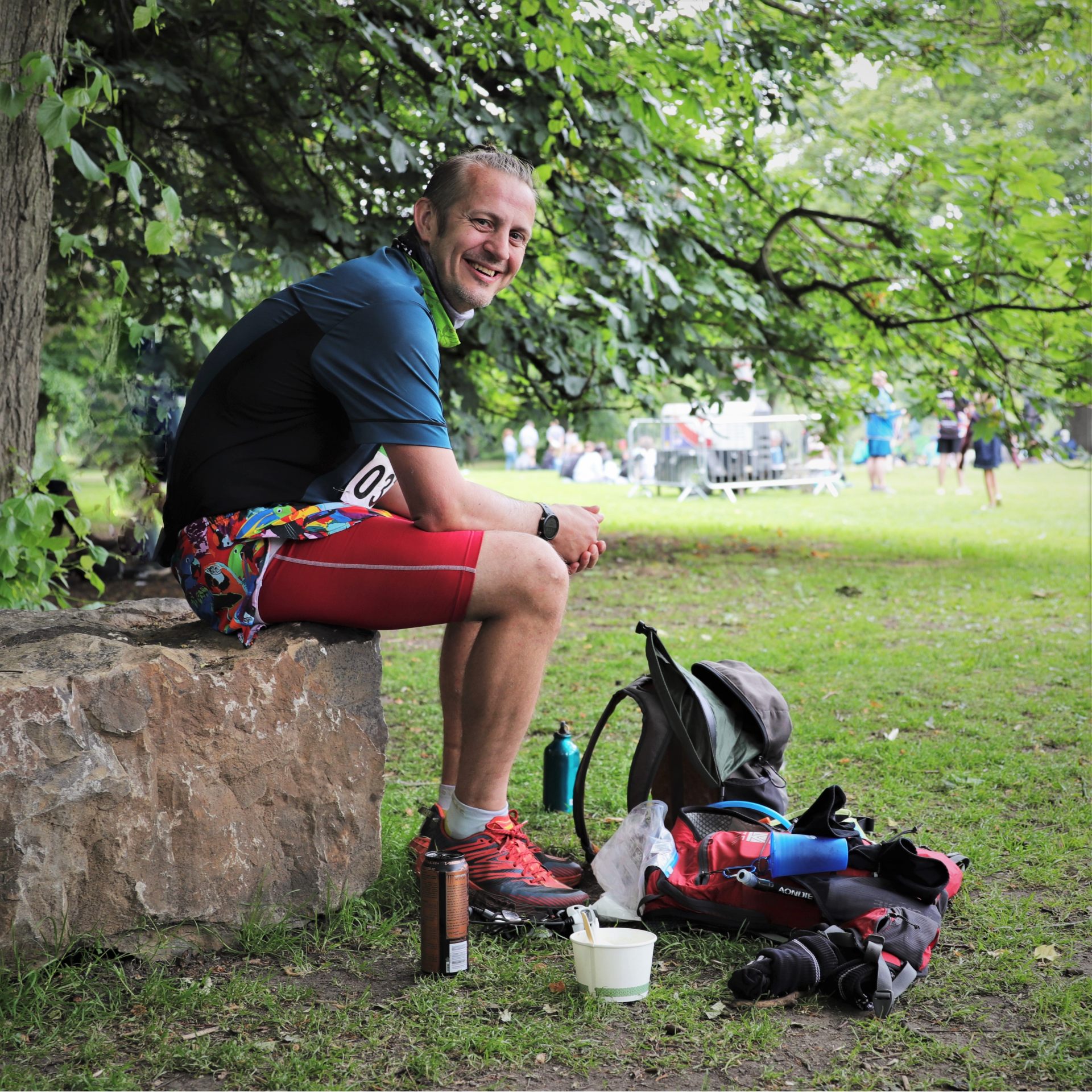 From Nick Helliwell...

Gavin Lamb competed in The Wall, an ultra marathon running event from Carlisle to Newcastle, roughly following the route of Hadrian's Wall, which is a staggering 70 miles! The measure for success in this race is definitely just getting to the end, however long it takes. Starting early on Saturday morning, many competitors walk through day and night to arrive at the finishing line on Sunday. Not Gavin though, who managed to both start and finish in daylight, clocking a hugely impressive time of 15 and a half hours. "Never, ever (ever) again," Gavin was heard saying afterwards!
Settle Saunter - Sun 13th June
From Mark Judkowski...

This is an LDWA event on mixed terrain from country roads to grassy paths. It's a 23ish-mile circuit from Settle to Clapham, looping back via Stainforth and taking in views of Ingleborough and Pen-y-ghent. (13 mile and 10k circuits were also being run for anyone that might be interested for 2022!). For what was forecast to be the hottest day of the year, the running gods were smiling on us and provided cloud cover for pretty much the whole run, keeping the temperature bearable.

Results: Here

(1 Ady Pendred, Wellingborough & District AC, 3:21)
23 Mark Judkowski 4:33:11 (1st MV60)
44 Jayne Norman 5:08:58
95 finished
Lothersdale Fell Race - Wed 9th June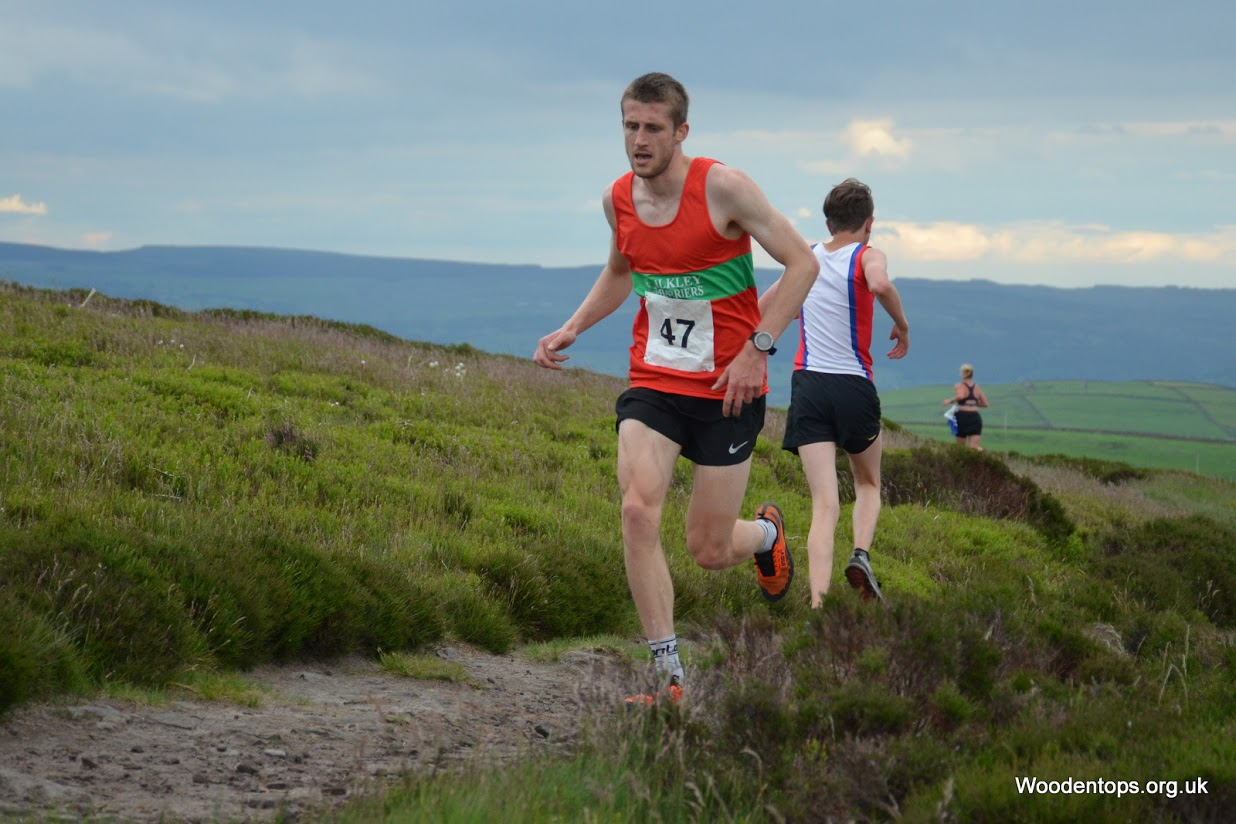 Dan Dry claimed an emphatic win at the Lothersdale Fell race.

The 5.8km out-and-back event was run in a time trial format with a staggered start this year. Dan stopped the clock in 22:17, well ahead of Wharfedale's Ethan Hassell who was runner up in 24:10.

Results: Here

1 Dan Dry 22:17
62 Mary Jeal 41:01
66 finished
Burton Leonard 10k - Sun 13th June
From Sally Armitage...

A chip timed, undulating multi-terrain race. A fun race, despite the heat, with a staggered start. We were interestingly set off in race number order. Which was ok for me as I was number 8 but less ok for the speedy ones having to set off at the back of the pack I imagine. It also meant I panicked a tad as the rest of my group galloped off into the distance & I was convinced I was going to get lost. I thought the course might be a little like Wetherby 10k & it was, only hillier, and there was a stile. A STILE. There was an alternative route, which Dan McKeown opted for, through a stream, but I like dry toes. I was super stoked to be second lady & Dan ran like a rocket to come 4th.

From Dan McKeown...

We had two runners at the Burton Leonard 10k, a hilly multi-terrain village event somewhere north of Harrogate. Highlights included the choice of a stream crossing or a stile at kilometres 1 and 9 (I took one of each), and two very long uphills in the last two miles. It was also blazingly hot.

I came fourth overall, which is pretty much first, if you only count people who didn't take a prize home. Sally fared somewhat better on the gong front with a comfortable second place in the ladies' field ('comfortable' in terms of time, not in terms of comfort).

Results: Here

1 Andrew Grant (Harrogate Harriers) 36:34
4 Dan McKeown 37:44
19 Sally Armitage (2nd lady) 42:10
228 ran
Bob Graham Round - Fri 4th June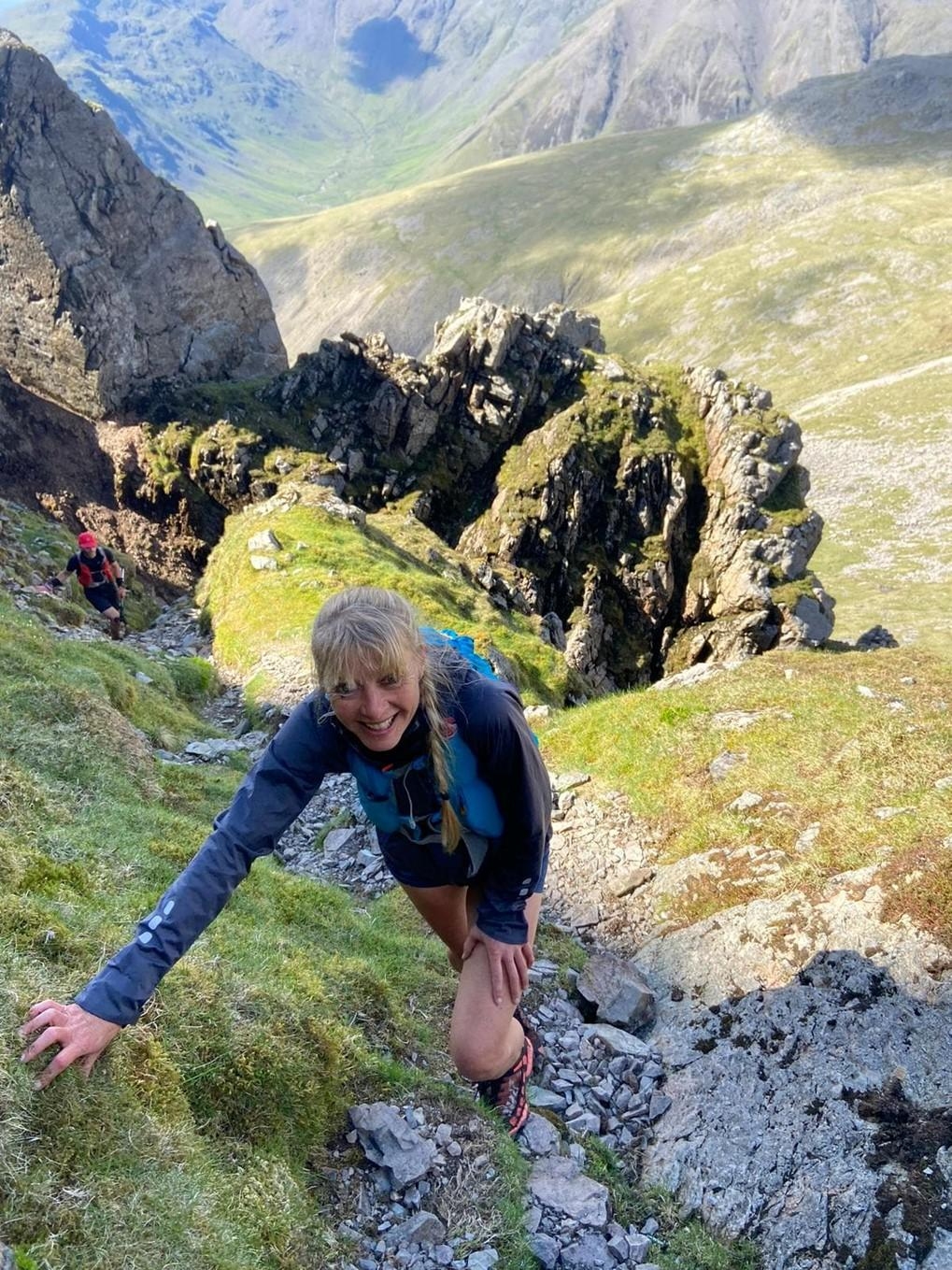 From Jann Smith...

42 Peaks / 68 miles / 27,000 feet / 24 hours
The Bob Graham Round is one of the toughest challenges in England. It entails running in a circular route starting and finishing at the Moot Hall in Keswick around 42 of the highest Lake District mountains in 24 hours non-stop. The ascent and descent is 27,000 feet (the equivalent of Mount Everest) and the distance is about 68 miles (the equivalent of London to Dover). The terrain is some of the harshest in England and encompasses boulder fields, scree, rock scrambling and exposed ridges. It is the holy grail of fell running and it had long been an aspiration of mine to complete it and with two aborted attempts in the past I was really pleased to finish it this time.
Kettlewell (Skirfare) Half Marathon - Sat 29 May
From Petra Bijsterveld...

This was the second race in the Due North Trail Race Series, a challenging course of just under 14 miles with 900m of ascent divided over 3 main climbs. Starting and finishing at Hawkswick Cote beside the river Skirfare, runners are 'eased in' by the side of the river along the flat to Arncliffe, to be faced with a steep ascent virtually perpendicular to the contour lines, followed by a grassy, somewhat boggy, and then very stoney descent into Starbotton. The course continues along the side of the hill to Kettlewell, leaving the village the route goes quite steeply up once more but the reward is a long grassy descent, a bit of flat road running and some nice fields back to Kettlewell. One final long and steep uphill to tackle before the finish field finally comes into view.

It was the first warm and sunny day for a long time which no doubt added to the physical effort required, but it did lift the mood for everyone I am sure, and it was so nice to be able to sit on the grass afterwards with one's clubmates (socially distanced of course) eating a well deserved plate of pasta which was laid on by the organisers.

This is the third year this race has been held (previous editions in 2018 and 2019) and the old course record of 1 hour 54 was comprehensively demolished today by Tom Adams who romped home in 1 hour 36, a full 10 minutes ahead of Wharfedale's Ted Mason who came 2nd. Excellent Harrier performances at the pointy end with 4 runners in the top 10! Nice to meet Joe Morrell and Jack Gribbin who both joined the club just before lockdown last year, Jack told me this was the first outing for his Harrier vest and it may well have been the same for Joe, they both ran excellent times.

For me, aside from the running which was ace, the next best thing about the event was being able to hang out with some fellow Harriers at an event again. Thanks also to those who had come out to support and offer encouragement out on the hills. I hope I have not missed anyone off the list, as the clubs were not listed on the results.

Results: Here
1 1:36:51 Tom Adams
3 1:47:44 Oli Murphy
5 1:55:09 Will Simmons
8 2:00:52 Joe Morrell
19 2:07:29 Jack Gribbin
24 2:11:17 Rob Cunningham
53 2:23:40 Dick Waddington
87 2:39:30 Justin Pierce
99 2:45:16 Alison Weston
144 3:07:14 Keith Wood
145 3:07:14 John Pickering
148 3:08:00 Liz Price
154 3:10:13 Jayne Norman
159 3:13:16 Rebecca White
168 3:17:31 Mike Williams
187 3:24:40 Petra Bijsterveld
240 finished
Leeds EvenSplits 5k, Wed 26 May
Plenty of Harriers travelled to the Brownlee Centre and Dan McKeown led them home with his 17:38. Just pipping him for the best Ilkley age-graded time of the night was Sally Malir's 21:56 (80.6%).

Results - Here
(1 Marcos Valero, Roundhay Runners, 15:14)
18 Dan McKeown 17:38
24 Danny Thompson 17:55
27 Mike Abrams-Cohen 18:08
44 Archie Budding 19:07
57 Scott White 20:01
85 Robert Budding 21:29
91 Sally Malir 21:56
149 Nicola Budding 27:53
158 ran
Harewood 10k trail race, Sun 23 May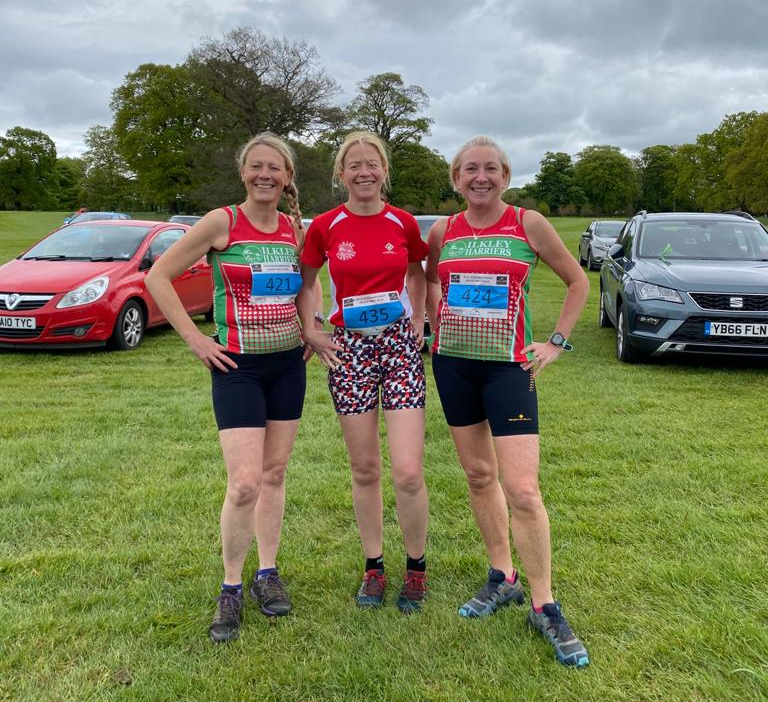 From Jane Bryant ...

Results - Here
1 Jack Cummings 34:49
45 Anna Nolan 54:10 2nd F40
59 Jane Bryant 56:45 1st F50
107 Georgia Weston 1:02:53 1st F junior
130 Jacqui Weston 1:06:52
209 ran
York EvenSplits 5k, Fri 21 May
From Geoffrey Howard ...

Fortunately, the wet and windy conditions had subsided substantially by the time the first socially distanced eight runners took their positions on the start line at 7.00pm.

Results - Here
(1 Lewis Gamble-Thompson, New Marske Harriers, 14:49)
77 Harry Stead 18:13
126 Archie Budding 19:27
157 Mark Iley 20:45
163 Michael Ho 21:15
177 Geoffrey Howard 22:16
220 ran
Ilkley Harriers Race League 2021
Information for the 2021 Ilkley Harriers race league is now available here
EvenSplits Lockdown League, Feb/Mar 2021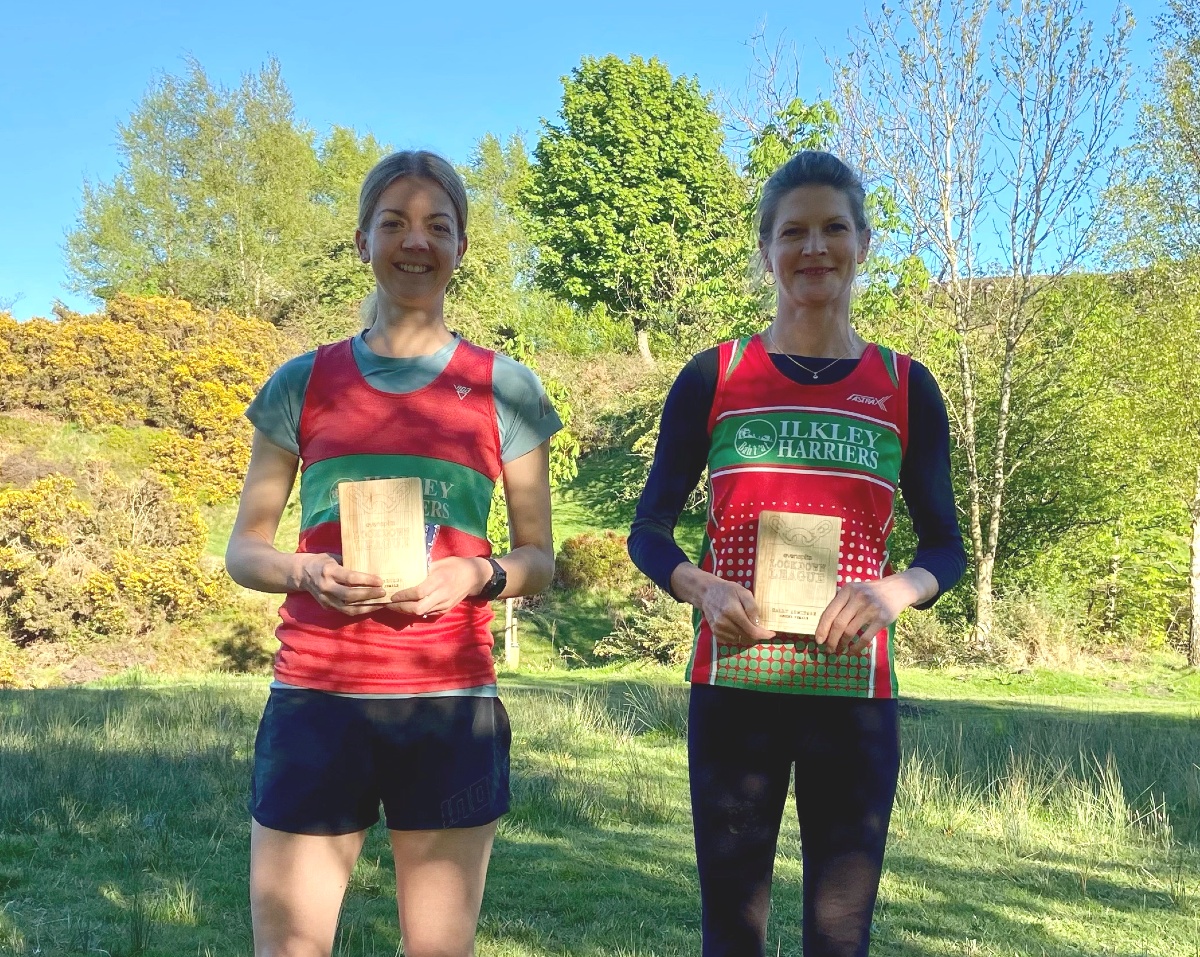 The latest easing of Covid restrictions this week allowed the long-awaited presentation to the Harriers as winners of the EvenSplits 'Lockdown League'. Over 30 clubs from across Yorkshire and beyond competed virtually across a range of distances and challenges during February and March. No fewer than 25 Ilkley runners took part over the eight weeks, with Kate Archer and Sally Armitage leading the way. They dominated the ladies standings with scores of 500 and 499 points respectively (out of a max of 500!) to put the Harriers in pole position for the team prize. Everyone who ran contributed to us finishing on 3,906 points, over 200 points clear of second-placed Valley Striders.

Individual and team results here
Shires & Spires Ultra, Sun 16 May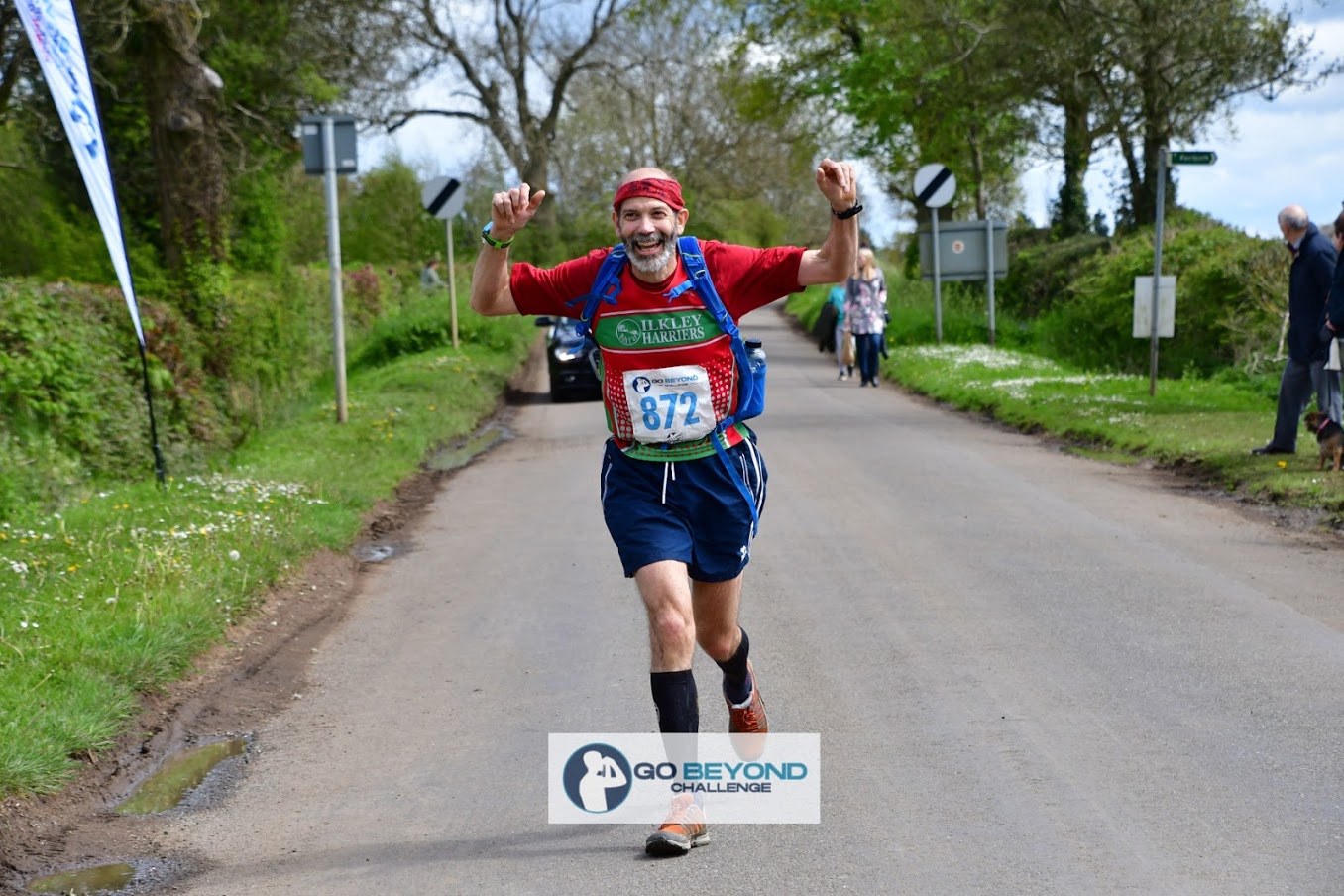 From Colin Williams ...

The Shires & Spires Ultra is a 35mile circular route starting and finishing in Naseby, a mixture of road running and muddy trails across farmland, with lots of gates and stiles to contend with.

I'd originally intended to try it in 2020 before Covid19 put a stop to that.

In addition to the 227 taking part in the ultra, runners taking on the 10k, half marathon and marathon all started three at a time in a staggered start, therefore it was very difficult to tell during he race how you were doing compared to other runners.

In the end I came 30th out of 217 finishers in a time of 5hrs 39mins 19secs , the winner, Andrew Siggers of Kenilworth Runners, completed the course in 4:08:41.

Results - Here
Ultra
(1 Andrew Siggers, Kenilworth Runners, 4:08:41)
30 Colin Williams 5:39:19
217 finished
Dales High Way Ultra, Sat/Sun 8/9 May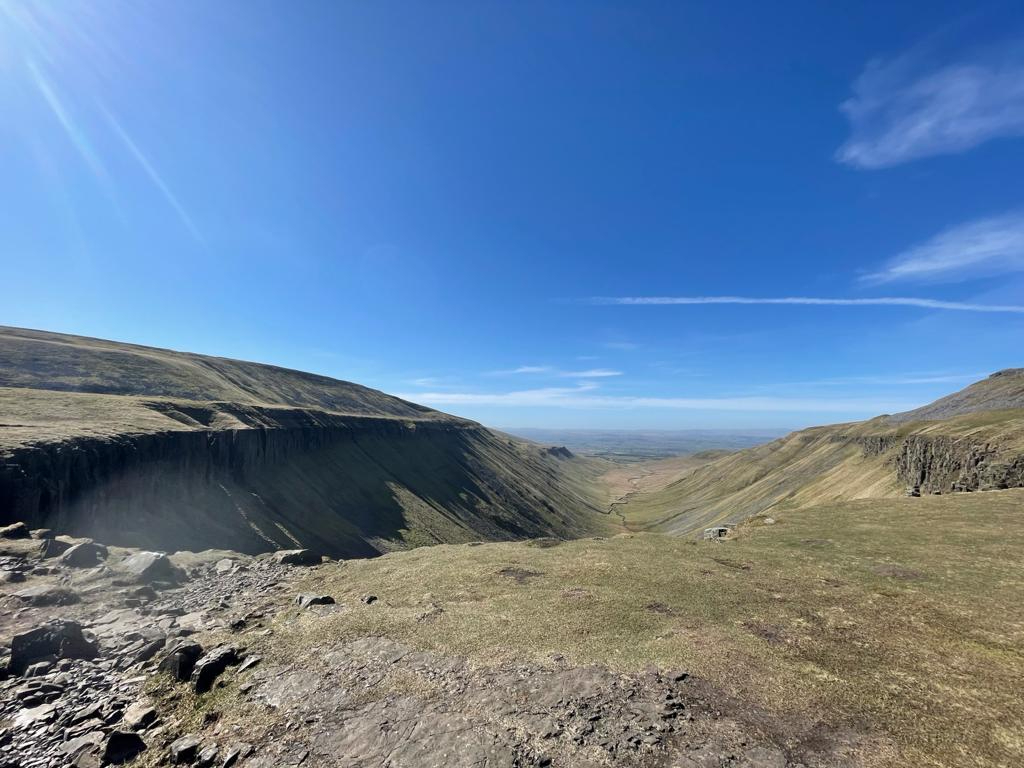 From Andrew Merrick ...

The vast majority of the training runs and recces that Jane McCarthy and I did in advance of last weekend's adventure took place in good weather.

As the training turned to tapering, the weather forecast for 8 May suggested the dry spell had ended. It was right….

After a lot of kit faffing preparation in the preceding days, we set off just before 8am from Saltaire on our journey to Appleby, both muttering "it wasn't even raining when I got up this morning…." part of a small field who could set off at a time of their choice within a generous window.

Heavy rain accompanied us on our journey although it had largely subsided by the time we got to Settle (via Addingham, Skipton, a very blustery Sharp Haw, Hetton, Weets Moor and Malham). At Settle unbeknownst to us we met the designers of the route, and I was also slightly stunned to learn that Feizor is pronounced "Fazer". The Punk Panther team had a range of well stocked check points staffed by a great team whose enthusiasm was faultless. We had however made our own plan with my daughter operating our first 4 stops, handing over to Andrew McCarthy at the aforementioned Feizor, where Elaine's was a refuelling stop for both of them as well as us. In case of interest, refuelling for us consisted of Tailwind (which Jane has now converted to), many bananas, with nakd bars for me, and a range of attractive sandwiches and wraps for Jane. We lost enthusiasm for our recce favourite of hot cross buns!

Our personal support crew did a fantastic job (a huge thank you to Andrew and Sophie) supplemented by other supporters along the way (thank you Paul, Alison, Jean, Richard, Dick and Helen). We had seen a forecast suggesting 50 mile an hour winds on the top of Ingleborough but happily it was pretty calm with good visibility when we summited. I celebrated with the traditional face plant as we headed back down towards Chapel le Dale knowing we were pretty much halfway and had dealt with the majority of the climb and those messy steps….

Somewhat earlier than intended, I went into fast walk mode from here along the most beautiful section of our route as we headed over to Dent, with head torches required as we hit a rough descent down into our next stop after a brief section of the route shared with the Dales Way. From here it was a shorter section to Sedbergh (a section we were both glad we had recce'd since the route took us on a steepish climb up onto the moor before dropping back down into the book town (surprisingly short of coffee shops we had previously discovered one Sunday morning). The rain re-joined us for the night section over the Howgills, which was tough going on indistinct paths, but Jane did a great job of watch based navigation on the higher slopes and we eventually started to feel a consistent downhill gradient, before seeing the welcome sight of Andrew and the VW van just near Newbiggin. We were both very impressed that Ryk (Mr Punk Panther) Downes had been up on the Howgills earlier putting out large direction arrows in key spots although we were slightly surprised by the direction of his last arrow….. [This mystery was later solved when we found out that the arrows for a different race altogether and one of our gang had unfortunately followed that last arrow into the wrong valley….].

After the challenge of the Howgills, we only had two shortish legs left between here and Appleby, the 90 mile mark and the finish of the race for most. These two legs hadn't been recce'd so full navigation concentration was required over an eerie misty moor with very strangely shaped trees. We kept moving through the mist and had a brief stop with the dawn chorus as daylight and dry weather returned in Great Asby before heading out on the least enjoyable leg to our first finish in Appleby. This final/penultimate leg of our journey featured a lot of fields with long wet grass, not great for keeping feet dry (one of us having stuck with the same pair of shoes since the start). However, we swerved what could have been a couple of messy navigational errors and found ourselves finally heading down into Appleby on a nice dry bit of road!!

Ryk had organised a 90 (aka 92) mile version of the run, which used the entire length of the Dales High Way, and for those wanting to do a full 100, he had added an additional "10" (aka 14) mile loop up over High Cup Nick and back to Appleby.

We stopped long enough in Appleby for a (porridge pot) breakfast and we were also happy to see another Ilkley Harrier, Ritchie Williamson who had finished a little earlier. We were then relatively soon back out on our way somewhat slowly up to High Cup Nick, only four of us made this additional journey. Fortunately we had recced this with Ryk a couple of weeks earlier (on a gloriously sunny day), so we knew what to expect. The double finish line was mentally challenging but we kept each other going as we finally reached the far end of the cup which signalled a downhill run back to Appleby, apart from a couple of additional bits of into the wind climb we had both forgotten about.

We finally arrived back to a dry Appleby a little over 27 hours, 106 miles and 15000 ft of ascent after having started out in Saltaire to a small but still enthusiastic gang for whom we managed a final run to our final finish.

A Saltaire Blonde seemed an appropriate means of rehydration on our journey back home.

A big thank you to all our support, to Ryk and the Punkpanther team, and to Jane for her company on our training runs, recces and on the race itself.

(Punkpanther, based near Otley, organise a range of largely shorter distance friendly ultras in the local area together with some longer distance events. Give them a try!)

Times at the 90 mile finish:
(1 Daniel Hendriksen 25h:28m)
3 Jane McCarthy / Andrew Merrick 23:02
7 Ritchie Williamson 23:59
Big Flat Runway races at Elvington Airfield, Sun 25 Apr
From Sally Armitage ...

This marked round two after the excitement of round one, last October, was somewhat dampened by the PB-destroying gale force winds on race day. Sunshine and a slight breeze today made for a more enjoyable experience. Distance choices again consisted of 5k, 10k, 10 miles, half marathon & full marathon. Races were staggered and athletes were set off in groups of eight at 15 second intervals. Another expertly organised, COVID safe, event by Racebest.

From Colin Williams ...

For me this is the first time I have run the Big Flat Airfield Races, the races were well organised with a friendly team and social distancing was well observed. The marathon was 10 laps of the airfield, the weather was ok with a little breeze on the return leg. I came 28th in a PB of 3hr 21min 25 sec. Second in my class.

Results - Here

Marathon
(1 Joseph Baker, Stadium Runners, 2:33:59)
28 Colin Williams 3:21:25
47 finished

Half marathon
(1 Joe Sagar, Spenborough & District AC, 1:06:48)
35 Harry Stead 1:31:41
84 finished

10 miles
(1 Robert Cassy, Sheffield RC, 57:50)
4 Jaysson Sawyer 1:00:20
22 Sally Armitage 1:06:26 (2nd lady)
78 finished

10k
(1 Matthew Pierson, Stainland Lions Running Club, 31:35)
118 Philip Hirst 48:16
273 finished

5k
(1 Thomas Hodgson, N/A, 15:41)
15 Mike Abrams-Cohen 18:40
70 finished
York EvenSplits, Fri 23 Apr
From Michael Abrams-Cohen ...

Just wanted to flag a big run by Mark Iley (first sub-20 since 2017 according to Power of 10) and Brit Tate (PB) at April's York EvenSplits event.

Results: Here
(1 Callum Elson, Roundhay Runners, 14:43)
75 Michael Abrams-Cohen 18:07
95 Brit Tate 18:39
113 Archie Budding (junior) 19:05
121 Mark Iley 19 :34
142 Fay Walsh 20:54
195 finished
Burnsall Trail Half Marathon, Sat 17th Apr
From Hilda Coulsey ...

It felt wonderful to be wearing my Ilkley vest again out running with other Harriers in such an amazing location. The weather was very kind too. Start times were spread out within an hour which added to the relaxed atmosphere. This meant you really didn't know where you were in race order hence for me making it simply a challenge with the terrain. And it was a challenging 21.3k of trails and fields with a few short road sections plus 504m of elevation with three main hills, the last of which at 16k was a killer! First Harrier was Steven Bysouth, looking very fresh at the end, as did all the Harriers I saw - so many smiles, it was great to see. I must admit I was feeling somewhat wiped out but then as was pointed out, thank you Jacqui, I was dressed for mid winter and not a pleasant sunny Spring day. The option of cooling off in the river afterwards was popular!

This is one of three Due North series trail half marathons, I'm looking forward to the others at Kettlewell and Skipton.

Results - Here
(1 Owen Beilby, Wharfedale Harriers, 1:24:35)
16 Steven Bysouth 1:37:27
39 Rob Cunningham 1:47:13
87 Justin Pierce 1:59:11
156 Alison Weston 2:12:04
169 Mike Williams 2:15:29
170 Jayne Norman 2:15:49
181 Keith Wood 2:18:29
182 John Pickering 2:18:30
185 Anna Nolan 2:18:58
237 Hilda Coulsey 2:28:52
256 Rebecca White 2:32:42
290 Jacqui Weston 2:45:08
325 finished
Mallory Park Spring 5k Festival, Sat 17 Apr
From Christine Reilly ...

Cameron Reilly ran 14:30, a new club 5k record, beating his previous mark of 14:46. He came 12th in the race and was the second U20.

Results - Here
(1 Sam Hart, Newbury AC, 14:12)
12 Cameron Reilly 14:30 (2nd U20)
274 finished
Swainby Sweep, Sun 11 Apr
From Mark Judkowski ...

The Swainby Sweep is either 7 or 16 miles run on trails on the edge of the North Yorks Moors. Ironically, after wondering if it would go ahead at all, the 16-mile distance was cancelled due to adverse conditions on the moor caused by snowfall. Those entrants therefore did two laps of the 7-mile circuit. Though disappointing that this only skirted the edge of the moor it still offered very runnable trails with stunning views. Probably one to come back to next year when the weather might be better. Anyone missing airport immigration control would have appreciated the queuing system the organisers put in place to maintain social distancing. Indeed a sign of the times.

Results - Here
(1 Kris Axon, 1:28:08)
40 Mark Judkowski 2:03:40 (1st MV60)
Club sessions available, 29 Mar 2021
Club sessions are available again from 29th March. Please see booking details on the training page here.
Training Update, 10 Mar 2021
With the government announcements and recent committee meeting we are pleased to say we are planning to restart club activities from the week commencing 29th March. More information and details to follow over the next few weeks, but likely start the same as the end of 2020 in terms of the session number and requirements.
Update Policies, 10 Mar 2021
Following a review of our club policies we have updated and refreshed a significant number of them, which can be found here. Please review and make yourself aware of the latest policies in advance of any club sessions.
IH 2020 Recognitions, 24 Jan 2021
Thank you for taking the time to send in emails of recognition.

I have received over 30 separate emails, most with two or more nominations included, all of which have been inspiring to read through and a testament to the whole club of keeping us all going.

I would like to thank the rest of the committee, coaches and run leaders who have volunteered their time and contributed to keeping the club alive. As Hilda Coulsey - the 'rock' of the club (as was noted by a few) - says: "It's been great to see so many step up to join the committee. It is a strong community that I am proud to be part of."

A specific mention for Paul Wood as after many years he has retired from running and updating the website. His knowledge, dedication and support for the club are likely to be unmatched and difficult shoes to fill, but we have plans in place to split the various roles around the committee to keep the website and comms to members up to date. Thanks Paul and enjoy retirement !

So, onto the nominations. I have split into three areas; Club activities, Coaches and Run Leaders and Running Performance and Races. I have grouped similar responses, but all received nominations have been included below and left verbatim in most cases.

Happy reading, I hope it makes you feel as proud to be part of a great club as I do, and I look forward to having face-to-face sessions going again when we can in 2021.

In the meantime, stay safe and enjoy your running.

Steve
Club Activities
Nomination
Rationale
Dan McKeown
For the Strava segment challenges and brilliant posts and organising the Ilkley Incline
As well challenging routes, his write ups were some of the funniest things I've ever read and his points system challenged all the known laws of mathematical theorem.
His weekly challenges were incredibly motivating through lockdown
As an injured Harrier, I loved reading his brilliantly written weekly reports and finding out what other people were up to!
His segment challenges……and….the brilliant write ups, keeping us all entertained and feeling a lot less gloomy than we might otherwise
For keeping people going/entertained with the strava segment competition and for organising the incline. I think Dan very much deserves recognition for his efforts.
Jeff Green and Jean Sullivan and team
Organising the highly successful Xmas relays
Like Santa, brought some joy to a very odd Christmas.
For organising the IH Christmas relays, a great event that lifted everyone's spirits
Brit Tate
For doing the online strength training - really good to be able 'see' some other Harriers, whilst also getting a good strength workout!
Petra Bijsterveld
For doing the unenviable task of membership secretary and social media rep so skilfully
Committee
The Committee for their selflessness, tireless hard work and commitment. Their efforts have kept the club going in the toughest of times, when its members needed it more than ever.
For sorting all the Sign Up stuff which has helped make the training sessions possible, and for their endless patience helping us all out with tech issues!
I think the club has done a great job in adapting to the changing restrictions. Very clear guidance and well organised groups. Makes a nice change from the government's response!
Coaches and Run Leaders
Nomination
Rationale
Jane Bryant
For those early post initial lockdown speed sessions when she held 2 each Thurs with a 15min break in between, and perhaps only 2-3 people in each session
For the Weds night speed sessions that have happened come rain or shine whenever it was possible
Neil Chapman
Neil has been as reliable as ever, turning out every Thursday (when allowed). He's adapted his session to accommodate restrictions even though it's meant he's running two sessions back to back (and as ever, standing in some horrible weather conditions). He's a star.
Neil because his sessions have improved my running and speed immensely, and for being able to operate his session in a socially distanced method.
In a normal year, Neil does so much for IH, but when training resumed in the summer, his Thursday session was extra special (and hard work!). It was great to be able to take part in a structured session again, but also meet fellow Harriers again in a safe environment (many of whom I hadn't seen for several months).
Sally Armitage
For running the Saturday long sessions and for Facebook posts
Her relentless encouragement and good humour on Strava
For her exuberance and entertaining encouragement via her activities
For organising the Saturday morning efforts without fail and more importantly always turning up with a smile to take the edge off the early starts.
Taking over as club road captain
Antonio Cardinale
Most dedicated motivator!......I have had first hand weekly experience of his dedication to running & his desire to involve as many people as possible in the sport
He has been there for our group the entire time. When we couldn't meet up due to restrictions, he emailed us to keep our spirits high encouraging us to keep exercising… He is a great role model, especially as he's in his 70s.
I nominate Antonio who knows some amazing trails and routes around Ilkley, Burley and Menston. When the rules were 6 people he kept me motivated to get up and run every week. He is absolutely amazing.
Peter Roll
I stupidly took on some long distance challenges last year for a charity I support. Peter joined me on practically all or part of my weekly long training runs - as soon as we were allowed - and was just the best companion. My favourite week was the week I had to do a marathon distance training run. We set out with him saying he would join me for about 16 and he just didn't stop - his first marathon for 10 years under his belt. He really did make a difference to me and whilst he knows it I would like him to have the Harriers recognition
Jayne Norman
Kept a number of us going on by leading Tuesday night runs. She always makes sure everyone's ok and looks after the group - we have a laugh and get fit while we're at it.
She's also had an impressive year if running herself, not least of which was a great performance and pb at Yorkshireman Marathon. Well done Jayne and keep doing what you do so well!
Nicola Budding
Support coach for the junior fell session on a Monday Night, the best support I could have she is always there whatever the weather, she is amazing at putting things on line for me. She just makes coaching a pleasure
Jane McCarthy and Jonathan Turner
For setting up the Tuesday evening IH sessions in Burley
Running the Burley sessions with Nick Kealey and Mike AC
Running Performance and Races
Nomination
Rationale
Club Records 2020
Open:

Jemima Elgood 5k 16:46 and 10k 35:27.
Cam Reilly 5K 14:46.
Jack Wood half marathon 1:08:24.

V55 - Sally Malir half marathon 1:35:57.
V65 - Hilda Coulsey 5k 24:08, 10k 49:45, half marathon 1:51:51.
Steve Turland
for his inspirational Wainwrights project which allowed some of us to enjoy ultra running vicariously
adventures in the Lake District, completing all 214 Wainwright's over 5 (non-consecutive) long days. Quite inspiring!
Oli Murphy & Jane McCarthy
for their inspiring Ilkley Skyline runs. As NLFR haven't updated their Skyline results, I guess both are "unofficial" course records, but either way they were both fantastic runs that reflect the "Fastest Known Time" spirit of lockdown.
Jann Smith
for a V50 (also still to be officially recognised) record for ilkley Skyline over the Summer.
Hilda Coulsey
for her excellent performances at the Virtual Masters over the Summer
for her fantastic contribution to the club in her role as secretary, constantly going above the call of duty and nothing is ever too much trouble for her to take on
Andrew Merrick
for completing the Hardmoors 110 in September
for another year of fantastic ultra running
Paul Carman
for his double Ilkley Skyline (yet to be formally recognised but) New Record time
Mike Abrams-Cohen
put so much focussed training over months into breaking his 5k18 mins barrier, getting closer and closer, together with his tolerant and entertaining shoe ribbing.
Taking over as club road captain
Lucy Williamson
for her performance to be 1st lady at Anglesey half marathon
Joanne Williamson
She is doing some great runs with ever increasing speed
She has completed a few half marathons driven by self motivation and most importantly is enjoying it
Ilkley Harriers trip to the Coniston Trail Half Marathon
like to nominate Caroline Tong and Jo-Ann Pattinson, Janette Sauly and Paul Sugden for organising the trip for Coniston Trail Half Marathon
This was the only competitive / organised race that I and some of other participants completed in 2020. Despite injury, and concerns as to whether our group would be able to finish the race, we managed to get round and have a thoroughly enjoyable day.
Club Training update, 4 Jan 2021
Following the announcement on 4th Jan 21 of a further lockdown period, the latest Government rules with regard to exercise and activities are as follows:
You may leave the home to
Exercise with your household (or support bubble) or one other person, this should be limited to once per day, and you should not travel outside your local area.
You may exercise on your own, with one other person, or with your household or support bubble
You must stay 2 metres apart from anyone not in your household.
This means that all organised club sessions are cancelled with immediate effect. If you do meet with another club member as part of your allowed exercise this must not be as a 'club activity' and so we would ask that you do not wear Ilkley Harriers branded clothing etc.
As further clarification is published by the Government or from UK Athletics on what is / is not allowed then we will update you all accordingly.
In the meantime, stay safe and stay active (within the rules) :)
Great Owl Running GPX Grand Prix, Fri 1 Jan
From Jeff Green ... The Great Owl GPX Grand Prix series which kicked off in July and included 12 races (best 5 to count) finally drew to a close on 1st Jan 2021. Only two Harriers competed - myself and Steven Bysouth - but we both finished in the top 10 with Steven just missing out (by 1 point) in a very closely fought battle for first place. I got off to a good start with efforts that placed me 4th in The Roundhay Rumble (see earlier race report), 2nd - to Steven, obviously! - in The Dick Double (Medium Fell) and 3rd in Wild West Park (Short Trail). Unfortunately, an ongoing Achilles problem meant I had to stick to the short races for my last two counters and couldn't match my earlier form, finishing 6th overall and first MV50. Steven on the other hand, ran 11 out of the 12 races, won 4 and never dropped below 3rd place, including a win in the 45k North Leeds Trail Marathon! A well-deserved custom-made trophy should soon be sitting on Steven's mantelpiece!
Results ...