Ilkley Harriers Race League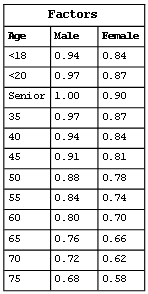 The Ilkley Harriers Race League is an annual competition, first run in 1995 to stimulate friendly competition between Club members, and is based on results in races agreed by the Club Committee and announced in the newsletter and fixtures list.
Your time relative to the winner's time is scaled by an age/gender factor as in the table (right) to calculate race points.
Up to 4 races count in the category competitions (trail and xc, road, and fell).The overall League results will include 3 races from each category plus a wild card race.
Latest

2019 results tables @ 18 June
2019 League races
Fell
Trail
Road
January
Meltham 10k 27/1
February
Ilkley Moor 24/2
Harewood Half 17/2
March
Bradford 10k 17/3
April
Bunny 1 2/4
Baildon Boundary Way 7/4
EvenSplits 5k 24/4
May
Jack Bloor 14/5
John Carr Trail 1/5
Malhamdale Half 11/5 Ilkley Trail 27/5
June
Otley Chevin 6/6
Wharfedale Half 1/6
HDSRL 20/6
Eccup 10 30/6
July
Addingham Gala 13/7
August
September
Great Wherneside 21/9
Ilkley Incline 4/9
Bradford parkrun 7/9
October
November
Burley Moor 9/11
PECO XC
Guy Fawkes 10M 3/11
December
The Stoop 15/12
Ribble Valley 10K
Notes
Only first-claim senior Ilkley Harriers (i.e. running in the event as "Ilkley Harriers") will count in the League automatically. A second-claim senior member may have their result included and counted in the League as long as they contact the League administrator within two weeks of the race.
Only 'official', published results are counted.
Where available 'chip' times are used.
Wild card
From 2014 the League overall standings will include your best 3 scores from each category plus an additional 'wildcard' race. The wildcard allows runners to pick a race that isn't one of the listed League races. So, if you have a particular favourite race or just had a really good run then you can count that toward your League score. We hope that people will be sensible about this and keep to the spirit of the League but here a few rules:
It can be any recognised race (road race, FRA, BOFRA, cross country etc.) that is not already in the League.
It must be open to all Ilkley Harriers (so not restricted to Vets only, juniors only, men only, women only etc.).
From 2019, parkruns may not be used for wild card submissions.
Results for the race must be posted on the Ilkley Harriers webpage and must be verifiable online.
To record your wildcard race you must email the league statistician using the email wildcard@ilkleyharriers.co.uk within one week of the race.
Once a wildcard has been recorded it cannot be changed.
Statisticians
2016 -

Jane McCarthy

2013 - 2015

Martin Wright

2002-2012

Paul Wood

1997? - 2001

Andy Sarah
Archive
Before 2014, the overall standings were based on 10 races, at least 3 from each category. In 2014 the new 'wild card' was introduced.
The League record of 1032 points was set in 2007 by Geoff Howard.
2018 | 2017 | 2016 | 2015 | 2014 | 2013 | 2012 | 2011 2011 | 2010 2010 | 2009 | 2008 | 2007 | 2006 | 2005 | 2004 | 2003 | 2002 | 2001 * | 2000 | 1999 | 1998 missing? | 1997 | 1996 | 1995 | Launch notes
Previous Winners
| | |
| --- | --- |
| 2018 | Colin Williams |
| 2017 | Jane McCarthy |
| 2016 | Lucy Williamson |
| 2015 | Michael Duffield |
| 2014 | Jane McCarthy |
| 2013 | Henry Heavisides |
| 2012 | Henry Heavisides |
| 2011 | Mark Mon-Williams |
| 2010 | Nick Pearce |
| 2009 | Kevin Gooch |
| 2008 | Kevin Gooch |
| 2007 | Geoff Howard |
| 2006 | Jamie Hutchinson |
| 2005 | Mark Iley |
| 2004 | Geoff Howard |
| 2003 | Nick Pearce |
| 2002 | Nick Pearce |
| 2001 | (* There was an interruption to racing because of Foot & Mouth affecting access and travel) |
| 2000 | Andrew Wade |
| 1999 | Mark Iley |
| 1998 | Nick Pearce |
| 1997 | Nick Pearce |
| 1996 | Malcolm Pickering |
| 1995 | Nick Pearce |