Ilkley Harriers news archive 2020
Resources for those new to running in this Covid-19 period 2020
From the club newsletter, Sat 28 Mar
We very much hope all Harriers are staying safe and healthy following another unprecedented week for the UK.
The good news is that one form of exercise a day from home is encouraged - such as a run, walk or cycle - alone or with members of your household. You should avoid busy areas and keep more than 2m away from others.
The introduction of the lockdown saw Dan McKeown put the solo time trial competition on pause until the restrictions are eased. Strava segments close to home - which you can also set up yourself - are a good alternative for now. More details on that, plus how to get in touch with Dan via this link.
Meanwhile Steve Coy has started the weekly home turbo sessions, which are posted on the Harriers Facebook page.
Helen Waddington has created two alternative 1k Strava segments to widen the scope for 5x1k efforts. So as well as the two down on the Nesfield Road in Ilkley, there are now ones in Addingham (Ilkley Old Road) and Burley (Hag Farm Road) for anyone who lives in those areas.
And Malcolm Pickering continues to post weekly advice and suggestions on the WhatsApp track group, advocating easy, enjoyable running from home to keep things ticking over and immune systems strong.
To be added to any of the Harriers WhatsApp groups just email Hilda or Petra.
It means there are still plenty of ways to continue training and stay in touch and we'll send this newsletter every week to highlight them.
England Athletics also have a range of helpful initiatives on their Athletics at home hub.
And just in case anyone missed their announcement earlier this week, EA has extended the suspension of all activities (including races and club sessions) until the end of May.
Unfortunately, this means that the Harriers-organised Ilkley Trail Race (scheduled for 25th May) has been cancelled - as has the Calderdale Way Relay, for which two teams had been entered.
From the club newsletter, evening, Mon 23 Mar
Following the e-newsletter which was sent yesterday we would like to update our advice to all members in line with the statement which has tonight been made by the Prime Minister.
From tonight, people in Britain will be allowed to leave their homes for only "very limited purposes" - shopping for basic necessities; for one form of exercise a day; for any medical need; and to travel to and from work when "absolutely necessary".
Hence we cannot encourage any meet ups and we urge all members to be responsible with the exercise route they take.
We have not been able to find a more precise definition yet with regards to the distance and locality allowed of the 'one form of exercise a day'. Further updates will be provided by the club as more government guidance is received.
From the club newsletter, Mon 23 Mar
As we all adjust to the current COVID-19 situation - and while always following the latest government guidelines about safe distance and safe exercise environments - we've taken the first steps in generating a virtual Harriers community.
The aim is to help everyone to continue to train, keep in touch, and maintain morale and fitness in these testing times whilst the government continues to advise it.
Several virtual club sessions will now be posted on both the Harriers Facebook page and on WhatsApp.
If you're not part of the Facebook community - then click here to join.
To be added to a WhatsApp group - just email secretary@ilkleyharriers.org.uk or mship@ilkleyharriers.org.uk
And to join the Strava club click here.
The virtual - and solo - sessions are as follows:
1/ Wednesday track efforts - Malcolm Pickering will post the plan for each week so that you can do it in your own time, close to home. And any questions or advice, just get in touch via the WhatsApp group.
2/ Saturday morning 5x1k efforts. Helen Waddington is going to update on Facebook on the Thursday or Friday beforehand. Again, just ask any questions on there or via WhatsApp.
3/ Dan McKeown has created a solo time trial competition on Strava which allows an element of racing, while running alone. It will adapt and evolve according to the latest government advice, as will all of these options. And it is absolutely aimed at all levels - age/gender adjusted and improver prizes. Full details here.
4/ Turbo session (and maybe also strength and conditioning). This one's a work in progress - but chairman Steve Coy is a level 3 Tri coach and will be creating a range of sessions for Leeds Bradford Tri and is more than happy to do at least one turbo session a week for the Harriers as well as answer any questions via social media. It could be a great time to try something different and mix it up a bit, especially if we're limited in where we can run.
There is clearly a strong chance things will get worse before they get better. So if you have a lovely run and see anything from daffodils to spring lambs, a photo on Strava or the Harriers Facebook page could be uplifting for everyone.
Indeed, posting pics and evidence from any of the sessions above is also a great way to keep the interaction going. We'll be updating everyone each week via the website and Harriers newsletter so please let us have any ideas or suggestions you'd like including.
Notice to all fellow Harriers
England Athletics has today advised that all face-to-face activity such as club training sessions, events, competitions, meetings, athlete camps, running groups and social events should be suspended until at least the end of April.
This follows yesterday's government announcement that everyone in the UK should avoid "non-essential" contact with others to fight coronavirus.
And, like everyone, our club has a responsibility to play our part and help the wider community. We had already called off tonight's social runs and now all Harriers activities have been cancelled until further notice.
And though running may seem relatively unimportant in the bigger picture, we all know what a key part it is in many people's lives - as well as the benefits of maintaining personal fitness and keeping active.
So, while always following the latest government guidelines about safe distance and safe exercise environments, we hope to be able to generate a virtual Harriers community as people train alone or in much smaller groups to help keep up morale, fitness and mental health in these unprecedented and rapidly-evolving times.
Please keep an eye on the Harriers website here, Facebook page and WhatsApp group - as well as the Ilkley Harriers club section on Strava which is now 170-runners strong.
We're all in this together and we very much look forward to being able to run together again in the not-too-distant future.
In the meantime stay safe and stay strong.
From Steve Coy and the Harriers' Committee.
Outstanding Achievements, February
From the Committee ...
Racing:
Oli Murphy, for a phenomenal 74-minute half marathon in windy Brighton
Dave Foyston for a big 5k PB (17:29) at the first EvenSplits 5k
Jo-Ann Pattinson for knocking 6 mins off her PB at the Barcelona half marathon
Cameron Reilly, setting a new club 5km record at Armagh 5km road race
David Singleton, Matthew Snow, Geoffrey White and Roar Leijssen, who ran in the final race of the PECO league at West Park. By turning up, in difficult race conditions, this led to Ilkley Harriers men winning 1st place in the 2nd division
Lucy Williamson, 1st lady, Anglesey half marathon
Volunteering:
Jonathan Turner, newspaper reports
Helen Waddington for setting up the 'efforts lite' group at 7.45am on a Saturday morning
Thirsk 10, Sun 15 Mar
From Caroline Howe... Nathan's time of 52:17 is only 28 seconds outside the club record which has stood since 1990 ...
and Sally's time is just 2s outside the LV55 club record set in 2010
Results ...

(1  51:44 Graham Rush, Leeds City)	
3   52:17 Nathan Edmondson
198 69:01 Brit Tate
285 74:00 Sally Malir
961 finishers

Bradford Sports Awards
Well done to Dom Coy, winner of the Young Male Sportsperson category.
Liverpool Half Marathon, Sun 15 Mar
From Jane McCarthy... Feeling as though it might be a last chance at a city road race for a while I took advantage of an entry to Liverpool Half Marathon, after Dentdale 14 was cancelled on Saturday. A slightly frantic journey there caused by a 20 mile detour due to overnight M62 closures not having reopened by 8am meant parking up with 15 minutes to spare. No problem - with multi-storey parking 200m from the start line and masses of portaloos I was a little short of a decent warm up but otherwise good to go. The course is pretty much flat after a kilometre long hill in mile 2, does a nice figure of 8 in Sefton Park, and finishes with a 4-mile run in Dockside of the River Mersey in front of the Liver Building. It is a well organised, fast Course, not too big a field and well marshalled again this year. I couldn't find any other Harriers in the results. Perfect conditions for running, I found myself early on with the 1hr 30min pacers and was extremely happy to be feeling comfortable at the halfway point. I pushed on and finished in my best time for 5 years at this distance. Or maybe it was my new Nike Zoom Fly 3's ... either way, a great morning out. There is also a 10-mile option.
Results ...

(1  1:09:50 Alistair Rutherford)	
140 1:28:04 Jane McCarthy	
2192 finishers

Podium 5k, Sat 14 Mar
From Sally Armitage ... 5 harriers made the trip over for Podium 5k in Barrowford. This 'no frills' race is 4 and 3/4 laps of a totally flat cycle track with £5 pay on the day entry. Well known for being a 'PB' course it attracts the fastest runners, the first male finishing in 14:30 and first female (Charlotte Arter) finishing in 15:53. The final finisher of the B race crossed the line in 23:10. Conditions were good, there was a bit of a breeze however which may have affected times slightly.

A race
(1 14:30 Jake Wightman, Edinburgh AC)
59 16:46 Jemima Elgood 
80 ran

B race
(1 16:45 Jack Wilkinson, Trafford AC) 
10 17:50 David Foyston 
15 18:27 Mike Abrams-Cohen 
18 18:52 Sally Armitage 
28 20:28 Mark Iley 
36 ran

From Petra ... Jemima's time is a new club record : she held the record already with 16:54 in Cardiff last year.
Howarth Hobble, Sat 14 Mar
From Mark Judkowski ... 32 miles. This was meant to be a long distance training run for the 3 Peaks. In the event it was just a long distance run! The early signs of rain were unwelcome but it dried up by the time of the start from the bottom of the Haworth cobbles. The first third of the run was in low cloud limiting what you could see but making Top Withens very atmospheric. After that the weather cleared giving cracking views from all the peaks. The opportunities for taking in the scenery increased as my pace slowed but I made it.
From Ben Sheppard... Classed as a short race in the Runfurther series, the Haworth Hobble is nearly 32 miles with 5,350 ft of climbing on trails and tracks from Haworth over the moors to Calderdale, up Stoodley Pike and back to Haworth via Heptonstall and Crimsworth Dean. One of few races not to be cancelled this weekend, it is the second counter in the Runfurther championships - but let's hope it's not the last one this season with the Fellsman already cancelled and other cancellations likely. The Hobble has many charms. It has runnable trails, which tempt you to run too fast, and just enough distance and climb to punish you severely for having earlier run too fast. It's local, friendly and reasonably priced, the scenery is not too bad, and you get a delicious meal at the end. Thanks to organisers Brett and Sue and helpers from KCAC for another enjoyable race.
Results ...

(1 4:16:57 Kevin Hoult, CVFR)
7  4:48:56 Ben Sheppard
99 6:23:14 Mark Judkowski
236 finished

parkruns, Sat 14 Mar
From Petra Bijsterveld ... Results ...

Woodhouse Moor
(1  17:32 Bobby Ingham, U/A)
61  21:52 Tom Lambe
528 ran

Fountains Abbey
(1  15:48 Daniel Cheeseman, York Acorn RC)
7   18:56 Jim Ryder
29  20:47 John Hayes
163 27:14 Sarah Hayes
418 ran

Horton Park
(1  20:34 Michael Coe, Queensbury RC)
7   22:16 Geoff Howard
67 ran

Trelai Park
(1  19:04 Edward Donovan, U/A)
2   19:38 Alex Hirst
119 ran

Brian Sweet Predictor 10k, Tue 10 Mar
From Vince Gibbons ... the 2020 Brian Sweet Predictor was run on a beautiful moonlit evening. The event attracted 39 cheerful Harriers for an undulating 10k course through the streets of Ilkley. Bottles of wine go to Catherine Gibbons, Peter Tapper, Elizabeth Gribbin and Tom Lambe whose finishing times were closest to their predictions. The event took place for the second time in memory of long-standing club member Brian Sweet who died in 2017. He led club runs every week for over two decades until reaching the age of 80. He introduced hundreds of runners to the sport. Many thanks to Race Organiser Bernie Gibbons, Neil Chapman for coordinating the timing, Jonathan Turner for producing the course map, sweeper Jayne Norman and marshals Pauline Watts, Heather Duke, Sue Williamson and Vince Gibbons. Prizes will be presented at club night on Tuesday 17 March.
Results.
HDSRL 2020
From Paul Stephens ... Entries are now open for the 2020 Harrogate and District Summer Race League. Enter on racebest, further details on the HDSRL web-site.
Yorkshire Veterans AA XC, Sun 8 Mar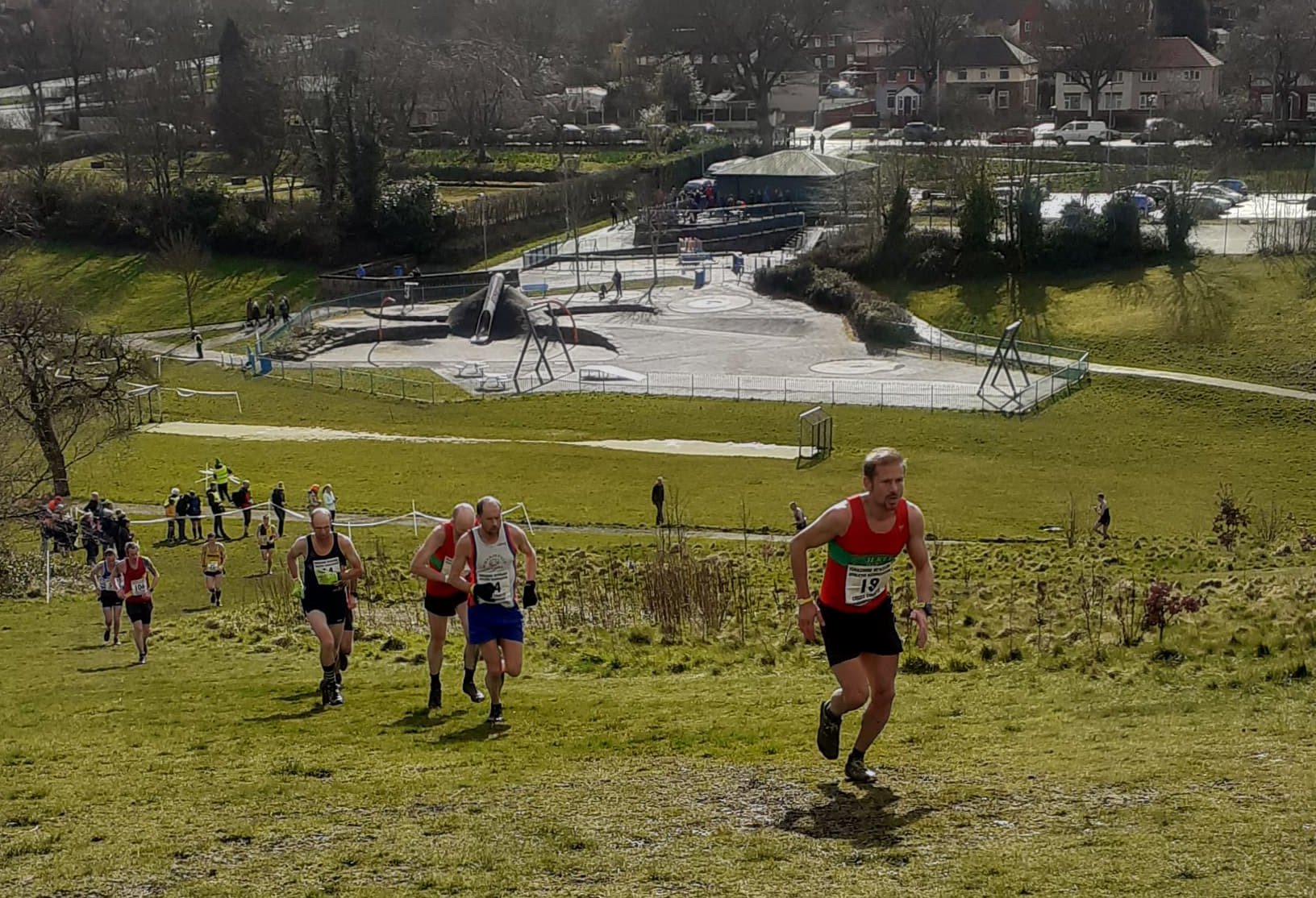 From Daniel McKeown... The 42nd Yorkshire Veterans AA Cross Country Championship was held in fine conditions at Longley Park in Sheffield, on a 4-lap 10k course with a series of sharp punishing hills, ideal for spectators and for exposing runners who get their pacing wrong.
It swiftly became apparent that I was in this category as, after a breathless first 2k, Steve and Istvan calmly made mincemeat of me. Steve finished 8th overall in the 60-man field, scooping the V40 silver medal, with Istvan a couple of places back, bagging the V40 bronze.
Happily, this didn't spell doom for the McKeown medal mission: by dint of staying upright and avoiding disqualification (neither of which was a given) I rounded out the winning men's V40 team. We were treated to a decent haul of medals, plus the familiar amusement of the announcer making a complete hash of Istvan's name.

(1 35:48 Will Smith, Halifax Harriers)
8  37:19 Steve Gott (#2 M40)
11 37:51 Istvan Jacso (#3 M40)
14 38:56 Dan McKeown
60 ran

Black Combe fell race, Sun 8 Mar
From Alison Weston... A tough race in southwest corner of the lakes - 8 miles with 3400 ft climbing on lovely grassy terrain but sadly no views this year! 3rd LV50 1:51 (No published results yet)
Inter Counties XC, Sat 7 Mar
From Gaenor Coy ... Well done Cam Reilly and Dom Coy representing Yorkshire at the Intercounty cross country champs at Loughborough this morning. 16th for Dom, 37th for Cam and both contributing to team bronze medals.
In the senior race, Tom Adams was third counter for Yorkshire and an overall team silver.
Welcome Ultra, Sat 7 Mar
From Nick Kealey ... The Welcome Ultra is the first this year in a series of ultras hosted by Punk Panther. The Welcome Ultra follows, for a large proportion, the Welcome Way with a 51km or 65km option for runners. Starting in Otley the route initially looped north of the river before crossing the iron bridge at Ben Rhydding. Then following footpaths to Burley, over the moor towards Shipley Glen, across to Guiseley, up the Chevin and finishing in Poole. A challenging route, not helped by the mud, but a rewarding one with some amazing views.
I ran the 51km, classic course, and managed to secure 1st place in 4:43:34 which was a huge surprise testing my navigation skills given there was no one to follow!
A bowl of chilli and a friendly welcome at the end were amazing as were all the volunteers throughout who encouraged and cajoled as we shuffled along.
Would definitely recommend and plan to do more in the series in coming months.
parkruns, Sat 7 Mar
From Petra Bijsterveld ... Results ...

Cardiff
(1  15:44 David Eagon, Bristol and West)
21  18:18 Alex Hirst
805 ran

Bradford
(1  16:43 Alexander Thompson, Wharfedale Harriers)
56  22:53 Geoffrey Howard
165 27:20 Melanie Edwards
545 ran

Crichton
(1  17:22 Callum Waugh, U/A)
9   20:21 Robert Budding
36  24:43 Nicola Budding
151 ran

Skipton
(1  16:44 Chris Ovenden, Skipton AC)
18  22:14 Catherine Gibbons 1st F
124 29:28 Bernie Gibbons
220 ran

Ilkley Moor Fell Race, Sun 1 March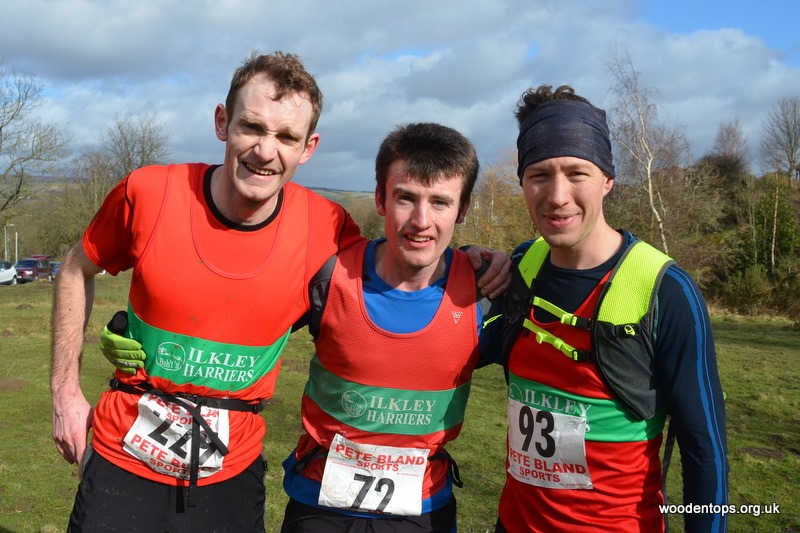 lkley Moor Fell Race men's team winners Ilkley Harriers - 8th Oliver Murphy, 2nd Jack Cummings & 5th Nathan Edmondson. Photo: Woodentops
From Jayne Norman ... What an event. My first year running the fell race, and boy was it hard work. Every section uphill seemed to be in the 45MPH winds. It really did take your breath away, and is all the recent wet weather- the whole course was saturated.
A super organised event and made all the better for the super marshalls encouragement all the way around, they must have been cold.
Despite me doing slightly slower than expected - I thoroughly enjoyed the race - hopefully next year will be drier! Definitely one I would recommend.
Results (v3)
Woodentops photos

Harriers results ...

(1  40:51 Robin Howie, Wharfedale)
2   42:17 Jack Cummings
5   42:36 Nathan Edmondson
8   43:50 Oliver Murphy
14  46:11 Steven Gott
16  46:47 Oscar Stapleton
36  49:52 Jim Ryder
40  50:19 Dave Robson
61  51:43 Paul Carman
65  52:08 Robin Nicholson
79  54:38 John Marsham
87  55:55 Richard Joel
101 57:19 David Westhead
103 57:28 Alistair Barlow
111 58:06 Peter Shelley
136 60:48 John Hayes
142 61:18 Matthew Sunley
154 62:10 Colin Williams
164 62:50 Alison Weston
187 64:31 Paddy Hagan
188 64:34 Jann Smith
199 65:41 Catherine Crawley
204 67:05 Tim Buckingham
208 67:43 Michael Waterhouse
218 68:52 Chris Oxlade
234 70:21 Alison Bennett
258 73:19 Anna Nolan
272 75:23 Benjamin Fenton
292 79:3 Jayne Norman
306 91:00 Amanda Newham
318 finished
Ilkley 1st men's team

Trafford 10k, Sun 1 March
From Sally Armitage... Trafford 10k, well known for being fast and flat, didn't feel either today! The wind perhaps didn't help my perception of the course but it truly felt all uphill for me today! A relatively small field, run entirely on closed country roads, with a lot of very fast runners.
Results ...

(1  29:45 James Hunt, Cardiff Athletics) 
126 35:27 Jemima Elgood (9th lady)
230 39:45 Sally Armitage (32nd lady)
840 ran

From Petra Bijsterveld ... Jemima Elgood's time at Trafford broke her own club record from last April's Salford 10k by 6 seconds.
Anglesey half marathon and 10k, Sun 1 March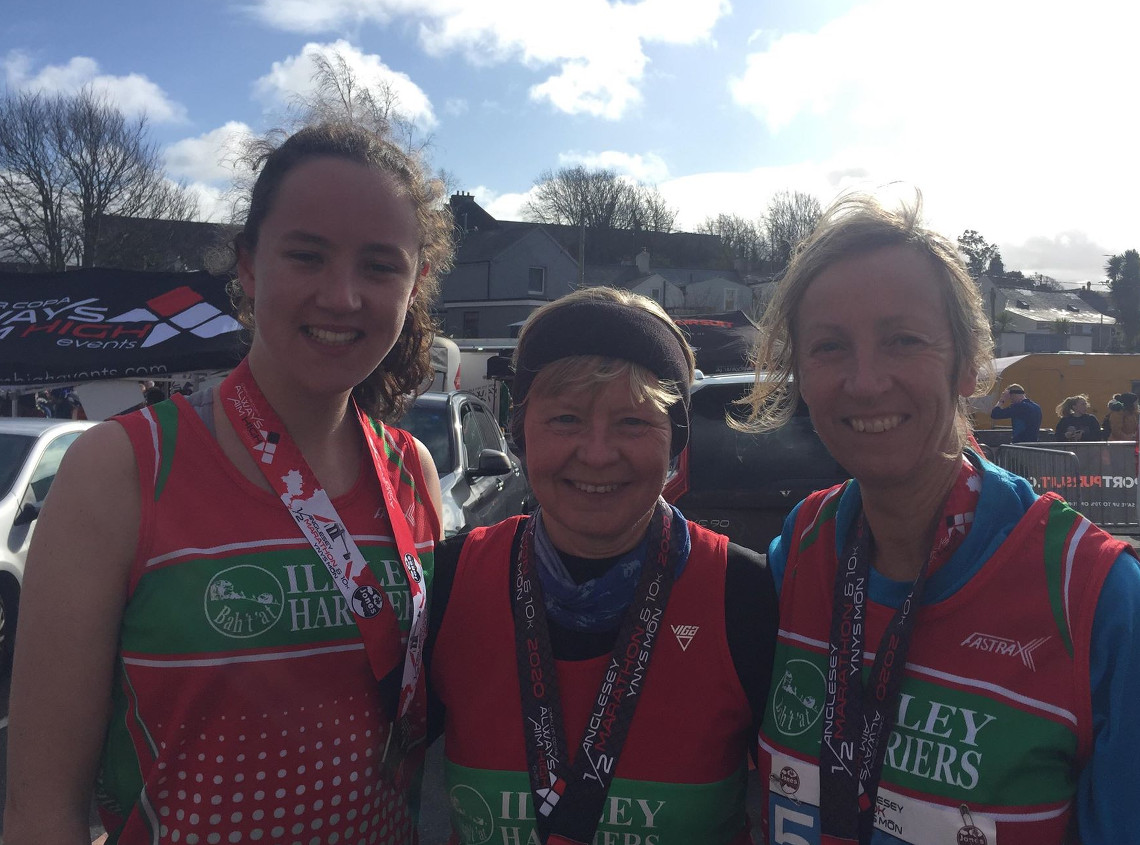 From Sue Williamson... Kate Lofthouse and myself made our way to Anglesey for this 10k while Lucy took part in the half marathon.
The scenic race couldn't be started on the Menai bridge due to the high winds, so changes were made and the start took place in the High Street.
The storm also caused damage on the half marathon route late on Saturday night, when a tree fell onto the route meaning this route had to be changed again. The route now involved some testing hill climbs and was a slightly longer route.
The organisers did a great job making sure the race went ahead safely, as before the atmosphere is great and of course the lovely views.
---