Ilkley Harriers news archive 2020
Resources for those new to running in this Covid-19 period 2020

Half marathon results
(1 1.21.08 Martin Green, North Wales Road Runners)
   1.32.56 Lucy Williamson 1st female 
1198 ran

10k results
(1   34.18 Ryan Davis, Wrexham) 
   1.01.01 Sue Williamson
   1.01.47 Kate Lofthouse
641 ran

parkruns, Sat 29 Feb
From Petra Bijsterveld ... This was the first ever leap year Saturday to witness parkruns, and with the next possible leap-parkrun being 2048 it felt important to get this one in! I went to Bowling Park in Bradford which started parkrunning only 6 weeks ago. A park made for parkrun I would say, large enough to require only 2 and a half laps, with very wide all tarmac paths so no congestion and a good running surface. A cafe with toilets at the park entrance. Lovely friendly volunteers. What's not to like? Oh, hills, did I mention hills? Yes well, it makes Lister Park's 'Teeny Tiny Hill' look teeny tiny indeed. Bowling has an uphill start, that same substantial hill has to be negotiated a further two times, and then just to add to the joy there is an uphill finish. For me it was part of the Leeds & Bradford Tri club's 2020 parkrun league, I gave it my all and battled hard all the way with a fellow woman LBT'er who looked to be of a similar age to me, I finished 4 seconds ahead but lost on age-grading. Could be a tough year ahead:)
Results ...

Woodhouse Moor
(1  15:40 Marcos Angel Valero Palacios, Roundhay Runners)
77  22:43 Tom Lambe
640 ran

Bradford
(1  17:03 Andrew Humphries, Airecentre Pacers)
11  19:37 Michael Abrams-Cohen
184 27:19 Stephanie Fox
187 27:22 Melanie Edwards
199 27:44 Paula Reynier
533 ran

Skipton
(1  17:03 Chris Ovenden, Skipton AC)
16  22:13 Catherine Gibbons
231 ran

Coldham's Common
(1  15:57 Joseph Smith, Cambridge and Coleridge)
74  26:01 Diane Kitchen
225 ran

Centre Vale
(1  18:08 James Jordan, Rochdale Harriers)
34  25:41 Will Worboys
115 ran

Bowling Park
(1  16:25 Tom Collinge, Queensbury RC)
117 27:33 Petra Bijsterveld
261 ran

PECO XC league final individual & team positions
From Daniel McKeown ... It may have passed unremarked over the weekend, but the cancellation of the final PECO XC fixture (Roundhay Park having unfortunately not recovered from the rigours of hosting an Ed Sheeran concert, I ask you) meant a couple of prizes were confirmed for Harriers.
Nathan Edmondson, with a perfect record of three wins from three races attended, was crowned league champion without even having to get out of bed on Sunday (although to give him due credit, he did do the Ilkley Moor Fell Race instead).
Meanwhile the men's team, which would probably have been *stuffed* by the fixture clash with the Fell Race, were instead left with first place and promotion in the league's second division. A big well done to everyone who showed up through the season and especially for the frankly horrible conditions at West Park in race 4. The PECO men's league boasted 704 competitors this year and, behind Nathan, we had three others in the top 100.
The ladies' team finished fifth overall in the second division, spearheaded by Alison Bennett (72nd overall out of 592 league competitors) and ever-present Diane Kitchen (103rd, second F60). Both vet teams finished fourth in the first* division (the PECO follows the risible trend of having a 'premier' division, above the first division) and the club finished fourth in the League's Colin Morath trophy for most improved club.
The league officially concludes with the PECO relays, which should be on 29 March, presuming Middleton Park doesn't get trashed by a Rita Ora concert in the meantime.

League position (out of 704)  
                     Races run	Cat pos	  Overall points
1	Nathan	Edmondson 3	(#1 MSEN)	1500
19	Daniel	Mckeown	4	(#4 M40)	1427.8
21	Steven	Gott	4	(#5 M40)	1419.1
67	Jaysson	Sawyer	3	(#12 M40)	1255.2
174	Robert	Budding	3	(#16 M50)	870
267	Simon	Richardson 2	(#51 M40)	629.8
300	David	Singleton 3	(#54 M45)	568.3
345	Matt	Cox	1	(#62 M45)	477.9
353	Matthew	Snow	3	(#67 M40)	462.6
383	Geoffrey White	3	(#65 M35)	417.2
394	Steve	Murray	1	(#40 M50)	403.8
406	David	Westhead 1	(#41 M50)	379.8
547	Malcolm	Pickering 1	(#10 M65)	195.2
612	Roar	Leijssen 1	(#96 M45)	112.9

League pos (out of 592)
72	Alison	Bennett	3	(#5 F55)	1067.4
103	Diane	Kitchen	4	(#2 F60)	940.9
141	Nicola	Budding	3	(#10 F50)	793.6
202	Ros	Brown	2	(#26 F45)	597.9
251	Rachel	Carter	1	(#39 F40)	483
278	Anna Pickering	2	(#91 FSEN)	441.7
290	Caroline Howe	1	(#46 F35)	421
311	Anna	Nolan	1	(#42 F45)	400.7
312	Jane	Bryant	1	(#35 F50)	399.5
340	Helen Waddington 1	(#41 F50)	343.1
371	Adela Reperecki	1	(#33 F55)	311.5
374	Helen	Horton	1	(#34 F55)	304.7
395	Sue Williamson	3	(#37 F55)	270.5
463	Jacqui	Weston	1	(#70 F50)	174.9
482	Kate Lofthouse	2	(#52 F55)	149.7
529	Sally	Wright	1	(#57 F55)	89.2

Leeds Evensplits 5k, Wed 26 Feb
From Hilda Coulsey ... 15 minutes is beaten at the Brownlee Centre in Leeds for the first time and hence Liam Rabjohn sets a new course record. It was wintery chilly and the attendance wasn't great for this first of the 2020 series of 10 monthly 5ks. I'm sure that will change as the year progresses. The juniors provided good competition with Alexander arriving first. I was pleased to clip a couple of seconds of my 2018 Harriers v65 record - an endorsement perhaps of the benefits of the Wednesday track session and the Saturday 7:45am 'lite'!
Results ...

(1  14:53 Liam Rabjohn Richmond and Zetland)
11  17:29 David Foyston 
22  18:19 David Westhead 
27  18:29 Alexander Wolfenden (junior)
33  18:49 Alistair Mcinnes 
37  19:05 Archie Budding  (junior)
40  19:21 Harry Stead  (junior)
63  20:14 Robert Budding 
81  21:23 Catherine Gibbons 
85  21:26 Claire Mcloughlin 
126 24:08 Hilda Coulsey 
127 24:17 Nicola Budding
184 finished

From David Westhead... A cold night but the lack of rain, snow and wind gave good running conditions and brought some fast times over the flat 5k course, notably a course record for Liam Rabjohn from RZH, which seriously scaled down the Harriers league points for anyone who wanted to use this as a wildcard! Good performances all round from Ilkley (Dave Foyston 2nd MV40; Dave Westhead 1st MV50; Alexander, Alistair and Archie 1,2 and 3 MJUN, Hilda 1st FV65 and Nicola 1st FV50).
League Update
From Jane McCarthy... We're three races in to the 2020 Harriers League - after some superb performances at Harewood 10K on Sunday - we've had one Fell, one Road and one Trail race. By virtue of completing all three, Jane McCarthy has the current highest total tally with 279 points, but Hilda Coulsey sits behind with a spectacular near 206 points from 2 races, 108 points from Harewood 10K and 98 points from her wildcard. Higher average point scores also for Jonathan Turner (2 races), Steve Gott (2 races) and Dan McKeown (1 race - winning at Harewood). Also great performances over 2 races from Jann Smith, Paul Carman, Dawn Turner, Jayne Norman and Sue Williamson, making up the Top Ten places. Next League Race is Ilkley Fell Race this Sunday .. Good Luck Everyone!
Please Note: There is a clash between the Beamsley Beacon Fell Race on 18th June and Ilkley Harriers hosting the HDSRL Road Race, so we will be announcing an alternative fell race shortly ...
2020 results tables as at 24 Feb
Harewood 10k, Sun 23 Feb
From Hilda Coulsey... A text somewhat late in the morning told us the race was delayed 3.5 hours due to the estate not using the grass for parking and letting the half marathoners mostly complete and get away before we arrived. I watched them returning covered in mud and on asking what the terrain was like I'm told the views were great. However it wasn't so bad, certainly nothing like the pictures of the national cross country yesterday. Nevertheless our winner managed to head plant and looks like he's been a few rounds with Tyson Fury, this after racing in Nottingham yesterday! The starting pen was churned up and in trying to jump to keep warm I struggled to lift my feet. Rather than do that I retied my shoe laces tighter. I started with Jayne and went ahead on the initial few kilometres downhill before she overtook me and relentlessly plodded on up hills, straight through puddles and across muddy fields always in my sight but I was unable to catch her, my shoe coming off in the final field didn't help. So much for pre-race prep! It was a tough day for the organisers: I did feel for the marshals etc who'd had a very long day, the coffee van found some hard standing by the toilets and did a roaring trade once their generator was fixed, the pizza van got stuck in the mud and that was it for food. We were grumpy at the entry cost but afterwards the happy chatting of finishers retelling the tales of their mishaps and struggles was quite fun. (Apologies if I've missed any Harriers running)
Results ...

1  38:24 Dan McKeown
2  40:26 Jonathan Turner
10 45:19 Jane McCarthy 1st female
28 48:38 Colin Williams 1st v50
83 53:31 Jayne Norman
89 53:54 Hilda Coulsey 1st v60
153 58:25 Dawn Turner 
224 63:57 Sue Verspyck
260 65:23 Sue Williamson
264 65:35 Katherine Lofthouse
399 completed

Brighton Half Marathon, Sun 23 Feb

(1   1:09:05 Kevin Moore, Brighton & Hove AC)
11   1:14:01 Oli Murphy
2123 1:51:27 Zoe Donnely
7618 finished

Huddersfield 10k, Sun 23 Feb
From Sally Armitage... Today I ventured over to Huddersfield 10k. A hilly course, I decided, would do me good and make a change from all the fast flat ones I usually enter! A small field, all road, 240 metres climb, chip timed. I was rather pleased that the fastest woman on the entry list didn't turn up allowing me to take the win!

(1 34:32 Joe Sweetnam-Powell, Steel City Striders) 
33 42:02 Sally Armitage (1st lady)
568 ran

Canalathon 20, Sun 23 Feb
From Nick Kealey ... Fancying some long but not too challenging miles, I raced the Canalathon 20 today. It is a point to point starting in Rochdale and finishing in Sowerby Bridge. The start time allows for travel on the first train from Sowerby Bridge to Rochdale meaning your car is waiting for you at the end. The majority of the route is along the canal, which is relatively flat albeit a bit wet and muddy after the recent bad weather. You would have expected navigation to be simple but, in my opinion, a shortage of signs and marshals made it more difficult than it needed to be, resulting in some unnecessary extra yards! I was pleased with a podium finish (3rd) and the warm soup on completion was very welcoming. All in all I would recommend to anyone needing some miles before the Spring marathon season.
National XC, Sat 22 Feb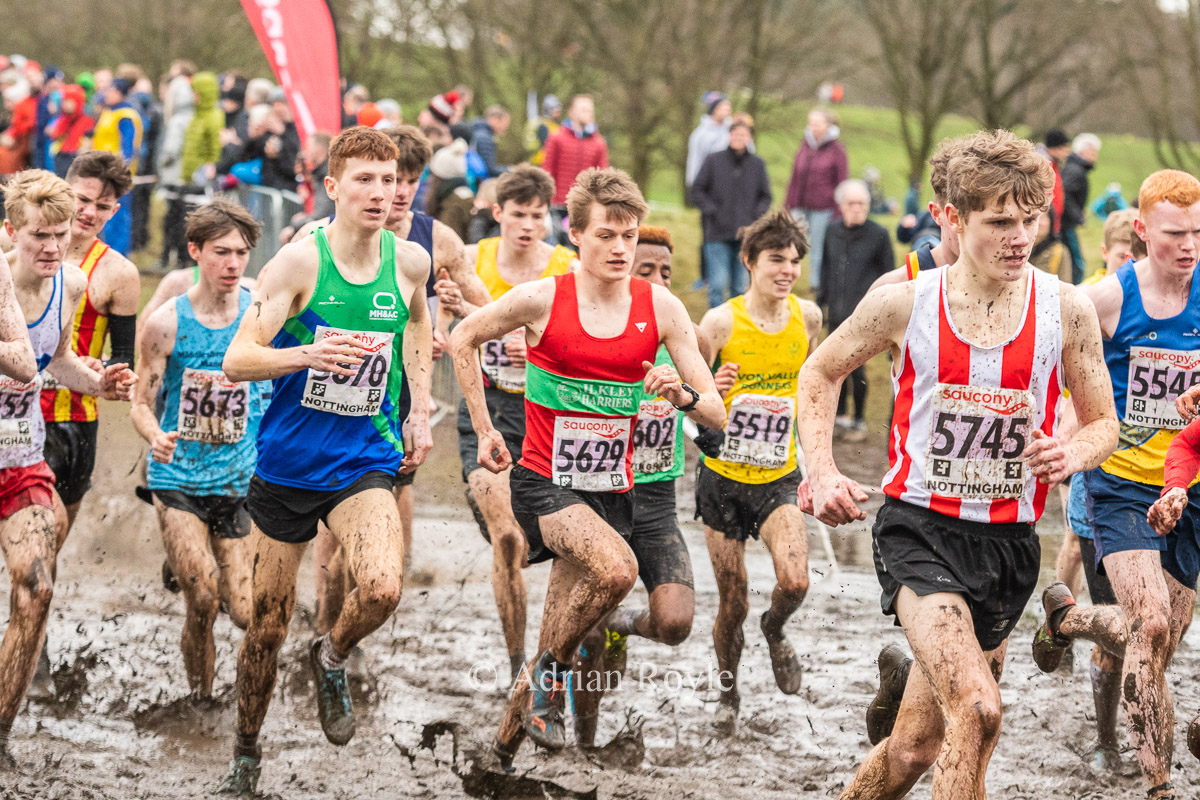 From Petra Bijsterveld ... This was my 5th National XC event and my 2nd time in Wollaton Park in Nottingham. Whilst in 2017 it was moderately muddy, for 2020 the wet weather in the preceding few weeks had ensured a venerable mud bath, with several deep dips which could be described as 'water features'. Running at some speed through knee high smelly muddy water ensured that everyone was splattered from head to toe with the stuff. In fact despite a thorough shower yesterday (obviously) I still found a streak of mud in my ear this morning!! As if the water wasn't enough the organisers had also placed a couple of large trees across the course which needed to be jumped, or in my case stepped across in old-lady fashion. As I couldn't even leap over solid obstacles in my younger years I certainly wasn't going to try now!
The day did not start well for many of us as there was considerable parking havoc which I believe was not the fault of the race organisers, as Nottingham CC was in charge of parking. The addition of off-site parking on a disused supermarket site was a good call due to the grass parking at the park being very wet, but signposting and direction was poor leading to chaotic queues near the venue and stress for runners. It put me in a bad mood, especially being shouted at by an unhelpful parking marshal, but I was soon back on an even keel once I reached the club tent. I love the atmosphere of the Nationals with hundreds of tents and thousands of runners all squeezed onto a patch of mud, I love the feeling of 'being in it together' and running with (or rather, behind) the best in the country. In which other sport can you enter National Championships at any level of ability?
Considering the weather we have recently had conditions on the day were quite good. No rain to speak of and whilst it was blowy, it was more a stiff breeze than a gale. I actually loved my run (and the mud!) even though at 5.5 miles it went on a bit. Strava tells me I was considerably slower than in 2017, but I seemed to be battling it out with women I recognised from the Northerns a few weeks ago and from previous years, so I am blaming the underfoot conditions rather than being 3 years older!
Thanks must once again go to Steve and Gaenor Coy for organising another brilliant XC season and supporting all the runners.
Results ...

Under 17 Women
(1   21:49 Maya Todd-McIntyre, Rushcliffe AC) 
213  29:03 Poppy Anderson
257 ran

Junior Men
(1  36:27 Zakariya Mahamed, Southampton AC)
26  39:05 Dom Coy
195 ran

Senior Women
(1   32:59 Anna Moller, Aldershot, Farnham and District AC)
167  41:03 Rachel Carter
544  49:55 Sarah Edwards
765  57:03 Petra Bijsterveld
799  58:29 Anna Pickering
808  58:43 Sally Pickering
911 ran

Senior Men
(1   43:36 Calum Johnson, Gateshead Harriers)
432  53:47 Dan McKeown
1169 65:32 Steve Coy
1447 71:57 Malcolm Pickering
1710 ran

From Malcolm Pickering ... Well I ran my first English National in the Youth's race at Parliament fields back in 1968. Since then I have run many more but Nottingham 2020 must be near the top on the mud scale. It's a classic event with a long tradition which any club runner can toe the line with some the best distance runners in the country. So one for the bucket list......
parkruns, Sat 22 Feb
From Petra Bijsterveld ... Results ...

Woodhouse Moor
1   16:22 Nathan Edmondson
565 ran

Bradford
(1  17:36 Martin Soszka, Saltaire Striders)
26  22:23 David Singleton
31  22:47 Matthew Snow
370 ran

Skipton
(1  17:12 Chris Ovenden, Skipton AC)
17  22:28 Catherine Gibbons 2nd F
57  26:01 Geoff Howard
176 ran

Watergrove
(1  22:01 Jonathan Moon, Sowerby Bridge Snails)
22  28:34 Will Worboys
61 ran

Conwy
(1  18:32 Morgan Kendall, U/A)
3   19:01 Lucy Williamson 1st F
184 ran

Myrtle
(1  20:07 Christopher Loftus, KCAC)
5   21:42 Michael Abrams-Cohen
103 ran

Dalesway Adventure, Tue 18 feb
From Paul Calderbank ...How do you fancy the Dales Way Tuesday / Wednesdy? John asked on Sunday evening.
Achilles? mmm sure I can muddle through! Chantal wanted to join us Tuesday morning so we dropped a car at Kettlewell and had an eveing meal in the Dales.
8.00am Tuesday morning we were at the old bridge ready to go. Thank you for dropping us off Alison.
A pit stop at Bolton Abbey and a team of friendly faces of the Ilkley Tuesday morning run team.
A good cafe stop in Kettlewell we left a relieved Chantal, who had insisted on pushing the early pace.
As we climbed the Wharfe the weather closed in and the hail made frogsporn in the puddles. 45 miles later we rolled I into the old Youth Hostel at Dent Station like drowned rats. Thank goodness for the excellent drying facilities.
The plan was for the 6pm train from Windermere so we got away for 7am my very tender achilles. A perfect morning with only missing washed away foot bridges and poor signage to get in the way of a perfect morning. Then as we crossed the M6 the rain did its worst driving hard all the way till the end! As my right foot started complaining adjusting for my achilles I got my walking poles out to help get me home. Station reached 36 miles later with over an hour to spare before the train. (23&24 of 60).
Achilles just about held together and at the end it was 81 miles over all!
One of the most amazing things was looking at the flood levels in the different rivers we ran along from last weekend. 15 to 30 ft up on current high levels amazing!
Looking forward to the Dales Way relay at the beginning of August.
Barcelona Half, Sun 16 Feb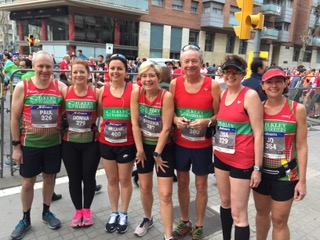 From Paul Sugden ... Results ...

(1      59:58 Victor Chuma, Kenya)
11708 1:57:52 Lisa Mcdonell 			
12276 1:59:19 Paul Sugden 			
13162 2:02:00 Sheena Pickersgill 		
13244 2:02:15 Peter Tapper 			
13525 2:03:12 Melanie Edwards 		
14953 2:08:39 Donna Jackson 		
16062 2:14:32 Jo Pattinson (PB 6 mins)
18572 ran

Great North West Half Marathon, Sun 16 Feb
From Andrew Merrick ... I normally like to do a half (at intended marathon pace) 2 or 3 weeks in advance of a marathon - in this case Tokyo on 1 March. Due to a number of adventures, this was about the only part of my marathon preparation which has been on schedule....
Three of us set off on a happily dry morning, arriving on the sea front in Blackpool - road parking was straightforward - with an hour to go before the 11am start. It had stayed dry but was very cold and windy at this point - registration, at an outside set of desks, took minutes giving us time to faff, get organised and then try to find a way to stay warm. I had already decided to wear the long sleeved running top, that I had planned to change into at the end, underneath my Harriers vest, and was regretting the absence of a hat, buff or gloves in my kit bag.
A well marshalled route, on the wide paths along the sea front took us out in a loop which brought us back to the start point in just over 2 miles, at which point I had visions of another 5 or so similar laps..... Happily that wasn't the case and we then had a relatively lengthy downwind section before turning into the wind for a couple of loops ending with a tough 3 mile into the wind finish. A distinct variation in mile times (about 1 ? mins in my case) reflected the challenging conditions. I was pleased with my on schedule finish in 1:44:15, within 45 seconds of my plan, albeit I probably had to work a little harder than intended..... at least it kept me warm.
An excellent pub lunch on the way home was probably the highlight.
Organised with no fuss, a relatively easily accessible, flat half marathon at the right time of the year for Spring marathon training.
parkruns, Sat 15 Feb
From Petra Bijsterveld ... Results ...

Woodhouse Moor
1   16:29 Nathan Edmondson
562 ran

Bradford
(1  16:59 Martin Soszka, Saltaire Striders)
92  25:42 Will Worboys
422 ran

Roundhay
(1  18:08 Chris Mullen, U/A)
12  19:23 Helen Thurston 1st F
403 ran

Skipton
(1  17:42 Chris Ovenden, Skipton AC)
6   19:49 Jim Ryder
7   19:53 Rachel Carter 1st F
29  22:40 Catherine Gibbons
37  23:41 Geoff Howard
218 ran

Horton Park
(1 18:29 Joe Baker, Stadium Runners)
2   19:26 Jonathan Turner
38  27:32 Dawn Turner
85 ran

Clapham Common
(1  16:06 Johnny van Deventer, Clapham Chasers)
20  19:52 Rob Cunningham
630 ran

Armagh road races men's 5k, Thu 13 Feb
From Hilda Coulsey... A new 5k club record for Cam Reilly (beating Euan Brennan's 14:58 from Barrowford last August) on a 5 lap course, "one of the fastest and most competitive races in the world", attracting world class athletes with 144 under 15 mins on a blustery evening.
Results ...

(1  13:41 Adam Clarke, Team Real Runners)
117 14:46 Cameron Reilly
237 ran

Rotselaar International XC, Sun 9 Feb
Well done to Tom Adams, 27th overall and a counter for the 'North' team - more on the club's Facebook page.
PECO XC, Sun 9 Feb
From Geoffrey White ... A very wet PECO at West Park, jointly hosted by Horsforth Harriers & Ackworth RR, on a slightly shortened course due to bad weather. After huddling like penguins on the start line in freezing rain, we warmed up somewhat during the race itself. Ground underfoot was very wet. Congratulations to Nathan Edmondson and all who braved the conditions, and a big thank you to the organizers and marshals.
Results ...

1   24:45 Nathan Edmondson
20  27:41 Daniel Mckeown
21  27:43 Steven Gott
49  37:34 Alison Bennett
72  39:46 Diane Kitchen
192 36:13 David Singleton
204 37:06 Matthew Snow
208 37:17 Geoffrey White
227 38:40 Roar Leijssen

parkruns, Sat 8 Feb
From Petra Bijsterveld ... Results ...

Woodhouse Moor
(1  17:15 George Ravenhall, LBT)
354 28:23 Gaenor Coy
711 ran

Riverside
1   16:19 Ruaridh Mon-Williams
520 ran

Skipton
(1  16:58 Chris Ovenden, Skipton AC)
35  23:21 Tom Lambe
37  23:32 Geoffrey Howard
77  26:44 Melanie Edwards
220 ran

Clapham Common
(1  16:56 Ben Parker, U/A)
28  19:38 Rob Cunningham
847 ran

Rothay Park
(1  18:37 Scout Adkin, Ambleside AC)
20  23:06 Catherine Gibbons
151 ran

International selection
Well done to Tom Adams, selected for the Rotselaar International XC in Belgium on 8/9 Feb
Montserrat Skyrace 25k, Sun 2 Feb
From Petra Bijsterveld ... Tom Adams won this race (16 miles and 4,295 ft of ascent) for the 4th time in an astounding 2:02:45 with 9 minutes elapsing before no.2 arrived!! Also a Yorkshire 1, 2, 3 with Ben Mounsey (Calder Valley) and Joe Baxter (P&B)
Results
Dewsbury 10k, Sun 2 Feb
From Jonathan Turner ... It was great to see a fantastic Ilkley turnout in Dewsbury on Sunday. If you're after a 10k PB then this is definitely one to consider. It's a closed-road, out-and-back route with the first half gently uphill - meaning it's perfect for a negative split. It's also good to maintain interest during the race, with plenty of encouraging shouts between Harriers as those at the head of the field headed back first after the turning point. Matt Cox looked super-smooth as he led us home in 33:58 but there were so many other good times. I think the biggest PB upgrade (of nearly four minutes) was Catherine Crawley's 42:29 but any advance on that just email website guru Paul on the above address!
Results ...

(1   29:57 Chris Parr, Morpeth)
45   33:58 Matt Cox
92   35:24 Steve Gott
102  35:54 David Foyston
148  37:01 Jaysson Sawyer
153  37:02 Nick Kealey
179  37:34 Jonathan Turner
265  39:10 Michael Abrams-Cohen
267  39:13 Sally Armitage
274  39:13 Paul Carman
390  41:12 Jane Mccarthy
453  42:29 Catherine Crawley
499  43:21 Daryl King
575  44:08 Michael Ho
599  44:34 Claire Mcloughlin
610  44:44 Jann Smith
664  45:24 Mary Fairclough
1010 49:54 Tom Lally
1075 51:09 Jayne Norman
1187 52:28 Alex Stanley-Hyde
1264 53:22 Dawn Turner
1447 57:03 Amanda Newham
1566 58:35 Sue Williamson
2033 finished

Chichester 10k, Sun 2 Feb
From Hilda Coulsey... I ventured a long way south, but less than an hour from family, to take part in this 10k England masters qualifier (having gained qualification for the half marathon a few weeks ago). Part of the attraction was that the final 4k was run on the Goodwood motor racing circuit which we'd visited various times in the past. It was described as an undulating course but together with fairly ok weather it was fine for a lass travelling from Yorkshire! I was pleased to have broken the 50 min barrier after some 5 years, bettering my Harriers record and achieving England qualifying.
Results ...

(1  29:01 Nick Goolab, Belgrave Harriers)
696 49:45 Hilda Coulsey 2nd FV65
1519 ran

Glaisdale Rigg Fell Race, Sun 2 Feb
From Jim Ryder... I think I was the sole Ilkley Harrier at the Glaisdale Rigg Fell Race in the North Yorkshire Moors. It was 8.7 miles and 1370ft of boggy moor, tussocks, track, muddy fields, conifer forest and a bit of road. I came in 2nd V50 at 1h10m49s. Well-organised, low key, friendly and a generous prize giving. A great fell race event.
Rombalds Stride, Sat 1 Feb
From John Hayes... An excellent turnout by many Ilkley Harriers at this iconic event. Congratulations to all those who battled through the strong winds and made it back for their end of race "school dinner".
The results may take some time to appear, as they send them out to anyone who included a stamped addressed envelope with their entry. I rather like this old-fashioned approach, just as I like the fact that every year the meal is identical to all previous years - a pie, boiled potatoes, peas and gravy followed by rice pudding and tin peaches.
But why change a winning formula? For many, the meal at the end is the best bit. There is no question that the true "winners" of the Rombalds Stride are the organisers and the marshalls. The 40 mph winds made this year's conditions very tough over Baildon Moor, Ilkley Moor and (just to add to the agony) even along the road coming off Otley Chevin. Yet at each checkpoint there was a team of volunteers who had somehow managed to put up a tent and were serving food and drink whilst cheerfully attempting to stamp your control card as it blew about in the wind. We really are very lucky that they put on such a good show for us every year.
From Petra Bijsterveld ... This was my first ever attempt at the Rombald's Stride. Always held on the same weekend as the Dewsbury 10K the road race had always been my go-to event. With lack of dedication to 'proper' training my road times are not improving and causing me frustration, so why not change to what is essentially a walking event hijacked by runners? At least I would always be ahead of the walkers and anyway, unless you are at the sharp end of the race times don't really matter that much here. The weather was 'interesting' with a relentless gale force wind from the west, making in particular the section from the Twelve Apostles to the turn at Pipers Gate a constant battle into the wind, and on approaching Burley Woodhead I was almost blown off the edge at times. Conditions underfoot were wet but at least better than when I last reccied it. I really enjoyed myself and felt better than expected, must have been all those jaffa cakes I scoffed at the checkpoints. Next year I will take my running poles, not wanting to look like 'all the gear and no idea' I had left them at home, but they would have helped. The (vegetarian) school dinner back at the school tasted delicious so I must have been hungry! Going steadily meant that after the start I did not see any of the many Harriers taking part, but I met some nice people along the way. The most kudos go to the marshals and volunteers at the checkpoints who did not seem fazed by the wind and looked after us very well. I shall be back in 2021.
From Petra Bijsterveld and Rachel Carter ... results ...

(1  2:51:28 Philip Boynton, Horsforth Harriers)
9   3:03:36 Ben Sheppard
16  3:08:53 Dan McKeown
23  3:15:15 Kate Archer 3rd F
25  3:17:08 Dave Robson
28  3:23:31 Rachel Carter
53  3:41:12 Dick Waddington
61  3:46:31 John Hayes
71  3:49:34 Richard Joel
72  3:49:53 Michael Duffield
73  3:50:44 Duncan Cooper
75  3:51:13 Colin Williams
81  3:53:46 Andrew Overend
97  4:03:01 Mark Judkowski
120 4:12:30 Alison Weston
127 4:18:53 Rebecca Mon Williams
130 4:19:08 Adela Reperecki 1st F55
136 4:21:02 Paul Stephens
150 4:27:01 Chantal Busby
163 4:36:16 Paul Calderbank
188 4:49:18 Sarah Edwards
222 5:17:02 Petra Bijsterveld
481 walkers & runners finished.

Wadsworth Trog, Sat 1 Feb
Results ...

(1  2:42:24 Martin Howard, CVFR)
6   2:55:49 Nathan Edmondson
25  3:11:13 Jeff Green
94  3:54:12 Paul Howard
98  3:57:21 Richard Eccles
115 4:06:37 Brian Melia
125 4:11:45 Dave Reynier
154 finished

parkruns, Sat 1 Feb
From Petra Bijsterveld ... Results ...

Bradford
(1  17:10 Martin Soszka, Saltaire Striders)
36  22:33 Oscar Street
116 27:03 Paula Reynier
441 ran

Crystal Palace
(1  17:08 Peter Lighting, Kent AC)
13  19:09 Neil Wilson
531 ran

Ganavan Sands
(1  18:24 Russell Daniels, U/A)
2   19:58 Alistair McInnes
33 ran

Skipton
(1  17:18 Chris Ovenden, Skipton AC)
22  22:53 Tom Lambe
37  24:16 Harry Sime
235 ran

Clapham Common
(1  16:51 Richard Ollington, Thames Hare and Hounds)
38  19:58 Rob Cunningham
899 ran

Centre Vale
(1  17:55 James Jordan, Rochdale Harriers)
27  23:27 Geoffrey Howard
238 ran

---