Ilkley Harriers news archive 2020
Outstanding Achievements, January
From the Committee ...
Racing:
Mike AC, David Foyston & Nick Helliwell, all getting PBs at the Lyntham St. Anne's 10 mile race and taking 2nd team prize
Hilda Coulsey, breaking her own club FV65 half marathon record by 4+ minutes, at the Essar Four Villages Half Marathon
Sally Malir, breaking the club FV55 half marathon record by 1min 30 seconds, at the Essar Four Villages Half Marathon
Jack Wood, beating his own club record by over 2 minutes at the Brass Monkey Half marathon, coming in 3rd place in a time of 1:08:24
Volunteering:
Sue Williamson and Hilda Coulsey for organising the Ilkley Harriers Awards evening.
Annual Awards for 2019
Presented at the Awards Evening on Friday 24th January. Congratulations, everyone.
Category
2019 Winner
Runner of the year - male
Jack Wood
Runner of the year - female
Kate Archer
Most improved - male
Michael Abrams-Cohen
Most improved - female
Sally Armitage
Endurance Runner - over 50 male
Steve Turland
Endurance Runner - over 50 female
Alison Weston
Endurance Runner - male
Ben Sheppard
Endurance Runner - female
Jann Smith
Runner under 23 - male
Jack Cummings
Runner under 23 - female
Lucy Williamson
Runner over 50 - male
Geoff Howard
Runner over 50 - female
Hilda Coulsey
Contribution to club - male
Jonathan Turner
Contribution to club - female
Caroline Howe
Captains award - male
Dan McKeown
Captains award - female
Rachel Carter
League winner
Kate Archer
Fell league
Jack Cummings
Road league
David Westhead
Trail league
Rachel Carter
One-off Contribution
Jayne Norman - Dalesway Relay
One-off Performance
Euan Brennan - 5k record
Much appreciation and thanks to all volunteers including specifically
The coaches - Jane Bryant, Neil Chapman and Peter Shields
Petra Bijsterveld - membership management
Paul Wood - website
Previous years' awards. Also see the Club records and Hall of fame pages.
Ilkley Harriers 2019 Top 10s
From Caroline Howe ... 2019 Top 10 Ilkley Harriers Road Race Rankings, updated
Other records, and earlier years
Tigger Tor fell race, Sun 26 Jan
From Alison Weston... A large field as it was the second counter in the 50th anniversary FRA races. Just under 10 miles it was won by Greg Hopkinson in 1:11 in very wet and muddy conditions. I improved a bit on last year's time to finish in 1:47.
Ilkley fell race is one of the next 50th FRA races so get your entry in!
Lytham St Anne's 10 Mile, Sun 26 Jan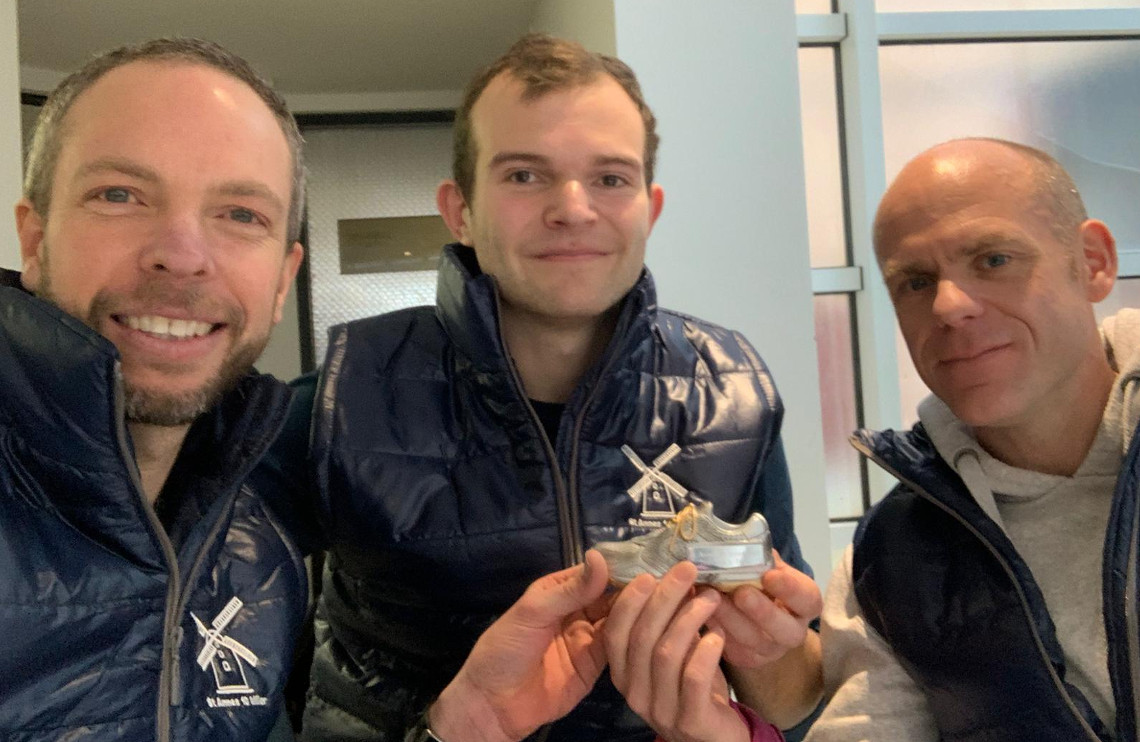 From Mike Abrams-Cohen... Nick Helliwell, Dave Foyston and Mike AC took on the Lytham St Anne's 10 mile race on Sunday. We set off in torrential rain and what can only be described as a hurricane, to see all 3 of us get a big PB and seal 2nd place in the team prize!!! Dave fuelled on 7 beers and a sausage roll smashed his PB, storming to a 1:01:12 time (11th place). Dave won 3rd in the M40 - a great achievement. Following closely behind was the in form Nick Helliwell in 1:02:20. (16th) Mike finished the trio of Harriers with a time of 1:03:21. (20th)
Meltham 'tough' 10k, Sun 26 Jan
From Hilda Coulsey... This 10k is up on the hills beyond Huddersfield and the weather adds to its 'charm' although ruggedness would be more appropriate. As usual the hills are tough but what goes up comes down again for a fast finish. The weather, whilst being not as cold as previously, was windy and the rain in your face was really not pleasant. I signed up to this event out of habit having done it in the previous two years plus I thought it was still on the League listing which it isn't. However on being asked afterwards whether I enjoyed it I said yes definitely - it's an enjoyable tough challenge! It helped that I achieved a course pb. A reusable beaker was the useful race takeaway.
Results ...

(1  35:35 Gareth Cooke, Penistone Footpath Runners)
74  46:01 Collin Williams
221 55:07 Hilda Coulsey 1st F65
365 finished

Northern XC, Sat 25 Jan
From Petra Bijsterveld ... Results ...

Senior Men
(1  41:41 Calum Johnson, Gateshead Harriers)
9   43:01 Tom Adams
25  44:36 Jack Wood
138 50:03 Dan McKeown
159 50:51 Steve Gott
203 52:26 Istvan Jacso
254 54:29 Tim Ashelford
434 61:51 Rob Budding
462 63:12 Steve Coy
    68    Iain Young
584 ran
12th team

Senior Women
(1  28:48 Jessica Judd, Blackburn Harriers)
75  34:56 Rachel Carter
97  36:12 Sarah Pickering
231 42:52 Sarah Edwards
246 43:41 Joanne Williamson
300 47:23 Petra Bijsterveld
307 47:45 Anna Pickering
319 49:09 Sally Pickering
356 ran
24th team

Junior Men
(1  26:22 Joshua Dickinson, Leeds City AC)
9   27:12 Dom Coy
72 ran

parkruns, Sat 25 Jan
From Petra Bijsterveld ... Results ...

Woodhouse Moor
(1  16:47 unknown)
75  21:53 Tom Lambe
718 ran

Bradford
(1  17:06 Will Kerr, Saltaire Striders)
38  21:52 Sally Malir
98  24:49 Philip Hirst
526 ran

Roundhay
(1  17:09 Benjamin Douglas, Leeds City AC)
61  22:57 Geoffrey Howard
449 ran

Ganavan Sands
1   20:17 Alistair McInnes
71 ran

Skipton
(1  18:56 Tim Chadwick, Skipton AC)
10  22:34 Catherine Gibbons
18  23:55 Harry Sime
71  27:00 Fiona Schneider
108 29:35 Andy Wolfenden
212 ran

Fountains Abbey
(1  15:59 Chris Oddy, Serpentine AC)
122 24:06 Helen Waddington
507 ran

Centre Vale
(1  18:48 Paul Smith, U/A)
38  25:36 Will Worboys
141 ran

Harriers Awards evening, Fri 24 Jan
Report soon.
PECO XC, Sun 19 Jan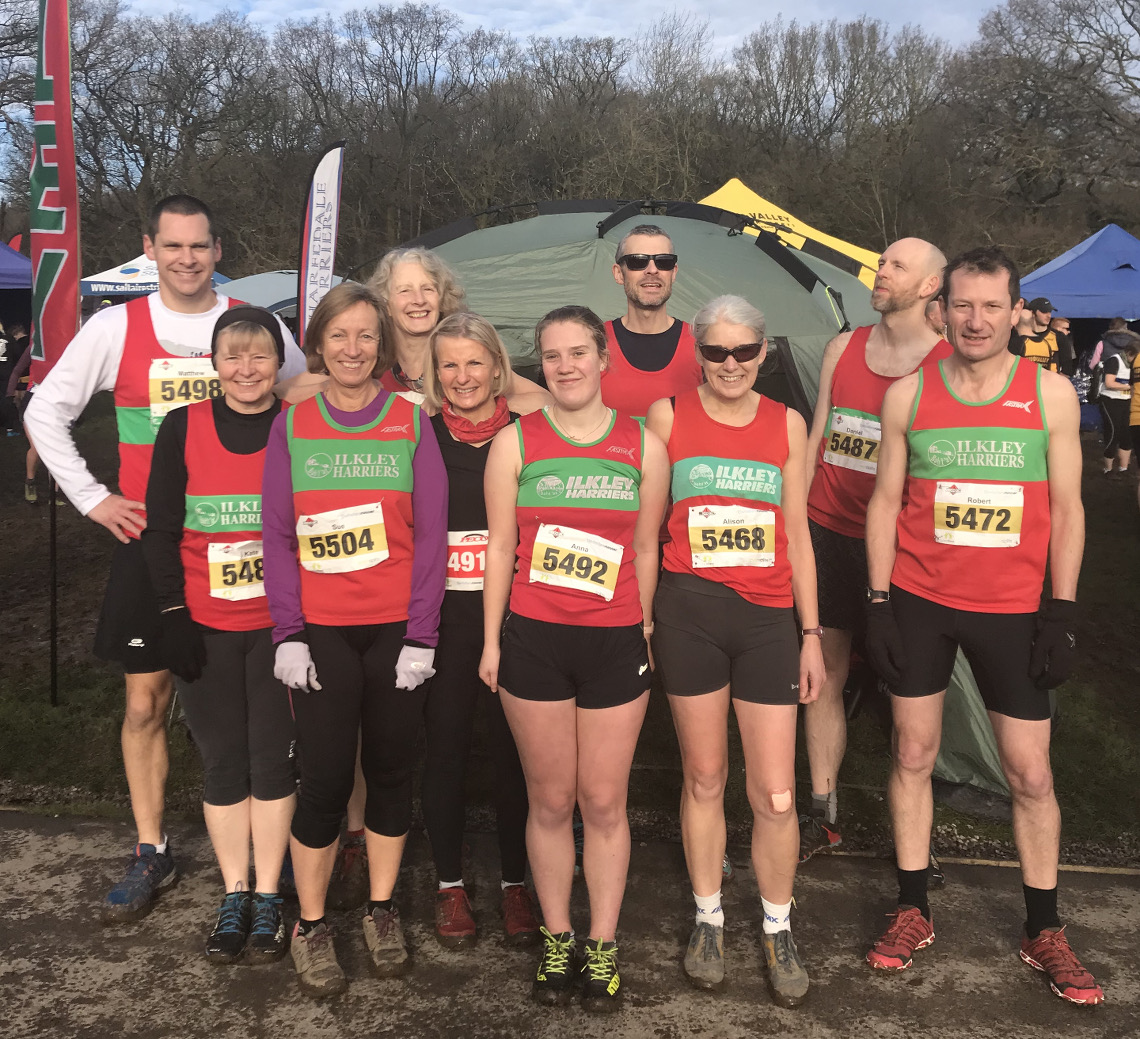 From Rachel Carter ... The 3rd PECO cross country was jointly hosted by Nidd Valley RR & Knaresborough Striders at Crimple Valley. It is held on agricultural land adjacent to the West Yorkshire Showground with Crimple Viaduct as the back drop. The route (5.4 miles) had changed from last year, this year being 2 hilly laps all below the club tents. It was mainly on grass but with some sections on trail including a particularly muddy uphill section through a wooded area dotted with mud covered exposed tree roots. The early morning frost was quickly melted by the sun leaving the route wet under foot. The 2 junior races preceded the senior one with plenty of juniors then providing enthusiastic support for the seniors. Dan and Steve battled it out on the uphill finish with Diane Kitchen coming a brilliant 1st in her age category.
Results ...

Men
(1  31:36 Marcos Valero Palacios, Roundhay)  
15  34:56 Dan Mckeown
16  34:59 Steve Gott
73  37:43 Jaysson Sawyer
226 44:07 Rob Budding
270 46:05 David Singleton
306 47:53 Malcolm Pickering (3rd V65)
347 50:06 Geoffrey White 
349 50:13 Matthew Snow 
401 53:45 Roar Leijssen 
496 finished
5th team in the 2nd division

Women
(1  36:05 Alice Leak, Leeds City)
14  41:07 Rachel Carter(3rd FV40)
103 50:45 Alison Bennett
136 54:14 Diane Kitchen (1st FV60)
158 55:52 Ros Brown
175 56:44 Nicola Budding
248 62:18 Anna Pickering
258 63:07 Helen Jacques
327 70:23 Sue Williamson
330 70:32 Kate Lofthouse
368 finished
4th team in the 2nd division

Essar Four Villages Half Marathon, Sun 19 Jan
From Hilda Coulsey... It's only January and two more Harriers' half marathon records are broken. Three of us travelled across to Helsby in Cheshire for this 'undulating' course also claiming a best half marathon in the north award! It was almost all on quiet country roads and was probably very picturesque however the temperature was barely above freezing and there was thick fog so the focus was more on the road than the surroundings. The course was undulating but in a good way so that the hills up were steady and the down sections were a pleasure to see and run and particularly as the last couple of miles were mostly downhill. Daryl's time fitted in well alongside the men's great times last week at the Brass Monkey. Sally took Christine Mathews 10 year old LV55 record by 1 min 30 and I continued to chip away at my LV65 record, this time by 4+ mins. This race was an England masters qualifier and as such times across the board for age were pretty amazing and it was lovely to see that both of us achieved the qualifying criteria.
I would definitely recommend this race as a fine country road race with obvious PB potential.
A great start for 2020.
Results ...

(1  1:06:14 Mohammad Abu-Rezeq, unattached)
464 1:35:57 Sally Malir
515 1:36:52 Daryl King
956 1:51:51 Hilda Coulsey
2022 ran

Inskip Half Marathon, Sun 19 Jan
From Helen Waddington... This is one of the races organised by Alan Taylor which takes advantage of the mainly flat and quiet country roads which see more tractors than cars, around the villages northwest of Preston. It's old school in style - no chip timing here - parking in a field, a start sign at the side of the road and a nice friendly lady with a clip board taking numbers at the end. The roads are sketchy in places and the twists and turns of the course keep your mind off the miles. The field is mainly club runners many of whom were obviously regulars. If you need a January half marathon to kick start training it's not a bad choice. Results...

(1  1:10:11 Gary Briscae, Penistone Footpath Runners)
144 1:49:30 Helen Waddington
226 ran

parkruns, Sat 18 Jan
From Petra Bijsterveld ... Results ...

York
(1  16:39 Laurence Griffin, York Knavesmire Harriers)
115 22:15 Geoff Howard
718 ran

Harrogate
(1  18:22 Andrew Dobby, Harrogate Harriers)
159 28:01 Melanie Edwards
412 ran

Barnsley
(1  16:26 Scott Hinchcliffe, Penistone Footpath Runners)
33  22:08 Beth Massey
264 ran

Alness
(1  16:47 Gordon Lennox, U/A)
3   19:26 Alistair McInnes
86 ran

Clapham Common
(1  16:42 Richard Ollington, Thames Hare and Hounds)
72  20:12 Rob Cunningham
1218 ran

Cliffe Castle
(1  17:51 Rob Byers, U/A)
2  19:55 Michael Abrams-Cohen
217 ran

Stanbury Splash fell race, Sun 12 Jan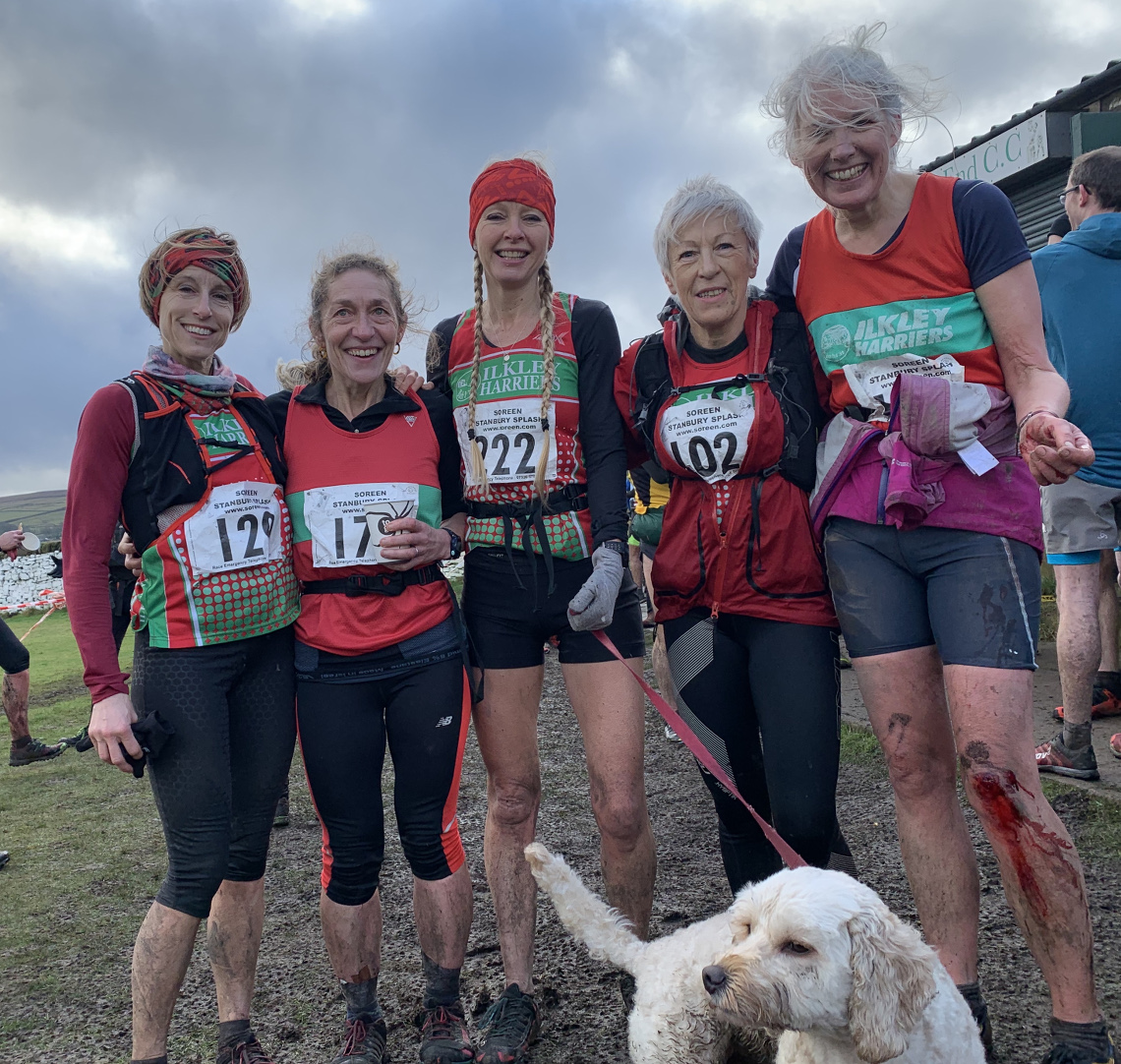 From Adela Reperecki... Great race on a windy day not to mention the raging streams, rain, mud and bogs. Spectacular views at the top at Ponden Clough, well worth the climb.
Results ...

1   45:29 Tom Adamas
5   49:50 Oli Murphy
14  53:05 Steve Gott
25  55:15 Jeff Green
35  57:34 Paul Carman
59  61:43 Rachel Carter
69  63:36 Richard Joel
82  64:37 Alistair Barlow
93  66:07 Jane McCarthy
110 67:36 Colin Williams
119 68:43 Richard Eccles
127 69:38 Jann Smith
141 71:55 Alison Weston
169 76:45 Chris Oxlade
186 79:18 Adela Reperecki
188 79:36 Alison Bennett
225 91:14 Mary Jeal
254 finished

Brass Monkey Half Marathon, Sun 12 Jan
From Dawn Turner ... This flat and very fast (for some) half marathon starts at York's Knavesmire racecourse and is an out-and-back route along mostly closed roads. The weather on Sunday morning was shocking with heavy rain that looked like it was set in for a while. Foregoing a significant warm up I settled for a jog round the car park and just before 10am we were underway. 1,700 set off on this well marshalled and slightly soggy event.
The rain stopped for the latter part of my race and at around half way in Appleton Roebuck a smattering of locals enthusiastically cheered us on and handed out sweets. It was a day of incredible PBs for the Harriers. Jack Wood broke his own all-time club record with a 1:08:24 for third place, while Mike AC and Nick Helliwell destroyed their previous bests by 14mins and 8mins respectively!
Results below. Apologies to any missing Ilkley Harriers, we weren't all flagged up on the website.
Results ...

(1   1:07:33 Richard Start, N Derbyshire AC)
3    1:08:24 Jack Wood
137  1:20:22 Nick Helliwell
182  1:22:28 Michael Abrams-Cohen
280  1:26:47 Andrew Overend
297  1:27:28 Kate Archer
317  1:28:02 Jonathan Turner
639  1:37:08 Dave Reynier
761  1L44:17 Emma Sheppard
1079 1:57:57 Paula Reynier
1220 2:03:40 Dawn Turner
1484 finished

Jack's time beat his own 1:10:42 club record from last year's Brass Monkey.
parkruns, Sat 11 Jan
From Petra Bijsterveld ... Results ...

Woodhouse Moor
(1  16:52 Rian McCawley, Aldershot, Farnham and District AC)
115 22:57 Tom Lambe
799 ran

Bradford
(1  17:32 Michael Malyon, Baildon Runners)
2   17:33 Steve Gott
35  22:00 Sally Malir
43  22:33 Oscar Street
176 27:03 Stephanie Fox
203 28:19 Paula Reynier
537 ran

Harrogate
(1  17:47 Chris Miller, Harrogate Harriers)
119 25:55 Jane Thomas
432 ran

Portrush
(1  20:20 unknown)
59  28:50 Hilda Coulsey
130 ran

Burnley
(1  17:27 Matthew Lalor, Ribble Valley)
89  26:05 Will Worboys
401 ran

Stewart (Middlesbrough)
(1  19:19 Daniel Angus, U/A)
27  23:19 Caroline Howe 1st F
414 ran

Skipton
(1  17:12 Chris Ovenden, Skipton AC)
16  22:31 Catherine Gibbons 1st F
44  24:42 Harry Sime
144 30:16 Jan Jones
303 ran

Horton Park
(1  20:02 George Dickinson, U/A)
2   20:29 Robin Nicholson
149 ran

Clapham Common
(1  17:55 Alex Donnet, U/A)
63  20:18 Rob Cunningham
1310 ran

Myrtle
(1  19:12 Hannah Oldroyd, Airedale Dodgers)
5   20:23 Michael Abrams-Cohen
223 ran

Yorkshire XC Championships Lightwater Valley, Sat 4 Jan
From Petra Bijsterveld ... Results ...

under 17 women
(1  16:03 Martha Calton-Seal, City of York AC)
21  19:53 Poppy Anderson
25 ran

under 20 men
(1  25:38 Joshua Dickinson, Leeds City AC)
4   26:21 Dom Coy
5   27:05 Cameron Reilly
24 ran

senior women
(1  28:22 Bronwen Owen, Leeds City AC)
41  33:45 Rachel Carter
84  37:05 Sarah Pickering
113 39:53 Alison Bennett
115 40:08 Sarah Edwards
147 44:02 Hilda Coulsey
152 44:26 Joanne Williamson
155 45:10 Petra Bijsterveld
164 46:46 Anna Pickering
168 47:23 Sally Pickering
173 ran

senior men
(1  30:59 Andrew Heyes, Hallamshire Harriers)
4   31:44 Tom Adams
9   32:13 Jack Wood
77  36:41 Steven Gott
127 39:22 Tim Ashelford
130 39:54 Jaysson Sawyer
180 42:15 Steve Coy
221 44:27 Mark Iley
285 48:38 Iain Young
317 ran

parkruns, Sat 4 Jan
From Petra Bijsterveld ... Results ...

Bradford
(1  16:31 Scott Harrington, Otley AC)
7   19:07 Nick Kealey
50  22:37 Oscar Street
114 25:21 Philip Hirst
196 28:02 Paula Reynier
530 ran

Hastings Foreshore
(1  15:32 Jess Dunsmore, Frankston AC)
33  23:15 David Singleton
163 ran

Greenpoint (SA)
(1  16:58 unknown)
62  22:20 Andrew Merrick
1084 ran

Skipton
(1  17:45 Chris Ovenden, Skipton AC)
17  22:34 Catherine Gibbons
42  24:17 Harry Sime
251 ran

Fountains Abbey
(1  16:45 Adam Pearson, Richmond and Zetland Harriers)
4   18:01 Michael Abrams-Cohen
483 ran

Horton Park
1   20:29 Robin Nicholson
9   22:46 Geoff Howard
80 ran

Harriers League 2019 winners
From Jane McCarthy... Well Done to Everyone who took part in the hotly contested 2019 Harriers League. Congratulations to Kate Archer, deserved Winner of the Overall League with a phenomenal score of 981 points, and a second generation win(!) following father, six-time League winner, Nick Pearce.
The Individual Leagues of Fell, Trail and Road, with a maximum of four races to count, were won by Jack Cummings (Fell), Rachel Carter (Trail) and Dave Westhead (Road), the latter less than a point ahead of Hilda Coulsey.
The Top Ten places in the Overall League went to 1st Kate Archer, 2nd Colin Williams (964 pts), 3rd Rachel Carter (878 pts), 4th Dave Westhead (845 pts) 5th Helen Waddington (808 pts), 6th Jonathan Turner (734 pts), 7th Steve Newell (721 pts), 8th Dan McKeown (653 pts), 9th Hilda Coulsey (647 pts), 10th Dave Robson (636 pts). Full Results Attached.
2019 final results tables
Congratulations All! Get your 2020 League Races in the Diary!
Captain Cooks race, Great Ayton, New Years Day
From Alison Weston ... won by Harry Holmes from Matlock in 30:37. I was 3rd lady vet 50 in 47:31. This was the first race of the 50@50 FRA listed races to celebrate the FRAs 50th anniversary. This list includes many of the original fell races including Ilkley fell race!
parkruns, New Year's Day
From Petra Bijsterveld ... Just a select few Harriers were out parkrunning on this beautiful sunny New Year's morning, with Jann Smith being first female at Myrtle. Some keen beans just couldn't get enough and did the double:
Alex Stanley-Hyde: Woodhouse Moor and Temple Newsam
Tom Lambe: Skipton and Cliffe Castle (Keighley)
Melanie Edwards: Myrtle (Bingley) and Cliffe Castle
Michael Abrams-Cohen, Jaysson Sawyer and Petra Bijsterveld: Harrogate and Conyngham Hall (Knaresborough)
Results ...

Woodhouse Moor
(1  16:47 Ciaran Forde, Leeds City AC)
387 27:22 Alex Stanley-Hyde
740 ran

Temple Newsam
(1  17:07 Edward Cator, City of Norwich AC)
210 28:50 Alex Stanley-Hyde
453 ran

Skipton
(1  18:54 Chris Watt, U/A)
30  22:50 Colin Williams
64  24:50 Tom Lambe
211 ran

Cliffe Castle
(1  19:47 unknown)
53  24:56 Tom Lambe
161 30:25 Melanie Edwards
348 ran

Myrtle
(1  19:30 Adam Kirk, Nidd Valley Road Runners)
16  23:13 Jann Smith 1st F
80  28:44 Melanie Edwards
176 ran

Harrogate
(1  18:05 Eddie Garner, U/A)
6   19:12 Michael Abrams-Cohen
242 28:14 Petra Bijsterveld
394 34:53 Jaysson Sawyer
459 ran

Conyngham Hall
(1  17:39 unknown)
11  20:08 Michael Abrams-Cohen
238 30:27 Petra Bijsterveld
408 38:56 Jaysson Sawyer
460 ran

Barry Island
(1  18:56 Sam White, Taunton AC)
7   21:00 Michael Lomas
193 ran

---