Ilkley Harriers news archive 2019
Outstanding Achievements, December
From the Committee ...
Racing:
Dave Foyston for a massive PB of 45:16 at the Chevin Chase.
Lucy Williamson for impressive finishes at Auld Lang Syne and The Stoop.
Paula Reynier for her commitment to parkrunning, having just clocked her 200th parkrun.
Hilda Coulsey for beating the LV65 record which had stood since 2007 with her time of 50:38 at the Telford 10k.
Nick Helliwell for his continued dramatic improvement as shown by 37:29 for the Ribble Valley 10k, just a few months after going sub-40 for the first time.
Volunteering:
Jane McCarthy for compiling the Harriers Race League results for 2019.
Jolly Holly Jog, Tue 31 Dec
From Geoff Howard ... Jaysson Sawyer and I joined 792 others in a muddy field in Ripon on Sunday for the JGJ. An undulating, mixed terrain,10+k favourite of mine through Studley Park. It is pretty serious at the sharp end, as shown by Andy Grant of Harrogate's first place in 36m 06s, and more seasonal fun run at the other end. Jaysson's great 40m 15s earned him 19th place. Some way behind, my exact 49m gained 140th. Chip timing in such a location never fails to impress.
Auld Lang Syne fell race, Tue 31 Dec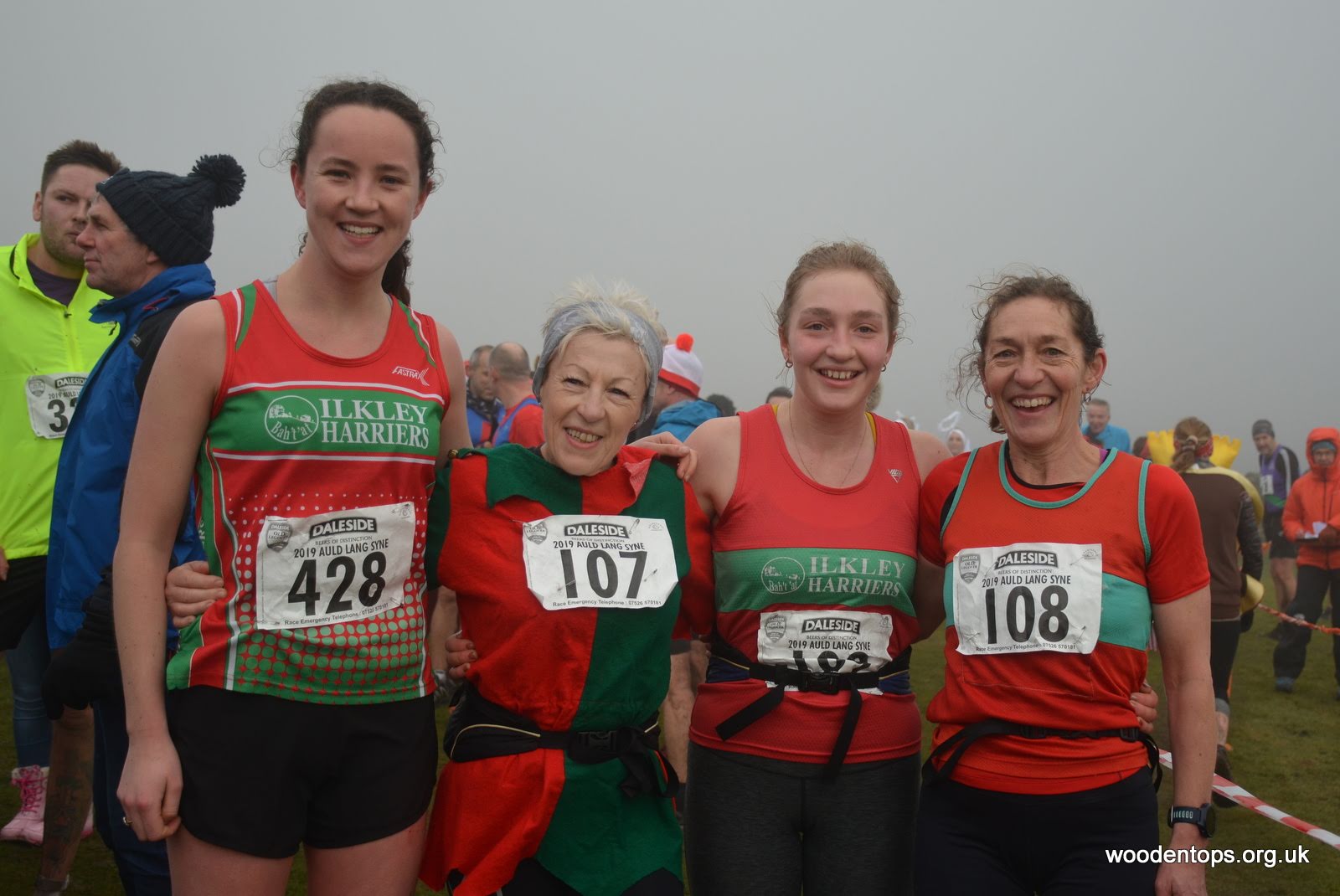 From Alison Weston ...
Jeff had a brilliant run to come first harrier home and first vet 50 in a very competitive field. Lucy was 6th lady, Kate was first vet 40 and Nea second under 21. Ilkley won the ladies team prize - Lucy, Kate and Alison
Results ...

(1  40:31 Mark Buckingham, Holmfirth)
34  50:33 Jeff Green (1st V50)
50  52:44 Lucy Williamson
66  54:31 Kate Archer
110 58:32 Paul Disney
134 60:25 Alistair Barlow
172 63:17 Alison Weston
253 70:23 Adela Reperecki
262 71:12 Nea Weston
365 finished
Ilkley ladies 1st team

Ribble Valley 10k, Sun 29 Dec
Results ...

(1  28:32 Marc Scott, Cambridge & Colleridge)
91  33:26 Dom Coy
210 37:29 Nick Helliwell
228 38:00 Mike Abrams-Cohen
256 38:49 Dave Westhead
306 40:38 Brit Tate
326 40:57 Harry Stead
429 43:47 Catherine Gibbons
433 43:50 Sally Malir 1st V50
515 45:38 Colin Williams
628 48:22 Helen Waddington
639 48:27 Alison Bennett
725 50:40 Jayne Norman
745 52:20 Hilda Coulsey 2nd F65
810 52:50 Dave Ibbotson
902 55:20 Petra Bijsterveld
904 55:27 Alex Stanley-Hyde
981 56:44 Bernie Gibbons 3rd F65
1283 finished

parkruns, Sat 28 Dec
From Petra Bijsterveld ... At Bradford the previous course record of 15:49, set by Tom Adams in 2013, was broken by 2 seconds this morning by James Habergham from Halifax.
Results ...

Bradford
(1  15:47 James Habergham, Halifax Harriers)
30  21:24 Beth Massey
63  22:53 Oscar Street
189 27:37 Petra Bijsterveld
195 27:47 Alex Stanley-Hyde
521 ran

Roundhay
(1  18:46 Richard Drake, Roundhay Runners)
41  22:46 Tom Worboys
384 ran

Skipton
(1  17:14 unknown)
8   20:16 Tim Ashelford
218 ran

Fountains Abbey
(1  16:50 Robin Regan, Eden Runners)
12  18:55 Jaysson Sawyer
551 ran

Cliffe Castle
(1  18:55 Ian Willis, KCAC)
11  23:43 Jann Smith 1st F
132 ran

Centre Vale
(1  16:53 Andrew Worster, Vegan Runners)
28  26:24 Will Worboys
95 ran

Conyngham Hall
(1  19:04 unknown)
23  24:51 Robin Nicholson
130 ran

Chevin Chase, Boxing Day
From Petra Bijsterveld ... Results ...

1   38:53 Jack Wood
2   39:08 Nathan Edmondson
3   39:18 Jack Cummings
4   39:26 Tom Adams 1st V35
21  43:51 Ben Stevens
25  44:28 Steven Gott
38  45:16 Dave Foyston
53  47:02 Nick Kealey
55  47:07 Tim Ashelford 1st V55
71  48:21 Gavin Lamb
78  48:33 Jonathan Turner
92  49:10 Dave Robson
93  49:12 Rachel Carter 1st F40
114 49:55 Daniel Hayes
120 50:16 Ralph Tench
126 50:39 John Hayes
163 52:17 Michael Lomas
178 52:54 Brit Tate
240 54:39 Helen Wood
256 55:37 Catherine Crawley
304 56:34 Daryl King
325 57:29 Derek Oliver
357 58:15 Matthew Snow
368 58:29 Paul Stephens
442 60:58 Tom Lally
457 60:48 Tom Worboys
468 61:40 Martyn Stocker
475 61:21 Rob Budding
490 62:07 Robert Meadows
503 61:55 Michael Ho
505 62:17 Geoffrey White
521 63:01 David Taylor
573 64:13 Jayne Norman
604 65:17 Sarah Edwards
684 67:09 Nicola Budding
711 67:49 Will Worboys
715 68:14 Adi Weatherly
786 70:59 Petra Bijsterveld
802 70:59 David Ibbotson
822 71:10 Helen Horton
824 71:13 Nigel Tapper
897 74:33 Bernie Gibbons
1141 finished

parkruns, Christmas Day
From Petra Bijsterveld ... Results ...

Bradford
1   17:58 Cameron Reilly
65  24:01 Arthur Reilly
92  25:44 Tom Worboys
386 ran

Harrogate
1   17:26 Ruaridh Mon-Williams
22  20:14 Mark Mon-Williams
129 24:19 Rebecca Mon-Williams
567 ran

Barnsley
(1  17:09 Gareth Cooke, Penistone Footpath Runners)
37  21:24 Beth Massey 1st F
287 ran

Roundhay
(1  16:53 Callum Elson, Roundhay Runners)
80  22:24 Poppy Anderson
278 27:35 Petra Bijsterveld
558 ran

Burnley
(1  17:24 Calum Holmes, Blackburn Harriers)
128 27:13 Melanie Edwards
323 ran

Skipton
(1  17:24 unknown)
9   20:37 Adam Bennett
24  21:55 Catherine Gibbons 2nd F
57  24:22 Alison Bennett
234 ran

Uckfield
(1  22:09 Paul Savage, Prestwich AC)
8   25:06 Rob Cunningham
87 ran

Tuesday training, Christmas break
Merry Christmas to all Harriers. NB There will be no Tuesday evening social training sessions 24th and 31st.
Tinsel Torch Run, Sun 22 Dec
From Jann Smith ... This is a great little fun race fundraiser for Upper Wharfedale Fell Rescue organised by Due North. 3miles / 800ft Fancy dress is almist obligatory. It sets off at 4.30pm in the dark running up Skipton moor to the Trig point and around. Paul ran round with his Mum in 54:05, I was 10th place and 3rd lady in 32:47.
parkruns, Sat 21 Dec
From Petra Bijsterveld ... As we all know parkrun is a run, not a race, yet I am proud to report that this week 4 members of our club went under 16 minutes at parkrun. Tom and Jack battled it out at York, Cameron smashed it at Fountains Abbey, and newish member Oli Murphy did the same at Morecambe. Nearer home Rachel Carter was 1st female at Bradford on her first visit there, and Mike AC continued his excellent current form by knocking off over a minute from his previous Bradford time. Geoff Howard and Tim Ashelford both remain on awesome form with fantastic age-graded results.
Results ...

York
1   15:14 Jack Wood
2   15:40 Tom Adams
485 ran

Bradford
(1  17:29 Will Kerr, Saltaire Striders)
5   18:35 Michael Abrams-Cohen
13  19:39 Rachel Carter 1st F
29  21:34 Beth Massey
89  25:20 Phil Hirst
152 27:57 Petra Bijsterveld
328 ran

Skipton
(1  16:48 Robin Whiteley, Asics West Track and Field)
130 29:55 Bernie Gibbons
193 ran

Fountains Abbey
1   15:58 Cameron Reilly
95  23:00 Geoff Howard
462 ran

Castle Park
(1  17:27 Andrew Mynott, Saffron Striders RC)
6   19:18 Tim Ashelford
273 ran

Centre Vale
(1  18:41 Ste Brock, Wharfedale Harriers)
35  26:09 Will Worboys
98 ran

Morecambe Prom
1   15:54 Oli Murphy
173 ran

The Stoop fell race, Sun 15 Dec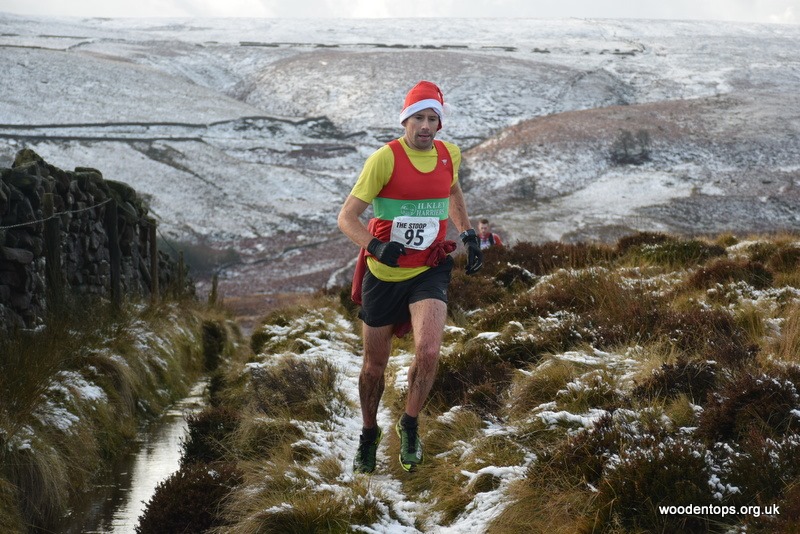 1   35:20 Tom Adams
5   36:16 ack Cummings
11  37:49 Oli Murphy
40  44:23 Lucy Williamson 3rd lady
43  45:06 Neil Wilson
50  45:51 Kate Archer
52  45:53 Rachel Carter
54  46:08 Richard Joel
63  47:20 Alistair BArlow
65  47:35 Colin Williams
110 53:46 Alison Weston
123 54:37 Geoffrey White
177 67:25 Amanda Newham
190 finished
Ilkley won both men's and ladies' team prizes

PECO XC 2, Middleton Park, Sun 15 Dec

Men
1   26:24 Nathan Edmondson
31  29:47 Steve Gott
43  30:14 Dan McKeown
85  31:53 Jaysson Sawyer
173 34:39 Simon Richardson
198 35:36 Rob Budding
476 finished

Ladies
(1  32:29 Alice Rogers, Abbey)
125 43:32 Dian Kitchen 1st F60
173 45:37 Nicoila Budding
286 52:41 Sue Williamson
287 52:42 Kate Lofthouse
352 finished

Gathering Winter Fools Relay, Sat 14 Dec
From Caroline Howe ... The aptly named Gathering Winter Fools relay saw 3 Harriers teams of 8 take part this year in what is a fun festive occasion. Istvan Jacso assembled a strong men's A team, named Platypus Power, to defend the title won in 2018. Nick Helliwell and new member Nick Kealey led the team off in style on the 9 mile first leg, handing over to Steve Gott and Oli Murphy for the Kildwick to East Morton leg, then Paul Carman and Iain Gibbons, and finally Istvan and Dan McKeown taking the team home to Keighley in the bronze medal position.
We also had a strong men's B team, Rebelves without a Claus (team name decided after a very long WhatsApp debate!) with Steve Murray and Mike AC on leg 1, performing brilliantly but hampered slightly in the latter stages by Steve's sodden elf trousers. Pete Shelley and Jeff Green took on leg 2, then Mike Duffield and Dave Robson on 3, and Paul Disney and Mark Judkowski on the final leg, ensuring a fantastic top 10 finish for the team.
Jingle Belles, the ladies' team, was led off by Catherine Crawley and Rachel Carter with a strong performance, handing over to me and Sally Armitage. Leg 2 is a tough, boggy 9.5 miles, which I fear has done nothing to persuade Sally away from the roads and on to the fells in future... We dragged each other round to give Jane Bryant and Anna Nolan a slight head start on the mass start for leg 3. After a great run they handed over to Petra and Jacqui Weston, who laid old ghosts to rest after a traumatic experience on this leg last year which involved freezing rain. This year, it was just a few hail showers to contend with, and they breezed round the 7 miles in style! Not sure of our overall placing as no official results yet.
This relay is a great occasion on the trails and hills around Keighley, Bingley, Silsden, where festive fancy dress abounds, and the weather adds to the fun! Take a look at Dave Woodhead's photos on Facebook to get a sense of the occasion! Looking forward to next year!
Hurst Green Turkey Trot, Sat 14 Dec
Results ...

1 28:47 Tom Adams
297 finished

parkruns, Sat 14 Dec
From Petra Bijsterveld ... Results ...

Woodhouse Moor
1   16:18 Nathan Edmondson
117 23:59 Tom Lambe
536 ran

Skipton
(1  16:28 Sebastian Segger-Staveley, Settle Harriers)
21  22:24 Catherine Gibbons
45  25:59 Geoff Howard
149 ran

Shrewsbury
(1  15:37 Liam Rawlings, Oswestry Olympians)
2   15:38 Jack Wood
415 ran

Fountains Abbey
(1  17:37 Stephen Ellison, U/A)
3   19:15 Helen Thurston 1st F
360 ran

WYXC, Spenborough, Sun 8 Dec
Well done to Dom Coy, overall senior male and U20 male West Yorkshire cross country champion.
Race results ...

Men, 9th team
(1  31:17 Joe Baxter, P&B)
2   31:49 Dom Coy
25  35:30 Steve Gott
46  37:39 Tim Ashelford
69  39:54 Steve Coy
87  41:37 Rob Budding
95  42:55 Mark Iley
108 49:23 Phil Chappell
110 50:12 Michael Ho
119 finished

Ladies, 10th team
(1 20:18 Jennifer Walsh, Leeds)
33 25:22 Beth Massey
38 25:50 Sally Malir
63 29:12 Joanne Williamson
72 31:34 Petra Bijsterveld
82 finished

Mytholmroyd Fell Race, Sun 8 Dec
From Istvan Jacso ... The Mytholmroyd Fell Race is a great low key winter race in typical tough Pennine terrain. The course is very exciting with climbs of all sorts of gradients, sharp and tricky downhills but also with some where you can just let the legs go as fast as they can, plenty of bogs, puddles, mud, beer (free) and cake (£1)! It's less than an hour drive from Ilkley so I was surprised not to see more harriers. At the end I finished 6th overall and first M40 although two M50 runners finished ahead of me showing how much experience is valuable at fell running! Highly recommended!
Results ...

(1 48:27 Karl Gray, CVFR)
6  51:57 Istvan Jacso
212 finished

Telford 10k, Sun 8 Dec
From Hilda Coulsey... This 'road' race was actually fully inside a park, the paths were quite narrow with puddles and leaves. However it was billed as a fast 10k and also hosted England qualifying places for next year's 10k internationals so it was worth a shot and, although the day was poor weather wise, it's the same for everyone, allegedly!
I was very pleased that my training progress this year has borne fruit again so that I posted a time to take the Harriers v65 record which has stood since 2007 set by Margot Dale by some 40 seconds. I didn't get the England qualifying spot but I am always inspired by others' outstanding results, my age category being won by Dot Kesterton, Sheffield Steelers, in a time of 46:46.
Results ...

(1  28:32 Adam Craig, Inverclyde)
758 50:38 Hilda Coulsey
1127 finished

Cheviot Goat, Sat 7 Dec
From Steve Turland... Tough day out in the Cheviots on Saturday doing the Cheviot Goat. Lots (and lots and lots) of bogs - pulled one chap out who was up to his waist. Conditions for the second half were difficult with strong winds and zero visibility but managed to miss the worst of the weather, as winds reached 80mph for some of the later competitors. Garmin clocked 55 miles and 10,800ft in just over 12 hours. Did quite well, finishing 17th out of about 220 runners in quite a competitive field. Good prep for the Spine Challenger in a few weeks time.
Langdale Christmas Pudding 10K, Sat 7 Dec
From Alison Weston ... Results ...

(1  34:51 Pete Harrison, Helm Hill)
180 51:31 Alison Weston
717 finished

parkruns, Sat 7 Dec
From Petra Bijsterveld ... Results ...

Cardiff
(1  16:30 Oliver Carrington, Newark AC)
13  18:19 Alex Hirst
571 ran

Bradford
(1  17:27 Michael McCartney, Bingley Harriers)
31  22:20 Oscar Street
129 27:34 Paula Reynier
319 ran

Skipton
(1  18:12 Jake Riddings, U/A)
26  22:33 Catherine Gibbons
196 ran

Penrhyn
(1  17:05, unknown)
3   19:09 Lucy Williamson 1st F
96 ran

Bramley
1   17:01 Nathan Edmondson
120 ran

Ealing Mile, Fri 6 Dec
From Geoffrey Howard ... What do you do if you have park with a perimeter path exactly one mile long? Well, Ealing Eagles, having such an asset on their patch (Lammas Park), have been hosting UKA licensed lunchtime races every first Friday of the month for the past two years. Peeved at having to miss the annual Golden Mile at Becketts Park in September, I took advantage of a cheap Off-Peak return and the, nostalgically low, £3 entry fee to join forty three others on the start line for the last race of the year. There were at least dozen officials/marshals at a superbly organised event (receiving a personalised results e-mail before I got home) with all the friendly ambience of a park run (including a tail walker for the last competitors finishing in twenty minutes). Two Eagles were first man (Colin Clifford 5m 8s) and woman (Yvette Burton 6m 3s). I was pleased to run sub 7m in 6m 46s. I fully intend to repeat the experience next year and thoroughly recommend it to any Harrier in the 'Smoke' on holiday or business (12.30 start and only ten minutes from South Ealing tube station). The on-tarmac one mile seems to be a real Cinderella event, unattractive to organisers or just not fashionable, and I can't recall ever having done one before.
---