Ilkley Harriers news archive 2019
Outstanding Achievements, November
From the Committee ...
Racing:
Mike AC lots of PBs, including 37:45 for the Heaton Park Memorial 10k (having never gone under 40 minutes before!)
Tom Adams for his amazing 4 consecutive wins in 4 days and great times in Cyprus
Sally Armitage's sub-40 10km at the Doncaster 10km (39:14)
Catherine Crawley, Burley Moor fell race, almost 7 mins faster than last year (ran previously before she became a member of Ilkley Harriers)
Nathan Edmondson for winning the 1st PECO, 2nd place at the Shepherd's Skyline fell race, 1st place at the Harriers v's Cyclists event
Fiona Schneider for running the Athens marathon
Colin Williams for 4 marathons in 4 days (Fewston/Swinsty)
Lucy Williamson for fourth place overall (first lady) in Betws-y-Coed Trail 10k
Jack Wood for competing in the World Mountain running championships in Patagonia, silver medal at the British Fell Championships
Volunteering:
All running leaders on the Tuesday night club runs
Leeds Evensplits 5k cumulative results 2019
From Hilda Coulsey ... Age category winners accumulate lowest times over their best 6 out of 10 races in the year. Of those Harriers completing 6 or more Dan McKeown was first Harrier placed in a very creditable 1:45:34 for 2nd V40. Mike AC has run so much faster over the year, with a difference of 1min 33 between fastest and slowest times.

(1 Jonny Johnson Rotherham 1:35:16 for his best 6)
10 Dan McKeown 1:45:34 2nd V40
20 Steve Coy 1:51:20 3rd V45
21 Michael Abrams Cohen 1:52:49
40 Robert Budding 2:03:13 2nd V50
81 Hilda Coulsey 2:31:33 1st V65

Podium 5k B race, Sat 30 Nov
From Sally Armitage ... Conditions were.... 'interesting' to say the least. By the time we arrived the cycle track had near enough completely frozen over and turned into an ice skating rink. Disappointing as, other than that, conditions were perfect. The race went again regardless and all 3 of us gave it a go, needless to say it was not a PB day for most.
From Mike Abrams-Cohen ... A death defyingly icy course, that in all truth should have been cancelled. Sally continued her form shaving a few seconds off her 5k time, whilst Dave and I finished very closely to each other, in relatively good times for the hazardous conditions.

(1 17:01 Daniel Lilley, Chorley AC & Tri Club)
12 18:24 Mike Abrams-Cohen 
14 18:33 David Foyston 
21 19:23 Sally Armitage 
34 ran

parkruns, Sat 30 Nov
From Petra Bijsterveld ...
Results
...

Bradford
(1  17:52 Martin Fillingham, Saltaire Striders)
43  22:49 Matthew Snow
268 ran

Skipton
(1  17:59 unknown)
2   19:03 Martin Archer
6   19:51 Rachel Carter 1st F
9   20:54 Rob Budding
80  26:56 Nicola Budding
191 ran

Wetherby
(1  19:04 Daniel Linstrum, Wetherby Runners)
21  24:18 Geoff Howard
73 ran

Roundhay
(1  17:56 Andrew Stemp, West Anglian Orienteering)
210 27:59 Petra Bijsterveld
403 ran

Evensplits Leeds 5K - race 10, Wed 27 Nov
From Hilda Coulsey... On a dark and rainy late November evening it became quite exciting at the sharp end of this race. Dom Coy was so close to a win and with Nathan took the Harriers top spots. Mike AC continued his run of excellent times with a pb for this course and with Dave Westhead and Helen Thurston under 19:00 too competition and performance is strong.

(1  15:52 Jonny Johnson, Rotherham)
2   15:53 Dom Coy
10  17:43 Nathan Coy 
22  18:05 Mike Abrams-Cohen 
27  18:41 David Westhead 
32  18:58 Helen Thurston 
49  20:10 Steve Coy 
57  20:39 Robert Budding 
101 24:46 Hilda Coulsey 

Cumulative results for overall 2019 prizes soon ...
PECO XC, Sun 24 Nov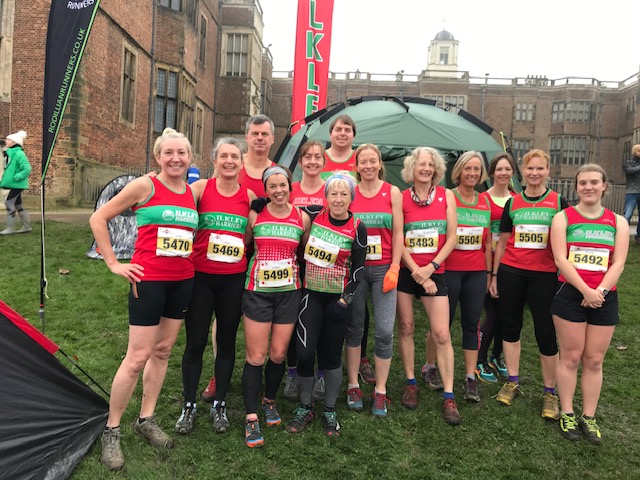 Congratulations to Nathan Edmondson on his win. Results ...

Men
1   27:13 Nathan Edmondson
24  30:28 Matt Cox
26  30:33 Dan Mckeown
34  30:52 Steve Gott
85  32:42 Jaysson Sawyer
107 33:25 Steve Murray
134 34:25 Dave Westhead
210 36:18 Simon Richardson
215 36:25 Rob Budding
376 41:21 David Singleton
385 41:40 Matthew Snow
428 43:14 Geoffrey White
562 finished

Ladies
(1  31:26 Alice Leake, Leeds)
79  40:27 Caroline Howe
98  41:32 Anna Nolan
99  41:32 Jane Bryant
137 43:29 Alison Bennett
155 44:21 Helen Waddington
184 45:11 Adela Reperecki
185 45:19 Ros Brown
190 45:27 Helen Horton
195 45:38 Diane Kitchen
219 46:30 Anna Pickering
220 46:32 Nicola Budding
310 49:46 Jacqui Weston
367 52:47 Sue Williamson
390 54:13 Sally Wright
470 finished

Swinsty & Fewston Marathon - Day 4, Sun 24 Nov
From Colin Williams ... Today was the fourth and final day of the Swinsty & Fewston Marathon series, thankfully, because I don't think I had another day in me. A busy course today, without the rain, walkers and dogs were out in force.
The Marathon course is four laps of the two reservoirs following the footpaths with a total of 2,000 ft of climb.
I had my second fastest time of the week today 4rs 23min, mainly because of a fast finish, as I knew I wasn't running it again tomorrow.
Thank you everyone who sent me messages on WhatsApp
Results ...
Doncaster 10k, Sun 24 Nov
From Sally Armitage ... A fast, mostly flat, 10k road race. I entered this race in an effort to get closer to 40 minutes, I never imagined I'd actually get under 40 minutes! I was the only Harrier to make the trip over. Well organised, chip timed, conditions were perfect, spot on.

(1  31:26 Nick Martin, Caistor RC) 
141 39:14 Sally Armitage 
2515 ran

Cyprus Trail Half Marathon, Sat 23 Nov
From Tom Adams ... I've been meaning to do the Cyprus Four Day Challenge for quite some time and this year I finally got round to having a go. The Cyprus International Four Day comprises of a 6km time trial, 11km uphill race, trail half marathon and a 10km road race. I've never done a multi stage race before and it's rare that I've even done two races back to back, so I thought why not jump in at the deep end and do four races in a row.
Waking up the day of the first race, I felt refreshed and ready to go. The race wasn't until 3pm, which isn't the best time for me to race, but a good bowl of porridge with banana mid morning and a banana a few hours before meant I was just about ready to run. The first race was a 6km time trial with people being set off at 10 second intervals. I felt strong and gave it full beans. Final results say that I ran 18:55 for the 6km, so I was happy with that. I was a bit worried that going eyeballs out on the first event might leave me jaded, but a dip in the sea and a chicken kebab seemed to sort me out.
Day two was an early start, and a bus over to the Akamas Peninsula. Today's race was 11km uphill with 650m of ascent. It wasn't majorly steep, so some fast running allowed me to finish in 45:40. I had thought about conserving energy for the trail half marathon the next day, but couldn't help myself and once again gave it everything.
Day three, another early start for the trail half marathon. The race had a steep old start with about 200m of ascent in the first 6km. Not only did I feel good on this run, I ended up running 71 minutes for a hilly trail half marathon. This was my pb for a half and has made me think that maybe I should have a go at a flat road one to see what time I could do.
I thought I'd be feeling pretty wrecked by this point, but other than slightly achey muscles, I felt good and ready for the final assault. Very early start this time as the race started at 8am. I had my usual porridge breakfast and headed to Paphos harbour where the race started. It was a fast start being led out by the police on motorbikes closing the roads as I went. I was feeling it a bit in the legs at the 6km marker, but kicked on and finished in 31:57. I never thought I could possibly go sub 32 with three days of hard racing in my legs, but I'd done it in style.
From Caroline Howe ... Congratulations to Tom on his win, beating Eddie Irving's V35 Club Record (1:11:21, Brass Monkey 2000).
Results ...

1 1:11:17 Tom Adams
275 finished

Tom also won every other race in the Cyprus International 4 Day Challenge! And his 10k time was the fastest by a Harrier this year!

21/11 6km Time Trial
1 18:55 Tom Adams
273 finished

22/11 11km Hill Climb
1 45:46 Tom Adams
262 finished

24/11 10km City Run
1 31:17 Tom Adams
313 finished

Swinsty & Fewston Marathon - Day 3, Sat 23 Nov
From Colin Williams ... Day three of four and it doesn't get any easier, today we had to contend with heavy rain for three of the four laps. I was a little slower than yesterday in a time of 4hr 30 mins and finished 15th. Full results to follow.
parkruns, Sat 23 Nov
From Petra Bijsterveld ...
ome excellent parkrun results this week in what were very wet and 'Novembery' conditions, at least in Yorkshire. Nathan Edmondson was the first finisher at Leeds Woodhouse Moor, and Beth Massey the 1st woman at Bradford Lister Park. In Edinburgh Ruaridh Mon-Williams was 2nd, and nearer home in Skipton Michael Abrams-Cohen was delighted to come 4th which is his best ever finishing position in a parkrun and a just reward for lots of hard training in recent times. Onwards and upwards!
Results
...

Woodhouse Moor
1   16:18 Nathan Edmondson
400 ran

Cardiff
(1  15:50 Jack Hope, Kettering Town Harriers)
25  18:24 Alex Hirst
576 ran

Edinburgh
(1  16:13 Sam Brown, Edinburgh AC)
2   17:09 Ruaridh Mon-Williams
565 ran

Bradford
(1  17:54 Michael McCartney, Bingley Harriers)
31  22:07 Beth Massey 1st F
295 ran

Warrington
(1  16:58 Daniel Fox, Warrington AC)
60  22:41 Tom Worboys
420 ran

Skipton
(1  18:00 Samuel William, Skipton AC)
4   19:11 Michael Abrams-Cohen_
27  23:25 Harry Sime
152 ran

Ellenbrook Fields
(1  17:17 Rowan Daly, St Albans AC)
138 27:45 Melanie Edwards
278 ran

Centre Vale
(1  18:09 Andy Ford, Todmorden Harriers)
33  25:36 Will Worboys
121 ran

Roundhay
(1 18:44 Oliver Roberts, Dark Peak)
172 30:23 Petra Bijsterveld
245 ran

Swinsty & Fewston Marathon - Day 2, Fri 22 Nov
From Colin Williams ... I took part in the Swinsty & Fewston Marathon - Day 2 today, same course as yesterday, but I was a lot slower 4 hrs 24 mins, coming 12th, but this is the first time I have run marathons on consecutive days.
Swinsty & Fewston Marathon - Day 1, Thu 21 Nov
From Colin Williams ... today I took part in the first day of the Swinsty & Fewston Marathon, (or Swinsty and Pewton as it says on the medal ribbon). I haven't seen the full results yet, but I came 7th in a time of 3:49:49, the race was won in a time of 3:13:24.
WYXC, West Park, Sun 17 Nov
From Michael Abrams-Cohen ... Results ...

Ladies, 4th team
(1 19:54 Alexandra Bell, Pudsey & Bramley)
19 24:00 Kate Archer 
22 24:11 Rachel Carter 
31 25:10 Sarah Pickering 
38 26:25 Beth Massey 
40 26:36 Sally Malir 
65 29:23 Alison Bennett 
74 30:43 Joanne Williamson
76 32:36 Petra Bijsterveld 
81 33:23 Anna Pickering 
90 ran

Men, 5th team
(1  27:52 Graham Rush, Leeds City)
5   28:50 Dom Coy 
15  30:17 Cam Reilly 
29  31:36 Steve Gott 
49  32:59 Tim Ashelford 
77  35:04 Steve Murray 
78  35:07 Michael Abrams-Cohen 
90  36:05 Steve Coy 
121 39:06 Mark Iley 
142 43:56 Michael Ho 
143 44:05 Phillip Chappell 
153 finished 

Great Ethiopian Run - 10k, Sun 17 Nov
From Paul Stephens ... More of a fun run rather than a race but a brilliant experience. 40,000+ people running, jogging and walking round the streets of Addis Ababa. Lots of singing, chanting and selfies. I was running of course, as best I could. It took 15 minutes to get through the first 2k but I got a little faster after that, and seemed to cope with the altitude - c2500m, and the hills. About 450ft of ascent in total with the last 3k downhill which was helpful.
There was an elite race which was timed, but no timing for the masses. My watch says 55.57 which given conditions I was happy with.
LDWA Wensleydale Wedge, Sun 17 Nov
From Mark Judkowski ... Time: 4h 23 min (winning time was around 3h 20)
23 miles in the north Dales from Askrigg, through Thoralby to Bolton Castle and back. It's a typical low key but well organised LDWA event. Most of the running is on good tracks but the recent weather made some of them a bit more challenging. Apparently the views are good but for the second year in a row low cloud spoilt it for the first half.
Full Tour of Pendle, Sat 16 Nov
From Dave Robson ... Really well organised and marshalled race which includes a t-shirt and a choice of beer all for £9! The course is just under 17 miles with 1470m of climbing all achieved on a hill of 558 metres at it's highest point. The first 7 miles is straightforward enough - big climb to top of the hill then a great, long, fast descent. After this it gets tough........ The second half of the race is a series of five steep climbs and descents, attacking the hill from various angles, which seem to get progressively harder as you go (or maybe that was just me?)
It is fair to say I went out too fast and suffered toward the end, losing quite a few places, but I will put this down to experience and all in all I was happy enough with my time of 3h 12mins.
Fellow Harriers, Paul Carman and Jeff Green both finished with excellent times under the 3 hour mark.
It's a friendly event with around 350 runners and I would recommend it but make sure you pace it better than me!

(1  2:20:02 Chris Holdsworth, Ribble Valley)
51  2:55:45 Paul Carman
61  2:59:36 Jeff Green 
101 3:12:04 Dave Robson

Kendal Mountain Festival 10k Trail Run, Sat 16 Nov

Men
1  38:15 Tom Adams
52 47:35 Jim Ryder
393 finished

Ladies
221 77:19 Jacqui Weston
297 finished

Harriers vs. Cyclists, Sat 16 Nov

1  36:01 Nathan Edmondson
3  37:14 Jack Cummings (2nd runner)
11 40:53 Istvan Jacso
16 42:00 Dan McKeown
28 43:08 Nick Helliwell
49 45:36 Gavin Lamb
76 48:23 Paul Disney
210 runners and cyclists

Northern Masters 5k, Sat 16 Nov

1  16:58 Dan McKeown
2  17:12 Istvan Jacso
7  18:13 David Foyston
10 18:29 Jaysson Sawyer
15 18:59 Helen Thurston
22 19:46 Sally Armitage
28 20:25 Beth Massey
57 finished

World Mountain Running Championships, Sat 16 Nov
From Ben Sheppard ... Well done to our very own Jack Wood, doing himself and his club and country proud on the biggest stage, competing with the best long distance mountain runners in the world in Patagonia over a 41.5k course with 2,184m of ascent.
Results ...

(1 3:12:16 Jim Wa;msley, USA)
43 3:52:34 Jack Wood
88 finished

... and photos of Jack in action here, and here.
parkruns, Sat 16 Nov
From Petra Bijsterveld ...
Results
...

Fountains Abbey
(1  17:32 Stephen Ellison, U/A)
76  22:25 Jann Smith
419 ran

Skipton
(1  18:39 Julian Hood, Skipton AC)
18  22:57 Catherine Gibbons
170 ran

Cardiff
(1  16:03 Mukhtaar Farhan, U/A)
17  18:38 Alex Hirst
687 ran

Hell of a Hill day 3, Fri 15 Nov
From Colin Williams... On Friday I took part in the "Hell of the Hill", a series of five marathons described as one of the toughest marathons routes, with over 4,000 feet elevation gain and 26.2 miles of tough stone and muddy trails, running 5 laps over Rivington Pike near Chorley.
This is my third time of running this tough but enjoyable event on a Friday, having been injured and therefore not been putting in the miles, I was disappointed, but not surprised to be 40 mins slower that last year. I finished 4th of the single day runners, 7th out of 55 runners overall, in a time of 4:40:13
Results
York Evensplits 5k, Thu 14 Nov
From Michael Abrams-Cohen ... The last race of the York Evensplits series saw a depleted field take on the five lap course in less than ideal condition. The torrential rain and strong winds didnt stop us!

(1 15:44 Jonathan Johnson, Harrogate)
12 17:19 Dan McKeown 
23 18:03 Michael Abrams-Cohen 
44 20:36 Mark Iley 
71 finishers

League 2020 races
From Jane McCarthy... GET YOUR 2020 CALENDARS OUT - ILKLEY HARRIER LEAGUE RACES for 2020 announced!
We have our Club Races, Old Favourites and some exciting New Races in the League next year. After Stanbury Splash in January, Dewsbury 10K will be the first Road race - with nearly 30 Harriers registered to run it should be a great start to the League competition. For those who have missed out on a Dewsbury entry, there are 7 more great Road races to choose from.
2020 races on the League page
Heaton Memorial 10k, Sun 10 Nov
From Michael Abrams-Cohen... Returning to Newcastle Town Moor for the Heaton Memorial 10k, where I ran last year in 40:47, with the aim of breaking 40 minutes for the first time. I surprised myself with a massive 3 minute PB finishing in a time of 37:45 to finish in a respectable 67th place.

(1 30:41 Marc Brown, Salford)
67 37:45 Michael Abrams Cohen (PB) 
504 finished

Run Bolton Abbey races, Sun 10 Nov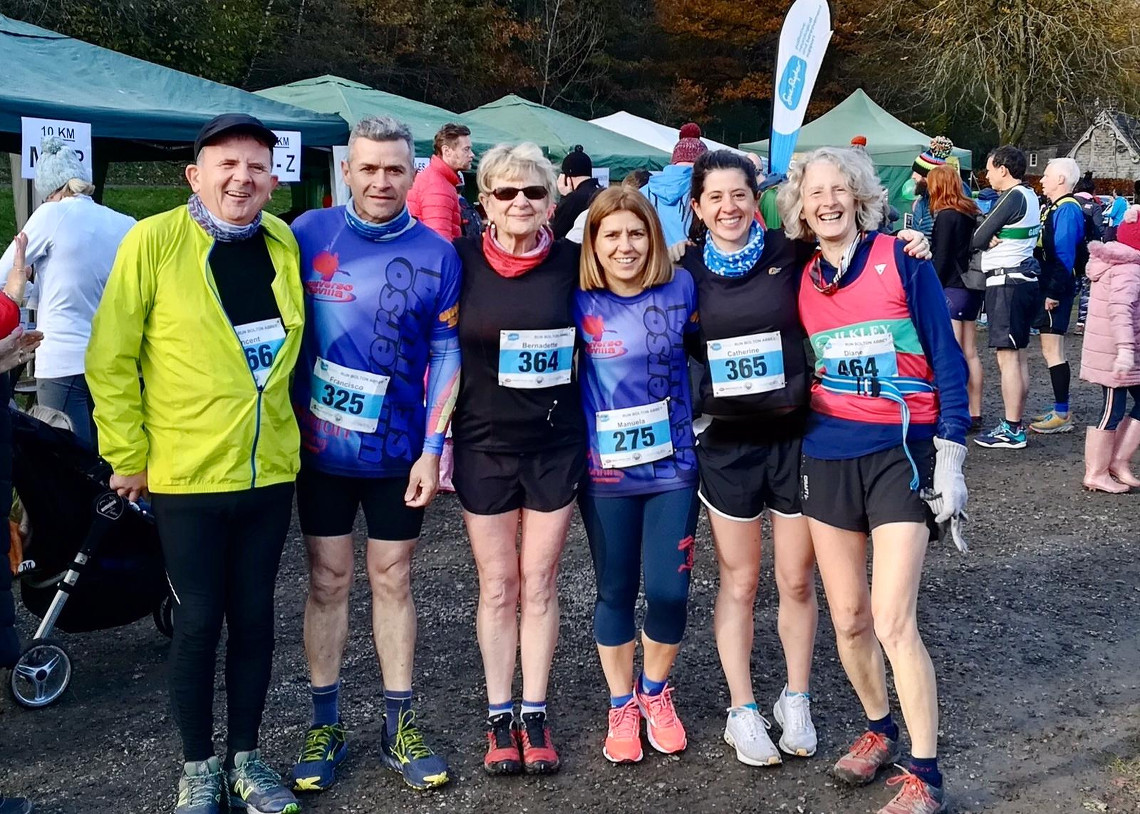 From Vince Gibbons ... Wonderful hilly trail run in grounds of The Devonshire Estate today. The course ran across land usually closed to the public. We were joined by Paco and Manuela, runners from Universo Sevilla. Being used to winter running temperatures above 20C, they found our Yorkshire conditions a little bracing! Many thanks to my better half Bernie, daughter Catherine and friend Dianne Kitchen for acting as tour guides and translations whilst running. This annual event covers extraordinarily beautiful terrain. Strongly recommended. Please ignore the race times, folks. Surely it was more that 10k or am I showing my age?
Results...

Half Marathon
(1  1:33:31 Spencer Shaw)
28  1 53:15 Jonathan Turner
42  1:58:37 Paul Disney
68  2:07:06 Peter Roll
69  2:07:08 Rob Budding
79  2:10:41 Caroline Howe
91  2:13:33 Oliver Street
102 2:18:35 David Howe
131 2:27:21 Jill Ezard
136 2:29:42 Fran Cunningham
191 2:51:03 Paul Sugden
212 finished

10 mile
(1 1:11:03 Tim Brook, Northowram Pumas)
21 1:26:04 Derek Oliver
37 1:35:14 Jane Bryant
198 finished

10k
(1    44:38 Jake Ridding)
28    56:55 Catherine Gibbons
174 1:11:08 Diane Kitchen
186 1:13:25 Amanda Newham
207 1:14:27 Bernadette Gibbons
222 1:16:24 Julie Brunton
273 1:18:43 Vince Gibbons
323 1:22:37 Sara Pearce
348 1:24:12 Murna Downs
493 finished

Athens Marathon, Sun 10 Nov
From Fiona Schneider... What do you do when your sons give you a marathon entry as a 60th birthday present? You all know what to do ..just get out there and enjoy it! The Athens marathon starts right there ...in Marathon by the Olympic flame and ends in the Panathenaic Stadium, the route being the same as in 490BC and used as the first route of the modern Olympics over 100 years ago. For those wanting a flat city tour, this is not it, but the climb of 395 metres adds the interest. I struggled with the hill, perhaps with the heat and humidity but the best part is the last 10km downhill. Just for once that heartsink last 2km of marathon running, (Can I really be this slow?) for me at least, was removed with a proper downhill to the finish line. That was a great pleasure.
Results...

(1   2:16:34 Komen John Kipkokir)
9318 4:45:57 Fiona Schneider
16522 finished

10th Burley Moor run, Sat 9 Nov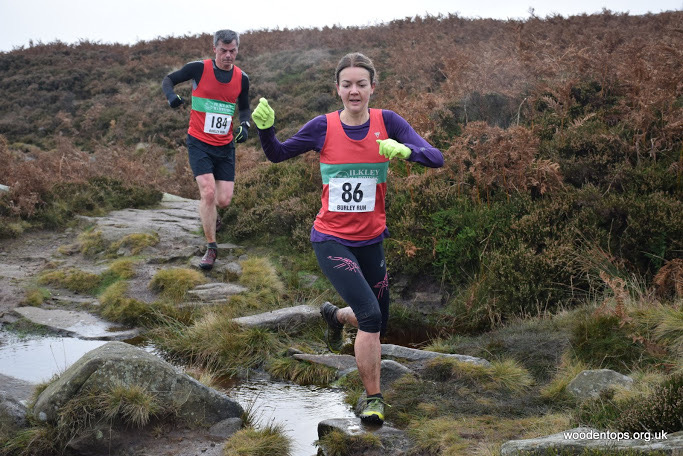 1   43:12 Jack Cummings
4   45:27 Oli Murphy
7   47:22 Steve Gott
8   47:29 Jon Dennis
11  48:36 Dan McKeown
20  51:45 Dave Robson
24  52:11 Dave Westhead
27  52:43 Nick Kealey
32  53:21 Steve Murray
37  53:45 Kate Archer 2nd lady
40  54:57 Andrew Overend
49  55:31 Rachel Carter
50  55:35 Jane McCarthy
55  56:47 John Hayes
57  57:16 Michael Duffield
63  58:06 Forrest Hamilton
78  60:51 Joyce Marshall
81  61:17 Chantal Busby
91  62:32 Catherine Crawley
95  63:38 Paul Calderbank
100 64:08 Catherine Westhead
121 69:21 Geoffrey White
124 69:36 Colm McCann
137 72:20 Antonio Lopez
144 73:13 Adela reperecki
162 79:53 Petra Bijsterveld
170 82:03 Paula Reynier
173 84:06 Claire Boyle
184 finished

Betws Y Coed trail 10km, Sat 9 Nov
From Lucy Williamson ...
I took part in the Betws Y Coed trail 10km race on Saturday. Despite the initial worry about travelling to the race in the snow that had fallen over night, we made it to an undulating course with beautiful views across Llyn Elsi.>/p>

(1 42:29 Jonathan Tyler)
4  43:41 Lucy Williamson
183 took part

parkruns, Sat 9 Nov
From Petra Bijsterveld ...
Results
...

Bradford
1   15:49 Tom Adams
432 ran

Cardiff
(1  15:45 James McCrae, Hallamshire Harriers)
13  18:49 Alex Hirst
523 ran

Burnley
(1  15:29 Chris Holdsworth, Ribble Valley Harriers)
61  23:38 Will Worboys
379 ran

Derwentwater 10, Sun 3 Nov

(1    53:49 James Douglas, Border)
214 1:25:09 Alison Weston
344 1:39:30 Andy Wolfenden
448 finished

Guy Fawkes 10, Sun 3 Nov

(1    56:19 Andrew Grant, Harrogate)
42  1:08:03 Mike Abrams-Cohen
45  1:08:45 Kate Archer	1st F40	
46  1:08:49 Rachel Carter 2nd F40
47  1:08:44 Steve Murray 3rd M50
148 1:18:26 Catherine Crawley
178 1:20:39 Caroline Howe
198 1:21:50 Claire McLoughlin
300 1:27:36 Helen Waddington
345 1:29:23 Hilda Coulsey 2nd F65
460 1:34:48 Jayne Norman
466 1:35:08 Fiona Schneider
797 finished

Shepherd's Skyline, Sat 2 Nov

(1 43:40 Simon Bailey, Mercia)
2  44:34 Nathan Edmondson
11 49:54 Steve Gott
192 finished

A Short Circuit, Sat 2 Nov
From Ben Sheppard... This is one of a series of races throughout the year starting in Otley and organised by Punk Panther. I enjoyed it enough last year to return once more. The route goes up to Surprise View at the top of the Chevin, over to Bramhope, Cookridge, around the runway of the airport, Yeadon Tarn, Guiseley Woods, Hawksworth, Menston, onto the moor at Burley Woodhead to the Cow and Calf, down Ben Rhydding, up to Timble, to Norwood along the beautiful Lindley Wood Reservoir (this year a diversion took us a little higher into the woods), through Leathley to the finish at Pool-in-Wharfedale. 33 miles and 4135 ft climb. It was muddy under foot but the rain didn't arrive until late on. There were some young fast runners at the front and winning time was 4.45, that last finisher in over 10 hours. I finished in a little over 5 hours in 6th place (losing a "sprint" finish with last year's winner whom I caught with just over a mile to go). Punk Panther ultras are fun and friendly races, very welcoming of all abilities and not daunting for first time ultra runners.
Results
parkruns, Sat 2 Nov
From Petra Bijsterveld ...
Results
...

Woodhouse Moor
(1  16:35 Marcos Valerio Palacos, Roundhay Runners)
15  19:16 Tim Ashelford
392 ran

York
(1  16:58 Zak Mountford, Builth and District RC)
15  18:52 Michael Abrams-Cohen
31  20:03 Sally Armitage 3rd F
389 ran

Bradford
(1  17:25 Will Kerr, Saltaire Striders)
20  21:43 Beth Massey 1st F
21  21:47 Oscar Street
98  27:02 Paula Reynier
280 ran

Skipton
(1  18:13 Tim Chadwick, Skipton AC)
5   20:54 Rob Budding
36  26:46 Nicola Budding
39  27:05 Fiona Schneider
123 38:41 Catherine Gibbons
136 ran

Victoria Glasgow
(1  17:09 Paul Sutherland, U/A)
35  21:17 Craig Berry
385 ran

Fountains Abbey
(1  18:21 Trevor Schofield, Ripon Runners)
3   18:43 Paul Carman
31  22:23 Jann Smith 3rd F
285 ran

Myrtle
(1  20:58 Ben Watson, Baildon Runners)
4   21:44 Jane McCarthy 1st F
133 ran

---