Ilkley Harriers news archive 2019
Outstanding Achievements, October
From the Committee ...
Racing:
Mike AC - 3 PBs in October and consistent improvement
Sally Armitage - PB at the Accrington 10km
Petra Bijsterveld - Kielder and Snowdonia marathons, run within 2 weeks of each other
Catherine Gibbons - great parkruns, including 1st lady to finish at Skipton
Alex Hyde - half marathon PB at Manchester Half, 1:56:55
Gavin Lamb - 4th in the Ultra Tour of Edinburgh
Dan McKeown - 1st place at the Whixley 10km
Steve Turland - 2nd place at the Snowdon 50 Ultra
Colin Williams - Kielder and Langdale marathons
Jack Wood - silver medal at the British Fell Championships
Volunteering:
All those involved in organising teams for the Hodgson Brothers Mountain Relays and the British Fell Relay Championships
Paul Wood - website updates
Leeds Abbey Dash, Sun 27 Oct

(1   28:38 Omar Ahmd)
139  32:35 Jack Cummings
762  41:16 Harry Stead
813  42:33 Peter Roll
860  42:41 Tom Worboys
879  42:53 Steve Newell
1146 44:27 Joseph Rigby
1818 49:22 Will Worboys
3428 56:29 Jacqui Weston
4342 56:49 Penny Coulthard
6739 finished

26 Nov: we hear the course was short so times will not count on Power of 10 etc. Details
WYXC 2, Nunroyd Park, Sun 27 Oct
From Mike Abrams-Cohen ... Results ...

Ladies, 8th team
(1 20:55 Katie Walshaw, Holmfirth)
40 26:48 Beth Massey 
55 28:19 Jane Bryant 
69 29:42 Alison Bennett 
86 34:59 Anna Pickering 
(89 runners finished) 

Men, 6th team
(1  33:22 Joshua Woodcock-Shaw, Leeds)
2   33:32 Dom Coy
45  38:50 Tim Ashelford 
62  40:13 Lawrence McCourt 
68  40:31 Mike Abrams-Cohen  
74  40:55 Steve Murray 
98  43:13 Steve Coy  
105 43:49 Rob Budding
111 44:05 Mark Iley  
(157 runners finished)

Whixley 10k, Sun 27 Oct
From Dawn Turner ... Sunday morning saw us travelling around 40 minutes eastwards to the pretty village of Whixley, just off the A1 between Knaresborough and York. Truthfully, we had never heard of it but with a heads up from Dan McKeown we decided to give it a go.
Setting out from the village hall, the 10k is a kite-shaped loop of farmland and country lanes. The heavy rainfall meant a slight diversion from the planned route to avoid seriously muddy ground but with the fields at saturation point no-one was going home with clean shoes!
The sense of pride in their village and community was evident from all of the organisers, marshals and race helpers that we spoke to. This is a proper local event and with bacon butties and cake on sale in the village hall afterwards it's a winner. Speaking of which, the race was won by the future Lord Mayor of Whixley himself!

1   36:30 Dan McKeown 
13  40:51 Jonathan Turner 
101 57:32 Dawn Turner 
160 ran

Accrington 10k, Sun 27 Oct
From Sally Armitage ... I entered this road race after realising I didn't have a 10k in the calendar for ages and it's fairly local, and cheap too! I'd done my research and was aware it was 'undulating' with a gradual climb for the first 4.5 miles and a speedy 1.5 mile descent to finish. It was a small field of 485 runners and I was pleasantly surprised with 4th place and a personal best result.

(1 33:57 Joshua Holgate, Blackburn Harriers & AC) 
39 41:47 Sally Armitage (4th lady) 
485 ran

Snowdonia Marathon Sat 26 Oct
From Petra Bijsterveld...
Having missed this marathon last year due to injury I was delighted to manage to get another place in the event, which will go to ballot entry for 2020 due to its huge popularity. This was my 3rd time running the race which is a circuit around Snowdon, mainly on road, starting and finishing in Llanberis and featuring 3 major climbs with a total of 2600 ft to negotiate, enough elevation to be challenging in a road race. Having run Kielder Marathon just 13 days ago I wasn't sure if my running engine was now just nicely tuned up or not recovered yet, but as these are my favourite 2 events it just had to be done. Having had a minor disagreement with the Ilkley swimming pool wall 10 days ago I was also nursing a broken, or at least quite damaged, toe, not excruciating to run on but still a minor inconvenience.
The weather forecast had been pretty dire (cold and very wet all day) and indeed on arrival at race HQ in Llanberis the only creatures who seemed to be in their element were the ducks and swans swimming on Llyn Padarn. I never wear a waterproof in a race but with close to 5 hours on the road in the mountains ahead of me I felt I should be sensible. Having not felt happy for a while with the only jacket I have, bought when I started running in 2007, I was tempted by the nice merchandise on sale at Pete Bland's pop-up shop in the marquee (other retailers are available) and spent a considerable sum on a superior and ultra light-weight jacket. I am telling you this as I am sure my purchase was the sole reason the rain more or less stopped, contrary to all predictions, by the time I got to Pen-y-Pass, less than an hour into the race. My very fancy jacket spent the rest of the race folded up inside my race vest!
I found today tough but I finished feeling happy with my performance. I ran to about mile 14 and then had to adopt my usual run-walk approach. The undulating stretch from mile 15, the end of the climb out of Beddgelert, to mile 22 where the steep climb at Waunfawr starts, is mentally the toughest as the legs by now are really tired and there is not much going on. Everyone around me was in the same pain train. The climb at Waunfawr has to be 100% power walked by lesser mortals like me, so that's OK (I love watching the footage on S4C and seeing the people at the pointy end run up as if they're on level ground!) From the top the final 2 miles are a fairly steep descent back into Llanberis. This is off road and when it has been raining as much as it has this week it turns into a complete mudslide. Many runners use road shoes, which is not a good choice unless you really are into sliding on your bottom on this final downhill! As always here were various comedy moments all around me. It is my moment to feel a bit smug, despite being just about the worst descender in the Harriers I tend to overtake lots of folk there, wearing hybrid road-trail shoes. I arrived at the finish 26 seconds slower than in 2017, and 14/58 in my category. I had hoped to be faster but it was not to be. However, I am pleased looking at my splits: I gradually improved my placement in the field all the way, from being 1648th at Pen-y-Pass (4 miles) to 1463rd at the finish. Between mile 23 and the finish I overtook 86 people. By the time I finished we had blue skies, sunshine and we could see snow on the mountain tops. So beautiful!
I will make yet another recommendation to all Harriers for this race, if you can get in that is. It truly is iconic, with stunning mountain scenery in autumn colours, and plentiful of local support shouting encouragement in Welsh and English (running in green and red you get the Welsh!) Returning to the wall of sound from the spectators at the finish line in Llanberis makes it all worthwhile. And the Welsh slate coaster of course!
Results ...

(1   2:34:14 Callum Rowlinson, Salford Harriers)
1463 4:54:16 Petra Bijsterveld 
2311 finished

parkruns, Sat 26 Oct
From Rachel Carter ...
We took the opportunity to be a parkrun tourist whilst on holiday in Northumberland today. Alnwick parkrun is held entirely on the pastures beneath the castle - a course the race director reports is not popular with the locals (typically around 70% are tourists) as there's a stream to jump, and it's often muddy (or boggy like today after yesterday's torrential rain). It was a lovely setting with friendly volunteers so all in all a great way to start your holiday.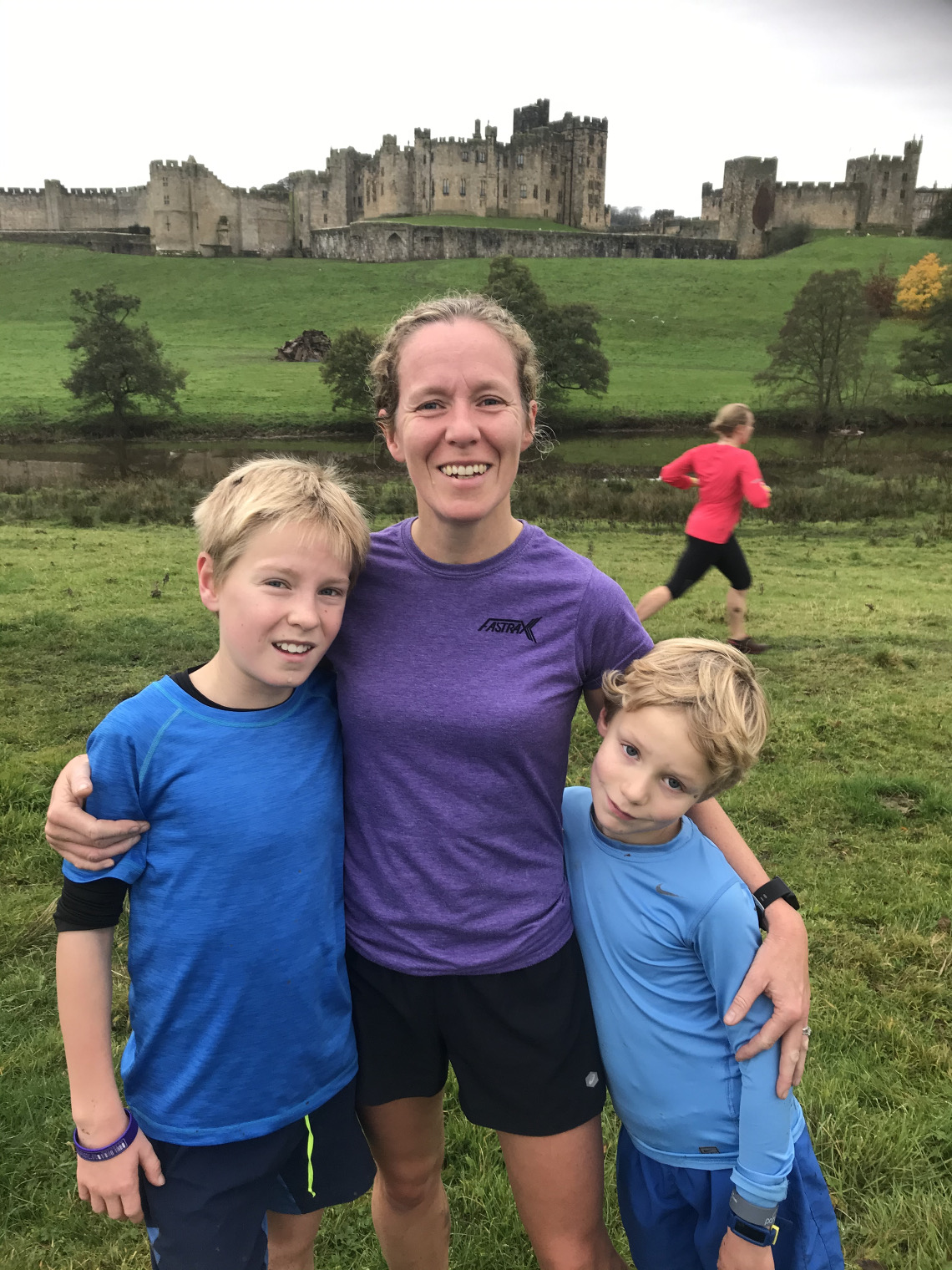 Results
Leeds Evensplits 5k, Wed 23 Oct
From Hilda Coulsey... It was a coolish, fairly calm evening resulting in some excellent times.
Results ...

(1  15:17 Sam Dickinson, City of  York)
3   15:35 Nathan Edmondson 
16  17:31 Daniel Mckeown 
28  18:28 Michael Abrams-Cohen 
37  19:17 Stephen Coy 
50  20:06 Robert Budding 
73  21:29 James Greenlay (Junior) 
86  22:15 Harry Sime 
109 24:32 Hilda Coulsey
134 finished

Yorkshire Marathon, Sun 20 Oct

(1   2:22:42 Mark Buckingham)
279  3:06:05 Rob Cunningham
1707 3:59:01 Tom Lally	Male
2500 4:24:18 Paula Reynier
2501 4:24:18 Dave Reynier
4310 finished

Yorkshire 10 mile, Sun 20 Oct

(1      53:10 Matt Kitching, Queen's Park Harriers )
850  1:25:32 Stephanie Fox
1993 1:38:28 Amelia Miles
3173 finished

Ultra-Tour of Edinburgh - 57km, Sun 20 Oct
From Gavin Lamb ... An Ultra which takes in every type of race I can think of - starts on the road, takes in some x-country then up onto the fells before back down into the parks / streets / canals.
Box ticked on a completed Ultra - never again!
 
(1 5:13:01 Martin Buist)
4  5:21:47 Gavin Lamb 
401 finished

British Fell Relay Championships, Sat 19 Oct
From Istvan Jacso ... Some great results from the Fell Relays: the ladies team came 9th, the men came 10th in the open category and a random group of old men somehow found themselves in 5th place in the V40 category!

1   3:40:33 Keswick
10  4:03:22 Istvan Jacso/Nathan Edmondson,Jack Cummings/Jack Wood,Will Simmons/Jonathan Dennis
31  4:26:22 Iain Gibbons/Ben Sheppard,Nick Helliwell/Paul Carman,Dan Mckeown/Steve Gott
96  5:08:20 Bernadette Raven/Jane Mcarthy,Kate Archer/Helen Wood,Fay Walsh/Alison Weston
224 teams completed

From Alison Weston ... brilliant day for the FRA British relays on Saturday at Howden moors, Derbyshire. The event centre was at the end of Derwent Reservoir. The Ilkley ladies came 9th position in the ladies teams with Bernadette getting us off to a great start on the solo leg 1 (7.65 km 369m) followed by a brilliant run by Kate and Jane on the paired leg 2 (12.3 km 484 m). Helen and Fay had an amazing navigational run on leg 3 (approx 11.2 km 550m) and I did the final solo leg 4 (7.85 km 375m), sadly losing us a few places in the ladies category!
A lovely venue for 1500 runners and very well organised despite the complicated logistics of parking and coaches etc.
Next year Helm Hill are organising the event which will be closer to home so hopefully we can get out lots more teams!
Lots more photos on Ilkley Harriers Facebook.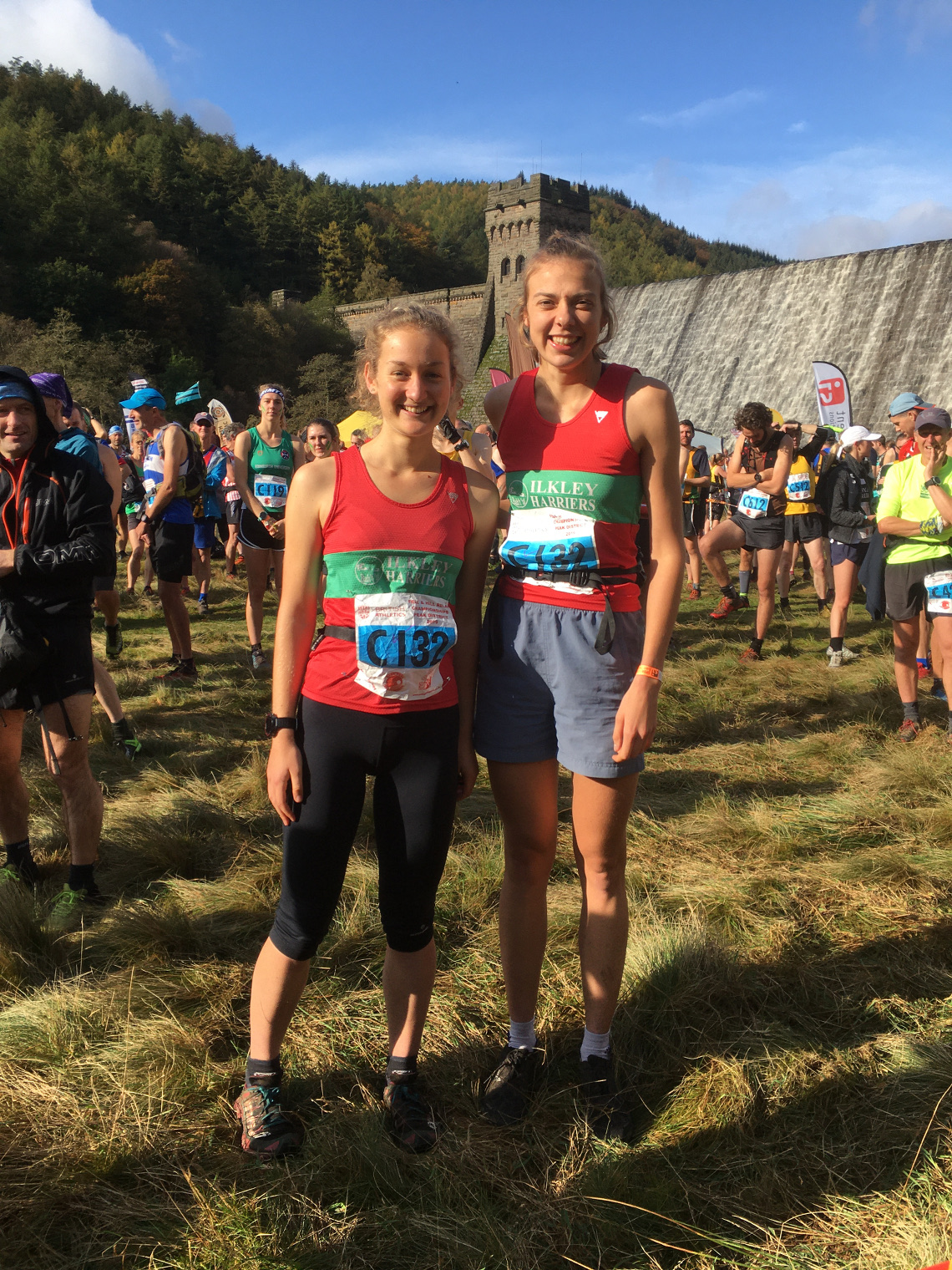 Langdale Road Marathon, Sat 19 Oct
From Colin Williams ... I took part in the 31st Langdale Marathon, my second Landale and my second Marathon in 7 days.
Advertised as "the toughest road marathon in the UK" with 3,400 ft of climb with some assents as steep as 1:3, I can confirm that for a road marathon it is very hard going.
The 140 marathon runners line up with the 500 half marathon competitors, the car parking was an issue for those arriving just before the start, which delayed the race by 15 mins. The race was very well organised by Brathay, the route was well marked with big yellow arrows and lots of very friendly marshals.
The race was won by Sean Warburton n a time of 3:11:42, I finished in 34th place in a time of 4:03:57.
Results ...
parkruns, Sat 19 Oct
From Petra Bijsterveld ...
Results
...

Highbury Fields
1   17:10 Oscar Stapleton
337 ran

Wimpole Estate
(1  17:48 Ben Jones, Worcester AC)
12  20:51 Adam Bennett
279 ran

Skipton
(1  17:38 Sam Todd, City of Norwich AC)
17  22:22 Catherine Gibbons 2nd F
168 ran

Fountains Abbey
(1  17:38 Stephen Ellison, U/A)
46  22:22 Jann Smith 3rd F
337 ran

Pendle
(1  20:19 Shawn Heys, Trawden AC)
9   22:52 Pete de Sanctis
75 ran

Stretford
(1  16:39 Chris Ovenden, U/A)
14  18:44 Mike Abrams-Cohen
538 ran

VLM club ballot
From Hilda Coulsey ... If you would like to run London and have been unsuccessful in the ballot you have another chance in the club ballot. We normally get 3 places although we won't know for sure until towards the end of November however so that you can plan better we will operate our ballot now. We have changed the rules (details) to increase the chances of those who have been unlucky over increasing years (see attached). Apply to me with evidence of main ballot rejection by Tuesday November 5th when we will make the draw. secretary@ilkleyharriers.org.uk
Withins Skyline, Sun 13 Oct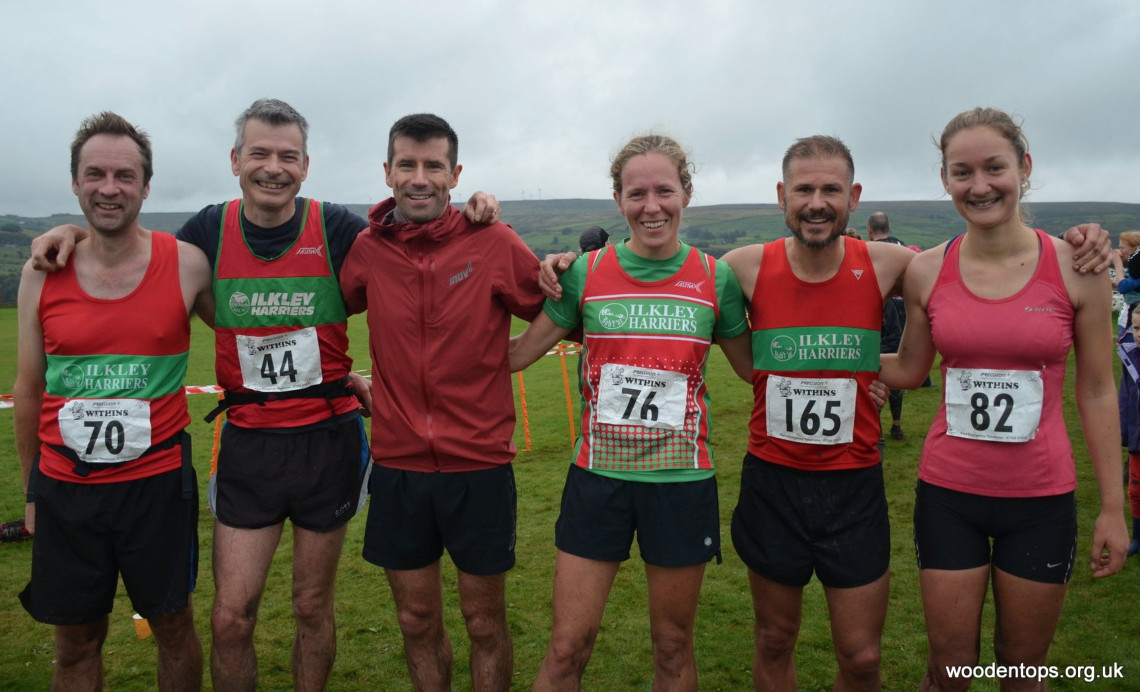 Ilkley had the first ladies' team. Results ...

1  41:17 Tom Adams
10 47:29 Steve Gott
37 54:34 Richard Joel
46 55:27 Rachel Carter 2nd lady
49 55:53 Fay Walsh 3rd lady
60 57:35 Paul Disney
96 64:21 Alison Weston
180 finished

Kielder Marathon, Sun 13 Oct
From Petra Bijsterveld... This was my 5th consecutive visit to the Kielder running weekend since 2015, and my 3rd full marathon. Last year I had to give up only 1 mile into the HM due to an injury, so today I was extra keen to put that memory to bed, get round, and collect another of their superb medals. Weather was better than predicted during the week, in the end the rain didn't start until 2 hours into the race, temperature around 10 degrees and no wind, pretty perfect running conditions. I enjoyed the race as much as you can enjoy a marathon, it took me about 7 miles to get settled in and for my always tight achilles tendon to warm up, then I had a nice 10 miles 'in the zone', but had to dig fairly deep from mile 17. I tried to channel my inner Eliud Kipchoge :) No human is limited and all that. I was 10 minutes slower than my best time here, but on the up side I paced it better with an almost even split between the first and second half, which meant I overtook quite a few folk towards the end which helped keeping me upbeat. Great to bump into Colin Williams before the start who had a fast run. No other Harriers there today as far as I am aware, sorry if I have missed anyone. Well organised and with lots of super friendly volunteers supporting the event I can recommend this weekend to all Harriers, there is a 10k, HM, marathon, run-bike-run, as well as junior races. Come and join me in 2020!
Results ...

(1  2:45:56 Ian Twaddle U/A)
117 3:48:40 Colin Williams
467 4:51:18 Petra Bijsterveld
713 ran

Manchester Half Marathon, Sun 13 Oct
From Alex Hyde... So, whilst the world was marvelling at Eliud Kipchoge's amazing 01:59:40, there was another sub 2 hour effort on a damp morning in Manchester that appears to have gone under the radar. At the tender age of 52, Alex Hyde managed to finish in 01:56:55 ... in the Manchester Half Marathon. OK, so maybe not quite as earth-shattering an effort as Mr K's, but having missed the 2 hour mark by 2 minutes at the Ilkley Half in July and by 16 seconds at the Leeds Half in May, I was more than a little pleased to have finally broken through the barrier.
I have to say, the course and conditions lent themselves to a PB. It was true Manchester weather with 12 degrees and light drizzle, and a course as flat as a pancake (41m elevation gain according to Strava), but that didn't take away any of the elation to finally get under that elusive 2 hour target. So I shall raise a glass (or several) to my mate Eliud and a great weekend for PBs!
Provisional results ...

(1   1:03:12 Ben Connor, Derby)
449  1:28:17 Jonathan Turner
4964 1:56:55 Alex Stanley-Hyde
11355 ran

Krakow Half Marathon, Sun 13 Oct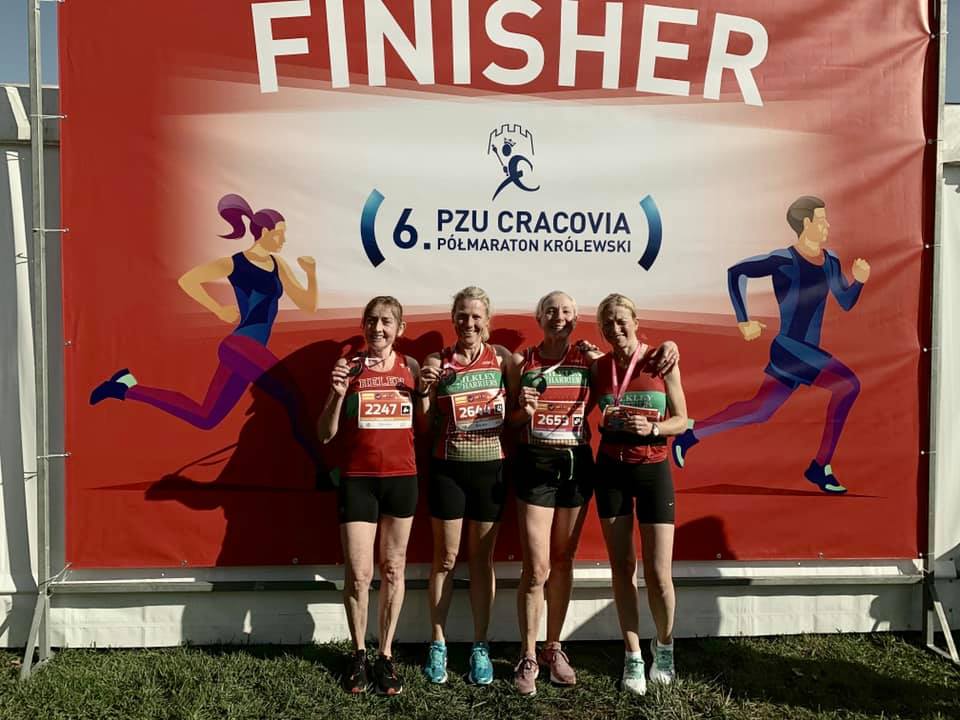 (1   1:01:34 Mekonnen Enyew, Addis Ababa)
2617 1:51:07 Jane Bryant
4554 2:02:07 Anna Nolan
4950 2:04:58 Helen Horton
6866 2:20:03 Jacqui Weston

Langdale Horseshoe, Sat 12 Oct
From Dave Robson... I last ran the Langdale Horseshoe 4 years ago. At the time it was the first proper 'classic Lakes' fell run I had done and I was not really prepared for just how hard it was. The clue should have been the 1450 metres of climbing crammed into 13 miles but that's difficult to picture until you actually have a go!
On that occasion, the wheels came off before I even started the last climb up Pike of Blisco and I just about managed to stagger to the end. This time I was determined to keep up a decent pace all the way round, with the aim of getting as close to 3 hours as possible.
There was an excellent turnout of around 400, including a few fellow Harriers (see results) and I met Mike Duffield and John Hayes at the start for a brief discussion on best lines, avoiding 'bad step' etc.
Despite an initial downpour, the weather was kind and mostly dry. There was plenty of water already on the course however, which made it tough going and I did sink up to my waist in a bog early on. (I seem to remember doing this at exactly the same point last time so I think it is just part of the course). The frequent rocky sections were also very slippery, which meant that some of the descents were challenging. This included Crinkle Crags and I didn't avoid 'Bad Step' but to be honest I quite enjoyed a bit of rock climbing half way round.
I still felt 'goodish' going up Pike of Blisco and a check of my watch at this point told me I still had a chance of getting in under 3 hours!
I made up quite a few places on the final descent (no staggering this year) and was very pleased to finish in 2h:55
Incredibly the winner almost beat the 2 hour mark, see results below, with Jack Wood first Ilkley Harrier, coming in 5th overall.
Results ...

(1  2:00:51 Finlay Wild, Lochaber Athletic Club)
5   2:13:45 Jack Wood
116 2:55:14 Dave Robson
173 3:13:03 Helen Wood
259 3:29:03 Michael Duffield
284 3:34:25 John Hayes
377 finished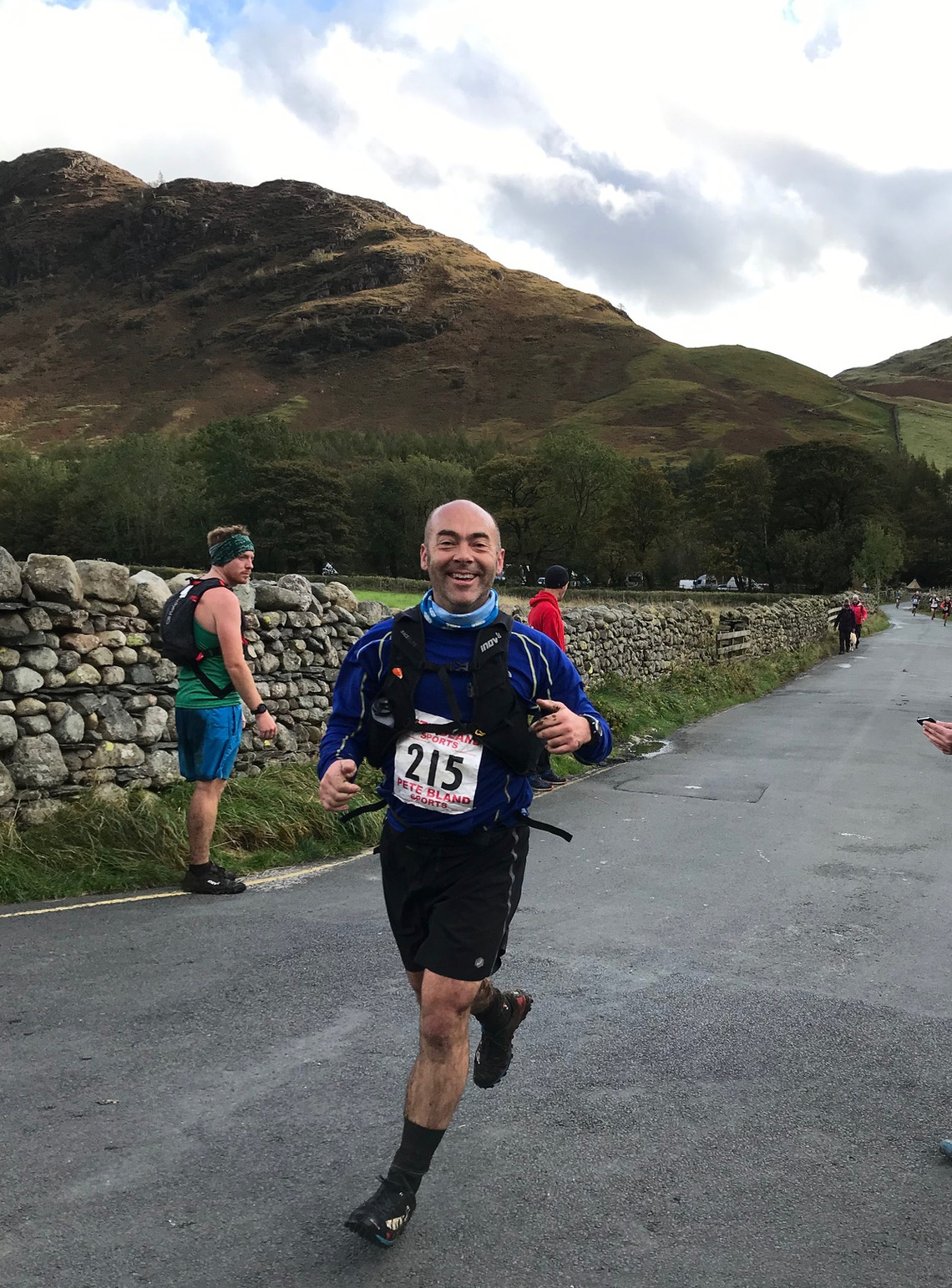 Snowdon 50 Ultra Sat 12 Oct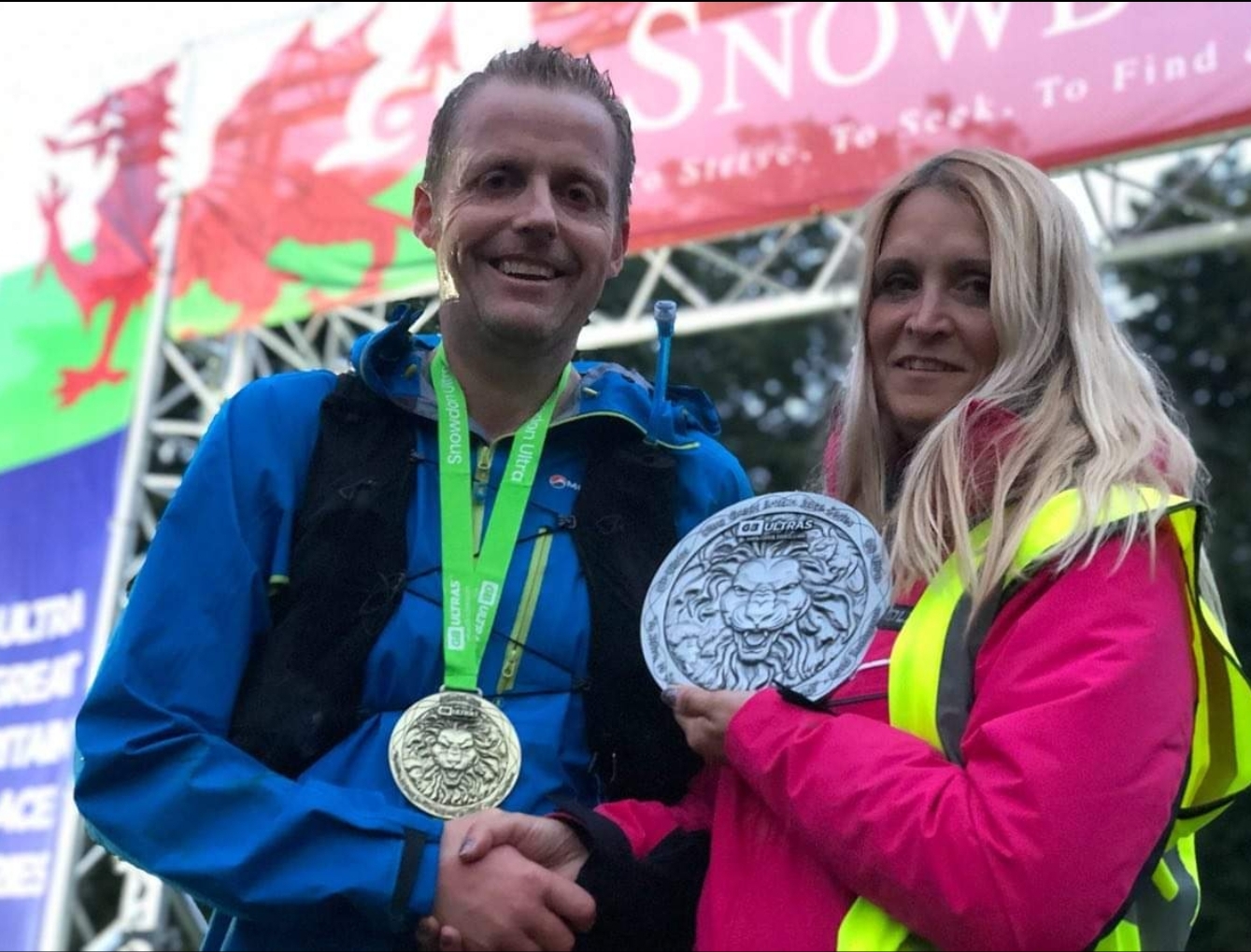 From Steve Turland... This was a great 50 mile ultra organised by GB Ultras through the high mountains of Snowdonia, loads of climbing and lots of technical rocky descents. I managed to finish in 2nd place overall out of about 200 runners with a time of 12hr 15. The course was cut short slightly due to the conditions but the garmin still clocked 48 miles and 13,000ft. I wasn't expecting to finish so high up the field - when I asked with about 15 miles to go, I thought maybe about 20-25 runners ahead but there was just one! Downside was that I had to actually run for the last few miles. They also do a 100 mile version - maybe next year?
parkruns, Sat 12 Oct
From Hilda Coulsey ... I beat my own parkrun age category record again today, this time by 36 seconds, topped the age grade list and attained 5th in the Portrush all time age grade % list.
From Petra Bijsterveld ... Results

Highbury Fields
(1  17:15 Rob Smyth, U/A)
3   17:59 Oscar Stapleton
315 ran

Bradford
(1  17:59 Andrew Davies, Airecentre Pacers)
77  24:18 Will Worboys
141 26:51 Paula Reynier
451 ran

Harrogate
(1  17:03 unknown)
237 29:01 Dawn Turner
427 ran

Barnsley
(1  16:29 Gareth Cooke, Penistone Footpath Runners)
26  22:21 Beth Massey 1st F
199 ran

Roundhay
(1  18:09 Tom Venning, Valley Striders)
39  22:10 Bob Hamilton
357 ran

Portrush
(1  18:29 Jason Wilson, Ballymena Runners)
62  24:53 Hilda Coulsey
196 ran

Skipton
(1  19:46 Tom Clarke, Skipton AC)
14  22:57 Catherine Gibbons 1st F
27  23:55 Harry Sime
44  24:51 Suzi Gray
62  27:19 Bess Sturman
104 30:01 Bernie Gibbons
213 ran

Fountains Abbey
(1  16:52 Ben Holmes, Harrogate Harriers)
87  24:19 Alison Weston
383 ran

Myrtle
(1  20:32 Ben Watson, Baildon Runners)
5   21:16 Jane McCarthy 1st F
133 ran

York evensplits, Thu 10 Oct
From Mike Abrams-Cohen ...

A race 
9  17:14 Dan McKeown 
20 18:48 Michael Abrams-Cohen (PB)
32 finished

YVAA and B Race 
27 20:18 Mark Iley 
28 20:23 Lucia Stoney (junior) 
77 finished

Chester Marathon, Sun 6 Oct

(1  2:29:28 Tom Charles, Trafford Athletic Club)
329 3:15:31 Pete De Sanctis
3,082 finished

Cardiff Half Marathon, Sun 6 Oct

(1    59:30 Leonard Langat, Kenya)
809 1:33:03 Derek Oliver
20,301 finished

Hodgson Brothers Mountain Relays, Sun 6 Oct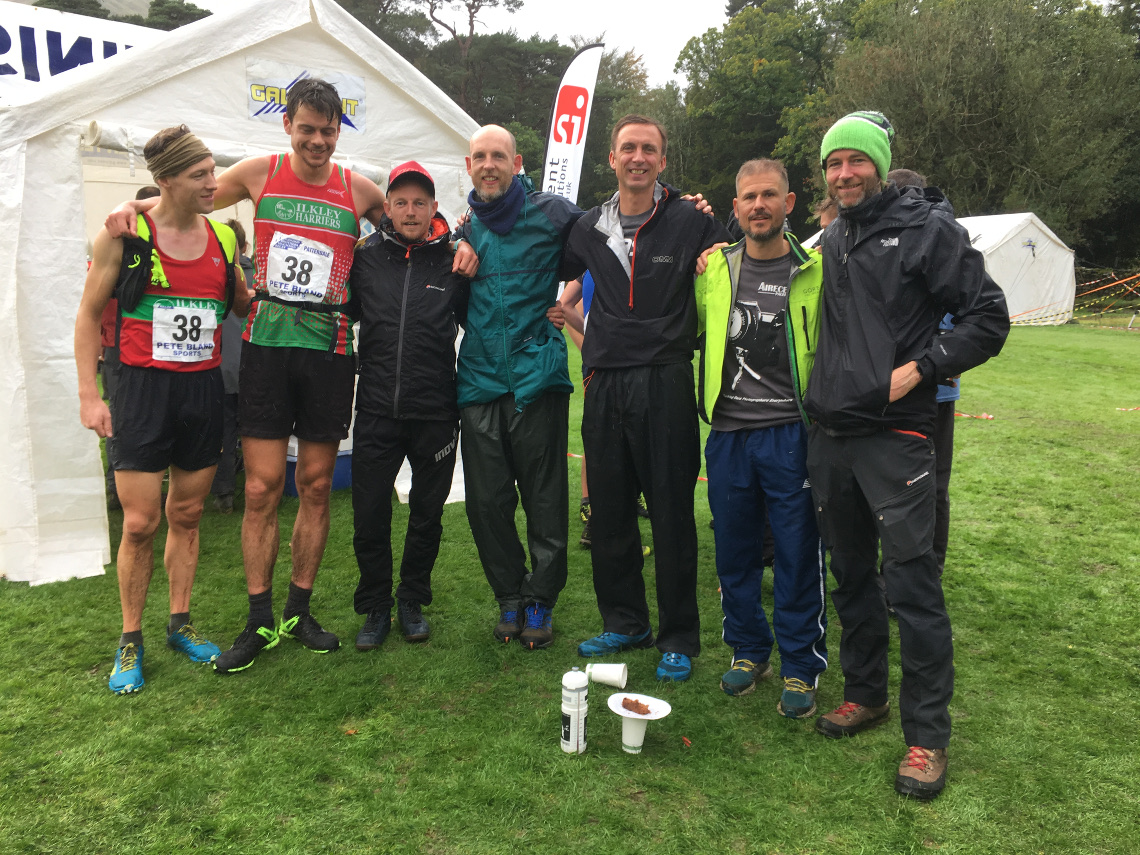 1 3:36:33 Keswick

20 4:22:58 Ilkley
15 43:56 Steve Gott, Nick Helliwell
31 82:20 Matt Cox, Dan MkKeown
11 56:53 Paul Carman, Iain Gibbons
17 79:47 Jack Wood, Nathan Edmondson

66 5:54:26 Ilkley ladies
43 49:43 Bernadette Raven, Fay Walsh
49 91:57 Helen Wood, Lucy Williamson
53 74:41 Alison Weston, Joyce Marshall
67 138:05 Helen Waddington, Kate Archer

68 teams finished

WYXC 1, Keighley, Sat 5 Oct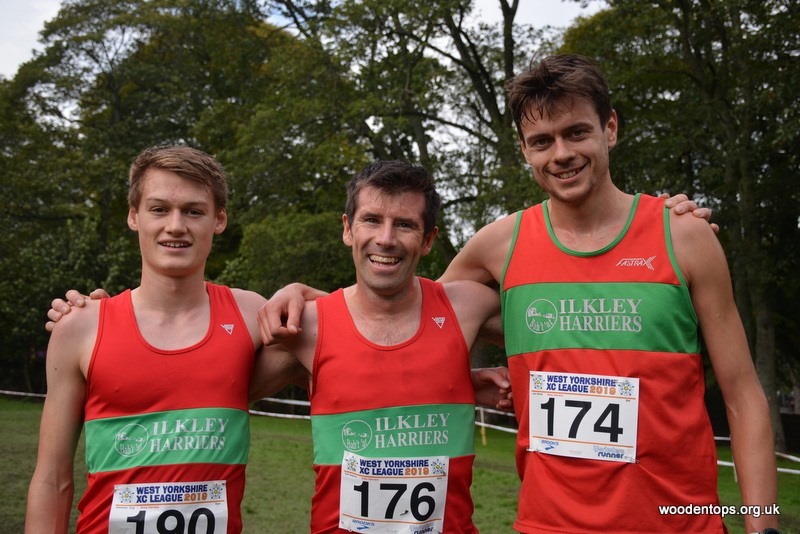 Senior men, 3rd team
1   24:07 Tom Adams
2   24:11 Jack Wood
3   24:16 Dom Coy
27  27:24 Steve Gott
45  28:39 Tim Ashelford
74  30:10 Mike Abrams-Cohen
78  30:19 Steve Murray
115 33:21 Paul Calderbank
116 33:27 Mark Iley
118 33:49 Rob Budding
137 36:00 Malcolm Pickering
139 36:14 Phil Chappell
147 38:12 Michael Ho
161 finished

Senior ladies, 6th team
(1 19:03 Lucy Robinson, Wakefield)
13 20:36 Kate Archer
22 21:14 Sarah Pickering
45 23:20 Beth Massey
52 23L56 Sally Malir
63 24L45 Jane Bryant
80 26:34 Joanne Williamson
84 27:22 Petra Bijsteveld
87 27:59 Anna Pickering
100 finished

parkruns, Sat 5 Oct
From Petra Bijsterveld ... Results ...

    Bath Skyline
(1  16:21 Alex Parsons, Team Bath AC)
119 26:43 Ros Brown
342 ran

Bradford
(1  17:47 Martin Fillingham, Saltaire Striders)
31  21:46 Oscar Street
184 27:30 Paula Reynier
509 ran

Skipton
(1  17:19 Julian Hood, Skipton AC)
19  22:08 Catherine Gibbons
53  24:32 Harry Sime
202 ran

Tooting Common
(1  16:57 Aaron Wilson, U/A)
23  19:33 Rob Cunningham
677 ran

Centre Vale
(1  17:48 Andrew Worster, Vegan Runners)
27  24:03 Will Worboys
151 ran

Firenze
(1  17:23 David Hartley, Melbourne Midday Milers)
6   22:10 Geoffrey Howard
58 ran

It's membership renewal time! Tue 1 Oct
From Petra Bijsterveld ... Emails have gone out this morning. Check your junk folders please. Any questions just get in touch with me via mship@ilkleyharriers.org.uk
Prompt payment via the system will be much appreciated, thanks all.
---