Ilkley Harriers news archive 2019
Outstanding Achievements, September
From the Committee ...
Racing:
Geoff Howard World Masters Mountain running championships win
Hilda Coulsey for breaking club records & for an amazing run in the Berlin marathon
Alex Hyde Wetherby 10km PB, Great North Run course PB
Nick Helliwell, sub 1:30 at Vale of York half, 11th place in Yorkshireman half marathon
Dick Waddington South Coast Challenge, great position
Tom Adams, Bradford parkrun, 3rd at British Mountain running championships at Llanberis & winning the Rombalds Romp
Cameron Reilly winning Bury 10km in an amazing 32:37
Volunteering:
Petra for membership secretary duties
Caroline Howe, organising the Ilkley Incline
Geoff Howard for parkrun volunteering
Rombalds Romp, Sun 29 Sep

1  52:51 Tom Adams
2  53:39 Jack Wood
5  60:42 Matt Cox
7  62:59 Jon Denniss
13 65:47 Gavin Lamb
31 73:41 Helen wood
32 73:53 Paul Calderbank
64 finished

Berlin marathon, Sun 29 Sep
From Hilda Coulsey... You could say I choose the Berlin marathon to avoid the rain on Rombalds and the World Champs cycling but I think the proper Yorkshire term is it was siling it down at times in Berlin too. That didn't seem to put Kenenisa Bekele off I heard he missed the world record by 2 seconds. I'll have to google what shoes he was wearing. Perhaps not! Also another marathon legend Joan Benoit Samuelson, 62, clocked a time of 3:02:21. That breaks the official World Masters Association record for the 60-64 age-group.
The last time I was in Berlin was when the wall was still up and I had to drive from Templehof airport in the west to East Germany for work, I remember it was really hard to navigate, few road signs and poor roads, no satnav of course either. The marathon exhibition to pick up numbers is now in a totally preserved Templehof, still with the check in desks and baggage carousels. Thoroughly enjoyed a bit of sightseeing yesterday with more tomorrow, if I can move. Bits of Wall lined up against a background of amazingly designed glass skyscrapers in Potsdamer Plaza and various memorials to those who chanced to cross and to the holocaust. Quite grim but refreshing that we can learn from history and with a shared will can move on to something better. I was happy with my age PB, 16th/128 FV 65 in obviously a star field and setting a Harriers record at 4:17:16 - which can be beaten!
Results
Barns Green Half Marathon, Sun 29 Sep
From Adam Bennett... I finished 98/975 in 1:34:39. For a small village event, it was well-organised and there was a very good turn out with over 1000 people running either the half marathon or associated 10K race. The course itself was challenging with several long, gradual inclines, but there was a friendly atmosphere and people offered support on even quiet country roads.
WMMRC, Leuca/Gagliano del Capo, Sat 28 Sep
From Geoff Howard... Leuca (at the very tip of Italy's heel) in legend, is where both Aeneas and St Peter made their Italian landfalls on their way to founding the Romans and the Roman Church respectively. My aim was less lofty, but I guess my predecessors didn't chase 180 other guys in vests and shorts up the steep, rocky, limestone cliff in sweltering conditions, and even less, having done so, come back down to do it all again, diverging up a gorge for good measure. Even so, despite being decidedly over heated and wobbly, I managed a 75+ gold medal finish in 42m 5s (28th overall). Thanks to the remarkable kindness and concern of two married doctors* from Swansea, Jo and Paul, who over half an hour ensured that I cooled, rehydrated and re-salted until able to rejoin the throng (*actually treated by gynaecologists - yes, there's always a first time for everything!). The glorious U-tube pre-event video of the Leuca area is no exaggeration and to experience first hand the renowned "Meridionale" hospitality and ingenuity was a wonderful and unforgettable privilege (not to mention the food and ice cream). Colin Donnelly (Cambuslang) was the race winner in 33m 10s and v60 gold medalist. The 35 to 59 race was the next day, Sunday.
Results
parkruns, Sat 28 Sep
From Petra Bijsterveld ... Results ...

Woodhouse Moor
1   16:13 Nathan Edmondson
4   17:50 Steven Gott
444 ran

Highbury Fields
(1  17:16 Rafael Guerrero, U/A)
4   18:15 Oscar Stapleton
361 ran

Royal Tunbridge Wells
(1  18:27 Ben Jones, Worcester AC)
29  22:33 Adam Bennett
291 ran

Burnley
(1  16:49 Callum Davidson, Rossendale Harriers)
40  23:56 Will Worboys
216 ran

Skipton
1   16:59 Jack Wood
62  27:00 Bess Sturman
185 ran

Conyngham Hall
(1  18:58 John Young, Harrogate Harriers)
22  24:46 Malcolm Pickering
69  31:50 Anna Pickering
99 ran

Rock Creek Trail (USA)
(1  18:30 Chris Cullen, U/A)
13  29:53 Sarah Edwards
23 ran   

League update, only 5 races left!
From Jane McCarthy... Following the latest League Race at Great Wherneside held in glorious sunshine on Saturday we may have said goodbye to Summer but there are still some great races to earn you points in the Ilkley Harriers League over the coming months. The are are two Fell races left - Burley Moor (9/11) and Stoop (15/12), one Trail (PECO XC 24/11) and two Road races (Guy Fawkes 3/11 and Ribble 10K 28/12).
Popular races this quarter have included ECCUP 10 with Jonathan Turner being first of 26 Harriers home, Bradford Park Run where Tom Adams took the win, back in amazing form, and our own lung-busting Ilkley Incline which an impressive 35 Ilkley Harriers 'enjoyed'.
At the Top of the Overall League Kate Archer has taken a decisive lead over 2018 Winner Colin Williams. Kate's performances have been consistently earning her nearly 100 points per race, and with 9 races scoring already it is hard to see her being beaten. UNLESS ... Rachel Carter can complete her Fell and Road tally - her 6 scoring races averaging (just) an even higher score than Kate's. Jonathan Turner, Steve Newell, Jack Wood, Helen Waddington, Dave Westhead, Hilda Coulsey and David Robson take up the other places in the Top 10 Overall League Score.
In individual categories, Richard Joel leads the Fell competition, scoring in the maximum of 4 races, Rachel Carter leads Trail and David Westhead leads the Road league.
Don't forget to nominate Wildcard Races for maximum scoring potential - these can be any recognised race (not Park Run) and must be declared within two weeks of racing. All details on the League page of the website.
In early November the Committee will decide upon the 2020 League Races. If anyone would like to nominate a particular Race to be included for consideration in next year's League, please email me at janemccarthy@me.com
Happy Racing!
2019 results tables
Leeds Evensplits 5k, Wed 25 Sep
From Mike Abrams-Cohen ... Results ...

A Race
11 17:22 Nathan Coy  (PB)
14 17:34 Dan McKeown 
31 18:51 Mike Abrams-Cohen (PB) 
48 20:00 Steve Coy
60 20:33 Rob Budding- 
72 21:39 James Greenlay
82 raced

B race 
7 22:39 Harry Sime
57 raced

AGM, Tue 24 Sep
8:30pm at ILTSC
Come along to catch up on activities over the last year, to contribute ideas, ask questions and discuss.
Plus of course to meet up with Harriers friends and enjoy the evening.
Papers: Agenda Draft minutes 2018 AGM Committee report to AGM Committee nomination form
Knaresborough Crag Rat Run, Sun 22 Sep
From Caroline Howe... This is the third time I've taken part in this nearly 5 mile, mixed terrain race, and the first time I've been joined by other Harriers - it was great to see Paul and Chantal on the start line! A medal, goodie bag, chip timing and picturesque course all for £8 - great little race!
Results ...

(1 29:30 Ian Bush)
26 34:09 Paul Calderbank
63 37:39 Chantal Busby
65 38:02 Caroline Howe
250 finished

Glencoe Skyline, Sun 22 Sep
From Roy Ruddle ... Good weather, and thankfully dry for all of the scrambling on this audacious route, 52km, 4750m of ascent. Two years of preparation just allowed me to become fit enough to succeed. With a spurt of optimism I went as fast as possible on the 1000m descent from Bidean nam Bian to the road at Achtriochtan, falling four times and squeezing through the checkpoint at the road a couple of minutes before being timed-out. From there, only the Aonach Eagach remained (!) and I somehow kept going to the finish line 5.5 hours later. Unfortunately, fellow-Harrier Dick Waddington did get timed-out.

(1   7:55:00 Erik Johannes Husom, Norway) 
136 13:27:49 Roy Ruddle 
142 finished

British Mountain Running champs, Llanberis, Sat 21 Sep
Results ...

(1 52:32 Andrew Douglas, Inverclyde)
3  55:30 Tom Adams

Great Whernside fell race, Sat 21 Sep
From John Hayes ... There were some wise words of advice being given out before this fabulous local fell race.
"There are some good little short cuts on the way down. If you take one, always go right ... except at the finish when you go left over the little knoll" was Helen's tip. I stuck to this advice religiously and it seemed to work.
"This is the perfect place to cool down after the race" said Michael as we crossed the little stream near the start/finish. And it was! After Michael sped ahead of me on the downhill section, I found him just past the finish line lying almost entirely submerged in the stream.
"Stay on John's shoulder" was Jean's tip to Richard. Now, unfortunately for me, and for whatever reason, Richard ignored what Jean suggested. Instead, he ruthlessly overtook me early on and never looked back!
At the prize-giving we were treated ourselves to 99 ice creams whilst cheering Jack Cummings (3rd), Jim Ryder (1st MV50) and Paul Calderbank (1st MV60). Paul's prize of three beer bottles was nearly given to the wrong person until that runner sportingly pointed out that Paul had finished ahead of him. In turn, Paul gave him one of his beers. As the sun shone, the Dales looked stunning and we finished off our ice creams, I pondered what a great sport fell running is. Many thanks to the team at Wharfedale Harriers for putting on such a great race.
Results ...

(1 32:06 Harry Coates, Wharfedale)
3  33:17 Jack Cummings
16 40:19 Jim Ryder
24 42:12 Paul Calderbank
32 43:44 Richard Joel
35 43:57 Michael Duffield
40 45:23 John Hayes
64 59:29 Helen Waddington
76 finished

Three Shires race, Sat 21 Sep
From Alison Weston... Only Helen Wood and I there due to clash with other races this year. Super weather except a bit hot climbing up Wetherlam!
Results ...

(1  2:00:45 Gary Greenhow, Ambleside)
111 2:54:56 Helen Wood
141 3:04:22 Alison Weston
237 finished

Cotswold Way Century, 21/22 September
two seasons in one day
From Andrew Merrick... I am told, as the crow flies, it is 50 miles from Chipping Campden to Bath. Those nice people who created the Cotswold Way were clearly very keen to show visitors every hilltop view and quite a number of pretty towns, creating a largely well signposted, scenic 102 mile route (about 3700m of ascent for those who like to know these things).
The logistics were well organised, with the exception that the referenced website was down for the few days before the race (an ill timed service provider upgrade and not the organiser's fault). A bus left Lansdown park&ride just above Bath at 9am on Saturday, and arrived at registration before 11, allowing plenty of faffing time before the noon start in the centre of Chipping Campden. The kit requirements, which were checked at registration (which meant a full back unpack for the organised ones), included a minimum 1.5 litres of water. 2 litres being the recommended amount from the organiser.... and he was right not least for the first two legs of 13 and 14 miles in the glorious Cotswold sunshine. A refill courtesy of a water trough on leg 2 was a necessary evil...
The check points were all well stocked although with a bias towards sweet rather than savoury early on. Bananas and Tailwind Nutrition were my staples at this point in the heat of the day, although there were three stops where hot food was served (vegetarian chilli, noodles, and my personal favourite spaghetti hoops!.... run close by the soup later on in the night).
As Mike (a Bristolian originally from the Lake District doing his first century) and I left Painswick at the second of three drop bag points, and a little short of half way, at 10:30pm ish, the prospect of a sub 24 was in both of our minds, although not voiced out loud by either of us...
The forecast heavy rain storm duly arrived on the toughest leg in the middle of the night and put paid to that, as we struggled for visibility, head torches and heavy rain not being a great combination.
Happily though, with the help of the previously referenced signage and the organiser's GPX file (thanks, Jann, for your lesson on uploading to my Garmin a couple of years ago) we pretty much stayed on the route through the 10+ hours of darkness. The rain also allowed me to test my new waterproof jacket which has an extra fold of cloth at the back to allow it to be worn over a running pack - a triumph!
The rain did ease with daylight, and we still managed to run the downhill until about mile 80, after which the wet conditions had taken their toll on our feet and the hills had taken their toll on the rest of our (in my case ageing) bodies. So the "march" for home started from about then, with more frequent check points over the last 30 miles or so.
The Cotswold Way route designers continued their approach when we arrived in Bath - "this is an odd route to the Cathedral" muttered Mike as we were sent up yet another steepish street. The race organisers had added some pink arrows to help us navigate this contrived route through the city centre, although I missed the last one or two so we surprised the waiting crowds (about 7 people in all) as we arrived at the finish flag directly outside Bath cathedral from the wrong direction, at about 1:45pm. Happily we were given access to the YMCA to collect our bags and have a shower, access to which ironically involved a lot of steps both up and down. Cynically I checked for a shorter route but on this occasion there didn't seem to be one..... All of the showering runners had mastered the walking on hot coals look, so Mike and I weren't alone.
It was by now dry and warm enough to sit outside in my post race shorts and flip flops for the compulsory post race beer and chips. After a bit of googling and faffing I worked out where the park&ride bus stop was ...... and then where they had moved it to due to Milsom St being closed to traffic for the day....
After a snooze in the car for a while, I made the 4 hour drive back home with no further incident or detour.
Having slept on it, i would recommend this run for a combination of reasons. A well signposted route high on views; a special mention to support team at all the check points - they couldn't have been more helpful; food provision particularly in the second half was ideal. It is a hilly route as is clearly articulated on the website, but clearly not in a Lake District way, and as Kurt the main organiser told me afterwards, the no running pole rule simply reflects his personal prejudice. If I was really fussy, it would have been nice to have somewhere to sit and chill after the race for a while (the same would have applied to the Dales Way if it wasn't round the corner from home!), but that's harsh on what was a well organised event, by a team that evidently care about making it as enjoyable an event for the runners as possible.
The 50% or so drop out reflected the terrain and weather conditions, despite the organiser's best efforts to warn people what they were signing up for.
Finally, thanks to Mike for his company through the wet, autumnal night in particular, even if there wasn't much chat over those last 20 miles! And a special thank you to the two young Danes whose enthusiasm and joy in running kept us entertained for much of the route.
parkruns, Sat 21 Sep
From Petra Bijsterveld ... Results ...

Bushy
(1  15:22 Eoin Pierce, Newham and Essex Beagles)
29  18:04 Oscar Stapleton
1388 ran

Cardiff
(1  15:33 Richard Jackson-Hookins, Les Croupiers)
23  18:19 Alex Hirst
820 ran

Bradford
(1  17:21 Martin Soszka, Saltaire Striders)
54  22:34 Beth Massey
263 30:21 Paula Reynier
492 ran

Skipton
(1  18:18 unknown athlete)
24  22:20 Catherine Gibbons
68  26:20 Fiona Schneider
126 30:04 Bernie Gibbons
224 ran

Penrhyn
(1  16:52 Raif Serie, Vale Royal AC)
6   19:35 Lucy Williamson 1st F
192 ran

Horton
(1  17:11 Jack Kelly, U/A)
11  22:08 Geoff Howard
73 ran

Conyngham Hall
(1  18:12 John Young, Harrogate Harriers)
65  28:21 Sally Pickering
70  28:51 Anna Pickering
131 ran

England selection
Congratulations to Tom Adams and Jemima Elgood for their England call-ups for the Senior Home International Mountain race on 21 September in Llanberis! More
Bury 10k, Sun 15 Sep

1 32:37 Cam Reilly
1606 finished

Northern Road Relays, Sun 15 Sep

1  2:00:31 Leeds City AC 'A' 

54 2:21:21 Ilkley Harriers AC 
 1 20:40 Jack Wood (19) 
 2 24:00 Steven Gott (41) 
 3 25:33 Jaysson Sawyer (60) 
 4 25:28 Steve Murray (67) 
 5 22:52 Istvan Jacso (58) 
 6 22:48 Matthew Cox (54)

106 teams

Embsay fell race, Sun 15 Sep
From Rachel Carter... Jack and I were the only Harriers to undertake the BOFRA senior fell race at Embasy today - 2.75 miles, 625ft. Undulating fields at the start were followed by a slight downhill before the climb to the crag, Then it was a quick run across the heathery moor top, before a fast paced descent.

(1 17:32 Simon Bailey, Mercia)
3  19:04 Jack Cummings
35 24:42 Rachel Carter (1st lady)
118 finished

Vale of York Half Marathon, Sun 15 Sep
From Nick Helliwell ... This popular half marathon for PB chasers followed a new route for 2019. Still extremely flat, but exposed, and a stiff breeze took away a little from the otherwise ideal conditions. It's essentially a figure of eight course, so we found ourselves running against the wind several times. Of the around 1500 that started, five were Ilkley Harriers. The relentless flat tarmac suited some more than others, and there was a mix of fortunes on the day. The race is back in April, and is recommended for anyone focused on recording a quick time, if you can face the boredom!
Results ...

(1  1:07:45 Dominic Shaw, New Marske)
137 1:28:19 Nick Helliwell
176 1:31:16 David Foyston
207 1:33:17 Derek Oliver
277 1:36:20 Daryl King
337 1:39:37 Sally Malir
1449 finished

Lake District Mountain Trial, Sun 15 Sep
From Steve Turland ... This is an annual mountain running orienteering event in the Lakes, this year starting in Langdale. There were short and medium courses , but I did the Classic, covering around 22miles with 8,000ft of climb. What makes this interesting is the route choice, constantly trying to choose the best lines between checkpoints weighing up elevation, distance and terrain. Terrain was hard too, from the rocky contours of the Crinkles and Bowfell to the endless tussocks west of Scafell - rarely on paths. I finished in 6hr 24 in 35th position. Well worth a go if you fancy something a bit different.
Hodder Valley Show fell race, Sun 15 Sep
From Jim Ryder ... The Hodder Valley Show fell race was at Newton-in-Bowland this year. A small field of around 40 gathered in the show field. A tough out-and-back course over a small then large hill - 1500 feet climbing overall. Great views from the top - the small hill felt tough on the way back.
Haven't seen official results yet but I was 6th.
parkruns, Sat 14 Sep
From petra Bijsterveld ... Results ...

Bradford
(1  17:31 Martin Soszka, Saltaire Striders)
22  21:18 Beth Massey 2nd F
103 24:29 Phil Hirst
275 30:28 Paula Reynier
475 ran

Harrogate
(1  17:00 Philip Wright, Central AC)
126 24:41 Emily Elmes
487 ran

Chester
1   16:03 Jack Wood
317 ran

Skipton
(1  17:40 Samuel William, Skipton AC)
10  20:38 Oscar Stapleton
19  22:06 Catherine Gibbons
112 30:12 Bernie Gibbons
201 ran

Fountains Abbey
(1  17:55 David Goadby, Helm Hill Runners)
51  22:41 Malcolm Pickering
155 26:46 Sally Pickering
392 ran

Conyngham Hall
(1  19:06 Tom Harris, Harrogate Harriers)
44  28:37 Petra Bijsterveld
101 ran

Great North Run, Sun 8 Sep
From Alex Hyde ... For anyone who enjoys road races, big crowds and an awesome atmosphere, you need to try the GNR at least once. The support from the spectators is quite humbling from the crowds on the motorway bridges at the start line, packed either side as you cross the Tyne Bridge and then on every road-side all the way to the masses cheering everyone on to a grandstand finish and offering the usual jelly babies, orange segments, ice-pops and even beer all the way along! As I'm sure you are all aware, the course follows a linear route from Newcastle to South Shields which presents it's own challenges such as whether to park at the start or finish and how to get from one to the other before and/or after the race. I chose to park at the finish and take a bus to Newcastle (there were about a dozen lined up on the coast road waiting for runners) and the walk from where you are dropped off to the start line is where you really get an appreciation of just how big this race is and is also where the atmosphere starts to kick in.
And so to the race. With a field of 50,000 or so, starting is always tricky but the organisation is superb with each pen funnelled down as you get to the start line so that at least you can start at running pace. I was in pen F which took us almost 20 minutes to get to the start, but then I was always planning to give Mo Farah a head start! The majority of the race was under a cloudless sky and whilst the temperature itself wasn't that high, the sun was very strong and did start to take effect. I set off well enough for me, going through 5k in 26 mins and 10k in 54 mins but soon after the wheels started to fall off and my 15k time slipped to 87mins. As you pass the 8 mile marker the course starts to climb for the next 3 miles - no massive gradient, but strength sapping, particularly in the heat and I quickly realised that my dreams of a sub-2 hour race were not going to be realised. As you approach South Shields, you reach the brow of a hill and then see the North Sea and the finish straight laid out below. The last mile or so is along the coast road with massed crowds encouraging everyone to use the last ounce of energy and then you are done! 2:10:28 for me, 10 minutes slower than I had hoped for but at least a course PB and a placing of 16,716th out of 42,970 finishers so there were more behind me than in front of me!!
Results ...

(1      59:07 Mo Farah)
3280  1:42:34 Oliver Street
4266  1:46:54 Tom Lally
11360 2:00:44 Charlotte Smithson
16773 2:10:28 Alex Stanley-Hyde

Yorkshireman marathon/half marathon, Sun 8 Sep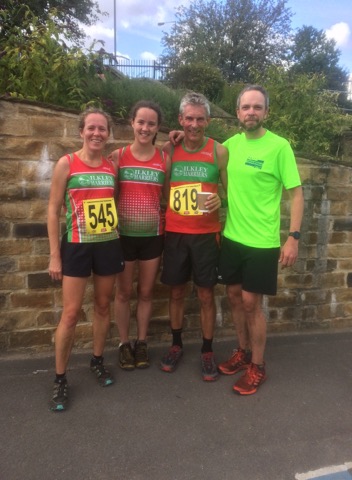 From Lucy Williamson ... A warm, clear, sunny day for the mixed terrain race starting in Haworth. There is a marathon option to be run in pairs or solo and a half marathon (14.6 miles!) There was a great atmosphere amongst the runners with huge amounts of food at the finish!
Results ...

Half:
(1 23:06 Joe Hudson, KCAC)
5  27:04 Steven Gott
33 36:12 Matthew Snow
52 finished

Bradley fell race, Sun 8 Sep

(1  7:53 Nick Swinburn, Northumberland)
6   8:40 Jack Wood
42 11:48 Helen Wood
53 12:26 Roy Ruddle
100 finished

Grizedale Horseshoe fell race, Sat 7 Sep
From Alison Weston ... Ilkley Harriers had a good ladies team in the penultimate English Championship race this weekend - the Grisedale Horseshoe. Beautiful weather for this classic fell race starting from Glenridding and climbing up Helvellyn via Swirrell edge, then down to Grisedale tarn before climbing again up to St Sunday Crag. A very steep descent before the final tortuous climb over Grisedale Brow and back down to the start.
The winner was Brennan Townsend from Keswick AC in 01:44:49. Jack Wood in great form was 14th in 01:55:40, Kate Archer 15th lady in 02:26:44, Helen Wood 29th In 2:34:40 and Alison Weston 54th In 02:50:04.
Results ...

(1 1:44:49 Brennan Townshend, Keswick)
14 1:55:40 Jack Wood
233 finished

Women
(1 2:01:23 Kelli Roberts, Helm Hill)
15 2:26:44 Kate Archer
29 2:34:40 Helen Wood
54 2:50:04 Alison Weston
78 finished

Golden Mile, Sat 7 Sep
From Sally Armitage ... Based on the track at Headingley and ran in heats of about 8 people of similar ability, this is a great local event for a fast mile.

(1 4:25 Callum Elson, Roundhay Runners) 
50 5:45 Paul Calderbank 
54 5:50 Sally Armitage 
81 6:40 Chantal Busby

parkruns, Sat 7 Sep
From petra Bijsterveld ... Results ...

Woodhouse Moor
1   16:09 Nathan Edmondson
514 ran

Bradford
1   15:50 Tom Adams
2   17:24 Istvan Jacso
5   18:17 Steven Gott
10  18:56 David Westhead
16  19:29 Jonathan Turner
19  19:47 Steve Murray
29  21:13 Beth Massey
37  21:33 Oscar Street
67  23:11 Catherine Westhead
86  24:24 Philip Hirst
99  24:46 Hilda Coulsey
121 26:02 Stephanie Fox
173 28:03 Dawn Turner
185 28:17 Paula Reynier
371 37:20 Sally Armitage
435 ran

Skipton
(1  17:48 Tom Barrett, KCAC)
13  21:56 Craig Berry
18  22:33 Catherine Gibbons
60  26:05 Fiona Schneider
205 ran

Tooting Common
(1  16:42 Nicholas Thomas, Fulham RC)
28  19:27 Rob Cunningham
692 ran

Conyngham Hall
(1  19:26 Chris Tinker, LBT)
36  24:01 Malcolm Pickering
82  28:29 Sally Pickering
179 ran

Ilkley Incline, Wed 4 Sep
From Caroline Howe ... Despite a wild and windy evening, lots of Harriers turned out for this year's Ilkley Incline race, making up around half the field of 72. Nathan Edmonson stormed to first place, followed by Cam Reilly in second and Jack Wood making up a Harriers top three. First woman was Ailish Graham of Wharfedale, with Kate Archer and Rachel Carter in 2nd and third. Lots of great Harrier performances in this unique(ly brutal) one mile race, all scoring Harriers league points.
Huge thanks to the fab team of volunteers for helping to make the event a success - Neil Chapman, Jann Smith, Paul Carman, Alison Weston, Sarah and John Hayes, Jane and Andrew McCarthy, Julie Melechi, Rob King and David Howe. Also to Helen and Dick who had already done a lot of the organisation before handing over the reins.
Finally, a big thanks to our sponsors, Appleyard Lees, Complete Runner, and this year, Saltaire Brewery (thanks Nick!) who ensured lots of people went home with beer prizes to celebrate their efforts!
Results
Wetherby 10k, Sun 1 Sep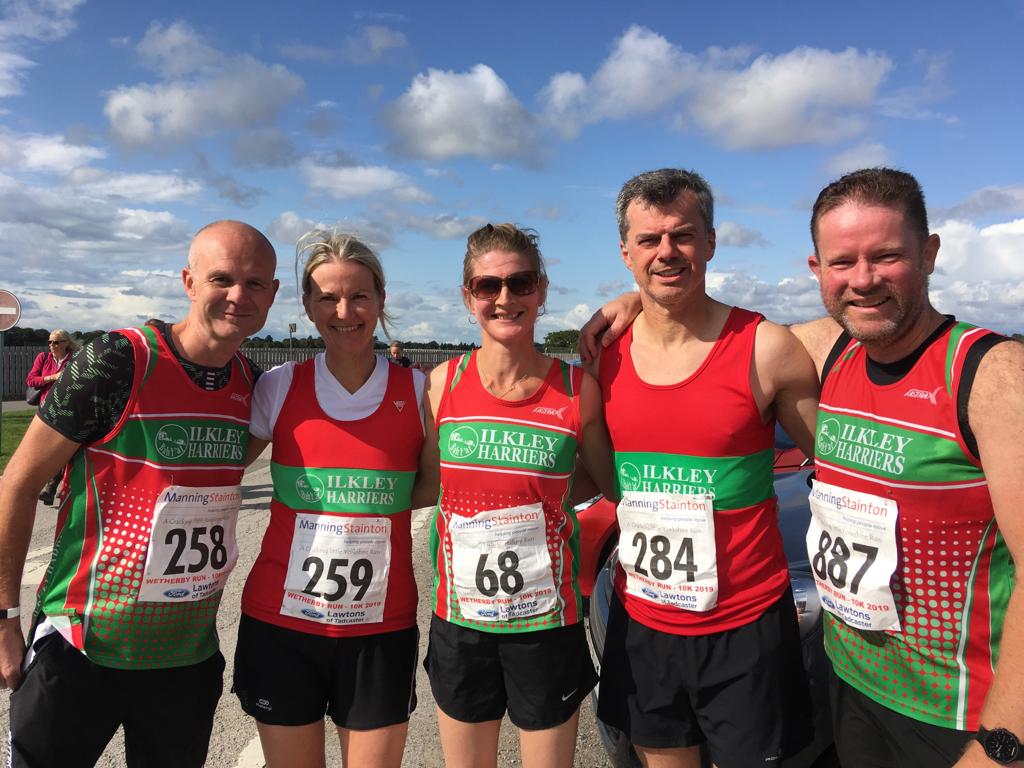 From Dawn Turner ... What a difference a year makes. Last year this race was run in 27 degrees and was a real slog (for me, anyway) in the heat. Cut to 2019 and it was a breezy, sunny but not too hot day - ideal running conditions.
Wetherby 10k is classed as a mixed terrain race and with tarmac roads, single track through fields, cycle paths and the racecourse, it's certainly varied. Numbers were handed out on the day this year for the first time and the queues were a little longer for those arriving nearer the deadline but on the whole this is a well organised, friendly and accessible fixture.
A good day for Ilkley saw Lucy Williamson the first Harrier home and 4th lady, with Sally Armitage 2nd in the F40 category.
Results ...

(1  32:21 Callum Elson, Roundhay Runners)
47  38:53 Lucy Williamson
50  39:08 Jonathan Turner
64  39:51 Steve Murray
101 42:04 Sally Armitage
143 44:11 Craig Berry
411 52:46 Alex Stanley-Hyde
467 55:45 Dawn Turner
608 59:32 Emma Cole
638 61:42 Sue Williamson
865 ran

England Masters International at Maidenhead half marathon, Sun 1 Sep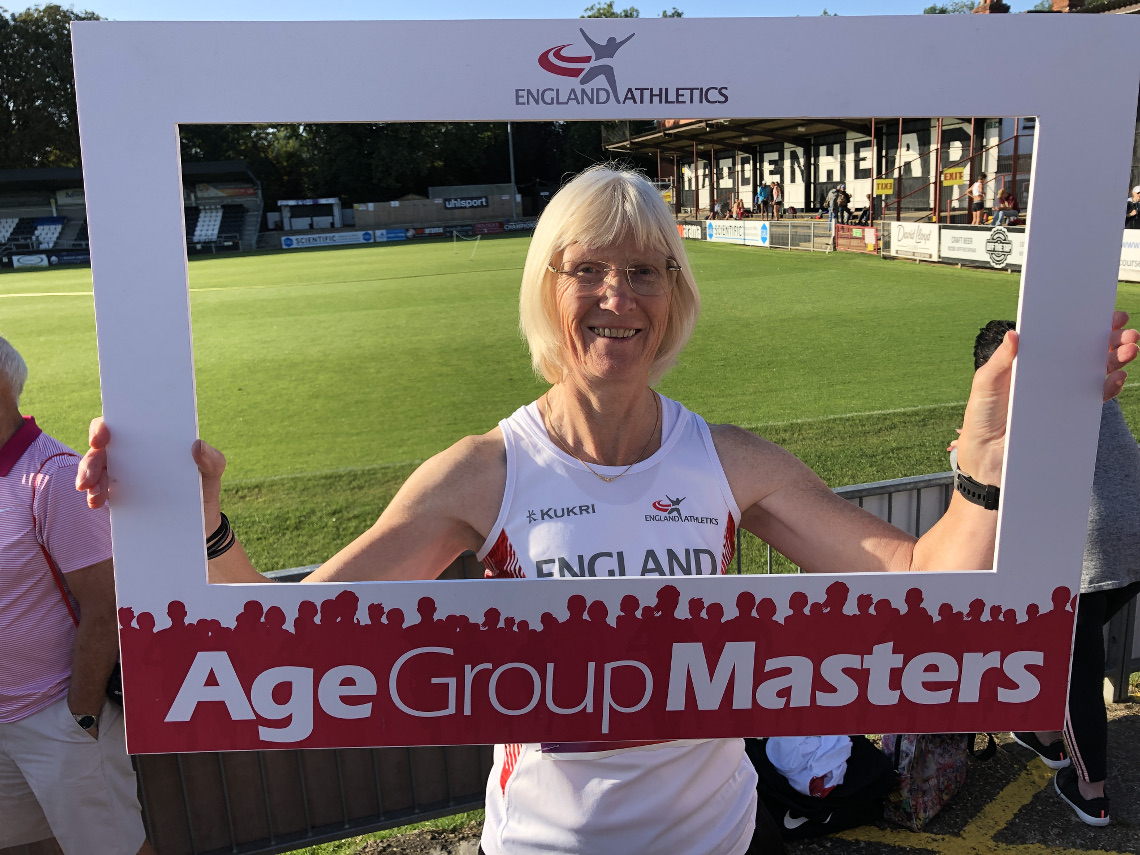 From Hilda Coulsey ... I had a super day. What an honour to take part in an England vest in a Celtic nations international hosted together with the Maidenhead half marathon. I enjoyed meeting others and the competition. Times for the top international runners were amazing and inspirational. The race itself was two laps from the town centre to Cookham, a pleasant village, flattish. The weather promised overcast but was sunny, early twenties but an occasional welcome breeze. Race organisation left a lot to be desired, some marshals missing hence traffic chaos on route and well over an hour to retrieve bags at the end (luckily I hadn't left one). England Athletics did a good job of hosting the international and I have lots of pictures and great memories. I also took the opportunity of lowering my age PB and the Harriers record by a couple of minutes. A good day all round!
Results ...

(1  1:07:53 Rob Corney, Reading Road Runners)
951 1:56:04 Hilda Coulsey 
1569 ran

Hilda's time beats her own LV65 club record of 1:58:33 set at Wilmslow on 24 March.
South Coast Challenge 100k Sun 1 Sep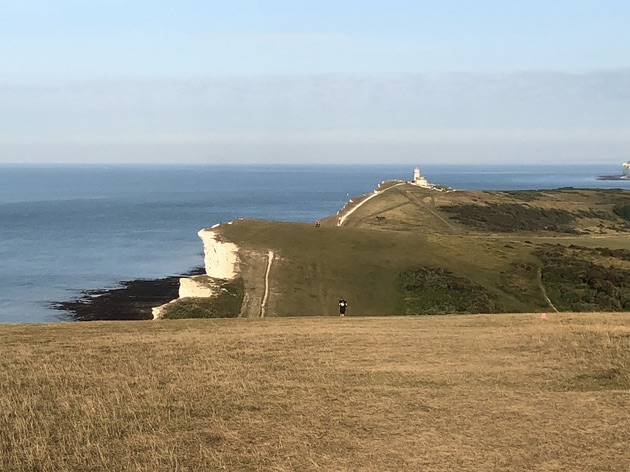 From Dick Waddington... Running along the South Downs Way sounded good fun and filled a gap left by not being able to start the Dales Way Challenge a couple of weeks ago. The publicity shots of running along the top of the towering white cliffs of the famous Seven Sisters were all accurate and very pretty. The South Coast Challenge offers 25k, 50k and 100k walking and running and can even be split into two days, if you fancy it, by camping at half way (sounds harder to me). This is very well organised and professionally run, with plenty of people (and food) at the checkpoints (although I won't go for chilli ragout after 50k again!). A dawn start near Eastbourne was beautifully atmospheric and took us to the coastal path with stunning views over bright white cliffs and a shimmering sea. We followed a winding river inland with plenty of wildlife to keep me interested as we pulled up on to the South Downs. Brighton was just before the half way point and made for an interesting contrast as we ran a few kilometres on the sea front passed the pier and the crowds - there were plenty of kiosks to get a can of coke though (I did). Beautiful hamlets, country churches and even a wedding party peppered the path up and down the chalk hills. The last checkpoint was only 8km before the finish, so some coke and Jaffa cakes fuelled the lovely run in down the river to Arundel. Great fun.

(1 10:48 James Carr)
26 13:41 Dick Waddington 
502 finished

---