Ilkley Harriers news archive 2019
Outstanding Achievements, April
From the Committee ...
Kate Archer for 3:55 Three Peaks performance
Jemmima Elgood for setting a new new Harriers Ladies 10k record 35:33 at Salford
Geoff Howard for his new Harriers v75 5k record 21:13 at York
Ben Sheppard for Fellsman placing
All marathon runners in April, including Matt Cox 2:45 at London and Lucy Williamson 3:15 at Manchester.
Peter Shields for Wednesday training session
London Marathon, Sun 28 April

(1    2:02:37 Eliud Kipchoge, Kenya)
768   2:45:51 Matt Cox
5403  3:23:50 Dave Reynier
8286  3:36:58 Michael Abrams-Cohen
22045 4:27:41 Jill Ezzard
22098 4:27:52 Emma O'Looney
23825 4:34:28 Jacqui Weston
28478 4:52:39 Stephanie Fox
42,549+ finished

Three Peaks fell race, Sat 27 April

(1  2:50:22 Brennan Townshend, Keswick)
44  3:34:16 Jack Wood 
121 3:55:11 Kate Archer
122 3:55:12 Dan McKeown
128 3:56:05 Paul Carman
198 4:07:32 Will Buckton
310 4:25:05 Paul Castle
327 4:28:53 Michael Lomas
462 4:46:32 Dick Waddington
487 4:49:51 Paddy Sturman
426 4:43:26 Paul Calderbank
499 4:51:09 Alison Weston
670 finished

The Fellsman, Sat 27 April
From Colin Williams ... On Saturday morning Ben Sheppard and myself started the 57th Fellsman race, the weather was both wet and windy with the addition of driving hail on the summits. Ben finished in an impressive 12th in a time of 12 hrs 53 minutes, I was pleased to complete the race in 57th in 16 hrs 28 minutes 1.5 hrs faster that I have completed it before The full results are still to be announced.
From Ben Sheppard ... As well as me and Colin Williams, the Harriers contingent included the returning Steve Turland and the debutant (for this event at least!) Brian Melia, both also finishing in good times. The weather turned out a bit less challenging than forecast, but I didn't regret my choice to start and continue in full waterproofs. Entirely predictably I got carried away from the off, too busy nattering with acquaintances to listen to the voice in my head saying "this is way too fast". By Dent (20 miles and probably 5,000 ft) I was spent. The next 20 miles was a slow hard slog as I dropped a few places and lost my spork and almost my mojo. The final 20 miles was painful but the temptation to bail out faded away as the warm shower and hot meal became nearer. Latching onto a couple of strong-finishing Fellsman veterans for the last 10 miles dragged me to a PB and a three-way joint 10th place. It is a wonderfully challenging but low-key and friendly event.
parkruns, Sat 27 April
Beth Massey was first lady at Bradford, 18th overall; and Nick Helliwell was 3rd at Skipton with Catherine Gibbons 2nd lady there.
Results...

Bradford 
(1  17:03 Huseen Usuie, Bingley Harriers)
18 21:32 Beth Massey - 1st lady
342 runners

Cliffe Castle
(1  20:22 Sam Packham, U/A)
37  28:32 Fiona Schneider
121 runners

Orpington 
(1  18:40 Daniel Pink, U/A)
26  23:09 Geoffrey Howard
174 runners

Skipton
(1  19:19 James Annan, Settle Harriers)
3   20:17 Nick Helliwell
21  23:44 Catherine Gibbons - 2nd lady
79  28:18 Mark Scothon
159 runners

Evensplits Leeds 5k, Wed 24 April
From Hilda Coulsey... It was blustery and grey, threatening rain after earlier thunderstorms at the Brownlee Centre for this race, third in the 2019 series and chosen as a Harriers League counter. There was lots of competition amongst the men. Well done to Dan McKeown first Harrier home and some brilliant times from the others. Watching the A race was fascinating as Joe Sagar finally overtook Jonny Johnson, Rotherham, in the final straight after Jonny led for the whole of the rest of the race. The young Junior, James Greenay, looks one to watch for the future. I was the only Harrier in the earlier B race, some competition would be helpful for me too!
Results ...

(1  15:52 Joe Sagar,Spenborough)
16  17:27 Daniel McKeown 
36  18:22 Stephen Coy 
41  18:30 Nathan Coy 
42  18:43 David Foyston 
45  18:54 David Westhead 
57  19:14 Jonathan Turner 
65  19:26 Steve Murray 
68  19:31 Colin Williams 
100 21:22 Steve Newell 
104 21:29 James Greenlay 
166 25:32 Hilda Coulsey 
205 completed

Guiseley Gallop, Sun 21 April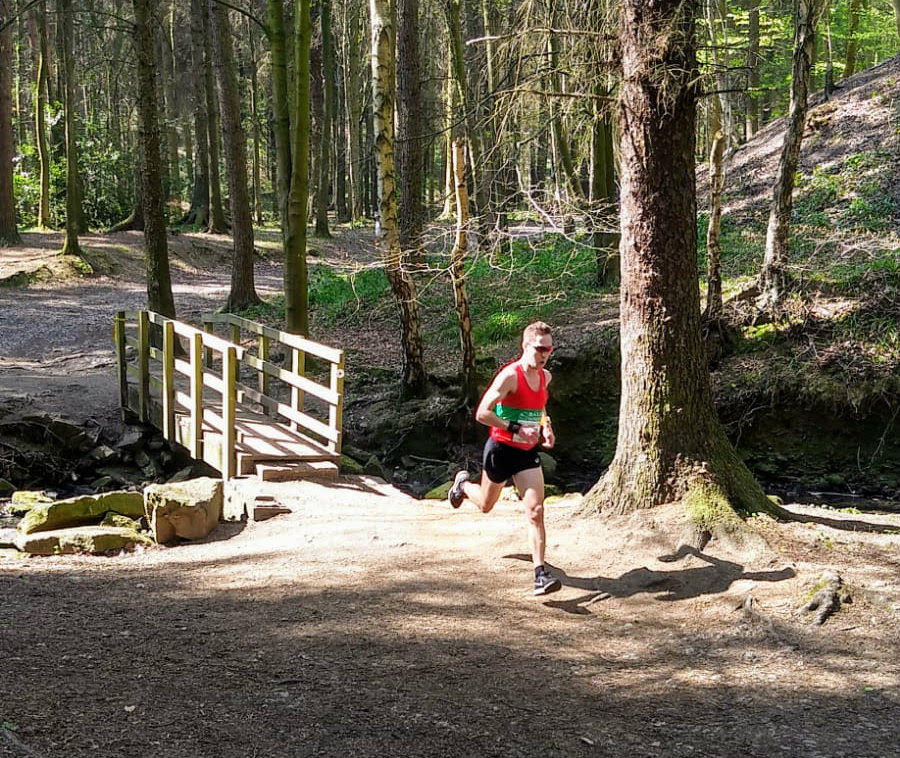 From Jonathan Turner ... Nathan Edmondson was an unlucky second in the Guiseley Gallop on Easter Sunday. Leading the way on the second circuit, he was momentarily sent the wrong way with just over a kilometre to go when lapping runners and suddenly found himself pushed from first place to a minute behind. A great recovery put him right back in the mix but it was too much of a deficit to bridge in such a short space of time, and he had to settle for second, 21 seconds behind winner Matthew Hallam of Valley Striders.
Results ...

(1  36:54 Matthew Hallam, Valley Striders)
2   37:15 Nathan Edmondson
18  41:23 Tim Ashelford	1st M55
31  43:38 Rob Cunningham
73  48:27 Beth Massey	1st F45
92  50:00 Robert Budding
198 56:22 Adela Reperecki 1st F55
253 60:09 Alison Bennett
262 60:58 Sheena Pickersgill
298 64:20 Chris Cunningham
312 65:31 Debbie Jukes
322 66:14 Sue Harris
336 67:36 John Marshall
387 71:53 Ruth Jones
426 finished

Newlands Memorial, Sat 20 April
From Nick Helliwell ... David Foyston and I ran the inaugural Newlands Memorial race on Saturday, which used to be called the Anniversary Waltz. It was a baking hot day, brilliant for views, terrible for running 19km over the Lakeland fells. Still, run it we did, and in retrospect we enjoyed it, though it was hard to feel that way with 2,000ft of near-vertical Robinson in front of you, on the hottest day of the year. We couldn't carry enough water, as our bags were packed with full body cover, hat and gloves (!), but both of us made it to the end and are able to laugh about it now, with tears running down our faces... How hard can 19km be??
Results ...

(1  1:40:50 Rob Jebb)
96  2:23:34 Nick Helliwell
121 2:30:10 David Foyston
291 finished

parkruns, Sat 20 April
Plenty of Harriers turned up to celebrate the 300th Skipton parkrun, Rachel Carter led them home in ninth overall - the second lady - with a superb sub-20-minutes time on a course which features narrow paths and plenty of momentum-losing turns.
Results....

Skipton
(1  17:01 Unknown)
9   19:53 Rachel Carter
18  20:45 Colin Williams
72  24:23 Ethan Thompson
74  24:27 Dylan Shinn
93  25:35 Fiona Schneider
101 25:51 Oscar Shinn
152 28:41 Andy Wolfenden
168 29:21 Bernie Gibbons
277 runners

Woodhouse Moor
(1  17:02 Michael Vargas, Hyde Park Harriers)
29  20:21 Tom Worboys
426 runners

Cardiff
(1  15:40 Unknown)
14  17:04 Alex Hirst
846 runners
 
Bradford 
(1  17:00 Unknown)
41  21:42 James Lee
208 27:04 Sarah Haines
619 runners

Harrogate parkrun
(1  16:39 Mark Ryall, Marshall Milton Keynes AC)
13  18:50 Robin Nicholson
34  19:55 Charlotte ast
82  22:01 Geoff Howard
568 runners

Burnley
(1 16:32 Matthew Lalor, Ribble Valley)
235 31:06 Neve Tennant
367 runners 

Exmouth
(1  14:44 Tom Merson, Exmouth)
55  21:25 Nina Pearce
502 runners

Salford 10k, Fri 19 April
A new club ladies record by Jemima, beating the 2014 time of 36:22 by Nicky Green.
Results ...

(1  31:03 Norman Shreeve, Cambridge & Coleridge)
62  35:33 Jemima Elgood, 4th lady
208 42:33 Adrian Bastow
232 43:23 Sally Malir 
605 finished

Paris Marathon, Sun 14 April
From Caroline Howe... This was marathon #18 for David (6th Paris) and #5 for me. David has long been a fan of this race, and now I know why... it takes in all the main sights of this beautiful city (it made me laugh that they have signs pointing out the Eiffel Tower!), the support is fantastic (and at times a bit crazy!), it's well organised and there is no ballot. It's iconic, with the start and finish on the Champs Elysees, the Arc de Triomphe stunning against the morning's blue skies. We were very lucky with the conditions - crisp and cold but bright. My training for this had not gone to plan due to various interruptions (excuses, excuses!) whereas David, having had a rare 18 months off marathons, got back into the swing, so we suspected our times might end up being quite similar (but heaven forbid we would run it together!) My race went to plan, and I was pleased to keep an even pace throughout, crossing the line in 3:55, and actually enjoying (most of) it! Normal order was restored with David finishing 6 minutes ahead of me in 3:49. A wonderful marathon, highly recommended!
Results ...

(1    2:07:05 Abrha Milaw, )
14881 3:49:06 David Howe 
17835 3:55:00 Caroline Howe 
421965 finished

Flat Caps 10K, Sun 14 April
From Colin Williams ... I ran the Flat Caps 10K at Sowerby Bridge, the only flat part of it are the caps that some of the runner wore, The first 5k is a continual climb, climbing a total of around 1,000 feet the second half was a lot easier down hill most of the way with just a little climb half a kilometre from home. The route is on open roads but with very little traffic and lots of marshals. A very friendly event and well worth running (if your not looking for a PB). I came 14th and was the first V50
Results ...

(1 39:03 Joseph Crossfield, Halifax Harriers & AC)
14 45:35 Colin Williams
258 finished

3 Bridges 10k, Lancaster, Sun 14 April

(1  33:47 Ross Campbell, Barrow In Furness Striders)
134 48:44 Peter Shields, 1st V70
386 ran

Vale of York 10-mile, Sun 14 April

(1     53:47 Steve Littler, Wesham Road Runners & AC)
118  1:09:55 Beth Massey, 3rd LV45
1216 ran

Skipton Triathlon, Sun 14 April
From Val Kerr ... A dry but cold day for this year's Skipton triathlon. This was only my second triathlon and I was pleased to finish in only a few minutes slower than last year. The cold gusts of wind during the bike stage were numbing to the legs making the first 1/2 lap of the run quite difficult. However I was happy to eventually get going and overtake a few folk in the process. This is an extremely well organised and firendly triathlon and is great for novices. There were some fantastic results for a number of Harriers spotted amongst the finishers.

(1  1:00:04 Carl Shaw)
8   1:08:47 Steve Coy
387 1:44:15 Val Kerr (3rd LV60)

Burnsall Half Marathon, Sat 13 Apr
From Jayne Norman ... The 2nd year the Burnsall Half Marathon event has been run by Due North, and a truly well organised, and well waymarked race, so minimal marshals are needed. A sunny breezy day helped runners keep cool on the day. The figure of eight course was great, with plenty of climbs and descents in and around the Wharfe Valley.
Results ...

(1  1:27:20 Ted Mason, Wharfedale)
156 2:37:43 Jayne Norman
214 finished

parkruns, Sat 13 Apr
From Petra Bijsterveld ... Results ...

Bradford
(1  17:33 Martin Fillingham, Saltaire Striders)
47  23:42 Oscar Street
183 29:31 Paula Reynier
379 ran

Pontefract
(1  17:51 Michael Grain, Barnsley Harriers)
12  20:06 Colin Williams
367 ran

Portrush
(1  19:55 David O'Neill, Springwell RC)
89  27:29 Hilda Coulsey
232 ran

Skipton
(1  17:20 unknown)
99  27:53 Karen Lambe
219 ran

Cliffe Castle
(1  18:03 Rob Byers, U/A)
65  27:27 Fiona Schneider
183 ran

Myrtle
(1  17:41 Huseen Usuie, Bingley Harriers)
26  23:09 Geoff Howard
187 ran

Centre Vale
(1  18:52 Diarmuid Pritchard, U/A)
46  26:01 Will Worboys
147 ran

Rothwell
(1  16:31 Ben Butler, Wakefield District Harriers)
114 25:33 Petra Bijsterveld
388 ran

York 5K Series race 3, Thu 11 April
From Geoff Howard ... The event optimises your chances of a good time having a flat and smooth surface with no sharp bends and a field of only about fifty so I was pleased to run my second best time in three years reducing the club v75 record.
Results ...

(1 15:45 Chris Smith, Leeds)
67 21:13 Geoff Howard
97 finished

Blubberhouses Moor 25, Sun 7 April
From Will Buckton ... The LDWA's 23.8 mile route covers a variety of terrain and passes Fewston and Swinsty Reservoirs, Bolton Abbey, Beamsley Beacon, Round Hill and Timble. The ground was drier than my two previous attempts and I finished 10th in 3h27 out of 197 runners and walkers.
Results ...
Baildon Boundary Way, Sun 7 April

(1  1:23:06 Nattthew Hallam, Valley Striders)
5   1:25:59 Istvan Jacso
42  1:38:44 Paul Castle
48  1:40:13 Robin Nicholson
49  1:40:27 Rachel Carter
60  1:42:49 Colin Williams
61  1:42:52 Jane McCarthy
71  1:45:51 John Hayes
88  1:49:18 Peter Shelley
122 1:54:25 Stephen Newell
180 2:02:08 Mark Judkowski
220 2:07:10 Harry Sime
222 2:07:21 Adela Reperecki
240 2:10:11 Peter Shields
306 2:22:57 Helen Doyle
316 2:25:21 Petra Bijsterveld
322 2:27:23 Sarah Hayes
328 2:29:06 Paula Reynier
338 2:33:05 Michael Picken
344 2:35:35 Amanda Newham
387 finished

Greater Manchester Marathon, Sun 7 April
From Sue Williamson ... Lucy beat her PB by 29 minutes 43 seconds.
Results ...

(1   2:21:34 Aaon Richmond, Bideford)
261  2:51:30 Dan McKeown
1180 3:10:14 Dick Waddington
1728 3:14:12 Lucy Williamson
6012 3:58:15 Helen Waddington
13649 finished

Port of Blyth 10k, Sun 7 April
From Hilda Coulsey... I ventured to the Northumberland coast on Sunday to run this well sponsored and supported 10k. This was my first excursion in a British Masters AF event which was delightfully friendly (BMAF chose to join this local event for their annual road 10k). I was slightly intimidated as the convention is, in these BM events, to wear your age category as a target on your back but it amused me that it seemed to be younger runners chasing, I didn't see a single V65 during the race at all! The age category winners posted astoundingly good times. The race itself was flattish along the coast, a few sand dune bumps and back along a main road footpath. It was very misty hence any potential sea views were not visible.
Results ...

(1   31:17 Noah Hurton Milton Keynes )
(239 45:09 Dorothy Kesterton Sheffield Steel City, 1st FV65)
370  52:16 Hilda Coulsey 4th FV65
564 finished 

Toronto MEC 10k, Sun 7 April
From Jim Ryder... I took an opportunity to enter the Toronto MEC 10k race in Canada. One of a series of races organised by the Mountain Equipment Company - a great outdoor shop/co-op across Canada. A rare road race for me - I think only my 5th 10k. It was a friendly low key event, with options of 5k, 10k and half marathon which encouraged a wide range of entries and a good atmosphere. It was out and back along the lakeshore, pretty flat with a strong initial tailwind - so faster out than back.

(1 34:37 Rob Bark
18 39:37 Jim Ryder, 1st V50
498 ran

Howgill fell race, Sat 6 April

(1  2:28:05 Carl Bell, Keswick)
128 3:27:10 Kate Archer
181 3:45:22 Alison Weston
245 4:09:37 Duncan Cooper
304 finished

parkruns, Sat 6 Apr
From Petra Bijsterveld ... Results ...

Bradford
(1  16:39 Matthew Merrick, Aldershot, Farnham and District AC)
17  20:45 Michael Abrams-Cohen
26  21:47 Dave Reynier
55  23:35 Oscar Street
109 25:38 Steph Fox
164 27:46 Paula Reynier
409 ran

Skipton
(1  17:56 Lee Athersmith, RAF AC)
9   20:40 Rob Budding
63  25:53 Fiona Schneider
205 ran

Fountains Abbey
(1  16:40 Sebastian Hall, West End Runners)
55  22:00 Geoff Howard
398 ran

Wetherby
(1  18:11 Joseph Kwallah, Wetherby Runners)
7   19:34 Nick Helliwell
112 ran

Bramley
1   16:42 Nathan Edmonson
190 ran

Clapham Common
(1  15:06 unknown)
46  19:23 Rob Cunningham
789 ran

Bunny Run 1, Tue 2 April
As well as the seniors below, many juniors running, helping Ilkley to first ladies' team.
Results ...

(1  16:16 Michael Matyon, Baildon)
41  20:14 Pauline Munro
56  21:24 Rob Budding
81  23:18 Steve Newell
159 finished

---