Ilkley Harriers news archive 2019
Outstanding Achievements, March
From the Committee ...
Caroline Howe for getting teams together for the Yorkshire and Northern road relays together with Istvan Jasco as well as Caroline individually for work on these relays for the club this month.
Yorkshire relay ladies bronze medallists - Kate Archer, Rachel Carter, Beth Massey, Sally Armitage
Euan Brennan for World XC champs
Jemima Elgood, 1st lady, Bradford 10km (and being 1sec off the all time IH record!)
Kate Archer for great racing this month
Jonathan Turner, sub 40 10km at Bradford
Mike Abrams-Cohen for Spen 20 and general dedication to training
Hilda Coulsey and Geoff Howard for club records set this month and Jayne Norman for half marathon PB at the Settle Saunter
World Cross Country Championships, Sat 30 Mar
Euan Brennan represented Great Britain and Northern Ireland in the men's under-20 event at Aarhus, Denmark. The race was won by Ethiopia's Milkesa Mengesha in 23:52: Euan finished 50th in 26:55, 3rd Brit, helping his team to 8th place, the first of the European teams.
See him on BBC catchup, the U20 race starts at about 1h50 in.
Yorkshire Road Relay Championships, Sat 30 Mar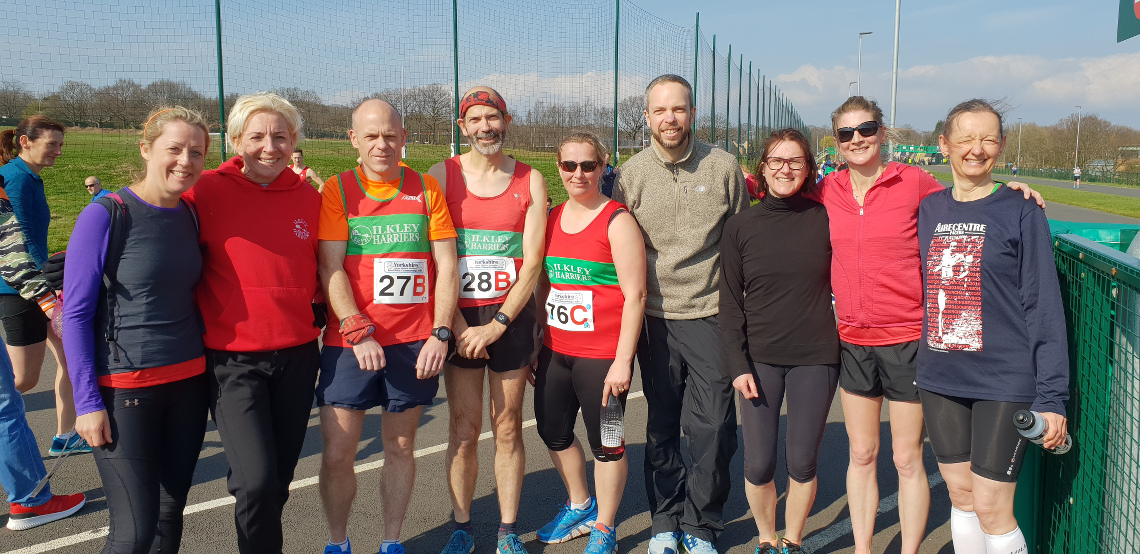 From Caroline Howe and Istvan Jacso ... The ladies managed to field 3 teams, made possible by some last minute stand-ins (thanks Kate and Jayne!) And what a result by our A team of Kate, Rachel, Beth and Sally A who all went well under 20 mins, and finished in bronze medal position, out of 35 teams!! Great performances too in both the B and C teams, to finish 19th and 27th respectively. There were a number of impressive PB and SB-pace runs across all teams (a shame the course was just short of 5k!), with the team dimension seeming to spur everyone on to perform at their best. The team spirit was fantastic, with lots of cheering each other on round the track. In total 15 IH ladies have taken part in either the Northerns or Yorkshires in the past week, and it is really great to see such enthusiasm for these sorts of events and hopefully something we can continue and build on in future years!!
This year we were able to enter two mens teams, so together with the three womens teams, it was a great turnout by the Harriers at the Brownlee Centre. Some of us were slightly surprised that the circuit, known about runners posting fast 5k times on it has a "hill" and it's not completely flat. I think by the end of the day we all proved that this is still indeed a fast course despite that, as most of us posted unofficial 5k PB times, however the distance of each legs were officially 4.8k. It was Nathan and Steve who started the race, both were benefiting slightly from running with others around them which was helpful in the windier parts of the course. Both of them gave an amazing start for the two teams in 9th and 40th place. Next ones were Dave and Colin who both said that the third lap was pretty tough! Third runners were Nick and Mark completing the changeover in 24th and 42nd place. Bringing home the virtual baton were Istvan and Mike. Istvan nearly missed the changeover while Mike experienced a bit of fatigue after a recent 5k. At the end, team A finished 17th and team B came home in 39th out of 49 teams who completed the race which is a solid result and we all enjoyed the day!
Results ...

Ladies
1 73:01 Holmfirth
2 75:54 RZH
3 76:35 Ilkley A
        18:34 Kate Archer
        19:04 Rachel Carter
        19:46 Beth Massey
        19:11 Sally Armitage
19 87:07 Ilkley B
        22:12 Caroline Howe
        21:55 Abigail Swales
        22:00 Tracey Watson
        21:00 Sally Malir
27 94:27 Ilkley C
        22:16 Jane Bryant
        24:32 Petra Bijsterveld
        24:15 Jayne Norman
        23:24 Helen Waddington
35 teams

Men
1  60:25 Hallamshire
17 68:35 Ilkley A
        15:35 Nathan Edmondson
        17:52 David Foyston
        18:53 Nick Helliwell
        16:15 Istvan Jacso
39 76:37 Ilkley B
        18:07 Steve Murray
        19:10 Colin Williams
        20:22 Mark Iley
        18:58 Michael Abrams-Cohen
49 teams

Coniston 14, Sat 30 Mar

(1  1:13:32 Lewis Rodgers, Loftus & Whitby)
895 2:17:20 Dave Ibbotson
1280 finished

Mother's Day 10k, Lancaster, Sat 30 Mar
From Pete Shields ...

(1 32:32  Jack Turner, Lancaster University)
88 51:39  Peter Shields 1st V70
257 ran

LM42 NAV4Adventure, Sat 30 Mar
From Brian Melia... I ventured up to Askham, near Penrith for the start of this 42 mile Lakes Mountain race, run by Joe Faulkner. Super friendly with lots of good runners. It runs over Loadpot up to High Street on beautiful grassy tracks. Then by Angle tarn down to George Starkey hut, for refreshments. There was a great crew of helpers. I ran most of the day with a friend Matt Neale, who helped with my Joss Naylor. We continued over to Wythburn church via Grisedale tarn with Tom Hollins tagging on. This is the same checkpoint as on the Old County tops. The only problem was we needed to ascend up to Helvellyn, which is some climb. I had sore feet and was a little tired so dropped behind on the climb. Only to be caught by another good friend. We ran over to Whiteside then back to George Starkey where I needed a rest as feet annoying me. It is then just a pleasant trot back over Place Fell and back under the hills to Askham for lovely homemade soup and tea ... .A perfect day in the mountains ... apart being a little slow.
Finished 10hours 11 minutes in 64th place.
parkruns, Sat 30 Mar
From Petra Bijsterveld ... Results ...

Woodhouse Moor
1   16:19 Jack Wood
593 ran

York
(1  16:29 Chris Poulton, York Acorn RC)
47  19:48 Rhys Jones
606 ran

Bradford
(1  17:51 Martin Fillingham, Saltaire Striders)
19  21:38 Dave Reynier
50  23:26 Oscar Street
81  24:39 Tom Lally
83  24:50 Adela Reperecki
155 27:50 Paula Reynier
409 ran

Skipton
(1  17:46 Lee Athersmith, RAF AC)
111 29:19 Bernie Gibbons
198 ran

Wetherby
(1  18:51 Joseph Kwallah, Wetherby Runners)
17  23:16 Geoffrey Howard
88 ran

Cliffe Castle
(1  21:42 Joe Atherton, Keighley and Craven)
36  27:18 Fiona Schneider
60  29:22 Karen Lambe
161 ran

Evensplits 5k Leeds, Wed 27 Mar
From Hilda Coulsey... Results ...

(1  16:01 Jonny Johnson, Rotherham Harriers )
32  17:52 Stephen Coy 
63  19:06 Harry Stead 
64  19:07 Michael Abrams Cohen
142 23:42 Alison Bennett 
169 25:44 Hilda Coulsey 
203 finished

Northern Road Relays, Sun 24 Mar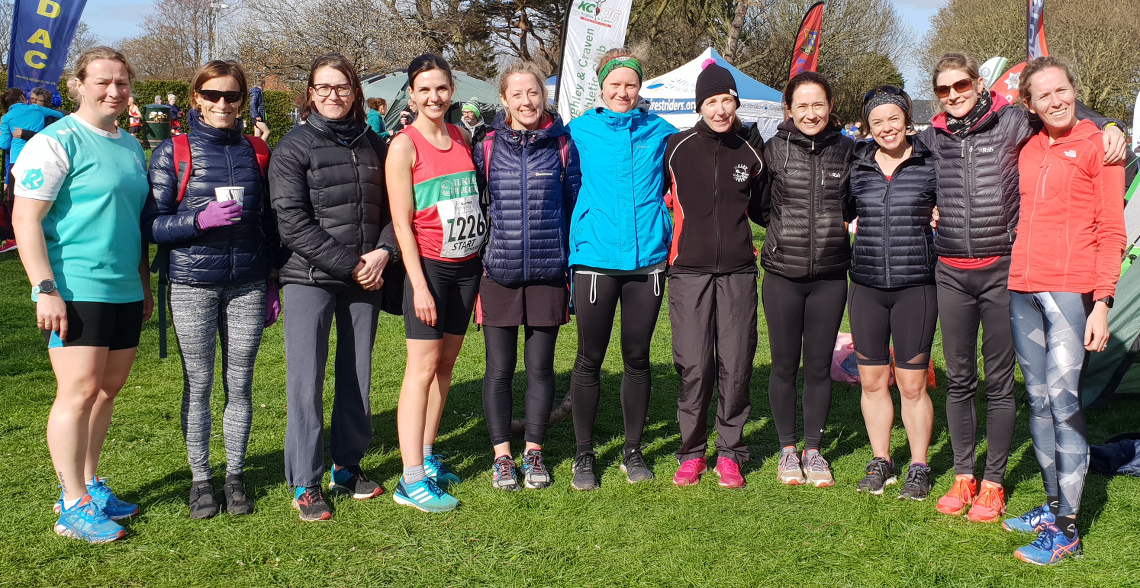 From Caroline Howe ... It was a bright, sunny, breezy day in Birkenhead for the Northern Road Relays, at which the Club managed to field two teams. It had been touch-and-go as to whether this would be the case, so many thanks to the late joiners Jayne and Tracey who ensured we were able to make up a second team!
The race consisted of two longer legs of 8k and four shorter legs of 4k, all around the pretty Birkenhead Park. Apart from the first leg, the field is fairly spread out, with the men's and women's races taking place at the same time, so it feels a bit like a parkrun. The atmosphere was very relaxed and sociable, with those who had already run or waiting to run able to enjoy spectating. So it had a real 'day out' feel!
For most of us this was our first experience of this sort of event, and it was a great way to meet some new faces while representing the club at what is a prestigious, championship event with a very high quality field.
Our A team performed spectacularly, finishing in 14th position out of 64 teams in total (54 of which completed the race) - equalling the highest position the club has ever achieved at these championships, and with very fast individual performances. The B team finished in a respectable 42nd place, again, with everyone putting in great individual times.
But most importantly, we all enjoyed the day immensely and are keen to return! These events really are open to everyone - from the top class runners, to those who simply want to challenge themselves in a team environment over an unfamiliar distance. I urge everyone to consider joining us next time!
Results ...

Women
(1 1:47:30 Rotherham)

14 2:04:12 Ilkley Harriers A
Jane Mccarthy    (25) 30:51
Sarah Pickering  (22) 15:12
Beth Massey      (19) 15:52
Rachel Carter    (18) 30:34
Sally Malir      (15) 16:15
Sally Armitage   (15) 15:28

42 2:23:58 Ilkley Harriers B
Abigail Swales   (51) 35:40
Nicky Liptrot    (45) 17:10
Tracey Watson    (41) 17:08
Helen Waddington (42) 38:17
Jayne Norman     (45) 19:21
Caroline Howe    (43) 16:22

54 teams completed

Wilmslow Half Marathon, Sun 24 Mar
From Petra Bijsterveld ... Hilda and I were the only Harriers today at the 'Wilmslow Festival of Running' which incorporates a half marathon, a 10K, and fun runs for the juniors. I had run the 2018 version with 'bonus' heat (it had been moved to June due to snow in March), this year the race was back in its normal slot and we had excellent running weather, cool with sunshine and a manageable breeze. It's a good, traffic free course which goes through pleasant suburban countryside and many locals come out to offer support. Impeccably organized with a fab medal there really is nothing to dislike. The obvious downside is that you have to run 13.1 miles. I had no particular expectations regarding time, though I hung around the 2 hour pacer until about half way. Then the legs started to complain rather loudly, not helped by there being rather more uphill in the second half. I slowed quite a bit but was pleased to at least not walk. Hilda did rather better and managed to set a new FV65 club record for the HM distance, knocking more than 6 minutes off the previous record which had been held by Margot Dale since 2007.
Results ...

(1   1:05:26 Nigel Martin, Sale Harriers)
1858 1:58:33 Hilda Coulsey
2135 2:04:26 Petra Bijsterveld
2836 finished

Wakefield 10k, Sun 24 Mar

(1  32:05 Joe Sagar, Spen)
414 49:34 Pete Shields 1st V70
1723 runners

Edale Skyline fell race, Sun 24 Mar
From Alison Weston ... A brilliant performance from Kate Archer in this classic skyline race - 4th lady, 1st LV40 and a PB by well over 30 minutes! I got round the 21 miles as 2LV50 but it felt very hard and a long way behind Kate! A new record this year by Carl Bell.
Results ...

(1  2:34:11 Carl Bell, Keswick)
49  3:27:35 Kate Archer
201 4:19:21 Alison Weston
286 runners

Heptonstall Fell Race, Sun 24 Mar

(1  1:50:22 Phil Marsden, Horwich Harriers)
82  2:24:53 Helen Wood
211 2:56:16 Mark Judowski
235 3:05:37 Adela Reperecki
279 finished

Yorkshire Cakeathon, Sat 23 Mar
From Colin Williams... On Saturday afternoon I took part in the Yorkshire Cakeathon, a race that you can run as many 6.55 mile laps in 6 hours and you get to eat a piece of cake after each lap, hence the name. I started off well, but after 4 laps (26.4 miles) I was done in and decided to stop. A race for those who like cake, I find it difficult to eat during a race, but enjoyed in after I finished.
I finished third in the marathon, in a time of 3:48:57
Results ...
parkruns, Sat 23 Mar
From Petra Bijsterveld ... Results ...

Bradford
(1  17:15 unknown)
10  20:08 Michael Abrams-Cohen
23  21:40 Dave Reynier
73  24:10 Oscar Street
154 27:27 Paula Reynier
463 ran

Clapham Common
(1  17:23 Christoph Neumayer, U/A)
24  19:22 Rob Cunningham
754 ran

Stretton Hills fell race, Sun 17 Mar
English Fell Champs counter ... Results ...

(1  45:04 Carl Bell, Keswick)
164 58:39 Iain Gibbons
269 68:43 Alison Weston
339 finished

Bradford 10k, Sun 17 Mar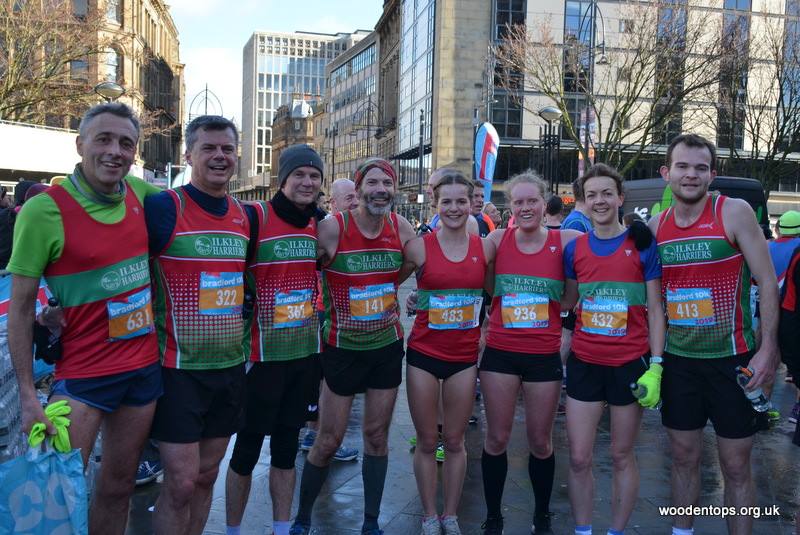 From Helen Waddington ... So many incredible performances despite the inclement weather. A great turnout for this League counter - PBs, Sub-40 first-timers, high category placings and an amazing and what I assume must be a new V75 Club record from Geoff Howard who cruised past me around mile 4.
From Pete Shields ... Well done to Geoff Howard who is top of the GB Rankings for the MV75 10k after this result.
Results ...

(1  32:24 Joe Sagar, Spen)
10  35:18 Istvan Jacso
15  36:23 Jemima Elgood 1st lady
32  38:21 David Westhead 2nd V50
68  39:37 Jonathan Turner PB
69  39:37 Kate Archer 3rd lady, 1st F40
84  40:21 Steve Murray
92  40:57 Colin Williams
115 41:42 Sarah Pickering
136 42:19 Michael Abrams-Cohen
405 45:43 Geoffrey Howard 1st V75
535 49:19 Helen Waddington
771 52:39 Alex Stanley-Hyde
958 55:11 Michael Picken
1027 54:46 Dawn Turner PB
1029 55:16 Paula Reynier
1092 55:30 Ruth Jones
1931 65:25 Diane Ollier
2445 finished

Thirsk 10M, Sun 17 Mar

(1  53:38 Rob Scott, RZH)
5   54:53 Jack Wood
224 71:23 Sally Malir 2nd F50
1040 finished

Muncaster Luck fell race, Sun 17 Mar
From Jim Ryder ... Muncaster Luck fell race takes in a few lower fells, two river crossings, moorland, tussocks, bog - a little bit of everything. Nice low key event in Western Cumbria. I was 10th and 2nd V40 in a field of 41 in 1h51. 11.3 miles, 2000ft
parkruns, Sat 16 Mar
From Petra Bijsterveld ... Results ...

Woodhouse Moor
(1  18:05 Neil Armitage, Pudsey and Bramley AC)
5   18:40 Tim Ashelford
402 ran

Cardiff
(1  15:56 Benjamin Reynolds, Cardiff AAC)
13  17:18 Alex Hirst
744 ran

Bradford
(1  18:20 Martin Fillingham, Saltaire Striders)
17  22:34 Dave Reynier
23  23:01 Caroline Howe 2nd F
62  26:23 Alex Stanley-Hyde
109 29:27 Paula Reynier
209 ran

Roundhay
(1  18:19 Daniel Josephs, South Shields Harriers)
44  24:00 Tom Worboys
259 ran

Newborough Forest
(1  18:25 Rory Johnson, Eryri Harriers)
2   19:26 Lucy Williamson
82 ran

Myrtle
(1  18:49 Matthew Warters, Keighley and Craven AC)
59  28:13 Petra Bijsterveld
123 ran

Selection news
From Dave Woodhead ... Euan Brennan has been named in the British Team for the IAAF World XC Championships in Aarhus, Denmark, later this month. Info.
League update
From Jane McCarthy ... A great start in the 2019 Harriers League with nearly 40 runners enjoying either the Meltham 10K, Harewood Half Marathon or Ilkley Fell Race. Steve Newell tops the table after declaring his Wildcard from the Cambridge Half Marathon. Well Done Steve! But not far behind and having run one race less is Kate Archer, her Wildcard coming from her win at the Rombalds Stride and earning her an impressive 105 points for the League. League winner from 2018 Colin Williams is in third place. Jack Cummings has started his Fell League campaign with another maximum 100 points from his fantastic win at the Ilkley Fell Race. The next League Race is the Bradford 10K on Sunday 17th March.
2019 results tables @ 11 Mar
Please note that all races are now confirmed (see League page) and include Evensplits 5K on 24th April, John Carr Trail Race 1 on 1 May (open for entries on RaceBest now) and Harrogate & District Summer Road League (HDSRL) race 3 on 20th June at Yeadon (Dragons Running Club) - details and HDSRL entry on the HDSRL website.
Spenborough 20, Sun 10 Mar
From Michael Abrams-Cohen ... Flying the flag for Ilkley at the Spenborough 20 Mile - starting on the Queen Mary's track before heading out on two 10 mile laps. All weather was experienced - starting with rain, then sleet and snow before finishing with glorious sunshine. With 1500ft elevation, it was the perfect practice for London.
Results ...

(1 1:56:22 Lewis Gamble Thompson, New Marske)
70 2:35:36 Michael Abrams-Cohen
187 finished

Liverpool Landmarks Half Marathon, Sun 10 Mar

(1  1:11:00 Daniel Kestrel, Rotherham Harriers & AC)
131 1:30:10 Dick Waddington
191 1:33:53 Jane McCarthy - 1st F45
3,046 finished

Trafford 10k, Sun 10 Mar

(1  29:26 Bart van Nunen, U/A)
250 40:22 Nick Helliwell
888 finished

Dentdale 14, Sat 9 Mar

(1  1:23:13 Nick Leigh, Horwich RMI Harriers & AC)
6   1:27:51 Dan McKeown
252 2:28:15 David Ibbotson
283 finished

Dentdale 7, Sat 9 Mar

(1    43:18 Mark Kearney, Elvet Striders)
154 1:20:47 Elaine Ibbotson - 1st F60
189 finished

Haworth Hobble ultra, Sat 9 Mar
From Colin Williams ... On Saturday I took part in my first Haworth Hobble along with another Harrier Adela Reperecki, we experienced all of the weathers in one day starting in the rain, but got hail and sunshine too, but the hardest to cope with was the strong, strength sapping, head wind, which we ran into for the first 10 miles or so. The very hilly 32 mile route with over 5,000 ft. of climb (according to my Garmin) I found to be a tough run under those conditions.
Results ...

(1  4:22:59 Rory Harris, u/a)
88  5:56:45 Colin Williams 
167 6:47:30 Adela Reperecki 
294 finished                     

parkruns, Sat 9 Mar
From Petra Bijsterveld ... This week Oscar Stapleton was first finisher at Riverside (Chester-le-Street) and closer to home Rachel Carter was first woman home at Skipton. Mark Mon-Williams flew the Harriers flag at a rather small parkrun in Toulouse. Numbers wise the inaugural parkrun in Centre Vale park in Todmorden was a huge success, with almost 200 people turning out on an unpleasant day weather-wise. Our own Will Worboys has been instrumental in setting this new parkrun up, well done Will!
Results ...

Bradford
(1  17:45 Andrew Humphries, Airecentre Pacers)
41  22:39 Dave Reynier
177 28:52 Paula Reynier
354 ran

Riverside
1   16:55 Oscar Stapleton
436 ran

Skipton
(1  17:43 Chris Ovenden, U/A)
7   20:37 Rachel Carter 1st F
9   21:19 Martin Archer
57  27:02 Fiona Schneider
176 ran

De La Ramee 
(1  18:59 Jerome Costinot, U/A)
2   20:04 Mark Mon-Williams
14 ran

Centre Vale
(1  17:58 Alex Whittem, Calder Valley Fell Runners)
39  24:07 Tom Worboys
197 ran

From Geoff Howard... The Fountains Abbey Park Run was abandoned today because of a 'major medical incident' namely that one of the runners (called Paul) had had a cardiac arrest within minutes of the start. I was stopped after 8m 10s which in retrospect I estimated must have been about as far away from the incident as it was possible to be. This indicates just how quickly a marshal, spectator or competitor had managed to contact the Run Director, who having made the decision to abort the event, had then contacted other marshals including the one who stopped me. This evening I received a copy of a message from Paul's wife which said that "Paul was in Harrogate Cardiac Unit and things were looking good, adding that the swift action taken had saved his life". It served to remind me that marshalling isn't just a matter of being a human signpost.
Brownlee Centre Festival of Running, Sun 3 Mar
From Geoffrey Howard ... The inaugural Brownlee Centre Festival of Running was held on Sunday just after the previous night's strong winds had fortunately almost gone. It had an ambitious programme of five events from one mile to twenty miles all run round the Centre's one mile cycle track (with all entry fees going to a Leeds University overseas charity). The fields weren't large with many not belonging to a club although most events were won in impressive times. In the 5k it must be the first time I've run against more than four times as many women (32) than men (7). The winner was Martin Roscoe (Leeds City) in 18m 59s and, although I was third, my time of 22m 34s was 18s slower than at Horton Park Run (which has more than twice the ascent) three weeks ago. Maybe upping to v75 in the meantime has taken a toll. The whole event had a Park Run feeling from the excellent organisation (e.g. results on the RunBritain website within a couple of hours) to the participation of a wide range of abilities (including some very young children in the mile). I hope it will, and expect it to, prosper.

5k
(1  18:59 Martin Roscoe, Leeds City) 
 3  22:34 Geoffrey Howard
39 finished

From Hilda Coulsey ... Geoff's time is a new V75 club recoprd.
Cambridge Half Marathon, Sun 3 Mar
From Steve Newell ... After the pain of the moor and the hills, it was lovely to get onto nice, flat roads for the Cambridge half marathon. It is a lovely course, going through the centre of the city and past a number of the iconic colleges, before heading into the Cambridgeshire countryside, through Grantchester and back into the city. Lots of support and entertainment along the way helped to make this one of my favourite half marathons. It is a very popular event with an entry limit of 10,000.

(1 1:06:40 Michael Kallenberg, Cardiff AAC)
965 1:35:43 Steve Newell
8,357 finished

Settle Half Marathon, Sun 3 Mar
From Jayne Norman ... Described as a hilly road marathon, Its grim up North Running organised a superb event. An out and back course - so you knew the hills you had to return on! A few Harriers attended the race. For myself the thought of homemade cake at the end got me through the tough middle section. My half marathon PB was gained on the course, by a whole minute.
Results ...

(1  1:20:25 David Smithers, York Knavesmire)
28  1:39:08 Daryl King
142 2:07:08 Jayne Norman
197 finished

Anglesey half marathon and 10K, Sun 3 Mar
From Sue Williamson ... Starting on the Menai Suspension bridge I was the only Harrier taking part in the Anglesey 10K. Through wind and rain I was happy to finish in the time of 54:58. Great encouragement from a large crowd with nice views.

(1   32:23 Gwion Roberts, Meirionydd RC)
244 54:51 Sue Williamson
527 finished

Ron Hill Accrington 10km, Sun 3 Mar
From Jean Sullivan ... This 10km race is held in Accrington, Lancashire, birthplace of the famous athlete Ron Hill. Unfortunately he was too unwell to attend today's event. Organised by Cannonball Events, this well-organised and friendly 10km race starts at Accrington's impressive Town Hall, is largely on road, apart from a 2-mile section on the old train line between Haslingden and Accrington which is now used as a cycle track. By mile 4 the climbing is complete and the flat and then downhill finish was very welcome! I was particularly impressed by the appearance of provisional results via 'live timing' on a large leader board within seconds of crossing the finishing line!
Results ...

(1  35:29 Jon Dance, Salford Harriers & AC)
174 51:04 Jean Sullivan 
515 finishers

Pendle Round, Sat 2 Mar
From Jim Ryder...Two Harriers in a top quality field for the Stan Bradshaw Pendle Round from Barley, 9.3 miles, 1936 feet.

(1  1:05:03 Rob Hope, P&B)
44  1:19:08 Jim Ryder
200 1:46:02 Adela Reperecki
250 ran

Podium 5k, Sat 2 Mar
From Sally Armitage... This is now the 3rd time I've driven over to Barrowford for the Podium 5k. The course is almost 5 laps of a totally flat cycle track. It's certainly the fastest 5k course within 20 miles of Ilkley and always attracts the fastest runners, with the first male of the 'A' race finishing in 14:42 and the first female finishing in 16:10.

B race
(1 17:08 Seb Patrick, Trafford AC) 
40 19:58 Sally Armitage
55 ran

parkruns, Sat 2 Mar
From Petra Bijsterveld ... Results ...

Cardiff
(1  15:28 Kurt Taylor, Bristol and West AC)
14  17:01 Alex Hirst
798 ran

Bradford
(1  17:24 Sam Clegg, Idle AC)
57  23:18 Oscar Street
212 28:52 Paula Reynier
474 ran

Skipton
(1  17:40 Chris Ovenden, U/A)
10  20:35 Will Buckton
206 ran

Clapham Common
(1  16:54 Hugh Tibbs, U/A)
11  19:02 Rob Cunningham
709 ran

---