Ilkley Harriers news archive 2019
Outstanding Achievements, February
From the Committee ...
Sally Armitage and Steve Murray for their PBs at Dewsbury
Jack Wood for winning Wadsworth Trog
Kate Archer for Rombalds Stride, Harewood Half and Ilkley Moor Fell Race placings
Jack Cummings for winning the Ilkley Moor Fell Race
Anna Pickering for amazing run of attendance at cross countries this season, including Yorkshire, Northern and Nationals
Helen Thurston for her National XC placing and 5k PB
Steve Weston and Jane McCarthy for organising the Ilkley Moor Fell Race (senior and junior)
Gaenor and Steve Coy for the cross countries organisation, and Nicola and Rob Budding for the PECO XC.
Evensplits 5k Leeds, Wed 27 Feb
From Hilda Coulsey... A select band of Harriers ran the first of the 2019 Leeds Evensplits 5ks at the Brownlee Centre. Getting there and home was a struggle. However times were amazing with everyone, bar me, under 20 mins (I'll have to try harder!).
Results ...

(1  15:43 Johny Johnson, Rotherham)
2   16:09 Dominic Coy
27  17:57 Stephen Coy
30  18:05 Nathan Coy
33  18:09 Helen Thurston PB
55  18:58 Michael Abrams-Cohen PB
65  19:27 Robert Budding
172 25:10 Hilda Coulsey
2154 finished

Brian Sweet Predictor Run, Tue 26 Feb
From Vince Gibbons ... The inaugural Brian Sweet Predictor Run attracted 37 runners, 32 of whom ran the full 10k course on an unusually warm February evening. The event was staged in memory of Brian Sweet, a stalwart of the club who led a Tuesday night club run every week for more than two decades. Brian introduced hundreds of new starters to running.
Prizes for the most accurate male predictions go to Keith Wood (one second), Peter Tapper (two seconds) and Paul Stephens (nine seconds). The female prizes were won by Catherine Gibbons (29 seconds), Sarah Pickering (1 minute 20 seconds) and Adela Reperecki (1 minute 29 seconds).
Results
Prizes will be presented at club night on Tuesday 5 March. Feedback on the event (to Bernie Gibbons) will help with planning for the future.
Many thanks to: organiser Bernie Gibbons; Neil Chapman who measured the new course and timed the event; course marshals Alison Bennett, Ros Blackburn, Barbara Bullock, Jane Cullingworth, Ben Joynston, Don McCrae, Clive Smith, Pauline Watts, Alison Weston and Sally Wright; and to course sweepers Jayne Norman and Vince Gibbons.
HDSRL entries are open
From Paul Stephens ... Entries to this year's Harrogate and District Summer Race League are now open. Please enter via the HDSRL web-site and follow the links - www.harrogate-league.org.uk.
The first race is Harrogate on May 21st, folowed by Ripon, Yeadon and Knaresborough with the handicap in Wetherby on July 17th. On-line entries only (and I'm sorry but the club is not offering a discount). See you there.
30th Ilkley Moor fell race, Sun 24 Feb
Well done to Jack Cummings on winning the senior race. (Report to follow.)
Links to photos and results on the IMR race page.
National XC, Sat 23 Feb
From Petra Bijsterveld ... After the successful Northern Championships at Harewood House in 2018 the English Cross Country Association decided to hold the 2019 Nationals here, a wise choice indeed. Whilst the sight of thousands of XC runners charging up Parliament Hill is almost unequaled, it is good to have this national event in the North and especially when it is right on our doorstep (and in Yorkshire!) The large undulating grounds of the estate make for a good course with no more than two laps having to be run by anyone, and the house gives a good backdrop for the photographers. The recent dry weather ensured that there was not a spot of mud on the course, and the gloriously sunny conditions on the day made for good spectating and 'general hanging about' conditions, though pretty warm for running. The course, though dry, was energy sapping with an uphill start and several long inclines that appeared to go on forever and seemed hardly to be compensated for by the downhills. That was my impression at least as I forced myself not to cry or walk! Despite quite a few late drop-outs due to injury and illness we still had a good number of Ilkley juniors and seniors running. At the pointy end Euan Brennan came 4th in the junior men, and Helen Thurston finished impressively in the first 100 of a fast senior women's field, having not run XC since her school days. Luckily for the club she now appears converted to the discipline and will be back in the autumn!
For most of us the Nationals herald the end of the XC season and thanks must go to Steve and Gaenor Coy for organizing all the entries, keeping everyone informed, taking the tent to the events, and generally providing encouragement and support to all.
As an enthusiastic XC runner I feel compelled to give a shout out to anyone in the club who wonders what it is all about and hasn't tried it: come and join us in the next season 2019/2020 starting with the West Yorkshires. Don't be put off by terms such as 'championships', these events are open to everyone regardless of speed. As not everyone runs at the same time there is plenty of opportunity to soak up the atmosphere, marvel at the elites at the front, and cheer on your club mates, in other words: always a good day out.
The Ilkley women's team came 19th out of 114, the men's 50th out of 144.
Results ...

( 1  36:34 Mahamed Mahamed, Southampton)
265  42:17 Jack Wood
451  44:22 Daniel McKeown
463  44:28 Istvan Jacso
568  45:40 Steven Gott
928  48:58 Tim Ashelford
1070 50:20 David Westhead
1468 54:33 Robert Budding
1999 82:53 Peter Lewis
2006 finished

(1  28:17 Emily Hosker Thornhill, Aldershot)
76  32:32 Helen Thurston
137 34:01 Lucy Williamson
228 35:45 Rachel Carter
259 36:13 Helen Wood
683 43:38 Sarah Edwards
842 47:01 Alison Bennett
858 47:34 Petra Bijsterveld
893 48:49 Anna Pickering
921 50:01 Sally Pickering
1034 finished

Junior women
(1  20:40 Amelia Quirck, Bracknell AC)
13  22:03 Jemima Elgood
87  26:04 Sarah Pickering
129 ran

Junior men
(1  28:27 Rory Leonard, Morpeth AC)
4   28:59 Euan Brennan
201 ran

High Cup Nick fell race, Sat 23 Feb
From Jann Smith ... A stunning horseshoe race in the lesser known North-West corner of the Dales, starting and finishing at the beautiful village of Dufton.
Results ...

(1  59:12 Nick Swinburn, Northumberland FR)
64  76:46 Paul Carman
203 92:19 Jann Smith 
433 finished
parkruns, Sat 23 Feb
From Petra Bijsterveld ... Results ...

Bradford
(1  17:26 Huseen Usuie, Bingley Harriers)
24  21:48 Beth Massey, 1st F 
111 25:29 Oscar Street
241 28:53 Stephanie Fox
242 28:54 Paula Reynier
502 ran

Skipton
(1  17:07 Chris Ovenden, U/A)
27  22:15 Adrian Bastow
129 29:43 Bernie Gibbons
233 ran

Fountains Abbey
(1  17:55 Stephen Ellison, U/A)
147 25:45 Fiona Schneider
472 ran

Clapham Common
(1  15:26 unknown)
25  18:43 Rob Cunningham
748 ran

Myrtle
(1  20:22 Martin Critchley, Horsforth Harriers)
55  28:01 Will Worboys
224 ran

PECO XC update
From Anna Pickering ... after 5 races in the Peco x/ c league Ilkley had two podium places with Steven Gott finishing 2nd V/40 and Malcolm Pickering 1st V/65
BHF Harewood, Sun 17 Feb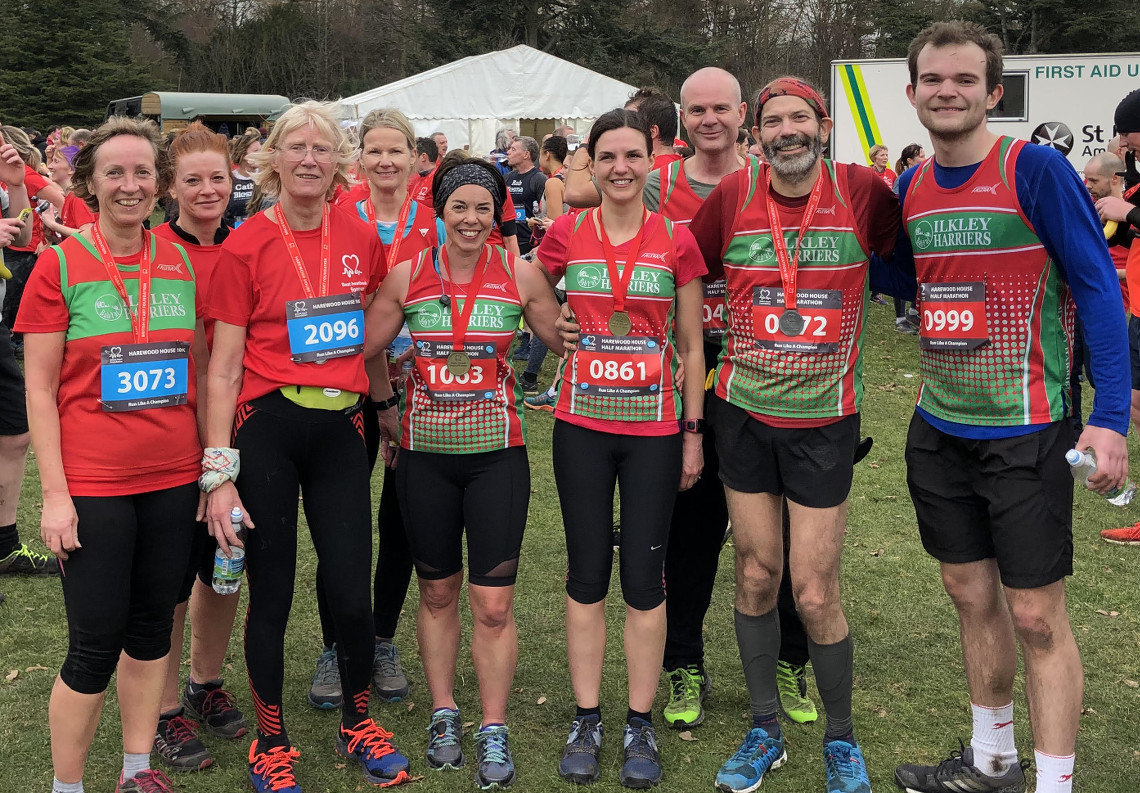 From Hilda Coulsey... It was a fine day in the Harewood estate for the half marathon (a trail league counter) and 10k. The weather was ideal and the parkland always makes for good views even though the hills and underfoot conditions were not easy. I saw the half marathoners off an hour before the 10k which meant we came in at a similar time together, hence the photo with a mixture of finishers from the two races. The times were good for trail races with Kate Archer coming in third female/first v40 and Colin Williams second v50 both in the half plus Hilda Coulsey first v60 in the 10k.
Results ...

Half Marathon
(1  1:21:23 Ciaran Forde)
33  1:32:37 Kate Archer
52  1:36:18 Colin Williams
73  1:38:23 Jonathan Turner
131 1:43:57 Michael Abrams-Coen
139 1:44"28 Derek Oliver
200 1:48:16 Steve Newall
209 1:48:47 Caroline Howe
372 1:57:19 Helen Waddington
417 1.59.54 Nicole Liptrot
427 2:00:26 Adela Reperecki
516 2:05:01 Jemma Basham
655 2:11:32 Alex Stanley Hyde
851 2:25:13 Paul Sugden
853 2:25:13 Jo Pattinson
1002 finished

10k
(1  38:08 Tom Midgley)
313 55:42 Hilda Coulsey
433 58:16 Karen Lambe
458 58:43 Dawn Turner
499 59:43 Dionna Jackson
543 60:58 Sue Williamson
649 63:23 Sue Verspyck
763 66:58 Diane Ollier
1078 finished

London Series 10k, Hyde Park, Sun 17 Feb

(1 35:51 Mr Alex !)
92 48:00 John Woodward

parkruns, Sat 16 Feb
From Petra Bijsterveld ... Some excellent results on this first spring-like parkrun day of 2019. Istvan Jacso finished second at Fountains Abbey, Oscar Stapleton third at Woodhouse Moor, and Helen Thurston and Sally Armitage were first and second lady respectively at Harrogate, with Helen coming fourth overall. Alex Hyde and Fiona Schneider seem both to be reaping the rewards of RED (run every day) in January with faster times, and Alex was delighted to dip sub-25. Geoff Howard was impressive as always, this week at Horton, and further afield Alex Hirst and Rob Cunningham continue to be very fast in their respective cities of Cardiff and London.
As part of the LBT parkrun league (I know....is my club loyalty in doubt now??) I went to the relatively new event at Potternewton which proved to be hillier than I expected, but a nice friendly event on good wide tarmac paths.
Results ...

Woodhouse Moor
(1  16:25 unknown)
3   17:05 Oscar Stapleton
590 ran

Cardiff
(1  15:59 Dan Nash, East Cornwall Harriers)
12  17:20 Alex Hirst
1033 ran

York
(1  16:28 Rob Byers)
208 24:59 Alex Stanley-Hyde
583 ran

Harrogate
(1  17:10 Chris Miller, Harrogate Harriers)
4   19:01 Helen Thurston 1st F
26  21:05 Sally Armitage 2nd F
515 ran

Skipton
(1  17:55 Chris Ovenden, U/A)
63  26:14 Fiona Schneider
212 ran

Fountains Abbey
(1  17:16 Reece Dalton, Ripon Runners)
2   17:23 Istvan Jacso
488 ran

Horton
(1  17:48 Will Kerr, Saltaire Striders)
8   22:16 Geoff Howard
72 ran

Clapham Common
(1  15:16 Alex Milne, Enfield and Haringey AC)
16  18:52 Rob Cunningham
777 ran

Potternewton
(1  18:06 Mark Bailey, Leeds and Bradford Tri)
87  27:00 Petra Bijsterveld
185 ran

Peco XC, Sun 10 Feb

(1  26:17 Nathan Marsh, Tonbridge)
20  29:15 Steven Gott
35  29:42 Robbie Matthews
176 34:28 Robert Budding
182 34:35 Michael Duffield
260 37:30 Malcolm Pickering
458 58:14 Don Macrae
459 finished

(1  30:49 Aisling Wall, Horsforth)
21  34:18 Sarah Pickering
130 41:41 Nicola Budding
155 42:55 Diane Kitchen
162 43:17 Alison Bennett
183 44:16 Anna Pickering
294 49:20 Bernadette Gibbons
315 50:38 Kate Lofthouse
325 51:57 Wendy Bishop
374 finished

parkruns, Sat 9 Feb
From Petra Bijsterveld ... Results ...

Portrush
(1  21:46 Ryan Smith, Springwell RC)
57  32:58 Hilda Coulsey
117 ran

Skipton
(1  17:20 Alan Buckley, Leeds City AC)
25  23:10 Geoff Howard
37  25:15 Neil Pomfret
116 ran

Stratford-upon-Avon
(1  17:37 Rob West, U/A)
145 25:42 Fiona Schneider
393 ran

Clapham Common
(1  17:38 unknown)
7   19:07 Rob Cunningham
708 ran

Caffarella (Rome)
(1  19:48 Angelo Mazzoli, G.S. Bancari Romani)
34  28:35 Peter Lewis
62 ran

Dewsbury 10k, Sun 3 Feb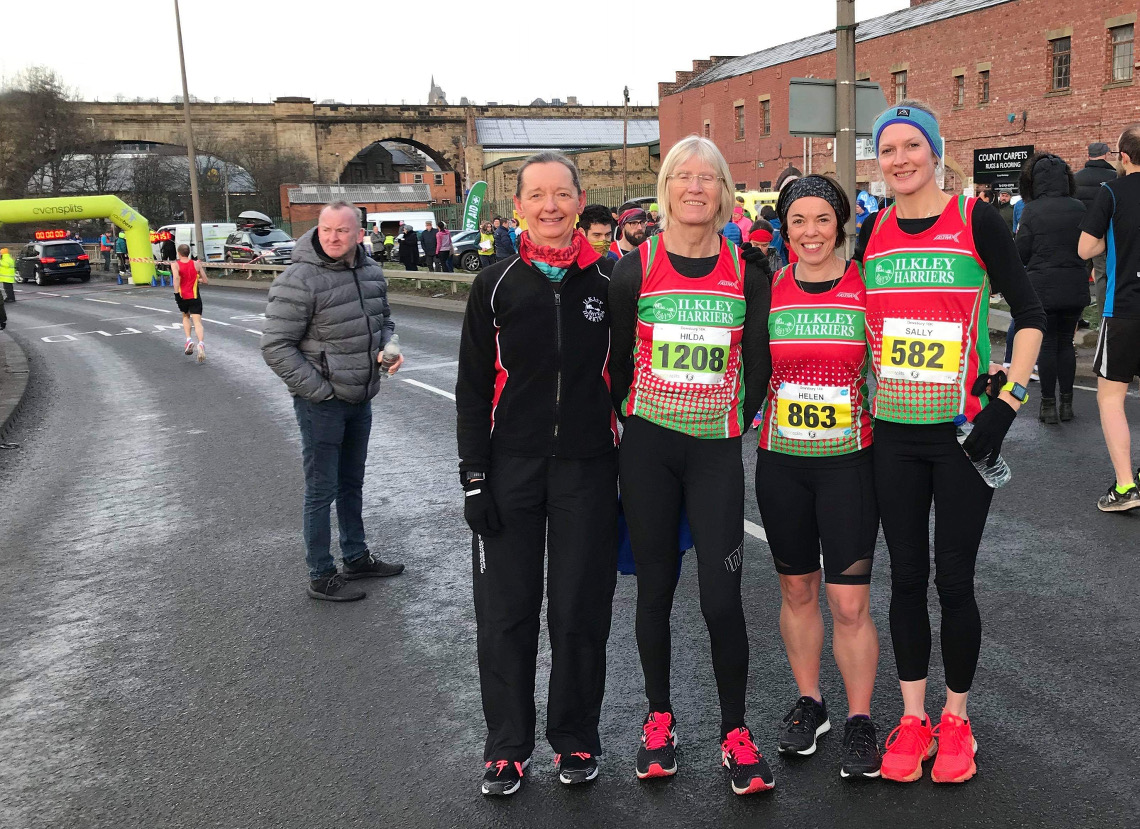 From Sally Armitage... This was my first time running Dewsbury and conditions were perfect, no ice, no breeze and some much appreciated sunshine! 6 Harriers took part with some PBs achieved too. An 'out and back' course with a gentle incline all the way out followed by a lovely downhill 5k to finish. A great course for anyone chasing a personal best. It's definitely on the calendar for next year!

(1   31:22 Chris Parr, Jarrow and Hebburn) 
214  39:10 Steve Murray  (PB)
352  41:53 Adrian Bastow 
395  42:14 Sally Armitage  (PB)
746  48:39 Helen Waddington 
966  Hilda Coulsey 51:25
1068 53:16 Petra Bijsterveld 
1679 ran

Wadsworth Trog, Sat 2 Feb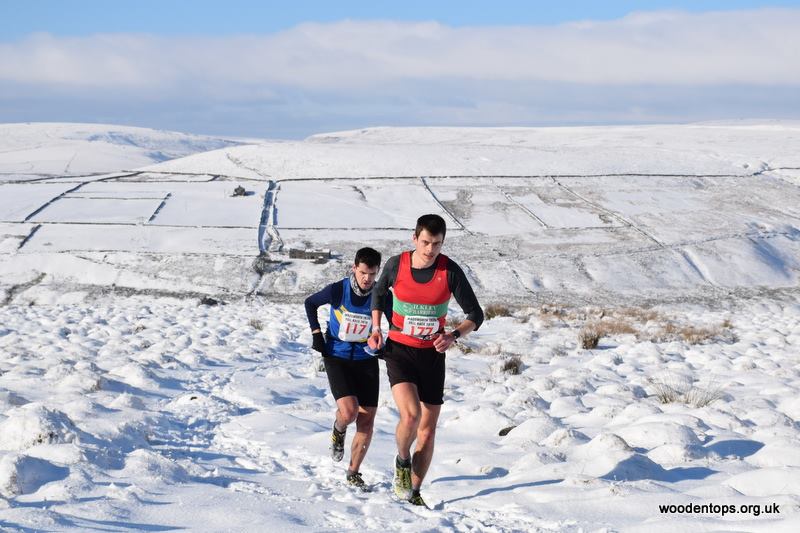 1   2:35:46 Jack Wood
124 3:57:50 Brian Melia
177 finished

Rombalds Stride, Sat 2 Feb
From Michael Duffield ... Results ...

(1  2:47:10 Tom Van Rossum, Aire)
8   3:00:42 Michael Lomas
17  3:09:37 Kate Archer 1st Female
28  3:19:59 Colin Williams
40  3:28:26 Duncan Cooper
44  3:30:54 Dick Waddington
51  3:34:24 John Hayes
57  3:38:59 Derek Oliver
59  3:39:02 Peter Shelley
76  3:50:11 Michael Duffield
96  4:02:00 Martin Stocker
97  4:02:06 Andrew Merrick
110 4:10:04 Adela Reperecki
218 5:28:23 Sarah Hayes
454 finished

Runners and riders, Appletreewick, Sat 2 Feb

(1 30:14 Stefan Macina, Aurelius, bike)
(2 30:36 Simon Bailey, Mercia)
5  31:49 Jack Cummings
28 36:00 Jeff Green
29 36:03 Paul Carman
45 38:03 Nick Helliwell
79 45:09 Jann Smith
148 finished

parkruns, Sat 2 Feb
From Petra Bijsterveld ... Results ...

Cardiff
(1  15:17 Matthew Edward, Barry and Vale Harriers)
9   17:31 Alex Hirst
764 ran

Advance notice of this year's "Harrogate League races"
From Paul Stephens ... We are back to 4 races and the Handicap race this year and the dates are:
21 May Harrogate
4 June Ripon
20 June Dragons
2 Jul Knaresborough
17 July The Norman Smith Handicap Race & League Presentation
All races are midweek and in the evening, 7.45pm starts except the Handicap. There will be online registration (new this year) and the link will be posted on Facebook and here when this is live (in the next few weeks). The entry fee will be £13 for the League - the same as last year. More details on the HDSRL web-site - www.harrogate-league.co.uk.
---