Ilkley Harriers news archive 2018
Outstanding Achievements, December
From the Committee ...
Jack Wood for the WYXC overall win, winning Chevin Chase and the Stoop
Helen Thurston for her pb parkrun result and winning Chevin Chase
Euan Brennan for his Telford 10km result
Pauline Munro was 4th in the PECO x country and 1st LV50 at Chevin Chase
Diane Kitchen had great x country times and positions and also for Skegness 10km
Hilda Coulsey, FV65 prize at Ribble Valley
Dan McKeown won the V40 WYXC overall prize
Malcolm Pickering won the V65 WYXC overall prize
Alison Weston for suggesting and organising the Abraham's Tearoom Round relay
Michael Lomas for organising Gathering Winter Fools relay
all those involved in making the Christmas relays, the mince pies and mulled wine and the quiz night such a success
Auld Lang Syne fell race, Mon 31 Dec

(1  41:06 Chris Holdsworth, Ribble Valley)
2   41:55 Jack Wood
9   44:01 Nathan Edmondson
54  51:51 Pauline Munro
60  52:29 Kate Archer
65  52:59 Helen Wood
71  54:17 Peter Shelley
124 59:01 Alistair Barlow
185 65:23 Adela Reperecki
312 87:19 Sally Wright
327 finished
Ilkley ladies won the team prize

Ribble Valley 10k, Sun 30 Dec
From Hilda Coulsey ... Ribble Valley, incorporating the North of England road race championship, did not disappoint this year for many runners and spectators. Both men's and women's records were shattered with former English Junior Fell Running Champion Marc Scott of Richmond & Zetland AC under 29 mins at 28.58 and Beth Potter, Camberslang, at 32:07. I waited for the prize giving - times for age winners were outstanding.
Harriers were led home by Dominic Coy in his first serious 10k and age category winners were Beth Massey v45, Sally Malir v50 and Hilda Coulsey v65.
Weather was conducive to good times, mild and drizzly. With the race full at 1500 three weeks ago enter early next year for a great end to our league road races.
Results ...

(1  28:58 Marc Scott, Richmond and Zetland Harriers)
64  33:33 Dominic Coy 	
165 36:46 Stephen Coy
283 40:09 Colin Williams 
309 40:59 Dick Waddington
316 41:11 Beth Massey - 1st FV45
395 42:48 Sally Malir - 1st FV50
613 48:23 Abigail Swales
706 50:15 Alison Weston 
826 52:51 Hilda Coulsey - 1st FV65
859 53:46 Fiona Schneider
868 54:00 Andrew McCallion
959 57:30 John Marshall
1307 finished

Oliebollenloop Hasselt, Sat 29 Dec
From Petra Bijsterveld... Oliebollen are what the Dutch eat on New Year's Eve. They are a bit like doughnuts but are ball-shaped, contain raisins and are deep-fried and then covered in icing sugar. Believe me, they taste better than it may sound!
I joined a friend and entered this low-key local race just outside my former home town of Zwolle. There was a choice between 4 or 8 'English Miles' as they call them here, with the promise of hot chocolate and an 'oliebol' at the finish line. I opted for the 4 miler which was one lap of paths and small roads through the polder, as flat as flat can be. Due to a sat-nav mishap which is best forgotten about we arrived 5 minutes before the start! My warm up consisted of bolting from the car to the clubhouse to collect my number, whilst trying to avoid pushing over numerous small children (who had just finished the junior races). I elbowed my way to the desk, grabbed my number, pinned it on and attached the chip to my shoelaces and we were off! The race was uneventful, my pace sluggish due to stiff legs and a strong headwind typical of the Dutch polders, but I enjoyed looking at the landscape and finished in 34:14 whilst the winner took just 21:59.
I relished my hot chocolate and oliebol whilst waiting for my friend who had opted for the 8 mile version. We all received a lovely wooden medal. A nice morning out!
Results ...
parkruns, Sat 29 Dec
From Jonathan Turner ... Lots of Harriers enjoyed a post-Christmas parkrun on Saturday, including a great family effort from the Pickerings at Penrhyn, with Sarah leading them home in 13th place. She was the first lady.
Results ...

Armley 
(1  19:30 Matthew Sutton, U/A)
10  22:13 Harry Stead
107 ran

Bradford 
(1   15:56 James Habergham, Halifax Harriers & AC)
44   22:41 James Lee
85   25:20 Oscar Street
158 28:12 Paula Reynier
347 ran

Cliffe Castle 
(1  18:57 Jack Muir, Wharfedale Harriers)
59  29:03 Fiona Schneider
139 ran

Fountains Abbey 
(1    17:23 Unknown, U/A)
133  24:48 Helen Waddington
544 ran

Harrogate 
(1    17:25 Unknown, U/A)
268  29:30 Geoffrey Howard
383 ran

Myrtle
(1    18:46 Liam Griffiths, Aberdare Valley AAC)
100  30:35 Janet Smith
144 ran

Penrhyn 
(1  17:34 Raif Serif, Crewe & Nantwich AC)
13  20:49 Sarah Pickering - 1st lady
27  22:10 Malcolm Pickering
77  26:55 Anna Pickering
87  27:41 Sally Pickering
212 ran

Skipton 
(1   17:04 Michael Hargreaves, East Hull Harriers & AC)
8    20:24 Mike Abrams-Cohen
16  21:31 Tim Ashelford
230 ran

Woodhouse Moor 
(1  17:29 Gregan Clarkson, Kingston upon Hull AC)
4   18:01 Steven Gott
312 ran

Chevin Chase, Wed 26 Dec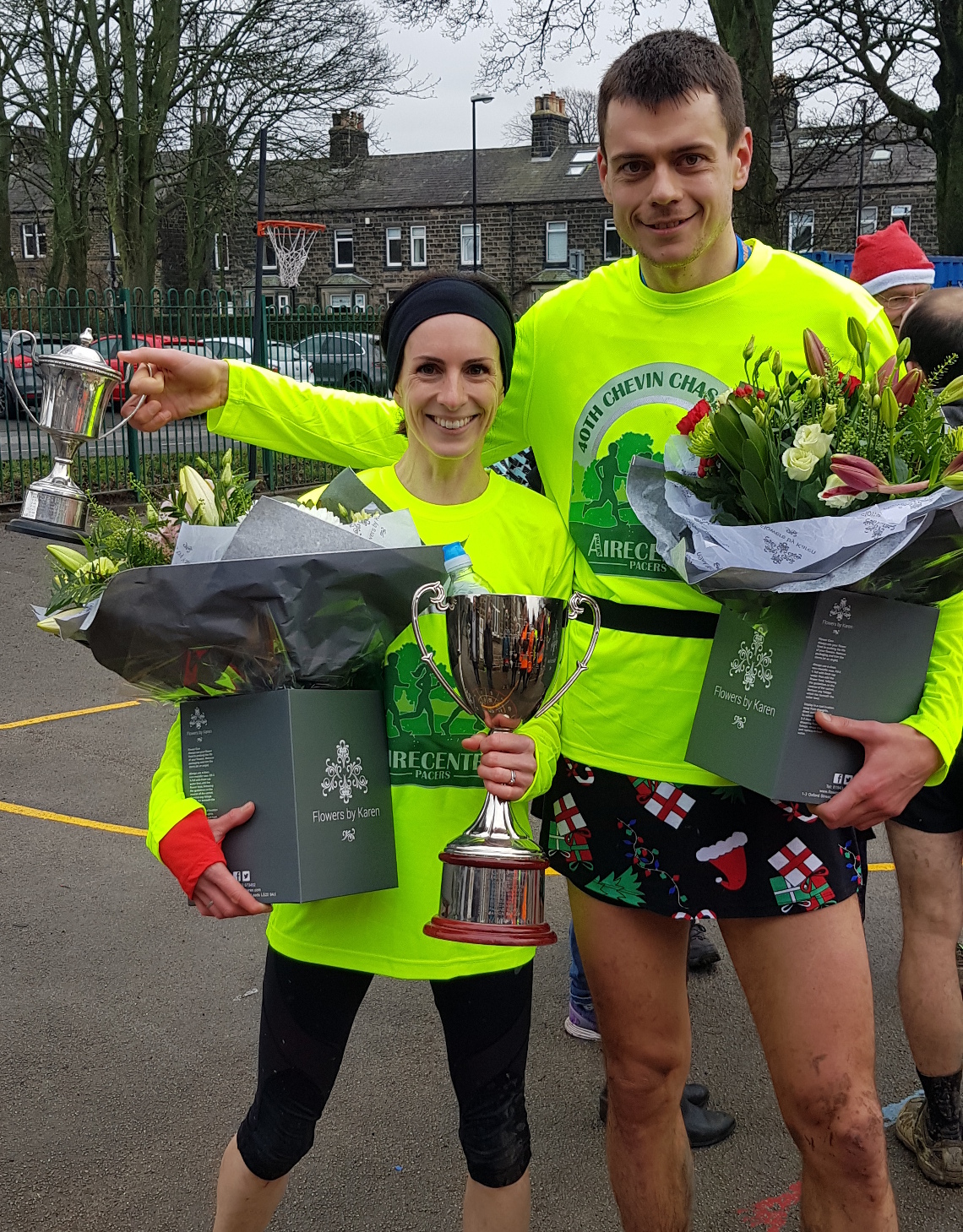 Jack Wood and Helen Thurston, winners of the 40th Chevin Chase.
Results ...

1   38:50 Jack Wood
4   39:46 Jack Cummings
5   40:15 Will Simmons
6   40:20 Nathan Edmondson
22  44:15 Steven Gott
24  44:50 Ben Stevens
29  45:13 Michael Lomas
42  46:04 Helen Thurston
43  46:07 Tim Ashelford
63  47:30 Pauline Munro
65  47:34 Stephen Coy
79  48:08 Rob Cunningham
87  48:34 Kate Archer
105 49:37 Helen Wood
114 49:59 Gavin Lamb
119 50:08 Steve Murray
123 50:28 David Foyston
151 51:51 Daniel Lane
181 52:55 Derek Oliver
306 57:28 Tom Lally
322 57:59 Robert Budding
424 60:16 Amy Jones
509 62:12 Adela Reperecki
518 62:53 Tom Worboys
529 63:21 Peter Shields
535 62:56 Geoffrey White
560 64:19 Nicola Budding
602 65:22 Diane Kitchen
621 66:06 Anna Nolan
687 68:07 Clare Boyle
712 68:45 David Ibbotson
831 72:18 Sheena Pickersgill
864 73:35 Dave Reynier
865 73:36 Paula Reynier
893 74:38 Fiona Schneider
915 75:00 Hilda Coulsey
927 75:37 William Worboys
954 76:46 Jacqui Weston
1001 79:31 Michael Picken
1072 85:08 Sally Wright
1086 85:05 Andrew Kitchen
1163 finished

parkruns, Christmas Day Tue 25 Dec

Bradford parkrun
1  17:33 Cameron Reilly
52 24:00 Arthur Reilly
288 runners

Harrogate parkrun
1  16:40 Unknown
13 19:15 Paul Carman
85 22:24 Jann Smith
524 runners

Skipton parkrun
1   17:22 Ruaridh Mon-Williams
5   20:16 Mark Mon-Williams
10  21:01 Robert Budding
25  22:03 Archie Budding
33  22:47 Ben Joynson
49  24:20 Daniel Fazackerley
54  24:29 Nicola Budding
73  25:26 Dylan Shinn
118 28:15 Bernadette Gibbons
138 29:34 Oscar Shinn
178 35:13 Neve Tennant
187 37:07 Anna Fazackerley
198 41:22 Karen Shinn
205 runners

parkruns, Sat 22 Dec
From Jonathan Turner ... Some notable parkrun performances to report, with the standout display Helen Thurston's at Fountains Abbey. She was the first lady home, stopping the clock in a superb 18:27 - the fastest 5K by a female Harrier this year and the quickest since May 2015. There were also top-five age-graded runs at Skipton from Tim Ashelford, Colin Williams and Malcolm Pickering as well as a new PB for Bernie Gibbons.
Results ...

Bradford 
(1 17:50  Simon Shaw, Ealing, Southall & Middlesex AC)
20 20:45  Poppy E Anderson
82 23:52  Oscar Street
151 27:03 Paula Reynier
152 27:03 Dave Reynier
378 ran

Cliffe Castle
(1  18:34 Alexander Thompson, Wharfedale Harriers)
59  29:34 Fiona Schneider
136 ran

Fountains Abbey
(1  16:18 Reece Dalton, Ripon Runners)
7   18:27 Helen Thurston
250 29:39 Janet Smith
418 ran

Myrtle
(1  18:43 Tom Keighley, Chapel Allerton Runners)
20  23:57 Richard Hinsley
118 ran

Skipton
(1  16:17 Joe Hudson, Keighley & Craven AC)
4   19:16 Tim Ashelford
8   20:07 Colin Williams
9   20:33 Max Ashelford
18  21:52 Adrian Bastow
23  22:13 Malcolm Pickering
81  27:40 Anna Pickering
102 28:27 Bernie Gibbons
188 ran

League update
From Jane McCarthy ... Looking for a New Year's Resolution? How about the 2019 Harriers League? There are some great races in next year's League. The handicap system adjusts results for gender and age (always good!). You need to complete at least 3 races in each category, plus a Wildcard for the overall League, or max. 4 races to compete in the individual categories, road, trail or fell. All details on the League page along with results of this year's League - ONE RACE TO GO!!!! - updated after The Stoop. Well Done to all that raced!
Stoop fell race, Sun 16 Dec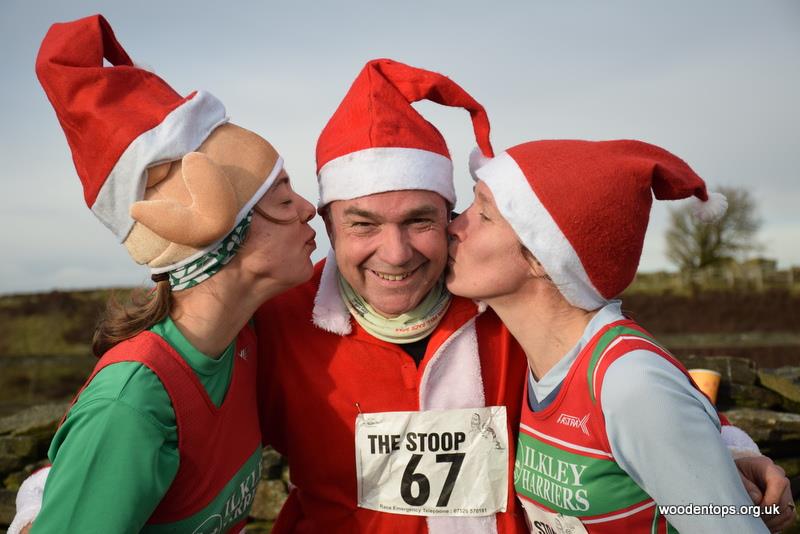 From Michael Lomas ... Jack, Jack and myself got male team prize and beat Wharfedale by 1 point!
Results ...

1   30:27 Jack Wood
5   31:55 Jack Cummings
14  35:34 Michael Lomas
25  37:26 Daniel Hayes
44  39:21 Helen Wood
64  41:31 Rachel Carter 3rd V40
108 46:28 Paul Calderbank
121 47:51 Chantal Busby
143 51:00 Steve Weston
168 56:34 Jean Sullivan
190 62:16 Amanda Newham
191 62:59 Fiona Schneider
206 finished

PECO XC, Sun 16 Dec

Men
(1  29:02 Nathan Marsh, Tonbridge AC)
39  33:28 Steven Gott
165 37:57 Peter Shelley
202 39:14 Michael Duffield
224 40:11 Malcolm Pickering
473 finished

Ladies
(1  33:33 Helen Cross, York Tri)
4   35:34 Pauline Munro
31  39:05 Sarah Pickering
34  39:33 Ellie Kitchen
128 46:04 Diane Kitchen
231 51:54 Anna Pickering
259 53:10 Sally Pickering
293 55:12 Kate Lofthouse
375 finished

Gathering Winter Fools relay, Sat 15 Dec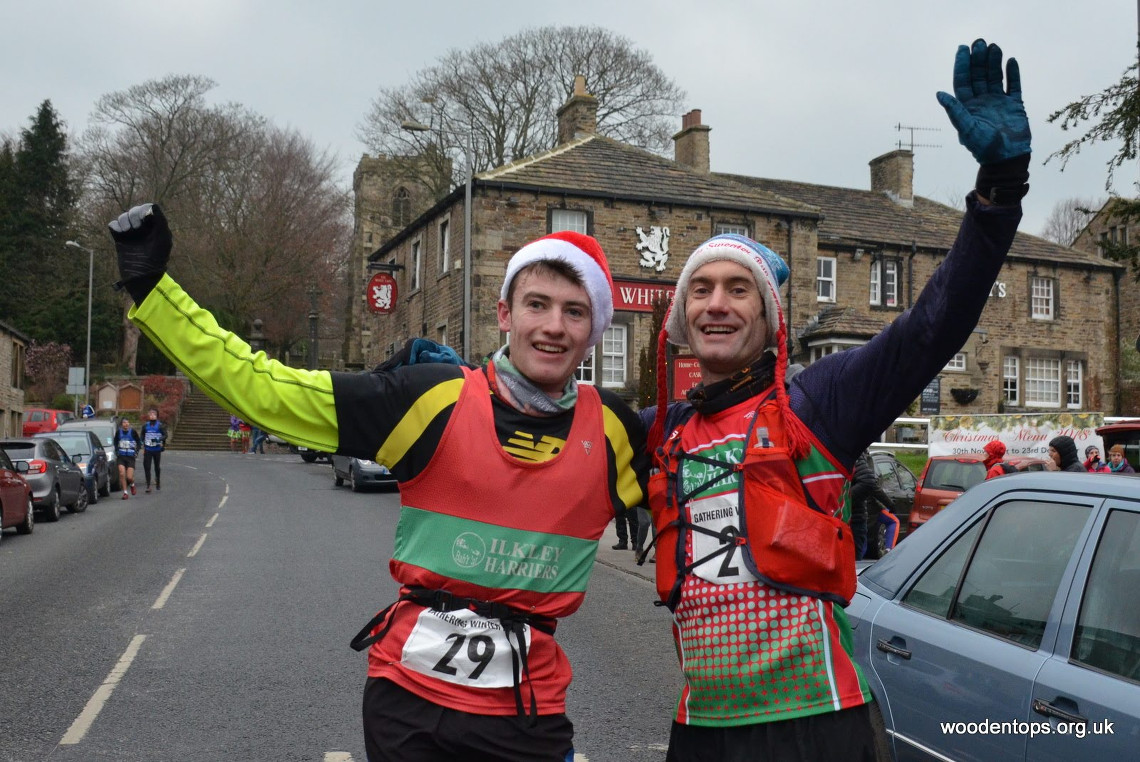 From Caroline Howe ... The words 'social' and 'pub' in the race description were what attracted me to do this festive relay... four legs of differing lengths starting and finishing at various pubs around Keighley, Bingley, Silsden and the surrounding areas. On the day itself we came to realise the significance of the word 'fools' - as surely only fools would brave these wintery weather conditions in the middle of December in all manner of fancy dress!!
It was fantastic to see two Ilkley teams out in this race, with a strong men's team - "Ilkley Two Hats" - and a mixed team - "Ilkley Tinsel Toes". The men stormed to an impressive victory, winning the race by 11 minutes! Istvan Jacso and Jack Cummings were fastest on leg 1 (9 miles) in 1:01. Jack Wood and Will Simmons were quickest on leg 2 (9.5 miles; 1:02), with Paul Carman and Ian Gibbons 2nd on leg 3 (6 miles; 41 mins), and Michael Lomas and Dan McKeown 2nd on leg 4 (7 miles; 47 mins) and taking the team home to victory on its first attempt in a total time of 3:32 - a great result!
Ilkley Tinsel Toes consisted of Helen Thurston and Peter Shelley who got us off to a fantastic start, finishing leg 1 in 9th place, in 1:10. Steph Fox and James Brooks had found themselves switched from the relatively easy leg 3 to leg 2 due to injuries... agreeing to it before realising it included the Silsden 'murder mile'! But they took this extremely tough leg in their stride and finished in 1:48, giving David Howe and I a minute head start on the mass start for leg 3, which was much appreciated! David had been drafted in as something as a default sub when Sally Armitage came down with the winter lurgy and, despite having to rely on me knowing the route, we made it round in 54 minutes. By that time Petra and Jacqui had set off with the mass start... and it soon became clear they had the toughest task of all of us as the weather took a turn and the freezing rain fell. Described by Petra as the 'worst run of her life', the conditions were so treacherous runners were having to crawl across roads on their hands and knees due to the ice. Massive kudos to them for finishing - no mean feat, and apparently not all teams did!! They brought team Tinsel Toes home in a respectable 5:24.
Special mention must be made for the fancy dress efforts of all team members... full-on elf costumes and santa suits, with the Ilkley Harriers colours certainly lending themselves to festive attire coordination! There were some very impressive efforts by all teams with snowmen, nuns, superheroes and many more outfits on display (and a team from Trawden carrying as their baton an actual 5 ft Christmas tree!) The cosy pubs at the start and finish of each leg made this a very enjoyable and sociable occasion - which we continued into the evening as both teams met up to compare experiences over mulled wine in the Ilkley Teepees.
I'm sure we'll all be back next year... hopefully with more Ilkley teams in the mix, of what is a great team event!!
Results ...

1  3h32:25 Ilkley - Two Hats
43 5h24:42 Ilkley - Tinsel Toes
45 teams completed

parkruns, Sat 15 Dec
From Petra Bijsterveld ... Results ...

Cardiff
(1  15:28 Paul Graham, Pontypridd AC)
29  19:09 Alex Hirst
325 ran

York
(1  16:29 Robbie Brown, City of York AC)
11  18:55 Jonathan Turner
14  19:12 Steve Murray
20  19:29 Rhys Jones
331 ran

Bradford
(1  18:33 Martin Fillingham, Saltaire Striders)
15  21:19 Beth Massey (1st F)
35  23:29 Oscar Street
128  28:46 Paula Reynier
247 ran

Skipton
(1  20:06 David Smith, U/A)
64  29:07 Bernie Gibbons
123 ran

Castle Park
(1  16:44 Robert Eveson, St Mary's Richmond AC)
4   18:44 Tim Ashelford
238 ran

Clapham Common
(1  16:21 Frederick Slemeck, Hercules Wimbledon AC)
20  19:31 Rob Cunningham
308 ran

Myrtle
(1  18:43 Matthew Warters, KCAC)
22  23:45 Geoff Howard
111 ran

Mytholmroyd fell race, Sun 9 Dec
From Michael Lomas .... The course was a bit different to when it was last run in January as there was no snow in sight this time, plenty of mud though. The race starts with an incredibly steep climp followed a traverse of Midgely Moor dropping down the other side, along the a road then back over the Moor taking in some of what must have been the wettest moorland around following recent rains. The damp conditions underfoot meant that the final 3km of muddy descent were a bit slippy to say the least, whilst I was being fairly cautious following a Calder Valley lad I heard someone behind coming down the hill on a charge, only to realise it was Paul showing everyone his fine ability to stay on his feet whilst going twice as fast as everyone else down the hill. Paul's skilled bagged him tenth and after he passed me I tried to emulate him and managed to pick off 3 other places finishing right behind in 11th. Brilliant low key fully flagged race with a can of beer for all finishers, happy days. Had there been one other Ilkley Harrier in the top 14 we would have had team prize. Sadly this will probably be my last time running this one as I'm moving down to South Wales in the not too distant future.
Results ...

(1 47:19 Josh Boyle, Ribble Valley)
10 54:14 Paul Carman
11 54:19 Michael Lomas
166 finished

Telford 10K, Sun 9 Dec
From Steve Brennan... Euan ran his first 10K today at Telford, crossing the line in 31:11.
Results ...

(1 29:31 Callan Moody, Serpentine RC) 
60 31:11 Euan Brennan 
1242 ran

Leeds Canal Christmas Cracker 10K, Sun 9 Dec

(1 36:38 Steve Collins, Lonely Goat RC)
4 41:56 Jonathan Turner
125 ran

WYXC 4, Keighley, Sat 8 Dec

Ladies 3rd team
(1  19:39 Jennifer Walsh, Leeds City)
9   20:52 Pauline Munro
20  22:05 Kate Archer
24  22:22 Sarah Pickering
45  24:25 Sally Malir
54  25:26 Beth Massey
65  26:39 Jane Bryant
66  26:44 Diane Kitchen
87  29:48 Petra Bijsterveld
90  31:18 Anna Picketing
97 finished

Men 5th team
1   25:37 Jack Wood
26  28:28 DAniel McKeown
35  29:36 Istvan Jacso
53  30:52 Tim Ashelford
65  31:31 Stephen Coy
87  32:53 Steven Gott
88  33:02 David Westhead
110 35:02 Robert Budding
118 36:16 Mark Iley
126 37:51 Malcolm Pickering
127 37:51 Michael Duffield
150 finished

parkruns, Sat 8 Dec
From Petra Bijsterveld ... Results ...

Bradford
(1  18:24 Jack Griggs, U/A)
27  22:35 Dave Reynier
42  23:39 Oscar Street
91  27:53 Paula Reynier
239 ran

Skipton
(1  18:19 Lee Athersmith, RAF AC)
20  24:10 Neil Pomfret
63  29:51 Bernie Gibbons
124 ran

Cliffe Castle
(1 19:36 Rob Byers, U/A)
9  25:39 Alison Weston 2nd F
64 ran

Harriers League update
From Jane McCarthy ... Two more League Races run, and cracking Wildcards from Colin Williams and Jean Sullivan declared. Colin takes a firm lead at the top of the table. Can anyone catch him now? Two more races - The Stoop on December 16th and Ribble Valley 10K on 30th December - and Wildcards still to declare for those that haven't yet. Any race (including park runs until 31 December!) counts and will boost your points total. Just email janemccarthy@me.com within two weeks of the race. Check out the League page for 2018 results tables and for the 2019 League Races NOW!
Oulton Park Marathon, Sun 2 Dec

(1 2:57:01 Andrew Humphries, AireCentre Pacers)
39 3:56:24 Daryl King
107 ran

Skegness 10k, Sun 2 Dec

(1  29:35 Thomas North, Lincoln Wellington)
201 49:47 Diane Kitchen
752 finished

Abraham's Tea Room Winter Round, Sat 1 Dec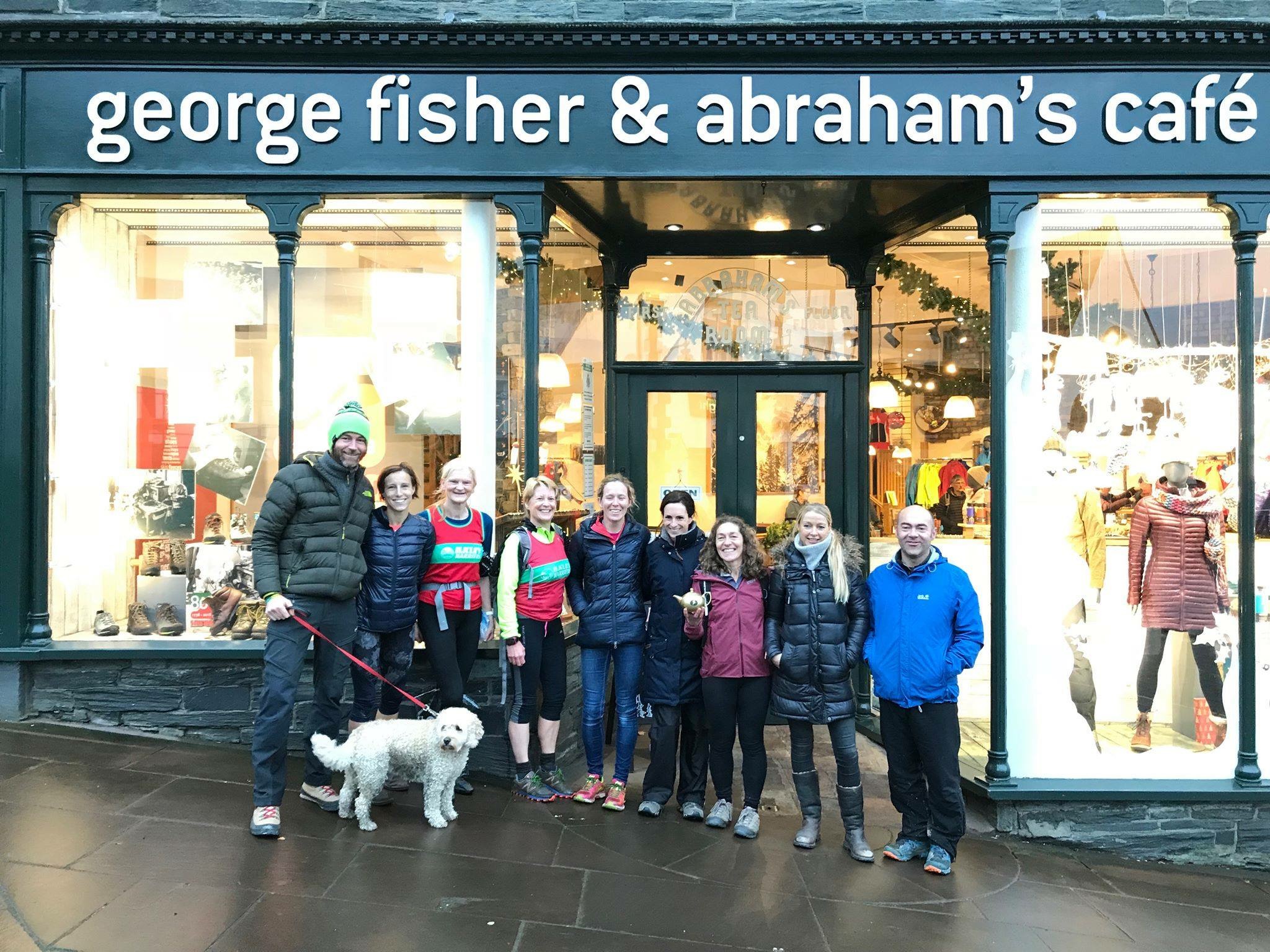 From Alison Weston ... The Ilkley Harriers team were successful in completing the Abraham's tea shop round starting and finishing at George Fishers in Keswick - 30 miles and 12,000+ ft of ascent over Catbells, Robinson, High Stile, Red Pike, Grisedale Pike, Hopehead Gill, Eel Crag, Sail, Causey Pike, Rowling End and Barrow in 8 hrs 17mins.

Leg 1  Mike Duffield, Alison Weston and Joyce Marshall (starting in the dark) 
Leg 2 Jann Smith and Paul Carman (and Heidi the dog)
Leg 3 Jann Smith, Paul Carman and Alison Weston (and Heidi the dog)
Leg 4 Jane McCarthy, Helen Thurston and Rachel Carter
Leg 5 Joyce Marshall and Val Kerr

We were greeted at the end with a team gold tea pot, and tea and cakes in the tea room at Fishers. See Ilkley Harriers Facebook for photos.
Podium 5k B race, Sat 1 Dec
From Sally Armitage... results ...

(1 16:56 Tobey Middleton, Horwich MRI runners) 
34 19:53 Sally Armitage 
41 20:40 Mark Iley 
56 ran

parkruns, Sat 1 Dec
From Jonathan Turner ... Results ...

Woodhouse Moor 
(1   16:42 Josh Sambrook, Unattached)
49   21:28 Tom Worboys
385 ran

York
(1  16:53 Chris Poulton,York Acorn RC)
142 24:26 Will Worboys    
421 ran

Cambridge
(1  17:09 Chris Darling, Cambridge and Coleridge AC)
108 25:04 Alison Bennett  
317 ran

Bradford
(1  18:21 Martin Fillingham, Saltaire Striders)
48  22:34 Adrian Bastow   
67  23:47 Oscar Street    
133 26:52 Stephanie Fox   
144 27:25 Peter Lewis 
156 28:05 Paula Reynier 
311 ran

Harrogate
(1  18:45 Alex Armstrong, Unattached)
92  24:33 Jean Sullivan 
313 ran

Skipton
(1  17:14 Ted Mason, Wharfedale Harriers)
5   19:55 Tim Ashelford 
6   19:57 Kate Archer - 1st lady
10  20:50 Jonathan Archer 
63  26:51 Fiona Schneider 
161 ran

Sale Water
(1  17:45 Paul Cornock, Keswick AC)
6   19:20 Mike Abrams-Cohen 
150 ran

Clapham Common 
(1  16:46 Harry Lane, Unattached)
19  20:10 Rob Cunningham 
190 ran

---