Ilkley Harriers news archive 2016
Ilkley Harriers of the Month, September
Runner of the month:
Kate Archer
Queen of the mountains (Snowdon, Scafell Pike and Ben Nevis)
Other nominations were:
Sally Malir for Yorkshire Vets gold medal
Volunteer of the month:
Hilda Coulsey
for work as Secretary and stand-in Chair, Clubmark and Improvers success and prep and chair of the AGM
Other nominations were:
Gavin Lamb for auditor duties
Petra Bijstervedt for improvers, parkrun and other electronic actions
Gaenor and Steve Coy for the Aquathlon organisation
More Harriers of the Month ...
Ilkley Harriers AGM, Tue 27 Sep
More info on the Committee page.
Harriers League Update
From Jane McCarthy ... Check your position in the League! - Now updated for Round Hill, Burnsall 10, Ilkley Incline, Wetherby 10K and 3 Shires. Lucy Williamson still leads the overall placings, with Peter Lewis now in second place. Spreadsheet
Don't forget to register your wildcard results - you can nominate your result from virtually any race, just email me within 2 weeks.
Unfortunately Trail Race Harewood 10 is not going ahead this year. We are replacing it with the Bronte Way on 30th October instead. info. Please note this is not a point to point race. Information about transport to the start is on the website.
Next races in the League are Guy Fawkes 10 and Abbey Dash on 6th November, and Burley Moor Fell Race on 12th November. Enjoy your racing!
Berlin Marathon, Sun 25 Sep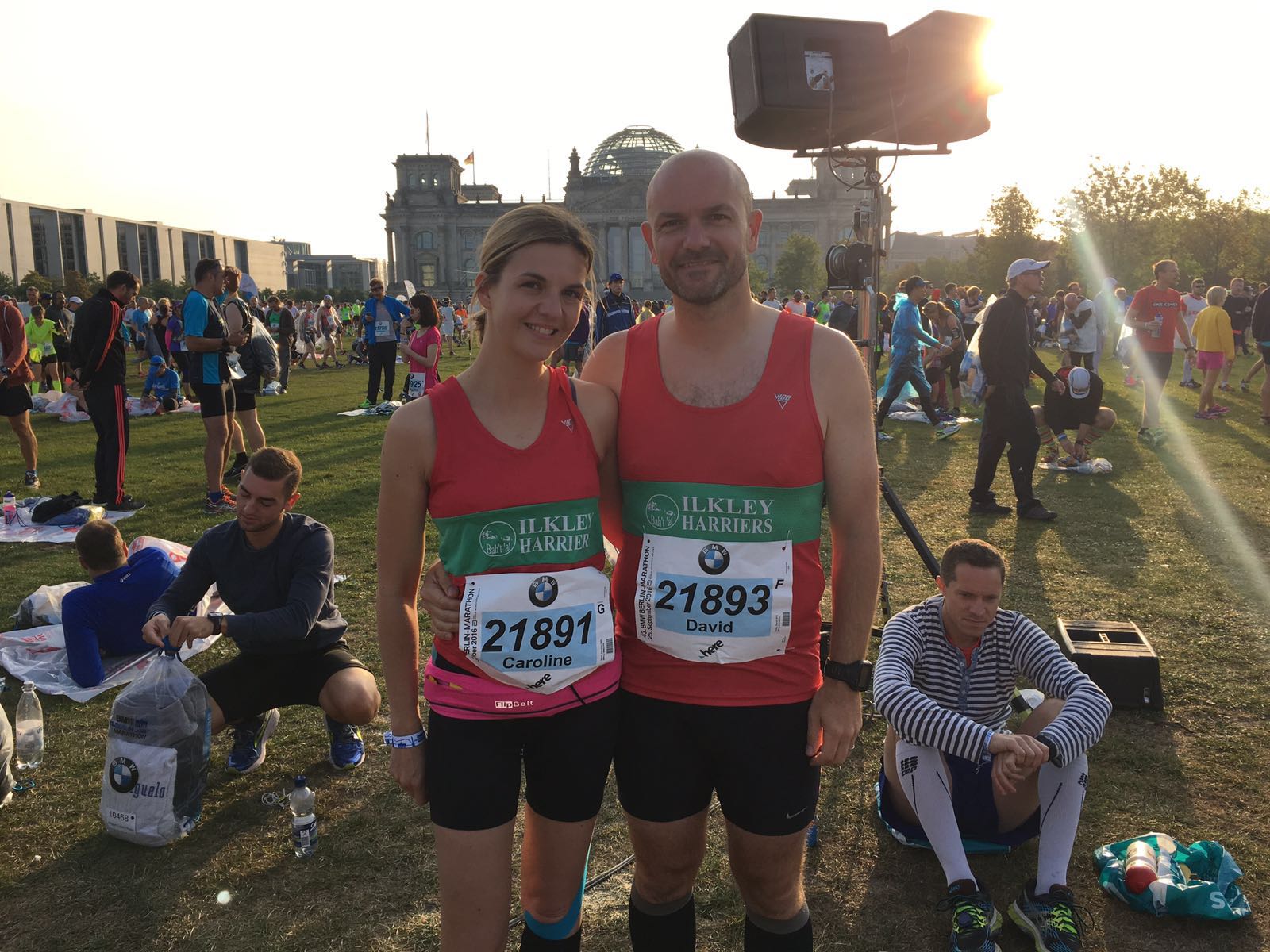 From Caroline Howe ... On Sunday David Howe and I started the 43rd Berlin Marathon with 40,000 others. Temperature in the low 20s, it was a little on the warm side but thankfully a lot of the route is shaded. Water stations were absolute carnage however! As Bekele narrowly missed out on the world record, we weaved our way through the flat streets of this fantastic city, with ample crowds cheering us on all the way. David achieved his goal of sub-3:30, finishing in 3:28:50 - a PB by 11 minutes in his 13th marathon. I thought I was on for my first sub-4 finish until, at about 25.9 miles, I realised my GPS was slightly out, meaning I finished in 4:01:20 with 26.45 miles on the clock. Still, a PB by 5 minutes! Overall, a fantastic race, fantastic city and fantastic weekend! Just one other Harrier took part - Derek Oliver, finishing in an impressive 3:19.
Robin Hood Half marathon, Sun 25 Sep
From Nigel Tapper ... This is the first time I've ventured to Nottingham for this, one of the longest established half and marathon events in the country (36th year) and it was a really well attended and organised event . The support around the largely flat course was far better than I was ready for. There were so many friendly faces to encourage the runners. The course is an interesting meander through the streets of the City with a short rise up the cobbles adjacent to the 12th Century castle and the oldest inn in England (which we of course had to visit post race!). The weather was near perfect for running and spectating and the organisers had everything well arranged as you would hope for at the start and finish, and there was plenty of space post race even with the hoards of well wishers. I was pleased enough. Maybe the Marathon next year !! Results ...

(1     1:05:55 Barnaba Kipkoech)
1164   1:46  Nigel Tapper
5433   2:32  Mary Colson
6300 finishers

Two breweries hill race, Sat 24 Sep
From Outi Kamarainen ... Very strong westerly wind was the headline of the 2016 edition of the Two breweries hill race, which runs from east to west over the Tweed valley hills, thus no records were broken and the checkpoint cut off times were being extended by 15 minutes during the race. The race starts at the Traquair house in Innerleithen where there is a small brewery and takes on the 18 miles of moorlands and 4900 feet of ascent to arrive in another brewery in Broughton. Despite having to struggle onwards nearly doubled over at times, it was a memorable run over nice country side and rough moorland and I guess the slow times meant that I was able to enjoy the scenery just bit longer.
Results ...

(1  2:56:53 Alasdair McLeod, Shettleston Harriers)
38  4:21:52 Outi Kamarainen
76 finished

Thieveley Pike, Sat 24 Sep
From Steve Turland ...

(1 34:31 Nick Leigh, Horwich)
9  38:34 Steve Turland
99 finished

Causeway Coast marathon series, Sat 24 Sep
From Hilda Coulsey ... The Giant in Giants Causeway was surely having fun when some 1100 runners tackled variously the Ultra, Marathon and Half Marathon in blinding rain and a very blustery headwind. The course sets off from near Ballycastle, at the top of the North Antrim coast, over a headland, down across rocks to a three mile long beach at Whitepark Bay. Perhaps it was just as well I didn't check the tide (but who would?) but soon enough realised that to get on and off the beach required scrambling over these rocks in 3 ft of water with the tide sloshing in and out, oh what fun! Then up and down headlands and inlets (rocks, mud, grassy slippery slopes, stiles, cows etc) taking the coastline route through a couple of the Game of Thrones locations and the significantly older and, in my mind much more majestic, tourist site at the Giants Causeway to Portballintrae, a couple of miles from the Bushmills distillery. I did the half taking 2hrs 38, in 233th place, putting me just in the top half of the placings well deserving I felt therefore of the delightful post race refreshment in the local hostelry. Hats off to the marathoners and ultra-ers, a very long day for them. But don't let me put you off at all, really this is one of the most picturesque places in the world and very much worth the trip.
For those interested in newer history(?!) the race start was at Renly Baratheon's war camp in the Stormlands, passing through a small fishing harbour in the picturesque village of Ballintoy served as Pyke on The Iron Islands, setting the stage for Theon Greyjoy's homecoming. One of the little coves nearby was also a beach on Dragonstone, where Stannis Baratheon, Davos Seaworth, Melissandre and Salladhoor Saanmeet up with the magnificent tidal pools where Theon gets baptized into the faith of the Drowned God.
So see you there next year?
parkruns, Sat 24 Sep
From Petra Bijsterveld ... Results ...

Leeds Woodhouse Moor
(1  16:20 Benjamin Douglas, Notts AC)
5   17:36 Oscar Stapleton (junior)
48  21:05 Tom Worboys
471 ran

Cardiff
(1  17:06 Joel Redman U/A)
3   17:15 Alex Hirst
705 ran

Bradford Lister Park
(1  17:18 unknown)
18  20:31 Sally Malir
415 ran

Harrogate Stray
(1  17:29 Mark Bryant, Harrogate AC)
205 26:54 Jennifer Carne
376 ran

Skipton Aireville Park
(1  17:39 Lee Athersmith, RAF AC)
94  27:36 Polly Crawley
195 ran

Harrogate Haverah trail race, Sun 18 Sep
From Ben Jotynson ... A bright sunny day for a nice run around some nice trails. A first time event for Harrogate Harriers, which I hope will return, as the race was very well organised and the food after was excellent ;)

(1  1:04:56 Andrew Grant, Harrogate Harriers AC)
24  1:15:44 Ben Joynson
193 1:54:40 Amanda Poppleton
196 1:55:29 Julie Elmes
224 finished

Embsay fell race, Sun 18 Sep
From Peter Lewis ... Another glorious September day and despite a gruelling Three Shires the day before, Jack sped round in 19:26 to gain second place. Iain Gibbons was 10th in 21:48, followed by Martin Archer 13th in 22:18 and Peter Lewis 81st in 31:19.
Results ...

(1 18:45 Simon Bailey, Mercia)
2  19:26 Jack Wood                 
10 21:48 Iain Gibbons               
13 22:18 Martin Archer              
81 31:19 Peter Lewis (PB!)
92 finished

The Ilkley Aquathlon, Sat 17 Sep
Another very succesful event, well done to organisers Gaenor and Steve, and all the helpers. Details
British and Irish Junior Mountain Running Championships, Sat 17 Sep
From Malcolm Pickering ... Uphill only races, incorporating home Counties international, at Keswick.


U17 women  2.1km, 400m ascent
(1 20:43  Grace Whelan, Scotland)
11 22:21  Bethan Morley
England 2nd

U20 women 3.2km, 509m   ascent
(1 24:02 Bronwen  Jerkinson, Wales)
8  27:46 Sarah Pickering
England 1st

U17 men 3.2km, 509m ascent
(1 20:44  Nathan Smith, England)
4  22:11  Euan Brennan

Scafell Pike fell race, Sat 17 Sep

(1   57:33 Josh Jardine)
36 1:16:56 Kate Archer (2nd Lady)
127 finished

Yorkshire Vets Cross Country Championship, Sat 17 Sep
From Jann Smith ... Ilkley got Yorkshire team gold medals for Sally, Jann and Helen in F45-F54 category
Results ...

Women (5K)
(1 17:04 Jo Buckley, Bingley)
6  18:07 Sally Malir (gold = 1st F50 )
15 18L51 Jann Smith (silver =2nd F45 ) 
27 20:20 Nicky Hopwood
33 21:15 Helen Waddington
84 finished

Men (10K)
(1 29:19 Job Wills, Leeds)
11 30:57 Matt Cox (4th M40)
27 33:03 Paul Carman
69 finished

Men 50-59 (10k)
(1 31:25 Simon Wright, Doncaster)
25 36:42 Nick Pearce
66 finished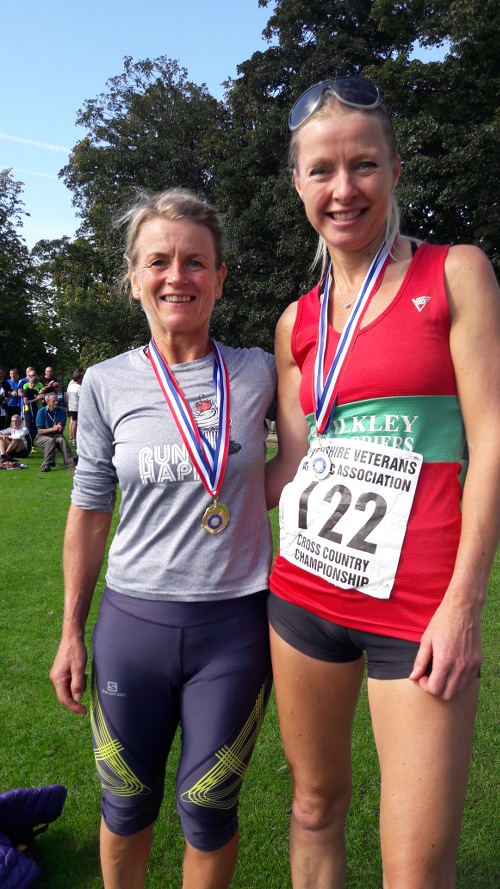 Three Shires fell race, Sat 17 Sep
From Alison Weston... A superb day in the Lakes for the Three Shires race in Little Langdale, maybe even a bit too hot! Jack stormed round in a mere 2:03:12 and 4th position, so he's aiming for sub-2 hrs next year! Steve Turland was 36th in a great time of 2:28:06, Richard Joel 92nd in 2:52:41 and Alison Weston 108th in 2:57:42 (2nd V50), Duncan Cooper 138th in 3:12:30, Mary Gibbone 164th in 3:22:37 and sarah Edwards 181st in 3:31:37. No one was in a hurry to go home with pasties at the end and a very friendly pub. A highly recommended race!

(Winner - Ricky Lightfoot)
4 Jack Wood 2:03:12
36 Steve Turland 2:28:06
92 Richard Joel 2:52:41
108 Alison Weston 2:57:42
138 Duncan Cooper 3:12:30
164 Mary Gibbons 3:22:37
181 Sarah Edwards 3:31:37

parkruns, Sat 17 Sep
From Petra Bijsterveld ... Results ...

Leeds Woodhouse Moor
(1  16:19 Michael Salter, U/A)
9   17:54 Tim Ashelford
38  20:10 Adrian Bastow
455 ran

Harrogate Stray
(1  17:15 Reece Dalton, Ripon Runners)
204 26:50 Jennifer Carne
380 ran

Mile End
(1  16:56 Peter Downie, Highgate Harriers)
55  22:51 Will Worboys
212 ran

Skipton Aireville Park
(1  17:09 Lee Athersmith, RAF AC)
83  26:36 Karen Lambe
122 28:39 Polly Crawley (junior)
189 ran

Fountains Abbey
(1  16:39 Ben Pease, Ripon Runners)
54  22:35 Norman Push
350 ran

Wetherby
(1  16:37 Gregan Clarkson, Kingston upon Hull AC)
20  23:19 Geoff Howard
81 ran

parkrun, Portuguese style
From Outi Kamarainen ... During a recent holiday, I found out about an informal trail run taking place on Friday night on the outskirts of a small town in the Algarve. Never one to miss the opportunity to experiencing a different running scheme, I turned up at 8 pm at the little town somewhere close to the coast.
Already there were quite a few people there, and lot more arrived later, dressed in bright orange, yellow and pink tops and in the end there were over 100 participants, covering a wide age and ability range, with some participants even walking the course. The evening officially started with a brief warm up session, lead by the local aerobics instructor (not something that we are used to at fell races!). Then followed a series of rambling speeches and a drone video shoot. Finally, we set off half an hour after the advertised start time (what they call a prompt start in Portugal!). The route was 11 km (though my GPS recorded it being closer to 12k) and weaved through the farm land and olive groves around the town, following mainly farm tracks and little roads, with few paths thrown in the mixture too. The crowds soon thinned, and I ran much of the way by myself, following the distant head torches further up the tracks. The route was marked by tapes and glow sticks, with a few marshals at road crossings and it felt a bit like a mixture of treasure hunt and mystery tour with bright stars above and and crickets together with the odd dog bark providing the sound track. There was a water and fruit stop at about the half way mark, and I even got hosed down by a spectator at one point - a very welcome surprise since, despite the darkness, the thermometer still showed +24C. Finally, even though it was a non-timed event, there was still a sprint to the finish line and my time according to my watch was somewhere around 62 minutes. Afterwards, we tucking into yet more fresh fruit, whilst swapping stories of nearly getting lost at various points in the dark; whilst the route was well marked, you had to have your wits about you to stay on the marked track.
Apparently, these weekly events started a few years ago, with 6 runners heading out on Friday nights for an easy run. From there it has expanded, with different local clubs taking it in turns to host the trail runs. So if you ever find yourself in southern Portugal on a Friday night, with nothing better to do, I thoroughly recommend putting on the trainers and finding a torch of sorts to join in on one of these great nights out on trails.
Run Rabbit 100 Steamboat Springs Colorado, Sat 16 Sep
From Brian Melia... I headed over to Steamboat Springs Colorado for a new adventure in trail running. This is not a race on most Ultra Trail runners list, but I had thought over winter about getting out there or Lake Tahoe. In the end I summed up the courage to enter Run Rabbit 100 ... so named after the Rabbit ears pass you drive through to get to steamboat. I flew from Manchester to Chicago, then to Denver to collect my pre booked small car. The lady was insistent at collection I "Needed a six cylinder" not my small four cylinders as I was going over 3000 metres passes to get to Steamboat and my car would struggle. I thought she was joking so insisted on taking my 1.2 litre Yaris automatic. There was a lovely atmosphere at the registration the night before which settled my nerves, almost like a fell race. The numbers running the 100 mile race was limited to 350.
The race begins at the foot of Mt. Werner at the Sheraton Hotel at 2200 metres. I began at 8.00 am. The climb was long and hard, but really beautiful. Even a black bear was seen. After that it was single track to Fish Creek falls probably one of the most stunning trails I have been on before heading back into Steamboat for a loop of 20 miles round Cow creek mountain range and back for my first drop bag. I changed socks and filled up with food before it went dark. You head back up Fish creek in the dark and then to Long Lake aid station. It was a harvest moon and clear skies. Luckily I was told how cold it could get. Over the next 10 hours it was going to be a problem as it dropped to -15 degrees. Lots of people dropped due to the temperatures and the altitude which was about 3200m for long periods. I came close as my hands were freezing. Luckily the aid stations had fires. I spent too long in the relative comfort. Looking back I now realise how good these aid stations were. The food supplied was just fab. Hot drinks, coke ginger beer. Energy drinks (Tailwind), sandwiches, eggs and bacon. Some pizza and various broths. We were very well looked after considering how remote the race was, it was incredible ... super friendly. From long lake there is 5 mile drop to Summit Lake, my second drop bag where I put any spare clothes on. Then essentially a 24 mile out and back to Spring Creek Ponds. In the cold and dark it felt very eerie, but I managed to get through. As the sunrise happened I felt an energy surge. At my drop bag once more at Summit Lake I was able to get back to minimal clothes and sunglasses to try to finish. The trail took me on a tortuous route back to the top of Mt Werner. I ran really well most of the time finishing 26th. Really I should have worn warmer gloves which would have helped me get out of the aid stations instead of lingering so long, all told probably 2 hours or more! As always on these races it is not just about you. There are some lovely interesting runners and volunteers who make the journey worthwhile. I was pleased I made the effort and have looked back this last couple of weeks with a real satisfaction at completing Run Rabbit 100. I won a Glass Tankard and my first Buckle.
And the rental lady was right I need a six cylinder.
runrabbitrunsteamboat.com
Vale of York half marathon, Sun 11 Sep
From Dave Weesthaed ... A nice day for running on what looked at the start like an easy course. The first 7 miles were OK and I felt on for a time around 1:21 but after that it seemed to get harder and I was rather disappointed with my run and time in end. There was no obvious reason for this but talking to people who finished around me it was not an uncommon sentiment. Anyway, a good run on closed flat roads and well organised.
Results ...

(1   1:08:55 Jason Cherriman. Leeds)
71   1:23:56 David Westhead
137  1:28:37 Derek Oliver
589  1:47:15 William Woodhead
1097 2:05:51 Elizabeth Westhead
1594 finished

Lake District Mountain Trial, Sun 11 Sep
From Roy Ruddle ... In the words of the organiser, this year was a Classic Classic - i.e., hard, as witnessed by the winning time. Still superb weather and an excellent event. The Haines family were out in force, with Chloe 4th F on the Medium Course and Florence 2nd F in the Short Course, as well as Peter & Sarah who were running in Ilkley colours and are listed below.

Classic course 
(1  4:59:22 Neil Talbott, Ambleside AC)
27  6:46:35 Jack Wood
31  7:04:17 Roy Ruddle
51 started
  
Short course
(1  2:12:34 Rebecca Rooke, Black Combe Runners)
5   2:45:34 Peter Haines (1st V60)
13  3:04:47 Sarah Haines (1st FV50)
51 started

Yorkshireman, Sun 11 Sep
From Helen Waddington... Lovely conditions for today's Yorkshireman races over at Haworth. A total of 4 Harriers ran the scenic Half course (just shy of 15 miles) whilst Adela Reperecki took on the tough Full (26 mile) course and was placed second V50 lady - well done Adela. Gavin Lamb was first Harrier home on the half course in a time of 2.12.20. I was pleased to have moved up a few places since I last ran in 2014. A well-organised and very friendly event.

Half Results
(1   1.49.05 Michael Malyon, Baildon Runners)
24   2.12.20 Gavin Lamb                                             
49   2.20.39 Jonathan Sinclair                                       
54   2.21.48 Rob Cunningham                                  
103  2.37.36 Helen Waddington                                        
203 ran

Full Results:
(1   3.28.52 Kevin Doyle, Kimberworth Striders)
63   5.09.43 Adela Reperecki 2nd V50                         
112 ran

Great North Run, Sun 11 Sep

(1    1:00:04 Mo Farrah)
2840  1:41:58 Dan Ibbotson
6096  1:51:01 Christine Cox
8037  1:54:53 Charlotte Smithson
12719 2:02:54 Tim Ratcliffe
12961 2:03:23 Emma Curran
26434 2:28:28 Elaine Ibbotson
26470 2:28:32 Bernadette Gibbons
30633 2:37:57 Heather Duke
50,000 ran?

Burnsall fell race, Sun 11 Sep

(1 13:38 Simon Bailey, Mercia)
6  16:14 Iain Gibbons
8  16:23 Paul Carman
10 16:47 Jack Cummings
14 17:52 Steve Turland
74 finished

parkruns, Sat 10 Sep
From Rhys Jones ...

Bradford lister park
(1 17:06 Will Kerr)
15 20:32 Sally Malir 
26 20:59 Rhys Jones 

Ilkley Incline, Wed 7 Sep
From Dick and Helen Waddington ... Well done to all the runners who took part in the Ilkley Incline last night. It was a hot and sticky midge-fest so thank you all for coming. Great that so many Ilkley Harriers took part and so many won prizes - 9 in total claimed wins in their category. As always, these races wouldn\t happen without all the people in the background helping - we would like to give a BIG thank you to all of you who performed duties on the night - Neil and Mandy Chapman and Toni Melechi on finish funnel and timing, Val Kerr, John and Dan Hayes, Julie Malechi, Nicky Hopwood and Alison Weston who all helped marshal and corral the runners on the course or up to the start, Sarah Hayes (and Lucy on the till!) and Jann Smith on Registration and Sarah on sweeper duties too! Andrew McCarthy raced the results down on his MTB and last but not least Jane McCarthy who sorted results and winners. I do hope we haven't left anybody out! We are very grateful to you all!!!
Results
Wetherby 10k, Sun 4 Sep

(1  32:42 Andrew Grant, Harrogate)
49  40:08 Richard Joel
60  41:32 Derek Oliver
73  42:20 Lucy Williamson
260 49:56 Sarah Hayes
293 50:58 Stephanie Fox
374 54:34 Peter Lewis
526 61:07 Sue Williamson
531 60:44 Deborah Nicholson
694 finished

Bradley fell race, Sun 4 Sep

(1 25:08 Chris Miller, Harrogate)
8  27:44 Martin Archer           
9  27:49 Paul Carman             
12 28:25 Rob Carr                     
20 31:02 Ben Joynson              
31 34:17 Jann Smith (3rd lady / 1st F40)
66 ran

parkruns, Sat 3 Sep
From Petra Bijsterveld ... Results ...

Harrogate Stray
(1  17:40 unknown)
7   18:49 Paul Carman
36  21:20 Jann Smith (1st F)
181 26:28 Julie Elmes
198 26:52 Jennnifer Carne
349 ran

Skipton Aireville Park
1   18:00 Oscar Stapleton (junior)
70  25:59 Thomas Campbell (junior)
102 28:07 Karen Lambe
111 28:58 Ruth Jones
116 29:16 Polly Crawley (junior)
190 ran

---