Ilkley Harriers news archive 2016
Ilkley Harriers of the Month, August
Runner of the month:
Jane Mccarthy and Dick Waddington
for their stunning performance in the ultra CCC at Mont Blanc
Other nominations were:
Alison Bloor for her first ultra, Run to the Castle
Michael Lomas for his 19th Roundhill, 9th Kings challenge, 14th Burnsall (after running the 10m this year)
Martyn Stocker for races and improvement
Ben Joynson for downhill reps
Volunteer of the month:
Rachel Carter
for undertaking and transforming the membership process as secretary, now relinquishing the role
Other nominations were:
Andy Wolfenden for leading his Tuesday sessions and the summer away runs
Paul Stephens for leading a series of interesting runs through the summer
More Harriers of the Month ...
Kilnsey Show fell race, Tue 30 August
Woodentops photos and provisional results

(1  7:58 Ted Mason, Wharfedale)
4   8:46 Jack Wood
50 12:37 Outi Kamarainen
55 12:51 Norman Bush
71 15:09 Mary Gibbons
90 finished

Reeth Show fell race, Mon 29 August

1  17:03 Jack Wood
5  18:56 Iain Gibbons
100 finished

Malham Show fell race, Sat 27 August

(1 17:31 Harry Coates, Wallsend)
3  17:40 Jack Wood
74 finished

CCC Race in Italian/Swiss/French Alps, Fri 26 August
From Jane McCarthy... When Dick Waddington and I got places in January in the ballot to run the 2016 edition of the CCC (101km and 6,100m of ascent across 3 countries Courmayeur (IT) - Champex (CH) and finishing in Chamonix (FR) ) it felt exciting and a little intimidating. But the race did not disappoint its billing as 'having climbed from being the "little sister of the UTMB" to becoming a unique race that is one of the most prestigious of the world. The start line at the centre of Courmayeur is tinged with an atmosphere that only Italians can provide, a rare emotional moment to the music of Vangelis. The start was moving, a minute's silence for the victims of the earthquake, then a helicopter and drone overhead to film the mass start at 9am Friday morning, and indeed, to the music of Vangelis.
The weather had been worryingly hot all week in Chamonix and race day for us was no different - with 32 degrees forecast between 9am and 5pm at 1,000m of altitude. The extent of the heat could be felt in the first kilometres, which quickly lead to 2500m of altitude, facing Mont-Blanc and the Grandes Jorasses. After CP1 and CP2 it was an absolute delight to see Andrew Merrick at the Refuge Elena, high on the trail, and he ran with DIck and me down to La Fouly. He telephoned Helen (W) to let her know progress and I heard him reassure her that we were being very 'sensible' with pace - thinly veiled code for 'slow!'. But it felt very terribly hot and coming in to Champex-Lac around 7pm and after 10 hours to meet Helen and Andrew Mc was both a highlight, but also a mental challenge as we knew we were only at best halfway! After some pasta (kept down to varying degrees), (more) coke, and words of support by our other halves, Dick and I felt ready to press on. We knew that runners around us were suffering more - we had gained over 200 places in arriving at Champex - I think this provided perfect motivation. With the heat abating a little, and time for head torches to be switched on, it felt much more comfortable and we overtook many runners through the remainder of the race. The last checkpoint at Flegere above Chamonix saw a steep, then fast, 7km descent to the finish and it felt AMAZING to finally reach the finish line after more than 20 hours! Of a starting number of 2129 (319 females) there were a total of 1386 finishers (215 female) - giving a 35% drop out rate. DIck and I finished in 358th position (96th and 22nd category finish positions respectively).
From Dick Waddington ... The CCC is part of a week long UTMB festival of 5 ultra races all finishing in Chamonix and ranging from 50km to 270km(!) long. For the CCC you start in Courmayeur and make your way back to Chamonix via Champex (CCC) on a spectacular 101km route with 6000m of ascent around Mont Blanc. You know it's a big race when a helicopter is filming the start and a drone is hovering over head giving a live feed to the UTMB website. I was running with Jane McCarthy and this was the first ultra in the Alps for us both, in fact this was my first race of any kind in the Alps. The start was a nice jog through Courmayeur - very pretty with fantastic support from the big crowd. For the previous few days we had been getting texts from the organisers - "It's going to be very hot", "Be careful, don't go too fast", "Bring lots of water". For someone who pulled out of the Wasdale FR with heat exhaustion this didn't sound good. After a couple of hours the temperature was at 28 degrees, then it went to 32, and stayed above 28 until about 7pm, so yes it was pretty hot. There was a constant drip from the brim of my cap as I slogged up the climbs. The views of the south face of Mont Blanc were amazing - the Central Pillar of Freney looked stunning for the climbers amongst you. Eventually the heat and altitude made it hard to eat, so by the half way stage at 7pm our support team of our respective children and Helen and Andrew had a big job to put the wheels back on by getting us to eat and sending us gently but firmly on our way - without them it would have been game over I think. Thanks guys!! After that, there were some pleasant tracks to make good progress on and the food kicked in; it's a great learning experience to feel incapable of carrying on, but to get it back together for the last 40km and three big climbs of 1000m each. Eventually Jane came out with the classic line of "lees than a marathon to go now" and I started to think it was possible. More noodles, gels, cups of coke, TUC biscuits, bags of Haribos and we were moving quite well. The sight of a line of torches heading upwards to the stars on the last climb up the Tete au Vents was sobering, but hey, it was the last climb, so how bad could it be? The sharp rocks on the plateau above didn't help the blisters on the soles of my feet, but we cracked on to the final descent - 900m down in 5km, then a nice 2km on the flat and into Chamonix for a run around the town. We found a bit of adrenalin for a final kilometre in about 5 minutes, then that was it, the crowd cheered (yes, at 5am!!) and Andrew and Helen were at the end very relieved to see we were alive! The CCC was an amazing experience, involving trauma and exhaustion and a lot of sweat. The level of effort involved to hold it together for 20.5 hours surprised us both, but having a friend with you and great support makes it easier. Would I do it again? Maybe. Would I do the 170km UTMB? Not for a while. Hats off to those who have.
Burnsall classic fell race, Sat 20 August
From Val Kerr ... Despite the forecast for rain and high winds conditions remained fair for this classic fell race. Runners got off to a quick start with local expert Ted Mason leading the way from start to finish. The run up the fell didn't seem as difficult as last time I did the race, perhaps because my 10 days walking in the Alps had paid off, but the descent off the top was still quite tricky with a narrow path, slippy mud, heather and boulders to navigate. Once the wall had been climbed however, it was a nice run down though the fields to the finish. Michael Lomas put in a sterling performance and was first IH home in 20th place having done the double and just run the 10 mile road race aswell. Michael was followed closely by Richard Joel (21st) who also had a good run. Will Worboys made his first appearance in a race for a while and ran well to finish in 67th place. I was the only IH lady to take part and finished in 80th place and 1st LV50 with plenty left in my legs at the end - I had forgotten how much I enjoy this race. Martyn Sticker was 89th having also just run the 10 mile road race.
Results ...

(1 14:58 Ted Mason, Wharfedale)
20 20:07 Michael Lomas                    
21 20:12 Richard Joel                          
67 25:08 Will Worboys                       
80 26:52 Val Kerr (1st LV50)
89 30:04 Martyn Stocker                   
101 ran

Burnsall 10 road race, Sat 20 August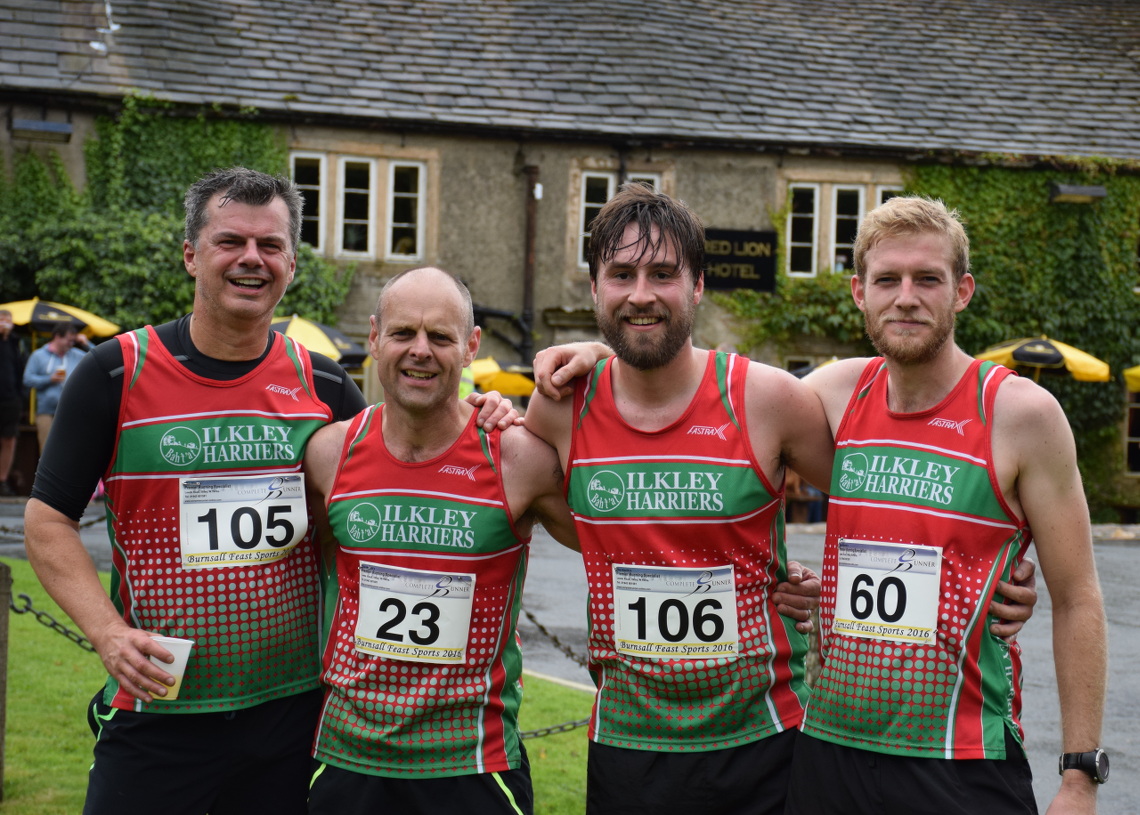 From Jean Sulivan ... 10 Harriers took part in the Burnsall 10 mile road race, with Michael and Martyn following this up by taking part in the classic fell race. Some great runs, especially by Michael Lomas, 1st Harrier home, followed by Dave Robson, 2nd Harrier home. The conditions were perfect, cool and breezy with a 10 minute refreshing downpour thrown in too ! A great race at a great family day out!
Results ...

(1  55:57 Tom Corrigan, Barlick)
14  66:30 Michael Lomas
27  69:56 Dave Robson
36  74:16 Steve Murray
41  tbc   Martyn Sticker
47  76:52 Duncan Cooper
53  78:30 Harry Sime
54  78:32 Robert Sime
59  81:10 Dave Ibbotson
65  83:43 Jean Sullivan
86 105:30 Bernie Gibbons 1st V60
87 finished

Race the Train, Sat 20 August
From Petra Bijsterveld ... This annual event in Tywyn, Mid Wales, now in its 33rd year, is organized by the Tywyn Rotary Club and is centred around the Talyllyn Railway. There are shorter races in the morning, but the main event is the 14 mile multi-terrain race in the afternoon. Both the runners and the train are started by the train whistle ordered by the timekeeper. The run consists of 7 miles out to Abergynolwyn and 7 miles back, this time on the other side of the track, definitely the harder half of the course. The aim is to stay ahead of the train, which tends to take 1 hour 47, so beating it is only a possibility for the faster men and a handful of women. However, it is just as much fun being overtaken by the train, which is carrying friends and family cheering the runners on. I went with two non-Harrier friends. Unfortunately the weather was not good, with heavy rain and gale force winds of up to 50 miles an hour, though thankfully it was not actually cold. As a result conditions underfoot were extremely muddy. The undulating course consists of 1 mile of road at the start and finish, some unmade farm tracks, fields, and narrow sheep tracks on steep hillsides, where I wished that I had a longer right than left leg after a couple of miles of it. Added to that we had the gale blowing against us on the return leg. All in all it felt like a very long XC race. Thankfully I had decided to wear my mudclaws which were definitely the right shoes for the conditions on the day, I seemed to have far fewer problems with the mud than some around me. I ran the race mainly for enjoyment but did try and push-on at a steady pace, and was pleased with my time of 2 hours 32. We were rewarded with an excellent goodie bag including t-shirt, medal and an abundance of healthy snacks. To my mind the real heroes of the day were the marshals and water station people who had stood outside in atrocious conditions for the entire day to look after us.
Race website
Results ...

(1  1:28:14 Paul Green, Sale Harriers)
659 2:32:36 Petra Bijsterveld
834 ran

Run To The Castle Ultra, Sat 20 August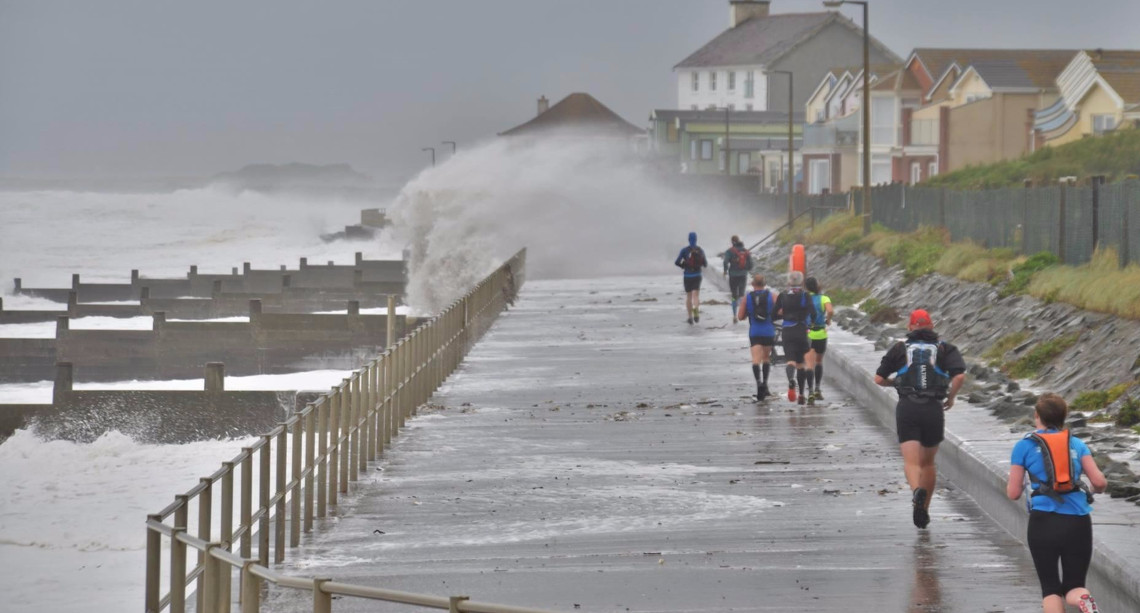 From Neil Bloor ... Alison and I ran the 42 mile run to the castle ultra which goes from Aberdovey to Harlech along the Welsh coastal path. It is fair to say that the weather was not with us! Starting out along the beach the gale force winds were pushing waves up the beach so we already had wet feet before we found safety in the dunes. Along Tywyn prom was probably life threatening (see photo) and meant we were soaked to the skin in sea water after only 5 miles. After this it was a constant battle against the wind with some steep hills in the first half and regular heavy showers. The second half is a lot flatter however the whole way required some good map reading despite being a signed path with additional red arrows and tape. Very pleased to finish 36th and 37th out of a field of 50, nearly half the normal number of runners given the conditions. For us it was just about finishing and raising money for CRY (cardiac risk in the young) following the untimely death of Alison's younger brother a year ago. If anyone would like to sponsor us it is not too late www.justgiving.com/runtothecastle
This was Alison's first ultra marathon and we found the event well organised and there was some great cameraderie amongst the runners.
First in was a fabulous 6:42 by Julian Ayres.
Pendle Three Peaks English championship race, Sat 20 August
From Alison Weston ... Only Jack and I entered the 5th English championship race. (16km/870m) Bit wet and windy in comparison with recent weather but Jack had a flyer to finish 13th overall in 1hr 20. I finished well over half an hour later in 1hr 56 and was pretty low down in my age category but it was a good course and very well organised. A small section of fence and wall had been removed for the race but was rebuilt before the prize giving took place!
Results ...

Men
(1 75:41 Sam Tosh, Rossendale)
13 80:54 Jack Wood
229 finished

Ladies
(1  94:06 Sharon Taylor, Helm Hill)
39 116:51 Alison Weston
77 finished

parkruns, Sat 20 August
From Petra Bijsterveld ... Results ...

Woodhouse Moor Leeds
(1  18:11 Matthew Akpan, U/A)
48  21:43 Tom Worboys
318 ran

Skipton Aireville Park
(1  16:42 Elliot Hind, Leighton Buzzard)
2   19:13 Paul Carman
14  22:02 Jann Smith
97  30:52 Polly Crawley (junior)
139 ran

Keswick
(1  18:18 Thomas Durcan, Derwent AC)
56  28:29 Fiona Schneider
102 ran

Peckham Rye
(1  17:12 Andy Bond, Dulwich AC)
2   17:17 Alex Hirst
146 ran

Hardmoor Wainstones Trail Race, Sun 14 August
Vince Gibbons reports ... Bernie Gibbons was first female vet 60 at the Hardmoor Wainstones Trail Race (9.6 mile course with 1,900 feet of climbing) in 2hr 10min. Tough course on a gloriously sunny day at Chopgate, Great Broughton, Teesside.
Sedbergh Hills fell race, Sun 14 August

(1 2h26:55 Steven Snape, Salford)
64 3h27:24 Robin Nicholson
96 finished

Littondale road and fell races, Sat 13 August
From Petra Bijsterveld... I went to the Littondale Gala in Arncliffe for the 2nd time with two non-Harrier friends from Reading. The road race is a 4 mile out and back course along the river, not as flat as you might imagine being in the valley bottom, mainly downhill out and uphill back, and we were treated to a stiff summer breeze against us to add to the uphill. Jack Wood and I were the only Harriers in the road race, which was won by Daniel Cliffe from Liverpool in a new course record of 19:43 (he has a 5K PB of 14:00 - I was rather starstruck briefly chatting to him in the tea rooms). Jack came 6th against some fast competition. My Reading friends raced well, Colin coming in as 3rd M50 and Tom, who turned 80 last month, winning the M80 category! It being a small race (77) I had hoped to perhaps win the F50 category but a Settle runner beat me to it. I was happy with my running and a time of 33:47 though. A bottle of Wharfedale Blonde for all finishers made it even more worthwhile.
The fell race is a steep course, 1.9m and 459 ft, and not the sort of terrain for me. Jack Wood and Norman Bush flew the flag for Ilkley. My friend Colin decided he might as well do a Yorkshire fell race and bravely joined the 98 hardy Northern fell runners on the start line. The race was won by Simon Bailey, followed by Ted Mason and Jack was 3rd. Norman came 51st looking very strong! Colin held the honour of the Reading Road Runners high by coming 67th.
I saw a lot of Ilkley Juniors in the junior fell races. I can recommend this gala as a lovely family day out and it would be great to see some more Harriers running next year!
Fell race results ...

(1 10:27 Simon Bailey, Mercia)
3  11:20 Jack Wood
51 16:03 Norman Bush
98 finished

Road race results ...

(1 19:43 Daniel Cliffe, Liverpool)
6  21:44 Jack Wood
50 33:47 Petra Bijsterveld
77 finished

parkruns, Sat 13 August
From Petra Bijsterveld ... Results ...

Harrogate Stray
(1  17:41 Steve Collins)
8   18:51 Paul Carman
40  21:22 Jann Smith
209 27:15 Julie Elmes
364 ran

Skipton Aireville Park
(1  17:36 Lee Athersmith, RAF AC)
55  26:07 Daniel Fazackerley (junior)
82  28:24 Fiona Schneider
148 ran

Doncaster
1   17:50 Cameron Reilly (junior)
61  25:00 Arthur Reilly
179 ran

Peckham Rye
(1  17:11 Timothy Bowen, Dulwich Runners)
2   17:31 Alex Hirst
107 ran

Kings Challenge, Thu 11 August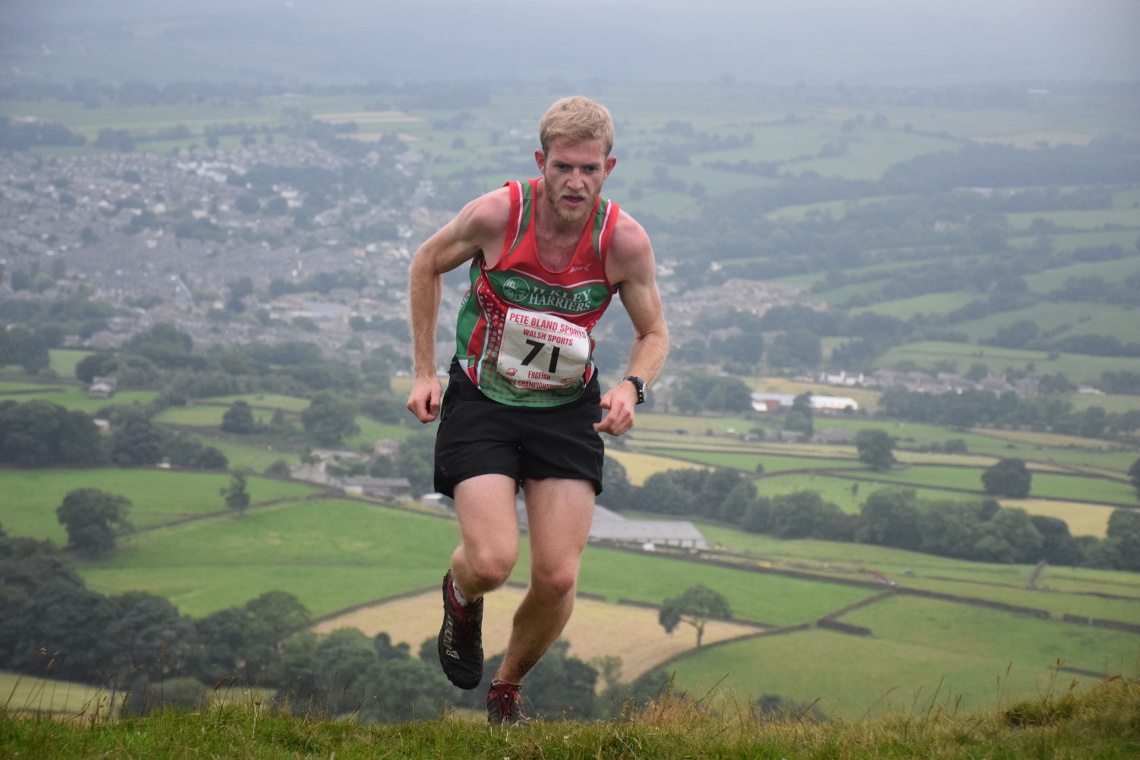 From Michael Lomas... Four Harriers went over to Silsden on Thursday night for the Kings Challenge. With only 17 runners in previous years it was a surprise to see at least double the amount milling outside the Kings Arms for the start. Organisers quickly stopping cars on the street for a 100m dash up the main road before turning off, through the houses and out onto the clag on the moor up to the trig at long ridge end and back. A bit of local knowledge helps on this race as the markers were a bit sparse, I thought following a Wharfie would see me right but even he went wrong! Jann Smith ran a stunning race and was first lady across the line after chasing down the Monica from Wharfedale. Paul and I came in the top ten and Martyn Stocker finished strongly in 24th.
Results ...

(1 39:59 James Hall, Wharfedale)
7  46:00 Paul Carman
9  47:48 Michael Lomas
22 56:06 Jann Smith  1st lady
24 56:56 Martyn Stocker
44 finished

Round Hill fell race, Sun 7 August
From Paul Stephens ... After a hot and sunny Saturday it was a relief to have it windy and overcast for the 2016 Round Hill fell race. It was good racing conditions - firm underfoot but not too hard and the strong wind never seemed to be coming straight at you. Only 7 Ilkley Harriers made the short trip with Martin Archer the first male Harrier home and Sarah Hayes the first female. I was pleased with my time and position - in the top half (just) and less than 2 minutes slower than my last attempt in 2013. But there were still 4 M60s in front of me! Michael Lomas wasn't far behind Martin Archer with Dave Robson a couple of minutes further back. I'd overtaken Mike Baldwin about 2 miles in and was able to hold him off. I also overtook Martin Stocker with about 3 miles to go but he was too strong and finished 30 seconds in front of me. It was Sarah Haye's first time at Round Hill and she was 5th LV40 home.
Results ...

(1    55:50 Lee Athersmith. Wharfedale)
14  1:01:03 Martin Archer
19  1:01:52 Michael Lomas
23  1:04:11 David Robson
62  1:13:50 Martin Stocker
67  1:14:09 Paul Stephens
74  1:16:01 Mike Baldwin
123 1:30:39 Sarah Hayes
151 finished

Cross Bay Challenge, Sun 7 August
From Fiona Schneider ... This half marathon is described as a challenge for a reason and Sunday did not disappoint with deafening headwind roaring across the bay. The direction changed from my previous effort, the race was run East to west Lancashire to Cumbria and 8 miles into the wind. Underfoot is surprisingly variable with the need to ford channels and rivers well above knee level, splash through puddles and portholes, squelch into mud and some solid sand. Conditions were reported as the most difficult yet, but I love this wilderness and the privilege of running across it safely outweigh any extra effort needed this year. It would be a great day out for an IH league run.

(1  1:37:17 Lewis Barton 
206 2:47:50 Fiona Schneider 40th Fv
215 Finished

Hoad Hill Half Marathon, Sun 7 August
From Helen Waddington... Only the second year for this multi-terrain and hilly event. There is also a full marathon and a children's mile race. Brilliantly organised and heavily supported by GlaxoSmithKline which has a large factory in Ulverston and employs 300 locally, I think it's the only event I've ever done where the police stopped traffic for the runners at the two road crossings. Multi-terrain includes road, track, field, beach and moorland and the 'half' in the half marathon description actually means closer to 14 miles, but who's counting. I was getting fed up of long road runs in preparation for the autumn Yorkshire marathon so this was a very welcome break from the routine. I would highly recommend it, but be prepared for the kick at the end which laid waste to a few runners who hadn't left enough in the tank.

(1 1:30:00 Joe Kenny)
53 2:04:46 Helen Waddington
154 ran

Borrowdale fell race, Sat 6 August
From Alison Weston... A warm beautiful day for Borrowdale fell race 27km/2000m today (4th English championship race) though it was still really tough. Jack Wood came a brilliant 17th overall out of about 400 runners, followed by Brian Melia and Outi Kamarian who both ran well and Alison Weston (3V50). Kate Archer had a great run all the way to Great Gable but unfortunately had to retire at Honister feeling unwell.
Results ...

(1  2h49:21 Ricky Lightfoot, Ellenborough)
17  3h13:50 Jack Wood
204 4h25:58 Brian Melia
232 4h36:15 Outi Kamarainen
237 4h36:58 Alison Weston
352 finished

parkruns, Sat 6 August
From Petra Bijsterveld ... Results ...

Bradford Lister Park
(1  18:09 Martin Fillingham, Saltair Striders)
16  21:14 Tom Worboys
139 26:58 Hilda Coulsey
371 ran

Skipton Aireville Park
(1  17:00 Matthew Merrick, Bingley Harriers)
96  29:26 Neve Tennant (junior)
150 ran

Fountains Abbey
1   17:27 Euan Brennan (junior)
2   18:11 Dominic Coy (junior)
4   18:29 Stephen Coy
108 26:11 Gaenor Coy
250 ran

Peckham Rye
(1  17:28 Philip Sanders, Kent AC)
5   18:06 Alex Hirst
125 ran

---