Ilkley Harriers news archive 2016
Ilkley Harriers of the Month, July
Runner of the month:
Sarah Pickering
who won the FRA U18 champs
Other nominations were:
Gavin Lamb for Muker, Addingham and Bingley performances
Harry and Robert Sime for Bramham 10k run and report and dedication to Tuesdays
Jemima Elgood for Addingham fell race
Jane McCarthy for Ultimate Trails Lakes 100k
Kate Archer for Snowdon
Andrew Merrick for Ultimate Lakes 100
Dan Wilkinson for Ingleborough 1st V40.
Volunteer of the month:
Val Kerr
for recent Washburn and Danefield relays and previous relay organisations together with long and successful committee work
Other nominations were:
Abigail Bailey for leading Improvers group having really good feedback
Dan Wilkinson for another outstanding Addingham Gala race organisation
More Harriers of the Month ...
Cowling Gala, Sat 30 July
From Robin Nicholson ... Results ...

(1 19:25 Matthew Mackay, Rossendale)
7  21:56 Steve Turland
9  22:09 Robin Nicholson
39 finished

Rydal Round fell race, Thu 28 July
From Alison Weston ... Jack Wood, Mary Gibbons and I left Ilkley with intention of running the Rydal Round AM fell race (really the Fairfield Horseshoe) at the Ambleside Sports day but a few minutes before the race started the course was shortened considerably due to poor weather conditions. So we all ran a 4 mile very steep route to the top of Nab Scar and back the same way. Jack was 3rd and Mary and I some time later! (no official results as yet).
Ambleside Sports fell race, Thu 28 July
From Alison Weston ... As the above race was pretty short we then persuaded each other (following bacon sandwiches and lots of tea!) to also run the BOFRA 2 mile race later in the afternoon. More runners turned up for this championship race but Jack still managed 9th position and Iain Gibbons 7th V40. I have never run twice in a day before never mind racing and my legs strongly objected! BOFRA's may be short but they're certainly not easy.
Results ...

(1 13:56 Simon Bailey, Mercia)
9  15:47 Jack Wood
24 17:51 Iain Gibbons
72 21:59 Alison Weston
76 22:19 Mary Gibbons
118 fisnished

Pomona King of the Mountains, Sun 24 Jul
From Mark Mon-Williams ... Pomona is a small town in the hinterland of Noosa (Queensland, Australia) that has a single distinguishing feature - a large lump of volcanic rock named Mount Cooroora. In 1958, a bloke called Bruce (what else?) ran to the top of Mount Cooroora (438m) and told his mates in the bar (where else?) that he'd managed it in under an hour. Bruce's mates didn't believe him and so he did a demonstration run and thereby started the annual "King of the Mountain" race. The KoM race is now a big event in the area and attracts a large crowd. The race itself makes Coniston Gullies look like a parkrun...there is a large rock section with a chain that runners need to negotiate to get to the top. Ruaridh Mon-Williams was holidaying in Queensland with his family (returning to Brisbane - his birthplace - for the first time in 18 years) and decided he'd enter the race. The race was a fantastic affair with the runners first doing a short run down the main street (where the race starts and ends) and being introduced to the crowd. The whole community line the route and there are more rescuers on the mountain than runners. Ruaridh had a great run to finish in third place and first under 20 year old, with first place going to the 2016 Australian Mountain Running champion (Mark Bourne) and second place to a New Zealand runner. Ruaridh's parents were delighted (primarily with the fact that the small print about competitive sports in the travel insurance didn't need to be contested...) but now worrying about how to get his prize (a unicycle) home...
Results ...

(1 23:53 Mark Bourne)
3  27:18 Ruaridh Mon-Williams (1st Mens Junior)
94 finished

Trans d'Havet Harrier, Sun 23 July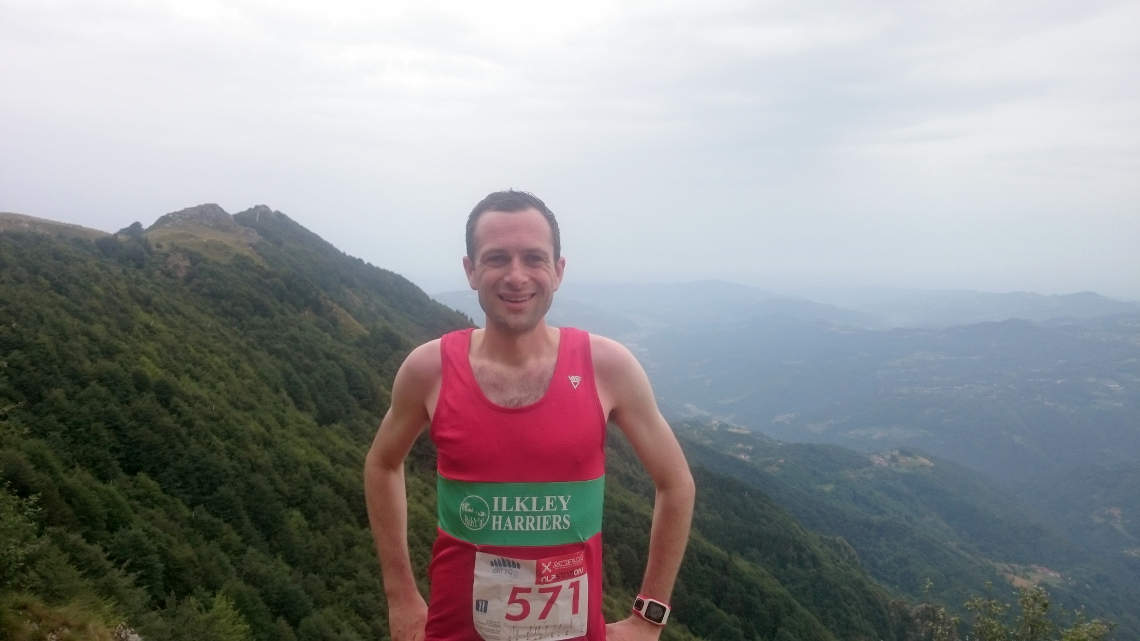 From Alex Hirst ... on Saturday I completed the Trans d'Havet mountain marathon in the Italian Alps. Running up and down some pretty intense peaks for 40k (the short race!)
Out of 250 on the start line only about 150 completed the race (of which I was 74) with my good friend from the States Braden who currently lives in Florence alongside me. As the only Brit and American we gave the event an international flavour!
Results(not a marathon PB event) ...
Bingley Show fell race, Sat 23 July
Photos and provisional results on woodentops.org.uk

1  38:17 Tom Adams
11 47:11 Martin Archer
12 48:06 Gavin Lamb
144 finished?

Lakes Sky Ultra, Sat 23 July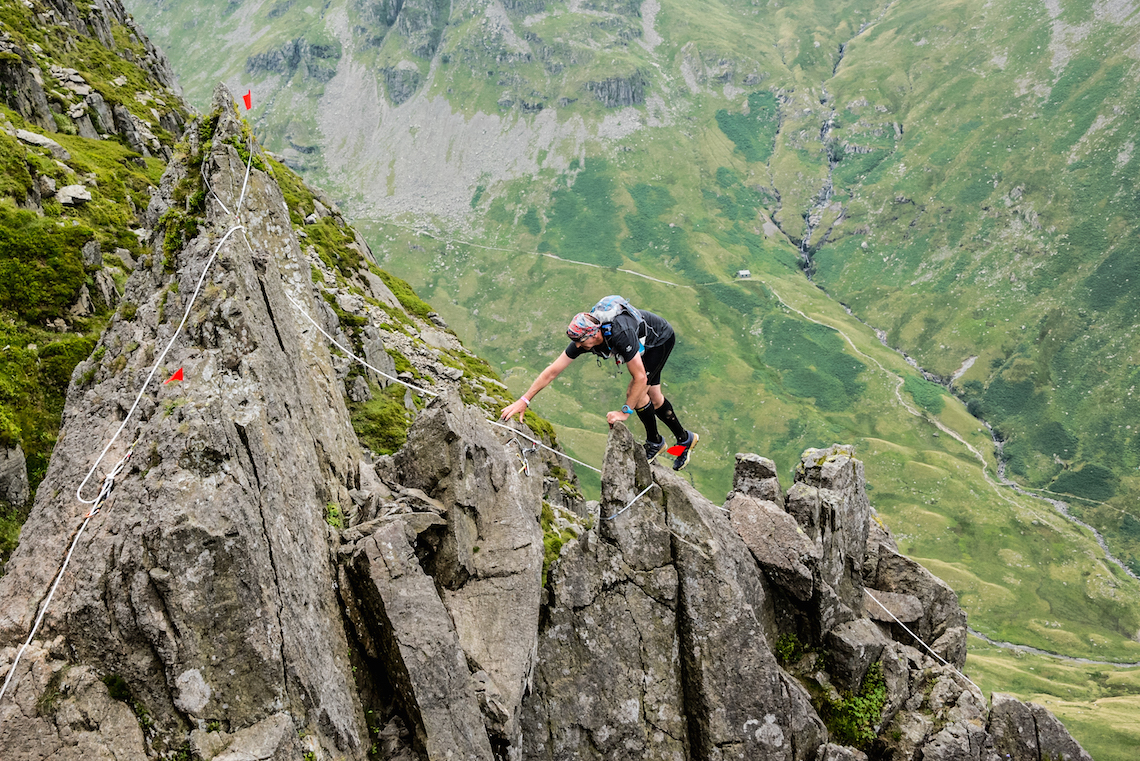 From Brian Melia ... What a fantastic race this turned out to be. Beautifully organised and supported on a very technical route.
Starting on the streets of Ambleside we climbed up to Fairfield via Dove Crag & Hart Crag, before dropping down across the scree slopes to Grisedale Tarn (CP1) and then traversing the Helvellyn massif. One of the best descents in the Lake District, Swirral Edge (grade 0.5 scramble), gives way to the classic mountain top of Catstycam (CP2) before plunging down the north-west ridge to the valley floor below (CP3 + Feed Station) . Climbing back up, onto Birkhouse Moor (CP4) and joy of running the whole length of Striding Edge (CP5 & easy grade 1 scrambling), before the route tops out back on the Helvellyn massif. Countouring around the top of the headwall of Nethermost Cove, leads onto the lesser-known line off Nethermost Pike (CP6), dropping into Grisedale on ropes. A short & very sharp uphill grind onto the Grisedale face of St. Sunday Crag (CP7) then there was exposure and steepness of Pinnacle Ridge itself (grade 3). Tasty! and great fun with rope assistance.
There was a great fast descent into Patterdale (CP8) and the chance for a refuel at the supplied aid station before climbing once again onto the high tops, via Boardale Hause (CP9) to visit Angle Tarn, The Knott and High Street. Another bone shaking descent off Long Stile passing Blea Water and down the valley to join the track (CP10) leading up past Small Water, on to Nan Bield Pass and back to the summits, bearing round a beauty of a track at the head of the Kentmere Valley. Some fantastic undulating running from The Beacon through Threshthwaite Mouth and over Caudale Moor to Kirkstone Pass via St Ravens Edge down to Kirsktone Pass Inn (CP11). One last climb - up Red Screes (CP12) and then the fast easy 5km descent back to Ambleside.
I was 30th in 10hrs 30 mins. There were quite a few Dragon Back racers so we had a good catch up over good food and coffee.
www.lakesskyultra.uk
Cracoe fell race, Sun 17 July
From Mary Gibbons ... 2.6 miles, 900 feet of climbing. Straight up, around the 'pointy thing' and back down again... the tried and tested fell formula. Well done to the Gibbons pair (not related) out for Ilkley Harriers.
Results ...

(1 21:05 Simon Bailey, Mercia)
13 25:25 Iain Gibbons
52 31:31 Mary Gibbons
86 finished

Bramham 10k, Sun 17 July
From Harry Sime ... Robert Sime and I were at this inaugural 10k run in Bramham. It was a very friendly event ran by the Parish council. Lots of marshals and a large pavilion with changing rooms and most importantly lots of home made cakes and refreshments at the end plus a medal and loads of free photos. A nice quick first km on the road was as easy as it got with some fairly rough tracks making up most of the course. It was quite undulating and a very steep 200m climb in the final km. Virtually no shade and very little breeze so it felt much warmer than 19 degrees. We were quite steady paced ignoring the first km and glad to both cross the finish at 49.37 or thereabouts. Within hours got a message about improvements planned for 2017. Nice car and tractor free course.
Results ...

(1 35:46 Paul Milgate, Wetherby)
36 49:36 Harry Sime
37 49:38 Robert Sime
64 56:17 Timothy Ratcliffe
103 finished

Snowdon Internation mountain race, Sat 16 July
From Alison Weston ... Four Harriers took part in the Snowdon Internation mountain race up and down from Llanberis. It was wet and misty but not unpleasant running conditions. Michael Lomas had a great race to be first back for the Harriers in 1:29:07, followed by Kate Archer 7th lady in 1:36:15, Alison Weston 1:47:02 (2nd LV50) and Martyn Stocker 1.52:15. Results ...
Ingleborough fell race, Sat 16 July
From Dan Wilkinson ... A classic up and down gala race from Ingleton to the top of Ingleborough. Billed as an AM category race, it's got to be the easiest of this category on the calendar, useful for anyone wanting qualifying races for the likes of the 3 Peaks. I managed to place in the top 10 and with the V40 prize so I came home with my best prize haul at a race ever £35 in Pete Bland vouchers. Nick Pearce won the V60 category and Paul Carman and Jane McCarthy also ran placing well.
Results ...

(1 48:53 Nick Leigh, Horwich)
6  53:12 Dan Wilkinson
17 56:25 Paul Carman
42 63:15 Nick Pearce
47 64:20 Jane McCarthy
76 68:35 Jann Smith
128 finished

DT 30 Muker, Sat 16 July
From Gavin Lamb ... Great series of races which I will be putting all 3 in my diary for next year, albeit I was underprepared on this one when my legs packed in with 10km to go!
  
(1 2.30:21 Ben Hukins)
11 2.53:03 Gavin Lamb
217 finished

parkruns, Sat 16 July
From Petra Bijsterveld ... Results ...

Harrogate Stray
(1  17:18 Ciaran Forde, Horsforth Harriers)
189 26:45 Julie Elmes
348 ran

Hilly Fields Lewisham
(1  18:16 Mark Callaghan, Dulwich Runners)
2   18:27 Alex Hirst
207 ran

Temple Newsam
(1  17:59 Dominic Petersen, Leeds City AC)
25  22:27 Tom Worboys
181 ran

Skipton Aireville Park
(1  16:53 Matthew Merrick, Bingley Harriers)
84  27:05 Polly Crawley (junior)
182 ran

Washburn Valley relays, Fri 15 July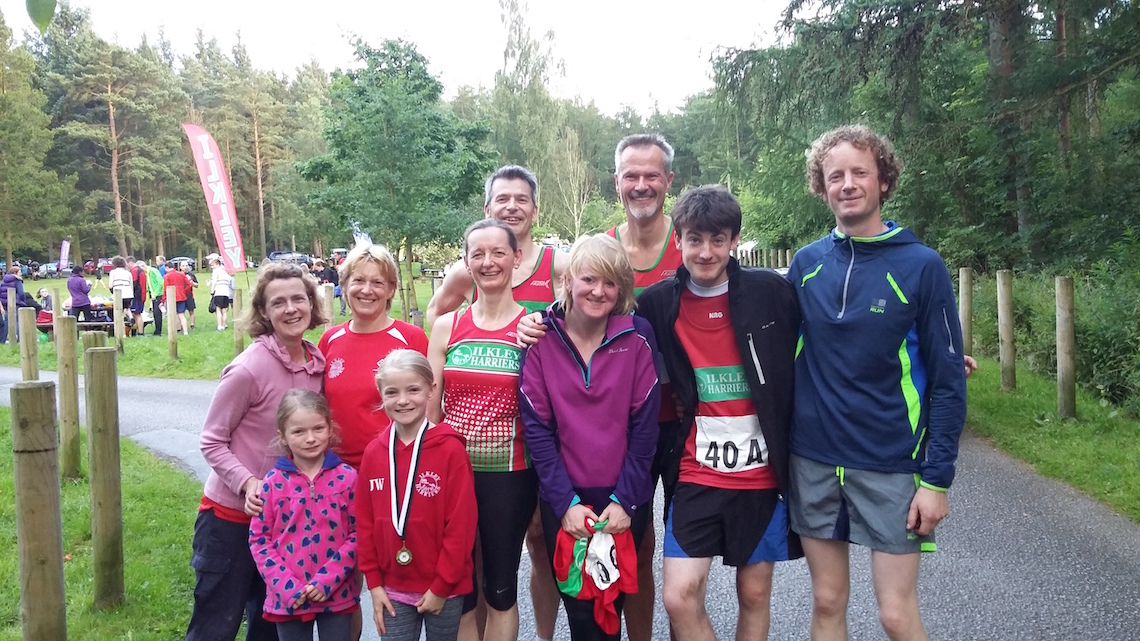 From Val Kerr ... We had 3 mixed teams and 1 men's team in these relays, run around Fewston and Swinsty reservoirs in the Washburn Valley. As is customary for this event there was a lovely friendly atmosphere with plenty of support on the final 'hill' at the end of each leg. The evening was warm and muggy, which made the running more difficult than it should have been for the distances involved and brought the midges out in force as the evening went on. There were some great performances with Jack Cummings finishing in 2nd place and Paul Carmen finishing in 6th place on Leg 1 and Martin Archer finishing in 7th place on Leg 2.

Ilkley Late Arrivals
Leg 1    Paul Carmen          18:49 (6)
Leg 2    Martin Archer        24:31 (7)
Leg 3    Andrew Sheldon       22:24 (27)
(1:05:44 - final position 8)

Ilkley Mixed Bag
Leg 1    Jack Cummings        17:27 (2)
Leg 2    Ben Joynson          26:25 (10)
Leg 3    Mary Gibbons         23:45 (40)
(1:07:37 - final position 15)    

Ilkley Mixed Spice
Leg 1    Jean Sullivan        23:44 (39)
Leg 2    Jane McCarthy        27:34 (35)
Leg 3    Richard Joel         21:17 (14)
(1:12:35 - final position 27)

Ilkley Allsorts
Leg 1    Val Kerr              25:15 (55)
Leg 2    Andrew Jackson        30:04 (50)
Leg 3    Petra Bijsterveld     28:04 (65)
(1:23:23 - final position 57)
(72 teams took part)

Ilkley Harriers Race League
From Jane McCarthy ... The Harriers League is now up to date to include the three races in June - Wharfedale Trail Half Marathon, HDSRL(3) at Thirsk (Road) and Buckden Pike Fell Race. There were many strong Harrier performances - including top 3 finishes for Matt Cox at Wharfedale Half and Jack Wood second at Buckden Pike. From a League perspective, the best scores (age adjusted) were earned by Matt Cox and Nick Pearce (102 and 101 points for the Wharfedale Half), Norman Bush with 101 points at Buckden Pike, and Sally Malir with 98 points for Thirsk. With results to the end of June, Jack Wood still leads the Fell category (4 races), Hilda Coulsey now leads Trail (4 races) and Steve Murray leads Road (3 races). Overall, Lucy Williamson is still in top position after 8 races and 674 points, followed by Michael Duffield. Peter Lewis cleverly nominated an excellent result at Beamsley Fell as his Wildcard and moves to 6th place. Nick Pearce, after recent superb results is in 5th, with the highest average race score after completing 5 League races. Plenty more to come! We have had Addingham Gala last weekend, and next races in August are Round Hill in Fell (7th August) and Burnsall 10 in Road (24th August). Good Luck Everyone! More ...
Leeds 10K, Sun 10 July
From David Green ... Eleven Harriers took part in the 10th Jane Tomlinson Race for All Leeds 10

(1   31:51 Jamil Parapia, Leeds City A.C.)
417  44:22 Rhys Jones
476  44:41 Erin Keating
526  45:44 Harry Sime
543  45:52 Robert Sime
1323 49:47 David Green
1443 52:26 Charlotte Smithson
1684 52:35 Alex Hyde
3001 62:24 Abigail Bailey
3389 52:12 William Woodhead
3594 52:57 Donna Hattersley
5421 68:13 Annabel Bailey
6733 finished

Addingham Gala fell race, Sat 9 July
From Dan Wilkinson ... The Gala Race, now in its 7th year, was won by Liam Dunne and our own Jemima Elgood who smashed the women's course record by 45 seconds and came 4th overall. A great turnout from Harriers with Paul Carman and Jann Smith both in the top 3.
Results

(1 44:08 Liam Dunne, Otley)
2  44:40 Paul Carman
4  46:17 Jemima Elgood
5  46:40 Gavin lamb
8  48:13 Dave Robson
9  49:07 Richard Joel
10 49:36 David Foyston
18 52:05 Julian Carter
20 52:19 Stephen Murray
22 52:27 John Hayes
26 54:10 Paddy Hagan
30 55:12 Jann Smith
44 62:25 Geoff White
48 65:03 Peter Lewis
56 finished

Borrowdale half marathon, Sat 9 July
From Paul Sugden ... results ...

(1  1:40:07 Oliver Smith)
42  2:17:55 Stuart Herrington
83  2:38:10 Dave Ibbotson
120 3:04:43 Paul Sugden
121 3:04:45 Donna Hattersley
150 ran

Sedbergh Sports fell race, Sat 9 July
From Alison Weston ... Kate, Martin and myself took part in the Sedbergh English and British fell race on Saturday. A short and steep marked route (5.6km/400m) in wet, misty weather. It was very competitive with men and women racing separately and runners packed closely together. Graham's photos (though much appreciated) are not very complimentary to many runners - everyone looks pretty spent by the time they got to the final descent!
Graham Weston's photos.
Results

Men
(1  24:58 Simon Bailey, Mercia)
122 31:30 Martin Archer
232 ran

Women
(1 29:05 Victoria Wilkinson, Bingley)
36 36:36 Kate Archer
48 37:33 Alison Weston
98 finished

Baildon Canter, Sat 9 July
From Robin Nicholson ... results ...

(1 1920 Micaael Malyon, Bsildon)
8  23:00 Robin Nicholson

Wasdale fell race, Sat 9 July

(1 4h11:35 Neil Talbot, Ambleside)
65 6h08:40 Brian Melia
84 finished

parkruns, Sat 9 July
From Petra Bijsterveld ... A first finish for Alex Hirst down at Hilly Fields this week. Results ...

Leeds Woodhouse Moor
(1  16:54 unknown)
14  18:49 Oscar Stapleton (junior)
289 ran

Harrogate Stray
(1  18:04 Mark Bryant, Harrogate Harriers)
30  21:01 Tom Worboys
185 26:13 Julie Elmes
379 ran

Skipton Aireville Park
(1  17:45 Sam Watson, Wharfedale Harriers)
63  27:14 Polly Crawley (junior)
130 ran

Hilly Fields Lewisham
1   17:24 Alex Hirst 
192 ran

Stirton fell race, Wed 6 July
From Jann Smith ... 5.6miles / 1181ft

(1 38:55 Sam Watson, Wharfedale)
3  40:18 Paul Carman
28 50:10 Jann Smith
76 ran

Danefield Relays, Tue 5 July
From Val Kerr ... It was fantastic to get five teams out for these relays on Tuesday evening (three men's and two ladies teams). Conditions were perfect for running - sunny and slightly breezy, which kept the midges at bay. There were some great performances especially from Jack Cummings, Dave Wilby (making a return to running after injury) (12th team) and Rosie Darwood, running one of her first races for the club. I was a spare but ran round the course anyway and received much support from the marshalls! The race was won by a team from Pudsey and Bramley. 113 teams took part. Results ...
Skiddaw fell race, Sun 3 July
From Robin Nicholson ... Results ...

(1 65:18 Jonathan Albon, U/A)
46 88:04 Ruaridh Mon-Williams
59 89:33 Robin Nicholson
135 finished

Saunders Lakeland Mountain Marathon, 2-3 July
From Sarah Edwards ... For those that don't know the Saunders is a two day event where competitors set off from an event centre somewhere in the lakes on Saturday morning. This year we started at Pooley Bridge. They must navigate through a number of control points to end the day at a mid camp, which was in Deepdale this year. You carry your kit for two days including tent, sleeping bag, stove, food, spare clothes etc, camp overnight Saturday then return to the event centre via an alternative route through Sunday. There are a number of different courses of varying length and difficulty, most of which require you to work as a team of 2. I did the Wansfell (bottom) class this year with my dad. He completed the Joss Naylor challenge last weekend in 13 hours 39 so we thought we'd best stick to the easiest option. The weather was wet and windy on Saturday making for a chilly day in the hill for all. We were lucky to arrive at mid camp at 12.00 noon and avoided the worst of the weather snuggled in our tent. Others were not so lucky. Sarah and John Hayes had a gruelling 8 hour day in Kirkfell class and arrived very cold a wet late in the afternoon. Visibility was pretty good allowing for quick navigation. Sunday dawned much brighter and warmer with beautiful views across the lakes. Dad and I set off 4th in the chasing start and made up a place despite a navigation error that cost us a good 15 mins. We finished 3rd overall. My wife and mum did their first mountain marathon as a team and finished 53rd after some great navigation and effort by both.
From Mary Gibbons ... I agreed to do the Kirkfell Class with my friend Simon Freytag in a moment of madness. Outi Kamarainen and Edward Ingham (Aire) finished 21st overall. They were the fourth mixed pair in 11:09:02. Simon and I were 41st overall and seventh mixed team in 14:16:29.
This was my first mountain marathon: I throughly enjoyed it, despite the unrelenting rain on Day One and falling over on the top of High Street! The exhilarating landscapes and sense of achievement on crossing the line made it memorable. I strongly recommend it. Special thanks to Outi, Alison, Ben and Jack for sound advice (and kit). Your encouragement has been greatly appreciated; we are lucky to have you at the club.
Eccup 10, Sun 3 July
From Petra Bijsterveld ... Results ...

(1    53:46 Jason Cherriman, Leeds City AC)
102 1:11:10 Rachel Carter 2nd F40
304 1:21:10 David Ibbotson
377 1:24:00 Caroline Howe
475 1:28:53 Donna Hattersley
479 1:29:13 Alex Stanley-Hyde
559 1:33:40 Petra Bijsterveld
821 ran

Lakeland Trails 110km, Sat 2 July
From Jane McCarthy ... Dick Waddington, Andrew Merrick and I took on the 110km Ultimate Trails Challenge (second year for Dick and I, Andrew Merrick doing it for the first time to make the 3-strong Harrier 'team') at the weekend. This as a tough, challenging ultra marathon course over (almost) 110km through some of the most dramatic mountain scenery in the Lake District. It includes 6 mountain passes, 5 lakes, 14,000 ft ascent/descent, and with (thank goodness) 8 feed stations. The weather was also challenging this year, with our midnight start shortly preceded with torrential rain that resulted in a 'waterproof trousers on/ trousers off' routine on the start line. This set the tone for most of the next 16 hours, which, while still showcasing our beautiful Lake District, was evenly soggy and boggy aswell. From my own personal viewpoint, it felt harder than last year. Not as much training as I should have done, coupled with a cold last week, and I thought I might pull out early on. But having made it halfway, and being met by Helen (Waddington) who provided hot tea and a restaurant-style selection of food, I started to feel a lot better and decided it would be a bit rubbish not to continue. Especially as Helen was going to be at the rest of the checkpoints, along with lots of friendly supporters giving us a welcome cheer and reassurance that it wasn't too far to go (even though it really was). Andrew, Dick and I stuck together for most of the way which made the whole experience much more enjoyable. Dick ran strongly throughout and Andrew put in an amazing performance for his first time at this sort of distance. I would recommend the event to anyone looking to take on a big distance challenge, but without the stress of navigating. There is also a 55km option, which looking at the relatively fresh and bright finishers coming in amongst the 110km finishers (the 55km having started at 10am) might be worth considering.
Results ...

(1 12h36:07 Andrew Horrobin, U/A)
42 16h19:09 Jane McCarthy 3rd lady
43 16h19:10 Dick Waddington
49 16h35:22 Andrew Merrick
211 finished

European Mountain Running Championships, Sat 2 July
Well done to Tom Adams, 17th overall and part of the Bronze-winning GB team.
parkruns, Sat 2 July
From Petra Bijsterveld ... A first finish for Alex Hirst down at Hilly Fields this week. Results ...

Leeds Woodhouse Moor
(1  16:52 Nick Little, U/A)
74  22:05 Harry Stead (junior)
428 ran

Harrogate Stray
(1  16:59 unknown)
45  21:40 Jann Smith
362 ran

Leeds Roundhay Park
(1  18:09 unknown)
25  21:27 Tom Worboys
270 ran

Hilly Fields Lewisham
1   17:44 Alex Hirst
210 ran

Skipton Aireville Park
(1  18:00 Jake Ridding U/A)
3   18:24 Oscar Stapleton (junior)
9   20:37 Steve Murray
22  22:50 Robert Budding
26  23:11 Will Worboys
57  25:34 Polly Crawley (junior)
134 ran

Fountains Abbey
(1  16:56 Gary Dunn, Thirsk and Sowerby Harriers)
78  23:39 Norman Bush
302 ran

---