Ilkley Harriers news archive 2016
Ilkley Harriers of the Month, March
Runner of the month:
Jack Wood
for Heptonstall, Edale and Pendle results
Other nominations were:
Kate Archer for Black Combe result
Geoff Howard for Blackpool 10m
Alison Weston for Black Combe
Ruaridh Mon-Williams for Podium 5k
Mary Gibbons for week on week improvements
Rob Cunningham for Keithley and Bradford 10ks
Tom Adams for the Monserrat sky race
Volunteer of the month:
Jane Bryant
Neil Chapman
Jane for Thursday speed session
Neil for Thursday field and fell session
Other nominations were:
None this month.
From Hilda Coulsey ... The Harrier was voted as Jack Wood for an awesome set of races in the month. We decided that both Jane and Neil deserved an award each for their significant and continuing serious commitment and it is great to have the opportunity to do this.
More Harriers of the Month ...
21st Guiseley Gallop, Sun 27 Mar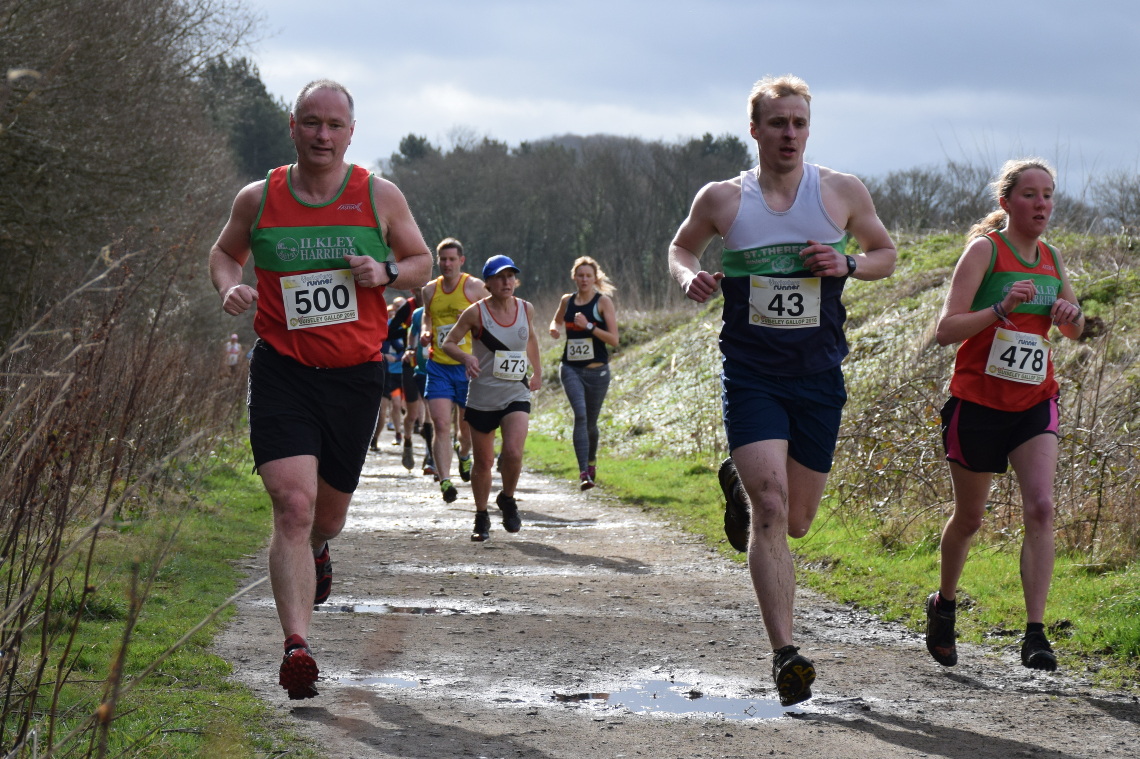 From Hilda Coulsey ... A lovely Easter Sunday morning at the revised course for this year's Guiseley Gallop. I liked this course, altered because of the winter floods, plenty of both hills and flat, through the trees and along Esholt. Rob Cunningham was first Harrier home and lots of other good times for the Harriers. I targeted this run as my first back from injury, I realise I'm still injured and not run-fit but it was great to be out.
Results ...

(1  36:50 Chris Miller, Harrogate)
23  42:45 Rob Cunningham
30  43:34 Jamie Hutchinson
46  44:31 David Chandler
52  44:58 Dave Robson
55  45:26 Ben Joynson
74  47:31 Nick Pearce
86  48:23 Lucy Williamson
89  48:27 Paul Calderbank
142 51:50 Chantal Binsby
170 53:49 Joanne Williamson
194 55:10 Neil Bloor
243 57:50 Adela Reperecki
247 57:56 Chris Cunningham
365 67:25 Sue Williamson
368 67:38 Hilda Coulsey
432 finished

parkruns, Sat 26 Mar
From Petra Bijsterveld ... Results ...

Leeds Woodhouse Moor
(1  16:37 Jonathan Dudley, Wetherby Runners)
76  23:44 Andrew Overend
322 ran

Bradford Lister Park
(1  18:26 Andrew Siddle, Bingley Harriers)
332 35:32 Abbie Reynier (junior)
400 ran

Hilly Fields Lewisham
1   17:41 Alex Hirst
148 ran

Hartlepool
(1  17:21 Luke Duffy, Billingham Marsh House Harriers)
44  27:12 Julie Elmes
93 ran

Skipton Aireville Park
(1  18:03 Neil Maloney, Skipton AC)
12  20:36 Jonathan Schneider
27  22:18 Lucy Jacques
96  27:55 Fiona Schneider
104 28:28 Neve Tennant (junior)
112 28:38 Bradley Brennand (junior)
114 28:49 Polly Crawley (junior)
193 ran

Rivock Edge fell race, Sun 20 Mar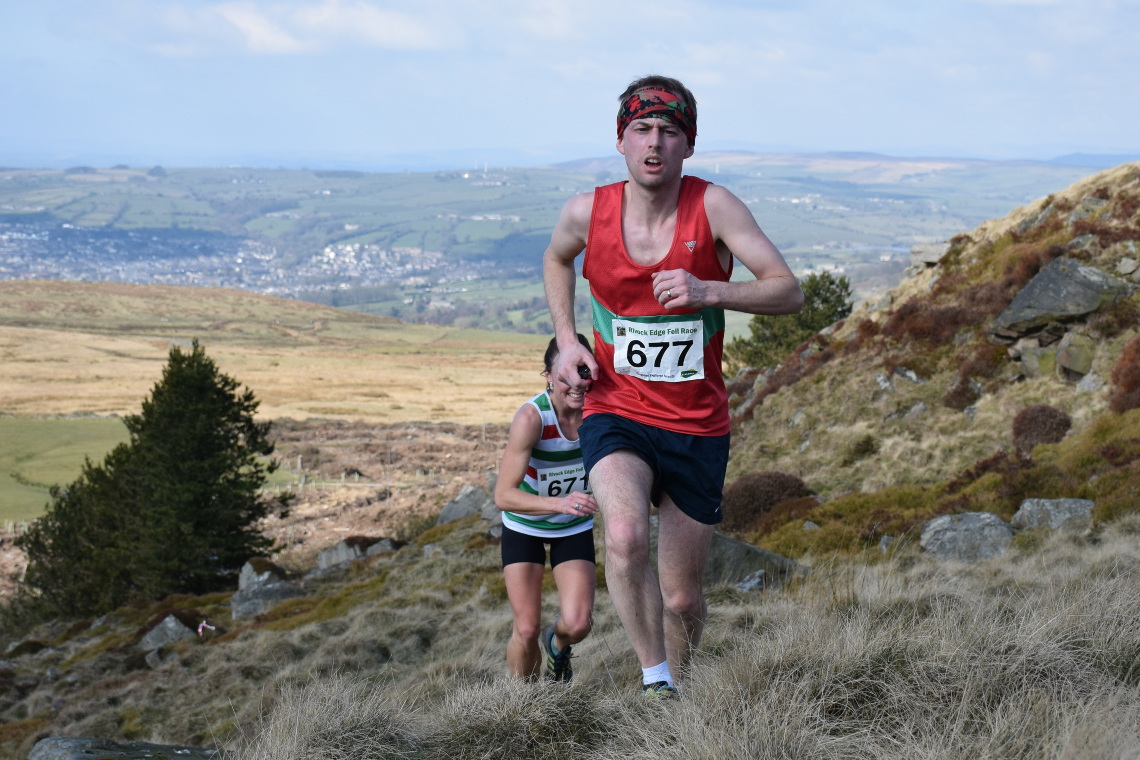 Heptonstall fell race, Sun 20 Mar
From Ben Sheppard ... results ...

(1  1:49:05 Karl Gray, CVFR)
4   1:58:30 Jack Wood
46  2:22:56 Steve Turland
171 2:59:46 Mary Gibbons
180 3:01:35 Chantal Busby
247 finished

East Hull 20, Sun 20 Mar
From Alex Hyde ... A beautifully fresh Spring morning saw me flying the flag for Ilkley at the East Hull 20. The winner was Michael Hargreaves of East Hull Harriers in 1hr 51mins 52secs and if you waited long enough, you would have seen me come in at P393 out of 494 in a time of 3hr 14 min 4secs! Lovely flat course with the only hill of note about a mile from the finish .... why do course planners always do that?! Thoroughly enjoyable though, especially when I left two Bingley Harriers in my wake in the run for the line!
Thirsk 10, Sun 20 Mar

(1  49:43  Jonathan Taylor, Morpeth H)
313 1:14:59 Julie Watson
877 finished

Coniston 14, Sat 19 Mar
From David Ibbotson... I think I was the only Harrier over at Coniston yesterday. Winner Sam Stead Keswick 1:16:27 in field of 1098 runners. I ran 2:02:49 (551 position). Great event attracting runners from near and far too scenic if challenging course. Usual friendly atmosphere with Jazz band and showers, food and drinks provided in village school.
parkruns, Sat 19 Mar
From Petra Bijsterveld ... Results ...

Leeds Woodhouse Moor
(1  16:26 Jonathan Goringe, Birchfield Harriers)
2   16:51 Ruaridh Mon-Williams
385 ran

York
(1  15:21 John Sanderson, Guildford and Godalming AC)
52  20:54 Geoff Howard
413 ran

Bradford Lister Park
(1  17:59 Graham Corbett, Saltaire Striders)
160 27:05 Petra Bijsterveld
360 ran

Gunnersbury
(1  17:30 Chris Cavey, Ealing Eagles)
5   18:55 Rob Cunningham
333 ran

Harrogate Stray
(1  17:27 Nic Smith, U/A)
171 27:30 Julie Elmes
302 ran

Hilly Fields Lewisham
(1  16:51 Noah Armitage-Hookes, U/A)
2   17:38 Alex Hirst
192 ran

Skipton Aireville Park
(1  17:15 unknown)
2   18:21 Cameron Reilly (junior)
25  21:44 Lucy Jacques
28  22:05 Bradley Brennand (junior)
90  27:07 Oscar Gilroy-Bewell (junior)
98  27:34 Polly Crawley (junior)
164 ran

Junior Do, Fri 18 Mar
Over 150 juniors and parents enjoyed the Annual Presentation Evening, some great Woodentops photos.
Spen 20, Sun 13 Mar

(1  1:56:56 John Hobbs, Valley Striders)
132 2:47:00 Tom Worboys
254 finished

Sweatshop Blackpool 10m, Sun 13 Mar
From Geoff Howard... Nice benign conditions on the almost flat promenade made for quicker times than last year at the Sweatshop (Bispham) 10 miler on Sunday. First home was James Kevan of Horwich (53m 04s) and, more than a quarter of an hour later, I managed 70m 20s which was a pleasing 17s improvement and new V70 club record
Results

(1 53:04 James Kevan, Horwich)
69 70:20 Geoff Howard  1st V70
237 finished

Edale Skyline fell race, Sun 13 Mar
From Jack Wood ... Me and Will Buckton (ex Ilkley now Settle Harrier) headed to Edale for the Skyline on Sunday determined to have a better day than last year where we both dropped out. Added to this I wanted to make amends for messing up the first English Champs race on Saturday. We arrived at Edale in time for a breakfast bap and coffee in a pub. It was good to catch up with Will who is getting back into shape and was aiming to make it to the halfway cut off at Mam Nick. There couldn't have been more of a difference to last year's weather, hazy blue sky and bright sunshine made the approaching 21 miles and 1200m climb less daunting. Once I got going my legs didn't feel too bad and in third through Hope, I put in some effort up Lose Hill and managed to get a lead. It was lovely running along the ridge to Mam Tor with paragliders flying overhead and the occasional tourist cheering on. After the vast Brown Knoll bog the path weaved through some gigantic rocks, though the snow in the shade made it hard to find a rhythm. I was getting tired and hungry, I walked some steps and had a couple of Tunnock's Wafers. Arriving at the penultimate checkpoint on Grindslow Knoll I could see 2nd place Richard Roberts had closed the gap. I was knackered and the final checkpoint looked so far away but I remembered what Pete Shields used to say to us during training: 'This is where you find out about yourself'. I kept moving and he didn't seem to get much closer. As I approached the final checkpoint at Ringing Roger I knew I was going to do it. I felt a wave of emotion and rode it down the hill, smile replacing grimace, to win by 20 seconds. Later on after I received the trophy and a block of blue cheese, Will came back having managed to finish the whole course under 5 hours and we celebrated our achievements with a beer in the sun.
Results ...

1  2:55:54 Jack Wood
232 finished

Bradford 10k, Sun 13 Mar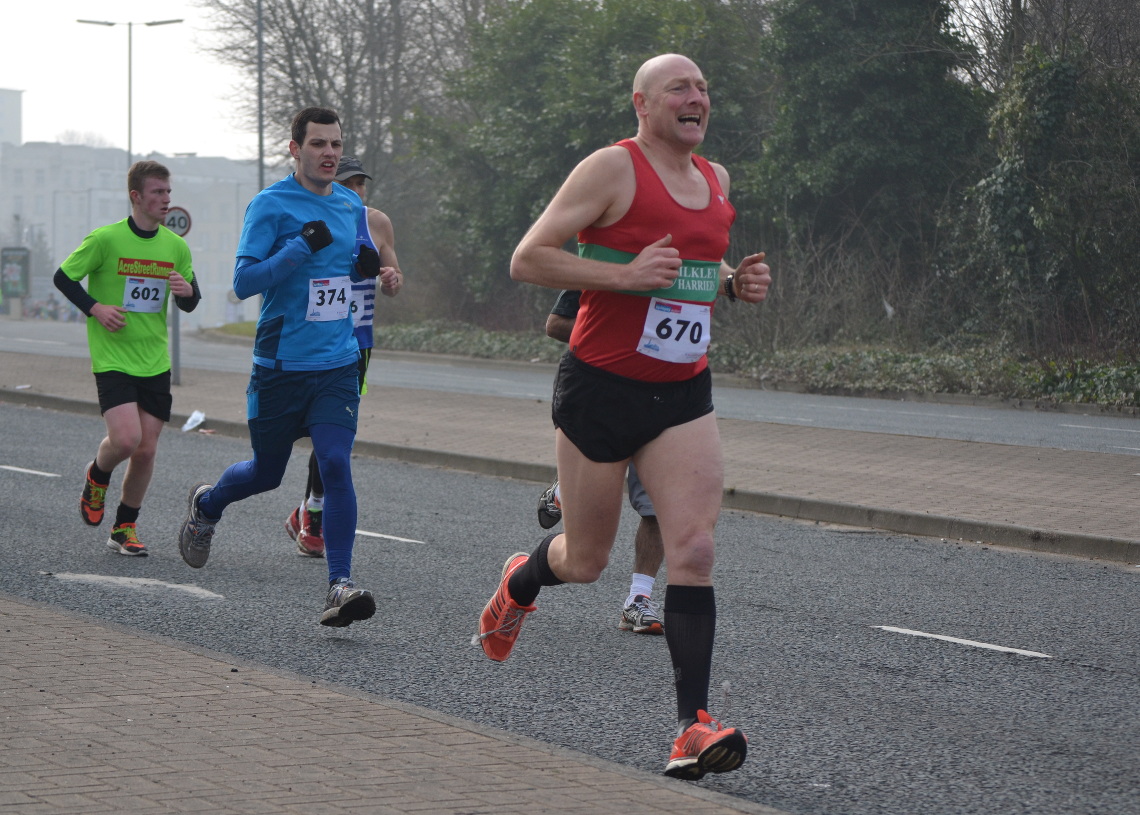 From Michael Duffield, results ...

(1  32:58 Joe Sagar
25  38:06 Robert Cunningham
56  40:51 Adrian Bastow
67  41:29 Michael Duffield
120 43:23 Harry Sime
126 43:25 Simon Jenkins
141 43:48 Steve Murray
238 47:11 Chris Cunningham
259 47:52 Stephanie Fox
632 58:31 Sue Williamson
970 finished

Black Combe fell race, Sat 12 Mar
From Dan Wilkinson ... Black Combe was the first counter in this year's English Fell Championships. The race has a reputation for sending wayward runners spiralling off into the mist and today didn't disappoint on that front. Several top runners, including recent champions Simon Bailey, Rob Jebb and Rob Hope went for a long walk around the fell. Unfortunately this included our own Jack Wood who was in 11th position until he went wayward after CP3. Alison Weston had a great race to finish 3 FV50 as did Mark Mon-Williams in 4th MV50. I faired just OK as my first race after injury and first as a Vet finishing 17th MV40, but further down the field overall than I had hoped in 76th after getting a bit lost after the final checkpoint cost me over 10 places.
Results ...

(1  1:10 28 Ben Mounsey, CVFR)
73  1:23:20 Mark Mon-Williams
74  1:23:24 Jack Wood	
76  1:23:30 Dan Wilkinson
240 1:39:22 Rob Cunningham
247 1:40:24 Kate Archer
309 1:47:53 Alison Weston
395 2:02:08 Ben Joynson

Haworth Hobble, Sat 12 Mar
From Ben Sheppard... While most of the top fell runners were heading to Black Coombe for the first counter in the English Fell Champs, a field of hikers and (mainly) less elite runners toed the line on the cobbles in Haworth for the Howarth Hobble (or Wuthering Hike). It is categorised as a "short" race by the Runfurther.com series, who describe it as "Yorkshire Pennine paths and tracks from Haworth over the moors to Calderdale, up Stoodley Pike and back to Haworth via Heptonstall and Crimsworth Dean. The views are great, and it's nearly all runnable apart from the climb up the Pike.
The race was won in around 4 hrs 10 by renowned ultra specialists Ken Sutor and Calder Valleys's Ian Symington, running a pair. My aim was to be marginally less mediocre than last year and, at a push, finish in under 5 hours. With near perfect conditions and a plan not to do so much walking, I was pleased to cut 25 minutes off last year's time for 4 hrs 50. A cheery Amanda Parnaby was going great guns when I passed her at around 11 miles (she must go off like a shot to open up such an early lead!).
Superbly organised and marshalled by Keighley & Craven AC, this is a great local entry to ultra marathons.
Results ...

(1  4:16:01 Ian Symington, Ken Sutor  CVFR Cheshire HHH)
9   4:50;15 Ben Sheppard
283 8:38:33 Amanda Parnaby
310 finished

Dentdale Run, Sat 12 Mar
From Sarah Hayes ... Results ...
From Adela Reperecki ... On Saturday four of the Ilkley girls got together and had a nice trip out to the village of Dent. Helen Waddington kindly drove and Sarah Hayes, Jean Sullivan and I took part in this very scenic (14.2m) road race. It is an undulating course with a few short sharp hills at the end and a downhill finish to the village. This is a race I am not familiar with, but it is one I would fully recommend. All proceeds go towards the local primary school and there is great support from the locals along the course, a good few water stations and complimentary food and drink at the school hall afterwards. Well done to Sarah and Jean. I will return in 2017. Please mark this one in your diaries for next year.
From Sarah Hayes ... Results ...

(1  1:23:58 Shaun Livesey, Blackburn Harriers)
150 1:59:10 Sarah Hayes
158 2:00:07 Jean Sullivan
186 2:06:48 Adela Reperecki
308 finished

parkruns, Sat 12 Mar
From Petra Bijsterveld ... Results ...

Bradford Lister Park
(1  17:51 Martin Fillingham, Saltaire Striders)
10  19:58 Sarah Pickering (junior)
363 ran

Harrogate Stray
(1  17:33 unknown)
66  23:40 Phil Hirst
150 27:36 Julie Elmes
263 ran

Leeds Roundhay Park
(1  17:55 Tom Venning, Leeds and Bradford Triathlon Club)
17  20:36 Tom Worboys
347 ran

Hilly Fields Lewisham
1   17:47 Alex Hirst
202 ran

Skipton Aireville Park
1   18:28 Oscar Stapleton (junior)
19  21:59 Bradley Brennand (junior)
85  27:31 Polly Crawley (junior)
168 ran

Wharfedale Primary Schools XC, Sat 12 Mar
The season had it's finale with a record 79 teams at the Nell Bank Relays, and the presentation of the League awards afterwards. More on the junior pages.
Ilkley Harriers Race League update
From Jane McCarthy ... Here are the updated 2016 League results after two races. If there are any mistakes please let me know ASAP. More than 40 Harriers have competed in one or both of the first 2 League races of the year. No changes at the top, with Tom Adams (200pts) and Jack Wood (188pts) in first and second place after fantastic 1st and 3rd finishing places in Ilkley Moor Fell Race. Sarah Haines is in third place with 164pts. The next League races are on the road with the Bradford 10K on March 13th and trails on March 27th with the Guiseley Gallop. Good Luck All!!
More on the League page.
Montserrat Skyrace, Sun 6 Mar
Well done to Tom Adams who won the 25k race in 2h08:53 in an international field of 392 runners. Resultats
Keighley Big K 10k, Sun 6 Mar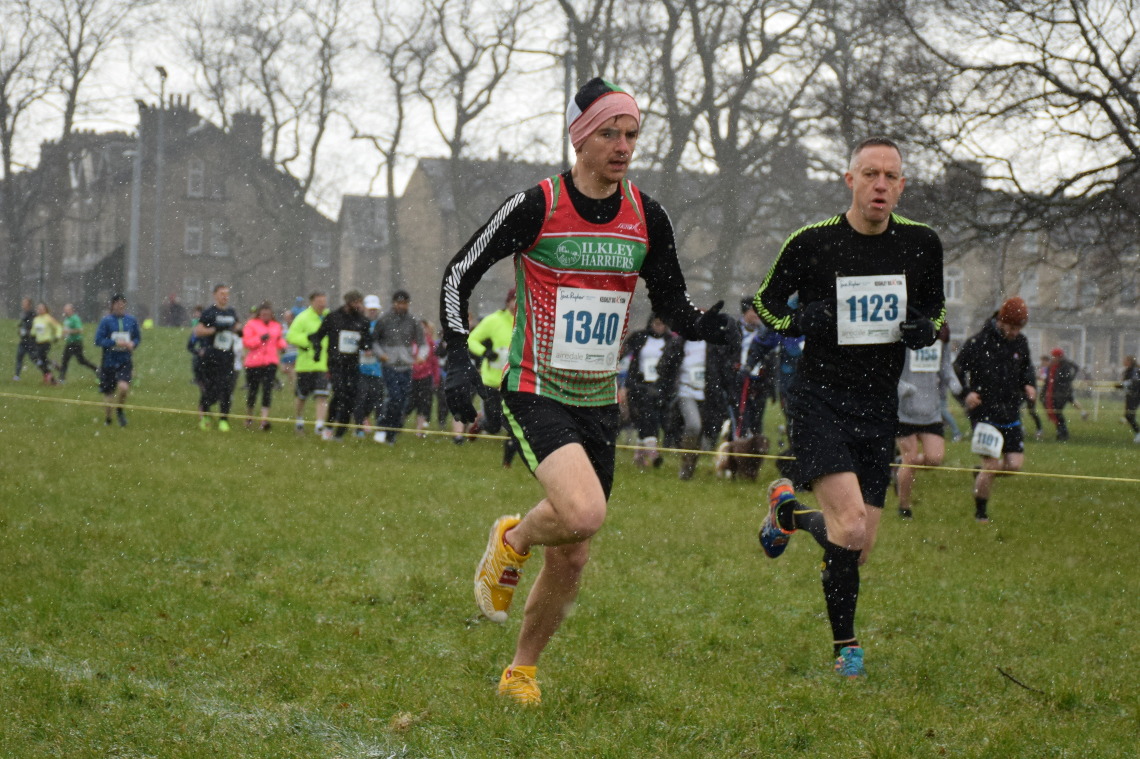 (1  34:25 Sam Clegg, Rotherham H)
13  38:46 Rob Cunningham
120 47:25 Ed Bickerdike
192 50:34 Janet Carrier
218 51:56 Chris Cunningham
1056 finished

Haweswater Half Marathon, Sun 6 Mar
From Paul Sugden ... This was an out and back course from Bampton in the Lakes. The 2nd & 3rd miles were tough going uphill and the then it was undulating. This was the case until a nice mile down hill, until I realised that I would have to climb up all what I have just done came down, at the turn around point. However this was made up for by the fantastic scenery of the mountains with the snow and Haweswater lake itself. Not a PB course but I would do it again, with a free mug, full of tea at the end.

(1  1:13:59 James Buis, Border Harriers)
236 1:50:45 David Ibbotson
322 2:01:21 Paul Sugden
408 finished

Stan Bradshaw Pendle Round fell race, Sat 5 Mar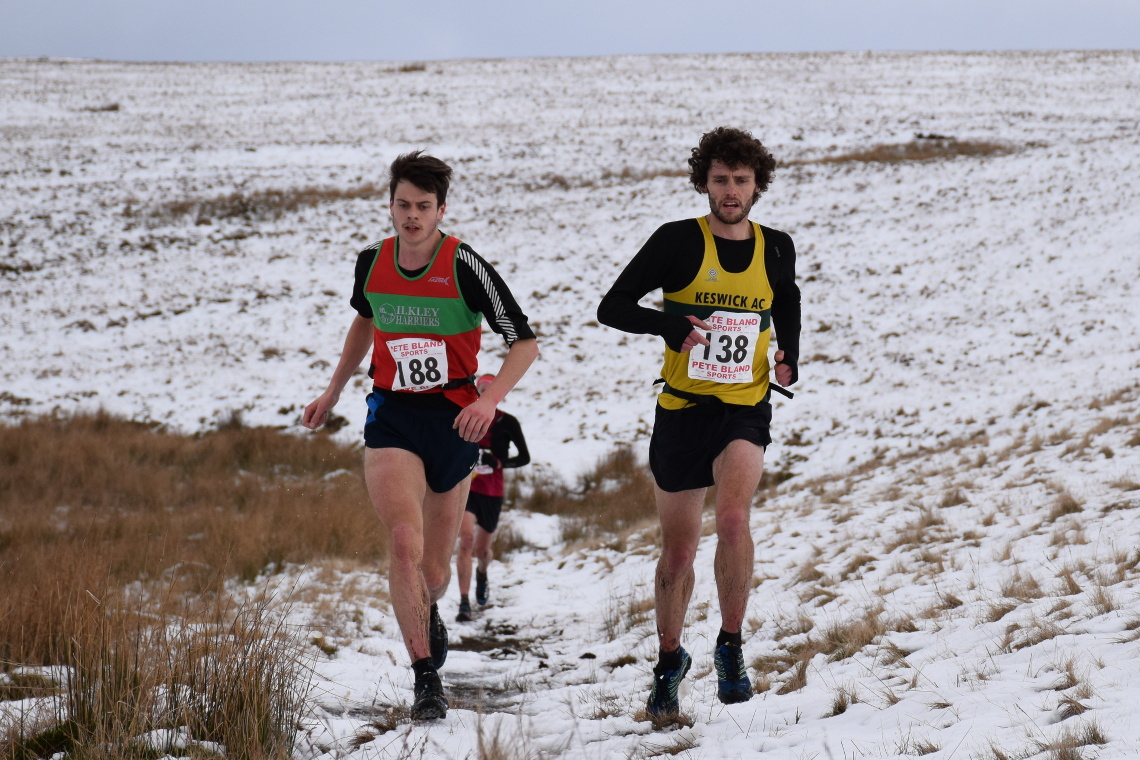 From Dan Wilkinson ... Jack Wood has beat all comers at Pendle including Ted Mason, Rob Jebb and Carl Bell!! awesome effort mate! Results ...

1  1:12:15 Jack Wood
42 1:27:29 Steve Turland
44 1:27:49 Jamie Hutchinson
205 finished

Podium 5k, Sat 5 Mar
From Peter Shields ... I went over to Colne on Saturday evening to support Mark Iley and Ruaridh Mon Williams in the Podium 5k races. Anyone that doesn't know these races they are held on a Saturday evening at 6-00pm every month. They are held on a 1000 metre asphalt cycle track which is not a straight and two bends but winds itself a little to make it more interesting, it is as flat as you could get with a mere 3ft rise in the whole course, they also have electronic timing. For the spectator it is ideal because you get to see the athletes more than once. The organiser has been attracting top athletes to the course because of its pb potential. Last night was no exception because in the A race he attracted some real talent. The organisers break the number of athletes competing into two races based on potential times, the A race ask if the athletes are capable of running under 17 mins, those that say not go in the B race.
Mark put himself in the B race, Ruaridh in the A race. Mark as ever put his all into the race which was held in perfect conditions, keeping a very even pace he finished in 19:08 and 28th place. David Bagot from Clayton Le Moors won in 16:39, Beth Massey who has recently run with the club but now runs for Barnsley ran for 1st in her age group in 19:33.
The A race was to prove a superb spectacle littered with internationals and those that certainly will be. Elish McColgan , you might remember her mother from 10,000 and marathon fame, came down from Dundee to chase a good time, Eilish has followed her mother into endurance running and is up to proving her equal. She is currently GB's number 1 in the 3000 steeplechase and I'm sure will be Rio bound this year. There was also a female Dutch international there looking for a time, Jamie Van Leishout plus the evergreen Helen Clitheroe from just down the road in Preston. Helen has been a GB international for a long time and has numerous medals and titles to her name. Ruaridh was in good company and what an impressive young man he is, cool headed, confident and really a credit to his family and the junior coaching section of the club. He ran a very mature race, not putting to much pressure on himself and tracking firstly Eilish and latterly Helen who he eventually went past with consummate ease to finish in a time of 16:32 putting him in 30th position, a really great run in such company. Ruaridh is looking for a place in the UK European Mountain Running Team this summer and I'm sure that will be accomplished with efforts like this. The race was won by Chris Parr from Gateshead Harriers in 14:49.
Another old boy from the club Mark Hall ran in the A race as a v55 with a time of 16:57. Mark is heading his age group in times nationally in a number of distances at the moment, which with tonight's performance feels it will continue.
If you are after a 5k pb this is the course to look at, as a spectator I was thoroughly entertained.
parkruns, Sat 5 Mar
From Petra Bijsterveld ... Another first finish for Oscar Stapleton at Skipton, followed by Dan Hayes in 3rd place. Results ...

St Albans
(1  17:02 Tom Baker, U/A)
164 26:55 Jacqui Weston
314 ran

Skipton 
1   18:24 Oscar Stapleton (junior)
3   18:32 Dan Hayes
14  21:11 Lewis Carr (junior)
22  22:05 Bradley Brennand (junior)
42  24:14 Sarah Hayes
85  28:10 Dylan Carr
155 ran

---