Ilkley Harriers news archive 2016
Ilkley Harriers of the Month, February
Runner of the month:
Outi Kamarainen
for 2nd place and 1st mixed team at the Marmot Dark Mountain Marathon and also an excellent result at the Rombald's Stride
Other nominations were:
Ruaridh Mon-Williams for excellent result at the fell race,
Matt Newell for his PB at the Dewsbury 10K,
Jack Wood for Rombald's Stride and the fell race,
Mary Gibbons for PECO and fell race results,
Sue Williamson for perseverance at the fell race,
and Mark Mon-Williams for Rombald's Stride.
Volunteer of the month:
Steve Weston
for superb organization of the Ilkley Moor Fell Race
Other nominations were:
Other nominations were all related to the fell race and included marshals, sweepers and junior fell race organizers. The committee would like to thank everyone who has helped to make this race such a success.
More Harriers of the Month ...
National XC, Sat 27 Feb
From Steve Coy ... Well done to all who managed to make it to the fantastic spectacle that is the National XC Champs yesterday. A great day and lovely weather on a tough course. Due to illness and injury I was the only adult male finisher and well done to Gaenor Coy and Petra Bijsterveld in the women's as well as Lucy W and Ruaridh in the U20s and all the juniors. Photos to follow and results are up at www.englishcrosscountry.co.uk
parkruns, Sat 27 Feb
From Petra Bijsterveld ... Not many Harrier parkrunners this week, but it was quality over quantity with Oscar Stapleton the first finisher at Skipton. Results ...

Skipton Aireville Park
1   18:31 Oscar Stapleton (junior)
34  23:12 Bradley Brennand (junior)
179 ran

Fountains Abbey
(1  16:51 Ben Pease, U/A)
86  23:29 Norman Bush
290 ran

Bramley 
(1  17:59 Philip Goose, Hyde Park Harriers)
11  22:29 Ethan Thompson (junior)
131 ran

Ilkley Moor fell race, Sun 21 Feb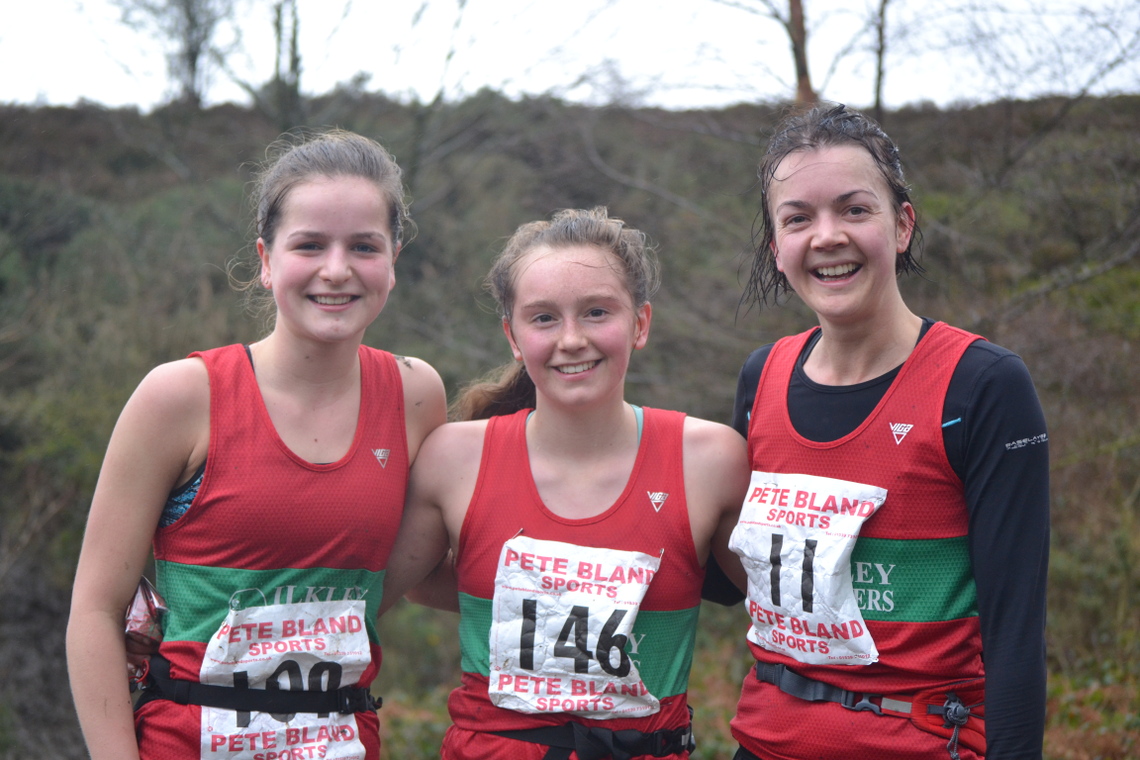 From Steve Weston, race organiser, ...Another fantastic Ilkley Moor Fell Race, slightly wild conditions but then isn't it always! Good runs from the Ilkley Harriers bringing home 1st & 3rd overall, 2nd lady, 1st F50, and 1st M70, and ladies' team prizes.
Thankyou all to all the marshalls and officials that made it happen.
Chris Oxlade race secretary
Peter Shields, Nick Pearce, Geoff Howard - Flagging
Sue Verspyck and Andrew Sheldon race timing
Steve Coy & Ben Shepherd set up
Jane Bryant, Nick Mellor, Sandra Rochfort Registration
Petra Bijsterveld, Hilda Coulsey, Mark Kerr, Phil Hirst, Rob King, David Chandler, Philip Chappell, Dick Waddington, Suzi Gray, Rachel Hagan - Course Marshalls
Andrew Wilson - Race Doctor
Hilda Coulsey & Paul Stephens - Finish Judges
Christine Reilly, Mary Colson, Abigail Bailey, Jacqui Weston, Jonathan Whittaker, Sharon Meadows - Finish Team
Jovan Oxlade - Video judge
Georgia Weston & Eva Nolan - Buff Giving Out
Val Kerr & Sarah Hayes - Race Sweepers
Not forgetting Jane McCarthy, Helen Waddington, Shirley Wood and the Woodentops for making the junior race happen

1   39:13 Tom Adams 1st man
3   41:56 Jack Wood 3rd man / first local man
14  44:24 Ruaridh Mon-Williams 1st MU18
37  48:47 Matthew Cox 
39  49:00 Ben Sheppard 
42  49:20 Jack Cummings 
53  50:46 Michael Lomas 
58  51:06 Dan Hayes 
72  52:36 Jemima Elgood 2nd lady; 1st FU18; first local lday
92  54:58 Lucy Haines 2nd FU18
99  55:25 Richard Joel 
107 56:14 John Hayes 
111 56:27 Kate Archer 
119 57:13 Adam Rhodes 
124 57:52 Alistair Barlow 
129 58:12 Alex Murphy 
136 59:31 Helene Whitaker 1st F50
139 59:46 Lucy Williamson 2nd FU23
140 59:48 Paddy Hagan 
141 59:49 Michael Duffield 
145 60:11 Mike Baldwin 
149 60:36 Lucy Jaques 
159 61:37 Tim Buckingham 
163 62:49 Alison Weston 
167 62:57 Alison Eagle 
175 63:47 Sarah Edwards 
180 64:15 Rob Budding 
195 65:33 Mary Gibbons 
228 68:39 Sarah Haines 
261 73:01 Geoffrey Howard 
262 73:03 Adela Reperecki 
280 75:57 Geoffrey White 
306 86:12 Sophie Brown 
311 93:41 Sue Williamson
312 finished

parkruns, Sat 20 Feb
From Petra Bijsterveld ... Results ...

Leeds Woodhouse Moor
(1  17:05 Robert Mann, Team Bath AC)
42  21:09 Tom Worboys
423 ran

Bradford Lister Park
(1  18:08 Martin Fillingham, Saltaire Striders)
33  22:04 Rhys Jones
355 ran

Harrogate Stray
(1  17:32 Alan White, Sale Harriers)
98  26:14 Alex Stanley-Hyde
231 ran

Skipton Aireville Park
(1  17:41 Tom Brewster, Clayton-le-Moor Harriers)
4   19:05 Oscar Stapleton (junior)
142 ran

Fountains Abbey
(1  17:04 Ben Pease, U/A)
27  21:13 Jonathan Whitaker
60  23:05 Norman Bush
94  25:18 Alexandra Whitaker (junior)
200 30:37 Eve Whitaker (junior)
201 30:38 Helene Whitaker
276 ran

PECO XC, Sun 14 Feb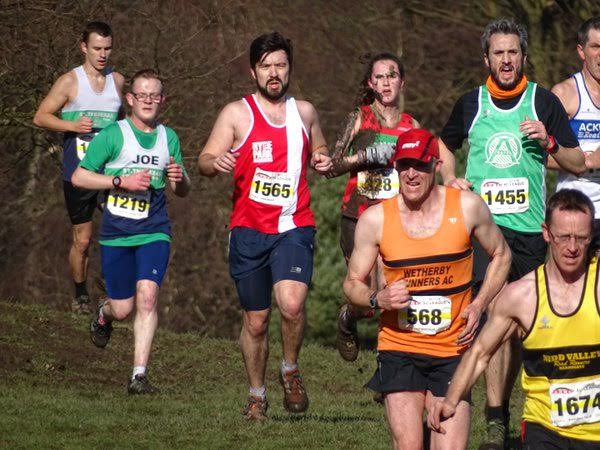 From Jack Wood ... Lovely blue skied morning for the final PECO cross country at Roundhay Park. In the men's race I had a good run coming 2nd, Steve Coy also ran well to come 5th M40 (42nd overall), Richard Joel was 12th M45 (103rd), Mark Illey 9th M50 (111th), Robert Budding 18th M45 (174th), Andrew Jackson was still recovering from Thursday night's Jack vs Jacko and was 34th M50 (240th) and Don Mcrae was 2nd M70 (328th). In the women's race Lucy Williamson survived a fall to finish 17th, Mary Gibbons made a strong XC come back in 30th, Alison Eagle was 3rd F50 (46th) and Gaenor Coy 19th F40 (109th).
Results ...
parkruns, Sat 13 Feb
From Petra Bijsterveld ... Results ...

Skipton Aireville Park
(1  17:23 David Driver, Hyde Park Harriers)
4   18:36 Oscar Stapleton (junior)
49  23:33 Lewis Carr (junior)
80  26:18 Dylan Carr (junior)
132 29:50 David Taylor
202 ran

Fountains Abbey
(1  16:40 Ben Pease, U/A)
4   17:45 Euan Brennan (junior)
347 ran

Help the Club with fundraising for the new athletics facilities
Club Treasurer Martin Archer has set up an account with 'Easyfundraising' so that you can help raise funds for the proposed new athletics facilities when you shop online. This won't cost you anything, you just have to register and follow the simple instructions for shopping with a huge range of online retailers. There's more information on the junior website.
Dewsbury 10k, Sun 7 Feb
From Petra Bijsterveld ... No one enters the Dewsbury 10K with its 9 am start for the scenery or for a pleasurable experience. An out and back course along a straight road through an indifferent urban landscape, this course offers excellent PB potential. With a slight rise on the 3 miles out, the return should in principal make a negative split easy to achieve. Today however the wind had other plans and we battled against a head wind on the way home, though none of us seemed to have noticed any benefit from the wind on the way out.
3 men and 3 women Harriers ran, and superb support was offered by Helen Waddington who rested her legs but did the driving and jumper-holding, as well as offering great moral support. All ran very well, with Matt Newell and Adrian Bastow both improving on their previous Dewsbury times.
Unfortunately I was suffering with stomach pains and had an underwhelming run today, which was disappointing after my PB there last year. I was over 3 minutes slower and seemed to almost come to a standstill in mile 6, being overtaken by a lot of runners which was morale-sapping. I shall just have to try again in 2017!
Results ...

(1  30:06 Mohammad Aburezeq, Altrincham AC)
28  34:54 Matt Newell PB
191 40:11 Jane McCarthy
227 40:55 Steve Newell
237 41:12 Adrian Bastow PB
260 41:45 Rachel Carter
793 54:35 Petra Bijsterveld
1081 ran

Rombalds Stride, Sat 6 Feb
From Ben Sheppard... A boggy and rainy edition saw Jack Wood give Graham Pearce a run for his money, with Jack arriving at the school gates marginally ahead after a sprint finish down the road into Guiseley. Unfortunately for Jack, it's whoever enters the building and reports to the desk first who goes down as the first one home in this long distance walking association event. He didn't seem bothered as he tucked into his school dinner in the hall afterwards. A good turn out of Harriers in challenging conditions.
From Jack Wood ... A wet and boggy day of learning from the Rombalds Master and ex Ilkley Harrier Graham Pearce. We ran together with Joe Baxter over the moors and up a muddy Chevin before I pushed on towards Guiseley. Despite getting on with these guys, they are P&B and I wasn't going to finish hand in hand with them if I could help it. As I reached St. Oswalds School with Graham just behind I looked for the finish but in my hesitation Graham went through a door and gave his number for the win! A cheeky but probably deserved victory having led us along fast lines for most of the course. A number of harriers both running/walking and supporting, special mentions to DanW taking pictures on the moor and NeilC who I saw on 3 separate occasions. Thanks DuncanC who kindly gave me his entry after being injured.
Results ... and PDF copy.

(1  2:42:00 Graham Pearce, P&B)
2   2:42:02 Jack Wood
9   3:03:00 Mark Mon-Williams
10  3:03:00 Ben Sheppard
17  3:15:00 Paul Carman
28  3:23:00 John Hayes
32  3:27:00 Kate Archer
67  3:55:00 Outi Kamarainen
70  3:59:00 Andrew Merrick
71  4:00:00 Michael Duffield
73  4:00:00 David Chandler
77  4:05:00 Mike Baldwin
105 4:23:00 Helene Whitaker
139 4:47:00 Sarah Hayes
Any more Harriers?
580 finished

parkruns, Sat 6 Feb
From Petra Bijsterveld ... Tom Adams set a new course record for the Cleethorpe parkrun course.
Results ...

Cleethorpes
1   15:07 Tom Adams 
86 ran

Leeds Woodhouse Moor
(1  16:14 Ben Douglas, Durham University AC)
99  23:41 Tom Worboys
392 ran

Hilly Fields Lewisham
(1  17:00 Danny Kendall, Cambridge Harriers)
4   18:30 Alex Hirst
205 ran

Skipton Aireville Park
(1  17:09 Lee Athersmith, RAF AC)
70  25:56 Janet Grace
85  27:22 Sally Pickering
102 28:39 Anna Pickering
166 ran

---