Ilkley Harriers news archive 2015
Ilkley Harriers of the Month, November
Runner of the month:
Dan Hayes
for great times at Burley Moor, Abbey Dash and 1st at Skipton parkrun
Other nominations were:
Tom Adams for wins at Burley Moor, WYXC, Harriers v Cyclists
Jane McCarthy for Tour of Pendle
Sarah Hayes for Abbey Dash 10k PB
John Hayes for great results
Jemima Elgood for great results
Volunteer of the month:
Alison Weston
for the Gazette reports
Other nominations were:
Neil Chapman for continued coaching commitment
More Harriers of the Month ...
Skipton Santa Fun Run, Sun 29 Nov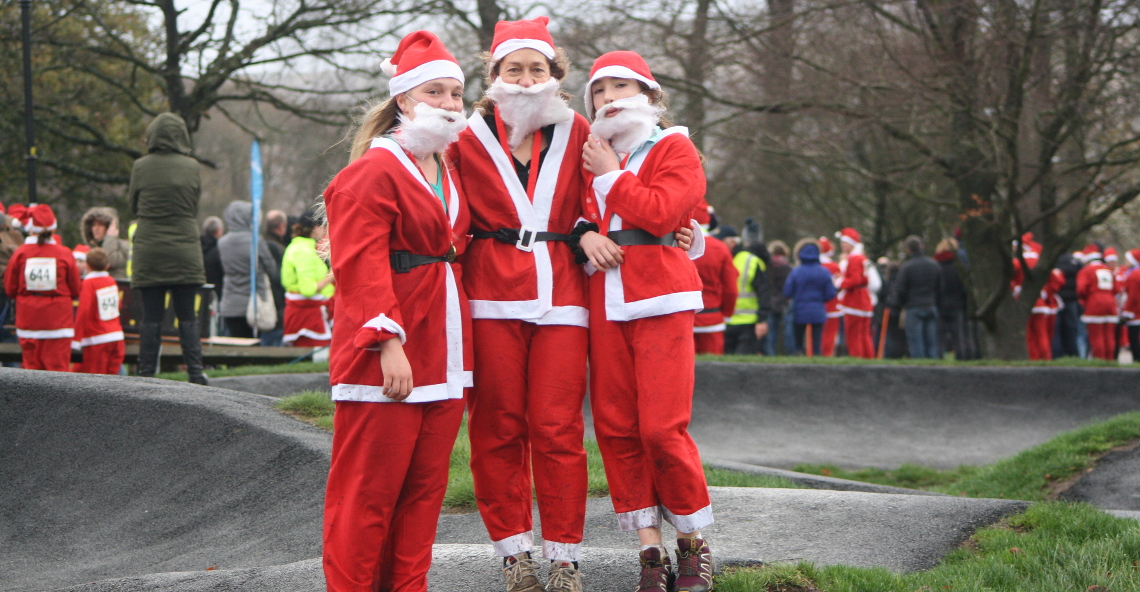 From Alison Weston ... Over 1,500 Santas took part in the Skipton Santa Fun Run, 5k around Skipton raising money for charity on Sunday from Aireville Park. Nea, Lyra and Alison Weston ran as a team in approximately 37 minutes. It took several minutes to reach the start line and then we followed the line of Santas along the route including road and canal, and returning on a track through the park. Very wild and windy in places with hats and beards disappearing along the way!
Get in the Christmas mood, sign up for our Christmas Relays on 22nd December - see forum and Facebook posts!
parkruns, Sat 28 Nov
From Petra Bijsterveld ... Results ...

Leeds Woodhouse Moor
(1  16:29 John Tayleur, Herne Hill Harriers)
43  20:15 Michael Duffield
329 ran

Leeds Roundhay
(1  17:09 Ben Douglas, Durham University AC)
24  20:45 Tom Worboys
281 ran

Bradford Lister Park
(1  17:31 Sam Clegg, U/A)
11  20:09 Theo Clay (junior)
22  20:51 David Chandler
98  25:20 Alex Hyde
328 ran

Harrogate Stray
(1  17:52 Ed Beecher, Harrogate Harriers)
47  23:18 Phil Hirst
146 27:09 Julie Elmes
283 ran

Skipton Aireville Park
1   18:34 Dan Hayes
55  25:34 Paul Sugden
79  28:44 Sarah Hayes
116 ran

Hilly Field Lewisham
(1  17:41 Chis Ho, U/A)
2   18:38 Alex Hirst
148 ran

Little Stoke
(1  15:13 Patrick Martin, U/A)
7   18:11 Mark Mon-Williams
61  21:42 Rebecca Mon-Williams
220 ran

PECO XC, Sun 22 Nov
From Gaenor & Steve Coy ... Well done to all the Harriers in a chilly but surprisingly not too boggy 1st PECO race of the year and in particular enduring the draining last 300m
Thanks to all who got their early enough to collect their numbers and pay the £3 for them well in advance. Remember to keep your numbers for the remainder of the series and bring along to the next race.
We do however have quite a few numbers left and it would be appreciated if you could arrange collection and payment before the 2nd race on the 13th December at West Park.
Thanks and hope to see even more of your there next time.
We hear it was another win for Tom Adams. Results ...

1   25:12 Tom Adams
26  28:27 Matt Cox
49  29:33 Steve Coy
83  30:45 Gavin Lamb
88  30:52 Steve Weston
126 31L42 Mark Iley
146 32:32 Dave Chandler
176 33:24 Andrew Sheldon
185 33:40 Henry Heavisides 1st M60
203 34:11 Malcolm Pickering
269 36:21 Will Worboys
284 36:45 Phil Hirst
288 36:54 Nigel Tapper
300 37:18 Andrew Jackson
316 37:57 Neil Bloor
372 40:42 Peter Lewis
405 42:25 Ed Bickerdike
413 43:03 Paul Sugden
422 44:16 Lee Wilkinson
456 finished
Illkey men's team 2nd place out of 8 teams (2nd division)
Ilkley men's vets team 1st place out of 11 teams

Ladies
(1  30:35 Bethany Garland, Leeds Uni)
68  37:50 Joanne Williamson
73  38:05 Adela Reperecki
136 41:36 Gaenor Coy
137 41:40 Hilda Coulsey
179 43:26 Petra Bijsterveld
237 47:00 Sue Williamson
331 61:55 Clare Shouler
341 finished
Ilkley ladies' team 2nd place out of 8 teams (2nd division)
Ilkley ladies' vets team 4th place out of 11 teams

This was a Ilkley Harriers Race League counter.
Harriers v Cyclists, Sat 21 Nov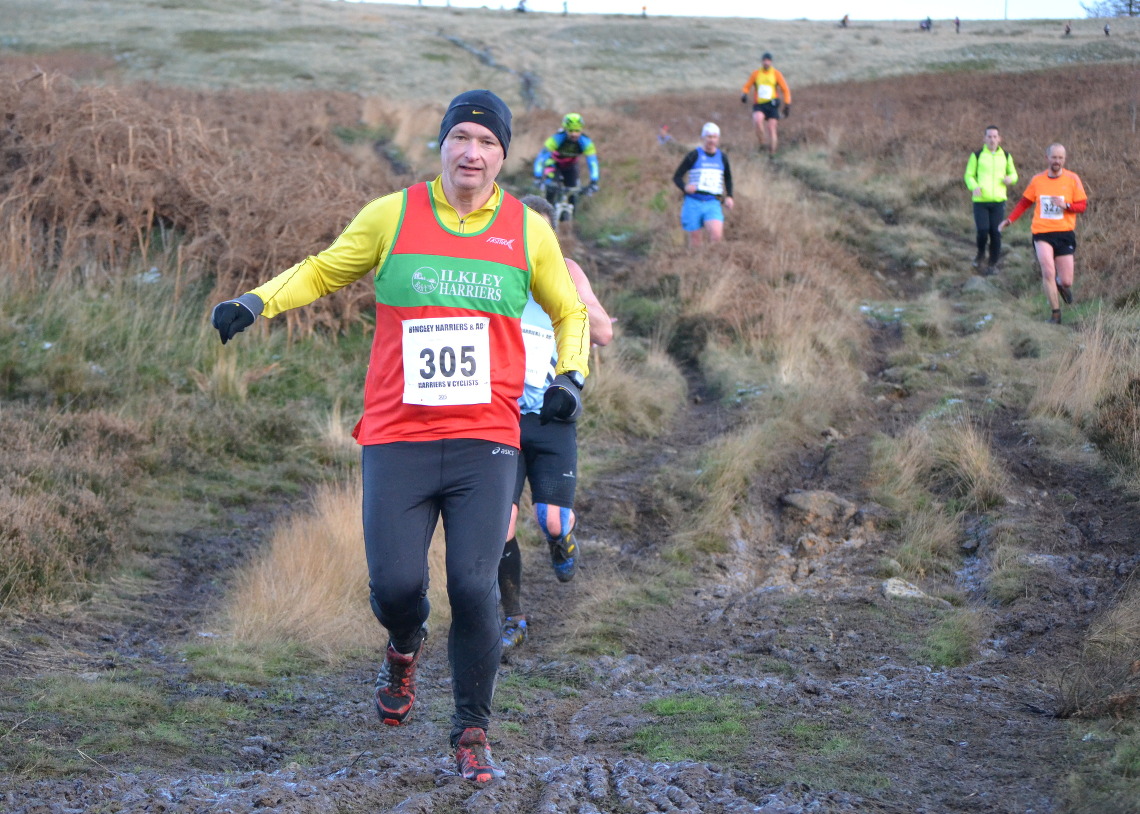 1   34:35 Tom Adams  Course Record
5   38:23 Ruaridh Mon-Williams
71  46:05 Paul Calderbank
84  47:11 Michael Lomas
103 48:45 Malcolm Pickering
158 52:47 Dave Wilby  Cycle
184 54:40 James Pickering  Cycle
207 57:25 Neil Bloor
220 59:34 Nicky Hopwood
255 64:59 Amanda Newham
281 finished

Badger Bar Blast, Sat 21 Nov
From Sarah Hayes ... John and I had a day trip to the Lakes to run this one off AM fell race starting and finishing near Rydal. It was a beautiful if bitterly cold day. The views were spectacular with the tops covered with a dusting of snow. The route was essentially out and back. It was a fixed route up to Loughrigg Fell summit but from there you could choose your route up to Silver How, doing the same on the way back. John kindly agreed to run with me and he was very encouraging (mostly).
As I watched everyone warming up at the start I realised that I was a little out of my league. I adopted the race strategy of trying not finishing last which was successful - but only just!

(1   59:09 Carl Bell, Keswick)
111 115:57 Sarah Hayes
112 115:58 John Hayes 
120 finished

parkruns, Sat 21 Nov
From Petra Bijsterveld ... Results ...

Bradford Lister Park
(1  18:25 Graham Corbett, Saltaire Striders)
11  20:45 Theo Clay (junior)
73  25:42 Stephanie Fox
293 ran

Bracknell
(1  18:43 Pedro Upton, Bracknell Forest Runners)
59  26:12 Emily Elmes (junior)
81  28:28 Julie Elmes
165 ran

Concord, Sheffield
(1  19:54 Kevin Doyle, Kimberworth Striders)
10  23:02 Phil Hirst
48 ran

Skipton Aireville Park
(1  17:16 Julian Hood, Skipton AC)
72  29:08 Neve Tennant (junior)
118 ran

Fountains Abbey
(1  17:01 Ben Pease, U/A)
3   17:41 Euan Brennan (junior)
230 ran

Leeds Abbey Dash, Sun 15 Nov
From Hilda Coulsey ... 23 Harriers fought their way through the floods. Geoff Howard was 1st M70. Lots of impressive times.
Results ...

(1   00:29:43 Can Studley, Bristol & West)
592  00:37:52 Daniel Hayes
599  00:38:34 Rob Cunningham
913  00:40:56 David Chandler
1218 00:43:01 Dave Robson
1241 00:42:01 Geoffrey Howard 1st V70
1494 00:44:25 Rachel Carter
1731 00:44:55 Harry Sime
1873 00:47:00 Eric Hawthorn
2205 00:48:59 Chris Cunningham
2390 00:48:35 David Ibbotson
2479 00:47:29 Philip Hirst
2590 00:49:18 David Green
2601 00:42:41 Lucy Williamson
3004 00:48:30 Sarah Hayes
4051 00:50:49 Alex Hyde
3038 00:52:08 Hilda Coulsey
3205 00:51:32 Paul Sugden
3924 00:54:22 Julie Elmes
4105 00:57:25 Jacqui Weston
4124 00:58:29 Emma Curran
4153 00:55:58 Sheena Pickersgill
4403 01:00:07 Charlote Smithson
5559 01:01:43 Elaine Ibbotson
5956 01:00:58 Sue Williamson
9034 finished

This was an Ilkley Harriers Race League counter.
West Yorkshire XC, Sat 14 Nov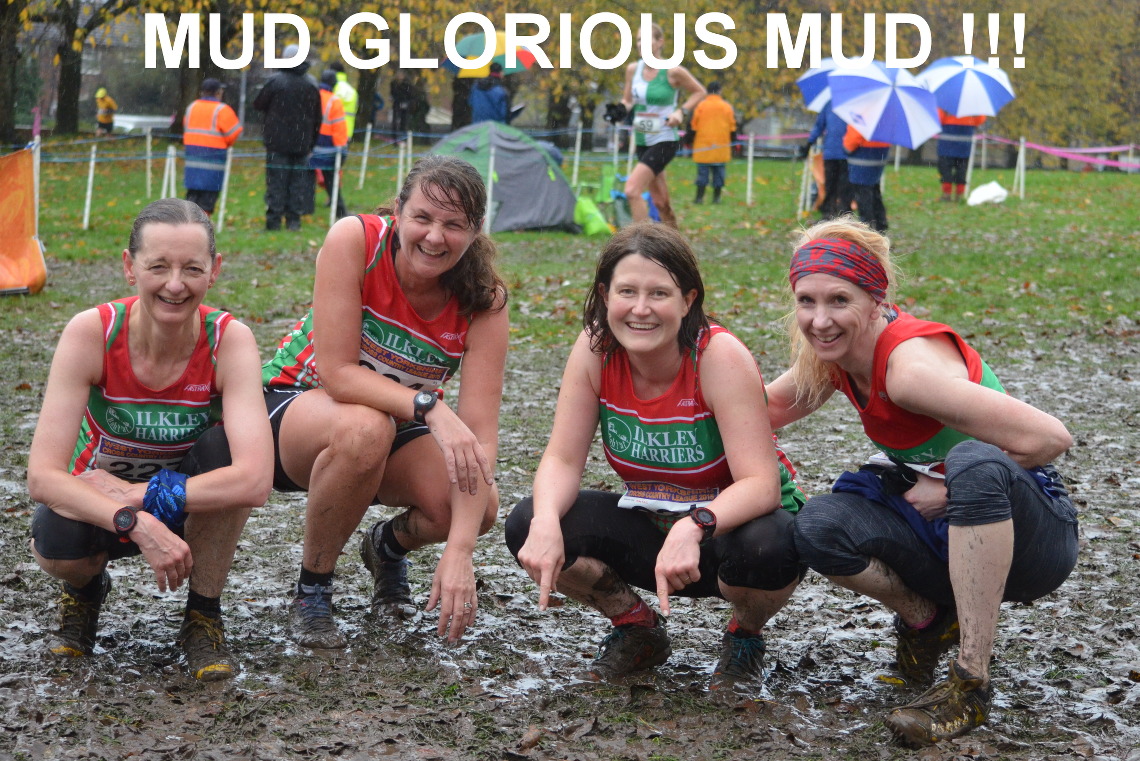 From Petra Bijsterveld ... Results ...

Senior Men
1   23:24 Tom Adams
47  28:04 Dave Westhead
77  30:01 Mark Iley
94  31:37 Malcolm Pickering
109 34:30 Arthur Reilly
129 ran

Senior Women
(1  19:33 Alex Bell, Pudsey and Bramley AC)
51  27:24 Nicky Hopwood
59  28:58 Gaenor Coy
65  30:10 Petra Bijsterveld
77  32:14 Julie Elmes
81 ran

And there were a record 59 junior Ilkley Harriers running!
Tour of Pendle fell race, Sat 14 Nov
From John Hayes ... The British people are often sceptical of the weather forecast. But the forecast for Saturday 14th November was hard to ignore. A deluge of rain was predicted to fall as the last remnants of a hurricane swept eastwards from the Atlantic across the UK. But fell runners are a funny bunch. The thing is most of them like running in awful weather. It is all part of the challenge/fun. So when the race organiser, on safety grounds, decided to shorten the course, one of two reactions was possible amongst the 422 runners who had showed up for the race:-
(A) A ready acceptance of the decision, tinged with a little regret that the run would be a bit less of a challenge than normal. Most runners, I sensed, fell into this category.
(B) Relief that the last two big climbs would not, after all, have to be done. Added to this was the prospect of getting home earlier than usual on Saturday afternoon to languish in the bath indulging in excessive consumption of food and drink. (I fell into category B).
Having said all this, the race was still a classic. We had plenty of mud, a bitterly cold wind, mist, rain, rocks etc. And there were still 4 big hill climbs to do. The marshals were out in force, cheerful as ever and seemingly impervious to the weather. There were some excellent Harriers performances with Ilkley ladies team running brilliantly and scooping up 1st prize so many congratulations to them! A special mention also for our new recruit, Paul Carman, who came 33rd and was the first Harrier home. I had wondered - vainly - if I might have (finally) managed to achieve that elusive honour. But as I sprinted to the finish line holding off the tenacious Jane McCarthy, there was Paul who'd had time to finish the race, go to his car, pick up his very cute little dog and wander back to clap in his new team mates!
From the results ... "This year the race was run over the Bad Weather Course following a route through Check points 1, 2, 3, 4, 5, 6, 11 and back to the finish. The last 2 climbs where excluded due to a forecast of heavy rain, high winds and low temperatures peaking in the area at 15:00. The estimated Bad Weather Course is 14 miles (22.4km) and 2700 feet (823m) making it a Category BL."
Results ...

(1  1:46:30 Rob Hope, P&B)
33  2:03:07 Paul Carman
86  2:16:52 John Hayes
88  2:17:03 Jane McCarthy  4th lady, 1st W40
121 2:21:22 Kate Archer
132 2:22:31 Michael Lomas
145 2:25:34 Paul Calderbank
160 2:28:08 Jann Smith
194 2:33:45 Steve Weston
310 2:50:09 Chantal Busby
327 2:52:27 Adela Reperecki
409 finished
1st ladies team!

parkruns, Sat 14 Nov
From Petra Bijsterveld ... Results ...

Leeds Woodhouse Moor
(1  16:11 Daniel Lawton, Stockposrt Harriers)
16  19:56 Tom Worboys
295 ran

Bradford Lister Park
(1  17:29 Will Kerr, Saltaire Striders)
66  25:10 Alex Hyde
285 ran

Lewisham Hilly Fields
(1  16:45 Mark Hall, Kent AC)
3   18:32 Alex Hirst
165 ran

Harewood 10, Sun 8 Nov
From Michael Duffield ... It was a good decision to go with trail shoes for the Harewood 10M trail race. The rain lashing on Saturday meant that the paths and fields that could be affected by the rain, were, considerably. One or two runners who had opted for road shoes were doing Bambi on ice. The scenic course undulated around the Harewood estate, through woods and across fields with a significant climb in the last mile. Apparently, if you looked up, you could get a good view of the house at one point. Tea and soup in the hall afterwards was very welcome.
From Hilda Coulsey ... Continuing the wet, muddy kit theme after yesterday's Burley Moor run 319 runners turned out at Harewood for the 10 mile and 117 for the 5 mile, as well as lots of 2 milers and juniors. Although the hills were not as severe or numerous as Guy Fawkes last week the terrain was quite muddy and slippery, certainly by the time I reached them! This led to the faster bits being quite treacherous and hence not fast and the overall times later on reflected this, although the first 2 runners in the 10 mile stormed through, with 3rd place 7 mins behind. Daniel Hayes was 4th in the 5 mile race and first Harrier home in the 10 mile was Gavin Lamb, in 23rd place. Bearing in mind the conditions I was pleased with my 2nd F55. The bonus for me was that my husband was power washing the steps when I returned, hence I could place my shoes just in front and head to the shower! Results ...

(1   55:35 Daniel Jenkin, Durham City Harriers & AC)
23   68:07 Gavin Lamb
44   72:08 David Chandler
51   72:36 Michael Duffield
62   74:00 Dave Robson
65   74:28 Duncan Cooper
93   78:22 Derek Oliver
172  86:39 Sarah Hayes
174  86:45 Nigel Tapper
216  92:50 Helen Horton
231  95:05 Hilda Coulsey
274 102:28 Julie Elmes
319 finished

5 mile race
(1 29:43 Toby Hillery, Wetherby)
4  33:16 Daniel Hayes
117 finished

This was an Ilkley Harriers Race League counter.
Open 5, Sun 8 Nov
Not a mainstream Harriers activity, 5 hours of navigational running and biking, but we see Jane McCarthy was 1st lady and plenty of other Harriers there. Results ...
Burley Moor run, Sat 7 Nov
John Hayes reports ... One word to sum up the Burley Moor Run? "Muddy" must be a strong candidate. Not that this seemed to put off any Harriers who turned out in force at the race. The route is cleverly devised. After a long slog uphill, runners start to perk up with a speedy descent down the wide track beside the 3 reservoirs. But then they are presented with a steep climb back up the Moor edge before a final mad chase through the bracken and slippy mud back to Burley. Tom Adams came in first with a new course record and Jemima Elgood was the first lady. There were lots of other fabulous Harriers results. One of these was Daniel Hayes who came 12th and - more importantly (for him at least) - won the son -v- dad battle. I'll get over this soon I hope. Those who have hinted that this is the end of my running career are, I might add, being rather over-dramatic!
Results ...

1   42:00 Tom Adams  New course record
3   46:57 Jack Wood
6   49:47 Ben Sheppard
8   50:44 Martin Archer
10  50:59 Jack Cummings
12  52:15 Daniel Hayes
15  52:55 Justin Plillips
16  52:58 John Hayes
18  53:17 Steve Turland
19  53:24 David Foyston
20  52:38 Michael Lomas
24  54:03 David Chandler
26  54:14 Richard Joel
27  54:17 Jemima Elgood 1st lady
38  56:26 Dave Robson
47  58:54 Jann Smith
59  61:26 Rebecca Mon-Williams
61  62:20 Derek Oliver
86  66:01 Phil Hirst
97  68:54 Adela Reperecki
104 70:30 Geoffrey White
107 70:48 Peter Lewis
122 74:28 Nicky Hopwood
123 75:23 David Green
143 85:41 Sally Wright
Any more?
150 finished

This was an Ilkley Harriers Race League counter.
Primary Schools XC, Sat 7 Nov
Hundreds of children raced in the second Wharfedale Schools XC event hosted by Westville House School at Ilkley Rugby Club. Results soon (a bit waterlogged).
parkruns, Sat 7 Nov
From Petra Bijsterveld ... Results ...

Leeds Woodhouse Moor
(1  16:04 Richard Allen, Bracknell AC)
56  21:23 Geoff Howard
305 ran

Harrogate Stray
(1 18:34 Mark Bryant, U/A)
55  24:24 Eve Whitaker (junior)
134 28:22 Julie Elmes
138 28:28 Alexandra Whitaker (junior)
142 28:39 Helene Whitaker
234 ran

Hilly Fields Lewisham
(1  18:04 Hugh Salway, U/A)
2   18:49 Alex Hirst
155 ran

Skipton Aireville Park
(1  17:53 Joe Hudson, Keighley and Craven AC)
31  23:04 Lewis Carr (junior)
113 ran

League Latest
Heads up, the last XC/trail race to count in our Ilkley Harriers Race League is confirmed now as the Peco XC on Sunday November 22nd at Temple Newsam. The last date to apply for numbers is 8th. If you haven't done so do it now to Gaenor and Steve Coy.
Guy Fawkes 10, Sun 1 Nov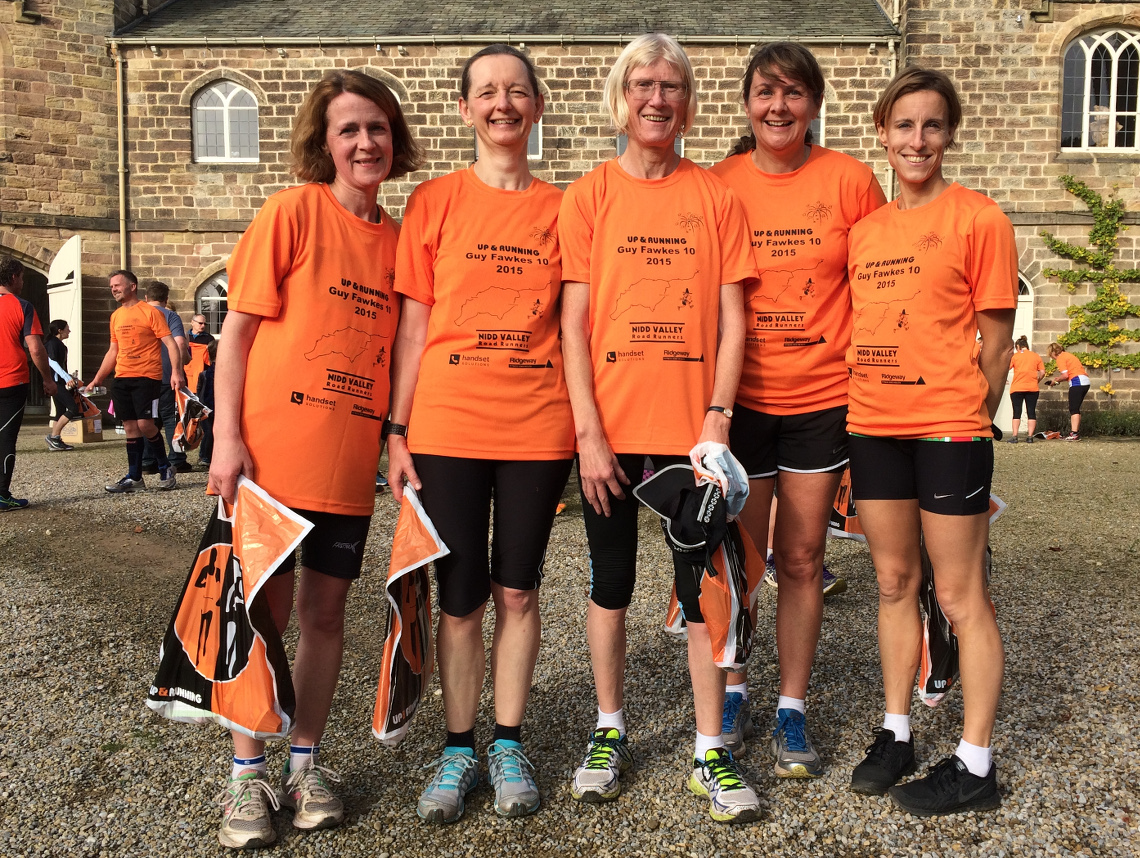 From Petra Bijsterveld ... 10 Harriers made it to the Guy Fawkes 10 mile road race. A foggy start to the day made way for sunshine and unseasonably high temperatures. It all made for a lovely autumnal day but uncomfortably warm for racing.
This year the race had a new route and it felt harder. The Birstwith Brute, 4 miles in, has now been extended to climb even further. Comparing the Strava record with 2014 the total elevation gain was virtually the same, but the fact that the winner took a couple of minutes more than previous years made me feel marginally better about my personal worst time in this race.
There were some excellent results for other Harriers, with Jonathan Sinclair and Nick Richardson finishing under 70 minutes and Jane McCarthy hot on their heels only 3 weeks after her marathon, to finish 1st in her age category.
Results ...

1     58:22 John Clifford, Evenwood RR)
31  1:08:06 Jonathan Sinclair
41  1:09:08 Nick Richardson
51  1:10:26 Jane McCarthy 1st F40
57  1:11:20 David Chandler
255 1:22:09 Will Worboys
334 1:26:11 Jean Sullivan
409 1:30:04 Dave Ibbotson
490 1:34:26 Hilda Coulsey
617 1:42:20 Petra Bijsterveld
652 1:44:43 Julie Elmes
807 finished

This was an Ilkley Harriers Race League counter.
---