Ilkley Harriers news archive 2015
Ilkley Harriers of the Month, October
Runner of the month:
Jane McCarthy
Yorkshire Marathon
Other nominations were:
Andrew Merrick for Yorkshire Marathon
Lucy Williamson for Bradford 10k
Petra Bijsterveld for Kielder Marathon
Ruaridh Mon-Williams for Fell relays
Jemina Elgood for Fell Relays
Steve Weston for Yorkshire Marathon
Tom Worboys for 3 marathons in 3 weeks
Dave Robson for Langdale Horseshoe
Hilda Coulsey for holding all LV60 records at once
Volunteer of the month:
Steve and Gaenor Coy
for getting XCs off to a good start
More Harriers of the Month ...
WYXC 2, Huddersfield, Sat 31 Oct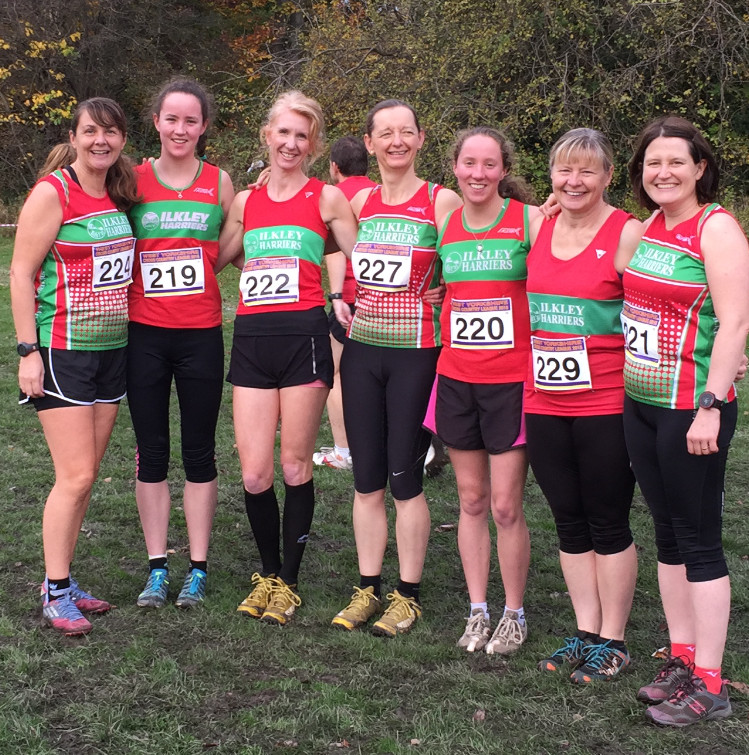 Senior ladies
(1 21:33 Katie Walshaw, Holmfirth)
23 25:00 Lucy Williamson
57 28:38 Joanne Williamson
61 29:16 Nicky Hopwood
77 32:16 Gaenor Coy
84 33:22 Petra Bijsterveld
83 35:00 Julie Elmes
97 37:47 Kate Lofthouse
98 finished
11th team

Senior men
1   32:37 Tom Adams
47  38:41 Dave Westhead
64  40:18 Stephen Coy
78  41:18 Rob Cunningham
91  42:21 Mark Iley
110 44:41 Malcolm Pickering
153 finished
8th team

Ilkley had 48 juniors racing - some great individual and team placings and everyone gaining in confidence and racing strong. 1st team placings for U11 and U17 girls; 2nd team for U11 and U15 boys; 3rd team for U13 girls; 5th team for U15 girls and 6th for U13 boys.
parkruns, Sat 31 Oct
From Petra Bijsterveld ... Results ...

Woodhouse Moor
(1  16:38 Jonny McKenna, Clayton-le-Moors)
55  20:21 Adrian Bastow
165 24:06 Richard Morris
415 ran

York
(1  17:05 Philip Mackie, Epson and Ewell Harriers)
63  21:01 Geoff Howard
513 ran

Bradford Lister Park
(1  17:04 Will Kerr, Saltaire Striders)
17  20:49 David Chandler
97  25:10 Sarah Haines
168 27:39 Ethan Thompson (junior)
439 ran

Cannon Hill Birmingham
(1  16:48 unknown)
112 22:58 Harry Sime
113 23:02 Robert Sime
550 ran

Harrogate Stray
(1  17:21 Matty Smith (Scunthorpe and District AC)
48  23:07 Phil Hirst
239 30:44 Jacqui Weston
321 ran

Hilly Fields Lewisham
1   17:52 Alex Hirst
203 ran

Skipton Aireville Park
(1  17:39 Tom Brewster, Clayton-le-Moors)
15  21:10 Derek Oliver
106 28:51 Michelle Snow
180 ran

Druridge Bay
(1  17:02 John Butters, Morpeth Harriers)
40  23:56 Sarah Hayes
162 ran

Bronte Way, Sun 25 Oct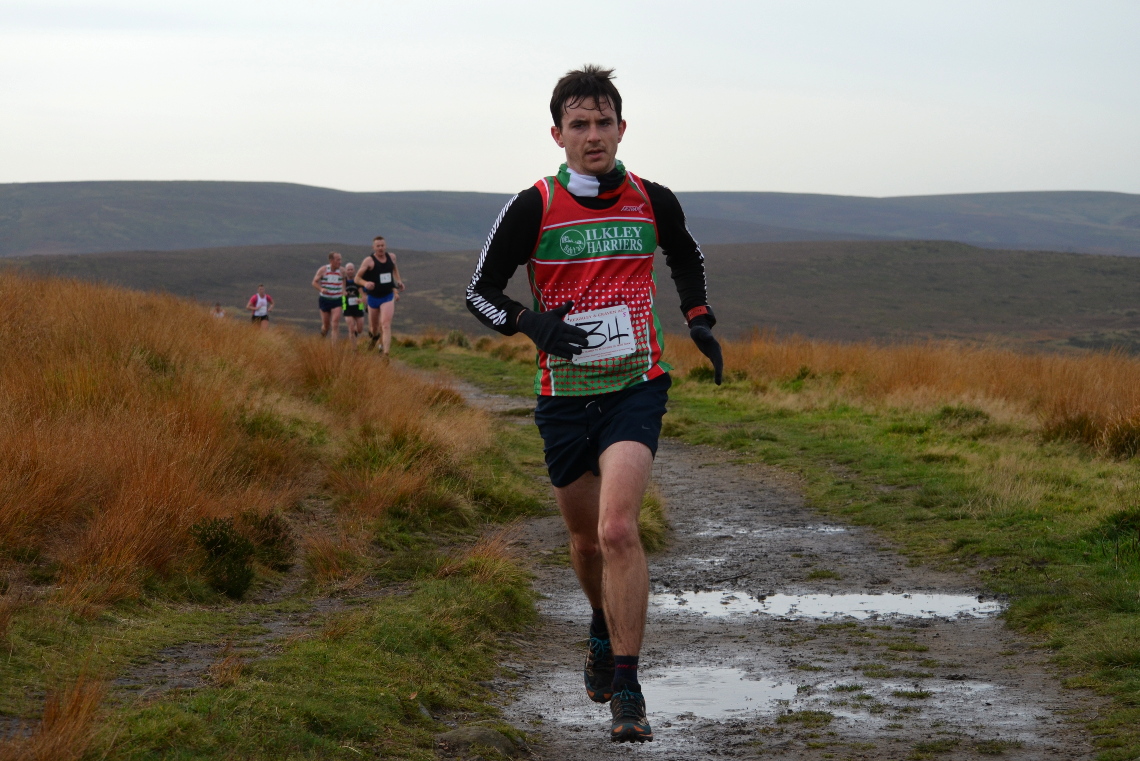 (1    51:17 Jack Smith, Wharfedale)
45  1:05:03 Rob Cunningham
135 1:19:51 Adela Reperecki
210 finished

Bradford City 10k, Sun 25 Oct
From Sue Williamson ... two Ilkley Harriers took part in the Bradford City 10k run. Other races on the day were a kids race, 5k, and half marathon. Results

(1  33:51 Joe Sagar, Spenborough)	
21  41;28 Lucy Williamson 2nd female, PB
167 57:26 Sue Williamson 
320 finished

Fairclough 5, Sun 25 Oct
From Hilda Coulsey ... a friendly race on local quiet roads by the river Wyre near Blackpool where I was made very welcome. It is described as undulating although it wasn't relatively bad at all. Results

(1 27:11 Liam Craine Blackpool, Wyre & Fylde)
68 41:55 Hilda Coulsey 
109 ran

This sets a LV60 Club Record, beating Chris Porritt's 43:08 from South Leeds Stadium in 2004.
Great Whernside, Sat 24 Oct

(1 31:11 Ted Mason, Wharfedale)
35 39:38 Jonathan Whitaker
48 41:29 Kate Archer 2nd lady
54 42:32 Duncan Cooper
136 finished

Snowdonia Marathon, Sat 24 Oct
Michael Lomas reports ... Saturday started out how Friday left off, very wet but fortunately not too cold. After deciding many months ago that it would be a good idea to camp the night before on the side of a Welsh hillside with my friend who was running as well we arrived at the start line, very wet and very sleep deprived. This being my first marathon I was quite apprehensive of how I would fair over the 26.2m of mostly tarmac, especially with the added challenge of 3 of Snowdonia's mountain passes to conquer. The first of which came after 2m and lasted nearly 4, a steady climb where maintaining rhythm was key. The second climb at Beddgelert 13m in where the local support really helped as this was another long climb. A long section of what felt like never ending flat preceded the last hill and being a 'fell' runner I found this section the hardest mentally but I just had to take a look around and take in the stunning scenery complete with raging waterfalls to quickly change that. I was aiming for sub 4hrs but without knowing any split pace times I wasn't sure of my progress. Having overheard a runner say if you get to mile 21 in sub 3hrs then you've got a chance of finishing in under 4hrs, being 3 mins late at that point I thought it was possible, although I wasn't sure how my legs would react to the final and steepest climb of 3m. Fortunately my legs found form and the hill gave me something to focus the mind on, up I trudged passing 10's of runners ... walking. At the 2 to go marker just before the top of the climb and having 30mins to do it in I knew as long as I stayed up right it was in the bag. Coming down the last decent was treacherous in places with plenty of 'green ice' to come a cropper on wearing roadies, fortunately I was able to hang on to myself and finished comfortably within 4hrs. It was a great race with breath taking scenery and so much local support all the way round and healthy dose of Autumnal Welsh weather. Lots of respect to my mate Martyn Stocker who I entered with, he finished which is a great achievement considering his training, or lack of and even bigger respect to Lois Scott (who I think is known to some IH) who made me sign up and for finishing in 4:01, 17th in FV40. My motivation going round was helped not least by the amazing generosity of family and friends who have helped us raise over £1000 for Alzheimer's Research.
Results ...

(1  2:33:38 John Gilbert, Kent)
466 3:50:31 Michael Lomas
1883 finished

parkruns, Sat 24 Oct
From Petra Bijsterveld ... Quite a few Harriers out parkrunning this weekend and a lot of excellent results. Jane McCarthy was 1st lady at Skipton and the Coys staged a family takeover at Fountains Abbey, with Dominic coming home in 2nd place.
Results ...

Bradford Lister Park
(1  17:24 Will Kerr, Saltaire Striders)
29  21:22 Dave Robson
162 27:02 Petra Bijsterveld
382 ran

Harrogate Stray
(1  18:09 Mark Bryant, Leeds City AC)
60  23:04 Phil Hirst
173 27:15 Julie Elmes
316 ran

Hilly Fields Lewisham
(1  17:27 Chris Ho, U/A)
2   18:12 Alex Hirst
161 ran

Skipton Aireville Park
(1  19:28 Richard Butterwick, Todmorden Harriers)
8   20:21 Jane McCarthy 1st F
12  21:28 Tom Worboys
16  21:38 Geoff Howard
20  22:27 Harry Sime
44  24:43 Josh Waddington (junior)
62  26:22 Ethan Thompson (junior)
164 ran

Fountains Abbey
(1  17:21 Andrew Stenson, RAF Cosford)
2   17:39 Dominic Coy (junior)
6   18:19 Stephen Coy
48  22:35 Nathan Coy (junior)
232 33:12 Helena Coy (junior)
233 33:12 Gaenor Coy 
288 ran

Ilkley Harriers Race League
Where are you in the Ilkley Harriers Race League? All up to date now, thanks to Martin Wright. There's still a chance to count, next races Guy Fawkes 10 and Burley Moor Run, and don't forget to use your 'wild card'.
West Yorkshire XC, Sun 18 Oct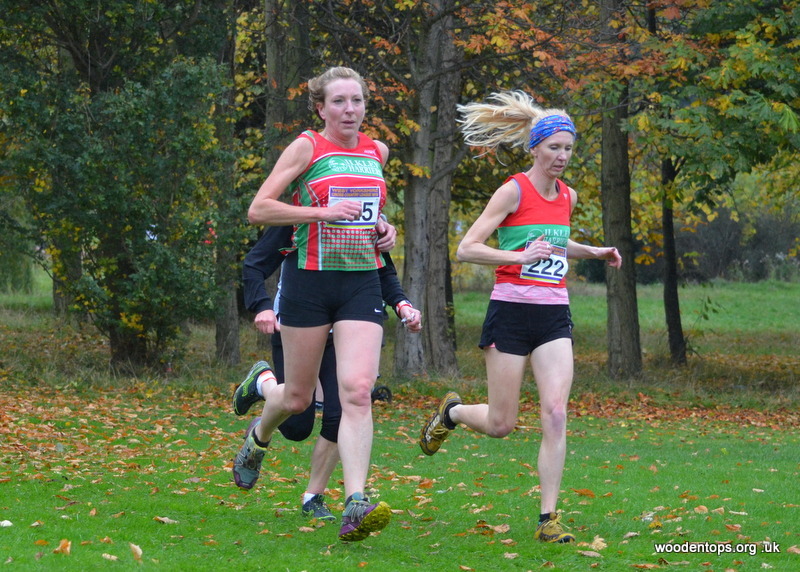 (1  33:02 Joshua Woodcock-Shaw, Leeds)
54  38:16 Dave Westhead
73  39:19 Steve Coy
122 44:09 Arthur Reilly
125 44:15 Malcolm Pickering
134 45:33 Mark Iley
171 finished

Senior women
(1  20:40 Alex Bell, PB)
44  25:40 Sally Malir
56  27:09 Nicky Hopwood
63  27:47 Jane Bryant
86  30:35 Gaenor Coy
97  33:06 Julie Elmes
102 34:18 Kate Lofthouse
103 finished
9th team

A record 58 Ilkley juniors raced!
Amsterdam Marathon, Sun 18 Oct
From Tom Worboys ... This was my 3rd marathon in consecutive weekends, part of a somewhat daft charity challenge I'm doing to run 6 marathons (the remaining 3 are in April). The Amsterdam Marathon is surprisingly flat. The race started and finished at the Olympic Stadium, used to host in games in 1928. From there it headed out to the east and then south along the banks of the Amstel (the river not the beer). It wasn't the most exciting of routes but was well supported and to have Will randomly appearing at various points along the route on a bike certainly helped. Looking forward to a nice rest now until doing it all again in April.
Results ...

(1   2:06:19 Bernard Kipyego, Kenya)
4669 3:48:08 Tom Worboys
12357 finished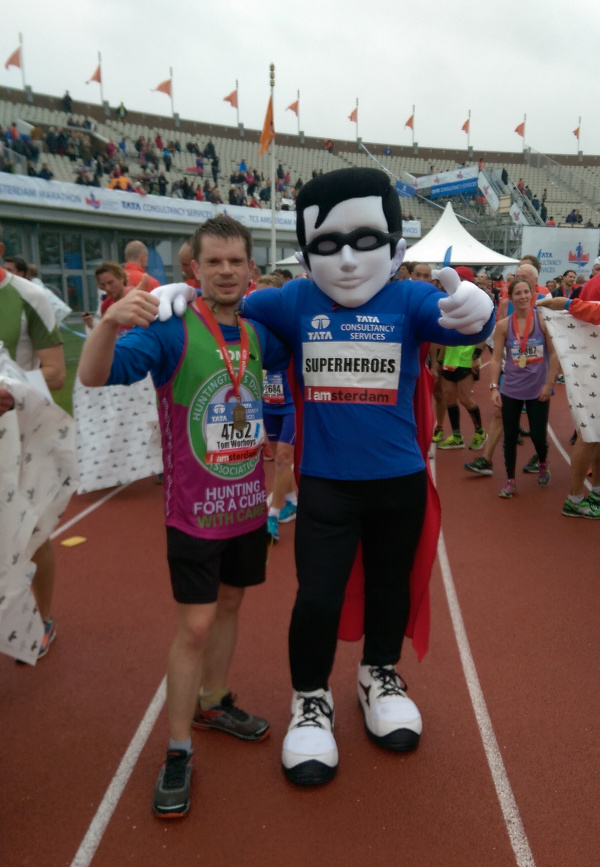 FRA Relays, Sat 17 Oct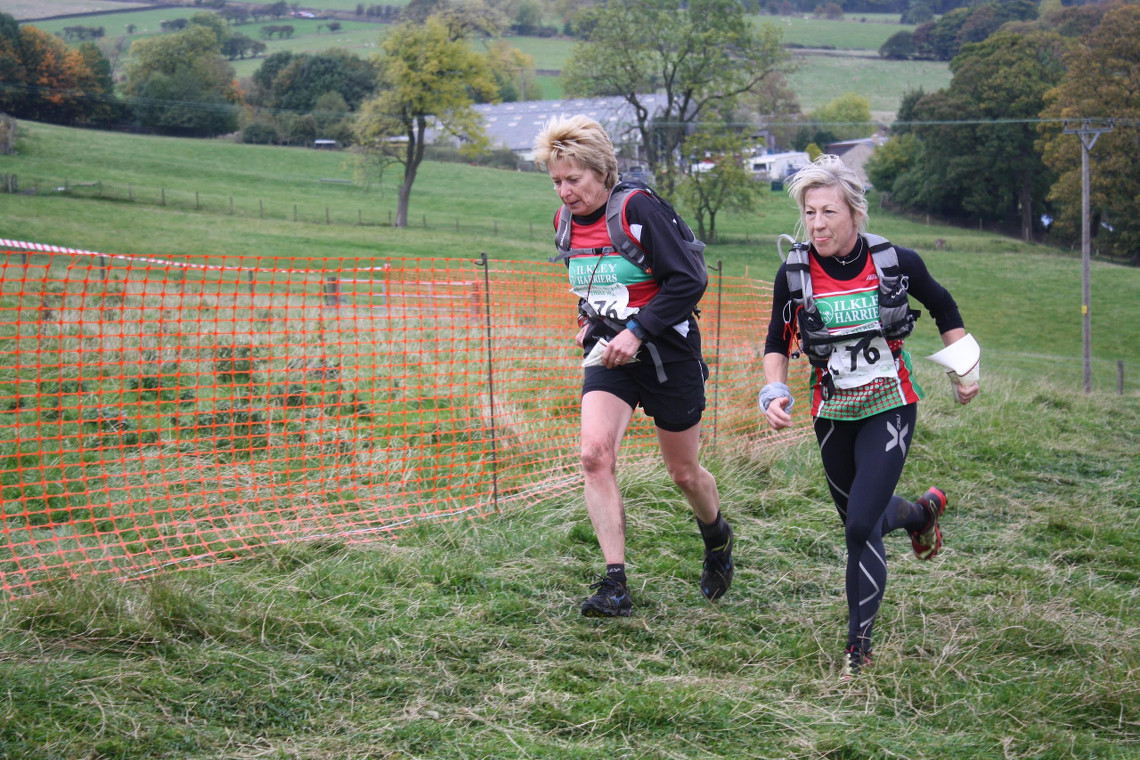 From Dan Wilkinson ... The British Fell Running Relay Championship was held on Pendle Hill this year, a superb location but one that limited the number of teams meaning we were unable to enter a male vets team despite huge interest. The competition consists of a 4 leg relay, 2 solo legs and 2 paired legs, one of which is a navigational challenge. After several last minute injury woes we managed to pull a great team together and big thanks to the subs (there were several people on standby over the preceding weeks) for making themselves available to run at late notice! Notable performances on the day from Ruaridh Mon-Williams 18th on leg one. Super strong running from a Junior! Tom Adams, 1st on leg 4 and masterful navigation by Jack Wood to bring us up 17 positions to 19th on leg 3. A superb day out and result. Well done team!
From Val Kerr ... A great turnout from the ladies who managed to put out two teams for this very well organised event on a day that was perfect for fell running; mainly dry underfoot with great visibility. It was fantastic to see several ladies running who had not taken part in this event previously.
The ladies Open team were led off by Jemima Elgood who stood in at the last minute as an injury replacement and ran brilliantly in only her second senior event to finish in 74th place. She was followed by Jann Smith and Kate Archer on leg 2 (88th), Alison Weston and Outi Kamarienen tackled the navigation on leg 3 (96th) and finally Sarah Edwards (120th) who brought the team home to finish in 93rd place overall.
The ladies Vets team got off to a great start with Jane McCarthy who, despite running a 3 hour flat road marathon last Sunday, took to the fells again like a duck to water finishing her leg in an impressive 84th place. She was followed by Sarah Hayes and Chantal Busby running in their first ever FRA relays (136th), Val Kerr and Adela Reperecki who successfully tackled the navigation on leg 3 without getting lost and even managed to claw back two places (134th) and finally Helen Waddington who unfortunately had to go off with the mass start and finished in 136th place.
A great result from all three IH teams against stiff opposition.
Photos from Alison Weston and the Woodentops.

(1    3:29:19 Calder Valley)

15    3:46:56 Ilkley
Leg 1   39:06 Ruaridh Mon-Williams (18=)
Leg 2 1:21:05 Ben Sheppard + Steve Turland (55th)
Leg 3 1:07:25 Dan Wilkinson + Jack Wood (9th)
Leg 4   39:20 Tom Adams (1st) 
 
84    4:53:13 Ilkley Ladies (11th FOPEN team) 
Leg 1   45:17 Jemima Elgood (74)
Leg 2 1:29:51 Jann Smith + Kate Archer (88)
Leg 3 1:36:18 Alison Weston + Outi Kamarainen (96)
Leg 4 1:01:47 Sarah Edwards (120)

93    5:54:15 Ilkley Ladies Vets team
Leg 1   46:16 Jane McCarthy  (84=)
Leg 2 1:50:48 Sarah Hayes + Chantal Busby (136)
Leg 3 2:07:09 Val Kerr + Adela Reperecki (134)
Leg 4 1:10:02 Helen Waddington (136)

147 teams

Stadshagenrun 5K, Sat 17 Oct
From Petra Bijsterveld ... I joined my friends in this local, flat as a pancake, 5K race whilst I was spending time in Zwolle in the Netherlands. I was outside my PB but glad to discover my post-marathon legs could still find some pace. Results ...

(1  16:35 Simon Vos)
218 25:37 Petra Bijsterveld
757 ran

parkruns, Sat 17 Oct
From Petra Bijsterveld ... Results ...

Harrogate Stray
(1  17:09 Matthew Hallam, Valley Striders AC)
293 31:36 Eve Whitaker (junior)
294 31:40 Helene Whitaker
357 ran

Hilly Fields Lewisham
(1  17:05 Stephen Skinner, U/A)
3   18:04 Alex Hirst
183 ran

Skipton Aireville Park
(1  18:07 Lucas Payne, Barlick Fell Runners)
104 28:56 Michelle Snow
175 ran

Fountains Abbey
(1  17:07 Mike Appleton, Ripon Runners)
17  19:33 Ethan Thompson (junior)
31  21:19 Geoff Howard
227 ran

Yorkshire Marathon, Sun 11 Oct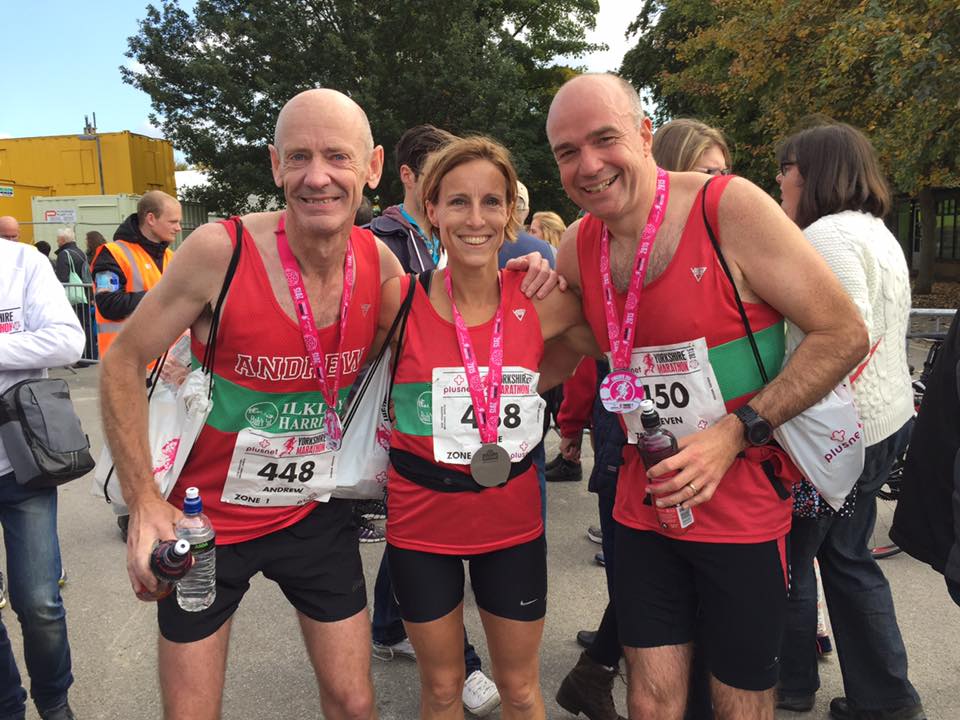 From Jane Bryant ... Amazing Harrier results today. Andrew Merrick and Steve Weston both sub 3hr (finally) and a fantastic 3.02 for Jane McCarthy.
From Jane McCarthy ... A beautiful day for running a marathon dawned on Sunday morning for the 3rd Yorkshire Marathon, setting off past the stunning York Minster to the ring of bells and a large crowd at 9.30am. The adrenaline kicked in fairly early so I showed unusual restraint (as per pre-marathon plan) and held back a little. The course is largely flat, along country roads and through picturesque villages with plenty of support and drink/feed stations along the way. A few inclines at the 7,18 and 25 (so cruel!) mile marks provided some variety, and a couple of loop backs at the halfway and 18 mile mark allowed a view of the runners ahead and behind. I was delighted to see Andrew Merrick and Steve Weston both sticking to the 3 hr pacers at both points (also as per pre-marathon plan!). My halfway split was a little over 1hr 31mins and I was delighted to do an almost identical second half time to finish in 3hrs 02mins. My previous PB at the Berlin Marathon 3 years ago was 3hrs 48mins so a satisfying improvement! Even more satisfying though was seeing both Andrew and Steve at the end with BIG THUMBS UP having BOTH finished in 2hr 59mins - a fantastic result - and just goes to show that the best things come to those who wait (and train very hard).
While it doesn't have the glamour of VLM or the same crowds, personally speaking, having your breakfast at home and back before 3 makes for a happy marathon day out and comes highly recommended. Pre-register NOW if interested in entering the 2016 event.

(1  2:15:06 Edwin Korir)
79  2:59:17 Andrew Merrick
86  2:59:43 Steve Weston
103 3:02:24 Jane McCarthy 10th lady
824 3:40:50 Tom Worboys
3951 finished

10 mile
(1  53:54   Mike Burrett, Leeds)
29  1:04:14 Rob Cunningham
175 1:15:36 Chris Cunningham
179 1:15:43 Will Worboys
285 1:18:45 Jane Bryant
1598 finished

Withins fell race, Sun 11 Oct
A win for Tom Adams, and a new course record. Results and photos ...

1   38:49 Tom Adama
15  45:42 Matthew Cox
80  52:43 Kate Archer
103 54:53 Jann Smith
164 59:38 Alison Weston
217 64:30 Adela Reperecki
304 79:01 Sophie Brown
313 finished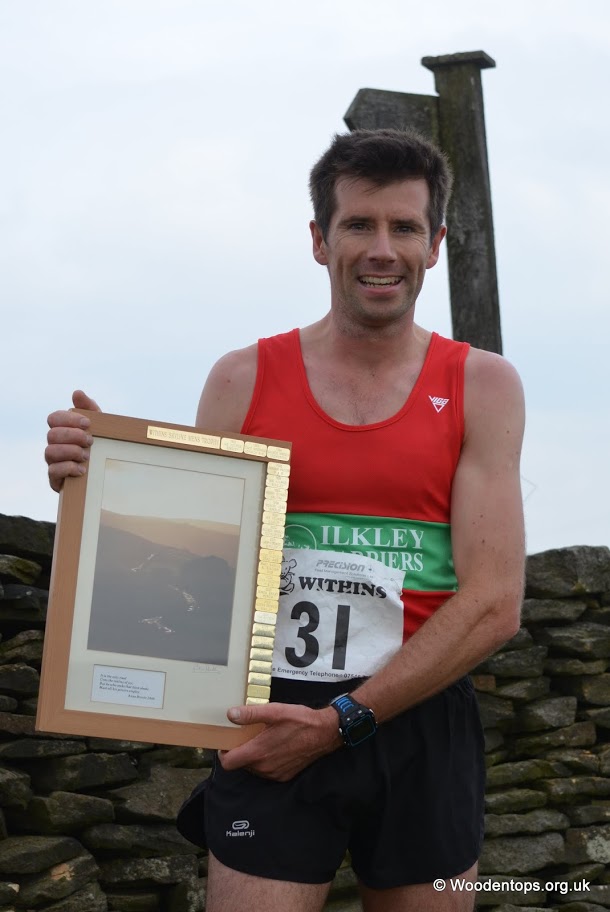 Langdale Horseshoe, Sat 10 Oct
From Ben Sheppard... The weather gods gave us 12.3 miles and 1450 metres of climb of vests weather for this classic AL race, with no sign of last year's treacherous slippery rocks on Bowfell. Times may have been a few minutes quicker as a result. Harriers turned out in force, it being a Ilkley Harriers Race League counter. First times (I think) for Richard Joel, Mike Duffield, David Robson and David Chandler. Some impressive performances including a typically strong run from Jack Wood and a large PB for John Hayes. Next year's edition will be an English Fell Championships counter.
From John Hayes ... Bogs, rocks, steep climbs, hidden hazards, clambering over tricky obstacles ... Some people pay ridiculous money for this sort of thing in "Tough Mudder" etc. But I must say that type of event has never appealed to me, especially when for £8 and a suitable donation to the Mountain Rescue you can get all this and more by entering the Langdale Horseshoe. And by "more" I mean the stunning views, the glistening tarns, the blue sky, the camaraderie of the competitors and the hot Cornish pasty and pint (well, coke for me) at the finish. Having avoided tripping up on the difficult bits and taken my, now customary, "cowardly route" to avoid the Bad Step on Crinkle Crags, I crashed to the ground on the path to the finish. I figured it would be a bit embarrassing to be picked up by a helicopter only half a mile or so from the end of the race and it would wipe out all the generous donations entrants had made if the Mountain Rescue had to carry me down. So I picked myself up and joined the group around me all sprinting to beat 3 hours. I told the ambulance men at the finish that I'd banged my head and hurt my thumb but they didn't seem too worried about me (as other finishers wandered by covered in blood and mud but left them alone). Lots of Harriers were there notching up great times as you'll see when the results come in later.

(1  2:11.57 Sam Tosh, Rossendale)
28  2:29:31 Jack Wood
62  2:40.33 Ben Sheppherd
91  2:48.09 Jonathon Whitaker  
112 2:53.50 John Houlihan  
134 2:56.20 Richard Joel  
137 2:56.31 John Hayes  
147 2:57.48 Paul Calderbank 
157 3:00.43 David Chandler  
164 3:04.00 Duncan Copper 
261 3:24.41 Michael Duffield  
269 3:25.53 Dave Robson 
347 3:50.48 Chantal Busby  
387 finished

Wasdale show fell race, Sat 10 Oct
The last BOFRA race of the year. Results ...

(1 36:44 Ted Mason, Wharfedale)
17 45:40 Steve Turland
24 48:265 Mark Mon-Williams
69 finished

YVAA Road Relay, Sat 10 Oct
Results..

V50 class
1 47:50 Valley Striders
6 53:37 Ilkley
  16:13 Mark Iley
  19:53 Phil Hirst
  17:31 Andrew Sheldon
10 teams

parkruns, Sat 10 Oct

Woodhouse Moor, Leeds
(1 17:03 Phil Livermore, Abbey Runners)
31 19:38 Tom Worboys
441 runners

Bradford Lister Park
(1 18:36 Taylor Waddell, Eccleshill Road Runners)
8  20:05 Sarah Pickering 1st lady (junior)
10 20:49 Ethan Thompson (junior)
15 21:14 Malcolm Pickering
421 runners

Harrogate Stray
(1  18:11 Jack Brennan, Harrogate Harriers & AC)
107 24:11 Eve Whitaker (junior)
114 24:19 Helene Whitaker
180 26:32 Julie Elmes
359 runners

Hilly Fields, Lewisham
1  18:06 Alex Hirst
196 runners

Primary Schools XC, Sat 10 Oct
621 children raced in the first Wharfedale Schools XC event at Ghyll Royd School. Results.
Ian Hodgson Mountain Relays, Sun 4 Oct
From Dan Wilkinson ... A really close race at the front of this great mountain relay event this year and a superb performance by Ilkley ladies who improved their finishing time by 3 minutes on last year to finish 5th ladies team overall. Ultimately a disappointing day for the mens team with a couple of nasty injuries to key runners meaning we really struggled compared to previous years and finished 44th. However kudos does go to the injured runners Dave Wilby and Jack Wood for completing their legs in some pain so the rest of the team could complete their legs and the team the event.
From Jann Smith ... a lack of rain and fog this year meant our experienced team couldn't create any advantage on navigation but all runners nailed the route choices really well and the ladies team ran seamlessly to finish overall faster than last year and in the top five. Well done to Sally Malir for running so fast despite an injury and to Jemima Elgood in her first run for the senior team (hopefully the first of many), it was great to see Helene Whitaker back and Alison, Outi, Jann, Kate and Rebecca made up the team. Commiserations for the men who had a great team but had two injuries, both Dave Wilby (paired with Dan) and Jack Wood (paired with Steve Turland) being forced to walk parts of their legs. Hope they recover quickly!

(1 3:34:53 Borrowdale)
44 4:57:25 Ilkley men
50 5:08:23 Ilkley ladies (5th ladies team)
70 teams finished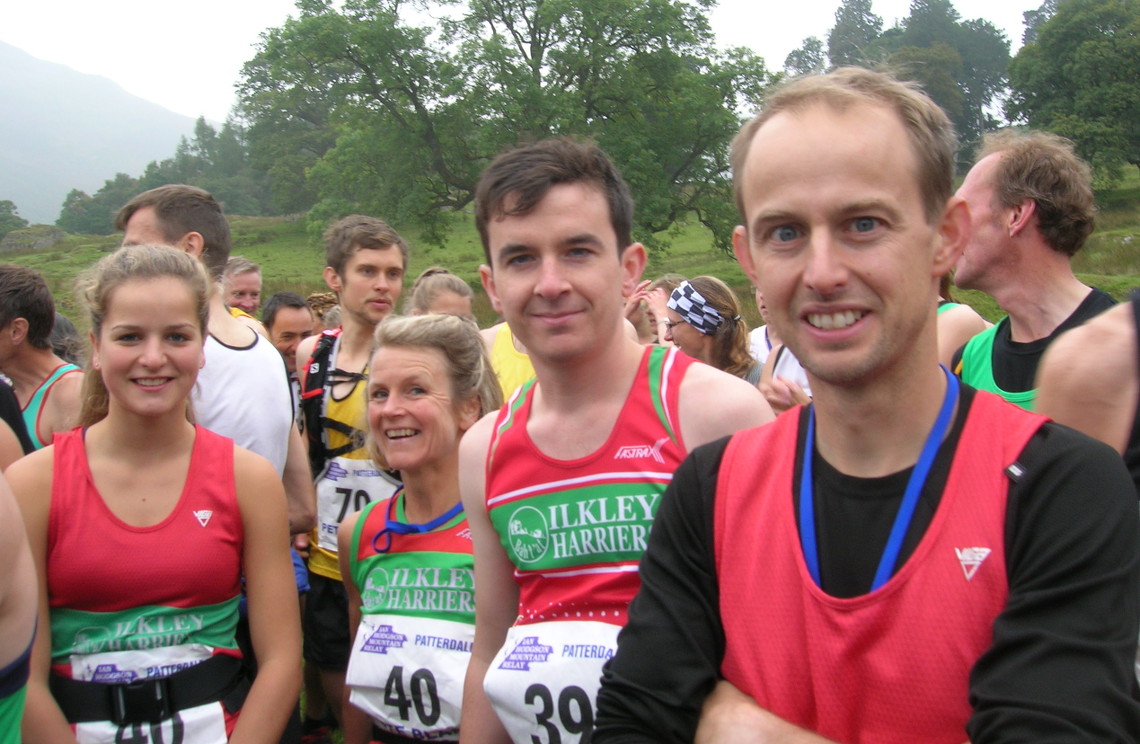 Kielder Marathon, Sun 4 Oct
From Petra Bijsterveld ... I chose Kielder for my first ever marathon because it looked beautiful and it certainly did not disappoint. Marketed as 'Britain's Most Beautiful Marathon' the route is one lap of Kielder Water on good wide trails which are often covered in pine needles, making it very pleasant underfoot. The trade-off is that is 'undulating'; I would say hilly. There is very little flat terrain apart from the dam!
Well organized and friendly, there was very little fault to find, apart from a short delay to the start due to a problem with one of the shuttle buses. As it was not cold this was a minor thing. Otherwise lots of water stations, plentiful toilets, t-shirt, goody bag, a truly beautiful medal, and the option of a sports massage at the end which could be pre-booked and which I took advantage of.
A lot of runners' names were called out at the finish over the PA system and I got the comment that there probably were not a lot of Bijsterveld's in Ilkley which was quite funny.
I had imagined that a time between 4 1/2 and 5 hours would be realistic for me on this sort of course. Irritatingly my garmin froze halfway round and by the time I was shuffling along the final miles I felt I had been running for an eternity and had no idea of the time elapsed. I was therefore more than happy to find myself crossing the line in just over 4 3/4 hours.
I am planning to go back next year and I can recommend this to any Harrier who wants to join me.
Results ...

(1  2:43:02 Matthew Jones, U/A)
450 4:47:57 Petra Bijsterveld
621 finished

parkruns, Sat 3 Oct
From Petra Bijsterveld ... Results ...

Leeds Woodhouse Moor
(1  15:57 Richard Allen, Bracknell AC)
33  19:43 Ben Joynson
54  20:54 Will Worboys
435 ran

Harrogate Stray
(1  17:28 Rosie Smith, Durham City AC)
47  21:42 Geoffrey Howard
330 ran

Hilly Fields Lewisham
(1  17:53 Hugh Salway, U/A)
2   17:58 Alex Hirst
179 ran

Leeds Temple Newsam
(1  17:34 Dan Grant, U/A)
49  25:23 Sue Morley
72  28:09 Eric Morley
142 ran

Skipton Aireville Park
(1  18:04 Will Rowe, U/A)
2   18:12 Oscar Stapleton (junior)
3   18:36 Mark Mon-Williams
106 28:51 Michelle Snow
178 ran

---