Ilkley Harriers news archive 2015
Ilkley Harriers of the Month, September
Runner of the month:
Dick Waddington
Berlin Marathon
Other nominations were:
Norman Bush and Geoff Howard for performances in the World Masters Mountain Champs
Tom Adams for England at World Mountain Champs
Helen and Dick Waddington for Berlin
Jane McCarthy for Bradford 10K PB
David Chandler for organising the navigation courses
Helen and Dick Waddington for organising the Incline
Gaenor and Steve Coy for the Aquathon
Jane McCarthy for organising the Junior Sprint Relays
Volunteer of the month:
Paul Stephens & Jane Bryant
Services as committee officers
More Harriers of the Month ...
Bradford 10k, Sun 27 Sep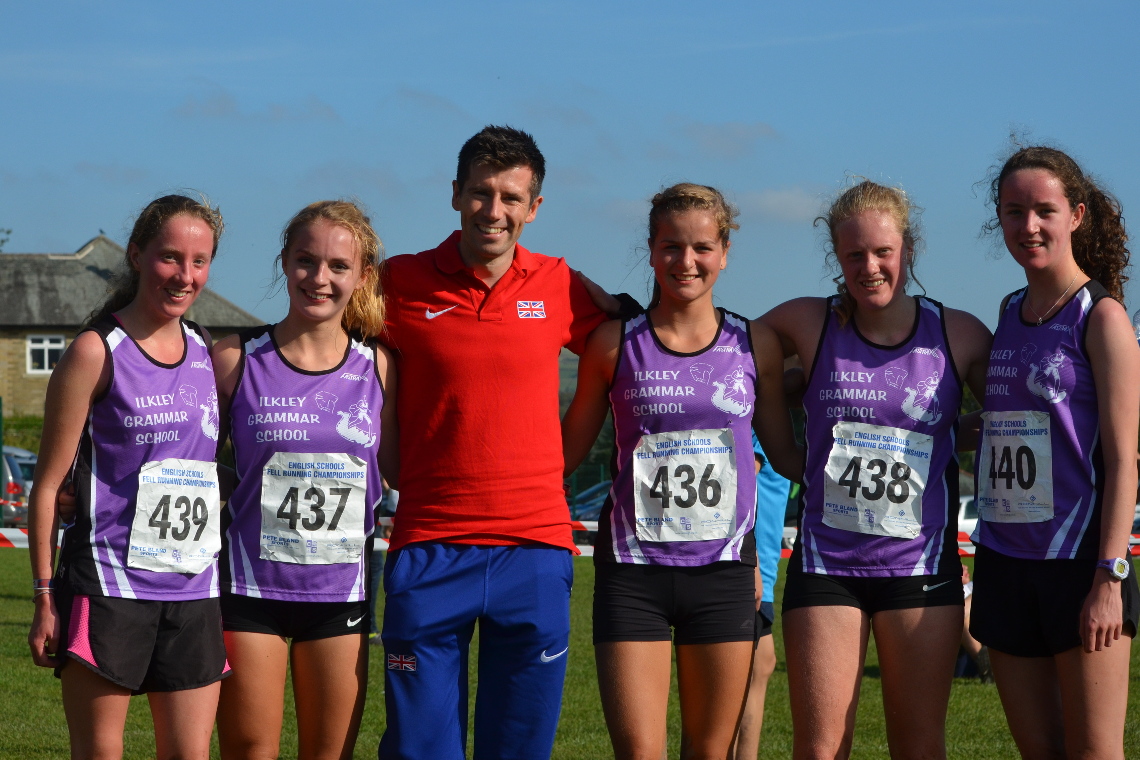 A win for Tom Adams, and Jane McCarthy 2nd lady with a PB, in this Ilkley Harriers Race League counter. Tom then went on to present the prizes at the English Schools Fell Championships, where Ilkley Harriers runners competed for Ilkley Grammar School.

1   31:28 Tom Adams
40  38:40 Jane McCarthy 1st F40 PB!
62  40:13 Ben Joynson
69  40:49 Michael Duffield
124 44:03 Harry Sime
115 43:37 Will Worboys
458 57:52 Michelle Snow
683 finished

Berlin Marathon, Sun 27 Sep
From Dick Waddington ... Helen and I signed up for this our first marathon about 6 months ago (a 25th anniversary "present" to each other!) and set about changing our training to roads rather than fells. It turns out you have to run faster on roads, so speedwork was the order of the day. Unfortunately Helen's calf gave up 7 weeks ago, so she took to the purgatory that is a turbo trainer in the garage whilst it healed - which it did in the nick of time. Watching Everest the day before the race put everything into perspective nicely; exposure, frostbite and big falls seemed unlikely. My race went well and I was very pleased to finish in just over 3 hours, despite being tripped up and landed on by another runner after 15km. The 3 hour pacer just crept away from me in the last couple of miles. Helen was delighted just to get round without having to bail out and negotiate Berlin's subway. To top it all off, running through the Brandenburg Gate must be one of the best finishing straights anywhere. At the airport on the way home we saw a runner with bandaged knee and broken arm - marathon running isn't as safe as you might think.

(1   2:04:00 Eliud Kipchoge, Kenya)
1832 3:00:40 Dick Waddington
3558 4:12:27 Helen Waddington
41224 runners registered

Rab Mountain Marathon, 26/27 Sept
From John Hayes... This year's Rab Mountain Marathon was in North Wales. The terrain was tough - a mixture of rocks, heather, crags and steep mountain ridges. But it was all worth it for the amazing scenery and blazing sunshine. The format is a score event over two days and the tactical route choice was interesting as a new rule meant you couldn't score points on day 2 from a control you had visited on day 1. The aim of that rule was to make competitors go to the northern area on one day and the southern area on the next day. But we worked out a different plan which seemed to work. Daniel and I were 39th out of 174 in the short score and picked up the prize for coming 1st in the parent and child category.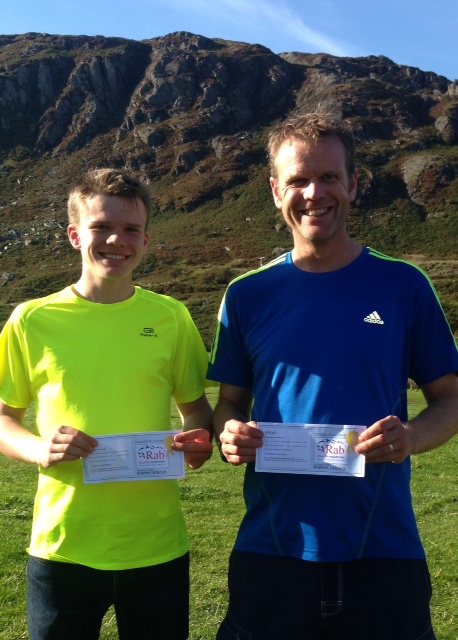 parkruns, Sat 26 Sep
From Petra Bijsterveld ... Results ...

Bradford Lister Park
(1  18:31 Martin Fillingham, Saltaire Striders)
10  20:28 Tom Worboys
340 ran

Harrogate Stray
(1  17:08 Oliver Watson-Sweeney, Giffnock North AAC)
164 26:14 Julie Elmes
368 ran

Hilly Fields Lewisham
(1  17:23 Danny Kendall, Cambridge Harriers)
3   17:41 Alex Hirst
181 ran

Skipton Aireville Park
(1  17:05 Lee Athersmith, RAF AC)
4   19:19 Oscar Stapleton (junior)
165 ran

2015 AGM, Tue 22 Sep
The 2015 Annual General Meeting of Ilkley Harriers Athletic Club was held at Ilkley Lawn Tennis and Squash Club starting at 8.40pm after the Tuesday night run. All members of Ilkley Harriers were welcome at the AGM.
A new committee was elected, subs were reduced and membership categories changed and a small change made to the Constitution as described in the Agenda.
We are currently without a Chairperson, so if anyone is interested in this position please contact Hilda Coulsey, the new Secretary, or any committee member.
Beefy's Nab fell race, Sun 20 Sep
From Richard Joel... a fairly low-key race with a field of just 32. Steep climbing to the top and some rough pathless descending (with a bit of route confusion thrown in for good measure). Results ...

(1 21:22 Joseph Crossfield, CVFR)
4  26:42 Richard Joel
32 finished

Embsay fell race, Sun 20 Sep

(1 18:53 Jomm Craig, Barlick)
37 26:11 Paddy Hagen
61 30:14 Sue Morley
82 37:48 Eric Morley
83 finished

Vale of York HM, Sun 20 Sep
From Petra Bijsterveld... My training plan tells me to 'race a half marathon' on week 14, and this road race just fell on the right day. Only in its second year, the Vale of York HM starts and finishes at Sherburn Aerodrome and takes you along closed roads through flat and rather uninspiring countryside. Even for a roadie like me it was rather grim, with the only tiny incline being provided by a bridge over the railway, twice. A misty morning made way for beautiful sunshine which on this sort of race was not particularly welcome.
Well organized with excellent parking, 3 water stations, and a nice medal and T-shirt at the end, I could recommend this to anyone who needs a flat road race, as it does exactly what it says on the tin.
I used this as a training run and did not look at the time until I crossed the finish line, instead I tried to run on heart rate and perceived effort. I struggled with a hamstring niggle, perhaps that is my excuse for being 3 minutes outside my best time, as I had quietly hoped to do better after a summer of marathon training.
Nice to see Sue Williamson, no other Harriers there today.
Results ...

(1   1:07:44 Dominic Shaw, New Marske Harriers) 
770  2:02:18 Petra Bijsterveld
1013 2:16:48 Sue Williamson
1218 ran

Ilkley Aquathlon, Sat 19 Sep
Well done to Gaenor & Steve Coy, and all the helpers who made the 4th Ilkley Aquathlon, jointly organiesed by us and Ilkley Swimming Club another great success for the Club. Results
World Mountain Running Championships, Sat 19 Sep
Well done to Tom Adams, part of England's Bronze medal winning team at the World Championshiops, held this year in Snowdonia. Other Harriers results later ....
Three Shires fell race, Sat 19 Sep

(1  1:56:44 Ricky Lightfoot, Ellenborough)
25  2:14:52 Dave Wilby
57  2:30:51 Dan Wilkinson
96  2:44:21 Helene Whitaker
105 2:45:50 Kate Archer
150 2:58:46 Paul Calderbank
234 3:29:17 Chantal Busby
270 finished

parkruns, Sat 19 Sep
From Petra Bijsterveld ... Results ...

Albert parkrun, Middlesbrough
(1  16:38 unknown)
53  23:03 John Marshall
261 ran

Harrogate Stray
(1  17:32 Mark Bryant, Leeds City)
171 26:10 Julie Elmes
377 ran

Hilly Fields, Lewisham
(1  17:34 Chis Ho, U/A)
2   17:52 Alex Hirst
198 ran

Skipton Aireville Park
(1  18:12 Lucas Payne, Barlick Fell Runners)
60  26:51 Kathryn Sugden
88  29:23 Michelle Snow
146 ran

Yorkshireman, Sun 13 Sep
Or rather Half-Yorkshireman, 4 Harriers in the shorter race (BL fell, 14.8M/1750'). Results ...

(1  1:37:22 Joe Baxter, P&B)
17  1:54:13 Nick Richardson
142 2:39:25 Richard Morris
236 3:31:57 Sue Williamson
237 3:31:58 Julie Elmes
254 finished

Budapest Half Marathon, Sun 13 Sep


(1   1:06:27 Henry Kemboi, Kenya)
89   1:21:15 Alex Hirst
19   1:28:08 Jane McCarthy
1479 1:45:37 Phil Hirst
425  1:53:04 Jane Bryant
1800 2:12:13 Jacqui Weston
9074 finished

Great North Run, Sun 13 Sep

(1      59:22 Mo Farah)
2527  1:39:32 David Howe
6169  1:50:03 Christine Cox
6509  1:50:50 Chris Cunningham
9509  1:56:51 Robert Meadows
10289 1:58:08 Gemma Buckley
12748 2:02:14 Nicky Hopwwod
14350 2:05:07 Charlotte Smithson
24730 2:23:37 Sarah Lewthwaite
50,000+ finished

World Masters Mountain Running Championships, Sat 12 Sep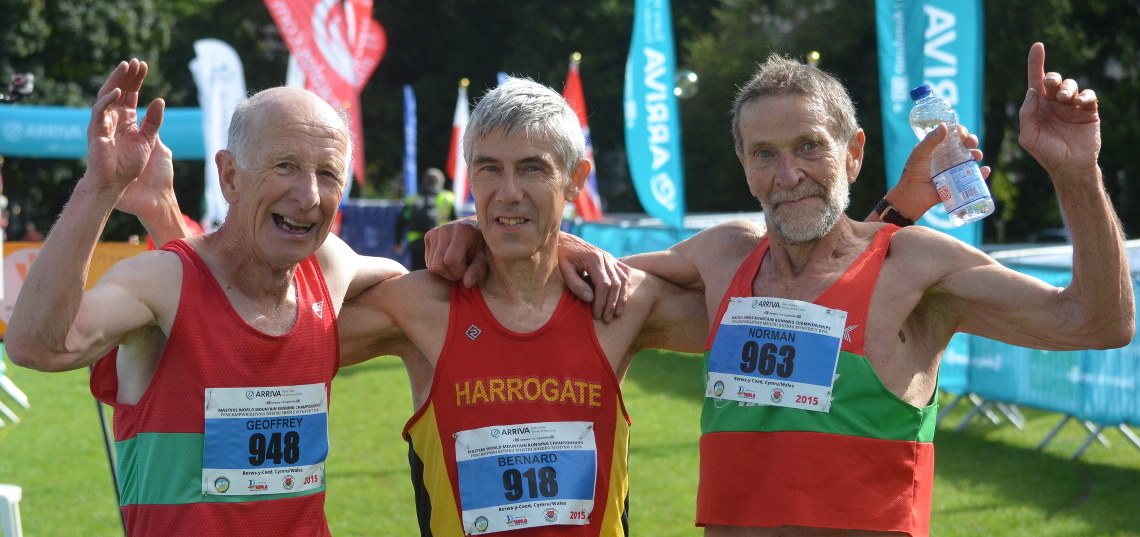 Ilkley Harriers now has TWO WORLD CHAMPIONS from the WMRC's World Masters Championship in Snowdonia! Norman Bush in the V75 class, and Geoff Howard V70. Results ...

8.7km 55+
(1 40:35  Franz Prager, Ger, M55)
55 48:57 Norman Bush 1st V75
56 48:57 Geoff Howard 1st V70
205 finished

10.6km 35+
(1  42:04 Zac Freudenberg, AV23)
71  50:36 Mark Mon-Williams 15th V50
147 58:15 Sally Malir 5th F50
158 59:32 Jann Smith 12th F45 
217 finished

Rombalds Romp, Sat 12 Sep
From Dan Wilkinson ... Some great results with Kelly Wilby 3rd and Sarah Edwards getting 3rd open prize. David Foyston was 6th in the trail race and John and Dan Hayes battled it out finishing a minute apart and both in the top 20. I managed 2nd place but didn't quite have the legs or lungs to match Wharfedale's Lee Athersmith. Results ...

(1 45:30 Lee Athersmith, Wharfedale)
2  46:12 Dan Wilkinson
12 50:49 Jamie Hutchinson
15 52:09 John Hayes
18 53:06 Daniel Hayes
33 58:05 David Foyston
48 64:11 Kelly Wilby
65 67:11 Sarah Edwards
80 72:07 Sue Morley
114 finished

Great Westmorland Trail Race, Sat 12 Sep
From David Chandler ... A great trail race through the rolling Cumbrian hills, the early wind and rain gave way to blue skies and a beautiful afternoon. After a few weeks out this certainly blew away the cobwebs with 7 miles of very runnable undulating trail and a superb 'Westmorland afternoon tea' at the finish. Many thanks to the Howgill Harriers!
Results to follow, provisionally 20th in around 54:24.
Marathon Du Medoc, Sat 12 Sep
From Neil Bloor, 7th Nov ... Just sobered up enough to write a report from this very different running (ahem) event. Given that it fell the day before my 50th birthday I persuaded Alison to join me in this adventure and was lucky to get places for us both as it sells out very quickly. Having fuelled up the previous night with pizza and a couple of glasses of Pauillac (acclimatization) we approached the start line with none of the usual pre-race nerves, yes 26 miles is still a long way but it is different when you have no time expectations - the only target is to beat the official back markers to ensure that you get a medal and finishers bottle of wine. The atmosphere at the start was great, everyone in fancy dress ('dressed to the nines' was this year's theme) and people from many different countries. The first refreshment stop was Chateau Laffite Rothschild which created a real scrum - too good a wine to miss but the race had not thinned out at all. For anyone who doesn't know, yes this run really does give out glasses of wine, 20 tastings featured this year, served at magnificent chateaux, usually accompanied by a band, lots of food, and some water for good measure. We managed about half of the wine tastings, enjoyed the oysters around mile 20, missed the steak at mile 24, and finished 'in time' :-)
Clearly all about fun and not a PB race, the course had no real hills (to Yorkshire people), row upon row of vines, and this year had some quite muddy sections. We were glad of the rain that came for much of the course as the humidity felt draining in the first few miles - apparently last year was 37deg which would have been very hard ! We had a really good time and would certainly suggest it is one for the bucket list - if anyone wants any tips about entering etc happy to be contacted (hic).
parkruns, Sat 12 Sep
From Petra Bijsterveld ... A long awaited win at Skipton for junior Oscar Stapleton this week! Results ...

Leeds Woodhouse Moor
(1  16:24 unknown)
131 25:28 Tom Worboys
333 ran

Skipton Aireville Park
1   18:31 Oscar Stapleton (junior)
32  23:19 Harry Sime
33  23:20 Robert Sime
69  27:32 Kathryn Sugden
113 ran

Wetherby Run 10k, Sun 6 Sep

(1  33:56 Mike Burrett, Leeds)
84  42:42 Michael Duffield
101 43:44 Dave Robson
156 46:19 Phil Hirst
299 51:53 Peter Lewis
705 finished

This was an Ilkley Harriers Race League counter.
Bradley fell race, Sun 6 Sep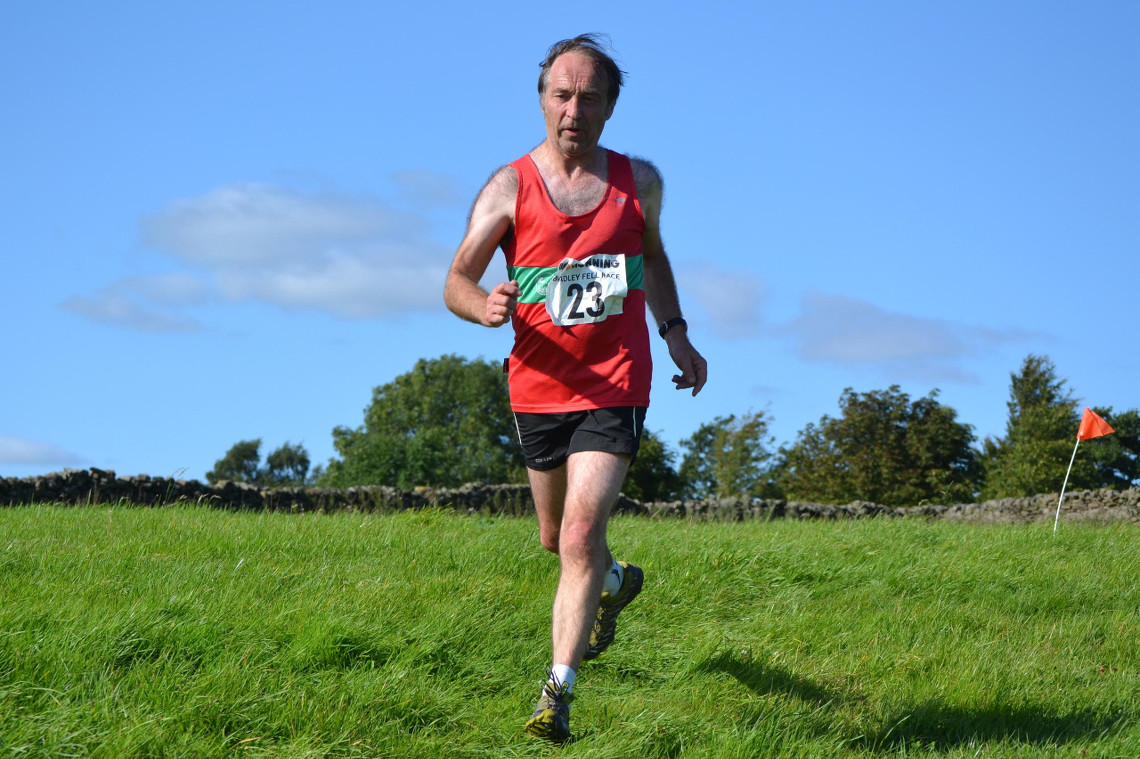 (1 24:25 Craig Shearer, KCAC)
50 38:45 Kelly Wilby
52 38:57 Sue Morley 1st F60
60 43:16 Eric Morley
66 finished

Ben Nevis fell race, Sat 5 Sep
From Peter Shields ... Nick Pearce, Kate Pearce and Pete Shields went up to Fort William this weekend to run the Ben Nevis Race. This was Kate's first run at the Ben where she handled the ferocious ascent and decent of the mountain as if it had been a regular event in her diary. Nick and Pete have been regular contenders to this race over the years, usually looking at different forms of transport to get there. Previously they have cycled there from Lands End and also walked from Glasgow. This year they caught the night sleeper to Inverness and then mountain biked over the Great Glen to Fort William. To say the route was technical in mountain biking terms would be an understatement but after 11 hrs of riding the bikes survived the trip, as for the riders the jury is still out!!
The race was held in great conditions, quite unusual for this event as for once the tops could be seen from ground level, there was still a little residual snow left on the mountain as a reminder how delicately balanced Mother Nature can be.
Nick and Kate got off to a great start, climbing to the summit with no great problems. The descent covered various stretches of different surfaces (big unstable boulders followed by fast moving scree, all at a steep angle).
Once that had been overcome there was the infamous Red Burn, equally as steep as the scree this was sodden grass that allowed no moment to relax. Placing their feet needed a real concentrated effort but that did not stop everyone dramatically falling or sliding which knocked any momentum the runners had going forward. There was still a difficult path to encounter where concentration and good foot placement were essential. Finally there was the 'coup de grace': three quarters of a mile of undulating tarmac road, where everyone struggled in one form or another, treading water would be the best generalisation.
Nick and Kate coped with all of that and also looked remarkably healthy running to the finish. Nick finished in 2hrs 10mins taking a very prestigious first vet 60 title. Kate finished in a time of 2hrs 25 mins a most commendable first attempt.
Peter had a different experience, health not being too good of late. He got to the start line with a plan but that was quickly changed as the race climbed, he pulled out after 30 mins of climbing but was luckily enough to see the winner, Finlay Wild, descend the mountain at an unbelievable pace, finishing in a time of 1hr 31mins, This was his sixth consecutive win! Rob Jebb of BIngley Harriers was second,, six minutes later. Diane Wilson of Dromore AC was First Lady in what looked to be an effortless 2hrs and 41seconds.
One has to applaud Nick Pearce, his results over the last year have been outstanding, winning many prestigious races within his age group. Nick now heads to Wales next weekend for the World Masters race where he must go in with a great deal of confidence.
Results ...

(1 1:30:56 Finlay Wild, Lochaber)
125 2:10:54 Nick Pearce 1st V60
232 2:24:55 Kate Archer
486 finished

Howgills Capricorn, Sat 5 Sep
From Dave Wilby ... The Capricorn was a score navigational event set this year in the perfect fell running territory of the Howgills, and offering courses of 3, 4 or 5hrs. The 5hr course was solo only and I managed to claim 8th place with 348 points. Jamie Hutchinson was 11th with 323, and Outi Kamarainen was 14th with 305. More importantly Outi also took the ladies title in a very closely fought battle, and with it a superb trophy displaying some very famous names.
In the 3hr event, pairs were permitted and Steve Turland teamed up with Fionnuala Swan to claim 3rd overall with 189 points.
parkruns, Sat 5 Sep
From Petra Bijsterveld ... Results ...

Bradford Lister Park
(1  16:47 Will Kerr, Saltaire Striders)
120 25:43 Alex Hyde
431 ran

Harrogate Stray
(1  18:33 Stephen Ellison, U/A)
133 27:02 Julie Elmes
327 ran

Hilly Fields, Lewisham
(1  17:32 Mark Lally, Beckenham RC)
2   17:55 Alex Hirst
179 ran

Skipton Aireville Park
(1  17:21 Tom Brewster, Clayton le Moor Harriers)
23  21:52 Lewis Carr (junior)
66  25:53 Dylan Shinn (junior)
100 27:58 Kathryn Sugden
115 29:13 Dylan Carr (junior)
185 ran

Ilkley Incline, Wed 2 Sep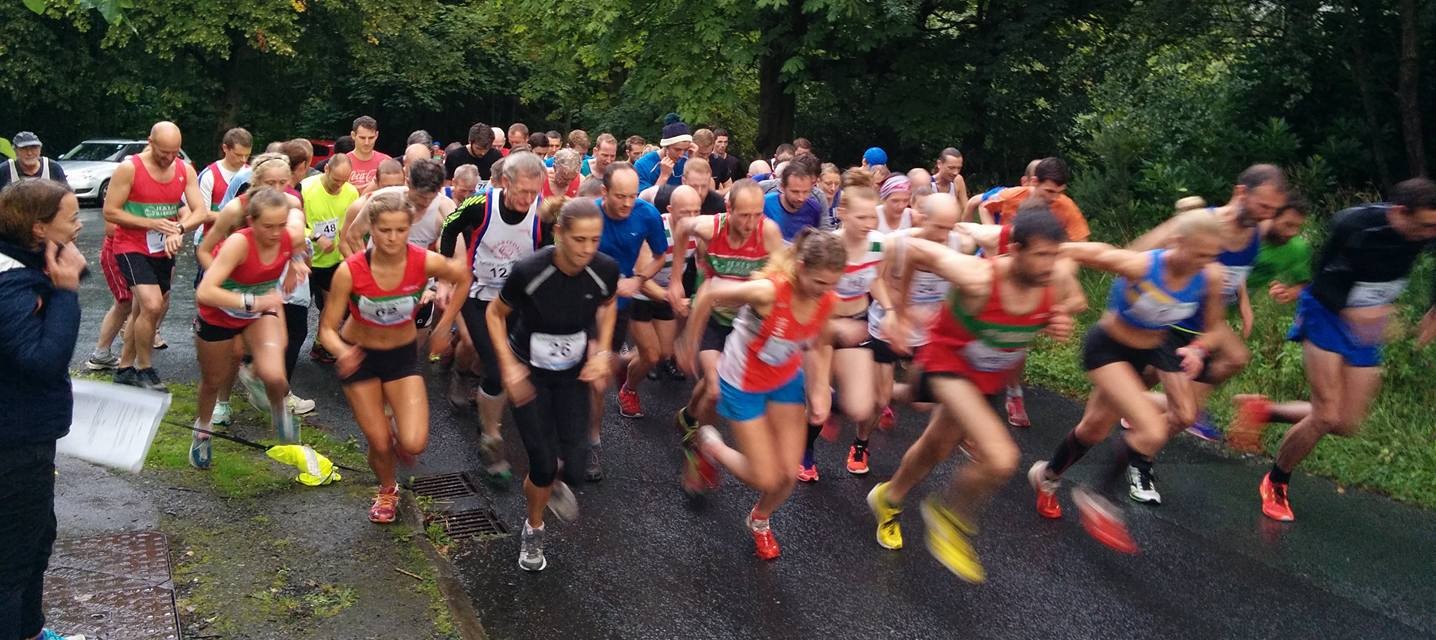 80 runners, and Tom Adams and Emma Clayton just outside the course records. Thanks to all the runners and marshals, and a big thank you to new organisers Helen & Dick Waddington.
This was an Ilkley Harriers Race League counter.
From Dick Waddington ... hank you to all of the 80 runners who turned out on what was at times a pretty grim night. We were delighted to see so many of you turning up to do this short but tough race. The conditions were very wet so sadly no records broken this year - both Tom Adams and Emma Clayton (current women's record holder) missed out by just 2 seconds each, but what incredible performances from them both. Performances were amazing across all categories and ages, so well done to you all.
Huge thanks go to all the volunteers who helped make this race possible. This was our first time organising this (or any!) race and we were both nervous about mucking it up! We could not have managed without such strong and capable support. In particular Sarah Hayes, Alison and Nea Weston (registration) John Hayes (tent support and marshalling) Julie, Toni and Lana Melechi (marshalling and finish), Neil Chapman (timing and finish), Rachel Carter (finish), Andy Jackson (finish), Jane McCarthy (results), Shirley and Paul (results), Rob King and Andrew McCarthy (super-quick MTB results delivery service), Jane Bryant and Jacqui Weston (marshalling and support) and Sarah Hayes again (sweeper). If we have forgotten anybody please forgive us!!!
We had some great prizes this year from a bigger spread of generous sponsors - thanks go to the Complete Runner, Ilkley Physio, Fuggle & Golding and Appleyard Lees.
It's been a steep learning curve organising a race for the first time, but hopefully next year will run like clockwork!
The senior race was preceded by the Junior Sprint fell Relays, fast and fun with 19 teams, with new organiser Jane McCarthy, junior sprint relay results.
Evening training, remember to 'Go with the Fluo'
Notice: The evenings are getting dark now and it is important on the evening Club runs to give a lot of consideration to your visibility to car drivers.
A fluorescent top helps you stand out in poor lighting conditions.
Reflective trim on your clothing will show up in car headlights.
A flashing red LED light attached to your clothing can help too (but take care with head-torches as they could dazzle car drivers).
Kilnsey Show fell race, Tue 1 Sep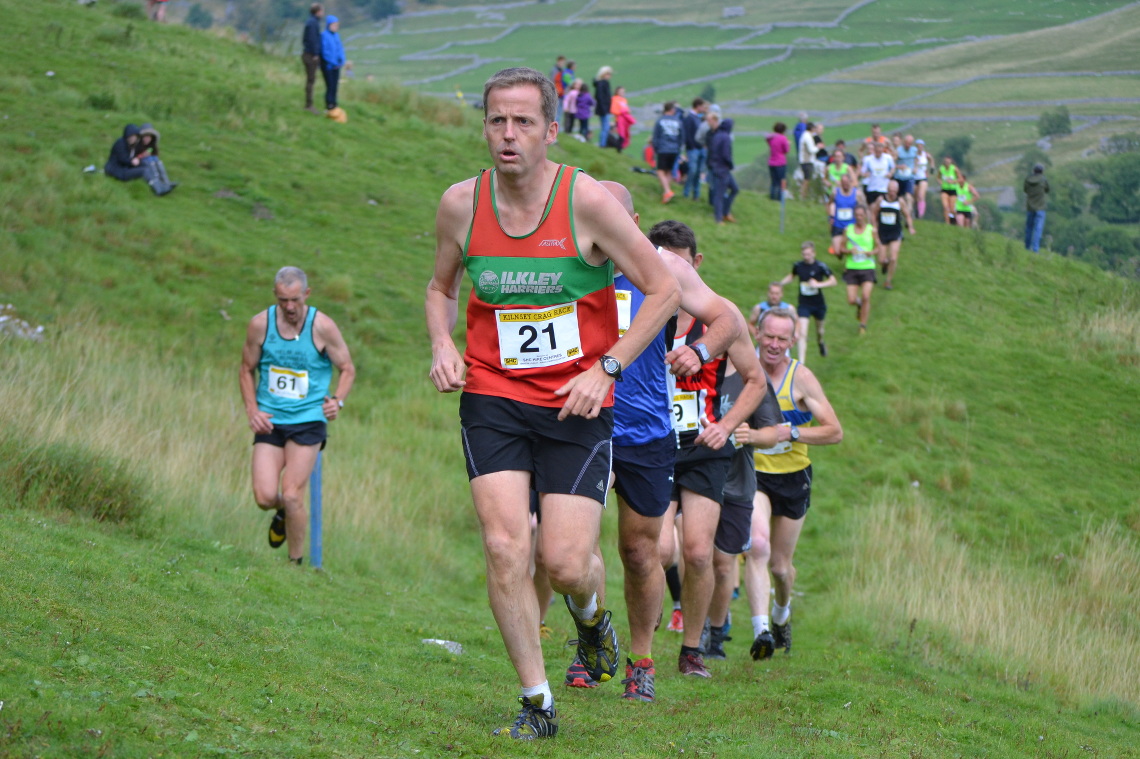 (1  8:01 Simon Bailey, Mercia)
27 10:54 Steve Turland
86 finished

---