Ilkley Harriers news archive 2014
Ilkley Harriers of the Month, April
Emma O'Looney
Beginners Group
Other nominations were:
Alison Weston - 3 Peaks
Will Buckton - 3 Peaks and Pendle
Tom Adams - Bunny Runs and Pendle
Ben Shepherd - 3 Peaks
Tom Warboys - 1st Marathon and fancy dress
Nicky Green - London Marathon
Dan Wilkinson - 1st Marathon and under 3 hrs
Dave Wilby - 1st in Winlatter extreme Duathlon
Nick Pearce - 3 Peaks
Jane McCarthy - 3 Peaks
Adela Reperecki - Guiseley Gallop
Paul Wood - website and on-going support
Andrew Sheldon - Harrogate Race League
Brian Melia
Ultra Trail Mt Fuji
More Harriers of the Month ...
Dubai Track Series - 5000m, Mon 28 April
Rob Cunningham reports ... I've not picked the best time of year to get back into racing out here, as summer arrives opportunities seem to be few and far between.
Having signed up for a local track series, moonlighting by running on behalf of the 'Dubai Road Runners' club, first up on Monday evening was the 5,000m. The sun was long down by the time the men's race started, however it was still much warmer than for the weekend's 10k. I'd never raced on a track before and probably started a little too quick, getting dragged around by some fast guys at the front. After the first mile I settled into an even pace and finished midway down the pack in 13th (out of 34) in 18:46.24, picking up a few points as the final counter for my adopted club.
The winner lapped the entire field, finishing streets ahead in 14:59.07. Results
Fountains 10k, Sun 27 April
From Fiona Schneider ... ... a mixed terrain undulating 10km, bog, road and track. I can recommend this friendly small community race around Grantley.

(1  35:3 Lee Dalton, Nidd Valley)
217 61:56 Fiona  Schneider
295 ran

Three Peaks Race, Sat 26 April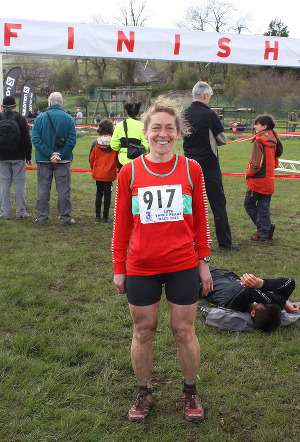 From Alison Weston ... Great results for Ilkley Harriers at the Three Peaks Race and a big thanks for the amazing support from Harriers all the way round the 23 mile route. Mike Baldwin was presented with an engraved picture for completing his 21st Three Peak's race last year, the ladies won the team prize and Nick Pearce was 1st Vet 60. Will came an amazing 43rd with a 'first class' time, with Dan only 4 minutes behind. Ben, Dick, Jane and Helen all improved on their previous times by an amazing amount and Sarah did her first Three Peaks race easily under 5 hours. (And thanks Helen and Jane for the lovely '15' cake - delicious!!)
From Will Buckton ... The 60th Anniversary race attracted a great number of spectators which added to the usual atmosphere at the road crossings and Ingleborough. Conditions were tough with energy sapping mud on the climb up Whernside, and the last few miles back to Horton in Ribblesdale were into the wind. Well done to Alison Weston who ran her 15th Three Peaks.
From John Hayes ... Well done to everyone in the 3 Peaks. Looking at the times, I suspect a lot of PBs were recorded. I adopted my usual race strategy of setting off much too quickly and then saying hello to the many of you who passed me later on. I also wondered if I was being weighed down by too many sweets in my bumbag. But going up Ingleborough I ate them all to get me up the steep bit. Without my little feast of sweets and the wonderful spring water given out on the ridge I'm not sure I would have made it back. It's a great event and that feeling of euphoria when you finally arrive in the finish field is hard to beat!
Some photos from Graham Weston.
Ilkley had the first ladies team. Results ...

( 1 2h53:26 Ricky Lightfoot, Salomon)
43  3h39:20 Will Buckton '1st class', 3rd U25
63  3h43:55 Dan Wilkinson
90  3h49:58 Ben Sheppard
99  3h52:15 Dick Waddington
112 3h54:52 Nick Pearce 1st V60
152 4h02:34 Jane McCarthy
191 4h08:16 Jann Smith
213 4h09:49 Jamie Hutchinson
255 4h16:22 Jez Hellewell
258 4h16:44 Alison Weston
261 4h16:51 Rebecca Mon-Williams
307 4h23:16 Duncan Cooper
332 4h25:46 John Hayes
493 4h51:38 Kate Archer
522 4h55:06 Sarah Edwards
551 4h59:55 Adela Reperecki
585 5h07:42 Helen Waddington
588 5h08:08 Richard Morris
704 finished

Dubai Desert Road Run 10k, Sat 26 April
From Rob Cunningham ... I took in my first race in Dubai yesterday, a road 10k staged over a very flat two-lap course. The temperature topped 37 degrees later in the day, though the race started at 7am when it was much cooler. I finished 4th in 39:11. The winning time was 37:56.
Ultra Trail Mount Fuji, 25-27 April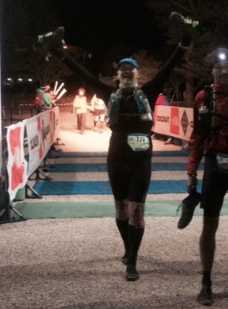 Brian Melia reports ... I returned to Mount Fuji in Japan for the 2014 race again staying with my race pal Chiharu Watanabe, as last year. Preparation had been difficult, but I felt fine on the day. The race direction had changed this year and the route lengthened! This was for conservation in the world heritage site.
I didn't seem bothered by this as I assumed the most technically difficult sections last year near the end would be out of the way early on and Chiharu had raced his direction around Mt Fuji before. The organisation is fantastic with a really good friendly feel. All the aid stations have to be experienced. The Japanese organisers and suport are amazing.
We left Kowaguchiko at 3 pm Friday in 24 degrees. I tried to settle in to an easy pace, but I think it became a little too fast. On the first long descent down to the first aid station (18k) my right quad started to be sore. I then realised at the stop I would struggle to get around. I had this nagging feeling I should quit, but after 8 or 9 hours of continuing I put this out of reach. I changed my running style and plodded on. There is a very difficult section between station 8 and 9 with a huge climb and ridge running for 4 hours. The heat was massive and I ran out of water half way along. I was lucky to get down in the end, but decided I needed to completely rehydrate. After 5 litres of fluid intake and a rest of 1 hour I left. There were runners pulling up all around at various points due to conditions, but finally I made it. Just over 33 hours I think about 127th out of 1700 starters. I really wanted to race under my last year's time. Realistically the course was too difficult for me to do that even with good quads. The the extra mileage and route alteration also added to the difficulty of this task. However, I am proud to have finished.
Chiharu had stomach problems, but still made it round in just over 26 hours, finishing 27th.
Mount Fuji is a magical world heritage area. You feel its presence over you all the way round the trail. This is now deservedly part of the world series www.ultratrailworldtour.com. For more details on Mt Fuji see www.ultratrailmtfuji.com.
There is something very special about Japan and Mount Fuji, it is hard to describe , but if you ever visit this race prepare to have your mind altered.
parkruns, Sat 26 April
From petra Bijsterveld ... Some good parkrun results: Sally Malir was the first female home at Leeds parkrun this week, and Alex Hirst is getting a PB every week in Lewisham! Results ...

Bradford Lister Park
(1   16:55 Gregon Clarkson, Kingston upon Hull AC)
28   22:06 Joe Reynier (junior)
254 35:30 Abbie Reynier (junior)
338 ran

Leeds Woodhouse Moor
(1   16:53 Thomas Hughes, U/A)
28   20:13 Arthur Reilly
29   20:16 Sally Malir 1st F
42   21:20 Cameron Reilly (junior)
97   23:38 John Marshall
316 ran
   
Hilly Fields, Lewisham
(1   18:44 Gary Maskell, Leigh on Sea Striders)
6    19:21 Alex Hirst
135 ran

Skipton Aireville Park
(1   17:54 Lucas Payne, Barlick Fell Runners)
44   28:33 Alex Millar
64 ran

Dick Hudsons fell race, Thu 24 April
Neil Smith reports ... on the first race in the BOFRA season ...

(1 40:04 Neal Crampton, bike)
(3 46:25 Jack Smith, Wharfedale)  course record
23 59:24 Neil Smith
26 59:57 Tony Melechi
51 79:15 Amanda Newman
51 finished

Bunny Relays, Tue 22 April
Tom Adams ran the fastest ever leg in a Bunny Relay, and his team set a new team record too (beating off the Lancashire raiding party!) See all the results and photos on woodentops.org.uk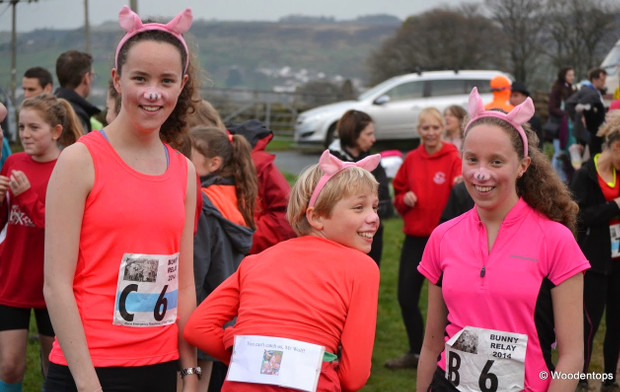 Boston Marathon, Mon 21 April
Hilda Coulsey reports ... Americans do this thing rather well; honouring the events of last year, celebrating 'Boston Strong' and ensuring the runners had an 'awesome' experience. I came in at 4:05:48. It's my third and last marathon - oh yes!
Guiseley Gallop, Sun 20 April
From Petra Bijsterveld.......
A good race was had by those Harriers who turned out for this annual Easter Sunday gallop, a counter in the
Ilkley Harriers Race League
this year. Tom had an emphatic win being 2 minutes clear of Scott Harrington of Otley in 2nd place. Rachel Carter and Adela Reperecki raced well and both were first in their age categories. As I ran the Baildon Boundary Way two weeks ago along much of the same route this felt like a walk in the park in comparison, with a bottle of ale at the finish to boot. Happy Easter!
Results ...

1     33:59  Tom Adams
85    45:40  Rachel Carter 1st F35
160   50:48  Adela Reperecki 1st F50
220   54:03  Will Worboys
257   56:29  David Green
259   56:32  Peter Lewis
323 1:00:24  Sharon Meadows
324 1:00:27  Petra Bijsterveld
339 1:01:36  Sue Williamson
378 1:04:37  Julie Elmes
461 finished

parkruns, Sat 19 April
From Petra Bijsterveld....... Results ...

Bradford Lister Park
(1    17:47 Will Kerr, Saltare Striders)
39    21:49 Joe Reynier (junior)
56    22:31 Neil Bloor
196  28:07 Alison Bloor
312  34:44 Abbie Reynier (junior)
428 ran

Harrogate Stray
(1   16:32 Jamil Parapia, Otley AC)
170 26:51 Petra Bijsterveld
323 ran

Hilly Fields, Lewisham
(1  18:47 Daniel Stauber)
8   19:54 Alex Hirst
111 ran

Skipton Aireville Park
(1  16:59 Chris Singleton, Trawden AC)
5   19:52 Jonathan Schneider
8   20:28 Oscar Stapleton (junior)
56 27:43 Fiona Schneider
78 ran

Salford 10k, Fri 18 April
From Mark Iley ... four Harriers ventured across the border to the popular fast 10k road race, in search of some improved times to confirm the increased levels of training they have done of late. Conditions were almost ideal, just a slight breeze in place, but almost clear skies and the temperature improving even during the race time.
Despite the above most of us were disappointed with the times for the day, hoping for better but that said, some improvement seen. Results ...

( 1 30:03 M Aspinall, Tipton Harriers)
120 38:06 Mark Iley       
193 41:04 Adrian Bastow   
199 41:19 Tom Worboys   
227 42:56 Beth Massey    
575 ran

Bunny 3, Tue 15 April
From race organiser Dave Woodhead ... Tom Adams had just made the dash through rush hour traffic after landing at Leeds Bradford Airport at 6.30pm to make the 7.30pm start line with his wife Joanne where they had been celebrating their wedding anniversary in Spain. The adrenalin was obviously still coursing through him as he stormed to his 12th Egg Stage win in 3:23, but couldn't deny Jack victory in the final stages. Second place here for Tom made him the series winner and he will finally find himself on the Bunny Beer label for 2015!
Results and photos on woodentops.org.uk

(1  14:50 Jack Simpson, Leeds)
2   15:01 Tom Adams
18  17:09 Jack Wood
25  17:23 Euan Brennan
32  17:49 Ruaridh Mon Williams
61  19:02 Lucy Haines
86  19:46 Tilly Melechi
97  20:00 Robbie Matthews
107 20:22 Lucy Jacques
113 20:33 Cameron Reilly
136 21:01 Arthur Reilly
152 21:41 Lucy Williamson
162 22:21 Joanne Williamson
173 22:35 Andrew Jackson
182 22:46 Adela Reperecki
204 23:28 Sam Craske
214 23:48 Edward Bickerdike
227 24:24 Emily Elmes
229 24:26 Joanne Adams
242 24:55 Caroline Craske
243 25:02 Ella Shouler Harris
248 25:11 Charlie Tiger Smith
249 25:16 Jann Smith
257 25:26 Allison Ricci
288 26:59 Sophie Brown
303 27:47 Sue Williamson
310 28:43 Sally Wright
316 29:51 Julie Elmes
321 30:06 Angel Smith
323 30:37 Sue Bickerdike
335 finished

London Marathon, Sun 13 April
Harriers' results with times every 5k (just enter "ilkley" in the Club box, click on the runner's name for their 5k splits and finish times).

(1    2h04:29 Wilson Kipsang, Kenya)
784   2h53:56 Nicky Green 4th LV40
1069  2h57:33 Derek Oliver
1663  3h03:42 Andrew Merrick
2254  3h09:36 Sally Malir
3899  3h23:01 Steve Coy
10141 3h54:29 Helen Horton
10399 3h55:26 Nigel Rapper
11190 3h58:00 Val Kerr
16581 4h20:23 Sharon Meadows
16572 4h20:23 Paul Sugden
18536 4h28:14 Emily Kerr 
18840 4h29:29 Will Worboys
22863 4h47:18 Rebecca Moores
30576 5h32:39 Mike Picken
35761 finished


Nicky's time set new club records for LV40, LV35 and Ladies Open too, beating Sally Malir's 2:58:15 from Blackpool in April 2008); whils Sally set a new LV45 record, beating her time from London last year by 10 seconds.
New Beginners Program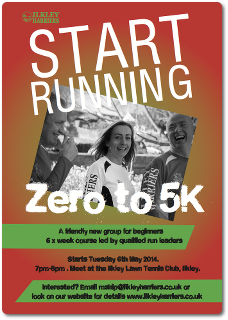 Wants to start running?
Ilkley Harriers is organising a friendly 6-week course for beginners, starting Tuesday 6th May.
Read all about it on the dedicated website page for the Zero to 5k Challenge.
Club members: if you know someone who might like to take part, let them know - there's a PDF poster you can print or email on the page.
Coledale Horseshoe, Sat 12 April
Will Buckton reports ... on this AM 13.7km/915m fell race. Wild conditions and zero visibility up high on Grisedale Pike and Eel Crag, but lovely views and running when out of the clouds, with a great descent off Barrow to the finish. Finished ahead of famous ultra runner Scott Jurek but I guess he was just doing it as a warm up for his Bob Graham Round which he started the following day. Results ...

(1  1h12:20 Rob Jebb, Bingley)
65  1h33:07 Will Buckton
202 1h55:44 Jenny Dybeck U23
274 finished	

parkruns, Sat 12 April
Petra Bijsterveld reports ...Some good results for the juniors this week with Euan Brennan coming 3rd at Harrogate parkrun. Results ...

Bradford Lister Park
(1  17:12 Andrew Bedford, Saltaire Striders)
123 25:26 Sarah Haines
400 ran

Harrogate Stray
(1 18:02 Lewis Bramley, U/A)
3  18:27 Euan Brennan (junior)
232 ran

Skipton Aireville Park
(1 17:34 Nick Treitl, Barlick Fell Runners)
5  20:06 Oscar Stapleton (junior)
8  20:44 Cameron Reilly (junior)
10 21:05 Jonathan Schneider 
14 21:40 David Schneider
44 27:36 Fiona Schneider
46 27:47 Alex Millar
71 33:03 Amy Foy (junior)
88 ran

Wensleydale Wander, Sat 12 April
Jez Hellewell reports ... Me & Toni Melechi had a crack at this on Saturday, starting in Leyburn. Toni got a stitch jogging 200 yards to the start which didn't bode well. 22.4 miles & 1600 feet of climbing. It's the first time Toni has been over 20 miles in a few years & he looked very comfortable trotting home in 3:57 as we crossed the line together. Our actual moving time was 3.:8 for which I blame Toni as he waited at the BBQ checkpoint for a hot dog & onions !?!? Not the best route unfortunately as it was, mainly, all very low level on tracks & paths. With only one noticeable climb which, frustratingly, only went halfway up Pen Hill. Unfortunately the results/times were jumbled together for the 22 & the 12, with no way of deducing who was running what according to the organisers, so no placings.
The Woldsman, Sat 12 April
From Amanda Parnaby... 50 mile LDWA event from Driffield Showground. Windy but mainly dry until some rain arrived around 6 pm. The second 25 miles have more climbs and descents than the first 25 miles which was bad news for one lady I met around the 20 mile stage because her friend had told her the second half was flatter than the first half. A very well organised and enjoyable day with some lovely food provided en route. I arrived back in 13 hours 51 mins.
Yorkshire Warrior Challenge, Sat 12 April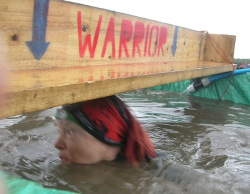 From Lyn Towers ... Superbly organised 10 mile challenge around lands owned by Home Farm, Rudding Lane, Harrogate. This doesn't include the mileage around the numerous challenges en route. Tremendous support and help from not only the marshals but also the competitors. The toughness of the course is evident by the number of Army teams - who were so helpful to me when I ran out of rope on a steep slippery ascent. "Hold my hand,' ordered a [handsome] army man. "I'm OK" was greeted with, "That's an order." So I did, and was jerked up to the top. "Use the rope to descend." Then my hero disappeared.
Everyone was so lovely. Thanks to Beth [SpringerXCollie] my training partner for speedwork and long runs, Pilates for core strength, and Emma's kettlebell class for upper body strength. Brilliant challenge. Time as yet not known - about 2h45 by my calculation. Intend to do it next year for my 70th birthday.
Bunny 2, Tue 8 April
From the results ... "Tom Adams fresh from finishing fourth at the English championship race at Pendle four days earlier returned to his favourite hunting ground and promptly won the Egg Stage for the 11th time in 3:27 and kept the pace too hot to allow Jack Simpson and Max Wharton any chance of victory. Tom went on to record his 6th Bunny win ahead of another impressive field of 290 on the dry cool evening, although underfoot it was tacky in parts. 'After being pipped to the post by James Hall on the final hill at Bunny One, I came up with a new game plan for Bunny Two, I said to myself, now don't go off too fast, think about the bigger picture rather than going flat out for the Egg stage. But when it came to the night, the plan went out of the window and as soon as Dave bellowed 'GO', I was running flat out after the Egg Stage win. With no James Hall running this week, I was able to take the win with Max Wharton hot on my heels, so I decided to let him pass and tuck in behind to preserve a bit of energy for the Long Lap. It wasn't long before I nipped back in front and went for it. I felt surprisingly strong after racing at Pendle Hill at the weekend and had enough left in the tank to power up the final climb and into the finish. With all the up and coming talent shining through at the Bunnies, it's hard to know how much longer I'll be able to keep up!' said Tom with his arms full of chocolate goodies." Full results and photos on woodentops.org.uk

1   15.17 Tom Adams
19  17:51 Ruaridh Mon-Williams
21  17:58 Euan Brennan
25  18:14 Mark Mon-Williams
45  19:22 Lucy Haines
48  19:40 Jemima Elgood
61  20:15 Richard Joel
70  20:36 Lucy Williamson
76  20:49 Malcolm Pickering
77  20:54 James Pickering
80  20:58 Tilly Melechi
95  21:31 Cameron Reilly
101 21:45 David Schneider
110 22:03 Jonathan Schneider
111 22:05 Rebecca Mon Williams
145 23:32 Joanne Williamson
166 24:14 Andrew Jackson
181 24:40 Adela Reperecki
201 25:39 Ella Shouler Harris
212 26:25 Nea Weston
220 26:36 Peter Lewis
247 28:14 Sophie Brown
249 28:27 Anna Pickering
254 28:53 Sally Pickering
267 30:18 Fiona Schneider
270 30:45 Sally Wright
285 finished

Baildon Boundary Way, Sun 6 April
Petra Bijsterveld reports ... Lovely running weather though rather muddy underfoot today for this ever popular multi-terrain half marathon. I had the good fortune to obtain Jane Bryant's entry (thanks Jane, and hope you will be off the bench soon) but found it tough going as I had not planned to do a HM until May so had not done the mileage. Got round though and there were some better times from other Harriers.
Ilkley Harriers won the female team prize (Kate Archer, Adela Reperecki & Jean Sullivan).
(Provisional) results ...
 
(1  1:23:39 Tom Hooper, U/A)
23  1:37:48 Jamie Hutchinson
55  1:45:07 Kate Archer 2nd F35
137 1:59:28 Adela Reperecki
169 2:05:40 John Coates
210 2:11:32 Jean Sullivan
236 2:16:21 Sue Bickerdicke
298 2:27:31 Petra Bijsterveld
342 2:42:10 Linda Wilson
369 finished

Blubberhouses 25, Sun 6 April
From Ben Sheppard... As the name almost suggests, Blubberhouses 25 is a 24 mile LDWA circular walk/run taking in the Washburn valley, Blubberhouses Moor, Bolton Abbey, Beamsley Beacon, Round Hill, Denton Moor and Timble. With three reservoirs, pretty riverside trails, rough moorland, lovely views of lower Wharfedale and the relaxed, sociable feel of LDWA events it was a tough but rewarding run. I came in twenty minutes after the winning time of 3:13. Will Buckton for once took his foot off the gas after a heavy week's training and racing. Amanda Parnaby also took part.
Whinlatter Xtreme Duathlon, Sun 6 April
From Dave Wilby ... I finally got back racing on Sunday, and was welcomed to the start line with my favourite weather of rain, wind & low cloud. The Whinlatter Xtreme Duathlon was new for this year and consisted of a 9km fell run up Grizedale Pike, although we were turned back just before the last push to the summit due to the wind, a 25km mountain bike taking in some of the Blue trails and all of the Red trails at Whinlatter, and a 9km fell run up and over the summits of Lords Seat & Barf to finish back at the visitor centre. Great event, well-marked, marshalled & organised. I had a surprise lead of approx. 1min after the first run, managed to limit my losses against the specialist mountain bikers and came into transition 2nd 90secs down, and then held it together on the final run to re-claim the lead and finish first by approx 1min 30secs from Chris Hope of Keswick Bikes. Pleasingly I just dipped under the 3hr barrier as well in 2:59:05. My first ever Duathlon and possibly not my last, great fun/weather/course/support, and a nice change to doing the same old races every year. Highly recommended.
Manchester Marathon, Sun 6 April
Dan Wilkinson reports ... This was my first road marathon, I have entered a number before but always been injured by race day, needless to say I was pretty happy to have made the start line this time. At the start we were greeted by a fairly strong southerly breeze, heavy rain was also forecast. The first 10 miles were generally into the wind and I worried that I was expending too much energy in the first half, which I finished in 1:29:11. Despite that I picked up the pace at the 13.1 mile mark and kept going happily at around 6:45 min miles until I hit the wall at 22 miles. Although the cooling rains never materialised, fortunately I had fuelled well and there was no way I was going to let the chance of a sub 3 slip away, so I ran through the cramp and made it through the line in 2:57:59. In 161 overall, Andi Jones Stockport Harriers won on 2:17:00
Steve Weston adds ... As a change from London I thought I would have a go at the Greater Manchester Marathon, billed as the flatest Marathon in Europe. Apart from a south westerley wind conditions were pretty good if a little on the warm side for (14 C). The race was started by Ron Hill who ran the first the 7 miles of the race. The race has clearly grown as I was expecting about 5,000 runners but there were apparently 10,000.
The race starts with a few loops round Salford to cover the first four miles then goes onto Sale and then Altrincham before returning to Manchester to finish outside Old Trafford. The race was well organised with water stops every 2 miles. These were stocked with Iconiq water pouches which are filled with pretty tasteless tap water but at least they are easy to use on the run (and they burst satisfyingly when you step on them) and my one comment is that I would have prefered markers every mile instead of every 2 miles! The course was fairly supported with plenty of crowds out in the communities, although there was a rural section at 20 miles where you were pretty much on your own. The wind was only troubling in a few sections as the course makes several changes of direction, but there were several energy sapping road bridges to climb so it didn't feel that it was as flat as London. Congratulations to Dan Wilkinson for running a great sub three and Simon Jenkins who ran sub 4 in his first marathon. Same old story for me I'm afraid as the 3mile pacer disappeared into the foreground about mile 20.

161  2:57:59 Dan Wilkinson
728  3:20:55 Steve Weston
1330 3:34:25 Tom Worboys
2061 3:48:08 Simon Jenkins
5084 4:51:41 Sally Lynch
Janet Smith

Lochaber Marathon, Sun 6 April
From Neil and Alison Bloor ... official results have not come out yet however despite atrocious weather conditions (heavy rain all the way and a freshening wind) we have both got new PBs at Lochaber Marathon on Sunday. Only around 350 runners took part on a flat course with the winner coming in around 2.40.
Wrap Up and Run 10K Harewood House, Sun 6 April
From Kevin Lawson ... The rain managed to stay away, allowing us all to enjoy the hilly and muddy 10K route!
Results ...

(1  36:46 Robin Outtersides)
251 52:04 Kevin Lawson
271 52:20 Christine Cox
469 56:51 Peter Lewis
852 63:27 Catriona Hawthorn
1504 finished

Skipton sprint triathlon, Sun 6 April
From Sarah Edwards ... Kate Wilkinson and I completed our first sprint triathlon this weekend in Skipton. The event was a 400m swim, 20k cycle and a 5k run. Results ...

(1  1:00:13 Matthew Nelson)
237 1:27:56 Sarah Edwards
377 1:35:35 Kate Wilkinson
618 finishers

Pendle fell race, Sat 5 April
The first event in this year's English Fell Championships and a counter in the Ilkley Harriers Race League

Men
(1  32:55 Tom Addison, Helm Hill)
4   33:36 Tom Adams
95  40:38 Gavin Lamb
140 42:39 Will Buckton
157 43:18 Nick Pearce 2nd V60
181 44:31 Dick Waddington 
256 49:56 Norman Bush 1st V70
340 finished


Women
(1 38:54 Victoria Wilkinson, Bingley)
29 45:30 Jane Mccarthy
32 45:50 Kate Archer
46 47:31 Jann Smith
138 finished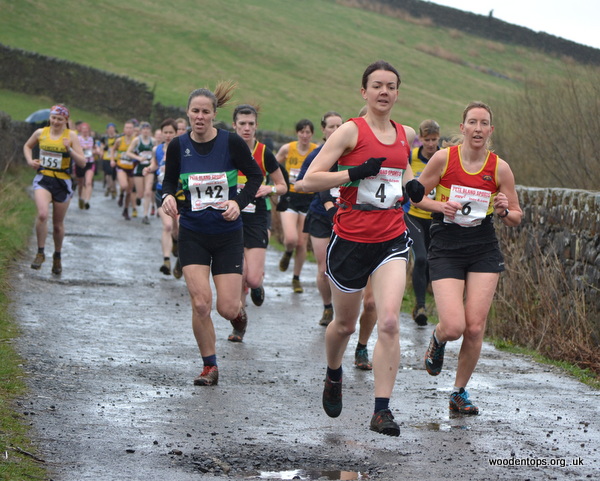 parkruns, Sat 5 April
Petra Bijsterveld reports ... Just a few Harriers to be found at parkruns this Saturday morning. 4th place and a PB for Alex Hirst in Lewisham. Results ...

Leeds Woodhouse Moor
(1   16:53 Jonny McKenna, Clayton-le-Moors Harriers)
129 24:07 John Marshall 
366 ran

St Albans
(1   17:51 Stephen Buckle, St Albans Striders)
53   23:23 Joe Reynier (junior)
201 36:55 Abbie Reynier (junior)
215 ran

Hilly Fields, Lewisham
(1 15:44 Alexander Amos Yee, Chrystal Park Triathletes)
4  20:05 Alex Hirst (PB)

Skipton Aireville Park
(1 17:24 Julian Hood, Skipton AC)
6  20:27 Oscar Stapleton (junior)
16 22:11 Lewis Carr (junior)
49 27:21 Alex Millar
74 35:16 Dylan Carr (junior)
78 ran

Bunny 1, Tue 1 April
In a thrilling race, Tom Adams was just beaten by rising young star James Hall, the two of them were well ahead of a quality field and with James only 8s outside the course record. Tom won the 'Egg Stage' (for the 10th time!), and a talented young team of Lucy Haines, Jemima Elgood, and Tilly Melechi took the ladies team prize. Results and photos on woodentops.org.uk.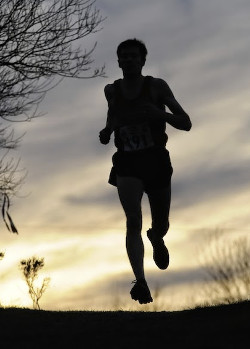 (1  14:49 James Hall, Wharfedale)
2   15:02 Tom Adams
24  18:03 Ruaridh Mon-Williams
26  18:18 Mark Mon-Williams
43  19:09 Lucy Haines     2nd lady
45  19:27 Jemima Elgood   3rd lady
60  20:14 Tilly Melechi
71  20:45 Lucy Jacques
72  20:45 Malcolm Pickering
73  20:46 Toni Melechi
81  21:06 James Pickering
82  21:22 Ben Joynson
91  21:54 Sam Wood
116 22:44 Edward Bickerdike
151 24:23 Andrew Jackson
174 25:02 Emily Elmes
182 25:30 Alison Ricci
220 28:31 Sophie Brown
222 28:46 Sally Pickering
232 29:48 Sally Wright
237 30:22 Julie Elmes
249 32:38 Anna Pickering
258 finished


---