Ilkley Harriers news archive 2014
Ilkley Harriers of the Month, March
Petra Bijsterveld
Club Night announcements
Other nominations were:
Jann Smith - Trollers Trot
Jane McCarthy - Wilmslow half
Tony Melechi - Trollers Trot
Nicky Green - Wilmslow half and Hull 20
Will Buckton
Ilkley Moor, Black Combe and Haworth Hobble
More Harriers of the Month ...
Cheshire 10k, Sun 30 March
Nicky Green reports ... Just a quick one to say I did the Cheshire 10k at Arley Hall. Lovely course, beautiful day and a really good race. Results ...
Nicky's time is a new ladies' Club record, not only beating Sally Morley's LV40 record of 36:57 from last year's Abbey Dash, but also beating Sarah Jarvis's LV35 and ladies' record of 36:34 from Middlesex in 2008.

(1  29:40 Mohammad Abu Rezeq, Altrinngham & D)
48  36:22 Nicky Green 1st L40, 2nd lady
1091 finished

Rivock Edge fell race, Sun 30 March
From race organiser Derek Wild (Keighley Scouts) ... a quick note to say:- Despite a clash with the 'Manorlands' 10k race and the large event in Ireland, a number of runners from Ilkley Harriers came and enjoyed a good fell race. Weather conditions were very good with a small amount of hill top mist. The sub 50 minute record time has yet to be achieved but was nearly achieved with a good time of 50m 54s by Jack Ross from Staffordshire Moorlands AC. Minor problems with a small number of marker / direction signs being removed did not dampen what all the runner said was a good race. Thanks to the runners. Results ...

(1  50:54 Jack Ross, Staffs Moorlands)
12  60:57 Alistair Barlow
15  61:32 Toni Melechi
42 finished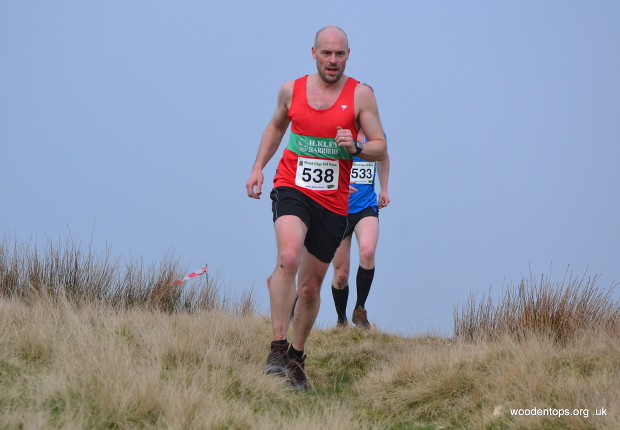 Keighley BigK 10k, Sun 30 March
Justin reports ... a HUGE turnout of twelve hundred runners took to the streets of Keighley raising £50k for the Manorlands Hospice in Oxenhope in the process. This event offers something for everyone with a fun friendly atmosphere for those new to running and an intriguing twisting course around the parks of Keighley that put a smile on the face of every finisher.
Pictures on woodentops.org.uk, and provisional results.

(1  34:27 Will Smith, KCAC)
12  39:02 Justin Phillips
318 54:20 Will Worboys
tbc 54:31 David Green
347 54:10 Ashleigh Phillips  (PB by 1m30s)
1194 finished

YVAA GP 2, Honley, Sun 30 March
Eric Morley reports ... the two of us completed a 6 mile hilly route which was beset by many stiles but a good long downhill finish. Results ...

(1  39:04 Dave Watson, Homfirth Harriers)
109 65:32 Eric Morley
122 finished
 
Ladies
(1  46:04 Mags Beever, Stainland)
34  65:49 Sue Morley
51 finished

Coniston 14, Sat 29 March
From Val Kerr ... A good contingent of Harriers travelled over to the Lakes for this well organised, undulating race, which follows the road around the shores of Consiton Water. Yet again the weather was favourable, cool at the start but lovely sunshine by the end. Coniston Old Man looked very picturesque in the background with the sun shining on the snow on the summit. Christine Cox had a good race, putting on a spurt of speed at the end to finish 2nd LV55.

(1  1:17:14 Ian Harding, Morpeth)            
46  1:33:18 Jonathan Sinclair                      
185 1:46:27 Ewan Welsh                               
449 1:59:39 Christine Cox (2nd LV55)
463 2:00:24 Val Kerr                                       
517 2:03:21 Dave Ibbotson                            
537 2:04:35 Emily Kerr                                   
657 2:11:22 Tim Ratcliffe                               
(1043 finished)

Heptonstall fell race, Sat 29 March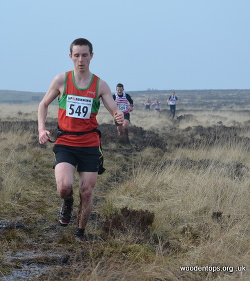 Will Buckton reports ... results from this popular BL 24km/1000m race ...

(1  1h54:10 Adam Osborne, Leeds City AC,
            new record)
14  2h14:16 Will Buckton
51  2h27:23 Jamie Hutchinson
140 2h59:08 Brian Melia
145 3h01:09 Adela Reperecki
206 finished

parkruns, Sat 29 March
Petra Bijsterveld reports ... A win for Tom Adams at Oxford Parkrun this week. Other Harriers ran at Lewisham, Skipton, Bradford and Harrogate. Harriers results ...

Oxford
1 15:38 Tom Adams
129 ran

Hilly Fields, Lewisham
(1 15:49 Benjamin Noad, Highgate Harriers)
11 21:09 Alex Hirst
113 ran

Skipton Aireville Park
(1  19:16 William Garrick, U/A)
6   20:52 Oscar Stapleton (junior)
14 22:03 Lewis Carr (junior)
61 30:42 Dylan Carr (junior)
66 31:15 Amy Foy (junior)
79 ran

Bradford Lister Park
(1  17:57 Oliver Daffern, Bradford Grammar School)
132 26:59 Samuel Craske (junior)
344 ran

Harrogate Stray
(1  17:00 Andrew Whittingham, Altrincham and District AC)
135 26:26 Petra Bijsterveld
243 ran

Wilmslow Half Marathon, Sun 23 March
Jane McCarthy reports... A big, competitive field enjoyed near perfect conditions on a fast, scenic course at Wilmslow Half Marathon today. Saw the red and green vest of Nicky Green on the start line but not again(!) as she produced another brilliant performance (and another PB?) in 1:20:01 - 4th lady and 1st LV40. Well done Nicky. I was looking for a first sub-90min and latched on to a group who kept a solid pace throughout. Finished in 1:27:12, 3rd LV40. Haven't seen any other Harriers on the results, but definitely nothing slow about this course - can recommend.
Nicky's time is a new ladies' Club record, not only beating her own LV40 record of 1:22:44 from last year's Great Eastern, but also beating Sarah Jarvis's LV35 and ladies' record of 1:21:08 from Fleetwood in 2008.
Dalton Dash, Sun 23 March
Tom Adams won the inaugural Dash, a 'challenging' 10k in the Yorkshire Wolds organised by Humber Triathletes, in 32:11 Photos, Results
Thirsk 10, Sun 23 March
Hilda Coulsey reports ... It was a breezy day but luckily we all got in before the heavy hail shower. Sally Malir was 2nd F45, Nick Pearce 2nd M60 and Hilda Coulsey 2nd F60 with Sally and Hilda breaking their own IH Club Records from 2013 (1h07:43 at Snake Lane 24/2/2013, 1h26:51 at Otley 12/6/2013). Results...

(1    50:43 Andrew Wiles, New Marske)
42    59:49 Dan Wilkinson
71  1:01:13 Steve Weston
112 1:04:46 Derek Oliver
132 1:05:49 Nick Pearce	
142 1:06:27 Sally Malir
238 1:10:31 Ken Souyave
401 1:19:09 Julie Watson
476 1:23:01 Hilda Coulsey
801 finished

PECO XC awards
Hilda Coulsey reports ... I attended the end of season presentations. Henry Heavysides was awarded 3rd M55 and Hilda Coulsey 1st F60. Congratulations to all who contributed to the Harriers coming 8th in the Men's Premier Division, 4th in the Ladies First Division, 9th in Men's Vets Premier and 6th Ladies Vets Premier. Lots of excellent Junior performances too.
Hardmoors 55, Sat 22 March
From Brian Melia ... If you like some stunning scenery and Ultra distance trail running check out the Hardmoors races organised by Jonathan Steele and Shirley Colquhoun. I completed the Hardmoors 55 on Saturday, run from Guisborough to Helmsley:
Race Start Guisborough Rugby Club
Roseberry Topping (OS 578 126) W (7 miles)
Bloworth Crossing Self-Clip (615 014) (18 miles)
Lord Stones (before climb up to Carlton Bank) (25 miles)
Osmotherley Village Hall (OS 456 971) (32 miles) CUT OFF - 1800HRS (9hrs)
White Horse (Sutton Bank) (OS 518 812) (45 miles) CUT OFF - 2200HRS (13hrs)
It has some spectacular views and is mostly runnable. I managed it in just over 10.5 hrs. It is a very well run race. www.hardmoors110.org.uk, check it out.
parkruns, Sat 22 March
From Petra Bijsterveld ... on this sunny Saturday morning I took myself to Fountains Abbey parkrun which started just a few weeks ago on the National Trust site. Well worth the drive up, as this 2 lap run, all on tarmac paths, is a real winner when it comes to location and scenery. The run takes place before the site opens to the public and it felt like a privilege to be there.
Other Harriers could be spotted at Leeds, Bradford, Harrogate and Skipton parkruns. Results ...

Skipton Aireville Park
(1 18:00 Chris Barnes, Blackburn Harriers)
6  20:57 Oscar Stapleton (junior)
10 21:42 Cameron Reilly (junior)
65 28:40 Alex Millar
68 29:02 Fiona Schneider
92 ran

Leeds Woodhouse Moor
(1  16:15 Peter Brookes, Holmfirth Harriers)
11  18:43 Stephen Coy
347 32:34 Will Worboys
406 ran

Bradford Lister Park
(1  18:06 Sam Kipling, U/A)
22  20:30 Lucy Haines  3rd female (junior)
207 27:42 Sarah Haines
466 42:26 Abbie Reynier (junior)
491 ran

Harrogate Stray
(1 18:14 Andrew Gardner, U/A)
78 23:30 Philip Hirst
295 ran

Fountains Abbey
(1  16:59 Toby Osman, Ripon Runners (junior))
90  27:07 Petra Bijsterveld
195 ran

Junior sessions 3rd-20th March
For parents of juniors doing sessions with Shirley (Sportshall Athletics at IGS or High Jump at Ghyll Royd), there are no sessions for 3 weeks, info on the junior site. Sessions led by other coaches will continue as normal.
Harriers League Update, 20 March
From Martin Wright ... both Dick and Helen Waddington have played their wildcards for Skipton Parkrun and jump into the top ten for the league. League page
Trimpell 20, Sun 16 March
Neil Bloor reports ... fantastic very flat 20 miler - good Marathon prep. Well supported race, good marshals, a bit of everything wind, rain drizzle - what more could you ask for and a few fellow Harriers for support !! Some Excellent results here.
Val Kerr adds ... A number of Harriers headed west for this long, flat race, run mainly on cycle paths round Lancaster and the Lune Valley. On a damp, chilly and grey day the course is not particularly scenic, but is good training for those planning a spring marathon. Andrew Merrick and Derek Oliver both had cracking runs to finish in the top 50 - well done to Andrew Merrick 1st MV50.

(1  1:53:16 Ian McBride, Royton Road Runners)        
46  2:16:31 Andrew Merrick 
48  2:17:02 Derek Oliver
230 2:48:31 Neil Bloor   
266 2:53:56 Nigel Tapper 
267 2:53:59 Helen Horton 
313 2:59:16 Val Kerr     
461 3:42:02 Martin Wright 
462 3:41:31 Alison Bloor 
496 finished

Bradford 10k, Sun 16 March
Dick Waddington reports ... A few Harriers took part it this fairly flat 10k, which runs out along Canal Road and back. It was very wind, but otherwise nice and bright. Luckily it was mainly a crosswind and it was easier on the way back, which helped, because I went out too fast trying to keep with a group to slipstream behind the big lads. I got back in 38:02 - pleased with that for my first 10k, but it's not as much fun as fellrunning; there's no mud and rocks.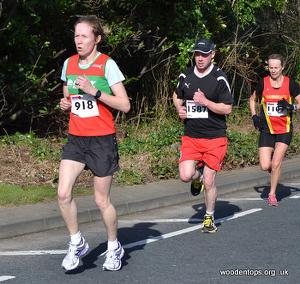 Some photos on woodentops.org.uk.

(1   31:42 Tesfaye Debele)
46   38:02 Dick Waddington
60   38:38 Mark Iley
96   40:31 Adrian Bastow
97   40:33 Rachel Carter 8th lady
124  41:56 Beth Massey  4th LV40
183  43:30 Michael Duffield 
394  47:41 Christine Cox
454  48:12 Chris Cunningham
480  49:08 John Marshall
548  49:57 David Green
1026 58:35 Fiona Schneider
1166 61:24 Carole Cunningham
1339 67:45 Jeremy Taylor
(1466 finished)

Haworth Hobble/Wuthering Hike, Sat 15 March
From Will Buckton ... A good turnout of Harriers took on this local epic around the Bronte Moors including me and Duncan in our first ultra! The 51km/1340m takes in many of the local reservoirs, towns and hills including Stoodley Pike and Heptonstall. Results on kcac.co.uk
Ben Sheppard adds ... On what is in a tough course in any conditions - 32 miles and 1500m ascent - the blustery wind made for a challenging run for those of us not so used to the ultra scene. Will "the metronome" Buckton was not to be put off his stride though, once again showing his versatility and finishing is an impressive 5:07 despite having to wait for those behind to show him the way several times! Other Harriers enduring/enjoying the moody views in Bronte country included Eddie Winslow, Duncan Cooper, Brian Melia, Jamie Hutchinson and Amanda Parnaby. A good effort by all.

(1  4h04:31 Kim Collison, Borrowdale)
46  5h07:28 Will Buckton
79  5h31:20 Ben Sheppard
119 5h50:32 Eddie Winslow
140 5h57:58 Duncan Cooper
151 6h02:40 Jamie Hutchinson + Brian Melia
335 8h55:34 Amanda Parnaby
355 finished

Nell Bank Relays, Sat 15 March
70 teams of juniors ran in the finale of the Wharfedale Primary Schools XC League, with the Presentation after. Thanks to all the helpers! Results etc. on the junior pages
East Hull 20, Sun 9 March
Steve Weston reports ... I spurned the dips and climbs of Spen 20 to travel over to Humberside for the East Hull 20. Sort of gently undulating the race runs North from the clubhouse up through quiet lanes and footpaths of Holderness, Todays run was made harder by the ludicrous 18 degree temperature and the westerley breeze. I was chasing a sub 2.10 and paid for it in the later stages. NIcky Green ran an intelligent race to finish 1st lady in 131 minutes...
A very enjoyable, well organised race I can thoroughly recommend it.

(1 1:55:15 Will Beauchamp, Sheffield RC)
28 2:11:49 Nicky Green 1st female 	
44 2:17:54 Steve Weston		
233 3:01:45 Paul Sugden  PB by 5mins 22s	
351 runners

Spen 20, Sun 9 March

(1  1:52:02 Scott Harrington, Otley)
100 2:39:12 Tom Worboys
257 finished

Run Sunday, Sun 9 March
Toni Melechi reports... a new women's course record for Tilly Melechi at Otley Chevin.

1 18.01 Rob Furness
3 20.01 Tilly Melechi (junior)
26 ran

Inter Counties XC, Sat 8 March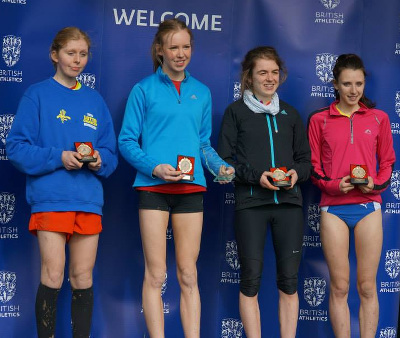 From Sally Malir ... it was the Intercounties at Cofton Park in Birmingham on Saturday. The best of each county's athletes are selected from the county races to compete at this obviously high class event. Georgia had been selected to run for Yorkshire after coming 2nd in the Yorkshire Cross Country Championships.
The Yorkshire Junior Women were hoping to come home with a medal after getting a bronze last year, but they knew it was going to be tough with Bobby and Alex Clay both running for Kent.
The race was tough from the beginning with the Clay sisters and a couple of others making a fast start. This left a few girls including Georgia isolated from the beginning of the race having to work hard to run the race on their own. Georgia showed her determination and continued to work very hard just being passed by team mate Katy Wood on the final 'ski slope' descent.
Despite Bobby and Alex Clay coming 1st and 2nd respectively for Kent the Yorkshire Junior Women won team Gold with Katy Wood in 7th, Georgia Malir 8th, Emma Wilkinson 10th and Annabel Mason 25th.
This result also gave Georgia 5th place overall in the British Cross Challenge.
Dent 14, Sat 8 March
Caz Farrow reports ... A few Harriers travelled over to Dentdale for what turned out to be a lovely day. 14.2 mile course, undulating, scenic, plenty of afternoon tea included in race entry. Recommended.
Some pictures and full results on www.dentdale.com

(1  1:18:01 Ian McBride, Royton RR)
17  1:28:49 Mark Mon-Williams
49  1:35:23 Caz Farrow 3rd lady
122 1:45:58 Rebecca Mon-Williams
296 2:05:18 Dave Ibbotson
438 finished

Stan Bradshaw Pendle Round, Sat 8 March
10.4 miles/1936ft Jann Smith reports ... myself and Kate Archer had a go at this one. Apparantly this course was devised to avoid paths to limit erosion, making it tough terrain, tussocks, bogs and ditches galore and the strong headwind on the top made it feel like running on a treadmill for a few miles. Good race and quality field. Some photos on Woodentops. Results ...

(1  1:06:11 Rob Hope, P&B)
79  1:29:13 Kate Archer
82  1:29:13 Jann Smith
208 finished

Parkruns, Sat 8 March
Dick Waddington reports ... from Skipton Aireville Park ... great new all tarmac route so no slippy slidy meant PBs all round:

1  19:28 Dick Waddington
10 21:14 Oscar Stapleton (junior)
26 23.27 Helen Waddington
32 24.20 Josh Waddington (junior)
54 27:19 Petra Bijsterveld
82 32:13 Amy Foy
99 ran


Alison Bennett reports ... I took part in my first Parkrun, in Norfolk, at the weekend. 24:41 - 2nd lady
Wharfedale Primary Schools XC, Sat 8 March
Over 400 primary school children ran in the final race in the Wharfedale Primary Schools XC League, at Ashlands School. Next Saturday the grand finale of the League is the Relays and League Presentations at Nell Bank. Details on the junior pages.
Harriers League Update, 5 March
From Martin Wright ... Peter Lewis has submitted a wild card for the recent Bradford Parkrun and recorded a score of 94.85. This shoots him up to 2nd in the league overall. League page
25th Ilkley Moor fell race, Sun 2 March
231 runners enjoyed the senior race, in its 25th year, with a fine win by Tom Adams. Over 170 juniors ran too, the junior races now in their 12th year. Yet another super Ilkley Harriers event, well done to all the organisers and helpers. Results and photos on the Ilkley Moor fell race page.
Harriers results summary ...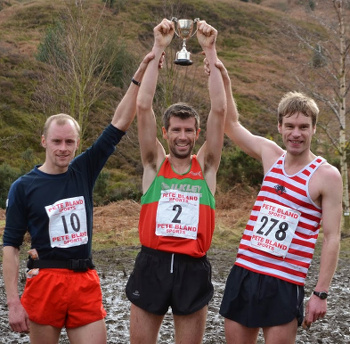 1   36:41 Tom Adams 
15  44:27 Gavin Lamb 
19  45:28 Will Buckton 
20  45:32 James Wood-robertson 
26  46:45 Ben Sheppard 
34  47:23 Jim Ryder 
42  48:11 Dick Waddington 
44  48:41 Ian Rowbotham 
48  48:54 Adam Bennett 
55  49:57 Nick Pearce 1st V60
56  50:02 Rob Cunningham 
62  50:21 Jane Mccarthy 3rd Lady
63  50:26 Richard Joel 
66  50:54 Andy Brook-dobson 
69  51:08 Alistair Barlow 
71  51:29 John Hayes 
77  51:59 Kate Archer 5th Lady
80  52:11 Johnathan Whittaker 
84  52:24 Alison Weston 2nd FV40
85  52:36 Malcolm Pickering 
92  53:17 Jack Cummings 
102 54:19 Alison Eagle 1st FV50
103 54:22 Emma Barclay 
136 58:05 Tom Bennett 
142 58:32 Lucy Williamson 
150 59:01 Michael Duffield 
158 61:09 Sarah Edwards 
180 64:28 Alison Bennett 
202 70:04 Amanda Newham 
214 72:47 Sue Morley 
217 73:28 Kate Wilkinson 
221 76:35 Sarah Hayes 
231 finished


Ilkley won both the men's and ladies team prizes.
Peco XC race 5, Northcliffe Park, Sun 2 March

(1  30:25 Simon Pass, Saltaire Striders)
38  33:10 Steve Coy
269 47:49 Lynn Donohue 
277 48:11 Hilda Coulsey 
339 52:35 Julie Elmes 
356 54:29 Petra Bijsterveld 
410 finished

Black Combe fell race, Sat 1 March
AM 13km/1000m Will Buckton reports ... Results ...

(1 1h08:50 Rob Jebb, Bingley)
49 1h30:35 Will Buckton
182 finished

Trollers Trot, Sat 1 March
From Jez Hellewell ... heard a couple of excellent results at today's Trollers Trot: Jann Smith 3rd overall in a fantastic 3h27 & Toni Melechi, returning to racing after injury, was 2nd in the half in 1h40. trollerstrot.com

Run 25
(1 3h19:00 Paul Carman, Wharfedale)
3  3h27:29 Jann Smith
52 4h16:17 Adela Reperecki
84 4h35:33 Neil Bloor
142 6h02:39 John Coates
152 finished

Run 12
(1 1h37:38 Phil McGeever, Horsforth)
2  1h40:25 Toni Melechi
12 2h10:25 Susan Short
13 2h10:26 Ian Conyers
25 finished



Parkruns, Sat 1 March

Skipton Aireville Park
16 23:25 Lewis Carr (junior)
41 31:32 Dylan Carr (junior)

Bradford Lister Park
53  23:39 Joe Reynier (junior)
89  25:19 Peter Lewis
287 39:39 Abbie Reynier (junior)

Preston 
19 20:54 Oscar Stapleton (junior)


---