Ilkley Harriers news archive 2014
Ilkley Harriers of the Month, February
Jane McCarthy
Dewsbury 10k results
Other nominations were:
Kate Archer - results at Rombalds
Sally Morley - Dewsbury 10k results
Matt Newall - Dewsbury 10k, PECO 4 and training
Hilda Coulsey - PECO results
Steve Weston
Fell race organisation
More Harriers of the Month ...
Seville Marathon, Sun 23 Feb
Claire Mcloughlin reports ... I did the Seville Marathon with my Harrier Dad Mike Baldwin - 3:56:48
Huddersfield 10k, Sun 23 Feb

(1  35:54 Simon Cook, U/A)	
331 56:58 Jean Sullivan
527 finished

National XC, Sat 22 Feb
Sally Malir reports ... The English National Cross Country Championships was held at the beautiful venue of Wollaton Park in Nottingham. The weather was sunny but very breezy and the course was varied and challenging including log jumps and stream crossings.
There were many records broken, from the number attending the event to record fields of finishers from the 10 races in the programme. There were over 10,000 spectators and entrants at the event and this made for a fantastic atmosphere. The first Ilkley Harrier to race was George Hardesty (U15 Boy) Who finished 282nd in a time of 17:45.
The Junior Women's race was next, Georgia Malir ran well to finish in 8th position in a time of 22:39. This race was won by Georgia Taylor Brown in a time of 21:03 who led from start to finish and had nearly a minute on the chasing pack of which Georgia Malir was part. There was a record number of finishers in this race 134.
In the Under 13 girl's race there was again a record number of finishers, 431, and the Ilkley girls came 47th team. Individual results were 116th Bethan Morley 13:28, 295th Emily Elmes 14:44, 316th Eva Jeffels 14:50, 361st Ella Shouler Harris 15:20 and Alessandra Ricci 402nd in 14:04.
The Ilkley Under 15 Girls finished 25th team being led home by Lucy Haines 94th in 17:46 with Tilly Melechi in 146th position in a time of 18:11, 178th Jemima Elgood 18:27, 296th Georgia Flaxman 20:49, 302nd Molly Jeffels 20:49 and Elizabeth Westhead 311th in 20:54.
The Under 13 Boys race was the last junior race of the day with another record number of entrants, 385. The two Ilkley boys ran brilliantly and gained fantastic finishing positions of 72nd Euan Brennan in 12:11 and Dominic Coy 188th in 13:00
Next were the senior races, the Women's race finished a record number of competitors 708. Ilkley had three women in this event. Sally Morley ran well and came in 54th in 31:49, Allison Ricci 536th in 42:57 and Julie Elmes 641st in 47:08.
Ilkley had two men in the spectacular finale to the day. Stephen Coy was 728th in 47:37 and Will Buckton also ran ( but I can t find his result).
The whole day was very exciting and well organized a fantastic event to take part in, a definite for me next year!

Junior Women
(1 21:03 Georgia Taylor-Brown, Sale)
8  22:39 Georgia Malir
134 finished

Senior women
(1 27:42 Gemma Steel, Charnwood AC)
54 31:49 Sally Morley
536 42:57 Alison Ricci
641 47:08 Julie Elmes
708 finished

Senior men
(1  36:23 Steve Vernon)
728 47:37 Steven Coy
1657 finished


And, as usual, some excellent performances from our junior Harriers, with a minibus going downto Nottingham.
Flower Scar fell race, Sat 22 Feb

(1  47:11 Simon Bailey, Mercia)
112 83:04 Nick Mellor
127 finished

Parkruns, Sat 22 Feb
Tom Adams won the first 'all-tarmac' Skipton Parkrun (it's moved off the woodland circuit for the rest of the winter).

Skipton Aireville Park
1  15:51 Tom Adams
12 23:11 Lewis Carr (junior)
38 29:20 Dylan Carr (junior)

Leeds Hyde Park
139 24:41 John Marshall

York
8  18:21 Adam Bennett

PECO XC 3, Middleton Park, Sun 12 Feb
The first counter in this year's Ilkley Harriers Race League. Will Buckton reports... Tom Adams recorded another win for Ilkley Harriers in the third PECO Cross Country race at Middleton Park. Tom finished over a minute clear of second place. Next home for Ilkley was 16 year old triathlete Matt Newell. Matt finished 20th overall out of 619 runners, just three minutes behind Tom. Alison Eagle was the first of the Ilkley ladies to cross the line, taking 33rd lady out of 231. Hilda Coulsey ran well to take 1st F60 and 89th overall, after running Bradford Parkrun the previous day. Results ...
PECO XC, Sun 16 Feb
Round 4, results ...

(1  33:25 Colin Walker, P&B)
13  35:25 Matt Newell
32  36:36 Steve Coy
67  39:20 Rob Cunningham
119 41:45 Steve Newell
150 43:36 Ben Joynson
184 45:05 Alison Eagle
299 50:55 Hilda Coulsey
305 51:24 Peter Lewis
320 52:01 Eric Morley
326 52:33 Lynn Donohue
380 56:41 Julie Elmes
402 58:29 Sue Morley
407 58:37 Sally Wright
416 59:24 Petra Bijsterveld
422 60:14 Sue Williamson
472 finished
4th ladies' team
9th men's team


Parkruns, Sat 15 Feb

Skipton Aireville Park
1 22:27 Dick Waddington

Bradford Lister Park
5  18:57 Will Buckton
26 21:48 Oscar Stapleton (junior)

Leeds Hyde Park
15  19:59 Jack Wood
121 25:56 John Marshall

Primary Schools XC, Sat 15 Feb
Well done to the 315 runners this morning, results are now up on the junior site.
Wadsworth Trog, Sat 8 Feb
Will Buckton reports ... I had been told this (BL 32.2km/1220m )was harder than the Three Peaks, and I wasn't disappointed. A real battle through energy sapping bogs and tussocks, with a strong headwind thrown in for good measure. Photos on Woodentops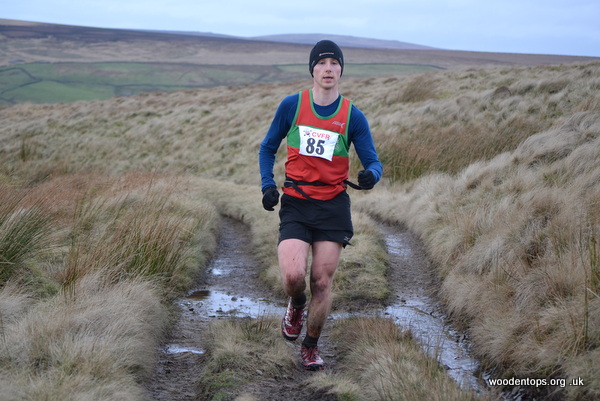 Results...

(1 3h00:22 Simon Harding, Macclesfield)
17 3h36:42 Will Buckton
61 4h06:03 Brian Melia
140 5h16:10 Adela Reperecki 
158 finished

Parkruns, Sat 8 Feb

Skipton Aireville Park
5  24:26 Sarah Pickering
7  25:00 Malcolm Pickering
9  26:11 Lewis Carr (junior)
28 35:03 Dylan Carr (junior)

Bradford Lister Park
40  22:28 Cameron Reilly (junior)
91  24:53 Hilda Coulsey
105 25:29 Paul Sugden
107 25:41 Oscar Stapleton (junior)
126 26:28 Peter Lewis
215 29:20 Emma O'Looney

Leeds Hyde Park
177 John Marshall

York
81 22:53 Adam Bennett

Dewsbury 10k, Sun 2 Feb

(1  30:24 Mohammad Abu-Rezeq, Altrincham AC)
68  36:10 Matt Newell
139 38:32 Mark Iley
148 38:42 David Brown
179 39:41 Jane McCarthy
180 39:41 Andrew Merrick
182 39:55 Sally Malir
222 41:11 Steve Newell
250 41:36 Adrian Bastow
313 42:28 Rachel Carter
402 44:49 Helen Horton
482 46:29 Helen Waddington
560 49:11 Hilda Coulsey *
790 54:35 Petra Bijsterveld
920 58:02 Fiona Schneider
1063 finished


Hilda's time is a new LV60 Club record, beating Margot Dale's 2006 time of 49:21 (also from Dewsbury.) And Sally Malir has equalled Alison Bennett's 2008 Abbey Dash time for LV45's
This was a counter in the Ilkley Harriers Race League.
YVAA GP 1, Sun 2 Feb
Alison Eagle reports ... the 2014 YVAA Grand Prix series began on a lovely sunny day over in the Fulneck Valley, Pudsey. A wonderful muddy two laps of the woods with a steep climb to finish. Just two Harriers running but plenty of support, both Sue and I gaining good points in our respective categories...

Ladies
(1 36:24 Tanya Seager, Stainland)
5  40:11 Alison Eagle (2nd V50)
25 50:21 Sue Morley (5th V55)
49 finished

Rombalds Stride, Sat 1 Feb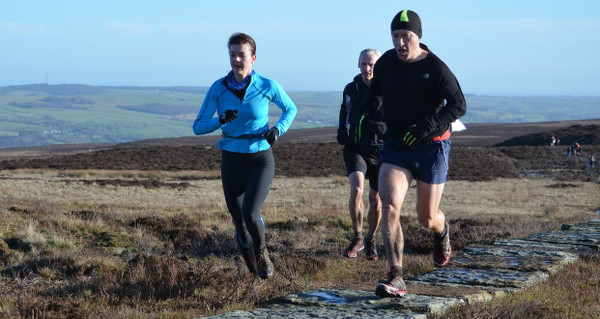 Three Harriers in this Woodentops photo and lots in Graham's photos and on Woodentops.
Dick Waddington reports ... Good weather, but icy on the flagstones over Ilkley Moor and boggy everywhere else - if there were a team prize, I reckon we'd have won it.
Results ...

(1  2h54L41 Edward Davies)
6   3h00:26 Mark Mon-Williams
7   3h00:45 Will Buckton
8   3h02:08 Dan Wilkinson
12  3h13:33 Ben Sheppard
14  3h16:42 Dick Waddington
15  3h17:29 Duncan Cooper
26  3h24:17 Neil Smith 
    3h24    Kate Archer 3rd lady
28  3h24:41 John Hayes
30  3h26:14 Rob Cunningham
51  3h38:26 Rebecca Mon-Williams
58  3h41:15 Outi Kamarainen
72  3h52:51 Alison Weston
78  3h54:25 Paul Stephens
110 4h11:40 Adela Reperecki
131 4h22:46 Val Kerr
149 4h34:07 John Coates
151 4h36:24 Sharon Meadows
160 4h42:10 Lyn Donohue
168 4h46:58 Dave Taylor
170 4h46:58 Gavin Burgess
177 4h50:07 Nick Mellor
185 4h53:58 Stephen Rhodes
206 5h10:03 Rebecca Moores
251 5h53:16 Jacqui Weston
253 5h54:35 Jo Taylor
452 finished


Shout if we've missed anyone - no club given in the results...
Parkruns, Sat 1 Feb

Skipton Aireville Park
12 25:44 Dan Hayes (junior)
26 29:05 Joshua Waddington (junior)

Leeds Hyde Park
177 26:14 John Marshall


---