Ilkley Harriers news archive 2011
Harrier of the Month, November
Nominations were:



Emma Barclay for breaking the elusive 40 mins for a 10k - on the Dalby Dash which was a trail race as well, and coming a close 2nd lady. Also for good XC results;
Dave Wilby for recent race results incl. Tour of Pendle;
Martin Archer for recent race results incl. Burley Moor run win;
Jim Ryder for four excellent and consistent runs in the Complete Runner XC series, making a great contribution to the team and finishing 5th M45 in the league;
Di Haggar for her Tour of Pendle result and West Yorkshire x/c results;
Jez Hellewell for his 1st in his 1st ultra race;
Will Buckton, new member, for his dedication to training and enthusiasm for taking part in quite a few races recently, including the Full Tour of Pendle, which was a real toughie!
Chris Cunningham for his PB's at Scarborough, Abbey Dash and the 5 mile road race;
Abigail Bailey for recent races including two marathons and contribution to organising teams, dedication to training and for motivating people to get involved who would not normally;
Dave Millson for his PB at the 5 mile road race;
Andy Jackson for his Abbey Dash PB
The HoM awards went to Emma Barclay and Will Buckton. Congratulations to them. They will receive technical running gear from HoM sponsor UP & RUNNING.
PECO XC, Ackworth, Sun 27 Nov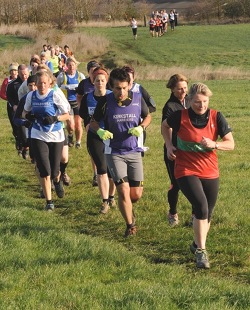 A surprisingly low turnout for the first race in the PECO season, but those who ran enjoyed a glorious sunny day and a pleasant, undulating course.

Ladies
17  Natalie Curtis
64  Sue Morley
115 Kate Lofthouse
140 Lyn Eden

Men
51  Nick Pearce
134 George Elmes
158 Andy Jackson
163 Paul Wood
180 Eric Morley
188 Jim Eden


Photos: senior Harriers, all seniors, (full junior results and photos on the Junior Pages).
11 juniors running, with Euan Brennan 1st U11 with 4 Harriers in the first 5, Lucy Williamson 1st girl in her race and Ed Bickerdike 4th.
Sue Ryder 5 Mile Race, Sat 26 Nov

Ilkley Harriers 5 mile race to raise funds for the Manorlands Hospice at Oxenhope went very well today, thanks to many willing helpers and despite the slightly miserable weather - thank you to everyone who ran, marshalled, baked cakes, or helped organiser Neil Chapman in any way.
Sue Ryder is the hospice that helped former Harrier Alan Pearson, so this cause was also selected by Nick and Pete after their recent "Challenge" - if you were inspired by their Challenge efforts, and did not have a chance to make a donation at the race, we will bring the collecting tin to Tuesday Club night.
Results and photos on the race page.
This was an Ilkley harriers Race League counter.
ParkRun, Sat 26 Nov
Sally Malir was 12th in 21:09 at Bradford Lister Park.
Ben Rhydding Primary School XC, Sat 26 Nov
Some 450 youngsters took part in another well-organised race, results and League tables on the Junior Pages
West Yorkshire XC 3, Shipley, Sun 20 Nov
Diane Haggar reports ... Another great result from the ladies. Being a little weary after the Full Tour i decided not to run. Helen Thurston continued her excellent debut season by moving up to 23rd, and Kate Archer is returning to form with 32nd. Combined with Sally and Emma, Ilkley repeated 4th place again beating Bingley. Well done all.
Jack Wood led the men to a fantastic 6th place. Jack had also had an outstanding run run at Pendle the day before. For a brief moment i had comtemplated "the double" as well, until my other half pointed out that I was more than twice Jack's age!!
Results
Also some fine junior results incl wins from U17 Georgia Malir and U11 Francis Westhead, 36 juniors competing.

Senior Ladies
8  26:46 Sally Morley
18 28:33 Emma Barclay
23 29:02 Helen Thurston
32 29:42 Kate Archer
37 30:00 Sally Malir
78 35:49 Sue Morley
85 40:12 Gemma Carpenter
4th team

Men
18  33:24 Jack Wood
36  34:50 David Westhead
45  35:27 Jim Ryder
56  36:22 Dave Cummings
58  36:34 Mark Mon-Williams
80  37:53 Mark Iley
85  38:50 Steve Coy
120 42:10 Bradley Chapman
130 43:04 George Elmes
147 48:33 Eric Morley
5th team


Leeds Abbey Dash, Sun 20 Nov
Henry Heavisides reports A good turnout of Ilkley Harriers for this morning's misty Abbey Dash. As usual it was a fast & furious race out to Kirkstall Abbey & back. Jamie Hutchinson was 1st Ilkley runner to finish, followed by Andrew Merrick & Justin Phillips. In the age category results I was 2nd M55 with Nick Pearce 3rd M55 (Nick was a couple of seconds quicker on chip timing, but category placings are based on gun times), Ken Souyave was 4th M60 & Andrew Merrick 6th M50. I'm sure that there will have been lots of PBs, notably Andrew Sheldon was a couple of minutes inside his PB.
Results here.

(1   29:20 Jonathan Taylor, Morpeth Harriers)
170  36:11 Jamie Hutchinson
239  37:16 Andrew Merrick
244  37:22 Justin Phillips
310  37:42 Nick Pearce
271  37:44 Henry Heavisides
408  39:11 Daniel Ibbotson  1st ever 10k!
462  39:33 David Brown
494  39:48 Ken Souyave
531  39:49 Rob Cunningham
555  40:15 Andrew Sheldon  PB
669  41:57 Adrian Bastow
769  42:41 Jane Bryant
958  43:02 Nigel Tapper
1133 43:39 David Howe
1006 43:46 Michael Duffield
1101 44:32 Andrew Jackson  PB by 1 min 48 secs
1183 44:48 Helen Horton
1126 44:50 Chris Cunningham
1433 45:58 Anna Nolan
1576 46:18 Martin Wright
1514 47:19 David Ibbotson
1693 47:52 Liz Price
1888 48:05 Anna Barlow
1564 48:28 John Marshall
1666 48:29 Allison Ricci
1975 48:32 Hilda Coulsey
1774 49:32 Mike Picken
3028 51:24 Anthony Swanepoel
2161 51:32 Andrea Westhead
3015 52:12 Kevin Wardale
3214 52:52 Stephanie Millward
3269 53:23 Alison Frost
3961 55:54 Jacqui Weston
2958 55:56 Keith Wood
3706 58:28 Sally Wright
4485 57:24 Linda Marshall  PB
5628 66:44 Rachel Cunningham
  

Tour of Pendle Fell Race, Sat 19 Nov
Alison Weston reports fabulous results from Ilkley Harriers at the Tour of Pendle, a 16.8 mile race with 4830' climbing. We left the mist in Ilkley behind and enjoyed a clear, mild day for the race (for a change!!) Ten Harriers took part with some very impressive results - particulary Dave Wilby (12th overall) and Di Haggar (9th lady in a strong field).

12 2:38 Dave Wilby
   2:42 Jack Wood
   2:44 Steve Turland (6th V40)
   3:12 Di Haggar (9th Lady, 5th FV45)
   3:20 Steve Weston
   3:24 Alison Weston
   3:29 Jann Smith  (her first 'AL' event!)
   3:38 Will Buckton
   4:01 Clare Smith
   tbc Alistair Wood
   

Rosedale 40 Mile Ultra, Sat 19 Nov
Jez Hellewell reports ... had a stunning morning out in The North Yorkshire Moors for my first ultra. Somehow came 1st in 6 hours 16 minutes. The euphoria is soon to be taken over by tiredness I'm sure.
Harriers Vs Cyclists, Sat 19 Nov
Lee Morley reports ... another running of Bingley's Harriers versus Cyclists, where both runners and cyclists (cross/mountain bike) compete over the same course. Tom Adams was first runner back, which seemed likely at the start the as whole field lost sight of him after the first 100m. Unfortunately for us runners the day suited the cyclists with 10 seconds coming off the course record and 14 cyclists in the top 20 - Toms fine run putting him 3rd overall.

(1  32:09 Ian Taylor, Craven Energy)
3   34:18 Tom Adams  1st runner
21  38:02 Lee Morley
35  40:14 Martin Archer
36  40:19 Ian Rowbotham
40  40:42 Iain Gibbons
138 53:23 Ben Swinton
142 54:07 Graham Breeze
145 54:43 Adam Swinton


Predictor Run, Tue 15 Nov
A record field enjoyed Richard Gray's Predictor Run. Thanks to Richard, and to Steve Fletcher and Eddie Winslow for helping. The best 'Predictor' was Phil Judd, who was within 3s of his predicted time. Full results here.
Lido Relays, Sun 13 Nov
Results here.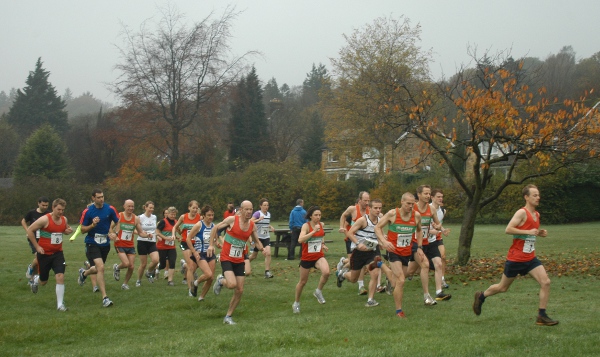 Thanks from Peter Shields ... Not the best of days weather wise but as usual when the call comes Ilkley Harriers raise their game and turn out in style, thank you. Morgan and Alison got everyone registered; Eric, Sue and Rebecca kept the traffic at bay while we got on the road and all the marshalls and young Weston kept us safe and going in the right direction, not a nice day to be out there so well done; Diane was on hand to mend our wounds which luckily weren't too many; Neil, Michael, Tony and Malcolm got the timing spot on, a difficult task in a relay and Paul got the results out faster than you could eat your sandwiches! The food was excellent and enough to go round for everyone, Christine, Liz and Jane looked after us all really well and presented us with £66.71 for our charity collection.
Then there were the runners, thanks, to Bingley, Otley and the un-attached runners for bringing teams and the Ilkley squads who gave their all, hope you enjoyed it. Congratulations to all the team class winners, and to Nathaniel Williams and Sally Morley who have set splendid records (beating the YVAA RR records on the same course in 2009 and 2010, Sally actually beating her own record of 18:48 by some 20 seconds). We are going to try and develop this event, as the racing calender needs a short road relay that is open to all, hopefully our contributions today will set that off. Finally thanks to Neil Chapman for all his help as ever.
Dalby Dash, Sun 13 Nov
Emma Barclay reports ... a 10k Trail Race in Dalby Forest near Pickering. Very well organised and the proceeds go to Help the Heroes. A hilly course but fairly good under foot. I was 2nd lady, 1st LV40 Ð 39:51
Wadsworth Half Trog, Sat 12 Nov
Eric Morley reports ... an excellent clear day for trogging and an altered route due to a pheasant shoot, Sue Morley completed the half trog at Wadsworth, with the run actually being 10 miles and the climb somewhat less than advertised.
 
1   1:07:25 James Logue, CVFR
129 2:20:18 Sue Morley


Burley Moor run, Sat 12 Nov
Quite a few Harriers in this, with Martin Archer winning for a second year (and 2 minutes faster!). Any more Harriers in these results? (Also spotted former Harrier Jonathan Sage 21st in 56:03). Dick says "a very good race, well run with a friendly atmosphere".

1   47:43 Martin Archer
8   52:30 Richard Joel
28  56:54 Helen Thurston (4th lady)
32  57:18 Dick Waddington
41  58:47 Will Buckton
60  61:24 Richard Morris
64  62:25 John Coates
78  63:49 Nicole Dillon
79  63:49 John Dillon
88  65:39 Andrew Jackson
118 71:07 Jim Towers
134 74:35 Lynn Donahue
141 75:34 Liz Price
149 77:29 Abigail Bailey
150 77:21 Sue Bickerdike
175 89:16 Lyn Eden
183 finished


Primary Schools XC, Sat 12 Nov
Nearly 550 Primary School children competed in the second race in the Wharfedale Primary Schools XC League, including many junior Harriers and their litle brothers and sisters, and many from Harriers families. Results on the junior pages.
Derwentwater 10, Sun 6 Nov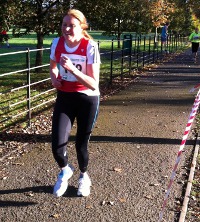 From Dave Ibbotson 4 Harriers plus a guest from Otley AC travelled over to the Lakes last Sunday 6 November to take part in the tough Derwentwater 10 mile race. The race was run in perfect still, cool but sunny conditions. Christine Cox ran well over the hilly course and led the Harriers home.
 
1     49:03 Yared Hagos, Brad & Aire. (Record)
5     53:44 Ian Fisher, Otley AC (1st male over 40)
315 1:23:08 Christine Cox
333 1:24:58 David Ibbotson
335 1:25:29 Andy Wolfenden
355 1:27:34 Jane Guillard


New York City Marathon, Sun 6 Nov

1,904  3:08:26  Andrew Merrick 
26,282 4:30:07  Michelle Snow


Guy Fawkes 10, Sun 6 Nov

26   1:04:28 Alexander Sinclair
50   1:07:29 Jonathan Sinclair
94   1:11:28 Sally Malir  1st F45
150  1:15:01 Kate Archer
176  1:16:54 Adrian Bastow
232  1:19:58 Peter Shields
246  1:20:28 Alison Bennett 3rd F50
287  1:22:28 Dougie Scarfe
358  1:25:55 Debbie Lewis
366  1:16:15 Adela Reperecki
448  1:30:00 Paul Sugden
550  1:34:45 Sue Bickerdike
560  1:35:06 Bernie Gibbons
624  1:38:25 Michael Picken
663  1:42:02 Andrew Bennett


Shepherd's Skyline, Sat 5 Nov
Clare Smith reports there was a good turnout today for this muddy 6.25 mile/1150ft run which included a steep descent off Stoodley Pike for the kamikaze descenders, immediately followed by a stiff climb back up the hill There was lots of slipping and sinking - better entertainment for the spectators than for the participants!

(1  42:24 Ian Holmes, Bingley)
24  48:33 Steve Turland
36  50:10 Mark Mon-Williams
37  50:18 Jim Ryder
39  50:31 Ian Rowbotham
72  54:11 Duncan Cooper
196 63:53 Will Buckton
232 66:41 Graham Arthur
271 69:36 Clare Smith
300 73:40 Sophie Brown
312 75:41 Sue Morley


This was a IH League race.
Photos on todharriers.co.uk and woodentops.org.uk
Leeds parkrun, Sat 5 Nov
Jack Wood recorded the first ever Parkrun outright win for Ilkley Harriers (Georgia Malir has been first lady) at Hyde Park on Saturday, in a field of 264 participants.

1   16:50 Jack Wood
15  18:21 Stephen Coy
107 24:11 John Marshall


---