Ilkley Harriers news archive 2011
Harrier of the Month, September
Nominations were:



Peter Shields and Nick Pearce - Scafell, Snowdon and Ben Nevis fell races, and Lands End to John O'Groats cycle ride, all wearing the Ilkley Harriers vest to celebrate the Club's 25th
Tom Adams - course records at Kirkstall 7 and Bradley Fell Race, first in Rombalds Romp and Ilkley Incline
Christine Cox - Great North Run almost 4 minutes faster than 2010
Georgia Malir - for all her hard work and excellent results (Georgia too young to be awarded HoM)
Helene Whitaker - first lady in the Lake District Mountain Trial
Tracey Greenway - F45 Gold at the World Masters Mountain Running Championships - Paluzza, Italy
The HoM awards went to Peter Shields and Nick Pearce, and Tracey Greenway. Congratulations to them. They will receive technical running gear from HoM sponsor UP & RUNNING.
Ilkley Harriers AGM, Tue 27 Sep
A packed AGM, with the Committee reporting another successful year for Ilkley Harriers, and a shiny new Committee elected for the year ahead ... more on the Committee Page.
Horsforth 10k, Sun 25 Sep
Ken Souyave reports ... this is a road come trail (canal) course which is largely through pleasant surroundings. The first 3 K has 2 steady climbs which probably means this is not a PB course for most runners, but there after it is down hill or flat, though not always easy to overtake. Conditions were good for running and the race attracted 437 runners. The winner was Lewis Quentin in 34.28. Noted amongst the provisional results were:

    
44  41:09 Ken Souyave 1st Vet 60
60  42:26 Duncan Cooper 
289 54:54 Amanda Newham 
353 59:13 Michael Picken 


Excellent race to be recommended.
Ilkley Triathlon, Sun 25 Sep
Ralph Tench reports ... Another excellent Ilkley Triathlon organised by Leeds and Bradford Triathlon Club. A fantastic community event which started at 10am in rain and travelled through the full weather system to end in late summer sunshine. Over 350 original entrants (273 finishers) to this increasingly popular event on the local sporting calendar. Itís a triathlon which also attracts athletes from well outside the region as well as many of the British Triathlon development group (youths) which has produced the likes of Philip Graves (course record holder) and of course the 2012 Olympic hopefuls and World Champs, the Brownlees (Alistair and Jonathan).
I managed first Harrier home in 9th place in 1 hour 11 seconds. Yes the 11 seconds hurt as it was my worst swim by a distance for several years Ė I blame the water - and prevented me going under the hour. Collected first local male prize for the sixth year and third Vet 40.
Loads of friendly faces out performing and supporting during the day. Also great to see many family teams and family rivalries (Websdales, Elliots etc). The most well represented family generationally probably goes to the Hayes family (Sarah and John - both Harriers Ė Peter (brother), Spike (dad aged 73) and brother in law. Plus Daniel (12) handing out the drinks on the finishing line.

Teams:
5   Team Miley           1:00:39
27  First Timers         1:21:30

Individuals:

9   Ralph Tench          1:00:11
60  David Brown          1:11:16
65  Janet Grace          1:11:52
66  Richard Shuttleworth 1:12:02
68  Phil Judd            1:12:10
72  John Hayes           1:12:20
82  Norman Bush          1:13:26
128 Gaenor Coy           1:17:29
148 Natalie Curtis       1:19:21
157 Kathryn Shuttleworth 1:20:35
174 Alison Frost         1:22:34
243 Sarah Hayes          1:36:34
256 Nicola Meenan        1:44:30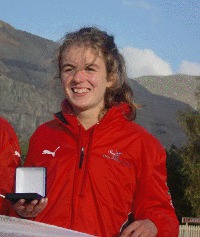 Gold for Georgia, Sat 24 Sep
On Saturday Georgia Malir ran in an England vest for the first time at The Commonwealth Mountain And Ultra Distance Championships in Llanberis North Wales. Georgia ran in the U16 England team in The Home Countries Championship Mountain Race. The race was of 6.31km and was an up and down course of 315m ascent. Georgia was 5th placed girl and 2nd England counter, the England U16 team of three runners won UKA champs gold medals.
Scafell, Sat 24 Sep
Pete Shields reports ... Nick Pearce and I visited our last 25th Harriers Anniversary challenge today, Scafell Pike, the biggest climb in England. Scafell Pike in the Western Lake District is one of the truly great classic fell/mountain races - 4.5 miles in distance with 3000ft of climb. We were very ably supported by Morgan Williams, an athlete not adverse to a challenge himself, and finished in great style both top in our age groups. Nick, who is really on top of his game at the moment finished in 19th position giving him the first V55 prize. Peter, very ably supported by Morgan who finished a place in front of him, finished as first V60 in a quality field.
This race concludes the challenge we set ourselves, inspired by the Club's 25th anniversary and some philosophical words spoken by Morgan to me earlier in the year, which charged the events. We ran the Snowdon Mountain Race, 10 miles in July; then cycled from Lands End to John O Groats unsupported, camping rough, carrying all our own gear, a distance of 1,020 miles in 12 days 22hrs during August and September; cycled back down to Fort William and ran the Ben Nevis Mountain Race, technically the hardest race on the calender a distance of 10 miles; the conclusion being today's race of 4.5 miles.
Throughout the challenge we have literally flown the flag for Ilkley, the club's pennant. Whereever we have been it has been flown on the back of my bike, the result being numerous conversations in many dialects up and down the country about Ilkey Harriers.
The challenge was a way of showing our appreciation to the club, which we have both been members of for numerous years. People have asked if there was some charitable motive behind what we have done, this was never the case but if there is strong enough feeling we would be happy to put our achievements to a cause. With a total of 1230 miles, would a penny a mile be to much to ask if that was the case?
Rab Mountain Marathon, 24-25 Sep

69  405 points 10:46:19 Kevin & Rachael Gooch
205 275 points 10:32:22 Rachel Hagan and Angela Sturgeon
Any more?


Great Langdale half marathon, Sat 24 Sep
Ewan Welsh reports ... ventured up to Langdale on Sat for the Great Langdale ½ marathon, the route takes the runners in an anti clockwise direction from Great Langdale to Little Langdale through Skelwith bridge, turn off up the back road to Grasmere then turn off to the left and run next to a tarn (the name escapes), then up a few more hills and down to Chapel Style through Dungeon Ghyll to the finish back in Langdale.
A few Harriers were there, I ran 1.44, Elaine about 1.58 I think, and Jean about 2.14 if I recall correctly, I donít have the results yet (will post then when available), usually only a handful of runners get under the 1.30 for this one. I did experience a free post race plunge in an ice bucket and subsequent massage, the ice bucket brings a tear tae yer eye. Couldnít recommend the race enough, itís like a bastion of a by-gone era of road races, not sure I would recommend the ice bucket, itís a personal choice that one !
The full marathon is also on offer, 2 glorious laps with the same start time.

257 runners, winning time of 1:19:15
52  1:44:13 Ewan Welsh
124 1:57:57 Elaine Cossins
196 2:12:34 Jean Sullivan


Whernside fell race, Sat 24 Sep

16  1:45:28 Stuart Pitches	MV40
28  1:54:25 Andy Brook Dobson
74  2:11:25 Alison Eagle
118 2:24:04 David Cockshott
129 2:32:21 Nicholas Mellor
139 2:39:27 Dick Waddington


Thieveley Pike, Sat 24 Sep
Eric Morley reports ... three members ran this AS race just outside Burnley. The number of competitors this year dropped down to 61, 2010 saw more than double that run. On a fine Saturday morning all aquitted themselves well and finished as follows.

(1 34:04 James Logue, Calder Valley)
37 46:57 John Coates
42 48:43 Graham Breeze  1st MV 65
49 52:07 Sue Morley 1st LV 55


Parkrun, Leeds Hyde Park, Sat 24 Sep
John Marshall was 66th in 23:47
Great North Run, Sun 18 Sep
Results are up on www.greatrun.org ....

522   1:27:49 Rob Cunningham
3355  1:42:05 Dougie Scarfe  PB
4972  1:46:23 Chris Cunningham
7798  1:52:27 Christine cox		
8346  1:53:24 David Howe		
8347  1:53:24 Caroline Morley		
8567  1:53:46 Andrew Wilson		
14757 2:03:39 Lindsey McCordie		
14944 2:03:59 Stephanie Millward
15567 2:05:04 Sandra Lightowler
16433 2:06:33 Sarah Lewthwaite
16931 2:07:25 David Fox
29605 2:34:13 Rachel Cunningham


Kirkstall 7, Sun 18 Sep
Nick Pearce reports ... another race, another victory and course record for Tom Adams! Results from Kirkstall Harriers ...

1  36:07 Tom Adams   New Course Record
16 44:15 Nick Pearce 1st prize M55
62 50:44 Phil Hirst
68 51:35 Kate Archer



Embsay fell race, Sun 18 Sep
Results from bofra.co.uk ...

13 22:09 Iain Gibbons
21 23:33 Dave Cummings
40 26:11 Diane Haggar 1st LV40

U14
4  14:31 Ruaridh Mon-Williams
9  15:19 Jack Cummings

U12
5   9:38  Euan Brennan


YVAA Track & Field Championships, Spenborough, Sun 18 Sep
Henry Heavisides reports ... I'm not sure that it was the most sensible thing to run two races within 20 minutes of each other, but along with Mark Iley, I'd entered both the 1500m & the 5000m expecting them to be spaced further apart. We did the 1500m first in torrential rain. Mark finished 5th in 5:12 & I was 6th in 5:18 we both got medals for being 1st in our age groups (I was the only M55 taking part!). The 5000m which started less that 15 minutes after the 1500m finished was run in bright sunshine. Out of a field of 22 runners, Mark was 11th in 18:44 & I was 12th in 19:00. This time we were both second in our age groups.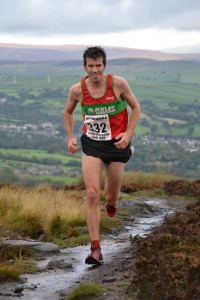 Rombalds Romp, Sat 17 Sep
The Harriers running in this event organised by Abbey Runners had to choose 'trail or fell', both races starting and finishing together: Tom Adams picked the fell option and beat all comers.
Some pictures on woodentops.org.uk.
Results from Abbey Runners...

1   45:15 F Tom Adams
35  58:25 T Ewan Welsh
44  60:13 F Mike Baldwin
49  61:37 F Paul Stephens
76  72:22 F Graham Breeze
79  72:41 T Lynn Donahuue
91  81:27 F Sue Morley


World Masters Mountain Running Championships, Sat 17 Sep
CONGRATULATIONS to World Champion Tracey Greenway, winner of the F45 class at the World Masters Mountain Running Championships - Paluzza, Italy. See the results.
Three Shires fell race, Sat 17 Sep
Mark Mon-Williams reports ... four harriers braved the flooded roads of the Lake District to take part in the Three Shires fell race. A quick IH meeting before the race established a cunning plan - Dave Wilby would bring glory and honour to Ilkley Harriers by racing at the sharp end whilst Kelly Harrison, Mark and Rebecca Mon-Williams would have a nice day in the hills. The plan went perfectly with Dave running out of his skin in a quality field to take 7th place, only a few minutes down on the first three places. This is a great achievement in a prestigious race. And the rest of us had a lovely day in the hills that was both educational and enjoyable - at least two of us learned that torrential rain in the Lake District requires shoes with some grip. It was a real pleasure after the race to get a tasty pasty and see Dave get his well earned prize.

Parkruns, Sat 17 Sep

Lister Park, Bradford 
5  19:14 Georgia Malir 1st lady
11 21:04 Sally Malir

Hyde Park, Leeds 
16 19:54 Ken Souyave
21 20:34 John Atkinson
65 23:36 John Marshall


Petzl Lake District Mountain Trial, Sun 11 Sep
Roy Ruddle reports ... some fine results from the Ilkley contingent. Fairly poor weather but good visibility, and just as well the race didn't take place the next day (gusts of 90mph forecast!). Bad weather routes were used, which made part of the second half of the classic course less exposed but had little impact on its overall length.

Classic course
1st  3:37:15 Tom Brunt (Holmfirth)
2nd  3:44:49 Hector Haines
30th 4:54:17 Helene Whitaker [1st lady]
41st 5:06:50 Roy Ruddle
71st 5:37:39 Jack Wood
Ilkley was 2nd team to Dark Peak


Medium course
1st  3:06:35 John Noblett (WCOC)
9th  3:29:27 Peter Haines
17th 3:42:26 Outi Kamarainen
24th 3:53:18 Sarah Haines
25th 3:54:35 Chloe Haines
Ilkley was 2nd ladies team to Clayton


From Helene Whitaker the Haines family dominated the Ilkley results in this year's Lake District Mountain Trial held in very wet and windy weather in Mungrisedale. Hector came second to Tom Brunt, by a mere 3 minutes trotting around the shortened (but still 15+miles of bog and heather) in 3.44.
The ladies of Family Haines, not to be outdone, netted some prizes too. Sarah was 11th lady nipping home in 3.53, a mere minute ahead of daughter Chloe who also bagged the prize for second lady under 21.
Peter had to settle for 7th male in the Medium in 3.29, but took home the prize for 2nd male Vet 50 in that class.
Excellent food made up for a very soggy day out on the fells!
Full results on Sportident
Yorkshireman, off road marathon & half-marathon, Sun 11 Sep
Sue's thoughts here, and some photos here

Full Solo
86  5:08:42 Debbie Lewis
87  5:08:58 Adela Reperecki
97  5:20:05 Helen Turner
136 6:46:09 Amanda Parnaby

Half
9   1:56:26 Andrew Merrick   1st V50
12  1:57:36 Justin Phillips
27  2:05:22 Diane Haggar 3rd lady, 1st LV40
31  2:06:02 Sally Malir
93  2:23:13 David Howe
125 2:30:26 Martin Wright
151 2:37:43 Helen Horton
153 2:37:44 Nigel Tapper
163 2:42:55 Liz Price
170 2:43:41 John Coates
178 2:48:30 Nicholas Mellor
181 2:50:16 Abigail Bailey
182 2:50:19 Sue Bickerdike
201 3:05:31 Anthony Swanepoel
202 3:05:31 Ashleigh Brownhill


Burnsall fell race, Sun 11 Sep
Results from bofra.co.uk ...

7  16:16 Dave Wilby
10 16:40 Iain Gibbons
12 17:23 Mark Mon-Williams
21 18:48 Dave Cummings
38 20:10 Norman Bush

U17
6  13:48 Bradley Chapman

U14
4  8:28 Ruaridh Mon-Williams
9  9:09 Jack Cummmings

U12
9  4:21 Euan Brennan


Para's 10, Sun 11 Sep
Steve Weston reports the Para's 10 at Catterick is on an undulating 10 mile course that the parachute regiment uses for its selection process (although they do it in boots with a bergen!).
There was a minute's silence for the tenth anniversary of 9/11 and the race set off with a shot from some field artillery!
A stiff wind made for interesting going on the more exposed parts of the course but some decent times were put in nonetheless, including an amazing run by Alex to finish just outside the top three.

1     56:31 William Strangeway (Lincoln Wellington) 
4   1:03:27 Alexander Sinclair 
9   1:04:58 Steve Weston 
10  1:06:44 Jonathan Sinclair 
167 1:26:24 Helen Shew 
 

Still no Harriers crazy enough for the P company challenge.
Wetherby 10k, Sun 11 Sep
Ken Souyave reports ... part off road farm track but overall a good course with a few small climbs through pleasant countryside. Well organised with ample parking adjacent to the race course. Strong wind on the day but some shelter by tree lined roads/tracks. Climb up to the village of Kirk Deighton around 5K sees hardest part of course over leaving a fast finish particularly over the last 2 K. My chip time time shows at 40 06 in results but my watch showed a little more so will take chip time!! First vet 60. Winner Paul Lockwood 32 45. So overall suggest this could be a good course for PB if weather conditions good on day.
Results from Gaenor and here...

61  40:06 Rob Cunningham
72  40:47 Ken Souyave
181 45:25 Dougie Scarfe
221 46:24 Andrew Jackson
234 46:41 Chris Cunningham
435 51:34 Rhiannon Turner
439 51:37 Gaenor Coy
475 52:29 Alison Ricci
798 62:29 Sally Wright


Leeds Parkrun, Sat 10 Sep
Rhiannon Turner reports ... just did my first Parkrun ... my time was 25.16, and I was 83/210 (6th lady)

62 23:30 John Marshall
83 25:16 Rhiannon Turner


Selection Success
There's a lot going on in Junior Harriers ... the latest news is that the Club has its first Junior Home International runner ... U17 Georgia Malir has been selected to run for the England Fell team at the Junior Home Internationals in Wales.
The Ilkley Incline, Wed 7 Sep
Well done to Geoff Howard for organising the best ever Ilkley incline, on its 10th Anniversary. Thanks to the many Harriers who helped on the night, in cold and wet conditions. A good turnout of Harriers amongst the record field, with Ilkley winning the men's and women's team prizes. Tom Adams won in 7:51, with Ilkley wining men's team and ladies team prizes.
Results and photos are on the Incline page.
The Junior Sprint Relays attracted 15 teams on a very wet night, results and photos here.
Tholthorpe 10k, Sun 4 Sep
David Green reports ... Eddie Irving was first V50 and 9th overall in 37 minutes, David Green 126th in 52 minutes. "Nice race, 250 runners, flattish, good for a first 10k".
Bradley fell race, Sun 4 Sep
Tom Adams broke the 1996 course record, with Emma Barclay 1st lady, Georgia Malir 1st U17 girl, and Sarah Pickering 1st U14 girl. Results from bofra.co.uk ...

1  23:21 Tom Adams
5  26:02 Dave Wilby
11 26:47 Mark Mon-Williams
19 28:59 Dave Cummings
23 29:38 Malcolm Pickering  1st V50
26 30:18 Emma Barclay  1st lady
41 32:24 Diane Haggar
44 32:25 Rebecca Mon-Williams
54 34:09 Sally Malir
75 38:02 Clare Smith
79 38:43 Eric Morley
82 39:12 Sue Morley

U17
7  26:18 Georgia Malir  1st girl
9  28:36 Jack Cummings

U14
2  11:21 Ruaridh Mon-Williams
4  12:17 Thomas Kerr
5  12:28 Sarah Pickering 1st girl
6  12:55 James Pickering


This was a IH Race League event.
Helvellyn Triathlon, Sun 4 Sep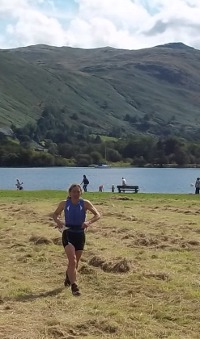 Alison Weston reports lovely clear day in the end for a tough event. A mile swim in Ullswater, a 38 mile cycle including the 'struggle' pass and a run up and down Helvellyn.
Based on my first (and only) open water triathlon I have come up with a list of what NOT to do:-
- don't lose your timing chip in the water
- don't look down to check what gear you're in, hit the curb and fall off your bike, twisting the brake levers
- don't set off on the run with your biking shoes on (on photo)
- don't leave your bike pump behind
and lastly...
- don't bring the wrong wetsuit home!!
I have come to an early conclusion that triathlons and me don't go too well together but it was good fun and I did eventually get round in 5hrs39 mins.
Results from TriHard:

59  4:16:44 Jamie Hutchinson
392 5:20:56 Janet Grace
463 5:39:37 Alison Weston


Ben Nevis race, Sat 3 Sep
Part of Nick and Pete's 'challenge' (more) ...

94  2:04:21 Nick Pearce
403 2:52:40 Peter Shields


Parkruns, Sat 3 Sep
Ken Souyave finished 21st/243 in 19:45 at Leeds Hyde Park
John Marshall was 45th/214 in 23:26 at Albert Park
And at Edinburgh, we had
49th/208 Lucy Haines 21:53
53rd Florence Haines 22:05
73th Sarah Haines 23:08
---