Ilkley Harriers news archive 2011
Harrier of the Month, July
Nominations were:



The Thunder Run Team
Paul Sowden, Bob Graham Round
Emma Barclay, Whittle Pike
The HoM awards went to Paul Sowden & Emma Barclay. Congratulations to them. They will receive technical running shirts from HoM sponsor UP & RUNNING.
Jane Tomlinson Run For All York 10k, Sun 31 July
Ilkley results from Chris Cunningham ...

38   38:27 Robert Cunningham
370  45:24 Chris Cunningham
583  47:24 Nicole Dillon
698  48:23 John Marshall
992  50:26 Hilda Coulsey 
1184 51:54 Christine Cox
2971 63:37 Greg Wright
3164 65:04 Rachel Cunningham

Ironman UK, Sun 31 July
Steve Newell completed this in 13h51, raising £1,200 for charity. Read his report here.
Bob Graham Round Success, 30/31 July
Paul Sowden completed a Bob Graham Round (a major fell challenge, 42 Lakeland Peaks and 70 miles) in 22 hours and 56 mins. Read his report here.
Thunder Run, 30/31 July
A team of 8 Harriers including and Matthew Rutter completed the Thunder Run, 270km over 24 hours, finishing 47th out of 147 teams.
Sue Bickerdike says ... Get 8 mates together. Run for 24hrs. Go home.
Easy.
Not so..........well maybe. Maybe we made it harder by getting over excited and having fun.
And boy was it fun.
But it was also b*y hard work.
Every single one of us ran our hearts out, on every leg. Some of us vomited. We never missed a hand over and we did what we set out to do.
We flew the flag, we bigged up Ilkley and we held our own (we beat the RAF by the way).
We didn't win, we didn't break any records, but we were there.
Strength and depth.
Keep running, there's more to it than just being fast.
Read Sue's report here.

52:32 Matt Rutter
52:45 Martin Wright
52:31 Paul Sugden
41:40 Andrew Merrick
59:32 Emma O'Looney
52:24 Nick Page
53:40 Sue Bickerdike
58:52 Abigail Bailey
53:52 Martin Wright
55:28 Paul Sugden
44:02 Andrew Merrick
53:43 Nick Page
61:36 Emma O'Looney
54:58 Sue Bickerdike
64:54 Abigail Bailey
55:51 Martin Wright
47:34 Andrew Merrick
60:17 Nick Page
54:35 Matt Rutter
54:38 Paul Sugden
59:23 Emma O'Looney
55:16 Martin Wright
46:27 Andrew Merrick
60:16 Sue Bickerdike
54:36 Matt Rutter
63:35 Abigail Bailey
62:35 Nick Page


Lakeland 50, 30/31 July
From Sharon Meadows Wow, what an amazing, fantastic race! 50 miles, just short of 10 000 feet of ascent and descent. I would love to tell you all about the running, but I can hardly remember any of it. All I can remember are the wonderful people, competitors and marshalls, the supporters who clapped everyone as though they were winners, the night time food stations all lit up with fairy lights and candles and even wood burning stoves, with everyone giving you tea and soup and sending you on your way again. I do remember the looks of agony on the 100 mile competitors' faces, and I do rember the last 3.5 miles taking an hour and forty five minutes down the most tortuous rocky path ever. And I do remember finishing to the whole of the already finished competitors rounds of applause at just before 4.00am, and a big hug from the marshall! The views were of course stunning, and it was a beautiful clear day so you could see all of the Lakes for miles. I loved this race, and I will be doing it again, unless I can find someone to do the 100 with!
I finished in 15 hours and 58 minutes. I did not see any other Ilkley Harriers, but I am sure someone was doing the 100.
Whittle Pike, Sat 30 July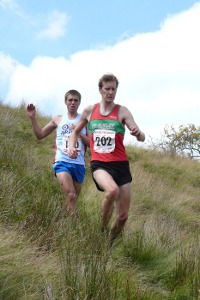 5.14/1400', near Rossendale. A counter in the English Fell Championships.

Women's race
7  49:35 Emma Barclay
23 55:11 Alison Weston
30 56:26 Sally Malir
49 60:14 Clare Smith
50 60:32 Val Kerr

Men's race
44  44:32 Dave Wilby
158 58:37 John Coates
183 64:39 Graham Breeze


Some photos from Dave & Eileen Woodhead here
Cowling Gala, Sat 30 July

23 24:39  Norman Bush (1st V50+)


Golden Acre Park Relays, Wed 27 July
David Westhead reports ... A great evening for a summer cross country relay. Sunshine, dry ground and a frenetic twisting, turning, up and down 2.75 mile course through the woods above the lake in Golden Acre Park.

10th 50:10 Ilkley D2B
David Westhead 15:53, Dave Cumings 16:48, Bradley Chapman 17:29

34th 55:25 31 Club
Gary Mann 16:49, Nick Barnes 18:08, Andrew Jackson 20:28

37th 55:47cPudsey & Holmfirth & Ilkley
Ian Nixon 14:44, Lucy Needham 18:24, Don McRae 22:39

40 56:02 Clarhangia (Juniors)
Hannah Brown 16:52, Claire Shepherd 22:13, Georgia Malir 16:57

78 1:08:17 Team Menston
Allison Ricci 22:22, Andrea Westhead 24:28, Caroline Craske 21:27


Away Run, Tue 26 July
30+ people enjoyed Andy Wolfenden's Away Run at Simon's Seat, and most of them were at the social with sandwiches and chips at The Swan in Addingham afterwards.
Harrogate Town Centre 10k, Sun 24 July
Read Sue's ditty here.

13  36:19 David Westhead
68  40:23 Ken Souyave
243 48:51 Martin Wright
280 50:51 Sue Bickerdike
359 54:23 Christine Cox
378 55:01 Bernie Gibbons
379 55:02 Vince Gibbons
496 64:07 Rachel Cunningham


Coniston Country Fair, Sun 24 July
Roy Ruddle reports ... Mark Addison (Helm Hill) won in 54:11, and I finished in about 1:18. That would have put me half way down the field, but due to a child care hiccup I'd started 30 mins late (by then I'd handed in my race number, so was officially a non-starter). Mind you, I still finished before 10% of the field! Absolutely stunning weather, and a very pleasant post-race swim in the lake.
Pudsey 10k, Sun 24 July
Paul Stephens reports ... I travelled over to Pudsey this morning for my favourite 10k, a hilly multi-terrain race through some excellent countryside, somewhat unexpected for a place midway between Leeds and Bradford. Looks like I was a lone Harrier, but happy with my time of 45.28 and 54th out of 379. A few seconds faster than last year, and a few seconds slower than 2009.
Cracoe, Sun 24 July
Val Kerr reports results of this BOFRA race ...

(1 21:36 Ted Mason, Wharfedale)    
18 25:05 Mark Mon-Williams              
20 25:24 Iain Gibbons                        
22 25:36 Dave Cummings                  
48 28:59 Norman Bush                      
56 30:51 Dianne Haggar (1st LV40, 3rd Lady)
71 33:15 Val Kerr                              
 
(92 finishers)

Cross Bay Half Marathon, Sun 24 July
From Fiona Schneider I decided on a contrast to recent Alpine running and went for the flat, sea level and wet Cross Bay Half marathon. This is a great event across the Morcambe Bay sands from Flookborough to Hest Bank. The sun and wind and views were just perfect. The surface was variable from sinking, to hard ruts, to soft sand, with a wade of about 100 metres across a waist high fast flowing river.

101 1:43:26 Alison Bennett
219 1:52:03 Christine Matthews
236 1:53:22 Liz	Price
329 1:58:51 Karen Lambe
488 2:15:23 Fiona Schneider


Snowdon race, Sat 23 July
Nick Pearce reports ... the first stage of Pete and Nick's 25th Harriers Anniversary Challenge successfully completed, with both racing in the Snowdon International Mountain Race. Fantastic event, dry underfoot with clear skies.

(1   65:57 Andi Jones)
51   82:34 Dave Wilby
91   87:01 Nick Pearce, 1st V55
339 110:41 Pete Shields, 10th V60
421 124:39 Kelly Harrison 28th in the Female Open category


ParkRuns, Sat 23 July

Leeds Hyde Park
77 23:47 John Marshall

Bradford Lister Park
5  19:40 Georgia Malir PB
10 21:10 Sally Malir


Hawkswick Dash, Sun 17 July
Results of this BOFRA race ...

14 13:30 Iain Gibbons
17 13:54 Dave Cummings
22 14:32 Mark Mon-Williams
41 16:28 Norman Bush
47 16:59 Diane Haggar

U17
5  13:19 Bradley Chapman

U14
4   9:00 Ruaridh Mon-Williams
7   9:53 Jack Cummings


Foulees Jean Gourant 10k, Sun 17 July
Henry Heavisides (Henri Côtéslourds?) reports ... I ran this 10k trail race whilst on holiday in Brittany, I think that I was the only 'non local' competitor. My time of 42:13 for 54th place reflects lack of fitness as well as difficult conditions (rain, wind mud etc.). The race was good value for the 6 euros entry fee, with plentiful goody bag as well as free refreshments after the race. It's worthwhile looking out for races on holiday!
Resultats ici
100 Mile bike ride, Sun 17 July
Well done to the Harriers ladies involved and Neil & Pete supporting, a few pics from Andrew B here.
Ingleborough fell, Sat 16 July

8   53.03 Lee Morley
18  56.10 Dave Wilby
45  62.12 Sally Morley (4th Lady)
83  67.15 Dick Waddington
115 71.00 Jann Smith
177 81.16 Amanda Newham
189 84.15 Sue Morley
196 87.44 Diane Kitching
 

Burley Bridge Hike, Sat 16 July
From Jez Hellewell ... myself & fellow Harrier Toni Melechi tackled this one in the constant rain this morning. It's on my doorstep & covers all familiar routes, so felt obliged to do it. Not classed as a race, but a few competitive runners do take part as it is an excellent training run. We purposefully set off slowly as Toni was still recovering from The Harden Hard 'Un from last weekend. We picked up the pace once at The 12 Apostles & crossed the line together as the 1st finishers in 3.36. Didn't see any other Harriers, apologies if I missed you.
Amanda Parnaby adds ... a very enjoyable but extremely wet day out, quite a contrast to the weather at the previous weeks Harden Hard'Un. Sharon Meadows was also there.
Leeds ParkRun, Sat 16 July

90 23:26 John Marshall


Washburn Valley Relays, Fri 15 July
We got 5 teams out, plus 7 junior teams, in this marvellous evening relay organised by Otley AC. See www.otleyac.co.uk for photos and results.

9  65:13
Dave Westhead 18:00 4th, Dave Cummings 25:03 6th, Bradley Chapman 22:10

16 69:07
Mark Mon-Williams 19:03 7th, Rob Cunningham 25:40 10th, Paul Wood 24:24

40 80:40
Val Kerr 24:02 38th, Kelly Harrison 31:16 39th, Amanda Newham 25:22

47 87:05
Jim Towers 23:28 35th, Malcolm Coles 30:20 38th, Lyn Eden 33:07

53 88:07
Andrea Westhead 28:01 53rd, Caroline Craske 33:09 52nd, Alison Ricci 26:57


65 teams completed


HDSRL Finale, Thu 14 July
The Handicap Race was the grand finale of the League, on a lovely course at Ripon including parts of Studley Royal. But sadly bereft of Harriers. At the League presentations afterwards we were able to applaud Val Kerr for retaining the V50 title.
Results and photos on www.harrogate-league.org.uk.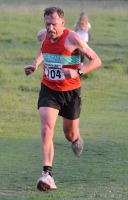 31   38:54  Peter Shields
37   43:10  Donald Macrae
41   44:25  Gemma Carpenter
51   45:49  Andrew Bennett
66   39:35  Bradley Chapman
79   33:14  Mark Mon-Williams
103  36:44  Neil Chapman
128  41:39  Val Kerr
150  40:46  Alison Bennett
155  69:25  David Millson 


Stirton fell race, Wed 13 July

(1 Joe Mercer Skipton 35.43)
9  39.22 Harry Dalby 
29 45.25 Geoff Howard (1st v55)
43 47.56 Mike Baldwin 
56 49.43 Dave Tate  (2nd v60) - 1st claim Dark Peak
70 52.19 Val Kerr (2nd lv50)
73 52.37 Graham Breeze (3rd v60)
92 58.20 Sue Morley (1st lv55)
95 61.26 Amanda Newham 


Eccup 10, Sun 10 July
Provisional results from Abbey Runners ... congratulations to Eddie Irving who is the YVAA 10 Mile Road Champion.

(1  51:18  Yared Hagos, Bradford & Airedale)
24  61:48  Eddie Irving  1st M55
64  67:03  Rob Cunningham
75  68:05  Ken Souyave
106 70:27  Sally Malir 2nd F45
115 71:24  Paul Stephens
131 72:45  Stephen Rhodes
154 74:07  Ewan Welsh
182 76:31  Sharon Williams 3rd F45
185 76:37  Helen Horton
243 79:56  Martin Wright
249 80:25  Chris Cunningham
307 84:20  Hilda Coulsey
332 85:31  Vic Verecondi
347 86:10  Sue Bickerdike
373 88:19  Alison Ricci
399 89:38  Caroline Morley


Alva Games, Sat 9 July
Results of this BOFRA race ...

6  24:58  Iain Gibbons


Addingham Gala Fell Race, Sat 9 July
The 2nd Addingham Gala fell race was a super event, with 18 Harriers amongst the 73 finishers and many Harriers helping the event run smoothly. Thanks everyone.
Some photos on the Addingham Gala Fell Race page.
This was a IH Race League event.

(1  37.52  Martin Gostling, Leeds City AC)
10  43.09  Mark Mon-Williams
15  45.14  Dave Cummings
18  45.52  Duncan Cooper
21  47.42  Emma Barclay 1st lady
23  48.11  Rob Cunningham
26  49.18  Andrew Sheldon
29  50.07  Rebecca Mon-Willliams 2nd lady
30  50.36  Bob Hamilton
33  50.49  Bradley Chapman
35  51.23  Florence Haines 3rd lady
38  52.32  Jann Smith
39  52.43  Norman Bush
44  53.12  Alison Weston
56  56.55  Andrew Jackson
58  58.23  Nick Mellor
60  59.35  Chris Cunningham
68  63.00  Paul Sugden
70  64.05  Andrew Bennett



Zermatt Marathon, Sat 9 July
Fiona Schneider reports ... the marathon was hot and high (a climb of over 1900 metres, starting at 1100 metres) over mixed ground, trails and roads and grass. I finished in 6h52:35 (winner 3h09:40)
See the event video.
Leeds ParkRun, Sat 9 July

78 25:46 John Marshall


Danefield Relays, Wed 6 July

27  74:55  Ilkley Juniors  1st junior team
Kieren Roebuck 25:28, Greg Lowe 25:37, Bradley Chapman 23:50

37 81:45  Ilkley HArriers Ladies A
Kelly harrison 26:09, Val Kerr 26:35, Amanda Newham 29:01


Rochdale 10k, Tue 5 July
Rob Cunningham was 36th in 38:49
Away Run, Tue 5 July
With ILT&SC busy with a major tennis tournament, Andy Wolfenden came to the rescue with an Away Run at Timble. Andy reports ... 43 of us took the rocky road to Round Hill... A few energetic souls extended the run to Beamsley Beacon. It was a great turn out, and it shows that a wide range of running abilities can run together and get something out of it. I think that the Black Horse in Askwith sold more beer and crisps in an hour and a half than they usually sell in a week. Ilkley Harriers feeding themselves and the local economy. Join us again for Simons Seat on the 24th (ILT&SC closed again) and food afterwards at the Swan in Addingham, details will be posted nearer the time.
SLMM, 2-3 July
Paul Stephens reports ... probably the hardest Saunders I've done. Superb weather, albeit a little warm for running. But the course organisers were perhaps a tad ambitious - particularly the Sunday. My brother and I did the Carrock. We had a good 2 days, coming in 13th on both days and 14th overall. But there was a 40% drop-out and it was similar in the courses above us.
As far as I know all Ilkley Harriers completed the courses, Dave Wilby and partner 10th in the hard Scafell class, Sophie Brown with Angela Srivastava 31st in the Carrock, and Chris Oxlade and John Pickering 51st in the Harter Fell. Saunders Lakeland Mountain Marathon
Wharfedale TTT, Sat 2 July
Clare Smith reports ... it was a glorious weekend for the Wharfedale TTT event in Kettlewell which is organised by Bingley Harriers. There are 3 races held over the weekend. Friday night's is on Tarmac-a 2.5 mile uphill only slog to Park Rash. Saturday's run is the 'Tussock' component over the challenging terrain of Great Whernside, and on Sunday there's a 1.5 mile up-and-down 'Trail' race to finish.
I just went up for Saturday's race and there were plenty of people enjoying the camping facilities but I only spotted 3 other Ilkley Harriers. I took Neil's 'take it easy' advice too literally, started slowly and just got slower! However, I enjoyed the run and managed not to injure myself in the process.

Friday
31  24:13  Mike Baldwin
38  25:29  Alison Weston

Sat
12  1:38:23 Ian Rowbotham
40  1:57:19 Alison Weston
44  2:00:36 Mike Baldwin
64  2:09:12 John Coates
74  2:17:00 Clare Smith

Sunday
10  14:41  Matthew Cox
36  18:13  Alison Weston
42  19:00  John Coates


Alison Weston was 2nd lady in the 'Grand Prix' of all 3 races. The Saturday race, won by Bingley's Andy Jebb in 1:31:31, was a counter in the Ilkley Harriers Race League.
Kirkby Gala fell race, Sat 2 July
Results of this BOFRA race ...

11 38:02 Iain Gibbons
12 38:07 Dave Cummings

U14
7  18:15 Jack Cummings


Birmingham & Black Country Half Marathon, Sat 2nd July
282  1:50:02  Martin Wright
ParkRuns, Sat 2 July
Sally Malir reports Georgia and myself decided that it was time to try out those barcodes that we had downloaded a year ago and head off to Bradford for the Parkrun in Lister Park. A great little event, very friendly, easy to drive to and lots of parking! The course is three laps with quite a tough hill each time so therefore is not a fast 5k course. Results were emailed to us yesterday afternoon, what service! Georgia was 1st lady, 7th overall in a time of 19.41, I was 3rd lady, 18th overall in a time of 20.54
Gemma Carpenter was 54th in 26:58
At the Hyde Park ParkRun Ken Souyave was 18th in 19:27 and John Marshall 91st in 24:11
---