Ilkley Harriers news archive 2011
Harrier of the Month, June
Nominations were:


Vic Verecondi, BMW Relay teams coordination
Eddie Winslow & Stuart Pitches, 2nd in 3 Peaks Yacht Race
Mark Mon-Williams, HSDRL and fell results
The HoM awards went to Vic Verecondi, & Eddie Winslow & Stuart Pitches. Congratulations to them. They will receive technical running shirts from HoM sponsor UP & RUNNING.
HDSRL #5, Sicklinghall, Wed 29 June
It was the final team race in this year's HDSRL and what a perfect League race it was: great course, a perfect summer evening, and good food afterwards. We even won one of the team competitions (Super-Vets) on the night! Results from www.harrogate-league.org.uk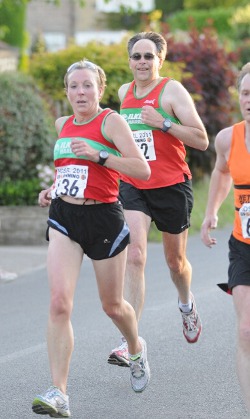 28   28.27  Mark Mon-Williams
38   29.19  Andrew Merrick
40   29.22  Mark Iley
58   30.52  David Brown
60   30.57  Andrew Sheldon
62   31.04  Duncan Cooper
78   32.08  Neil Chapman
81   32.14  Geoff Howard
85   32.21  Paul Stephens
103  33.17  Rebecca Mon-Williams
108  33.33  Jane Bryant
109  33.33  Henry Heavisides
122  34.45  Bradley Chapman
151  36.11  Val Kerr
152  36.12  Chris Cunningham
175  37.29  Peter Shields
176  37.31  Nick Mellor
182  37.45  Paul Sugden
186  37.58  Clare Smith
201  39.09  Rhiannon Turner
227  41.16  Judith Scarfe
231  41.41  Andrew Bennett
243  42.34  Janet Bairstow
246  43.05  Sue Williamson
257  44.26  Christine Cox
266  47.14  Rachel Cunningham
278  50.22  David Millson


This was a IH Race League event.
Three Peaks Yacht Race, Tue 28 June
Eddie Winslow reports Stuart Pitches and I, racing with the crew of White Cloud, were 2nd in this yearís Three Peaks Yacht Race. We finished just before midnight on Tuesday night just 90 minutes behind the winners after three and a half days racing and 45 minutes ahead of third place.
Loughrigg, Silver Howe Fell Race, Sun 26 June
Jim & Lyn report on ... an English fellrunning Championship counter, 8.5miles, 2.530ft of climb, starting and finishing at Rothay Park, Ambleside. Four ckeckpoints at Loughrigg, Silver Howe, returning to Loughrigg and finally at Lily Tarn. Checkpoints had to be listed in that order with routes in between were down to individuals which made some interesting route choices and discussions after the race.
Early morning rain and mist cleared before the race leaving a clear but very humid day. Lovely but really tough race which you would expect for an English Championship. Provisional results:

Men's Race
1   1h08 Ian Holmes, Bingley Harriers
121 1h40 Neil Smith
226 2h04 Jim Towers

Ladies Race

1   1h27  L. Jeska, Todmorden Harriers
20  1h42  Alison Weston
48  1h53  Clare Smith
52  1h54  Val Kerr
78  2h58  Lyn Eden


Trawden 7 Multi Terrain, Sun June 26
Vic Verecondi reports ... thought Iíd do a trail race this weekend and found this small one nearby at Trawden near Colne. The course was quite simple ... Two miles uphill ... Three miles undulating ... Two miles downhill. Basically the whole lot was quite knackering and I did a time of 63 mins. Not bad I guess as I didnít go hard
Met an interesting guy at the end, a Vet 70 who could run like the wind and had put in a fantastic time. Had a good chat about his fell/trail racing adventures. So I asked him what his formula was. His response was very very simple... ďLuckĒ he stated emphatically. Pretty basic hey... So Iíll take that comment/thought when I next get a PB or feel happy about a race or good training session.
Platt Fields 10k, Manchester, Sun 26 June
Rob Cunningham was 15th in 39:36
Eldwick Gala, Sat 25 June
Tom Adams retained his title winning the event for a second year in a row shaving over 40 seconds off his time from last year (same again next year and he'll be close to the record, 16:01).

1  16:44 Tom Adams
19 20:08 Dave Cummings
41 22:48 Jack Cummings
47 22:59 Diane Haggar
76 26:55 Sue Morley
81 27:44 Eric Morley


Leeds ParkRun, Sat 25 June

93 24:23 John Marshall


Beamsley fell race, Wed 22 June
Results from www.wharfedaleharriers.org.uk:

7  38:57  Lee Morley
13 41:19  Nick Pearce
22 42:22  Duncan Cooper
36 46:52  Michael Pearce
38 47:18  Paul Stephens
41 47:57  Jenny Dybeck
43 49:45  Jann Smith
53 51:26  John Coates
73 57:54  Sue Morley
76 59:13  Graham Breeze
78 66:43  Paul Sugden
82 71:10  Vince Gibbons
83 71:11  Bernie Gibbons


If you enjoyed that and fancy a similar race, or missed it and really fancy running up this super hill, come to our Addingham Gala fell race on Saturday 9th July.
HDSRL #4, Otley, Tue 21 June
A great turnout of Harriers for the 4th race in the League, with members new and old out racing on a perfect Summer evening. Full results on www.harrogate-league.org.uk

19   35.58  Jamie Hutchinson
29   36.47  Steve Weston
34   37.25  Mark Mon-Williams
38   37.32  Mark Iley
39   37.32  Andrew Merrick
48   37.47  Justin Phillips
49   38.08  Richard Reeve
58   38.55  Julian Carter
62   39.09  Jeff Paget
63   39.15  Ken Souyave
72   39.56  Andrew Sheldon
82   40.30  Stephen Rhodes
87   41.08  Neil Chapman
90   41.20  Paul Stephens
103  42.32  Jane Bryant
112  43.12  Jane Mccarthy
119  43.52  Dougie Scarfe
120  43.53  Helen Horton
121  43.58  Sharon Williams
137  44.44  Alison Weston
141  44.58  Chris Oxlade
156  45.47  Val Kerr
163  46.11  Bradley Chapman
166  46.19  Peter Shields
175  47.07  Nick Mellor
179  47.27  Martin Wright
192  48.16  Keith Wood
199  48.59  Sue Bickerdike
206  49.32  Matthew Rutter
211  50.10  Rhiannon Turner
215  50.24  Paul Sugden
216  50.25  James Pickersgill
218  50.43  Donald Macrae
219  50.45  Michael Picken
220  50.48  Sheena Pickersgill
230  51.36  Amanda Newham
233  51.44  Gemma Carpenter
249  53.14  Emma O'Looney
255  53.53  Sue Williamson
259  54.48  Janet Bairstow
276  57.41  Christine Cox
288  62.08  Kathryn Stott
291  63.28  David Millson


BMAF 5k, Sun 19 June
Geoff Howard repeated last year's Bronze medal success in V65, with a time of 19:30; and fell team member Tracey Greenway won a Gold. Well done both.
Helm Hill race, Sun 19 June
Results of this BOFRA race ...

13  25:51  Ian Gibbons
18  26:31  Mark Mon-Williams


Run For All Leeds 10k, Sun 19 June
New member Rhiannon Turner reports ... did the run in 52:20, really pleased, big improvement on the last time I did it. Saw a few other Ilkley Harriers along the way who said hello - was a good atmosphere. Next goal a sub 50 time!
Results from raceday.runforall.com:

29   38:31 Rob Cunningham
45   39:33 Jonathan Sinclair
790  48:42 Damon Bowles
1114 49:18 John Marshall
1451 52:17 Rhiannon Turner
1978 54:51 Catherine Brown
2041 55:09 Janet Bairstow
2160 55:39 Fiona Schneider
2307 56:14 Stephanie Millward
3182 59:57 Rachel Cunningham
3789 62:27 Sally Wright
5016 69:49 Sue Bickerdike


Settle Hills race, Sun 19 June
Amanda Newham was 4th lady vet and 67th overall in 1h24 for the steep up and down 7 mile race
Buckden Pike fell race, Sat 18 June
Nick Pearce reports ... a classic fell race over a 4 mile course including a river crossing and near vertical climb at the start; and vertiginous descent, river crossing and wall jump at the finish, with a 1,500 feet of ascent in total. The race was won by Karl Gray of Calder Valley in 34.43. Ilkley Harries were Nick Pearce 23rd (2nd V50) in 41.55; Michael Pearce 43rd in 45.28; and Sue Morley 100th (1st LV50) in 1.00.12.
Great Lakes Race, Sat 18 June
Steve Turland reports ...Now in its 4th year, this one is becoming a classic. 13m and 7,000ft from Langdale taking in Bow Fell, Esk Pike, Great End, both Scafells across upper Eskdale then back over Pike Blisco into Langdale. With the clag down for most of the way, it made for some interesting navigation!. Race was won by Mark Palmer of Mynydd Du. I finished 11th in 3hr 27 and Roy Ruddle was the other Harrier - still waiting for results to confirm time/position.
Stray 5k, Harrogate, Sat 18 June

53  21:13  J Taylor
72  22:35  Dan Birch
179 29:55  Christine Barraclough


ParkRuns, Sat 18 June
People are doing ParkRuns all over! Gemma Carpenter was 59th in 27:33 at Bradford Lister Park.
Ken Souyave was 23rd in 19:51 at Leeds Hyde Park.
Junior Harrier Lucy Haines was 54th in 22:01 and Sarah Haines was 90th in 24:06 at the Edinburgh event.
And Junior Harrier Holly Park was 32nd in 32:12 at the Conkers (Loughborough) ParkRun.
Mob Match, Tue 14 June
Ilkley Harriers beat Bingley Harriers for the fourth year in succession in the Mob Match at Bingley Harriers' St Ives Trail Race. A stupendous turnout of 47 Harriers dominated the field of 115 starters, vastly outnumbering Bingley's 20 runners. Bingley scored 1643 points under the age/gender handicap system, Ilkley's best 20 scores totalled 1831 points for a clear win, yet again.
Results
Thank you all for turning out and supporting the Club so well.
This was also a Ilkley Harriers Race League event.

Photo: just some of the Harriers at the event: see woodentops.org.uk for more!
Bradford Millennium Way Relay, Sun 12 June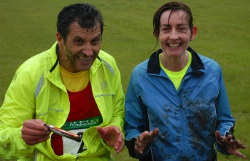 Vic Verecondi reports ... What a great day out ... it seems from the big gathering on Sunday night at the Taps that everybody in the 3 teams enjoyed themselves ... Well what can I say it was a pleasure organising it all and I think itíd be best left if individuals/pairs submitted their own stories ...From what I heard there were many ... Thanks to all who participated and a big thank you to Alison Bennett and Abigail Bailey for there assistance in getting other teams going.
Results from Saltaire Striders.

37th Ilkley Exceptionals          7:59:31
Helen Thurston & Andrew Merrick   1:31:18
Anna Nolan & Stephen Rhodes       1:50:02
Sue Bickerdike & Andrew Bennett   1:20:13
Alison Bennett & Nigel Tapper     1:38:09
Helen Horton & Vic Verecondi      1:39:49

45th Ilkley Swifts                8:33:07 
Christine Cox & Carole Cunningham 2:26:00
Chris Oxlade & Dougie Scarfe	  1:35:12
Lynn Donnohue & Don MacRae        1:25:43
Neil Chapman & Jane McCarthy      1:21:15
Clare Smith & Sue Morley          1:44:57

46th The Ilkley Winkles           8:46:04
Caroline Morley & David Howe      1:34:15
Nick Page & Jon Dillon            1:49:25
Gemma Carpenter & Bex Lander      1:38:13
Annabel Bailey & Louise Burdett   1:52:22
Abigail Bailey & Nicole Dillon    1:51:49


Weets fell race, Sat 11 June
Nick Pearce reports ... Four harriers travelled to Barnoldswick for the fortieth running of the Weets fell race. I didn't realise that the race no longer starts at the Rolls Royce sports club, but near Letcliffe park at the other end of town - I made the start line with minutes to spare. The current course is a tough little race with 1800' feet of climbing over 5.5 miles - significantly more climbing than the original race, and more of a fell course.

1  40.05 Mark McGoldrick Wharfedale 
3  42.27 Lee Morley
8  43.56 Ralph Tench 
11 45.31 Nick Pearce 
26 49.59 Mike Baldwin 


ParkRuns, Sat 11 June
John Marshall was 103rd in 24:12 at Leeds Hyde Park.
Gemma Carpenter was 51st in 26:47 at Lister Park, Bradford.
Abbey Anniversary fell race, Thu 9 June

12  40:54  Steve Turland
14  42:25  Ian Rowbotham
29  48:34  Dave Wilby
46  55:28  Graham Breeze
52  57:34  Sue Morley


Otley 10, Wed 8 June
Results from otleyac.org.uk

34  69:20  Rob Cunningham
53  71:46  Sally Malir  3rd lady, 1st F45
66  75:05  Andrew Sheldon
128 81:30  John Coates
129 81:34  Chris Cunningham
214 95:08  Bernie Gibbons


Harewood Chase, Sun 5 June

Ladies race
26 53:36 Judith Scarfe
59 63:53 Rachel Cunningham

Men's race
16 42:18 Andrew Sheldon
25 45:13 Dougie Scarfe
34 46:56 Chris Cunningham


Ieper Half Marathon - "McBride-Run", Sun 5 June
Andrew Jackson reports ... I competed in my 1st half marathon on Sunday in Ieper Belgium. The race started in the centre of Ieper, and passed under the historic Mennem Gate, before heading out into the country. The course was as flat as a pancake - there are not many hills in Belgium! I came 380th in a time of 1:44:11
Wharfedale Half and Full Marathon, Sat 4 June
Jann Smith reports ... My first proper off-road event, 2600 feet of ascent and a brutal head wind at first. Standing on the start-line with my newly purchased bum-bag containing; compass, whistle, waterproofs, map with course plotted by grid-references and emergency food I felt very out of my comfort zone. I learnt a few lessons during the race: 1. Don't wear road shoes! The terrain is very rocky underfoot being mainly limestone pavement. 2. Listen to Ewan Welsh's advice: 'take it really steady at the start', so why was I racing with the first lady for the first 8 miles?? 3. If in doubt, get the map out! Don't believe other people know the route, I took a couple of wrong turns and ended up running about an extra mile and a half in a full circle losing valuable time!!
It's a great well organised race, the scenery was stunning and varied, everybody helped each around the course and it's on our doorstep...it's a real challenge, the hardest race I've ever done so far, but Graham Arthur, yes,I did enjoy it!!
Photos on www.photos-dsb.co.uk

Full marathon
3   3:16:36  Jez Hellewell
34  3:57:23  Jann Smith   4th lady, 1st F35
37  3:58:44  Graham Arthur
48  4:13:51  Richard Morris
82  5:34:31  Fiona Schneider  1st F50

Half marathon
9   1:39:24  Mark Mon-Williams
17  1:41:38  Andrew Merrick
18  1:42:02  Jonathan Sinclair
44  1:54:48  Rebecca Mon-Williams 3rd lady, 1st F40
51  1:55:54  Ewan Welsh
54  1:56:19  Helen Thurston 4th lady
57  1:57:11  David Howe
72  2:02:13  Outi Kamarainen 
73  2:02:27  Nigel Tapper
78  2:03:23  Helen Horton 1st F45
133 2:13:52  Adela Reperecki 
145 2:16:59  Nicholas Page
149 2:17:28  Martin Wright
168 2:21:52  Alison Frost 
182 2:27:31  Abigail Bailey
200 2:34:26  Paul Sugden
201 2:34:30  Emma O'Looney
202 2:34:32  Sue Bickerdike


Duddon Valley Fell Race, Sat 4 June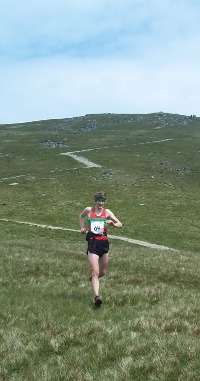 Clare Smith reports ... Several hardy Harriers turned out for this little toughie on Saturday. Certainly the hardest fell race I've ever done, just under 18 miles long and with about 7000ft of climb, including Harter Fell, Hardknott Fell, Little Stand, Swirl How, Dow Crag, White Pike and Caw.
Helene Whittaker, Alison Weston and Nicky Jaquiery were 3rd ladies' team.
288 started, 268 finished.
Q: 'Have I reached the top of Little Stand yet?
A: 'NO!'
Alison Weston adds ... a tough race but also lakeland running at its best. Blue skies, great views, lots of up + down, and lovely running along soft, grassy terrain. Dave, Steve and Duncan all had super runs as did Helene, Nicky and Clare. I am pretty sure we won the ladies vets team prize. So we need to keep it up!

1   Rob Jebb         2:43:54 (Bingley Harriers)
47  Dave Wilby       3:20:05
54  Steve Turland    3:23:44
92  Helene Whittaker 3:40:38 (1st LV45, 2nd LV40)
106 Duncan Cooper    3:48:00
146 Alison Weston    4:06:38
181 Nicky Jaquiery   4:22:59
235 Clare Smith      4:53:23


Pen y Ghent, Sat 4 June
Results from settleharriers.org

18  57:51 Jim Ryder
45  63:42 Roy Ruddle
104 77:31 Sue Morley


Balmoral Half Marathon, Sat 4 June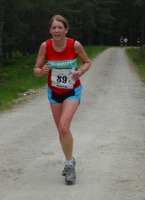 Andrew Bennett reports ... This event was the culmination of a great week up in the Cairngorms staying at Mark and Rebecca Mon-Williams' cottage (details on the Forum). Upon arrival Tom and I were immediately drafted in as emergency marshalls due to a shortage of volunteers and found ourselves whisked off to staff the first water stop complete with two-way radios. Alison ran the race which took place on roads, rough tracks and hills around the Balmoral Estate. We managed to get back to the finish to see her come in as second lady in a time of 1:38:40.
Harrogate Race League, Catterick Camp, Thu 2 June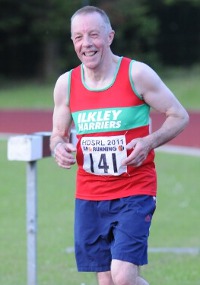 10 Harriers enjoyed an excellent event - a sunny evening, a great venue, and a challenging race. Well done to them, but this was a shockingly low turnout and we cannot get good team results without much better support. Come on everyone, let's do better at the next race at Otley on 21st June.

28   41.35  Mark Mon-Williams
33   41.55  Jeff Paget
37   42.23  Mark Iley
54   44.54  Andrew Sheldon
66   46.14  Rebecca Mon-Williams
85   48.15  Dougie Scarfe
156  56.16  Donald Macrae
158  56.31  Judith Scarfe
161  57.39  Sue Williamson
190  69.01  David Millson


Chevin Fell Race, Wed 1 June
Dave Wilby reports ... Tom Adams produced a magnificent performance once again to lead all the way, winning by a good margin and pushing himself to within 2 seconds of Ian Holmes record which has stood for the last 10 years. In the last week Tom has now broken 2 course records, won 2 races outright and set the fastest leg in a relay, and collected a silver medal for his county, not bad going!! Nick Pearce & Jim Towers both won their age groups with strong performances and there were plenty of other Red & Green vests on show. A good showing by Ilkley at one of our local races.

1   17:06  Tom Adams
25  20:59  Nick Pearce
27  21:55  Michael Pearce
33  22:20  M Richmond
45  23:17  Roy Ruddle
78  26:32  Jim Towers
82  26:58  Chloe Haines
92  29:02  Sue Morley
98  37:05  Lyn Eden


---