Ilkley Harriers news archive 2011
Harrier of the Month, January
Nominations were:


Malcolm Pickering - XC Captaincy, organisation, encouragement, and results, plus work with juniors
Mark Mon-Williams – Pennine Bridleway Relay team organisation
Jane Bryant – sub 90m half marathon at Brass Monkey
Steve Coy – Brass Monkey 1st Harrier and 5km time
Andrew Merrick – pacing at the Brass Monkey
Dave Wilby – Ireland fell race result
Ralph Tench - Clwydian Hangover Hobble 1st Vet
The HoM awards went to Jane Bryant and Steve Coy. Congratulations to them. They will receive technical running shirts from HoM sponsor UP & RUNNING.
PECO XC #4, Sun 30 Jan
Malcolm Pickering reports ... a total of 29 Harriers, 14 seniors and 15 juniors, ran in the 4th Peco cross country league race at John Smeaton sports centre. In the Under 11's Euan Brennan was 4th, Robbie Matthews 6th, Alessandra Ricci =8th, Jess Hirst 13th, Jessica Burgress 16th, and Emily Elmes 22nd.
In the 11-16 years race Sarah Pickering was 4th, Lucy Williamson 8th, James Pickering 10th, Callan Parker Wells 11th, Lucy Jacques 15th, Iso Hirst 16th, Harriet Jackson 18th, Joanne Williamson 22nd and Anna Pickering 24th.

Senior race results
Women
48  Louise Jackson
50  Alison Ricci
62  Bernie Gibbons
99  Sally Pickering
105 Lyn Eden
 
Men
14  Jim Ryder
28  Malcolm Pickering
34  Dave Cummings
83  Andrew Sheldon
129 Andy Jackson
145 Jim Towers
149 Nick Mellor
170 Don McRae
187 Vince Gibbons


Full results on www.pecoxc.co.uk
Pennine Bridleway Relay, Sun 30 Jan
Paul Stephens reports ... Kelly and I had a good run on leg 3 of today's Pennine Bridleway relay, completing it in about 1hr 10 and gaining about 4 places. It could have been a disaster as I took the wrong road in Haworth and we ended up nearly in Colne before doubling back. But we made it and even had time to stand around, have a chat with Steve Weston and get cold before Paddy and Neil came in - leg 2 was the longest leg but they both looked in good shape. It was a hard start to our leg - a long uphill slog, but after that a lot of flatish running round the base of Studley Pike and through Mankinholes. There was a sting in the tail at the end with a steep uphill out of the valley bottom before a quick descent down the track to the changeover and a handover to Rachael and Amanda. I couldn't keep up with Kelly on that final descent. A satisfying run, and a lift back to the car from a couple of Wharfedale Harriers.
From Alison Eagle: 55th team overall out of 104 starters, overall time: 6.28, think we were about 7th mixed team but our sheet had not arrived before we left. Winning team was 4.49 - Salford Harriers, Ladies winner - Calder Valley, Mixed - Accrington Road Runners

Leg 1:  1.14   8.5 miles  Andy Wiggans & Steve Weston
Leg 2:  1.46  12.5 miles  Paddy Hagan & Neil Smith
Leg 3:  1.10     9 miles  Kelly Harrison & Paul Stephens
Leg 4:    57m  5.5 miles  Rachael Gooch & Amanda Newham
leg 5:  1.19   9.5 miles  Alison Eagle & Nicky Jaquiery

Nicki and I felt we had a good run at this stage in the season, very cold but clear day with ice on the paths. We were steadily catching teams and managed to get round with no mistakes, which was pleasing as we were unable to recce and at times there were signposts pointing and paths in all directions. Not sure if I would agree with the course directions when they claim the views are good from the highest point of the Mary Townley Loop, Rowley Moor Top, perhaps we were not in the right frame of mind after the two mile uphill slog, as horrid as it sounds!
Well done to Mark Mon-Williams, who not only got a team out when he was not taking part but correctly predicted our change over time, virtually to 1 minute! He must be onto a winner at the next Club Handicap race and Richard's bottle of wine!!
From our leg changeover it seemed well organised, esp the signs showing the route through the houses and back allies to the finish. Free tea and coffee was provided for all at the finish and a nice warm school to sit in and use the faciities, results were out quickly helped by dibbers being used.
Paddy Hagan says: Leg 2 was as painful as I remember the last time I was dragged (sympathetically) round it. It starts gently enough but (as with leg 3 by the sound of it) gets tough at the end when you could really do without it, including a couple of rotten "hands on legs" ups before a final helter skelter descent. Welcome words of encouragement from Neil were met with increasingly desparate responses from me ("yes, but I'm dead"). Overall we seemed to just about hold ground as we gained on some and lost on others - with a few pairs remaining enticingly close, but not close enough for my sore legs to catch. (According to the provisional results we gained 8 places - I really can't remember that happening).
Official results on SportIdent
Bradford ParkRun, Sat 29 Jan
Two Harriers ran:

20  23:43  Chris Cunningham
38  27:58  Carole Cunningham


Wharfedale Primary Schools XC, Ashlands, Sat 29 Jan
Just under 400! youngsters ran, results on the Junior Pages.

Ilkley Harriers Awards for 2010, Fri 28 Jan
It was another super Presentations Evening, with some 90 people enjoying a curry supper, socialising, and dancing 'til late. Thanks to Jacqui Weston the organiser; to Piccolino, Dobson & Robinson, and Neil for the prizes for the Grand Raffle; and to the ILT&SC café-bar staff for all their hard work.
See the photos in next week's newsletter ...
| Award | Winner | Other nominees |
| --- | --- | --- |
| Best Runner, Male | Tom Adams | Norman Bush, Henry Heavisides, Dave Wilby |
| Best Runner, Female | Sally Morley | Tracey Greenway, Sally Malir |
| Most Improved Runner, Male | Henry Heavisides | Martin Archer, Andrew Bennett, Julian Carter, Rob Cunningham, Paul Sugden, Dave Wilby |
| Most Improved Runner, Female | Rachel Carter | Kate Archer, Jane Bryant, Christine Cox, Sharon Fuller, Val Kerr, Chris Matthews, Rebecca Mon-Williams, Alison Ricci, Jannn Smith, Sharon Williams |
| Best Endurance Runner, Male | Derek Fuller | Jeff Paget, Stuart Pitches, Jonathan Sinclair, Morgan Williams, Martin Wright |
| Best Endurance Runner, Female | Nicky Jaquiery | Janet Grace, Sally Malir, Amanda Parnaby, Alison Weston, Helene Whitaker |
| Best Runner, Under 20, Male | Adam Bennett | Bradley Chapman |
| Best Runner, Under 20, Female | Brit Tate | Jenny Dybeck |
| Contribution to the club, Male | Neil Chapman/ Paul Wood | Tom Adams, Malcom Pickering |
| Contribution to the club, Female | Jane Bryant | Emma O'Looney, Alison Weston, Shirley Wood |
| Captains' Award, Male | Paul Stephens | Dom MacRae, Malcolm Pickering, Richard Reeve |
| Captains' Award, Female | Jann Smith | |
See archive.
The winners of the Ilkley Harriers Race League were also announced:
| | |
| --- | --- |
| Overall | Nick Pearce |
| Road | Henry Heavisides |
| Fell | Nick Pearce |
| XC/Trail | Nick Pearce |
Full results on the the Ilkley Harriers Race League page.
Brass Monkey Half Marathon, Sun 23 Sep
Henry Heavisides reports ... Today's Brass Monkey was again very popular with Ilkley Harriers. Conditions were very good with no wind, slightly milder temperatures than we've had recently and a fast flat course. Steve Coy managed to pip Steve Weston on the line for the honour of being first Ilkley runner to finish. Jane Bryant was paced by Andrew Merrick to her first ever sub 90 minute half marathon. Jane also won the prize for 2nd F40 & received a bottle of champagne from Andrew so it was a good day for her. I was content to nurse my sore hamstring around the course 3 minutes slower than last year, but was still able to win the M55 prize. All finishers received a smart technical running top.
Mark your diaries for next year (but entries filled up in less than 4 hours this year).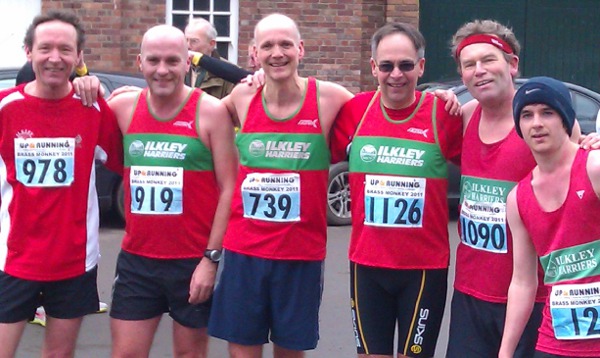 Stephen Coy adds ... As ever a fast course – good weather but deceptively breezy when exposed (on way back in) – results below on chip times and PB for me and I am sure others too: Winner Paul Martelletti was nearly 4 mins ahead of 2nd place in 1:05:21 !! Full results at ukresults.net

76   1:20:44  Stephen Coy    PB
80   1:21:06  Steve Weston   PB
116  1:23:30  Richard Reeve  PB
123  1:24:13  Henry Heavisides 1st V55
125  1:24:15  Jon Sinclair
148  1:25:06  Rob Cunningham
153  1:25:03  Andy Wiggans
156  1:25:24  David Brown
198  1:27:29  Neil Chapman
253  1:29:25  Jane Bryant    PB
254  1:29:25  Andrew Merrick
398  1:34:35  Nigel Tapper
563  1:39:10  Jann Smith
589  1:39:39  Helen Horton
628  1:40:51  Vic Verecondi
1123 1:55:51  John Brown
1148 1:57:16  Gaenor Coy


From Steve Weston ... This race is quick but is not exactly flat and there is a steady incline on the way back from the lollipop, to say nothing of two overbridges. I started off steady and managed to settle into a group of strong runners. Struggled with the breeze in the last few miles and faded int the last half as Stephen Coy passed me on the last bridge. A good performance all round with 10 Harriers under 90 minutes, including Jane Bryant who gets a well deserved place in the UK rankings.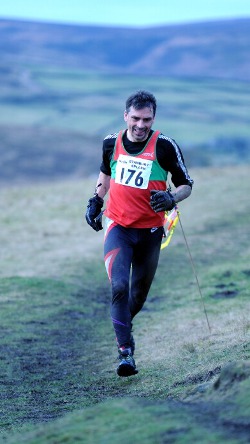 Soreen Stanbury Splash, Sun 23 Jan
Results from woodentops.org.uk...

(1  42:30 Chris Steele, Borrowdale)
5   44:03 Tom Adams
19  48:20 Lee Morley
21  48:32 Martin Archer
46  51:31 Jim Ryder
52  51:47 Steve Turland
74  53:35 Ian Rowbotham
88  54:52 Richard Joel
116 57:19 Duncan Cooper
135 59:12 Neil Smith
138 59:22 Kelly Harrison
171 61:42 Sally Malir
226 65:22 Diane Haggar
232 65:50 Alison Weston
251 67:38 Clare Smith
264 68:16 Jim Towers
291 69:41 Val Kerr
313 71:30 Sophie Brown
332 73:21 Sue Morley
342 75:29 Ann Stead
348 76:12 Bernie Gibbons
365 77:49 Amanda Newham
382 83:56 Vince Gibbons
398 92:27 Lyn Eden

The Ilkley ladies won the team prize

Ticknock Race - 6m/1200ft - Sat 22 Jan
Dave Wilby reports ... in an effort to maintain motivation during the long dark days of winter training, a change of scenery & a new race seemed like the ideal solution and so it was that I made my European(!) debut at the weekend. The race of choice was Ticknock, part of the Irish Winter League (more details at www.imra.ie), which coincided ever so nicely with my next door neighbour's trip home for the weekend, and Ryanair's January sale. So it was that we both caught a Friday night flight out of Leeds/Bradford, and lined up in a frost covered forest just south of Dublin on Saturday morning with 228 other like-minded individuals. The route itself was interesting and varied, definitely falling in to the 'trail' rather than 'fell' category, but a very good mix of technical natural trails, fire roads & man-made singletrack. A group of 4 of us made an early break, and after the first couple of technical sections we were down to 3, with the Irish Ultra Running international & Adventure Racer Eoin Keith leading the way. Me and my neighbour Liam of Otley AC (boo, hiss) traded the minor places a few times before his superior reserves of Guinness & his mum's home cooking paid dividends, and he broke the elastic. I couldn't get back on, and as he chased Eoin all the way in to finish 2nd by just 6secs, I came home 19secs further back for 3rd place, and over 2 minutes clear of the next finisher. A good weekend all round, sealed with a training run around the Slieve Bloom hills, and a few Jamesons nightcaps for good luck.
Everyone was very welcoming, and very pleased to have a couple of 'outsiders' adding to the competition. It's a developing scene in Ireland and if you feel the urge, I can't recommend it enough.
1 43:58 Eoin Keith
2 44:04 Liam Dunne
3 44:23 Dave Wilby
Bradford ParkRun, Sat 22 Jan
Rachel Cunningham was 57th in 29:58 at Lister Park
Social, Tue 18 Jan
The theme of this week's social Gathering was RELAYS. There was a overview of the Relay racing opportunities available (lots of them! see our Relay Page), some recommendations on which ones to do from Captains and relay veterans, a bit of reminescing from those who have done them, and a discussion of how we promote them and how we encourage/select runners. See the Forum note.
PECO XC Race #3. Kirkstall, Sun 16 Jan
Malcolm reports - results of the 3rd Peco race, with any luck we should have pulled some points back! Full results on www.pecoxc.co.uk

Women
37  Clare Smith
48  Louise Jackson
52  Bernie Gibbons
58  Sheena Pickersgill
64  Alison Ricci
105 Lyn Eden
6th team, 3rd lady vets team
 
Men
18  Mark Mon-Williams
27  Malcolm Pickering
34  Nick Pearce
39  Richard Reeve
49  Henry Heavisides
54  Michael Pearce  brilliant run by mike - his first ever race...
56  Neil Smith
118 Andy Jackson
121 Jim Towers
159 Paul Sugden
175 Don McRae
185 Vince Gibbons
4th team, 2nd Vets' team


15 Harriers ran in the Junior races, results on the Junior pages
Scarborough Rock, Sat 15 Jan
Amandy Parnaby reports on this EYLDWA event, 25 miles and over 3,000 ft of climb. Starts at Scalby on the Whitby Road then into Scarborough, along the sea front, out over Oliver's Mount and out into the countryside around Hackness, Forge Valley and Burniston. Windy but mild day. Finished back at Scalby in 6 hrs 40 mins.
Northern Counties XC News
Pete Shields reports ...I have been managing/coaching the Northern Counties XC squad. We had an inter area match in Cardiff over the weekend and I took a mens and ladies team to compete. Local interest to us in the ladies team was Jo Buckley latterley of Calder Vally and now Bingley, she came into the team after a good showing in the Yorkshire X/C's and finished a really strong 5th in a quality field. These squads are also used for developing athletes, giving them the opportunity to experience elite competition. Ilkley's Tom Adams was given the opportunity to run following the withdrawl of an athlete from the initial team. Tom conducted himself very well and certainly earned his North vest, he finished 26th, again in a very strong field, it was great to see Ilkley Harriers getting some representation at this level.
Yorkshire XC Championships, Sun 9 Jan
Results from Northern Athletics:

Senior Women
18  24:38  Sally Morley
43  26:58  Emma Barclay
50  27:24  Diane Haggar
61  28:38  Sally Malir
91  40:43  Lyn Eden
7th team

Senior men
33  41:20  Tom Adams
80  44:20  David Westhead
106 46:36  Dave Wilby
123 47:34  Ian Rowbotham
125 47:40  Nick Pearce
134 48:05  Malcolm Pickering
149 49:12  Steve Weston
183 52:17  John Tate
221 58:45  Jim Towers
7th team


In addition Brit Tate was 10th in the U17 race in 20:04, and we had a super turnout of younger juniors with 6th U13 boys team; and 4th, 8th, and 12th U13 girls teams. More soon on the Junior pages.
Hexhamshire Hobble, Sun 9 Jan
Dave Taylor braved fresh snow and ice to complete the postponed Hexhamshire Hobble. This is a 10.5 mile category C fell race over Hexhamshire Common from Allendale Town in Northumberland. Beautiful blue skies gave great views to spectators who made it up on to the fell, but competitors were mainly looking at their feet with sheet ice leading to many falls. This was the third year that this historic race has been organised by the Allen Valley Striders and the first year it has been dedicated to the memory of local fell-running hero Angus Tait. Organisation was smooth, with quick results, supportive and efficient marshalls, no route-finding difficulties and superb (free) tea and cakes in the school afterwards. Despite a strong field with several local clubs using the race as a counter in their leagues, the atmosphere at the front and the back of the field was uniformly friendly. Results:

1   1:11:27  James Buis
52  1:37:22  Dave Taylor
122 finished


Leeds Hyde Park Parkrun, Sat 8 Jan
Steve Coy was 2nd, by just 8s, on 18:26, for this 5k run.
Clwydian Hangover Hobble, Sat 1 Jan
Ralph Tench reports ... surprisingly good day on the Welsh Fells in cold, wet and quite miserable start to the year. However came 5th out of field of 80, picking up the MV40 first prize, in 41:32
Giants Tooth fell race, Sat 1 Jan

26  20:30  Toni Melechi
83  27:20  Peter Lewis


---