Ilkley Harriers news archive 2010
Harrier of the Month, November
Nominations were:


Henry Heavisides - Abbey Dash results and other races
Sally Morley - 8th place West Yorks XC and 1st F Benís Run
Steve Weston - 20 mins off Tour of Pendle time
Brit Tate - 1st IH lady in Abbey Dash
Chris Matthews - 10 mile Club record
Julian Carter - Abbey Dash time
Neil Chapman - organising Benís Race
Martin Archer - Burley Fell Race win
Rob Cunningham - 5k and Abbey Dash time
Tom Adams - 3rd place West Yorks XC and Harriers v cyclists result
The HoM awards went to Brit Tate and Rob Cunningham. Congratulations to them. They will receive technical running shirts from HoM sponsor UP & RUNNING.
Ben Rhydding Primary Schools XC, Sat 27 Nov
Another super event, 275 juniors running (numbers a little lower! than normal due to the snow) and a great morning's activities organised by BRPC. Results etc. on the Junior Pages
ParkRun, Sat 27 Nov
Rob Cunningham did the Finsbury Park (London?) event, 9th in 19.49
Another Junior Harrier
Those who know Lawrence & Jemma (Lawrence organises the Trail Race) will be pleased to note that Hope Ava Basham was born at 9.51am on Fri 19th Nov, weighing in at 7lbs 13oz. Everyone well.
Abbey Dash, Sun 21 Nov
Henry Heavisides reports ... The Abbey Dash again produced ideal conditions for running a fast 10k. This year there were 8 runners under 30 minutes, which must make it one of the quickest 10k's in the country. Ilkley Harriers were well represented, with Jamie Hutchinson being our 1st finisher in 35:19 (chip time).
In the Category results, Geoff Howard was 2nd M65, Ken Souyave 1st M60 (gun position), Alison Bennett 2nd F45. I had a real battle with Shaun Jordan of Bingley, he beat me by one second on gun time & I beat him by 1 second on chip time, we were 1st & 2nd in the M55 category (I should start nearer the front next year!). (I managed to beat my M55 Club record.)
The official results (www.raceahead.co.uk) didn't originally show clubs, we think we've got everyone now but if you're not listed here let us know your chip time and posn please.

1    29:17  Neilson Hall
129  35:19  Jamie Hutchinson 
193  36:53  Henry Heavisides
208  37:11  Richard Reeve
230  37:32  Rob Cunningham
247  37:47  Julian Carter    PB by 3:11
262  38:01  Jonathan Sinclair
286  38:22  Andy Wiggans
363  39:19  Brit Tate
372  39:25  Geoff Howard
407  39:46  Ken Souyave
483  40:30  Rachel Wolfenden PB
494  40:34  Nigel Tapper     PB
502  40:37  John Tate
544  40:56  Jane Bryant      PB
676  43:00  Charles Oxtoby
687  42:05  Alison Bennett
756  42:33  Sharon Williams
788  42:47  David Howe
818  42:57  Adrian Bastow
884  43:19  Vic Verecondi
912  43:27  Helen Horton
1067 44:14  Jann Smith      PB
1111 44:29  Dougie Scarfe   PB by 1:37
1169 44:48  Timothy Ratcliffe
1256 45:13  Richard Hinsley
1279 45:20  Martin Wright   PB by 1:48
1470 46:10  Anna Nolan
1503 46:20  Andrew Jackson  First 10k
1508 46:21  Ros Frost
1631 46:54  Sharon Meadows  PB by 13s
1642 46:57  Nick Mellor
1670 47:04  Karen Lambe
1922 48:07  Hilda Coulsey
2242 49:22  Christine Cox
2453 50:11  Sue Bickerdike
2501 50:24  Kevin Wardale
2503 50:24  Alison Ricci    PB by 5:30 
2554 50:35  Sheena Pickersgill 
2577 50:42  Caroline Morley
2634 50:53  Judith Scarfe   PB by 3:09
2864 51:37  Louise Jackson  PB by 1:33
2894 51:44  Andrew Bennett  PB by 1:21
3208 53:06  Janet Bairstow
3416 53:58  Sue Williamson
3592 54:36  Donna Jackson
4638 59:12  Greg Wright


In the Category results, Geoff Howard was 2nd M65, Ken Souyave 1st M60 (gun position), Alison Bennett 2nd F45. I had a real battle with Shaun Jordan of Bingley, he beat me by one second on gun time & I beat him by 1 second on chip time, we were 1st & 2nd in the M55 category (I should start nearer the front next year!). (I managed to beat my M55 Club record.)
Rivock Edge fell race, Sun 21 Nov
6.3 miles (7.3 on people's Garmins!), 835'. Results:

1      49.52  Ted Mason, Wharfedale 
12     54:56  Ralph Tench
34     59:15  Neil Smith
36   1:00:37  Toni Melechi
40   1:01:33  Paul Stephens
60   1:04:00  John Hayes
76   1:05:47  Norman Bush
96   1:09:21  Kelly Harrison
98   1:09:47  Christopher Oxlade
103  1:10:50  Jim Towers
118  1:12:59  Claire Smith
127  1:14:11  Sophie Brown
138  1:16:39  Sue Morley
152  1:36:52  Lyn Eden


Preston 10, Sun 21 Nov
From Chris Matthews ... I ran the Preston 10 mile today in perfect conditions, on a well organised 2 lap course. Didn't see any other Ilkley vests so apologies if not included, (however appreciated support from Di Haggar, spectating).
This is a new Club record.

1   52.10    Steve Littler, Wesham
161 1:13:58  Christine Matthews  1st FV55, Pb 3 mins.+

Harriers vs. Cyclists, Sat 20 Nov
We hear that Tom Adams was 2nd (running) in 34.15 to Rob Jebb who set a new record on a bike 32.19. Tom Adams was the only runner in the first 6 finishers (Ian Holmes was 6th on a bike). These photos give a taste of the race. Also, there are videos, full results, and discussion on the FRA Forums.

1   32.19  Rob Jebb, cycling, new record
2   34:15  Tom Adams
23  39:52  Ian Rowbotham
50  44:56  Bob Hamilton
84  49:25  Ewan Welsh
120 59:08  Amanda Newham
146 finished


Complete Runner WYXC, Bramley Park, Sat 20 Nov
Diane Haggar reports ... a great turn out of 11 ladies at Bramley Park. Good to see Sally Morley heading the team with an outstanding 8th placing. Our best team placing so far, 4th, with Emma Barclay, Rachel Wolfenden and Alison Bennett scoring. Thanks to all for turning out and well done to Sheena for completing her first ever cross country.
Just one more league race to go on Dec 5th at Thones Park Wakefield, plus the Yorkshire Championships on 9th Jan.
Also don't forget the PECO League for a more Trail type experience with men & ladies running together.
Results from www.westyorkshireathletics.org.uk.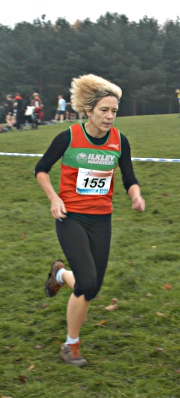 Women's race
1   18:58  Katie Walshaw, Holmfirth
8   20:29  Sally Morley
35  22:29  Emma Barclay
43  22:46  Rachel Wolfenden
44  22:47  Alison Bennett
46  22:57  Sally Malir
48  23:05  Kelly Harrison
58  23:41  Diane Haggar
70  25:44  Sue Morley
80  28:20  Sheena Pickersgill
81  28:52  Bernie Gibbons
83  32:58  Lyn Eden
4th team

Men
1   30:47  Andrew Pearson, Longwood
52  37:21  Jim Ryder
62  38:07  Justin Phillips
68  38:21  Mark Iley
72  38:44  Malcolm Pickering
76  39:16  Nick Pearce
84  40:01  Julian Carter
124 47:15  Jim Towers
130 49:38  Eric Morley
133 51:51  Vince Gibbons
8th team


There were also 24 juniors racing, report later on the Junior Pages
Dalby Dash 10k Trail Race, Sun 14 Nov
Emma Barclay reports ... This was the first time the Dalby Dash was run. A well organised event, starting in the Dalby Forest at the Visitor Centre. The course started uphill for 3km on tarmac, the first gent and lady to the top of the runnable hill were awarded with king/queen of the hill prizes. From the 3km mark the course followed trails around the Dalby Forest. A very enjoyable day out for all the family. I was 3rd lady and 1st lady vet in a time of 41:24. It was great to see 2 youngsters winning the Ladies and Mens race. Full results on John Schofields website. The event will be run on Remembrance Sunday again next year.
British & Irish Cross Country Internationals, Sun 14 Nov
Henry Heavisides reports ... I was 1st reserve for the England M55 team fo the British & Irish Cross Country Internationals, but unfortunately didn't get into the main race, so I ran in the 6k Open race for reserves & other vet runners. I finished in about 20th place, although I've not seen the official results yet. England won the overall men's & ladies team events as well as many of the individual & age category team races. I t's a great event & well worth the trip to Dublin to be involved in a big International race weekend. Next year the Internationals are being held in Glasgow & I'm sure that 4 or 5 Ilkley Harriers could make it into the England team if we run in the right qualifying races. The standards at the sharp end are quite high....for example Mike Hagar of England who won the M60 race has a sub 34 minute 10k road time this year!
YVAA Grand Prix, Sun 14 Nov
Jim & Lyn report ... the last race in this yearís Yorkshire Vets AA Grand Prix Series was held at Spenborough Athletic Club on Sunday. Approx 5.5 miles multi-terrain race starting and finishing on the athletics track with road, trail, fields and a couple of hills making a very enjoyable run, especially all the mud in the fields. A record turnout for the Yorkshire Vets Grand Prix with 219 runners

Men's race
1  31.26  Colin Walker, Pudsey & Bramle
88 42.28  Jim Towers

Women's race
1  35.03  Karen Pickles, Pudsey Pacers
66 55.35  Lyn Eden - 1st female LV65


FRA Presentations, Sat 13 Nov
Tracey Greenway and Norman Bush were amongst those who picked up medals at this glittering Do. Tracey was 1st LV40 and 1st LV45 in the English Championships, and also 12th LV40 and 49th lady in the British. Norman was 1st V70 in the English Championships, and 29th V60 in the British.
Other British results were Nick Pearce 23rd V50 and 74th V40; Geoff Howard 11th V60; and Jenny Dybeck 7th LU23 to add to her 2nd English LU23
A full roundup of the English Championships results was given earlier, see here.
Full Tour Of Pendle, Sat 13 Nov
Jez Hellewell says ... What a beast ! 17 miles, with 5000 feet of climbing. With two thirds of that climbing coming in the last third of the race. The last climb was a killer with pained expressions on everybody's faces. The weather wasn't too generous either. Wind, rain, sleet, proper fell running conditions. Saw Steve Weston & a couple of other Harriers (sorry I fogot your names in the pre race excitement) on the start line. I stumbled home in 3 hours 14, around 3/4 of an hour behind the winner, James Logue (from Calder Valley, I think). Not sure of positions/times of fellow Harriers as the results are not out yet. I will post these as soon as I get them.
Steve Weston adds ... The Tour of Pendle delivered everything, mud, hair-raising decents, quad busting climbs and weather in adundance.... sun, fog, rain and hail. Jez Hellewell, Paul Sowden and Graham Arthur were the other Harriers running. I managed to pace myself better this year and knocked off 20 mins off my previous time with 3.39.11. James Logue was first in 2.27 !
Leeds ParkRun, Sat 13 Nov
John Marshall was 157th in 26.00
Ben's Wish To Walk 5 mile race, Sun 7 Nov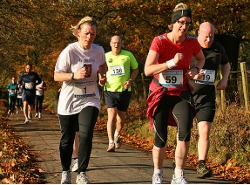 What a super day! Over 50 Harriers raced, and over 30 helped, in this road race to raise money for the Ben's Wish To Walk appeal. Subject to final accounts, we believe that we've raised over £1800 for the charity. Thank you to all the runners, 176 entered, about 70 of them local unattached runners supporting this great cause. Thank you to the ace Ilkley Harriers catering team and all those who donated delicious food. And thank you to the great team of helpers - another succesful Ilkley event achieved, thanks to your support. Results and photos on the Ben's Run page.
(More photos added 10th Nov)
This was a counter in the Ilkley Harriers Race League
PECO XC, Sun 7 Nov
Proving that you can have your delicious cake and eat it at Ben's Run, and field a few runners at the first race in the PECO XC League the same day, Ilkley sent a few runners, some of them not seen on a XC field for some time, to distant Ackworth ...

Men
26  Dave Cummings
71  Paddy Hagan
127 Jim Towers
146 Don Macrae 

Ladies
40  Clare Smith
60  Alison Ricci
84  Shirley Wood
100 Lyn Eden


A pair of trainers was found in the Car Park after - anyone go home shoeless? Contact Paul.
Shepherds Skyline, Sat 6 Nov
We hear that Tom Adams had a great race with Ian Holmes, swapping the lead, and both over a minute clear of a quality field.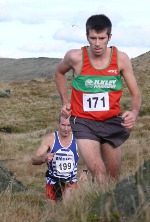 1   40.26  Ian Holmes, Bingley
2   40.40  Tom Adams
19  47.53  Ian Rowbotham, 1st V50
39  50.32  Jim Ryder
64  53.16  Nick Pearce
85  55.21  Neil Smith
105 57.06  Mike Baldwin
133 59.30  Kelly Harrison
179 63.38  Ewan Welsh
233 68.45  Sophie Brown
281 finished


Results and photos www.todharriers.co.uk
Photos from the Woodentops: Dave's photos, Eileen's photos
Burley Festival Moor Run, Sat 6 Nov
Bob Hamilton reports ... Despite all the other racing attractions this weekend, I felt compelled to give this new local fell race some support. Despite their lack of experience, the organisers laid on an excellent event, over a very natural and well-marshalled course taking in a loop of the eastern side of the moor. It was fine to enter on the day, and for once I was rewarded for my lack of organisation by only having to pay £2.50! It meant I didn't get to pick up the rather attractive T-shirt, but I ran out of cupboard space for those years ago.
There was a very strong community feel to the race, with a healthy mix of local fun runners and 'proper' fell runners. A good sprinkling of Ilkley vests were on show throughout the field so the club has certainly done its bit to support the event on what was a very busy weekend. I very much hope it becomes an annual fixture. I presume that results will be available at some point, but they don't seem very important in the context of such a lively social occasion!
Justin adds ... Martin Archer won the race leading from start to finish (his 2nd ever race win). A really nice event with a great local community spirit, well done Burley.
Did you run? There's a list of finishers, race numbers and times but no names, on Otley AC's site here. Let us know your result?

1   49.31  Martin Archer
6   52.51  Richard Joel
7   53.16  Justin Phillips
12  55.29  Duncan Cooper
13  56.05  Bob Hamilton
14  56.13  Jon Sage
15  56.18  Andy Shinn
16  56.31  Toni Melechi
41  63.41  Outi Kamarainen
50  65.30  Jim Towers
?          Liz Price
?          Chris Matthews
130 87.59  Lyn Eden
		   

ParkRuns, Sat 6 Nov
Rob Cunningham was 10th in 18:20 in the South Manchester event.
Wharfedale Primary Schools XC League, Race 2, Sat 6 Nov
Over 460 Primary Schools children ran in the race organised by Westville House School and assisted by Ilkley Harriers. More on the Junior pages.
---