Ilkley Harriers news archive 2010
Harrier of the Month, October
Nominations were:


Jeff Paget - sub 3hr marathon and club record
Martin Wright - 2 marathons in 1 month!
Geoff Howard - Selby 10m time and club record
Amanda Parnaby - Rotherham 50m
MV60 team at YVRR - Colin Lugton, David Millson and Don McCrae
The Ladies Ian Hodgson team
Chris Matthews- Italian 1/2m and club record
Heather Dawe and Andrea priestly - 1st in OMM
Derek Fuller - OMM result
The HoM awards went to Geoff Howard and Jeff Paget. Congratulations to them. They will receive technical running shirts from HoM sponsor UP & RUNNING.
The OMM, Sat/Sun 30/31 Oct
From Dave Wilby ... this years OMM provided not only the longest drive for many a year, but also the longest courses in the 6 years that I've been doing the event. Dartmoor was the venue, starting and finishing at Okehampton Camp in the north of the area, and as the terrain offers little in the way of significant elevation change, the organisers decided to really put the boot in by offering up approximately 100km of tussock-ridden running for those taking on the Elite course. The Harriers were well represented in this category and were led home by Derek Fuller who together with his partner put in a superb performance to claim 14th place overall. With my usual partner succombing to age & infirmity, I lined up with his younger brother who'd made the trip from Grenoble, but after a very successful first day we were brow beaten by the incessant day 2 weather, and a couple of river immersions, and slipped to 23rd. Heather Dawe & Andrea Priestley paired up for the 2nd year in a row and claimed the ladies title, just ahead of ex-Harrier Holly Williamson.
Other Harriers spotted either at the event, or during a very quick flip through the results were Graham Weston & Steve Barclay, Joyce Marshall & Peter Haines, & Andy Brook-Dobson.
OMM web site with results
Athens Classic Marathon, Sun 31 Oct
From Martin Wright ... what can I say? What a fantastic, if somewhat brutal, experience. A large field of runners assembled on a cloudless morning in Marathon to run the original route to Athens taken by Pheidippides 2500 years ago. The race is basically a hill; seven miles flat, followed by thirteen miles of relentless uphill and then a six miles down to the finish. With that in mind my strategy was to survive to the top of the hill and then rely on gravity to see me through to the end. I survived to the top but, by then, the hill and the heat had beaten me and I knew my target of four hours was gone. It didn't seem to matter though as the occasion and the enthusiasm of the crowds made it truly memorable.
And it's not often I can say I was first Harrier home!

1    2:12:39  Raymond Bett, Kenya
2777 4:01:34  Martin Wright
10084 finished


Guy Fawkes 10, Sun 31 Oct

1     56:51  Ian Crampton, Durham City H
21  1:03:48  Jamie Hutchinson
53  1:08:08  Andrew Merrick
143 1:14:34  Paul Sowden
230 1:19:33  Dougie Scarfe
324 1:23:57  John Coates
356 1:25:50  Hilda Coulsey
398 1:28:04  Paul Sugden
423 1:29:09  Christine Cox
531 1:33:45  Gaenor Coy
565 1:35:00  Bernadette Gibbons
592 1:36:45  Vincent Gibbons
641 1:39:03  Michelle Snow
833 finished


Bronte Way, Sun 31 Oct
Amanda Newham was 159th in 90:57 in this usually popular 8m/1150' fell race staged by KCAC, unusual in that it's a point to point race.
Holmfirth 15, Sun 31 Oct
Sheena Pickersgill was 147th in 2h16:41 in this, the YVAA 15 mile championship
Complete Runner XC #2, Huddersfield, Sat 30 Oct
Malcolm Pickering reports ... An encouraging start to the season: a total of 21 men asked to be entered for the Complete Runner XC league, 13 ran in the first one and eight in last Saturday's race at Huddersfield. The team finishing 8th and 9th to date, so I am hoping we can make the final team placings. Tom Adams still shows the theory "you are only, as good as your last race" in that he is still very much at the sharp end, with 5th and 7th positions so far, in this high level of competition. Jim Towers, Mark Iley, Eric Morley and Nick Pearce are the only other men who have managed to run both fixtures to date. Sadly, the first Peco XC league league is on Sunday, 7th Nov, the day as our 5 miler Ben's Wish to Walk road race. However I do feel the club is large enough to support both of these events.
Diane Haggar adds on an unseasonably warm day - still no sign of any mud - 8 ladies and 8 gents gallantly braved the "ever decreasing circles" of the convoluted Wakefield course. Rachel Wolfenden had a superb debut in the ladies team leading Ilkley home in 26th, followed in 29th by Emma Barclay who is rapidly regaining her form. The team was completed by Sally Malir and myself, with Kelly Harrison close behind. We took 7th team. At the sharp end there was a titanic battle between a full strength Bingley team and Holmfirth, with the latter taking the honours. The men's race was an amazing spectacle with Tom Adams (7th place) running amid no less than 7 Leeds City guys, and Leeds packing around 10 men into the top 14. Sadly I did not have a camera to hand! Well done to Jim, Mark, Nick and the other Ilkley men for sticking in there for an incredible 5 disorientating laps. There are two more Complete Runner fixtures left and we hope that those who have entered, and yet so far not raced, will be able to get there on 20th Nov at Bramley.

Senior men's results 
1st 32:40  Andrew Pearson, Longwood
7   34:47  Tom Adams           
88  40:18  Jim Ryder             
99  40:51  Mark Iley               
106 41:21  Nick Pearce          
113 42:08  Richard Reeve       
115 42:28  Julian Carter          
159 51:46  Jim Towers            
163 53:10  Eric Morley   
9th team         
 
Senior ladies' results
1st 21:03  Katie Walshaw, Holmfirth
26  24:36  Rachel Wolfenden
29  24:55  Emma Barclay
33  25:14  Sally Malir
40  25:40  Diane Haggar
41  25:45  Kelly Harrison
55  26:48  Helen Ilsley
73  29.00  Sue Morley
88  37:21  Lyn Eden
7th team
 

There were 18 juniors racing, with great results incl. 2nd U11 girls' team, report on the Junior pages
Full results on www.westyorkshireathletics.org.uk
Great Whernside fell race, Sat 30 Oct
4m/1555' fell race near Kettlewell, very foggy on top we hear.

1   32:54  Ian Holmes
36  40:23  Helene Whitaker, 2nd lady
39  40:54  Richard Joel
45  41:44  Bob Hamilton
55  43:44  Norman Bush
108 49:20  Val Kerr
136 finished


ParkRuns, Sat 30 Oct
Rob Cunningham was 8th in 19.05 in the South Manchester event.
Withins fell race, Sun 24 Oct
A perfect day on the Bronte Moors. (OK, it was a bit muddy in places...)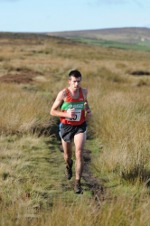 1   43.27  Lloyd Taggart, Dark Peak
2   43.57  Tom Adams
17  46.50  Martin Archer
55  50.27  Jim Ryder
83  53.11  Nick Pearce
129 56.48  Paul Stephens
154 58.27  Steve Weston 
183 61.31  Kelly Harrison
194 62.00  Sharon Williams
202 62.28  Alison Weston
241 65.31  Val Kerr 
285 69.43  Sue Morley
300 72.52  Amanda Newham


Lots of photos on woodentops.org.uk
Malcom adds ... a total of 13 junior Harriers charged around in the Curly Wurly Rat races ...

Results
U/8   1st.  Katie Turland      3:37
       11   Sammy Turland      3:41
       30   Florence Bourgois  4:45
       44   Lyra Weston        5:24
 
U/10  26    Euan Brennan       8:10
      74    Alice Bourgois     9:43
      88    Nea Weston        10:22
 
U/12  1st.  Sarah Pickering    7:37
      21    James Pickering    8:03
      30    James Turland      8:18
      49    Harriet Jackson    9:00
 
U/14  16    Anna Pickering    10:26
 
U/16  4     Sam Wood          15:11
 
WELL DONE EVERYONE !!

Wistow 10, Selby Sun 24 Oct
Geoff Howard reports ... I finished 47th in the Selby 10 mile race on Sunday in 66:29 (1st v60); 258 finishers. This unsurprisingly beats my Club V65 record because on that occasion I had to walk the last mile. A very flat figure of eight course with conditions rather blowy but brightly sunny and cold.
YVAA Road Relays, Sat 23 Oct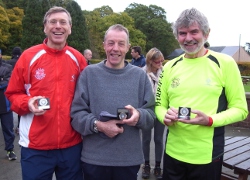 Full results and photos on our YVAA Road Relays 2010 web page
From Henry Heavisides ... A fantastic event...brilliant organisation from Pete & all his helpers, great catering by Christine & the team, enthusiastic marshalling & some really good performances from all of our 16 teams. We had a lot of 2nd place teams: F35, F45, M35, M50 & M60. We would have had a 3rd place M50 team, but the rules only allow for one prize per club in each age category. Special mention to Matt Cox who set the fastest time of the day. Well done to all runners, organisers, caterers, marshalls & supporters.
Colin Lugton has spotted that Sally Morley ran the fastest ladies' time of the day (equal with Tizz Woffenden) 18.48
From Peter Shields, race organiser, thank you all for putting on a great event for Ilkley Harriers today. Christine and her team presented our baking skills at their best. Our marshals were welcoming and supportive to all competitors and their supporters. The start and finish team were right on the mark in producing the results accurately and very fast, that has to be an A+. Then, what about our athletes they certainly came up to the plate ... more

V35		
2  68.26  Jamie Hutchinson, Matt Cox, Lee Morley, Jez Hellawell
V40		
4  72.39  Steve Watson, Jim Ryder, David Brown, Mark Iley
8  81.09  Neil Smith, Adrian Bastow, Steve Newell, Richard Morris
10 85.52  Keith Wood, Dave Jepson, Dougie Scarfe, Nigel Tapper
V50		
2  55.55  Eddie Irving, Nick Pearce, Henry Heavisides
3  56.36  Malcolm Pickering, Neil Chapman, Jeff Paget
8  62.33  Paul Stephens, Bob Hamilton, Andrew Bennett
V60		
2  81.24  Colin Lugton, David Millson, Don Macrae
FV35		
2  60.29  Sally Morley, Jann Smith, Jane Bryant
10 78.37  Sue Bickerdike, Robbie Gretchini, Anna Nolan
11 80.27  Judith Burgin, Jacqui Weston, Emma O'looney
FV45		
2  60.25  Sally Malir, Alison Bennett, Di Haggar
3  63.00  Sharon Williams, Alison Eagle, Helen Horton
5  72.52  Fiona Schneider, Claire Smith, Joyce Marshall
6  75.36  Louise Jackson, Andrea Westhead, Allison Ricci
FV55		
3  74.32  Christine Matthews, Sue Stevens, Bernie Gibbons


Welsh One Day Ultra Series #1, Black Mountains, Sat 23 Oct
Nicky Jaquiery reports ... This was the first race in a series of three. A great event in a completely new area for me with varied running and plenty of hills! I was the 2nd woman to finish in just over 5.30hrs Results. Looking forward to the second race in the series in the Brecon Beacons at the beginning of December; 40 miles in winter conditions should be a challenge!
ParkRuns, Sat 23 Oct
Brit Tate was 32nd in 20:21 in the Leeds Hyde Park event.
Meanwhile, Rob Cunningham was 8th in 19.15 in the South Manchester event.
UKA British Fell Relay Championships - Fife, Sun 17 Oct
We see from SportIdent that our ladies were 5th, but it looks like the competition was pretty exciting with less than 4 minutes separating us from the 2nd ladies team:
50th team overall, 5:07:22
1:37:16 (45) Andrea Priestley/Tracey Greenway
55:45 (78) Alison Weston
1:40:14 (49) Heather Dawe/Helene Whitaker
54:07 (61) Alison Eagle
Helene Whitaker reports on Ilkley ladies, tea, buns and runs north of the border....
The FRA relays are always a good event. Teams actually do venture across borders with the aim of getting in amongst the top 3 coveted positions. This year the venue was Falkland with runners using all of the Lomonds of Fife to the full. The small but perfectly formed pair of hills, were ideal for the superb courses laid on. Each year there is a slightly different format and this year the pre-race consternation was no different. Will the long be too long? Where will the navigation leg go? And who is running on which team?
On Sunday 17th October we all went up to the start line to watch the terrifying sight of Andrea Priestly and Tracy Greenaway champing at the bit and all lathered waiting for the start gun. Fortunately they were on our side. The lone piper was nearly trampled by the long distance leg heading up the hill and the rest of us went back for a cuppa. After all the winner was going to take 80minutes (predicted). In 81 minutes the leading men's team arrived at the change over and the first of the short legs took off. Andrea and Tracey came in second to Carnthy's Angela Mudge and Gill Mykura and Alison Weston kept this position to hand over to Heather Dawe and I. The navigation leg proved to have some good route choice and whilst we were as crafty as we could be, still managed to loose a place to Hunters Bog Trotters Women's team who went on to win overall. Alison Eagle had the anchor leg, and was in the unenviable position of trying to hold off some of the fastest women on the hill running scene. Third place was decided in the final 100m of the event with Keswick Ladies out sprinting Kendal for Bronze. Dull the event was not!
The day was superbly organised with the changeover field so well organised that it should serve as a model for future years. There was no confusion or mêlée that normally accompanies such events and there were even loos for the waiting runners to use. Next year it would be lovely to have a men's team, and with the location being Kettlewell, we have no excuse for not fielding at least 3 – 4 teams. What about contesting the vets? The mixed? Male and female? A teams and B teams? Surely we can get more than one team off the ground with a bit of notice to people on the forum, we could even have training runs out there ...
My thanks go to Andrea, Mark and Megan for putting us all up at her house and feeding us. Emma for sorting out the team despite not getting out to play herself, and of course Fife A.C. for putting on such a great day out.
Northern Vets 10000m track championships, Sun 17 Oct
From Henry Heavisides ... Perfect conditions for running ...ideal temperature, sunny, no wind & no hills! The Leigh Sports Village is an unbelievably impressive facility built in 2008, in addition to the rugby stadium, sports centre, pool & hotel, Leigh Harriers have an outdoor 8 lane track, indoor warm up track & huge clubouse including changing rooms, conference facilities, refreshments & display cabinets. About 30 people ran in the race & I managed to get the gold medal for 1st M55 (I think I was 6th overall). My time of 38:44 is quite a bit slower than I've done for 10k on the road this year, but no excuses other than lack of race fitness. Not many vets run 10000m track races, so even my modest time gives me a 4th place UK ranking this year for M55.
I would encourage other club members to give this event a go next year.
Bradford City Run, Sun 17 Oct
Sally Malir reports ... there were lots of Harriers out on this fantastic day for a VERY hilly course. At around the 11 mile mark there was a King/Queen of the mountains competiion which encouraged you to sprint up a 1:5 hill when you had truthfully had enough of hills, I am not sure how many people took on this challenge. Sorry I don't know any body else's results but I was 4th lady (2nd vet 45 ) in 1.33.
Paul Stephens adds ... a superb race, well marshalled, all roads closed, a beautiful morning albeit cold to start with and just a few hills!

(1  1:13:07  Michael Delmonte)
49  1:32:12  Robert Cunningham
61  1:33:50  Sally Malir 2nd FV45
66  1:34:10  Andy Shinn
88  1:35:45  Paul Stephens
    1:46:13  Martin Wright
275 1:50:11  Dougie Scarfe
387 1:56:07  Christine Cox  3rd FV50
406 1:56:55  Andy Webb
519 2:04:01  Paul Sugden
592 2:07:36  Sue Bickerdike
607 2:08:23  Emma O'looney
629 2:10:20  Donna Jackson 
tbc Keith Wood 
tbc 1:46  Martin Wright
Kielder Marathon, Sun 17 Oct
Alison Stretton reports ... there were over 900 finishers on a perfect running day. It started off very chilly with early morning frost but the sun came out for the start and, after a small loop inside Leaplish Water Park, the route took us round a full circuit of Kielder Reservoir. It had a real 'wow' factor with its beautiful scenery. It was not flat: interestingly undulating would be a polite description. Think of several circuits of Bolton Abbey and you're on the right track. It was a great choice for my first marathon. Making sure I ate every three miles and drank every mile, combined with 'Steep inclines' to concentrate the mind at regular intervals, art installations and stunning views over the reservoir meant I was well diverted. Finishing time 4:31:27. I didn't see any other Harriers but recommend it for next year.
Rowbotham's Round Rotherham, Sat 16 Oct
Amanda Parnaby reports ... Sharon Meadows and I travelled down to Wath on Dearne early on Saturday morning for the annual Rowbotham's Round Rotherham. This is an undulating route of 50 miles through the South Yorkshire Forest (which is mainly rural land rather than woodland). The weather was OK except for 3 nasty showers which made the ploughed fields even trickier to negotiate. Up to a couple of years ago the event was held in December and the move to mid October has meant more daylight time and better weather.
Sharon Meadows adds ... The winning time was an amazing 6.29.

100  Sharon Meadows  10h19 (PB 13 mins)
195  Amanda Parnaby  13h22


Leeds Parkrun, Hyde Park, Sat 16 Oct

132  24.57  John Marshall

Harrier of the Month, September
Nominations were:


Tracey Greenway – English Ladies V40 Fell Champion
Sharon Williams – 1st LV45 Horsforth
Sarah Fuller - RAB 2010
Dave Cummings - BOFRA results
Alison Weston – Scafell race
Henry Heavisides – Track Success
Vince Gibbons – Wetherby 10k time
The HoM awards went to Sharon Williams and Dave Cummings. Congratulations to them. They will receive technical running shirts from HoM sponsor UP & RUNNING.
Additionally, an Outstanding Achievement Award was made to Tracey Greenway.
Italian half and full marathon, Sun 10 Oct
Nigel Tapper reports ... 17 Harriers made the trip to compete in the Italian Half and Marathon and topped off what was a brilliant long weekend by scooping no less than 5 category medals! Congratulations also go to Martin Wright for completing his first Marathon. This is a linear route starting in Maranello with the half finishing in Modena and the full in Carpi. Fast and flat apart from the city centre sections that meander through the cobbled streets of Modena and Carpi (very historic though). More tour detail and photos to follow on the Forum.

Marathon (875 finishers)
1    2:09     MALAKWEN PAUL KOSGEI, Kenya
533  3:52:10  Martin Wright, 101st MV45, 3in his first ever marathon
 
Half Marathon (615 finishers)
1    1:09:43  VILLA LORENZO  Italy 
72   1:29:01  Andrew Merrick  13th MV45   
89   1:30:08  Alex Hirst  10th 20-30
98   1:32:22  Philip Hirst 3rd V50  BRONZE MEDAL
102  1:33:17  Jane Bryant  2nd  FV40  SILVER MEDAL
115  1:34:56  Sharon Williams 2nd FV45 SILVER MEDAL
137  1:37:27  Christine Matthews 1st LV55 GOLD MEDAL
151  1:38:15  Charles Oxtoby 28th V45  
200  1:41:19  Nigel Tapper 16th V50
201  1:41:19  Helen Horton 5th LV45 TOP 5 MEDAL AWARD
219  1:42:48  Keith Wood 39th V45 
238  1:43     Liz Price 6th FV40 
252  1:44     Anna Nolan 8th LV35  
313  1:47:02  Vic Verecondi 55th V45
316  1:47     Sue Bickerdike 10th LV40
369  1:50:01  Jane Guillard 13th LV40 
520  2:01:34  Jacqui Weston 27th LV40 


Chris Matthews beat her 2008 Club Record of 98:55!
Complete Runner WYXC, Nunroyd Park, Sun 10 Oct
Diane Haggar reports ... A gorgeous day for the first Complete Runner XC league race at Guiseley. "Mud & Glory", well there was very little Mud but Tom Adams ran Gloriously to take 5th place against incredibly stong opposition from Leeds City & Bingley. There was a fantastic club spirit in and around the team tent, plus tremendous support out on the course. It was great to hear non running members cheering us on, particularly Pete and Neil.
Malcolm adds ... what a great turnout for the first cross country race of the season.S ome 13 senior men toed the line on a sunny afternoon at Nunroyd Park. In-form Tom Adams mixed it at the front to finish 5th overall. In the team result Ilkley finished 8th out 17 clubs with 308 points. This is the best result the men's team have had for many years. WELL DONE TO ALL !!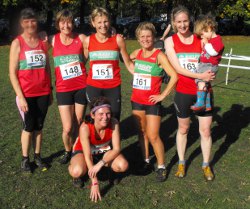 Results from www.westyorkshireathletics.org.uk

Senior ladies
1   23:08  Katie Walshaw, Holmfirth
22  26:54  Diane Haggar
33  27:47  Sally Malir
42  28:21  Emma Barclay
46  28:43  Alison Eagle
61  30:02  Helen Ilsley
69  31:14  Sue Morley
81  34:22  Bernie Gibbons
6th team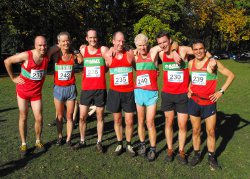 Senior men
1   31:54  Mauizbin Ali, Leeds City
5   32:52  Tom Adams
52  37:01  Martin Archer
53  37:05  Lee Morley
60  37:31  Ian Rowbotham
67  38:04  Mark Iley
71  38:10  Justin Phillips
76  38:20  Malcolm Pickering
84  38:58  Nick Pearce
88  39:21  Steve Weston
145 44:52  Paddy Hagan
156 47:28  Jim Towers
162 50:05  Eric Morley
163 51:00  Vince Gibbons
8th team


There were 23 Ilkley Harriers in the junior races.
Leicester Marathon, Sun 10 Oct
Jeff Paget reports ... I took part in the Leicester Marathon on a warm and sunny 10th October. Perfect conditions for the hour spent post race laying on the grass until my legs stopped cramping. An adrenalin rush at the outset saw me through the first mile in 5:54, but I then managed to rein in my enthusiasm and settled into knocking off the miles at about 6:40 pace. I felt great up to about 19 miles, and then started to struggle with the pace and all the remaining miles were a relatively slow grind. I was, however, determined to get below the magic 3 hour mark, and finished in 2:59:23, comfortably a PB. I came in 22nd out of 578 finishers and was the 1st V55 (and also beat the 1st V50).
You can get faster as you get older! This beats Jeff's own V50 and V55 club record of 3h08:10 set at the Luton Marathon in December 2009.
Beefy's Nab fell race, Sun 10 Oct
Clare Smith reports ... Tony Melechi and I represented Ilkley at this friendly low-key fell race organised by Keighley and Craven A.C. The course had apparently been altered since last year, and I was assured it would be well flagged. This didn't stop me (and others) from taking the odd poor line, especially through the tussocks after the summit. I was lucky, and very pleased, to receive a bottle of wine for finishing 2nd lady though Tony was back long before I crossed the line! Awaiting official results.

1   20:37  Christian Holmes, Wharfedale Harriers
15  22:37  Tony Melechi
38  28:35  Clare Smith



Leeds Parkrun, Hyde Park, Sat 9 Oct

106  24.46  John Marshall

Wharfedale Primary Schools XC, Sat 9 Oct
This hugely popular League started with a succesful event at Ghyll Royd School today. Over 500 youngsters ran, including quite a few children of Harriers, more on the junior pages
Congratulations
Well Done to Henry Heavisides who has been selected as 1st reserve for the England team for the International Masters Cross Country race in Dublin on 13 November.
5k Time Trial, Tue 5 Oct
From Henry Heavisides ... here are the results of the 5k time trial. Well done to everyone who took part. Thanks to Neil for timekeeping & to all of the helpers at the finish.

1   Justin Phillips   18:15
2   Richard Reeve     18:40
3   Julian Carter     19:00
4   Toni Melechi      20:35
5   Gerry McNamee     20:39
6   Paul Stephens     20:56
7   Mark Richmond     21:12
8   Di Haggar         21:13
9   Adrian Bastow     21:24
10  Paul Sowden       21:37
11  Adam Bennett      21:41
12  Jim Towers        22:59
13  Simon Darley      23:09
14  Val Kerr          23:22
15  Christine Cox     24:45
16  Janet Grace       24:46
17  John Marshall     25:15
18  Janet Bairstow    26:27
19  Colin Lugton      27:18
20  Jacqui Weston     28:13
21  Andrew Kitchen    28:33
22  Louise Cornish    28:45
23  Antonio Cardinali 28:47


Loch Ness Marathon, Sun 3 Oct
Mike Picken reports ... I took the long trip to Inverness for my first ever marathon with nearly 2,500 others. This is a very scenic but demanding course, which starts with a quick downhill section for the first 5 miles then undulates for the rest of course, luckily there were some great sights along the Loch to take my mind off the pain of doing this distance for the first time. There were plentiful drinks stations and support at the towns / villages along the route, fortunately I had the support of my friend Stuart Forrest who could not take part due to a chest infection, his cheers from his bike at several points along the route spured me on especially at the 1.5 mile hill at the 18.5 mile mark and 3/4 mile hill at 22 miles which both felt like mountains to me. I was just pleased to finish and even more pleased to do it to raise money for www.benswishtowalk.co.uk although a lot of my sponsorship came in after I had announced I had completed it and posted pictures to prove it, as I am sure my friends and colleagues were not convinced I could ever cover that distance, fortunately I did and am getting close to raising £500 for this great cause!

2182  5:14:36  Mike Picken


Ian Hodgson Mountain Relay, Sun 3 Oct
Dave Wilby reports our ladies team won, 6 minutes ahead of next ladies team Keswick AC. Full results on SportIdent. The men's team was affected by injury, sadly, but everyone pulled together with great team spirit. Dave Wilby and Tom Adams ran a stunning last leg, 5th fastest in 1:13:57
Emma, Ladies Team Fell Captain, says ... A fantastic run by all the Ilkley Ladies in the Ian Hodgson Relay resulted in a very convincing 1st place, in very wet conditions. Basically Ilkley Ladies led the race from start to finish, each pair handing over in first place. Helene and Heather set the scene with a fastest Ladies time on the day for Leg 1 and Andrea and Tracey finished things off with the fastest Ladies time on the day for Leg 4. A great performance by the whole team and an absolute pleasure to watch. Well done Ladies.

Ilkley Harriers Ladies            4:59:28  33rd
Helene Whitaker, Heather Dawe     1:16:17  35th on leg
Alison Eagle, Nicky Jaquiery      1:23:22  45th  "
Sally Malir, Sally Morley           50:17  43rd  " 
Andrea Priestley, Tracey Greenway 1:29:32  24th! "


Harewood Trail Race, Sun 3 Oct
Richard Reeve reports ... a very sploshy 10 miles, with a few steep dips and climbs, on tracks and paths through woodland and across fields, taking in a loop around Eccup Reservoir, a leap over a couple of stiles and some stretches on tarmac (slippery in studs) including the final uphill mile. A bottle of beer to each finisher unless your number ended with a seven in which case you got two; a good malty brew from Daleside Brewery, well worth the effort. Marshalling by Valley Striders was superb, I didn't get lost once!
Results from Valley Striders web site
Read Vic's Harewood Poem

1   58:10  Tim Midgley, Bingley Harriers
21  66:51  Richard Reeve  2nd M50
40  70:16  Andrew Merrick
58  73:36  Duncan Cooper
92  78:05  Stephen Rhodes
140 84:17  Martin Wright
149 85:06  Ed Brougham
162 85:51  Helen Horton
163 85:51  Vic Verecondi
179 87:30  Hilda Coulsey  1st FV55
206 89:55  Nick Mellor
254 96:08  Paul Sugden
255 96:10  Sue Bickerdike
276 98:27  Colin Lugton


This was a counter in the Ilkley Harriers Race League
Coniston Trail Race, Sun 3 Oct
Fiona Schneider reports ... a great circuit of 15k in the hills above the village. It is part of the Lakeland trail series www.lakelandtrails.org which offer a race for walkers and runners. Next year they are introducing a new Coniston Marathon and booking is now open.
I struggled around this one post chest infection, but just squeezed ahead of the 1st LV70.

1:19:47  Sharon Williams 
1:47:23  Fiona Schneider


---