Ilkley Harriers news archive 2010
Harrier of the Month, August
Nominations were:


Justin Phillips – Burnsall time
Ladies team at Burnsall
Norman Bush – WMRA Masters Silver
Jez Hellewell – race results
Julian Carter - Fleetwood half
Rob Cunningham – race results
The HoM awards went to Jez Hellewell and Justin Phillips. Congratulations to them. They will receive technical running shirts from HoM sponsor UP & RUNNING.
Additionally, an Outstanding Achievement Award was made to Norman Bush.
Kilnsey Show, Tue 31 Aug
Jez Hellewell reports ... had a great afternoon out at Kilnsey Show. As usual the junior races went first with Wharfedale Harriers dominating on a hot afternoon. Then it was a question of whether Rob Hope could win the senior race for a record 8th time, which he duly did. Ted Mason was a close 2nd.

1   8.25   Rob Hope, P&B
21  11.02  Jez Hellewell
43  13.29  Joyce Marshall
55  14.31  Jim Towers
66  15.19  Sue Morley  
67  15.42  Eric Morley

Spofforth Gala Trail Race 10k, Sun 30 Aug
David Howe reports ... Did this on BHM – quite warm and dodgy underfoot in places after repairs to potholes around the route – but a nice event for the family with stalls and entertainment at the gala on the village green.

1   35:17  Tim Midgley, Bingley
56  47.17  David Howe
183 57.06  Caroline Morley


Fleetwood Half Marathon, Lancashire, Sun 29 Aug
From Rachel Wolfenden ... We had a good run at Fleetwood yesterday despite very windy conditions and being subjected to sandblasting when running next to the sea.

1   1:13:00  Nick Leigh, Altrincham & Dist.
17  1:24:33  Julian Carter    (PB)
43  1:30:25  Rachel Wolfenden (PB)

Dearne Valley Triathlon, Sun 29 Aug
Jamie Hutchinson reports ... I raced in this 1000m swim, 20k mountain bike, 5k run event organised by Paul Drinkwater (www.ukmtbtri.co.uk) . A small field of 35. Had my usual steady swim (two laps of a lake) and out in about 20 minutes, a quick change into my trail shoes to run 1k to transition to get us over to the biking area. Mountain biking around a disused mines area – a lot more fun that it sounds, had plenty of everything. A few technical bits, uphills and plenty of tramming it. On to the run and two laps of the lake we'd swum in. I finished in just over two hours and fourth overall. The event was won in 1 hour 51 minutes.
Dentdale fell race, Sat 28 Aug
Mark Richmond was 10th in 36:36
Silver at WMRA, Sat 28 Aug
Geoff Howard reports... Ilkley Harriers has a World Silver medallist - Norman Bush was 2nd in the V70 class at the 10th WMRA/WMA Master World Mountain Running Championships in Korbielow Poland. www.wmra.info
Smugglers Trod, Sat 28 Aug
Amanda Parnaby reports ... on this LDWA event, 26 miles from Fylingthorpe Village Hall at Robin Hoods Bay, taking in parts of the North Yorks Moors. Dry under foot but very breezy and a couple of sharp showers. Completed in 6 hrs 40 mins.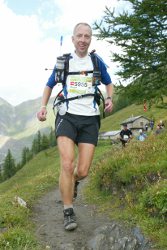 CCC, 27-28 Aug
Morgan Williams reports ... I set off in the CCC (Courmayeur Champex Chamonix race, 100 kms and 6,000 metres) from Courmayeur at 10.00 am on 27 August. The forecast was poor and so it proved. We started in a huge thunderstorm. To cut a long story short, the weather became severe through the late afternoon, evening and night. The organisers halted the race sometime between 3.00 and 5.00 am on Saturday morning due to the shocking weather and the truly appalling ground conditions. I received this news at Vallorcine at 5.30 am by which time I had run 82 kms in 19 hours 30 and was ready to head over the last section in time to finish in Chamonix well under the 26 hour limit. The UTMB itself (with Heather Dawe and Brian Melia competing) was stopped after about 3 hours and the TDS never started. More detailed report to follow in the next newsletter.
Lemvig Byløb, Wed 25 Aug
Jules Carter reports ... I work for a Danish firm who sponsor a 5.3 and 8.8 km run in the town of Lemvig. Lemvig is a fishing village surrounded by hills in all directions and the longer race involved running from the fjord to the top of the town and back again 3 times. Due to the hills this was not really a race to enjoy but one to endure. However, I managed to finish 12th in the 8.8km race quite a big field in 34:14. More importantly, I was the first person in our company home so the UK office regained the bragging rights.
Reeth Show, Wed 25 Aug
Jez Hellewell reports ... had a great day out today in Swaledale with my son Jacob for The Reeth Show. He's 10 and ran in the under 12's race. He ran extremely well and came home in 7th in 10.13 mins. I came 5th in the seniors race in 19.06 mins. The winner, Andy Preedy from Rossendale Harriers, did it in 18.24
Sedbergh Hills race, Sun 22 Aug
Results from fellrunner.org.uk

44  2h54.41  Jonathan Whitaker
105 3h21.07  Stuart Pitches

Burnsall Classic Fell Race, Sat 21 Aug
Val Kerr reports ... A beautiful afternoon for fell running saw nearly 150 runners set off from the green in Burnsall for the flag at the top of the fell. Conditions were good underfoot except for the descent which was a bit slippery in places. This was my first Burnsall Classic, having been persuaded to do it by Alison W, and I thoroughly enjoyed the experience. A nice fast descent (although nowhere near the record of 2 min 42 secs) left me feeling like a real fell runner. Tom Adams had a great race finishing in third place, just behind the legendary Rob Hope and Ian Holmes. Thanks Alison for the recomendation.

Men's race
1   Rob Hope (Pudsey & Bramley)     13.59
3   Tom Adams                       14.42   
11  Dave Wilby                      16.33 
56  Alistair Barlow                 20.43
(124 finishers, Ilkley 5th team/10)
 
Ladies Race
1 Helen Glover (Keighley & Craven)  18.45
8 Val Kerr                          23.24
(21 finishers)


Burnsall 10 mile road race, Sat 21 Aug


1     Alan Buckley (Leeds City)     55.09
16    Justin Phillips               63.05
35    Rob Cunningham                70.36
50    Nigel Tapper                  74.52
60    Charles Oxtoby                77.53
63    Sharon Williams               78.16
70    Keith Wood                    81.11
73    Helen Horton                  82.11
79    Liz Price                     84.06
96    Anthony Swanepoel             89.14
97    Sue Bickerdike                90.02
115   Greg Wright                    99.05
(116 finishers)
(Mens A team 7th/14, B Team 12th/14, Ladies Team 1st/4)


Gargrave show fell race, Sat 21 Aug
A BOFRA race ...

13  26.36  Dave Cummmings


Leeds Parkrun, Hyde Park, Sat 21 Aug

80  25.02  John Marshall


Guisborough Grunt, Tue 17 Aug
Jez Hellewell reports ... Being on holiday in North Yorkshire, I decided to give this race a go. Finished 18th in 55.21. Not sure what the winning time was. Great race with a brutal climb 1.5 miles in. Didn't see any other Harriers, unsurprisingly !
The Trunce, Mon 16 Aug
Jim Towers reports ... At Oxspring, Sheffield, 4.25mile with 550ft of climb. 8th race in a nine race series. Lovely evening for running. Very firm under foot, and little water in the three river crossings. Perfect conditions for a PB and the holiday season meant that the number of runners was smaller and hold-ups at the stiles earlier in the race less than normal. Or maybe I am fitter than I think I am because I did a PB, having run the Trunce 8 times previously. Whatever the reason a PB at my age is well appreciated.

Jim Towers  34.56


Worsthorne Moor Fell Race, Sun 15 Aug
Duncan Cooper was 49 in 50.43
Leeds Parkrun, Hyde Park, Sat 14 Aug

113  26.20  John Marshall


Bradford Parkrun, Lister Park, Sat 14 Aug

9  20.45  Richard Hinsley


The Wrose 5k Challenge, Wed 11 Aug

1   18.34  Tom Adams
19  24:33  Francis Westhead	
42  29:07  Elizabeth Westhead
57  31.23  Louise Jackson
58  31.29  Allison Ricci
63  32.49  Harriet Jackson
65  33.06  Alessandra Ricci


Harrier of the Month, July
Nominations were:


Alison Weston – 1st vet45 Snowdon and SLMM result
Andrew Bennett – results and improvement
Val Kerr – 1st v50 HDSRL
Henry Heavisides – Silver Medal V55 British Masters Track
Dave Wilby – 1st in Carrock at SLMM
Rebecca Mon-Williams – 1st F Osmotherly marathon
Mark Mon-Williams – 1st M Osmotherly marathon
The HoM awards went to Rebecca Mon-Williams and Alison Weston. Congratulations to them. They will receive technical running shirts from HoM sponsor UP & RUNNING.
Additionally, an Outstanding Achievement Award was made to Henry.
Sierre Zinal, Sun 8 Aug
From Alison Eagle ... beautiful Swiss valley and a classic race - 31 km, 2200 metres ascent and 800 descent. Unfortunately like many other classic races on the continent now it has become very popular, which meant getting stuck in lines of people at times, esp if you don't want to set off at sprint pace! Thanks to my friend Sarah from Abbey for towing me round as I struggled with stomach cramps. Managed 4.25, 53rd lady and 16th V40.
Askern 10, Sun 8 Aug

231  86.36  Helen Shew


Boulsworth fell race, Sun 8 Aug

57  69.37  Sharon Williams


World Trials, Snowdon, Sun 8 Aug
Ben Sheppard reports ...
Spotted that Tom Adams achieved 18th spot in 57.31 in the senior men's race (6.8m/3563') at the selection race on Snowdon for the upcoming 2010 World Mountain Running Champs,
more
Borrowdale fell race, Sun 8 Aug

210  4h43.21  Brian Melia
226  4h49.13  Nicky Jaquiery
263  4h59.17  Russell Thomas
282  5h08:00  Andrew Snell
342  5h52.51  Kevin Gooch


Outlaw Ironman-Distance Triathlon in Nottingham, Sun 8 August
From Janet Grace ... Well, this was it - I've been building up to doing an Ironman-distance event since I first dipped a toe into triathlon waters with the Ilkley sprint-distance race in 2007. At 6AM we were off - with a mass start of the 800+ competitors in the rowing lake at Holme Pierrepont. I managed to pick my way through the thrashing throng (without getting punched or kicked) and finished the 2.4 mile swim in 1:21:01. Then on to the bike, which was a three-lap "gently undulating" course through the Nottinghamshire countryside. I'd been warned to start easy and really hold back during the bike leg. I stuck to plan and finished the 112 mile ride in 6:42:57 with legs intact. So far so good, but then it dawned on me that I was just about to start a 26.2 mile run! I managed some steady 9- or 10-minute miles until about mile 18 when I hit a real low. I forced down some energy gels and gave myself a very strong talking to - then bounced back and finished with a massive smile on my face. I did a personal worst marathon time of 4:30:39 but I was absolutely delighted with my overall finish time of 12:49:14. I can't really believe that it's all over ... until I move. Everything hurts today!
Hellifield Gala fell race, Sat 7 Aug
Full results and photos on woodentops.org.uk

35  34.20  Di Haggar
38  34.54  Jim Towers
45  37.37  Sue Morley
51  39.06  Eric Morley


Bradford Parkrun, Lister Park, Sat 7 Aug

12  20.41  Richard Hinsley


Crow Hill Reverse fell race, Tue 3 Aug
Eric Morley reports ... On a lovely evening for running Halifax Harriers presented a testing run with 64 participant from the Mytholmroyd Community Centre.

1   31.18 Gavin Mulholland, Calder Valley
55  47.30 Sue Morley
58  49.17 Eric Morley


Idle Trail race, Sun 1 Aug

2   36.45  Ben Stevens
207 58.51  Alison Ricci
233 62.06  Sue Stevens


Round Hill Fell Race, Sun 1 Aug
Sarah Fuller reports ... A few Harriers were out and about at the Round Hill fell race on Sunday. The route is basically a steady climb on the forest track from the Timble crossroads along the moor, across some man-eating (but relatively dry on Sunday) bogs to Round Hill, a fantastic descent towards Wharefedale, followed by some more relatively flat fast running before a final steady climb back to the finish. Well marked and marshalled with even a (very welcome in the warm weather – thanks Bob!) drinks station. Having been mostly training for long slow things (oh and also a general lack of ability!), I struggled to stay with the early fast pace and finished in a slightly disappointing position just hanging on the back of the main field. Nonetheless thoroughly enjoyably and was pleased with my time of 1 hr 27mins (was aiming for under the hour and half!) for this 9 mile 1,100ft effort. Some great results from the men. If anyone looking for a good first fell race then this would be a good choice. 118 ran.

1     Ian Fisher U/A    54.12
7     Martin Archer     59.22
11    Jamie Hutchinson  60.25
20    Derek Fuller      62.20
40    Paul Stephens     68.16
52    Paddy Hagan       70.51
66    Diane Haggar      75.10    (1st LV40)
84    Val Kerr          79.21
103   Sarah Fuller      87.29
113   Amanda Parnaby   113.48
114   Heather Duke     115.01


Farleton Knott, Sun 1 Aug
A group of seniors and juniors travelled to Kendal for the Farlton Knott fell race, part of the BOFRA Championships. Ian Rowbotham was 7th and 1st M50 home in 40.00 followed by Dave Cummings in 43.25 and Jim Towers in 52.23. Bradley Chapman was 9th in the U17s in 24.46 and Jack Cummings 13th in the U14s in 14.48

7   40.00  Ian Rowbotham  1st V50
17  43.25  Dave Cummings
39  52.23  Jim Towers
55  75.52  Lyn Eden


Cowling Gala, Sat 31 July
A BOFRA race ...

14  23.33  Norman Bush  1st V70
30  27.54  Sue Morley
31  31.13  Eric Morley

Wagon and Horses 10, Lancaster, Sun 1 Aug
Vic Verecondi reports ... went for a drive today to Lancaster and ran a nice 10 mile race... Well marshalled and plenty of drink stations... A pretty flat course with a couple of undulations and one hill... Nothing major I would say... Anyway came 68th in a time of 75 min and 18 secs... Pretty pleased all round with my effort... Would recommend for a potential pb..
Thunder Run 24, Sat-Sun 31 Jul – 1 Aug
Justin Phillips reports ... 1,000 runners took part in the 2nd Thunder Run 24 at Catton Park Nr Lichfield and I was lucky enough to be one of them. Competitors have 24hrs to complete as many laps of a 10k trail route in relay teams of two, five, eight or for the totally unhinged...Solo! The challenging course was brilliantly planned out with hills, twists n' turns, woods, great views and plenty of points for your team mates to cheer you on. There was a festival atmosphere amongst the tented village, event catering provided tasty carbs whilst the toilets and showers were better than I have in my house!
A last minute decision (Wednesday!) to enter with Josie from Otley saw us join a scratch team of other last minute entrants from around the country who I'd now class as friends for life. The event was so far removed from my normal diet of 10k road races I still can't quite believe I've done it.
Leg 1 14:00hrs - The mass start and the biggest cheer I've ever experienced for the start of a race (41mins)
Leg 2 21:30hrs – Dusk and the 1st opportunity to test out my head torch (41mins)
Leg 3 02.30hrs – Utterly surreal and what this event is all about, the start/finish area packed with people. Battling my body clock and trying not to get lost in the woods (44mins)
Leg 4 08:00hrs – My legs were shot to bits but at least it was light and I'd been promised a bacon and egg butty at the end of it (44mins)
For the record the leading solo competitor completed a mind boggling 20 laps, that's 126 miles in 24hrs. My team came 4th in our category and 5th overall out of over 100.
Without doubt this was the best running experience I've ever had. It'd be great to get a Harriers team or two out for this next year, it's a fantastic opportunity to bond and indulge in all things running related. We most certainly have the endurance athletes in the club to excel at this event. Send me a message via the forum if you're interested.
For more info www.tr24.co.uk
---