Ilkley Harriers news archive 2010
Harrier of the Month, May
Nominations were:


Stuart Pitches – Bob Graham Round
Nicky Jaquiery - Bob Graham Round (in the heat!)
Norman Bush - 1st v70 and 2nd V65 at English Fell Champs race at Coniston
Andrew Bennett - overall improvement, particularly his times at the John Carr races taking 7mins off time from last year
Sally Morley - overall ladies winner of John Carr series and 1st V35
Jamie Hutchinson - winning the Airedale Triple Trail series
Christine Cox - overall improvement including a sub 2hr Leeds half marathon time and time at latest HRL race
Mike Picken - overall improvement, setting PB's in 5k, 10m and 1/2m all in May
Ladies V35 team at BMAF Relays: Sue Bickerdike, Jane Bryant, Sally Morley, Jann Smith
The HoM awards went to Sally Morley and Andrew Bennett. Congratulations to them. They will receive technical running shirts from HoM sponsor UP & RUNNING.
Additionally, it was felt that we should recognise the two Bob Graham Round achievements, so we will provide a bottle of wine to Nicky and to Stuart to celebrate.
Austwick Amble, Mon 31 May
John Coates was 72nd in 71.27
Ilkley Trail Race, Sun 30 May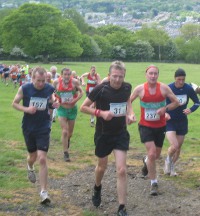 Congratulations to Lawrence Basham and everyone involved with the Ilkley Trail Race - another succesful event by Ilkley Harriers. Tom Adams won the race for the 2nd year, faster this year in 41.24, and Sally Morley took the ladies' record with 49.04. Ilkley won both the men's and women's team prizes. More Harriers results below - full results and more photo links on the Trail Race Page.

1    41.34  Tom Adams
6    43.59  Matt Cox
14   46.00  Dave Wilby
15   46.01  Mark Mon-Williams
18   47.17  Ben Sheppard
21   48.14  Steve Coy
22   48.19  Richard Reeve
24   48.37  Richard Joel
28   48.56  Nick Pearce
29   49.04  Sally Morley
31   49.37  Andrew Merrick
35   50.13  Henry Heavisides
39   50.49  Tony Melechi
41   51.15  Dave Cummings
54   52.21  Alison Bennett
55   52.22  Andy Shinn
58   53.00  Norman Bush
67   53.44  Charles Oxtoby
76   54.31  Mike Baldwin
77   54.35  Nigel Tapper
78   54.38  John Tate
81   54.55  Kelly Harrison
89   55.48  Jake Cassani
94   56.06  Graham Breeze
105  56.58  Jann Smith
107  57.09  Vic Verecondi
109  57.12  Helen Horton
117  57.37  Andrew Jackson
132  58.44  Sarah Haines
136  59.10  Jane McCarthy
143  60.02  Dougie Scarf
149  60.33  Sharon Meadows
160  61.18  Nic Mellor
162  61.26  Andrew Bennett
176  63.14  Don Macrae
189  65.36  Robert Payne
191  65.43  Christine Cox
194  65.54  Alison Frost
195  65.55  James Pickersgill
199  66.13  Sheena Pickersgill
210  67.37  Paul Sugden
218  68.17  Colin Lugton
219  68.25  Louise Jackson
222  69.31  Fiona Schneider
242  72.51  Emma O'Looney
243  72.54  Judith Scarfe
253  75.42  Greg Wright


This was a counter in the Ilkley Harriers Race League
From Rachel and Bryan Websdale, junior race organisers ... Oh what fun we had. Well done to Laurence and Gemmas' prayers and thank you to the big man cos the weather was great! All the juniors had a safe and fun race with the older groups enjoying a run around the bluebell woods. A massive thank you to all our junior marshalls. Having kids running in the woods is a big responsibility and could not happen without the help of all the volunteer (OK some coerced) marshalls. Thank you thank you thank you and please all come again next year! Junior results in with the seniors, and junior race photos, all on the Trail Race Page.
Isle of Jura, Sat 29 May
From Steve Turland ... 16m, 7500ft. Clag was down for this one making navigation tricky with quite a few runners going 'off route'. Ilkley results were:

1   3:28:36  Rob Jebb (Bingley)   
36  4:16:25  Jonathan Whitaker    
43  4:19:42  Steve Turland            
77  4:41:15  Helene Whitaker (4th lady)
134 5:19:12  Alison Weston   
       

Hutton Roof fell race, Sat 29 May
Jo Foster reports ... Nice race with great cakes afterwards. Jim Ryder was 27th in 57.55. and Jo was 160th in 72.51
New Dungeon Ghyll fell race, Sat 29 May
Steve Weston reports ... I hijacked a family camping weekend in the Langdales to do a fell race. I should have looked at the small print 2,100 ft in 3.5 miles! After a quick tarmac start outside the New Dungeon Ghyll Hotel and into the uphill slog early on the route follows a well flagged path up to CP1 at the top of Dungeon Ghyll. Things got interesting as the route ascended Harrison Stickle in the fog at CP2. As I came off the top there was some route marking but I still managed to go off piste down a treacherous ghyll, and I did think I might be ending up in the Stickle tarn before I came across some runners below me just before CP3. Thankfully out of the mist and onto a grassy descent to CP4 North West of Pike Howe. I then went the wrong way round Pike Howe before attempting the techincal run back down to the finish.
Sam Watson was first in sub-40, too technical for me I finished 22nd in 1.10 ish. Nontheless a well run race with some very welcome hot food at the end.
Bradford Parkrun, Sat 29 May

7   20:45  Richard Hinlsey
25  26:48  Andy Wiggans


Apperley Bridge Canter, Thu 27 May
Justin Phillips reports ... I popped along to the ABC tonight aiming for a top twenty finish and hoping to banish some personal demons of this race from a few years ago. Tom plodded around in 34.19 (2nd place) which easily puts him top of the Harriers 10K road rankings despite the inconvenience of hills and nettles and stuff. See y'all on Sunday!

2   34:19  Tom Adams
21  39.05  Justin Philllips
87  44.59  Graham Breeze
256 55.17  Bernie Gibbons


Badger Stone Relays, Wed 26 May
Results are now up for the Badgerstone Relays. The night went really well, with 51 teams, including 14 junior and family teams. The weather wasn't entirely kind to us, so thanks to everyone for running and special thanks to all the Harriers who helped as race marshals and officials - races simply cannot happen without able volunteer helpers like this.
Paul Sugden's photos..
Coniston Gullies fell race, Sun 23 May
Results from www.bofra.co.uk

11  17.33  Ian Rowbotham  1st Vet
18  18.20  Dave Cummings
51  26.59  Jim Towers

U14 race
12   8.27  Jack Cummings


Scottish Half Marathon, Sun 23 May
Jeff Paget reports I ran the inaugural Scottish Half Marathon at Edinburgh which started at 8am, 2 hours before the Marathon which had been my initial aim before injury earlier in the year forced me to swap races. My eldest son, Tom, a runner with Otley, was also doing the half. After a scorching hot day in the city on Saturday I was glad of the earlier start and as it happened the weather reverted to true Scottish weather on the Sunday morning. It was overcast and a heavy shower soaked us as we waited at the start and then there was a bit of sea mist as we approached the coast.
I understand that there were over 3,000 runners, but there must have been a lot of "casual" runners as the website tells me that I finished in 65th place in a time of 1:26.14. I certainly agree the time, but they have recorded me as an open runner despite those who know me being able to confirm that I am well past the age qualification for a veterans category! Tom, aged 29 and therefore proof of my veteran status, finished 131st in 1:31.19.
Neil Chapman finished 696th in the Edinburgh Marathon. 696th (in a field of 9,500) in 3h27.28
Glaramara Fell Race, Sun 23 May
Graham Breeze was 41st in 1:15:52
Keswick Triathlon, Sun 23 May
Gaenor Coy reports ... a lovely day for Keswick Triathlon. Water had warmed up to a almost warm 15 degrees, despite this Vic and I both had a nightmare swim. Due to low water levels, the swim exit needed to be changed resulting in a extremely long run to bikes. Lovely scenic bike route, but then ending in an very long and uphill scramble with the bike to T2. Run was very hot!
Results were:

Short race – 400m swim, 23K cycle, 5k run
25th   John Tate      1.19.21
26th   Brit Tate      1.19.33 (2nd  junior female/3rd overall female)
73rd   Gaenor Coy     1.35.35
76th   Vic Verecondi  1.37.31
 
Long Race – 750m swim, 40K bike, 10K run including a run to the top of Walla Crag,  
Great views but v v hot and over 1000m climb
27th   Steve Coy      2.22.25
112th  Andy Bewell    2.40.41


Another Bob Graham Success
Bob Wightman reports ... Nicky Jaquiery got round in 22:42 on a very hot day - it was 13C at 2am at Dunmail and very humid. Some pictures of the central leg here, and some more photos from Graham Weston here.
There is a full report in the July/August newsletter, read Morgan's text here.
Scottish Islands Peaks Race, 21-23 May
Jamie Hutchinson reports ... What a weekend! Brian Melia and I did our first Scottish Islands Peaks Race starting on Friday 21st May and finishing Sunday 23rd. The race combines fell running and sailing taking in Mull, Jura and Arran. The running includes four runs; a short run round Oban, Ben More on Mull, the Paps on Jura and then Goat Fell on Arran – a total of 60 miles and a serious amount of climb!
Starting at midday on Friday we managed to finish at about 5pm on Sunday having done all the runs, but unfortunately only having sailed a small section of the route due to lack of wind and having to be back at work Monday. As neither of us took a stopwatch not sure of times until results are published on the SIPR website.
We both thoroughly enjoyed it and for me I had some of the best days running ever! – the Paps on Jura being the best of all.
Next stop 3 Peaks Yacht race in June.
HRL #2, Temple Newsam, Thu 20 May
A super evening, great scenery, and a testing course. We achieved a main team win, and continue to lead the male vets and super-vet team competitions.
Full results on www.harrogate-league.org.uk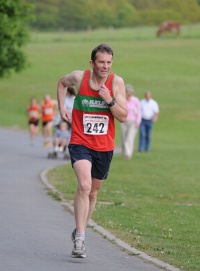 17   33.10  BEN SHEPPARD
18   33.12  JUSTIN PHILLIPS
20   33.26  IAN ROWBOTHAM
21   33.32  MARK MON-WILLIAMS
27   34.20  STEVE COY
29   34.25  RICHARD REEVE
30   34.31  HENRY HEAVISIDES
36   34.49  MALCOLM PICKERING
54   36.12  ANDREW MERRICK
66   36.45  JEFF PAGET
77   37.52  KEVIN GOOCH
79   38.04  JANE BRYANT
82   38.24  PAUL STEPHENS
94   39.33  ALISON BENNETT
99   39.47  PETER SHIELDS
159  45.14  PAUL SUGDEN
163  45.32  DONALD MACRAE
166  45.55  MIKE PICKEN
171  46.32  GAENOR COY
173  46.52  CHRISTINE COX
174  47.04  ROBERT PAYNE
185  48.01  ANDREW BENNETT
204  49.24  SALLY PICKERING
205  49.26  JUDITH SCARFE
208  49.29  COLIN LUGTON
218  50.44  EMMA O'LOONEY
220  51.15  PATRICK GIBBONS
222  51.58  JACQUI WESTON
230  54.45  SUE VERSPYCK
237  58.45  AMANDA PARNABY
243  65.43  BRIAN SWEET


Latrigg Fell race, 3m/800ft - Wed 19 May
Dave Wilby reports ... Kelly Harrison did the club proud by scampering away with the 1st ladies award, and a very generous pile of prizes. The race is a short & sharp dash from Fitz Park initially on road/path and then climbing on track to the foot of Latrigg where a very steep grassy slope takes you to the summit. A similarly steep grassy descent brings runners back to the foot of Latrigg from where steps are re-traced back to the finish line. Kelly was leading initially after a good start before being passed on the climb to the summit. However, she dug in well and got her tactics right, lengthening her stride on the run in to re-claim 1st place, and cross the line 13 seconds clear of the second lady, in a time of 24:44mins.
John Carr #3, and series results, Wed 19 May
Henry Heavisides reports ... Ilkley Harriers had a great haul of prizes at the presentation for the John Carr series. Sally Morley was 1st lady overall as well as 1st F35. Alison Bennett was 1st in the F45 category, Henry Heavisides 1st M55, Pete Shields 1st M60 & Harriet Jackson 1st F junior. Jane Bryant was 2nd F40 & Steve Coy 3rd M35.
For race 3 itself, Mark Mon-Williams was 1st Ilkley Harrier to finish ahead of Richard Reeve, myself, Steve Coy, Andy Wiggans & Mark Iley; Sally Morley was 1st F35 & Lucy Jacques 1st F junior. Richard Reeve & Mark Mon-Williams narrowly missed the prizes, finishing 4th in their age categories.
Full results on St Bedes web site.

(1   15.46  Greg Hull, Leeds City)
30   17.22  Mark Mon-Williams
37   17.35  Richard Reeve
39   17.39  Henry Heavisides
44   17.50  Stephen Coy
48   18.02  Andy Wiggans
49   18.11  Mark Iley
59   18.26  Sally Morley
87   19.26  Alison Bennett
92   19.33  Simon Chapman
93   19.37  Richard Hinsley
97   19.47  Jane Bryant
111  20.23  Adrian Bastow
112  20.23  Adam Bennett      
113  20.24  Sam Haggar
115  20.26  Jack Cummings
116  20.27  Dave Cummings
119  20.33  Keith Wood
130  20.55  Peter Shields
136  21.13  Dave Taylor
137  21.22  Edward Bickerdike
142  21.35  Andrew Jackson
143  21.42  Bradley Chapman
174  22.53  Lucy Jacques
176  22.55  Tom Bennett
177  22.56  Andrew Bennett     PB 36s
182  23.08  Michael Picken
184  23.12  Louise Jackson
195  23.42  Bob Payne
205  24.48  Harriet Jackson
214  25.46  Allison Ricci
215  25.55  Alessandra Ricci
248  28.55  Jo Taylor


Kildwick Fell Races, Wed 19 May
Malcolm Pickering reports ... n this local and relaxed but tough fell race of 3.75 miles and 800 foot of ascent Tom Adams won in 25:04.

1st    Tom Adams           25.04
9th    Martin Archer       28:38
23rd   Duncan Cooper       31:12
53rd   Graham Breeze       35:11
64th   Jim Towers          37:16
82nd   Sue Morley          42:13
93rd   Lyn Eden            52:21
 
In the junior races
Under 8
4th     Ned Cheetham        3:06
 
Under 10
11th    Ella Shouler-Harris  4:42
 
Under 12
5th     Ben Cheetham        10:50
6th     Sarah Pickering     11:08
9th     James Pickering     11:31
 
Under 14
10th     Anna Pickering     33:17


Great Manchester Run, Sun 16 May
Nik Legge was 984th in 42.49, a 10km PB
Chester Half Marathon, Sun 16 May
Mike Picken reports ... this was only my 4th half marathon and I was aiming to try and get under 2 hours for the first time, so after an early start, leaving Ilkley at 7am I arrived at Chester race course for the start, the conditions were good, nice and dry and not too warm. With the field of 2146 runners we had a brisk start, it took me a bit of time to get to the start but had an enjoyable run and managed my 3rd PB of the week 10 mile, 5K and 1/2 marathon, showing I am starting to reap the benefits of joining the Harriers! With my gun time just missing my 2hr target but on the chip I managed to run under 2hrs for the first time - 1325th in 1h59.05
Richmond Half Marathon, Sun 16 May
Andrew Sheldon reports ... this is Richmond London and the course is flat mostly along the Thames riverside. An early start 8.30 but fine weather with a little breeze. Running 2nd claim as Guidlford & Godalming AC in 1.38.36 for my first half marathon. Looking forward to some weekend events back home for Ilkley.
Capabilities Overview, Sun 16 May
Amanda Parnaby reports ... 26 miles from Sledmere although my navigational and map reading skills added at least an extra mile. A well organised LDWA event on a lovely day. Finished in 6 hrs 30 mins
Etape du Dales cyclosportive, Sun 16 May
Jamie Hutchinson reports ... a really cold wet start I headed up into the Dales and from Kettlewell into a lovely headwind which never seemed to disappear. From Buckden we headed up and over Fleet Moss – at this point I realised how quick my bike could go, losing my waterproof in the process. Now praying it didn't rain again I headed up and over Buttertubs and then on to Tan Hill, with that headwind all the way to the top. From there you feel like you've done more than enough! But much more was yet to come with a pedal to Nateby and then Garsdale Head, Horton and finally back to Grassington. I finished in 7.35 and a silver standard.
A few other Harriers were in this, incl Andy Wiggans (see Andy's Blog
Fairfield Horseshoe, Sat 15 May
Clare Smith reports ... managed to take in some glorious Lakeland views as I struggled round the Fairfield Horseshoe race on Saturday. I was accompanied by Neil who trotted effortlessly near to me giving a commentary of which peaks he could see along the way. We were blessed by fine weather throughout and there was a good turnout of runners for the 10 mile route, including several Ilkley Harriers.
Paddy Hagan adds ... I'll get my excuses in early: it was too hot at the bottom, too steep on the way up, too cold at the top (nice views though) too long on the way down, I got fed up with my bumbag, didn't have a clue where I was going for the last two miles, and nor did the guy in front (I thought this in particular as I swung from a tree half way down a cliff). Nevertheless, a great fell face and great weather. I came in not much under 2 hrs, a bit slower than my rule of thumb.
From Sarah Fuller ... I also dragged my weary bones round the Fairfield Horseshoe on Saturday. I seem to be finally making headway against a pesky virus that has been stalking me since Feb so it was a pleasure just to get round feeling (relatively) good and enjoy some sunshineJ. Despite knowing the route really well I still managed to stray off course on the descent – serves me right for blindly following the guy in front! I came in about 10 mins faster than last time so well pleased.
From Jo F ... Harriers were led in by Steve Turland, followed by Dave Wilby and Jim Ryder. Jim was 52nd in 1.36.07. Nick Pearce had a good run and must have been well up his vet category and Kelly looked to be doing well. Still gettting used to being a fell runner once more after a long time out I discovered that everyone else can now go faster than me downhill! I too descended Paddy's cliff face! But what a fantastic race - amazing weather and views.
Nick P adds ... A suprisingly large and strong field of 380 runners for a non-championship event, and pretty well ideal conditions - doesn't get much better than this Paddy! Fantastic run from second claim Graham Pearce, 3rd behind Rob Jebb (40 secs outside record) and Ben Bardsley. Jane Reedy (ex Ilkley Harrier, relocated to the Lakes) first lady also in 96 mins. A fantastic day out at one of the classic Lakeland horsehoe events.
Results from www.amblesideac.org.uk:

1    1.16.00  Rob Jebb, Bingley
3    1.18.25  Graham Pearce, P&B
34   1.32.29  Steve Turland
37   1.33.10  Dave Wilby
52   1.36.07  Jim Ryder
61   1.36.30  Nick Pearce
145  1.49.46  Kelly Harrison
206  1.55.31  Paddy Hagan
289  2.05.21  Jo Foster
297  2.06.22  Clare Smith
298  2.06.24  Neil Smith
305  2.08.40  Rachael Gooch
339  2.17.12  Sarah Fuller


BMAF Relays, Sat 15 May
Jane Bryant reports ... Ilkley Harriers made their 1st ever appearance at these National Road Relays in Sutton Park, Birmingham (my old stomping ground) on Saturday. We took a Ladies V35 team. Sally Morley started us off in the scrumage at the start, she ran a storming leg coming in under 18mins in 6th posn overall and 2nd V35, Jann then took over running the rather undulating course in just over 21 mins, Sue B meanwhile was having kittens wondering what the hell she was doing there. She ran leg 3, running her legs off in under 23mins. I had the job of leg 4 which was tricky as all the other teams in the other categories except the V35s were only running 3 legs so as I set off there was no-one in sight. I did however manage to pass a couple of teams including including my old club Birchfield, so I was quite chuffed with that. I am very proud of the team coming in a fantastic 10th place out of 19 at this National event. I really think that this is an event we should target as a club as our strength is in the vets, and I think the men could do extremely well here. It was well organised and friendly, supportive marshalls from B'ham city council, and it was really nice to see all the old people getting out for a run in the park on a nice sunny day - flasks'n all!!
Read Sue's take on it here.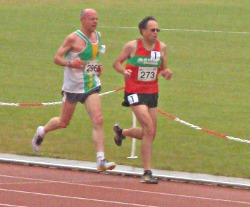 Fv35 results
1st Dulwich Runners A.C. 1.12.29
10th Ilkley Harriers 1.21.29
  Sally Morley    17.50
  Jann Smith      21.21
  Sue Bickerdike  22.53
  Jane Bryant     19.25


(P.S. There are photos of the team with eyes open on Centurian Runners Flickr site thanks to Louis Satterthwaite.
Meanwood Valley Trail Race, Sat 15 May
Jamie Hutchinson managed to clinch the Airedale triple series Guiseley Gallop, BBW, MVT), by virtue of Tom Adams not showing (he says)! And Elizabeth McCann won the ladies title in the series.
Results from Valley Striders web site

6    46.30  Jamie Hutchinson
26   51.55  Brian Melia
51   54.47  Sally Malir  2nd L45
56   55.15  Elizabeth McCann  2nd L35
117  62.16  Andrew Jackson
124  62.40  Catherine Gibbons
168  68.10  Louise Jackson
177  69.31  Bernadette Gibbons
188  71.20  Allison Ricci
228  76.20  Sue Williamson


Sedbergh Gala, Sat 15 May
Results from www.bofra.co.uk

11  27.32  Ian Rowbotham
54  32.13  Jim Towers
70  42.50  Lyn Eden


Driffield Triathlon, Sat 15 May
Jane Bryant reports ... Mike Bryant managed to stay for the whole run and finished in a good time of 1.08mins and Rob Wills finished in 1.15mins. Results from Freebird Events:

83  1h08.53  Mike Bryant
124 1h15.06  Rob Wills


Open 5, Coniston, Sat 15 May
Spotted Heather Dawe 4th female,and Stuart Pitches 4th in the male pairs, on www.openadventure.com - anyone else?
Bradford Parkrun, Sat 15 May
Andy Wiggans reports ... my 3rd Bratfud Parkrun today and my first without young Lily. Ran into Paul Sugden and a "Mystery Harrier" (who requested her participation remain anonymous, but given that she posted a perfectly respectable time I'm sure she won't stay anonymous for long) before the start, and also Richard Hinsley and his wife Lindsey Hinsley (see how many times you can say that after a couple of pints of Snecklifter).
Set off and before long found myself in the unprecedented (well, since the Lancaster Schools 800m final 1980) position of being in the lead. This scared me to death and with no-one to chase (and being a bit pooped) gradually slowed down each of the three laps until eventually the guy behind me did the decent thing and passed me on the last lap. I had a fairly comfortable cushion by this time over the chap in third so I rather pootled in for second place and a time of 18:44. Richard was 5th in 20:06, Paul was 29th in 24:45 and the Mystery Harrier was 38th (and 6th lady) in 26:47. There were 62 running on a lovely sunny morning.
John Carr 5k, race #2, Wed 12 May
Henry H reports ... Perfect conditions for running again at Esholt saw another big contingent of Ilkley Harriers tackle the fast 5k course. Richard Reeve was first of our runners to finish, knocking a few seconds off the M50 club record that I set only last week. Mark Mon-Williams, Steve Coy & myself all ran similar times to the first race. Mark Iley did 17:48 to be the 9th Ilkley runner faster than 18 minutes for 5k so far this year.
Sally Morley was 2nd in the ladies race with an improved time of 18:14. Alison Bennett improved by more than half a minute & Jane Bryant was also under 20 minutes.
Full results on St Bedes web site.

28   17.23   Richard Reeve
34   17.37   Henry Heavisides
35   17.40   Mark Mon-Williams
40   17.48   Mark Iley
42   17.57   Stephen Coy
47   18.14   Sally Morley
79   19.25   Alison Bennett
88   19.42   Jane Bryant
89   19.43   Adam Bennett
90   19.44   Neil Chapman
92   19.47   Adrian Bastow
101  20.18   Sam Haggar
105  20.23   Jack Cummings
118  20.52   Peter Shields
128  21.16   Jann Smith       PB
136  21.34   Keith Wood
140  21.36   Edward Bickerdike
144  21.59   Nick Mellor
174  23.04   Tom Bennett
179  23.16   Louise Jackson
182  23.23   Michael Picken
185  23.33   Andrew Bennett
188  23.44   Bob Payne
202  24.47   Allison Ricci
211  25.39   Harriet Jackson
212  25.40   Andrew Jackson
260  31.12   Dave Taylor


Jack Bloor Races, Tue 11 May
Results are up on www.jackbloor.co.uk - a great turnout, Ilkley were 2nd team and 1st ladies team, lots of Harriers in the junior races too.

5    40.44  Tom Adams
11   44.28  Dave Wilby
21   45.17  Martin Archer
22   45.17  Chris Gale
27   45.39  Ian Rowbotham
28   45.40  Mark Mon-Williams
30   45.58  J Hitch?
32   46.57  Jim Ryder
37   47.12  Ralph Tench
41   48.03  Stuart Pitches
42   48.06  Ben Sheppard
63   51.00  Duncan Cooper
71   52.05  Toni Melechi
77   52.56  Paddy Hagan
78   53.01  Kelly Harrison
88   54.06  Steve Weston
95   54.34  Chris Oxlade
102  55.03  John Hayes
106  55.36  Marlon Frost
109  55.46  Alison Weston
111  55.49  Alison Eagle
112  55.50  Julian Carter
115  55.52  Dave Taylor
117  56.01  Rachel Wolfenden
120  56.10  Rebecca Mon-Williams
122  56.53  Sarah Haines
124  56.57  Mark Richmond
126  57.12  Steve Newell
146  59.27  Sue Booth
147  59.29  John Pickering
153  59.47  John Coates
154  60.07  Dave Cummings
155  60.08  Joyce Marshall
158  60.11  Keith Wood
159  60.15  Jo Foster
161  60.43  Sarah Brown
171  62.11  Andy Jackson
180  63.48  Bob Payne
188  65.19  Rachel Hagan
189  65.20  Sally Morley
195  68.23  Andy Webster
197  68.48  Kevin Wardale
208  84.03  Rachel Websdale
209  84.16  Claire Macina
213  93.39  A Farmery


Trunce, Mon 10 May
Jim & Lyn report ... 4.25 miles with 550ft of climb. Third race in the 9 race series. Dull, cold, drizzly evening, great running conditions. Recent dry weather made conditions underfoot very firm and the water levels in the three river crossings very low. Lyn had a PB for this race having run the Trunce 7 times - Thursday training may be coming through at long last!

Jim Towers  36.26
Lyn Eden    47.12


Ripon 10, Sun 9 May
Peter Shields reports ... Micheal Picken and I went over to do the Ripon 10 trail race on Sunday. This is a hilly course but well worth the trip, based where the Harrogate League hold their handicap race it skirted some of that route. This should be looked at as a counter in the running league next year giving both fell and road runners pain, oops pleasure. Micheal took 5 mins off his time last year finishing in 91.04 253rd position. Trying to get some fitness I recorded 74.20 finishing in 88th position and 2nd v60.
Fellsman, 8-9 May
Derek Fuller completed the Fellsman (61 miles round the Dales) in about 13 hrs and 40 mins, Russ Thomas in 16h56 (knocking quite a bit off last year's 21h07) (official times tbc).
Leeds Half Marathon, Sun 9 May
Andy Wiggans reports ... Once again the lack of league points being up for grabs led to a smaller number of Harriers in attendance than last year, but there were 10 of us at Leeds today. The start pens, whilst not chaotic, were less than ideal, with a Very Big Bloke in an orange tabard not letting us in until his radio told him to, so I ended up with an insufficiently warm warm-up due to hanging around waiting to be let in. I also had a thick head cold that I've been struggling to shake off. The pointy end of Harriers' running was represented by Mr J Phillips, who'd forgotten his watch, so I determined to see if I could at least keep him in sight, although with the way I was feeling I wasn't sure how possible that was likely to be.
In the end Mr Tabard allowed us in to the pens and we got away easily enough. Justin boinged off into the distance and I quickly realised I was having to work rather harder than I would like so let the pace (and myself) drift back. There was a briskish headwind on the climb up Stonegate Road and I slowed significantly up there, only really managing to get back to a respectable pace once we were on the ring road. By this time Justin was boinging quite a way ahead, so I took to counting how many lamp-posts I was behind him (for those that are interested he got to a maximum of 4 ahead). Once on the flat bit on Kirkstall Road I was hoping my marathon stamina would come to the fore and I'd run a blistering 5k to finish, but unfortunately my head cold had something to say about that so whilst I felt fairly strong and did pass quite a few people I never really got going. I caught a glimpse of Justin as he turned off the slip road towards the Headrow, but the run-in from here to the finish seemed a long way today as I coughed and spluttered my way to the line.
In the end I was happy enough with a chip time of 1:24:00 and 58th place, a couple of minutes slower than last year but conditions and my nasal passages were significantly worse today (interesting I was 2 minutes slower but only 5 places lower than last year). Justin was 49th in 1:23:19, which is a good effort to get into the top 50 in a field of over 3,000 people. I also saw a chuffed Dave Ibbotson who'd taken about 6 minutes off his recent Blackpool time on a far harder course.

(1   Andrew Pearson, Longwood AC 1:05:54
49   Justin Phillips    1:23:19
58   Andy Wiggans       1:24:00
789  Martin Wright      1:47:02
880  Dougie Scarfe      1:48:16
1356 Dave Ibbotson      1:54:08
1404 Christine Cox      1:55:12  PB 15 mins
1408 Ian Hargreaves     1:56:24
1770 Jacqui Weston      2:03:00
1904 Ashleigh Brownhill 2:04:00
1951 Abigail Bailey     2:04:45
1954 Judith Scarfe      2:07:03

(Gun positions, chip times)


Pendle Cloughs fell race, Sat 8 May
Steve Turland reports results (14m, 4,000ft):

(1  Andrew Orr - Clayton    2:14:18)
6   Ian Rowbotham          2:25:03
8   Steve Turland           2:26:09
13  Jim Ryder               2:29:39
44  Norman Bush             2:57:13


Pinhaw fell race, Fri 7 May
Jim & Lyn report ... 5 mile, 700ft of climb. Cold evening with a strong wind against you on the way up. Recent dry weather meant that the normal boggy bit was quite firm underfoot, with only one boggy stream to negotiate:

John Coates   42.39
Jim Towers    44.37
Sue Morley    47.39
Lyn Eden      58.51 1st LV 0/65


Lothersdale Fell Race, Wed 5 May
Results c/o Val Kerr ...

(1  Ted Mason      23.53
48  Graham Breeze  32.24    1st MV60
49  Val Kerr       32.25    1st LV50
57  Jim Towers     34.03    2nd MV60
72  Sue Morley     37.14
80  Paul Sugden    40.48
86  Lyn Eden       49.38    1st LV60


John Carr 5k, race #1, Wed 5 May
Henry H reports ... There was a really strong turnout of Ilkley runners at the very fast John Carr 5k race, this was the first race in the series & also included the Yorkshire veterans championships. Sally Morley won the ladies race & was Yorkshire F35 champion. Jane Bryant was 2nd F40, Alison Bennett 2nd F45 & Lucy Jacques was 1st F junior.
In the men's race, Dave Wilby made another venture on to the tarmac to record an impressive 16:35. I managed to outsprint Richard Reeve & Mark Mon-Williams on the very fast downhill finish, recording sub 17:30 for the first time. I was also pleased to win the Yorks vets M55 race. I'm sure that many runners will have achieved PBs in perfect conditions.
Full results on St Bedes web site.

(1    16.03  Tim Midgley, Bingley)
13    16.35  Dave Wilby
34    17.29  Henry Heavisides   Club record
36    17.33  Richard Reeve
37    17.36  Mark Mon-Williams
42    17.54  Stephen Coy
45    18.03  Mark Iley
52    18.21  Sally Morley
60    18.41  Nick Pearce
67    18.51  Dave Cummings
95    19.36  Simon Chapman
96    19.37  Jane Bryant    PB
99    19.41  Neil Chapman
101   19.43  Adrian Bastow  PB
108   20.04  Alison Bennett
113   20.12  Jack Cummings
126   20.36  Sam Haggar
128   20.43  Peter Shields
137   20.56  Keith Wood
143   21.11  Diane Haggar
146   21.19  Jann Smith     PB
149   21.24  Bradley Chapman
158   21.47  Edward Bickerdike
160   21.58  Dave Taylor
167   22.08  Nick Mellor
181   22.24  Tom Bennett     PB 2 mins+
198   23.03  Sue Bickerdike
199   23.06  Gaenor Coy      PB
202   23.22  Bob Payne
206   23.32  Andrew Bennett  PN 1m51s
214   23.49  Louise Jackson
215   23.52  Michael Picken
219   24.00  Lucy Jacques
235   25.07  Alessandra Ricci
239   25.36  Harriet Jackson
240   25.37  Andrew Jackson
275   29.27  Jo Taylor


Read about Soobedoo's Bunny Relay/John Carr Double
Bunny Relays, Tue 4 May
There were plenty of Ilkley teams: 10th Dave Cummings; Adam Bennett; and Mark Mon-Williams; 29th and first U16 team Bradley Chapman, Sam Wood, and Ed Bickerdike; 53rd Jack Cummings, Ruaridh Mon-Williams, and Tom Bennett; 60th William Giles, Ben Cheetham, and Greg Smith; 63rd Jon Tindall, Chris Dewhirst, and Jo Tindall; and 82nd Emma O'Looney, Sue Bickerdike, and Paul Sugden. Full results on www.woodentops.org.uk
Bob Graham Success
Report from Alison Weston - Stuart Pitches set off at midnight on Friday 30th April from Moot Hall, Keswick, to attempt the Bob Graham round. He ran ahead of his 22 hr schedule from leg 1 onwards to finish in an amazing time of 20hrs 59 mins following an impressive sprint up the high street in Keswick at the end (narrowly missing 2 cars!!). I'm sure more reports will follow for each leg of the round
Tim Ashelford, Rachael and Kevin Gooch, Nicky Jacquirey and myself accompanied Stuart on leg 5 as he set off with poles at a very fast pace from Honister Pass. I think all his alpine ski touring in March certainly paid off as we swiftly covered the final 3 peaks and reached Keswick before dark - head torches not even needed. Congratulations Stuart!!
More on the Forums.
What's a Bob Graham Round? See www.bobgrahamclub.org.uk and Bob Wightman's pages.
Rothwell 10k, Mon 3 May
Andy Wiggans reports ... What a difference a year (and inclusion in the Harriers League) makes - last year at Rothwell you couldn't move for red and green vests, this year there was just Richard Reeve and me, lonely outposts of Ilkleyness in this sea of West Yorkshire speed merchants. Rothwell's a new course this year, so perhaps all the Harriers were put off by the fact it's not technically downhill any more, or maybe they were all busy queuing up for the Waltzers at the Ilkley Carnival - whatever, you all missed a good race (and a totally bizarre day-glo t-shirt).
I didn't hold out great hopes for this race to be honest, as I ran a marathon three weeks ago and have been battering my legs with hilly bike miles ever since, but the fee was paid and a mate from work was running his first ever 10k, so I thought I'd give it a go despite the tail-end of a horrid head cold. The new route is an out and back course, pretty flat, but exposed to the chilly north-easterly breeze. Richard started a few rows in front of me and set off like a scalded cat - he was very quickly a good 70 yards in front of me, and as I went through the first mile in 5:48 he must have been absolutely flying. I decided to settle in at about 6 min mile pace and see what happened. My second mile was 5:53, but I felt a definite slowing towards the end, so I was pretty sure I'd slow further later on. The half way point was reached in 18:16, so well on PB pace, although I knew that I'd banked a good 20 or 30 seconds in the first mile and a half and it was unlikely I'd manage a negative split.
I managed to hold the 6min mile pace for the 3rd and 4th mile, but at the 7k point we started to run directly into the wind which dropped everyone's pace. I also noticed at this point that the group Richard was in were coming back to us, despite our pace being 10 seconds a mile or so slower. It's at times like this that racing can actually slow you down, as I started to harbour thoughts of catching a few people in the last mile and took a slight "rest" (if a 6:09 mile counts as a rest). Miles 5 and 6 were both over 6 mins but as the finish came in sight I, and the guy I'd been running with, both started to increase the pace and overtake the back markers of Richard's group. With 200m to go I realised I could (a) catch Richard if I was sneaky about it and (b) maybe get under 37 minutes if I was speedy. In the end I "stealth sprinted" past Richard, catching him about 15 yards before the line but just missed out on the sub-37, coming in with a time of 37:01, a PB by 13 seconds to be 46th. Richard was 47th (3rd M50) in 37:02.
Overall I was happy with the PB and surprised to run as quick as I did (and almost exactly one minute quicker than last year on a slower course), but slightly frustrated to miss out on the 36:xx by such a tiny margin, particularly as miles 5 and 6 were relatively slow. Ah well, next time, eh? Enjoy the Waltzers, Ilkley...

(1 Andrew Pearson, Longwood Harriers  30:14)
46 Andy Wiggans  37:01 PB
47 Richard Reeve 37:02


Keswick Half Marathon, Sun 2 May
The route this year was changed because a road bridge on the normal route was taken out by last autumn's floods. The feeling was that this year's course was a bit hillier than usual, but it was still a fantastic course through some stunning scenery. Great race - thoroughly recommended.

1:47:52  Janet Grace
2:04:25  Alison Frost


Great Hameldon Fell Race, Sun 2 May
Jim & Lyn report ... 6 miles, 1200ft of climb. Cold and blowy, but an enjoyable race with a lovely descent after a lung busting run to the top.

81  Diane Haggar  52.46  1st L45
92  Jim Towers    54.43  1stV60
113 Sue Morley    59.16  2nd L55


The Cake Race, Sat 1 May

4  64.44  Chris Gale

Coniston fell race, Sat 1 May
Results from www.conistonfellrace.org.uk and there are some pictures on Sportsunday.

47  1:19:50  Dave Wilby
80  1:23:27  Ian Rowbotham
92  1:25:34  Steve Turland
127 1:28:56  Jonathan Whitaker
139 1:29:37  Tracey Greenway
141 1:29:40  Nick Pearce
156 1:31:29  Duncan Cooper
166 1:32:28  Martin Archer
192 1:35:16  Helene Whitaker
215 1:37:59  Norman Bush
220 1:38:47  Geoffery Howard
255 1:42:22  Jenny Dybeck
281 1:44.00  Kelly Harrison
339 1:52:43  Jo Anne Prowse
413 2:21:16  Amanda Newham


Bradford Parkrun, Sat 1 May
Any Wiggans writes ... just a quick note to report that I achieved my two objectives at today's Parkrun - I smashed my Parkrun PB with a run of 28:01, being narrowly beaten by Lily (7 - 1st FU14 again), and possibly more important, avoided getting lapped by Hinsley, who had a good run to dip under 20mins and grab a podium place.
This event really deserves our support both as runners and volunteers - a free 5k and the opportunity to eat cake afterwards - could it get any better?
www.parkrun.org.uk/bradford

3  19:50  Richard Hinsley
35 28.01  Andy Wiggans


Malhamdale Meander, Sat 1 May
Amanda Parnaby reports ... 23 miles starting and finishing at Kirby Malham. 4,400 feet of climb including a rather treacherous ascent of Goredale Scar (fortunately it was relatively dry ) which none of us had prepared for, so much so that steps were taken to check with the organisers that this was in fact the prescribed route. Weather was kind apart from a couple of brief showers. Emma Payne completed in 5 hrs 54 mins, Clare Mancina and myself finished in 5 hrs 57 mins. Beautiful chocolate treats at Tarn House and welcoming Pie and Peas at the finish in this LDWA event.
---