Ilkley Harriers news archive 2010
Harrier of the Month, April
Nominations were:


Paul O'Looney – for results at Blackpool and London
Sally Malir – London result
Jonathan Sinclair – sub 3hr at London
Alison Eagle – 3 Peaks
Neil Chapman – Organisation of Ilkley HDSRL
Amanda Parnaby – Dedication and LDWA events
Helen Horton – 1st LV45 Blackpool
Catering Team – Ilkley HDSRLs
The HoM awards went to Neil Chapman and Jonathan Sinclair. Congratulations to them. They will receive technical running shirts from HoM sponsor UP & RUNNING.
HDSRL, Thu 29 April
Henry H comments ... a really good performance by Ilkley Harriers saw us get off to a strong start in most of the team competitions at the first Harrogate League race of 2010. We were 3rd team overall, 1st men's vets team, 1st ladies vets team, 1st super vets team & 2nd ladies team. In the individual results, Richard Reeve had a great run to be first Ilkley runner, narrowly beating Ben Sheppard. Richard was also first M50. Mark Iley was our 3rd finisher & Henry Heavisides 4th (1st M55). Sally Morley was our first runner in the ladies competition. Let's see if we can keep up our strong team results for the rest of the series.
Excellent work by the Neil & the organising team, great support from the marshalls. Special mention to Christine, Amanda & the catering team for an outstanding spread afterwards.
Full results on www.harrogate-league.org.uk

19   31.16  RICHARD REEVE
20   31.17  BEN SHEPPARD
25   31.34  MARK ILEY
26   31.42  HENRY HEAVISIDES
28   31.55  ANDY WIGGANS
29   31.59  STEVE COY
45   32.40  SALLY MORLEY
50   32.58  JULIAN CARTER
55   33.10  MALCOLM PICKERING
64   33.42  JEFF PAGET
76   34.17  RACHEL WOLFENDEN
86   34.52  RICHARD HINSLEY
88   35.02  KEVIN GOOCH
91   35.14  ADAM BENNETT
93   35.20  JANE BRYANT
94   35.27  ANDY SHINN
95   35.29  PAUL STEPHENS
97   35.32  ALISON BENNETT
101  35.56  KAY PEARCE
106  36.18  JOHN WOODWARD
111  36.29  REBECCA MON-WILLIAMS
118  36.45  ED  BROUGHAM
124  36.58  PHIL HIRST
135  37.36  HELEN HORTON
136  37.38  JOHN COATES
137  37.39  JANN SMITH
141  37.50  JANE MCCARTHY
148  38.18  VAL KERR
156  38.44  OUTI KAMARAINEN
170  39.40  KEITH WOOD
176  39.55  KAREN LAMBE
183  40.07  LIZ PRICE
186  40.12  BECKY STAPLETON
193  41.00  DAVID IBBOTSON
204  41.41  PAUL SUGDEN
210  42.12  DONALD MACRAE
218  42.57  SHEENA PICKERSGILL
223  43.08  ROBERT PAYNE
226  43.30  ANDREW BENNETT
229  43.59  CHRISTINE COX
232  44.05  MIKE PICKEN
236  44.17  ANN STEAD
239  44.28  DAVID GREEN
246  45.03  PATRICK GIBBONS
248  45.20  EMMA O'LOONEY
253  45.40  SALLY PICKERING
266  47.51  SUE WILLIAMSON
268  48.04  JACQUI WESTON
275  51.06  SUE VERSPYCK
284  61.07  BRIAN SWEET


Dick Hudsons fell race, Wed 29 April
Duncan Cooper reports ... a good turn out from Ilkley for this one. Full results from Dick Hudson's Fell Race 2010 on Wharfedale Harriers web site. Ilkley Harriers won second prize in the men's and women's team competitions.

(1 Steff Macina J D Cycles 43:05 Bike)
10 Ian Rowbotham V50 52:56
11 Martin Archer 52:59
18 Duncan Cooper V40 56:45
19 Neil Smith V40 57:03
24 Paddy Hagan V40 58:55
26 Paul Stephens V50 1:00:11
34 Graham Breeze V65 1:03:06
40 Adam Bennett U18 1:06:54
41 John Pickering 1:07:28
42 Jim Towers V60 1:07:44
45 Sue Booth FV40 1:08:47
48 Bob Pane  V65 1:14:24
49 Rachael Hanson FV40 1:14:25
50 Sue Morley FV55 1:19:50
52 Allison Stretton FV45 1:21:01


This was the first race in the BOFRA calendar, which has lots of local midweek and weekend fell races, including two Ilkley Harriers races for the first time this year.
Bunny 4, Tue 27 April
Tom Adams finished 3rd in the final race in the series, winning the series. Photos and full results on woodentops.org.uk. Next Tuesday there are the Bunny Relays - 7.30pm, EOD, teams of 3 * 2 miles.

3   15.54  Tom Adams
44  18.35  Dave Cummings
54  18.56  Mark Iley
92  20.17  Sam Wood  U16
127 21.15  Rebecca Mon-Williams
131 21.20  Jack Cummings U14
137 21.39  Bradley Chapman U16
153 22.18  Ruaridh Mon-Williams U14
162 22.39  Florence Haines U16
175 23.01  Lucy Williamson U14
213 25.04  Paul Sugden
243 27.18  Emma O'Looney
257 28.48  Sue Williamson


London Marathon, Sun 25 April
Results from www.virginlondonmarathon.com:

735   2:55:22  Jonathan Sinclair	
1943  3:10:49  Sally Malir, 120th lady, 12th in category	
2870  3:19:19  Rachel Wolfenden	
2932  3:19:58  Robert Cunningham	
2949  3:20:11  Neil Chapman	
6507  3:42:09  Simon Chapman	
7370  3:46:25  Paul O'Looney	
9471  3:55:08  Timothy Ratcliffe	
10589 3:58:43  Roddy Macdonald	


Anniversary Waltz, Sat 24 April
Results from www.anniversarywaltz.co.uk:

18  1:56:35 Steve Turland
35  2:01:01 Nick Pearce 3rd V50
256 3:04:24 Sarah Fuller


Three Peaks Race, Sat 24 April
Val Kerr reports that Alison Eagle, Alison Weston and Kelly Harrison took the prize at the 3 peaks race for 3rd ladies team. Val Kerr was 3rd LV50.
Henry's photos
Results from SPORTident

31   3:35:41  Tom Adams
43   3:43:48  Dave Wilby
51   3:45:12  Jamie Hutchinson
53   3:45:24  Mark Mon-Williams
85   3:52:43  Chris Gale
135  4:03:42  Brian Melia
174  4:13:21  Ralph Tench
180  4:15:15  Jim Ryder
197  4:16:51  Alison Eagle
295  4:31:08  Eddie Winslow
302  4:31:49  Jez Hellewell
318  4:34:35  Alison Weston
325  4:35:40  Russell Thomas
337  4:37:16  Kelly Harrison
349  4:39:12  Mike Baldwin
406  4:47:59  Alistair Barlow
436  4:52:31  Val Kerr
530  5:11:22  Steven Weston
544  5:17:13  John Hayes
565  5:25:42  Sharon Meadows
599  5:58:52  Richard Morris


More photos at Sportsunday
Parkrun, Bradford, Sat 24 April
Richard Hinsley was 4th in 20.04
Bunny 3, Tue 20 April
Another great turnout of Harriers. Once again Tom Adams won the sprint Egg Stage, and finished 3rd overall. Photos and full results on woodentops.org.uk.

(1  15.26  Adam Osbourne, Leeds)
3   15.47  Tom Adams   Egg Stage Winner again!
52  18.57  Dave Cummings
61  19.19  Duncan Cooper
70  19.33  Adam Bennett
98  20.20  Bradley Chapman  U16
100 20.25  Sam Wood  U16
119 21.12  Alison Bennett
129 21.28  Dave Taylor
130 21.29  Jack Cummings  U14
147 21.51  Ruaridh Mon-Williams U14
168 22.44  Lucy Williamson U14
172 22.54  Edward Bickerdike U14
188 23.35  Sophie Brown
189 23.36  Tom Bennett  U14
210 24.42  Amanda Newham
219 25.05  Jim Towers
226 25.25  Andrew Bennett
231 23.34  Ann Stead
235 25.42  Paul Sugden
254 27.10  Emma O'Looney
273 29.45  Sue Williamson
284 33.10  Kathryn Stott 


The Trunce, Mon 19 April
Lyn Eden reports ... The Trunce, Oxspring, Sheffield. 4.25miles, 550ft climb. Second race in a 9 race series. Only £1.20 to enter and great value. Bit of everything including 4 river crossings, luckily river levels were low tonight and conditions quite dry. A lovely evening for running.

Jim Towers 36mins 56secs
Lyn Eden   48mins 04secs


Next Trunce Race 10 May, at 6.45 from Oxspring Playing Fields. South Yorkshire's equivalent of the Bunny Runs but without the chocolate egg or any prizes at all. Just a run to enjoy.
Chris Hoy Edinburgh Half Marathon, Sun 18 April
Results from www.edinburgh-half.co.uk. Photos at www.darrochphotography.com

127  1:54:13  John Brown
301  1:55:32  Ian Hargreaves


Newlands Duathlon, Sun 18 April
Jamie Hutchinson reports a beautiful day in the Newlands valley near Keswick. The Newlands duathlon organised by BeChallenged an 8k road/fell run then a 44k road bike taking in Winlatter and Honister and finishing with a 4k run. I struggled a bit on the first run up onto Cat Bells hause coming into transition in about 5th position. A quick transition I cycled off down to Winlatter pass and the first real challenge of the day. A great ride down the other side and taking in Crummock water, Buttermere and then the climb up Honister and 'the wall'. From there along Borrowdale and then up the west side of Derwent water and finally back into Newlands I came into transition in 4th. I managed to maintain my position for the final 4k run finishing in a time of 2.35.53, the race was won by Philip Addyman in 2.35.53 and 66 competed.
Skipton Tri, Sun 18 April
Steve Coy reports ...
a local event gets the triathlon season off to a start with a 400m pool swim, 22k bike and 5k revised run from previous years. The weather was kind on Sunday and pleasantly warm, compared to a day later. A good turnout of support and participation from quite a few Harriers, some doing their first triathlon, although there were some missing as VAV's (Vic stuck in Canada). Results at
www.freebirdevents.co.uk
, Harriers I saw and can find were ...

( 1     Alan Copland               1:00:11)
 68     Steve Coy                  1:11:38
 80     John Tate                  1:12:28
 84     Brit Tate/Bradley Chapman  1:13:15
111     Charles Oxtoby             1:14:56
264     Janet Grace                1:23:44
279     Nigel Tapper               1:24:43
298     Rob Wills                  1:25:55
316     Gaenor Coy                 1:26:45
483     Rachel Websdale            1:39:56


Also, special mention to Gaenor who completely kicked my butt on the swim after only swimming front crawl a few months and Mike "the run was easy" Bryant who was going strongly and on for a time of around 1:20 but through a mix up (ie bad marshalling/ lack of reading course instructions /brain failure) ended up running only 1 lap of the run, maybe that is why it was easy ;), so had no official finish time.
Coledale Horseshoe, Sat 17 April

34  1h30.34  Chris Gale 
154 1h53.59  Graham Breeze
137 1h50.45  Alison Weston
187 2h00.20  Jane McCarthy


Woldsman, Sat 17 April
Amanda Parnaby reports ... Organised by East Yorks LDWA, 50 miles from Driffield Showground taking in some picturesque Wolds villages and a few hills. Beautiful sunny day ( which I was not expecting ) and I was grateful for the borrowed sun cream and hat. Somehow I managed to develop a big blister on a most unusual part of my foot despite wearing my usual footwear. Completed in 13 hrs 20 mins, which was 20 mins down on last year. Saw Neil Smith at the start.
Parkrun, Bradford, Sat 17 April
Henry Heavisides reports ... today was the first ever Parkrun at Lister Park in Bradford. Like the one at Hyde Park in Leeds, this will now be a weekly event, every Saturday at 9am. There were 82 runners in total taking part, including Justin Phillips, John Marshall & Andy Wiggans running with his young daughter.
The course is quite challenging, being 3 & a bit laps, including a climb up the side of Emm Lane which seems to get steeper each lap. The park is a great setting for a race with really wide well maintained paths (much better than the course in Leeds, although not quite as quick).
Justin's result is unofficial as he forgot to take his barcode (you don't get an official finishing time without one).... you just need to register on the Parkrun site to get a barcode which can be used at any Parkrun event around the country.
Results were:

(1st Leon Foster Leeds City AC 17:33)
5th  Henry Heavisides          18:47
6th  Justin Phillips (unofficial)
40th John Marshall 26:40
50th Andy Wiggans + Lily 28:30 


Andy Wigggans adds ... My 1st ever Parkrun today at the inaugural Bradford event, and it was fab. Low key, friendly, free(!!) and a really nice course (which I think could be fairly brisk once you suss out where the hills are). Got lapped by Henry on his way to a high placing, and wimbled in in 50th place out of 82 runners with a significantly personal worst time of 28:30. My excuse is I was running with young Lily Wiggans who was 49th in 28:29, and 1st in her age category of U14 - which considering she's 7 is pretty good in my book.
This event deserves our support, both as runners and volunteers - they did say at the start they're very short of marshalls next weekend, so if anyone is free and wouldn't mind giving up a couple of hours contact the team via bradfordhelpers@parkrun.com.
Bunny 2, Tue 13 April
Deja vu - Tom Adams once again took the Egg Stage, this time equalling the record of 3.23, but was once again overhauled by Ian Holmes (who made it his 29th Bunny win). Photos etc. on woodentops.org.uk.

(1  15.10  Ian Holmes, Bingley)
2   15.26  Tom Adams
23  17.27  Ben Stevens
27  17.33  George Stevens
52  18.33  Dave Cummings
75  19.24  Steve Coy
87  19.45  Adam Bennett
92  19.51  Toni Melechi
101 20.10  Richard Tinsley
106 20.16  Steve Weston
113 20.28  Kelly Harrison
133 21.06  Sam Wood      U16
135 21.07  Jack Cummings U14
144 21.18  Georgia Mali  U14
148 21.22  Victoria Stevens
154 21.36  Diane Haggar
155 21.37  Dave Taylor
170 21.58  Sam Haggar    U16
171 21.59  Bradley Chapman U16
175 22.05  Rebecca Mon-Williams
178 22.13  Ruaridh Mon-Williams
205 23.05  Jim Towers
223 23.54  Lucy Jacques  U14
229 24.20  Grace Malir   U14
231 24.22  Sue Morley
235 24.32  Gaenor Coy
249 25.06  Amanda Newham
273 26.11  Ann Stead
316 31.53  Lyn Eden


Blackpool, Sun 11 April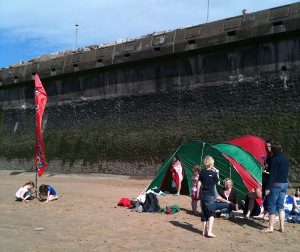 Andy Wiggans' report ... there were so many Harriers having a harrier-tastic day out today I can only report on my race but here goes: Four weeks with no running is apparently not the best build up to a marathon, but as I'd done a fair bit beforehand and my dodgy calf appeared to be fixed I thought I'd have a bash. So 6:30am saw me at Skipton bus station getting grumpy about "young people today' leaving pizza boxes all over the place and awaiting the arrival of the Ilkley Harriers seaside charabanc. Once aboard I got down to listening to assorted '80's classics, eating bananas and hydrating like a good 'un - and before I knew it we were on the outskirts of Blackpool having a "McWee" on the instructions of a Mr Merrick. The joy of marathons is you don't have to mess around with all that warming up stuff, so I basically walked to the start and...erm...started...
The plan was not to go out too fast, so a first mile in 6:50 was exactly not what the doctor ordered, but an on-course rendezvous with Helen meant we slowed to a sensible 7:10 pace, which I managed to hold past the Pleasure Beach and all the way back to the start at 7 miles or so. This is where I had my first encounter with "Saint" Paul O'Looney who handed me a bottle of energy drink exactly where I expected him to be, along with a crowd of enthusiastic support crew. The northern loop passed swiftly, with my pace increasing to around 7 min mile pace, with assorted Harriers encountered on the way. I saw my fellow marathoner Jann Smith on the course looking in great shape, as well as a few half-marathoning Harriers, including the aforementioned Mr Merrick wearing a quite extraordinary pair of lime green 1970's shorts.
Once back at the start area the halfies cut off to the finish as the significantly depleted numbers of full marathoners carried on for another lap. The pace stayed at around 7min pace, and at this stage the benefits of going out conservatively paid off, as I passed people all the way back to the 20 mile mark and more energy drink and encouragement from Mr O and the Ilkley crew. I managed to hold the pace to about the 23 mile point, but it was inevitable that the lack of miles (did I mention I didn't run for 4 weeks?) would bite me on the bum, and the last couple of miles were hard work. I managed to summon up a sprint finish (ish), leaving the third lady trailing in my wake (I suspect she wasn't terribly bothered) and came in 29th out of 622 finishers in 3:07:19 - a PB by 13 minutes and miles inside what I could have hoped for 2 weeks ago when I doubted I'd be running at all.
Just to be serious for a moment, a massive thanks to all the Harriers and families who took the time to come to Blackpool to support us all today - it really makes a difference to see those red and green balloons and hear those voices calling your name - this is a great family club we have here, and days like today show you just how great it is. Thanks everyone.
Results from UK Road Races:

Marathon
(1   2h39.44  Mike Flatley, Middleton Harriers)
28   3h07.19  Andy Wiggans  PB
161  3h39.21  Jann Smith    2nd L40
621  finished

Half Marathon 
( 1  1h11.54  David Lockett, Salford Harriers)             
 42  1h29.25  Andrew Merrick
 46  1h29:56  Daniel Ibbotson
 59  1h31.19  Jane Bryant    3rd lady, 1st L40
 81  1h34.31  Adrian Bastow
 87  1h34.54  Richard Morris
139  1h40.33  Helen Horton   1st L45
205  1h44.24  Keith Wood
224  1h45.28  Sue Bickerdike 5th L40
262  1h48.32  Karen Lambe
331  1h52.23  Paul Sugden
347  1h53.30  James Pickersgill
355  1h53.47  Sheena Pickersgill
431  1h56.52  David Ibbotson
547  2h02.08  Jacqui Weston
595  2h05.11  Colin Lugton
1001 finished
 			 

Paris Marathon, Sun 11 Apr
Heather Duke ran this in 5h34 - highly recommended with very good support.
Gisborough Moors, 12.5m 2,600ft, Sun 11 Apr
Steve Turland reports ... on a warm spring day, nearly 200 runners in this great race on the NY Moors. Won by Matt Speake, breaking the 25yr+ course record.

(1   79:09  Matt Speake, Dark Peak)
12   94:23  Steve Turland
72  110:35  Norman Bush
114 119:39  Graham Breeze
120 120:28  Sarah Haines


Ampleforth Triathlon, Sun 11 April
Jamie Hutchinson reports ... the first race in the UK mountain bike series triathlon was at Ampleforth Abbey near Helmsley. A glorious location and day for racing. 500m swim, 14k mountain bike (mainly tracks) and a 5k run. Both the bike and run had a nasty bank to climb at the end of the leg to finish. I had my usual slow swim and followed with fairly quick bike and run legs finishing in 73.04 and 8th overall. The race was won in 67.26 and 74 ran. The next race is Coniston on 20th June for more details go to www.ukmtbtri.co.uk
Wardle Skyline fell race, Sat 10 April

18   51.11  Ben Stevens
111  62.01  Graham Breeze
112  62.01  Victoria Stevens   4th lady, 1st LU23
180  70.14  Jim Towers
207  76:37  Sue Morley
233  96:25  Lyn Eden


Race photos on woodentops.org.uk and Sportsunday
Leeds Hyde Park 5k, Sat 10 April
John Marshall was 107th in 24:49, Emma Payne 127th in 26:01
www.parkrun.org.uk/leeds
Bunny Run 1, Tue 6 April
There was a host of Harriers, young and old, at Bunny 1. Tom Adams won the Egg Stage, the first short lap, but umpteen-times-winnner Ian Holmes led him in to the finish. This is a Harriers Race League counter, good results from Nick and Dave helped them hold their positions. Photos etc. on woodentops.org.uk.

( 1  15.41  Ian Holmes, Bingley)
  2  16.00  Tom Adams   Egg Stage winner 3.31
 11  17.35  Dave Wilby
 17  17.56  Ben Stevens
 40  19.12  Dave Cummings
 47  19.30  Duncan Cooper
 51  19.35  Nick Pearce
 54  19.38  Sally Morley  1st L35
 69  20.16  Steve Weston
 73  20.27  Henry Heavisides
 94  21.10  Adam Bennett 
 95  21.11  Richard Hinsley
 99  21.17  Paul Stephens
107  21.29  Kelly Harrison
118  21.48  Ed Brougham
120  21.50  Alison Bennett
124  21.58  Graham Breeze
126  22.01  David Taylor
132  22.14  Jack Cummings  U14
137  22.22  Victoria Stevens
143  22.33  Val Kerr 
147  22.36  Georgia Malir  U14
153  22.53  Charles Smith  U14
175  23.35  Jim Towers
213  25.12  Sue Morley
218  25.20  Joseph Tindall U14
219  25.21  Bob Payne
220  25.22  Tom Bennett    U14
221  25.23  Ruaridh Mon-Williams U14
229  25.44  Grace Malir    U14
243  26.39  Paul Sugden
245  26.45  Gaenor Coy
247  26.47  Bernadette Gibbons
249  26.49  Jon Tindall
250  26.54  Don Macrae
270  28.18  Emma O'Looney
274  28.32  Andrew Bennett
283  29.25  Colin Lugton
289  30.27  Vince Gibbons
301  32.07  Lyn Eden
The ladies won the team prize.


Guiseley Gallop, Sun 4 April
Another race win for Tom Adams! Results from ukresults.net ...

1    36:08  Tom Adams
17   41:25  Jamie Hutchinson
37   44:27  Stephen Coy
60   46:40  Elizabeth McCann  PB, 1st L40
66   47:14  Kate Archer
78   48:08  Sally Malir
83   48:20  Graham Breeze
133  51:13  Andrew Jackson
152  52:44  Sharon Meadows
160  53:15  Dougie Scarfe
230  57:08  Bob Payne
234  57:21  James Pickersgill
236  57:36  Kathryn Hind
252  58:40  Alexandra Lewis
265  59:42  Louise Jackson
276  60:09  Christine Cox
282  60:40  Bernie Gibbons
284  60:58  John Marshall
285  60:59  Allison Ricci
298  61:44  Sheena Pickersgill
336  64:23  Judith Scarfe
342  64:49  Vincent Gibbons
352  65:28  Colin Lugton


Photos on woodentops.org.uk
Halton 5, Sun 4 April
Henry H reports ... I went over to Merseyside today to run the Halton 5 mile race with Richard Reeve. Potentially this is a very fast flat course, but unfortunately we had a strong headwind for the whole race (it's a point to point course). Richard set off at a blistering pace and was up with the leaders crossing the Runcorn Bridge just after the start. I set off more conservatively, but still ran the first mile in 5:37, not bad into the wind. We both slowed a bit as we went further along, both finishing in just over 30 minutes, with Richard about 20 seconds ahead of me. There were about 800 runners & I think that we both finished in the first 25-30. It's a very well organised event, with closed roads, good marshalling, goody bag, t-shirt, free coffee, water & hot cross buns at the finish & coach back to the car park,,,,,,,all for £7 entry fee.
Update 7 April .. the results have now been published here: Richard was 18th & I was 21st out of 696 finishers (2nd M50 & 2nd M55 respectively). The winners time was more than 2 minutes slower than the previous year which shows the effect of the strong headwind!

(1  27.07  Richard Burnley, Liverpool Harriers)
18  30.01  Richard Reeve
21  30.24  Henry Heavisides


Pendle Fell Race, Sat 3 April
Nick Pearce reports ... four Ilkley Harriers amongst the 210 finishers in the senior race. Great course with a long history, and the rain held off during the event - we finished in warm sunshine!

(1  33.12  John Brown, Salford
 2  33.38  Graham Pearce, P&B, 2nd claim Ilkley)
29  39.11  Ian Rowbotham
41  40.26  Jim Ryder
48  41.05  Nick Pearce
87  44.29  Norman Bush


Photos on woodentops.org.uk
Leeds Hyde Park 5k, Sat 3 April
John Marshall was 69th in 24:42
www.parkrun.org.uk/leeds
Manx Half Marathon - 13m/2600ft, Sat 3 April
Dave Wilby reports ... there were 3 Harriers amongst a group of 12 or so from the Wharfedale area who travelled over to the Isle of Man for the Easter weekend. As well as the university dominated 'festival of running', and the ultra distance Manx Mountain Marathon, there was the Half Mountain Marathon which all 3 of us in the red & green were entered in to. Setting off from St Johns, just over half way down the island, the race traverses some fantastic hills to finish in Port Erin in the south. The forecast bad weather stayed away which meant we were rewarded with some amazing views throughout, stunning views of all sides of the island, and a friendly cheer from the large numbers of spectators at each of the road crossings. It was one of the most enjoyable races I've done, definitely recommended as one to do.
Despite been pretty wet underfoot, the course record was broken by Lloyd Taggart who ran away from Adam Osbourne of Leeds to win by over 6 minutes on his home turf. In the ladies race, Tamara Hird of Wharfedale took the honours, and myself & Kelly both managed to sneak in to the prizes. Full results can be found at: manxtimingsolutions.com

(1  Lloyd Taggart   1:37:24)
6   Dave Wilby      1:53:51
30  Kelly Harrison  2:25:32
48  Amanda Newham   3:02:27


---